Shopping for the right clothing is never an easy task for petite women.  When it comes to finding that ideal wedding dress for the most important day in your life, it is not as easy or glamorous as sipping on a glass of bubbly with your best girlfriends and waiting for the bridal shop assistants to bring that perfect dress in front of you.  Well, it could be stressful and even difficult. It's almost (kind of) like, finding your Mr. Right. When you find it, you know you have found it.  The moment you try it on, you will know if it is for you or not.  It is that intuitive.  But, before that, you have to go through a ton of gowns, or even numerous bridal shops, in order to find the one.  Are you pear body type?  If you are not sure, take the quiz to find out what is your petite body type.  Learning about what to look for that is specifically flattering for your body type when you are going to the bridal shops will save you a ton of time.  Understanding your body shape and know what works and what doesn't will definitely help you make the right decision for your big day. (Read more about How to Dress Petite Pear Shape, Best Wedding Dresses for Petite Brides, Best Petite Jeans for Your Body Type).
Now, let's first take a look at your body type.
If you have a pear body type, your body generally have the following characteristics: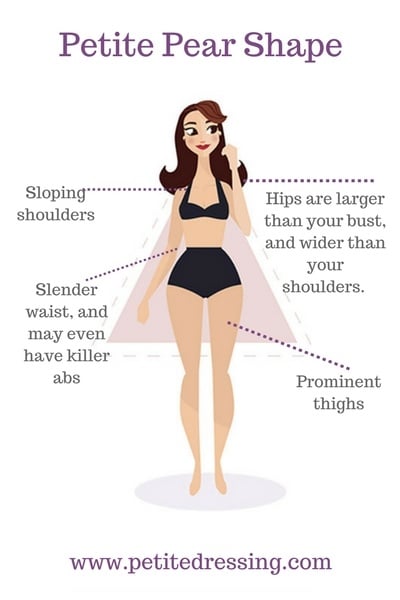 Your hips are larger than your bust, and your hips are wider than your shoulders. In many cases, your hips are the widest point of your body
You have a nicely defined waist
You have an elegant neck and proportionately slim arms and shoulders
You first gain weight in your bottom and legs flowed by your tummy and upper body
You have round, sloping shoulders.
Your buttocks and thighs are full and round.
The perfect dress for a bride of pear body type will accentuate her tiny waist and slender upper body, by cinching in under the bust while skimming over the tummy, hips and bottom. Balance is important, therefore you want to either make your top half seem bigger or your bottom half seem smaller.  Wedding dresses that flatter the top portion are ideal. Highlight your smaller top half with a detailed top to draw the eye up. A little bit of sparkle or embellishment on the bodice, or capes are great options. However you should avoid wearing a gown with larger area beads from head to toe which will make you look heavy and awkward.
The best example of pear body type petite bride is probably Kim Kardashian, who has had 3 well known weddings and many widely talked about wedding dresses.  (Read more about Kim's wedding gowns at Wedding Dresses Inspiration by Short Female Celebrities.)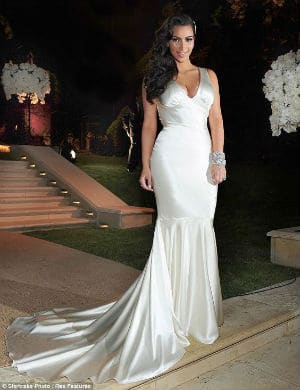 Designs such as empire waist is most ideal for the pear body type petite brides.  Empire style is defined by the raised waistline which sits just below the bust from which the rest of the dress flows down to the hem. Skimming over the hips and tummy area, this silhouette is  perfect for pear-shaped brides. The high waist line followed by the skirt of the gown will create the perfect illusion of length and perfectly camouflage the heavy bottom of the pear shape.  The waist line design is essential no matter what kind of wedding dress you are getting for your big day.  In order to emphasize your waistline, you can also wear jeweled belt and ribbon on the fitted waistline makes you look slimmer and shaped.
For the petite pear body type bride, ruching is one of those miracles of design that flatters you. It makes curve-less girls look curvier and curvier girls look svelte. I recommend this style for petite pear shapes because the key is to flatter a wider hip by wearing a fuller skirt yet without overwhelming a short frame. At the same time, it creates the illusion of the length that will make you look taller.
Neckline: A low neckline is flattering to pear petite brides of pear body type.  As a pear-shaped bride, you have a smaller shoulder and fuller hip; you may need to choose a wide neckline to balance your body proportion. Wide V-neck, off-the-shoulder neckline, halter neckline and one-shoulder neckline create broader shoulder which suits you perfectly. And theses interesting necklines can also draw attention from your hip and things.  A wedding gown with low and open V neckline is ideal because it draws attention away from your bottom upwards to your bare neck, shoulders and cleavage.  If you happen to prefer a more conservative neckline style instead of a low revealing V neckline, then a traditional neckline will work fine as long as It is still low.
Petite pear body type brides look the best in long and flowing skirts.  This again camouflages the heavy bottom while making your body seem longer and slimmer.  Use vertical lines to your advantage.  In other occasions, pear shaped women are often advised to pick darker color for their bottom in order to balance it out. Well, for your wedding gown, that is most likely not going to be an option, but vertical folds can achieve the same purpose.  You could use actual folds or have embroidered vertical lines as part of the skirt's design.
In terms of silhouette, A line design line is very flattering to petite pear body type brides. The cut is narrow at the top and extends out along the body in the shape of an A.  It is flattering for all body types, which is why it's one of the most popular skirt sihouettes.  A line style wedding gown with a slim top and wider bottom which opens to the skirt area with a higher waist is idea for a pear shaped petite bride.  Aline princess style dresses works well for pear shaped brides because they are figure hugging on top and billow out beautifully on bottom. The A-formation from the natural waist to the floor highlights the narrowness of the midsection and floating away from the hips and thighs. Just make sure the waist band is quite high and avoid styles that seem to 'cut off' around the lower tummy area.