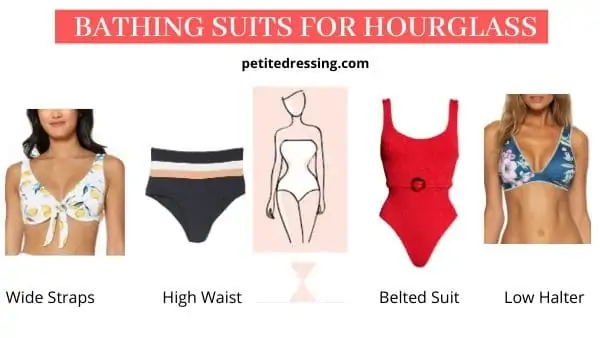 Having a clothing line means that I work with different models and many of them have an hourglass body shape, which gives me plenty of experiences to choose the RIGHT style for the hourglass figure.
In this article, I will go over with you the must have tips for the hourglass figure to choose the right bathing suits, and have some recommendations for you in terms of the best top, bottom as well as one piece.
WHAT TO LOOK FOR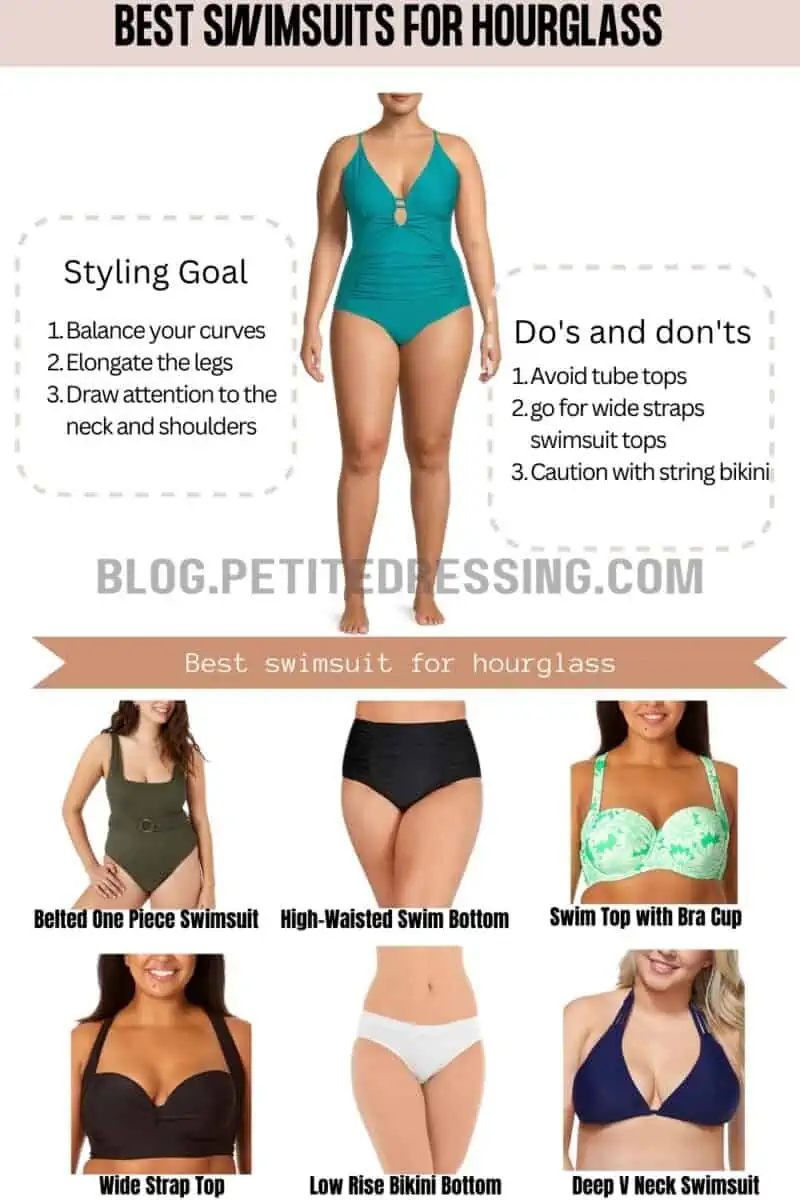 The key to find the best bathing suits for the hourglass shape (or for any other body type) is to really understand what accentuate your assets and what can distract away from your weaknesses.
Understand your assets
As an hourglass, your hips and shoulders are about the same width, and you have well defined waistline that is significantly smaller.
You have round and sloping shoulders.
Your buttocks are rather round.
You may have full thighs, but they are narrower than your high hips.
You gain weight above hips and through waist.
So the key to flatter your shape is really to show off your best assets, i.e., your full chest, curved hips and tiny waist.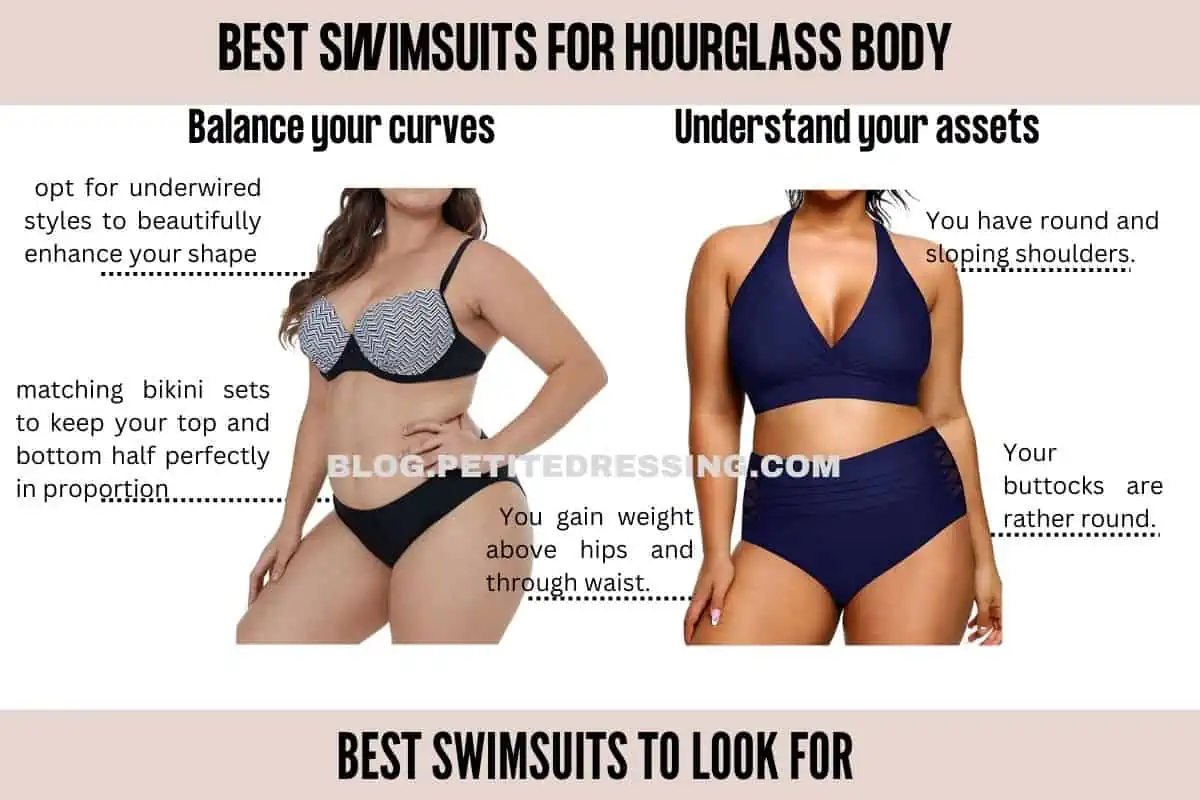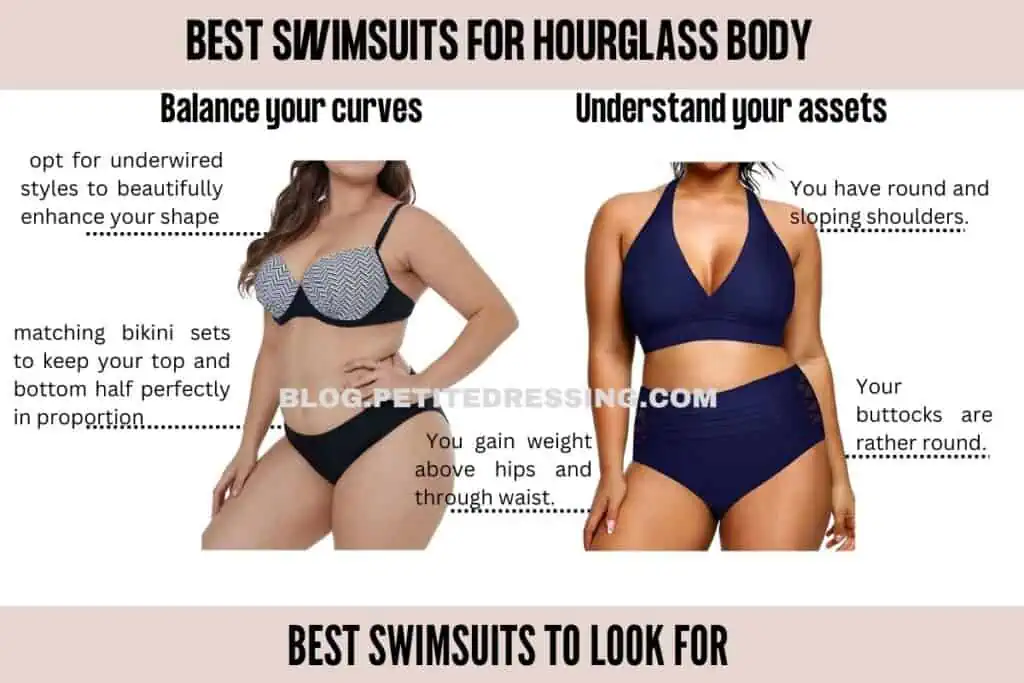 Balance your curves
When you are choosing swimsuits, you need something that can hold your curves. Ideally, a swimsuit that is well structured and made of good fabrics that can hold it all together.
The bikini was made to show off your curves!
In general, choose matching bikini sets to keep your top and bottom half perfectly in proportion and opt for underwired styles to beautifully enhance your shape as well as offering support.
SWIM TOPS
Low halter styles Swim top
As an hourglass, one of your best assets are your full/round busts, which can be your assets to show off in the swimsuit season.
The low halter will show off your cleavage, and also draw attention to your neck and shoulders, making people skim over your short mid-section.
Wide Strap Top
Wide, adjustable straps with underwire boning will all help lift your bust, helping you look and feel your best. Thicker bathing suit straps and double-stitched bands will give you the most flattering results.
The strap will give your bust extra support and the clasp detail will draw attention to your boobs and take it away from your tummy.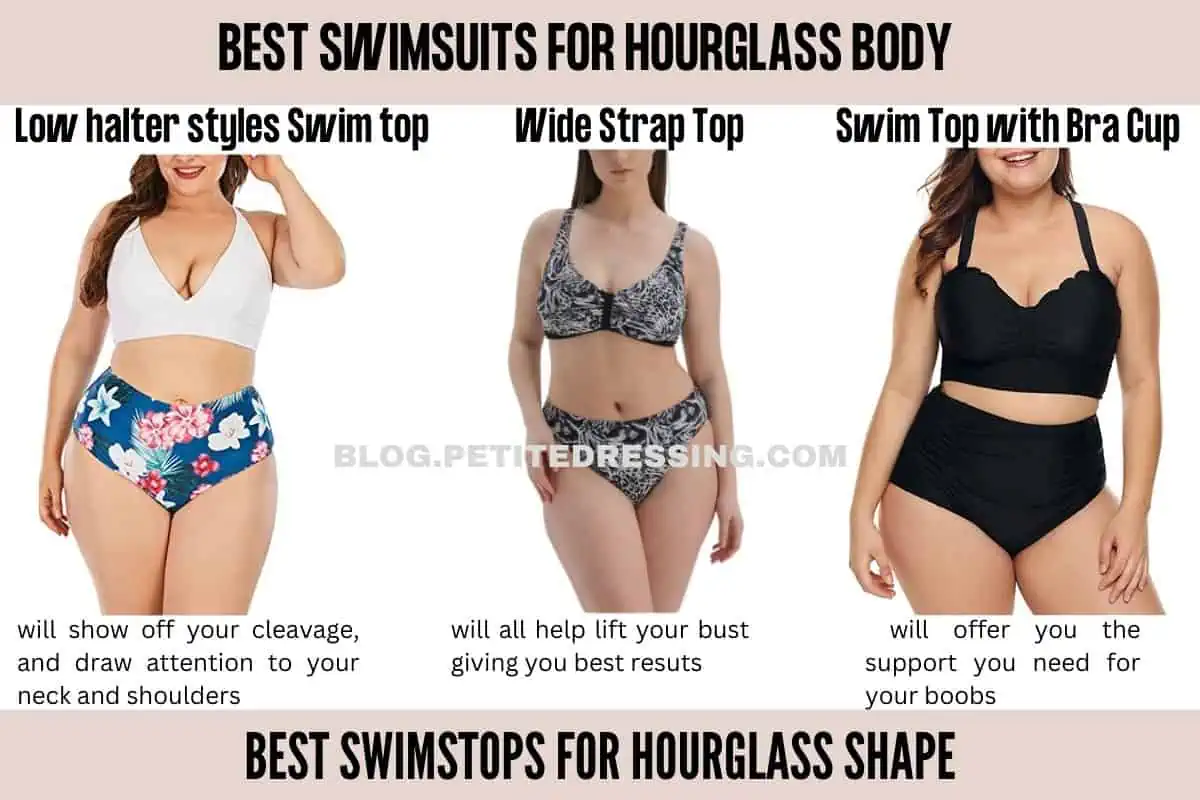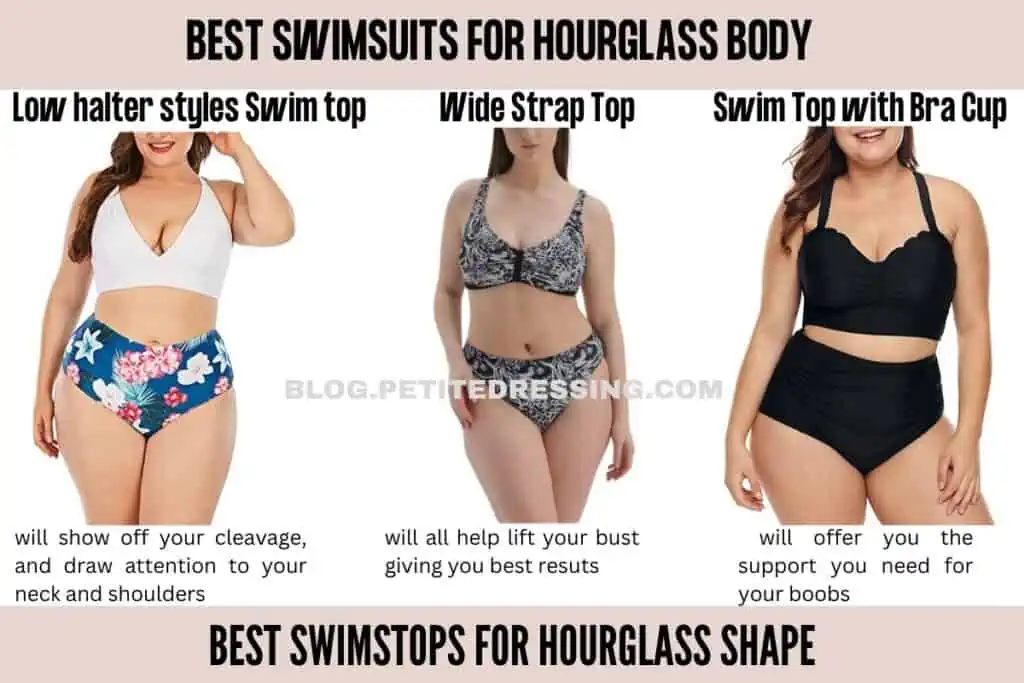 Swim Top with Bra Cup
The hourglass figure need to look for bathing suits that offer plenty of support, just the way a bra would.
Instead of swimsuits that come in general S, M, and L, opt for those with specific cup sizes, which will offer you the support you need so your boobs won't be all over the place when you are in the pool or the ocean.
Although the majority swimsuit brands follow the XS to XL sizing, I have found several brands with numbered cups such as Coco Reef, Bleu by Rod Beattie at Macys. Go check them out!
Avoid tube tops
Even though the hourglass is known for the most coveted curves, not all swimsuits will look flattering on you. Anything that cannot provide enough support for your luscious curves will not be ideal for your shape.
Tube tops do not have straps, for that reason they are not the best option for the hourglass figure. Even though they can look quite chic on someone with a more straight body shape, they can look unflattering on someone with a curvy figure.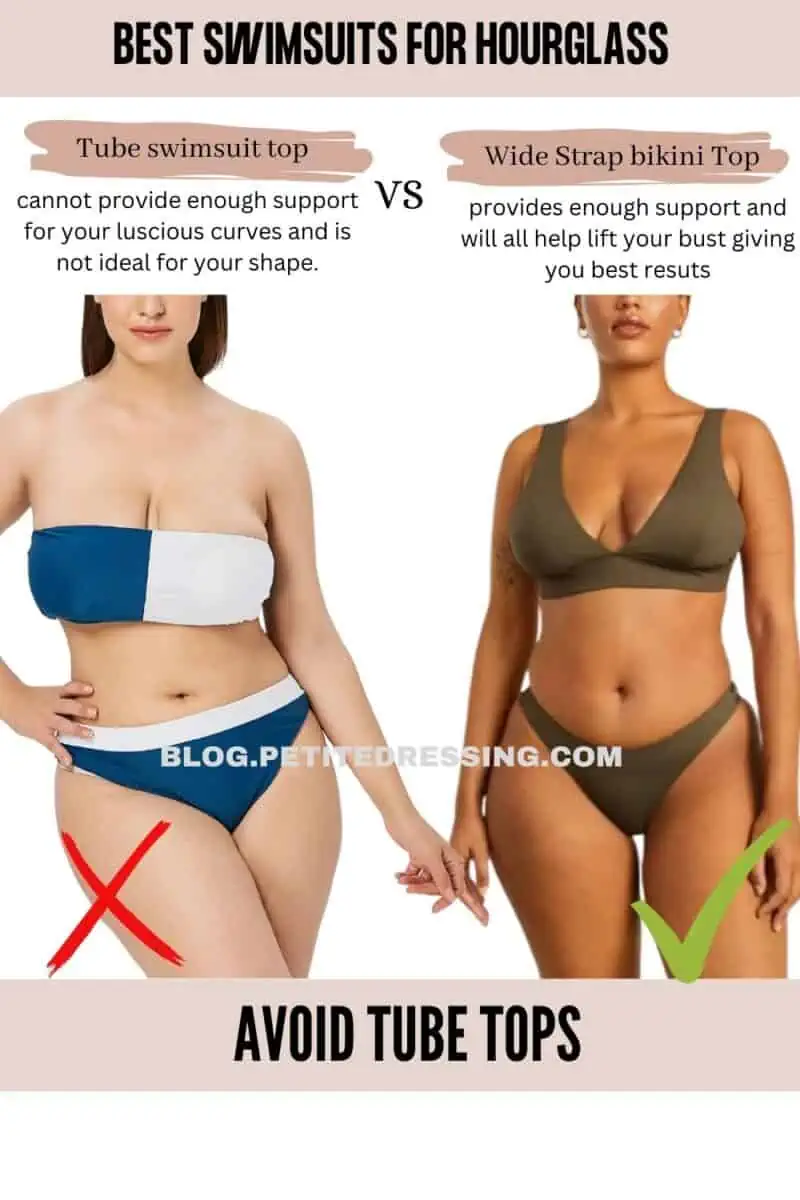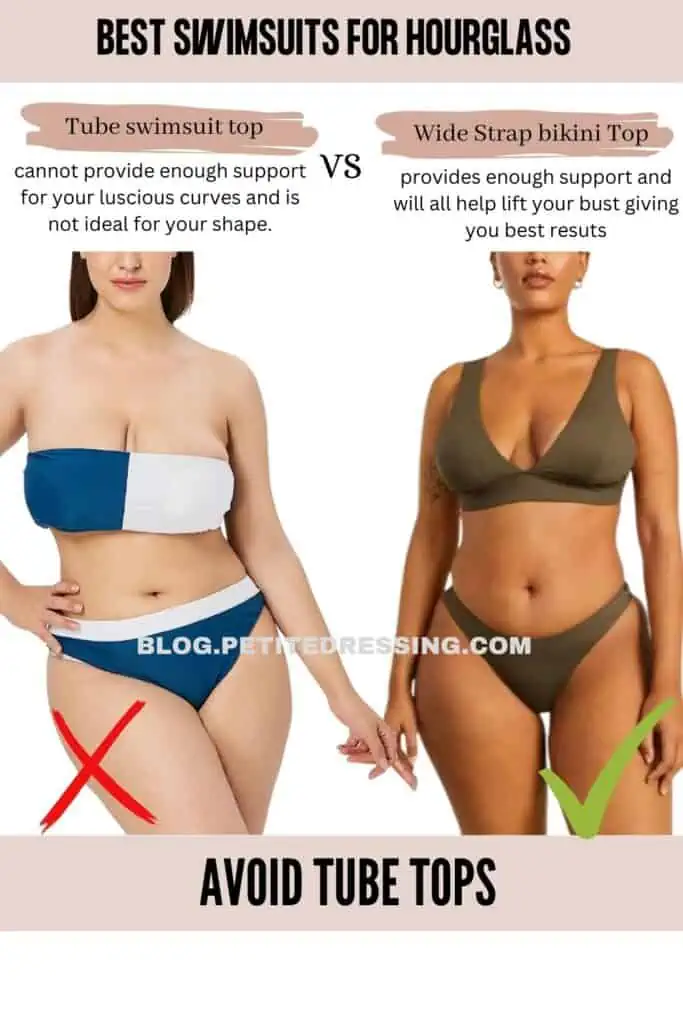 SWIM BOTTOMS
Similar to choosing the best swim top for the hourglass, you need the swim bottom that can hold your full hips and give them enough support.
High-Waisted Swim Bottom
The high-waisted swim bottom provides the most coverage and support for the ample back of the hourglass shape.
As you can see, the high waisted swim bottom looks fabulous on Carly's hourglass figure!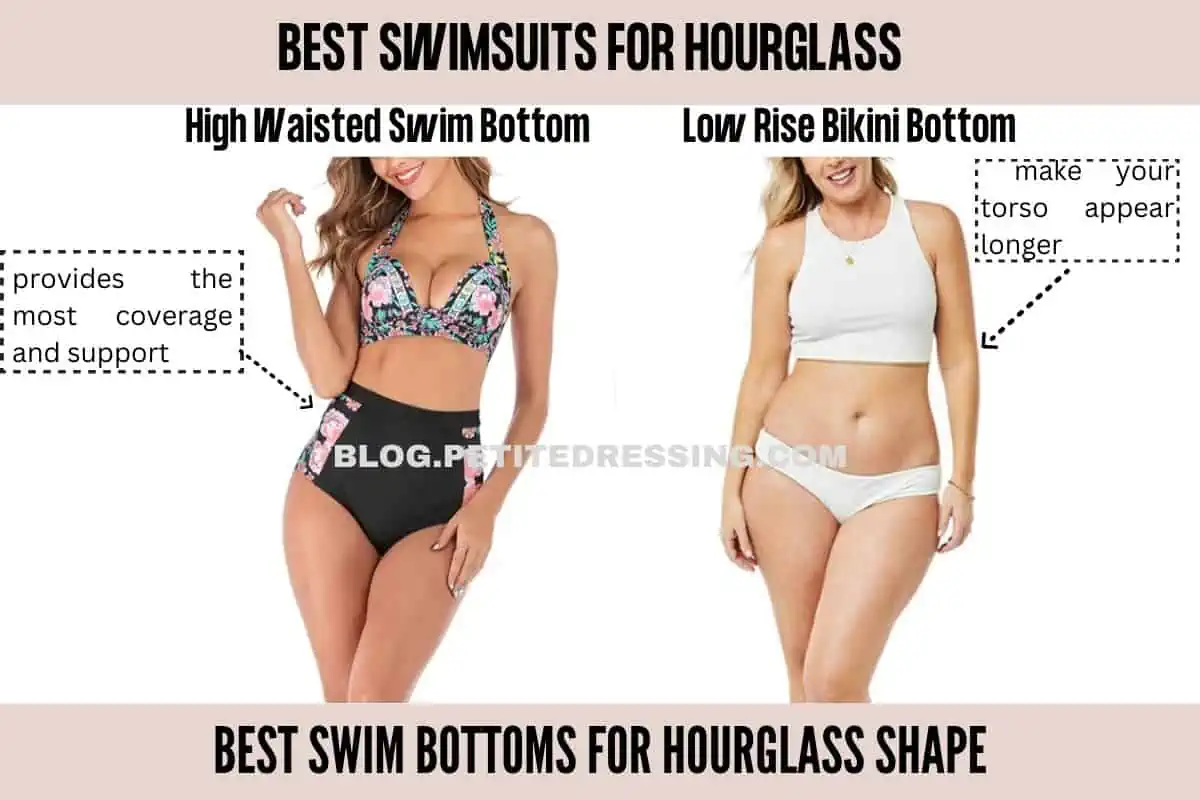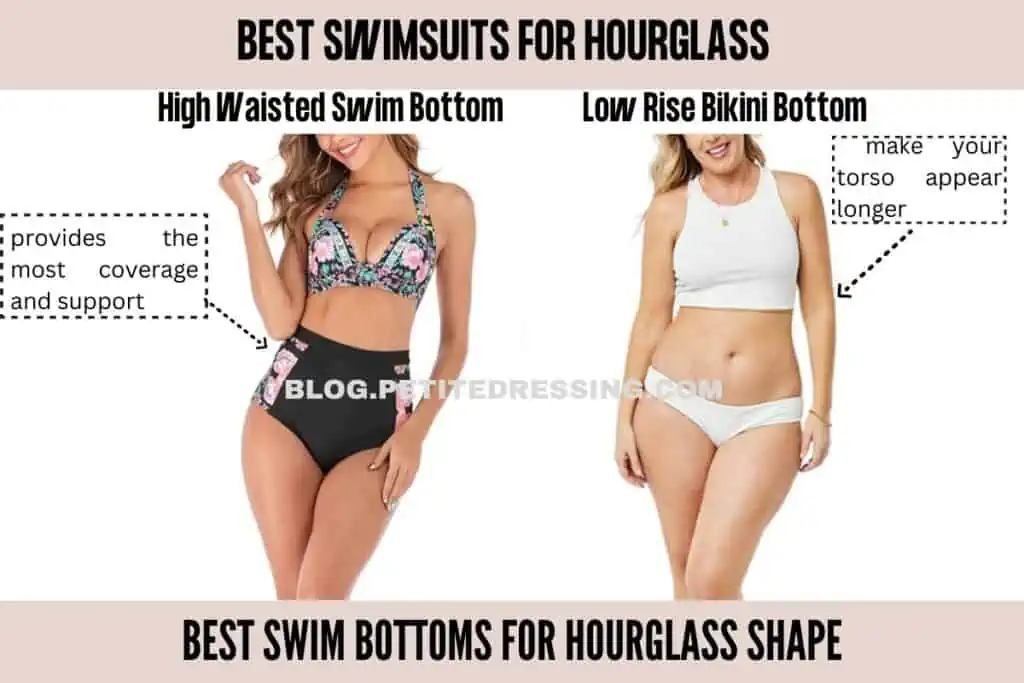 Low Rise Bikini Bottom
Plenty of hourglass shaped women feel like they have a shorter torso. If that is your case, then you you might want to consider elongating a short torso.
Low-rise bottoms make your torso appear longer and However, low rise bottoms also have the risk of making your legs look shorter- so let's look for the balance here.
Caution with string bikini
There are not that many restrictions as to what you should not wear or should avoid, and your focus should be to emphasize your assets (full breasts and slender waist) and amplify your beautiful figure.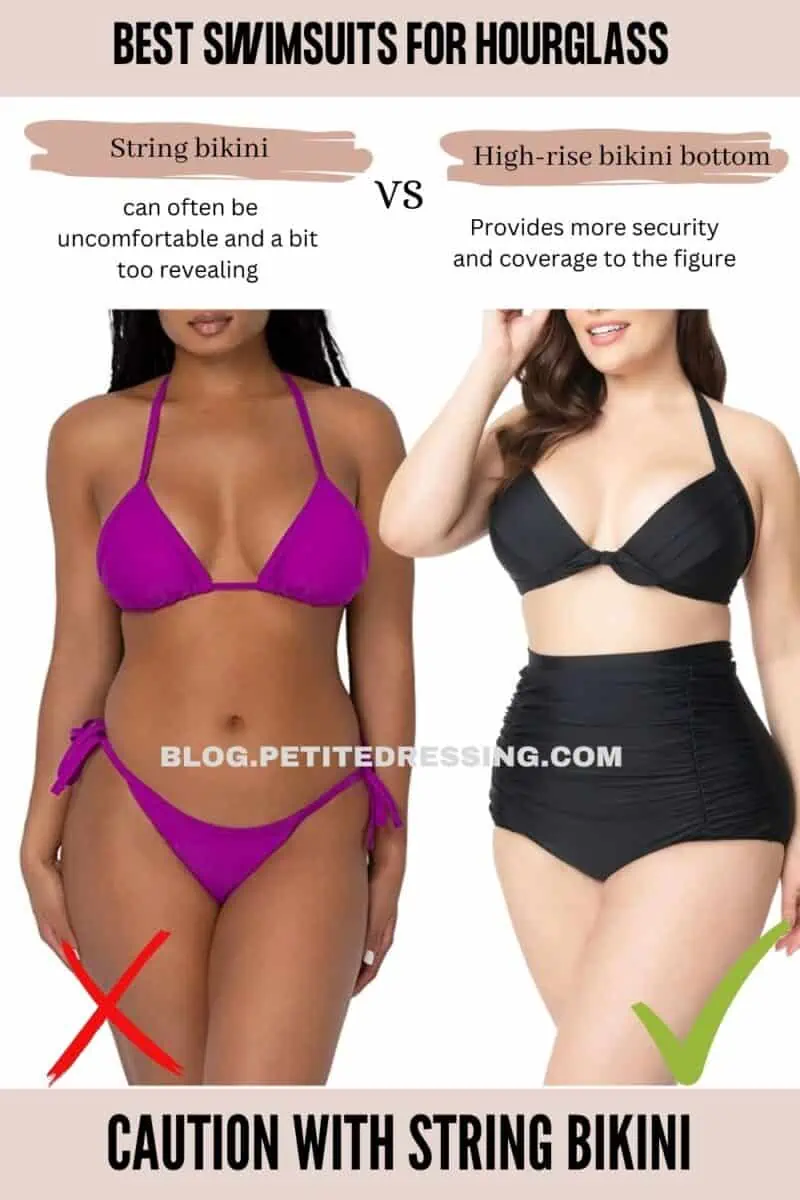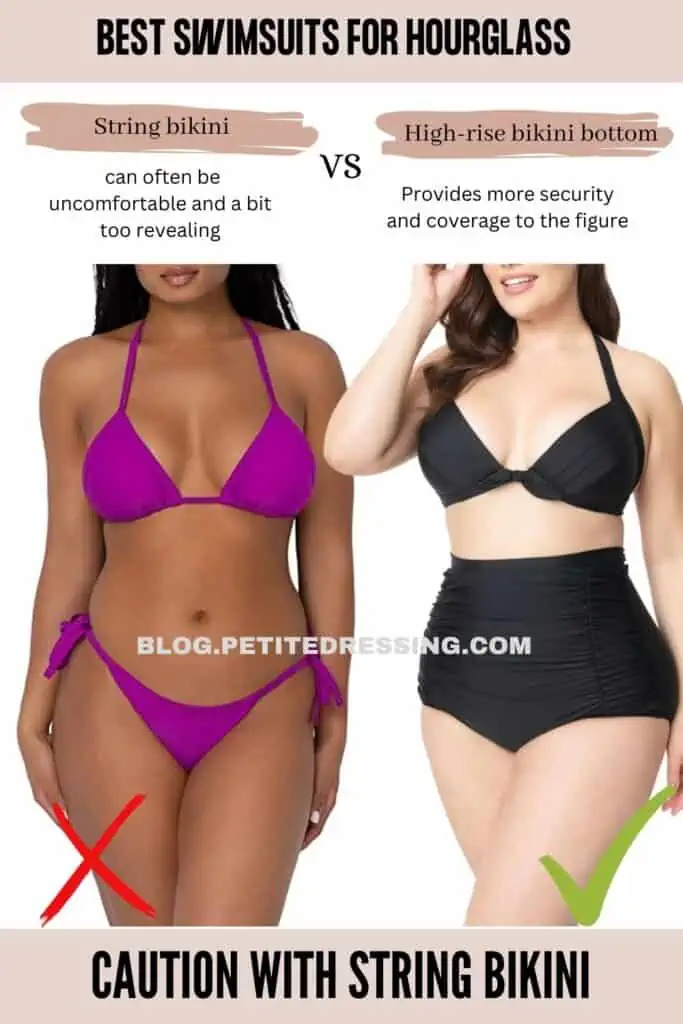 That said, there are several things I want you to be aware of.
If you consider yourself on the better-endowed side, then string bikinis are not your friend, simply because they might be out of proportion with your chest size. Also, skimpy triangle tops may not work well either because they rarely offer enough support or coverage.
If you are a thin hourglass body type, you can wear a classic string bikini without any issues.  However, if you've got an ample backside, which is the case with most hourglass-shaped women, then string bikinis can often be uncomfortable and a bit too revealing. You'll need a suit with enough fabric in that area so you're not constantly tugging for more coverage!
ONE PIECE
Belted One Piece Swimsuit
No other one piece swimsuit can highlight your small waistline better than a belted swimsuit!
The main reason that belted style is a must have for the hourglass is because they bring all the attention to your waist.
Whether you are a busty hourglass, or a skinny hourglass, your tiny waist is always one of your biggest assets and you should definitely make that the focal point of your swimsuit outfit.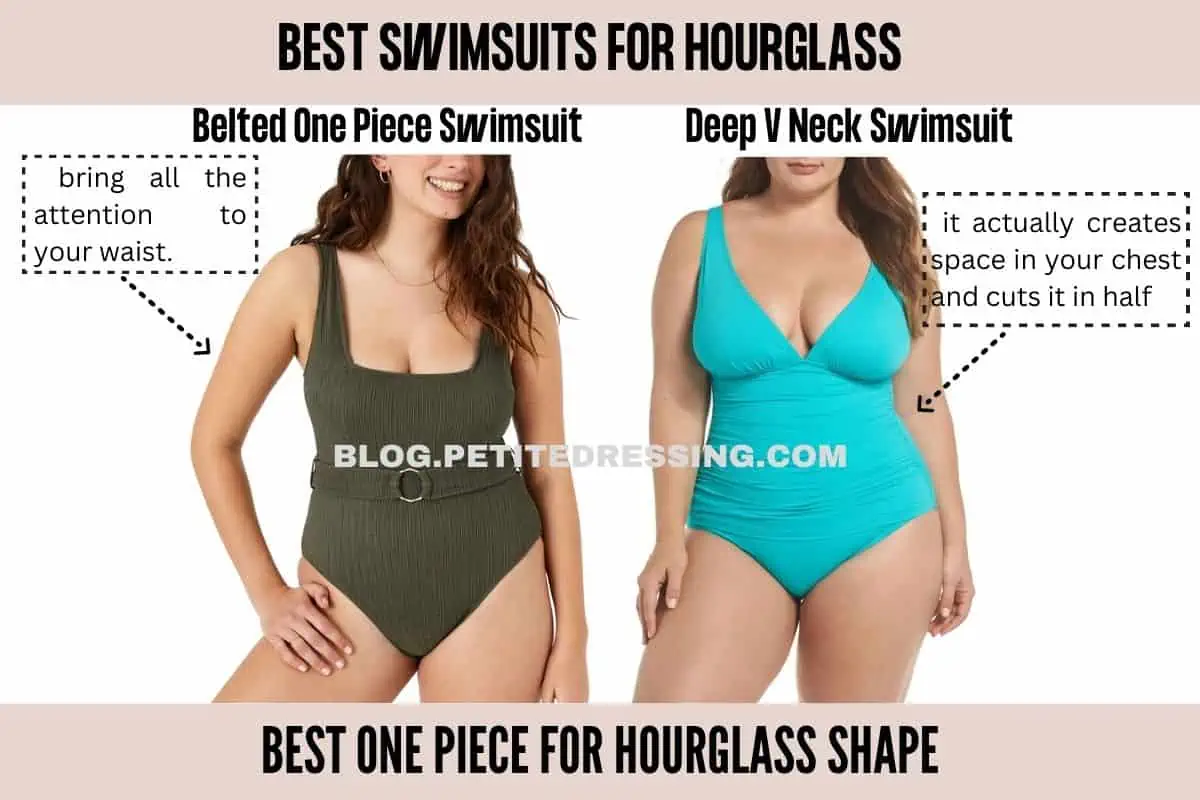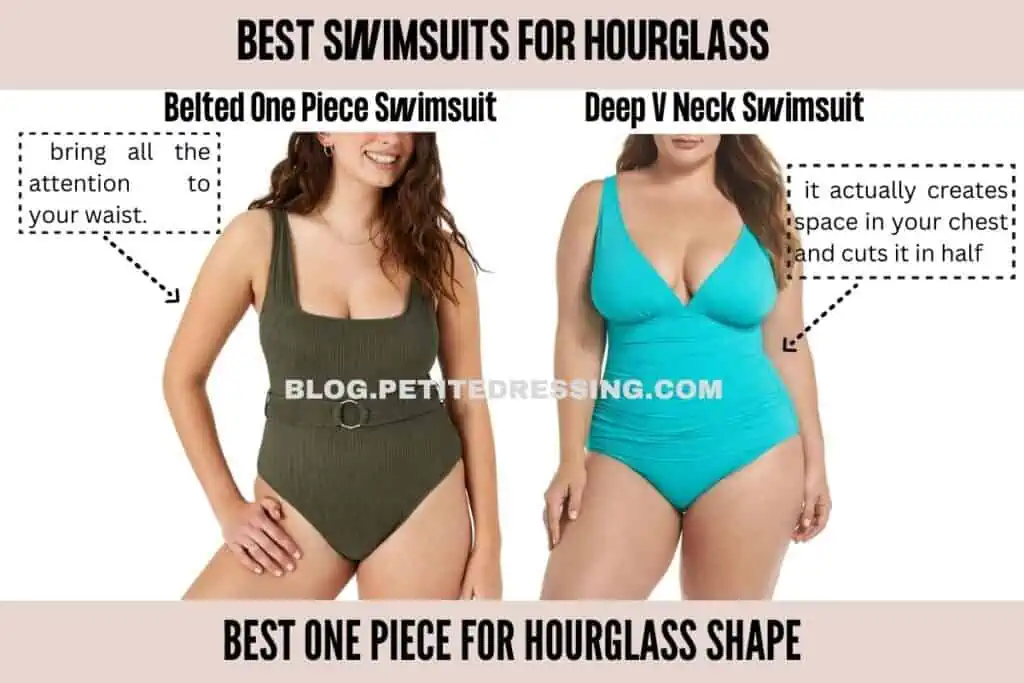 Deep V Neck Swimsuit
The hourglass shape should generally go with an open neckline. The deep V neckline is one of the most flattering neckline for you.
Many hourglass are quite well endowed, and for that reason, they are hesitant to go with lower necklines as that may highlight "too much" of your chest. Therefore, they tend to go with higher necklines in order to "cover it up".
But it actually works the opposite way.
Even though it may sounds like a deep V neck swimsuit is "low neck", but it actually creates space in your chest and cuts it in half, which means your chest will appear less full because of that.
So if you have the hourglass shape, try out a plunging V neck bathingsuit and you may be surprised!
High Cut Swimsuit
Many women with an hourglass shape tend to have a longer rise, which in turn can make your legs appear shorter.
High cut swimsuits are universally flattering, and if you happen to be an hourglass shape with shorter legs, the high cut will create the illusion of longer legs for you effortlessly!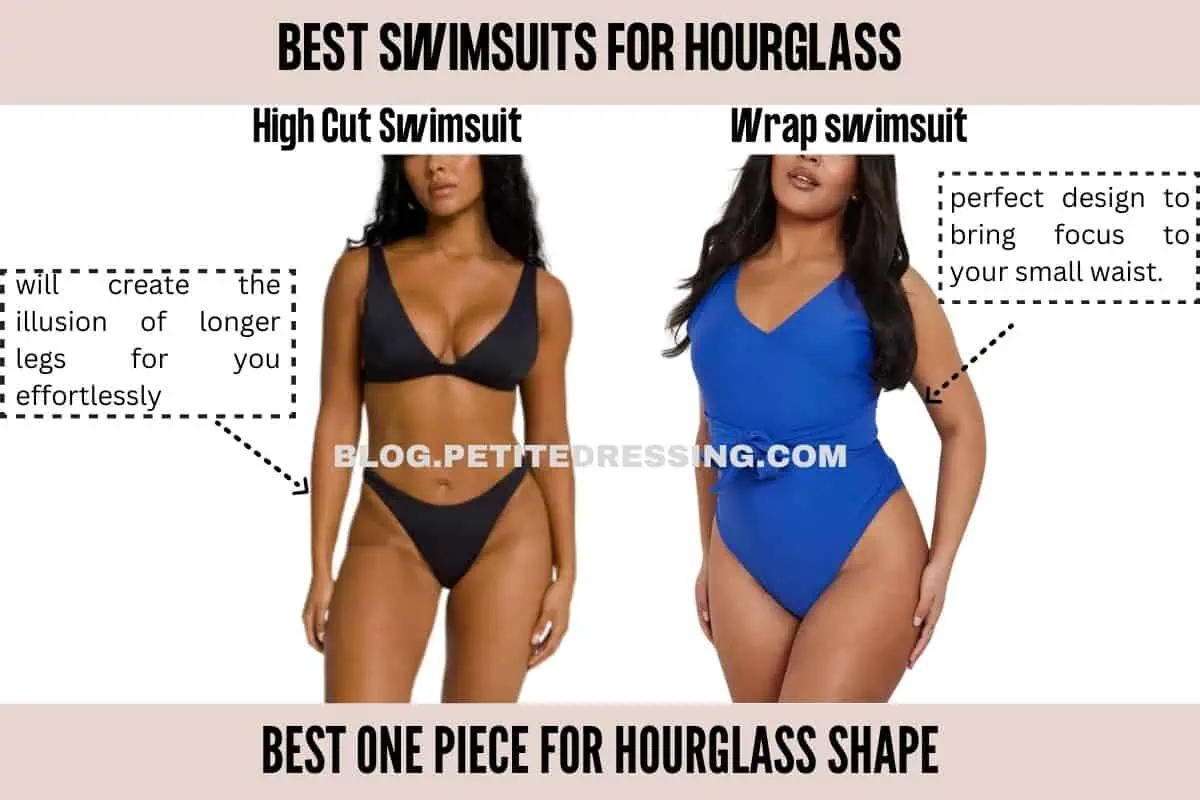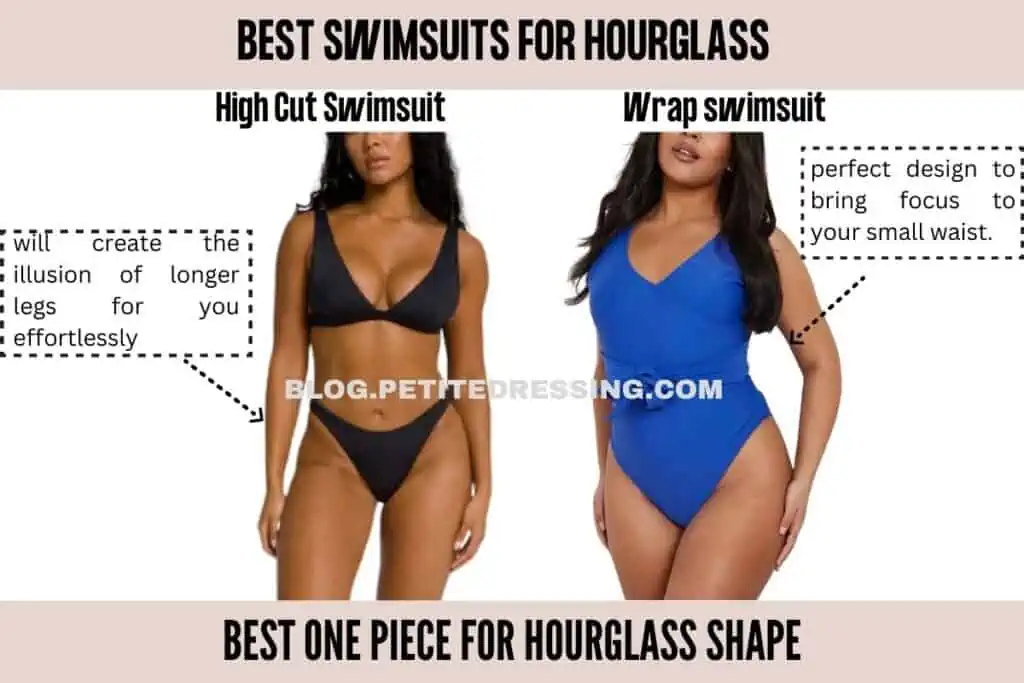 Wrap swimsuit
The wrap design is a heaven sent for women with the hourglass shape. The main reason is it highlights your curves in a very tasteful way without being too revealing.
Because wrap bathing suits typically has a belt or waist tie, they are the perfect design to bring focus to your small waist.
Additionally, wrap swimsuit are normally adjustable, and that makes them versatile and are able to accommodate the ins and outs of the curvy shape of the hourglass.