If you are petite, finding the right dresses are not an easy task. I know this as I am 5'2″, so it took me quite a few years to figure out what look good on my short frame. Besides, if you are an inverted triangle shape, that means your shoulders are broader and your hips are narrower, which can give the impression of "top heavy".
Since I have a clothing line for petite women, I work with petite models of all shapes and sizes, including inverted triangle.
I've put together this detailed guide to help you find the most flattering dresses for your shape!
Styling Goal
Choose dresses that feature a full and flowy skirt silhouette. As someone with an inverted triangle body type, your hips, thighs, and legs will need an extra boost of volume for additional depth.
Stick to elongating structures, prints, and patterns to give your petite frame the illusion of additional height. A wider upper body on a petite frame may look awkwardly unproportioned so you'll need to stretch your frame up more to open up more space to your strong features.
Stay away from very tight dresses. Bodycon, skimpy, and anything that clings too close to your body will only emphasize the imbalance between your upper and lower body.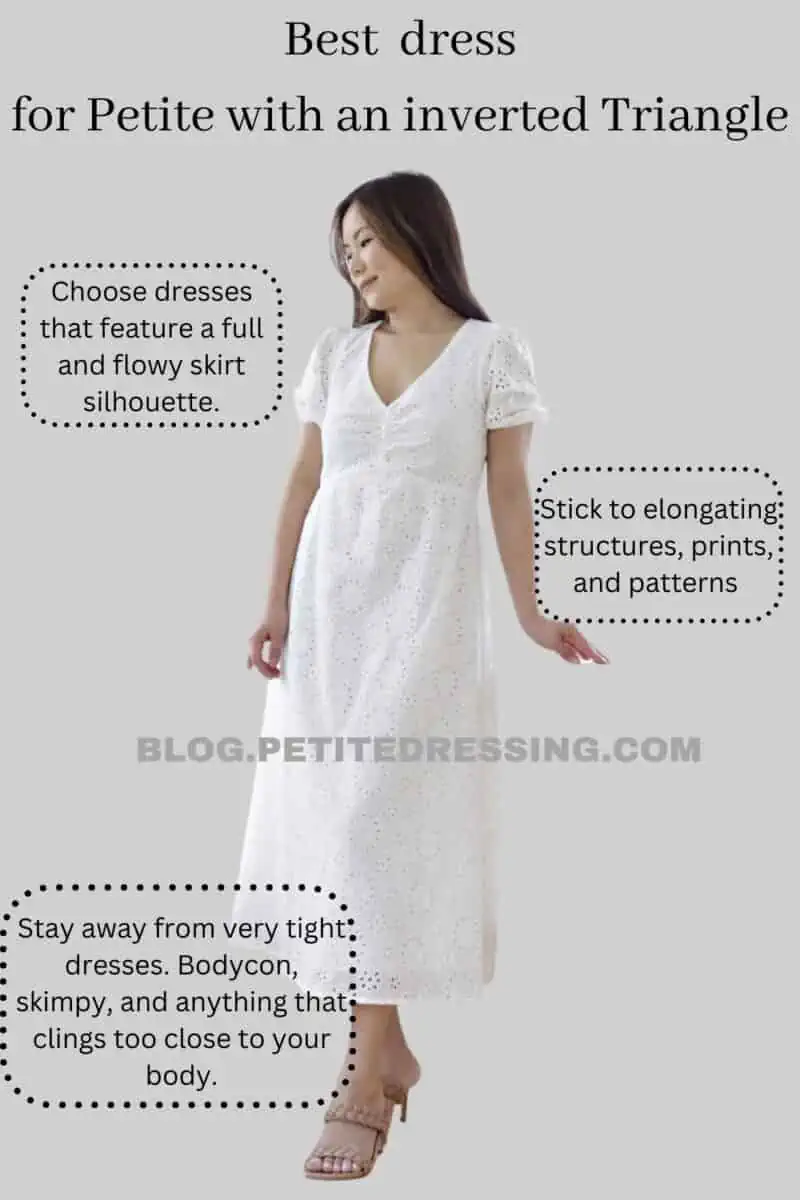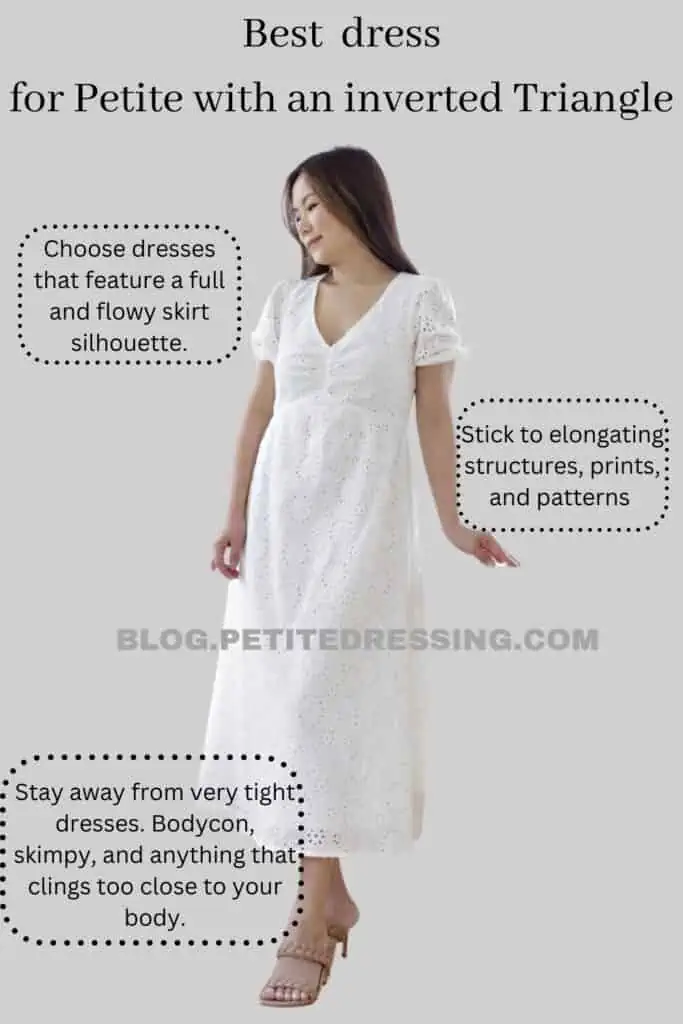 Wrap Dresses
When it comes to dressing a petite inverted triangle shape, the wrap dress is a must-have in any fashion-savvy wardrobe because of how flattering it can be on your figure. One of the most significant advantages of the wrap dress is its ability to cinch the waist to pull your look in coordination and balance.
This style of dress features a wrap-around design that ties at the waist, creating an apparent waist definition that is incredibly flattering for inverted triangle shapes. By highlighting the waist, the wrap dress helps balance out the broader upper body and creates a more proportional silhouette.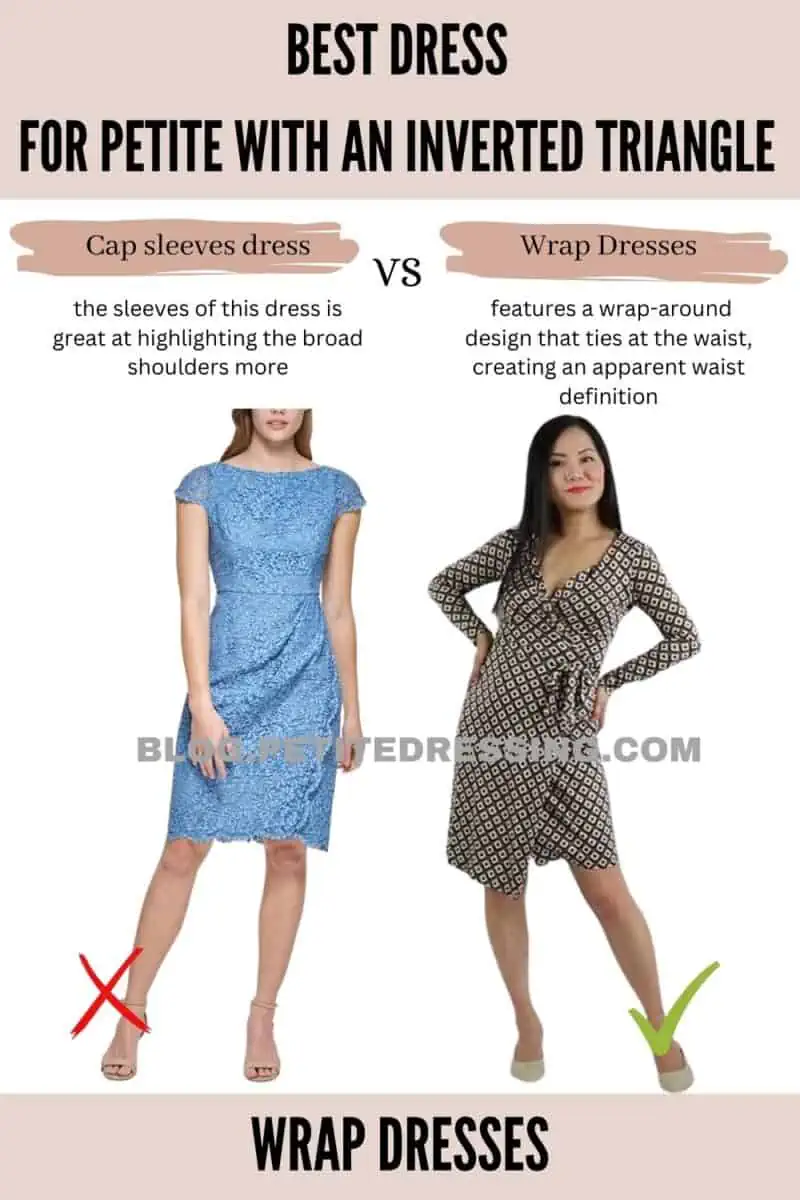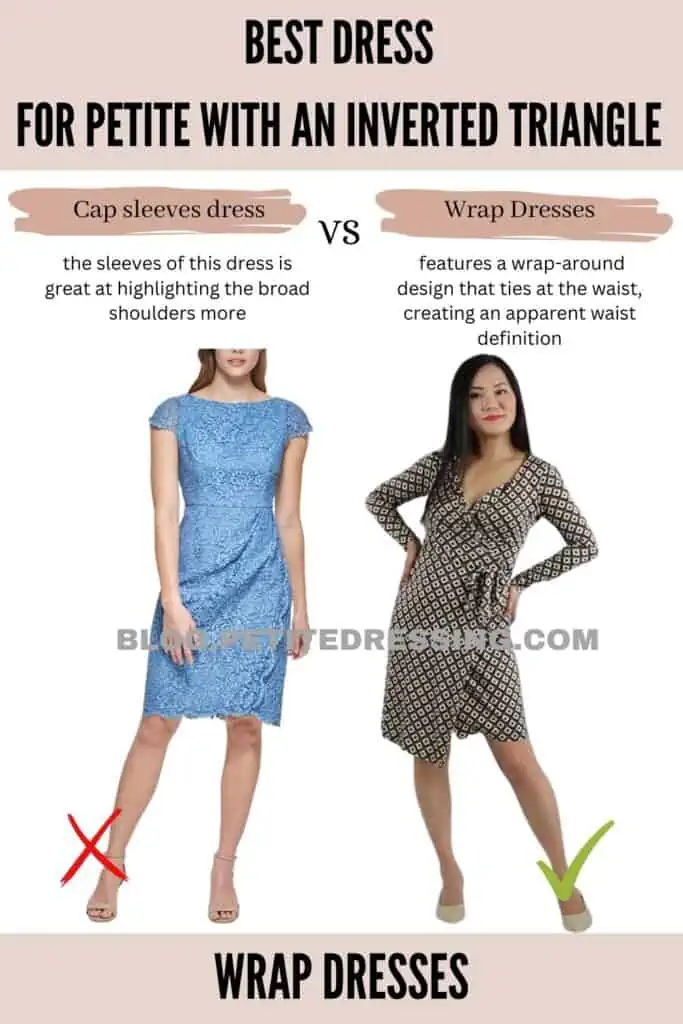 Additionally, the wrap dress can make you appear taller through its V-neckline that elongates the neck and draws the eye downwards, creating the illusion of a longer, leaner body. This visual effect can help to create a more balanced and streamlined appearance, making you look taller and more graceful.
Structured A-Line Dresses
With its form-flattering bodice and fully flared skirt, the A-line dress offers a host of style benefits that can help create a balanced and proportionate silhouette for your petite inverted triangle body type.
One of the main advantages of the A-line dress is that it emphasizes the waist while skimming over the hips and thighs. This creates a flattering shape that mimics the hourglass figure as it efficiently balances out the broader upper body of the inverted triangle shape.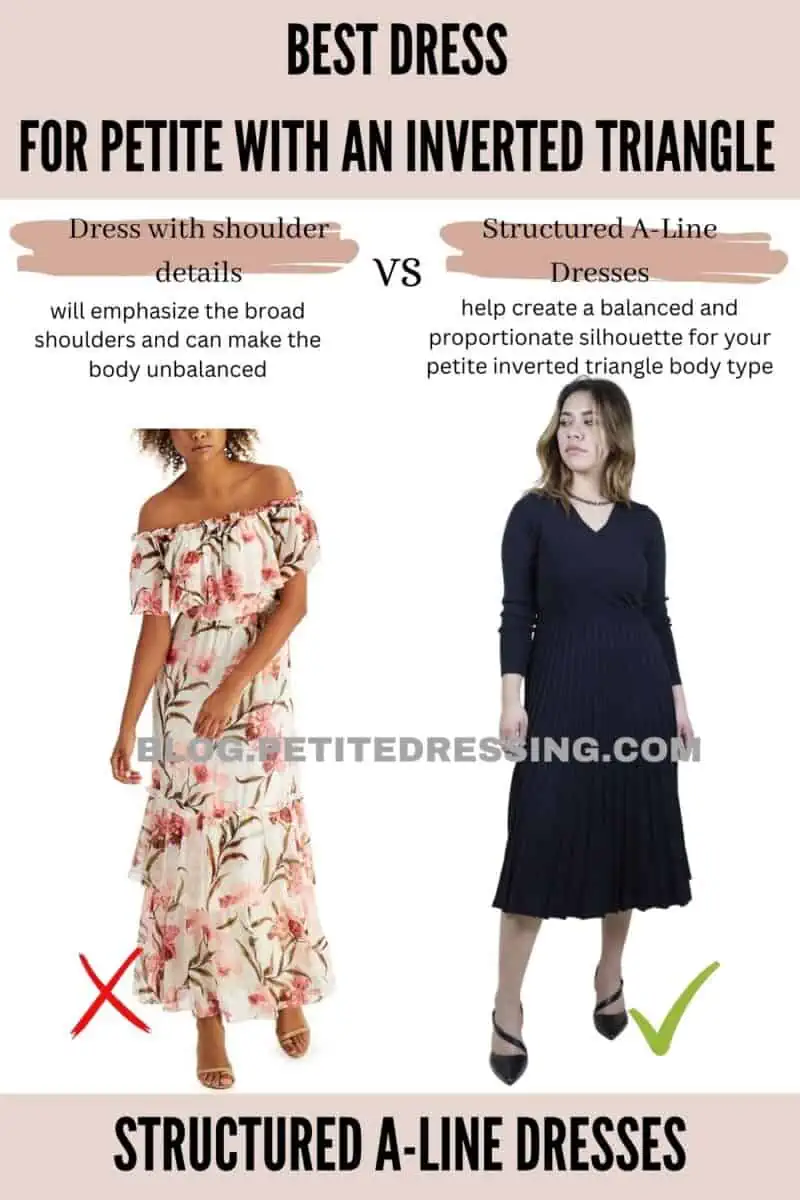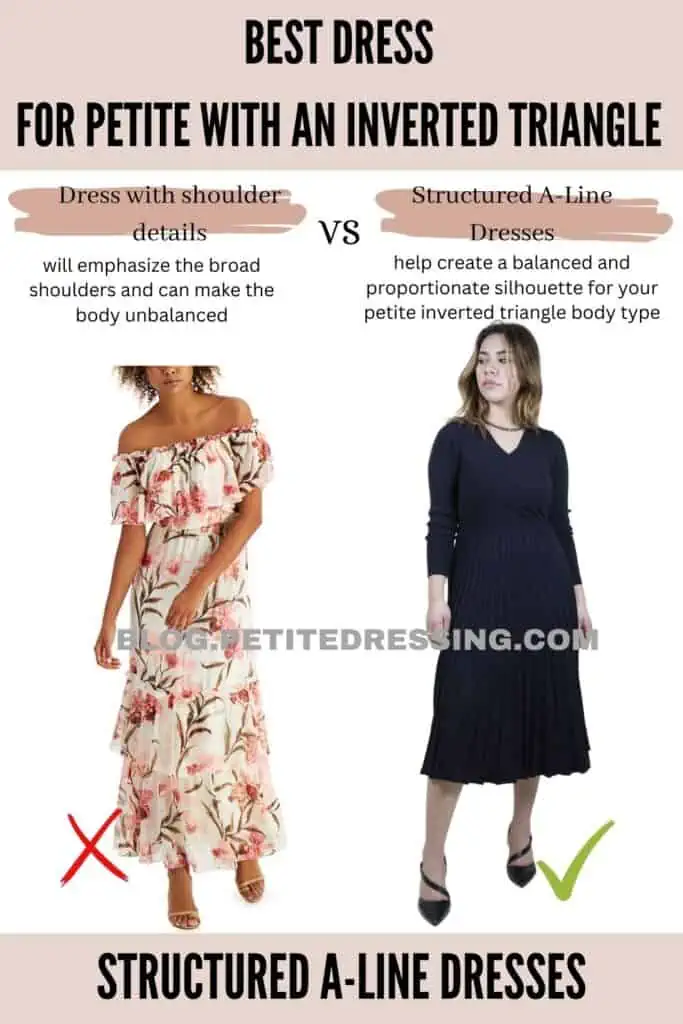 By adding volume to the lower half of the body, the A-line dress creates a more proportionate figure, creating a beautiful, feminine shape. Another advantage of the A-line dress is its ability to elongate the body thanks to the seam that nips in the waist and its ability to create a continuous vertical visual line from the shoulders to the hem.
Streamlined Belted Dresses
Just like the previous two dress styles we discussed, belted dresses can also be a very flattering choice for inverted triangle body shapes due to their prominent waist cinch. With its cinched waist and flowing silhouette, the belted dress offers a host of benefits that can help to create a more balanced and proportionate figure.
By cinching in at the waist, the belted dress creates the illusion of a more defined waistline, creating a more balanced figure. Another advantage of the belted dress is its flowing silhouette, which can add volume to the lower half of the body.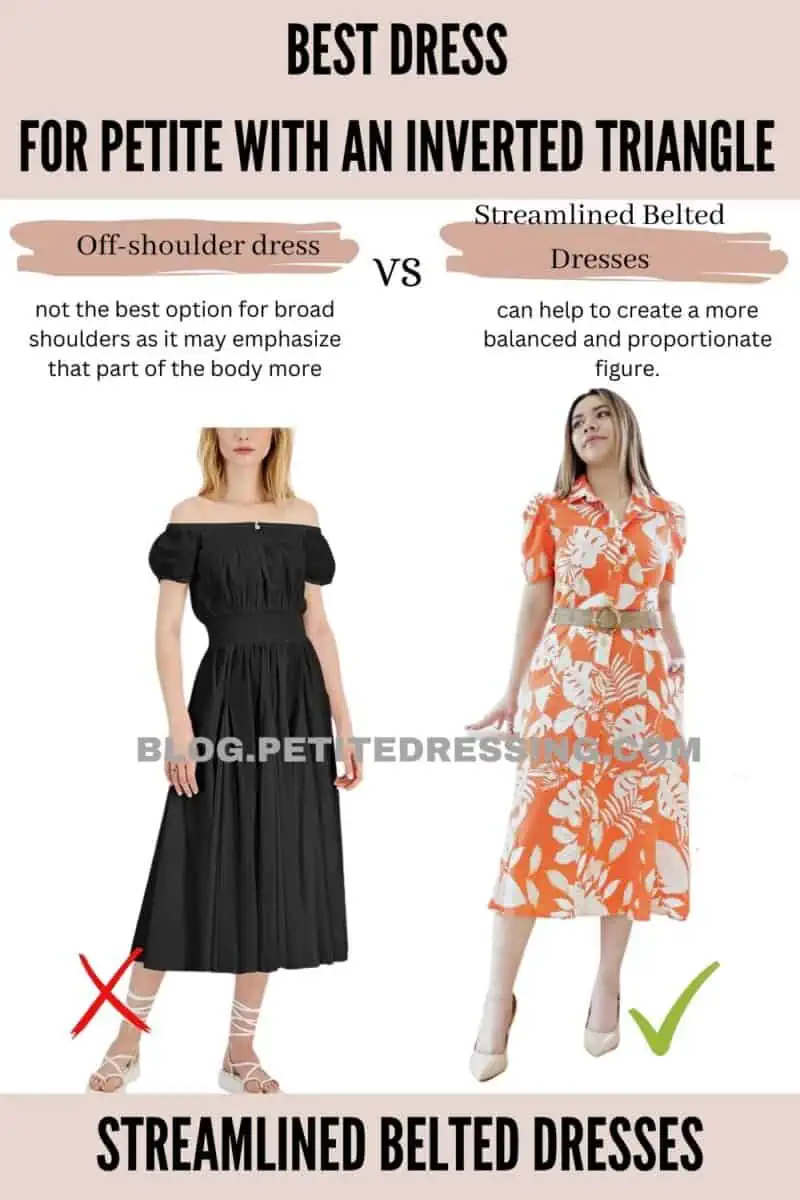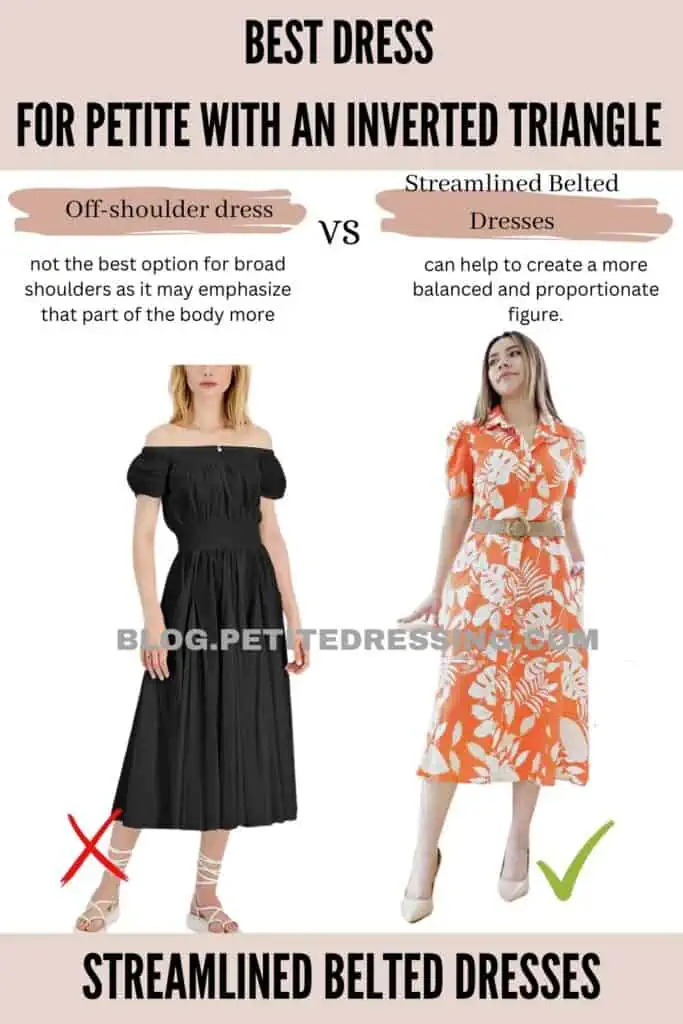 This creates a more proportionate upper and lower body ratio, drawing the eye downwards and creating a more balanced appearance. The flowing skirt of the belted dress can also create movement and fluidity, giving the appearance of a longer, leaner frame.
Dresses with Minimal Sleeves
Sleeves play an important role when it comes to styling an inverted triangle body type. Since your broad shoulders are already broad and pronounced, you wouldn't want any additional bulk around this area.
Flutter, kimono, and tailored sleeves are some examples that are deemed flattering on your figure because of how they drape down creating a softer look. This doesn't completely hide your broad shoulders but instead, tone them down to look more balanced with your bottom half.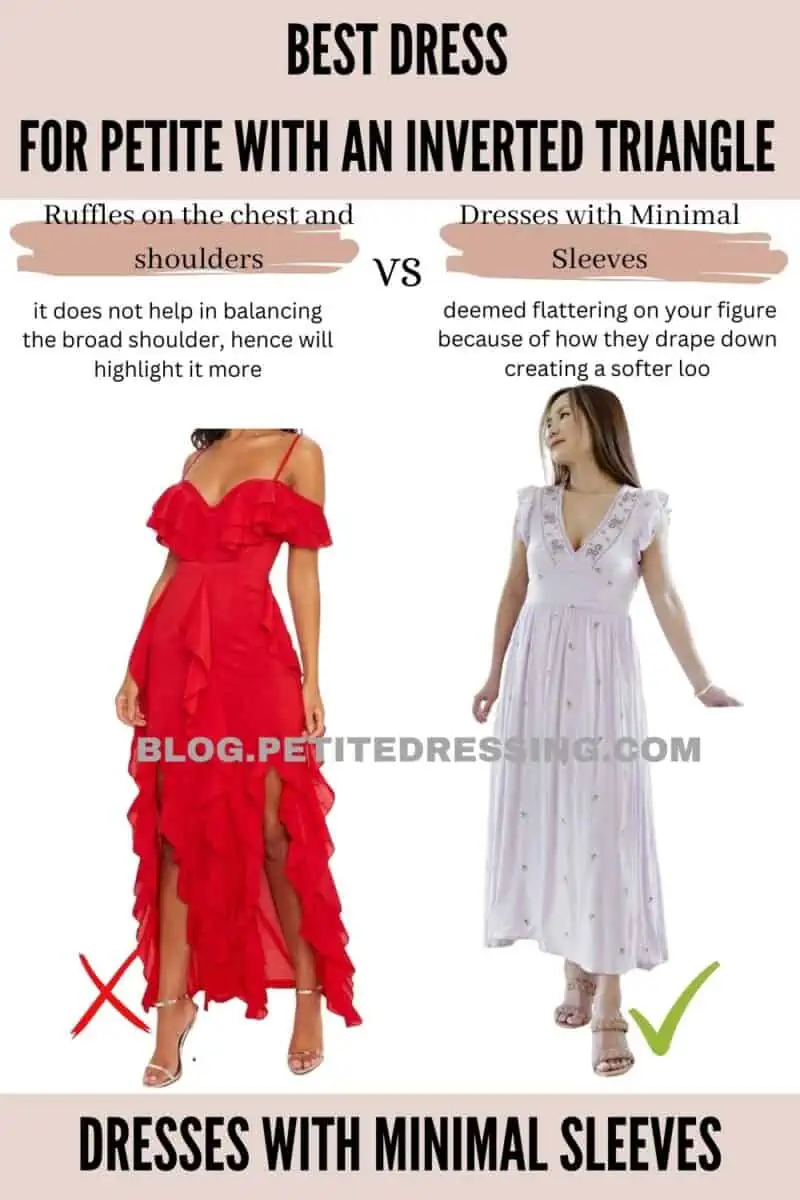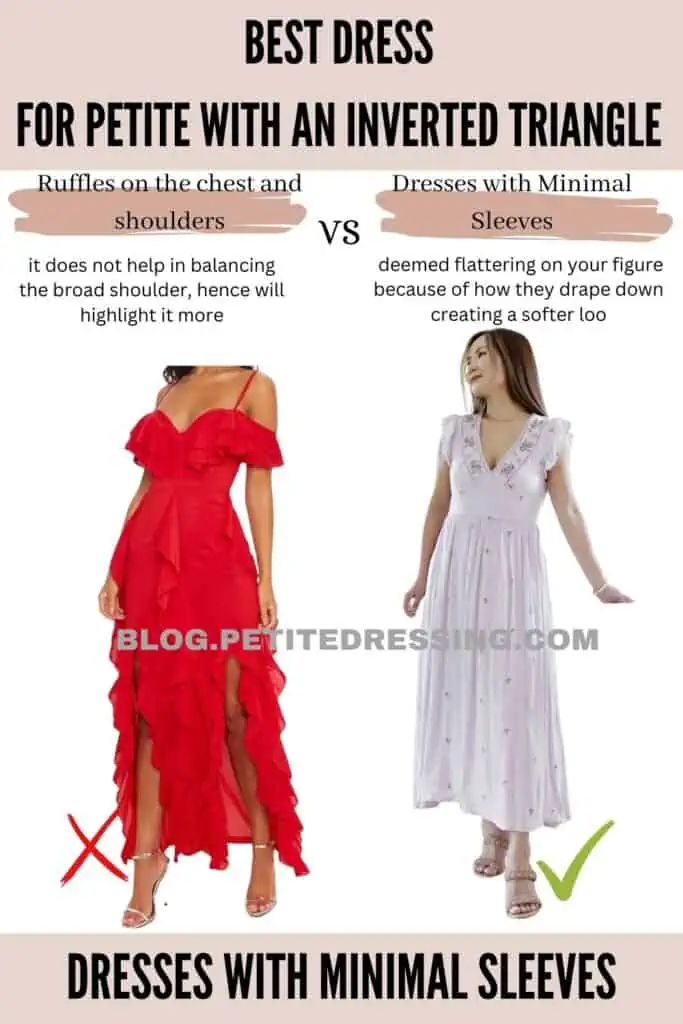 Fit and Flare Dresses
Fit and flare dresses feature a universally flattering silhouette that is an absolute go-to recommendation for almost every body type, including those with a petite inverted triangle shape. It's a dress style that's fitted through the bodice and then flares out at the waist into a full skirt which makes it particularly ideal for those with an inverted triangle shape, where the upper body is wider than the hips.
The Fit and flare dress works to balance out your top-heavy shape by adding volume to your bottom half. So when shopping for a dress for your body shape, it's important to choose styles that minimize any volume on top.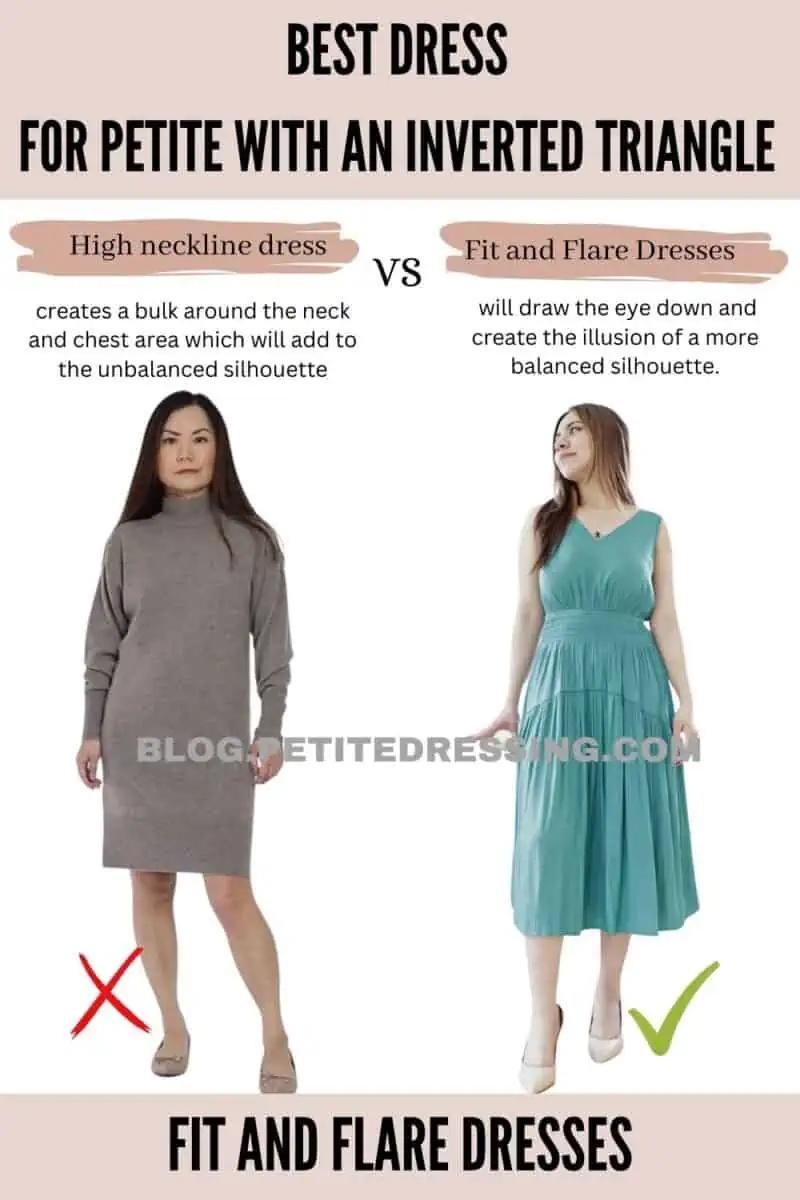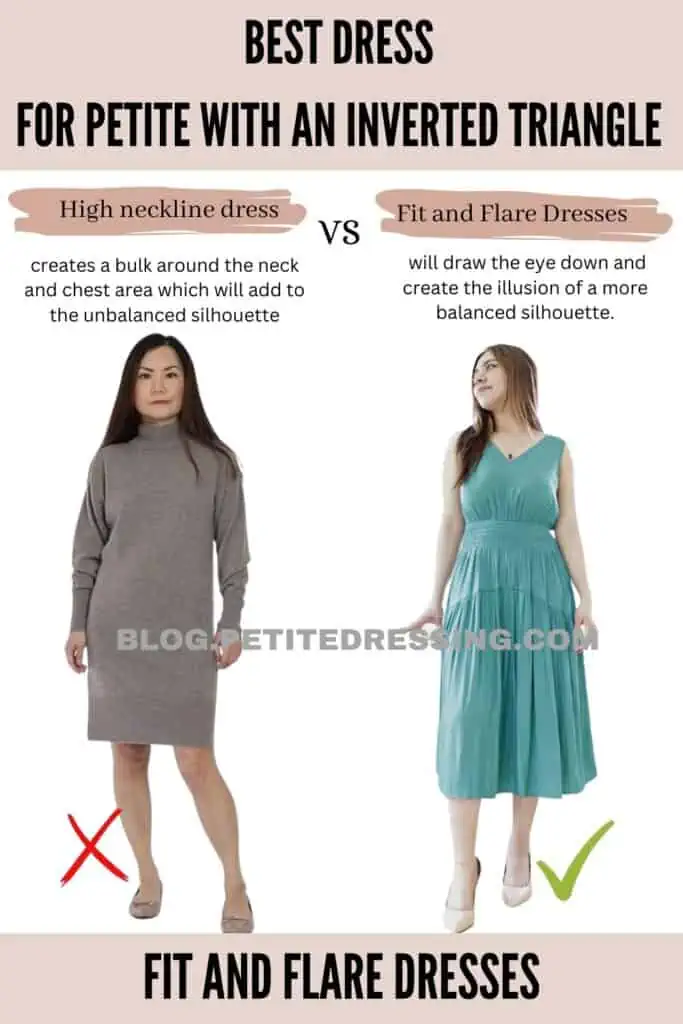 This means avoiding high necklines or anything that adds bulk to your shoulders. Instead, opt for a V-neck or scoop neck that will draw the eye down and create the illusion of a more balanced silhouette.
Dresses with a Paneled Waist
A paneled waist dress is a style that features strategic stitching and seam placements at the waistline to create the illusion of a more defined waist. The design is crafted in such a way that the panels flare out from the waistline, thus drawing attention to the slimmest part of your figure to give you the illusion of an hourglass shape.
For petite inverted triangle shapes, this style works wonders by balancing out the upper body's broadness with a defined waistline and a fuller skirt. The dress adds volume where it's needed, creating a nice upper and lower body ratio while also flattering and accentuating your curves.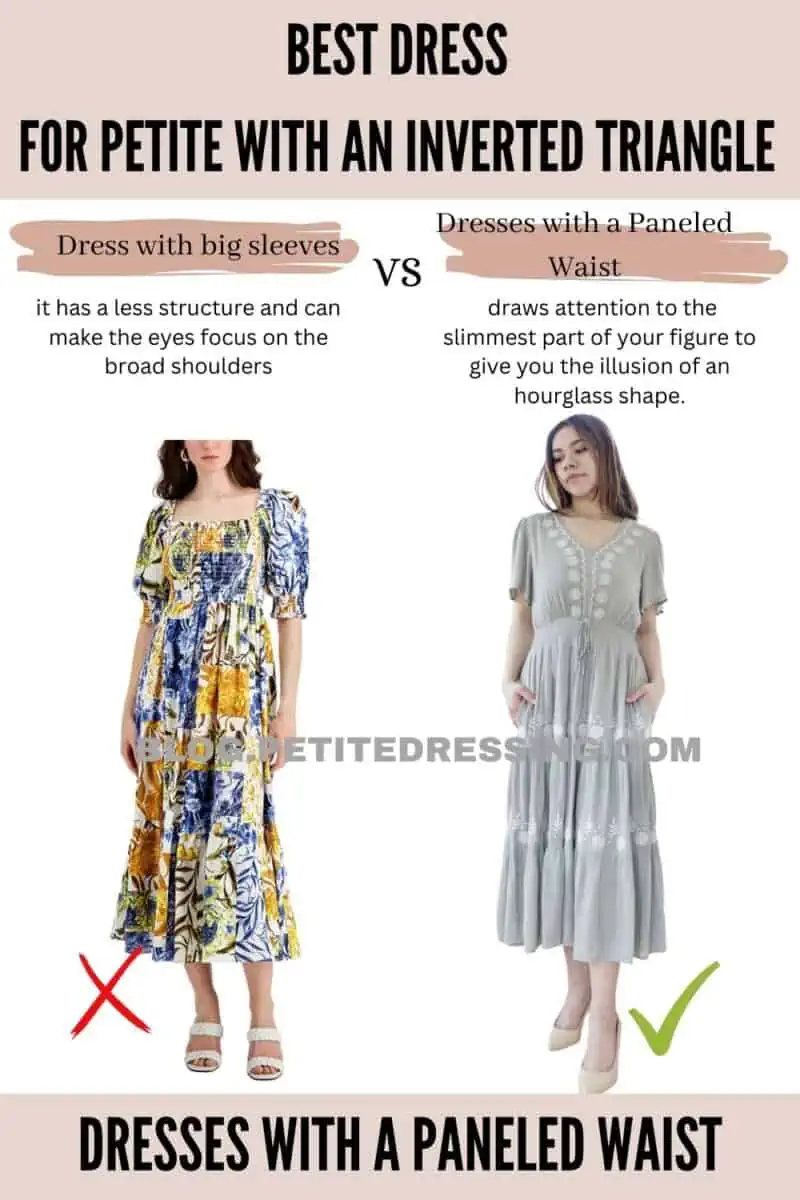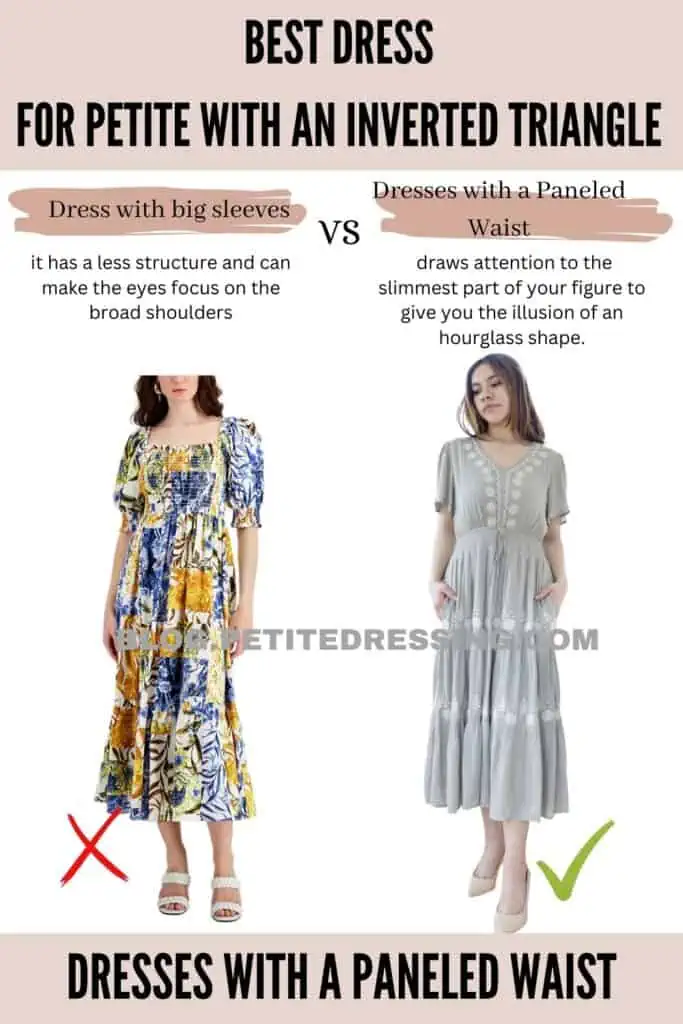 The paneled waist dress creates a sleek and elongated appearance while also providing a feminine and chic look as well!
Flowy Pleated Dresses
Flowy pleated dresses have a unique design that features a fitted bodice and a flowy skirt with pleats. The pleats create movement and volume, which strategically creates proper balance by having your lower body match the prominence of your shoulders and bust.
Additionally, since the pleats run through a vertical straight line, it gives you the appearance of a longer frame which can be beautifully flattering for petite ladies. This results in having your visual line uninterrupted from the shoulders to the hem of the dress.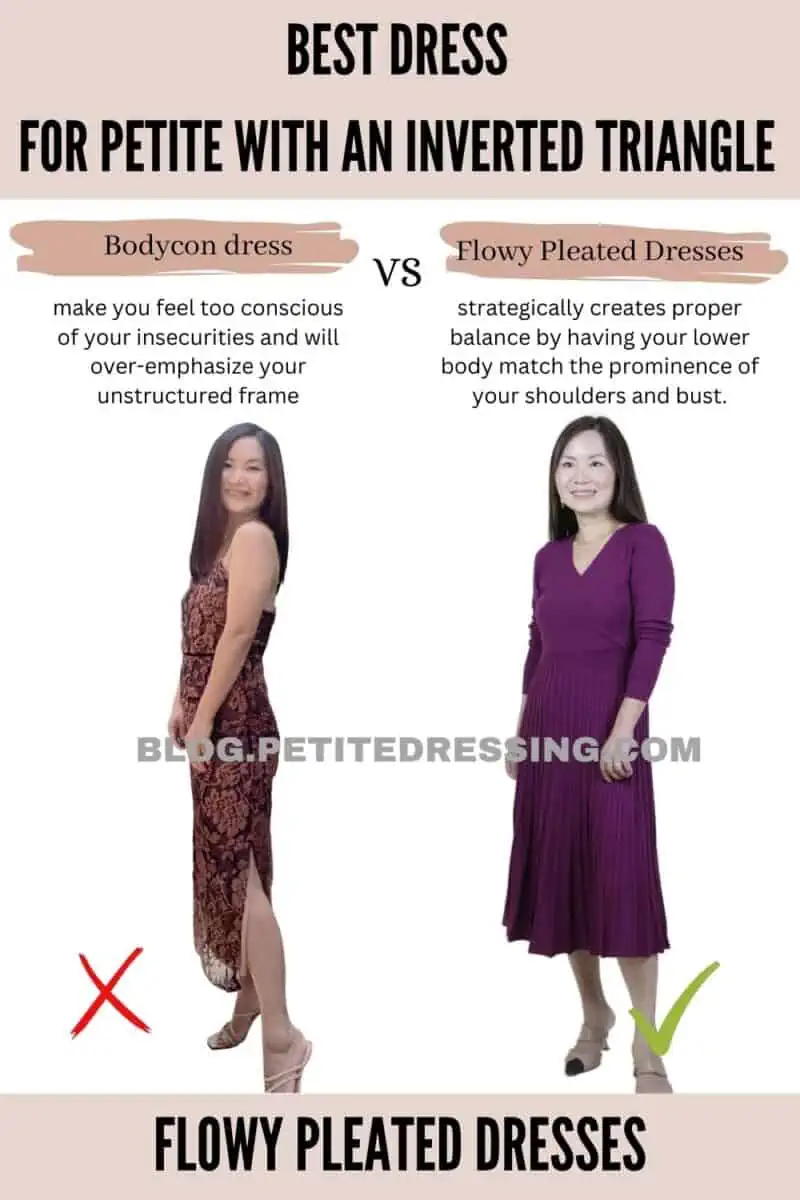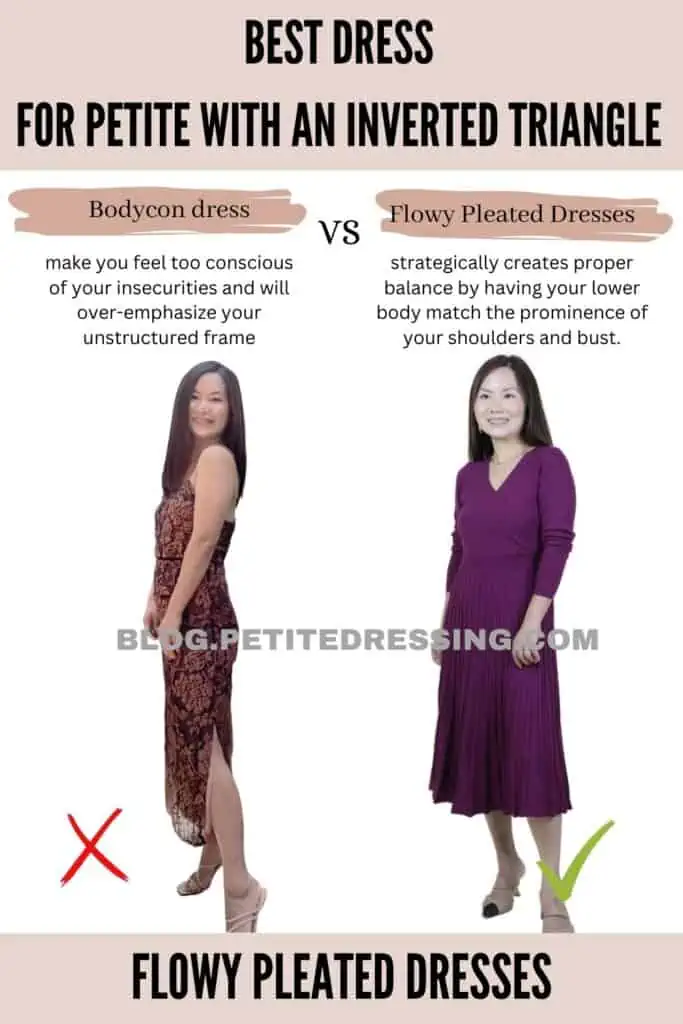 This design also adds an elegant and feminine touch to your look, making it perfect for both formal and casual occasions.
Classic Shift Dresses
The style principle "less is more" is very ideal for petite inverted triangle body types and that is what shift dresses bring to the table! A shift dress is a simple, straight-lined dress that falls loosely from the shoulders and hangs straight down, without any defining seams at the waist.
This silhouette works to minimize the upper body's broadness, creating a more balanced look by drawing attention away from the shoulders and emphasizing the legs instead. Shift dresses don't have extreme details so they are very easy to pull off, especially if you're looking for corporate or smart casual wear.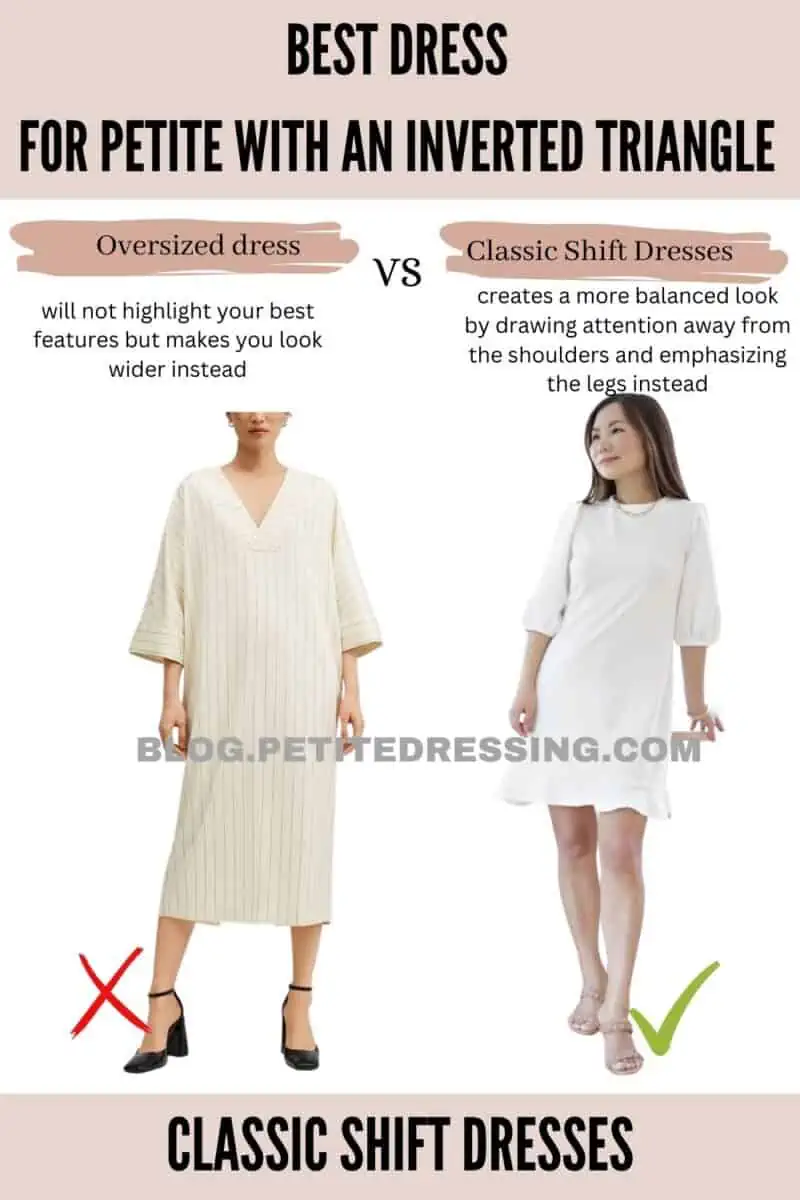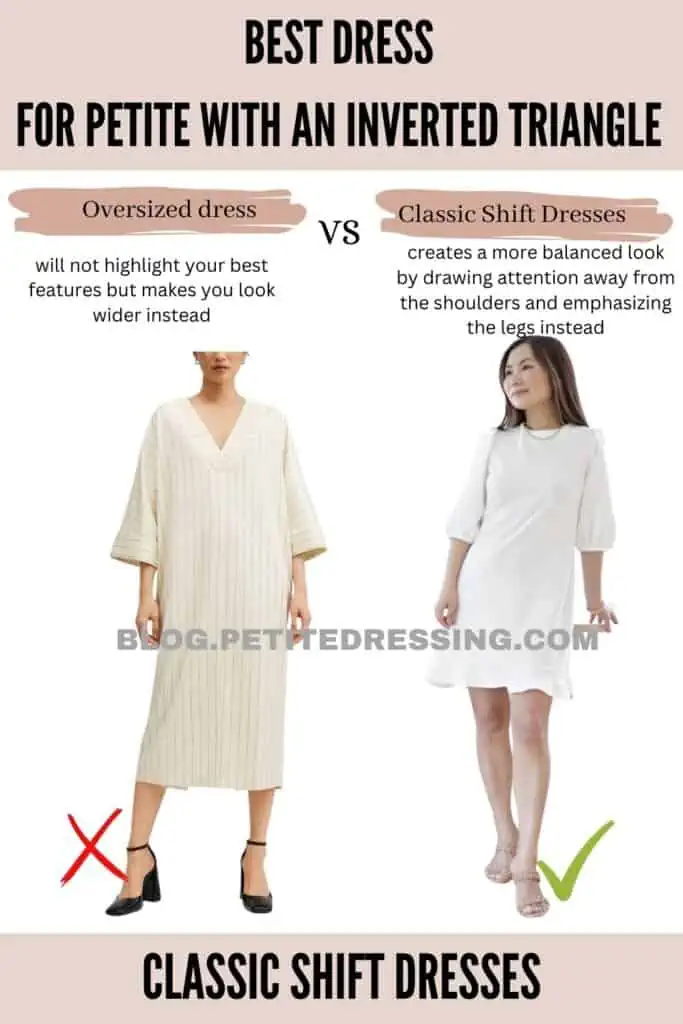 Form-fitting Mermaid Dresses
For a touch of feminine flair that accentuates your petite inverted triangle figure, nothing exudes elegance quite like the mermaid silhouette.
The curve-hugging design of a mermaid dress accentuates the natural curves of the body and creates the illusion of a more defined waist and fuller hips. Its flounce skirt offers just the right amount of volume to your lower half to balance your broad shoulders and make it less apparent.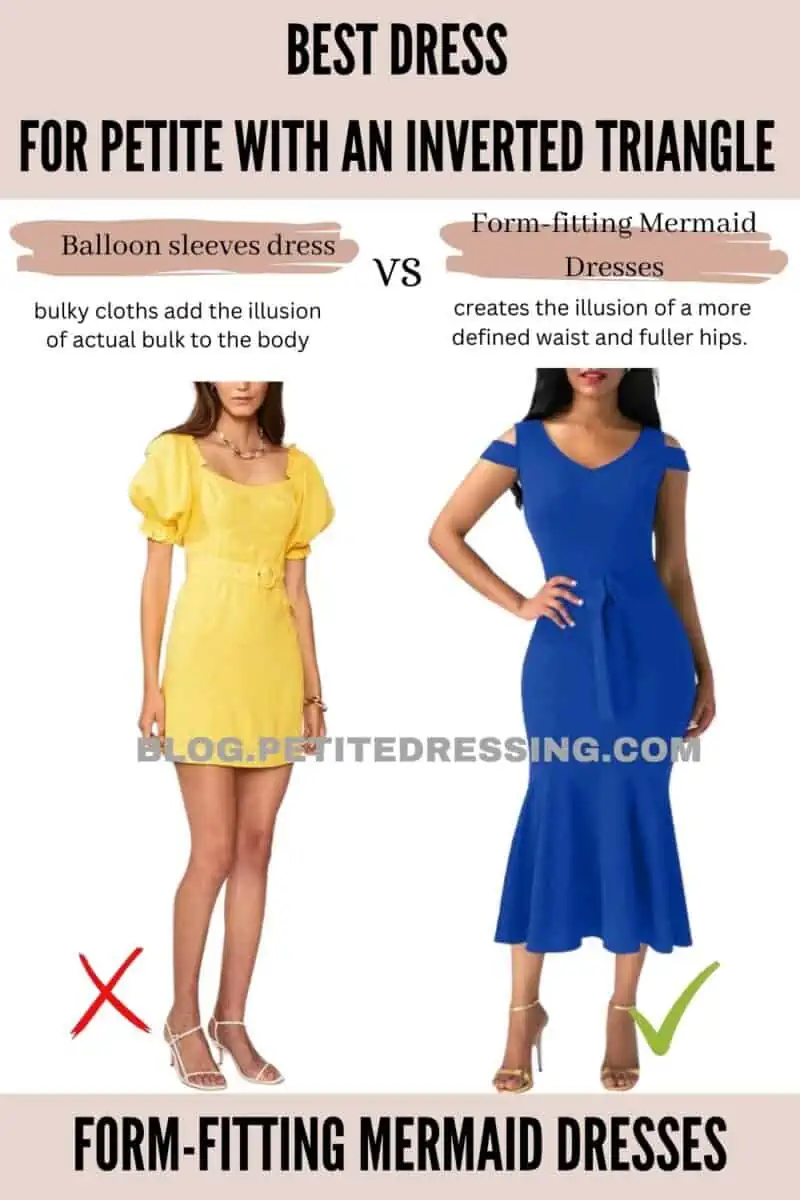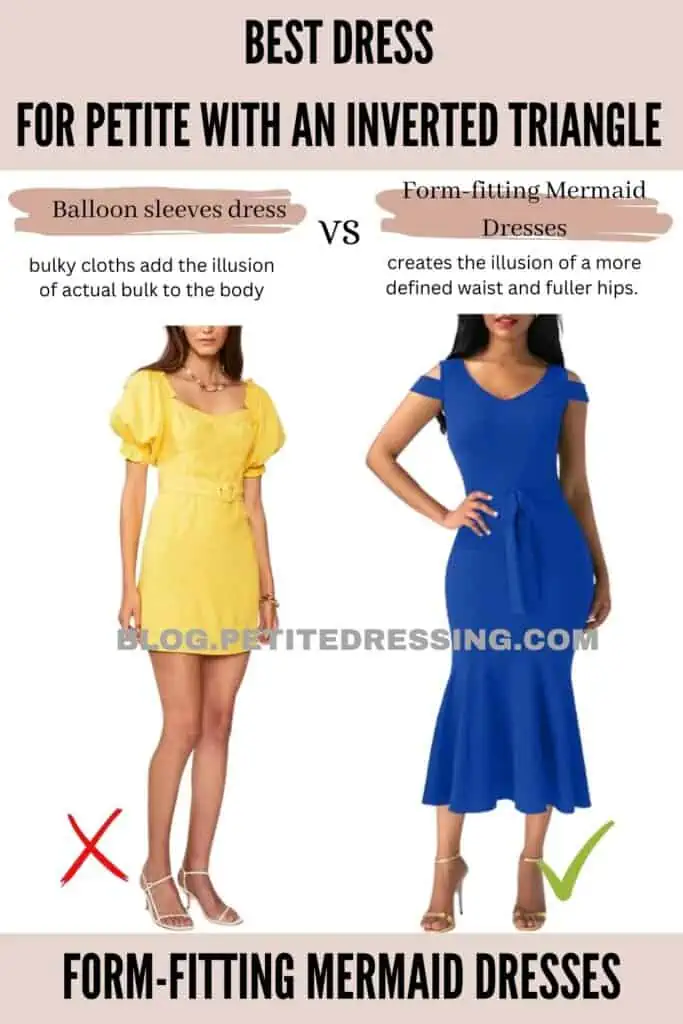 Mermaid dresses feature a structure that hugs your curves in all the right places, expertly crafting the illusion of a more voluptuous frame. Just remember to choose a dress that's not extremely tight from the hips down to prevent creating an awkward visual on your lower half.
The Key Takeaway
Dresses are one of the easiest wardrobe pieces to pull off for petite inverted triangle shapes because of how their full skirts can immediately bring balance to your shape. All you really have to carefully consider is the right structure and fit to make it work on your gorgeous, modelesque physique!