The petite hourglass figure is one of the most common body types on women and I'm a huge advocate of dressing to suit your body shape. As a 5'2" woman who has a clothing line for petite women, I've had to work with petite models to get the perfect fitting.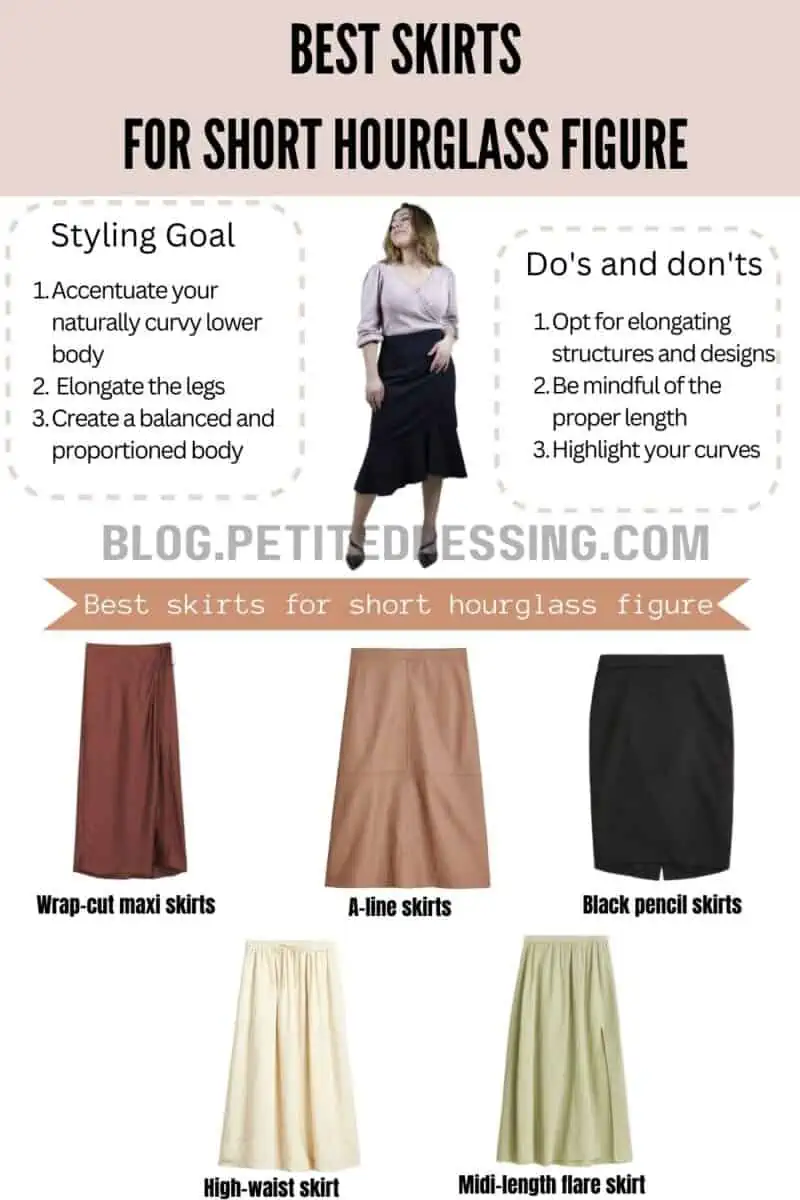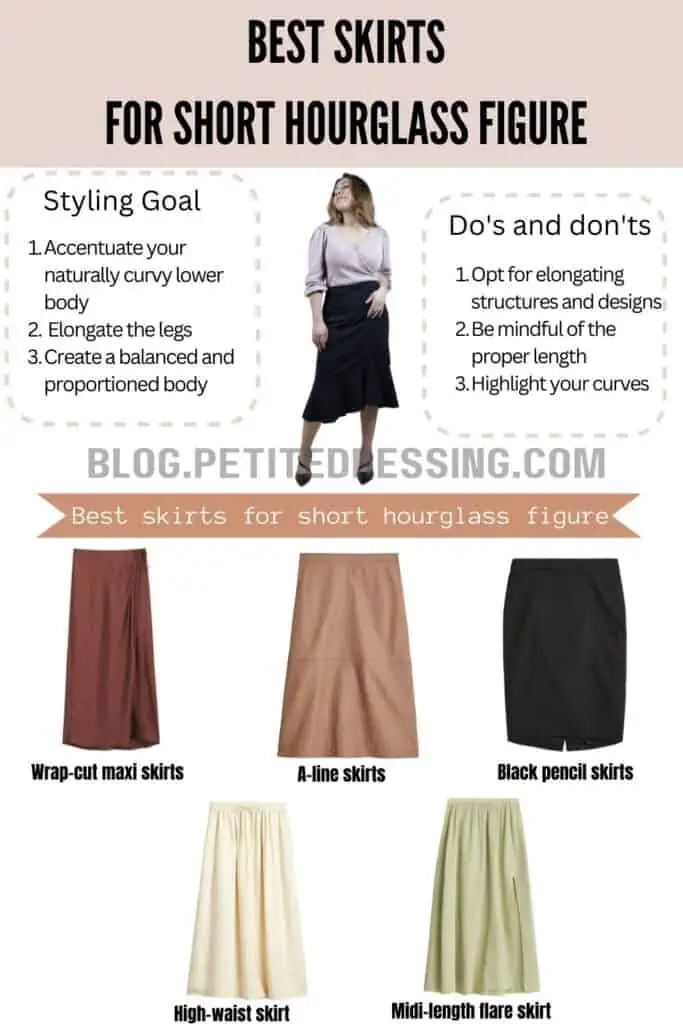 This skirts guide for short hourglass figure is a reflection of what I've learned about dressing this body type through years of experience. You'll definitely find a skirt style you love.
Wrap-cut maxi skirts
Need skirt styles that help you strike the perfect balance between glamorous and casual? I believe your go-to choice should be maxi skirts. This skirt style is a must-have in the wardrobe of every petite woman with hourglass shape.
Through maxi skirts, you can draw the attention of the eyes from your curvy hips to your waist. The result is even better when your maxi skirt is wrap cut as it seamlessly curves around your natural body without being too tight or uncomfortable.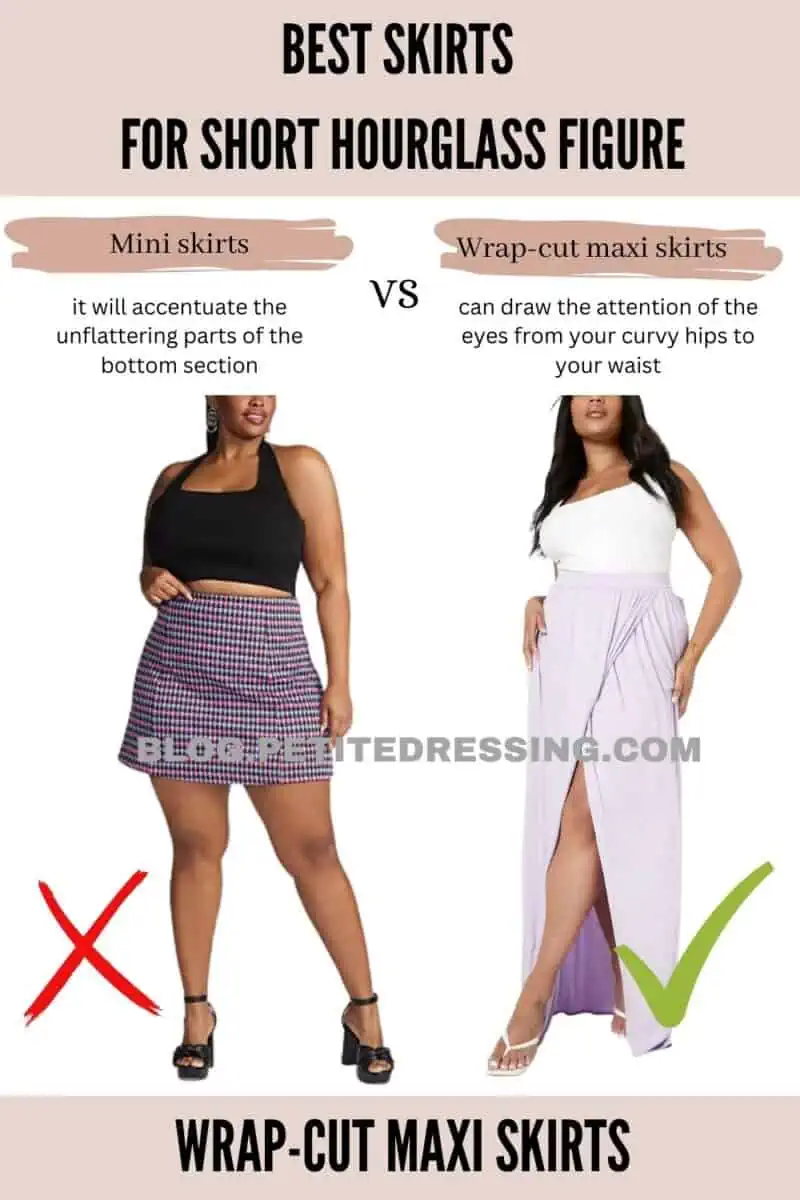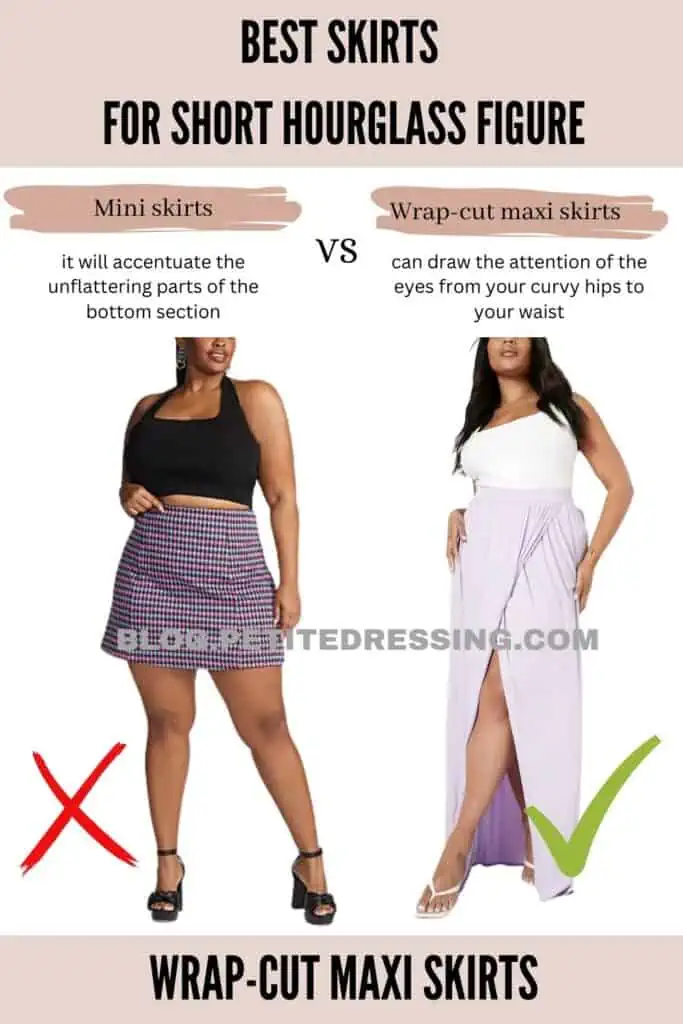 The amazing thing about maxi skirts is that they can elongate your body and if you choose a style that skims the ground, this adds more to creating a long and lean silhouette. The trick is to make sure the style has a fitted waist which accentuates your curves.
Instantly transform your maxi skirt from summer to fall by pairing this with a knit tee knotted at the waistline. This is one of the few skirts out there that feels truly made for the petite hourglass shape.
A-line skirts
Your short hourglass figure will look even better in an A-line skirt made with the right fabric and in the proper length. I've seen lots of petite women with hourglass shape go for skirts that hit right below the knee.
The overall effect is that it makes them look shorter and that's not exactly flattering on your already petite figure. So, I would recommend that you opt for A-line skirts that hit at or above the knee. This is great for elongating your legs such that you have a more balanced overall silhouette.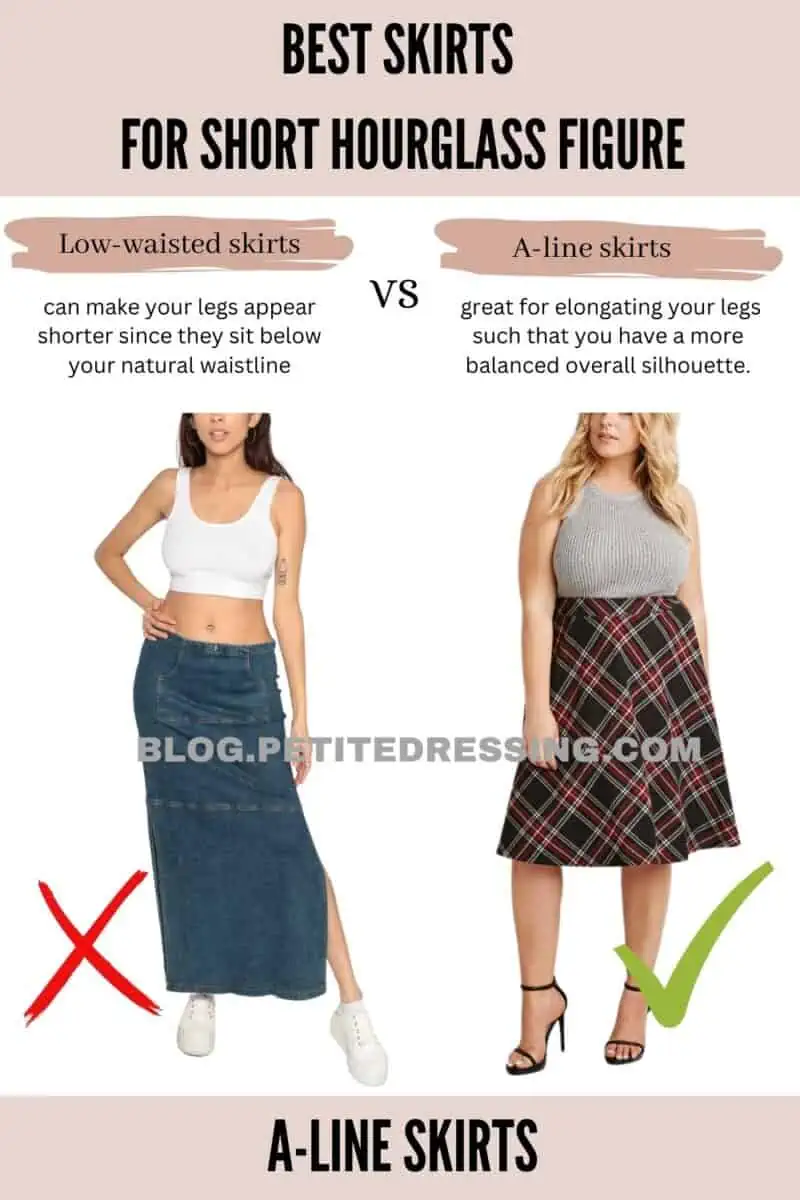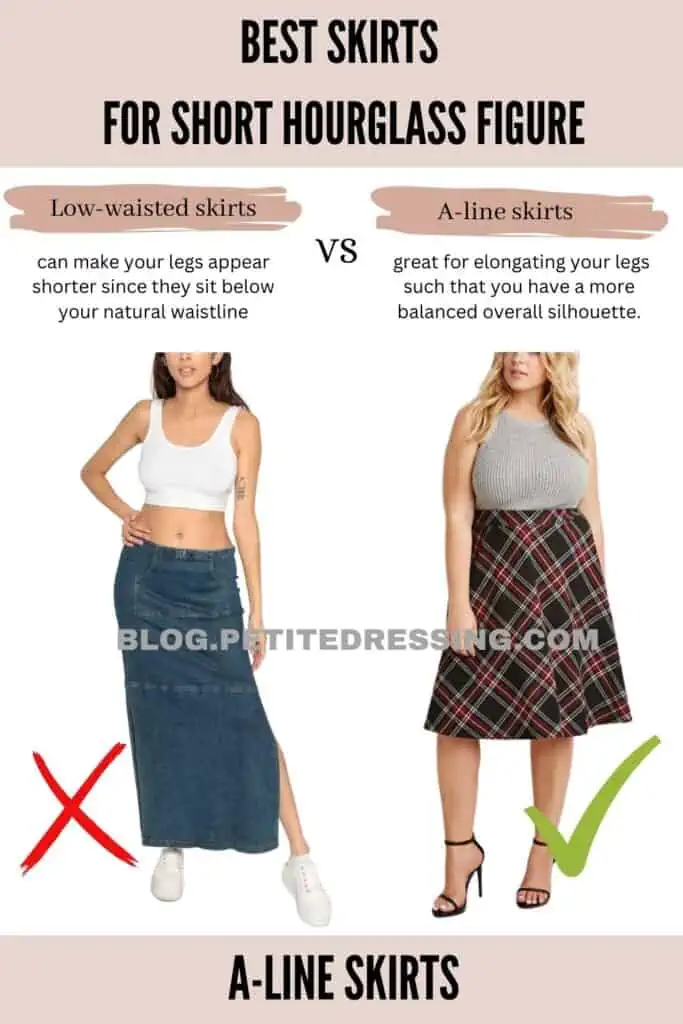 There are lots of ways to style this perfectly but here are a few ideas. The best fabric styles for A-line skirts are linen or cotton, and I prefer any of these because they don't add bulk to your petite frame.
It's best to stay away from heavy fabric like wool which makes the skirt look too bulky and that can be overwhelming on your body. You can beautify your outfit with accessories like a slim belt that defines your waistline and accentuates your hourglass figure.
Try a belt in the same color as your skirt. Meanwhile, a fitted top without excessive ruffles will provide balance with the skirt and help you look amazing.
Black pencil skirts
What's the best way to style a black pencil skirt as a woman with a short hourglass shape? The secret is in wearing tops and accessories that help your black pencil skirt pop more elegantly.
For a sophisticated look, I would recommended a fitted button-down shirt as this helps to show off your hourglass figure while accentuating your waistline. You can complete this look with a pair of ankle boots or pointy-toe heels.
The good thing about pairing with these shoes is that it helps to elongate your legs which is perfect for rocking your black pencil skirts. Overall, add more structure to your pencil skirt by layering with a tailored blazer, depending on the occasion.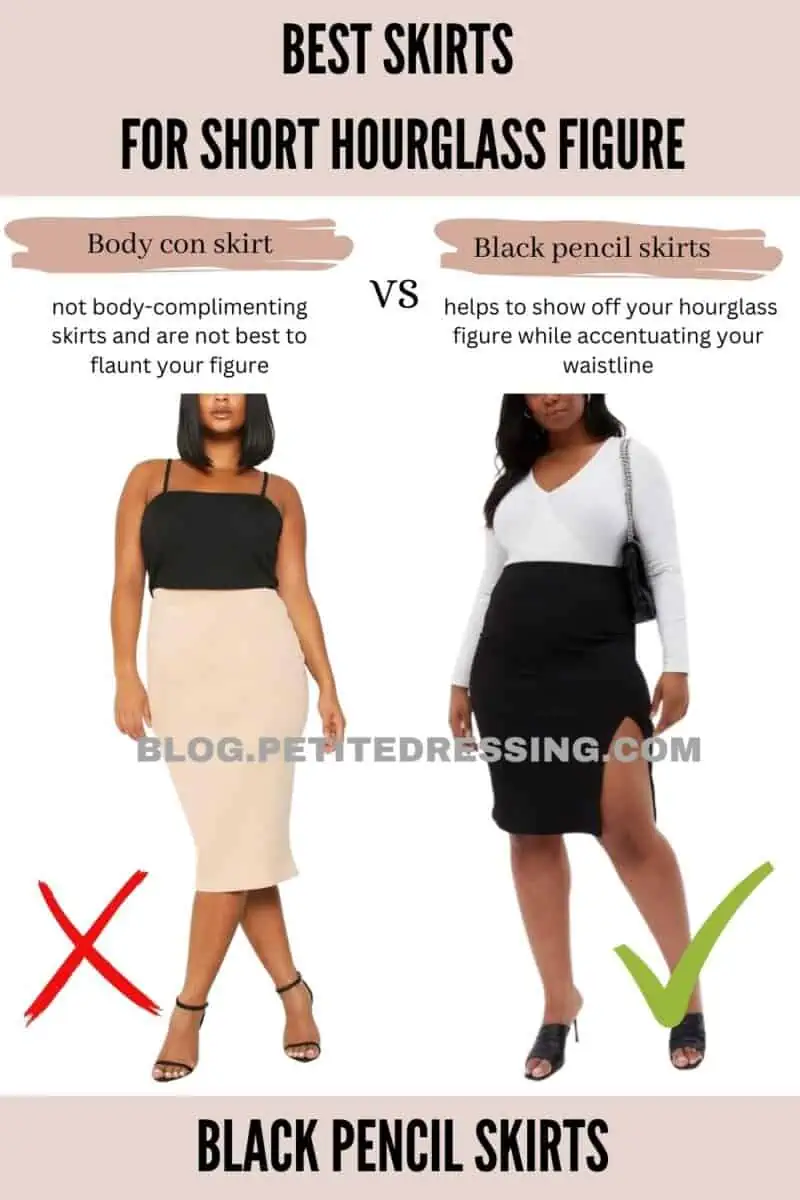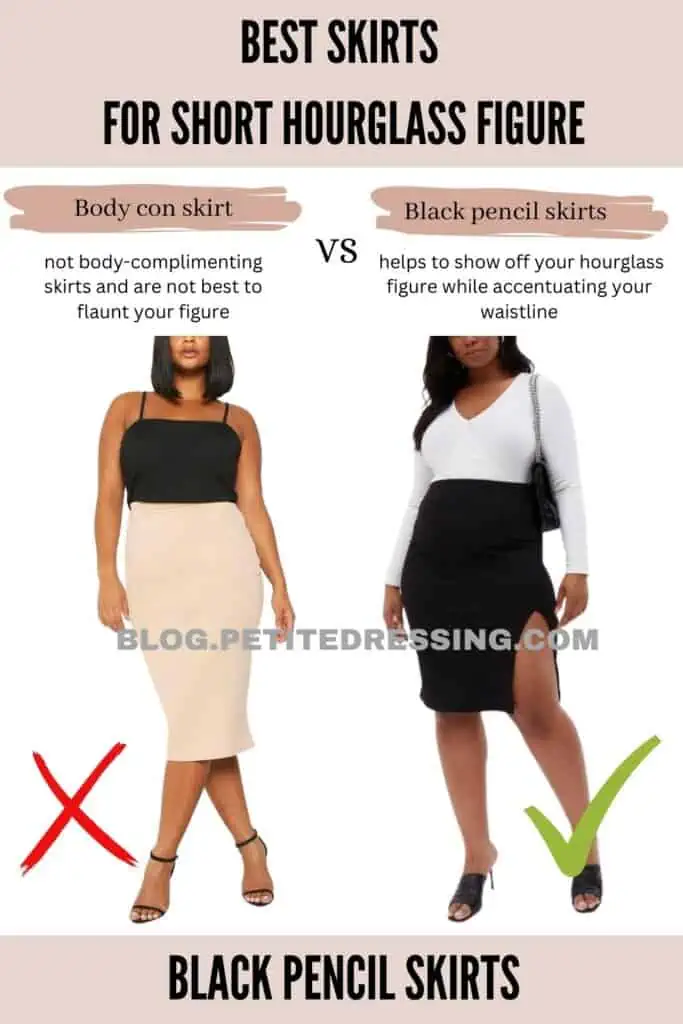 With layering, you can create a balanced silhouette. Of course, it doesn't hurt that this jacket will make your outfit look a lot more interesting. Take things up a notch with bold earrings or a statement necklace and this will draw more attention upwards towards your face.
High-waist skirt
As a short hourglass woman, you'll love how high-waisted skirts make you look and feel. When combined with a lovely top and shoes, it highlights the best features on your body and takes attention away from those parts that you consider unflattering.
So, what's so special about high-waist skirts for women with a petite hourglass figure? I've noticed that they look much taller. This is possible because the high-waist style sits at the natural waistline which automatically elongates the legs.
Since the natural waistline is the smallest part of the torso, high-waist skirt emphasize this area to create the illusion of longer legs. So, the wearer looks slimmer and taller. Another huge benefit of high-waist skirts is that they are designed to fit snugly at the waistline.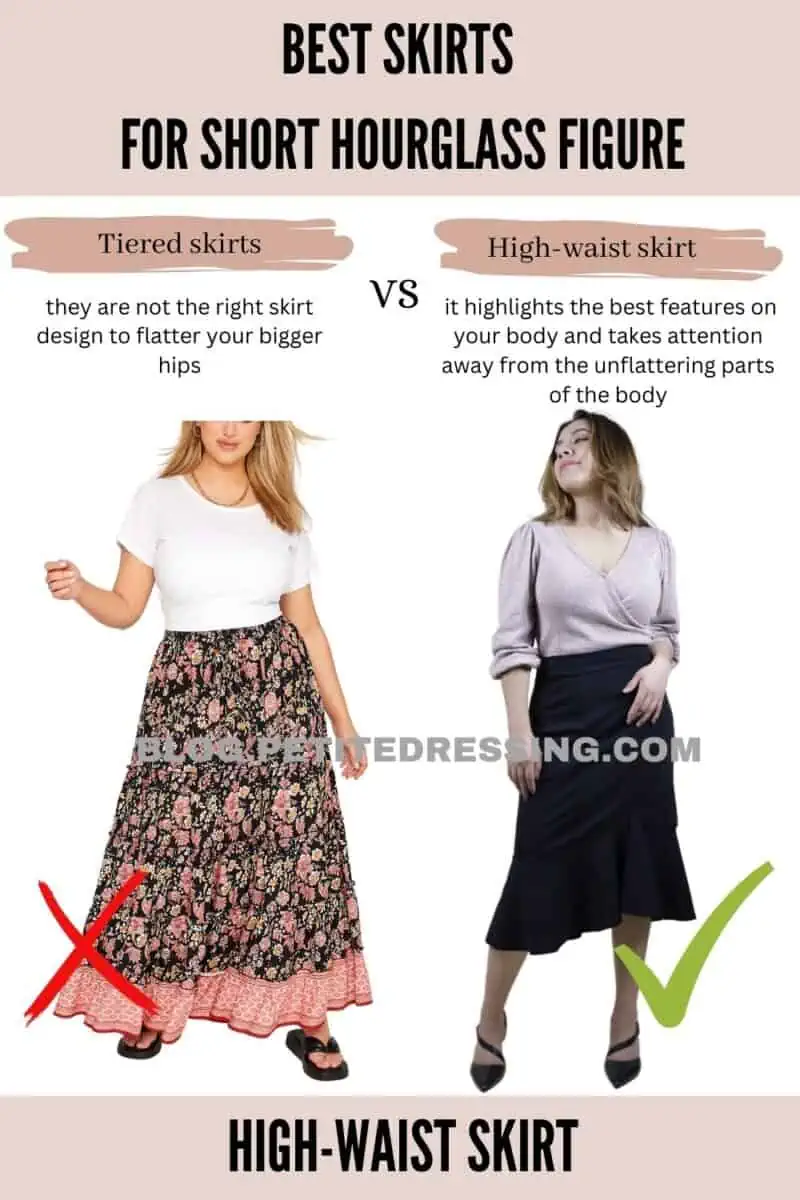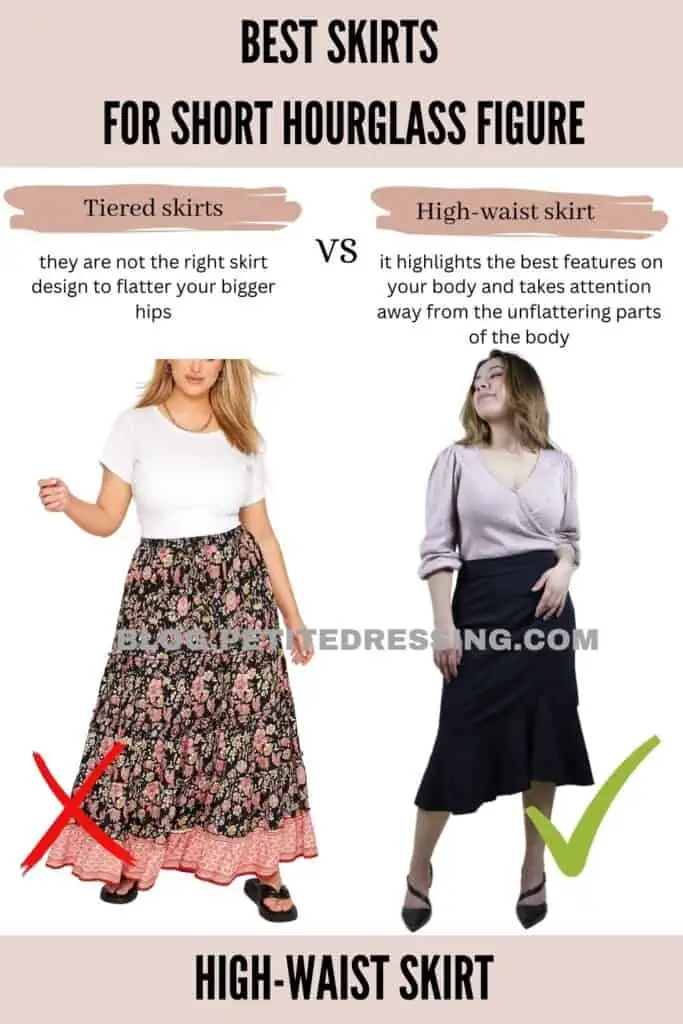 This helps to highlight your hourglass figure without being too tight. Overall, high-waisted skirts on short hourglass figures helps to create a balanced silhouette which important so you don't feel overwhelmed by your clothing choices.
Midi-length flare skirt
The midi-length flare skirt is one of my favorites for women with a petite hourglass figure. As a curvy woman, it doesn't hurt to wear skirt styles that balance out your curves and emphasize your hourglass shape in a flattering way. Flare skirts do this easily.
Since they have a wide hemline, this creates a visual balance that is flattering to your curvy figure. Just like high-waist skirts, midi-length flare skirts can also highlight your defined waistline elegantly.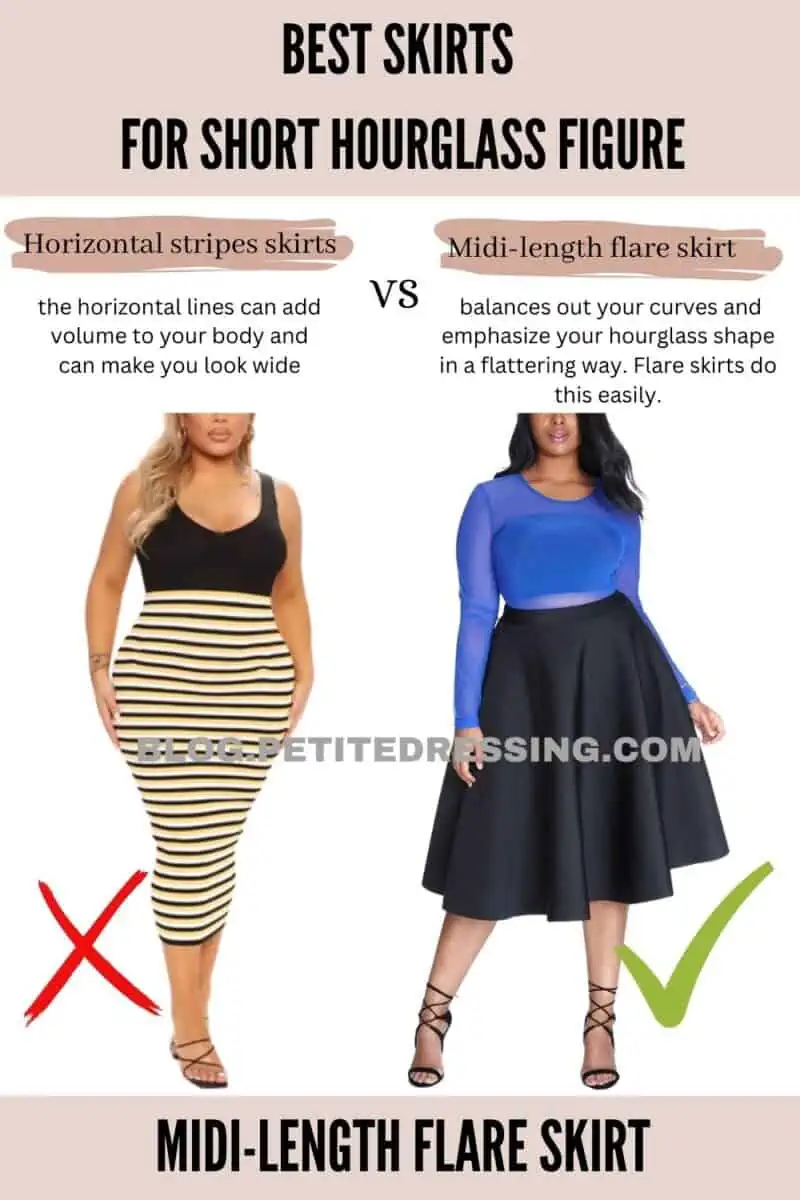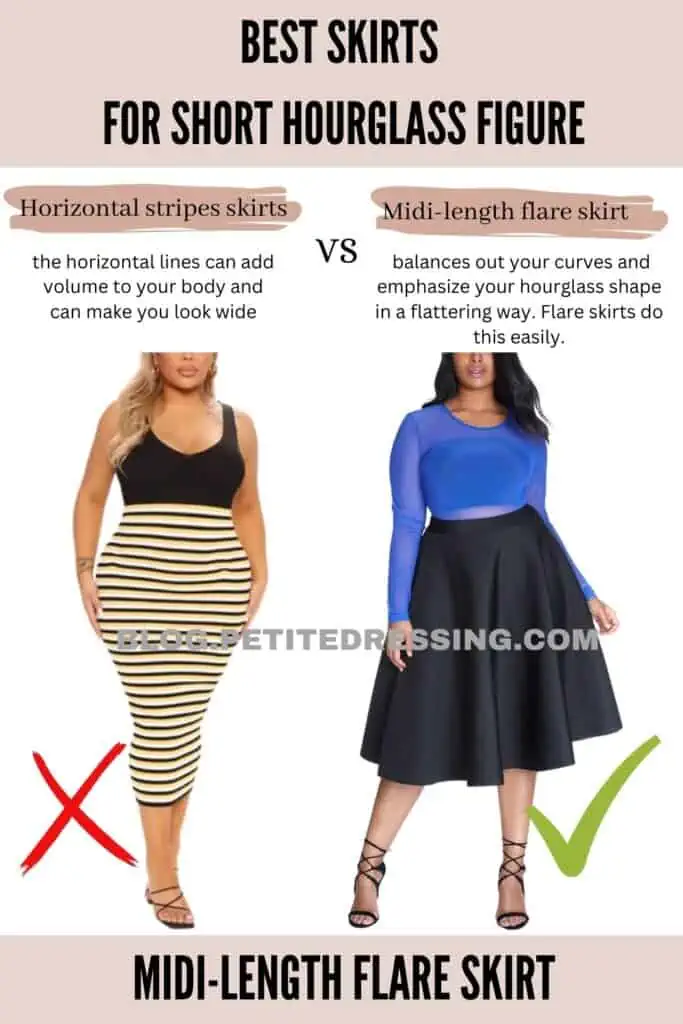 So, feel free to dress this up or down, whether it's on sandals for casual occasions or ankle boots for semi-formal events. Overall, I love how flare skirts highlight the waistline and balance out your curves.
Meanwhile, I chose midi length for this because overly short styles are not great for short hourglass figures.
Avoid boxy skirt styles
Any skirt style that adds unnecessary bulk to your hips and thighs, and makes your waistline appear wide is a huge no. That's exactly what you get with boxy skirt styles and this is why it's best for petite curvy women to completely avoid this style.
Since boxy skirts have a straight cut, this makes your waistline appear wider than it actually is and this is not flattering to your overall silhouette. For women with an hourglass shape, straight-cut styles don't accentuate the waistline.
Instead, they add more bulk to your hips and thighs which can be overwhelming on your petite body frame. Even worse, boxy skirts can make your legs appear shorter and since the goal is to elongate your silhouette, this style will instead give you a shorter outlook.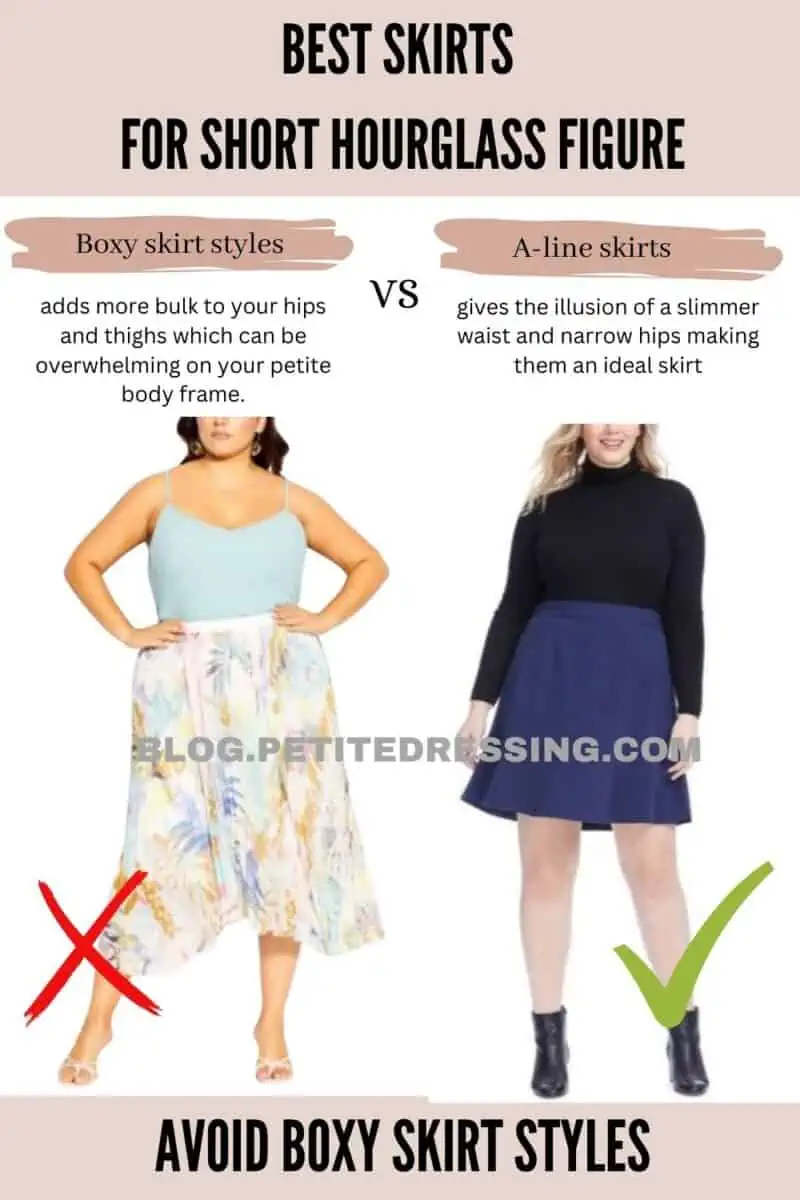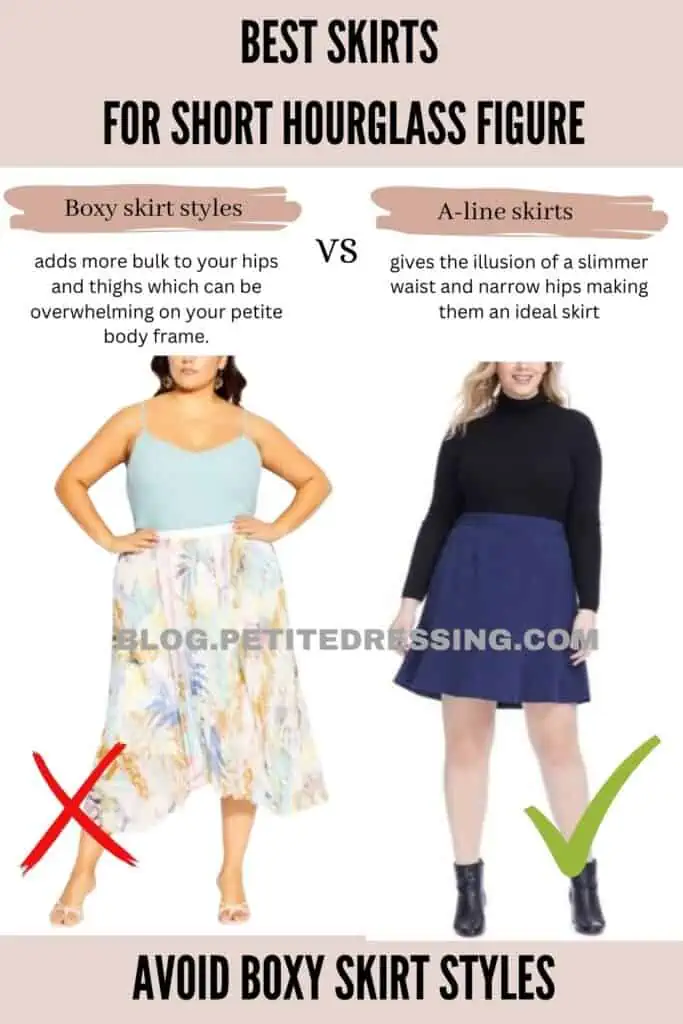 Instead, opt for skirt styles with a cut that naturally follows the curves of your body unlike boxy skirt styles that don't create a proportionate silhouette.
Avoid low-waisted styles
Low-waisted styles can make your legs appear shorter since they sit below your natural waistline. For petite women who already have shorter legs, it's a good idea to avoid styles that will have this effect on your body figure.
Apart from this, it's not rare for low-waist skirts to make your hips appear wider which means that they will not highlight your curves in a way that flatters your silhouette. I believe that the goal should be skirt styles that accentuate the waistline.
Overall, low-waist skirts are not flattering for the hourglass shape. Better options are mid-waist or high-waist styles as this help to give the illusion of elongated legs on your petite hourglass figure.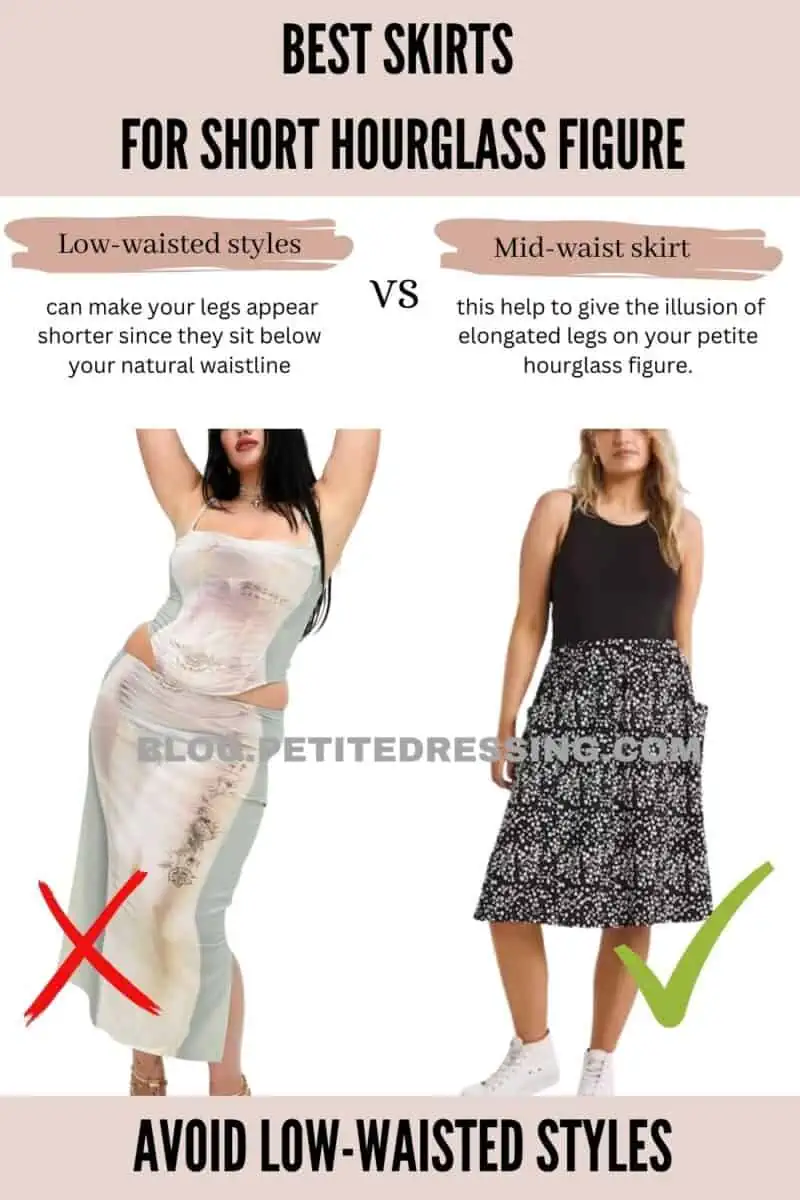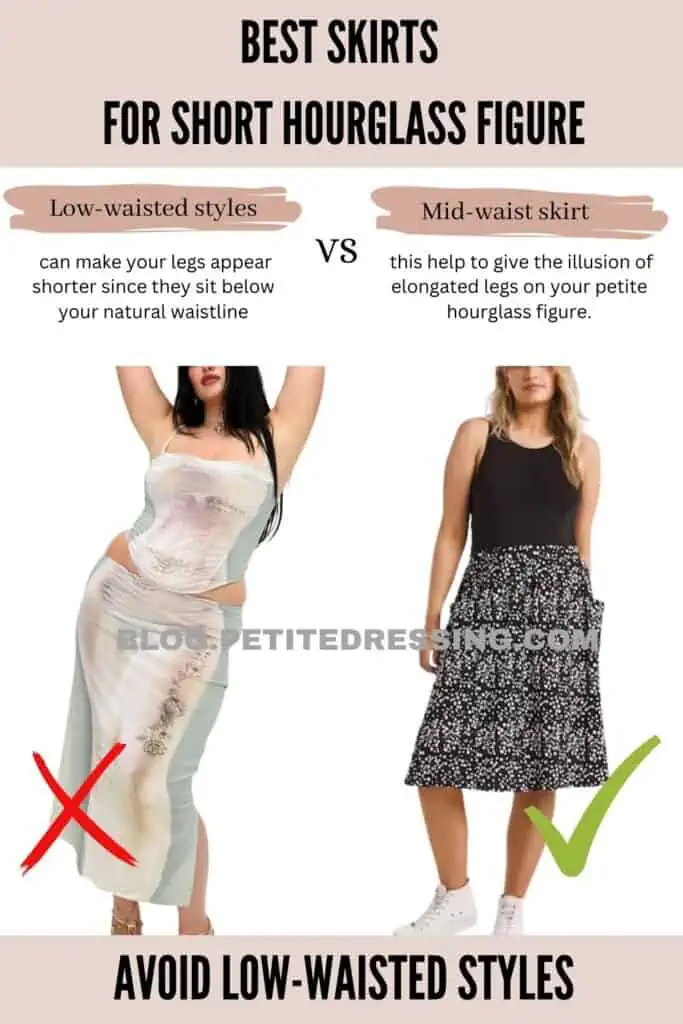 Avoid mini skirts
Mini skirts are known for making the legs appear shorter due to their hemline that stops just above the knee. This is not great for petite women whose short legs will look shorter than normal.
Since most mini-skirts are straight styles, this also means that it won't seamlessly trace the hourglass shape of the petite woman. When a skirt style doesn't accentuate your waistline, this will make your silhouette unbalanced.
Therefore, I don't consider this a flattering option for petite women with an hourglass figure as the goal is to elongate your legs and achieve a slimmer silhouette.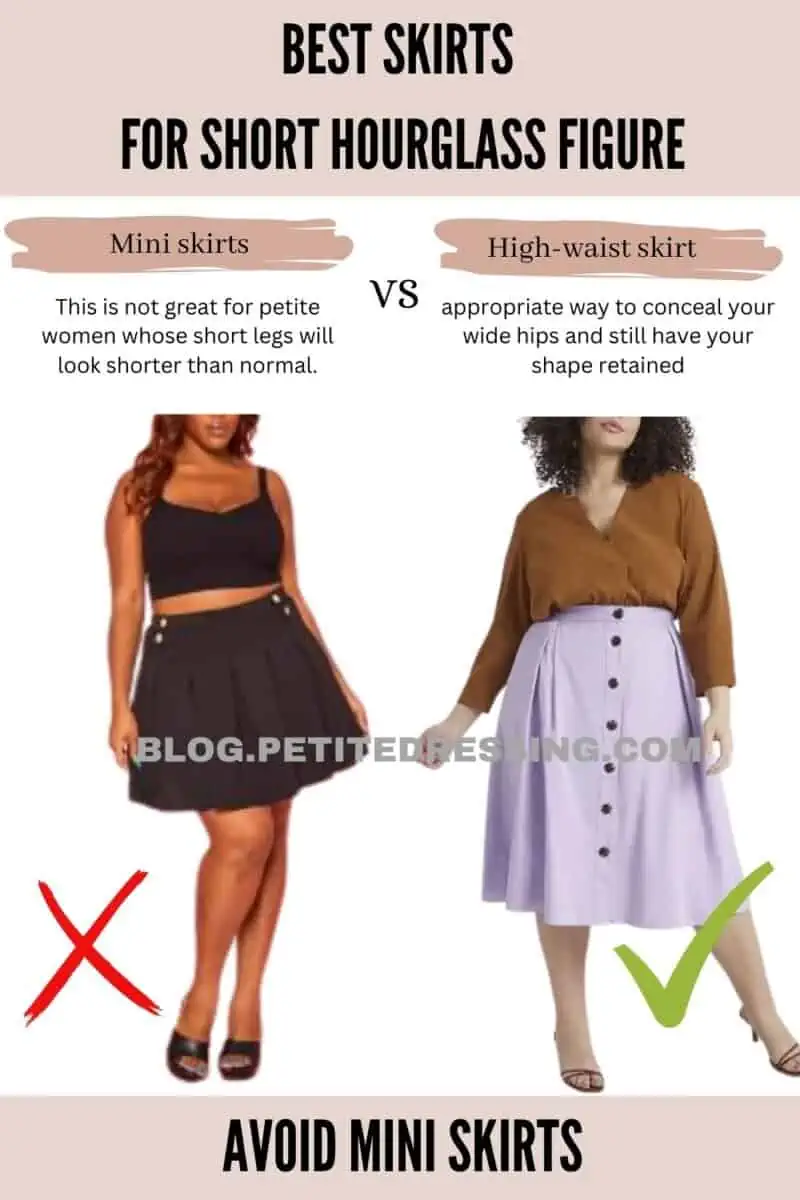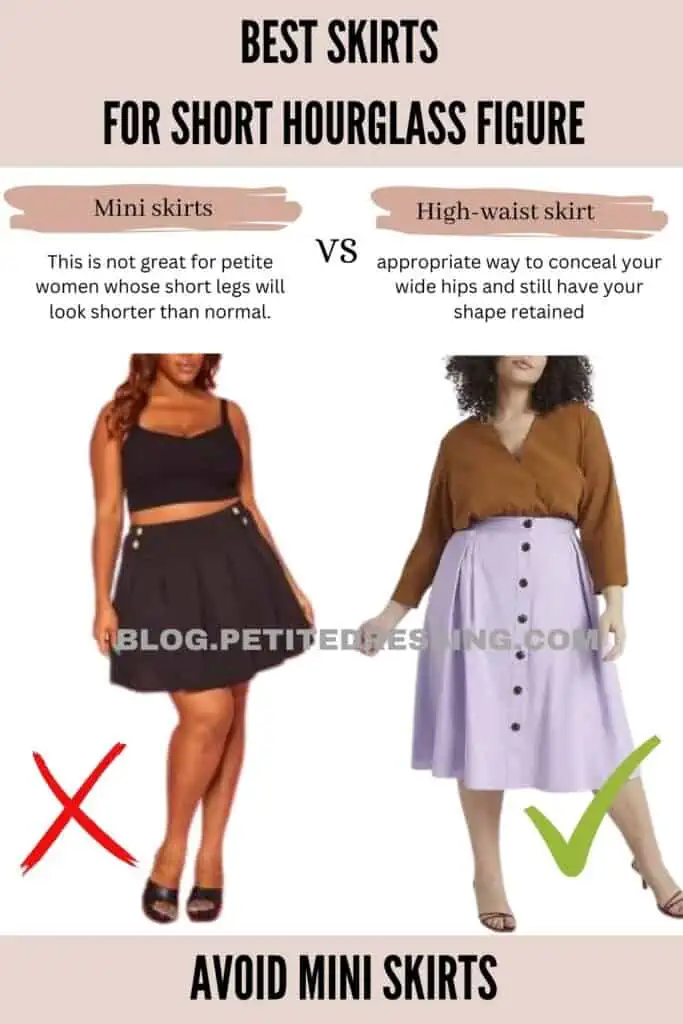 Now you know some of the best skirts styles for your short hourglass figure. It's time to head over to your stylist to create skirts that will highlight your best body features and help you stand out beautifully.