The kind of top you choose as a woman over 40 can completely change the silhouette and appeal of the outfit you are wearing. Different lengths, necklines, fabrics, textures, and patterns can all determine whether or not your outfit is appropriate and chic.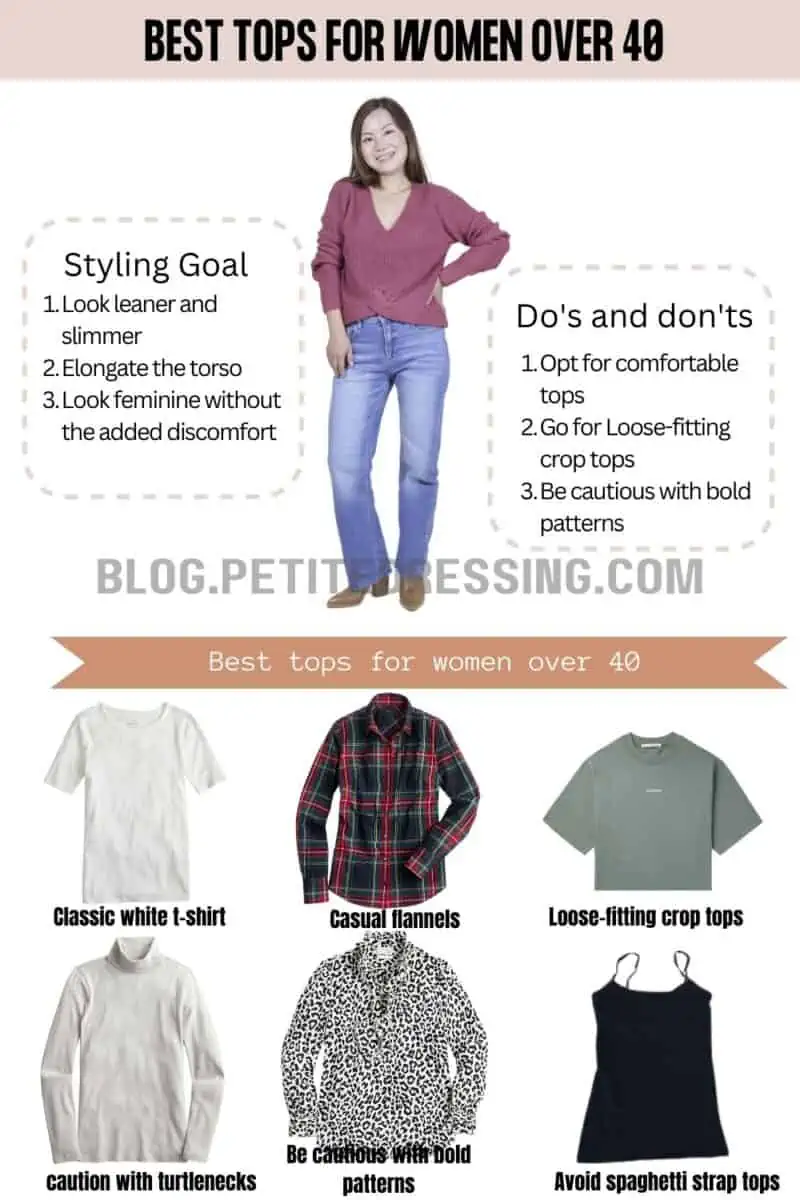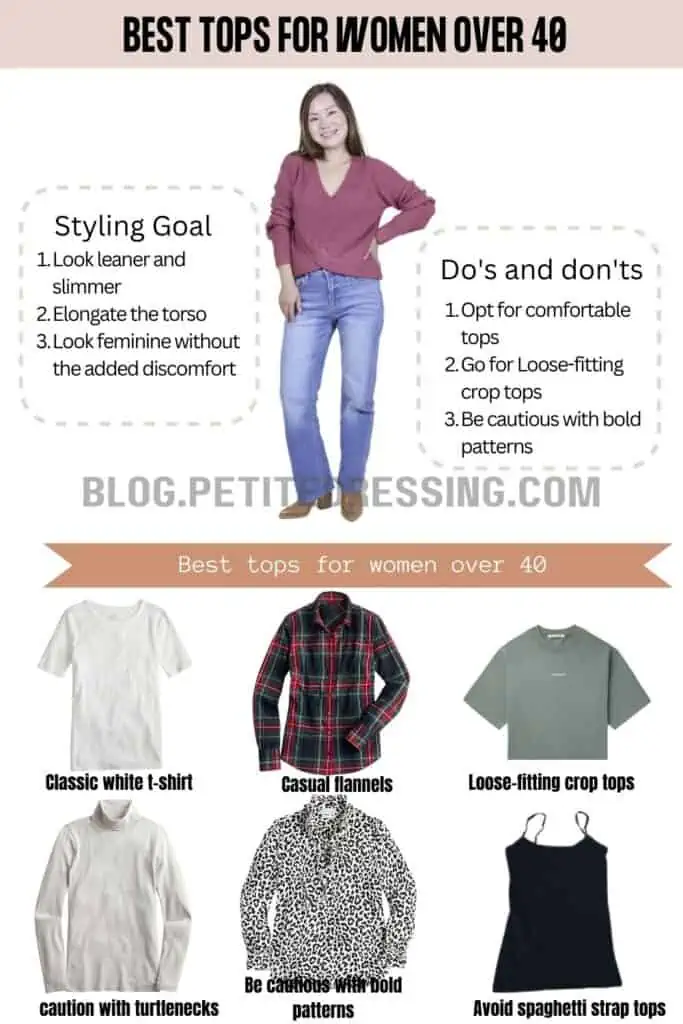 This guide will help you decide what kind of tops you need to wear in order to achieve the aesthetic that you are aiming for. You will also learn what to avoid so that you don't end up wearing something that is unflattering and unsuitable.
Classic white t-shirt
Every closet needs a staple clothing item that can go with almost any outfit you put together. The classic white tee is a comfortable essential that every woman over 40 should have.
The choice of the neckline is important when searching for a basic t-shirt. V-necks are helpful with elongating your torso and drawing more attention to your face. A crewneck is good for those with a smaller chest and wide shoulders.
The most important issue that comes with a white tee is making sure that the shirt is completely opaque. With white shirts, the color of your bra can sometimes be seen if you go with a cheaper option.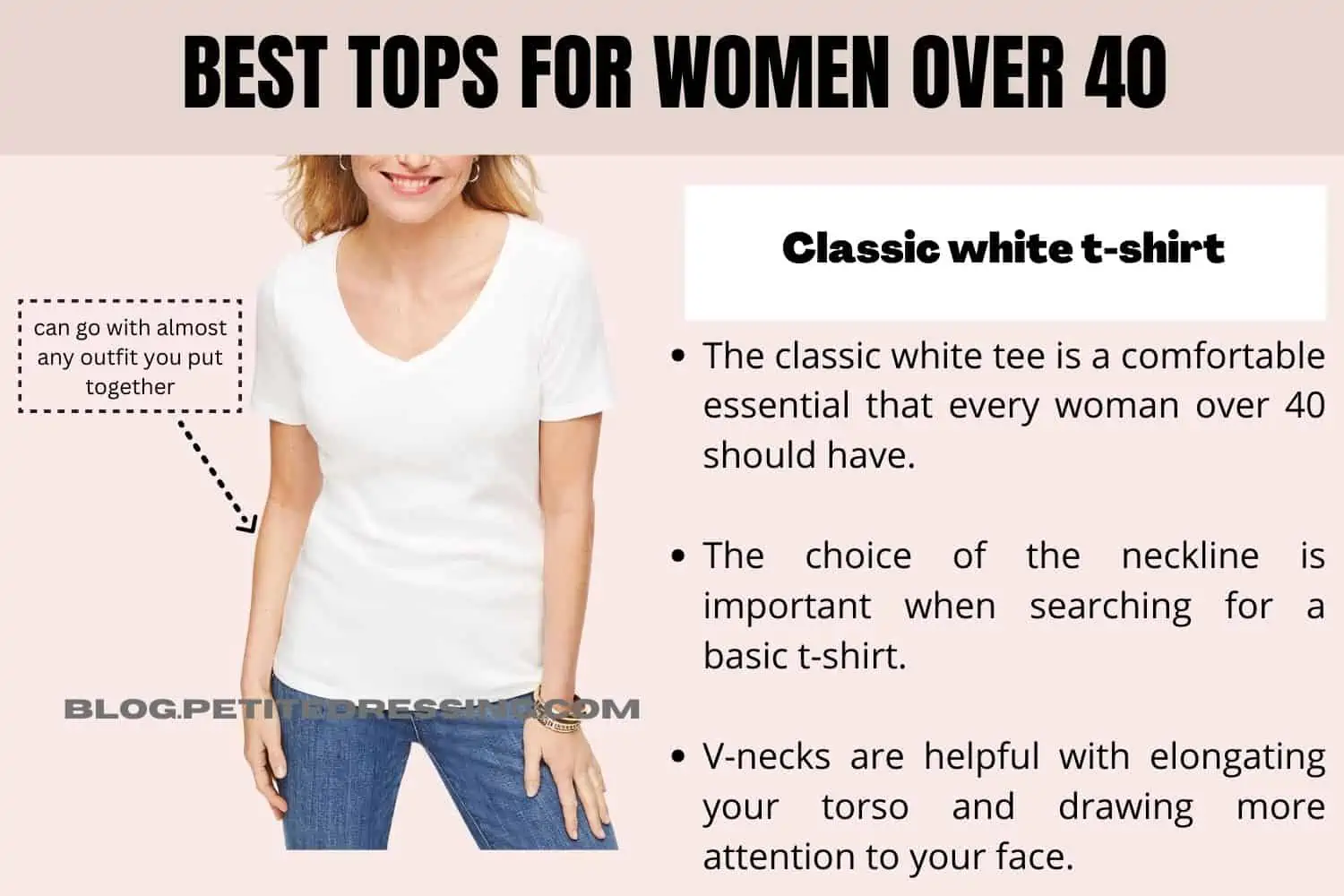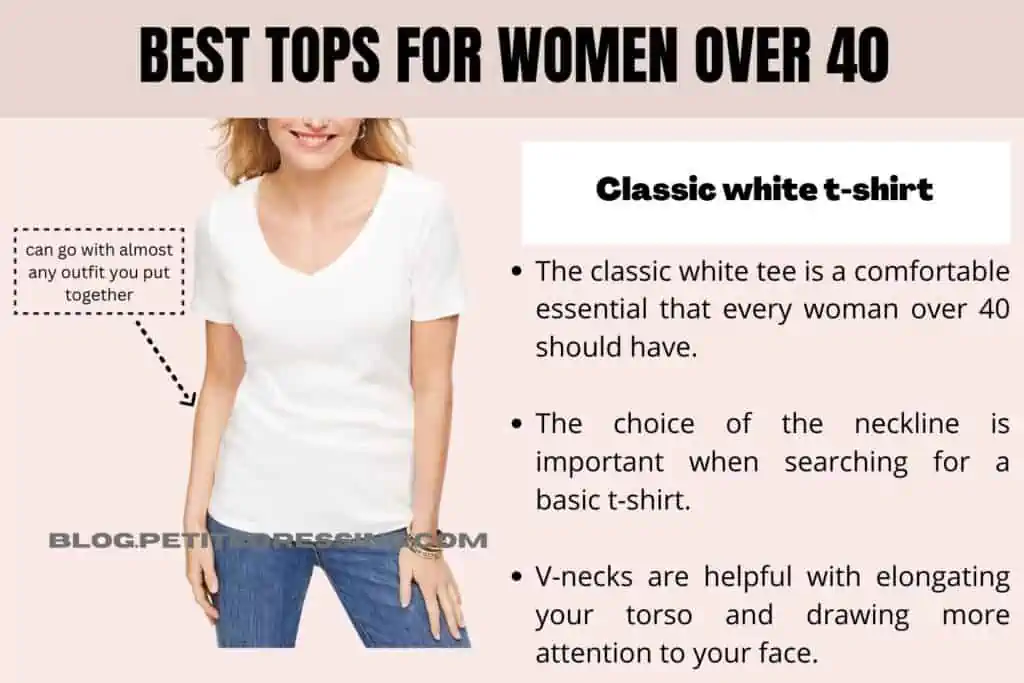 You may not want to spend more than a small amount of money on a plain white tee, but it is necessary in order to prevent any embarrassing wardrobe malfunctions. A solid and dependable fabric will be worth the money since this shirt will be a key item in your closet.
Casual flannels
Flannels are an excellent style choice for casual outfits. You can wrap them around your waist during the summer, and layer them during the fall and winter. Some people also choose to button them up fully, which would look excellent with a pair of jeans.
Flannels are comfortable and guaranteed to keep you warm. You can get them lined with fur to ensure that even the harshest winds will not matter. The long sleeves also provide ample protection for your arms.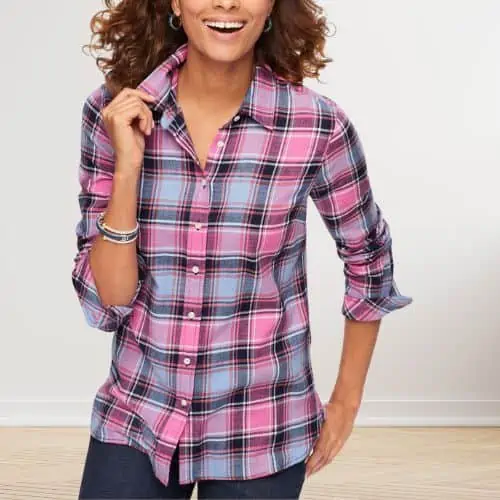 Why opt for flannels?
As you age past 40, comfort should be an important quality to look for when you search for casual wear.
Flannels are soft and made of dependable fabric.
Loose-fitting crop tops
Although some crop tops can be seen as revealing, that issue arises when the top is form-fitting and usually shows a large amount of cleavage. With loose-fitting crop tops, you can keep everything covered up while also wearing a cute top.
When you are older than 40, it is important to make sure that you aren't wearing a shirt that would be inappropriate or suggestive. It is also important to make sure that the crop top is not too short (especially without a tank top underneath), as some are cut just below the chest and can show a lot of skin.
Crop tops can be paired with anything high-waisted to create an hourglass silhouette. With a loose-fitting crop top, you can leave open space for your upper stomach, which is great if you have wide ribs.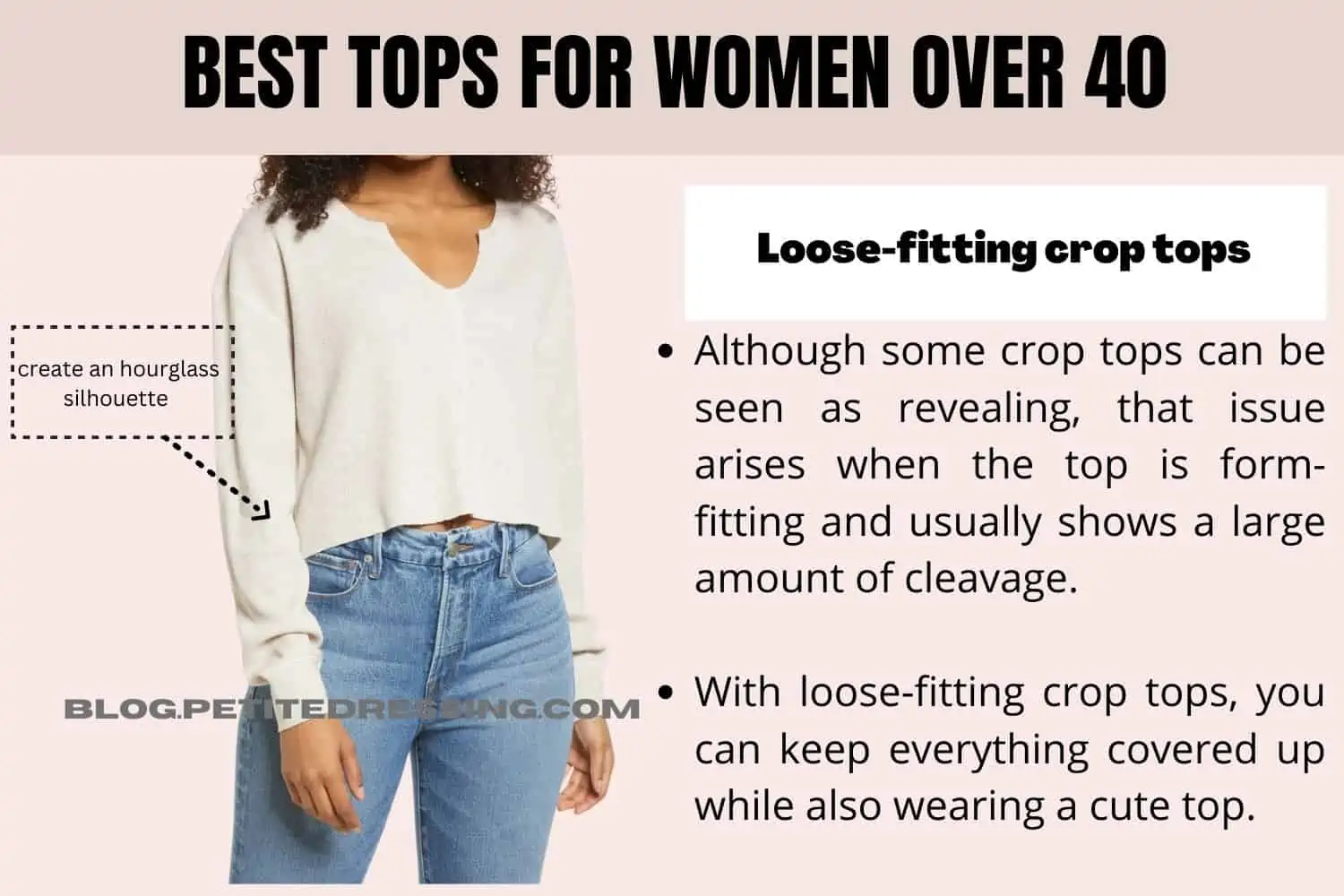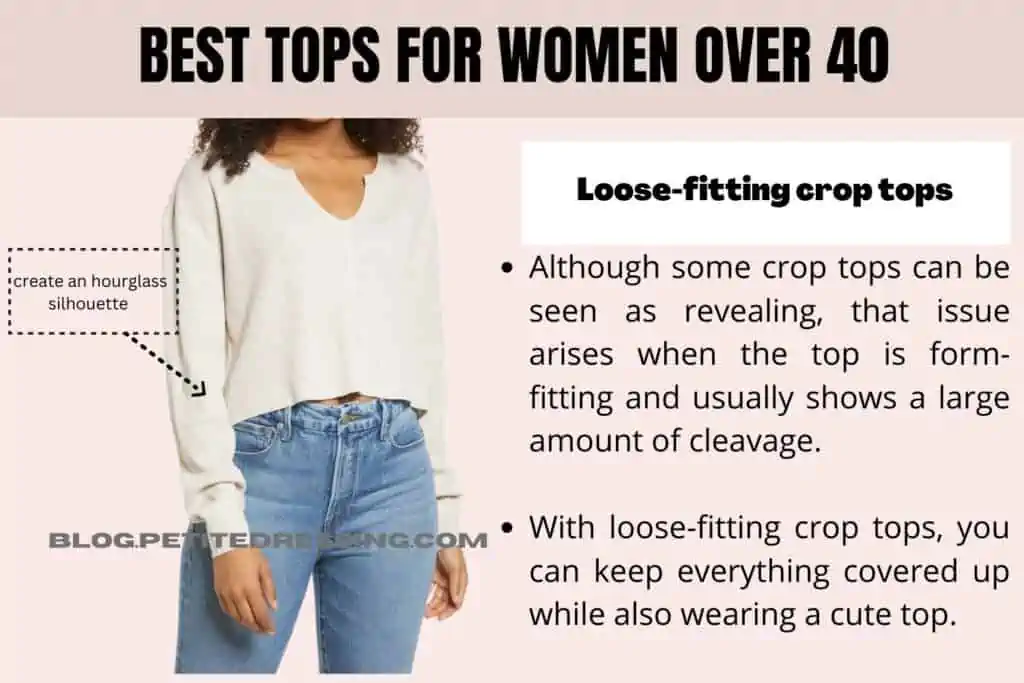 Wrap tops
Wrap tops provide plenty of flexibility. You can tie or wrap this style of top in many various ways, making it several different shirts in one.
Staying in perfect shape past the age of 40 is a challenging task. Wrap tops are incredibly forgiving since you can tie them loosely and leave room for any bloating. You can also strategically place the knot so that it conceals your stomach.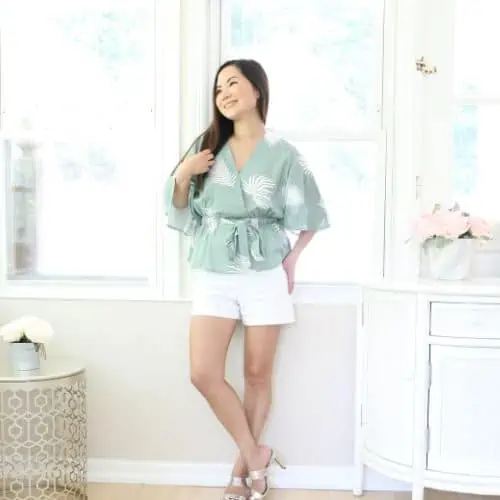 Benefits of using wrap tops
With a wrap top, you get to decide where the tie goes.
That means that you can create your own silhouette with just one knot.
The best option is to wrap and tie the knot at the smallest part of your waist to create an hourglass shape.
Be cautious with bold patterns
It is always fashionable to add different patterns and textures to your outfit. Full monochrome looks can look aging, which is something you always want to avoid past 40.
But patterns can be an unfortunate choice if they aren't styled properly. Mixing patterns is a skill that must be learned, so it is something you need to be careful with. One bold pattern is just enough to create a statement piece that makes your outfit stand out from others.
When it comes to bold patterns, you'll want to stay away from vertical stripes, since they tend to make you appear wider. It is also good to avoid thick stripes unless they are only thick at the bottom of the shirt. Thin to thick from top to bottom gives off a similar illusion with the body the pattern is on.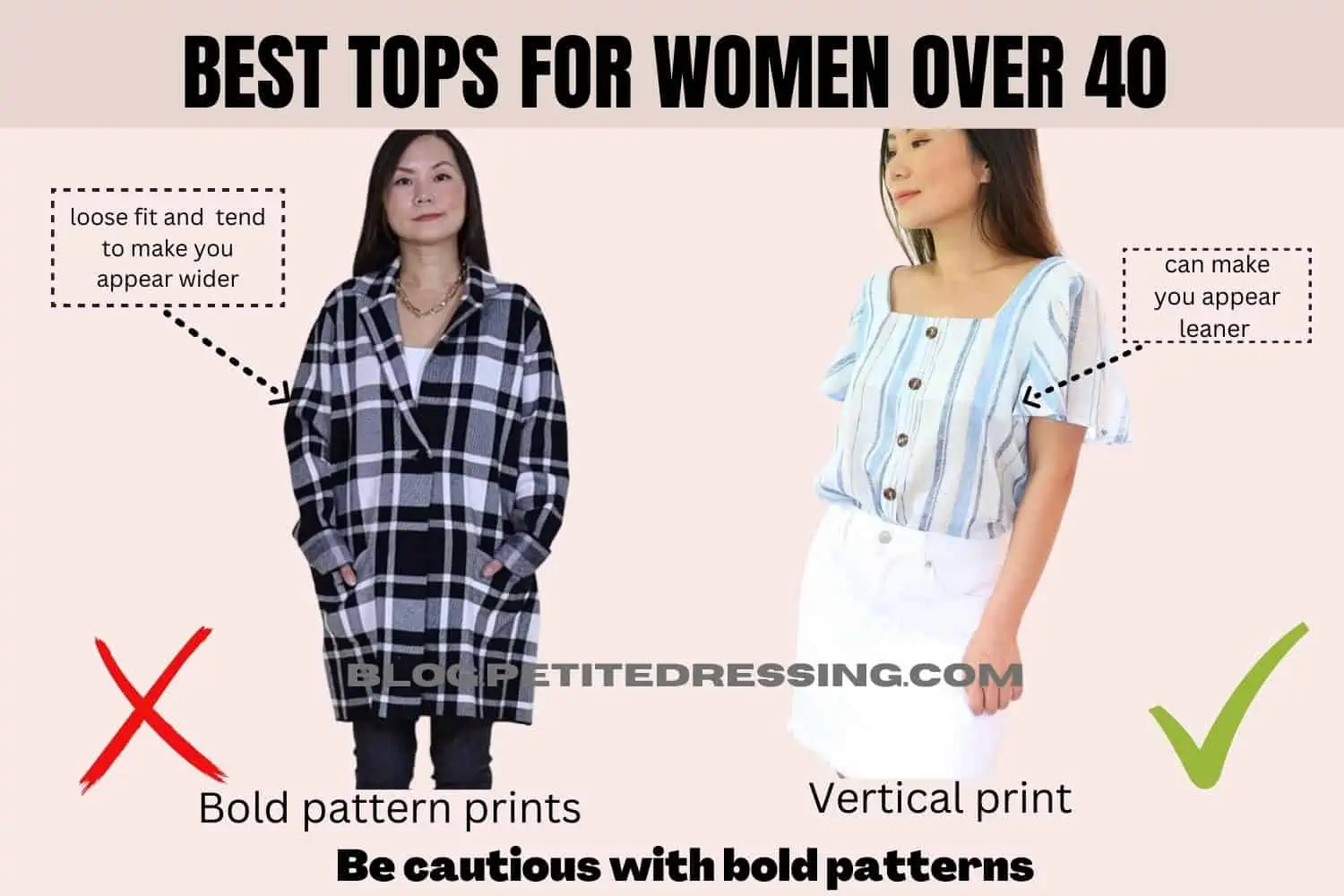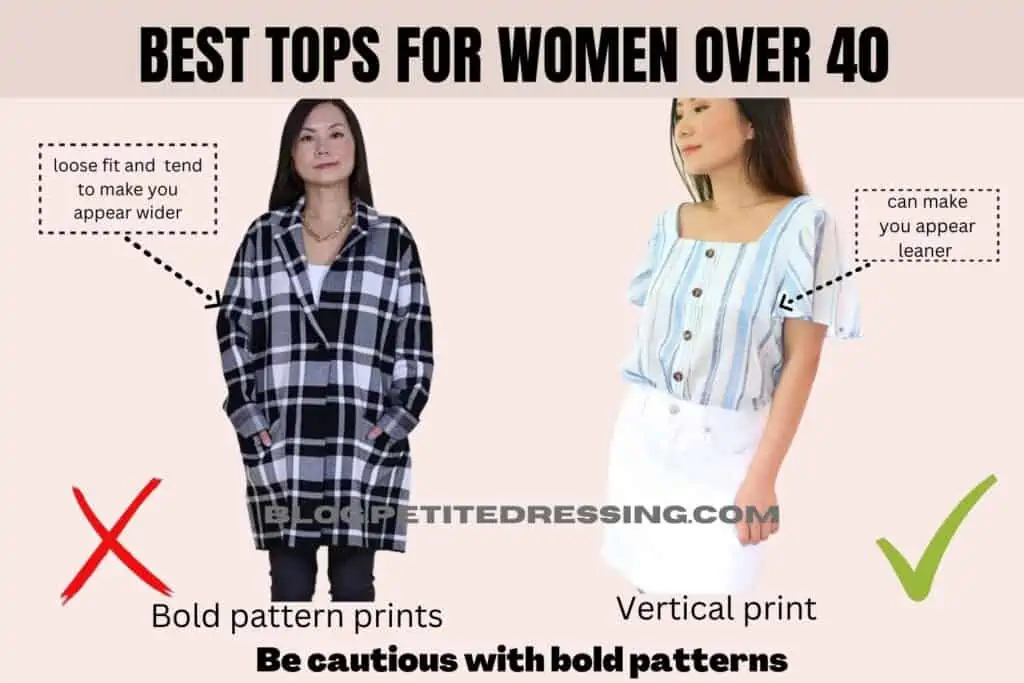 Use caution with turtlenecks
Turtlenecks are a fantastic top for layering. You can wear a solid-colored turtleneck with button-ups, cardigans, blazers, jackets, and even tank tops. With so many styling options, it only makes sense why this would be ideal for your closet.
The main issue that arises with turtlenecks on older women is the neckline. If you have looser skin around your face and your jawline is not very strong, the turtleneck will draw attention to that.
The fabric around your neck will also cover most of your neck, so if you have a short neck, this can be quite unflattering. Also, turtlenecks tend to push up your skin and create a double chin if you don't have an extremely strong jawline.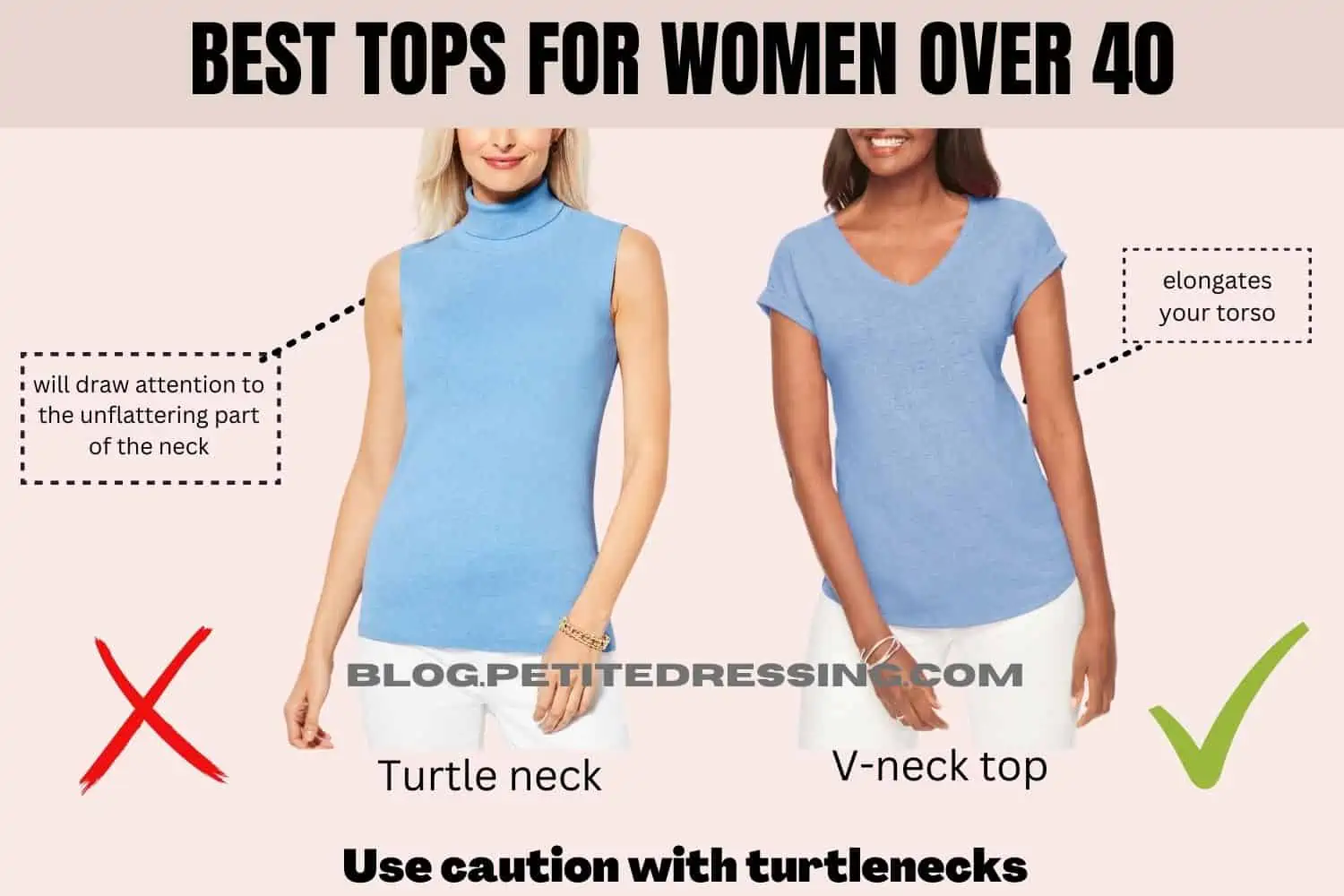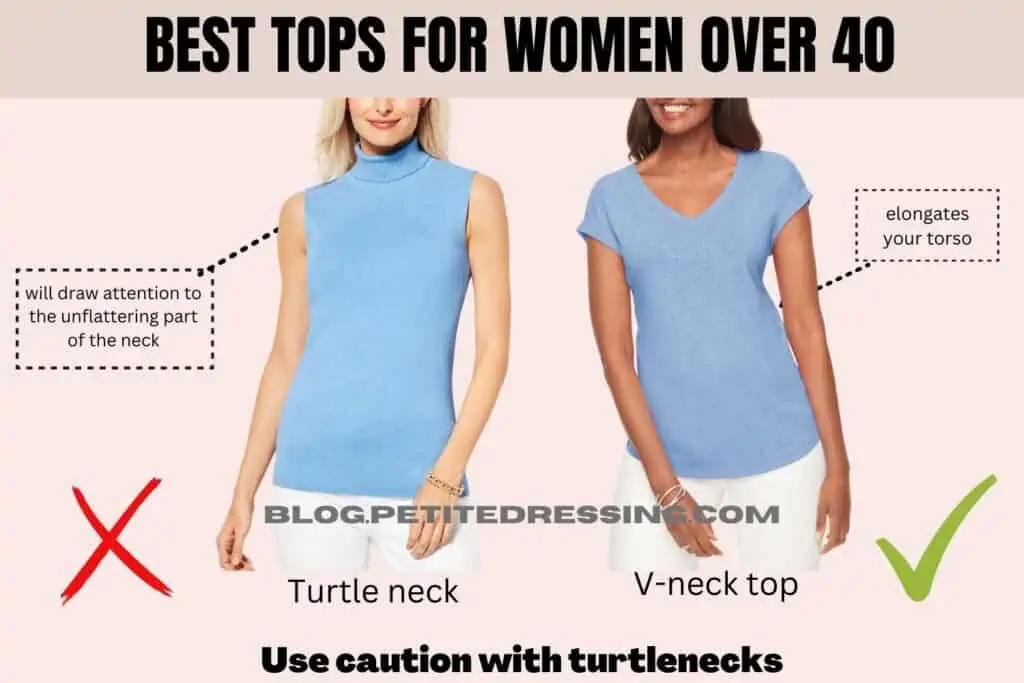 This type of top also makes the top half of your body appear bulkier, which is not ideal if you have a larger chest or wide shoulders. If you have a more petite frame, the turtleneck can actually be extremely flattering.
Avoid spaghetti strap tops
Spaghetti straps were very popular during the 2000s and 2010s, but the trend has faded. They are now seen as tacky and unnecessary. The style is old enough to be outdated but young enough to not fall in the vintage category.
The thin strap is no longer popular for women with a chic fashion sense. If you wear a spaghetti strap top, it looks like you are wearing an undershirt as a main top, which is not very sophisticated or classy.
It is also challenging to wear this type of top without your bra strap showing, which takes even more away from the elegance of an outfit.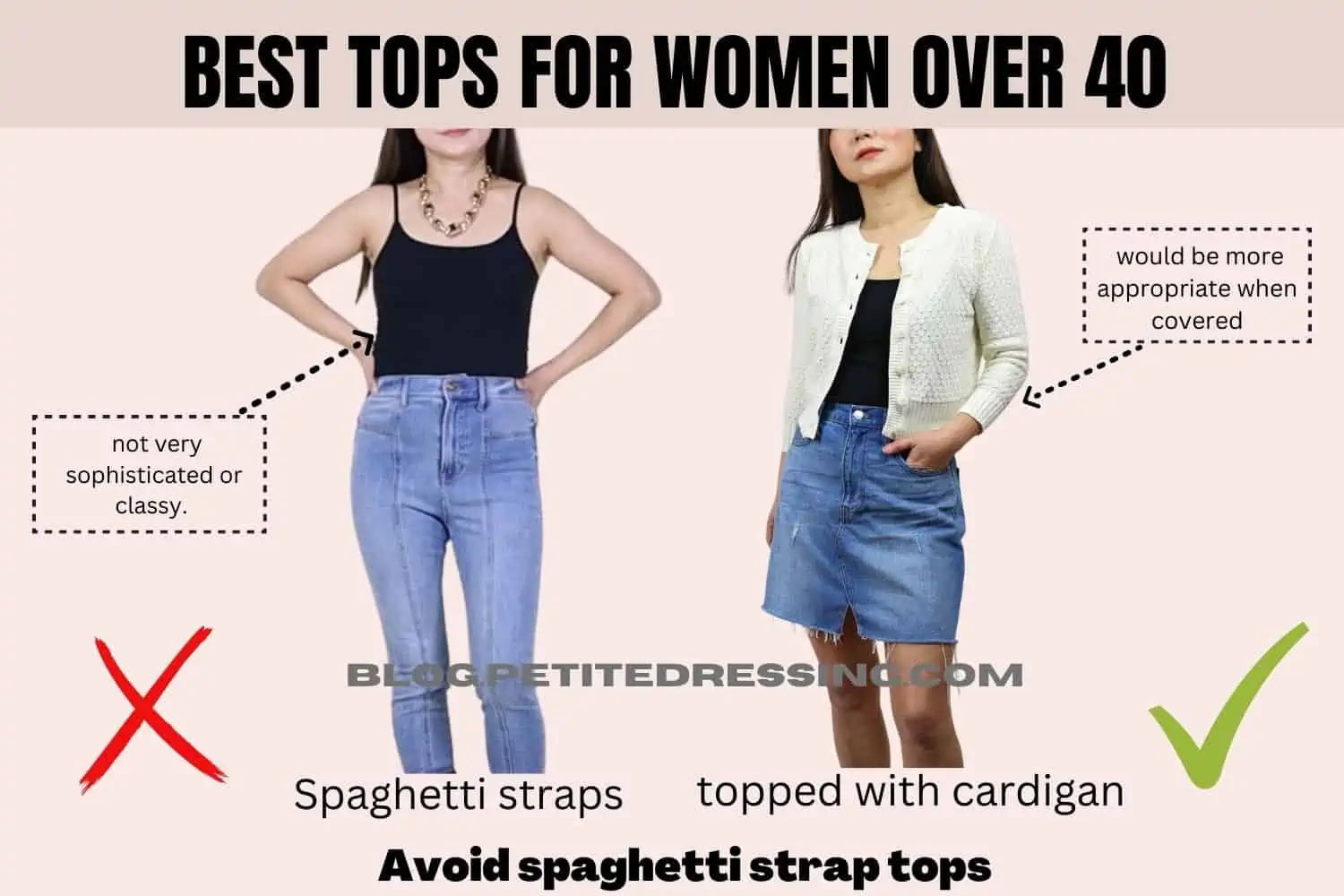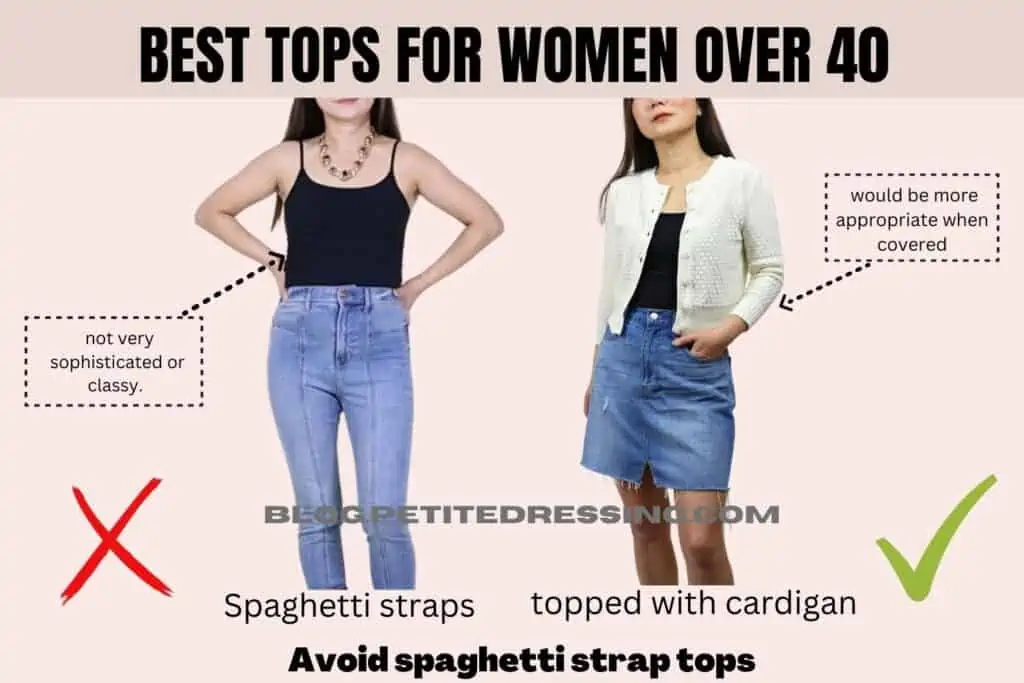 If you wear a silk spaghetti strap top with a stylish blazer to cover up more, then this type of top would be more appropriate. But wearing these tops alone should be avoided.
Caution with sequined shirts
Sequins are now considered tacky and unstylish, especially for women over the age of 40. Sequins are for children and are not elegant or classy in any way.
Shirts that are full of sequins are also really heavy and just add more bulk onto your frame, which is something you will want to avoid. Sequins are also typically used on unflattering sweaters and clothing that were made during the 2000s. Some styles from the 2000s have come back, but this one has remained dead.
Sequins are considered tasteless for older women, especially in any formal or office setting. They can be itchy and uncomfortable to wear as well.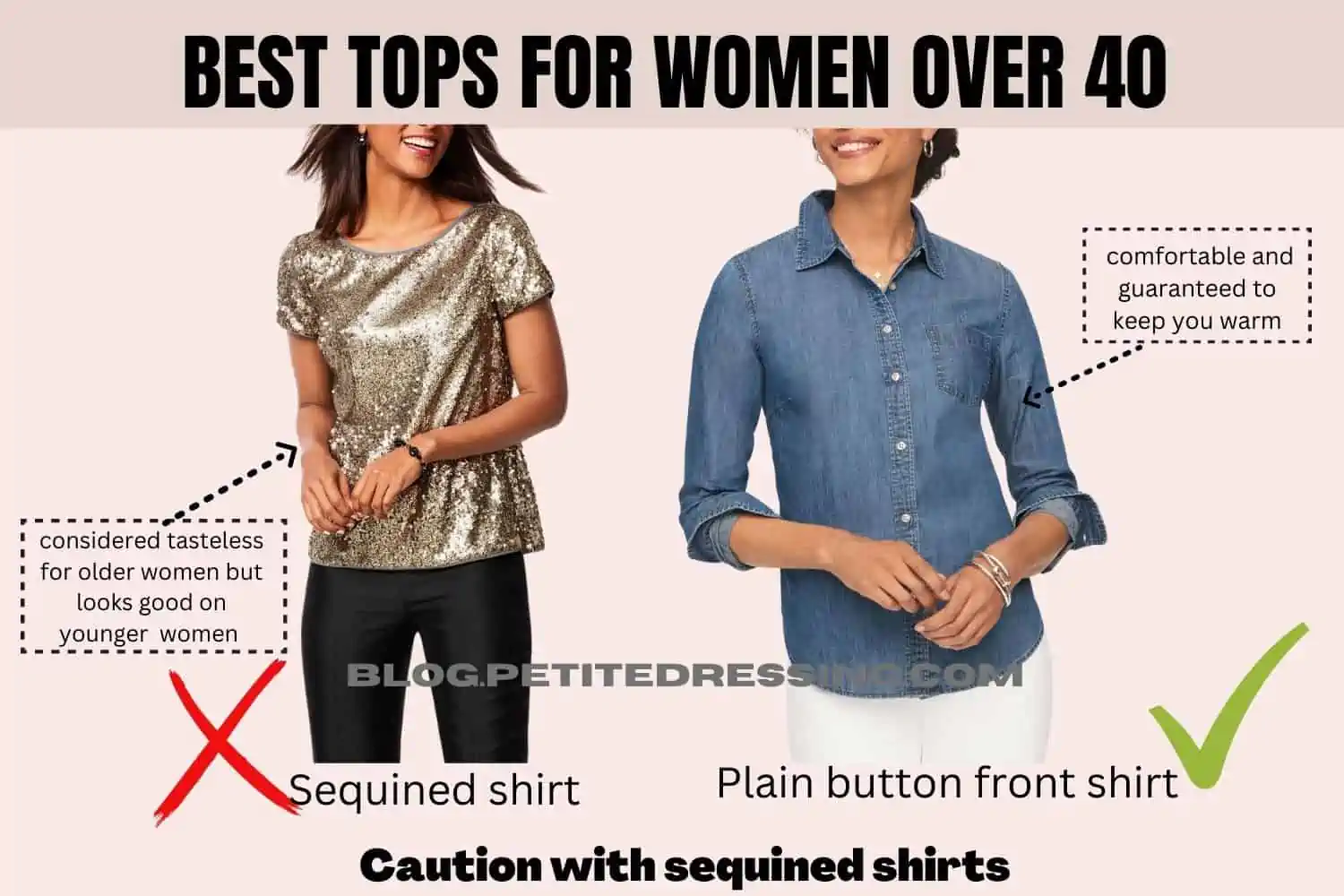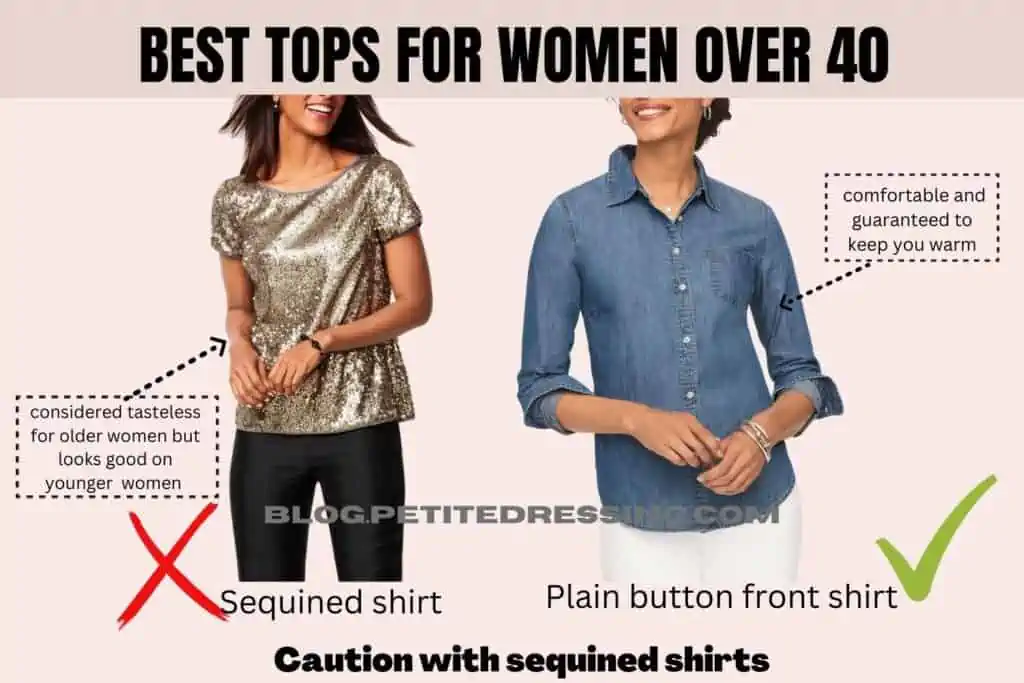 Avoid revealing bodysuits
Bodysuits have become increasingly popular over the past few years. They are ideal for a clean, tucked-in look that looks sophisticated and classy. But some bodysuits are incredibly revealing, which is not the look you want to go for.
These bodysuits often have deep v-necks that show a lot of cleavages. They usually have no sleeves, which just shows even more skin. They are also tight and form-fitting, so there won't be much left to the imagination.
You can find bodysuits with sleeves and more appropriate necklines that will still give the same sleek effect that bodysuits are made for. But any bodysuit that shows a lot of skin and has many cutouts should be avoided.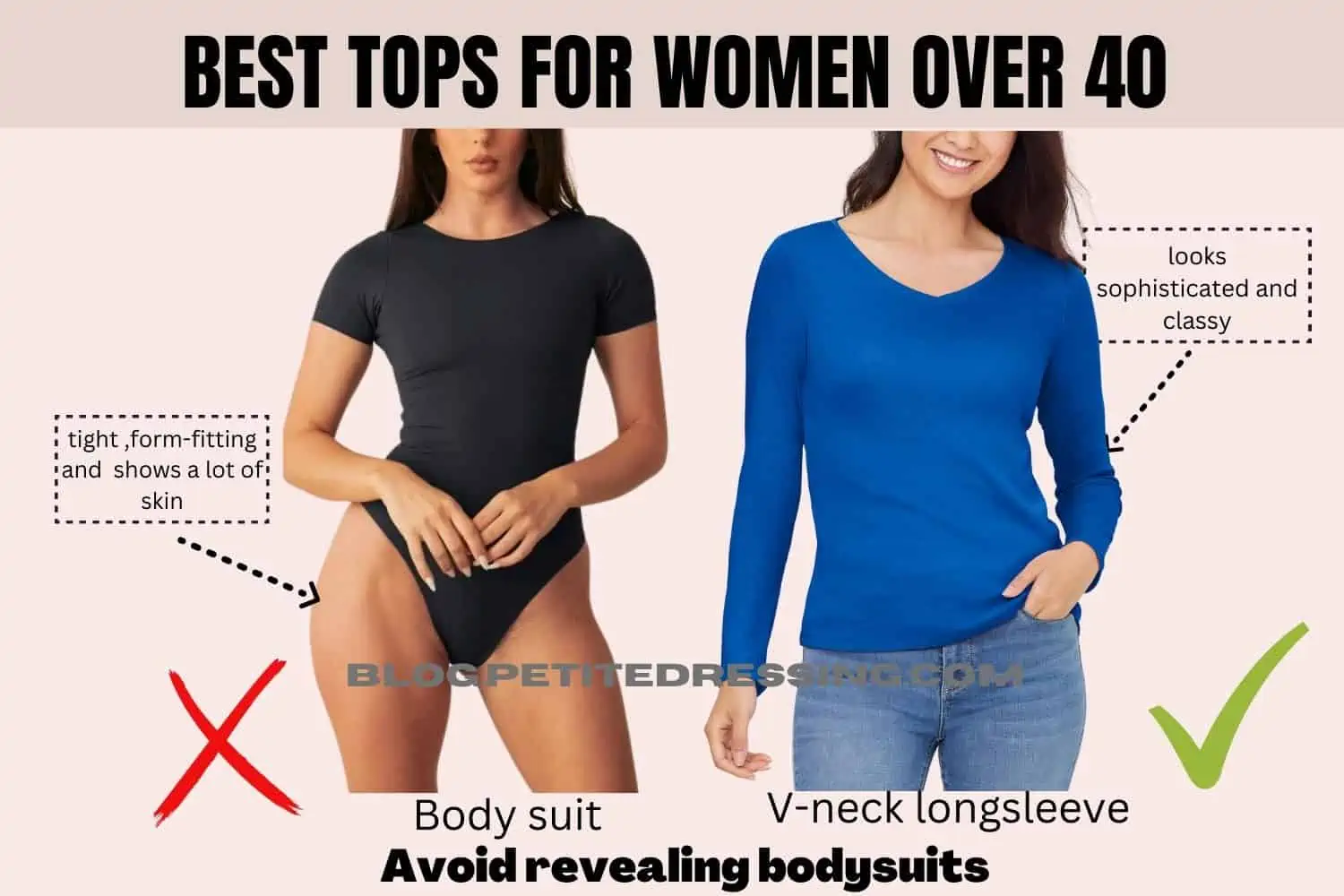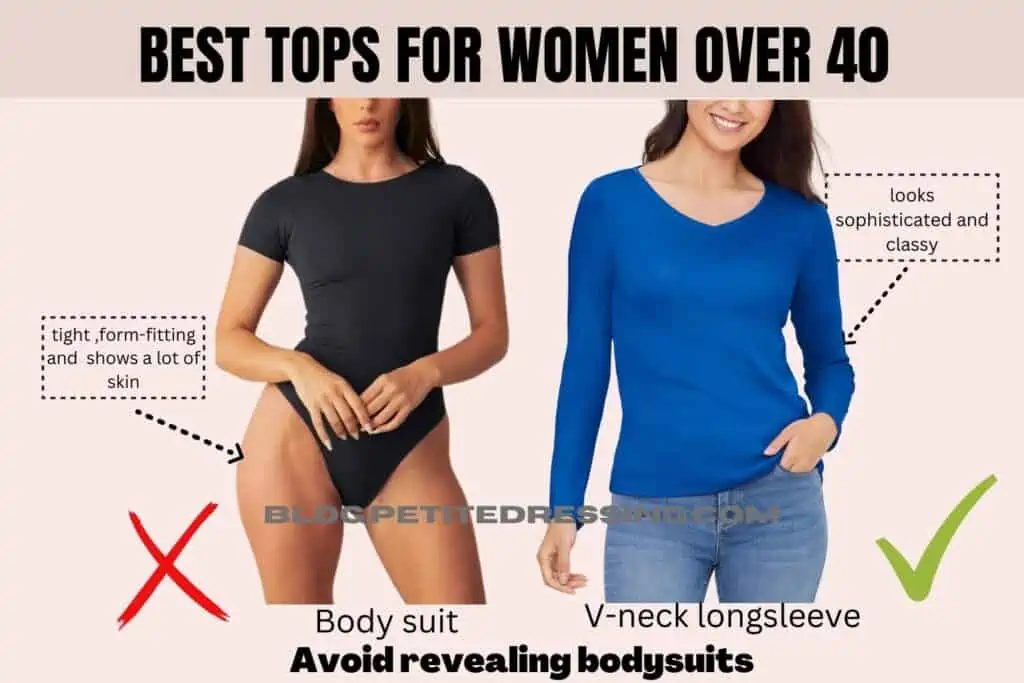 Avoid ugly sweaters
Although the idea of wearing an ugly sweater may be cute and quirky, it is not the type of sweater you want to go for. Flashy sweaters are only aging and unflattering, especially on someone over the age of 40.
Sweaters should not be off-limits, but this type of sweater definitely should be. These types of sweaters are typically associated with grandmothers, which is not the look you are going for. These sweaters are also usually oversized and chunky, making the person who wears them look bulkier than they actually are. This trend may be fun for the Christmas season, but it should stop there.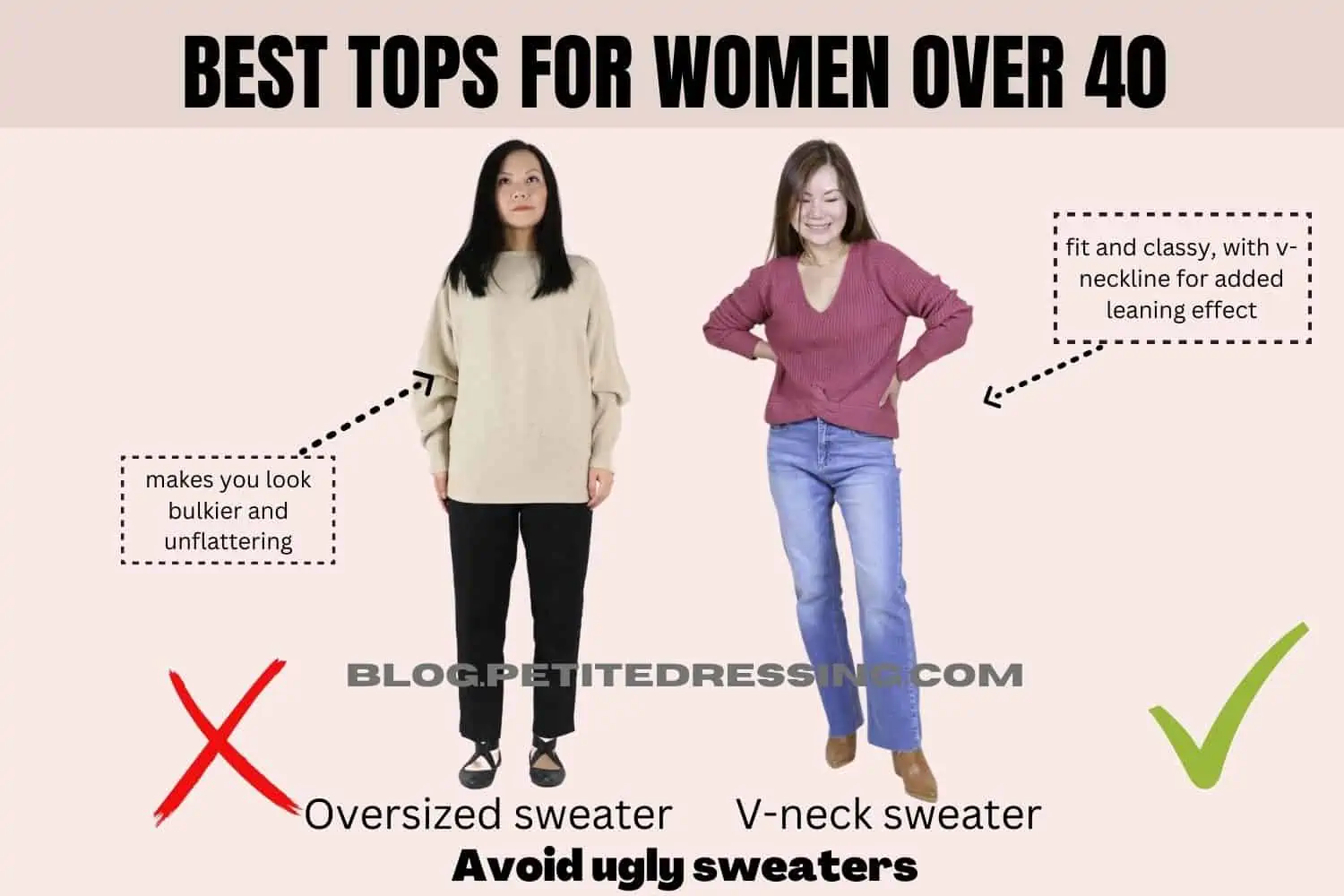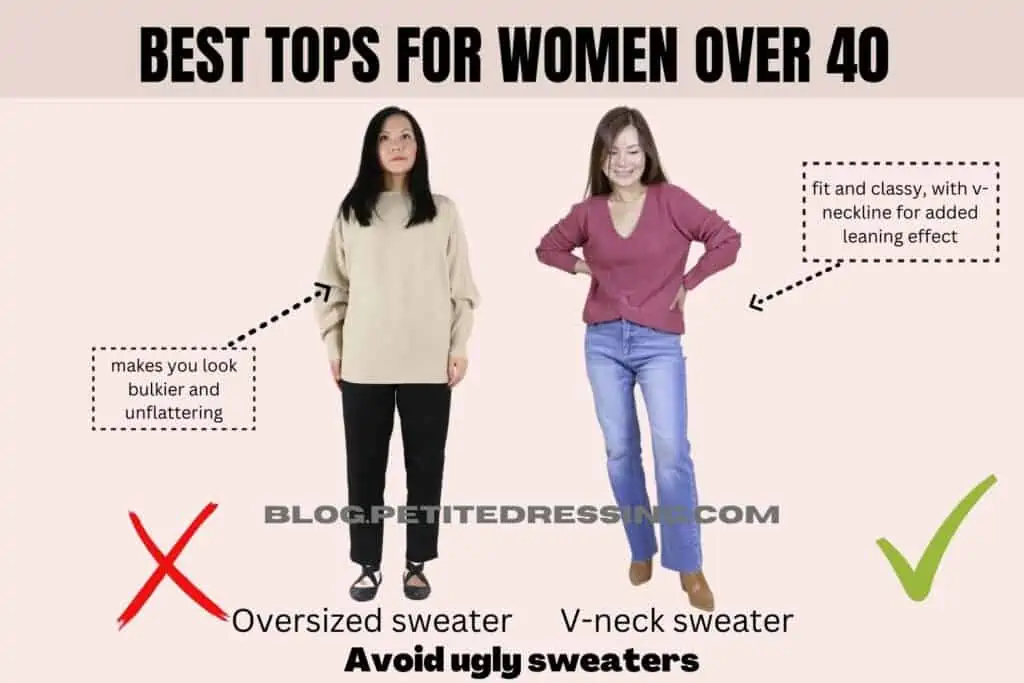 Avoid wearing bras as tops
Recently, it has become a trend to wear sports bras and bralettes as crop tops. This idea is very revealing and usually worn by younger generations. It is definitely not a classy look and can not be worn for anything formal or business attire.
Wearing a bra as a top shows a lot of skin. It is also very obvious that you are just wearing a bra, which isn't very flattering or elegant in any way.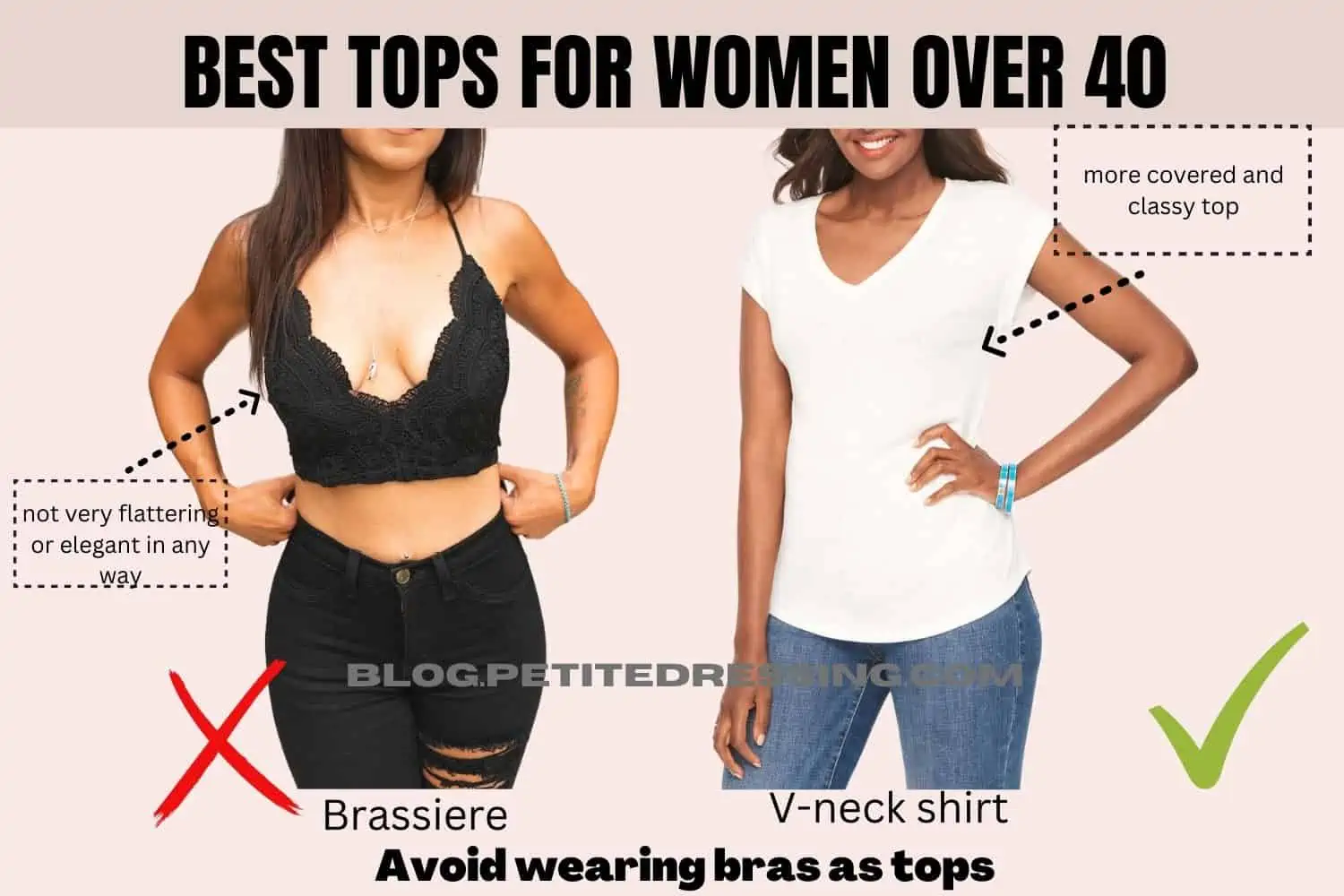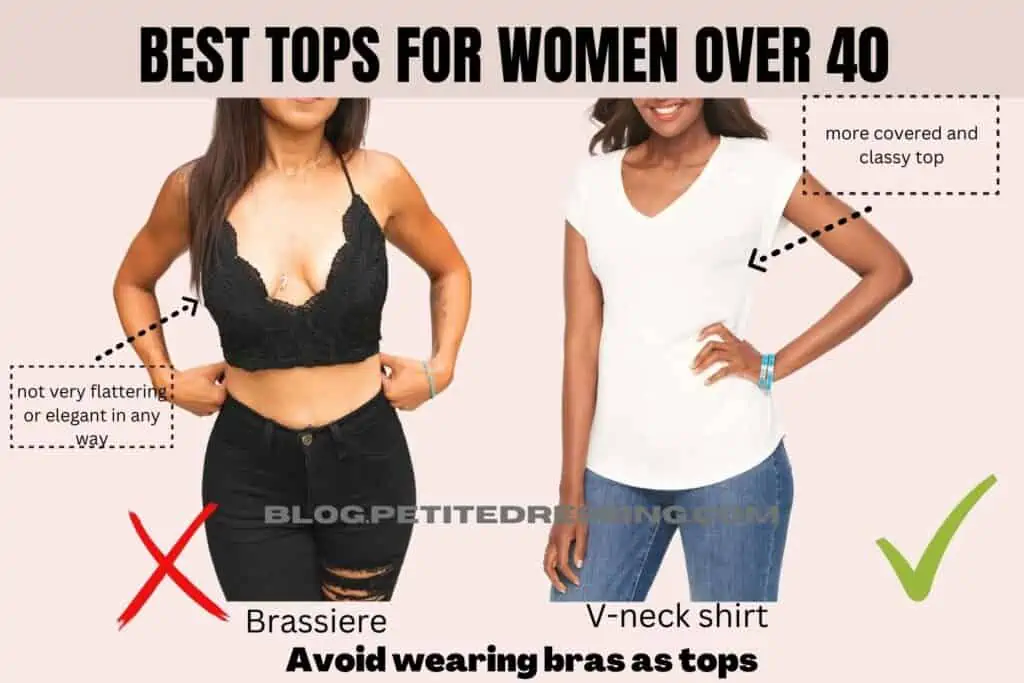 This version of a topic should definitely be avoided by any woman who has a larger bust since there is a greater chance for spillage and inappropriate cleavage.