For a long time stylish girls were kept far away from cowboy boots, understandably because they are meant for riding. However, that has since changed and as the current fashion trends stand at the moment, cowboy boots are the pair of shoes you need to have right now. They can be worn in a variety of ways to make you look classy and stylish.
If you are looking for feminine and chic cowboy boots outfits, the key is to find the right pair of boots. It is critical you pay close attention to the height of the shaft and the design of toe shape. The most flattering cowboy boots that go with everything is the pointy-toe boots. Now, here is some of the best outfit ideas on what to wear with cowboy boots:
With a simple black dress
You can reach for your pair of cowboy boots on days you choose to wear your little black dress.
A little black dress is a must-have because it can be worn anywhere and with anything you can think of. These dresses allow you to experiment with different types of shoes too so that you can pull off different styles.
Best part is that the boots can be in any color since the dress is plain black. You'll still look cute and even elegant depending on the fit of the dress.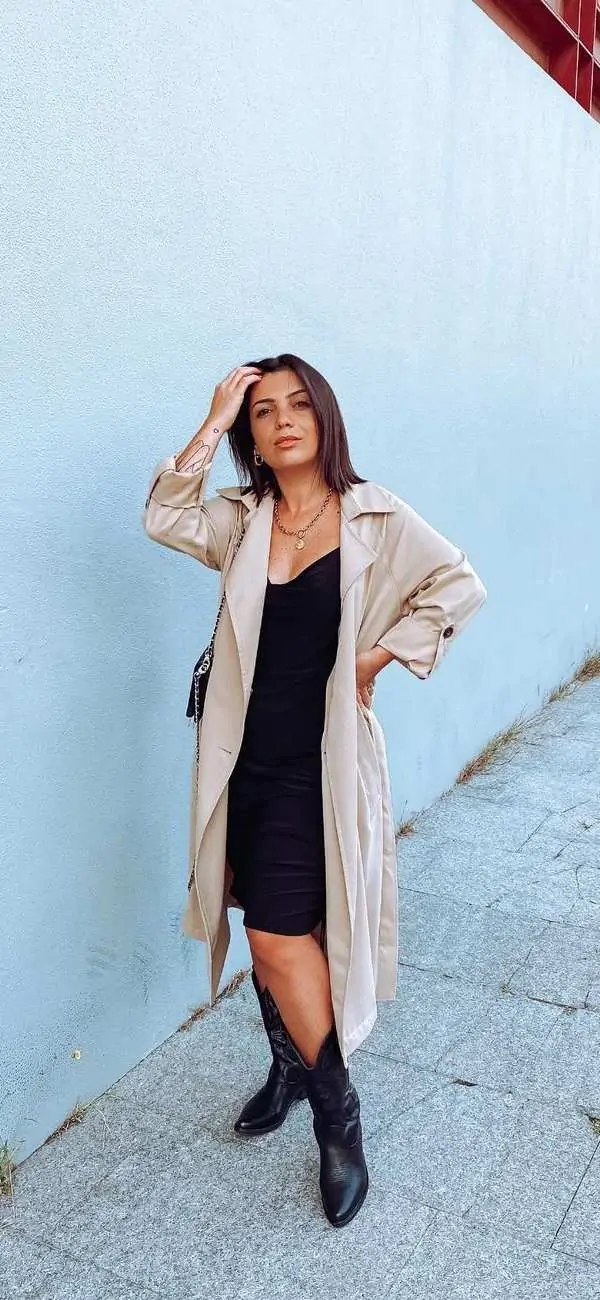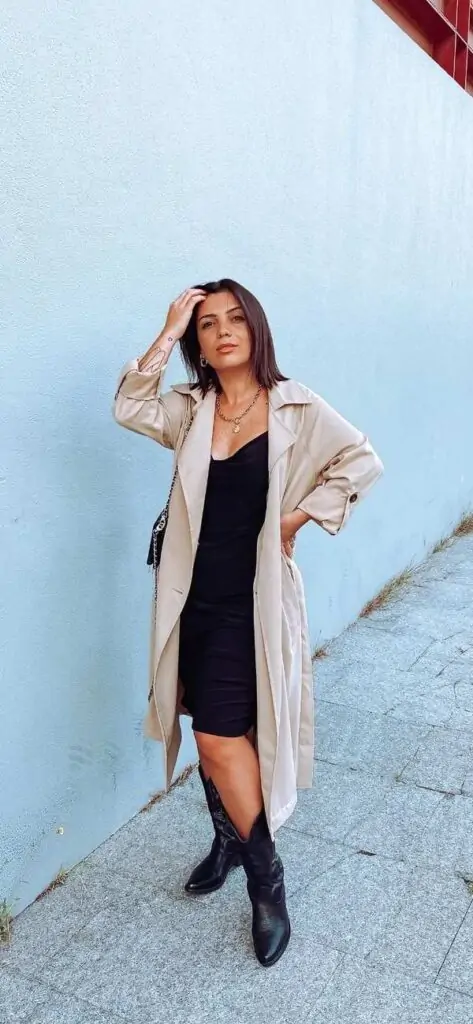 Susana (above) styled her little black dress with black cowboy boots and a duster.
Careful that you don't wear too many things over your dress. Sometimes, simplicity goes a long way if you want to look classy in cowboy boots.
With skinny jeans
Safe to say most women own at least one if not many pairs of skinny jeans. Amongst all different types of jeans, this is perhaps the most versatile pair of pants you can have, considering jeans go with everything from heels to stilettos, sneakers to boots. In terms of the best shoes for skinny jeans, cowboy boots definitely are one of the top choices which give you that cool and chic finishing touch.
Tucking skinny jeans into your cowboy boots is easy considering the tightly fitted jeans follow the exact shape of your legs and the boots are in fact slightly wider than other types.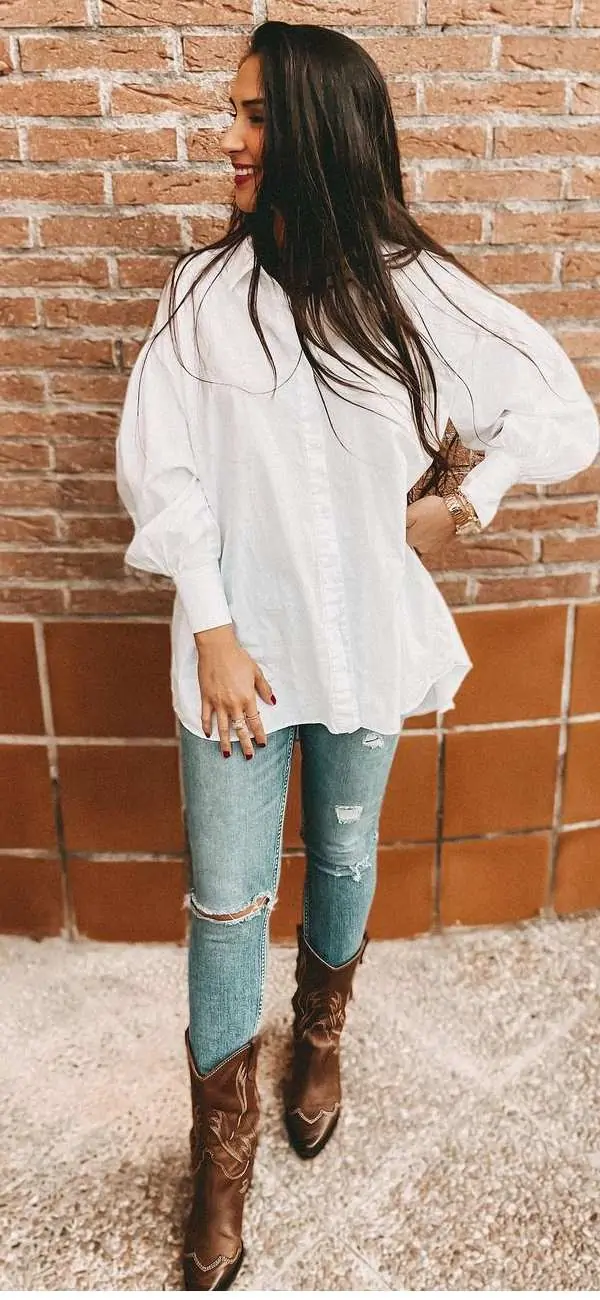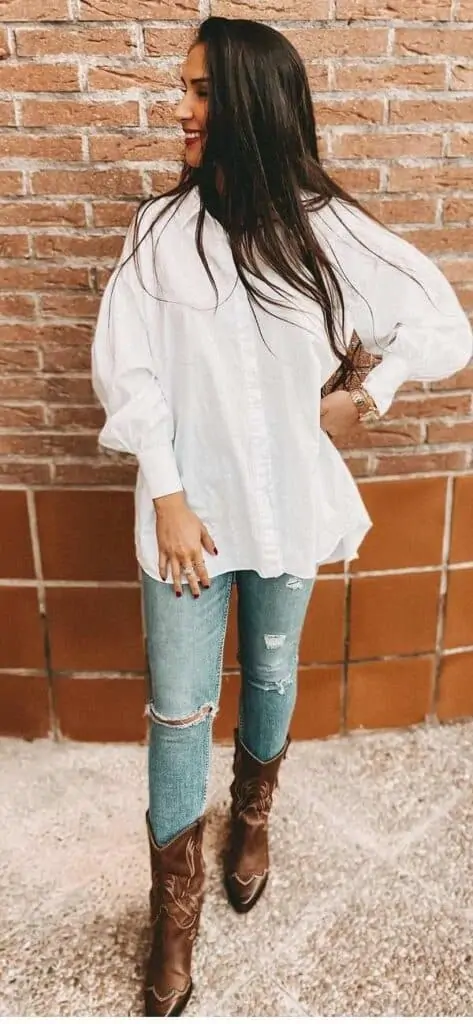 Pillar (above) wore her cowboy boots with a pair of skinny jeans and a white button-down. This is a simple pairing that goes so well especially with cowboy boots that are pointed around the toe.
You get a classier, cleaner look that way especially if you go for a nice structured bag.
With a fringed skirt
A skirt is a feminine wardrobe piece that everyone can find a different way of wearing, especially because skirts go with different tops loose or baggy, long or short. A fringed one in particular is more interesting and gives that rodeo girl look. This is why wearing your fringed skirt with cowboy boots makes a lot of sense.
People have been wearing this pairing for years but that does not in any way mean it's out of style. It's a look that's still fresh, one that still works.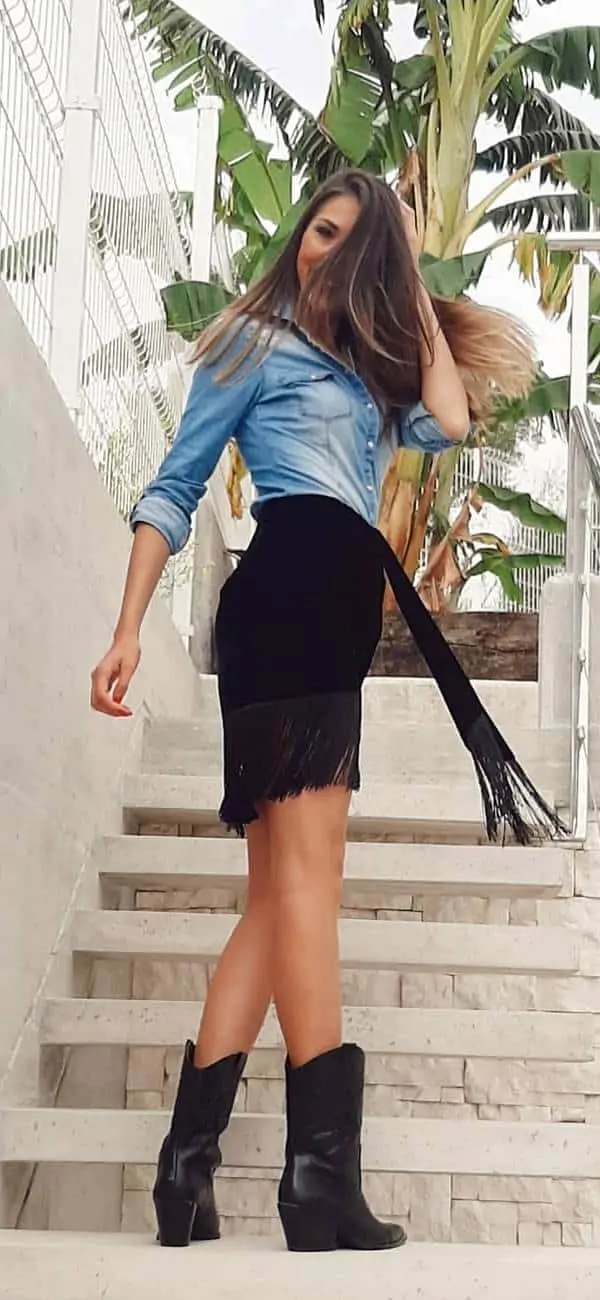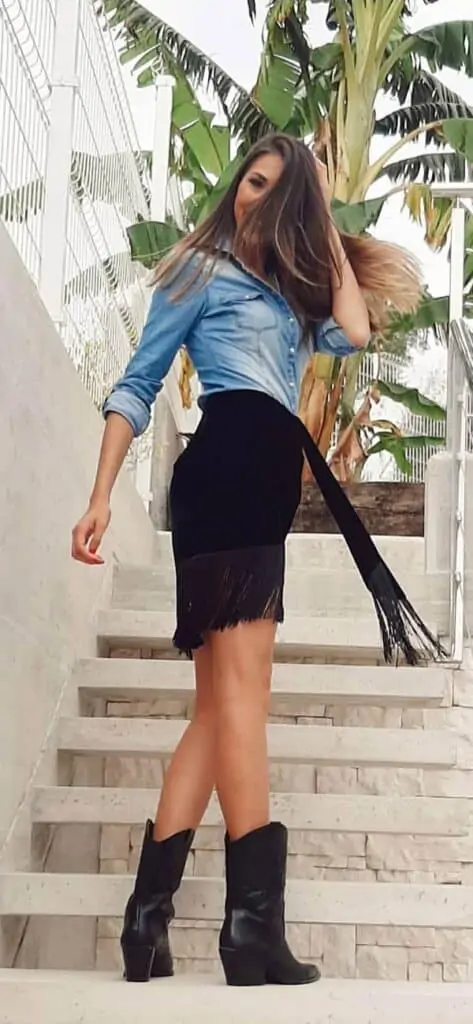 Inma (above) styled her black cowboy skirt with a fringed skirt and a denim shirt, a great casual combination that's easy to pull off because it involves a denim piece.
With simple denim clothing or black and white pieces, you can really go for cowboy boots in other colors that are not just black.
With a shirtdress
Shirtdresses also go well with cowboy boots. Shirtdresses may be smart-looking dresses but they are can also be dressed up to look elegant, or down to look laid back and casual or even fun. They are also appropriate for just about any environment you find yourself in.
For this cowboy boots outfit, you can pick a long dress or a shorter shirtdress and you'll be fine.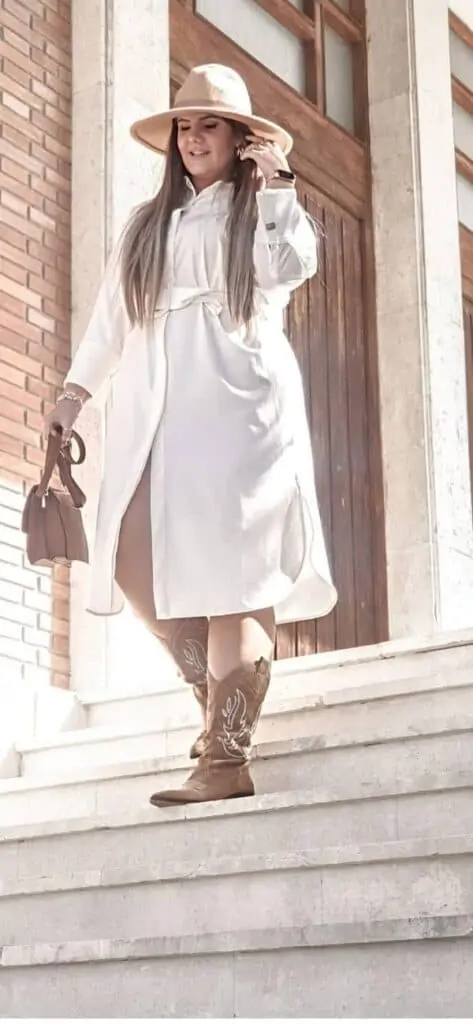 Paula (above) decided to dress up her cowboy boots, brown in color with a simple white shirtdress and a matching brown bag.
When you choose a simple shirtdress without prints, you get more freedom with the boots and they also get to stand out more, especially if your shirtdress is either black or white, or if you go for a denim fabric one.
With a midi skirt
You can wear your midi skirt with cowboy boots. Midi skirts have been quite on trend, and they are classy, considering the length. They cover most of your lower body and leave just a peak of your legs showing. They are great pieces to have somewhere in your closet especially for more formal environments, although they can really be dressed down.
To elevate the look, wear more feminine pieces such as cardigans and cute blouses on top.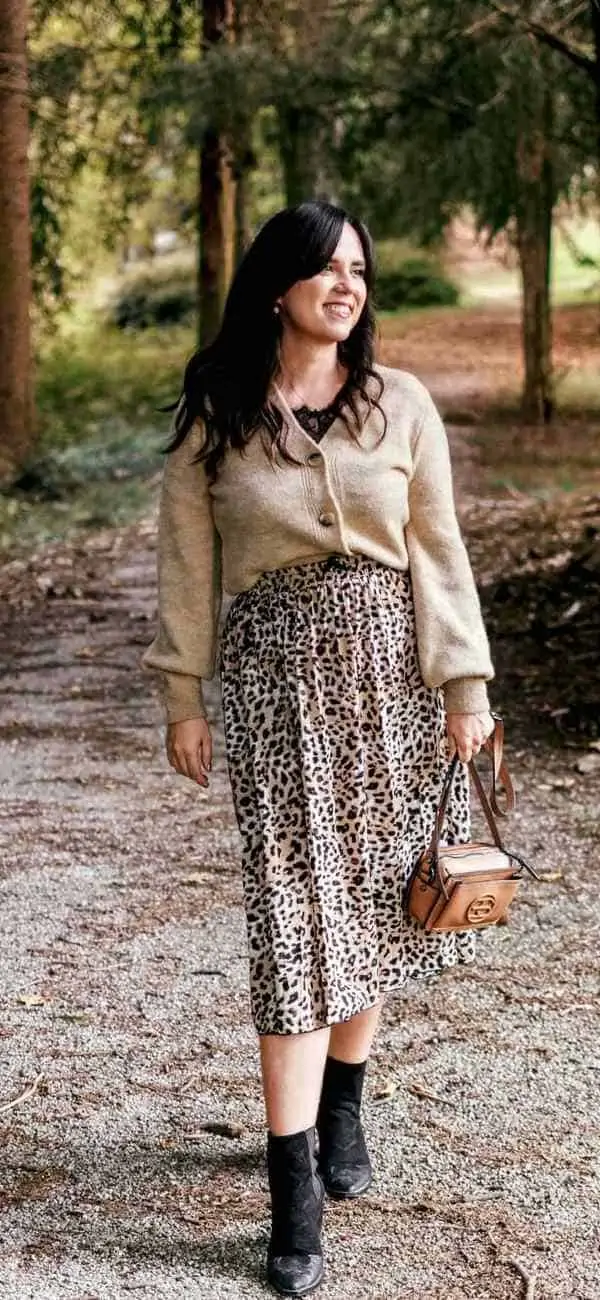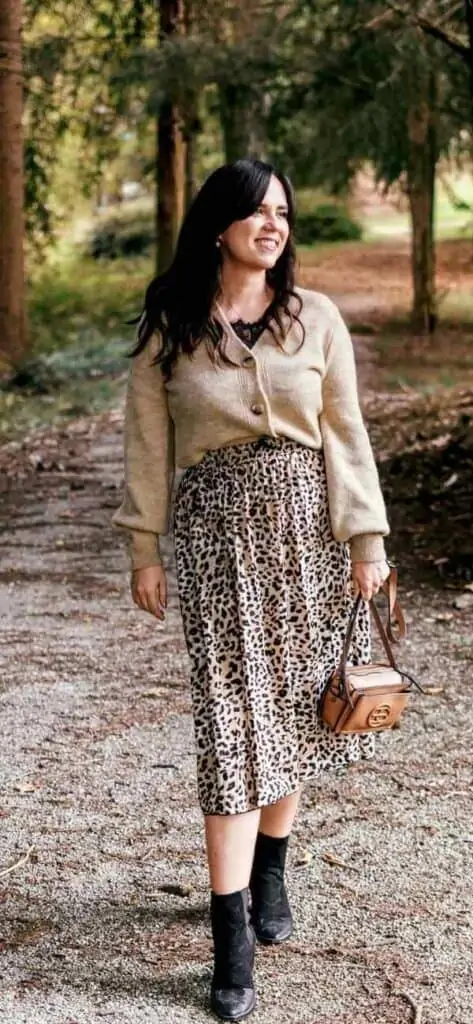 Helen (above) looks like such a lady in her leopard print midi dress paired with some cowboy boots and a cardigan.
Cowboy boots do not always have to be long. You can find them in an ankle boot style, which is great for longer skirts and dresses as you can see from this outfit.
With a jumper dress
If it's cold outside but you still want to pull off a great look with a dress, then a jumper dress pretty much does the trick. Just like a jumper, it's nice, soft and warm.
A pair of cowboy boots is just what you need to spice up a jumper dress because jumper dresses can be a bit on the simpler and plain side, boyish, and can sometimes look too ordinary. The boots help your outfit turn heads.
The fact that the boots are tall makes her feel even warmer.
With a fit and flare dress
Wearing your fit and flare (sometimes called skater) dress with cowboy boots is an easy outfit that allows you to have the best of both worlds.
Skater dresses are flattering because they hug you around your waist, which is really the smallest part of your body and then flare outwards at the bottom. They can be fancy, sporty, casual or elegant.
You get a tough shoe with a girly piece that is the dress and combined they give a nice balanced outfit.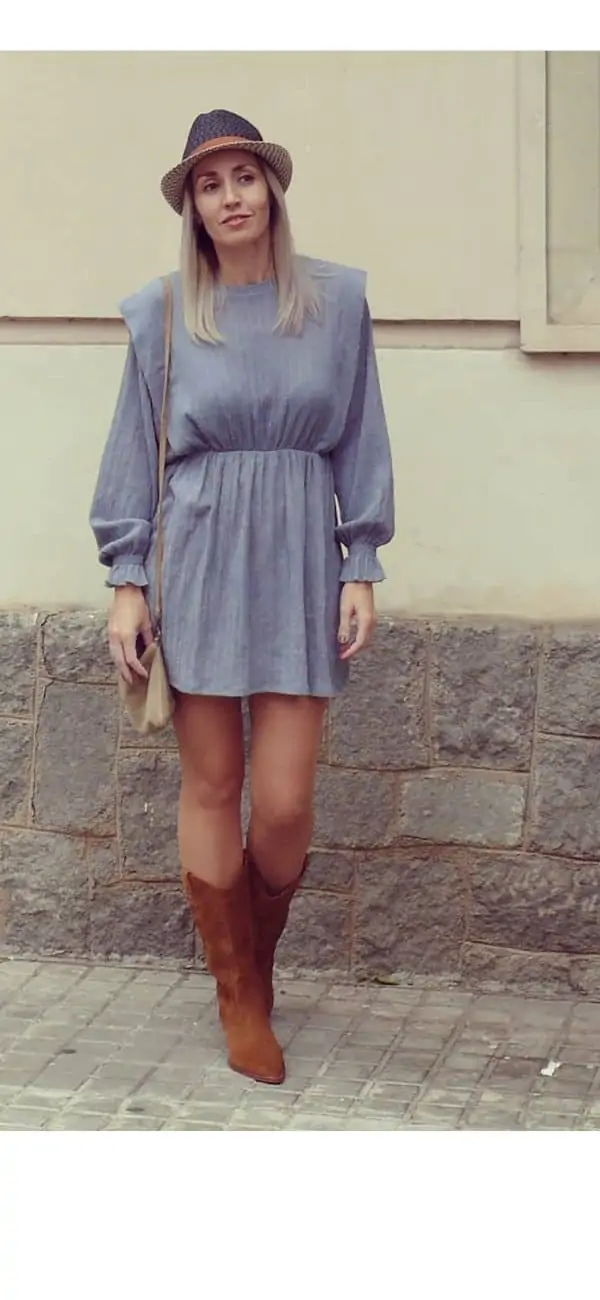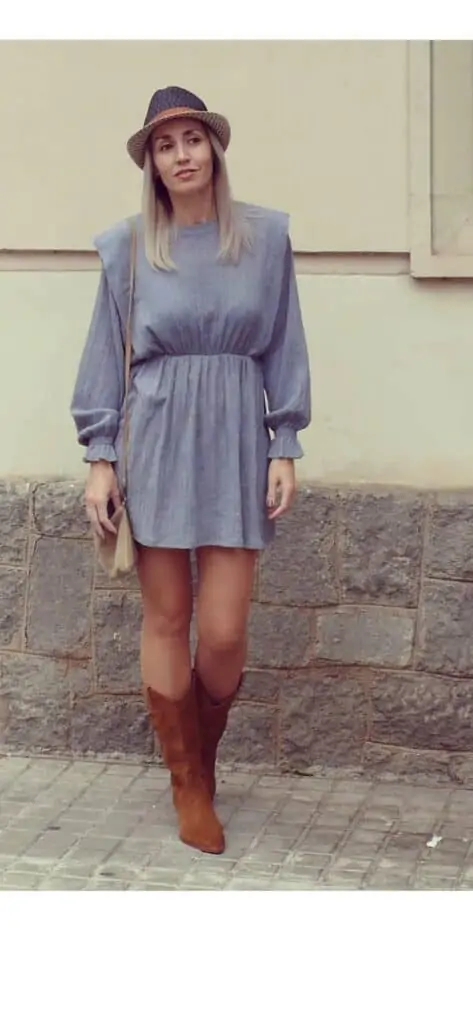 Marina (above) wore her brown cowboy boots with a grey skater dress and a hat that gives the look a more rodeo feel.
You can really choose a floral dress or any other print just as long as the colors of your boots and your dress coordinate.
With a shift dress
Shift dresses do not exactly hug your body.
Aside from being very comfortable pieces of clothing, they can also be very flattering. They hide those parts of your body that you may not particularly be a fan of, for instance, they work very well if you are looking for clothes to hide your belly.
Instead of pairing your shift dress with sneakers, heels, or stilettos, you can go the fun way with some cowboy boots. You will have an elevated look that is very comfortable because, besides the easy dress, cowboy boots are generally easy to walk in.
If you're going to be wearing a halter neck or long sleeve dress you might want to go for mid-calf or ankle length cowboy boots to allow your legs to be seen. It's always nice to have a balance such that when you're fully covered at the top, you show some skin at the bottom and vice versa.
With a maxi skirt
Maxi skirts are mostly nice and flowy and make for the best summer pieces. A lot of people will prefer strappy sandals when wearing a maxi dress but you're not only limited to them. You could go out of the box and pick a pair of cowboy boots.
It sounds like an outfit that's a bit too much but when well executed, you'll love it. The key is all in balancing your pieces. This is a very flattering combination because they divide your body into ideal proportions. If you happen to be petite, this look will elongate your legs and make you appear taller.
When you choose to incorporate print for this pairing, it's best to pick just one printed piece and go for everything else plain, preferably in neutral colors.
With leggings
Leggings are comfortable pieces that can be worn indoors and outdoors as well, just as long as you pick the rest of your clothes well and do the pairing correctly. Many women will have lots of them at home because of how versatile they are, but what shoes to wear with leggings is the question that every girl has.
They can also easily be pulled off with cowboy boots on any day and will have you look ready to run your errands, or for just a random casual day outdoors.
They can also look all dressed up with cowboy boots if you choose a button-down, or a nice statement shirt to go with them.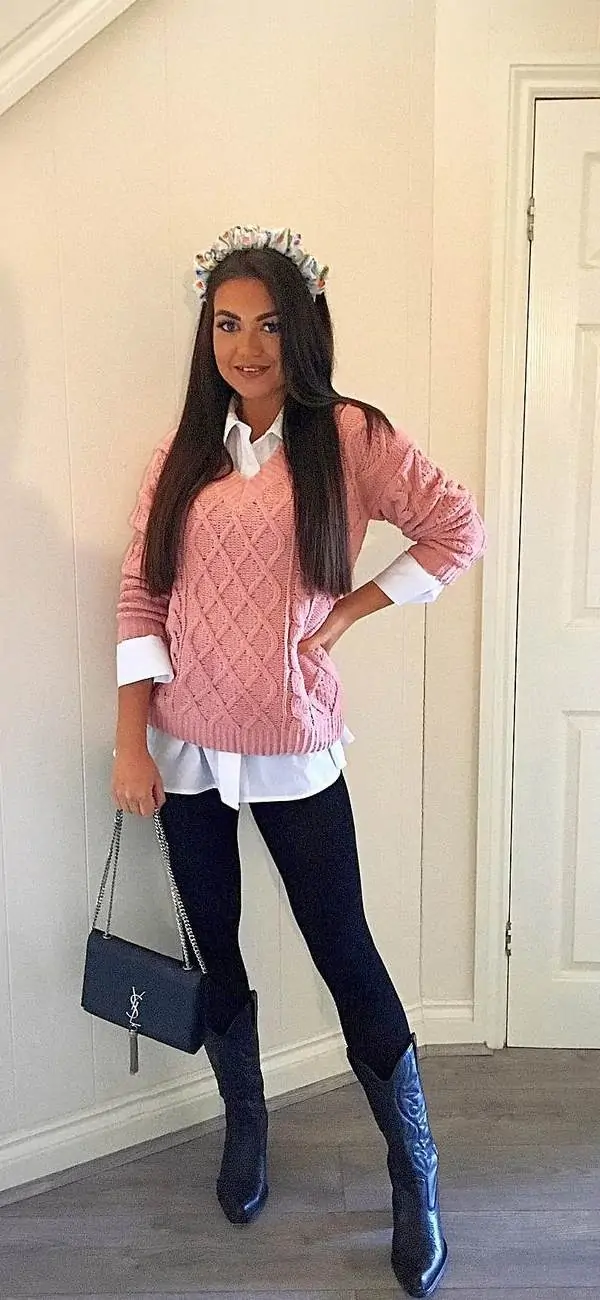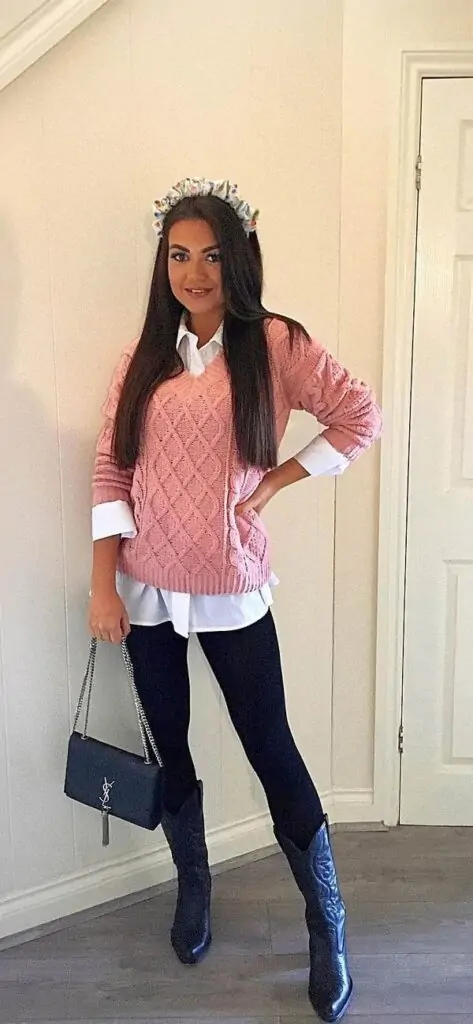 Chelsea (above) styled a pair of black leggings with black cowboy boots and went for a shirt layered under a girlie, pink pullover. You can never go wrong with a white button-down when you choose to dress up a pair of bottoms as you can see.
Black cowboy boots against black leggings also make one look taller.
If you were too shy to try out the cowboy boots trend, this post should give you some inspiration to go right ahead and get yourself a pair if you don't own any or pull out the ones you might have because it's time you started rocking them.