Celebrating women's curves has become the norm in our society. Thanks to curvy celebrities like Jennifer Lopez and the Kardashians having a more curvy figure is admired by women all over the world. Even if you don't naturally have a curvy figure, it's fun to find ways to utilize clothing to make it appear is if you do.
Jeans are a staple in every woman's wardrobe. These are some easy tips to follow to discover what things to look for in jeans to make your bum look bigger.
Butt Lifting Jeans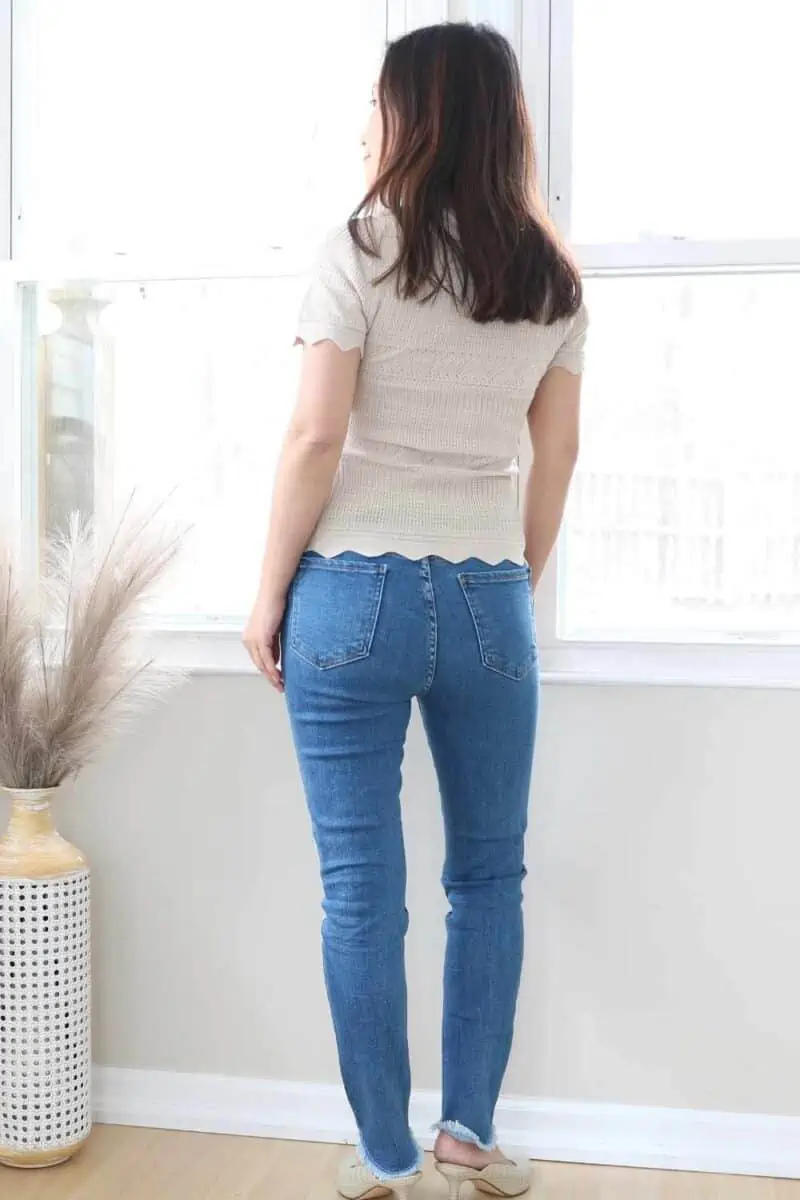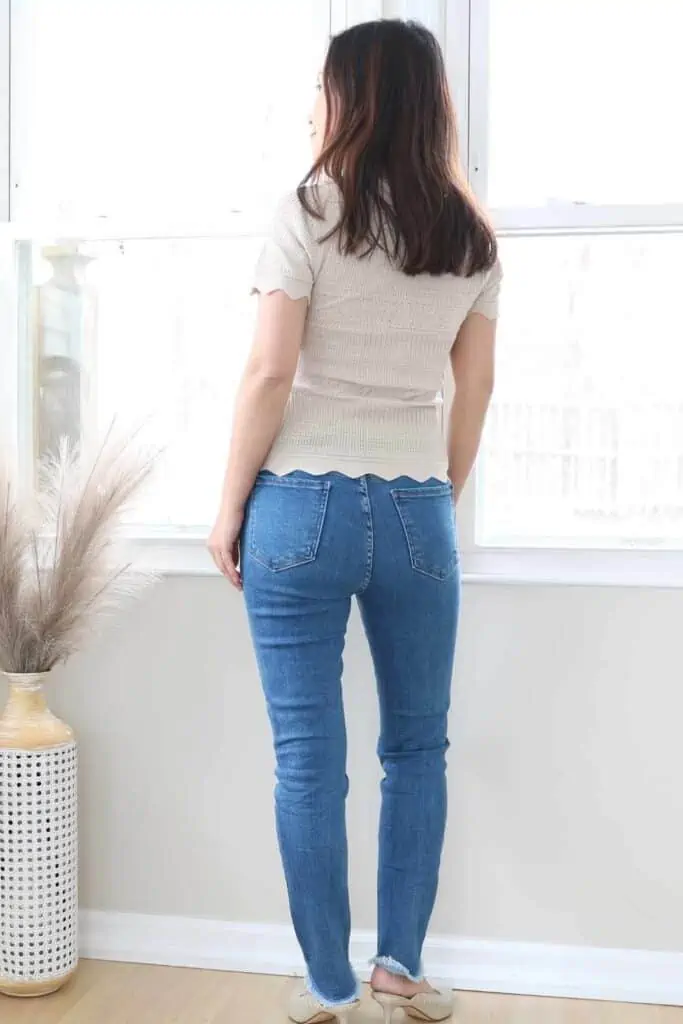 The cool part of living in the current time is the ways brands have found to incorporate butt lifting attributes built into the jeans themselves. Even if you have a rather flat bum, some of these 'butt lifting' jeans can transform your figure. I was wearing this jeans in this picture.
These types of jeans offer benefits that are in the name, they provide a lifted effect to the bum. Not only does it help to lift the bum but also makes it appear bigger.
If you're interested in seeking out these types of jeans you're in luck because more and more brands are offering this type of fit. All you need to do is look for the description or name of the style denim, generally they'll have something like 'butt lifting' in the name to make it easy to find.
White Denim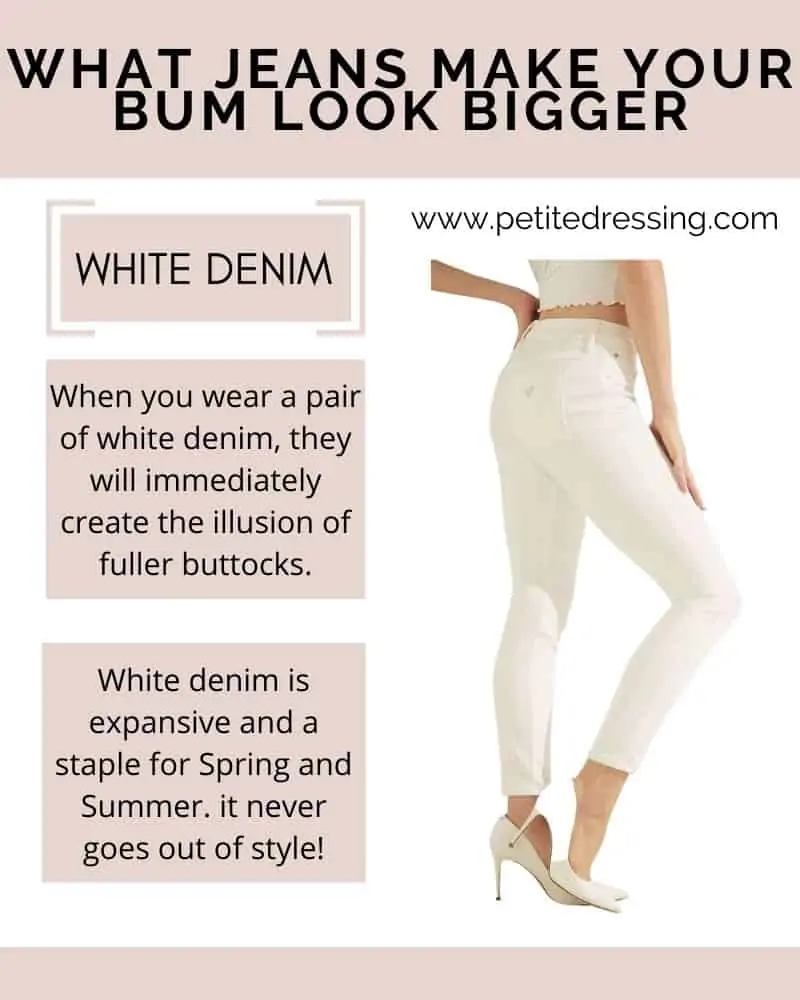 White jeans are the easiest to make your buttocks look bigger! I was wearing this jeans in this picture.
The reason is simple.
White color is expansive. So, if your butt is on the smaller side, when you wear a pair of white denim, they will immediately create the illusion of fuller buttocks.
White denim is also a staple for the spring and summer that never goes out of style. No matter what your personal style is, you can always put together an outfit with white jeans and you will always look classy and chic.
Skinny Jeans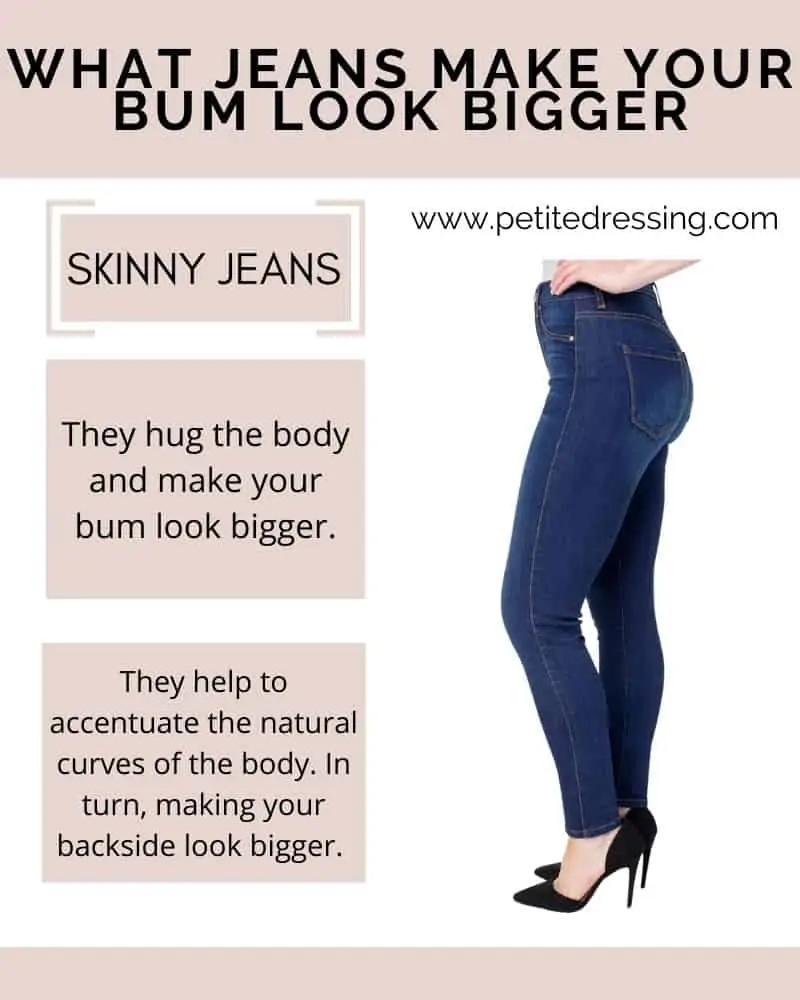 One of the best aspects of skinny jeans is how they hug the body and make your bum look bigger. It's likely one of the reasons skinny jeans maintained their popularity for such a long time.
The more closely jeans fit to the body, the more they help to accentuate the natural curves of the body. In turn, making your backside look bigger.
This is why, anytime you want your curves to look bigger it's best to avoid baggy or loose fitting garments.
Distressed Jeans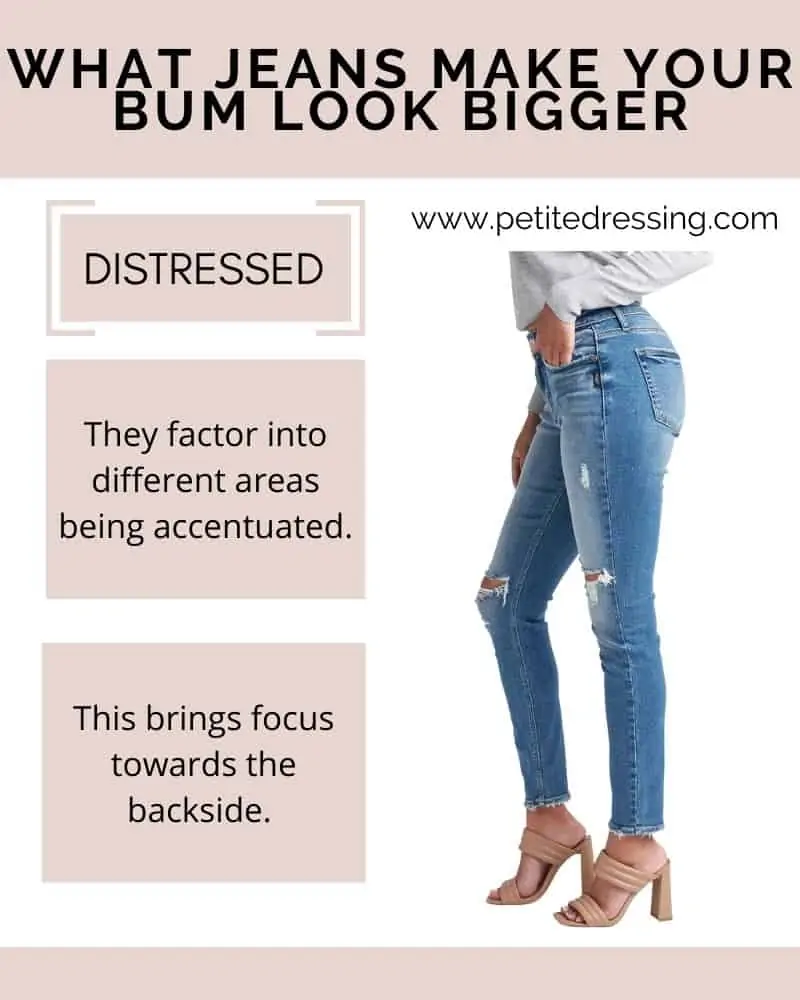 Whether you realize it or not the wash, fading and distressing on jeans can play a role in how flattering they look on your body. They also factor into different areas being accentuated.
This means, if you want your bum to look bigger a great way to achieve that is by opting for jeans that offer distressing and any kind of fading that particularly brings focus towards the backside. This can be done with rips and tears, or with various fading throughout the denim.
Embellished Pockets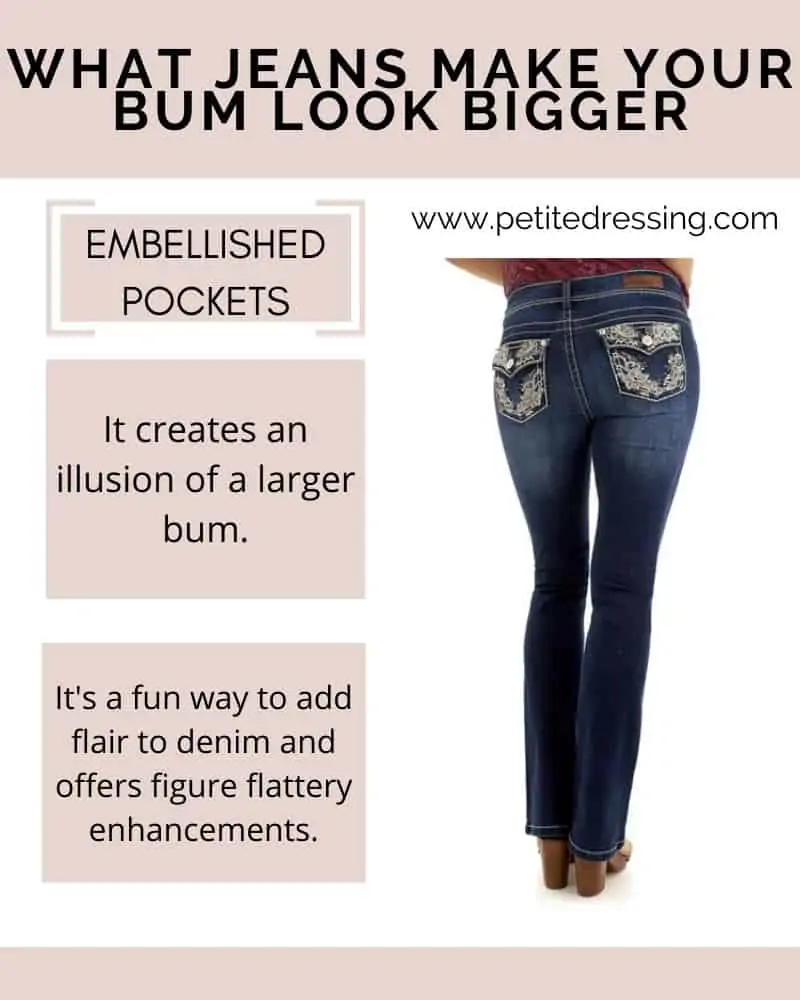 Another fun way to make your bum look bigger in jeans? Embellished pockets! It's not just a fun way to add flair to denim, it actually offers figure flattery enhancements as well.
Because embellishments draw attention towards your bum, this is what creates the illusion of a larger one. These embellishments can be anything from rhinestones to embroidery, and anything in between. Of course, you'll want to choose an embellishment that works for your personal style and is something you like.
Jeans with Smaller Pockets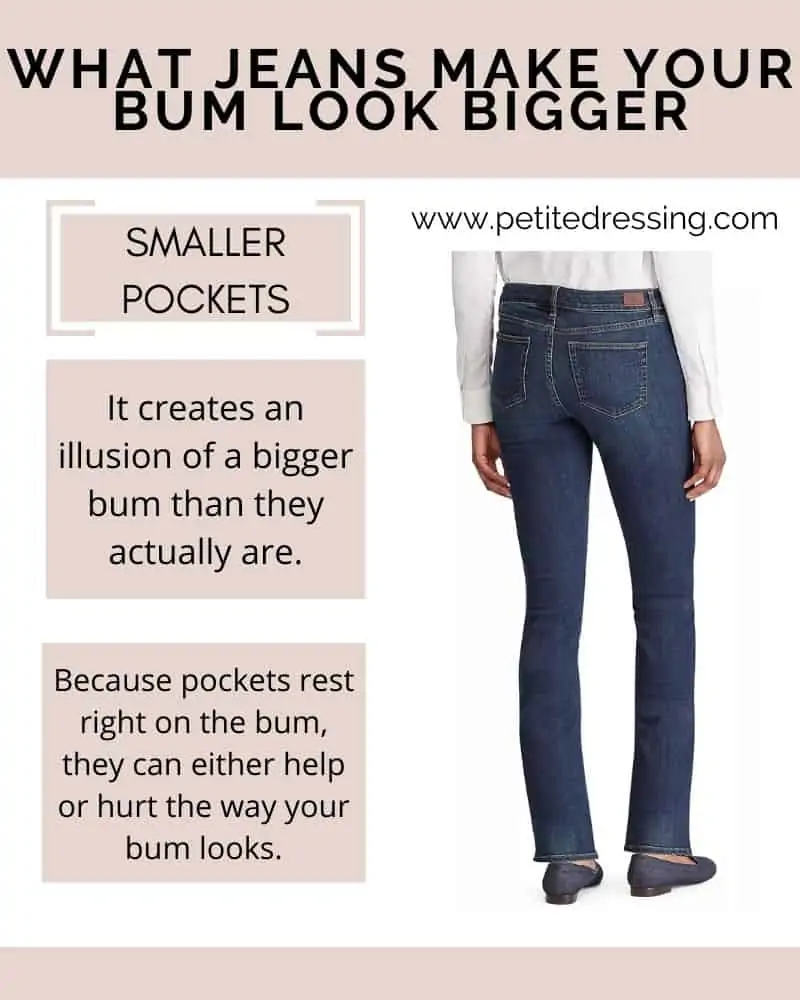 Style experts everywhere will tell you one of the main factors to pay attention to in order to enhance your bum is always the pockets. More specifically the placement and size of the pockets. Because pockets rest right on the bum, they can either help or hurt the way your bum looks.
In the case of wanting your bum to look bigger, it's typically advised to avoid pockets that are too large in their size. Anything that covers the majority of your bum should be avoided. Instead, opt for jeans with back pockets that are slightly smaller in scale to the size of your bum.
This slight difference in size will give your bum a little oomph, creating the illusion that it is larger than it actually is – a style win.
Jeans with Higher Pockets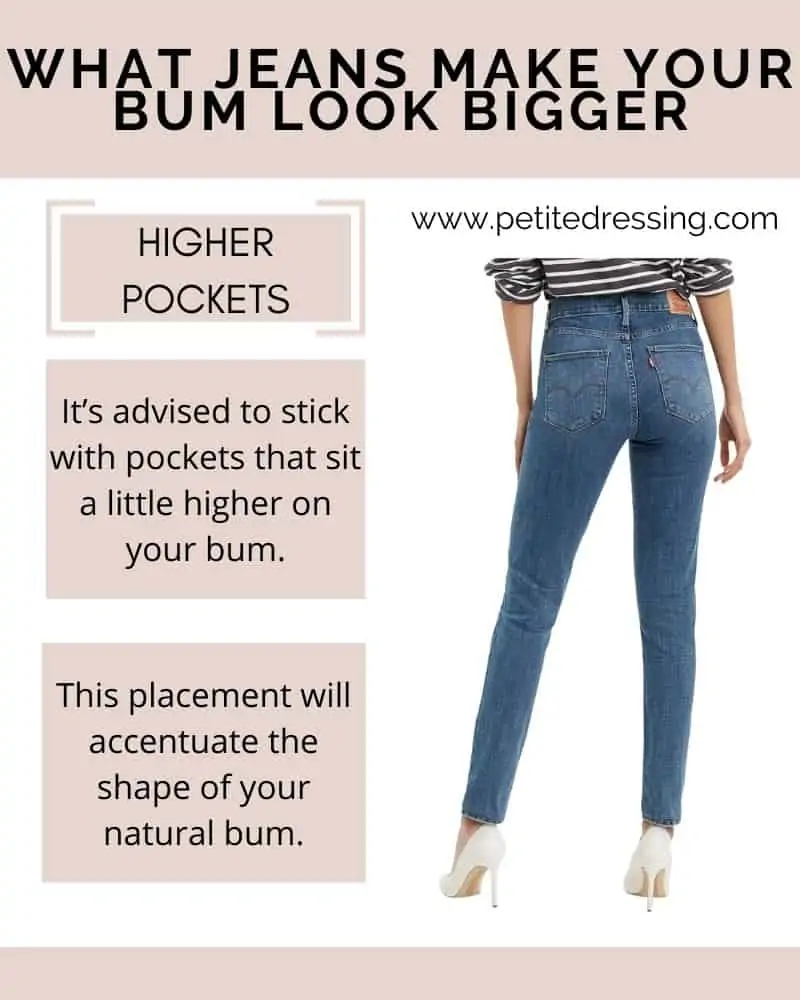 In addition to the size of the pockets, their placement of them can also make or break the way your bum looks in jeans. For example, pockets that sit too low on the body will drag your bum down creating a flattened effect.
That's why it's advised to stick with pockets that sit a little higher on your bum. Not too high, where they're nearly on your lower back of course. But just to where they rest in the middle of your actual bum.
This placement will accentuate the shape of your natural bum, while also helping to ensure it gets a lifted aesthetic.
V Shape Yoke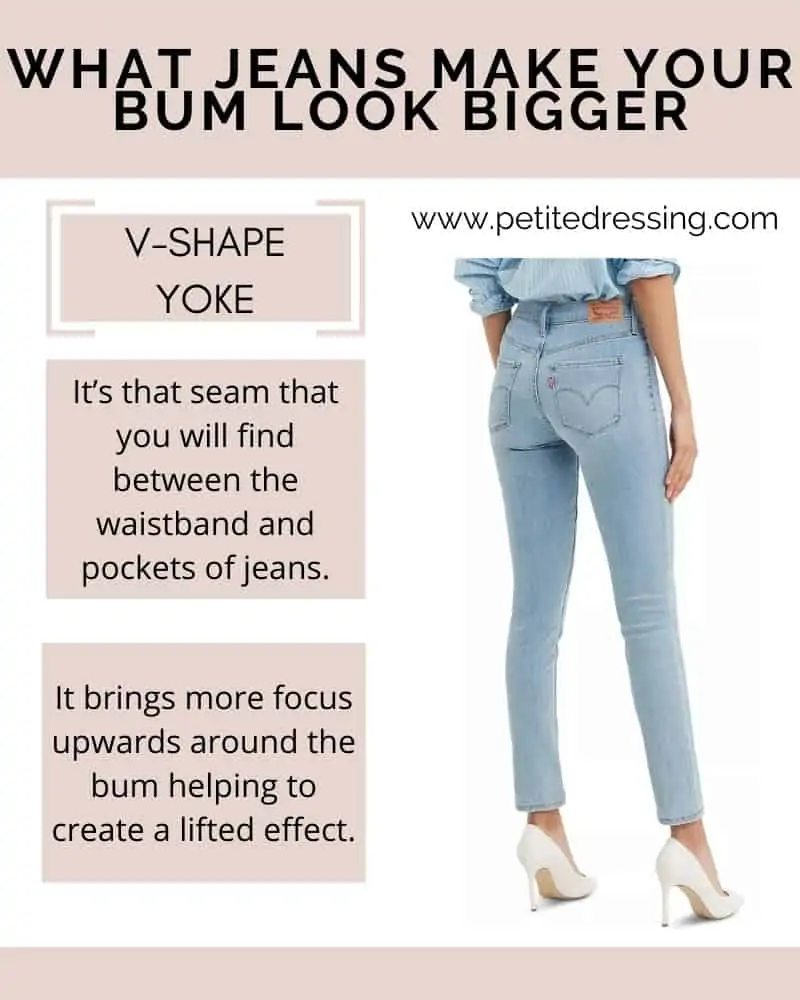 Another area of denim that many women don't realize plays a big role in how your bum appears in jeans is the yoke. Now, if you're not familiar with where the yoke of the jeans is it's that seam that you will find between the waistband and pockets of jeans.
It's an area you've likely seen thousands of times but may not have known the true word for until now.
In order to create the illusion of a larger bum it's essential to favor yokes that are v-shaped. The v-shape brings more focus upwards around the bum helping to create a lifted effect, while simultaneously helping it to look larger.
High Waisted Jeans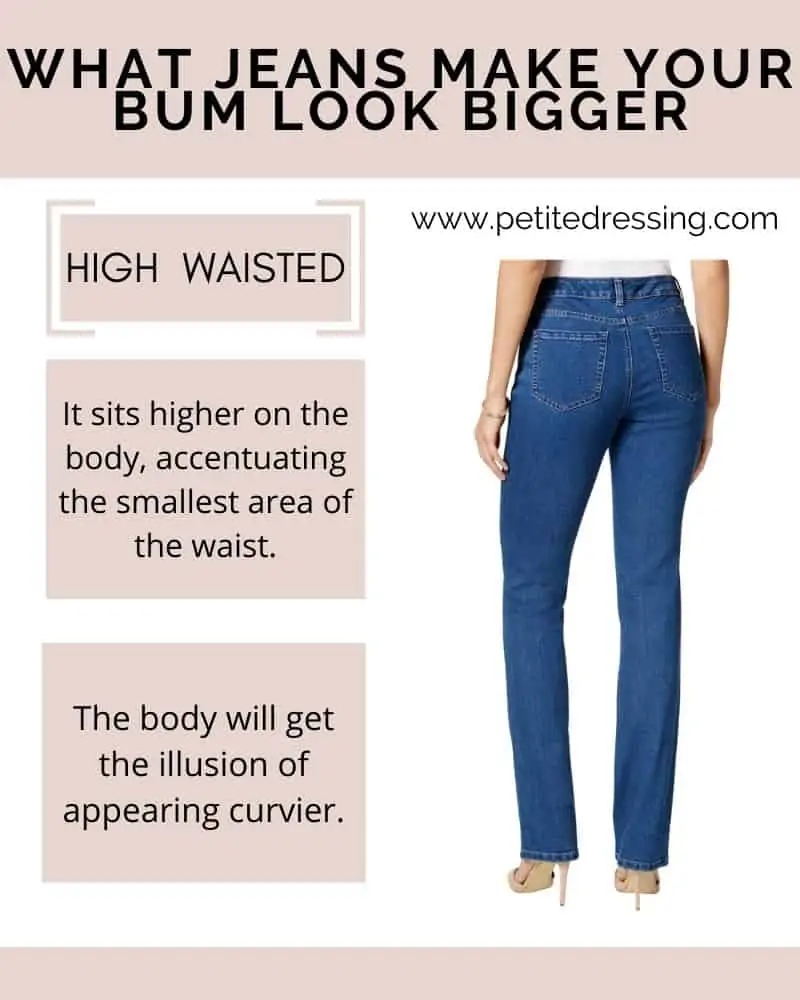 The ever popular high waisted denim. It's not on this list simply because it's a trend but because it offers some pretty great figure enhancements – especially in the bum department.
Anytime you wear a garment, in this case, jeans, that sit higher on the body accentuating the smallest area of the waist, it works magic for the rest of the body. Because the smallest area of the waist is highlighted, the rest of the body gets the illusion of appearing curvier.
Try finding jeans that pair a high waist with some of the other tips throughout this list for the ultimate bum enhancing denim find. Of course, it may take some time but a worthy investment.