If you are 5′ and under, it can be quite a challenge to find anything that fits you. I know this from first-hand experience, as I am 5'2″ myself, and for years every pair of my pants had to be altered in order to fit me perfectly. For that reason I started my own clothing line for petites, and I have thousands of petite customers, many of whom are 5 foot and under.
I've put together this guide to help you find the best pants for your height, based on my own experiences as well as feedback I received from numerous of my customers who are your height.
Styling Goal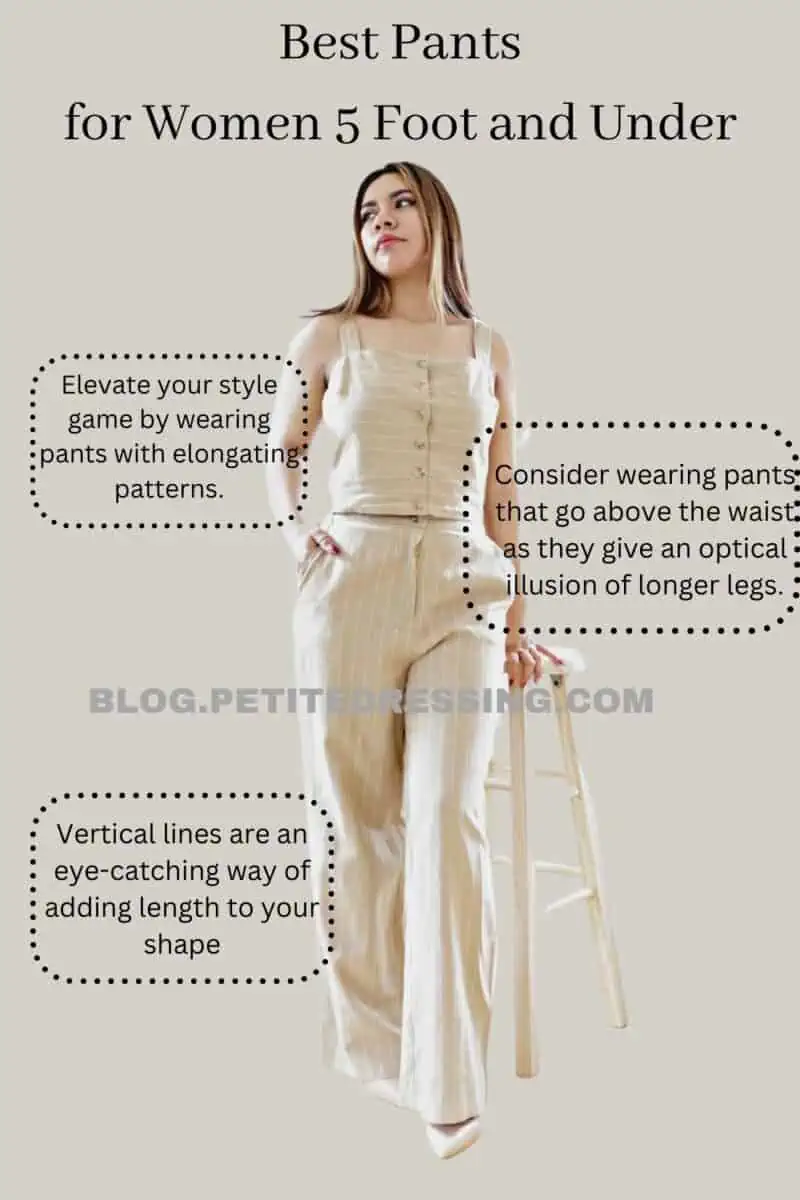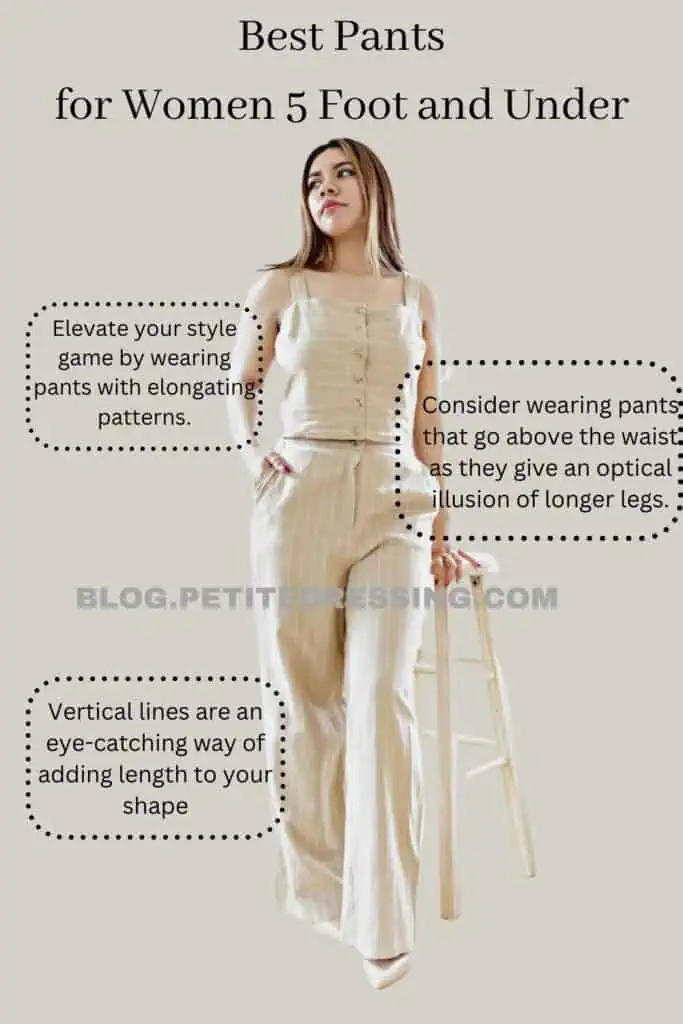 Elevate your style game by wearing pants with elongating patterns. Certain printed patterns such as vertical stripes can make the legs look much longer and also flatter any body shape, especially petite women. 
Always go for pants in soft neutral and dark colors to stretch your legs and leave a slimmer figure. Such colors are versatile; they may be worn with almost any top and exude sophistication and elegance.
Consider wearing pants that go above the waist as they give an optical illusion of longer legs, an elongated lower body, and a higher stature. Combine them with structured fabrics to create a graceful shape that accentuates your curves.
Never wear low-rise pants since they can shorten your legs and widen your torso.
Now that we've briefly discussed our main styling goals, you might be wondering what type of pants exactly should you be looking for. Well, I've got you covered!
Pants with Vertical Prints and Patterns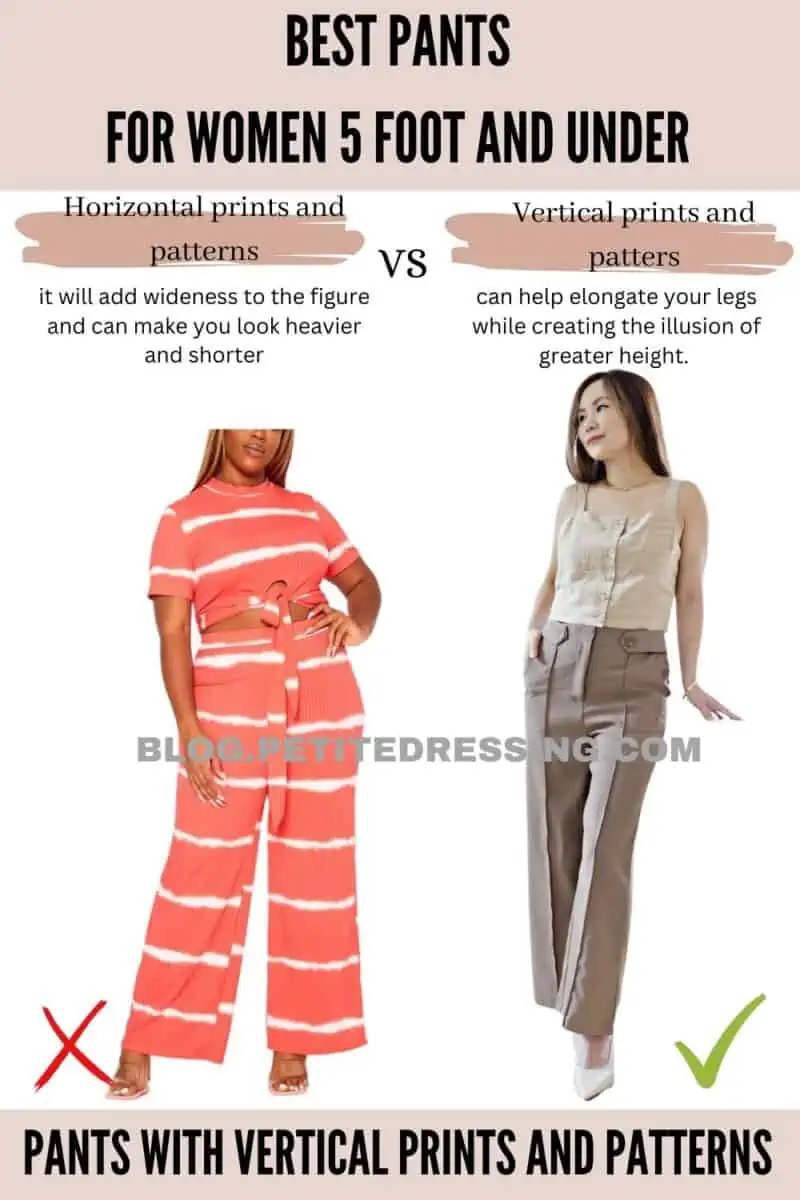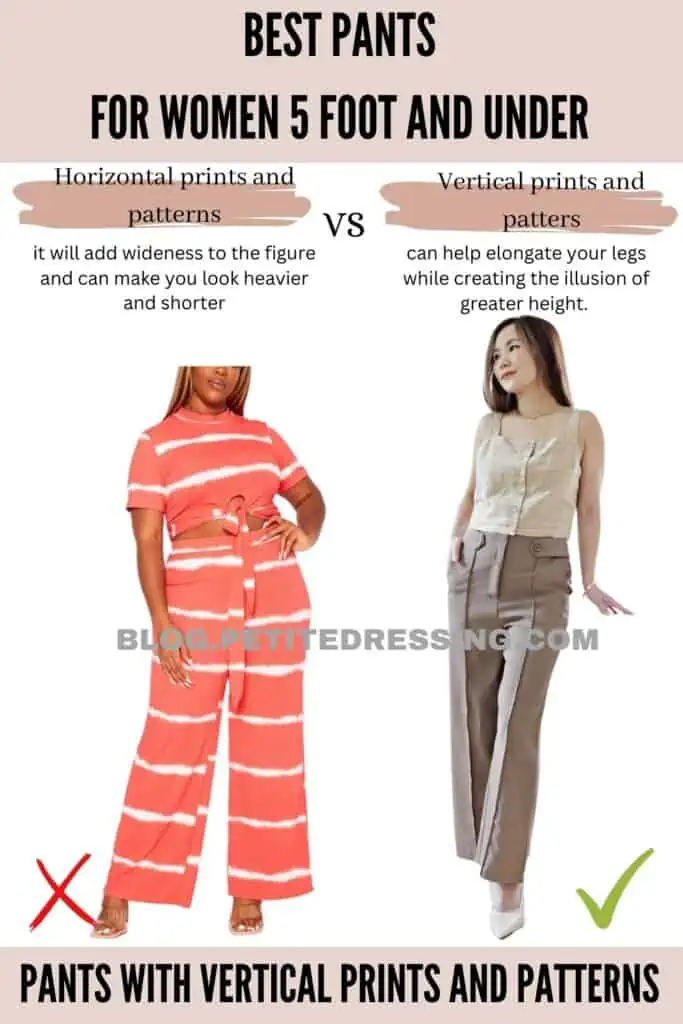 For petite women, pants that feature vertical prints and patterns can be your closest buddies! These styles can help elongate your legs while creating the illusion of greater height.
Vertical lines are an eye-catching way of adding length to your shape, whether you choose pinstripes or bold stripes, herringbone, or even a minimalist plaid. I suggest wearing these pants with a solid-colored top or a fitted blazer to create a balanced contrast and chic appearance.
Sailor Pants
A pair of sailor pants in dark colors can be a total game-changer for women who are 5 feet or under! Its classic high-waisted design, as well as the wide-leg structure of sailor pants, elongate your silhouette.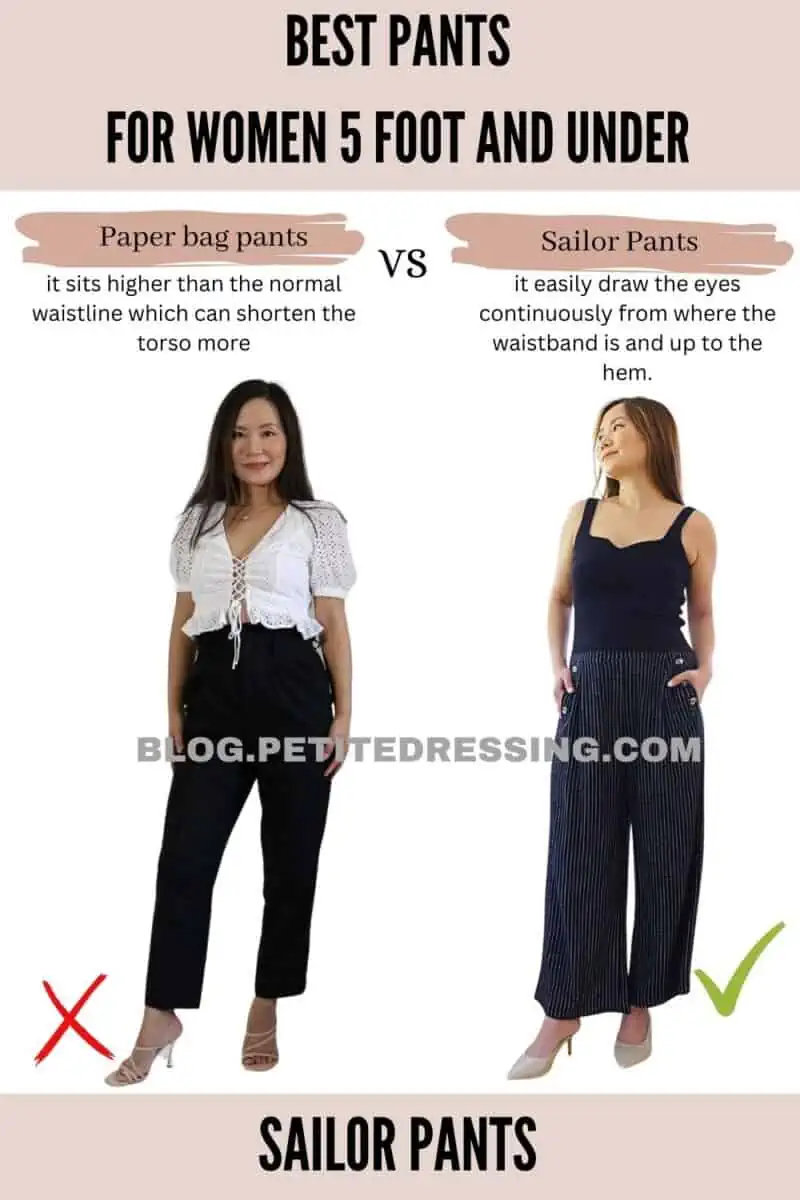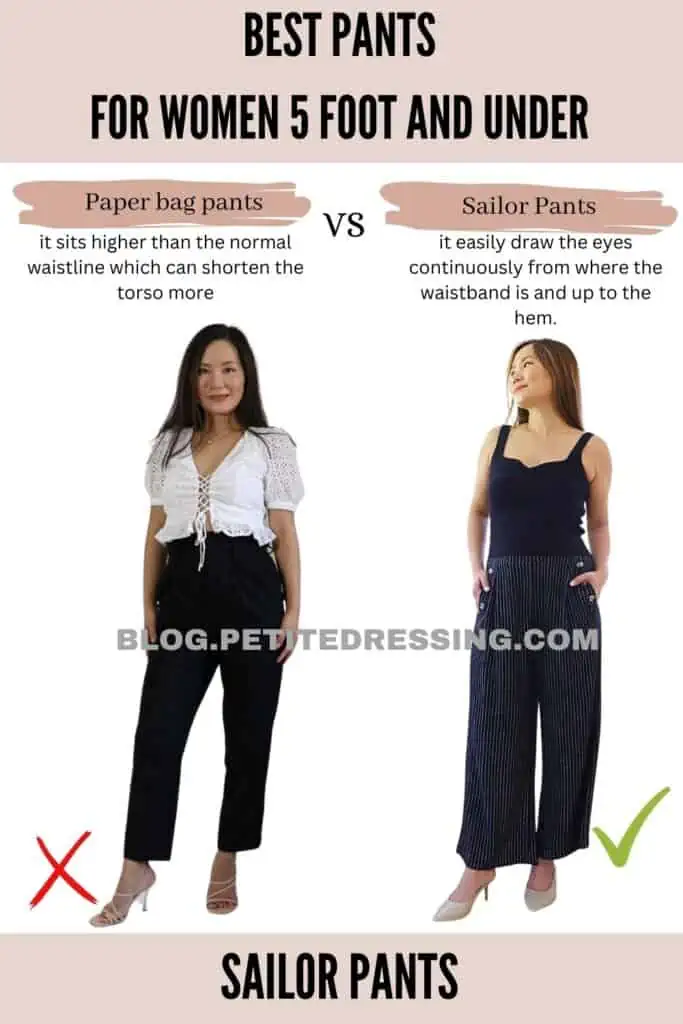 Sailor pants often have vertical buttons or stripes down the front. And as these details run vertically, they easily draw the eyes continuously from where the waistband is and up to the hem.
To look taller and leaner, you can wear them with a tucked-in blouse and eye-catching heels for a timeless look. If you are more into easygoing outfits, you may try pairing your dark-colored sailor pants with a cozy sweater and ankle-length boots.
Cotton Twill Suit Pants
Cotton twill suit pants are an adaptable wardrobe staple that every woman 5 feet and under should own as they are ideal for work or any other occasion that calls for a professional demeanor. These pants are made of a durable fabric that can resist daily wear and tear, making them ideal for petite women on active schedules!
Furthermore, these pants come in a multitude of colors and may be worn with blouses, structured coats, or suit coordinates for a refined and fancy aesthetic.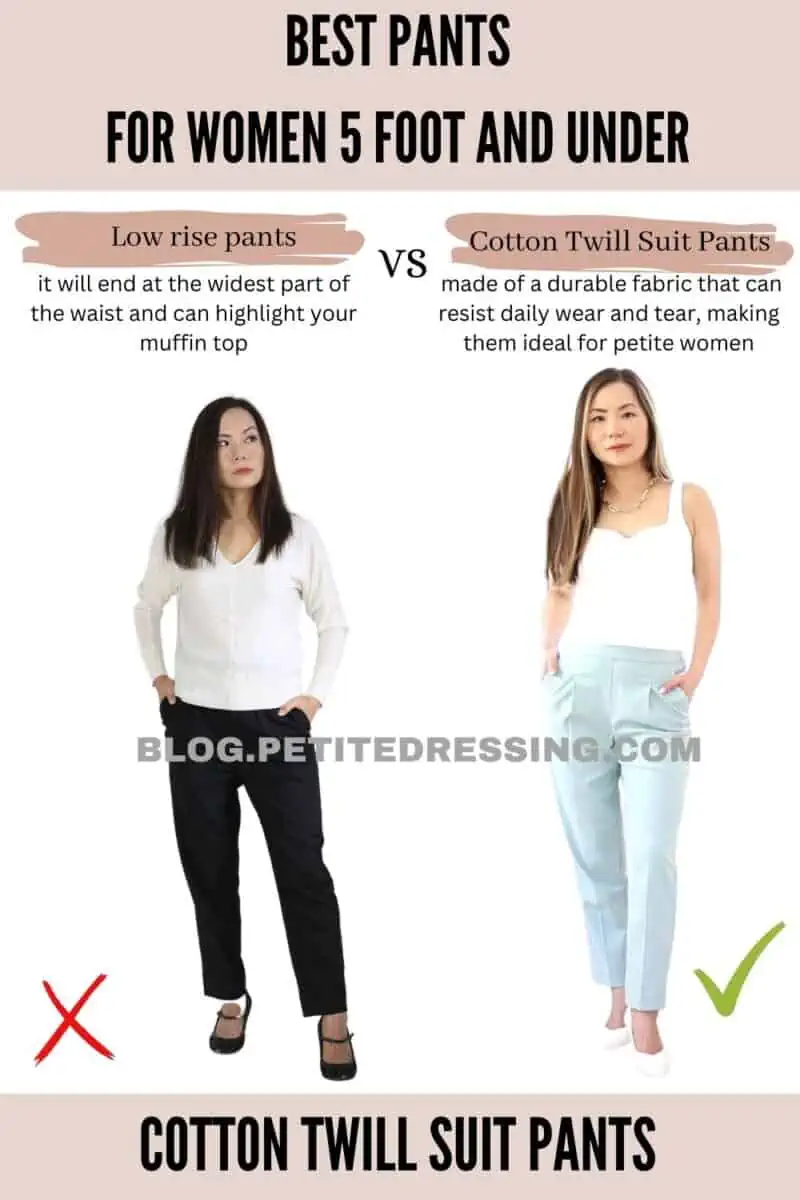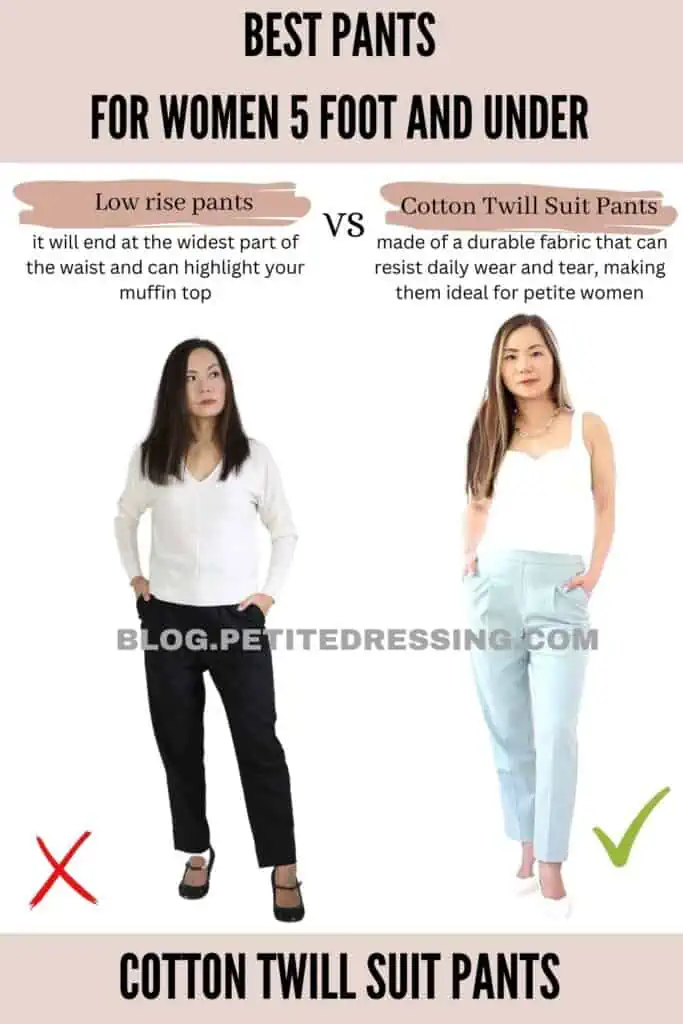 The cotton twill fabric is breathable, making it pleasant for petite ladies to wear for extended durations, even during the summertime. These pants, particularly the ones with a straight-leg fit, can help elongate your legs and thereby make you look taller.
Structured High-Waisted Trousers
High-waisted structured trousers are a must-have for every petite woman wanting to achieve an aesthetically pleasing silhouette. In fact, these are among the most popular strategies to grant petite ladies an illusion of increased height.
A high waistline can efficiently elongate and define petite women's legs, which makes them look taller and slimmer. High-waisted pants made out of structured fabric like wool or gabardine may retain their shape and establish a tailored and flawless look.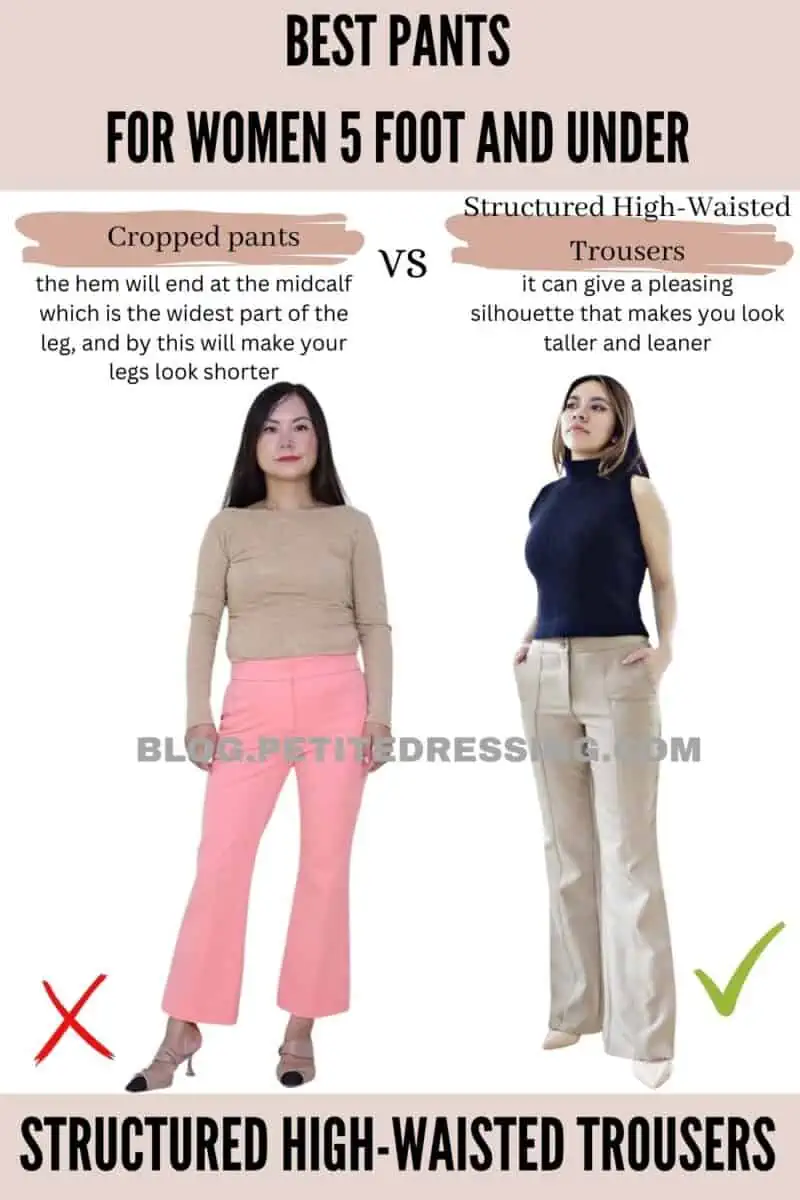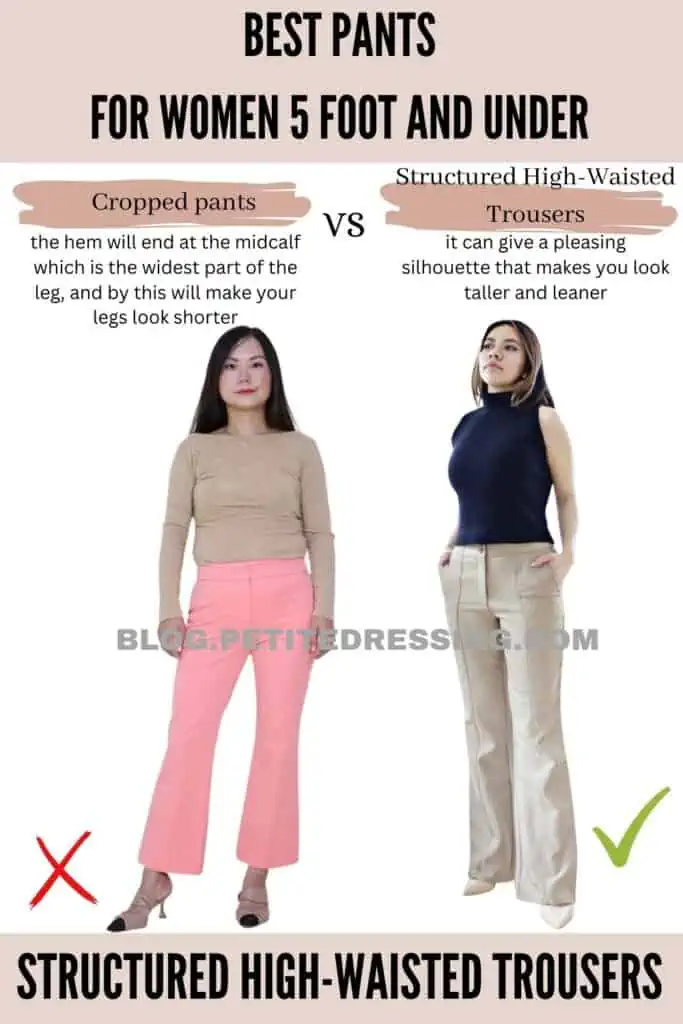 Interestingly, these pants may be worn in many different ways depending on the occasion. Usually, I recommend wearing them with a blouse and heels for a more sophisticated look.
You can wear them along with a T-shirt and sneakers for a more casual vibe. The goal is to select the proper fit and size so that they sit comfortably at your natural waistline.
Straight-Leg Pants
For petite ladies who prefer to highlight their ankles and footwear, straight-leg pants offer a stylish and practical solution. The hemline of these pants falls just above the ankle, visually lengthening your legs and creating a youthful appearance.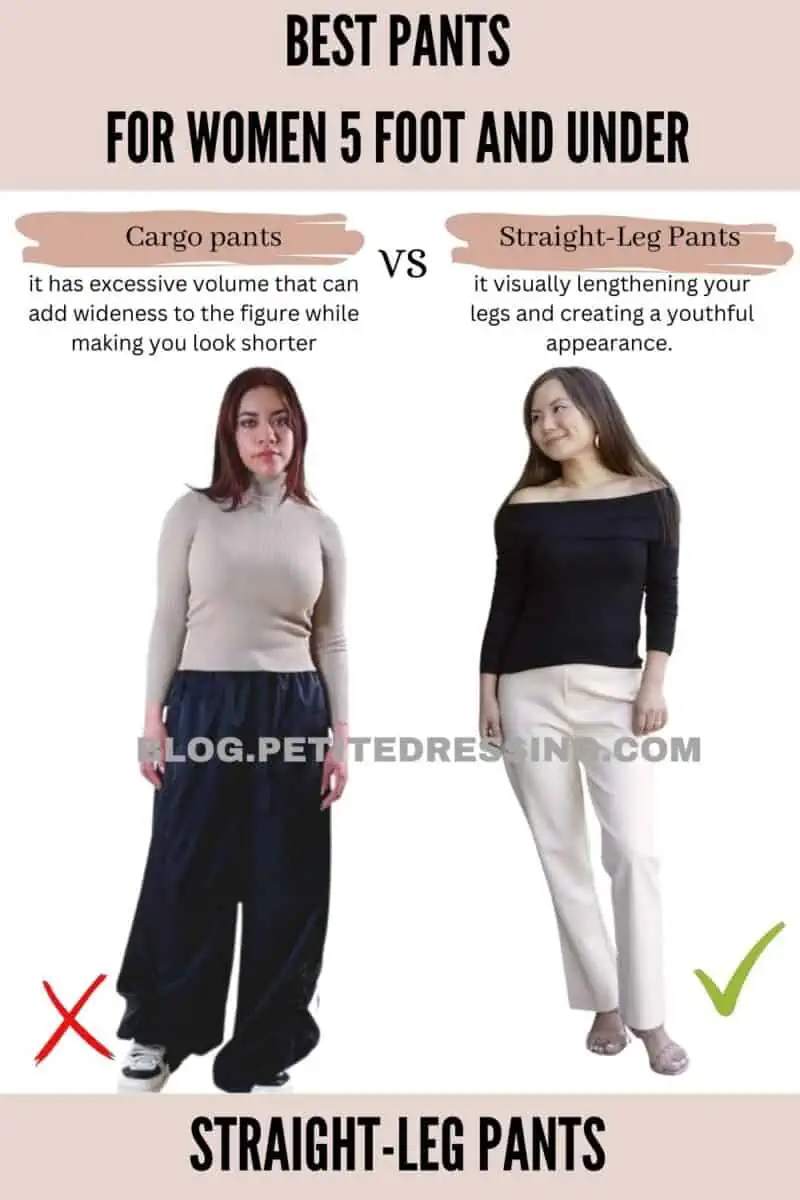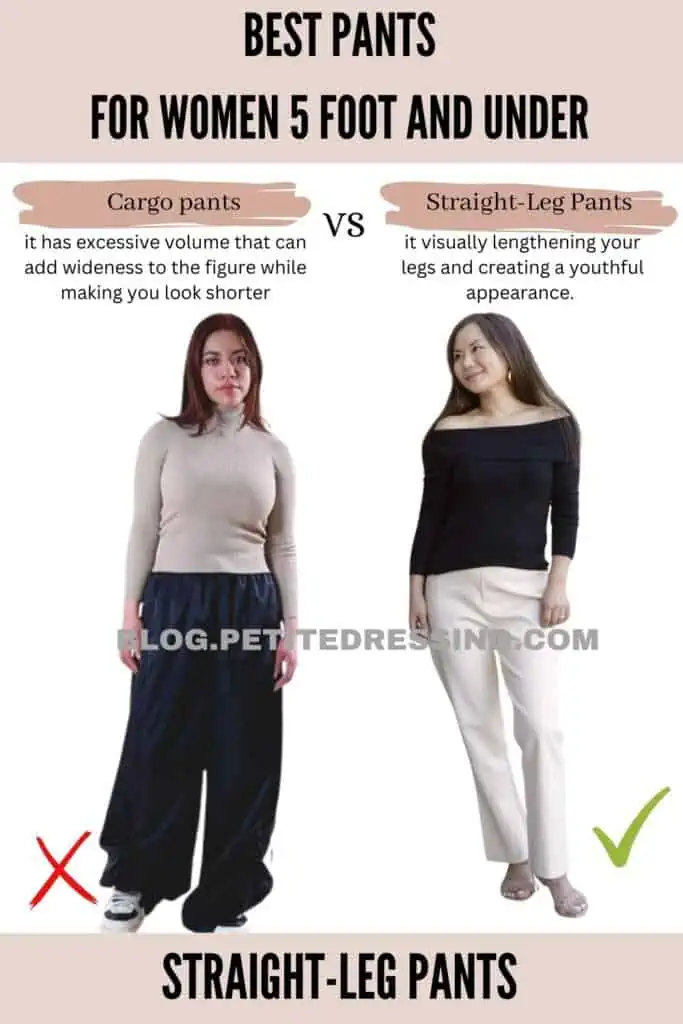 For me, it would look gorgeous to pair these pants with a blazer or a denim jacket and you'll take your look to the next level. These pants' straight-leg fit is also a game changer as it gives you a streamlined shape, making you look taller and slimmer.
Flowy Palazzo Pants
Flowy palazzo pants might just be an exceptional option for a petite woman like us! These pants' generously wide leg style can give the sense of increased height, giving your figure a nice, proportional lift!
Whether you like a fitted top that accentuates your curves or a cropped blouse that adds an extra layer of playfulness, these pants can effortlessly balance out the volume on the bottom. You can also try wearing them with platform shoes or wedges to add height and further elongate your legs.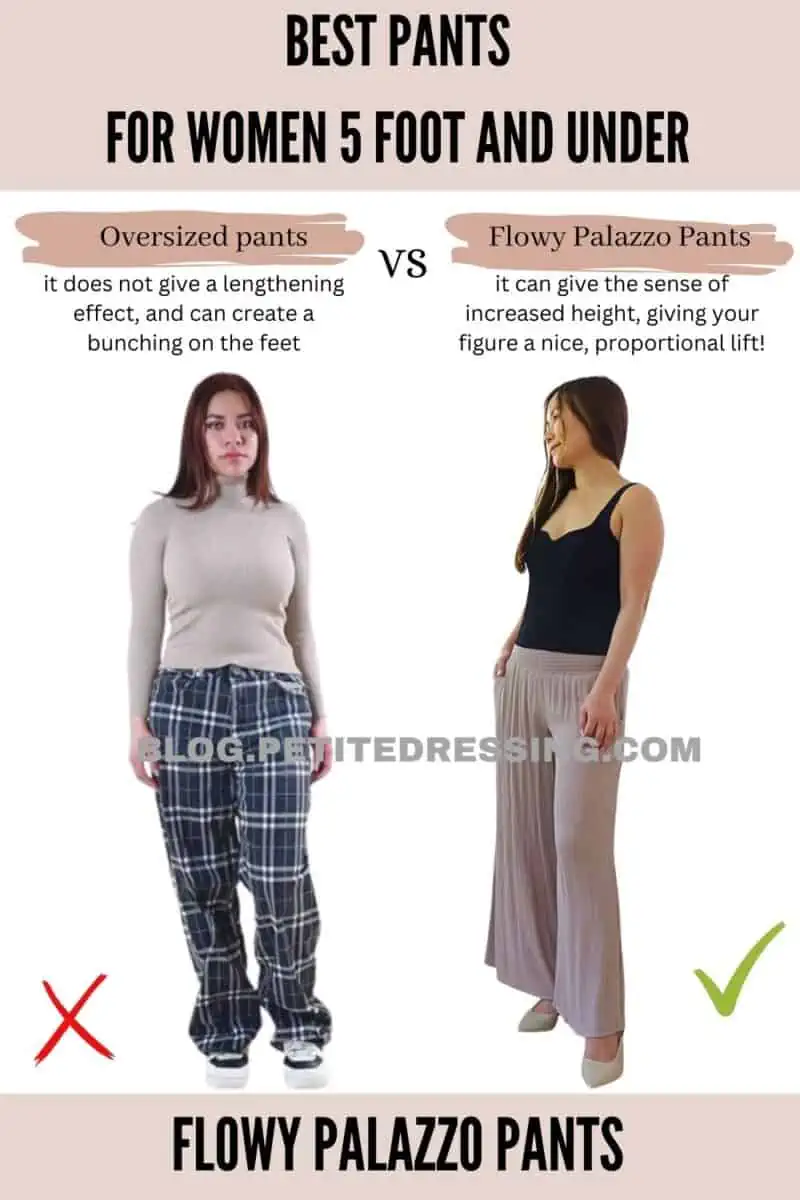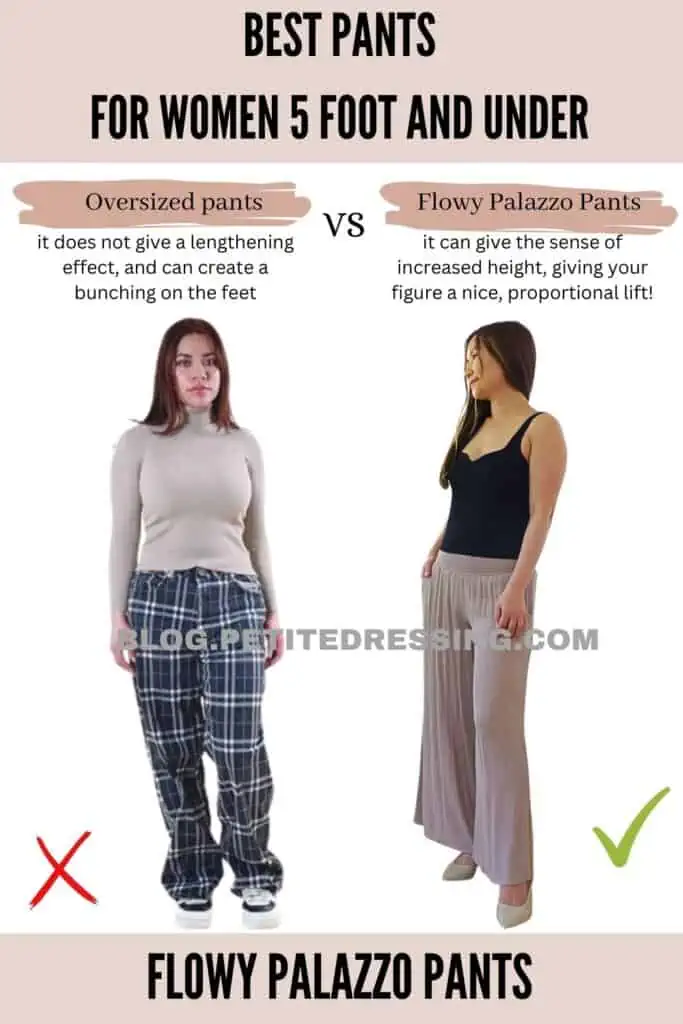 Aside from their aesthetic appeal, these pants have been praised for their great comfort and ease of wear, thanks to the lightweight and breathable fabric that allows for seamless movement.
Full-Length Wide Leg Pants
If you're searching for a flattering style that will work wonders for petite women, full-length wide-leg pants could be the answer! These pants, with their wide legs, can give a striking and elongated profile that can flatter any body type, especially women 5 feet and under.
A high-waisted style of full-length wide-leg pants will highlight your waistline and give the illusion of longer legs. You may try pairing them with a crop top or a fitted blouse to balance out the bulk on the bottom as this will result in a well-proportioned physical appearance that will set you apart from the crowd.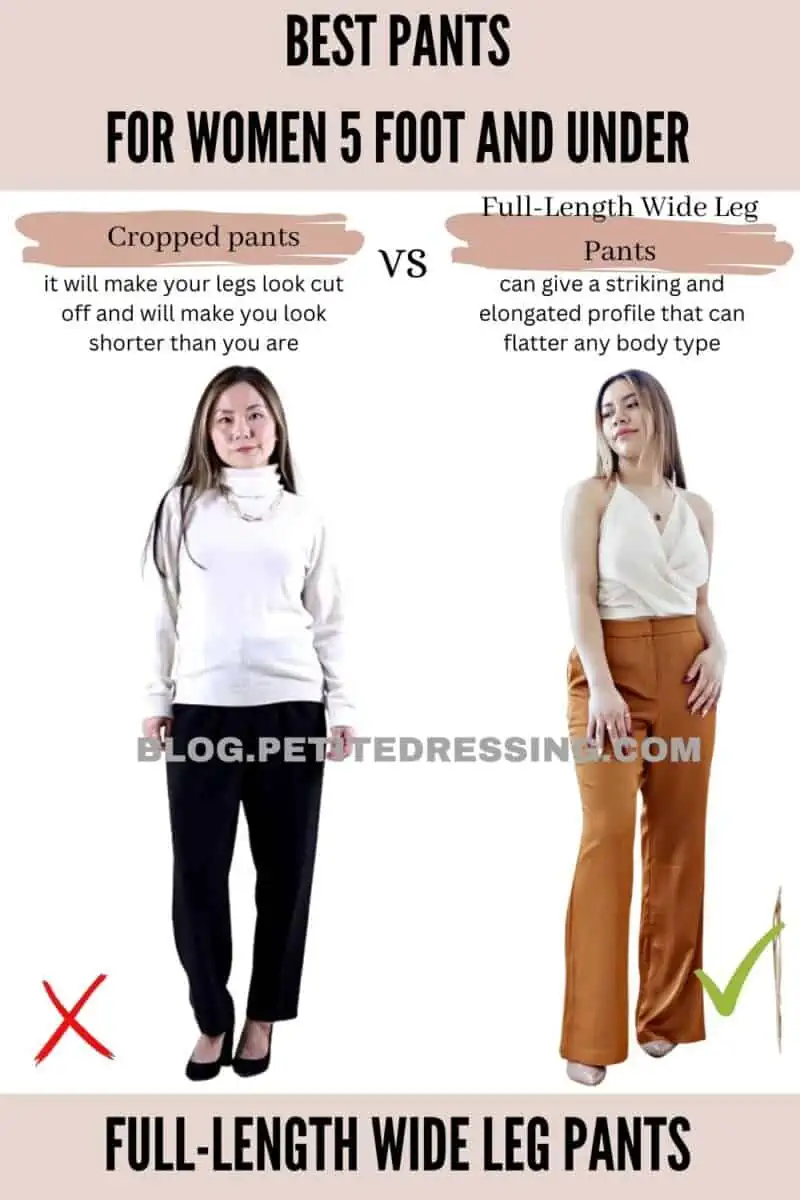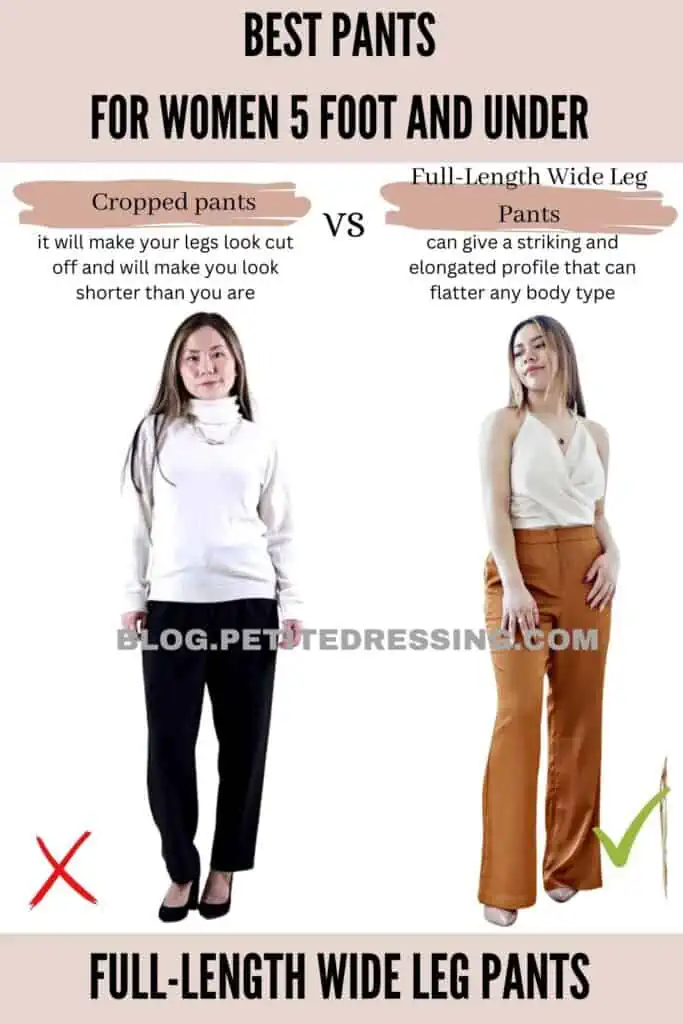 Don't forget to accessorize with some chunky heels or pointed-toe shoes to amp up your look. These shoes can add some height to your entire ensemble, making you appear even more graceful and glamorous.
Slim Fit Pants
Slim fit pants fit snugly around the legs and this effectively creates a long, lean line that can visually elongate the lower body for the appearance of height. These pants are tailored to embrace your natural curves resulting in a streamlined silhouette that can make you feel confident and comfy.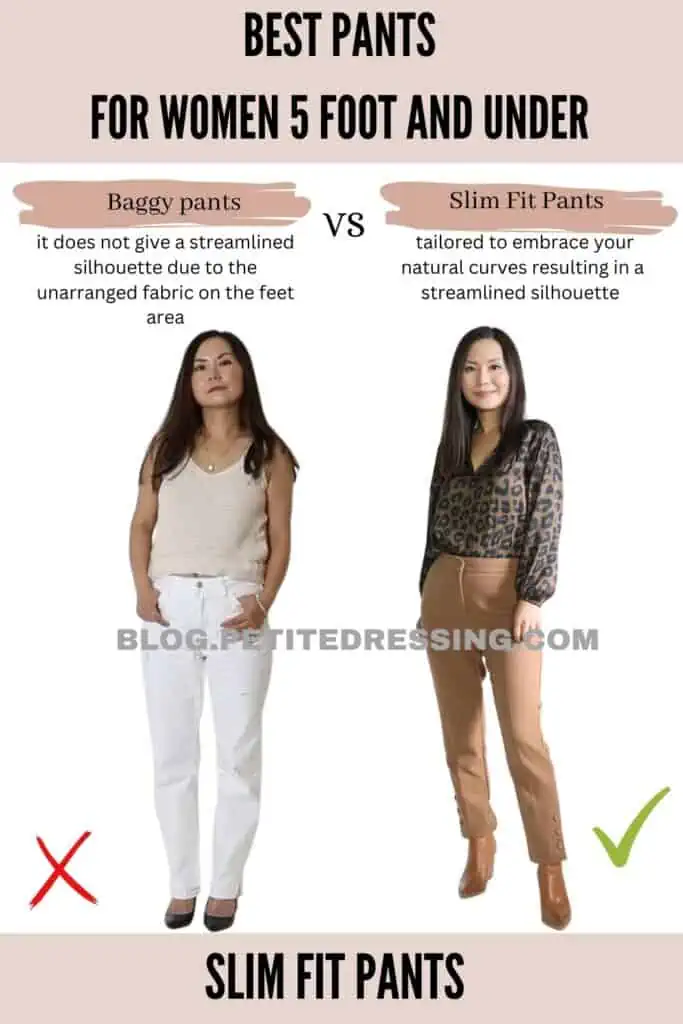 Always choose high-waisted slim-fit pants that will stretch your legs to make the most of your body. With soft neutral tones like beige, taupe, or blush, these pants may be worn with a wide range of tops and accessories.
Caution with Paper Bag Pants
Paper bag pants have been on trend for many seasons, but use caution if you are foot and under.
On the one hand, they are a high-waisted design which can benefit a shorter girl.
On the other hand, the gathered fabric at the waistline of paper bag pants can add volume to your midsection, which is not ideal if you already carry weight in your tummy.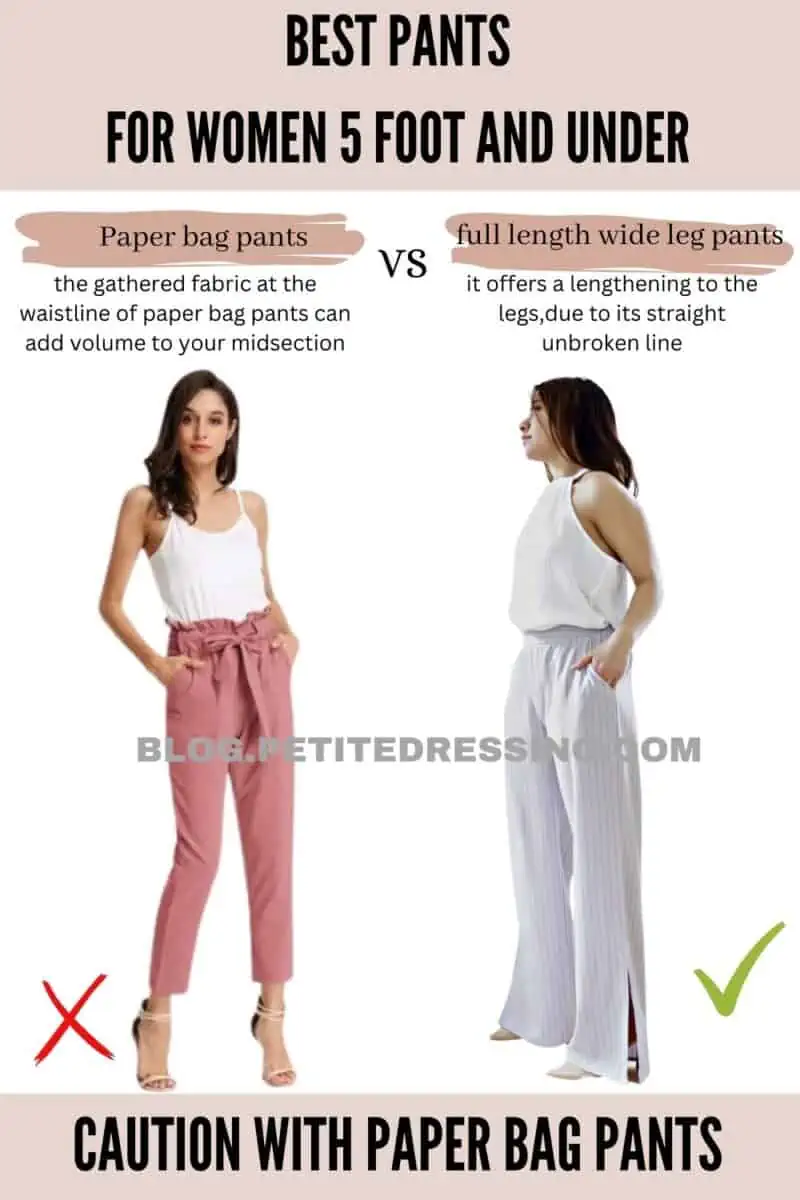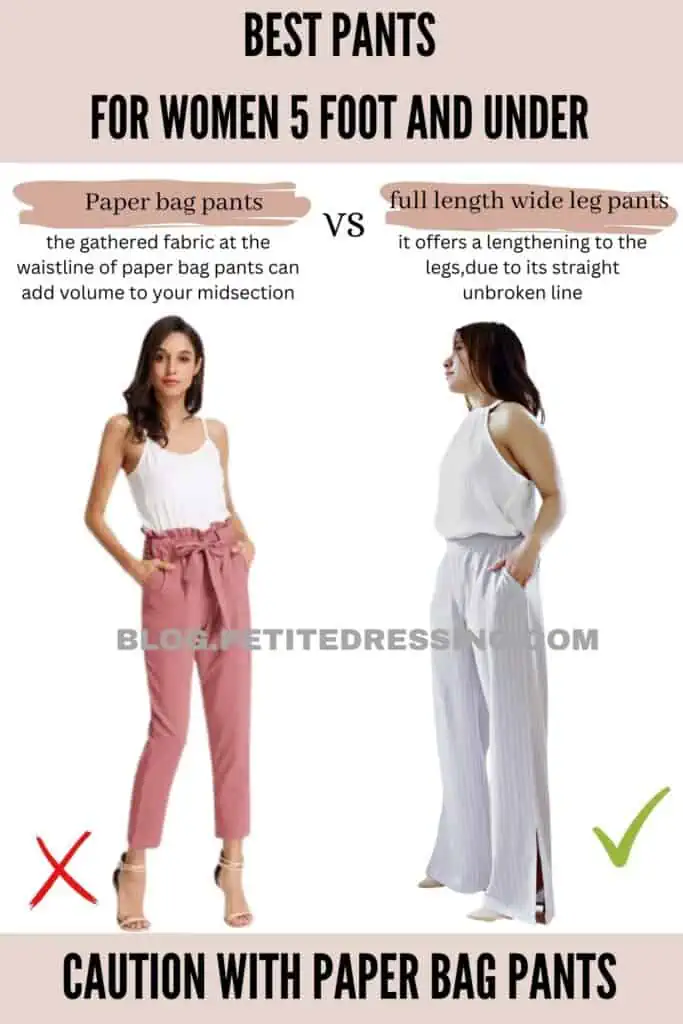 Besides, since paper bags sit higher than regular high-waisted pants, they can further reduce the length of your torso.
Because women 5′ and under already have a shorter torso, you should be cautious with any paper bag pants.
Avoid Low-Rise Pants
When you're 5 feet and under, it's essential to create a sense of a longer frame. Low-rise pants, on the other hand, do the exact opposite!
For petite women, I highly discourage wearing these pants as they sit below your natural waistline, which makes your legs look shorter and your torso look much longer.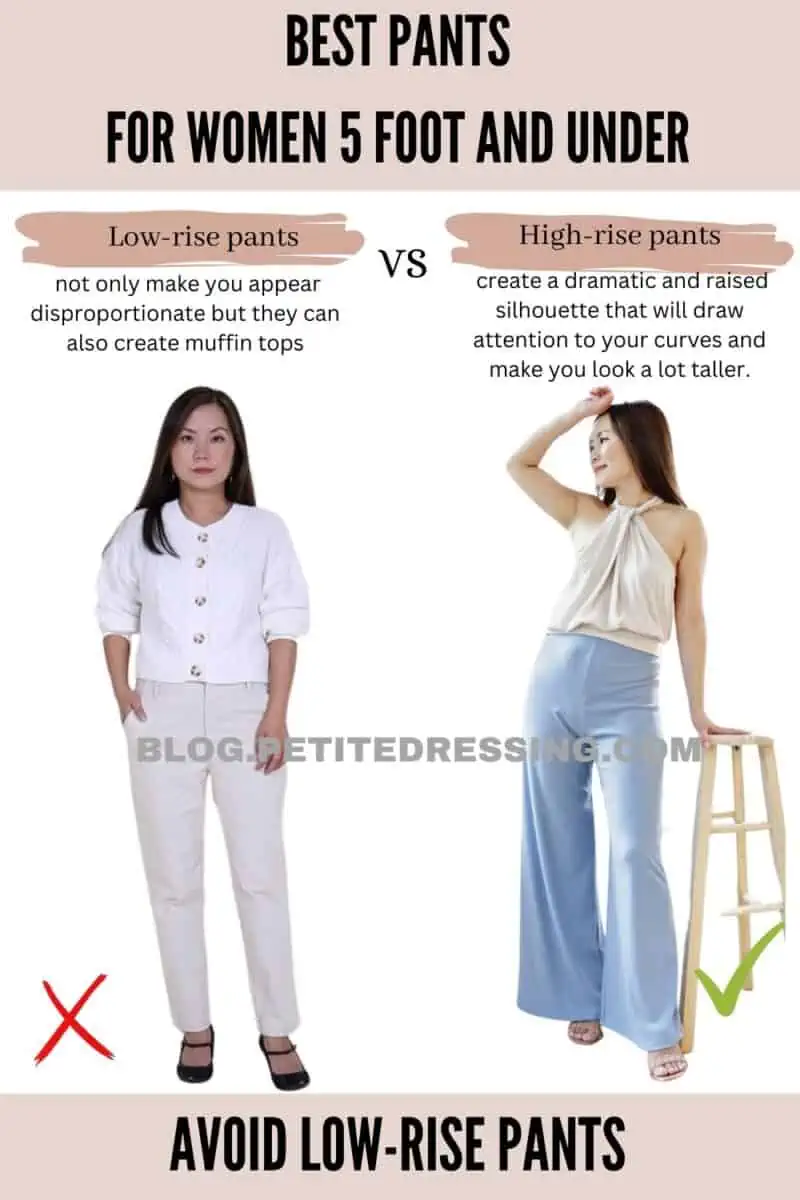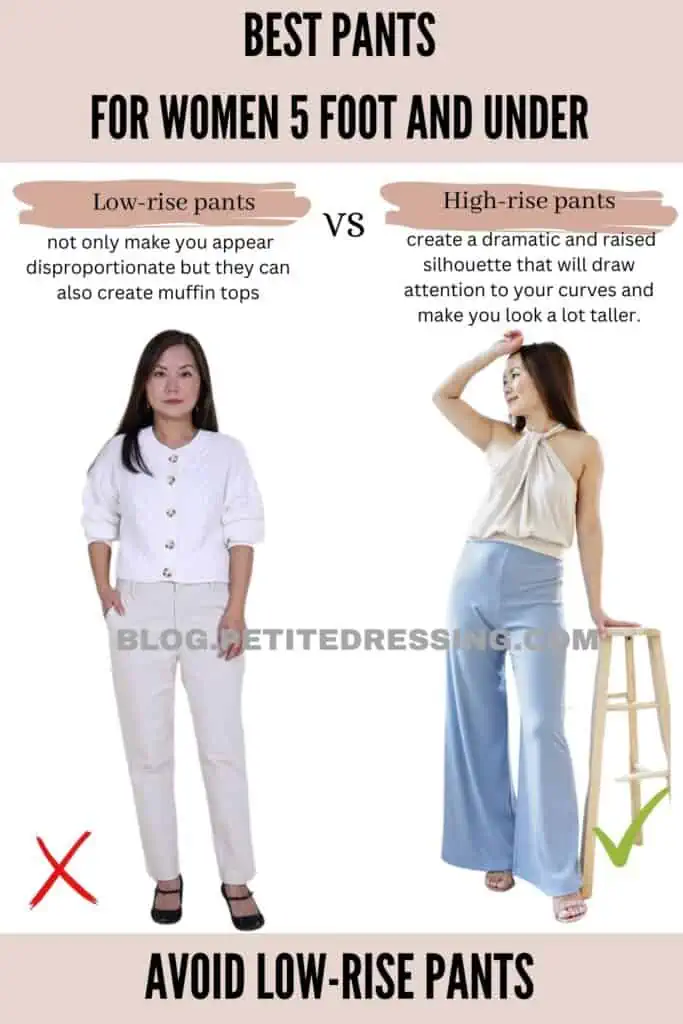 Low-rise pants not only make you appear disproportionate but they can also create muffin tops and cause discomfort when sitting or bending. Instead, always go for high-waisted pants that can elongate your legs thus giving the appearance of a taller frame.
Avoid Cropped Wide-Leg Pants
Although cropped wide-leg pants are a popular trend right now, they are not the best option for petite women. These pants end at the calf or ankle, giving your legs a cut-off appearance and therefore end up making you look shorter and wider.
Aside from that, wide-leg pants could overwhelm your figure and make you appear disoriented in your clothes. So, I advise you to choose full-length wide-leg pants to create a dramatic and raised silhouette that will draw attention to your curves and make you look a lot taller.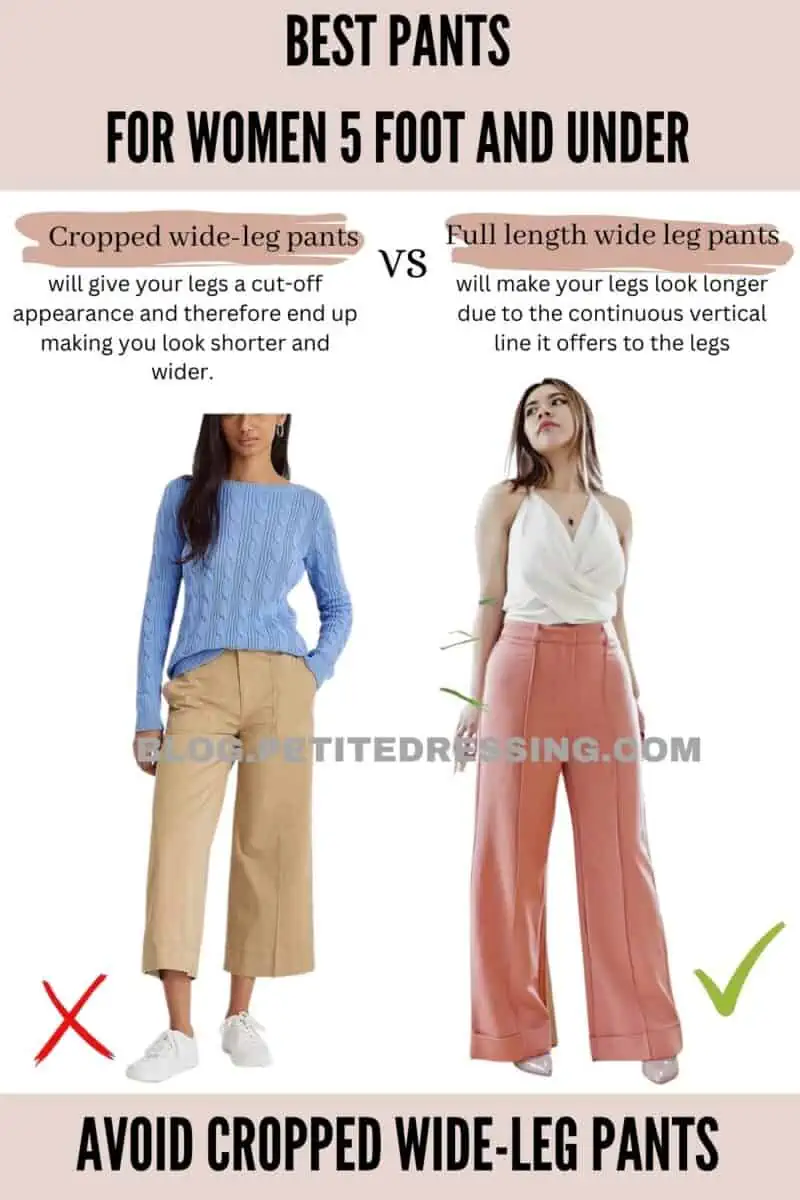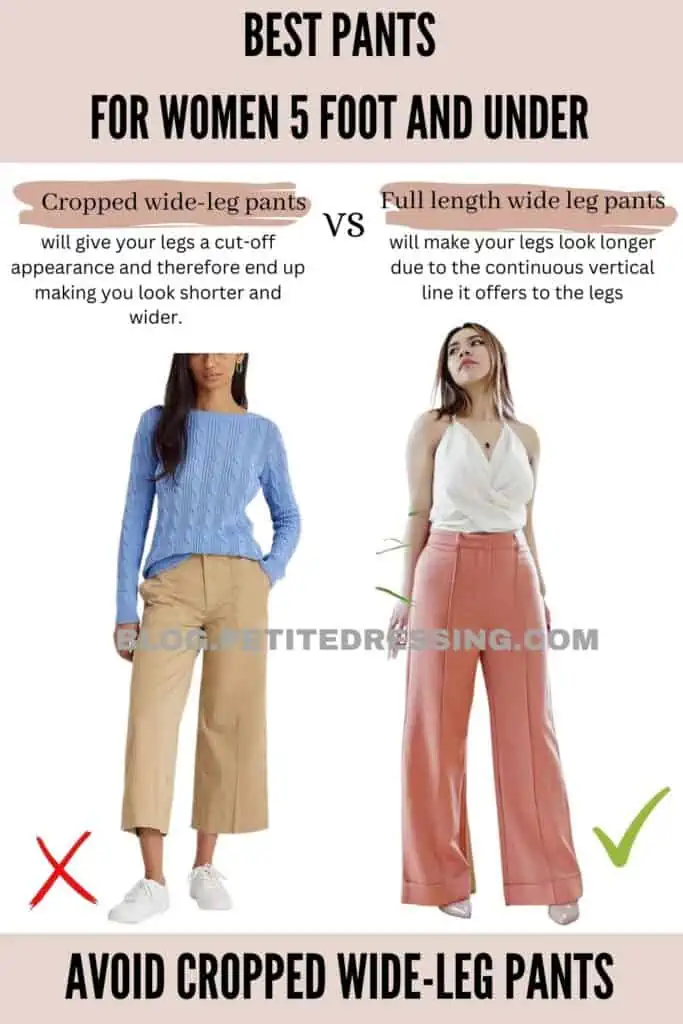 The Key Takeaway
Being a woman under 5 feet tall does not imply that you have to compromise on style. Take note, the key to enhancing your look essentially includes the right choice of pants.
Hopefully, with the suggestions and techniques I've shown you, you'll be able to achieve a well-proportioned, stylish, and classy style that flatters your gorgeous petite body!