An hourglass body figure is one of the best and most exciting body shapes to style due to its highly-coveted silhouette. However, the story takes a different turn when you're dealing with short girls, just like me.
I'm 5'2, so I know the struggles of styling petites, and working with hourglass shaped petite models for my petite clothing line gives me the first hand experiences of styling short women with hourglass figure.
While hourglass figures are somewhat easier to style, it gets trickier for short hourglass body figures. You basically need to work on your proportions in terms of height and consider your natural curves, plus understand the factors you should distance yourself from in order to avoid committing a fashion faux pas!
In this article, I'll share with you different types of wardrobe pieces that I have personally figured to avoid when you have a petite hourglass body figure.
Styling Goal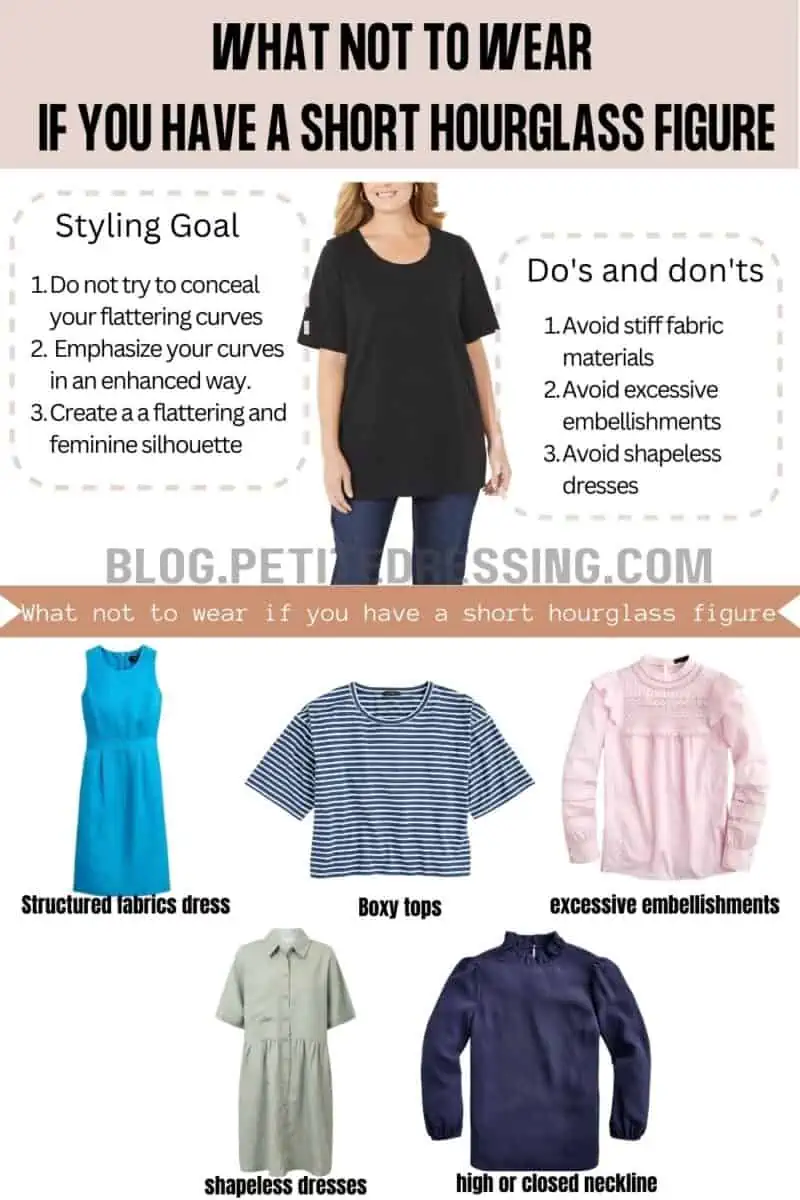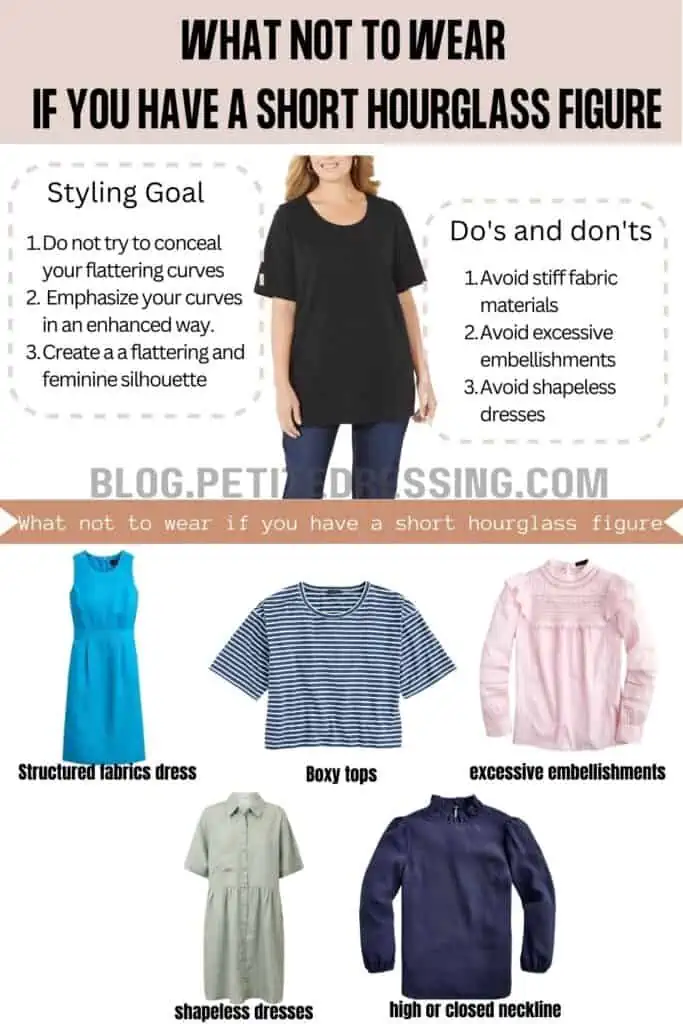 Always go for clothing pieces that will fully accentuate your hourglass figure and elongate your height. Your silhouette is your best feature and so it should always be the highlight of your entire ensemble but you also have to take note that your height will need a bit of elevation so better look for elongating patterns.
Choose your fabrics carefully by going for form-fitting materials. Stiff fabrics will not flatter your figure as they will overwhelm your figure and not naturally skim through your curves.
Voluminous embellishments and dramatic fabric flounces are not your friends. You would want your natural curves to shine so it's ideal to keep the details of your clothing to a minimum.
Now it's time to take a thorough look at your closet and let me guide you on which pieces you should start to ditch.
Avoid stiff fabric materials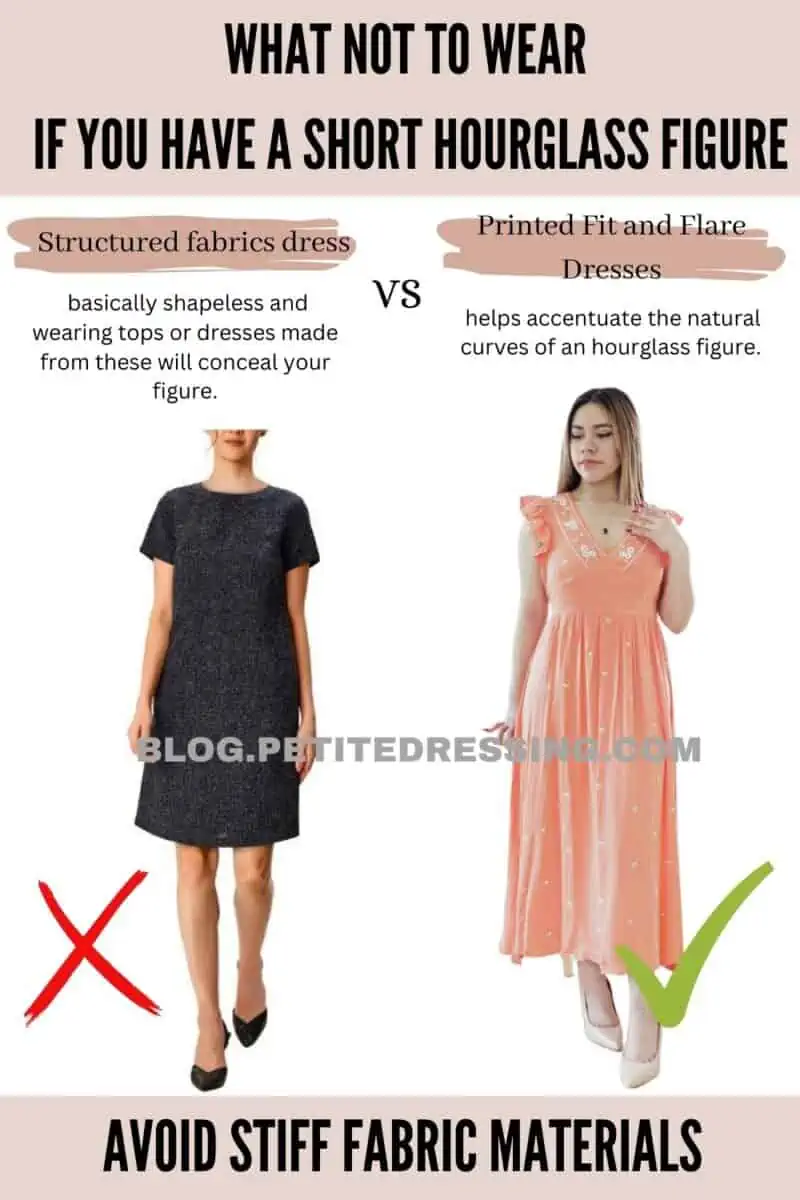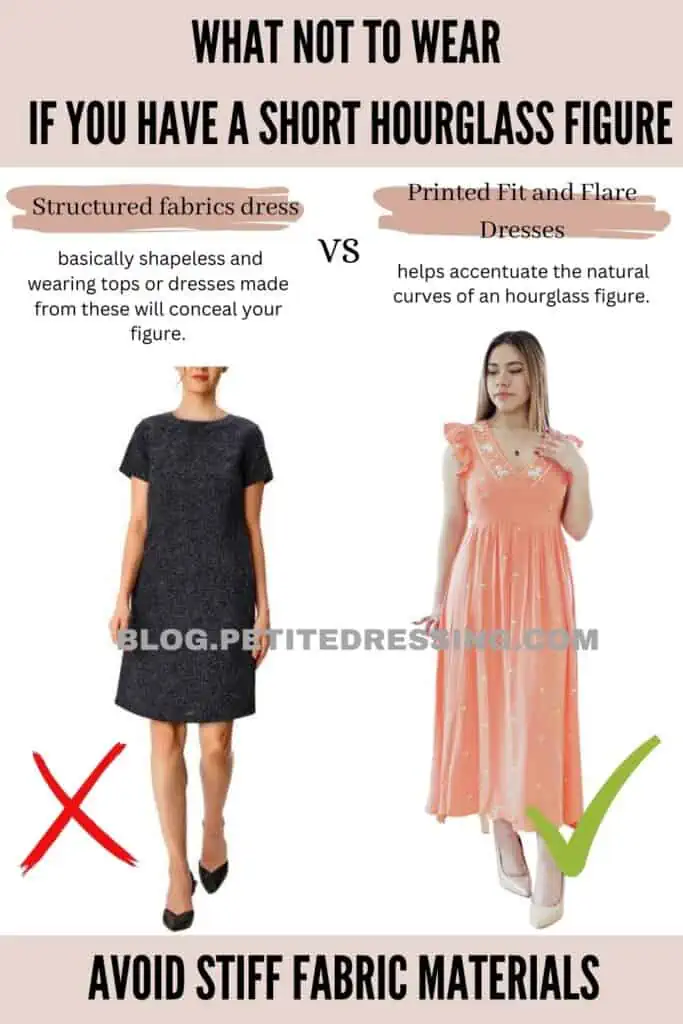 Structured fabrics are nice but those that are too stiff will only hide your body's natural curves – and you wouldn't want that for sure! Stiff fabrics such as heavyweight denim or jacquard are basically shapeless and wearing tops or dresses made from these will conceal your figure.
Having an hourglass figure means that you have a nicely defined waist so you would want form-fitting fabrics to enhance that.
Avoid boxy tops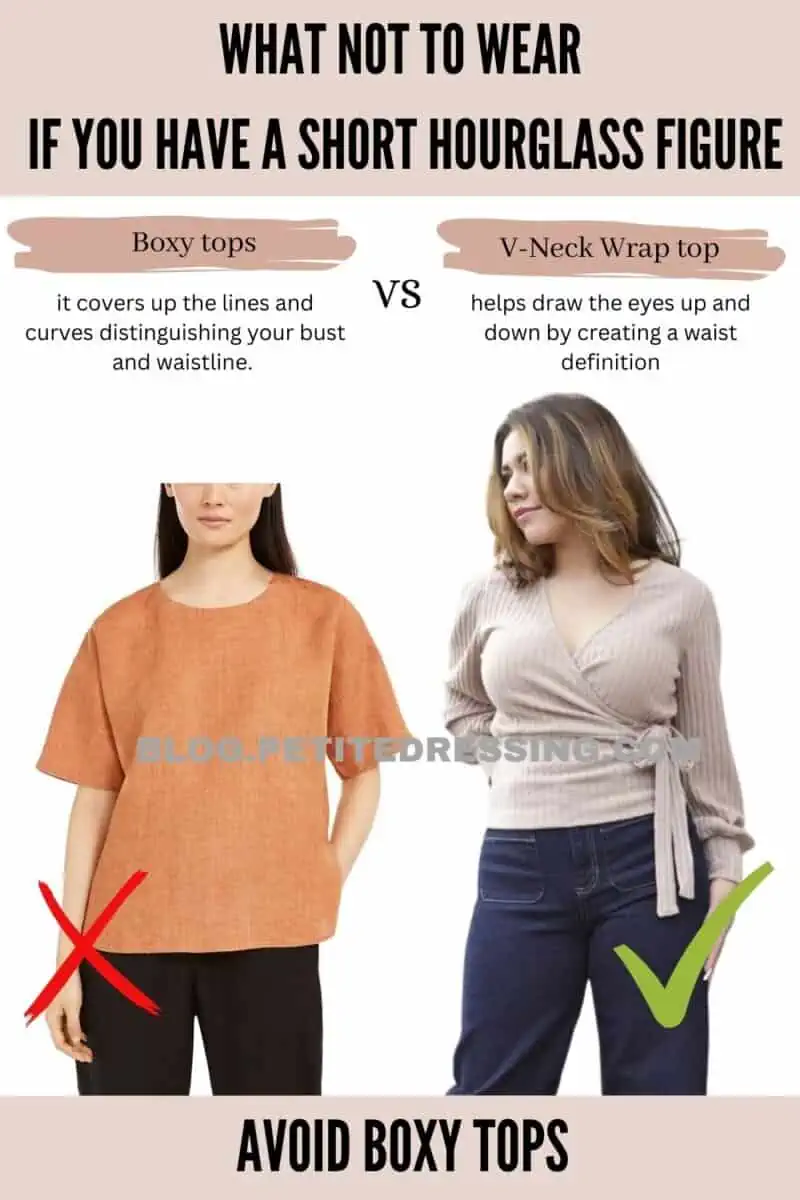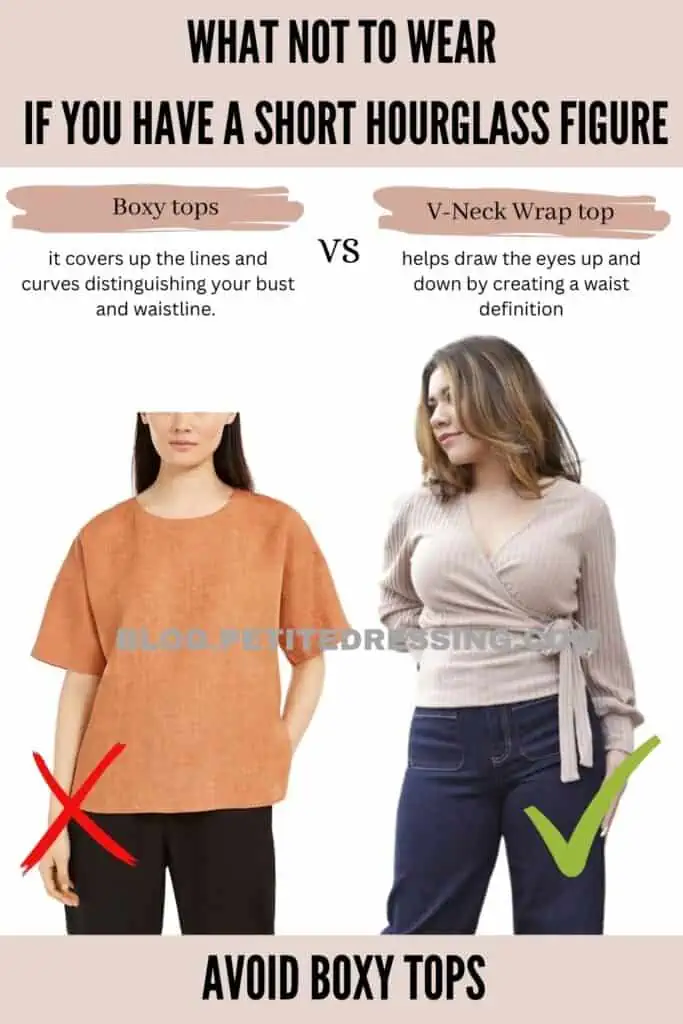 Boxy tops tend to be a bit oversized and therefore look shapeless. As boxy tops feature a stiffly structured boxed silhouette, it covers up the lines and curves distinguishing your bust and waistline.
Wearing a boxy top will not just hide your naturally voluptuous hourglass figure but will also make you look heavier and wider in your upper body. Instead of boxy tops, go for those with curve-hugging seams and form-fitting fabrics.
Avoid excessive embellishments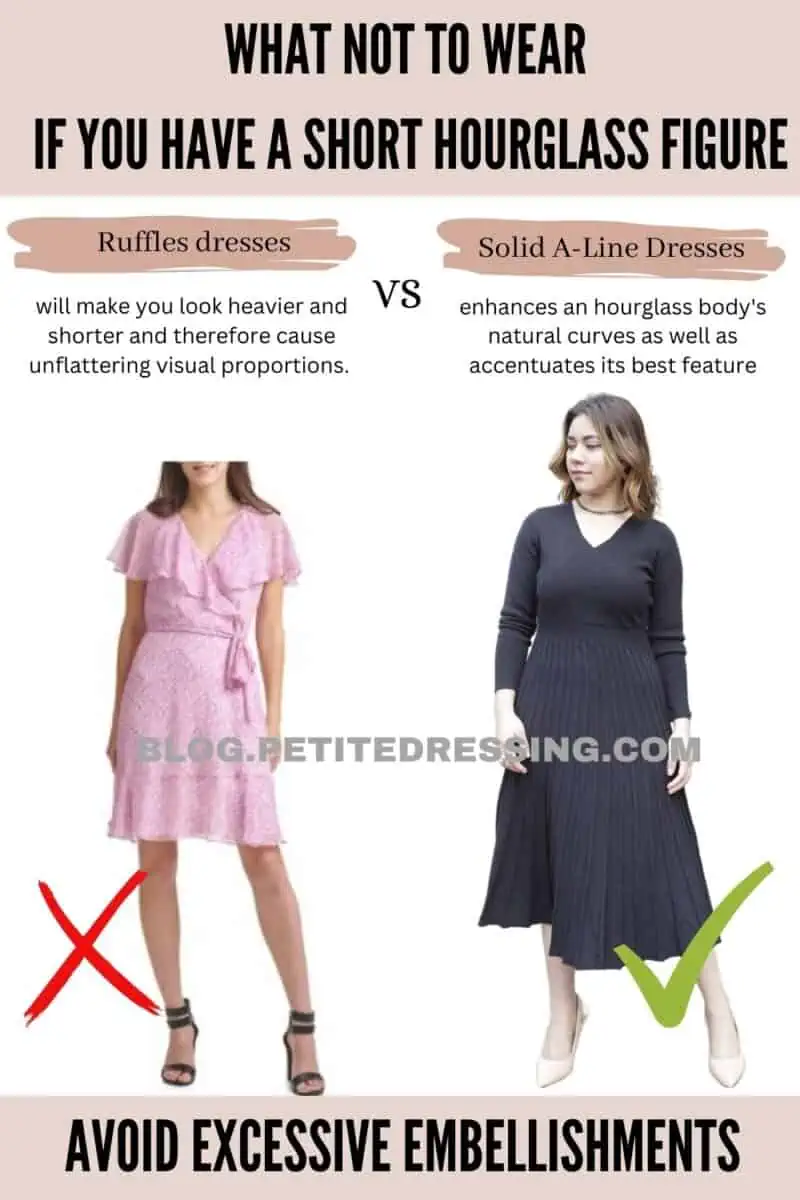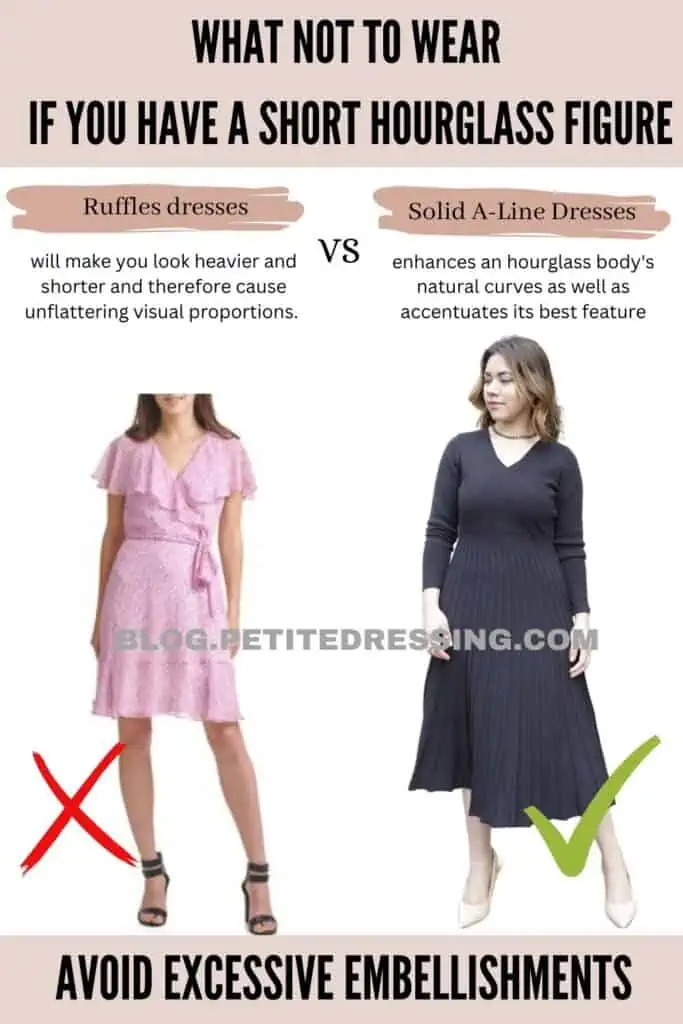 One example of this would be clothes that feature dramatic ruffles along the bustline. Hourglass figures already have a full bust and so wearing something that has too many details in this area will only draw too much unnecessary attention.
In addition, overly bulky embellishments will add a significant amount of volume to the area where they are placed. This will make you look heavier and shorter and therefore cause unflattering visual proportions.
Of course, you can definitely still wear clothes with embellishments as they can add definition to your ensemble. What you have to do is just to keep things minimal by choosing embellishment designs that are not too heavy-looking.
Avoid shapeless dresses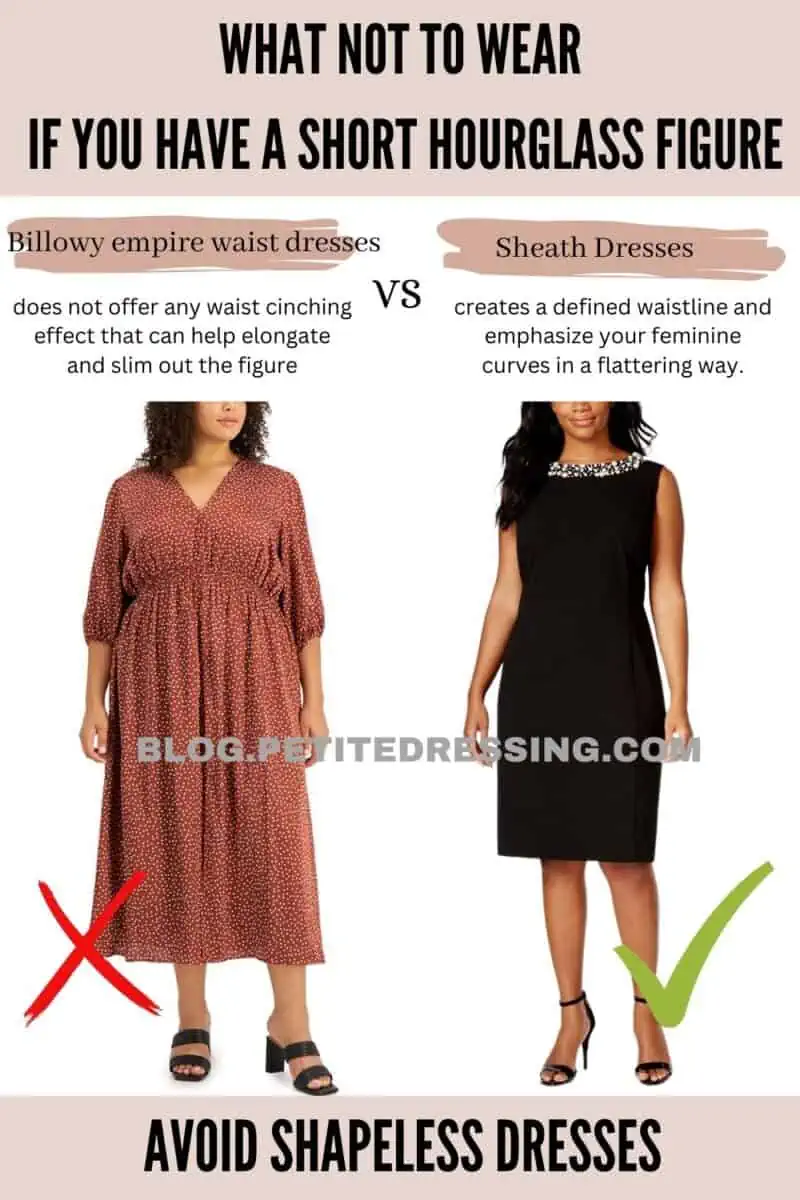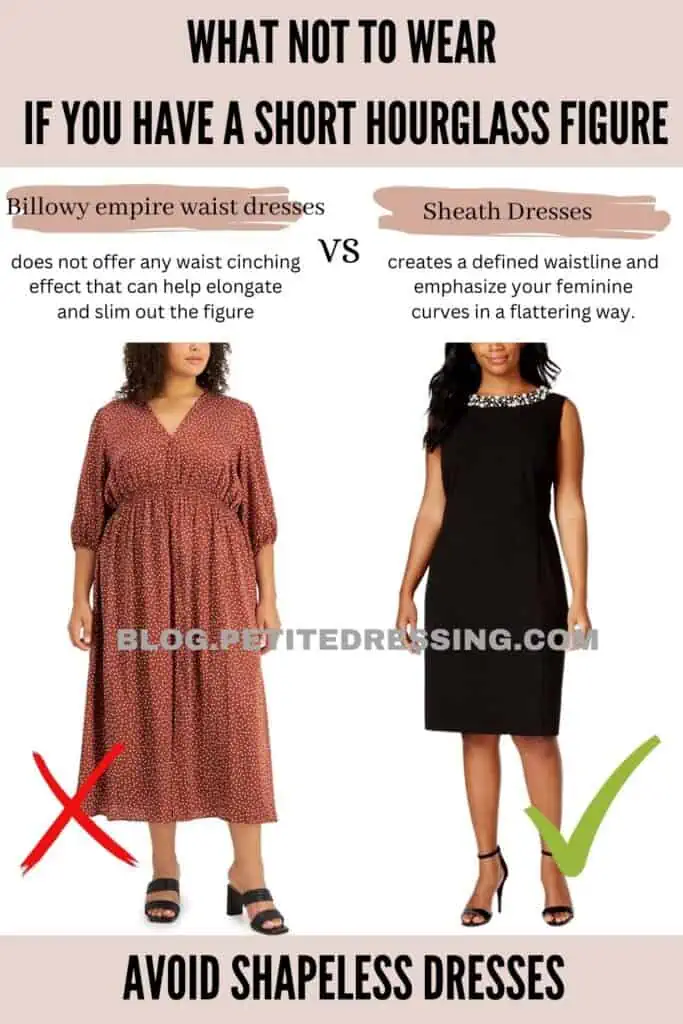 If you have a short height and an hourglass figure, wearing shapeless dresses is almost criminal and I'm not even kidding! It's because they can make you appear even shorter and have your natural curve instantly disappear.
Shapeless dresses tend to have little to no structure or definition around the waistline, hips, and bust. As a result, they can create a boxy silhouette that can obscure your curves and make you look shorter and wider than you actually are.
To flatter your figure and create a balanced silhouette, you may want to consider dresses that highlight your waistline and show off your curves. Look for dresses that have a defined waistline or that can be cinched in with a belt. Dresses with a fitted bodice and a flared skirt can also create a balanced and flattering shape for an hourglass figure.
Avoid high or closed necklines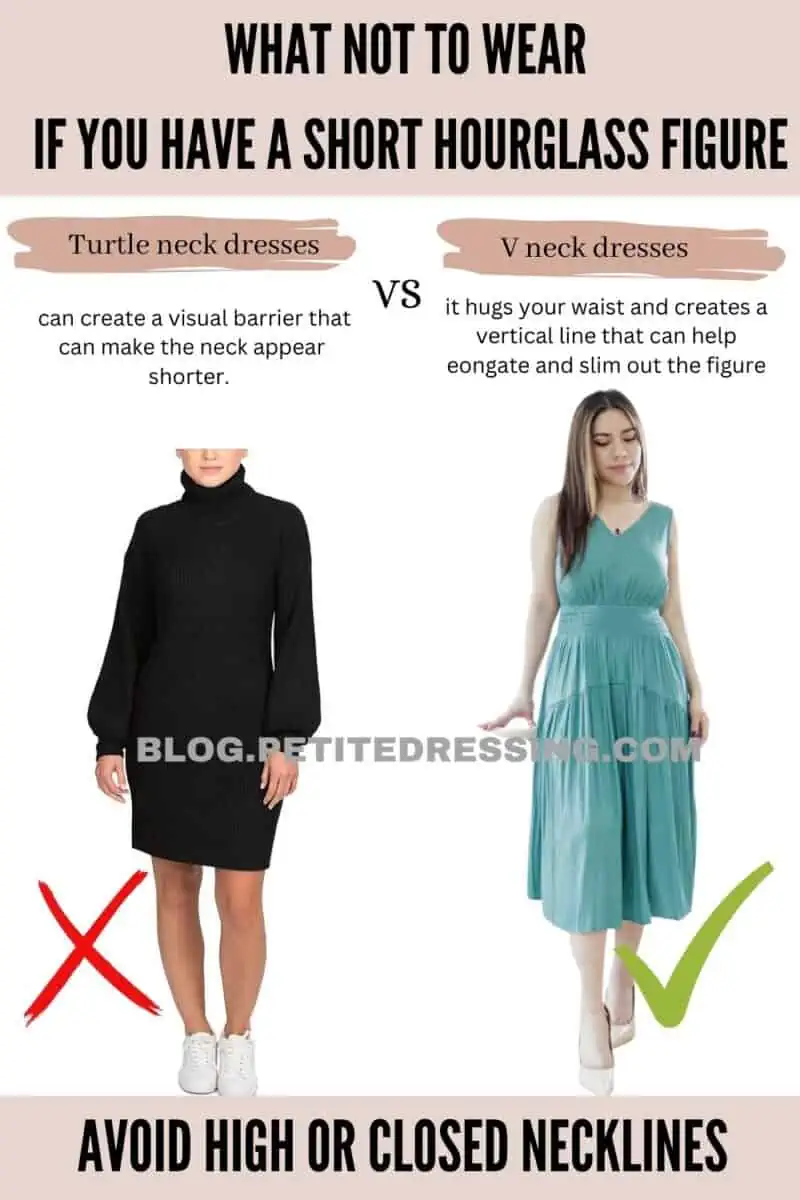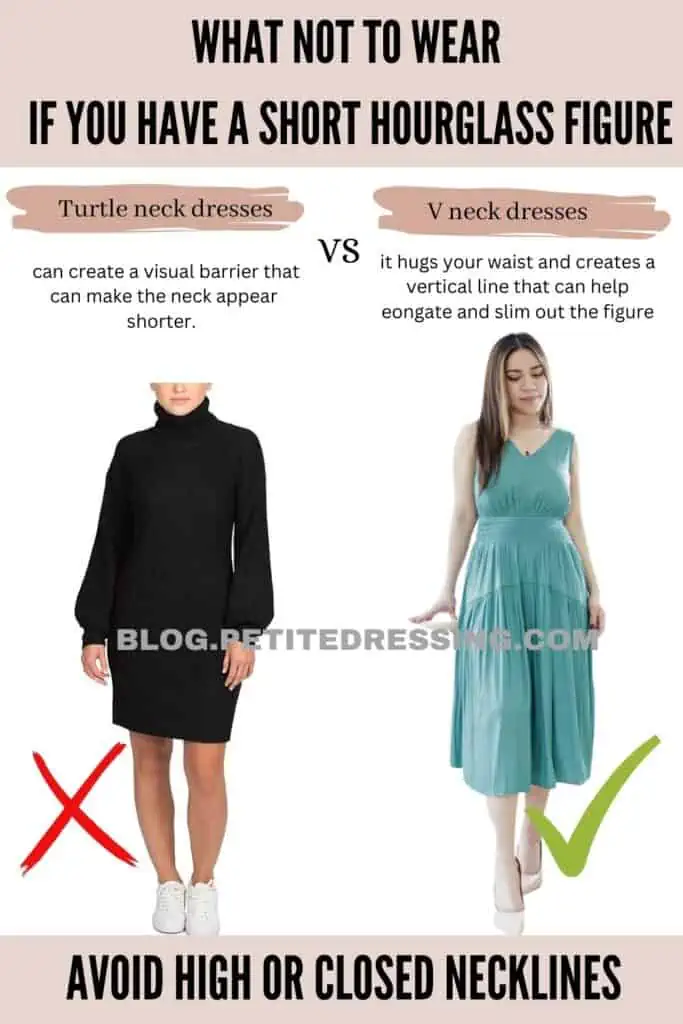 You may be able to get away with high or closed necklines if you're a tall girl with an hourglass figure. However, this type of style may not work so well with petite women because such necklines cramp up your entire silhouette and therefore make you look shorter and heavier.
The length of your neck also plays an important role in elongating your silhouette so having it entirely covered will totally take some inches off your height. Turtlenecks and other closed necklines can create a visual barrier that can make the neck appear shorter.
This can create an unbalanced look if you already have a short neck or a short stature. So as an alternative, always opt for open necklines to flatter your frame.
Avoid Drop Waist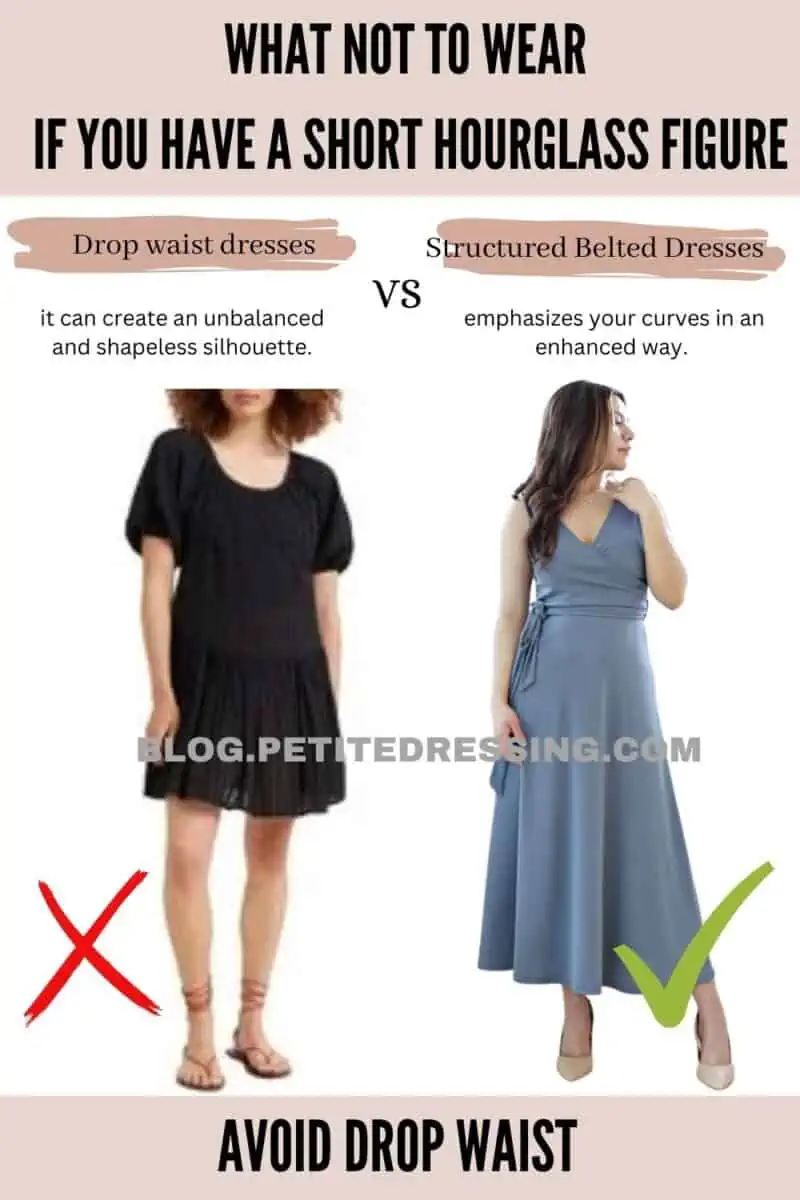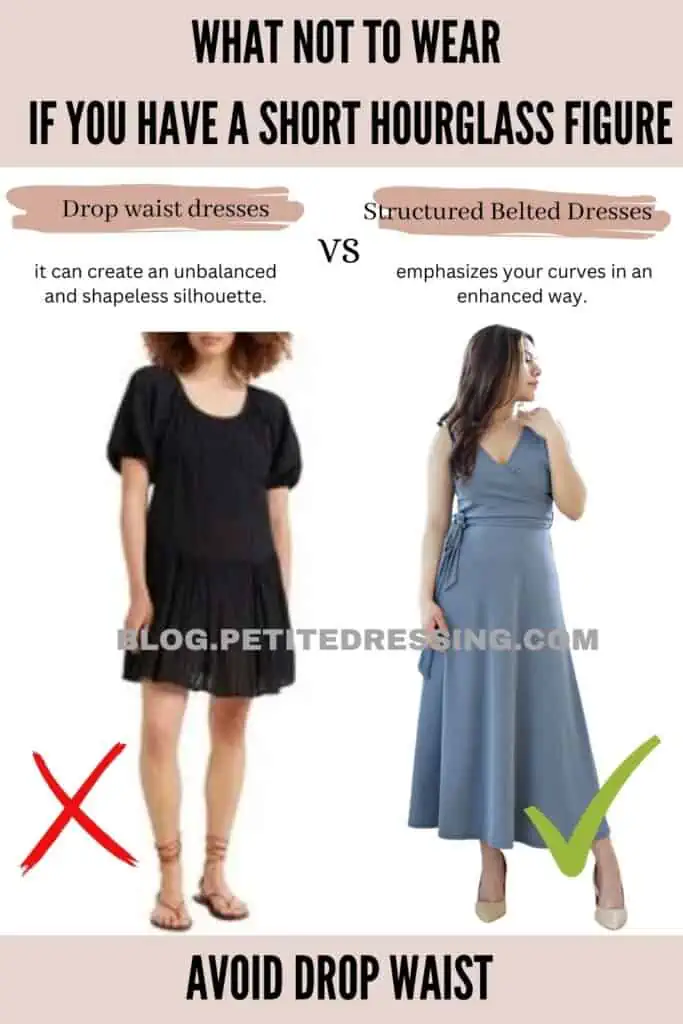 Drop waist tops and dresses are what I would usually recommend to women with short torsos, but not for short girls in general.
A drop waist style typically has a waistline that falls lower than the natural waist, often around the hip or upper thigh. This style can be tricky to pull off for those with a short height and an hourglass figure because it can create an unbalanced and shapeless silhouette.
Avoid Wide Belts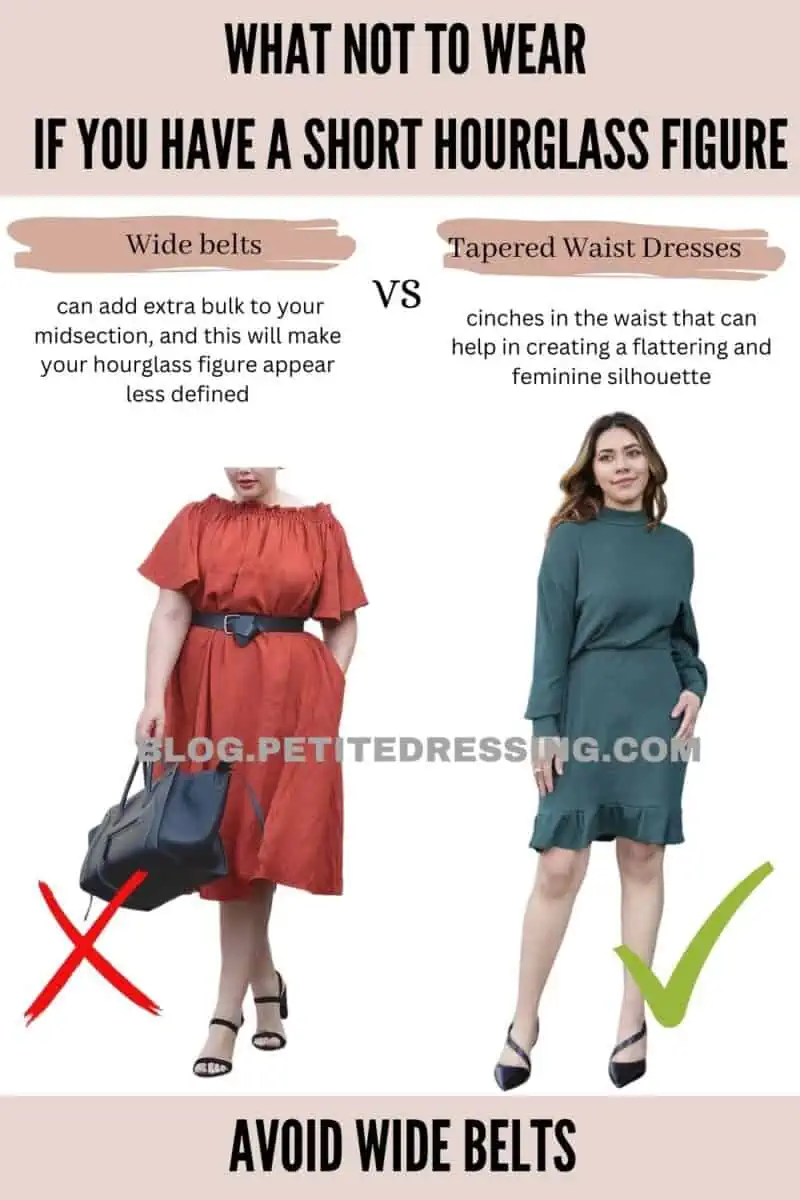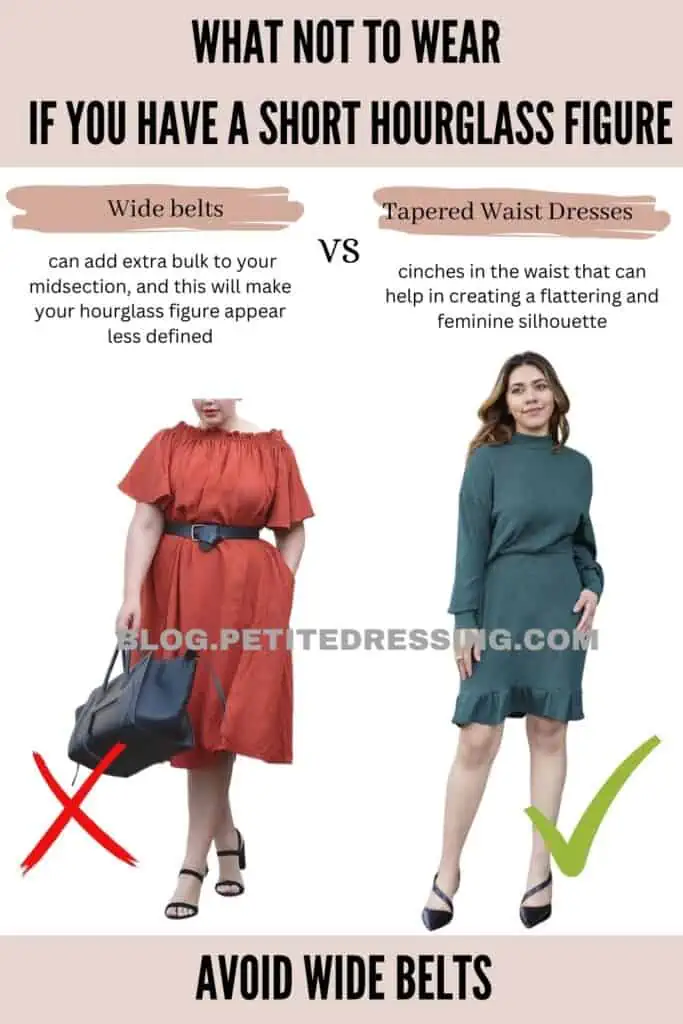 Wearing a thick belt can add extra bulk to your midsection, and this will make your hourglass figure appear less defined. Not only does this look bulky, but can also visually cut your body in half and draw unnecessary attention that ends up making you appear way shorter than you already are.
Instead of a thick belt, consider wearing a thinner belt that's no more than 2 inches. Find one that sits at your natural waistline as this will help elongate your legs and create a more balanced silhouette.
Caution with Empire Waist Silhouettes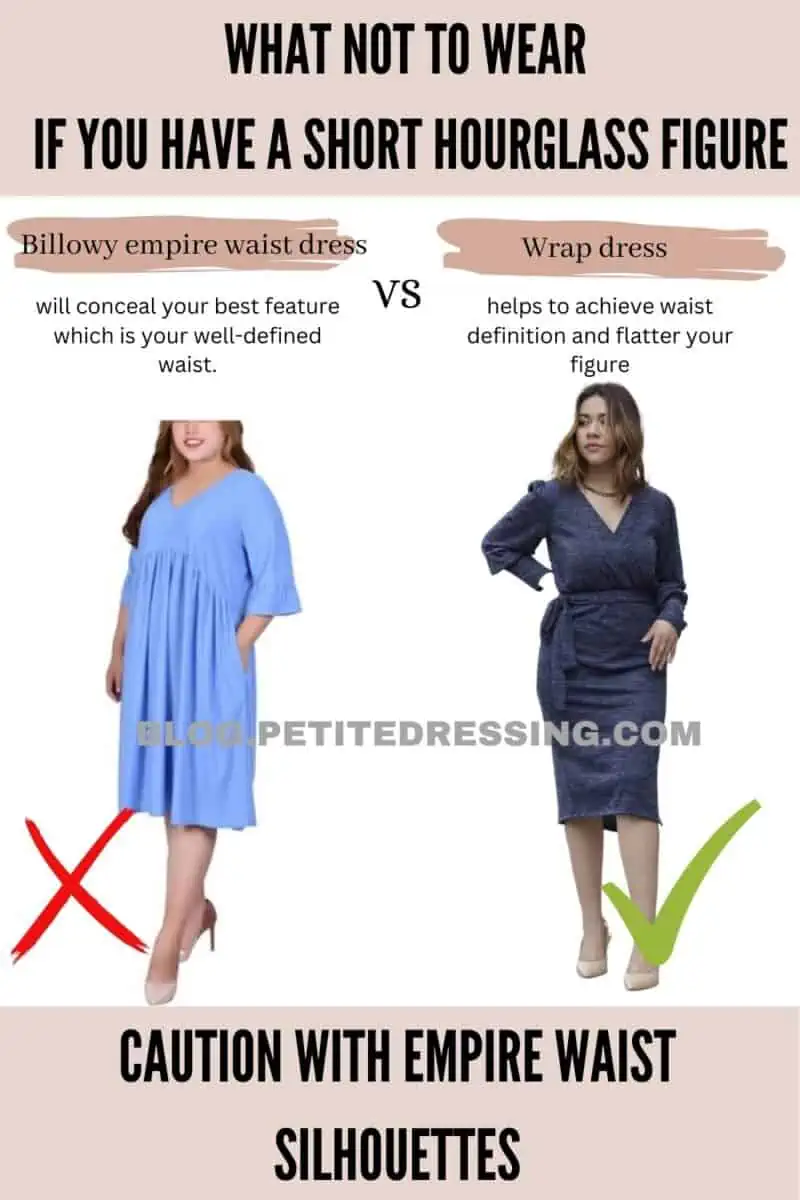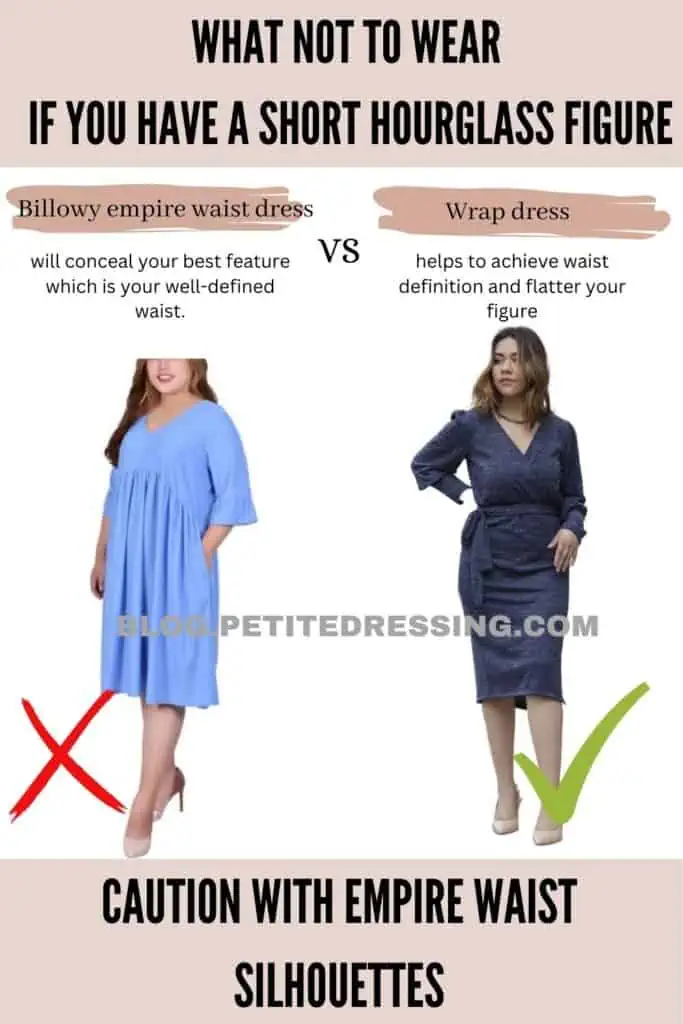 Empire waist structures generally have elongating characteristics but if you have an hourglass figure, wearing clothes with this silhouette will conceal your best feature which is your well-defined waist.
But like what I initially mentioned, empire silhouettes have elongating features so you can of course still wear them from time to time if you want to look taller. This is as long as you become more mindful of your selected designs.
Avoid Slouchy Jeans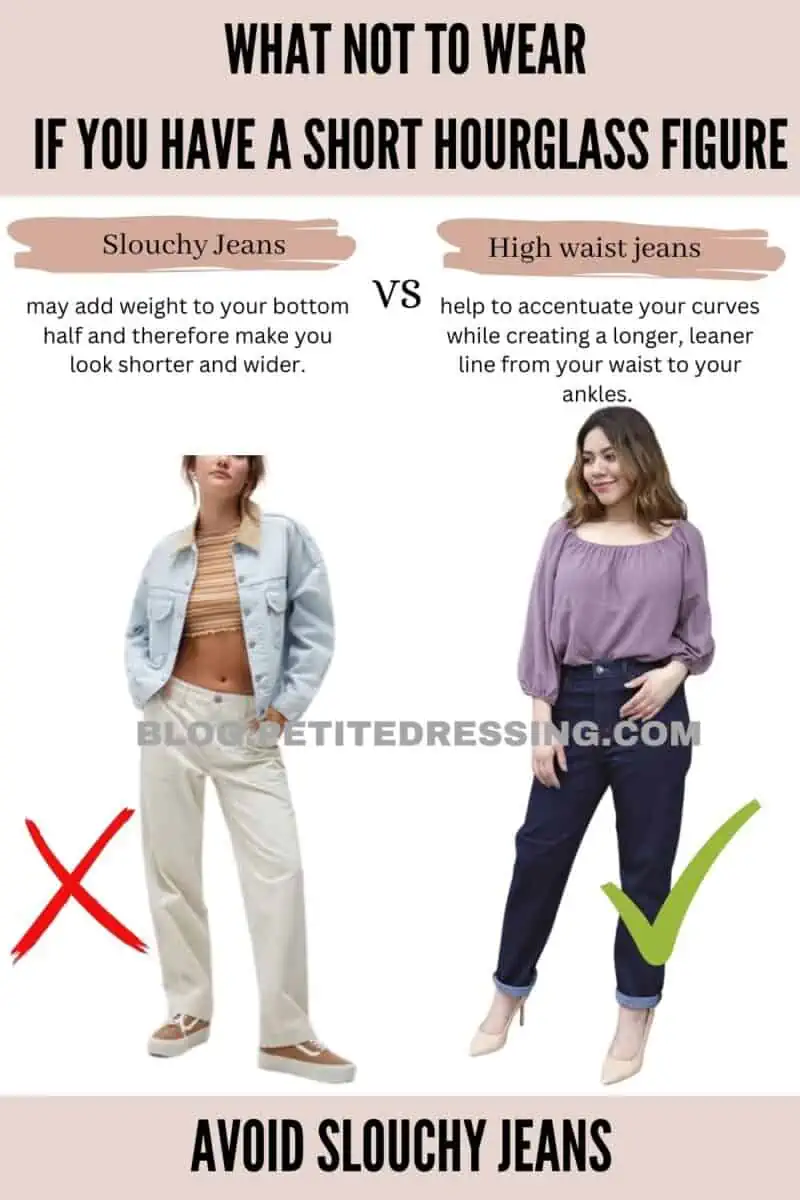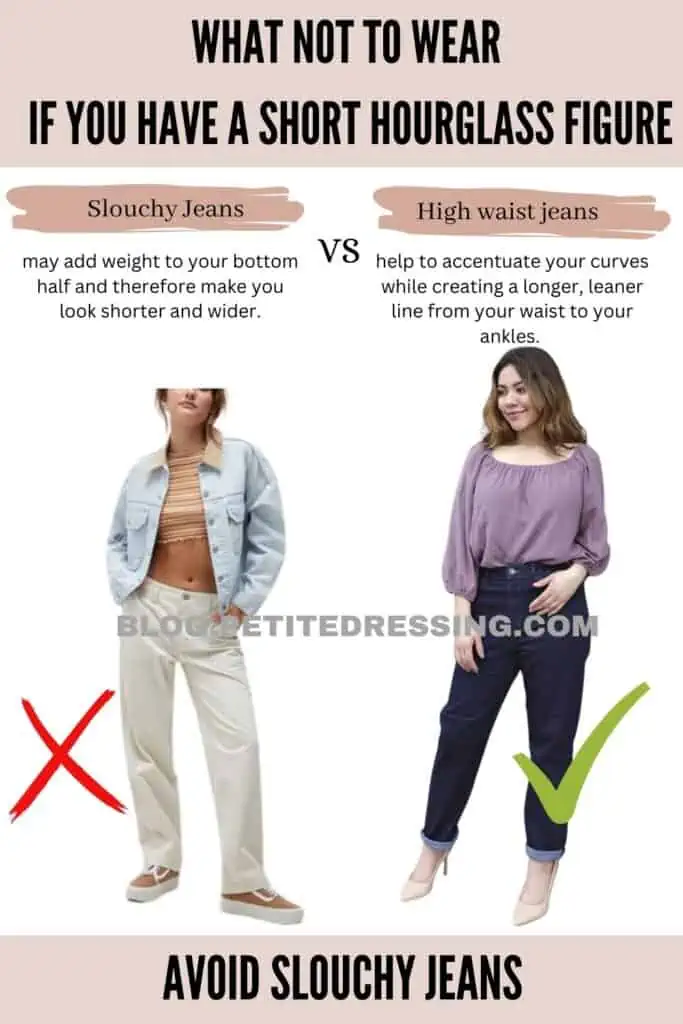 Having a petite hourglass figure means that you also have a more prominent bottom. Its natural voluptuousness is already beautiful on its own so you wouldn't want to add extra volume to overwhelm it!
This is what slouchy jeans tend to do as they have a loose and relaxed fit, typically with a dropped crotch and a tapered or narrow leg opening. This structure may add weight to your bottom half and therefore make you look shorter and wider.
Instead, opt for jeans with a higher waistline and a more fitted cut, such as skinny jeans or straight-leg jeans. These styles can help to accentuate your curves while creating a longer, leaner line from your waist to your ankles.
Avoid Chunky or Platform Shoes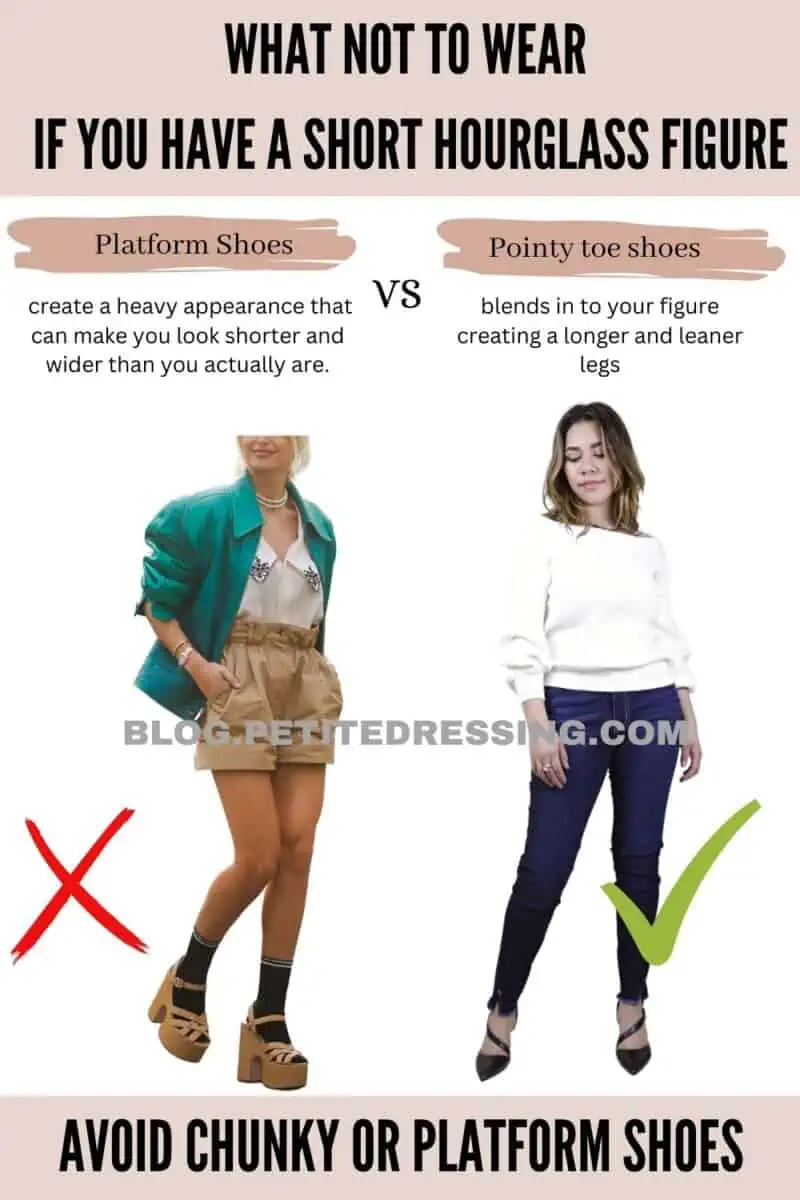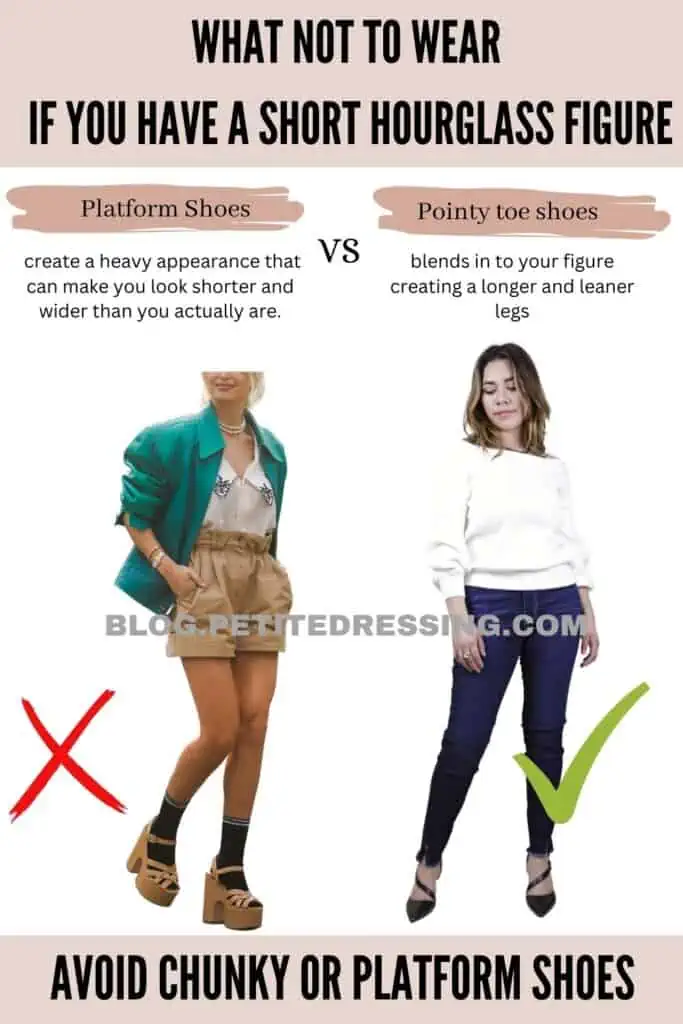 Chunky and platform shoes have been quite trendy in recent years and while they have their own charm, they're not the most flattering types of shoes for short hourglass figures. They are generally very bulky so they create a heavy appearance that can make you look shorter and wider than you actually are.
Chunky shoes, such as platform shoes or thick-soled sneakers, have a lot of volume and can overwhelm a smaller frame. They can also make the legs appear shorter by cutting off the visual line of the foot and ankle so it's best to stay away from such styles.
The Key Takeaway
One of the best ways to flatter your figure through styling is to know which specific types of clothes you should stay away from. I hope you're ready to clear your closet out after reading this article and go for pieces that suit you best instead!