Having bigger hips makes you look feminine, but it can also make you come across as bottom heavy. The key to flatter women with wide hips is to wear skirts that has a sliming effect to balance out your full figure in the bottom half.
This is a complete guide with 9 best types of skirts for big hips, and 4 skirt styles you should be cautious about or stay away from.
Black Pencil skirt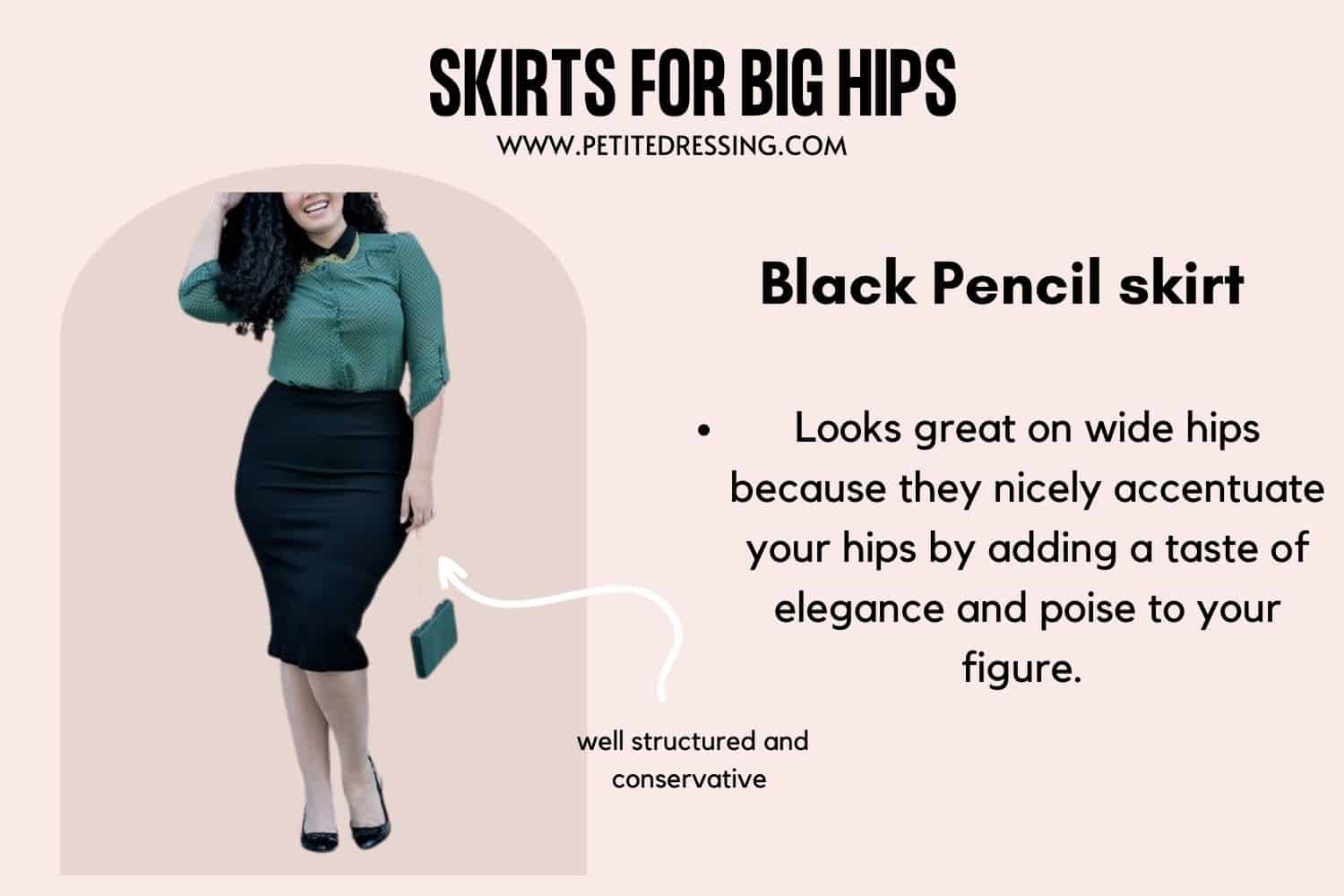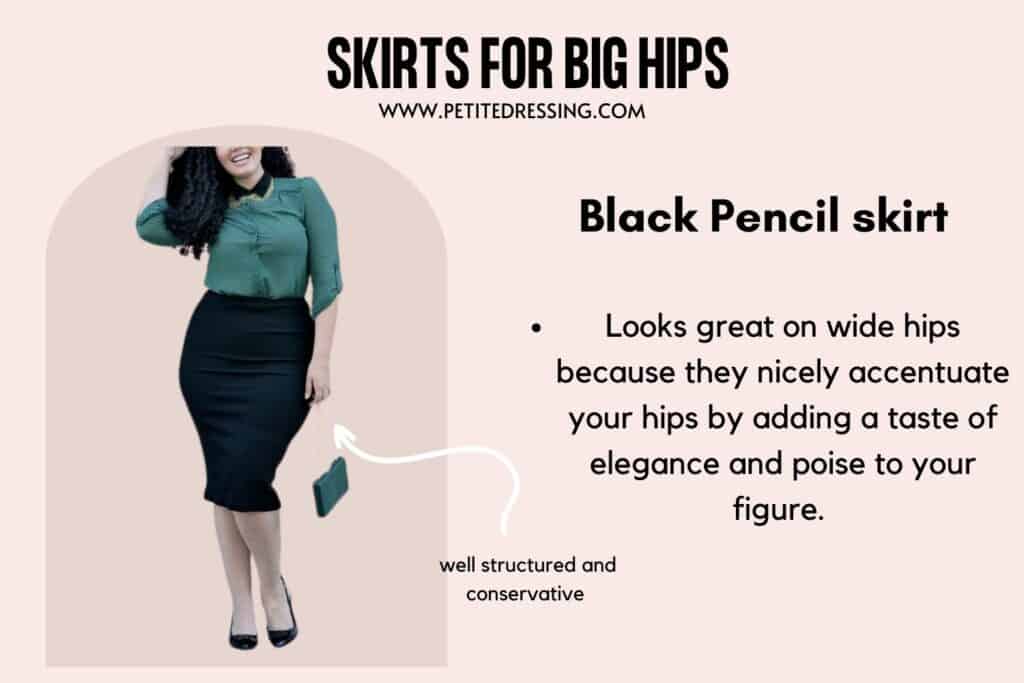 Black pencil skirts look great on wide hips because they nicely accentuate your hips by adding a taste of elegance and poise to your figure. They are well structured and conservative because black colors unlike other colors slim out the big hips and help you embrace your shape.
This skirt design is not too provocative for your big hips and they should be chosen in preference to the bodycon skirts. Pencil skirts are not meant to conceal your shape and would also not reduce your confidence.
They also tend to lengthen your figure especially if the ones chosen have a high waist. High waist pencil skirts would cinch your waist, elongate the legs and reduce your torso without causing you any form of discomfort.
Mermaid skirt
The structure of a mermaid skirt makes it one of the most preferred choices of skirt for a woman with big hips. It is fitted from the waist to the thighs and flares out at the bottom to create a balance with the width of your hips.
The mermaid skirt is a very comfortable skirt design that looks attractive on your body frame. You should make them a wardrobe essential for your figure and be certain to not have gone wrong with that decision.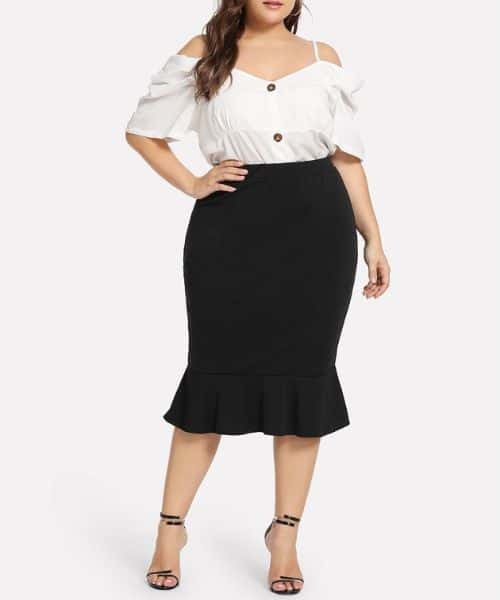 Mermaid skirts are the best
It is a simple skirt design that helps to accentuate your hips and improve your overall statement look.
The mermaid skirt is not too complicated and has special basic details that are suited to fit your big hips.
High waisted skirt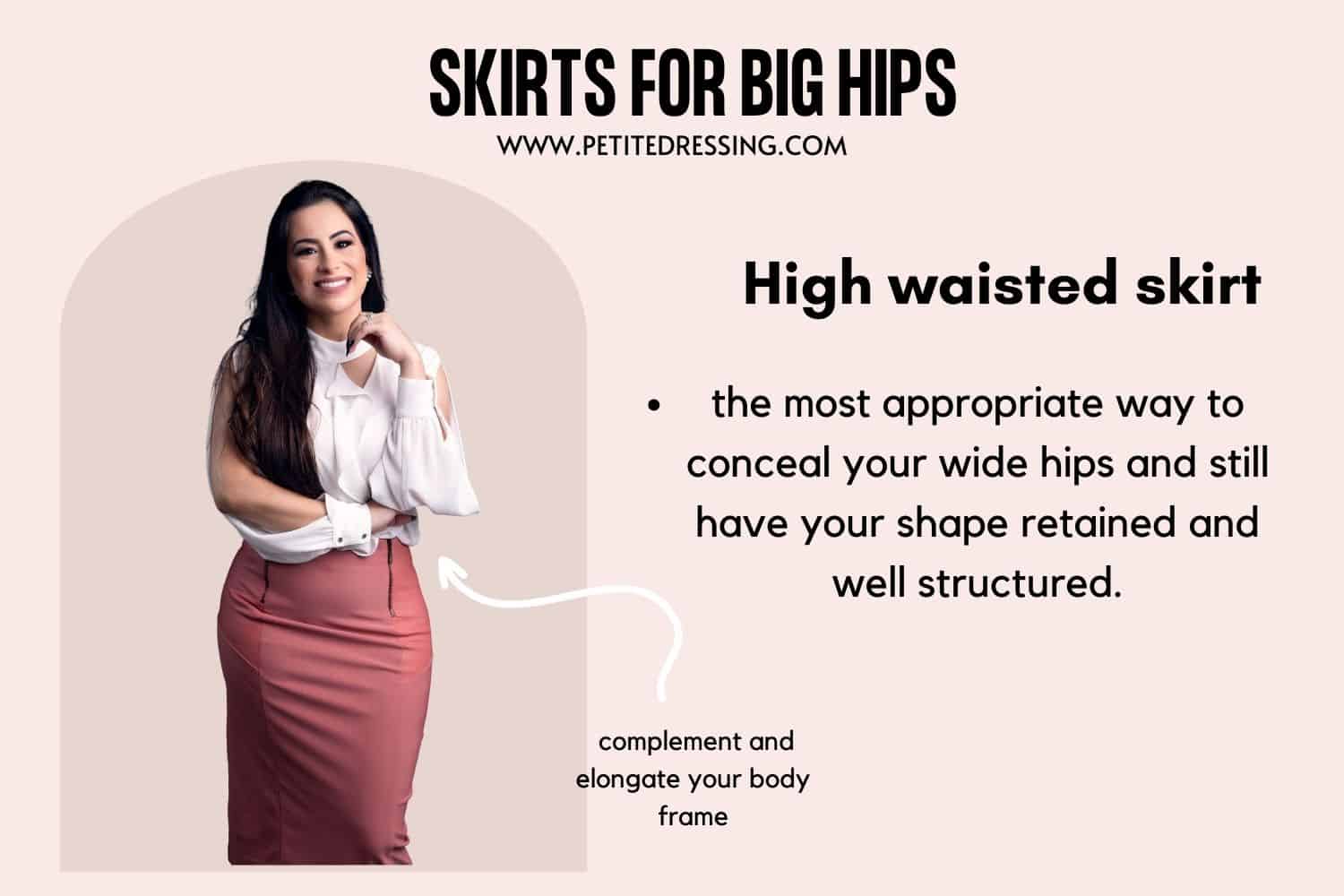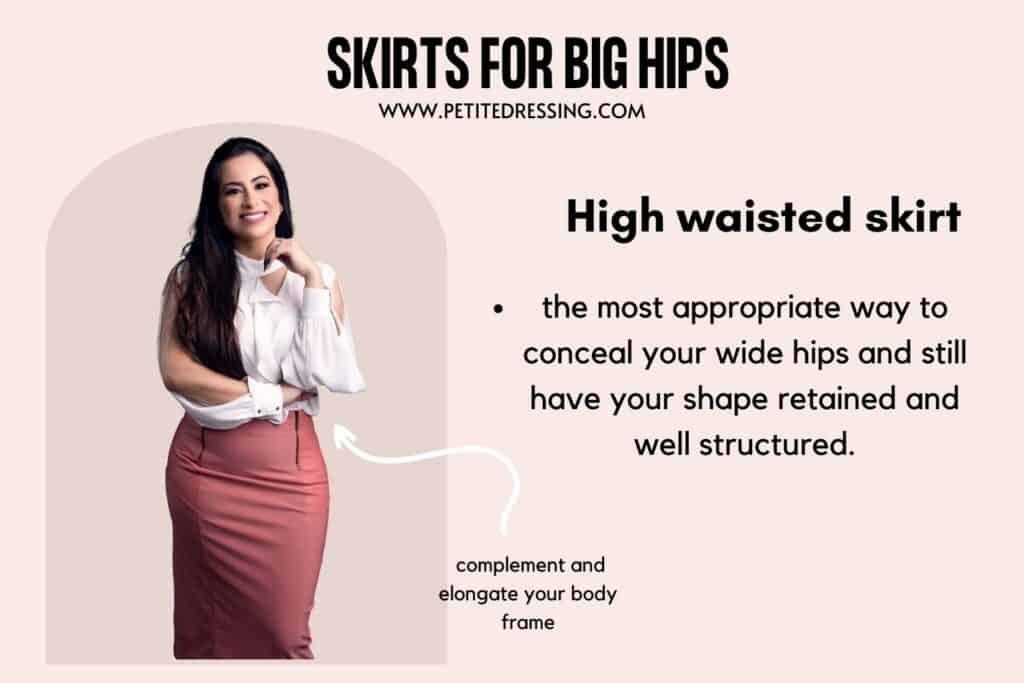 The position of the waistline in the high waist skirt is the perfect position of the skirt that would most definitely visually minimize your big hips. The waistline is located a little above your natural waistline suitable to complement and elongate your body frame.
High waist skirts are the most appropriate way to conceal your wide hips and still have your shape retained and well structured. If you are looking to embrace your figure then skirts with a high waist should be your most preferred option.
They also have a major effect on the length of your body and are the best choice of skirt designs to rock for any occasion. Stay away from low rise skirts because they would create an imbalance in your feminine figure.
Flared skirt
The flared skirt is almost similar to the A-line skirt but has no darts and flares out a lot more. It allows for complete freedom of movement without making your hips appear too heavy.
Flared skirt is also a very simple and unique skirt design that is great on wide hips. Make them a part of your wardrobe essential and rock them for a perfect summer appeal.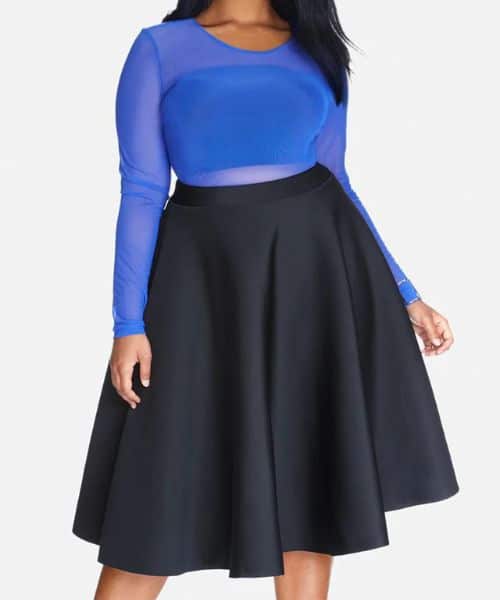 Why you should opt for Flared skirts
This type of skirt if well styled especially with a fitted top would help avoid creating a wide silhouette and help you scream sophistication.
Flared skirts are designed to circle out and conceal your wide but would not add excessive volume to your hips.
Maxi length skirt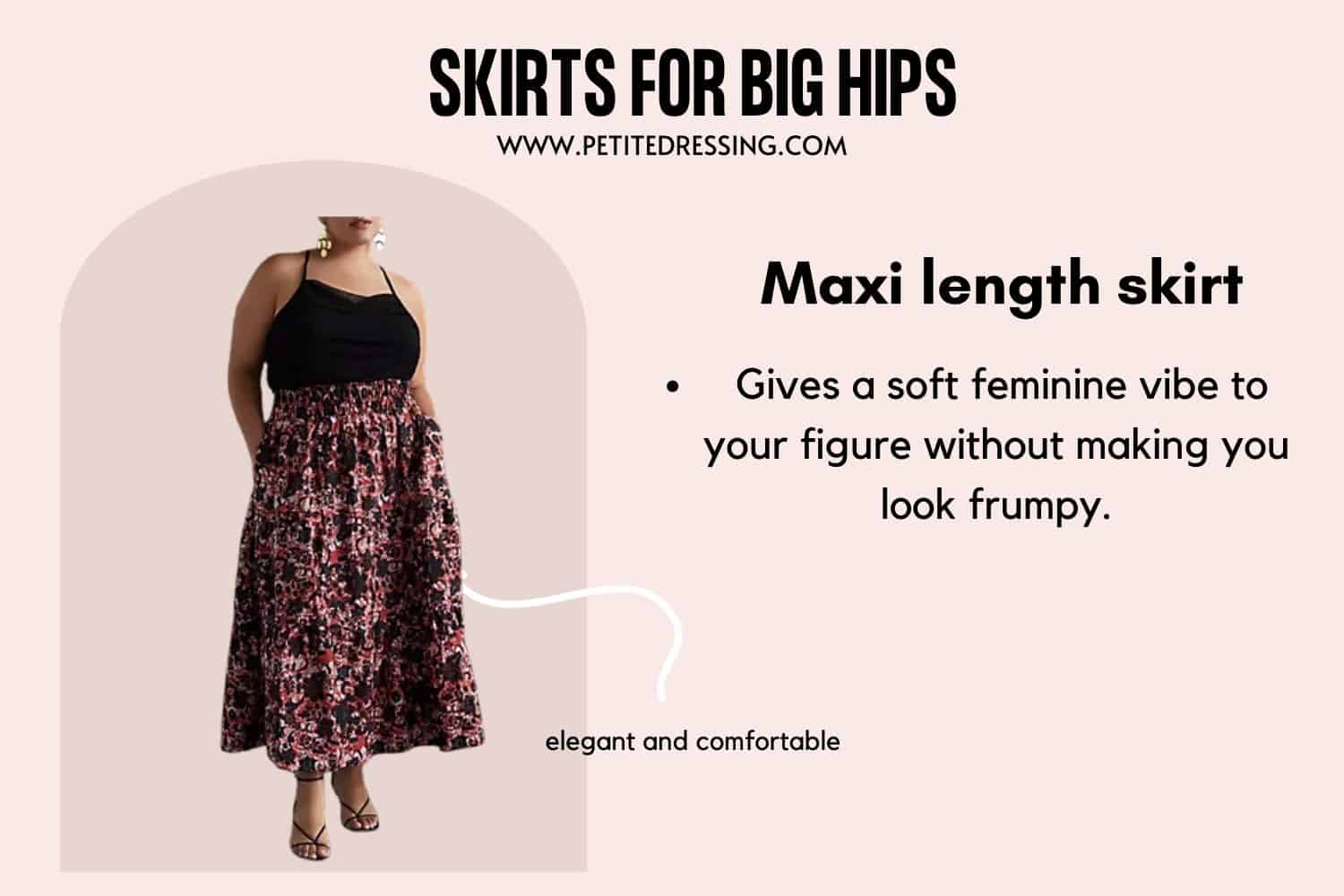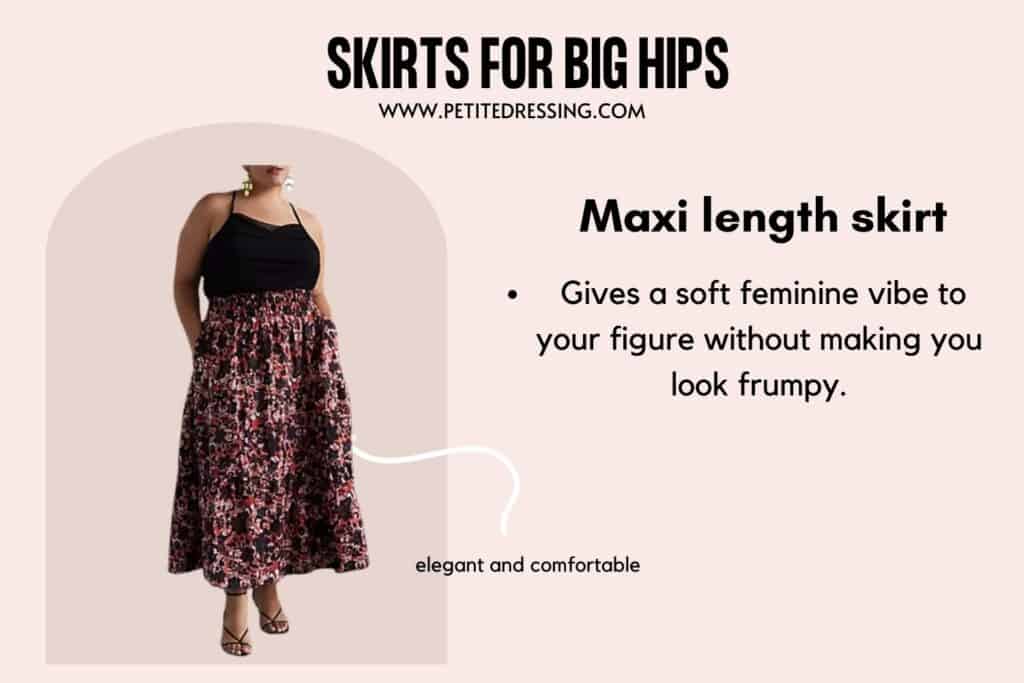 They are a trendy skirt style suitable to conceal the width of your big hips because they have a balancing effect on your general appearance. Maxi-length skirts give a soft feminine vibe to your figure without making you look frumpy.
The best maxi-length skirts shouldn't be too long to avoid them from drowning you. Choose those that are a few inches above your ankle and style them with heels to further elongate your frame.
Maxi-length skirts are a go-to option for your figure because they would give you an elegant and comfortable appearance on any occasion.
A-line skirt
The A-line skirt is one of the most flattering skirt designs that accentuate your waist and smoothens out your wide hips. They do not allow so much focus of the eyes on the concerned area making them a perfect fit for your shape.
If you are too conscious about your big hips, then make the A-line skirt an exquisite choice for your shape. Your big hips are a symbol of femininity that should be elegantly styled with an A-line skirt.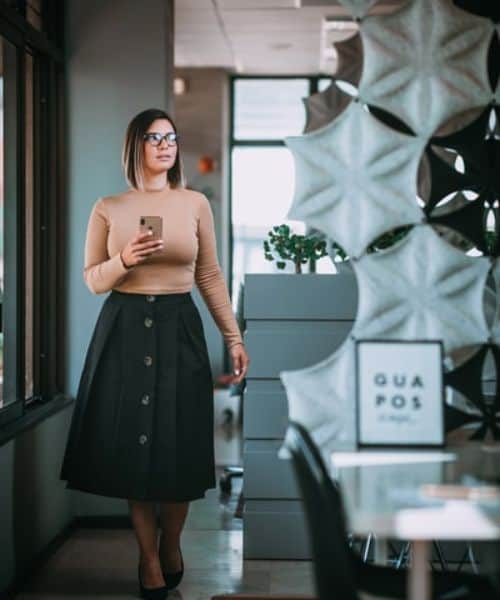 Reasons to use an A-line skirt
It has a gentle silhouette that accentuates and highlights your feminine frame especially if styled properly.
They are designed to be narrow at the top and wider at the hem without having to cling tightly to your big hips.
Wrap skirt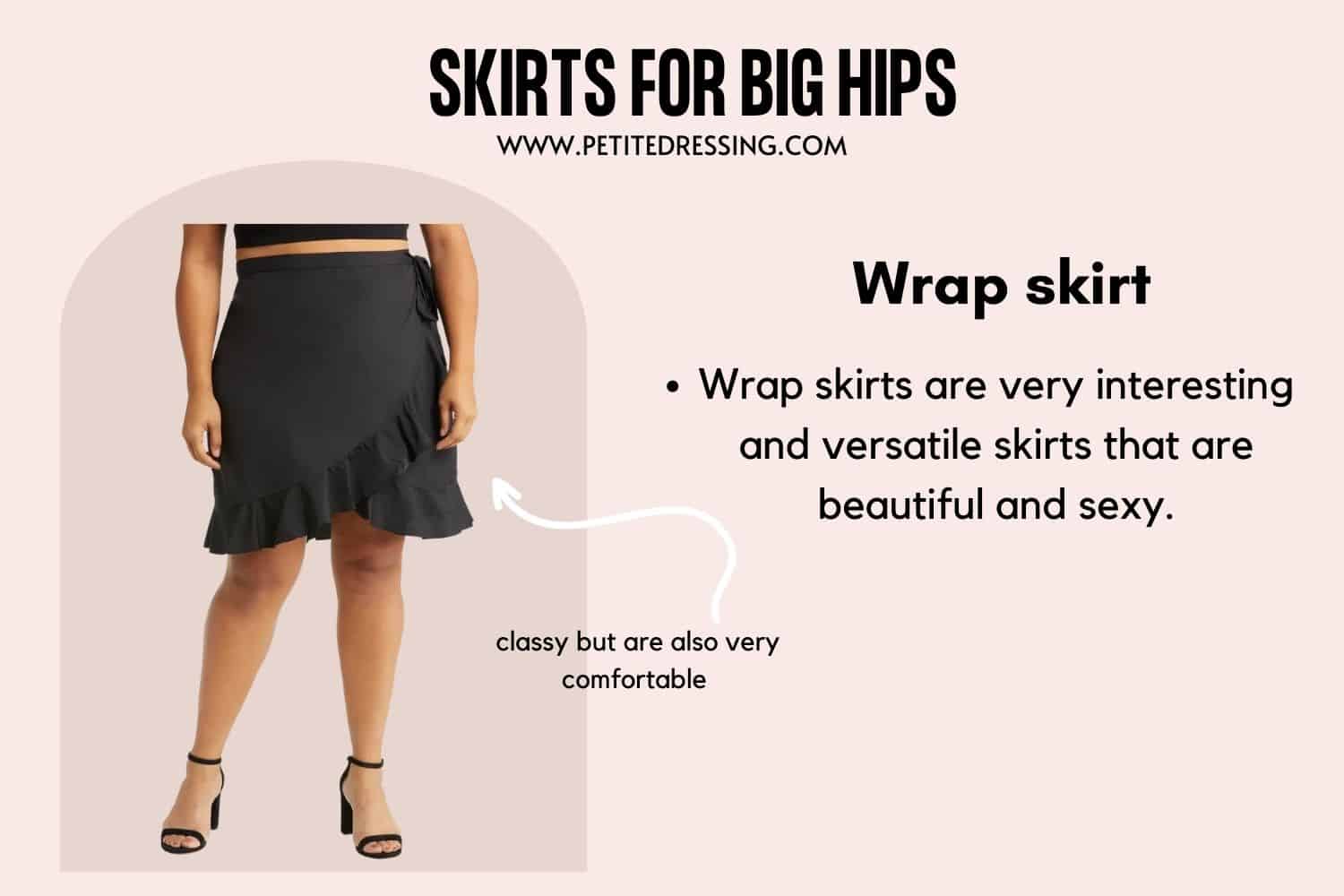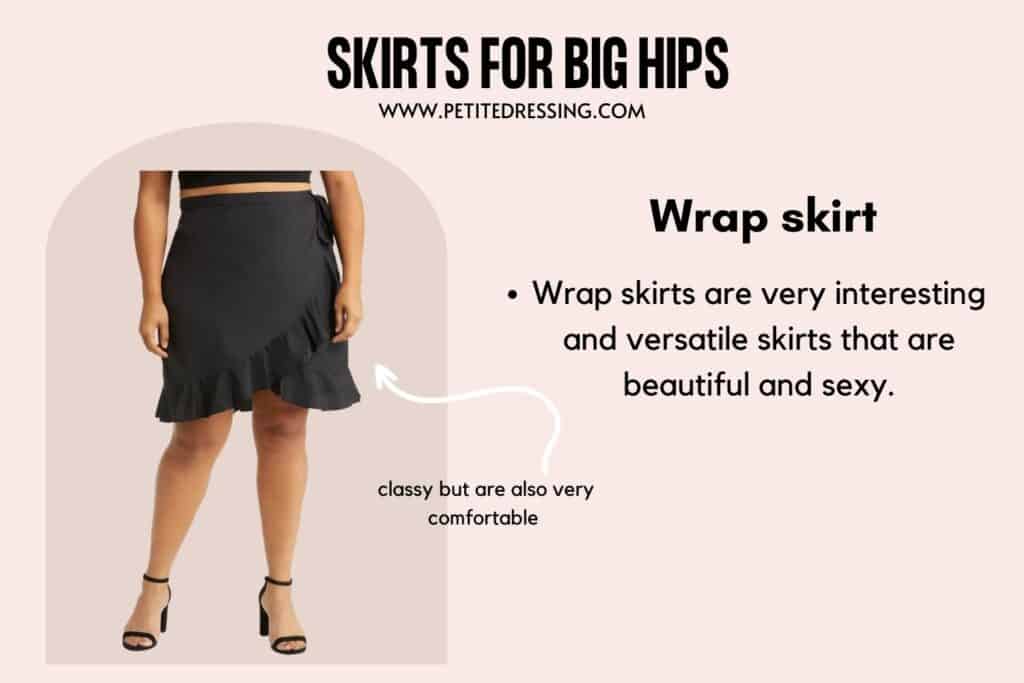 You should love the wrap skirts if you have a big hip because it is very classy and sophisticated in your shape. Wrap skirts are very interesting and versatile skirts that are beautiful and sexy.
The best thing about these skirts is the fact that they are not only classy but are also very comfortable. You should attempt making them a major wardrobe essential if you are a woman with big hips.
Skirts with solid colors
Consider choosing colors that would elongate your body frame and minimize the width of your big hips if you intend to appear elegant. Solid colors that are either neutral or dark have a natural slimming effect on any body shape.
You most definitely cannot go wrong in opting for skirts with neutral colors because they would nicely enhance your body frame. If you have big hips and intend to further improve your appearance, then style them in a monochromatic way by pairing them with tops of similar colors.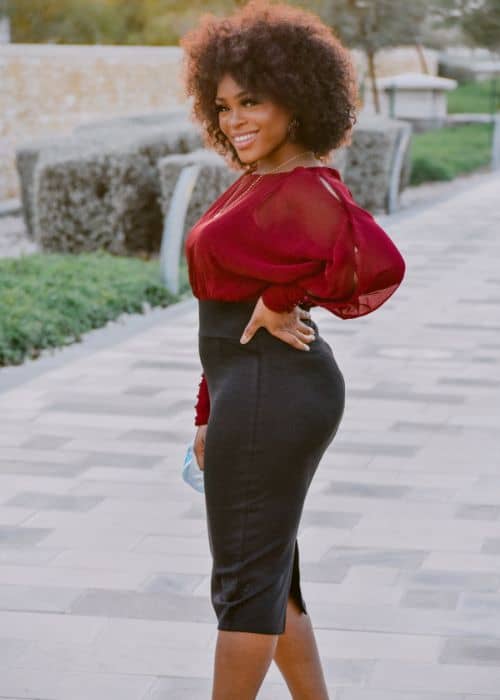 Why you should choose a solid colored skirt
Your figure does not appreciate bright colors so keep them away and stay glued to solid colors.
Bright colors would make your hips noticeable by drawing the attention of the eyes to your lower half and this could most certainly reduce your confidence.
Asymmetrical skirt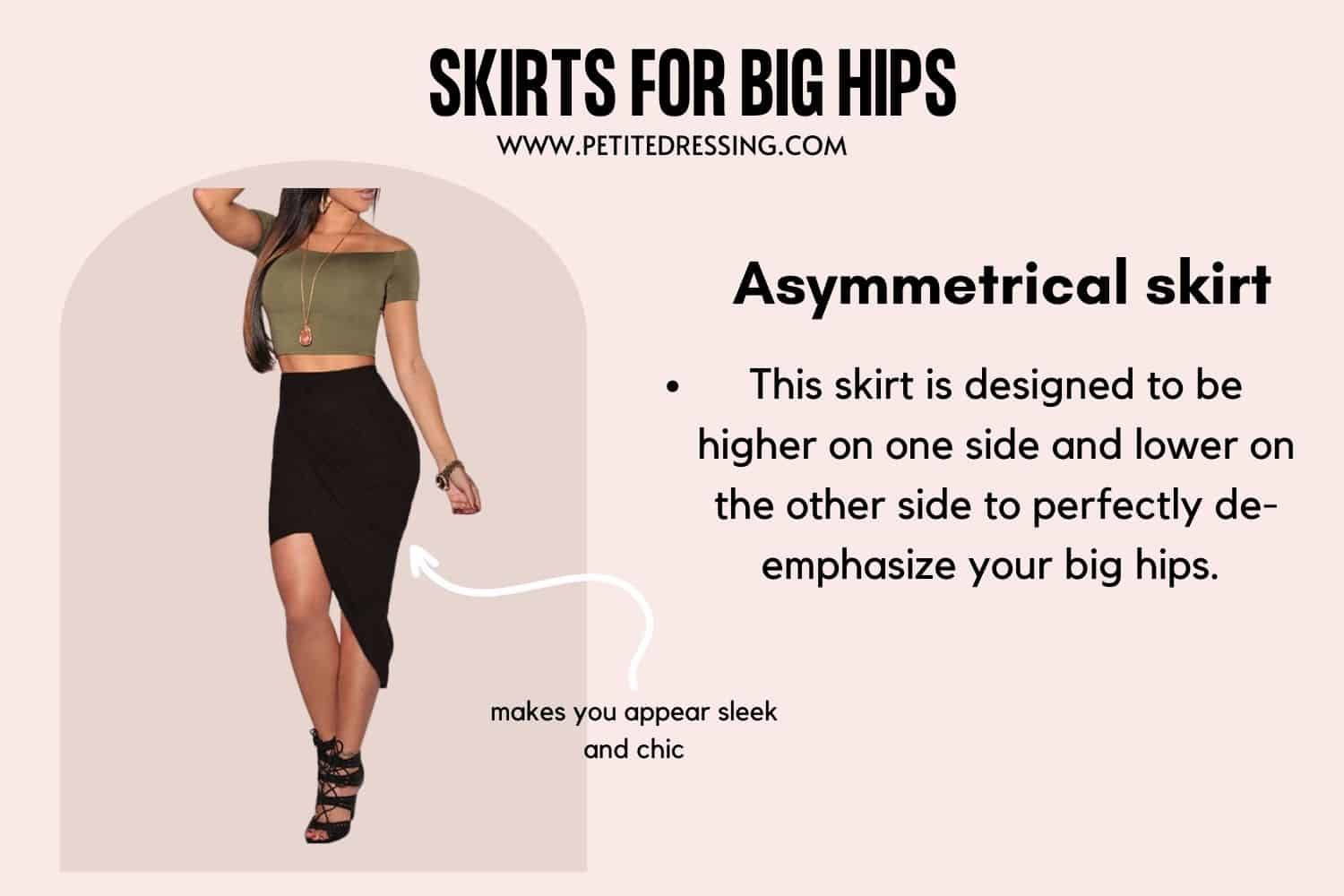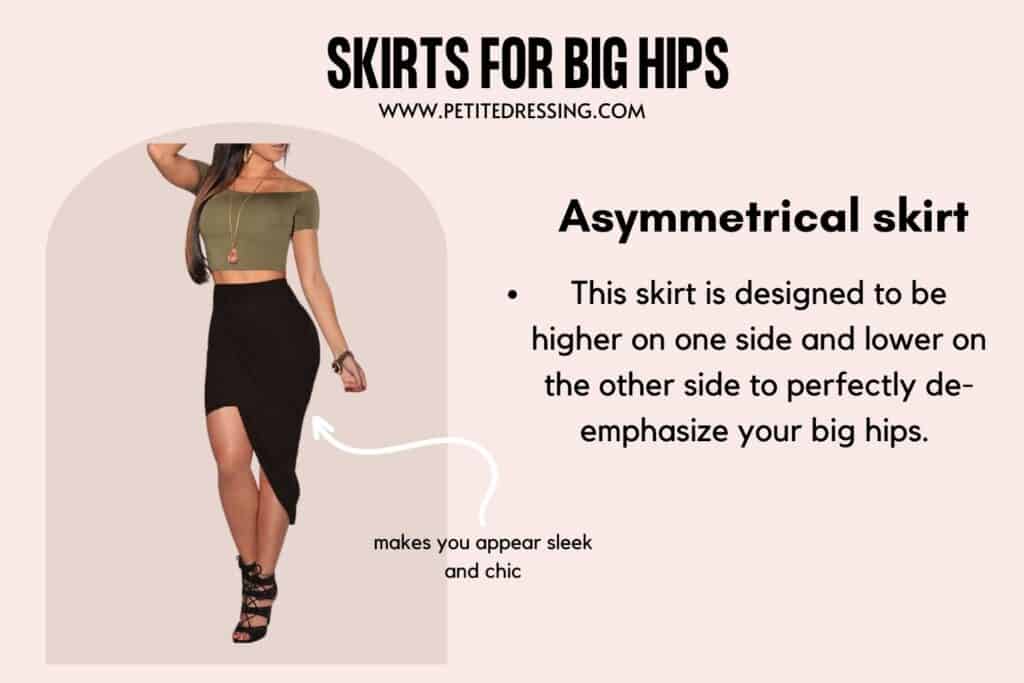 This skirt is designed to be higher on one side and lower on the other side to perfectly de-emphasize your big hips. The asymmetrical skirt is a recommended skirt option that looks great on women with wide hips.
The uneven hemline in the skirt makes you appear sleek and chic. The asymmetrical skirt can be worn by a woman with big hips for any occasion.
Avoid pleated skirt
Pleated skirts are not flattering and would not add a touch of elegance that is necessary to make you appear outstanding. They may be a wardrobe essential for certain body shapes but are not recommended for a woman with big hips.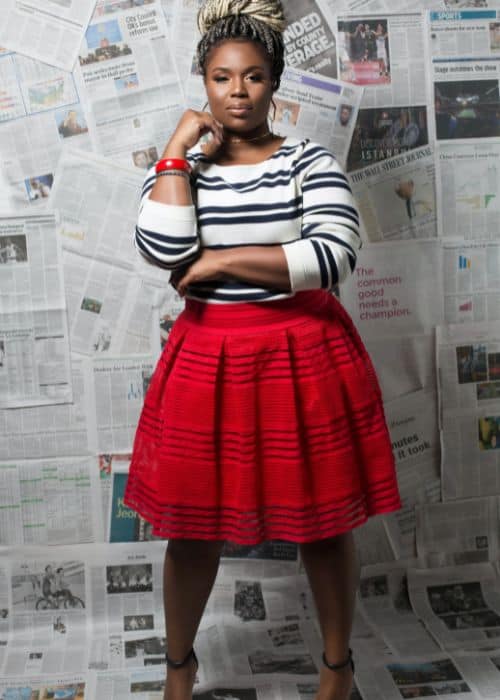 You should not opt for Pleated skirts
They are not recommended skirt designs for your shape so do not wear them if you intend to attain a visual balance.
Pleated skirts would only add bulk to your lower half and make you appear wider than you are. They are not fashionable on your figure because they would not give the best definition essential for your shape.
No matter the type of pleat you choose, they would not bring the best out of your gracious figure.
Avoid tiered skirts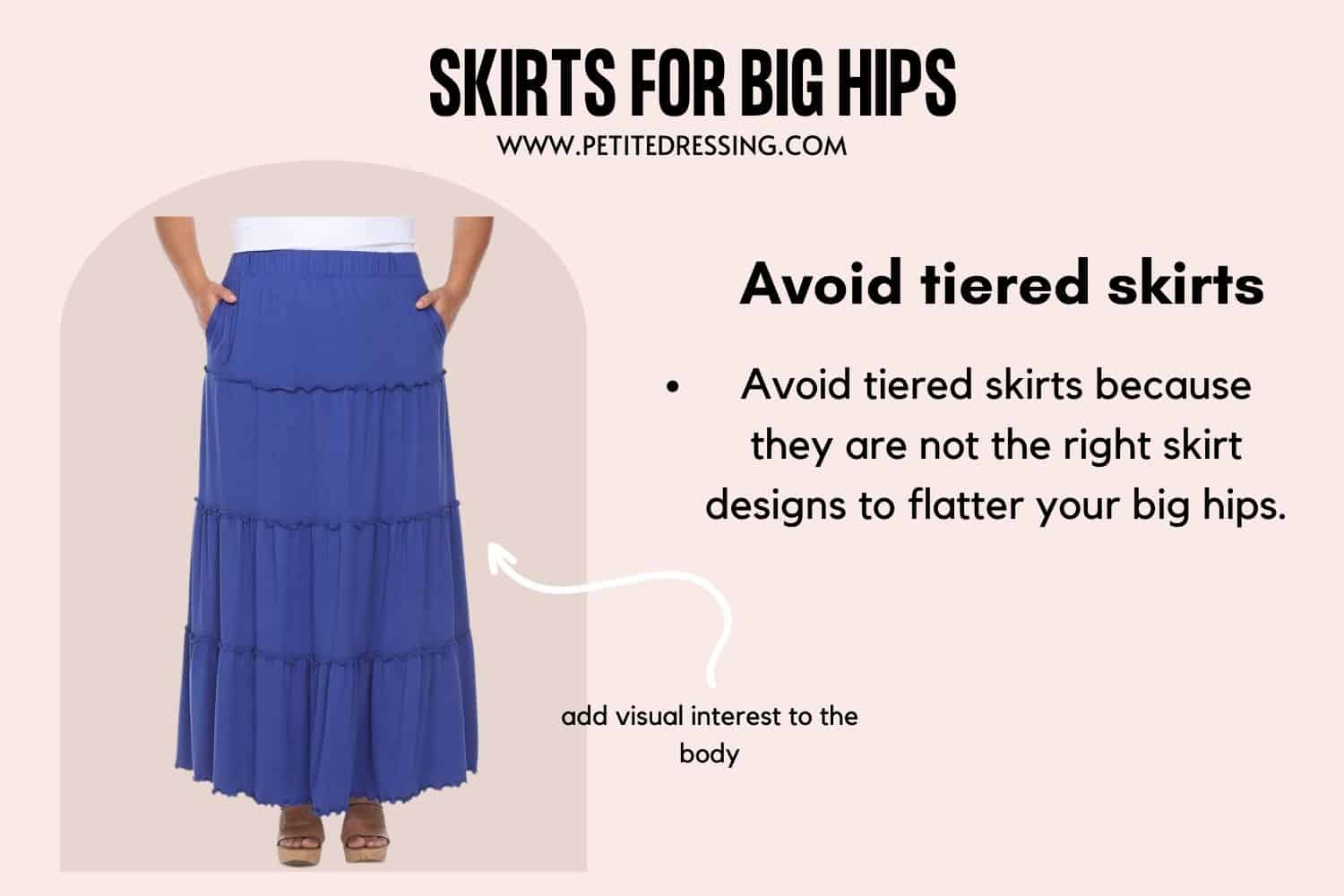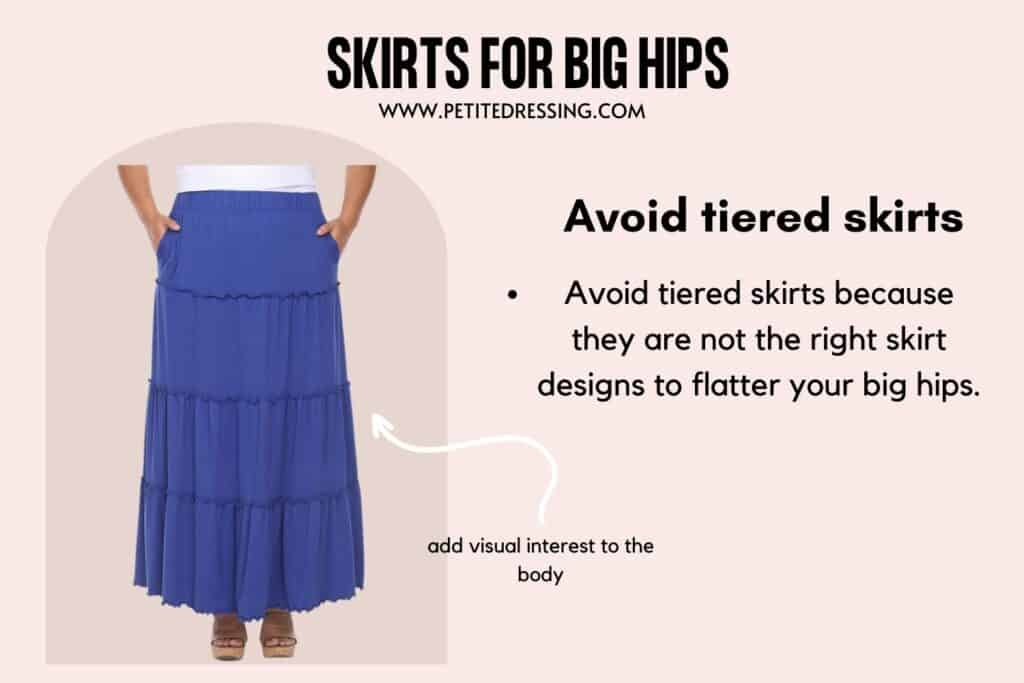 While searching for the most fanciful skirt for your figure, do not attempt to choose a tiered skirt because it would not give you the desired feel for your big hips. A tiered skirt has layers of fabrics attached to the hemline and used to add visual interest to the body.
This visual interest would enhance the hips by giving your lower half added volume. Tiered skirts may be considered fashionable for some body shape but are not stylish skirts for a woman with big hips.
Avoid tiered skirts because they are not the right skirt designs to flatter your big hips. One thing you need to understand is the fact that you have a great figure and trying to conceal them with a tiered skirt is most definitely not the most conservative way for your figure.
Avoid skirts with horizontal stripes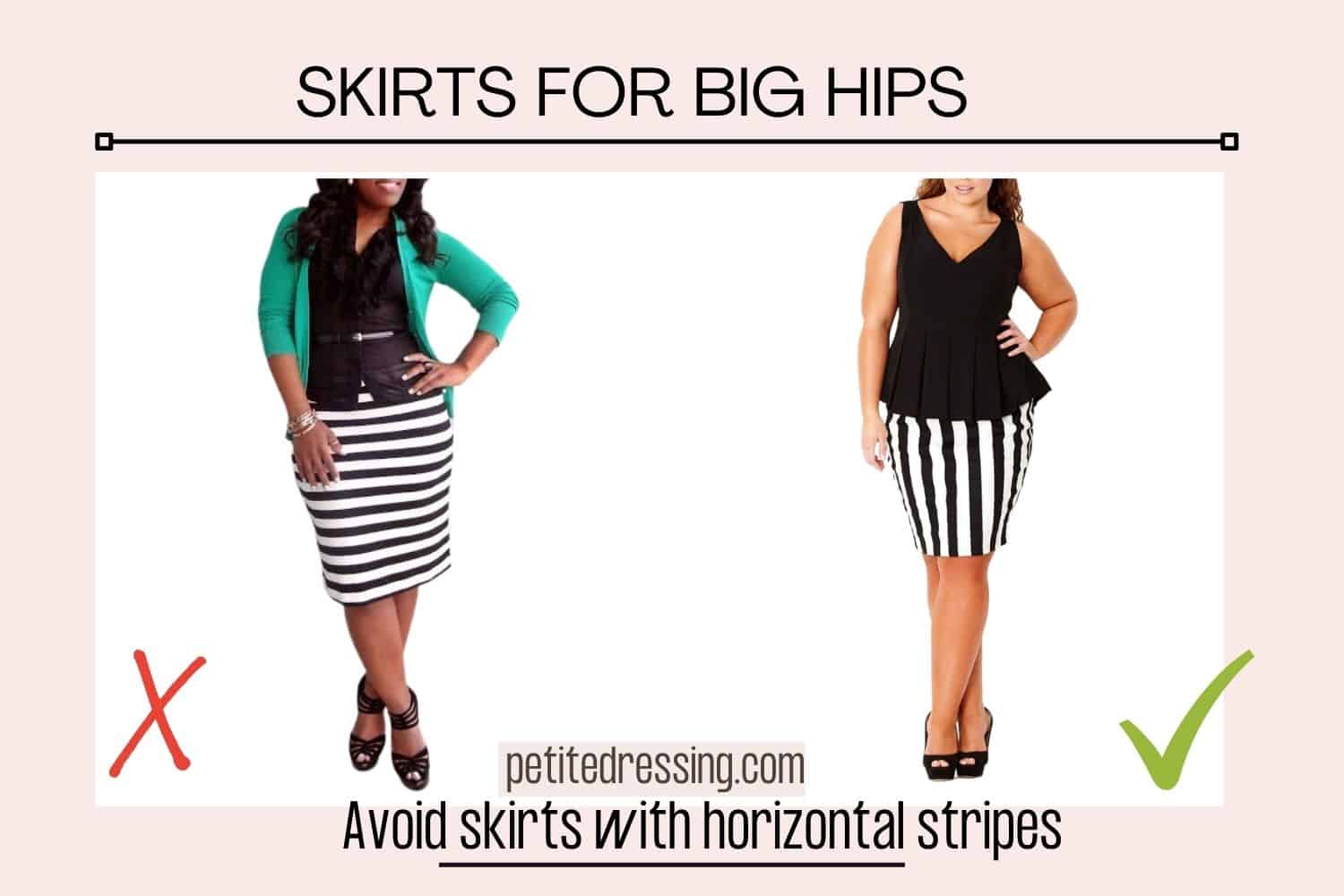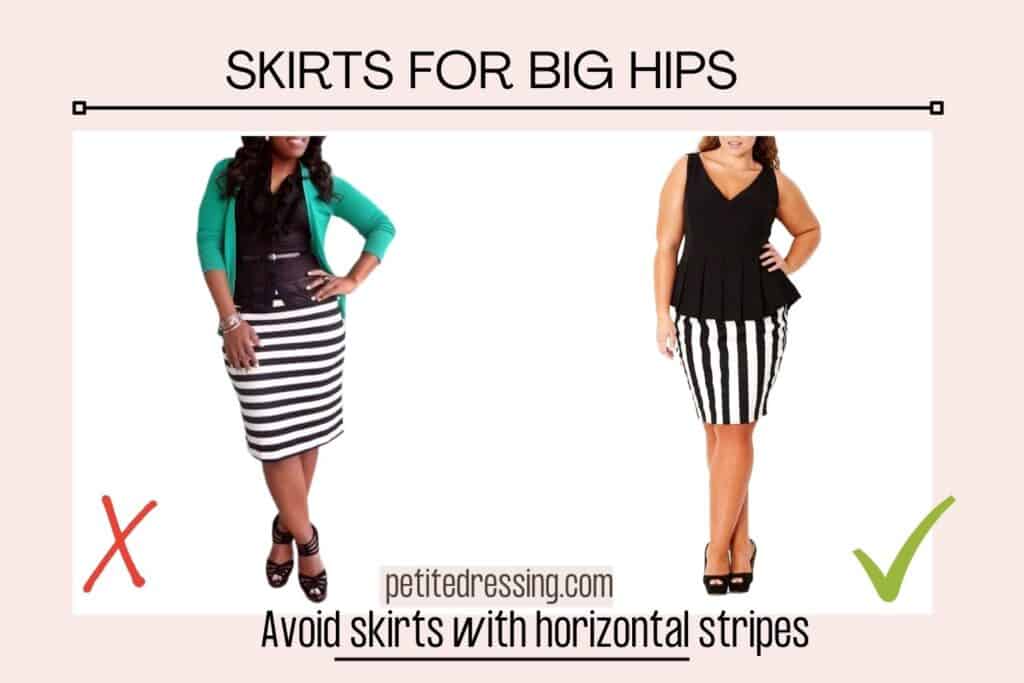 Stripes on clothes can be extremely flattering on any figure but the horizontal stripe is the least recommended stripe pattern for big hips. Skirts with horizontal stripes automatically give the eyes the illusion that your hips are very wide.
They are designed to maximize the width of the body and since your hips are big, they would make it more obvious to the eyes. Striped skirts that visually minimize your figure are the most recommended for you.
Your best pick should be skirts with vertical stripes because they have straight lines that run along your figure. The lines help to improve your shape by making you appear slimmer and further create a balance in your lower half.
Avoid tulip skirt
Tulip skirts may appear to be fashionable but are the least flattering skirt design for wide hips and are not meant to be worn on your figure.
They do not enhance the curves properly and would make the eyes notice their width.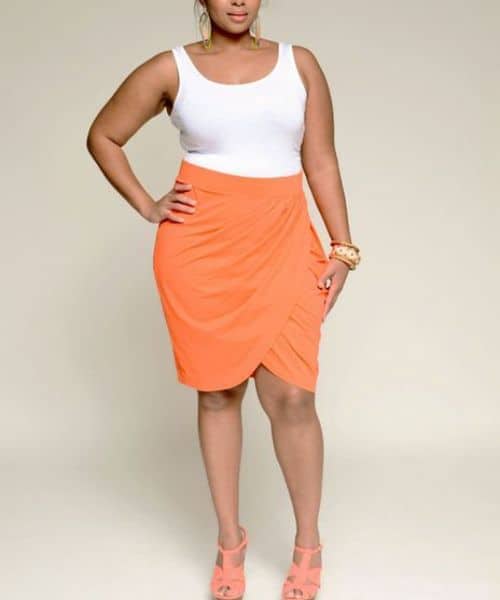 Why tulip shape not your best option
Wearing a tulip skirt is not the best way to embrace your figure because they make your hips look split and wider.
Skirts for your figure are supposed to slim out your hips but the tulip gives a contrasting effect.
They are not the most comfortable skirts for big hips because they would expose the laps when you are in motion.