Jeans will always be everyone's go-to casualwear so it's definitely a must to have several pairs in your wardrobe! It's usually just easy to pick jeans but for petite girls like me (I'm literally 5'2), it can get tricky to work around our short height.
Being short and having an hourglass body shape can have slightly contradicting features because you would typically have a full bust and full hips that may translate to looking a bit "heavy" when you're short. Since I run my own petite clothing line and one of my models Wendy is 5'2″ hourglass, I know the struggle of petite girls that have hourglass body shapes, most particularly in choosing the right pair of jeans.
In this blog post article, I'd like to share with you some tips on how to choose the right pair of jeans based on my personal experience with styling short hourglass body shapes. Let's begin by discussing our styling goal.
Styling Goal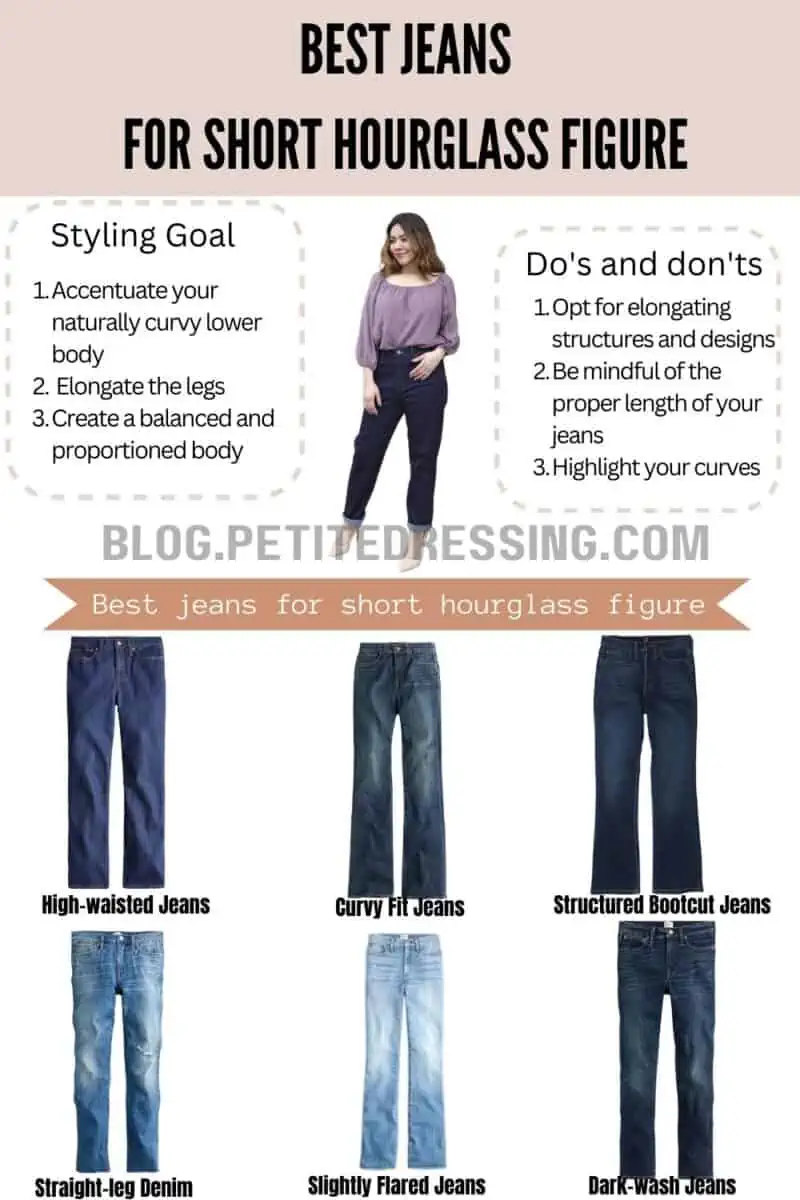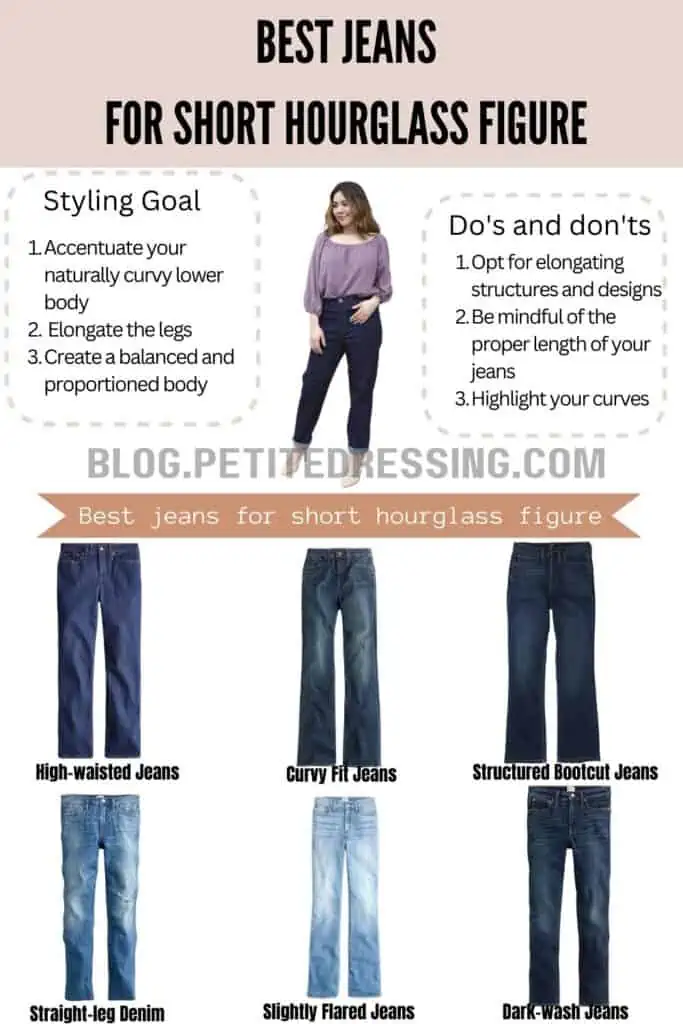 Highlight your curves by going for jeans that skim through your legs flawlessly. They shouldn't be too tight or loose, but just enough to accentuate your naturally curvy lower body.
Opt for elongating structures and designs by looking for vertical patterns and streamlined silhouettes. This will help elevate your height by visually elongating your legs and making them appear slimmer.
Be mindful of the proper length of your jeans. This is quite crucial for petite hourglass frames and for short girls in general because the wrong length can make you look wider and shorter as it may potentially break the vertical line of your silhouette.
Now let's dive into the specific types of jeans that would absolutely flatter your beautiful petite hourglass figure.
High-waisted Jeans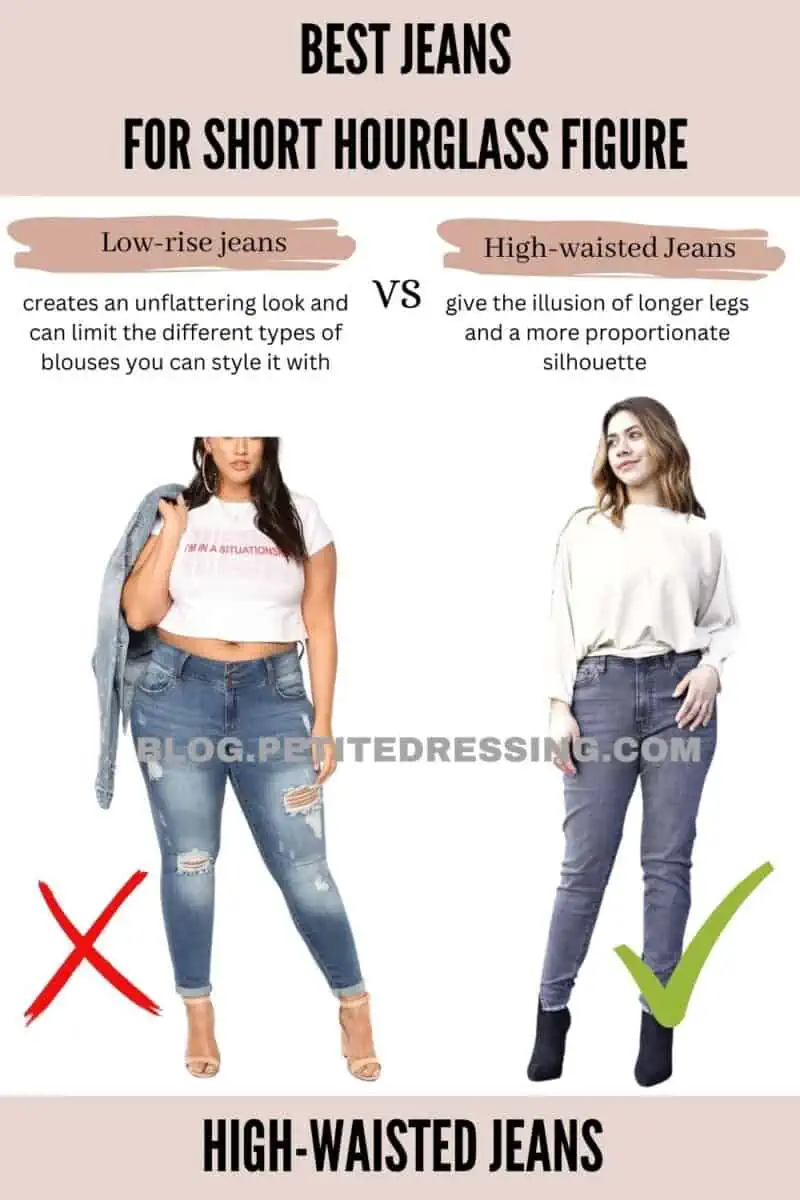 Wearing high-waisted jeans is already an obvious wardrobe staple for petite girls, including short hourglass frames.
They give the illusion of longer legs and a more proportionate silhouette by balancing the curves of your waist, hips, and thighs. By sitting higher on the waist, high-waisted jeans can elongate the lower half of the body and draw attention to the natural curve of the hips.
This can be especially flattering for those with an hourglass figure, as it can enhance the waist-to-hip ratio and create a more defined hourglass shape. In addition to this, high-waisted jeans can provide extra support and coverage around the midsection, which can be helpful for those who want to smooth and streamline their silhouette.
Curvy Fit Jeans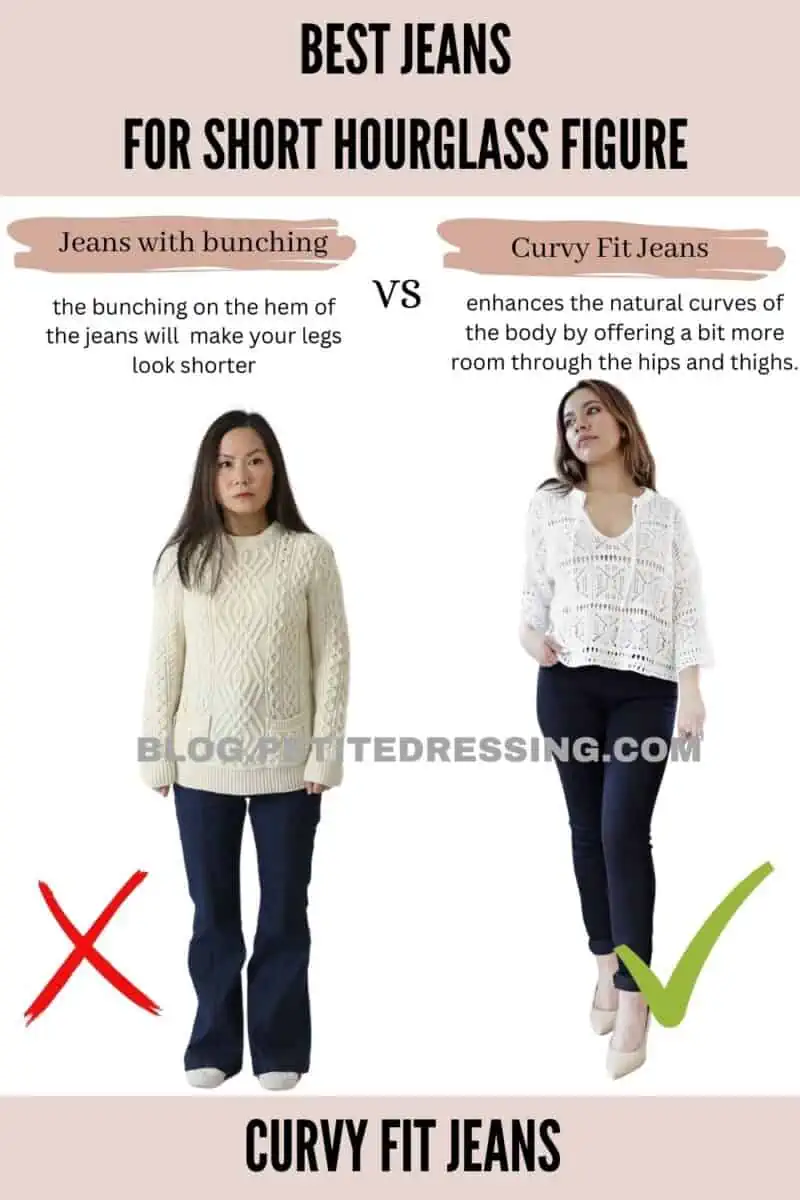 Curvy fit jeans, as the name obviously suggests, are specifically designed to accentuate the body's natural curves. This is especially flattering for short hourglass frames because of its form-fitting design.
They are typically crafted with a contoured waistband and a slightly more generous cut through the hips and thighs to accommodate curves and create a comfortable, flattering fit. Curvy fit jeans are tailored to enhance the natural curves of the body by offering a bit more room through the hips and thighs.
They can help prevent any tightness or bunching that can occur in traditional jeans that are not designed with curves in mind. Because of its streamlined fit, it also contributes to how long and lean your legs would look.
Structured Bootcut Jeans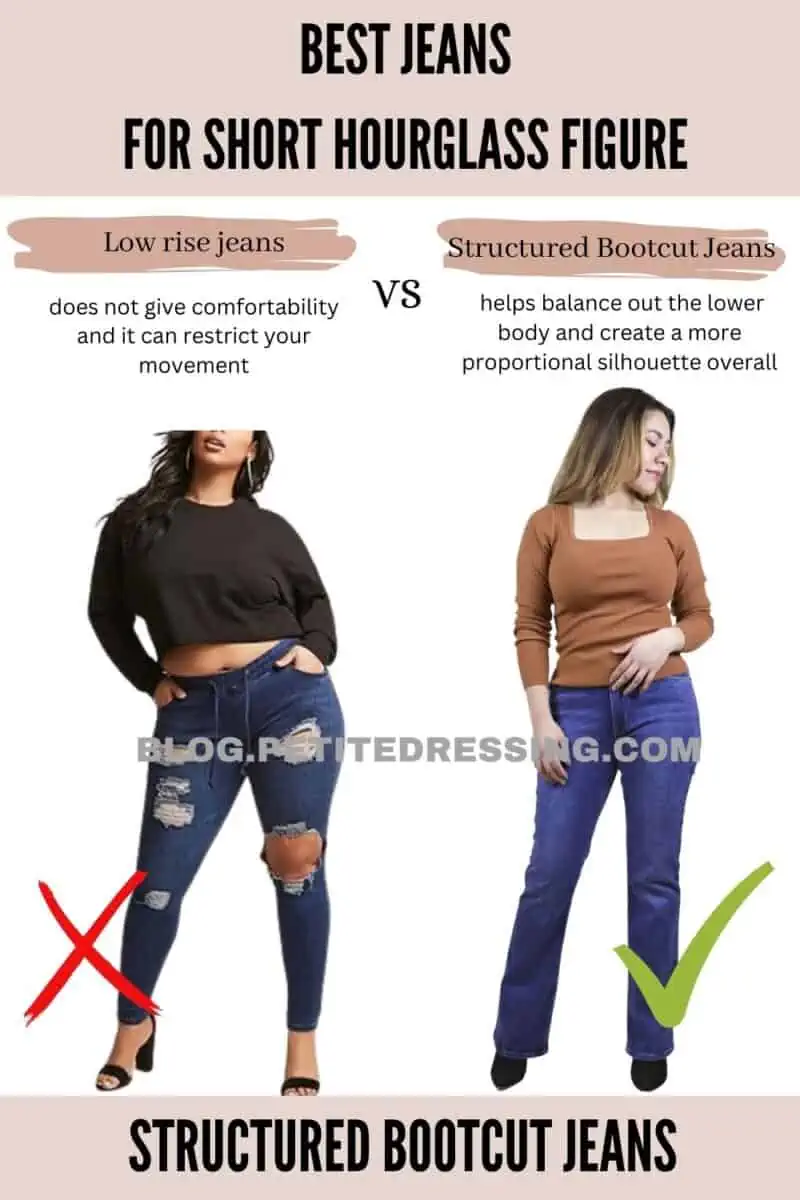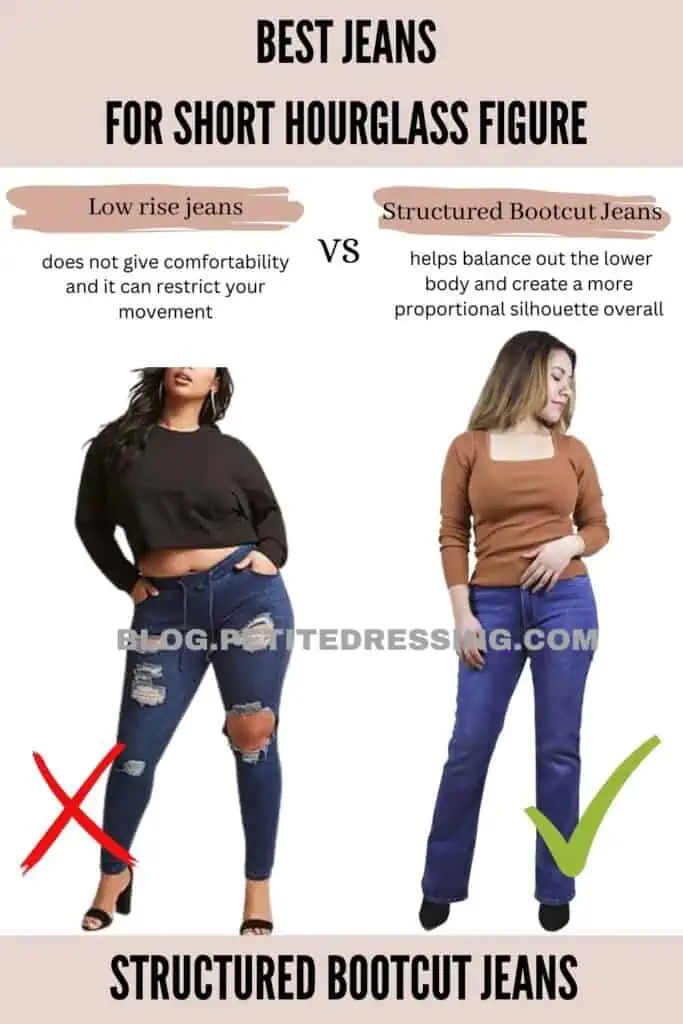 The classic bootcut jeans are also very flattering on petite hourglass ladies due to their fitted hips and slight flare at the bottom that helps balance out the lower body and create a more proportional silhouette overall. If you're a fan of flared jeans but don't want the dramatic flare out, bootcut jeans are very stylish alternatives.
For those with a shorter stature, the gradual flare out from the knee down to the ankle can create the illusion of longer legs. So with bootcut jeans, you're not just letting your natural curves stand out but are also adding a few more inches to visually elevate your height.
Bootcut jeans look best with form-fitting tops or tailored button shirts. The classic structure of bootcut jeans makes them much easier to style.
Straight-leg Denim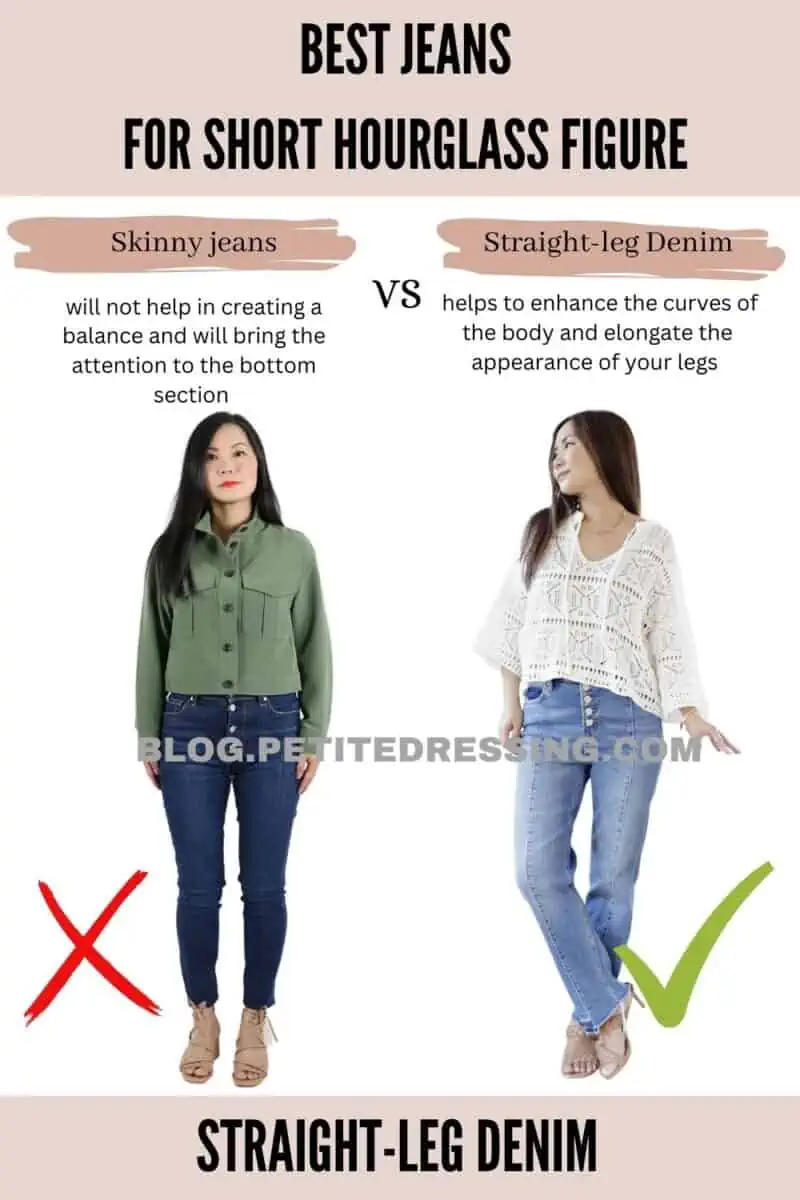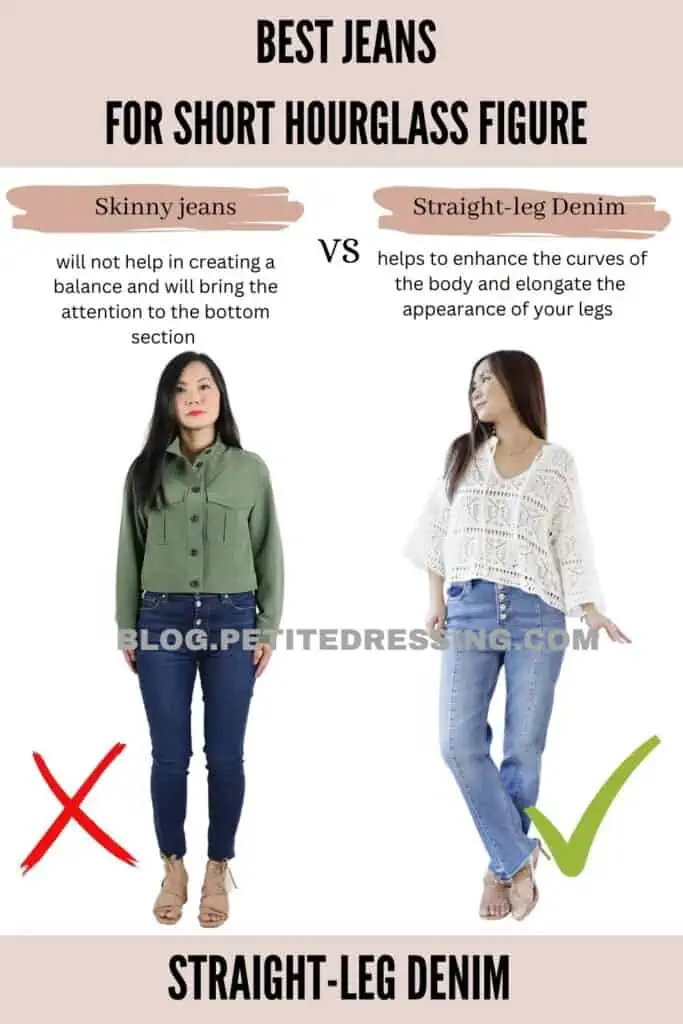 I'd always say that straight-leg jeans should be everyone's wardrobe staple as they are universally flattering, especially for petite girls.
They instantly enhance the natural balance of the body shape and unlike other styles of jeans, straight-leg jeans do not cling tightly to the legs, which can be particularly flattering for hourglass figures with curves. This type of jeans provides a balanced look that helps to enhance the curves of the body and elongate the appearance of your legs without looking too overwhelming.
Overall, straight-leg jeans are a versatile and timeless option that can flatter a variety of body types, particularly those with an hourglass figure.
Slightly Flared Jeans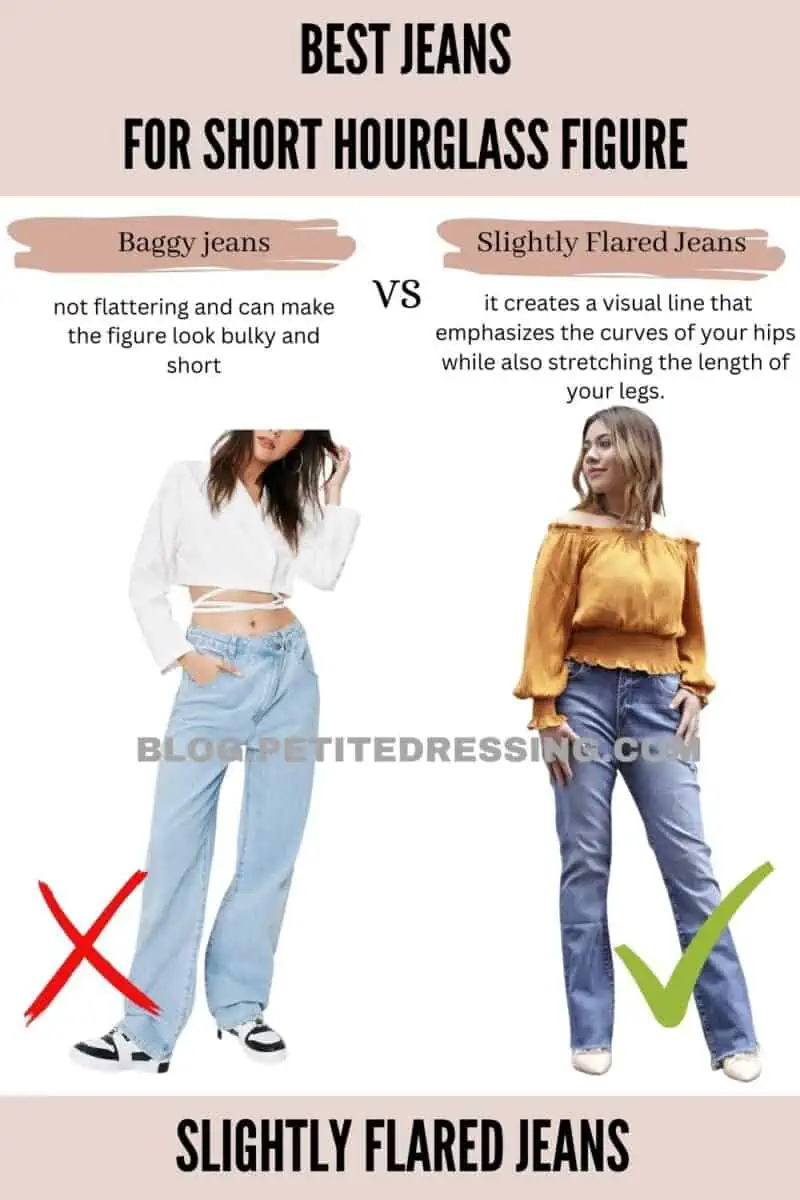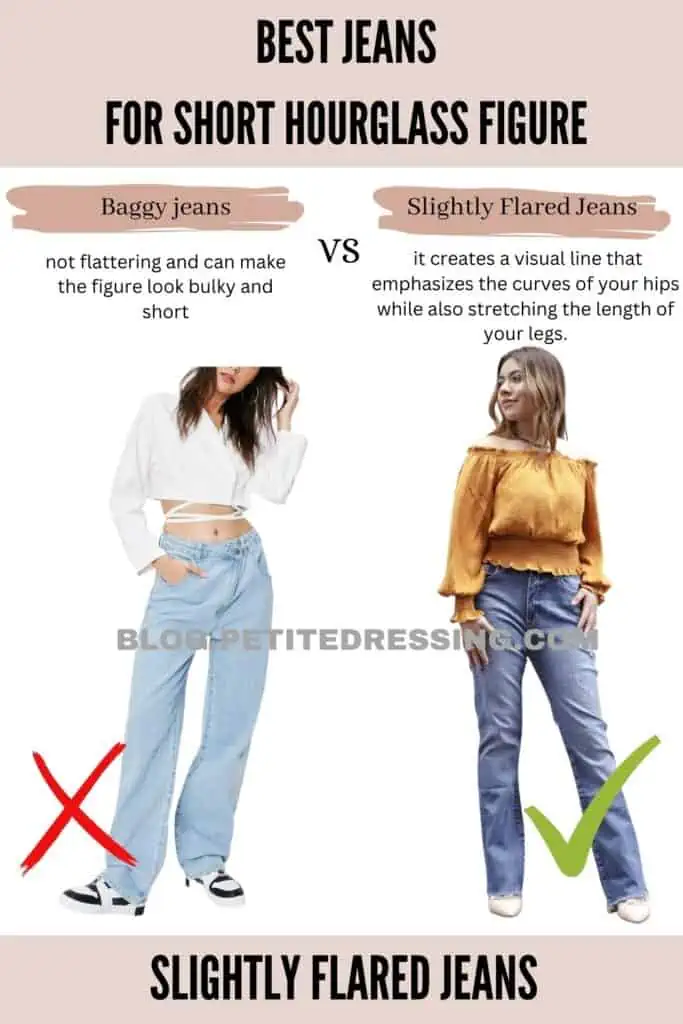 The visual effect of Flared jeans almost shares the same principle as Bootcut jeans. Due to its structure wherein the pants subtly flare out from the knees to the bottom, it creates a visual line that emphasizes the curves of your hips while also stretching the length of your legs.
If you're looking for a pair of flared jeans that's easy to style with pretty much any ensemble, opt for those that feature only a slight flare. The slight flare of the jeans can balance out the hips and thighs, creating a more proportional silhouette
Another great tip in styling flared jeans would be to pair them with high heels. The height of the heel can create a longer, leaner appearance and is also a great way to prevent the flare from being too overwhelming for your short height.
Dark-wash Jeans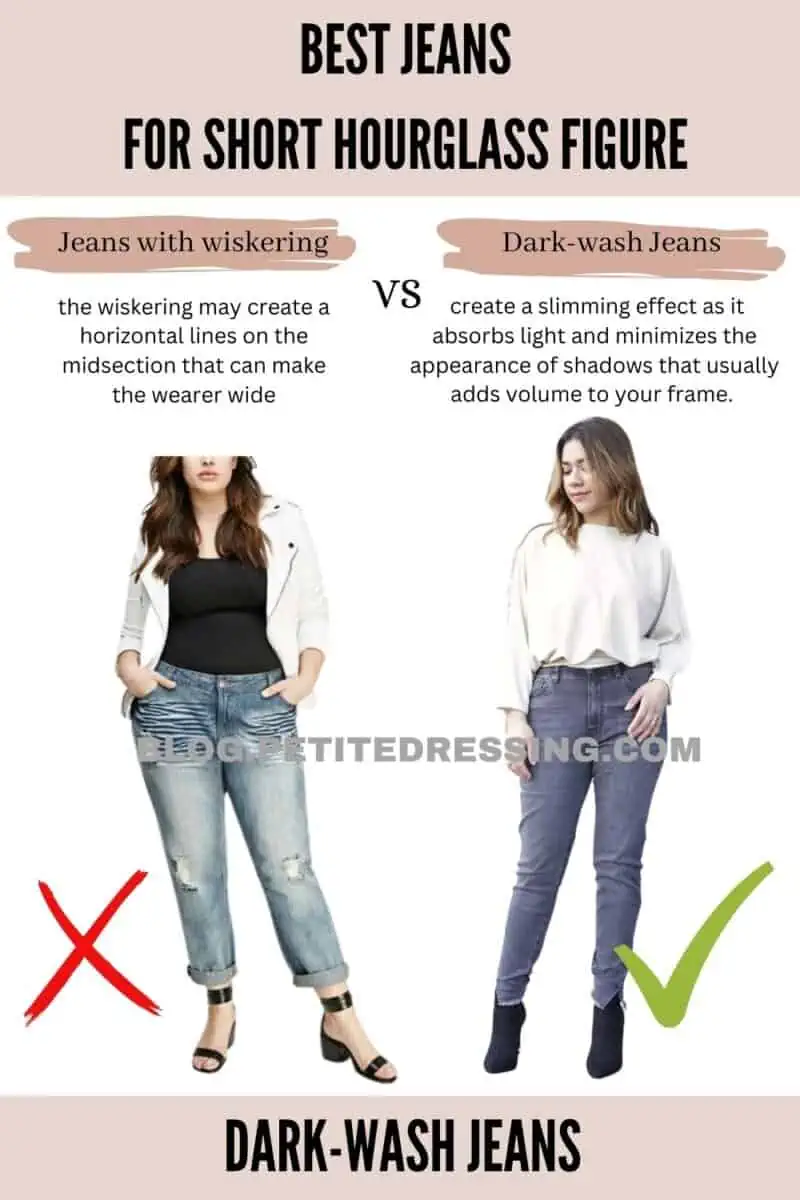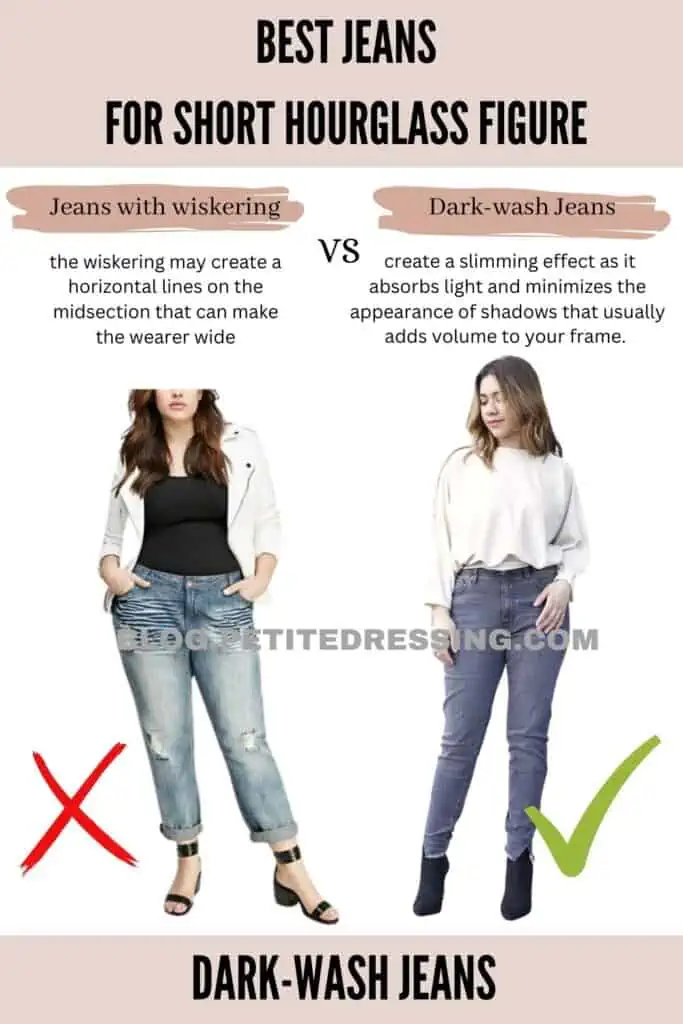 You may have already heard this a thousand times but I just feel the need to emphasize it once again – dark colors are very slimming! The dark color of the denim can create a slimming effect as it absorbs light and minimizes the appearance of shadows that usually adds volume to your frame.
Dark-wash jeans can help elongate the body and create a more streamlined look as it brings a great balance between your upper and lower body. When it comes to hourglass figures, a well-fitted pair of dark wash jeans can accentuate curves and provide a balanced and flattering silhouette to create a sleek, sophisticated appearance.
Caution with wearing Skinny Jeans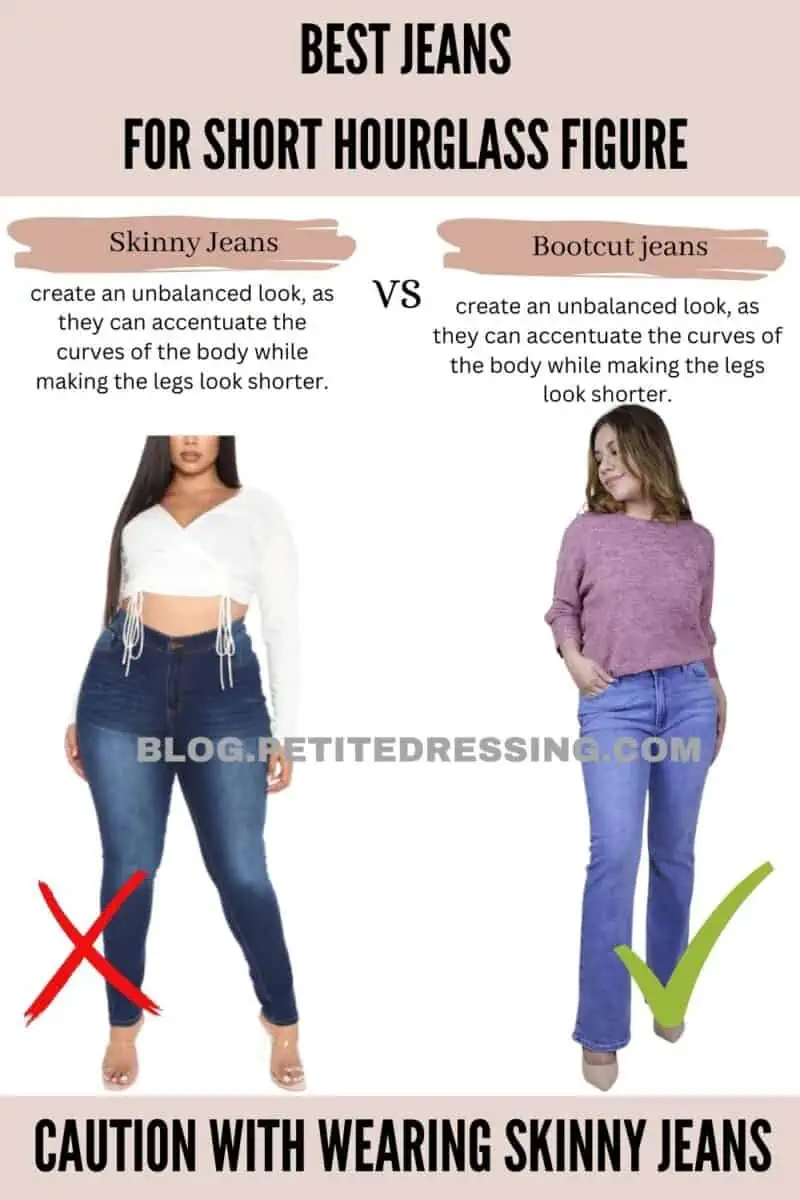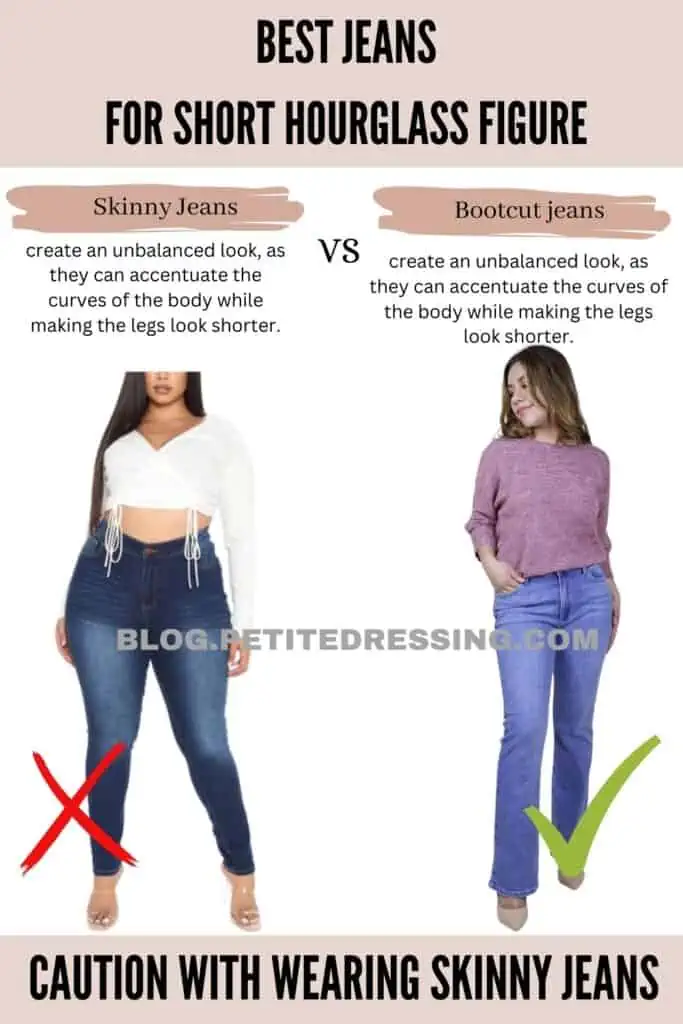 While skinny jeans can be a popular style, those with a short height and hourglass body shape should be careful when wearing them. They can definitely look great on hourglass figures because they feature a snug fit, but this can be a bit tricky when you're short.
If the skinny jeans are too tight, it may make your curves look heavier especially because your petite height restricts the room for your natural curves. This can create an unbalanced look, as they can accentuate the curves of the body while making the legs look shorter.
So before adding that pair of skinny jeans to your shopping cart, it's important to consider the fit and style of the jeans to ensure they are flattering and create a balanced, proportional silhouette. Trying on different styles of jeans and experimenting with different cuts and washes can help identify the most flattering options for your short hourglass figure.
Avoid Low-rise Jeans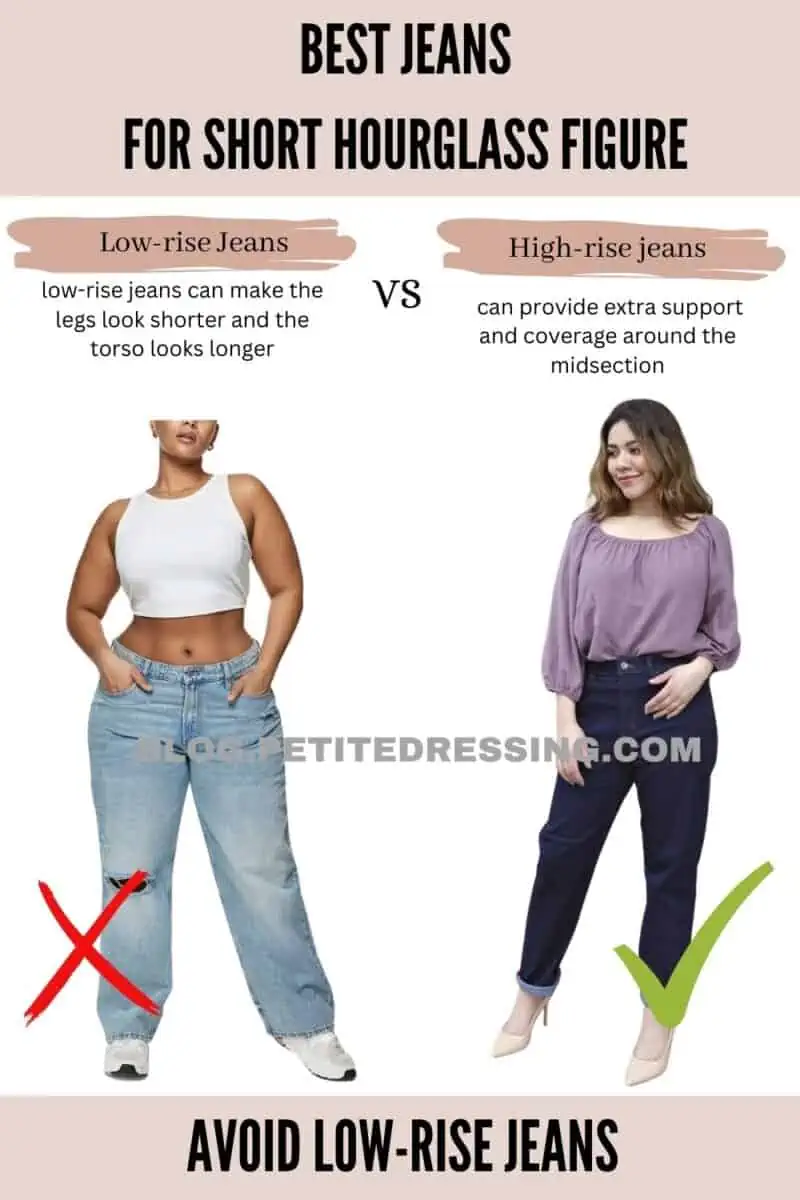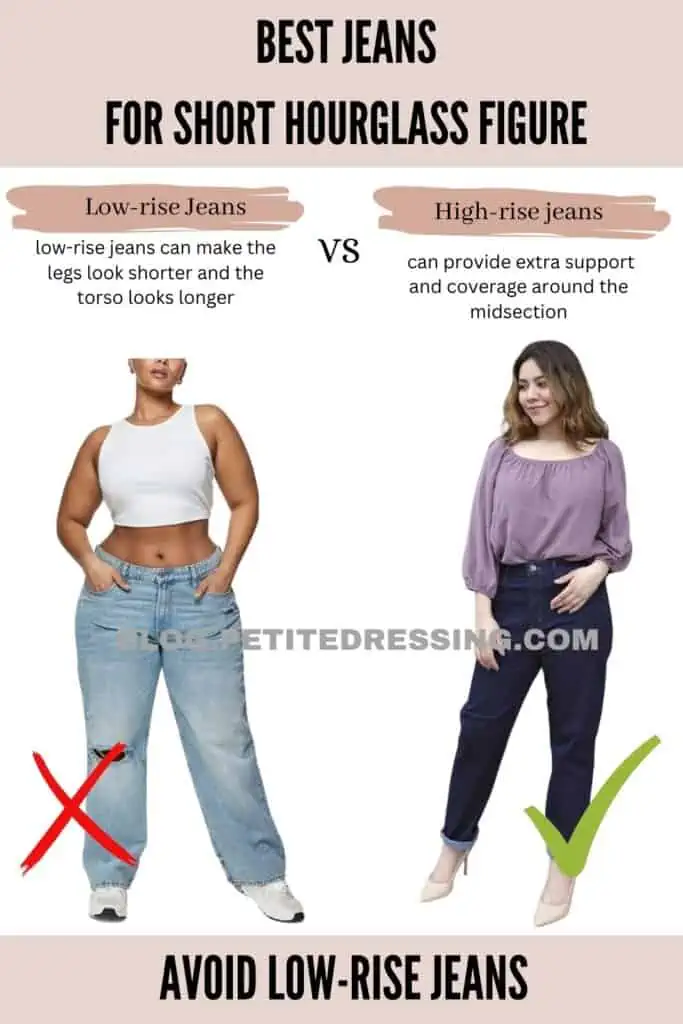 Your waistline plays a very significant role in making your frame look taller and leaner. In line with this, low-rise jeans can make the legs look shorter and the torso looks longer, which can be unflattering for hourglass figures.
In addition, low-rise jeans can sometimes cause a muffin top, where a bulge of excess fat spills over the top of the jeans. This can be especially true for those with an hourglass figure, as the curves of the body can create additional pressure on the waistband of the jeans.
The Key Takeaway
Knowing the right pair of jeans to flatter your short hourglass figure is one of the best ways to show your body some love. This way, you're showcasing your best features by choosing wardrobe pieces that best flatter them!
All you really need to do is be extra mindful of the jeans' structure so I hope this style guide helps you narrow your style options down to only the best.