If you are looking for hourglass wedding dress, you have come to the right place! I am a big believer that the first step of finding the perfect wedding dress is to understand your body type and find the wedding dresses according to body types.
When it comes to finding the ideal wedding dresses for hourglass figure on (one of) the most important day in your life, it is not as easy or glamorous as sipping on a glass of bubbly with your best girlfriends and waiting for the bridal shop assistants to bring that perfect dress in front of you.
Well, it could be stressful and even difficult. It's almost (kind of) like, finding your Mr. Right. When you find it, you know you have found it. The moment you try it on, you will know if it is for you or not. It is that intuitive. But, before that, you have to go through a ton of gowns, or even numerous bridal shops, in order to find the best wedding dresses for hourglass figures.
How to Tell if you have an Hourglass Body
First things first, if you already know you have an hourglass figure, then read on.
I highly recommend my two other blog posts you should read, one is on "The Ultimate Guide to Dressing the Hourglass Figure", and if you are petite, you should also read "Best Wedding Dresses for Petite Brides."
If you are not sure if you are hourglass body type or not, then take the quiz to find out what is your body type. Learning about what to look for that is specifically flattering for your body type when you are going to the bridal shops will save you a ton of time. Understanding your body shape and know what works and what doesn't will definitely help you make the right decision for your big day.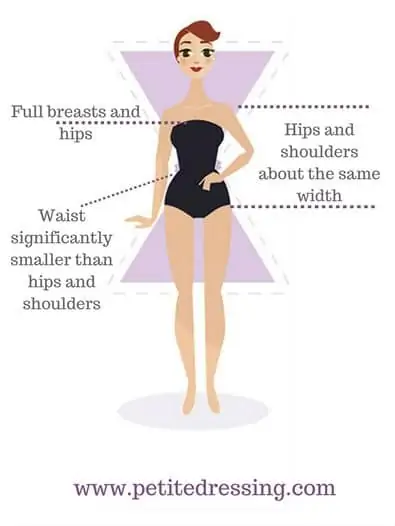 If you have hourglass shape, your body generally have the following characteristics:
Your hips and shoulders are well balanced, i.e. they are roughly about the same width. That is, your shoulder and hip measurements are within 5 % of each other. Many petite women with hourglass figure have round and sloping shoulders that align nicely with the hips.
You have full chests and hips. Typical hourglass figure means you are quite well-endowed, which is one of your best assets.
You have a well-defined waist line that is significantly smaller than your shoulders or hips. The rule of thumb here is 75%. That is, your waist is at least 25% smaller than your shoulder, hip and bust measurements. Normally, when translated into inches, that means your waist is 8 to 12 inches (or 25 to 30cm) smaller than the hip or bust measurement.
You have a rounded bottom.
You have a beautiful front and side profile. And, from top to bottom, your figure is in harmony and balance.
You may have full thighs, but they are narrower than your high hips. You gain weight above hips and through waist.
How to Choose the Wedding Dresses for Hourglass Figure
For the hourglass body type, you are normally easier to dress up in gowns and dresses than to dress down in casual outfits,
So, I have to say that as an hourglass shaped bride, you have a ton of choices, and there is nothing you need to hide about your beautiful figure. Depending on height and proportions, hourglass shape can wear almost anything!
With an hourglass shape's balanced proportions and defined waist, it's hard to go wrong in terms of picking a silhouette. Most dress shapes will pair well with an hourglass figure, so it's ultimately up to the bride to decide what you want to show off.
Most silhouettes are going to look great because your body is going to bring any dress to life. Now, that doesn't mean any wedding gown will look equally good on the bride with hourglass figure.
These are the best wedding gown silhouettes for hourglass shape brides.
This post may contain affiliate links, which means we earn a small commission (at no cost to you) if you follow the links and make a qualified purchase, which enables us to keep creating amazing free content for you. Thanks! Click here to learn more.
Mermaid Wedding Gown
Mermaid style gowns are the most feminine style that flatters many different body shapes, and works perfectly for brides of hourglass shape. Curvaceous and very form fitting, this wedding dress style is typically for the very confident bride.
Mermaid gowns hug the body all the way down to the knees, where the dress flares out. It hugs at the midsection and flares at the skirt like a fish tail. For hourglass shaped brides who want to ditch the ball gown wedding dresses but still are interested in a little bit of drama, the mermaid style will make you feel glamorous walking down the isle and give you the moment of "red carpet" feel.
Trumpet Shape Wedding Dress
Trumpet Fit is a close cousin of the mermaid shape bridal gown. Presenting an exceptionally beautiful silhouette, these head-turning dresses are relatively form-fitting through the torso and hips, and then begin to flare out around mid-thigh.
This creates a very flattering shape and provides enough room around the legs to walk comfortably. This is a nice option for hourglass shape brides who are looking for a formfitting dress that's slightly easier to move in.
Trumpet fit bridal gowns are sometimes referred to as "fit-to-flare" dresses as the straight-lined skirt subtly flares from the knee toward the hem in a trumpet shape. If you're not comfortable showing off your shape, you may want to avoid this style.
Drop Waist Bridal Gown
Dropped waist is chic and contemporary. It drops and flares out slightly below the waistline around your hip area. Dropped waist designs can vary from simple and elegant to intricate and detailed.
Many hourglass shaped brides who want to showcase their hourglass figure choose dropped waist as they naturally create this silhouette. If you want to flaunt your shape, this is the style for you.
Fit & Flare Wedding Gown
Mermaid/Trumpet style emphasizes bust and hip, so they are the best wedding dresses for brides with hourglass figure who want to show off their feminine curves. If you prefer a less body hugging style of the wedding dresses, then fit & flare is a wonderful choice for you.
It screams sophistication and elegance, yet can be chosen for a barefoot beach wedding or formal ball room affair. Look for elevated waistline (i.e. above your natural waistline) so that your legs will look longer.
If you are petite, I suggest you go with a shorter fit & flare wedding dress. The flare skirt has moderate volume and will not overwhelm the petite frame of short brides.
Neckline
The hourglass shaped brides can't really go wrong with anything, but the best neckline to show off your curves are the sweetheart neck, the halter neck, or the deep V neck.
What to Avoid
As a bride with hourglass figure, although you can't go wrong with anything, you want a wedding gown that accentuate your best assets to the maximum. Therefore, you may want to avoid empire waists because they won't showcase your slim waist- one of your biggest assets.
If you are a petite bride, you should also focus on how to look taller- a simple gown flatters a tiny figure. Subtle shoulder detail, like delicate cap sleeves –or opting for strapless-keeps the focus up and adds height. Additionally, you may want to consider a more elongating style such as a bridal dress with asymmetrical or vertical elements.
If you are short, you should also avoid exaggerated details. The point is to elongate the body, so proportion is very important here, as well- embellishments should flatter, not overwhelm you.