It's almost effortless to shop for casual dresses since the key goal is just to find something that's comfortable enough for daily wear. However, if you wish to amplify your style a bit more, then it's quite vital to choose casual dresses that are specifically tailored to flatter your body type.
Curvy women are very exciting to style, yet it can also be quite a challenge to look for casual dresses that come in the right fit. Curvy girls have features that need to shine but at the same time, since they are usually on the slightly heavier side, it can be tricky to find a casual dress that will both highlight features and conceal flaws.
In this blog post, we will go through the different styles and structures of casual dresses that will surely flatter your curves. Before we dive into the specifics, let's briefly talk about the key styling points that we have to remember.
Styling Goal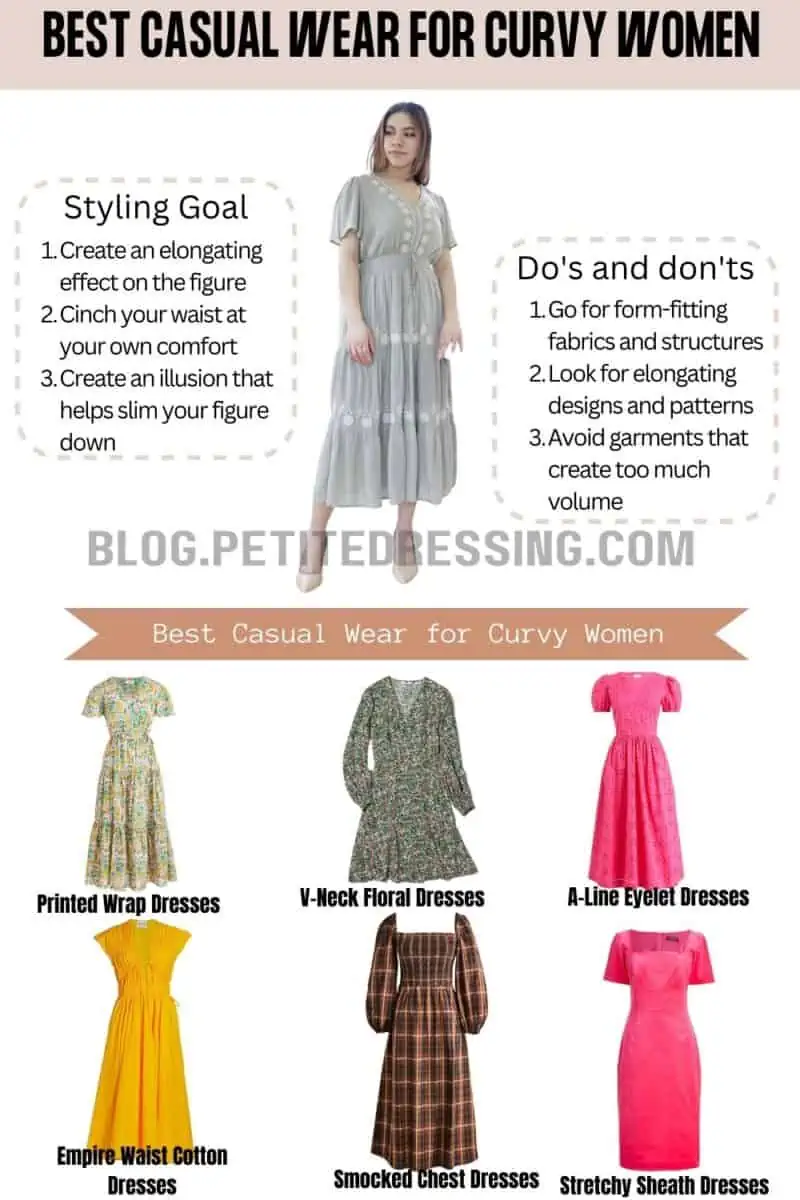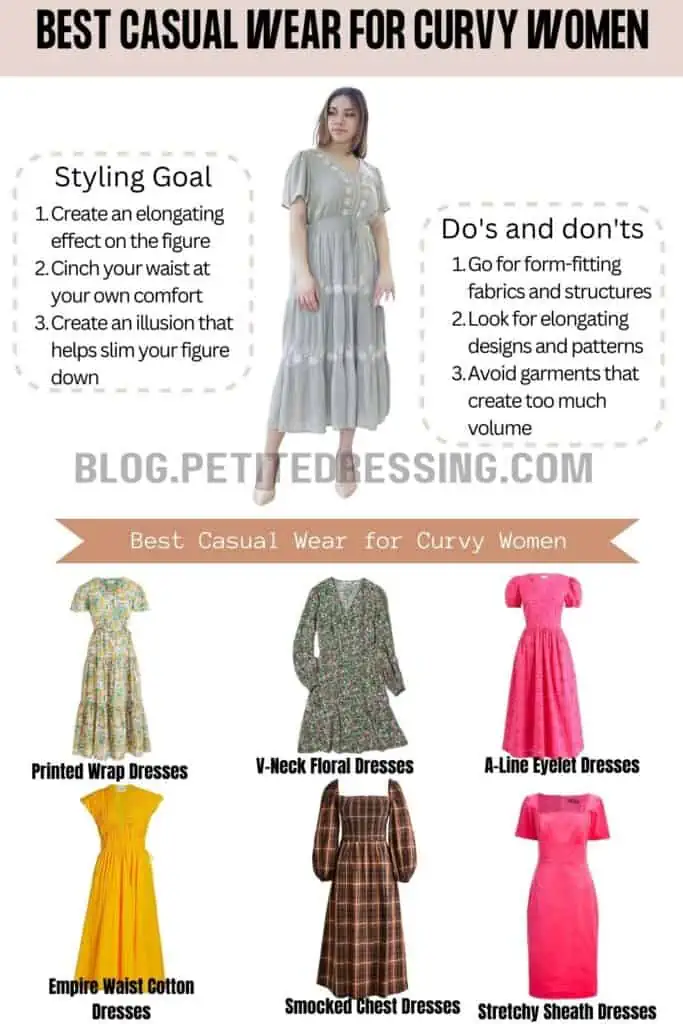 Dresses that have form-fitting fabrics and structures will always be your quick go-to choices. Form-fitting structures don't necessarily mean that they are tight but appear rather tailored to hug your curves that natural way.
Look for elongating designs and patterns to neutralize the volume from your body and help create a visual illusion of a taller figure. Patterns that draw the eyes up and down are ideal in terms of giving you a more balanced frame.
Avoid garments that create too much volume such as balloon sleeves or cascading ruffles. This is because such designs may look overwhelming to your figure and may end up making you look heavier than you actually are.
We're talking about casual dresses so of course, comfort should be on top of everything else. You need to go for fabrics and structures that make you feel nice and comfortable all throughout the day.
Well, aren't these styling goals quite simple? Now without further ado, let's talk about the specific styles of casual dresses that would surely embrace your curvy body.
Printed Wrap Dresses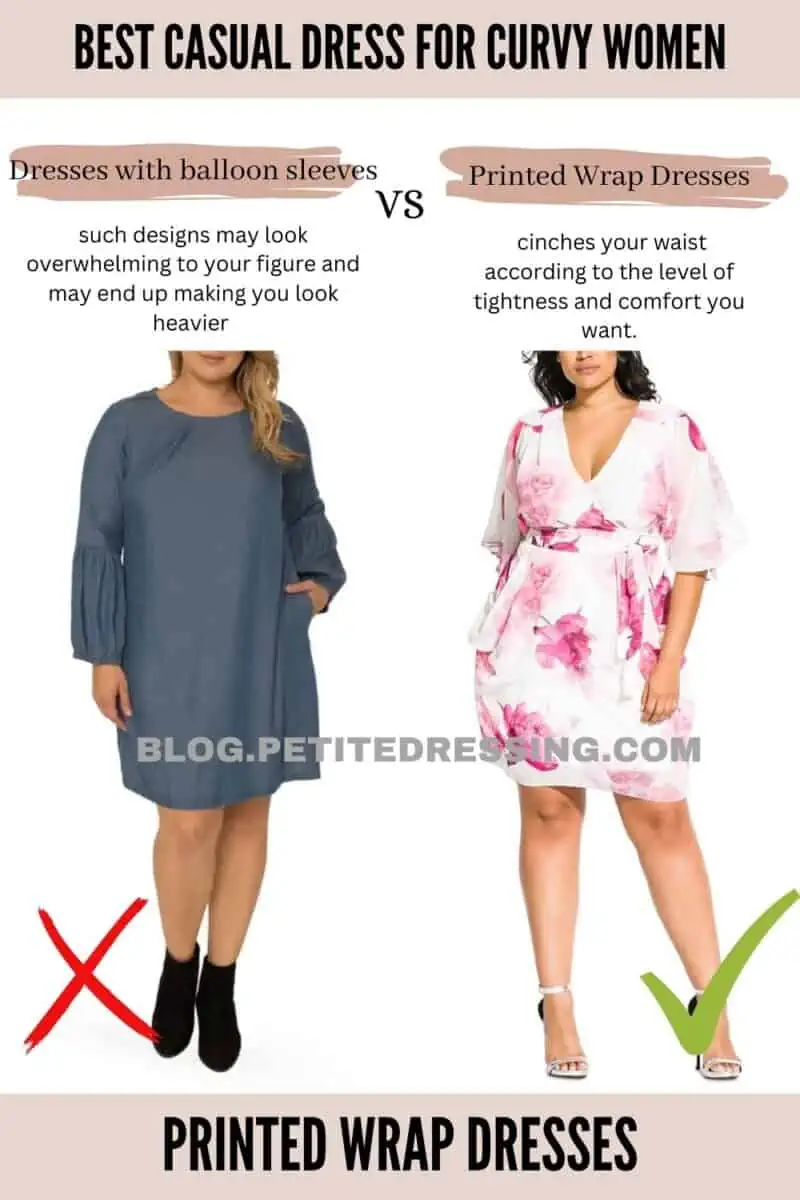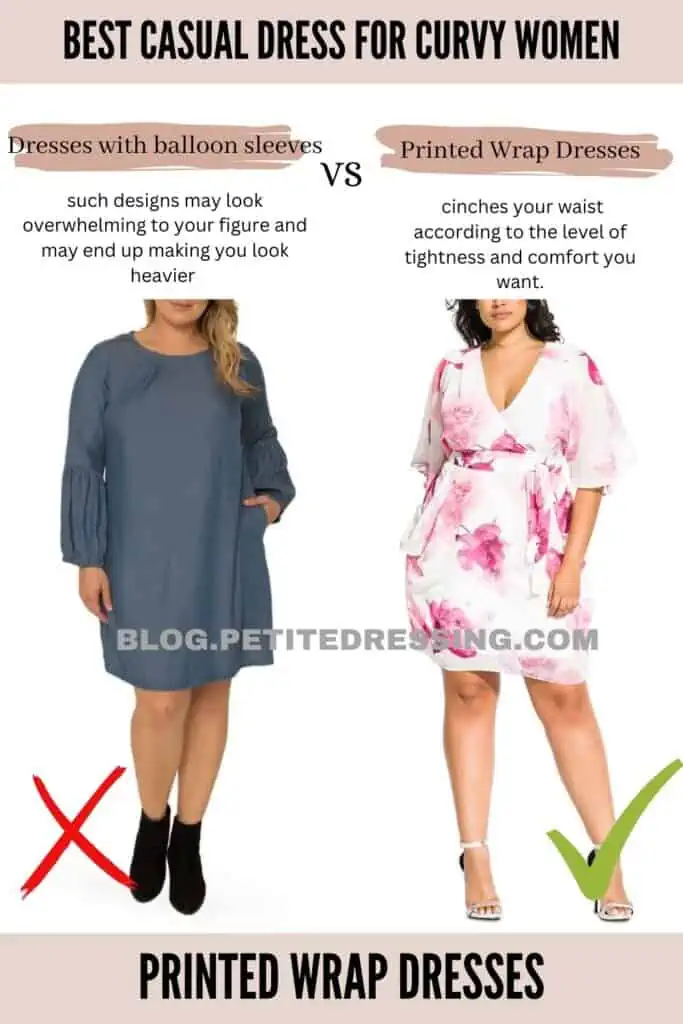 If you have read several blog posts from us, then you may have come across wrap dresses under our recommendations a lot! Well, it's because we believe that this type of dress structure is almost a foolproof choice for many different types of body shapes out there – including curvy women!
Wrap dresses are simple so they are quite easy to pull off on any different occasions. What's great about a wrap dress is its adjustable waist tie that allows you to cinch your waist according to the level of tightness and comfort you want.
This waist tie not only looks stylish and chic but is also a great way to add definition to your waist and make it look smaller. This effect visually creates an hourglass figure effect by making your bust shape more prominent as well as your curvy hips.
Wrap dresses also come in different styles and necklines. The most flattering ones are wrap dresses that have a V-shaped neckline, which brings us to the next casual dress style in this list.
V-Neck Floral Dresses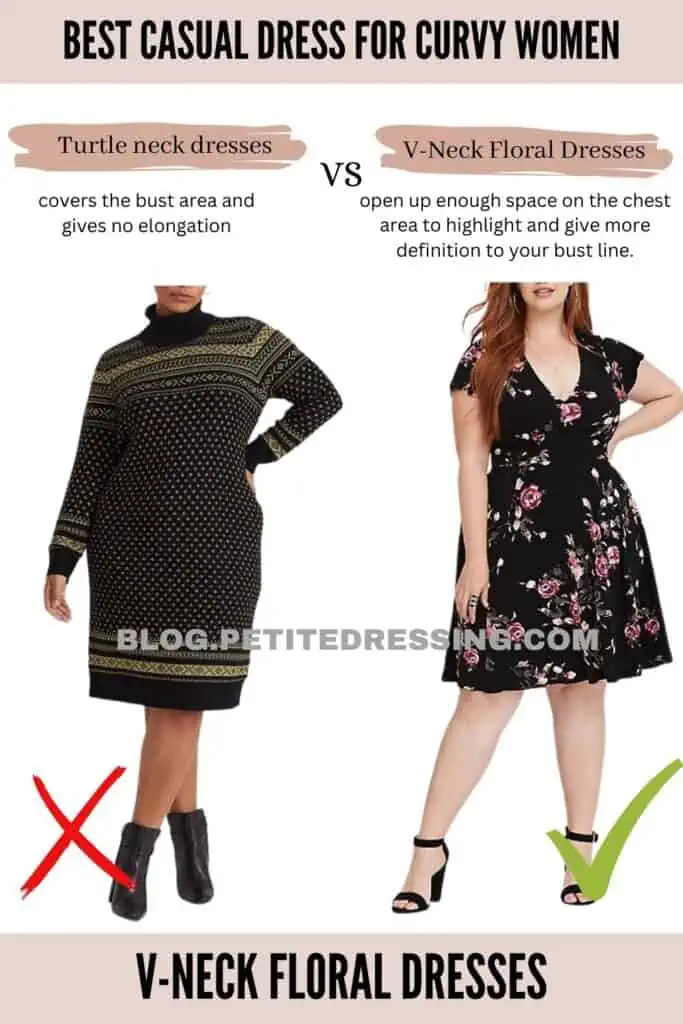 Open necklines are very ideal for curvy women because it frees up space on the upper half of the body and therefore draw attention to one of a curvy woman's best assets – her bust. V-Neck dresses open up enough space on the chest area to highlight and give more definition to your bust line.
In addition to highlighting your bust area, V-necks also draw the eyes up and down due to their pointed end that creates an invisible straight line on your silhouette. This visual effect helps slim your figure down and make you appear taller.
One thing to note is when you're a curvy girl with larger bust size, you may want to veer away from plunging V-neck dresses as they may not provide your breasts enough support. It's better to opt for V-neck dresses that offer more coverage if you're very busty.
A-Line Eyelet Dresses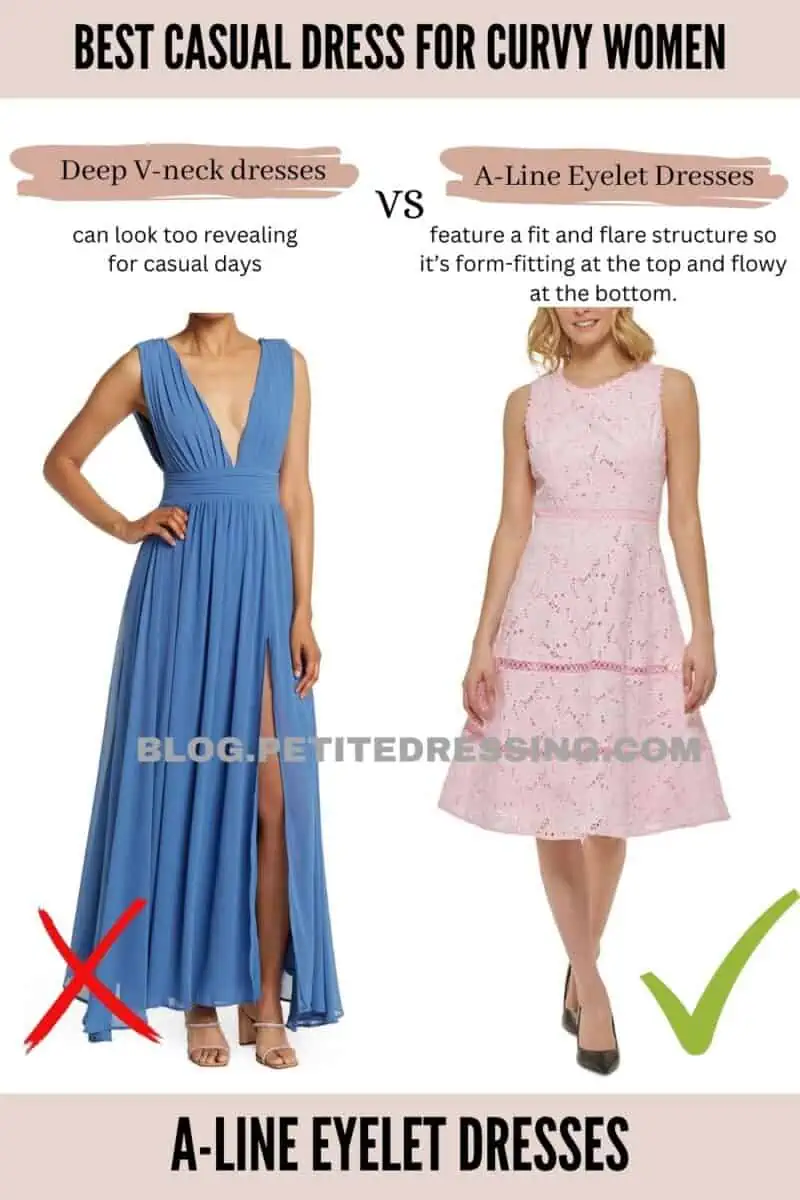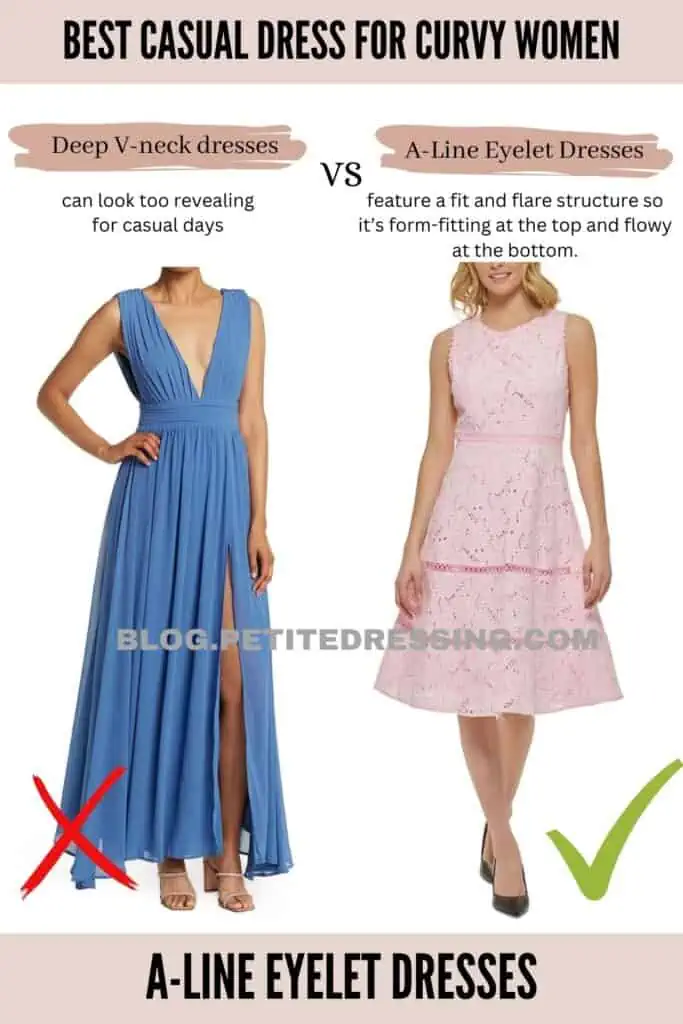 A nipped-in waist will always be an ideal choice for curvy women because a cinched waist instantly brings balance between a curvy woman's upper and lower body. A-Line dresses feature a fit and flare structure so it's form-fitting at the top and flowy at the bottom.
As mentioned in our styling goal section, form-fitting dresses are great when you're curvy. An A-line dress gives you a form-fitting bodice that perfectly hugs your curves, most specifically your bust line.
After the waist-cinching seamline, its skirt flares out to give more space to your lower body. It's also visually helpful to make you appear leaner while also subtly concealing your love handles.
Empire Waist Cotton Dresses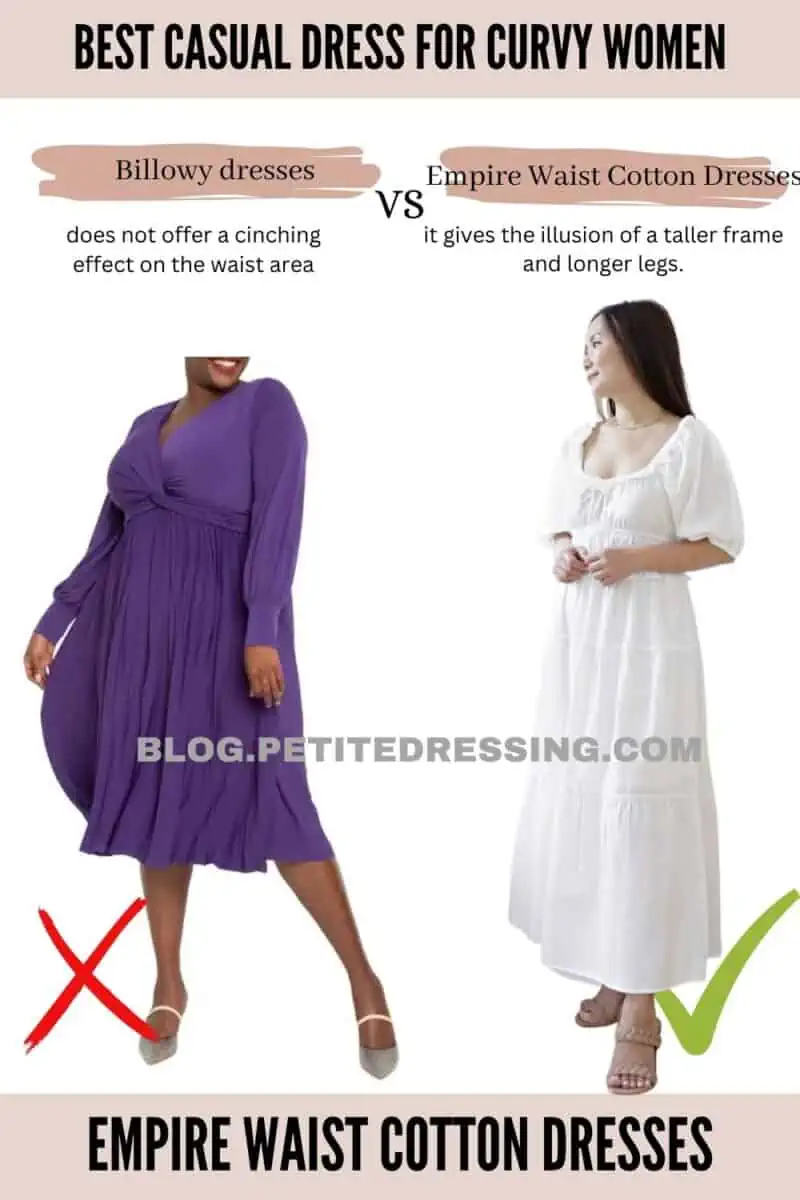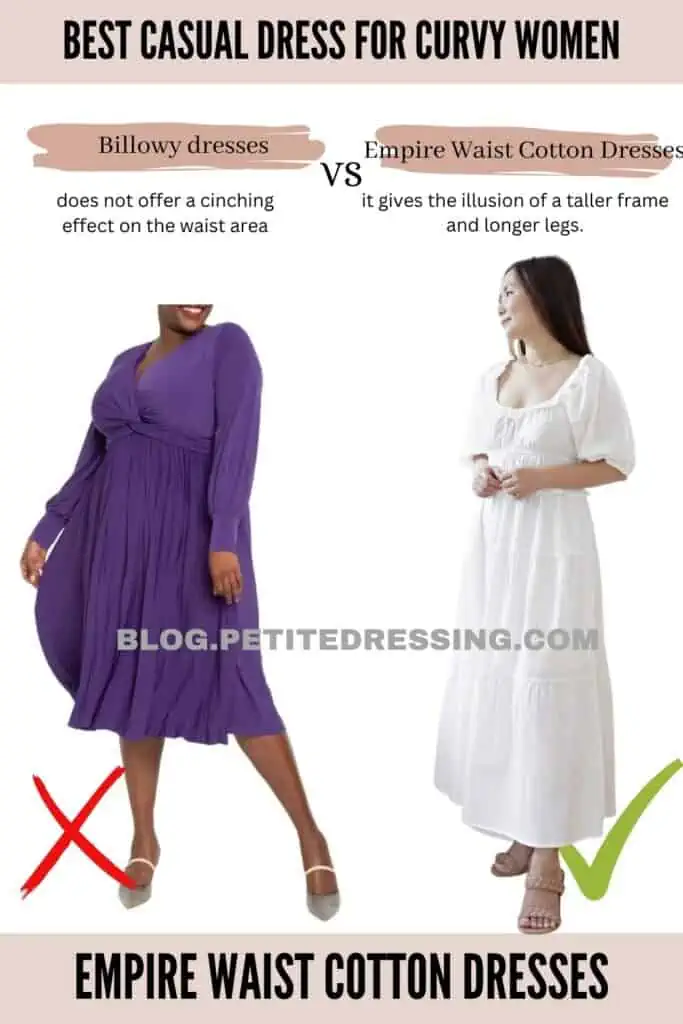 Empire waist dresses elevate the wearer's height by elongating the figure due to its faux waistline. Since its structure features a waistline seam that begins just right under the bust line, it gives the illusion of a taller frame and longer legs.
This is great for curvy ladies who wish to enhance the shape of their bust and draw the eyes on the upper body more. If you're someone who wants to tone down the shape of your hips or hide your heavy midsection, empire waist dresses should work great as casual wear.
Smocked Chest Dresses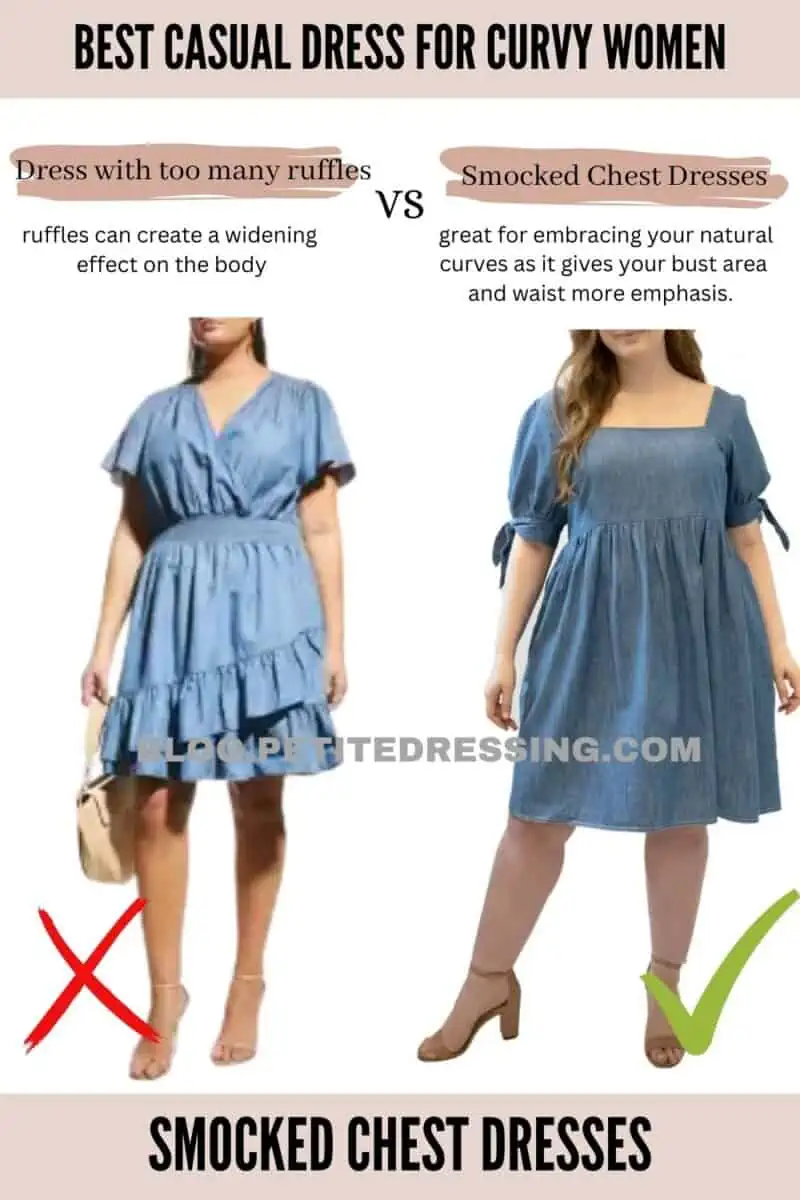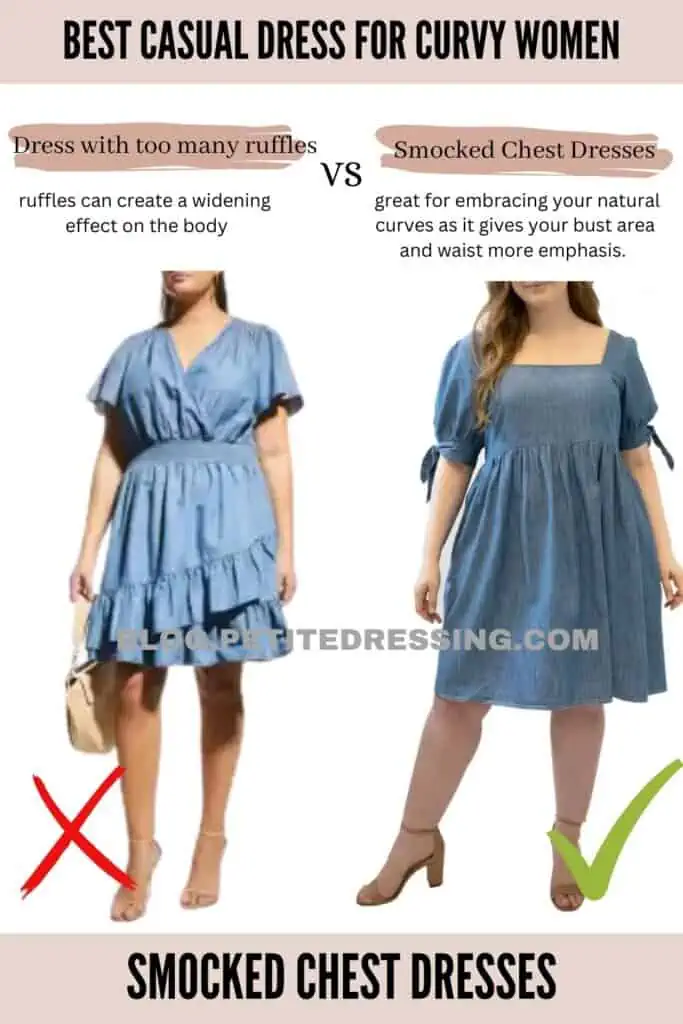 Smocked doll dresses feature a form-fitting top with its "accordion-like" garter structure and a flowy, flared skirt. These characteristics are great for embracing your natural curves as it gives your bust area and waist more emphasis.
Its figure-hugging top is well-balanced with its flowy skirt that has a more relaxed fit, It's also an efficient way of concealing a muffin top or large hips.
Stretchy Sheath Dresses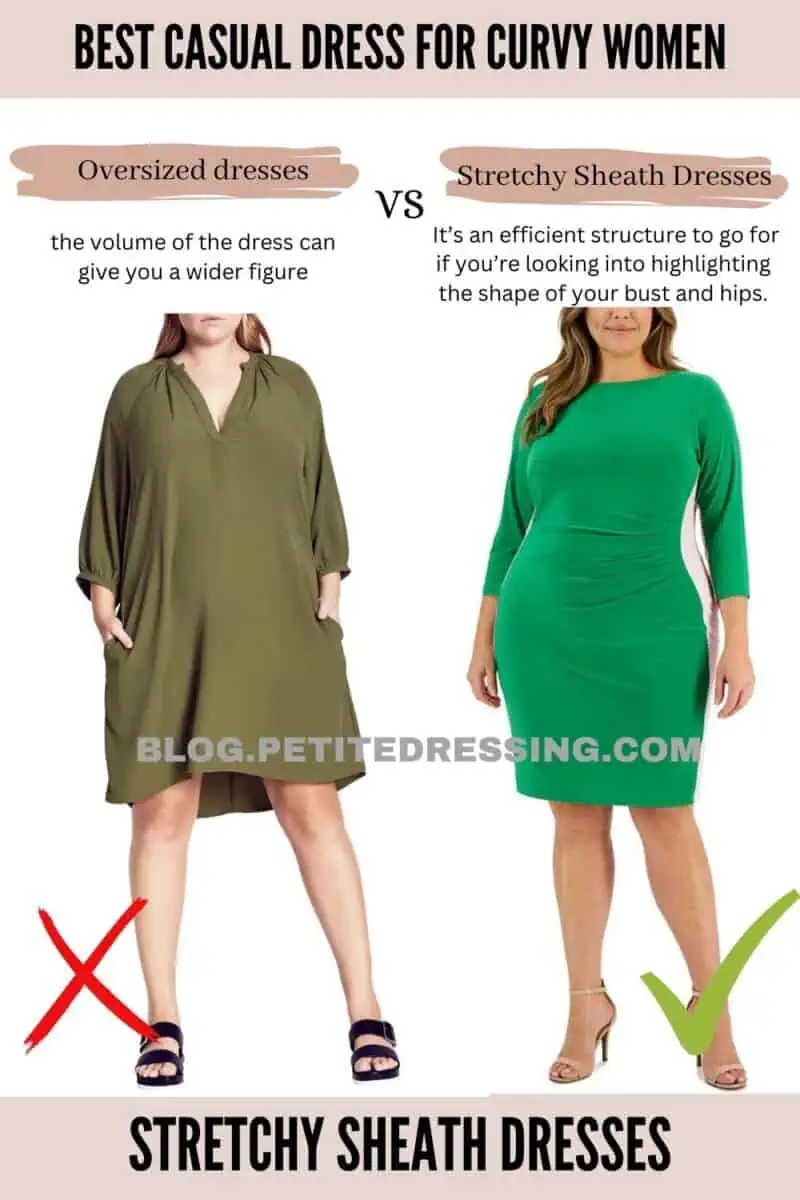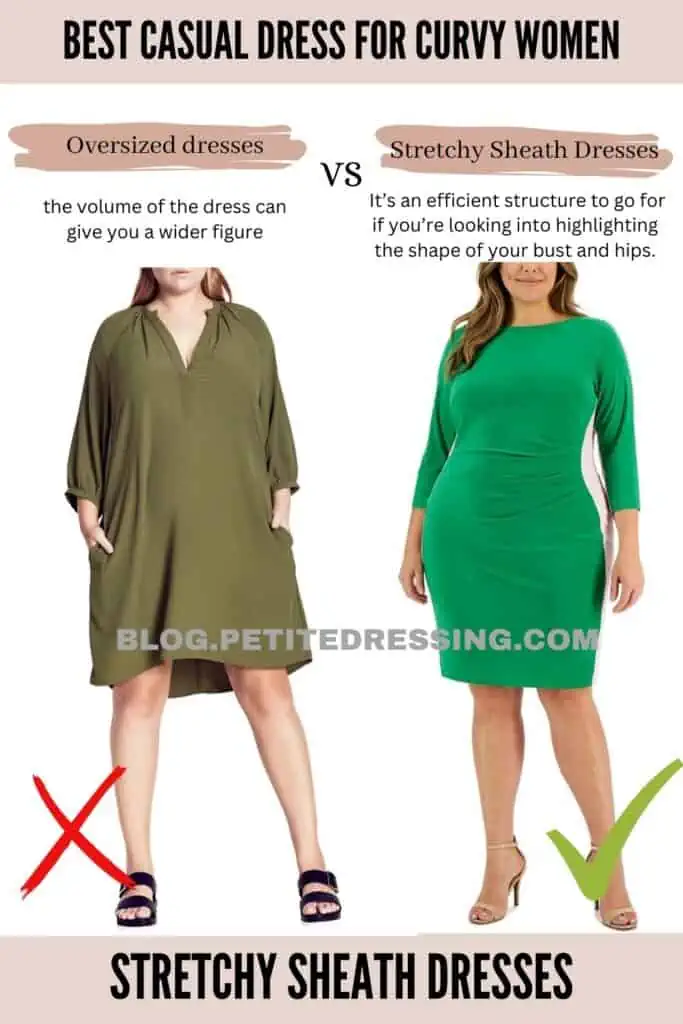 A Sheath dress is also a type of form-fitting dress that features a straight and simple cut. Most sheath dresses have a nipped-in waist but it's usually very subtle as there's no obvious seam that separates the torso from the lower body.
This is a great style to go with if you'd like something simple and comfortable. It's an efficient structure to go for if you're looking into highlighting the shape of your bust and hips.
Form-fitting Dresses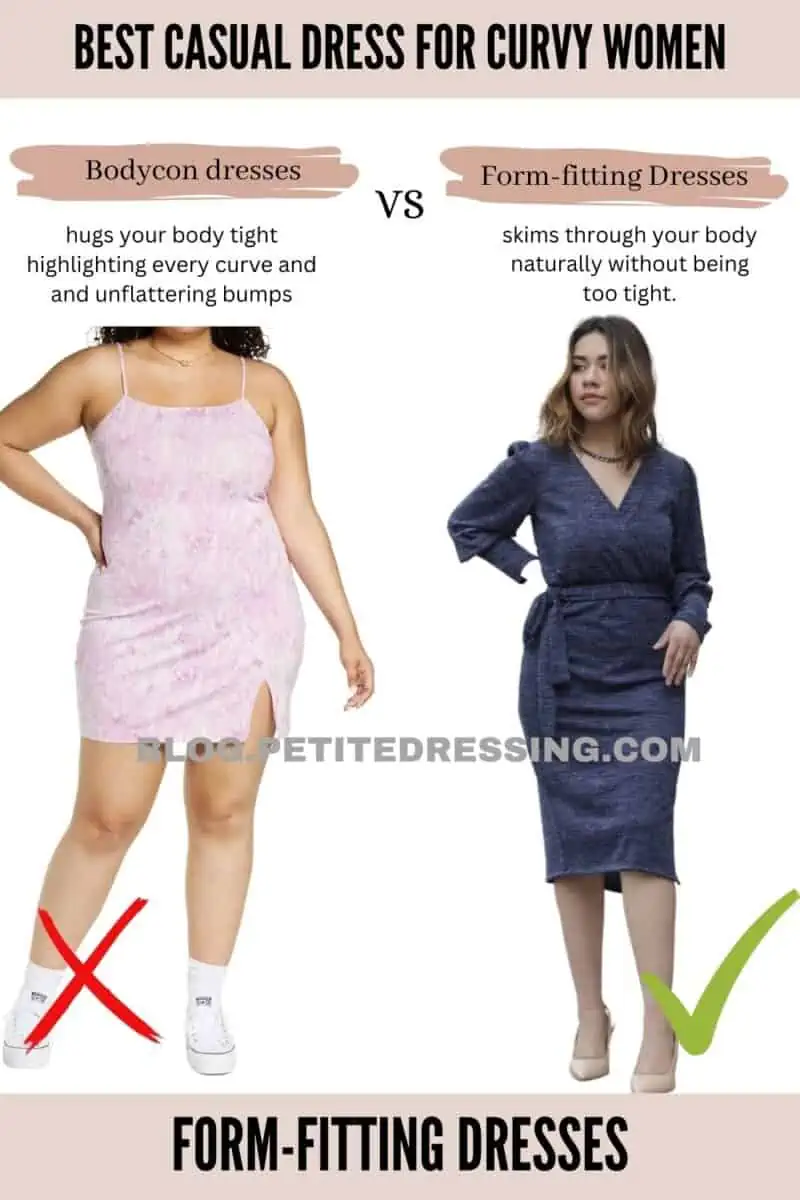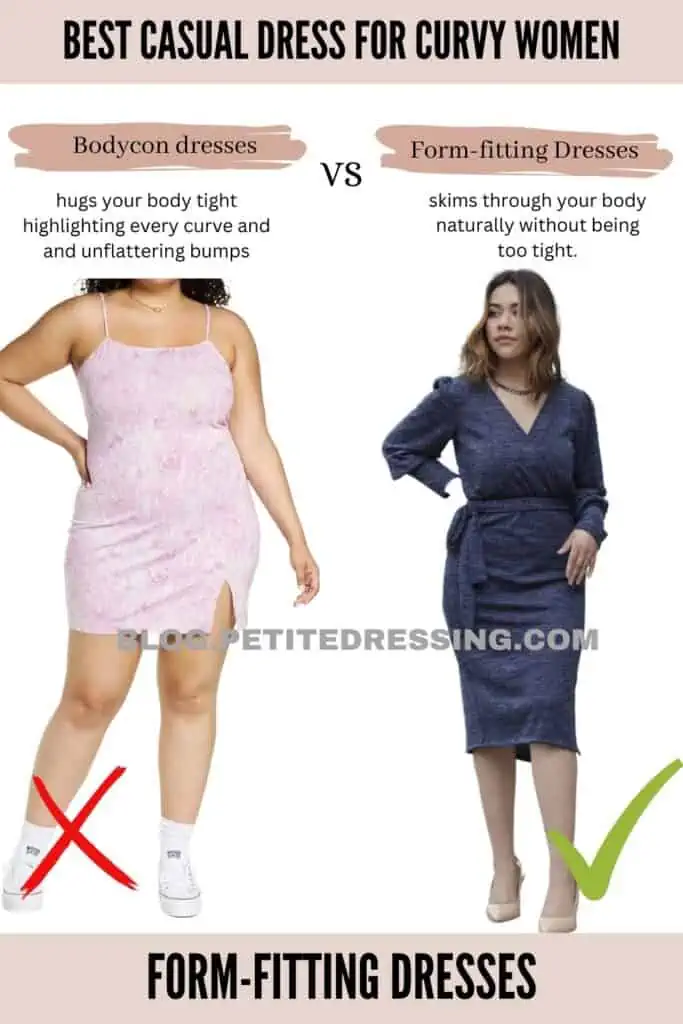 One of the best ways for you to show off your curves is to go for form-fitting dresses. Whether it's the structure or the fabric itself, form-fitting dresses should skim through your body naturally without being too tight.
The key to finding the right form-fitting dress for your curvy figure is to always consider the proper fit. Form-fitting dresses are different from bodycon dresses as they are supposed to not hug the body too tightly.
The right one should feature a structure that enhances your bust line, waist, and hips the natural way.
Slip Maxi Floral Dresses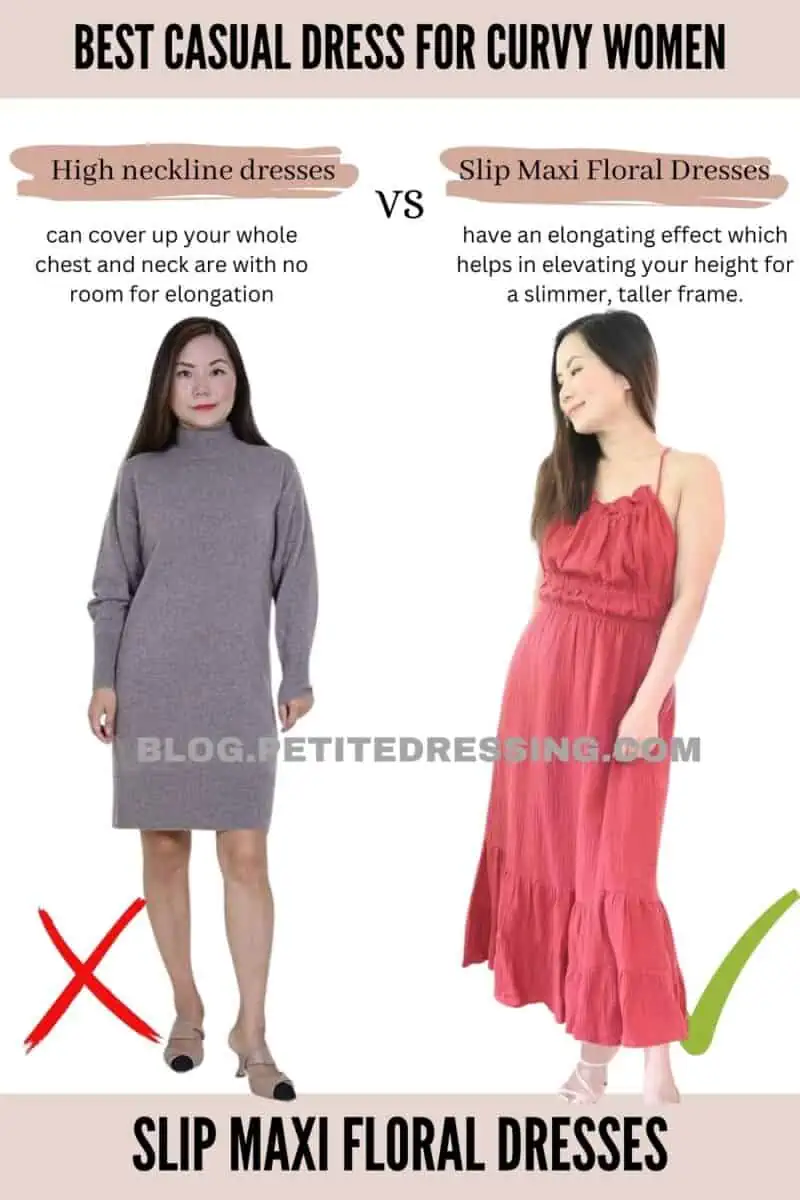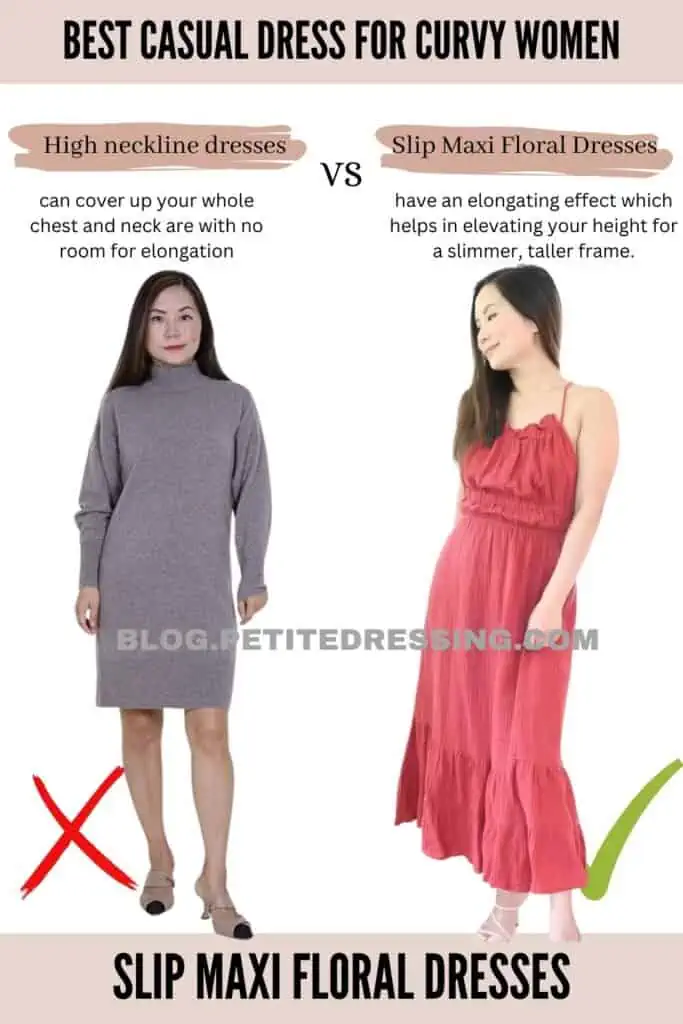 Slip maxi dresses are also a good choice for casual wear since they are very comfy and they are also very versatile in terms of styling. You can wear it on its own in hot summer weather, or over blouses or shirts if you like more coverage!
What's nice about slip maxi dresses is that they are also form-fitting as they usually feature lightweight flowy fabric. Maxi dresses generally have an elongating effect as well which helps in elevating your height for a slimmer, taller frame.
Dresses with Asymmetrical Hemlines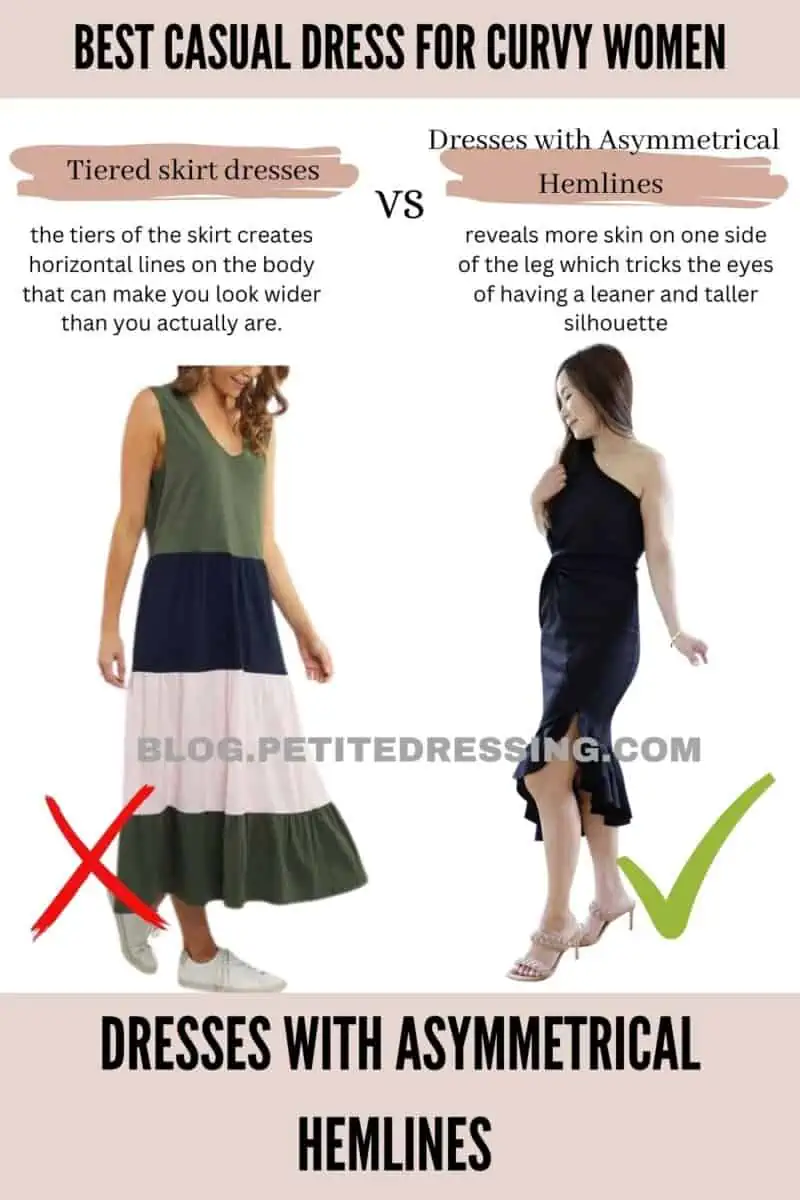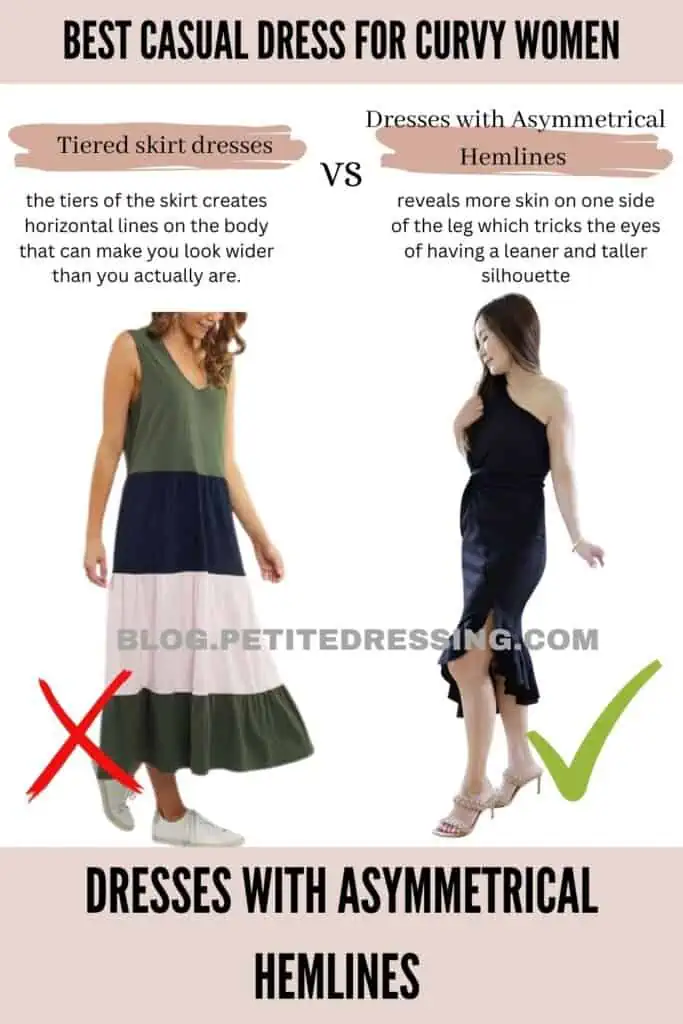 If you want to amp up your casual dress style a bit, then it's time to give regular hemlines a rest and try out ones that look shorter on one side and longer on the other! Asymmetrical hemlines are quite unique and stylish but apart from this fact, they also help enhance a curvy girl's features.
The asymmetrical hemline reveals more skin on one side of the leg which tricks the eyes of having a leaner and taller silhouette. On the other hand, it's still not very catchy so the focus is diffused evenly all over your frame.
Slit Midi Dresses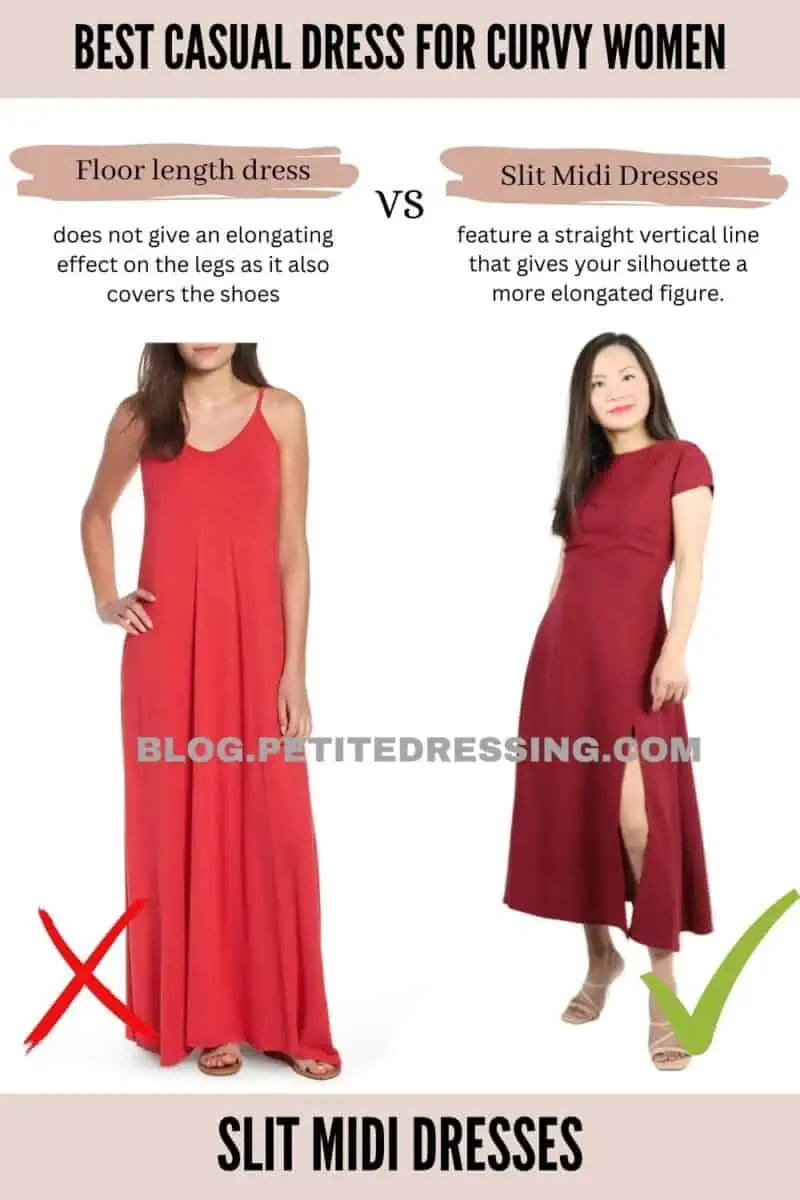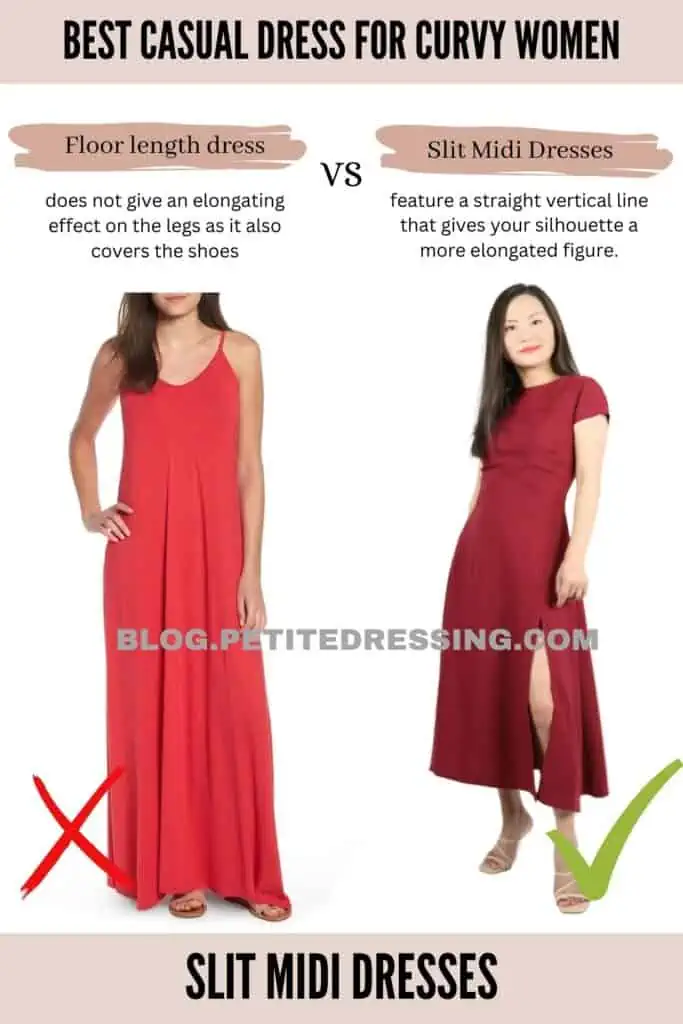 Slits are always a sexy option for curvy ladies as it gives a subtle peek at your nicely-shaped legs. In addition to that, slit dresses feature a straight vertical line that draws the eyes up and down, giving your silhouette a more elongated figure.
You're absolutely free on how high you want your slit to go as it's really all about your level of comfort. Either way, the overall structure of slit dresses gives the same flattering effect for curvy figures.
The Key Takeaway
Embrace your curves! Don't be afraid to try out different styles to flatter your curvy figure.
After all, it really all goes down to how you work with your proportions. Think of a focal point and go for casual dresses that will highlight those points you'd like to feature.