I am 5'2″, and an apple body type myself. Even though I am thin overall, I could still have a muffin top.
Over the years, I have put a lot of effort trying to figure out how to choose the RIGHT dresses for apple shape. Through trial and error (believe me, I have made a ton of mistakes), I finally have come up with these tips to share with other apple shaped women.
WHAT TO LOOK FOR
The first step of dressing for the apple body type is to understand your strengths and weaknesses.
Draw attention to your assets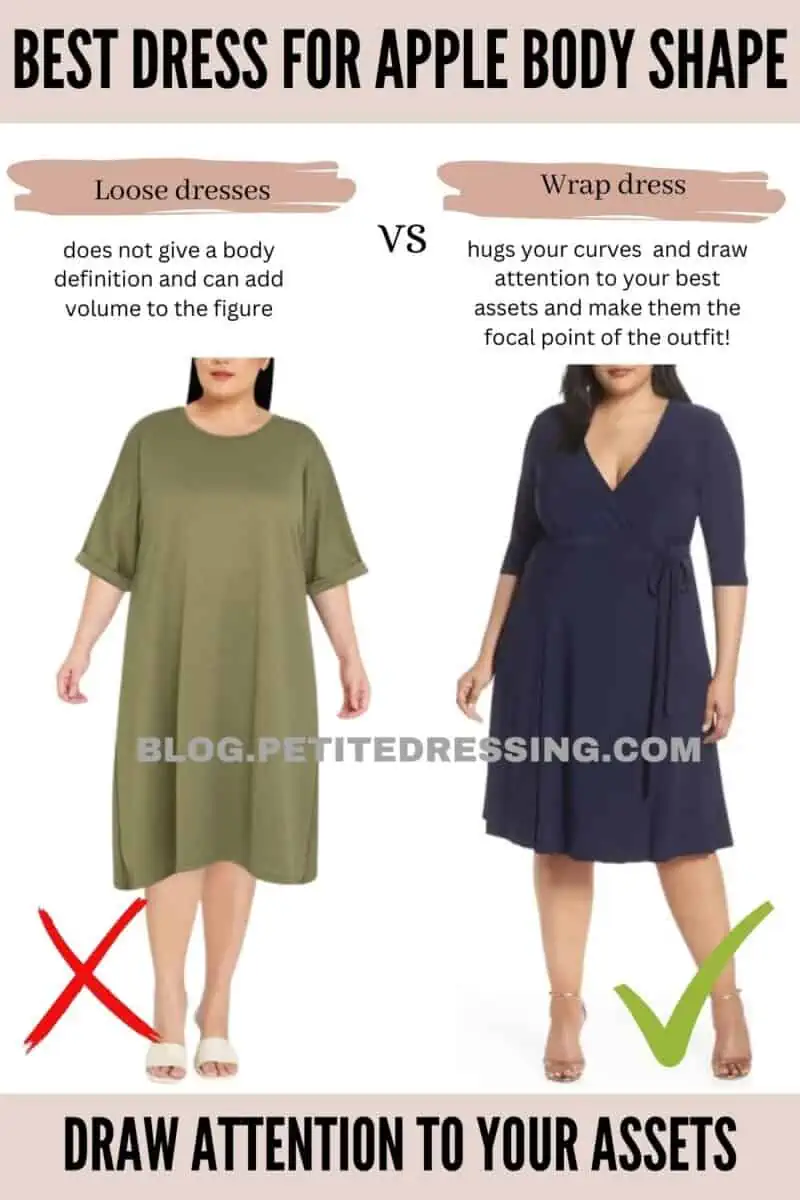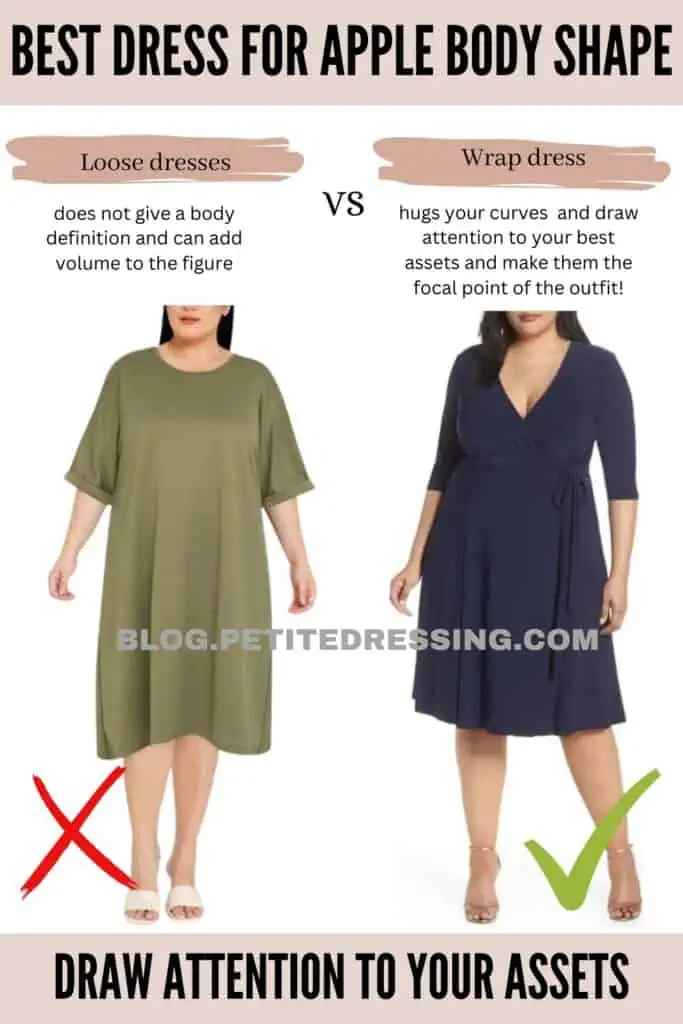 As an apple shape woman, your best assets are your beautiful round chest! I presume you must have got a ton of compliments for your curves, am I right?
Additionally, apple body type naturally have slender and firm legs (relative to the rest of the body), plus size included.
So, when you are looking for the right dresses for the apple-shaped figure, you need to keep in mind you should draw attention to your best assets and make them the focal point of the outfit!
Avoid anything clingy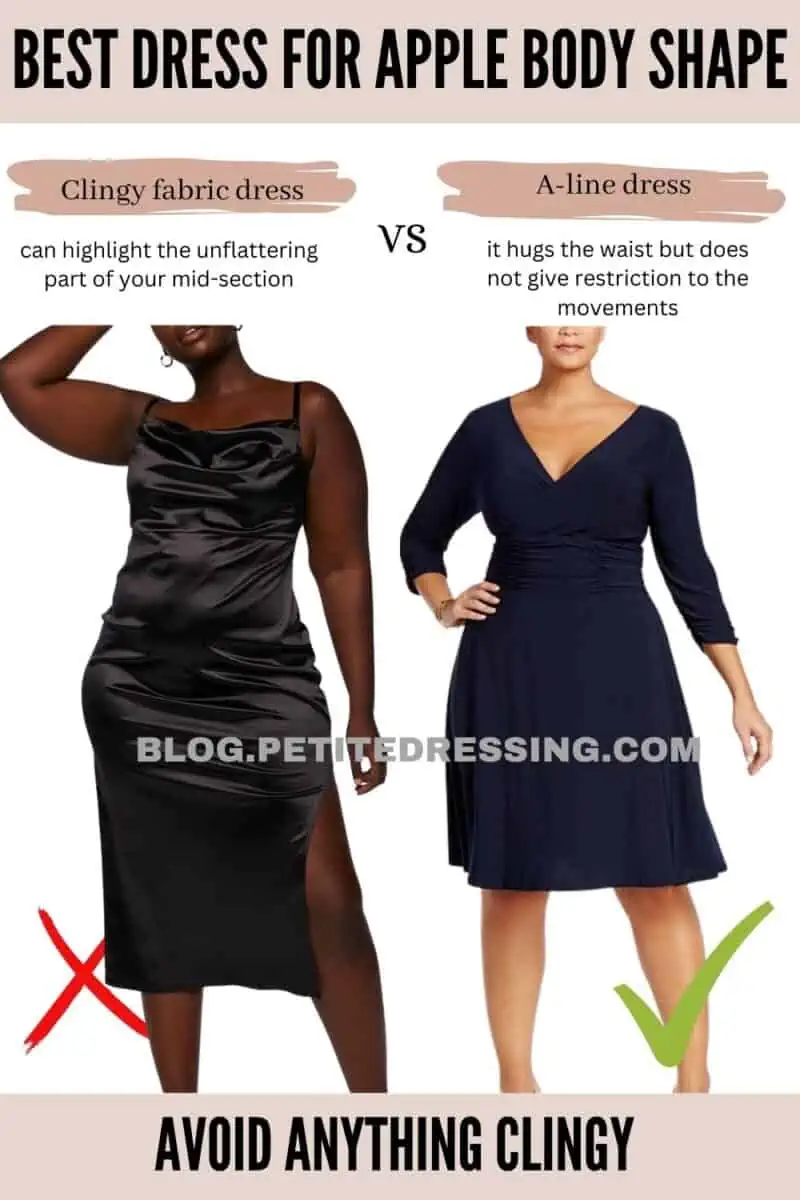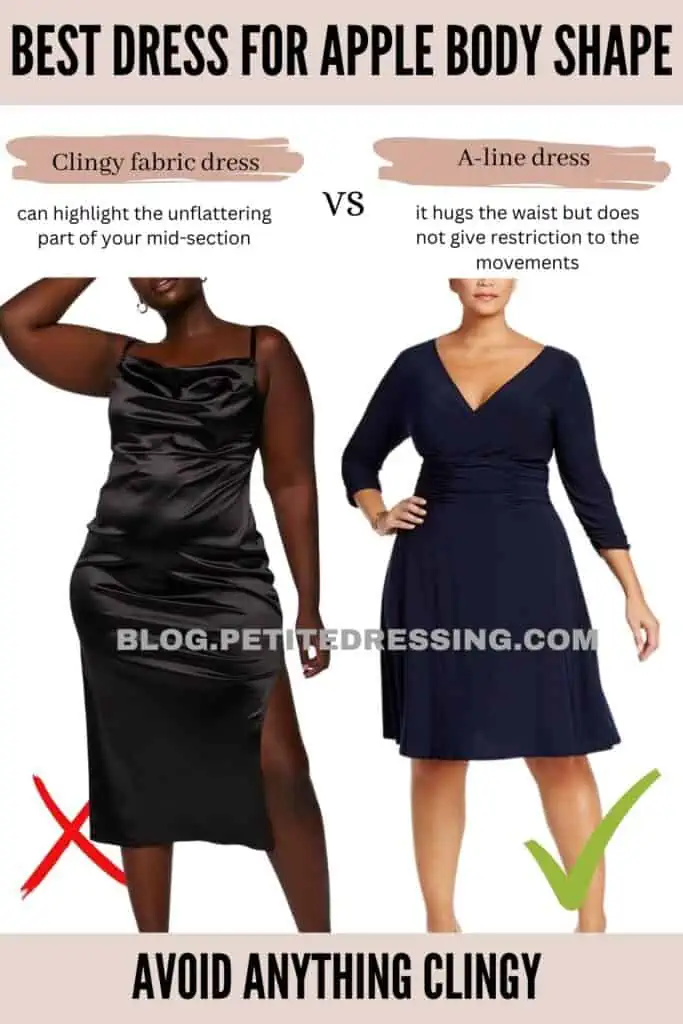 I don't think you need me to tell you how frustrating it is to find clothing for the apple-shaped girls because you carry weight on your waist (trust me, I am an apple too so I know exactly how that feels).
Therefore, it is critical that you must avoid any dress that is too tight.
Structured dresses with waist definition
If there is one thing you take away after reading this post, I want you to remember one word "structure".
The apple shaped plus size women comes across as a round shape which is fleshy vs bony. For you, it is critical that you wear structured clothing to define your features.
What does that mean?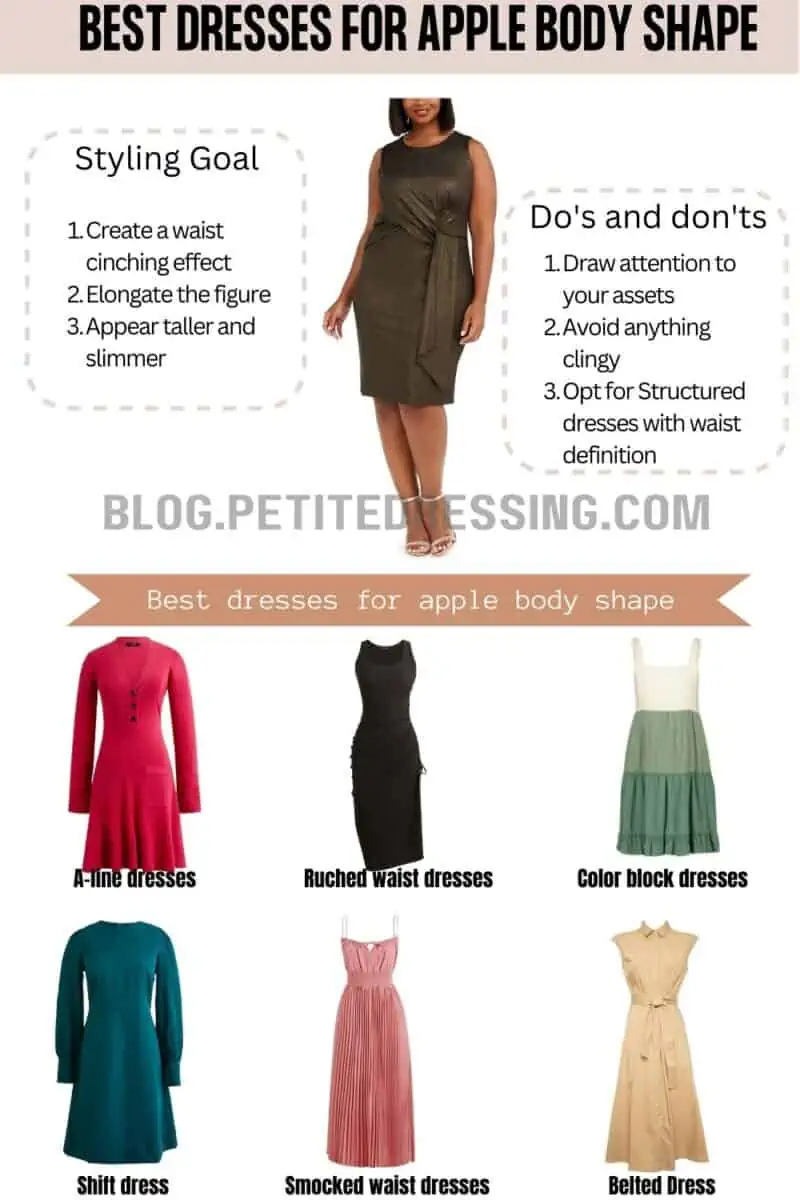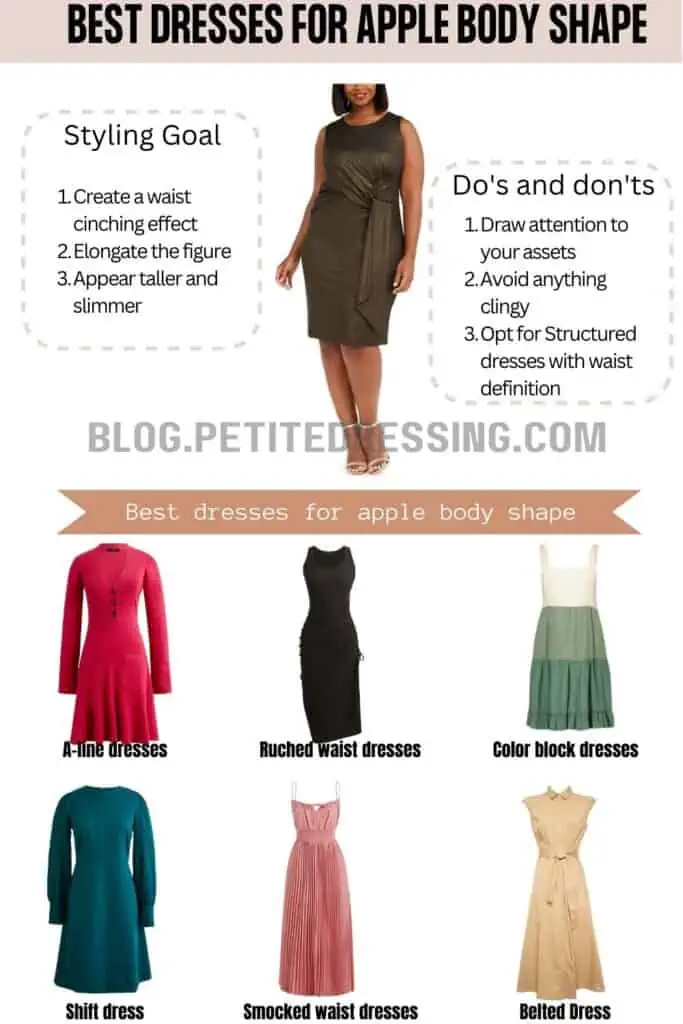 Structured dresses means the dress is tailored carefully so that it holds its shape, and it also means the fabrics needs to be thick enough and won't be flimsy and cheap looking.
This dress on Melissa McCarthy is a perfect example. The dress has the cut I am referring to to hold the curvy body of apple shaped plus size women in a very nice and structured way.
A-line dresses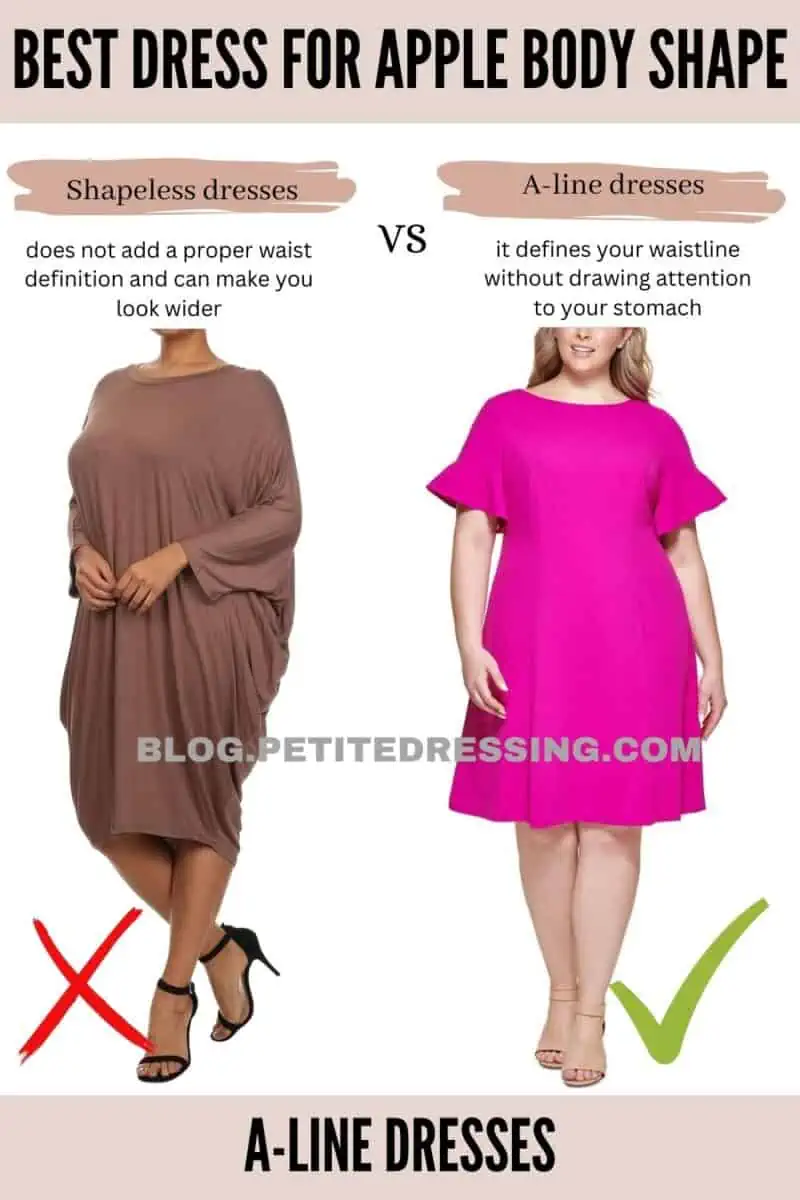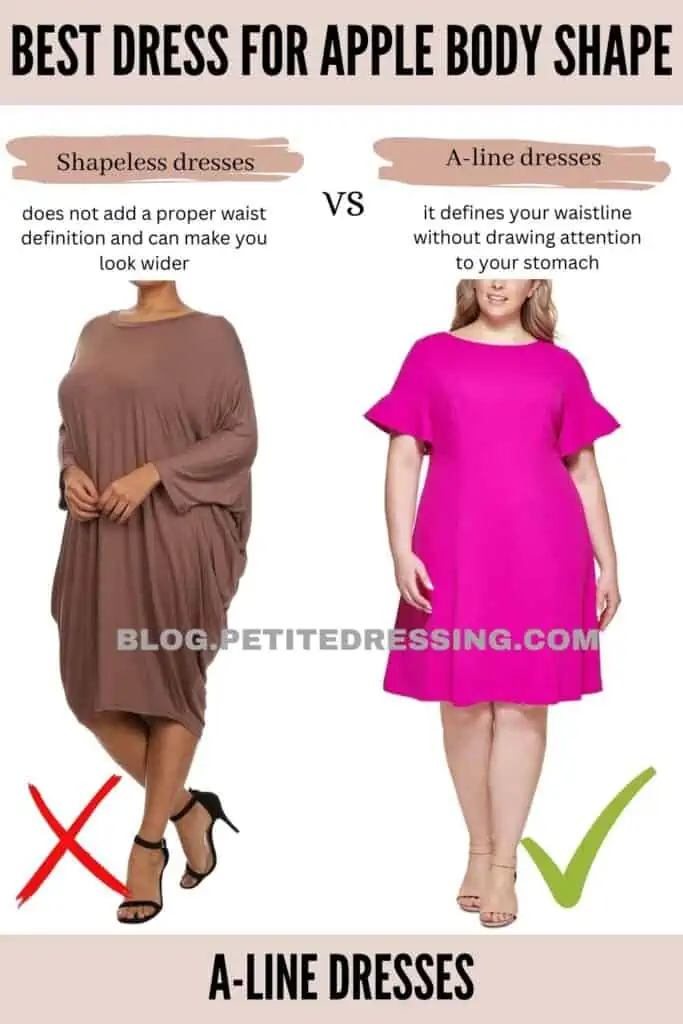 This is the most versatile silhouette that flatters all body shape universally. For apple shape plus size women, it does two things that you really need.
First, it defines your waistline without drawing attention to your stomach.
Second, it effortlessly hides your stomach because the skirt naturally flare out under your stomach.
Ruched waist dresses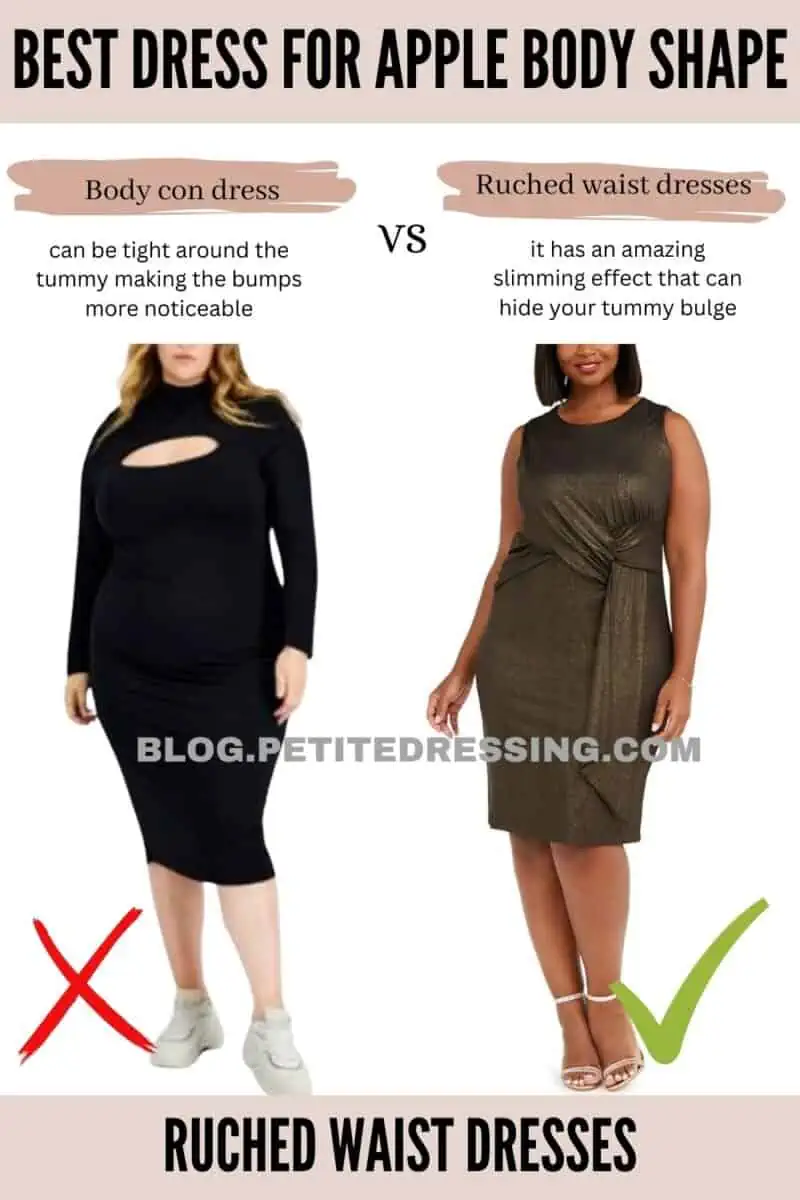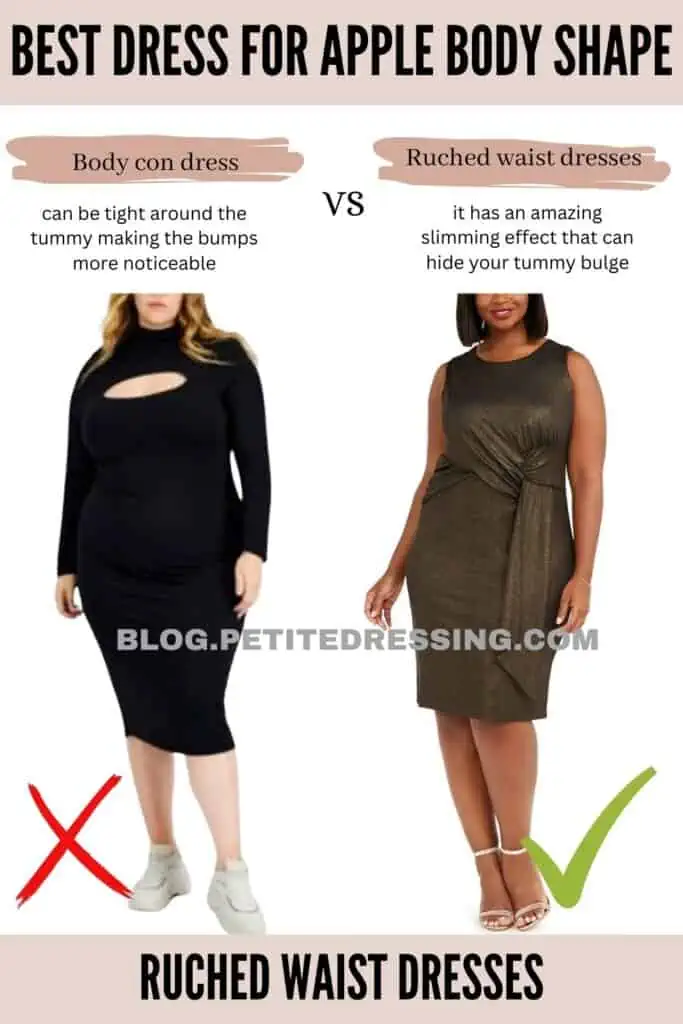 Ruching is a genius design in my view, because it just makes our lives so much easier as an apple body type! The ruched waist has an amazing slimming effect, which is why every apple shaped plus size girl need to make sure you have at least a couple of them in your wardrobe.
If you ever want to wear something curve hugging, I highly recommend you go with the dress with ruching on the waist. They just make a whole world of difference in terms of hiding the stomach and make you look slimmer.
Tiered dresses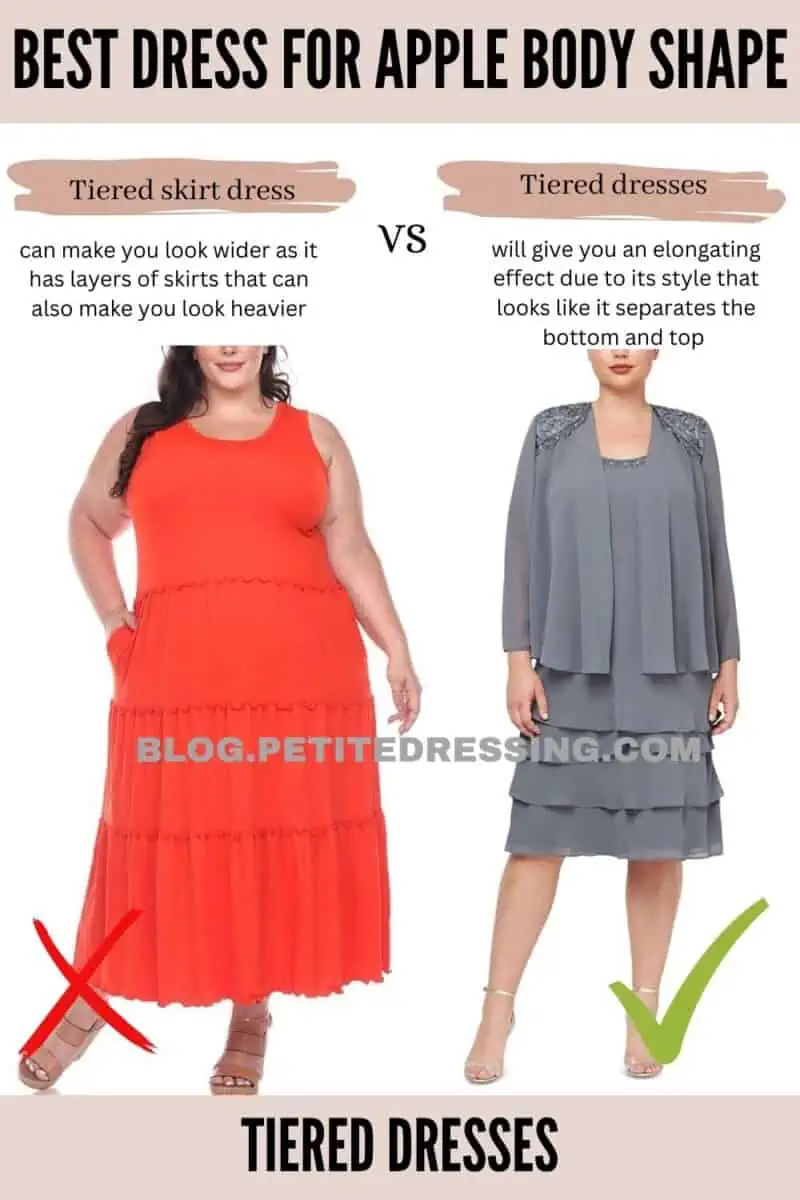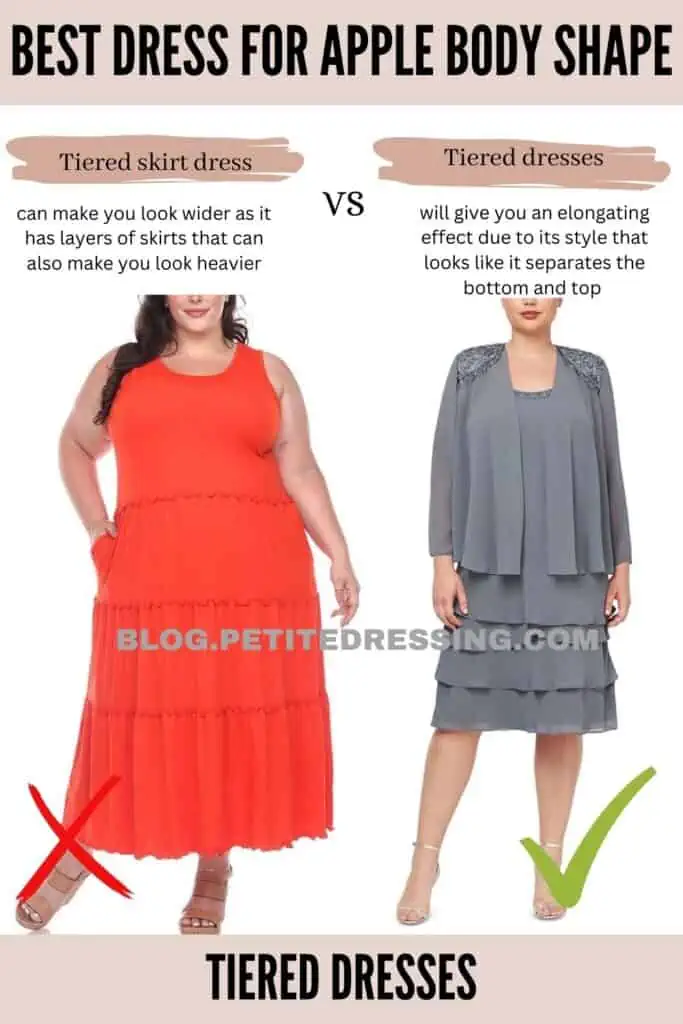 This type of dress looks like they have a separate top and bottom, but they are actually one piece. The benefit of wearing them is they will look like you have a waist. Importantly, look out for those with the same color from top to bottom, because that will have elongating effect for short girls.
Color block dresses with a light top and dark bottom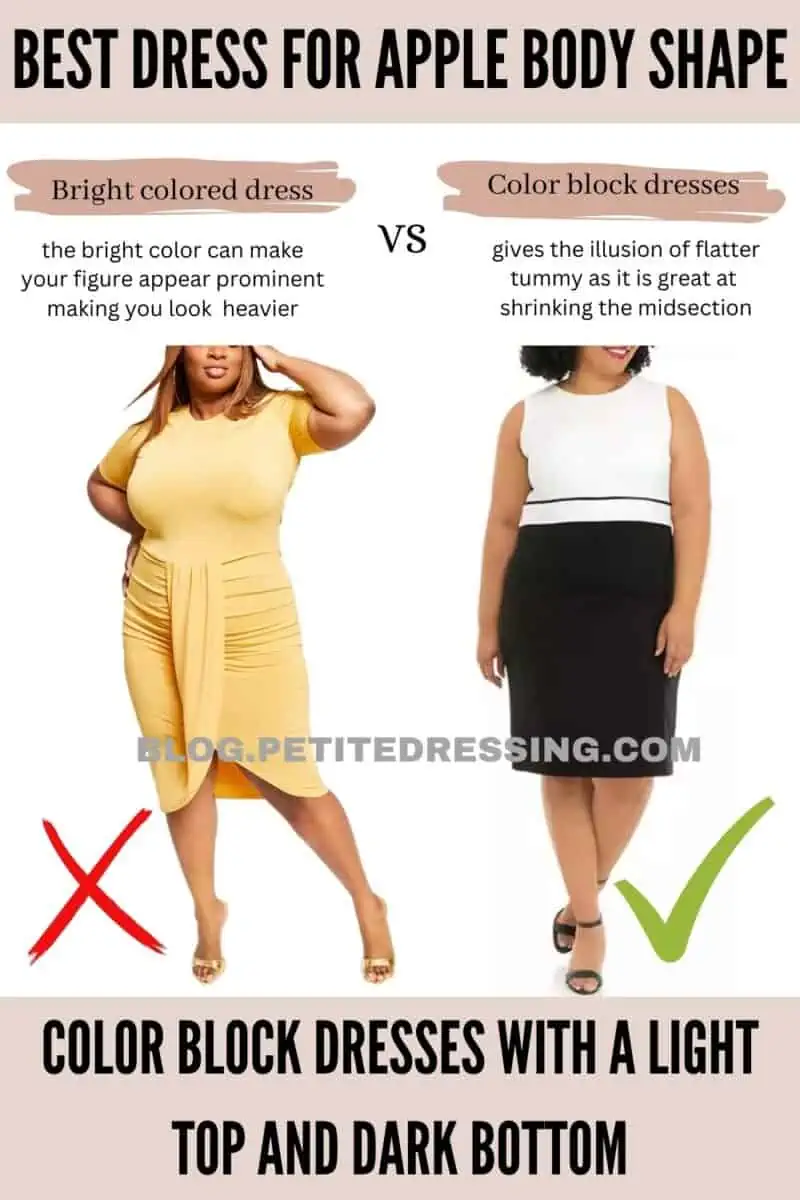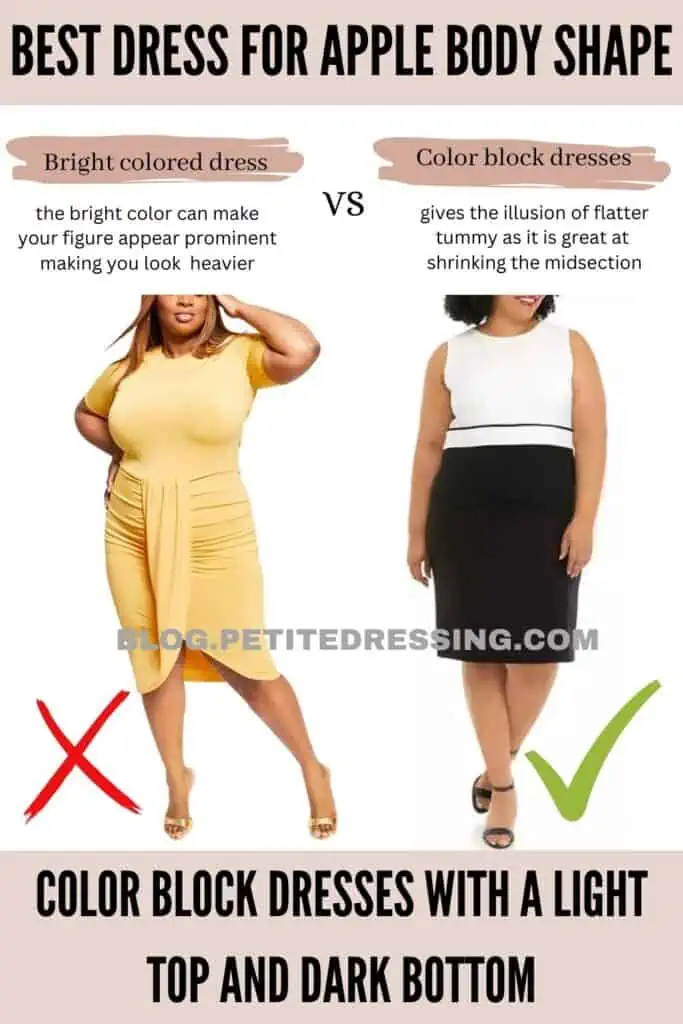 This is self-explanatory as to why it is one of the best clothing for apple shaped plus size body which is in great need of shrinking the midsection. Like I mentioned earlier (as seen in the example of McCarthy), when you wear a lighter top with a dark bottom, you are drawing all the attention to your face and your nice chest, which is exactly what we should do as apple-shaped women!
Shift dress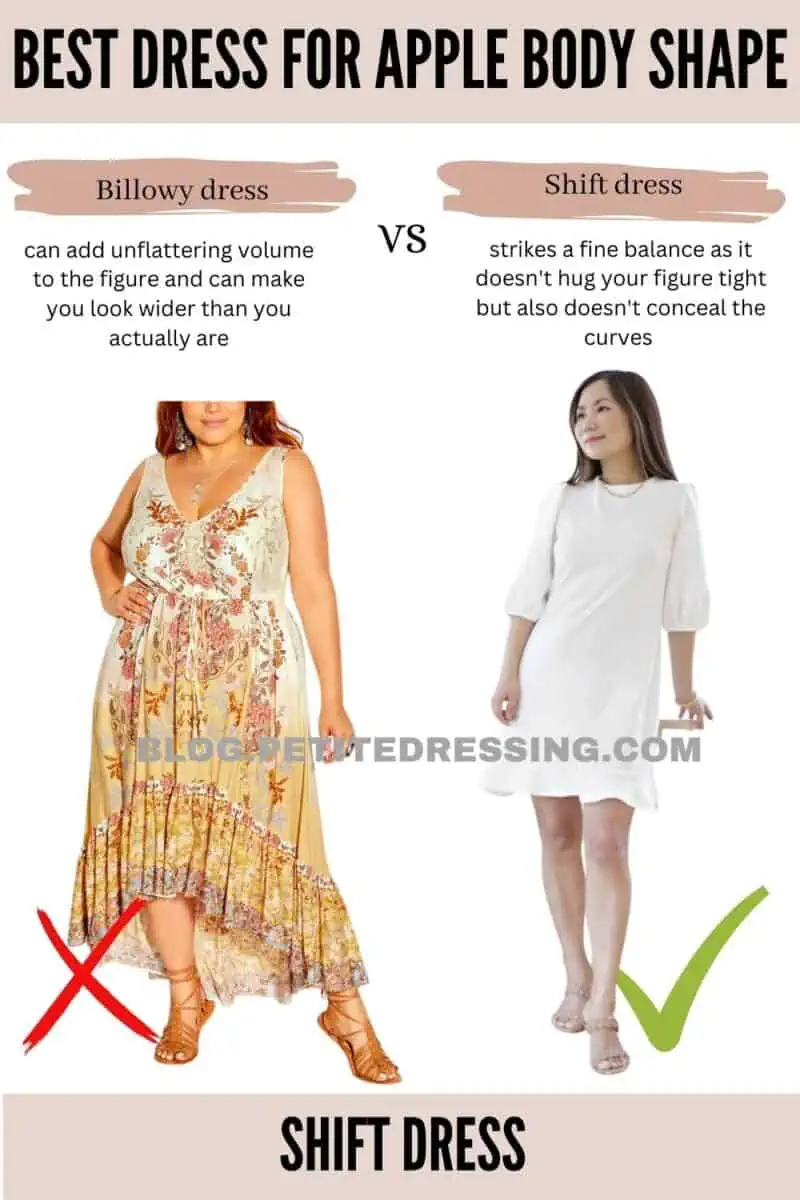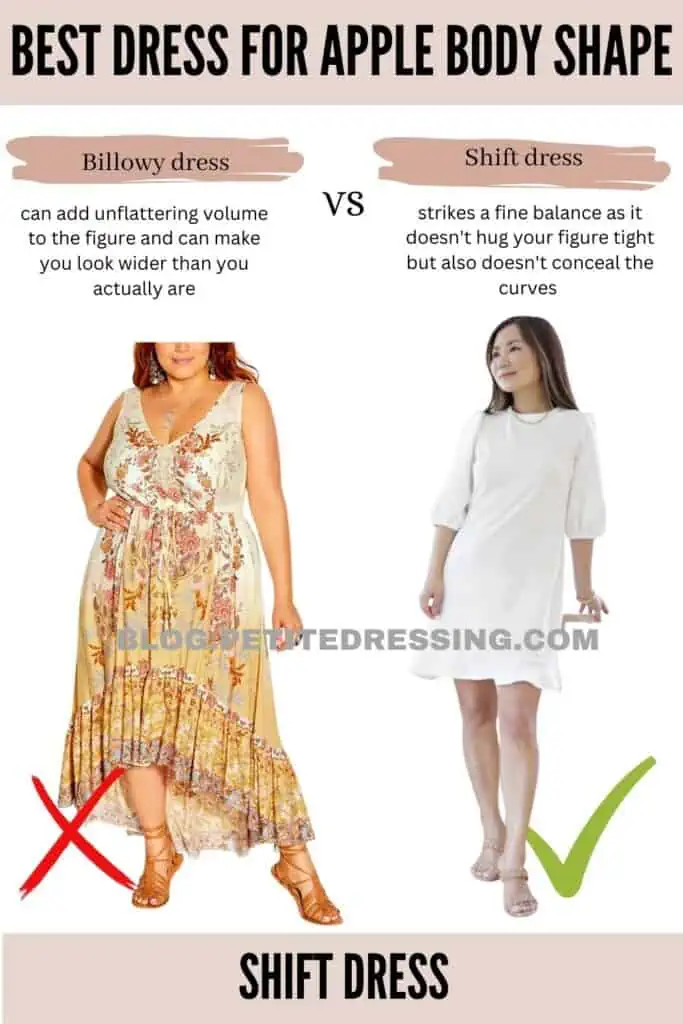 Shift dresses are normally a great choice for apple-shaped plus-size women because they are tailored yet they are not body con.
I have mentioned how you should not be hiding your curves like a plus-size apple, instead, you should define your curves.
That sounds really hard to do because they seem to be the opposite of common belief.
The shift dress strikes a fine balance, because it doesn't really emphasize your curves like the formfitting dresses, but it also does not conceal your body- it still shows you got curves!
Read more about "Definition of Shift Dress and Why it works for you".
Smocked waist dresses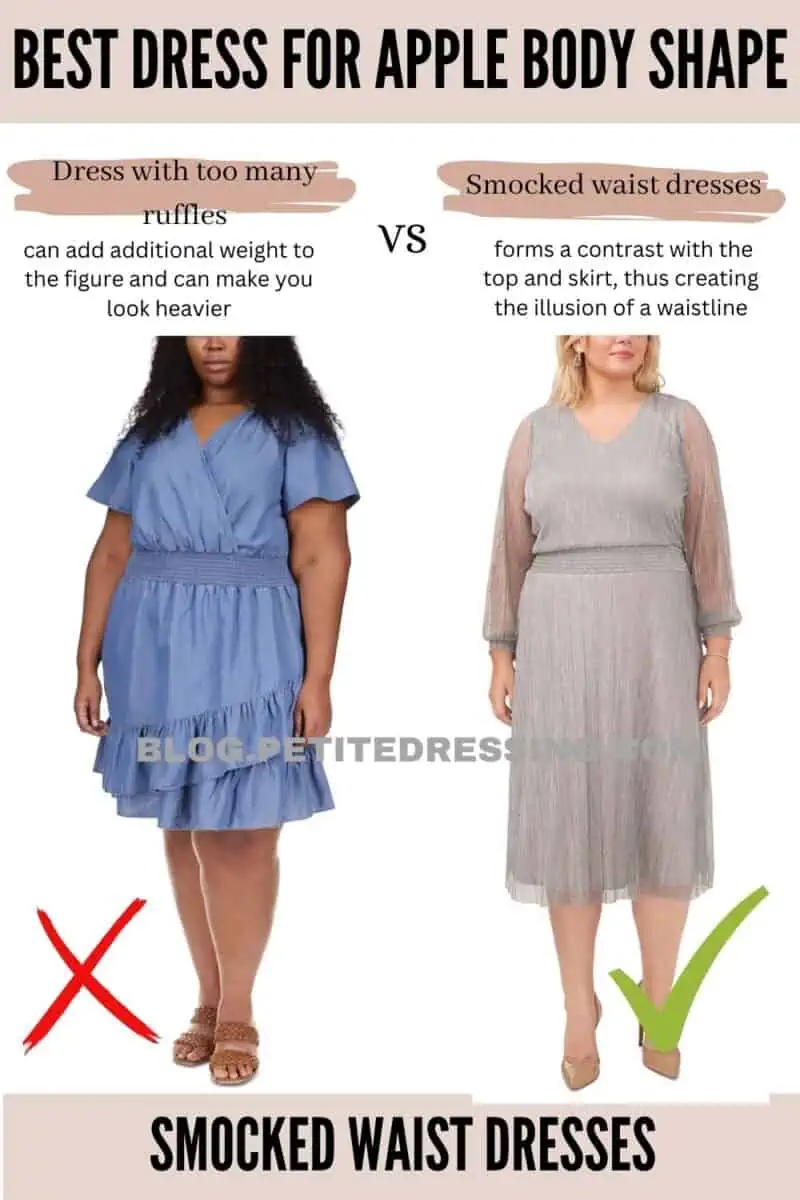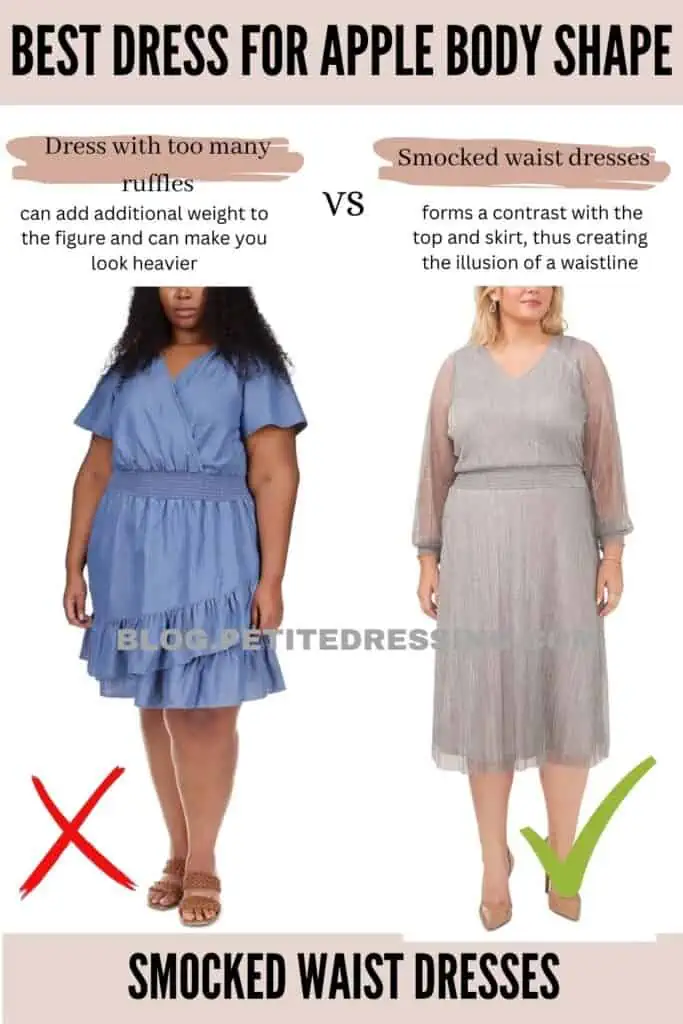 Normally dresses with a smocked waistband have a top that is fitted but not too tight, and the skirt part is not loose. The smocked waist forms a contrast with the top and skirt, thus creating the illusion of a waistline.
Belted Dress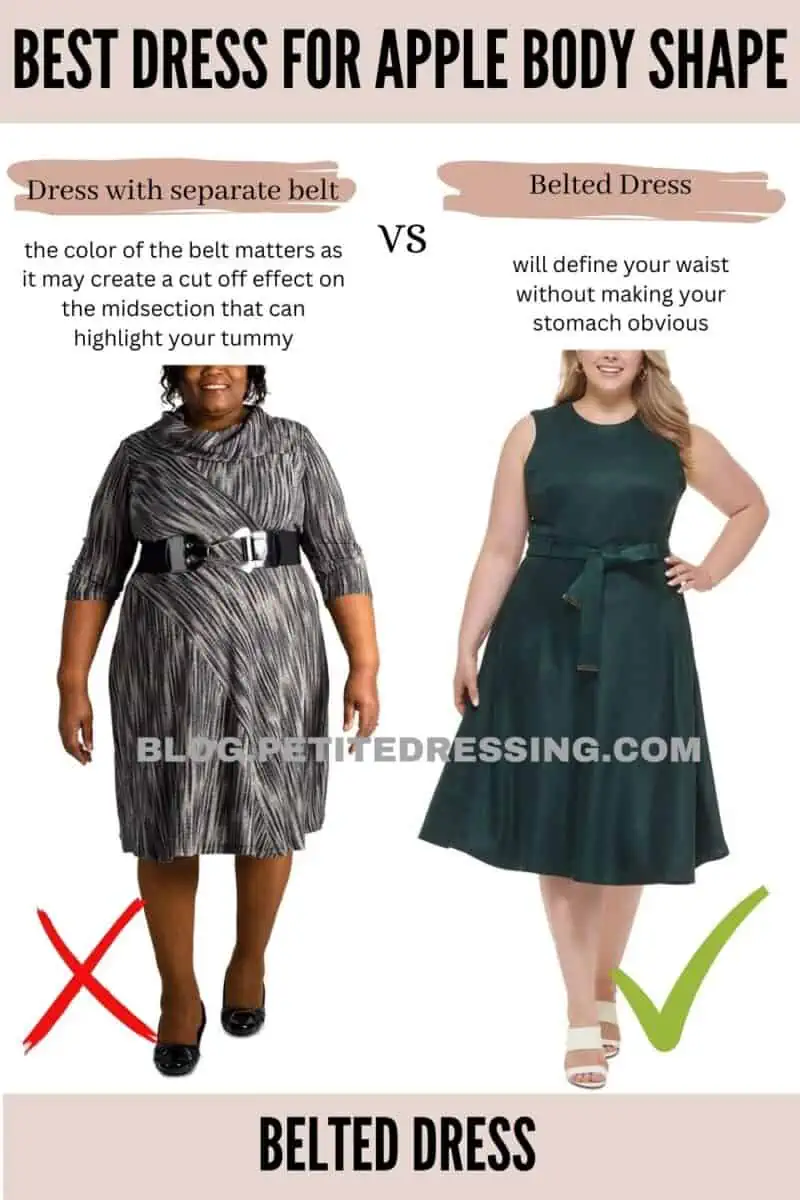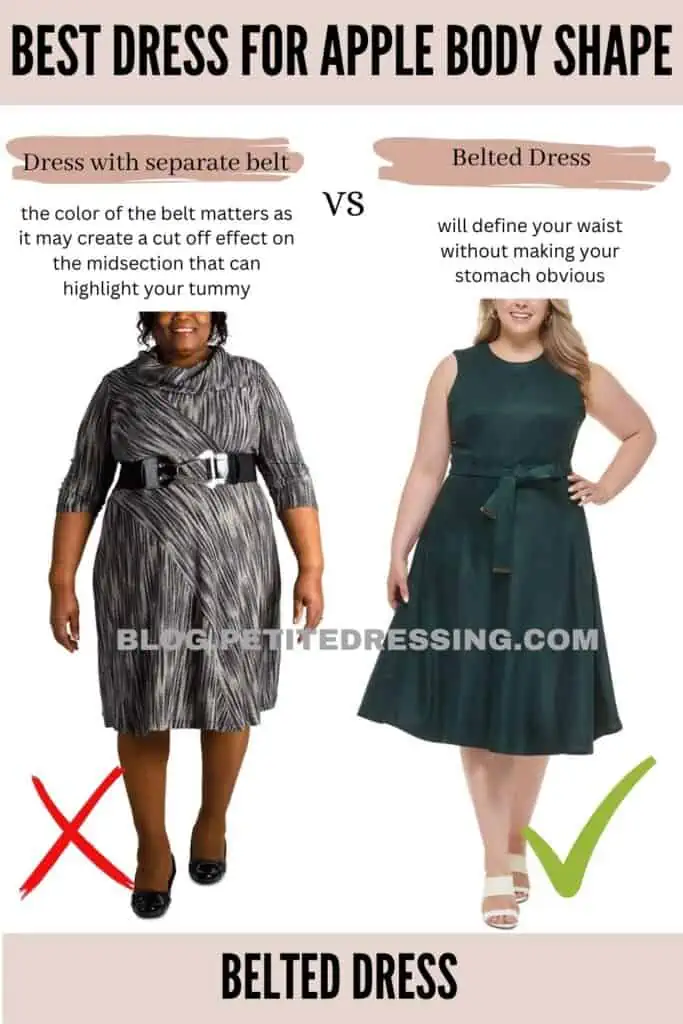 Finally, I want to talk about the belted dress. Before you go ahead and purchase a belted dress, make sure you read the rest of this first.
Since apple body shape does not have a defined waistline, it sounds like tying a belt will easily fix that. I have read famous stylists' advice like that, but does that really work?
My honest view is in most cases that can actually make things worse, especially if you have a plus size apple shaped body.
I think whoever is suggesting tying a belt as an easy fix for apple body type is probably not an apple herself. Here is why.
If you use a belt, it immediately draws all the attention to your mid section. That is exactly the OPPOSITE of what you want to do.
So, what kind of belted dresses flatter the apple shaped plus size women? In other word, how do you define the waist without drawing attention to your mid section?
Here is the key. You need to make sure the belt is the SAME color as the dress, or the same color scheme but a shade or two darker.
The belted dress could be a wrap dress, or it could have a line shape, as long as the belt is the same color as the dress. The key is it creates a subtle definition of your waistline.
Caution with loose dresses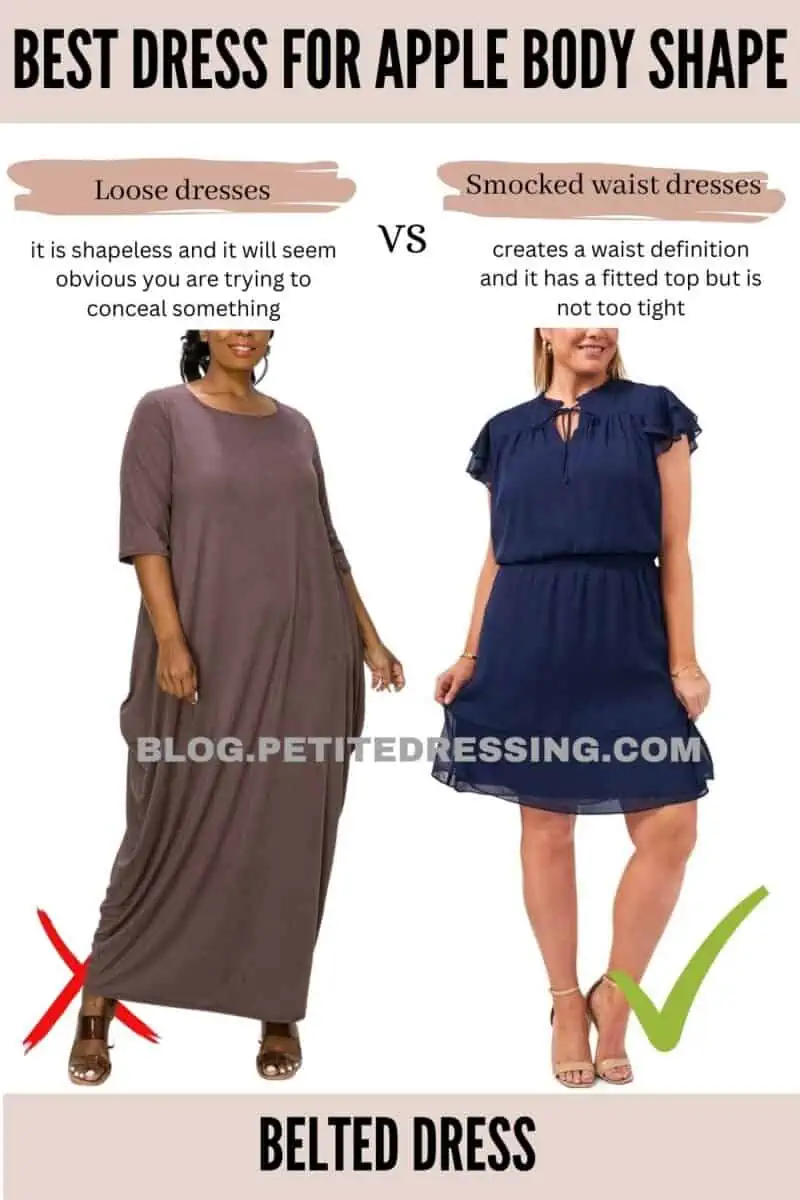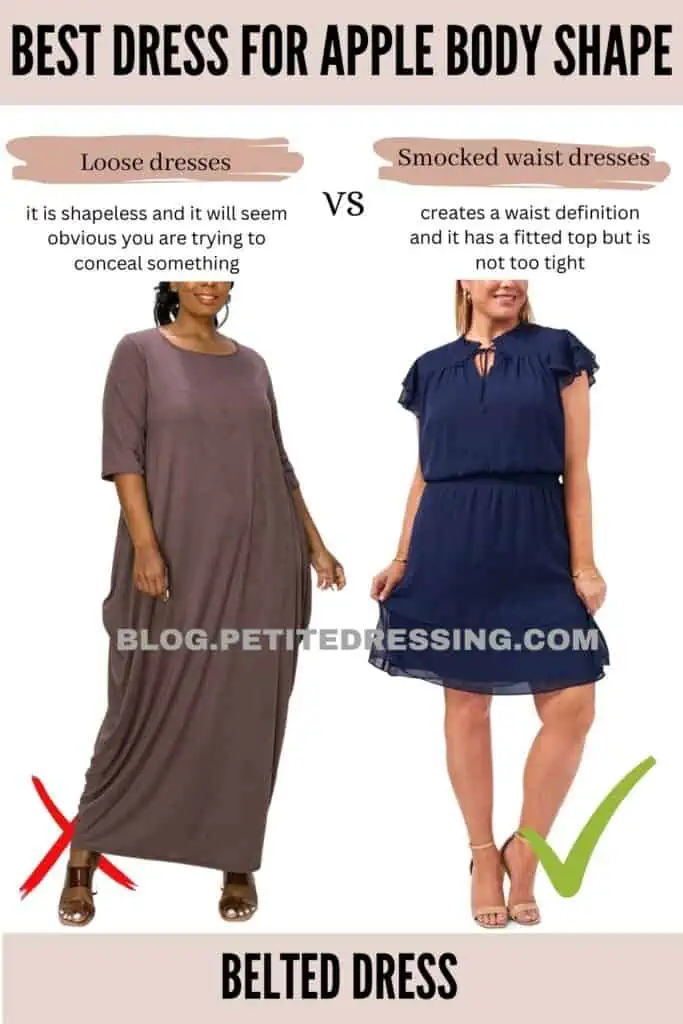 Now, here is another popular myth. Since apple shape body tend to carry most of the extra weight around the stomach, it seems like wearing a loose outfit will hide that, right?
The issue with loose dress is that it will seem obvious you are trying to conceal something. Plus, a shapeless dress normally makes you look worse because your small frame could look totally swamped.
Instead, wear a dress that is fitted but just make sure it is not too tight, especially not tight around your stomach area.
Celebrities with Apple Body Shape
The famous celebs with apple body shape include Melissa McCarthy (5'2″) and Kelly Clarkson (5'3″).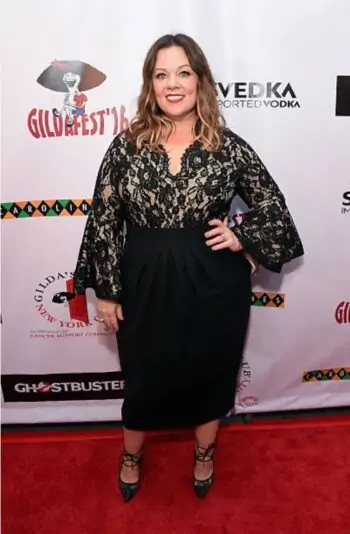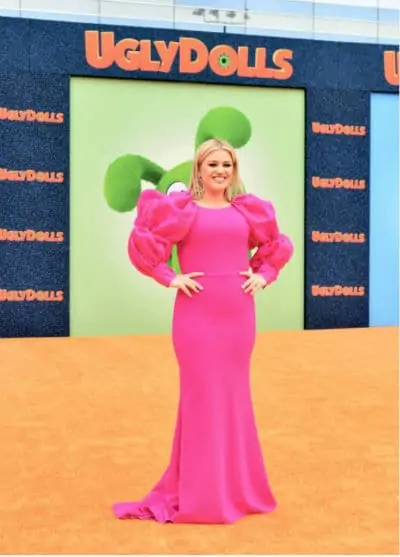 I want to talk a bit about Melissa McCarthy's style as an inspiration for other apple shaped women. If you know her as a funny and witty comedian, you may not realize she is one of the best dressed celebs (in my opinion at least) who really knows how to make her assets work for her!
She is not the traditional tall, thin type of goddess of Hollywood. She is a petite plus size woman with apple body type, so you can imagine being both short and curvy could it make it such a challenge to find the right clothes.
But she absolutely looks amazing any time she is in front of the camera and she can pull off so many different looks that always stuns me. So, I encourage you to look her up as your style inspiration.