Do you have an apple body type and are you wondering what are the best dresses for apple shape? This is the right place for you.
First, I am 5'2″, and an apple body type myself. Being shorter makes it even harder to find dresses for apple body shape. Over the years, I have put a lot of effort trying to figure out where to buy clothes for apple shape. The regular size clothing most likely will not fit, and that limits the choices to petite department. Through trial and error (believe me, I have made a ton of mistakes), I finally have come up with these tips to share with other apple shaped women.
The first step of dressing for an apple body type is to understand your strengths and weaknesses. I have another article dedicated to generally how you should dress as an apple shaped woman, and in this post I will focus on the best dresses for apple body type.
So, before we get into the tricks and hacks, let's look at our own strengths and weaknesses.
What is an apple body shape
I believe a great way to learn how to dress better is to observe the celebrities that have the same body type, and see what works and doesn't work on them. The famous celebs with apple body shape include Eva Longoria (5'2″), Jessica Simpson (5'3″) and Catherine Zeta Jones (5'7″).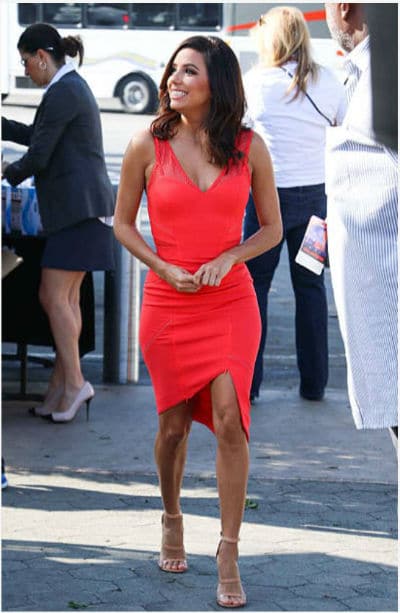 Strengths of apple body type
If you have a typical apple shaped body, you probably have got lots of compliments on the following:
Round and full bust
Round shaped and full hips
Slender legs
Firm/toned arms
How many of these nice features do you have? As an apple shape, you may have noticed your arms and legs are naturally slender. Did you feel like they remain firm and tight, even without much exercise? I feel the same way!
Now, your busts and hips are definitely your assets too! Most apple shaped women have round shaped breasts and full hips. I presume you must have got a ton of compliments for your curves, am I right?
In fact, apple shape can be similar to an hourglass figure in terms of the breasts and hips, with very noticeable feminine curves. Because of that, some apple shaped women, who are skinny, can sometimes give the impression of hourglass shape.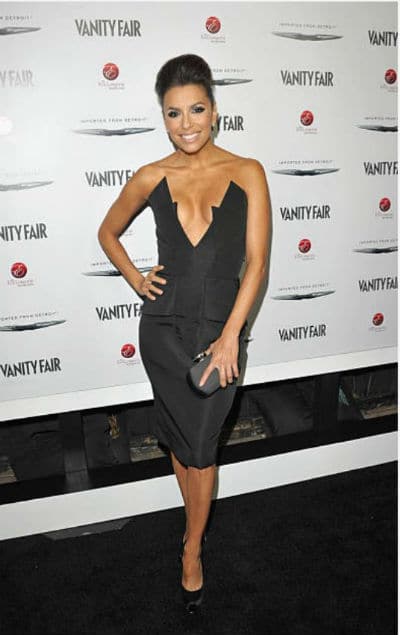 However, when apple body shape gains weight, that is when you know they are apple body type! Because, she carries most of her weight in her belly area, but she arms and legs can still remain skinny.
Is that you? I know I am definitely that way!
That leads to our next topic- the weaknesses of apple body type.
Weaknesses of apple body type
You do not have a defined waistline. Did you notice your waistline has the same width as or is wider than your shoulders and hips? Personally, even when I am skinny overall, my waistline does not look defined. If I ever put on any weight, I will see them on my belly right away!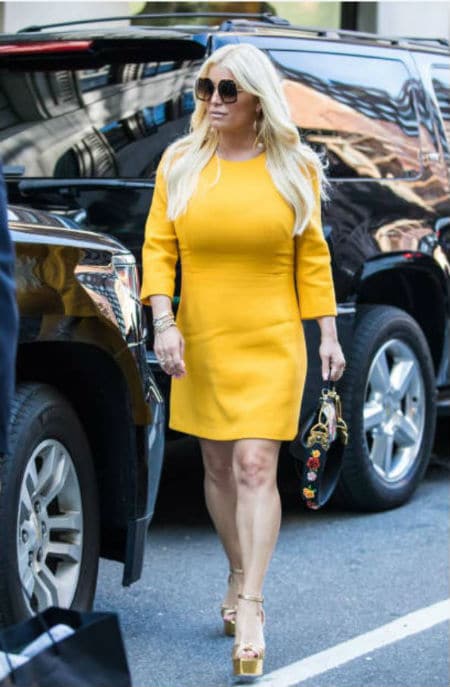 Here is some other common features shared by many petite women with apple shape, which are not necessarily weaknesses and could be viewed as neutral (depending on how you style yourself)
You have round and sloping shoulders that align nicely with the hips.
You might be short waisted
Now that you know very clearly your strengths and weaknesses, it is time to find the best dresses for apple shape that accentuate your assets and camouflage your weaknesses!
Ideally, the outfit for apple body shape should:
Highlight your nice arms and legs
Draw attention to your round breasts and nice butt
In the meantime, it should distract away from your waistline or form the illusion of a defined waistline.
Best Dresses for Apple Shape
Through years of effort looking for the best outfits for apple body shape, I have found these silhouettes and design details do the best job to hide my belly and give the illusion of a slender waist. Let's dive right in!
1. A line dresses
This is the most versatile silhouette that flatters all body shape universally. For apple shaped body, it effortless hide your stomach because the skirt naturally flare out under your stomach.
2.Smocked waist dresses
Normally dresses with smocked waist band have a top that is fitted but not too tight, and the skirt part is not loose. The smocked waist forms a contrast with the top and skirt, thus creating the illusion of a waistline.
3.Ruched waist dresses
These worked wonders on me, because the ruched waist have an amazing slimming effect. The designer I loved the most is Nicole Miller, and ruched dresses are her signature design.
4. Tiered dresses
This type of dresses looks like they have a separate top and bottom, but they are actually one piece. The benefit of wearing them is it will look like you have a waist. Importantly, look out for those with the same color from top to bottom, because that will have elongating effect for short girls.
5. Color block dresses with light top and dark bottom
This is self explanatory why it would flatter apple shaped body which is in great need of shrinking the mid section.
Now that we talked about the most flatting dresses for apple shaped women. I want to mention a few other tips.
Should apple shaped women wear a belt?
Since apple body shape does not have a defined waistline, it sounds like tying a belt will easily fix that. I have read famous stylists' advice like that, but does that really work?
My honest view is in most case that can actually make things worse, especially if you have an apple shaped body on the heavies side.
I think whoever is suggesting tying a belt as an easy fix for apple body type is probably not an apple herself. Here is why.
If you use a belt, it immediately draws all the attention to your mid section. That is exactly the OPPOSITE of what you want to do.
If you really want to use a belt, make sure the belt is the SAME color as the dress,or the same color scheme but a shade or two darker.
Should you wear loose dresses?
Now, here is another popular myth. Since apple shape body tend to have extra weight around the stomach, it seems like wearing a loose outfit will hide that, right?
The issue with loose dress is that it will seem obvious you are are trying to conceal something. Plus, if you are petite, a shapeless dress normally makes you look worse, because your small frame could look totally swamped.
Instead, wear a dress that is fitted but just make sure it is not too tight, especially not tight around your stomach area.
Shift dresses are normally a great choice for apple shaped women, because they are tailored yet they are not body con.