If you are 5′ and under, wide-leg pants may sound intimidating at first. I know this since I'm 5'2″ and it took me quite a while to figure out how to look good in anything with wide legs!
Since I have a clothing line for petite women, I also receive feedback from thousands of my petite customers. Wide legs CAN be one of the most flattering styles for shorter women, but you must be selective and know how to style them.
Based on my own experience as well as feedback from numerous customers who are under 5′, I've put together this detailed guide to help you find the most flattering wide-leg pants, regardless of your height.
Drapery wide-leg pants
Do you want a flowy and relaxed fit? You can achieve this in the most stress-free way possible and it all starts with shopping for some drapery wide-leg pants. Apart from the fact that this will mold easily with the structure of your body, drapery wide-leg pants are made from breathable and lightweight fabric.
Most are in linen, silk, or chiffon materials, which are all light enough to be worn in warmer weather conditions. Of course, you have the freedom to choose the style that fits your body type and personal preferences.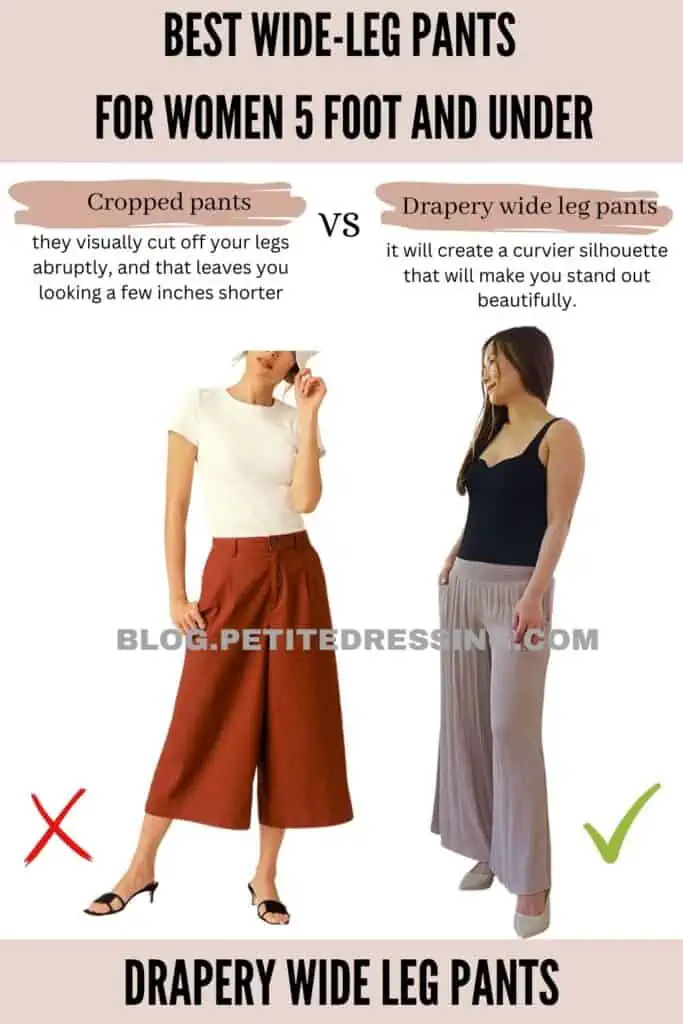 Most of these come in a vast variety of lengths, including cropped and full length. Of course, it's better to go for full-length styles since this has an elongation effect on your legs that will make you appear taller.
Some could also be in drawstring waist styles or high-waisted. High-waisted drapery wide-leg pants are a win anytime, any day. Be sure to choose a fitted top to balance out the flowy style of your pants.
This can be a simple blouse. Also, it's a great idea to throw in a belt for a cinching effect on your waist. This will create a curvier silhouette that will make you stand out beautifully.
Vertical stripes
Another super cool way to create the illusion of longer legs is to wear wide-leg pants with vertical stripes. So, what's so special about vertical stripes? Not many petite women know this, but vertical stripes are great for drawing the eyes from top to bottom, which leads to the appearance of a slimmer silhouette.
When choosing clothes, it's important to pay attention to how it makes you appear. With horizontal stripes, you look wider, while vertical stripes are more flattering. They will help to create a more streamlined look as they elongate your legs.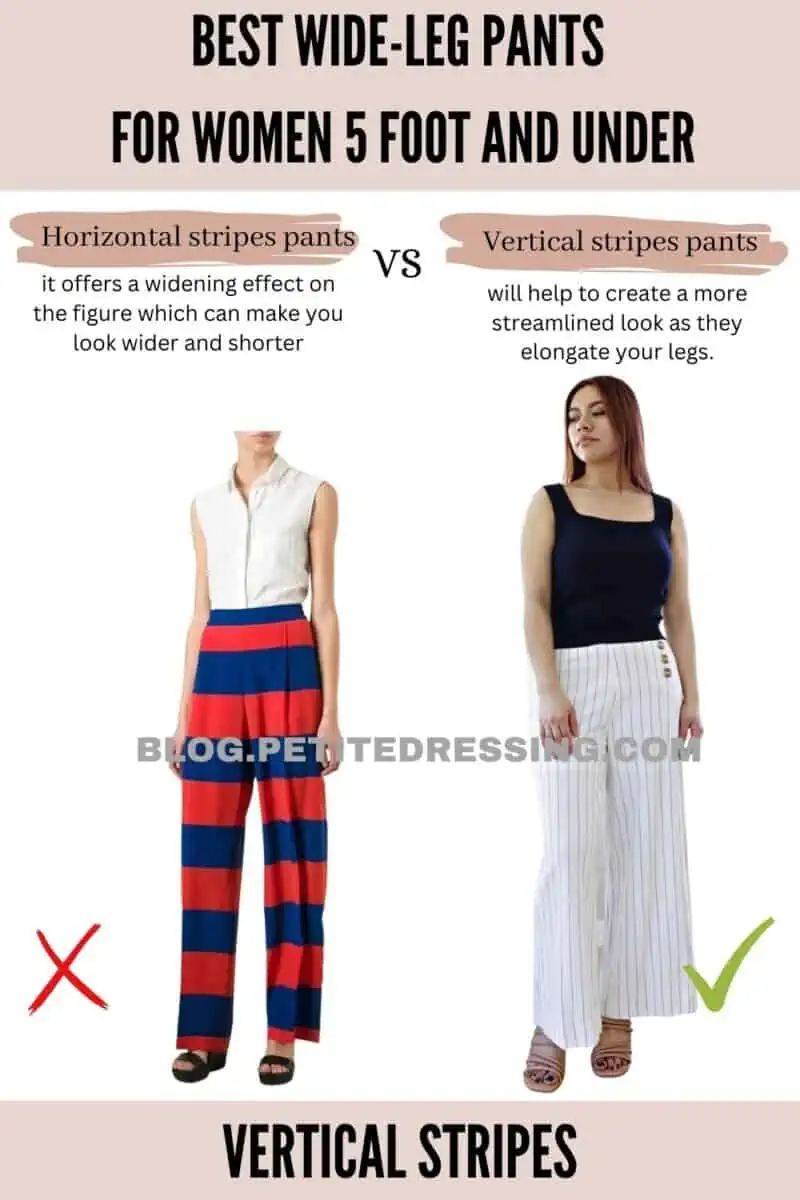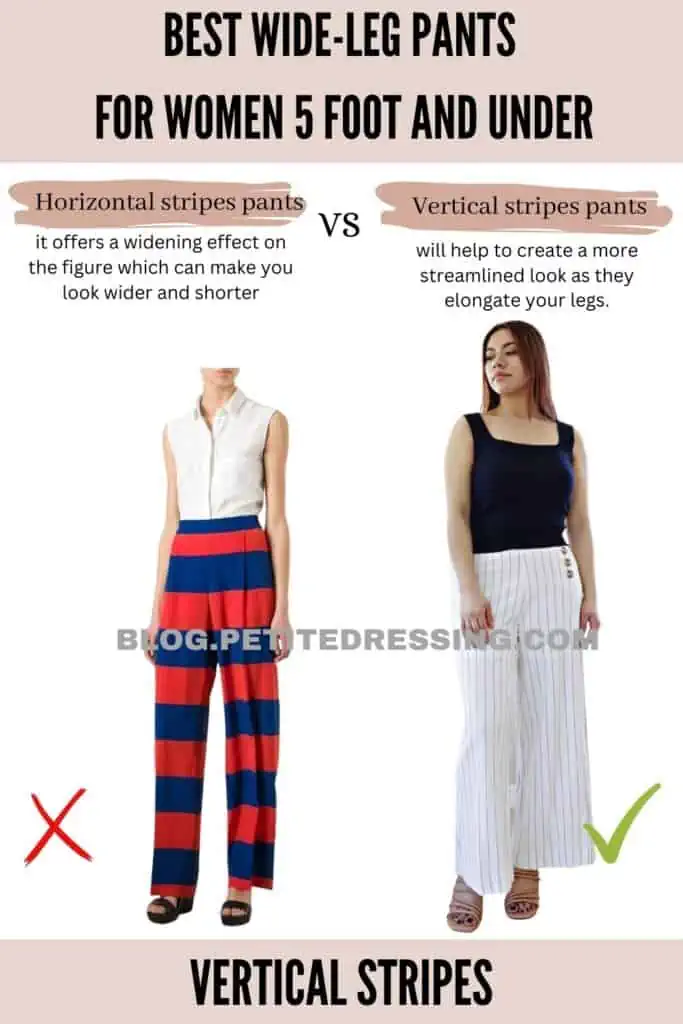 Make this look even better with a fitted top to balance out your body proportions. Of course, you can play around with some of your other favorite clothing materials, including a denim jacket or blazer.
This adds more structure to your outfit, making you look incredibly feminine with an elegant outlook. Your feet shouldn't be left out either, and a pair of pointed-toe pumps will look amazing.
High waist
Just like wide-leg jeans, you shouldn't leave out high-waist wide-leg pants when shopping for styles for your petite body structure. All women who are five foot tall and under can definitely benefit from the structured classy look that high-waisted styles give.
The major advantage is how the high-waist wide-leg pants sit at your natural waistline. This is the key to creating an elongation effect on your legs, where you appear taller and have a more flattering silhouette.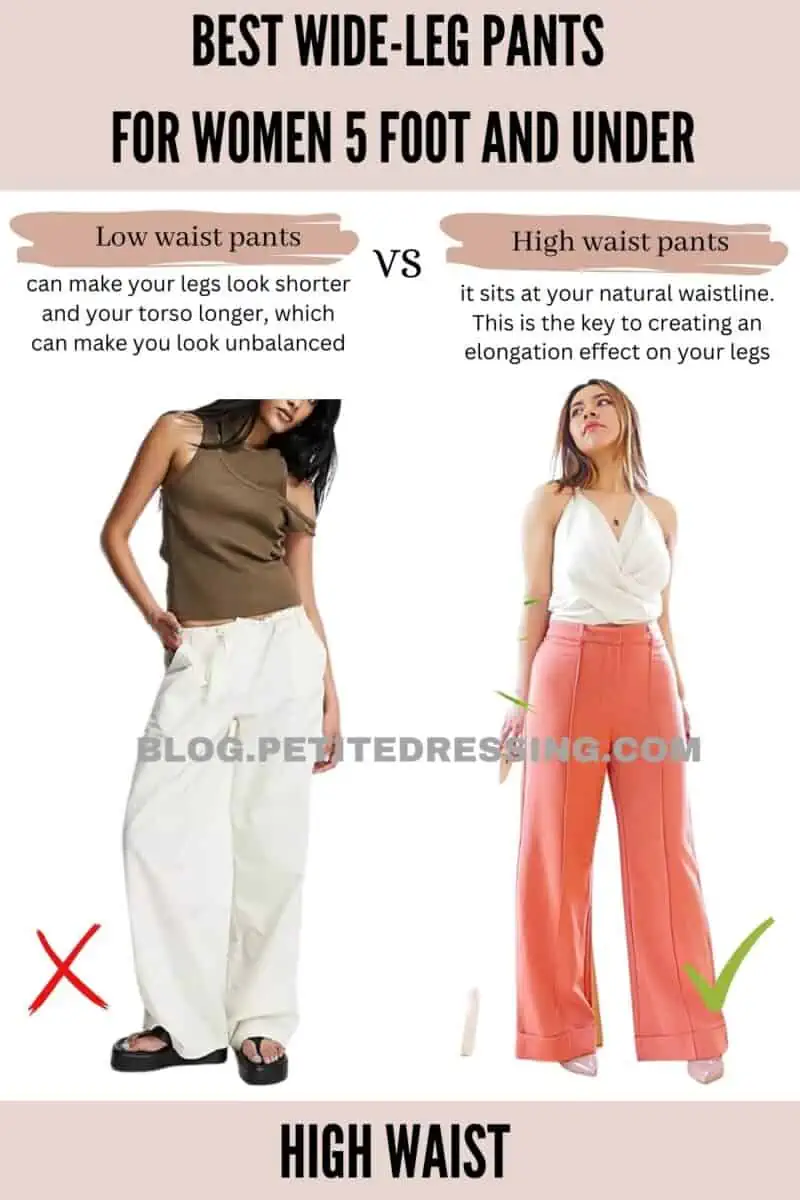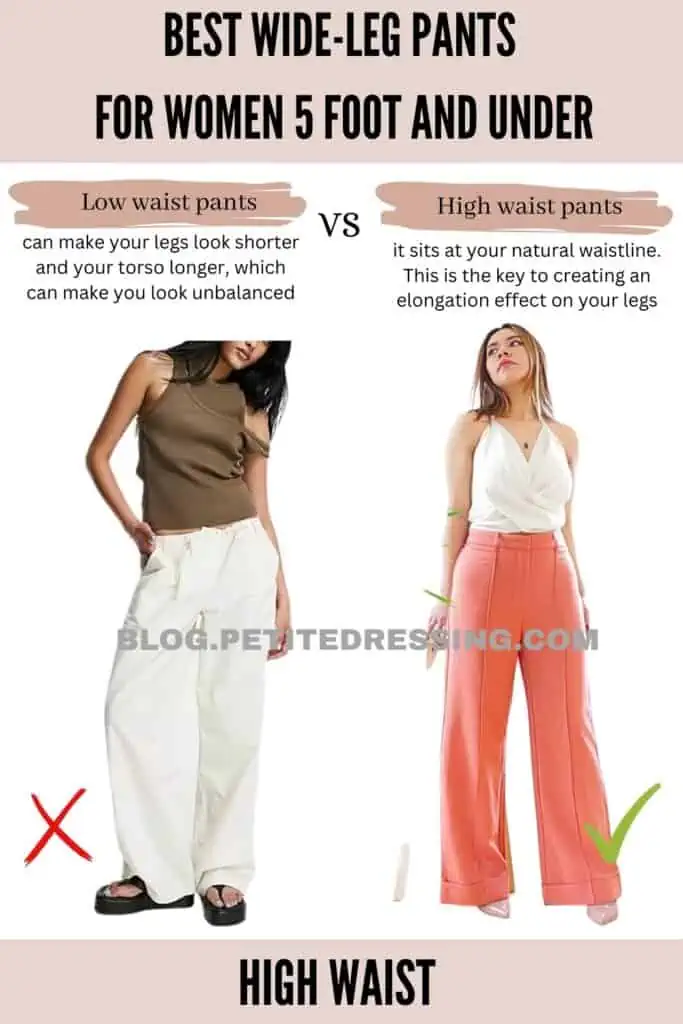 Here's one tip for styling this for your five-foot body structure. Tuck in your top when you wear high-waist wide-leg pants. This is perfect for accentuating your waistline such that you have a curvy silhouette that is incredibly flattering.
This will balance out your body proportions in this outfit. If you're wearing this to a casual occasion, you can wear flats to finish up this elegant look. Of course, I'll always recommend black colors for your high-waist wide-leg pants. You can benefit from its slimming effect, plus it gives off a powerful vibe.
Full length
Make things even more formal and sophisticated with full-length wide-leg pants. This style has a subtle elegance that will turn heads when you step into any occasion. Your full-length wide-leg pants can be in a wide range of fabrics including cotton or crepe.
However, the common theme here is that the length should be just at your ankles. It's important to avoid cropped styles in this regard because they cut off your legs abruptly. Of course, balance is super important here.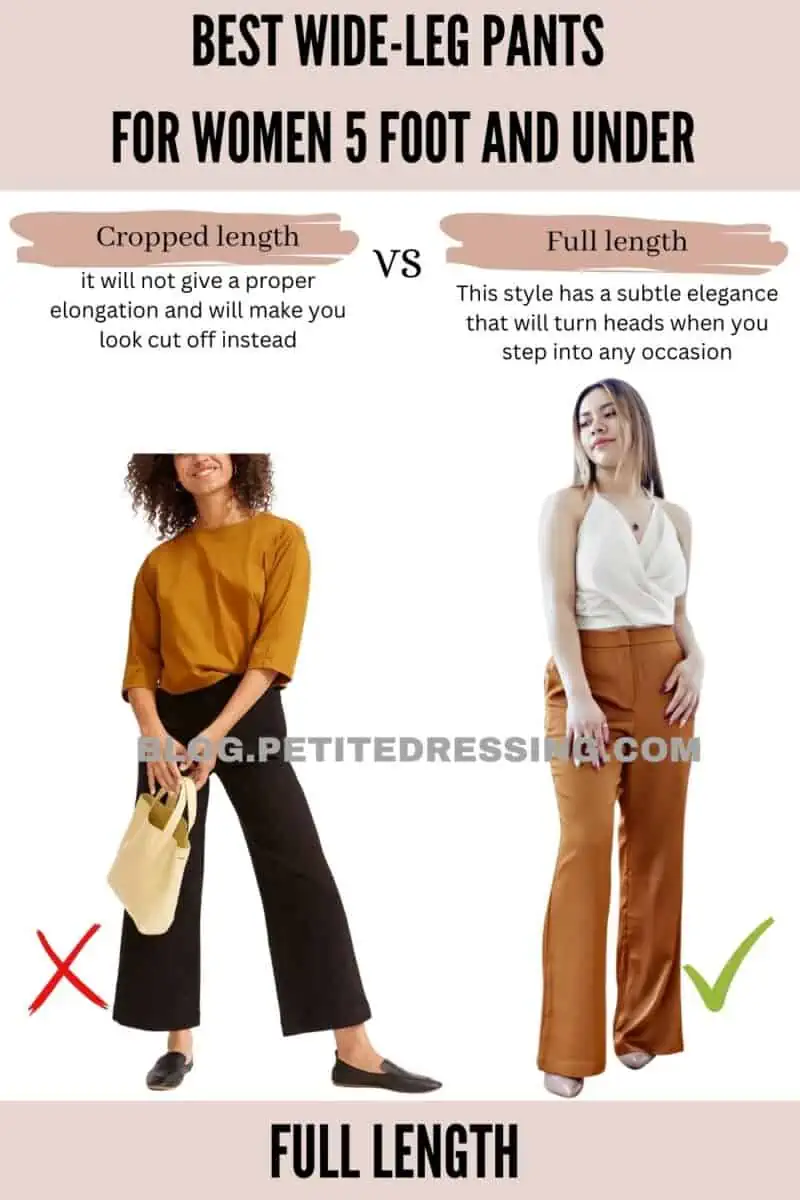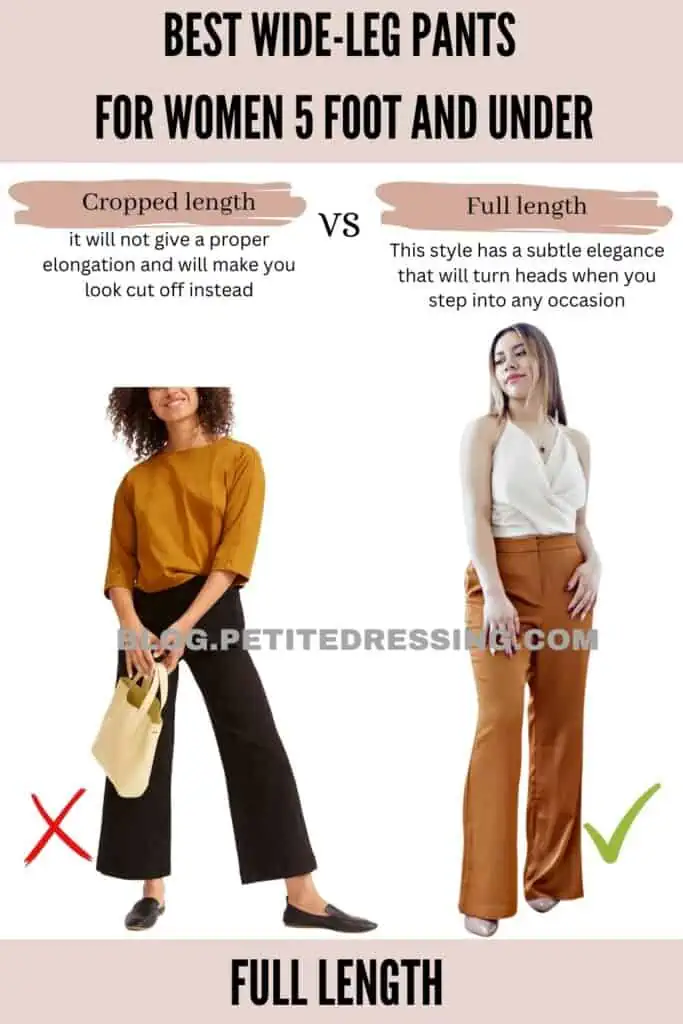 You don't want it to be above your angle, and neither do you want your pants dragging on the ground. A good way to avoid this is to wear heeled shoes, like nude heels, which add a few extra inches to your height and takes the wide-leg pants off the ground.
Make your waist appear smaller with a fitted top, and this will add more balance to your outfit.
Avoid too cropped
Don't get me wrong. I don't think cropped wide-leg pants are ugly and should be removed entirely from existence. This style of pants can be quite trendy and fun, but the problem is in how tricky they can be for women that are five foot tall and under.
Wide-leg pants that hit above the ankle can make you appear shorter since they cut off the line of the leg abruptly. Imagine looking at your legs and they appear like you've shaved about two inches off. For a short woman, that is not a flattering look.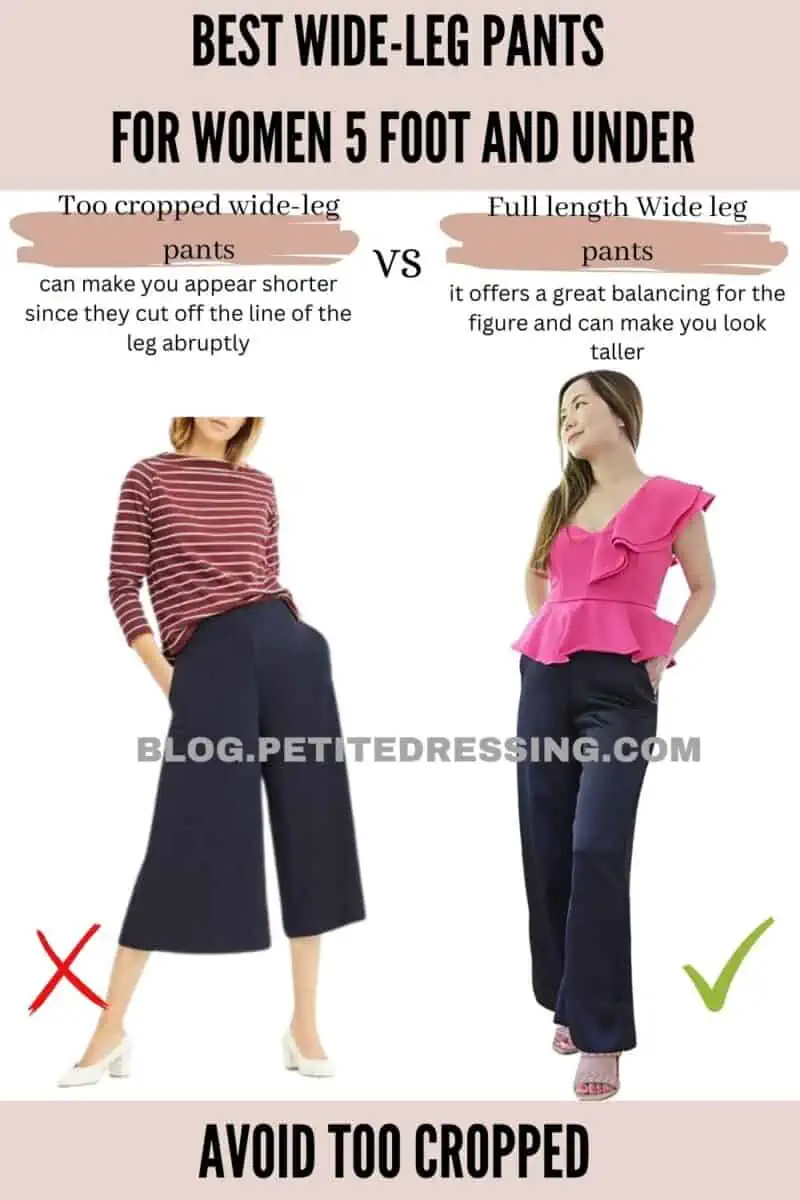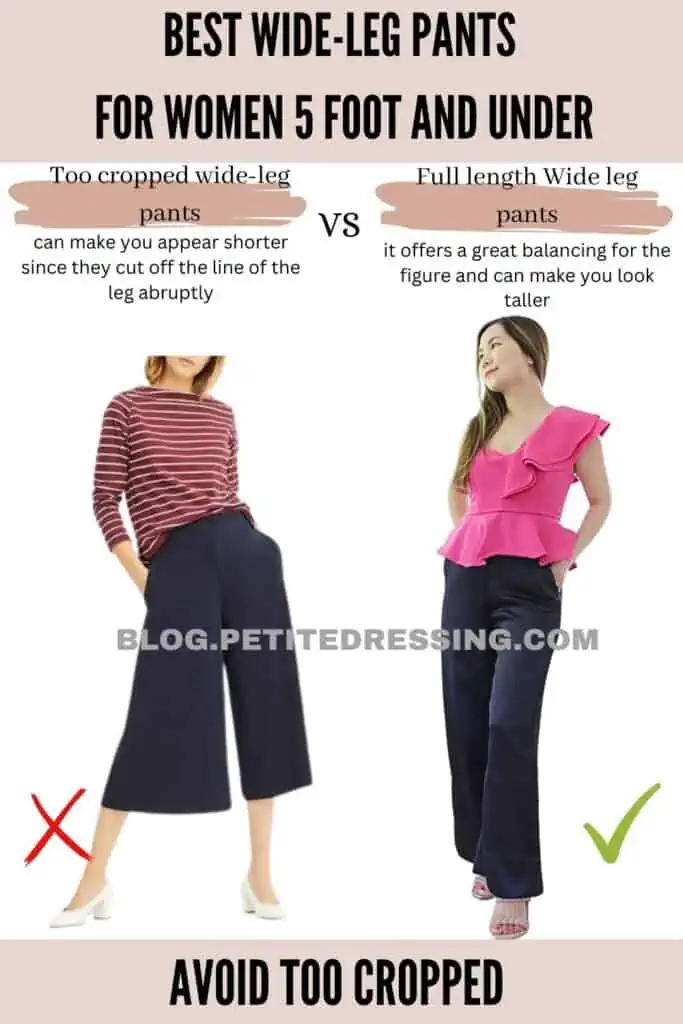 So, the only way to wear cropped wide leg pants as a petite woman is to make sure that they hit at the slimmest part of your ankle. If you're able to pull this off, you will look amazing. However, if it seems too complicated for you, you can eliminate cropped wide leg pants from your wardrobe.
The goal here is simple. Avoid wide-leg pants that are too cropped as that will only make your overall body silhouette appear less flattering and not as classy as you should be.
Wear with a fitted top
A fitted top is one of the best ways to balance out the proportions of your outfit. This could be a button-down shirt in neutral colors. If you wear this style of top in nude or white colors, you're ready for a lovely night out after work. Tuck this into your pants to complete your look.
This also works for fitted plain T-shirts. They work great on any style of wide-leg pants. So, with your fitted plain t-shirt tucked into your wide-leg pants, you can spend the day outdoors having fun or attend an indoor party with friends. It's an incredibly versatile outfit.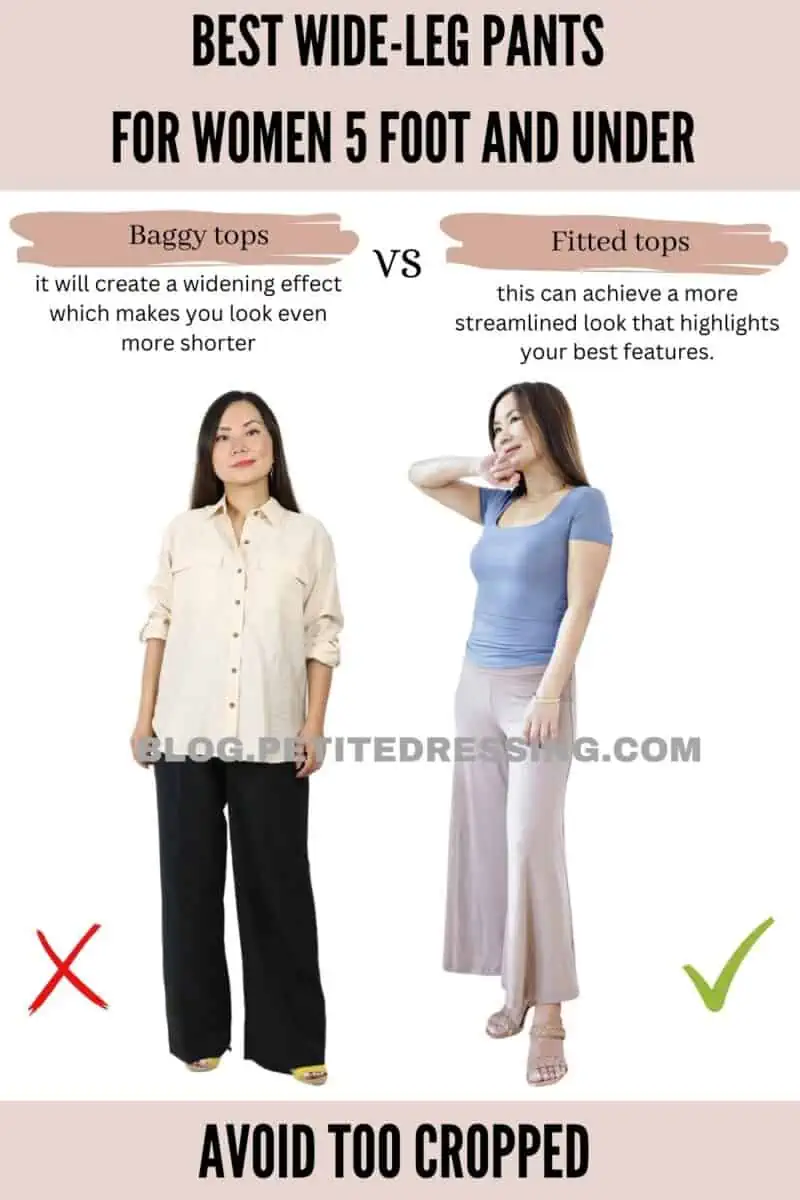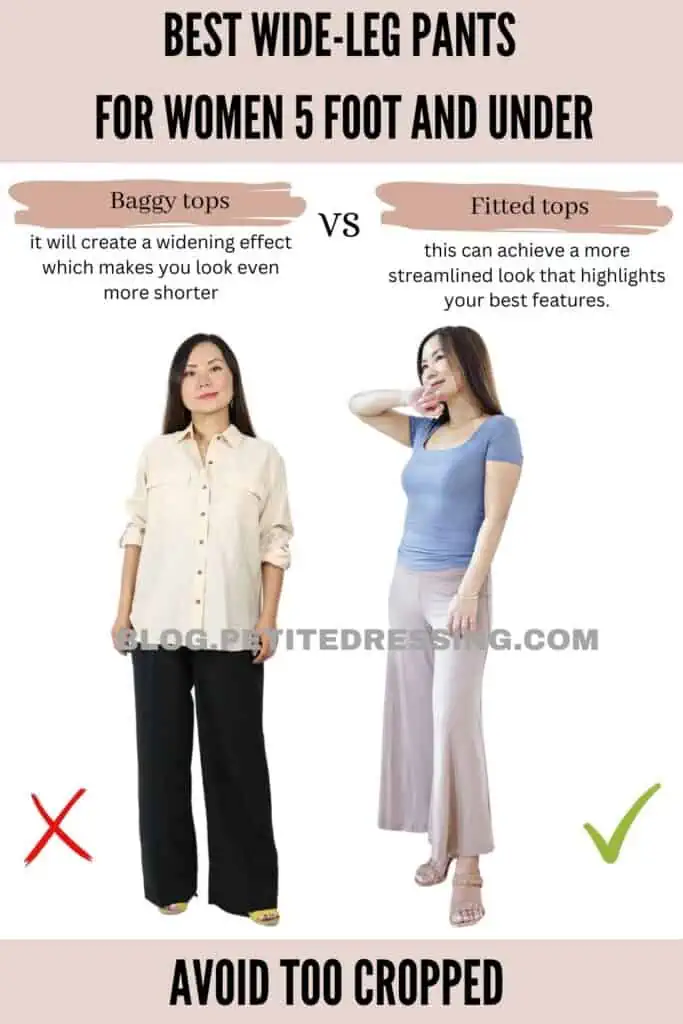 Whether it's a blouse, tank top or simple t-shirt, these are great fitted tops to complement the flowy nature of your wide-leg pants. With this, you can achieve a more streamlined look that highlights your best features.
Stay away from boxy or bulky tops as these can overwhelm your petite frame. Remember that as a five foot tall woman, you don't need baggy clothing that will dwarf your appearance.
Wear with a crop top
Show off your incredible waistline with a pair of wide-leg pants worn with crop tops. Since there's a high chance that you have a flat tummy area, this will work nicely with your silhouette, especially when you go for a crop top that balances out your body proportions.
The appeal of crop tops is in how they hit just above the waistline of your pants. Not only do you look really chic in them, but this also creates a flattering outlook that brings out your feminine quality.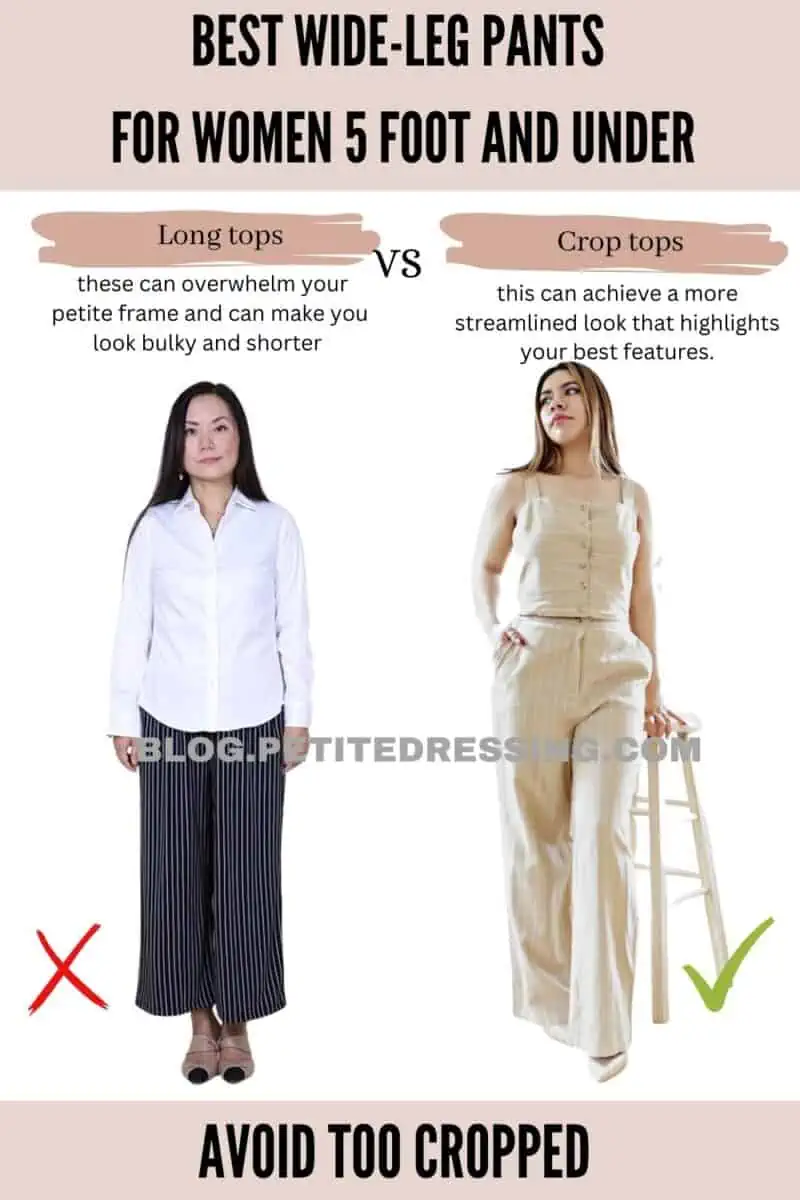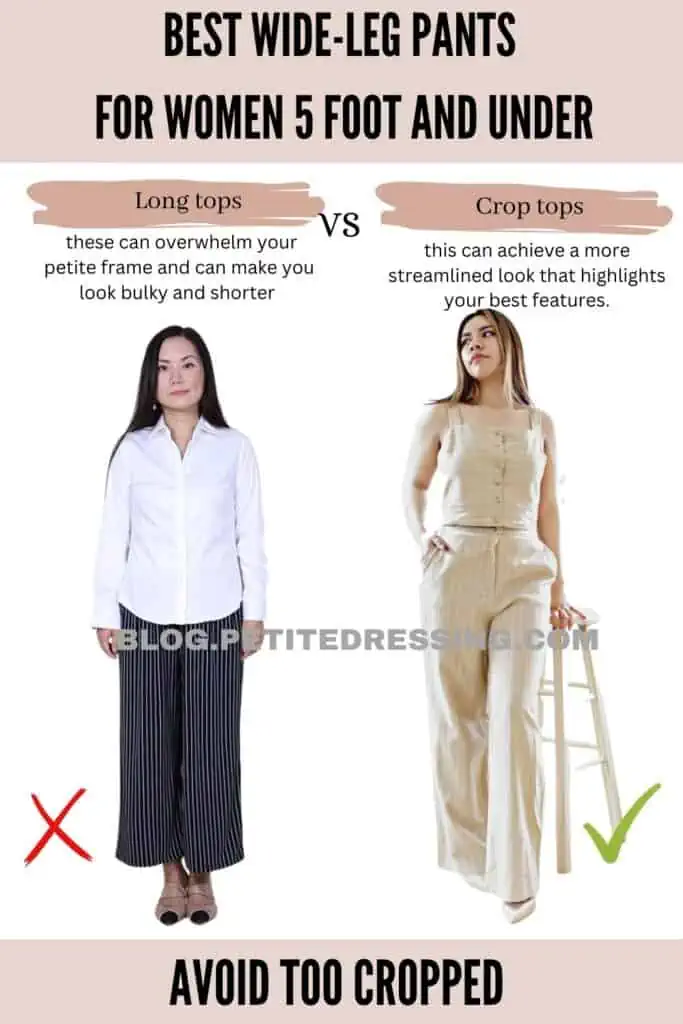 You can choose a fitted crop top or one with a slightly flowy fit that works with the flowy nature of your wide-leg pants. However, you should do this carefully. Crop tops have been an amazing choice for petite women for years, and that's not about to change.
So, here's the summary of today's tips. Don't be afraid to experiment with wide-leg pants, as they are a great option for petite women looking to create a balanced silhouette and appear taller. Pair this with lovely accessories, and you have the stylish look you desire.