Being a 5'2″ petite woman myself, I have always noticed not everything look equally good on me. If you are 5 foot and under, this is especially obvious, because the right styles can elongate and flatter you, while the wrong styles will do quite the opposite.
Since I have a petite clothing line, I hear feedback from thousands of my customers, many of whom are 5 foot and under. Based on their feedback, I've put together this list of what you should avoid and what you should wear instead.
Styling Goal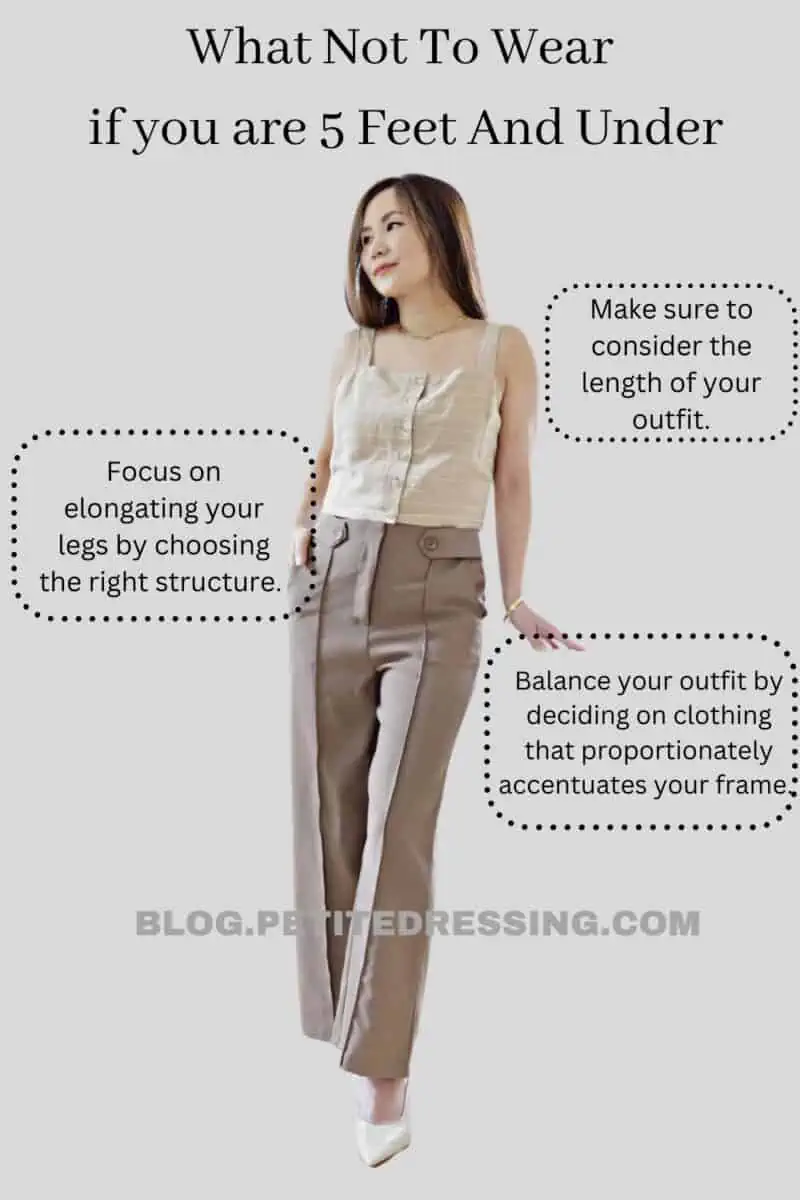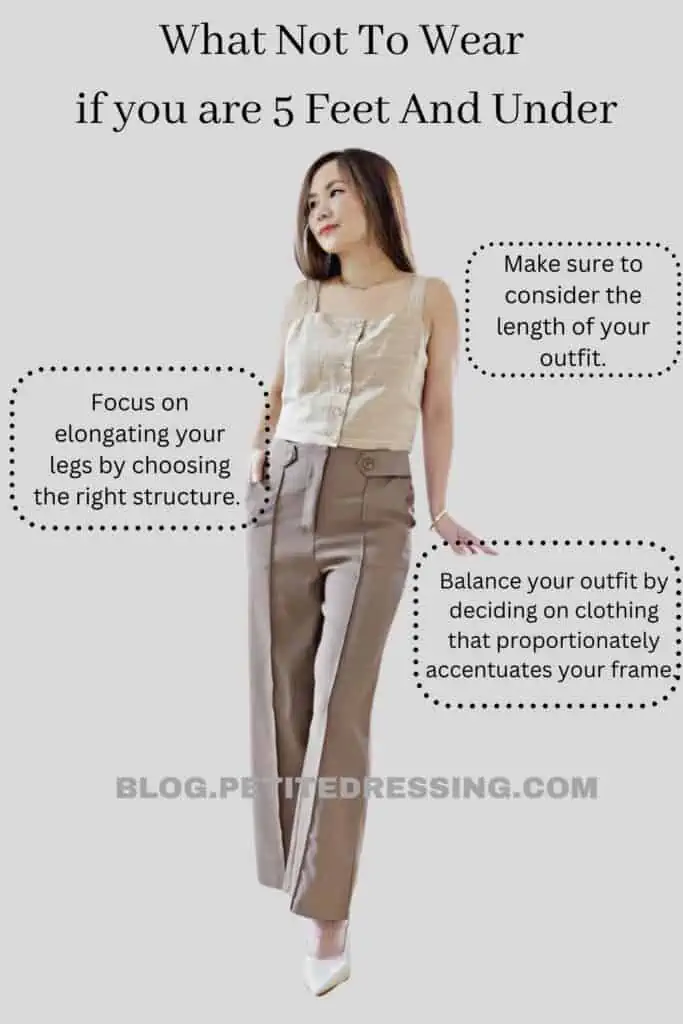 Focus on elongating your legs by choosing the right structure. Avoid wearing clothes that cut you off at the waist as this can make you look shorter.
Stick to streamlined silhouettes and avoid bulky layers that will overwhelm your petite frame. Stay away from heavy fabrics that add thickness and opt for clothes with minimal designs.
Make sure to consider the length of your outfit. Maxi dresses, long skirts, and floor-length pants can swallow you up and make you look a lot shorter so, always pick skirts that fall slightly above or below the knee to highlight your legs instead.
Balance your outfit by deciding on clothing that proportionately accentuates your frame. Oversized apparel can be too much for your petite frame, thus select fitted clothes that flatter your body shape.
Dressing for your height entails developing a balanced style that highlights your greatest features. To confidently navigate your wardrobe and steer clear of clothes that do not flatter your figure, here are some of the clothing styles that you should avoid if you are 5 feet and under.
Chunky Knit Turtleneck Sweaters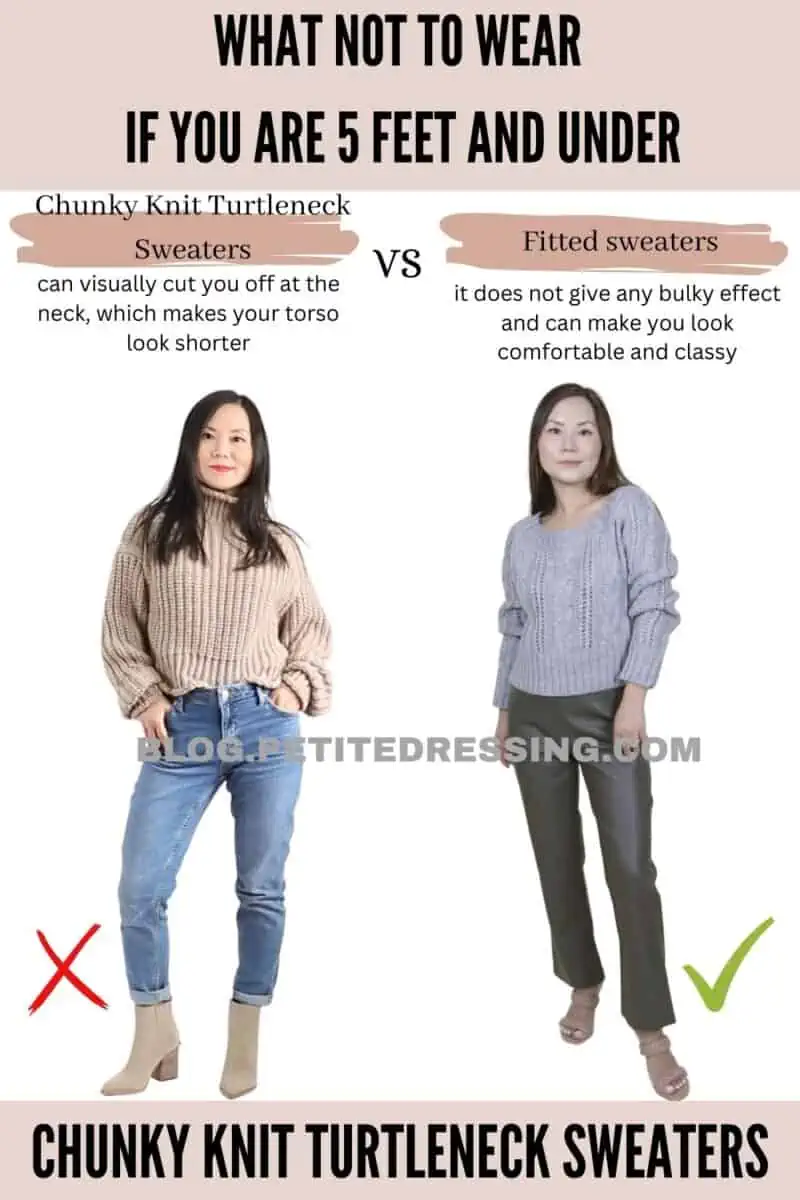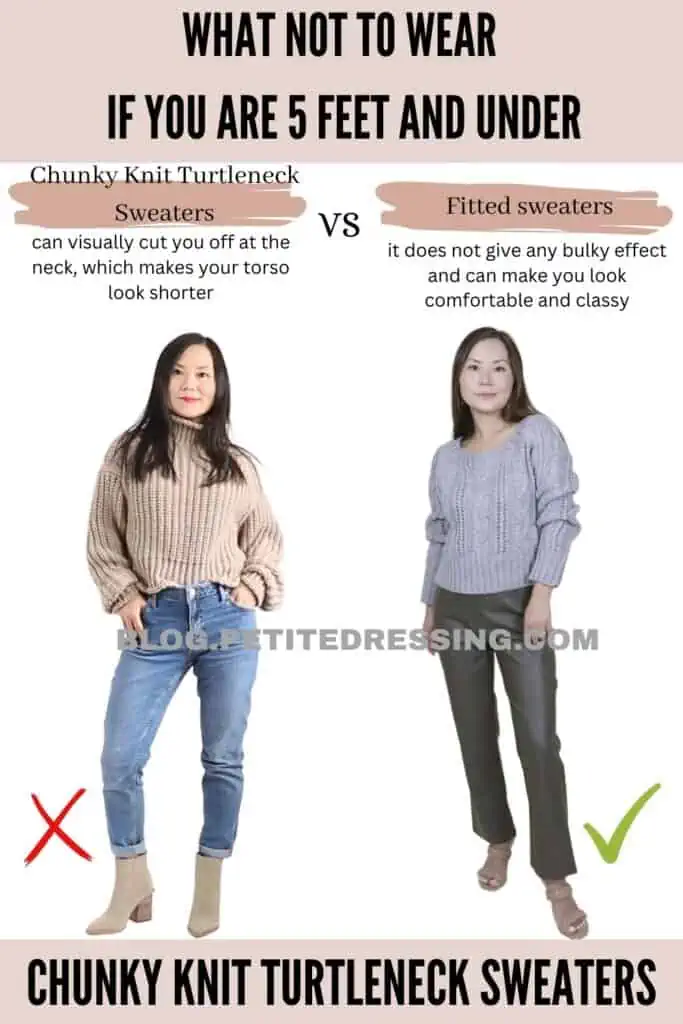 Chunky knit turtleneck sweaters are really cozy and trendy, but they can also overpower your small body frame. The thickness of the knit may add unwanted bulk to your silhouette, making you look a bit wider and shorter.
Additionally, the turtleneck can visually cut you off at the neck, which makes your torso look shorter. So, I highly suggest going for fitted tops that complement your figure.
However, if you are an avid fan of wearing sweaters, you may choose a thinner knit that drapes nicely on your body. Pair it with high-waisted pants or a skirt to create the illusion of longer legs. 
Another option is to tuck the sweater into your pants or skirt to show off your waistline and create a more defined shape. Remember that proportion is key, so avoid anything that adds too much volume to your frame.
Tunic Tops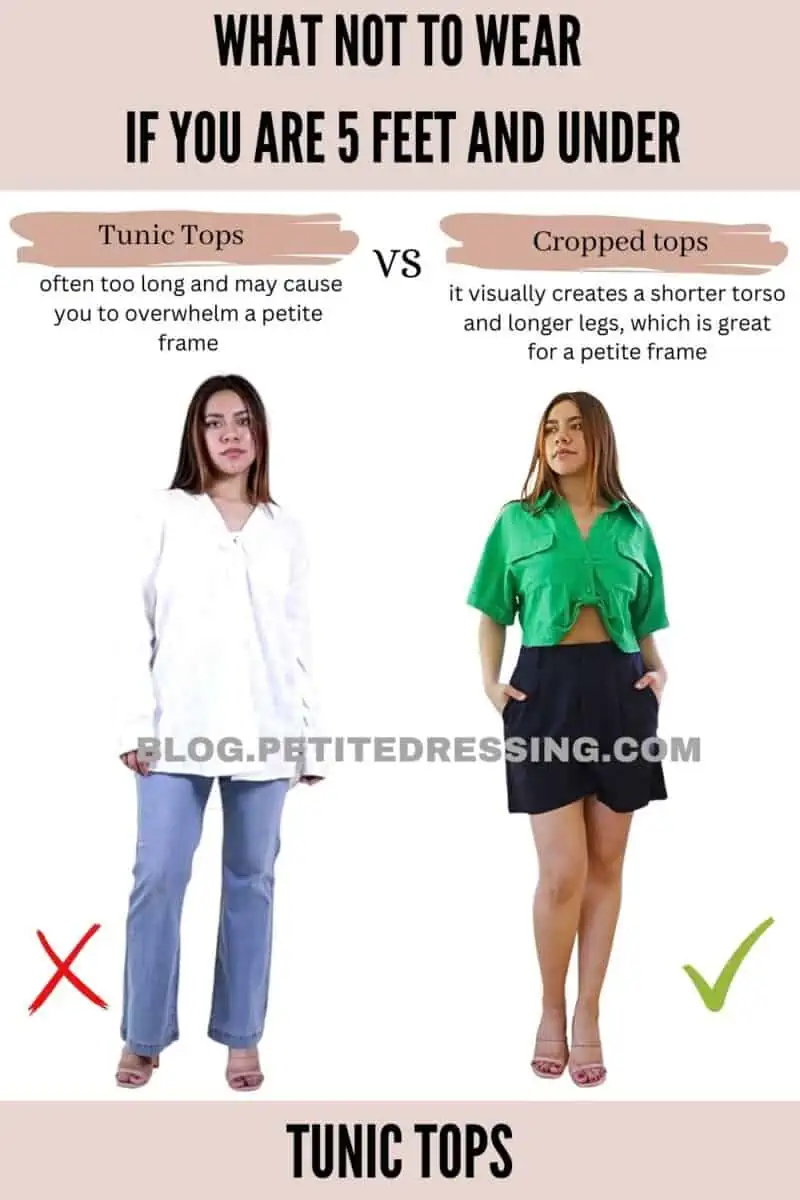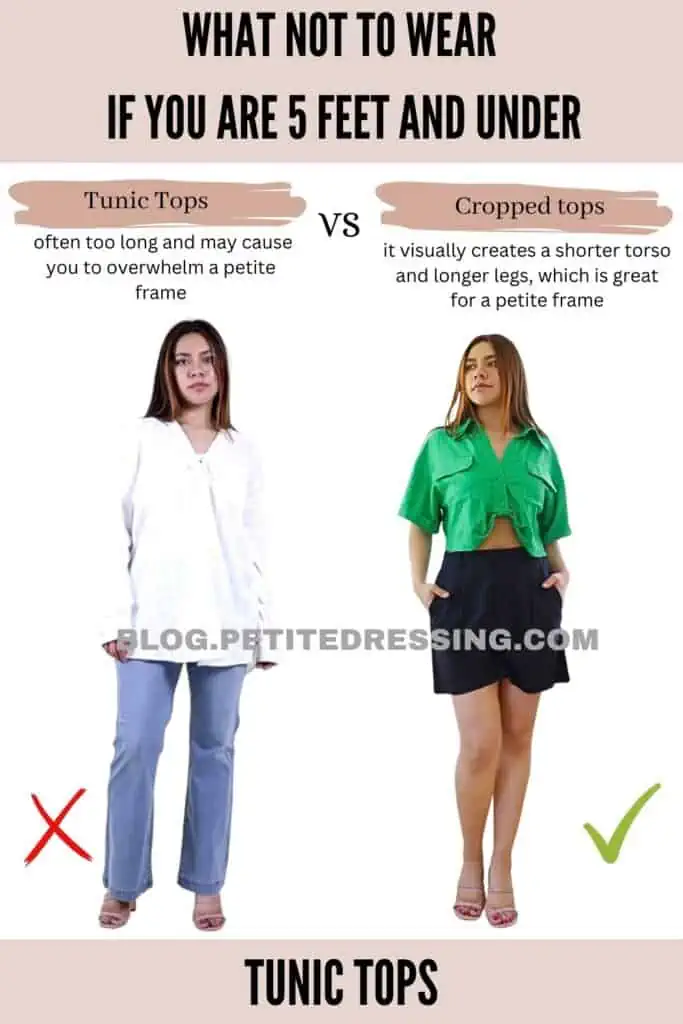 Tunic tops are a comfortable and flowy option that can be flattering for certain body types, but for women who are 5 feet and under, they may create a frumpy and unflattering appearance. Tunic tops are often too long and may cause you to overwhelm a petite frame, making you look a lot shorter and wider.
Fortunately, there are certain comfy tops that are not too long and have a more fitted shape, so you may want to try those instead. Look for styles that hit just above the hip to create a balanced proportion and avoid styles that are overly flowy or have too much volume.
Thick Horizontal Stripes
Clothes with thick horizontal stripes might look disproportionate for women who are 5 feet and under, particularly if the stripes are not evenly spaced. Rather than wearing broad horizontal stripes, try narrower or vertical stripes for an elongating effect.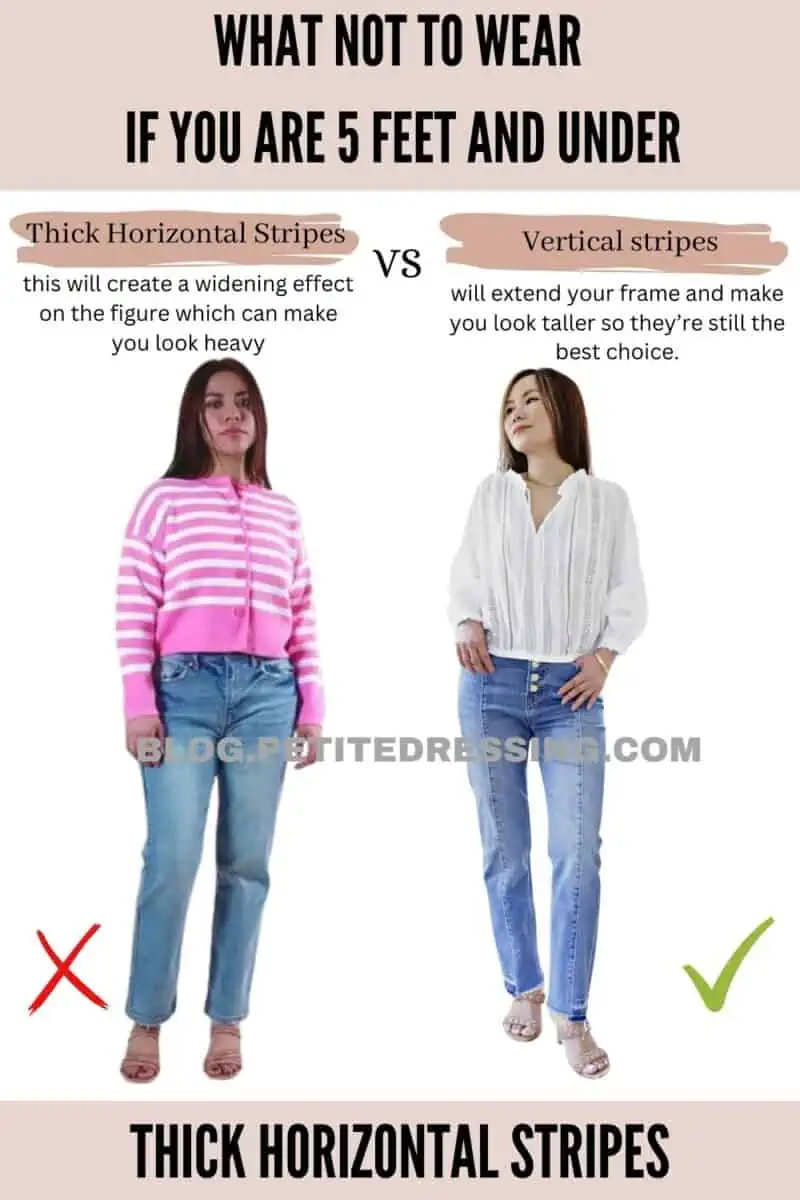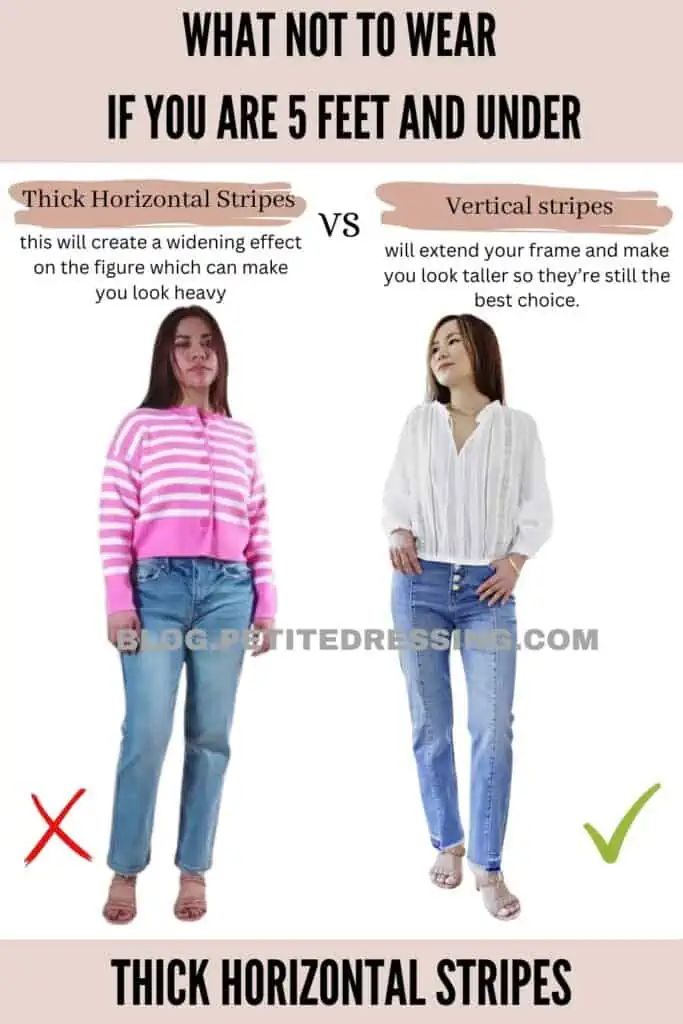 Still want to give horizontal stripes a go? Thinner stripes produce a more subtle pattern that will not overshadow your frame, but still, vertical stripes will extend your frame and make you look taller so they're still the best choice.
Avoid styles with excessive stripe coverage and instead choose shirts or skirts with stripes on the sleeves or bottom half. To achieve a more streamlined style, balance out the stripes with solid-colored bottoms.
Drop Waist Dresses
Drop waist dresses are a fashionable and playful style, but they may end up giving an unpleasant effect for women 5 feet and under as they shorten the legs and add weight to the hips. This type of dress should definitely be a hard pass for you!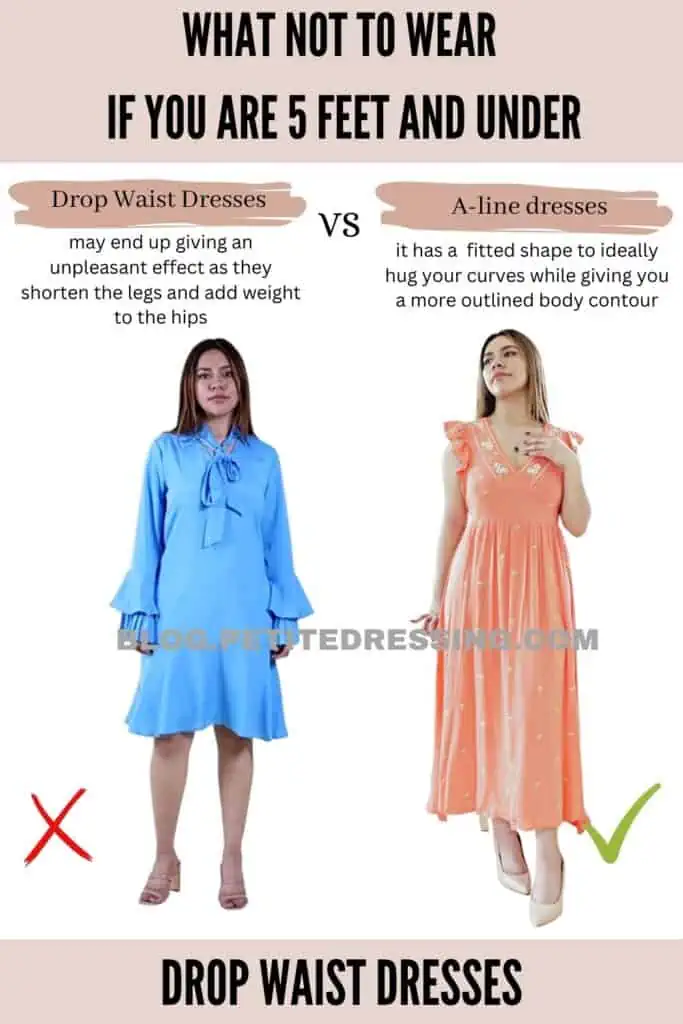 Look out for dresses with a more fitted shape to ideally hug your curves while giving you a more outlined body contour. Another option is to wear the dress with heels to lengthen your legs and create better proportions.
Floor-Length Skirts
Floor-length skirts will very much likely overpower your petite frame and make you seem even shorter. Hence, you have to avoid wearing floor-length skirts with excessive volumes such as those with too many layers or too much fabric.
I usually advise wearing skirts that are short enough to expose your legs as this creates the illusion of length. A high-waisted maxi skirt that hits just right above the ankle can also give the illusion of longer legs and provide a more balanced appearance.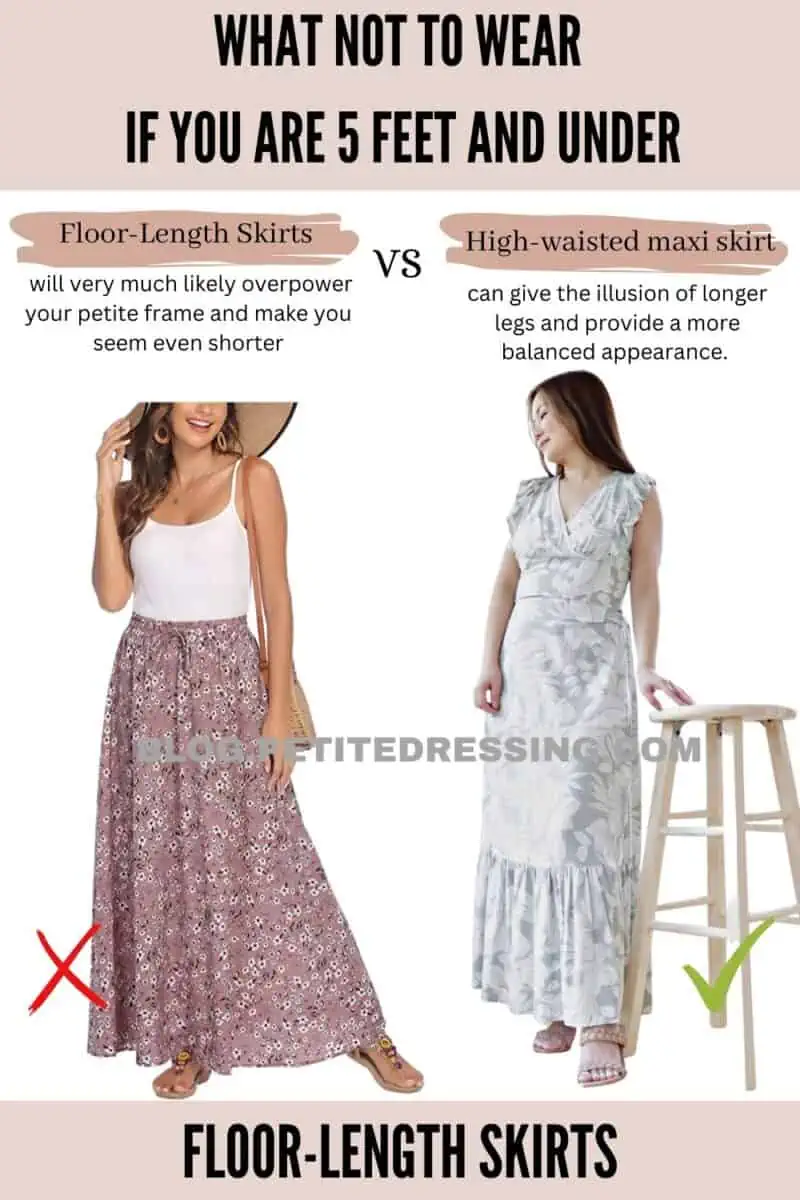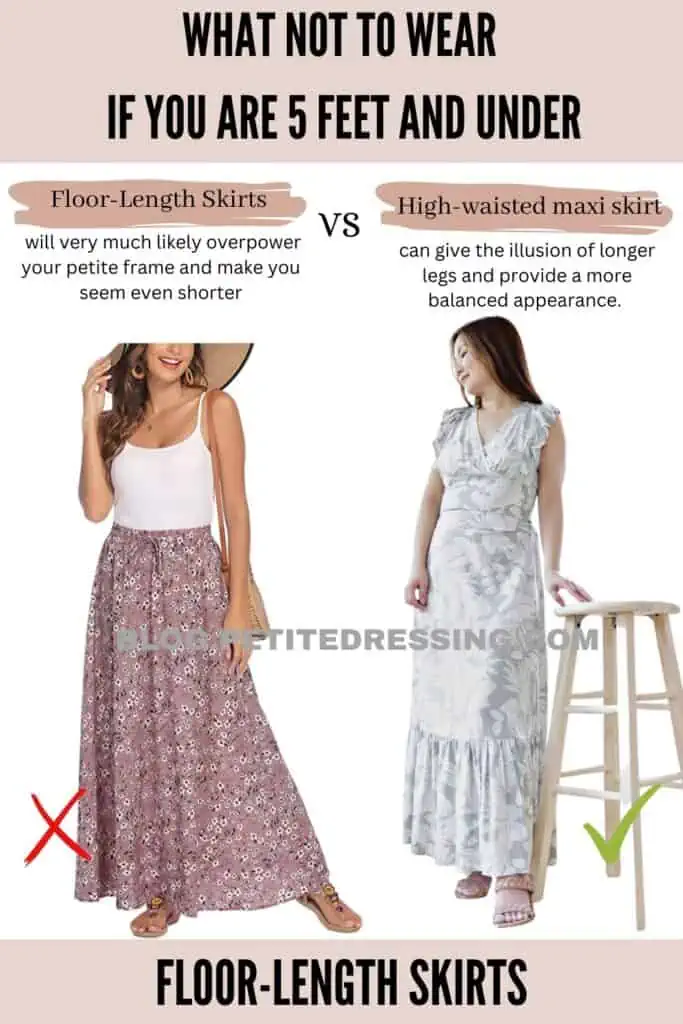 Cropped Wide-Leg Pants
Cropped wide-leg pants can be a tricky fashion for shorter women to pull off. When dressed correctly, they can produce a sleek and casual look, but without proper styling, they also have the potential to make legs seem shorter and thicker than they are.
To prevent having a boxy and unappealing style, you should avoid wearing cropped wide-leg pants that end at the broadest part of the calf. Choose pants that are cut just above the ankle to achieve the illusion of longer legs.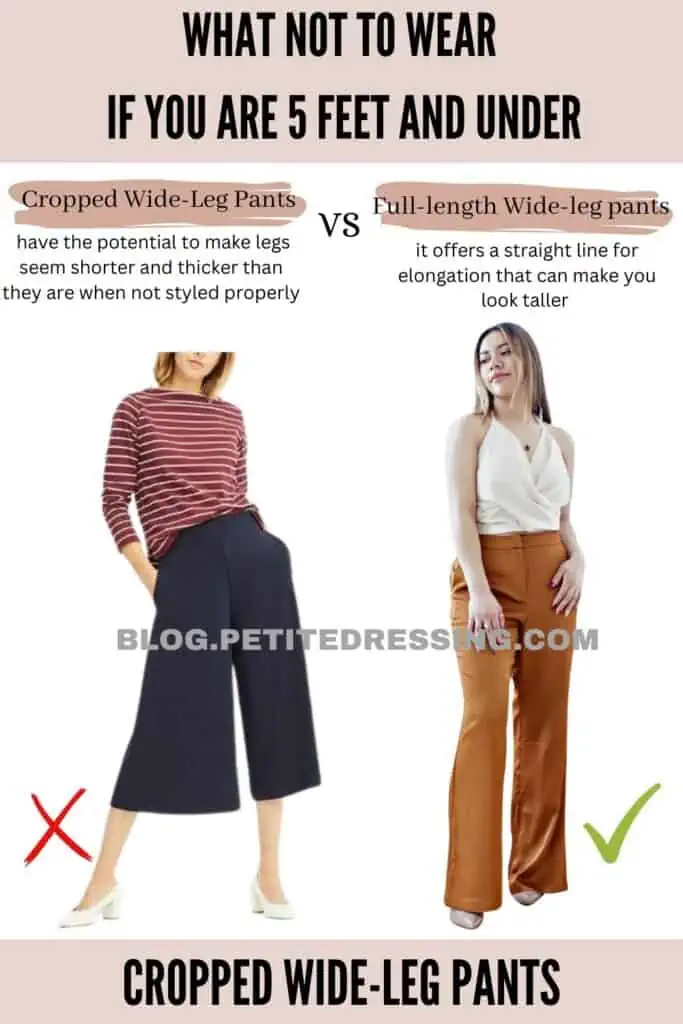 Moreover, you can pair cropped wide-leg pants with a fitted top to draw attention to the waistline and avoid adding bulk to the entire outfit. High heels or ankle boots can also help in making you look taller.
Capri Pants
We have to admit, capri pants are quite outdated and they are also one of the most unflattering options for women 5 feet or shorter. Capris are cut at the mid-calf, resulting in an unsightly visual break in the leg line.
This might give the legs the illusion of being shorter and stockier. Furthermore, capris pants draw attention to the ankles, causing them to appear thicker.
Avoid capri pants if you're a 5-foot woman and choose full-length pants or cropped pants that hit just above the ankle and pair them with high-heeled shoes instead. This will create a smooth leg line and stretch your frame, giving you the impression of being taller and slimmer.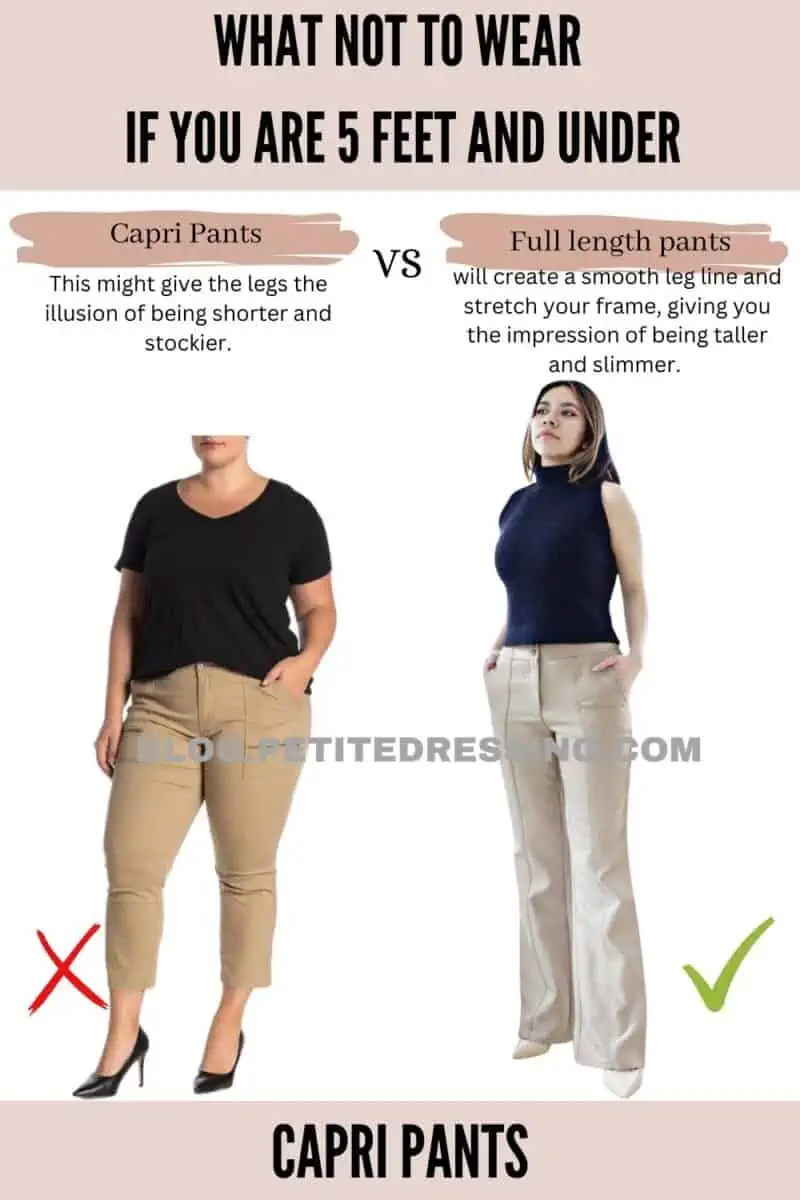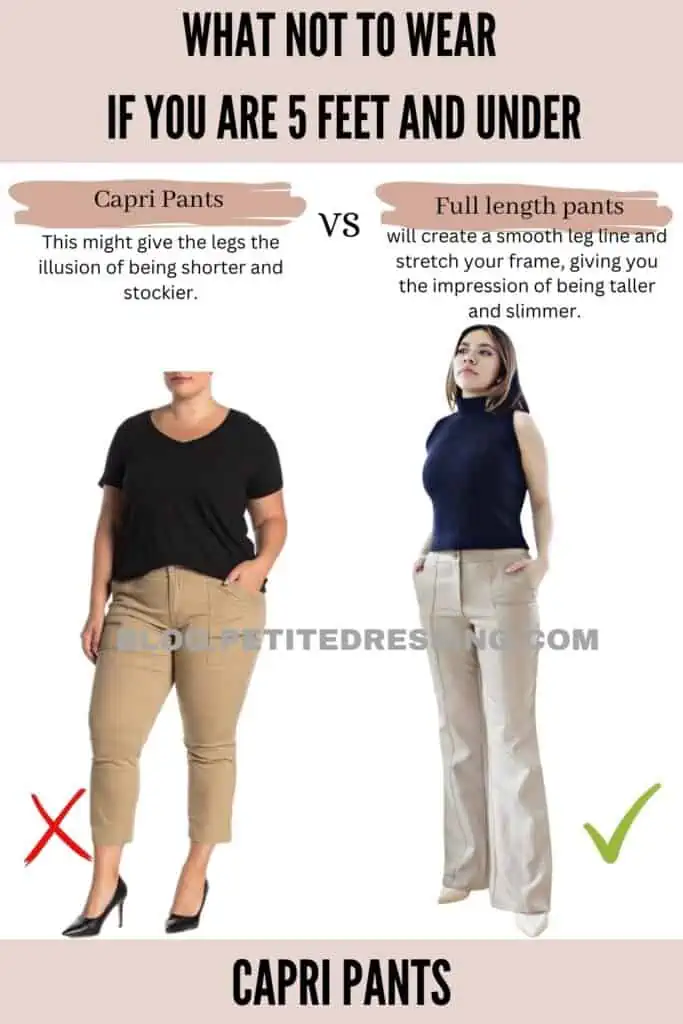 Baggy Pants
Baggy pants may overpower a smaller frame and make you look like you are drowning in fabric. So instead of wearing baggy pants, choose fitting pants that highlight the shape of your body and accentuate your curves.
In addition, always look for slim-fitting pants that hug your hips and thighs but slightly taper at the ankle. If you are concerned about feeling constrained, search for pants made of stretchable fabric that offers comfort and flexibility.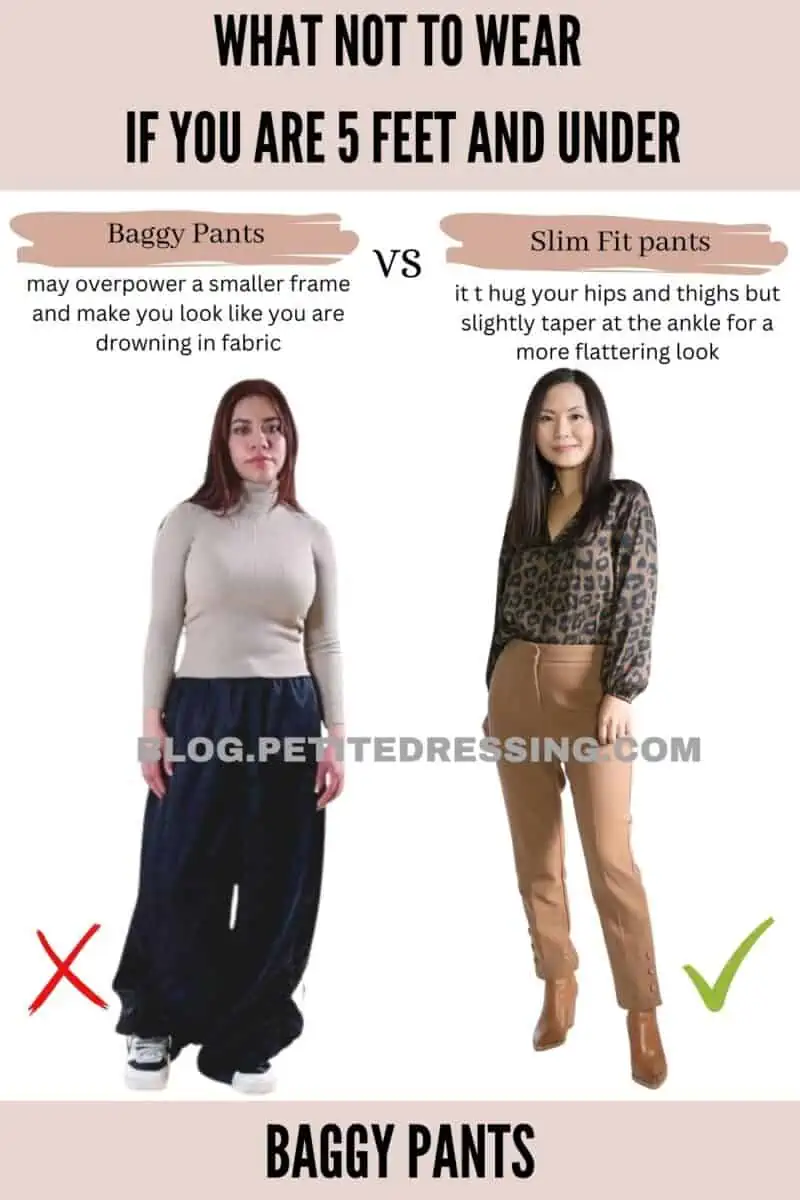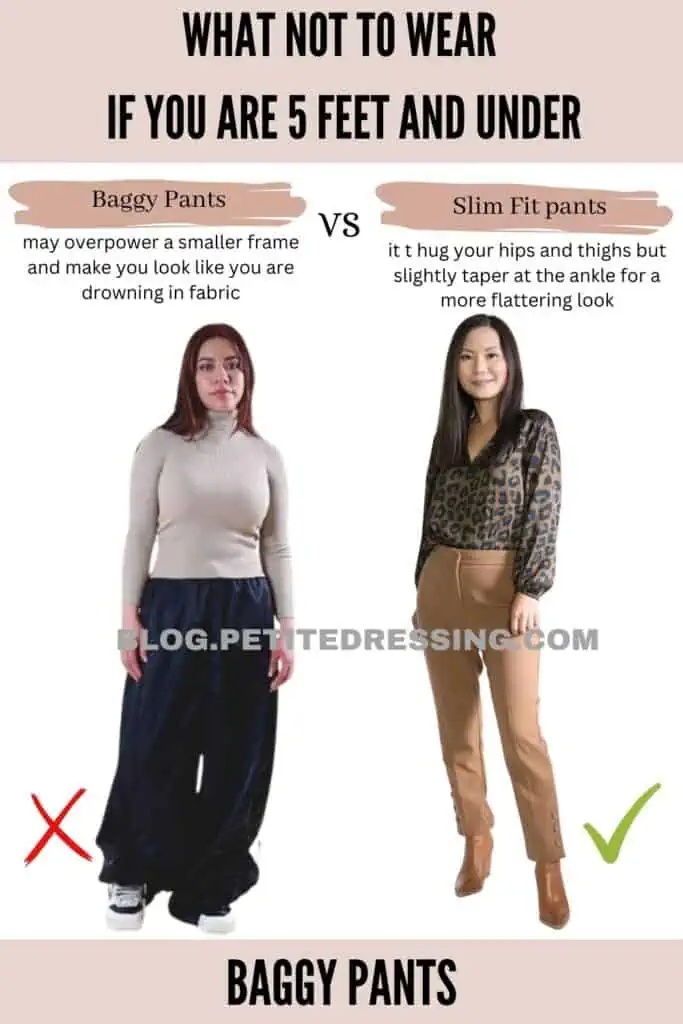 Thick (Oversized) Belts
Thick or oversized belts can dominate a smaller frame, leading to an unbalanced body shape. They give too much emphasis to your waistline and can make you look a lot smaller.
If you are 5 feet tall and below, avoid thick, large belts in favor of thinner belts that flatter your shape. Wear belts that are no wider than 1-2 inches at your natural waistline to produce a defined waistline and elongate your torso.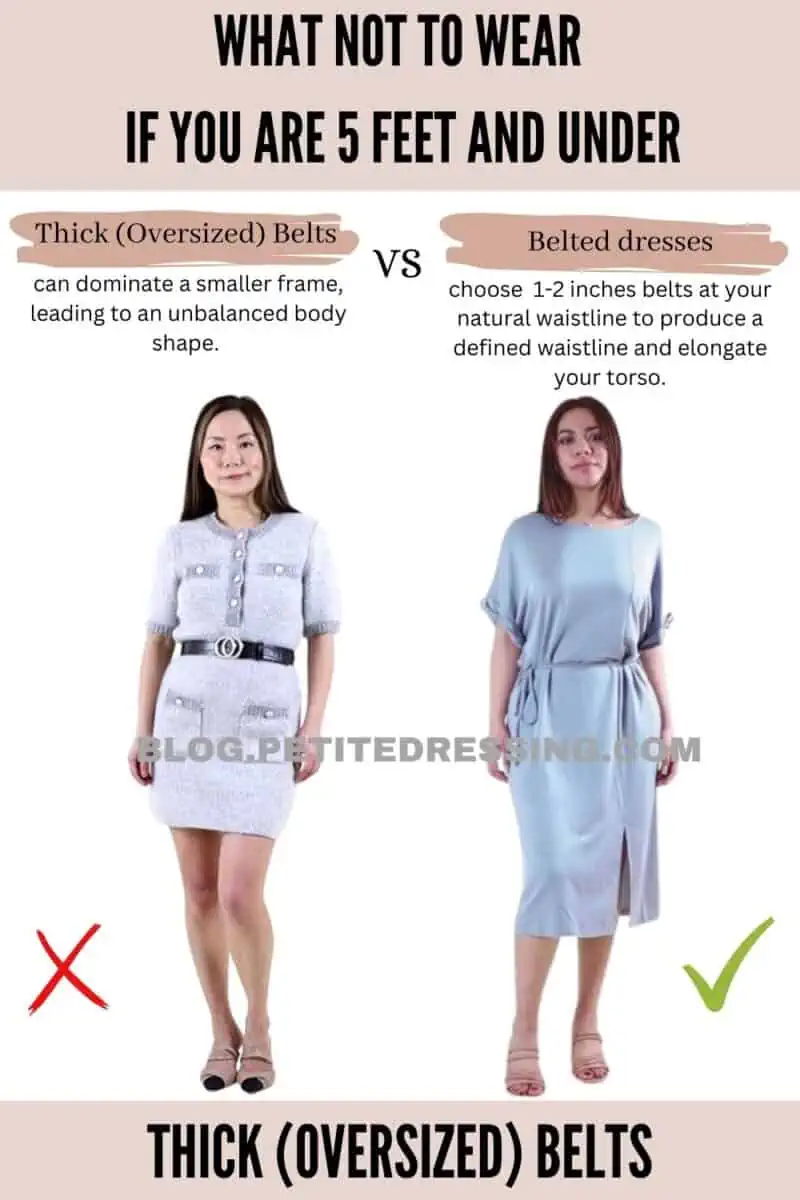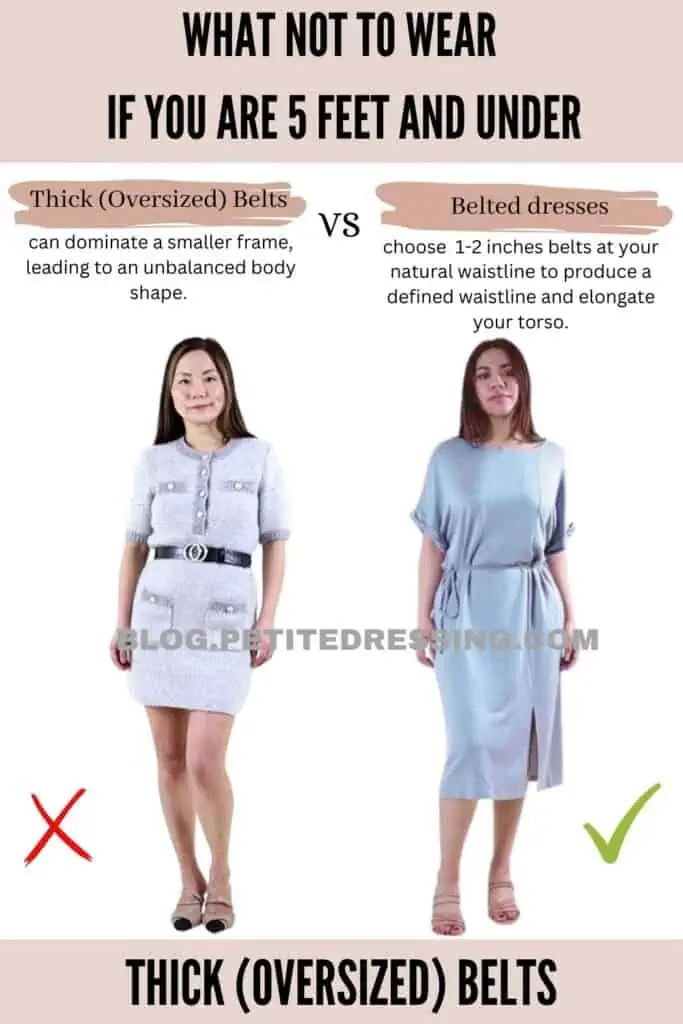 Huge Bags
Although huge bags are useful for carrying all of your essentials, they are not the most flattering choice for petite women. Oversized bags may weigh down a petite frame, which makes you look like you are carrying a massive suitcase.
Avoid bags that are larger than a tote bag and bags that hang too low on your body. Choose a structured sling bag or a backpack that sits higher on your back if you need to carry a lot of belongings.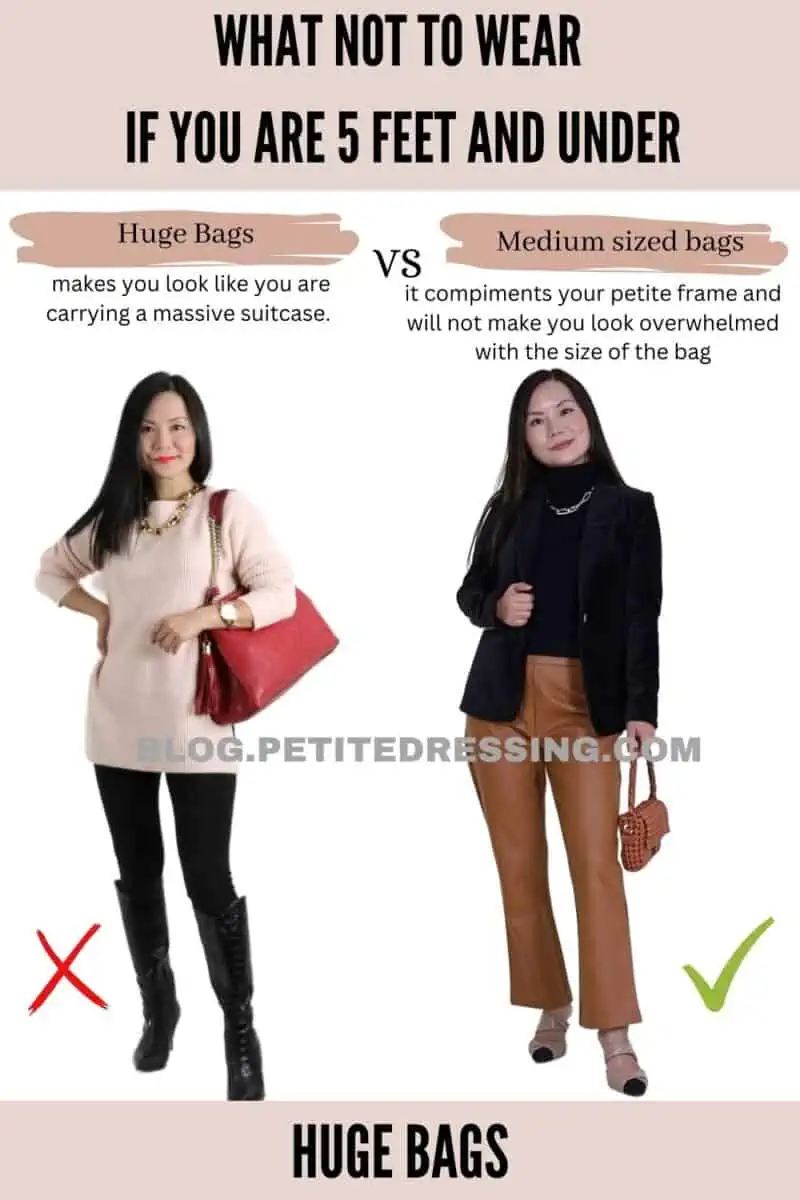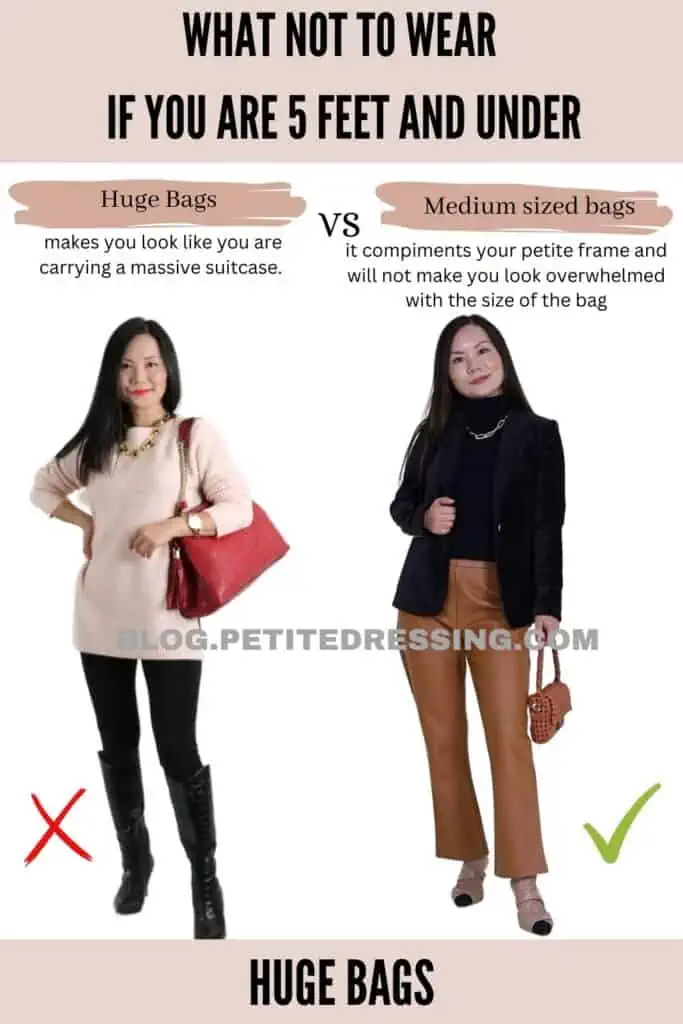 Ankle Strap Sandals
Ankle strap sandals are a gorgeous shoe style option, but they are not suitable for women under 5 feet tall. Ankle straps might shorten your legs by cutting off the leg line.
Instead of ankle strap sandals, choose shoes with a low vamp that exposes more of your foot and reveals more skin such as pointed-toe flats or pumps. This will result in a smooth leg line, making your legs look longer and slimmer.
However, if you really have to wear ankle strap sandals, choose ones with a thinner strap and a low-cut vamp that shows more of your foot.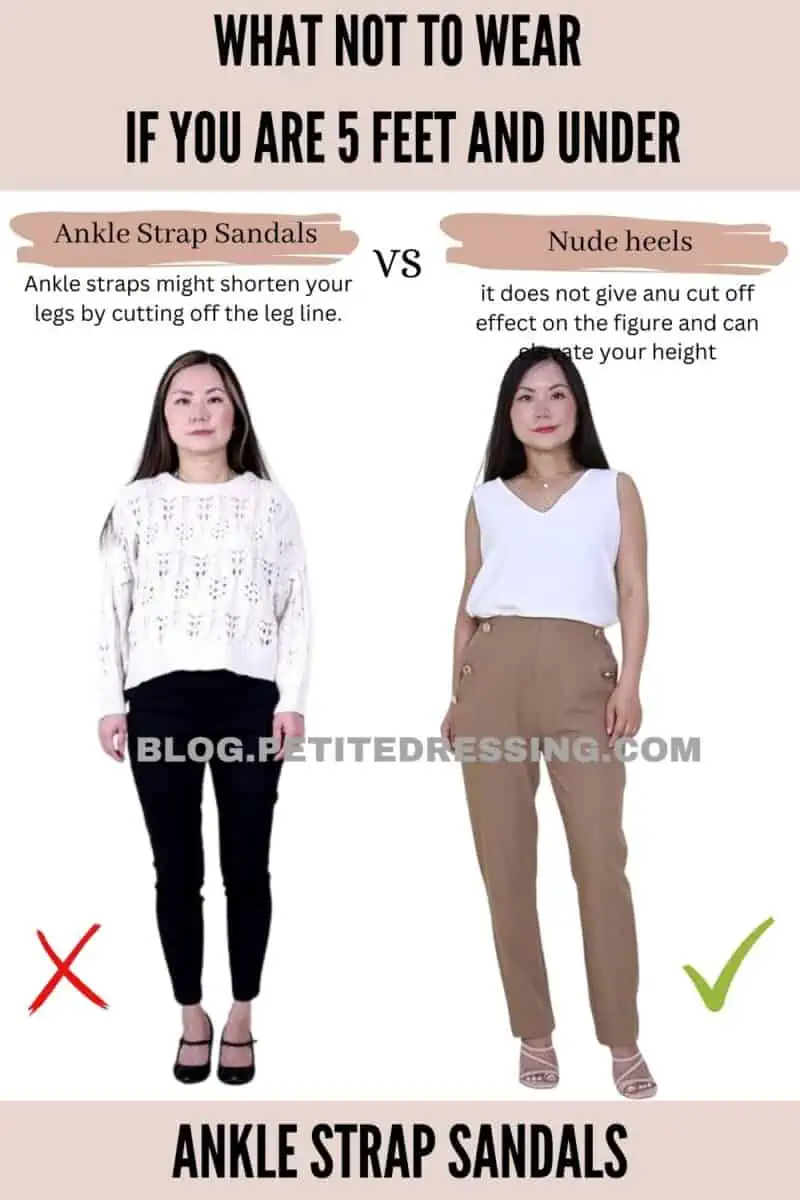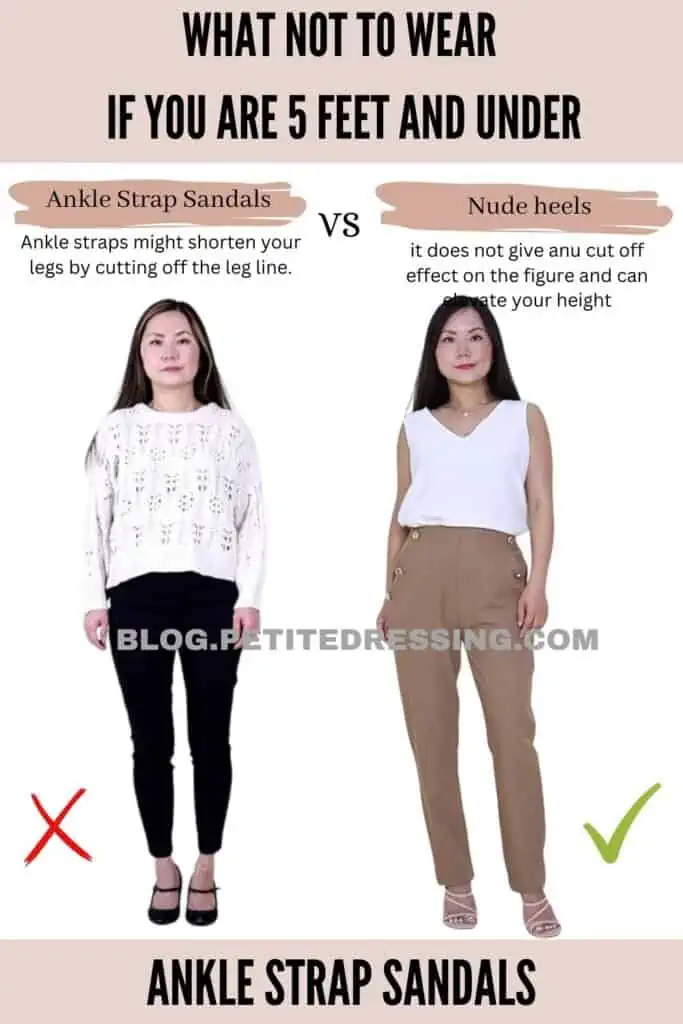 Platform Shoes
Platform shoes increase your height, but they can give you a disproportionate silhouette and give you a chunky appearance. The thickness of the sole can make your feet seem greater in size, which can throw off your body proportions.
Go for shoes with a low heel and a pointed toe to achieve a streamlined silhouette and stretch your legs. If wearing high heels is not your cup of tea, try loafers or slip-on shoes with a pointed toe or a slight lift instead.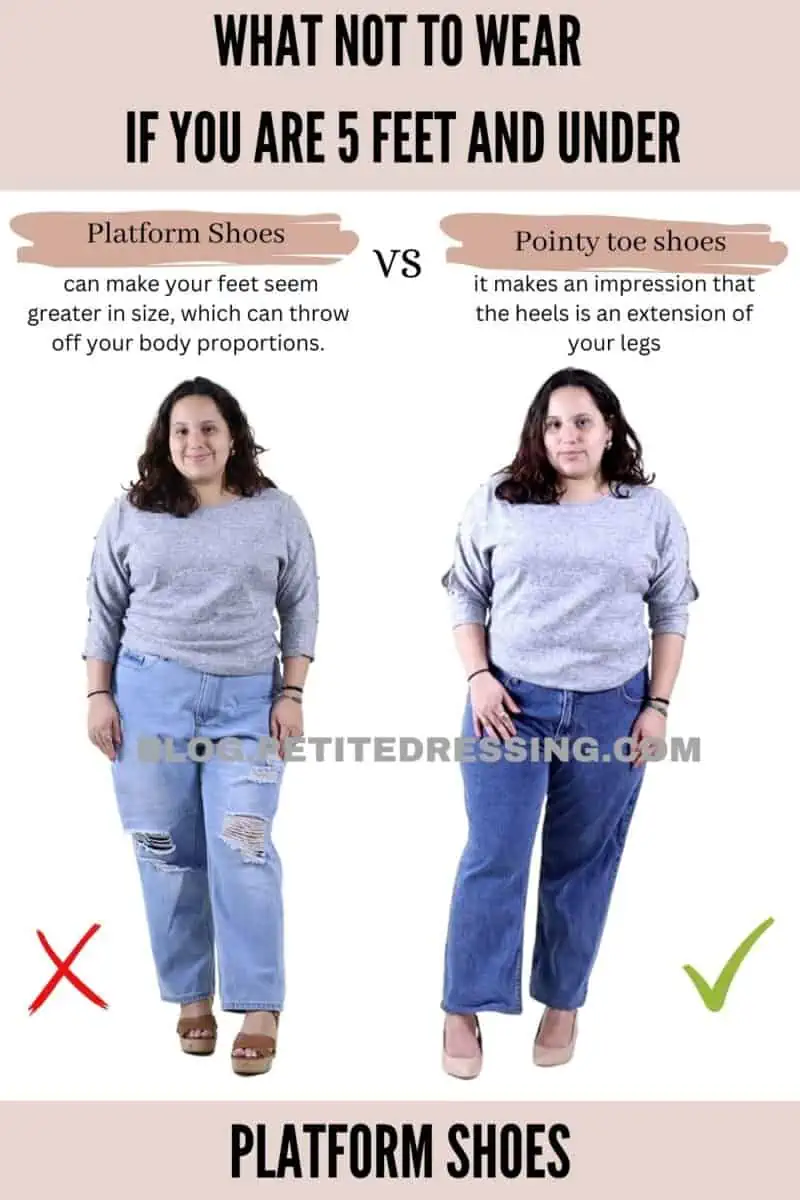 The Key Takeaway
The secret to appearing and feeling your best is to dress according to your body type. Women who are 5 feet or shorter should steer clear of clothing pieces that can give them an unbalanced silhouette and make them look shorter and fatter.
You can achieve a streamlined body appearance that elongates your frame and makes you feel confident and stylish by avoiding the aforementioned clothing items and choosing ones that flatter your body type.