For women over 40, it is key to choose skirts that make you feel confident and comfortable. Meanwhile, it also important to realize that not all the skirts will look equally good on you, so the the correct length and style for the skirts can play a critical role.
Since I have a clothing line for women 5'4″ and under, I receive numerous feedback from thousands of my customers, many of whom are over 40. Based on their feedback on what works and what doesn't, I've put together this guide.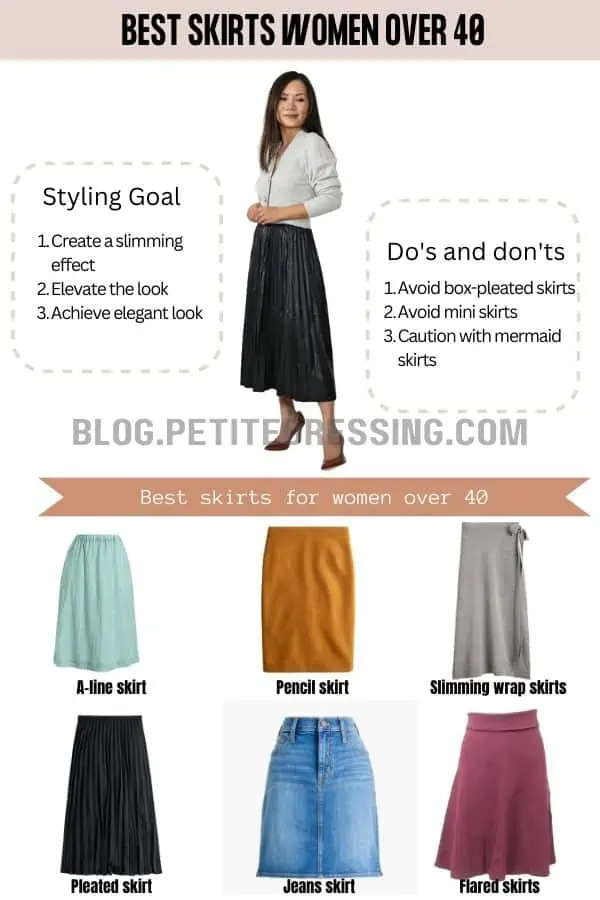 The A-line skirt
A-line skirts are a classic choice since they are the most common type of skirt that is still considered fashionable today. The A-line skirt was named after the fact that it takes the shape of the uppercase letter A. This shape creates a slimming effect due to the way the skirt flares out.
Over the past several years, it has become popular to wear high-waisted A-line skirts in order to craft an hourglass silhouette. From curvy women to straight-shaped women, A-line skirts are typically aesthetically pleasing for all. 
A-line skirts will typically fall directly above the knees, or closer to mid-calf. These skirts can be worn for any occasion, and are seen as a classier style. This style of skirt can be worn for all events since the sophistication of the look depends on what you pair it with.
This skirt is essential for women over 40 due to its ability to be universally flattering, and the idea that you can dress this skirt up or down for any occasion.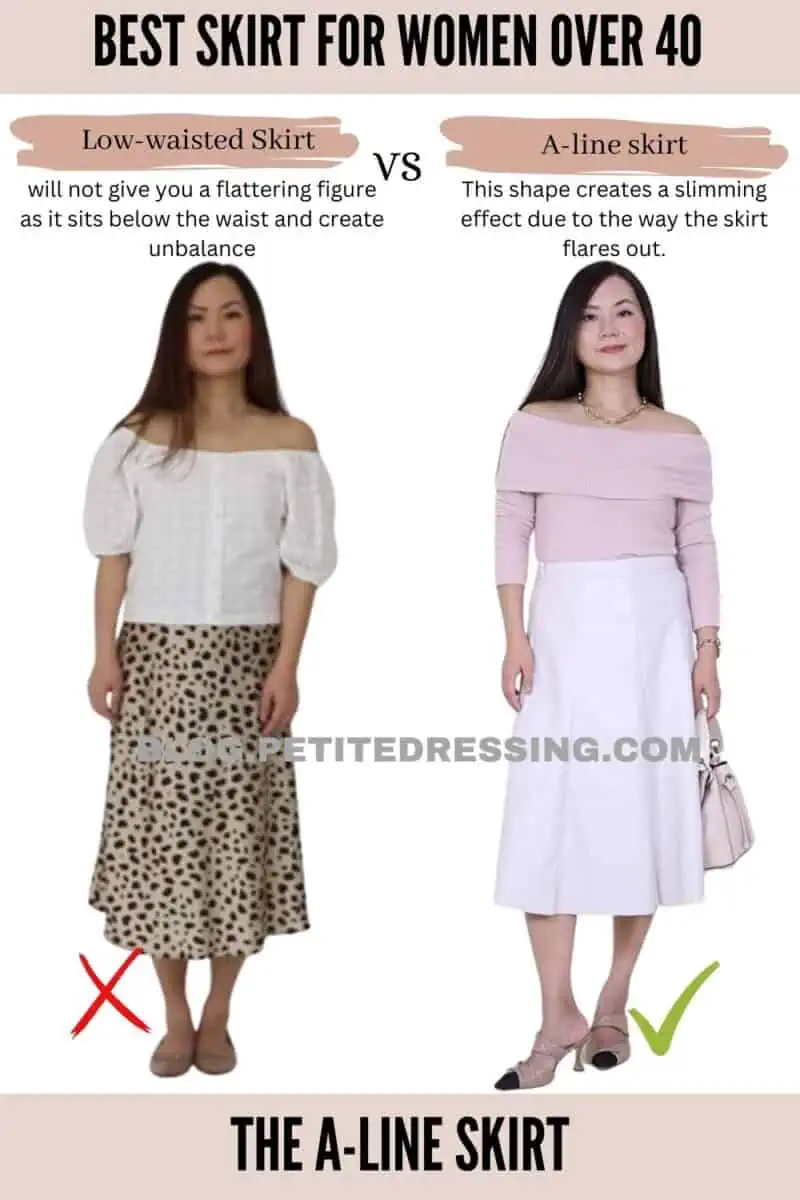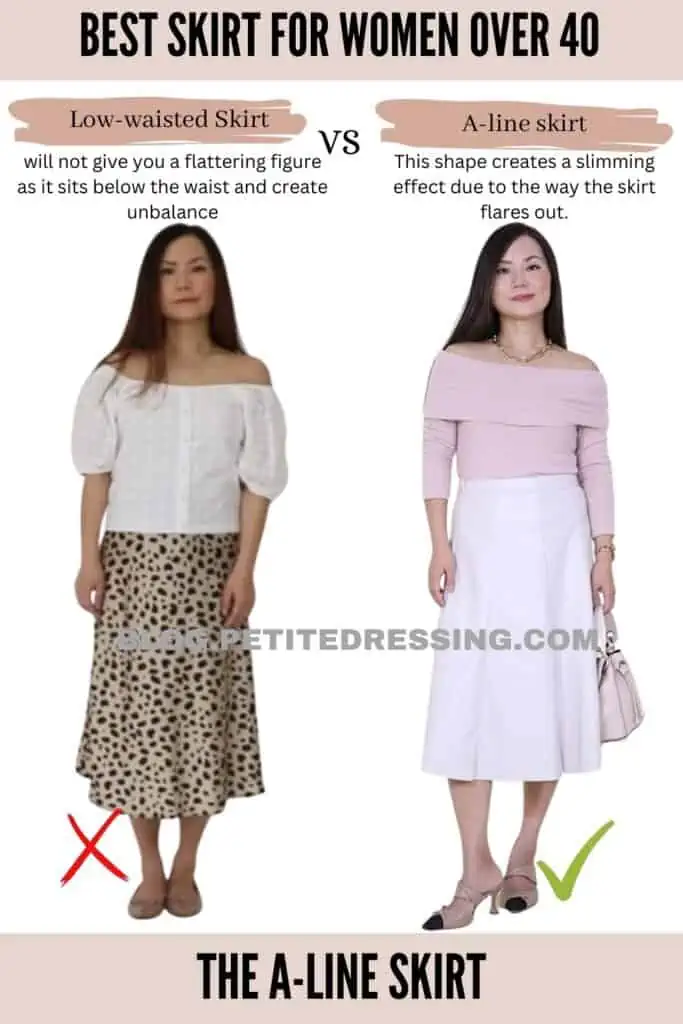 Pencil skirts
If you are searching for a skirt that will accentuate your curves, a pencil skirt is an ideal choice. Pencil skirts are form-fitting, so you will have to be confident with every aspect of your body in order to pull off this look. 
Pencil skirts are often styled with a chic pair of heels or pumps and a blouse that gets tucked in. You can also add a blazer to add another level of sophistication to your outfit.
Pencil skirts always fall either directly above or below the knees. You can choose the length of the skirt depending on what your work rules require.
If you choose to wear a pencil skirt for other occasions, know that a longer skirt length is usually viewed as more appropriate for business events.
Many pencil skirts have a small slit in the center of the back of the skirt so that your mobility is not limited.
This style of skirt is worn by many women who work in an office or professional setting. Since a great number of women over the age of 40 end up working the type of job that requires business attire, pencil skirts are excellent.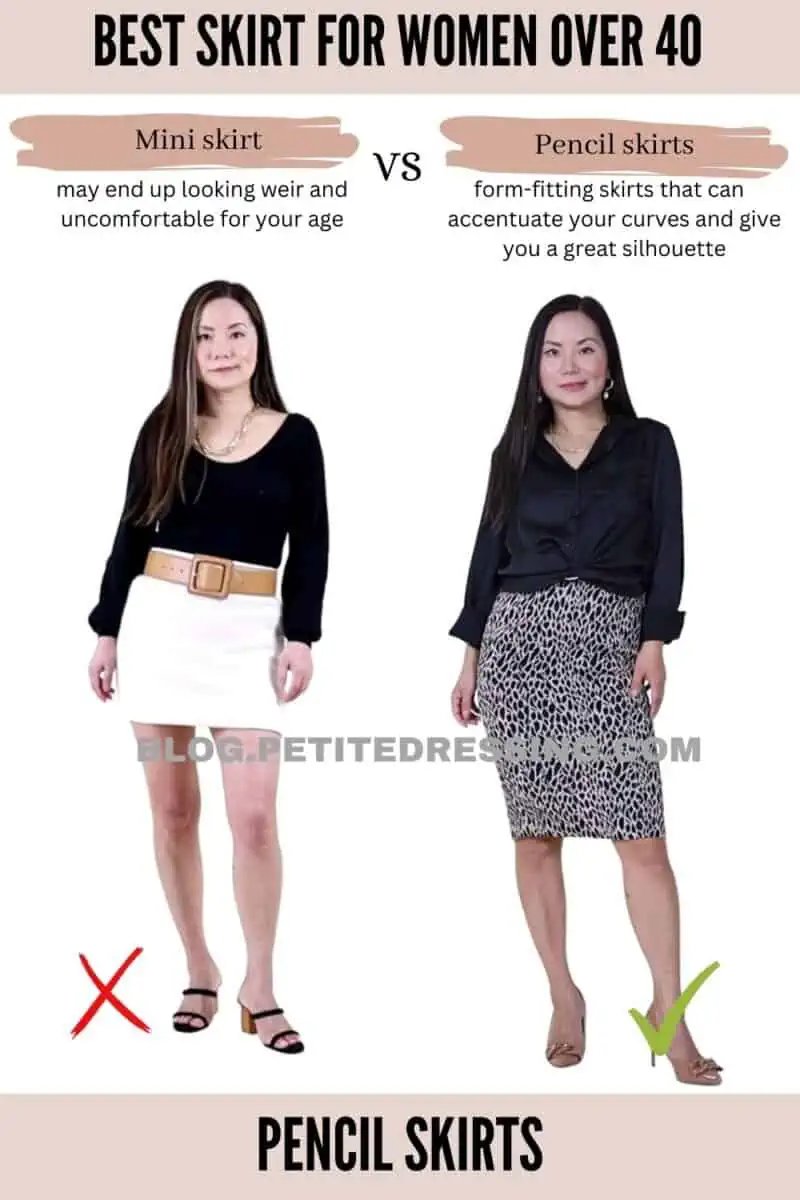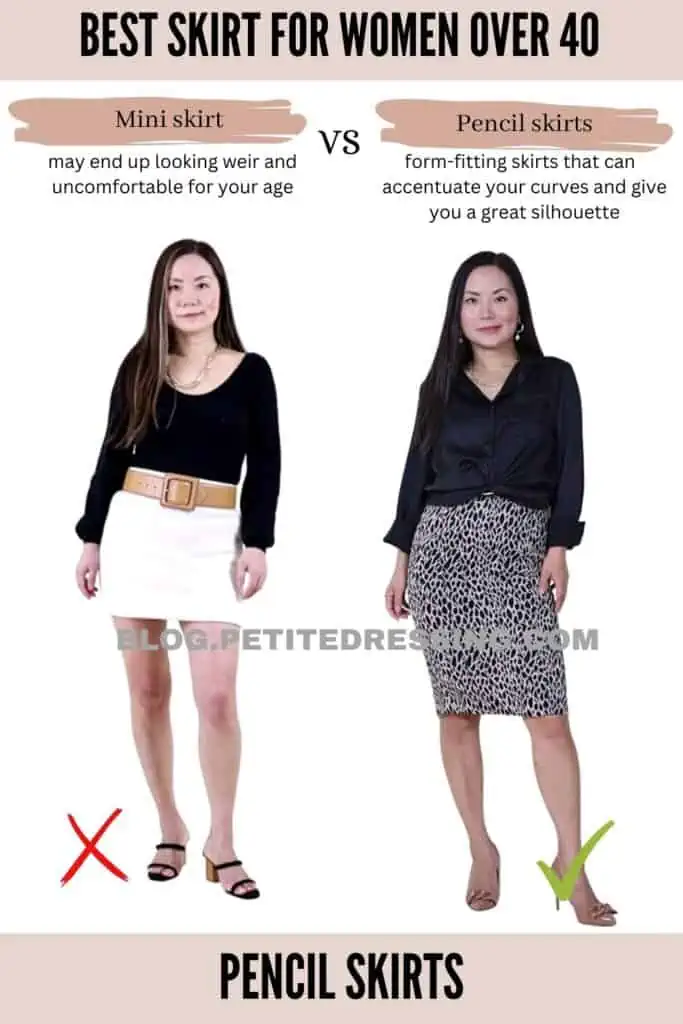 Slimming wrap skirts
Wrap skirts are ideal for anyone looking to hide a little bit of tummy. When you tie a wrap skirt, the fabric of the tie often conceals the stomach.
Wrap skirts provide flexibility, giving you the choice to tie the skirt wherever it looks the most flattering.
This allows you to create your own silhouette, which you can use to your advantage depending on the shape and the rest of your outfit.
One of the most common styles of wrap skirts is the light fabric flowy skirt.
This version often has a slit where the ends of the fabric meet and is typically worn during the spring and summer. You can pair it with a cropped shirt or tuck in a shirt.
As you get older, it can be difficult to stay slim and toned, and your life may not revolve around that lifestyle. You may have a family to take care of or a job that takes up a lot of your time.
Wrap skirts are forgiving and great for older women who want to distract from parts of the body they don't want to be seen.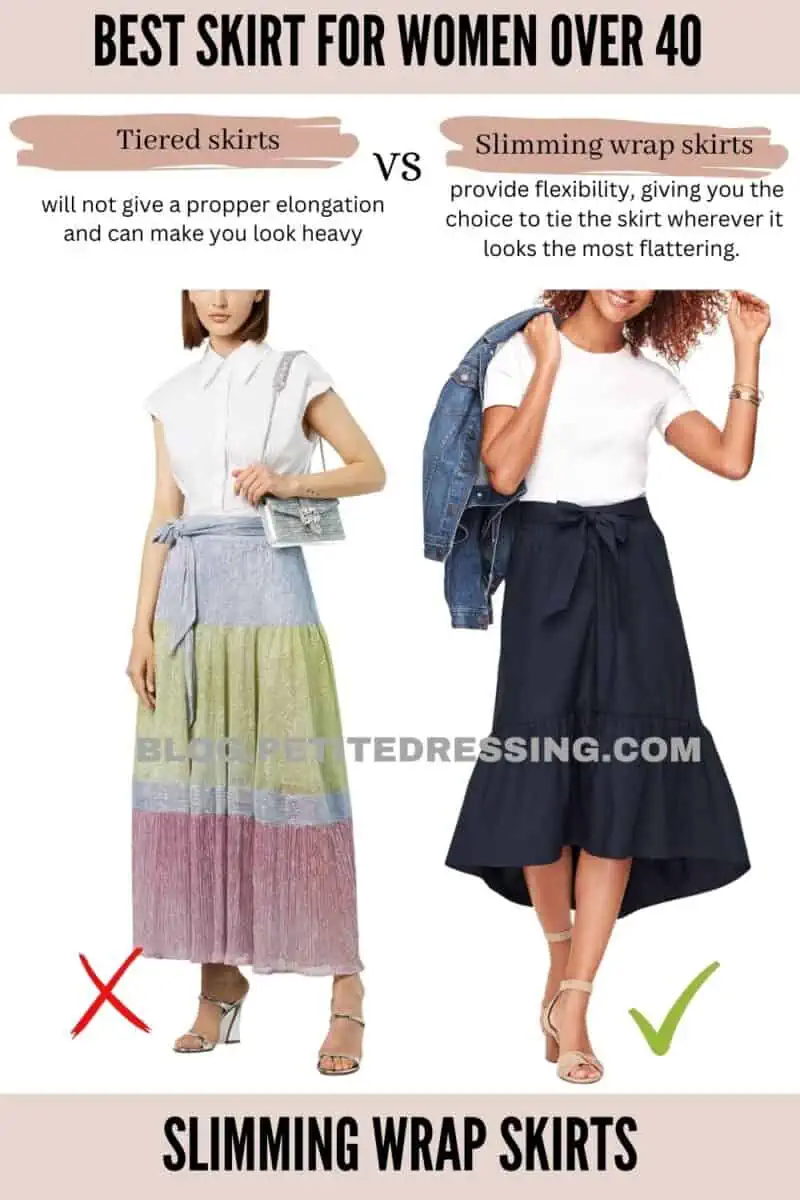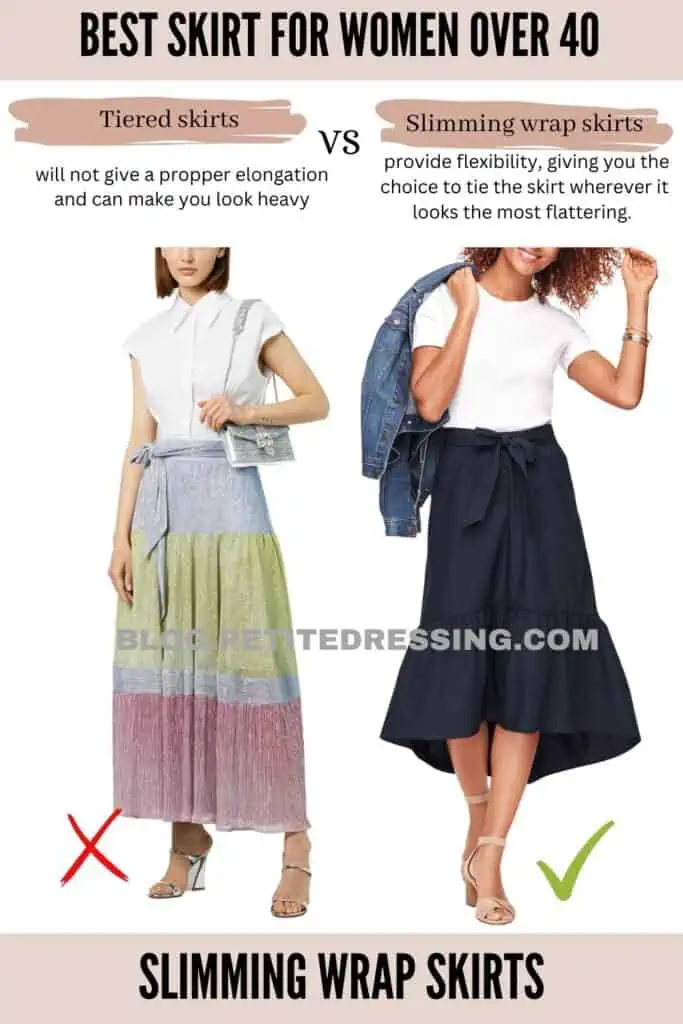 Pleated skirt
These skirts allow for plenty of movement due to their flowing nature. In order to let the skirt complement your body, you may want to wear this style of skirt higher on the waist.
The pleats on the skirt will add texture to your outfit, which is always a great way to make your look more interesting. The pleats will also add extra fabric to the skirt, so the effect of the flare will be more extreme than in other plain flare skirts.
Being older than 40 often means that you are dressing with a more elegant fashion sense.
Pleated skirts give a dramatic flare. Falling at a mid-calf length, this style of skirt will make you look like the classiest woman in the room.
Pleated skirts are elegant and incredibly classy. They typically are made in the A-line shape, so they are both flattering and sophisticated. The length of pleated skirts you should always go for are midi or maxi skirts.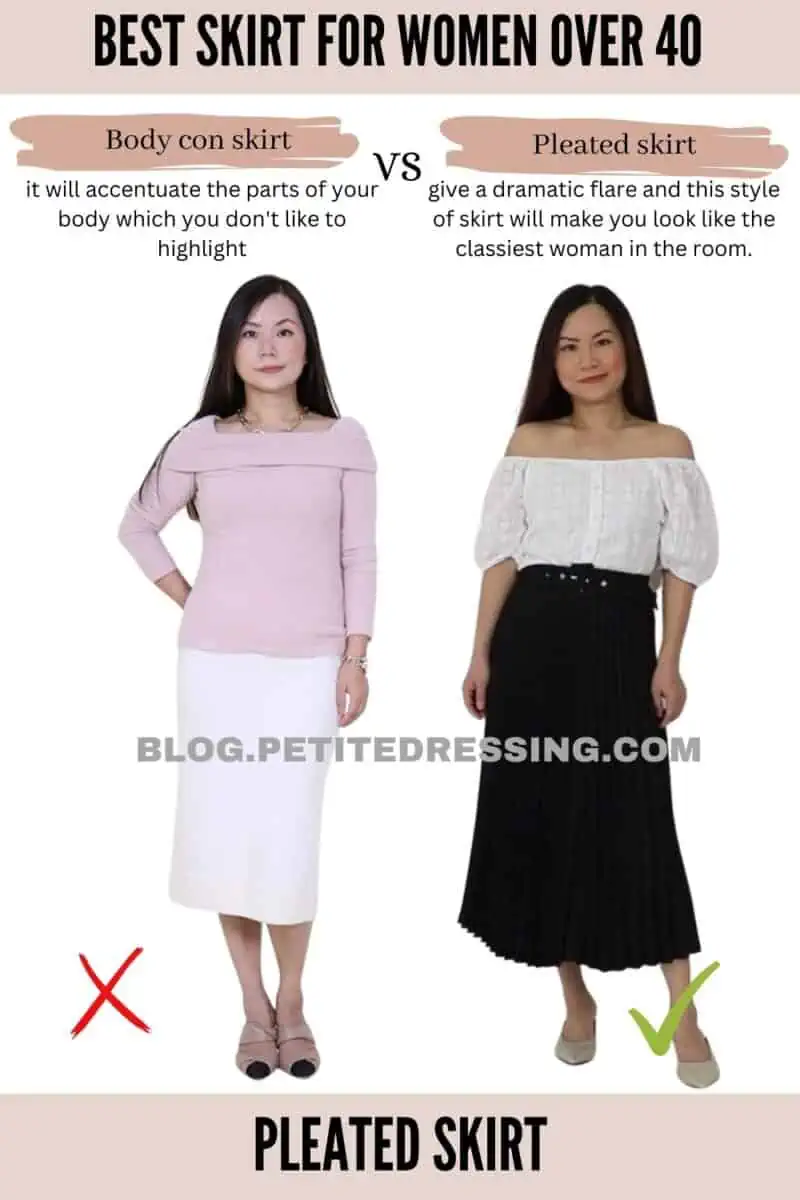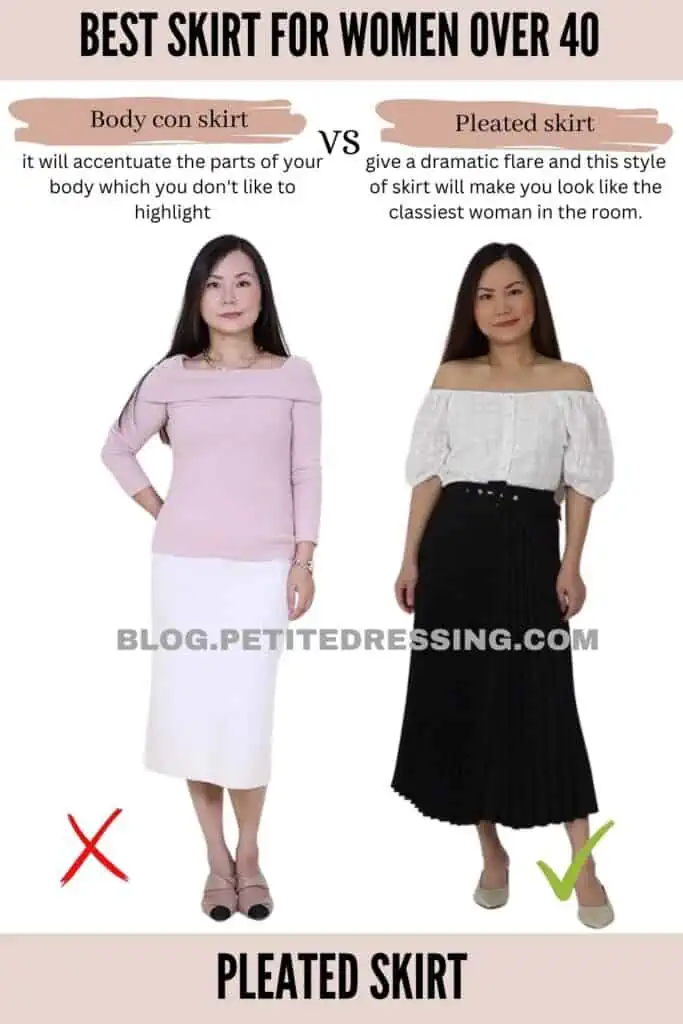 Jean skirt
Jean skirts can come in all shapes and sizes. Authentic jean material is thick and sturdy, so you can depend on the skirt to hold its shape.
Any jean skirt will be considered casual. Some even have pockets, which adds more functionality. Jean skirts will not be flowy or easy to be active in, so make sure you choose the correct day to wear one.
Jean material can go with many different accessories and tops, which is one of the reasons it is so popular. You can even elevate your look with fancier accessories or blazers.
Jean skirts have been a staple fashion piece for decades. The ability to wear something that you once wore as a teen, but in a style that is more age-appropriate, is just one of the fascinating ways fashion cycles.
Being 40 should not stop you from wearing what you are comfortable in, and jean skirts will always be a classic casual fashion choice for all ages.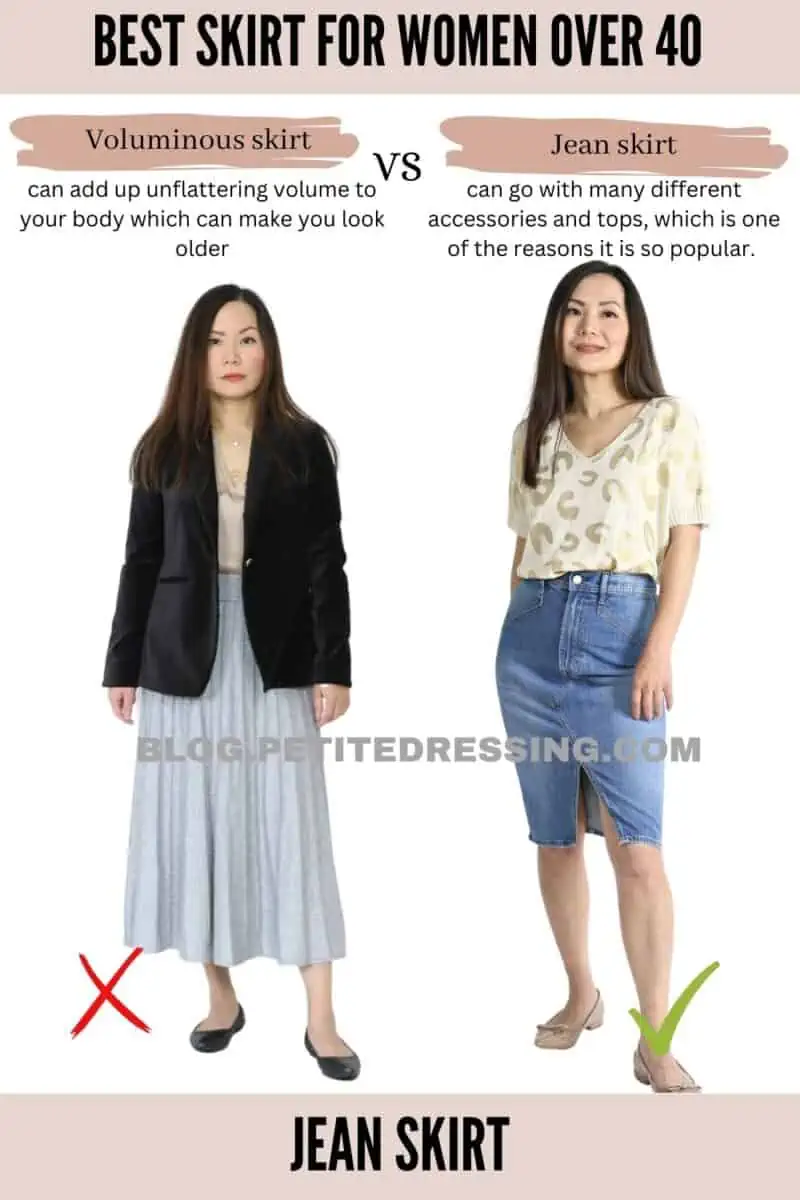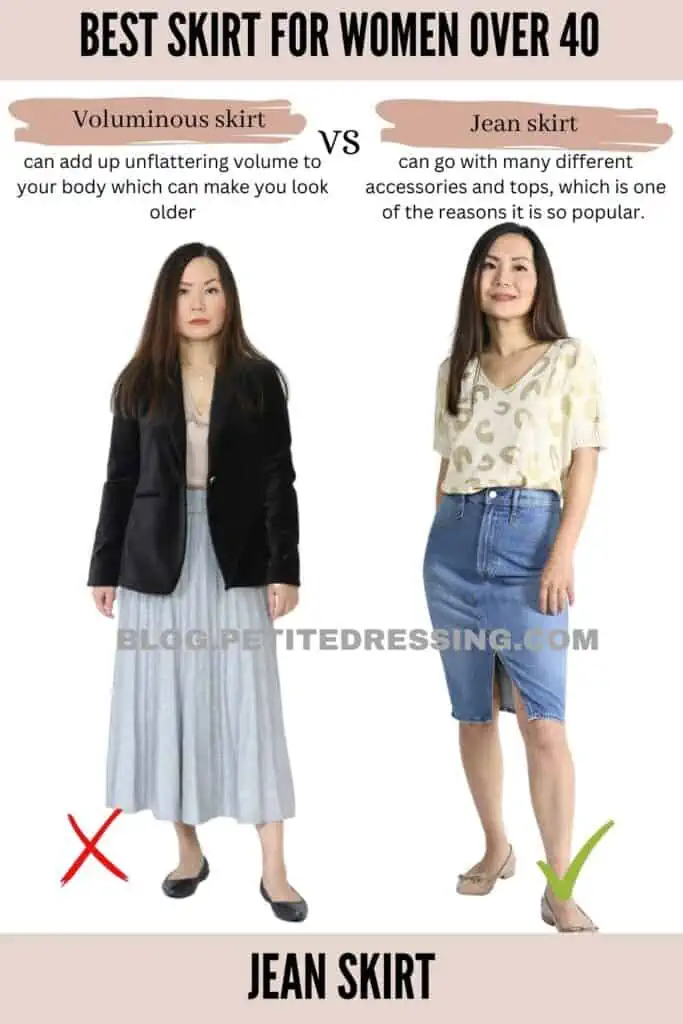 Flared skirts
If you are on the search for a skirt that will create an hourglass silhouette and conceal your stomach all at once, flared skirts are a perfect choice.
This skirt style is designed specifically to make your hips look larger than your waist. In order to achieve this look, the waistband of a flared skirt should rest at the smallest part of your waist.
The longer you go in skirt length, the dressier your outfit will have to be. Floor-length flared skirts are often a part of ball gowns and two-piece ensembles that are worn to formal events.
Many women look for clothing that can create the illusion of an hourglass shape. For women 40 and older, this skirt is the right decision if you are desiring a way to hide any imperfections under a long skirt that will still give your body a flattering shape.
You can choose any appropriate length with a flared skirt, and it will still keep the same shape you are looking for. With a maxi length, the skirt will have the most flow possible.
Caution with tiered skirt
Tiered skirts are often labeled as bohemian. They are flowy and commonly come in a maxi length. Each tier is made of more fabric to give the skirt a flared shape.
Tiered skirts are more casual and very comfortable. You can wear a tiered skirt running errands, shopping, around the house, or even walking in the park. This style fits a more easy-going and airy aesthetic compared to other skirts.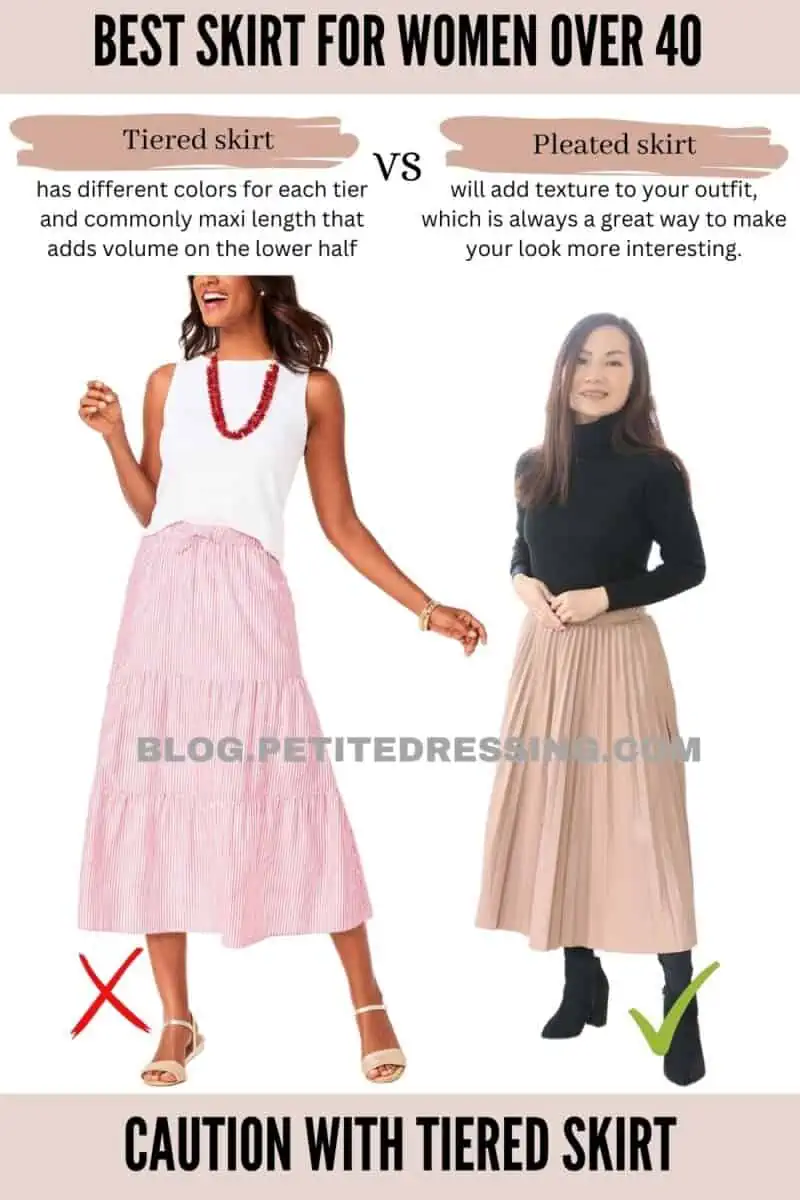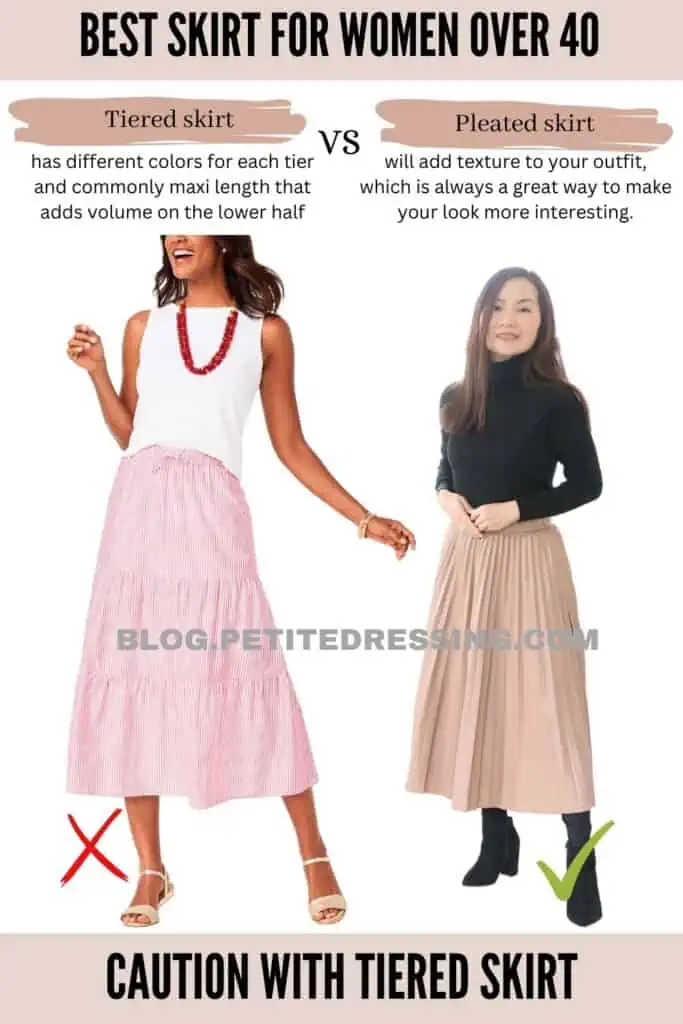 Some tiered skirts will have a different color or pattern for each tier, which makes them the ultimate statement piece. Since tiered skirts are often bold enough alone, try pairing this type of skirt with a plain blouse.
Caution with mermaid skirts
Mermaid skirts usually only look befitting on women with hourglass or pear shapes. These skirts fit tightly around the waist, stomach, and hips. Then they flare out at the knees, creating the illusion of a mermaid tail.
Mermaid skirts will hug every curve and wrinkle, including the spots you may be trying to hide. If you are not confident with your stomach at all, you will definitely want to avoid this style.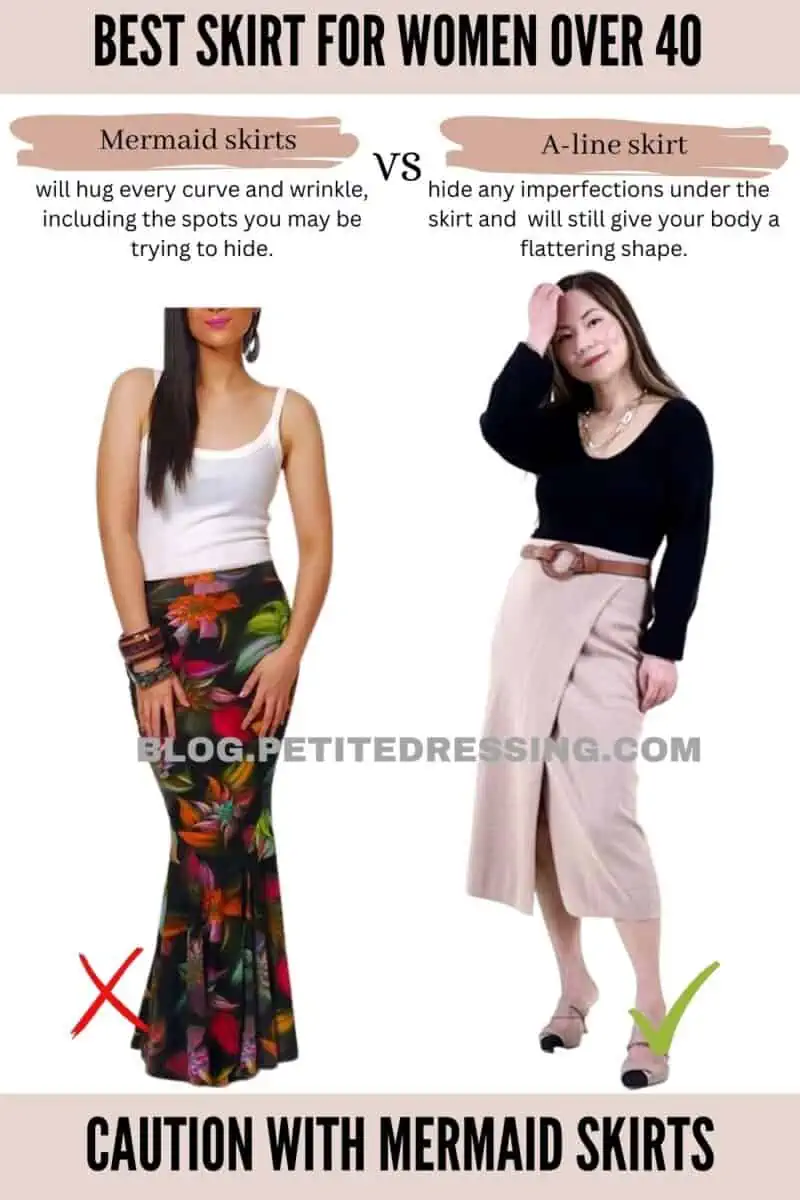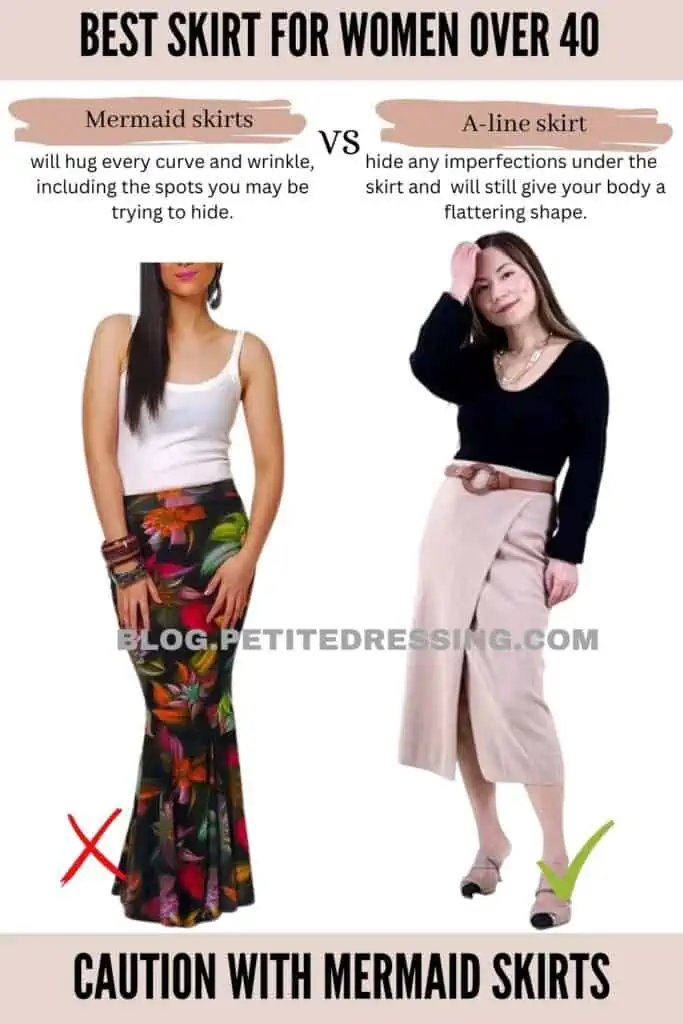 Caution with mini skirts
Mini skirts are usually reserved for fun nights out at the club. If you find yourself still spending evenings like that, then you don't necessarily need to avoid this style. But mini skirts are not seen as stylish for women over 40.
Mini skirts are often viewed as inappropriate when it comes to building a professional and elegant closet. The skirt length can be quite revealing and is often seen as a more youthful style.
If you work in an office space, you will find that mini skirts are always prohibited, which will already limit your opportunity to wear them.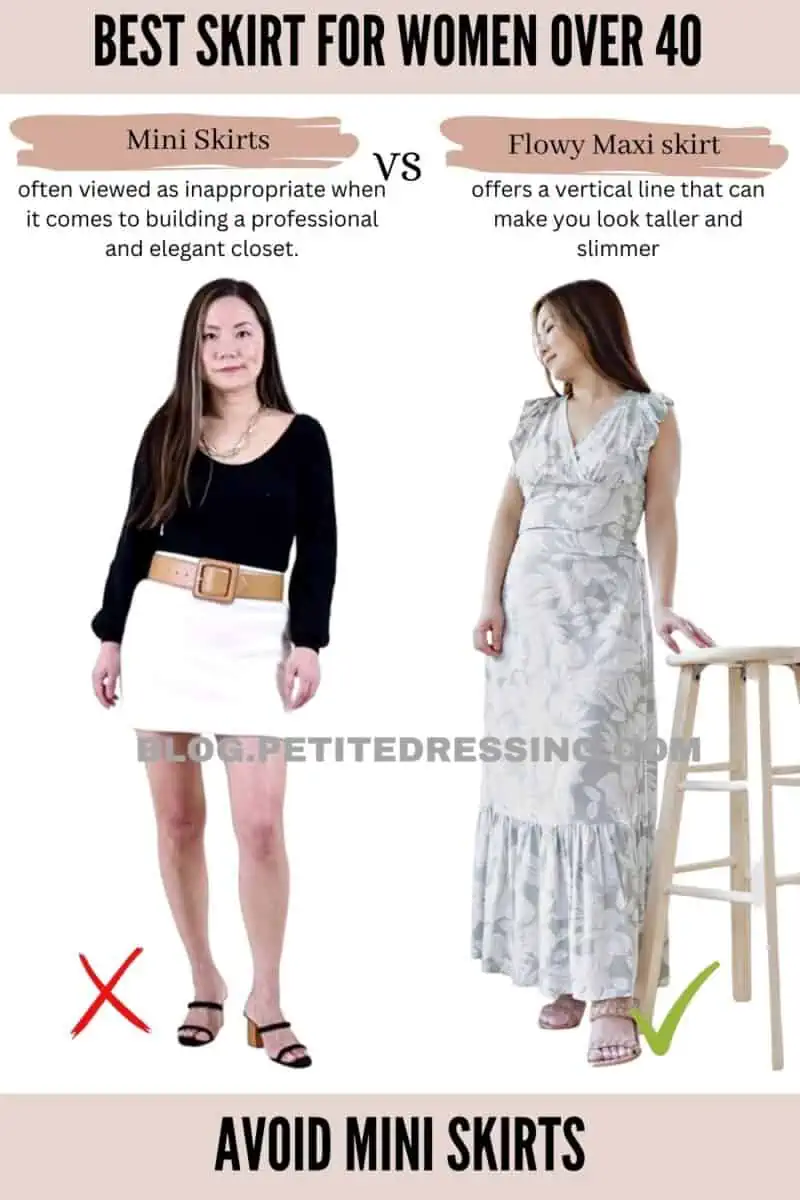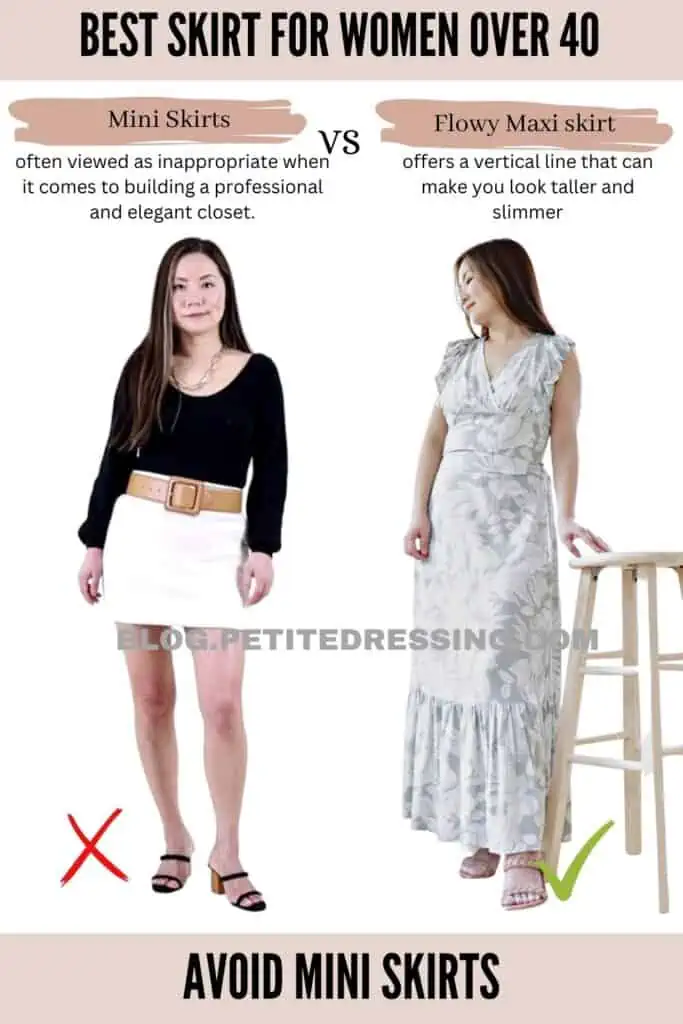 Avoid box-pleated skirts
Box-pleated skirts are not ideal for anyone who is older than their early twenties. Box-pleated skirts are often labeled as the skirts girls would wear as uniforms in private schools. Due to this idea of what these skirts are typically worn for, there has become a negative view of women wearing them.
Although this style of skirt may be cute, that is all it is. It is seen as youthful, and not appropriate for women.
If you can find box-pleated skirts that fall past your knees, it would be a much safer bet than anything shorter than that with this style. Try to avoid plaid with this style, since that is also what is typically used for these uniforms.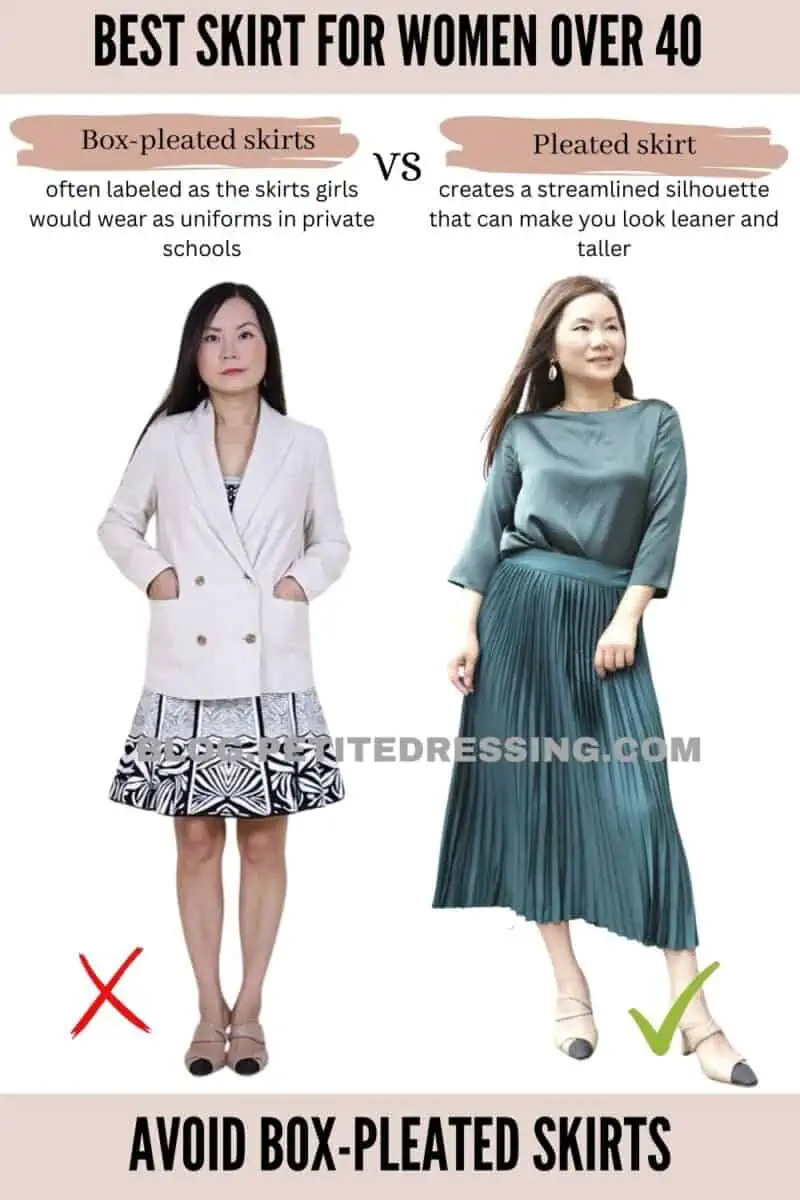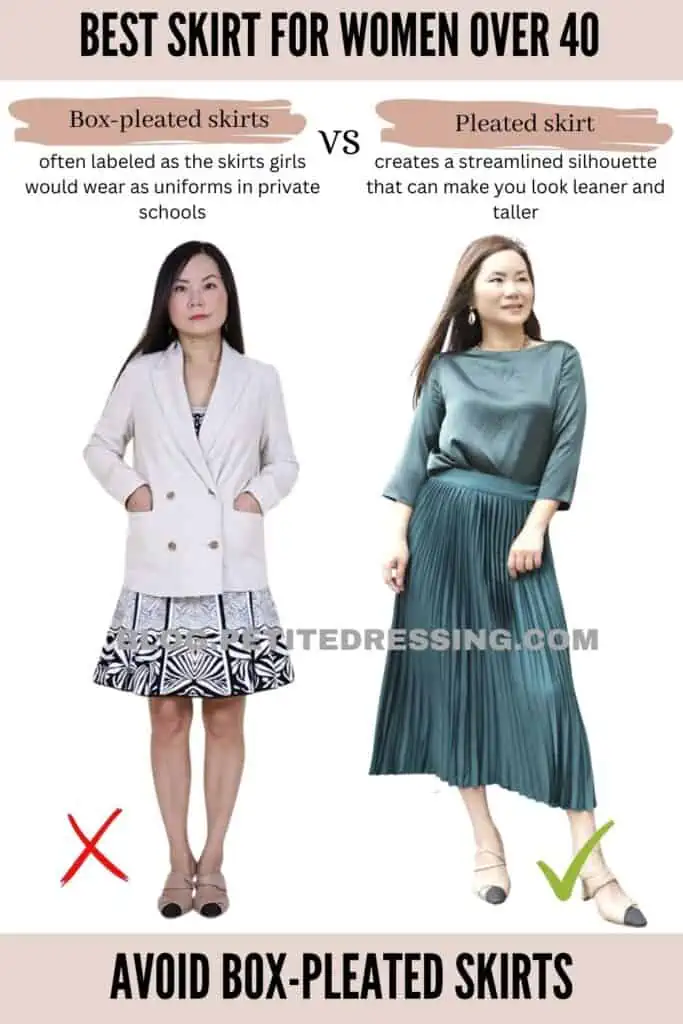 The only time a shorter style of box-pleat would be appropriate would be when it takes the form of a tennis skirt. This style avoids the school uniform look and is perfectly chic and ideal for any athletic occasion.