White booties are great to add to your fall and winter wardrobe, as they are both functional and stylish. These booties are suitable for anyone keen on wearing boots, but are also highly versatile. In case you were wondering how to style them, here are some of the best ways to wear your white booties:
With an A-line skirt
The easiest outfit for white booties is to wear them with an A-line skirt.
An A-line skirt is always so fun and can be flirty as well. Above all, it's a forgiving piece suitable for women of different body shapes and sizes, considering it hugs you around the waist and flares out towards the bottom.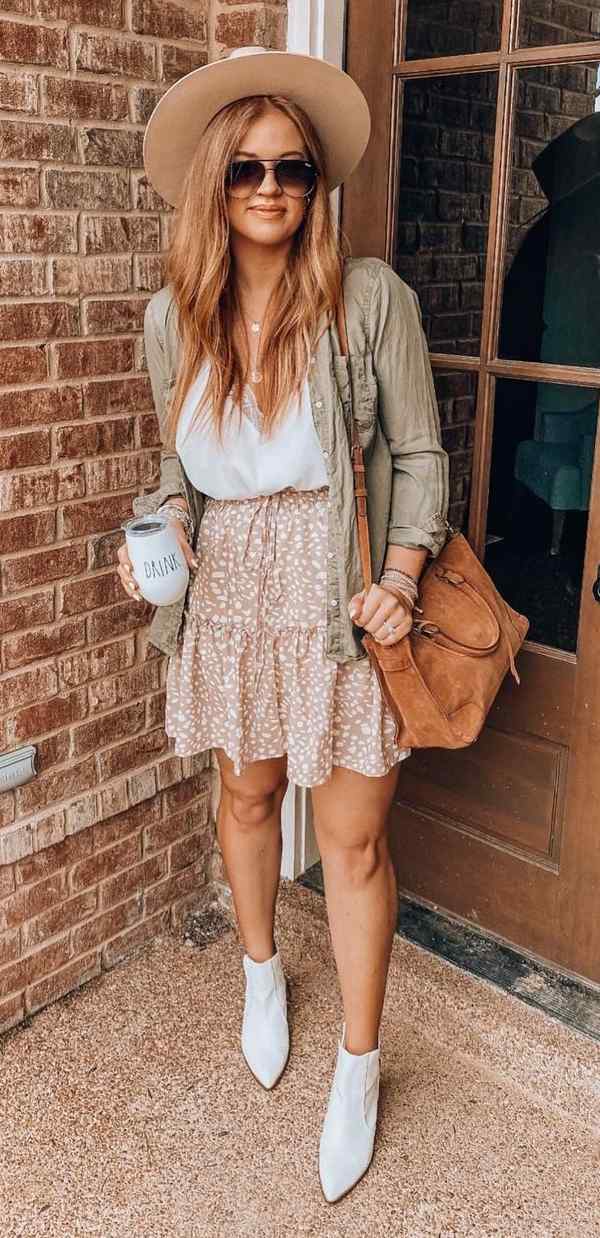 Ashley (above) wore her A-line skirt with a white top, a shirt, and finished the look off with a pair of white booties. These A-line skirts are available in different designs and will work with your white booties to give you the perfect look.
With ripped jeans
Ripped jeans are great if you love to look edgy. They also give you a youthful look and are great especially when paired with booties. White booties, in particular are great for this, as they give most ripped jeans a great contrast while balancing out the edginess.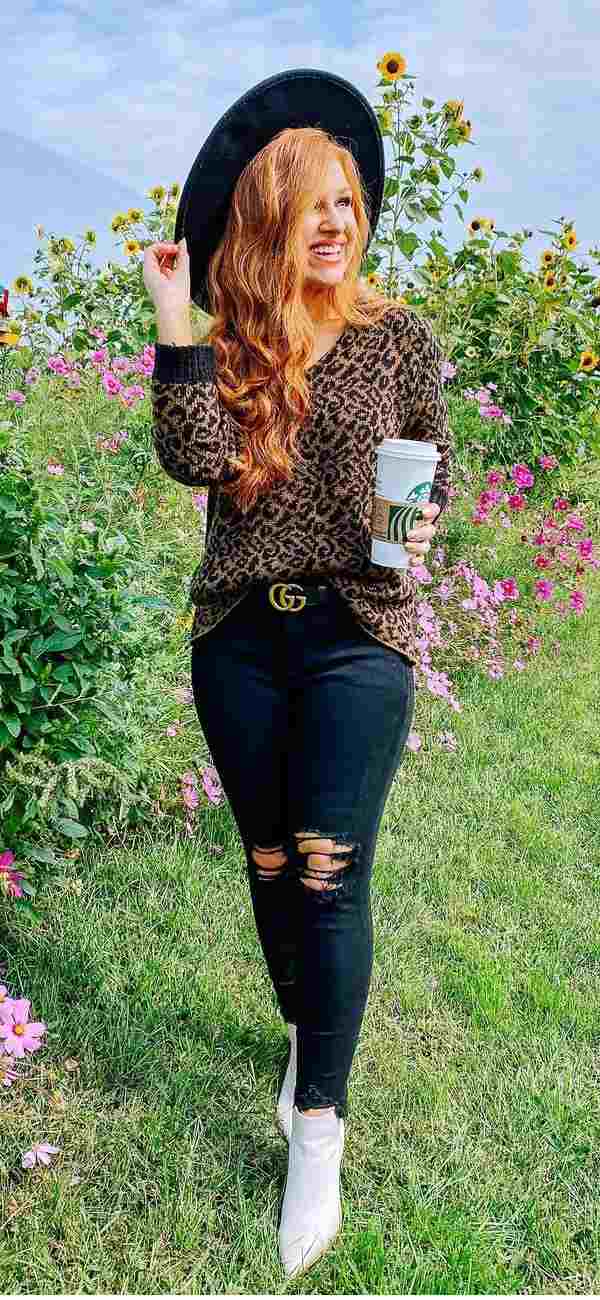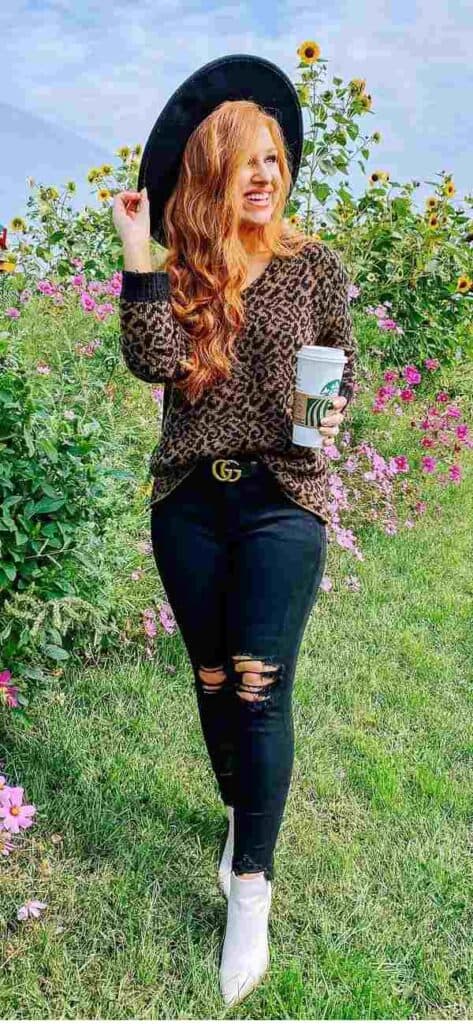 Jami (above) styled her black ripped jeans with an animal print sweater. She finished the look off with some white booties, which balanced out the great animal print.
With mom jeans
White booties give you a more fun look when paired with mom jeans, just like a pair of sneakers would.
Mom jeans were the star of the 90s but are growing in popularity every day. They give off that model-off-duty vibe that anyone would appreciate and look great when paired with different footwear such as sneakers, sandals, heels and boots.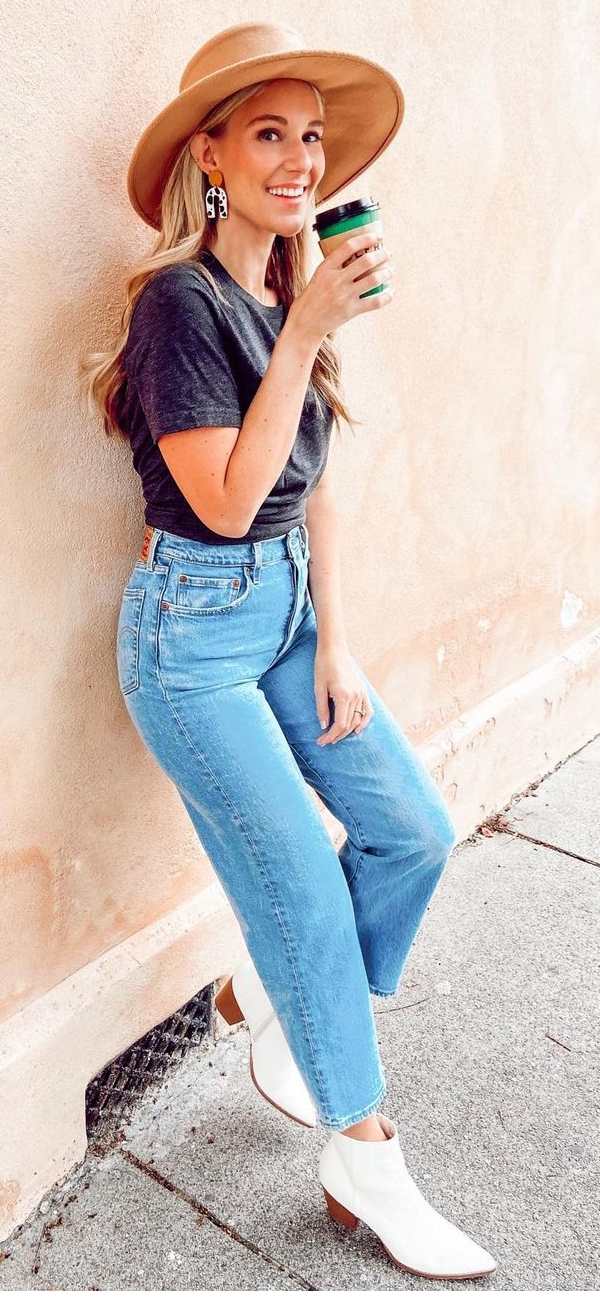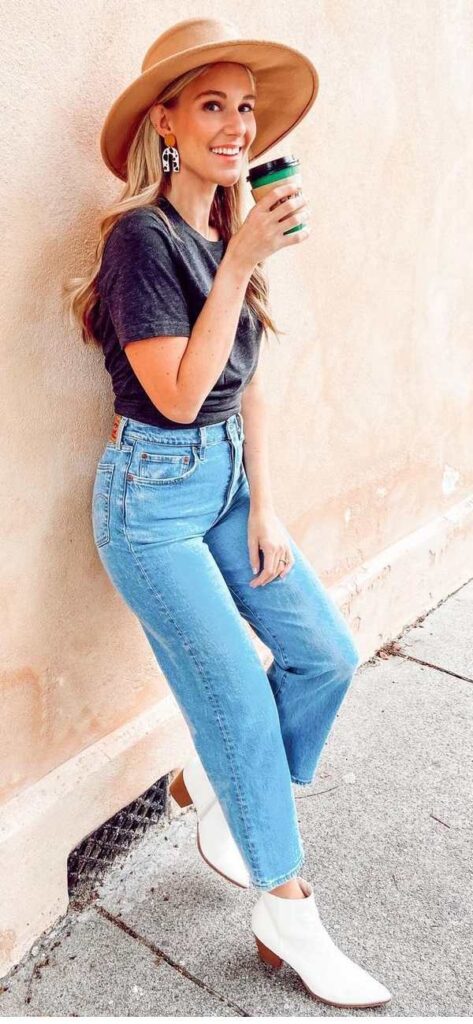 Emma (above) wore her mom jeans with a t-shirt, white boots and a hat. It gives you an easy casual look that you will love hanging out in.
With a knit skirt
Knitted skirts are also great pieces for fall, as they come with some extra warmth that you definitely need during the colder seasons. They give you a lot of versatility when it comes to tops, but you can also wear them with a variety of shoes. An example would be with white boots.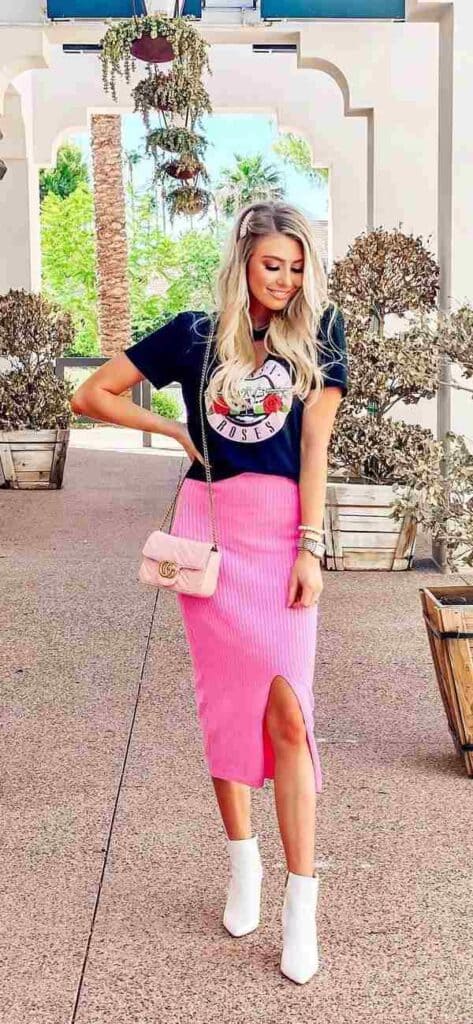 Chelsea (above) wore a pink knit skirt that has a slit with a t-shirt and a pair of white booties. This outfit is very laid back yet dressy at the same time because of the color and design of the skirt, and of course the white booties.
With a denim dress
You can wear your different types of denim dresses with some white booties for the ultimate casual outfit.
Denim dresses are comfortable and in most cases, they will give you that girl-next-door look. Most of the time they're blue, but they can come in different colors to give you more versatility.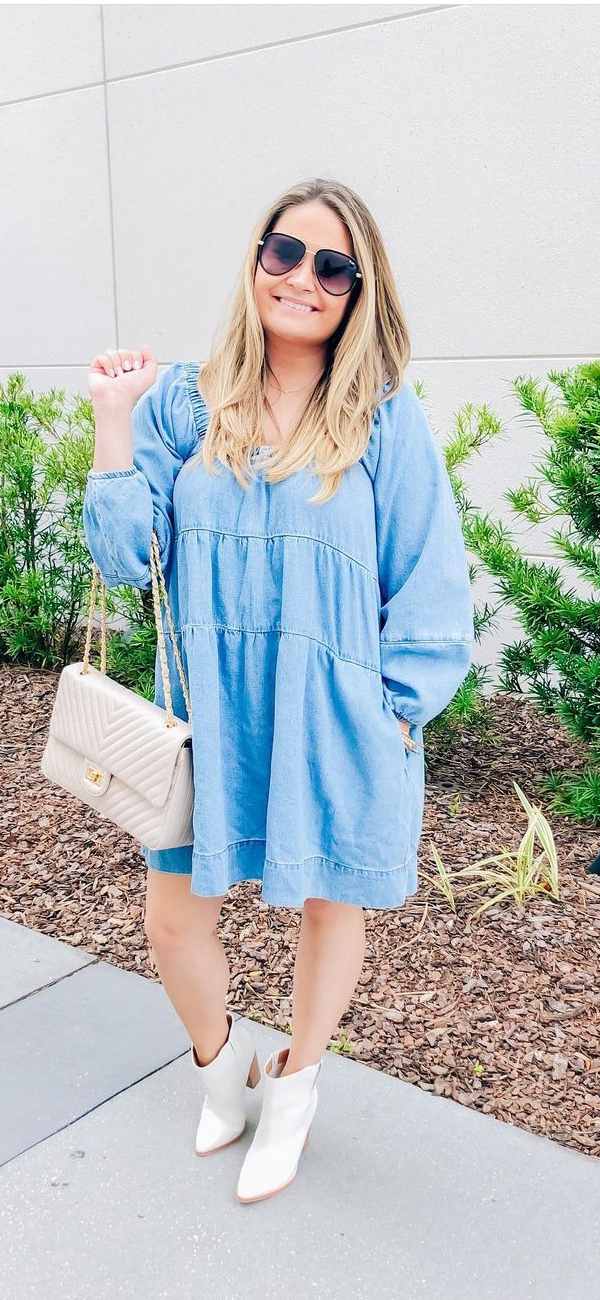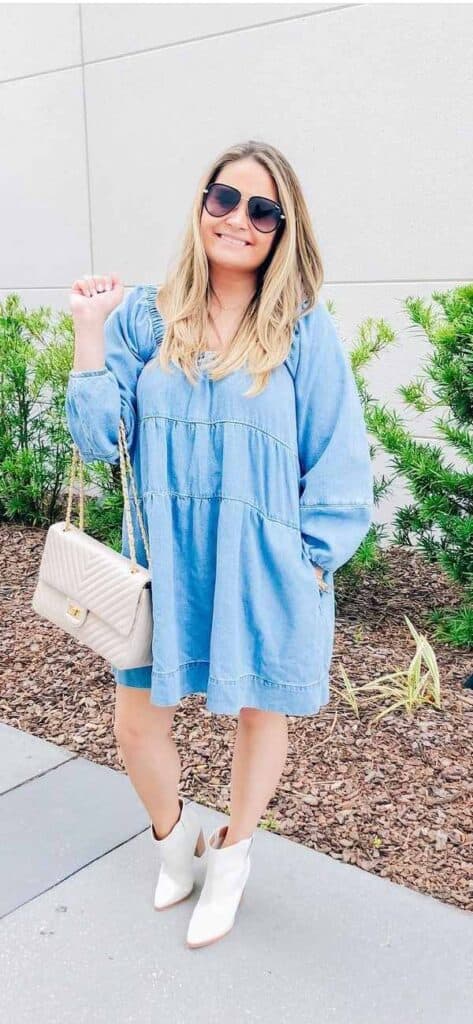 Haylie (above) wore her denim dress with a pair of white booties and a white bag. These dresses are actually available in a variety of designs, all which will give you that great pairing with some white booties.
With a maxi skirt
White booties will go well with most of your maxi skirts for a casual or even dressy pairing.
Maxi skirts make for such great pieces in summertime, but they can be transitioned well into the fall. With them, all you have to do is style the skirt with a heavier or chunky top and then finish the look off with some boots.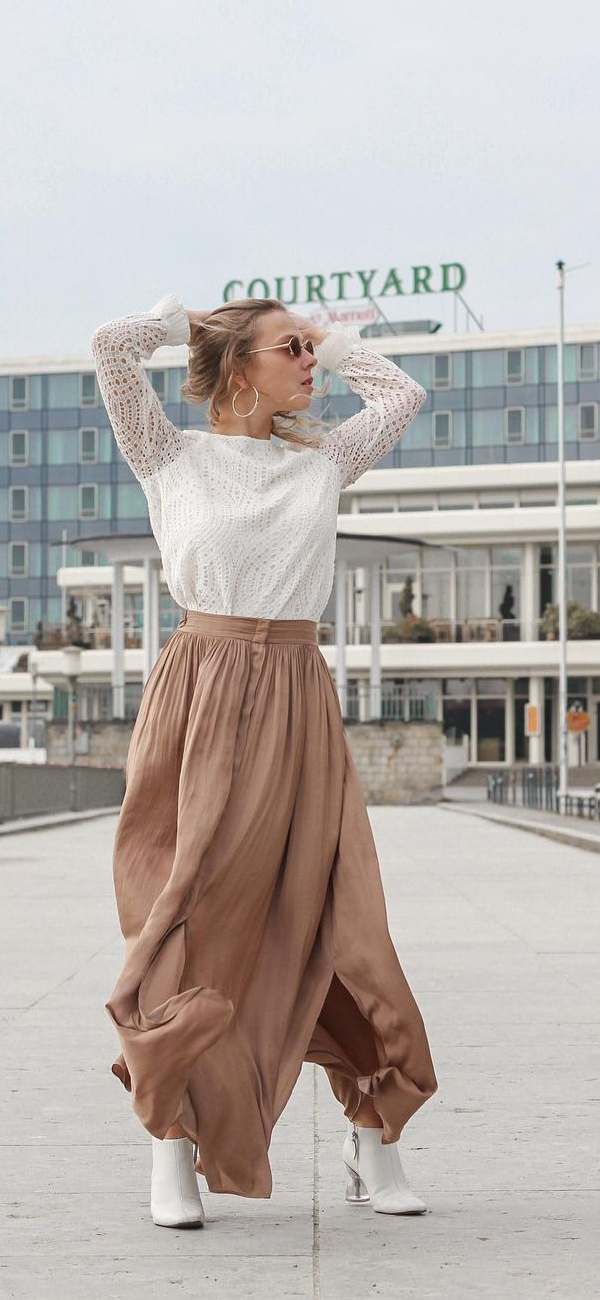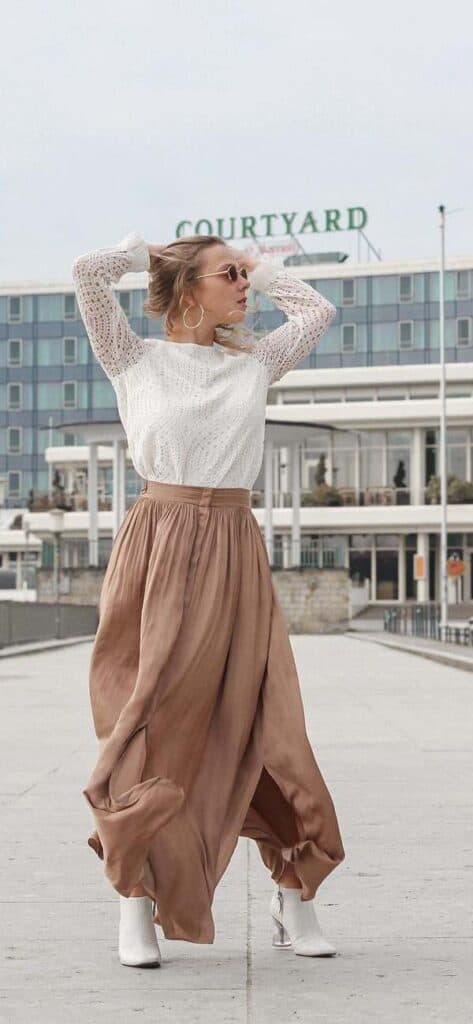 Mira (above) styled her brown maxi skirt with a top and a pair of white booties. Remember, maxi skirts come in different designs and it's a great idea to wear pointed booties with pointed heels. A chunky heel does give a bohemian style though.
With flared jeans
You can wear your white booties with flared jeans for the relaxed yet polished look.
Flared jeans were the fashion staple back in the 80s, which would explain why they give you such a hip look. They are versatile and can be worn with blouses and plain shirts for business casual looks, or with t-shirts and printed shirts for a more casual look.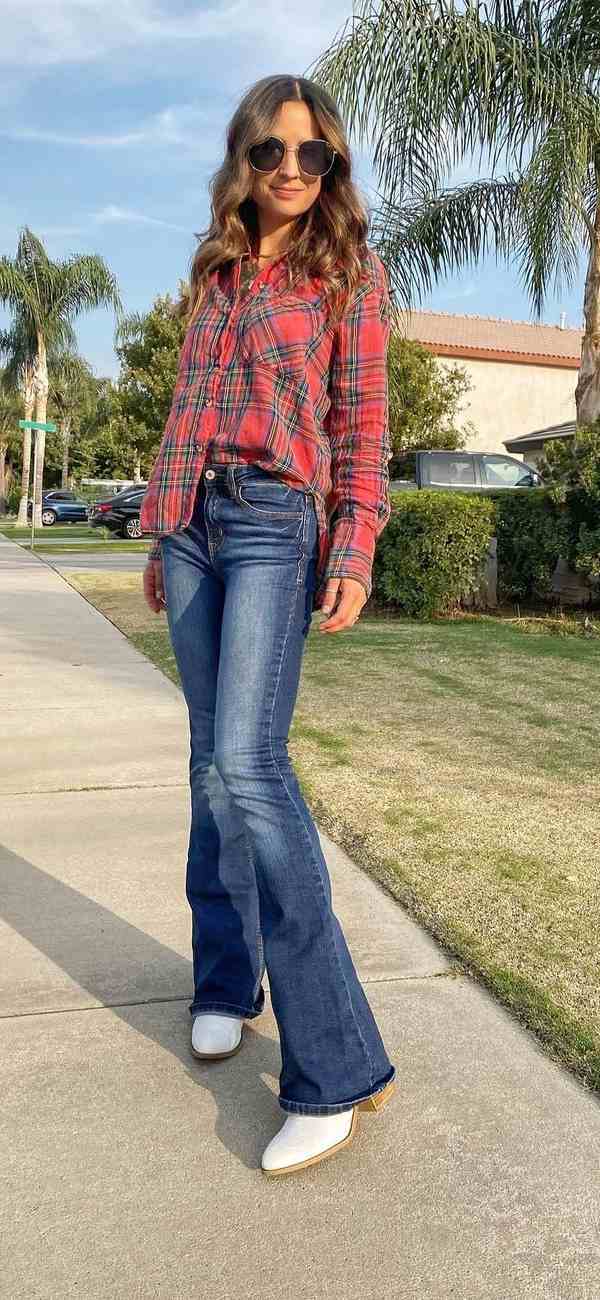 Becky (above) styled her flared jeans with a plaid shirt and a pair of white booties. Regardless of the type of top you go for, the booties work as they are great for the office and other more casual places.
With a skater dress
Skater dresses are also great, if you like to give an illusion of a smaller waist. They easily help you achieve this since they are cinched around the waist and flare out towards the bottom. You can get a great and fun casual look by wearing a skater dress with your white booties.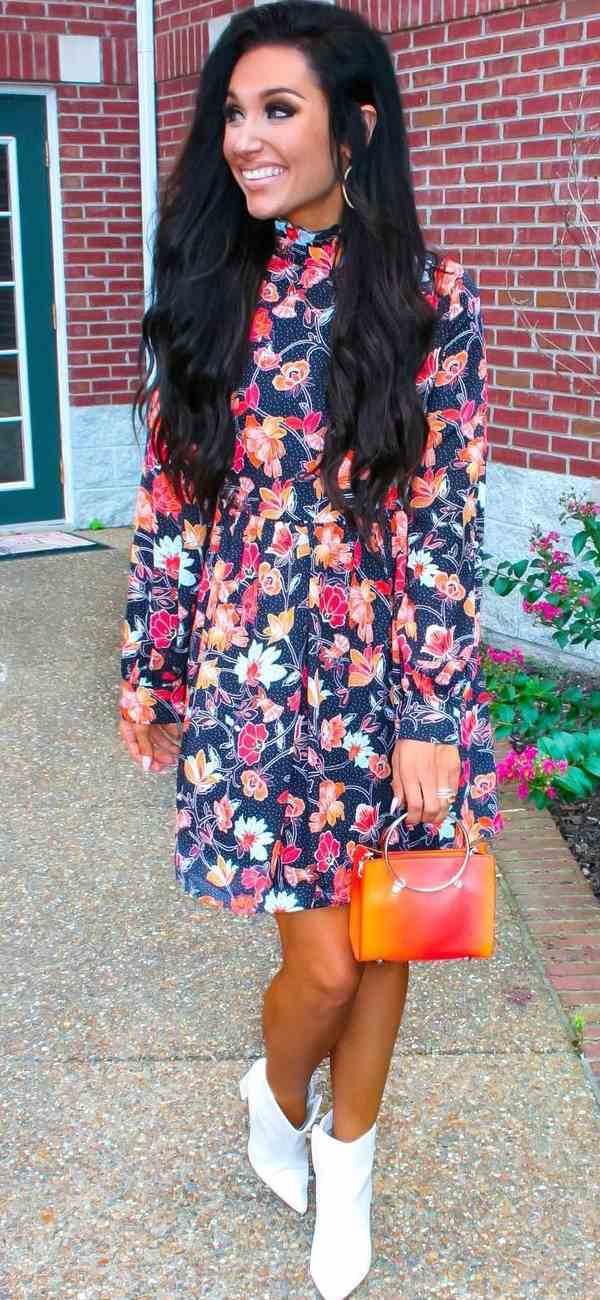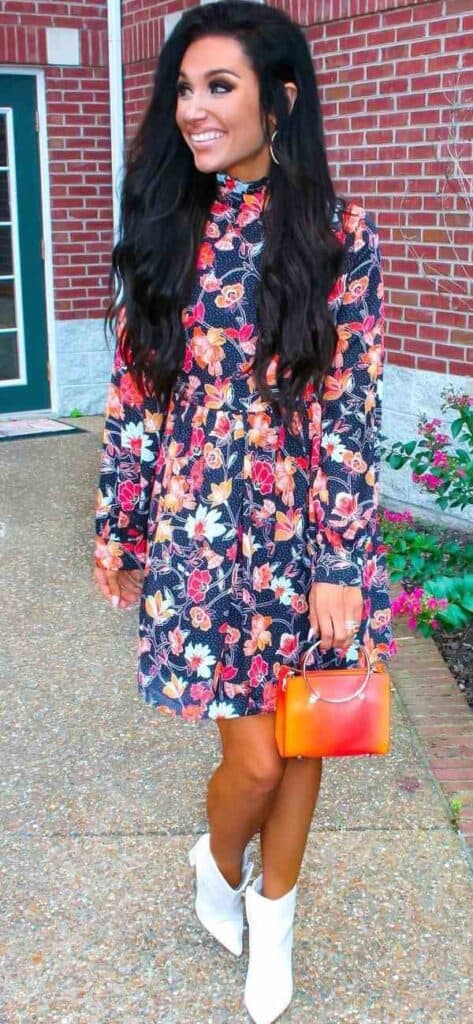 Nicolette (above) styled her floral skater dress with a pair of white booties. A printed dress is fun but a plain one would still work well with the boots.
With leggings
Wearing your leggings with some white booties is a great idea to elevate an otherwise very basic outfit.
Leggings are undoubtedly a must-have considering how comfortable they are. While a lot of women will lounge around in them, they are also great for a day outdoors and can be chic or casual depending on how you wear yours.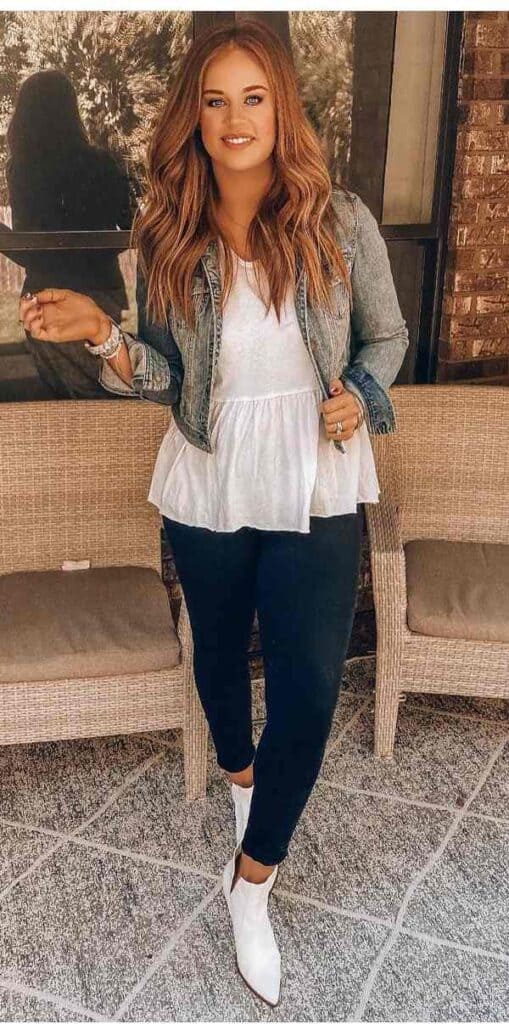 Ashley (above) wore her leggings with a peplum style top, denim jacket and some white booties. It's an easy look to put together and since leggings follow the shape of your legs, any white booties style works.
With joggers
If you're the kind of person who always feels tempted to just lounge around in your pajamas, then you'll love joggers. They're a great alternative to pajamas, since you can actually style them well and walk out in them. For example, you could wear them with a pair of white booties for an elevated edgy look.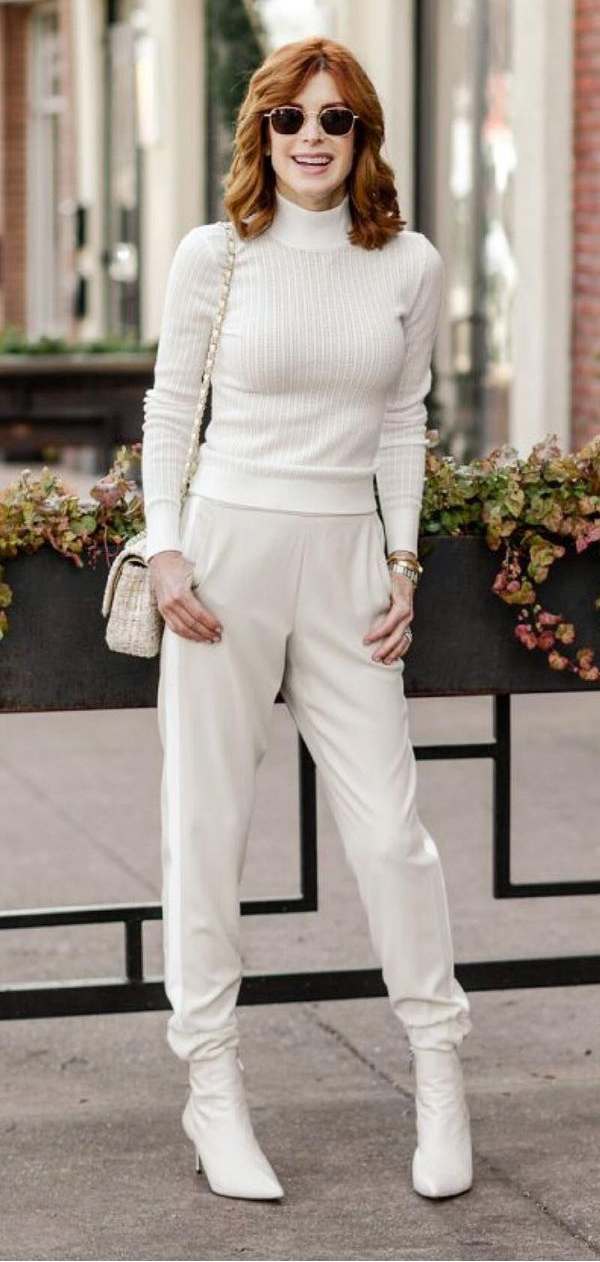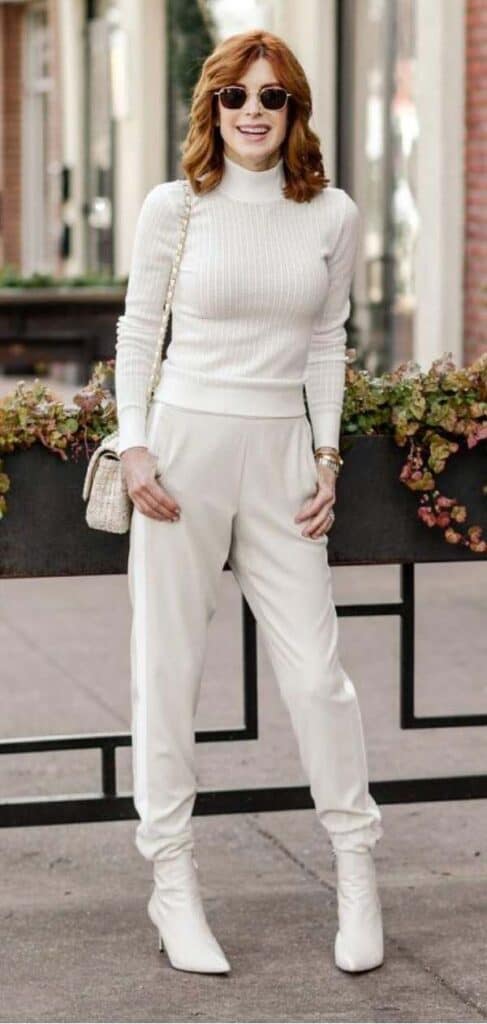 Cathy (above) styled her joggers with a turtleneck and a pair of white booties. It's a monochromatic look but you can go with different colors that coordinate well together.
With a wrap dress
Wrap dresses are chic and give you that high fashion look that will remind you of a DVF dress. They come in different lengths and necklines but an asymmetrical wrap dress will give you a more interesting outfit. They look really great with boots including white booties.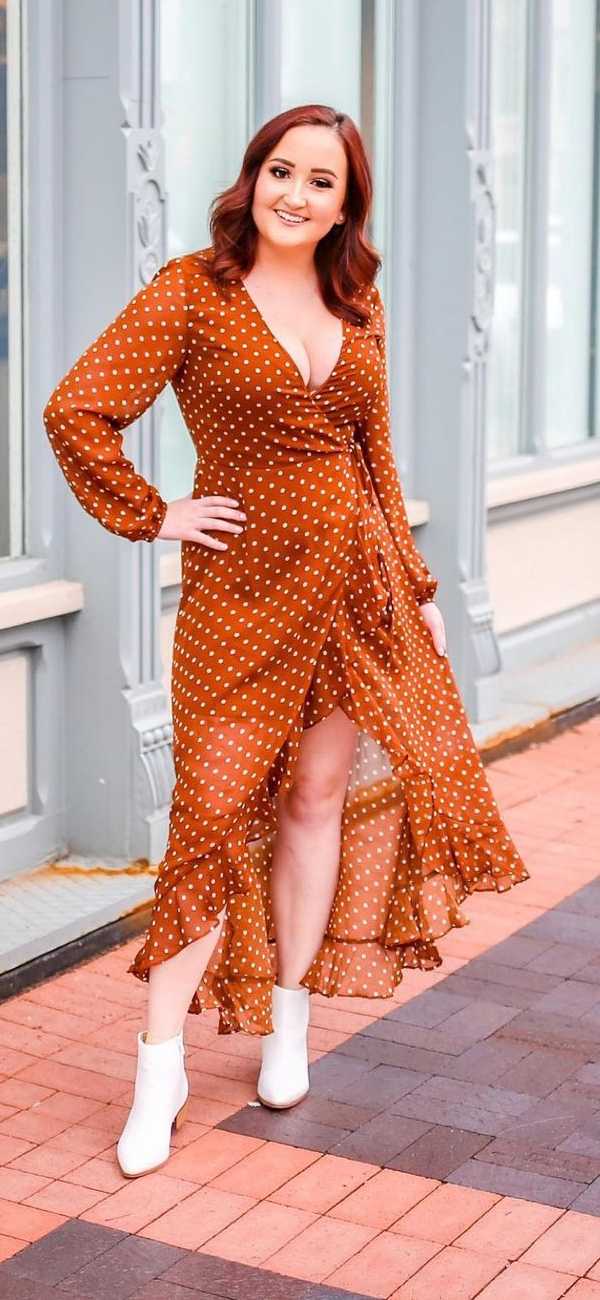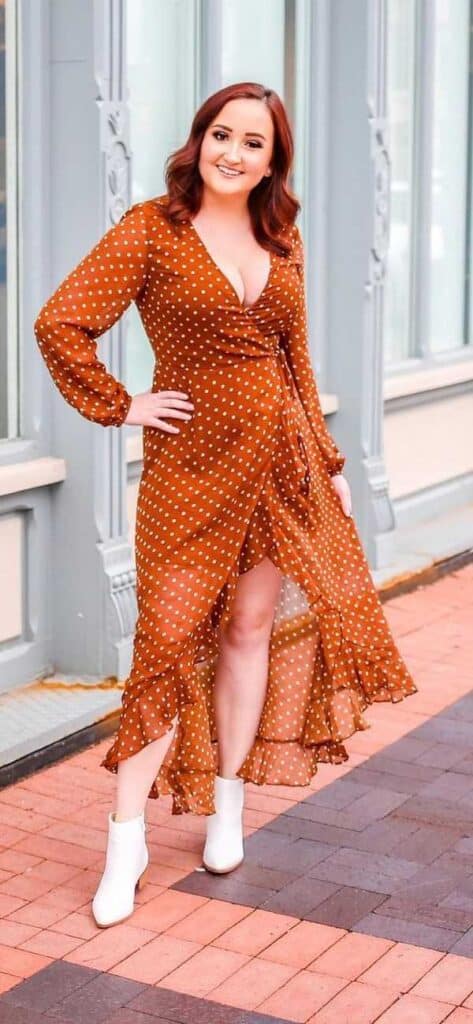 Tiffany (above) styled her wrap dress with some white booties for a casual chic look. This combination is a great way of merging something that's very feminine with something edgy such as the pair of boots.
With a jumpsuit
Pairing your jumpsuit with some white booties gives you an elevated look.
Jumpsuits are easy to wear considering they are a one piece. This means you only ever have to think of the shoes and accessories that go with them. There are different jumpsuits for different women, and it's up to you to get one that best suits your figure.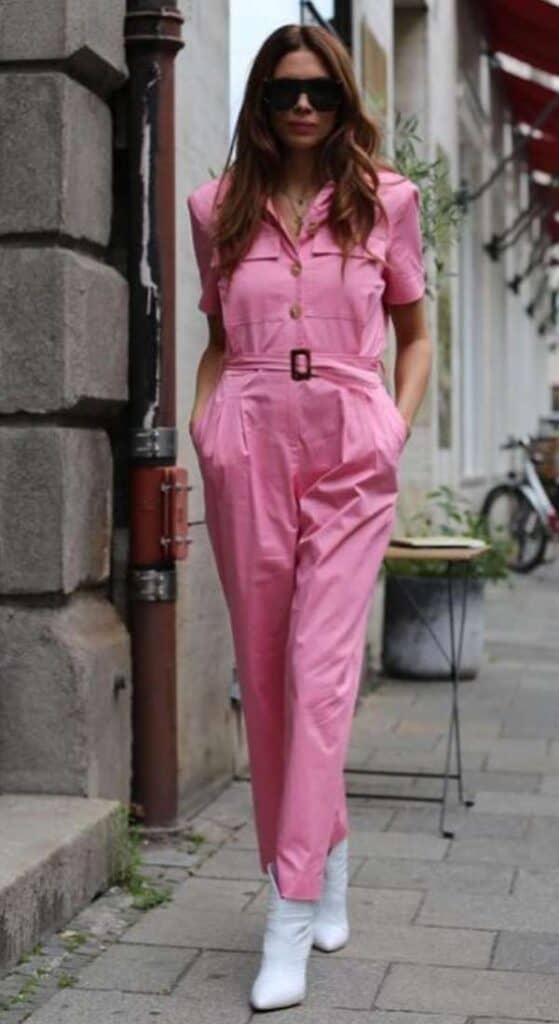 Anna (above) styled her jumpsuit with a pair of white booties. It's a minimalist look that is easy to put together. If you love prints, you'll be happy to know that a printed jumpsuit will also look great with your white booties.
With a sweater dress
Sweater dresses are functional pieces that make you feel all snuggly but keep you warm as well. They are great for cooler days and you can always find one for your body shape and size. They also look great when styled with white booties.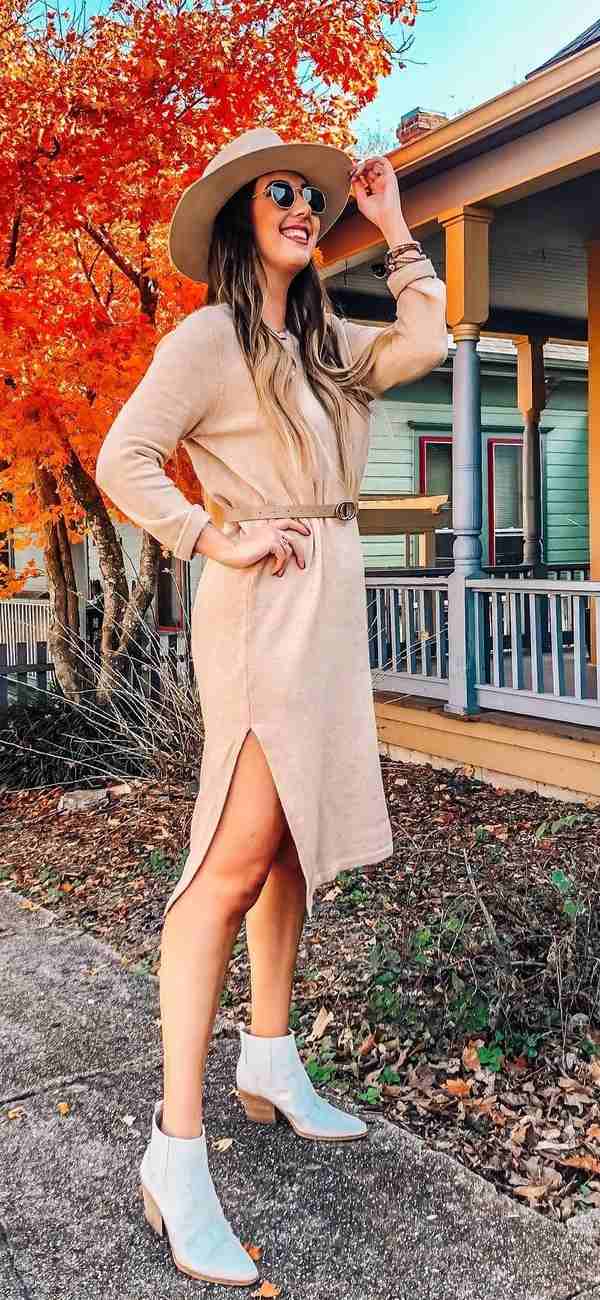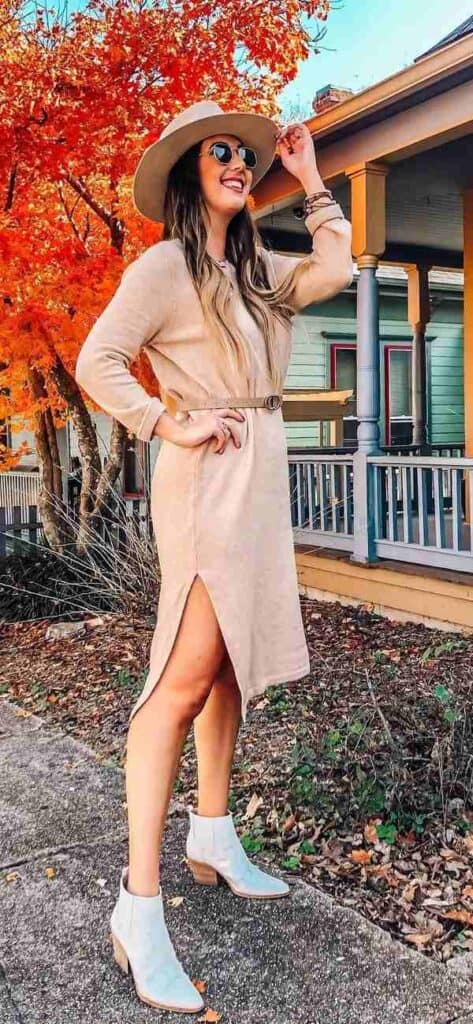 Megan (above) wore her white booties with her sweater dress that's in a simple style. It's a great fall look but you can always layer a stylish coat over the sweater dress if it's even colder.
With a pencil skirt
You could wear your pencil skirt with some white booties too.
A pencil skirt is ever so flattering as the silhouette follows the shape of your body. They are classy and regardless of what you wear your pencil skirt with, you are assured of a chic look.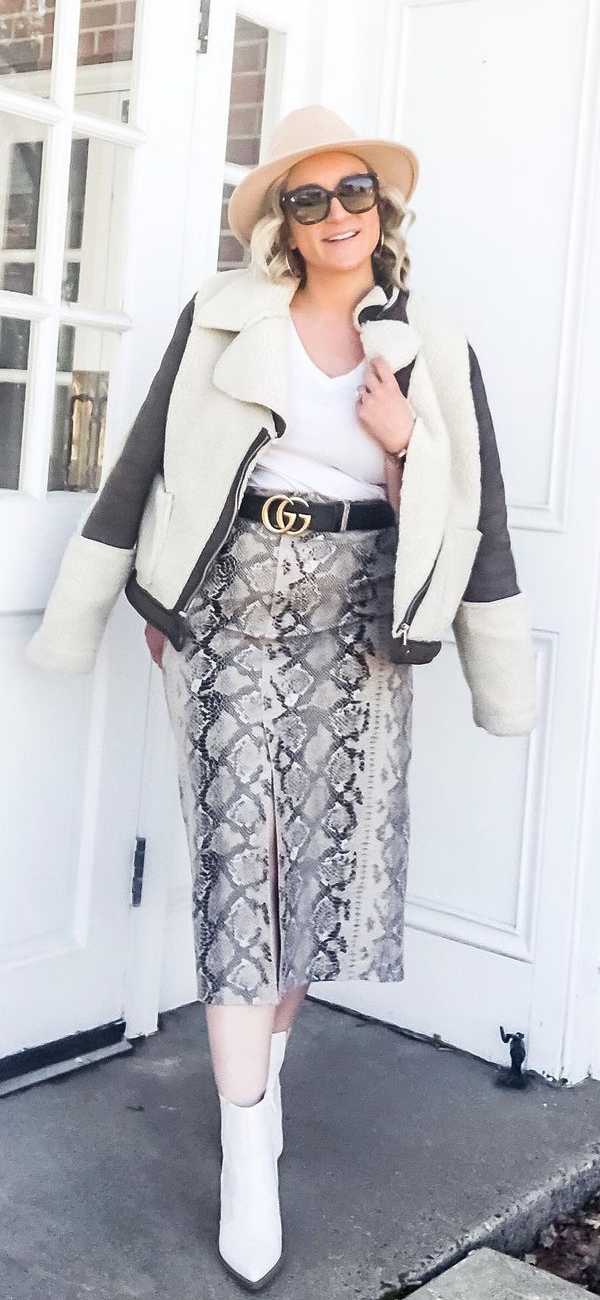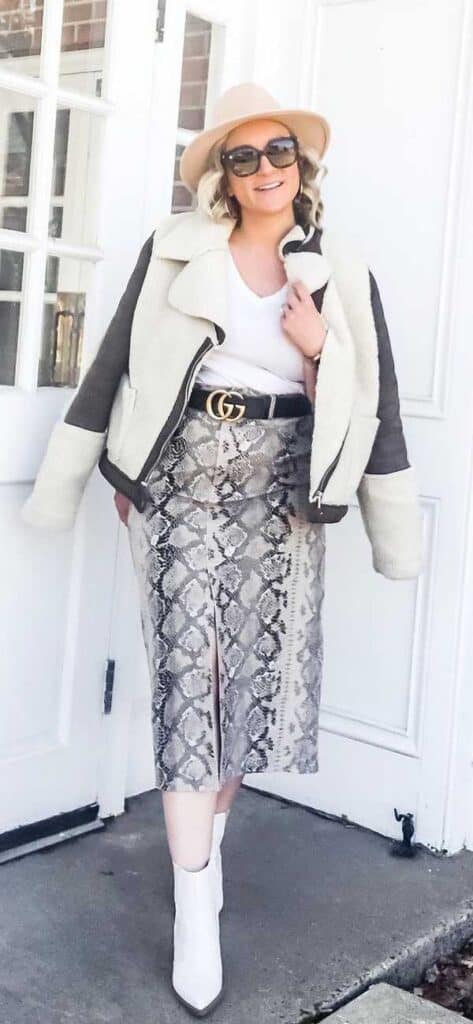 Amanda (above) styled her snake print pencil skirt with a pair of white booties, a top, and a coat for a chic outfit in cooler weather. Her skirt has a slit at the front but you can always pick a simple plain skirt for this combination.
With some wide leg pants
Wearing white booties with wide leg pants can balance out the volume of the leg shape and look especially flattering for petite women.
Wide leg pants are comfortable without a doubt. Depending on the material you go for, they could give you a casual look or a dressier one that you could wear to the office. They can be worn with different footwear including white booties.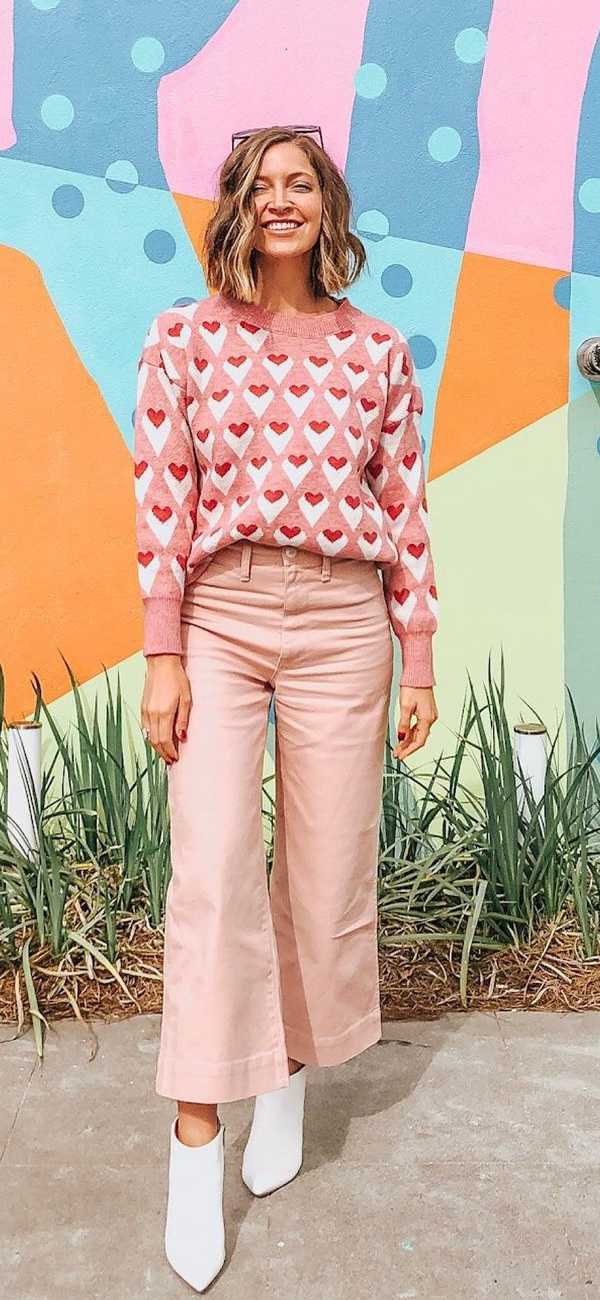 Meagan (above) styled some pink wide leg pants with a sweater and some white booties. Her wide leg pants are cropped but you can go for a longer wide leg pant design if you're looking to step out in a more elevated look when it comes to this outfit combination.
With these fifteen ideas, you should be able to get a lot of wear out of your beloved pair of white booties which means value for the amount of money you spent on them. In case you still don't own a pair, you might want to rush to the nearest shoe place or mall and get yourself a pair as they are totally worth it.