If you have wedding invitations rolling into your mailbox, you've probably started thinking about what you need to wear to the occasion(s). The wedding day is the biggest event but we all know there are quite a few events leading up to the big day. Between the wedding shower, bachelorette party and rehearsal dinner, quite a few outfits are needed and each calls for a different type of outfit. Today let's take a close look at what to wear to a rehearsal dinner. We also have posts on how to choose the best petite wedding guest dresses.
With so many different pre-wedding events to get dressed for, the rehearsal dinner can provide a whole other level of confusion in the wardrobe department. To keep your anxiety at bay, and help you to enjoy the pre-wedding events, I'm sharing some tips so you know exactly what to wear to a rehearsal dinner.
What is a Rehearsal Dinner
Before we get into style hacks, it is helpful to go over what this is so that you know what to expect. According to Wiki, a
rehearsal dinner is a pre-wedding ceremony in the United States tradition, usually held after the wedding rehearsal and the night before the wedding ceremony.
So, who are invited to the rehearsal dinner?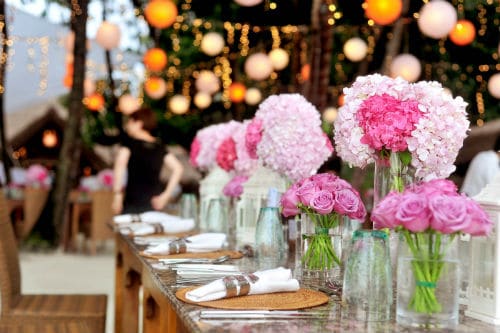 Since the rehearsal dinner takes place after the rehearsal, the guest list can include just the bride and groom to be, their immediate families, the wedding party, and the officiant and his spouse.
Or, it can be a larger event, including all the out-of-town guests (or at least all those who will have already arrived in town for the wedding).
Whether you are family of the couple. one of the bridesmaids or one of the out of town guests, since this isn't an event everyone is invited to, naturally you want to dress properly for the occasion.
Take a Note From the Invitation
We have said this many times, and we are going to say it again. Whenever you are considering what to wear for a wedding related party, the first thing you should look for the guidance is always the dress code on the invitation. Now, what if the invitation does not have dress code? Or there is no printed invitation at all?
Well, that is a very good point! While wedding invitations always tell you the dress code such as "black tie optional", "cocktail attire", etc, rehearsal dinner is a little different.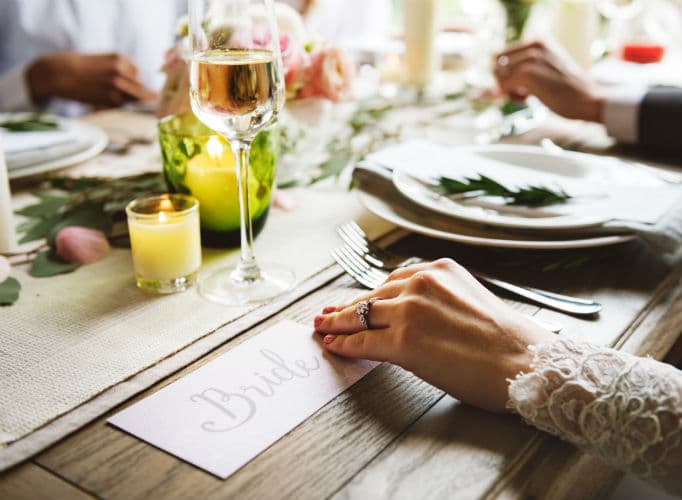 Some rehearsal dinners provide actual invitations while others don't. Regardless, you will (should!) be provided with some information about the rehearsal dinner. Information like the time, location, etc. – you get the point. Believe it or not you, can gain a lot of outfit inspiration and insight in knowing what to wear to a rehearsal dinner based on the invitation. Use this information to your advantage!
For example if the rehearsal dinner invitation states it will be taking place in the evening at a nice restaurant you should have an idea as to how formal or casual the event will be.
Dress for the Rehearsal Dinner according to the Location
Let's get into the location a bit more because just like the weddings themselves, the rehearsal dinners can take place in a wide range of locations. Knowing where the rehearsal dinner is taking place gives you a ton of information around how to actually get dressed. Your decision about the dress (or otherwise), shoes, jewelry and to wear to the rehearsal dinner should all depend on the venue.
Even though indoor dinners are not necessarily more formal than outdoors, you do need to consider some practical factors if the event is outdoors. Is your dress going to be too long to be sweeping the grass everywhere? Is the venue by the beach so it could get windy? You don't want to be busy fixing up your dress all night and do not have enough time to really enjoy the dinner. Wear something that is not only pretty but also practical is key.
If the dinner is taking place in a garden, you probably want to avoid stilettos so that you can walk more comfortably on the grass and the tiny and sharp heels don't get stuck somewhere on the ground. Dressy flats or wedges are better for outdoor events.
If the rehearsal dinner is in an upscale restaurant, you may want to go with a cocktail dress and feel free to wear your favorite kitten heels. Still, bear in mind comfort is key, because most rehearsal dinner will last more than one hour and you want to make sure your shoes won't start to hurt half way. Block heels or shoes with a slight platform works perfectly in that case. If you want to know more about how to pick the right shoes, read our post on "How to wear high heels comfortably all day".
Besides shoes, if the dinner is outdoors at night time, you may want to consider bringing a light weight pashmina in case it gets chilly.
I suggest, if you're not really familiar with the rehearsal dinner's location, personally do some research! Thanks to the internet we can gain a lot of insight into a venue from a simple online search. Check their social media pages to see what patrons wear when they are there, get an idea as to how formal the dress code is, etc. The point is location isn't something to look over when you're figuring out what to wear to a rehearsal dinner.
Less Formal Than the Actual Wedding
Even if the rehearsal dinner is on the formal side, you never want this outfit to outshine or be more formal than what you plan to wear to the actual wedding. Keep in mind that the wedding is the most important event of ALL the wedding related events, so that's the look that should be the most formal and stand out the most.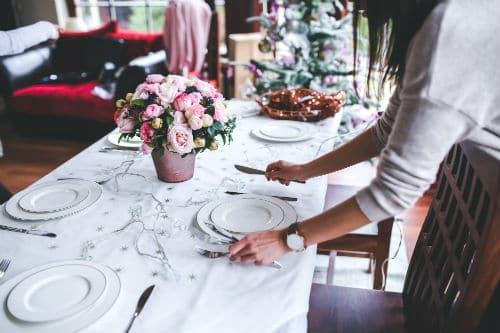 What if the rehearsal dinner dress code is formal? In that case, you should honor that dress code just think about what you're wearing to the wedding and think about whether or not you need to make some adjustments so you're not dressing up more for the dinner than you are the wedding.
Express Yourself with Class
Because rehearsal dinners are less formal than the actual wedding it does give you an opportunity to express your own personal style when choosing an outfit for the occasion. Have fun with the dress (or pants!) you decide to wear for the rehearsal dinner by choosing something that you feel really comfortable wearing. While you should use it to express your personality, it's important that you aren't showing too much skin at the rehearsal dinner.
Even if the venue of the rehearsal dinner is formal and calls for you dressing up (or not), showing a lot of skin can have you running the risk of not dressing appropriately for the event. Keep in mind that the rehearsal dinner is a wedding related event which means that family members will be in attendance and you want to honor the bride and groom's special night. This isn't to say you can't wear a dress that shows a little leg or a neckline that shows a touch of skin – but it doesn't mean you want to find some balance between showing skin and just plain showing too much. If grandma wouldn't approve its probably best to skip it!
Don't Wear the Bride's Color
This may go without saying but I wanted to make sure we touch on the color you decide to wear to the rehearsal dinner. Truthfully, you can really rock any color you enjoy wearing to the rehearsal dinner. I suggest choosing according to the season. So if the rehearsal dinner is taking place in the spring or summer, choose an outfit that's in the light and/or bright color scheme.
On the flip side if the rehearsal dinner is in the fall or winter, go for darker hues. This will help you to feel like you're dressing properly for the season AND occasion which is the ultimate style win.
The one color you definitely should NOT wear to the rehearsal dinner is white. Unless a wedding event invitation specifically requests for guests to wear white, it should be avoided for any and all wedding events – yes even the events leading up to the big day. To put it rather simply, the color white is really meant to be reserved for the bride. All of the events leading up to the actual wedding are about the bride and groom and allowing her to stand out in white, if and when she chooses, is respectful.
I'm sure you've heard that you should never wear white to the wedding but don't forget to trickle that same rule into the other wedding festivities. If you want to know more about dos and don'ts regarding wedding events, read our post on common fashion mistakes to avoid for petite wedding guest .
Style a Completed, Appropriate Look
More often than not, dresses are going to be a great style choice for a rehearsal dinner. They're easy to wear and require minimal matching when styling the outfit. Hello one pieces! On that note, I so often see that women will find a great dress to wear to a rehearsal dinner and miss the rest of the details. Ladies! Remember that you're styling an ENTIRE look when getting dressed for a rehearsal dinner. Don't break the look of the dress with the wrong accessories and shoes.
We've all heard it – shoes can make or break an outfit. I'm not going to give you a whole lecture about how to select your accessories and shoes but I will say that you should look at everything you're wearing to the rehearsal dinner as a cohesive look.
Generally speaking, less is more. Avoid overstyling yourself by wearing too many accessories like big earrings, a necklace, statement bracelet, etc. If you're wearing a dress that's a stand out you don't need a lot of over the top accessories to look great. On the flip side, if you're wearing a simple dress to the rehearsal dinner you can add a little more of a pop with your accessories.