While the graduates prepare their outfits, as a mother, I know you want to look and feel great on the big day as well.
Even though the day is about your child, there will be a LOT of pictures and you want to be able to look back on those and feel good about your wardrobe choice.
Middle School Graduation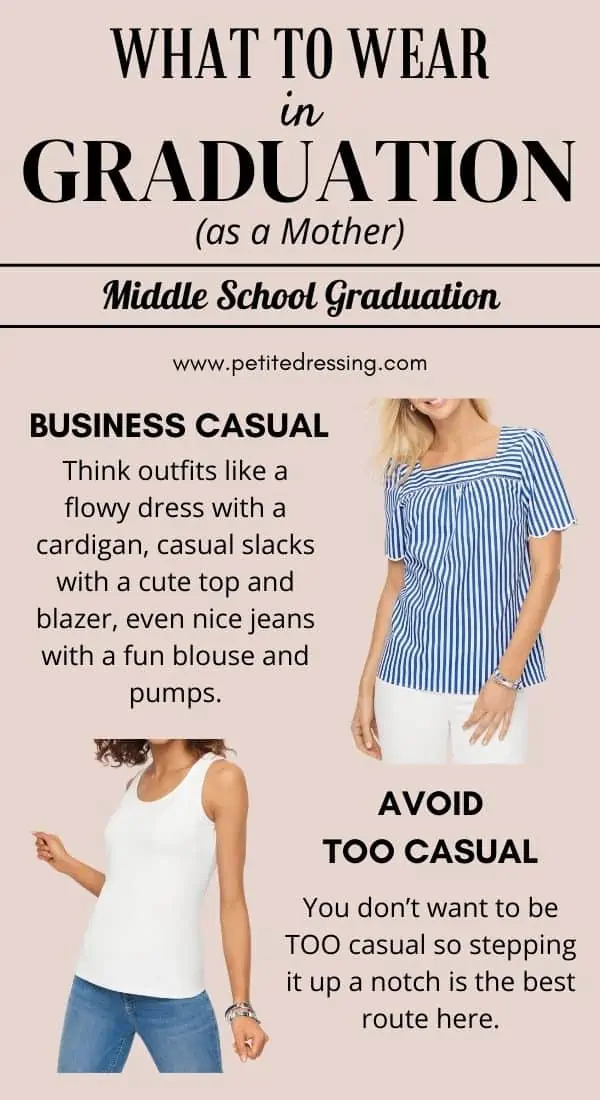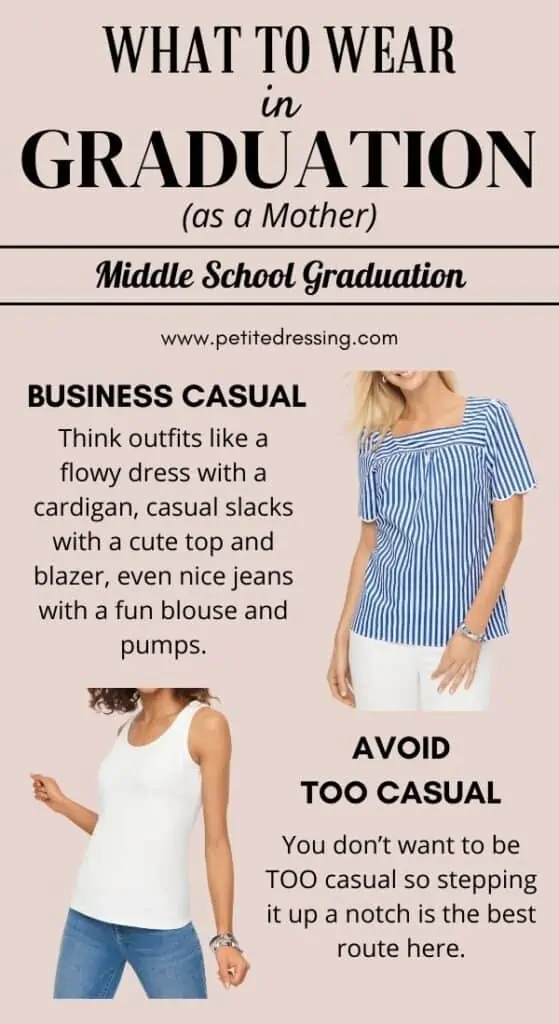 Ahh, middle school graduation. It's an interesting transition for kids and parents, because now you're seeing your child step across stage and start high school. Naturally, any change comes with excitement this is no different.
While middle school graduation is a fun ceremony for all involved, it's generally the most relaxed of all the graduation ceremonies, in terms of what a mother should wear to the graduation.
Dress with a cardigan
Business casual is a good dress code theme to keep in mind in regards to what to wear to middle school graduation.
Think outfits like a flowy dress with a cardigan, casual slacks with a cute top and blazer, even nice jeans with a fun blouse and pumps.
Avoid TOO casual
Naturally, you don't want to be TOO casual so stepping it up a notch is the best route here. Every school is going to be a little bit different so there are a few ways you can take the temperature of your child's middle school.
Things to consider
First, consider the location. Will the ceremony be indoors? Outdoors?
This will definitely play a role in what you decide to wear! Once you know whether it's indoors or outdoors, you're going to want to take seating into consideration. More often than not, middle school graduations tend to take place in school gymnasiums with…bleacher setting.
I know, it's not the most glamorous but it's just the way the cookie crumbles!
That being said, you will want to make sure you're keeping hemlines into consideration while sitting on bleacher seating – air on the longer side.
High School Graduation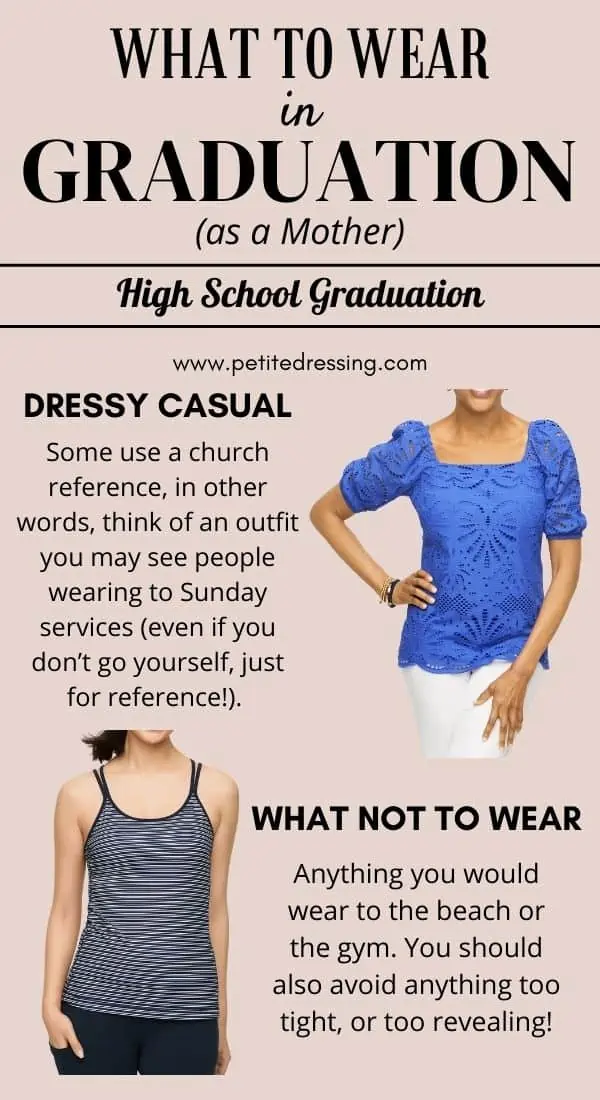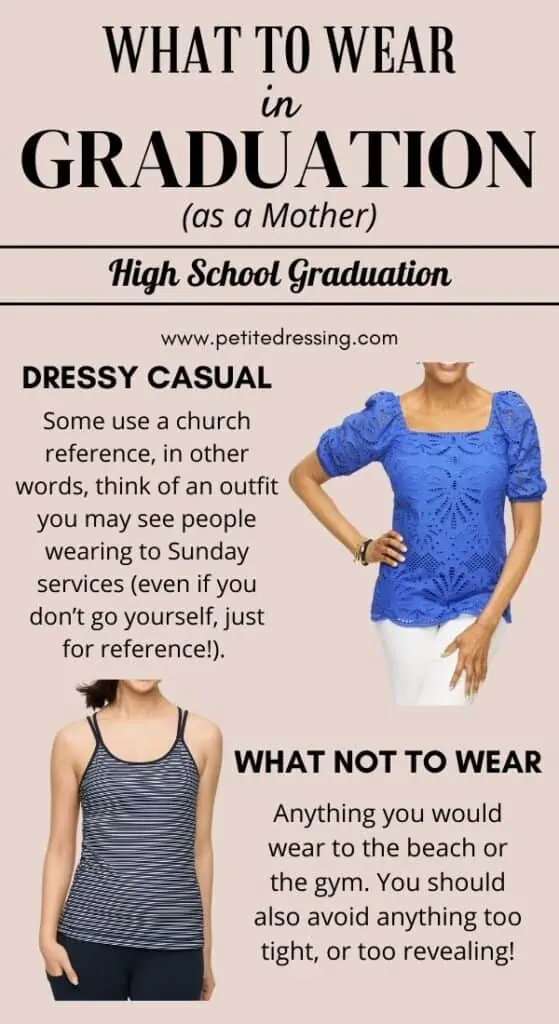 Can you believe the big day is approaching?! High school graduation is a big deal for your kid(s), you get to see them spread their wings and start their 'adult' life after this. Ok, ok we'll save all the sentimental stuff for the actual graduation day.
Dressy casual
The good news about high school graduation is it calls for a pretty similar dress code to middle school, as far as best mother's outfits for the graduation go.
Again, you're going to want to stray away from anything TOO casual – it's a big day in your child's life remember! I generally suggest sticking with a business casual dress code for high school graduation.
If you're like most people, dress casual is probably confusing for you.
I get it, it's a confusing dress code.
Some use a church reference, in other words, think of an outfit you may see people wearing to Sunday services (even if you don't go yourself, just for reference!).
This means:
Nice dresses
Pencil skirts with a nice blouse
Dress pants with a blouse.
If the ceremony is rather casual, you can even wear nice jeans. However, you want to make sure they aren't distressed and you pair them with a nice top and nice shoes to dress them up. Just to give you a few ideas!
What NOT to wear
A couple things to keep in mind of what NOT to wear: anything you would wear to the beach or the gym. Yes, that means you need to leave those yoga pants at home for the graduation ceremony.
Also, it also goes without saying you should also avoid anything too tight, or too revealing! (I will talk more about this later in this article.)
College Graduation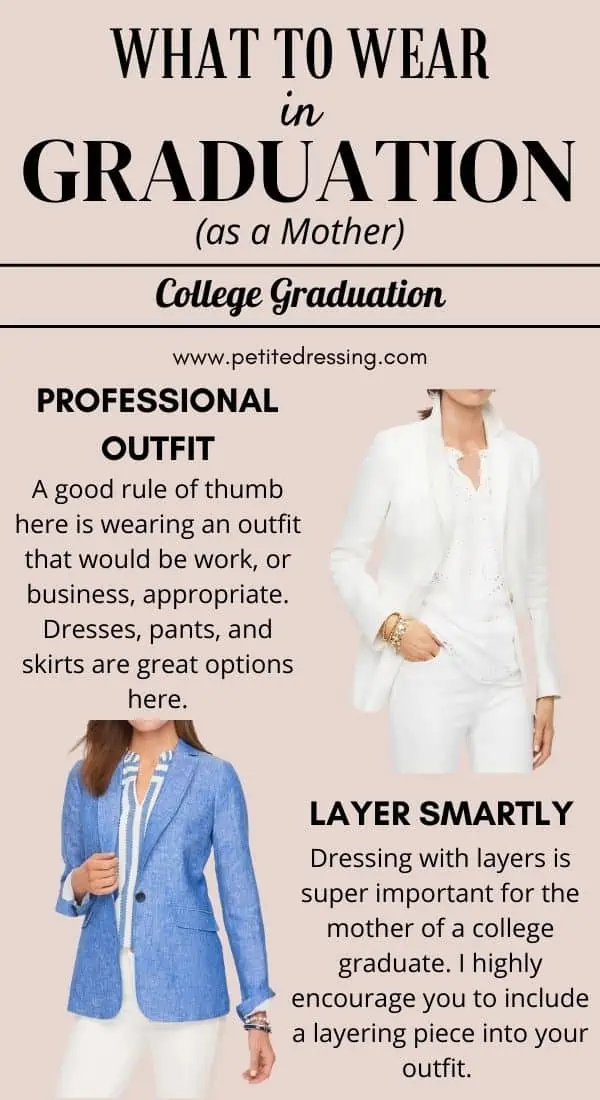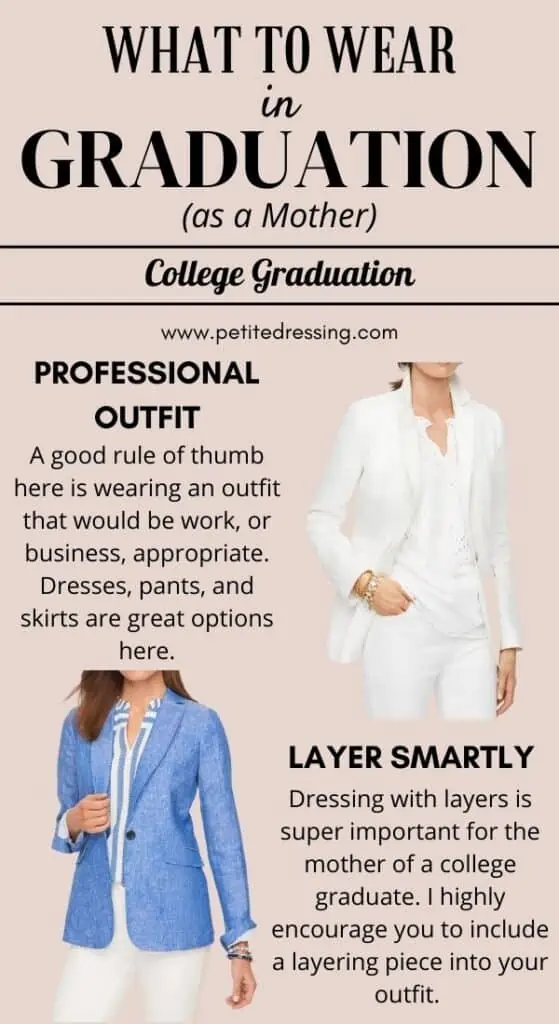 Woohoo, your son/daughter is graduating college! They did it! Now, what's the best outfit for you to wear to the graduation as a proud mother?
Professional outfit
This is one of the ceremonies when it's time to step up your style game just a bit with a more professional outfit.
Because college graduation ceremonies are often more formal than high school and middle school, you should dress accordingly and opt for something more formal than you did for the previous.
A good rule of thumb here is wearing an outfit that would be work, or business, appropriate. Dresses, pants and skirts are great options here – I would suggest skipping denim altogether because it's likely going to be too casual for the setting.
Of course that doesn't mean you have to look like a lawyer (even if you are or were one) attending a client meeting. You can still add your favorite accessory for a fashionable twist!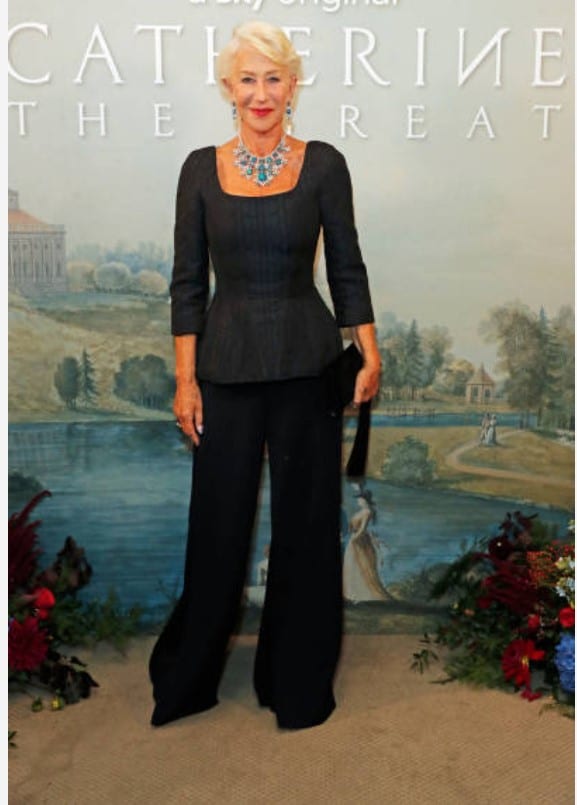 Layer smartly
College graduation ceremonies are often quite lengthy, as there are a lot of students who have to walk across the stage. Not to mention you may need to walk around quite a bit.
Dressing with layers is super important for the mother of a college graduate. Whether you decide to wear a dress, skirt or pants I highly encourage you to include a layering piece into your outfit.
It can be a blazer, cardigan or something else – just make sure it's easy to carry and your outfit works with AND without the layering piece. Remember, pictures will be taken all day long so you want to feel good about what you're wearing both ways.
Graduate School Graduation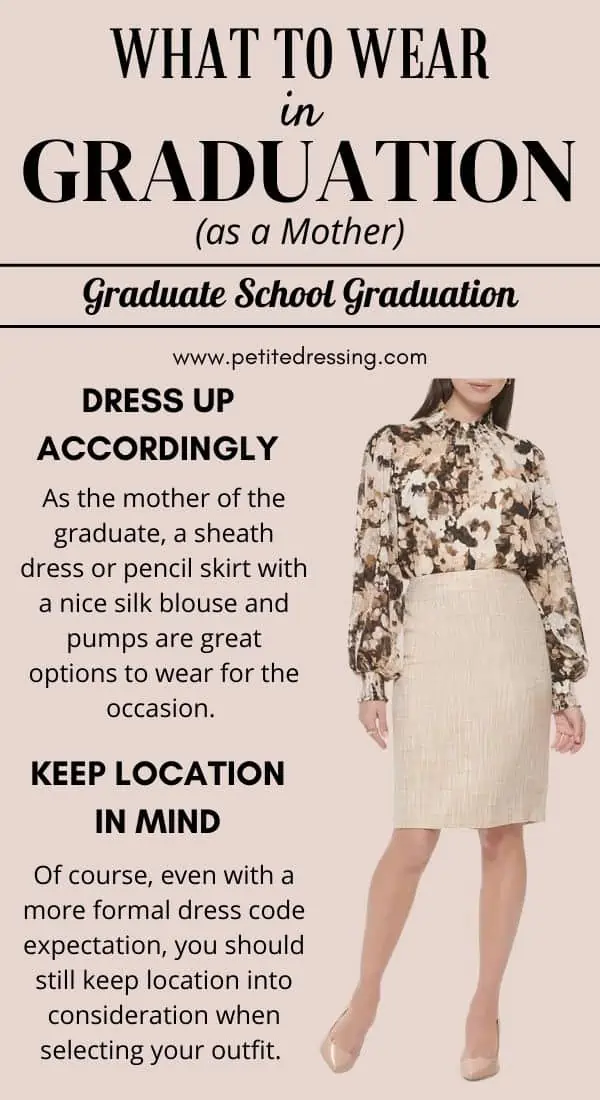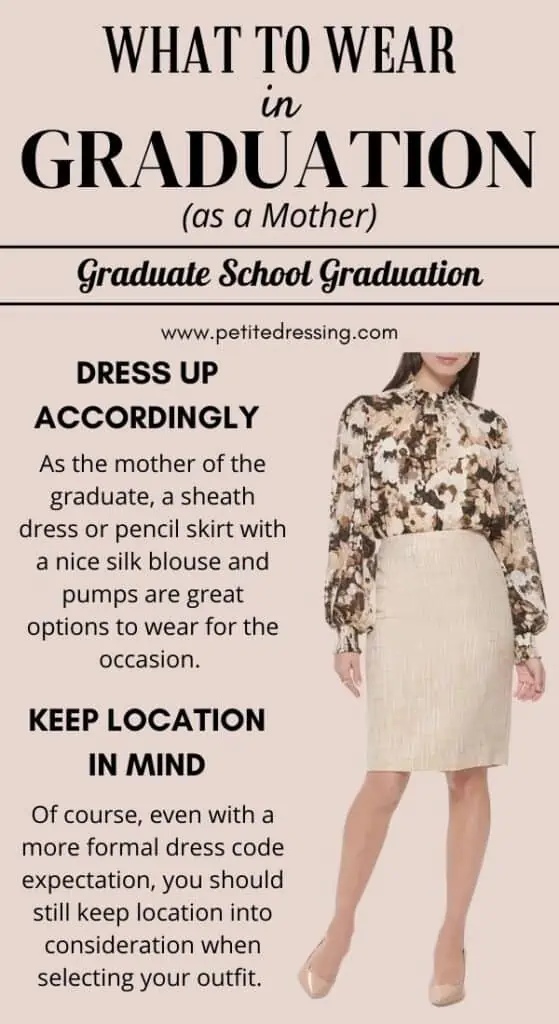 This may go without saying, but I'm here to say it anyways that graduate school graduation is the most formal of them all.
Dress up accordingly
It's such a huge deal to graduate from graduate school, so dressing up more is a way to honor that achievement. Definitely skip denim here!
Instead, select an outfit that's business formal. As the mother of the graduate, a sheath dress or pencil skirt with a nice silk blouse and pumps are great options to wear for the occasion.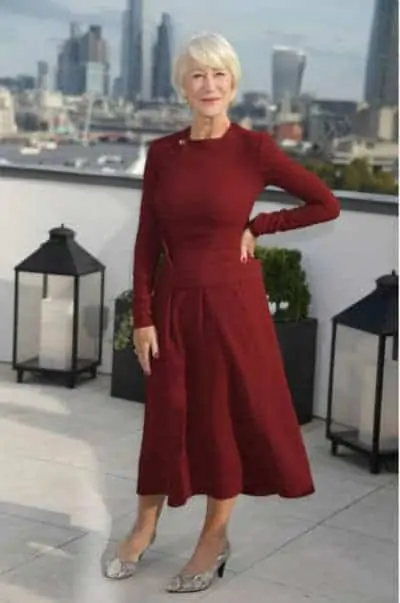 Keep location in mind
Of course, even with a more formal dress code expectation, you should still keep location into consideration when selecting your outfit.
Similar to what I mentioned previously, layers are helpful in case you're going to be outdoors or inside with cold air conditioning. Think ahead but also think professional!
Attributes to Consider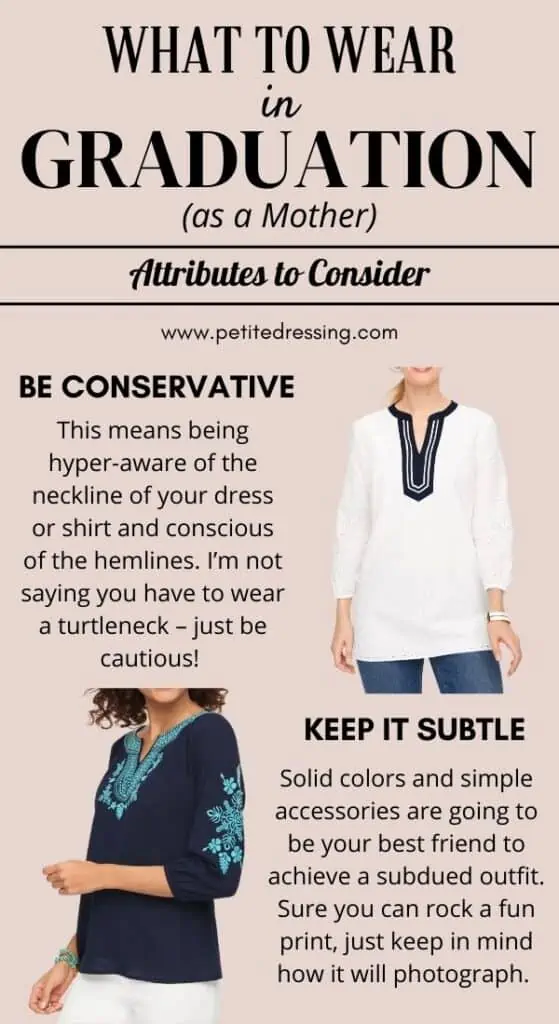 Now that we've gone through the basic 'rules' for each graduation ceremony and what you should be wearing. I wanted to give you a little rundown on a few tips I think are important for you to keep in mind for ALL of these graduation ceremonies. Whether your child is graduating middle school or getting their masters – you get the point here so let's get into it.
Be conservative
First up, keep your outfit on the conservative side. Even if you're not a traditionally conservative mother, remember that this graduation ceremony is about your incredible child so be mindful that you're not showing too much skin.
This means being hyper-aware of the neckline of your dress or shirt and conscious of the hemlines. I'm not saying you have to wear a turtleneck – just be cautious!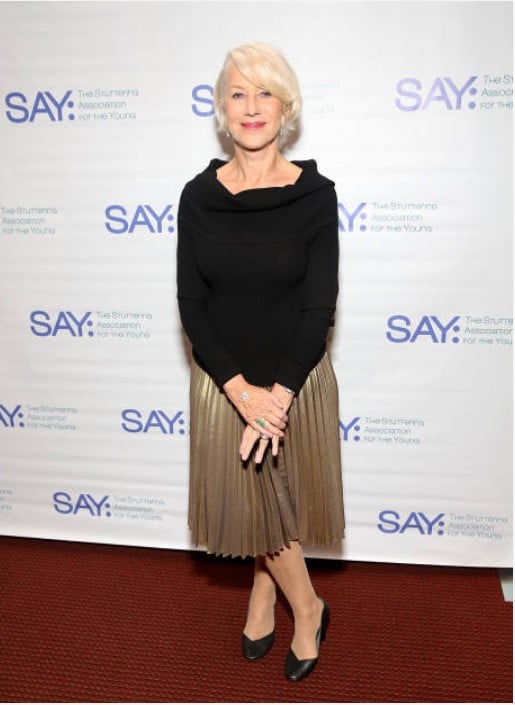 Also, you want to mindful of anything too tight. After all, this is not the best times to grab people's attention with curve hugging dresses. I don't mean you have to wear loose clothes to disguise your figure, but you just don't want to come across as inappropriate for the graduation.
Keep it subtle
Next, I always suggest mothers keep it subtle on their child's graduation day. Don't wear anything that's too over the top where all the attention is brought to you.
I want you to look and feel great but keep this day about your son/daughter, dressing a bit more subtly is a great way to do this.
Solid colors and simple accessories are going to be your best friend to achieve a subdued outfit. Sure you can rock a fun print, just keep in mind how it will photograph.
This is not the best occasion for some fashion experiments. Anything that is really bold or too trendy might not be your best option to wear to the graduation.
For instance, if you are into animal prints, I would not recommend a dress with busy leopard prints both on top and bottom. You can still wear a leopard print blouse, but tone it down a bit with a beige midi skirt. Or, you can choose an animal print shoe as highlight of a low-key outfit.
Stylist tip: not all prints and patterns photograph well! Softer patterns and prints are generally much more forgiving through the lens.
Choose shoes wisely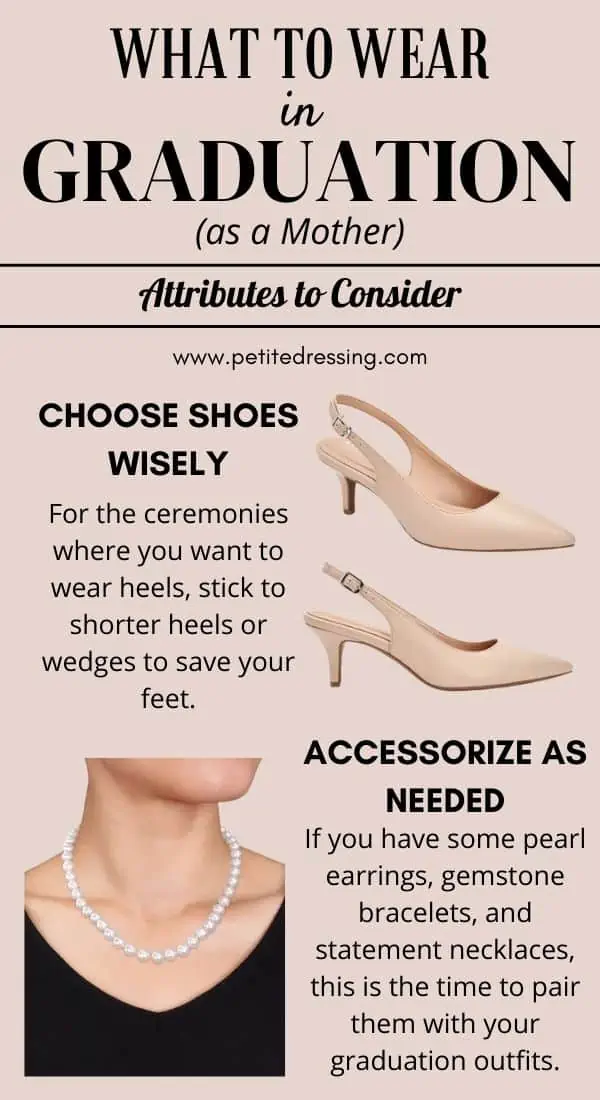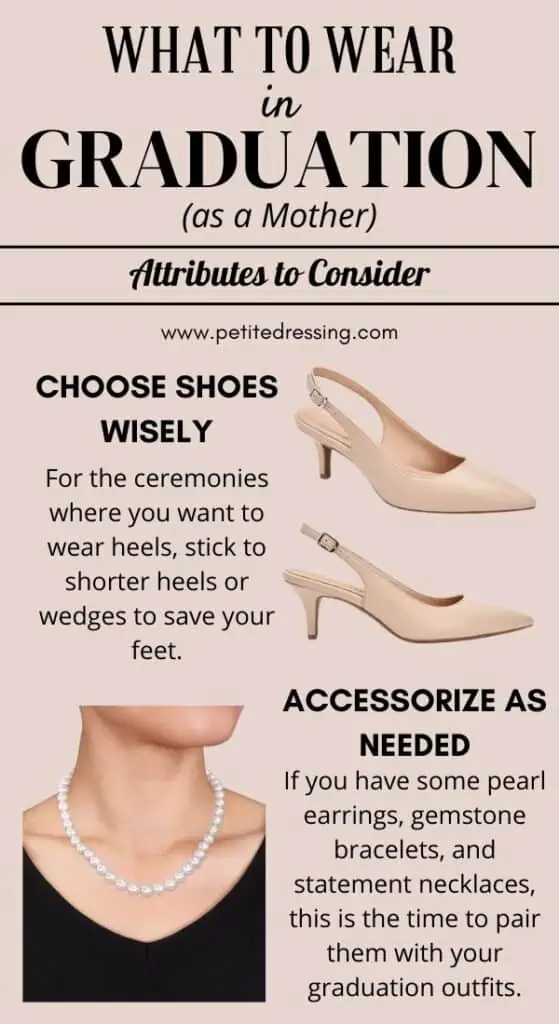 Finally, the shoes you wear for any graduation should be shoes that you can wear for an extended period of time. Sure, you will likely spend a great deal of time sitting during the ceremony.
Before and after the ceremony is when there's often a lot of standing and walking around, and if you're wearing shoes that aren't comfortable you're going to be feeling the repercussions of that decision.
For the ceremonies where you want to wear heels, stick to shorter heels or wedges to save your feet. Or, consider silicon inserts which will make sure you can walk and stand comfortably throughout the ceremony.
Accessorize as needed
Since your outfit tends to be conservative for the graduation ceremony, you can opt for some nice accessories to add a nice final touch.
The accessories you choose really speak for your taste. So, if you have some pearl earrings, gem stone bracelets, and statement necklaces, this is the time to pair them with your graduation outfits.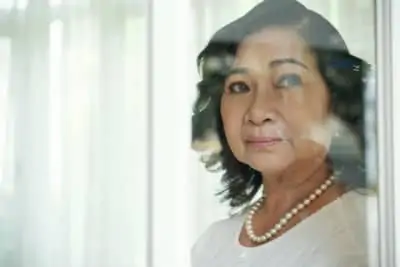 Choose travel friendly outfits
If you are attending college graduation or grad school graduation ceremony outfits, then a big factor to consider is how easy they are to bring if you have to travel. Most likely you will need to bring them in a car or on a flight or any other transportation, so you want to make sure your outfits will be easy to pack.
In that case, wrinkle free fabrics (typically blended with polyester) is probably much easier to care for on a trip than more "high maintenance" fabrics such as linen or silk.
If you do decide to wear your favorite silk dress to attend the graduation, then be prepared you may need to do some last minute fix-up. You probably also need to be bring travel friendly steamer or iron, just in case your dress or skirts get wrinkled when you get to the destination.
Final Pro Tip
Something I've found to be incredibly helpful when dressing for important occasions like graduations is prepping.
Do yourself a HUGE favor, and save yourself a whole lot of stress, and plan your outfit ahead of time.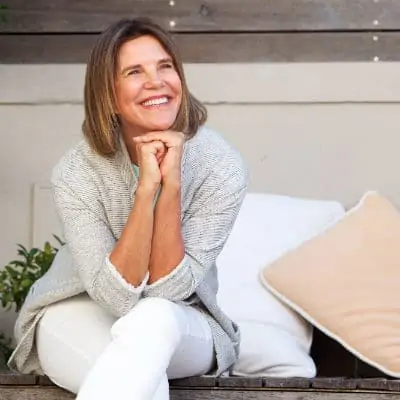 I mean really plan it, too. Like try on the outfit to make sure it fits and actually looks good. We've all had times when we thought something was going to look great and once we styled it on our bodies it didn't pan out the way we imagined. This will also ensure you have a solid choice for the day of and you won't be scrambling around last minute trying to find something to wear.
Since there will be a lot of pictures being taken the day of the ceremony, I would even suggest you snap a picture of yourself during the planning stage so you can see how the colors, textures, etc. look in a photo. This is a trick a lot of stylists and celebrities use when planning outfits for a big day!
Everything else you need to know
I highly recommend you read some of my other blog posts on how to look chic at ever age!