While we encourage women to always wear whatever makes them feel comfortable and fabulous, sometimes we like what's not really good for us. Still, you can find a compromise, and that's what this article is for.
Swimsuits come in all shapes and sizes, just like women. Therefore, it's always a good idea to take your body shape and features into consideration when shopping for swimsuit styles.
This swimsuit style guide for women with short legs takes you through the top styles that are incredibly elegant on petite women and will have you stepping out in more confidence.
Styling goal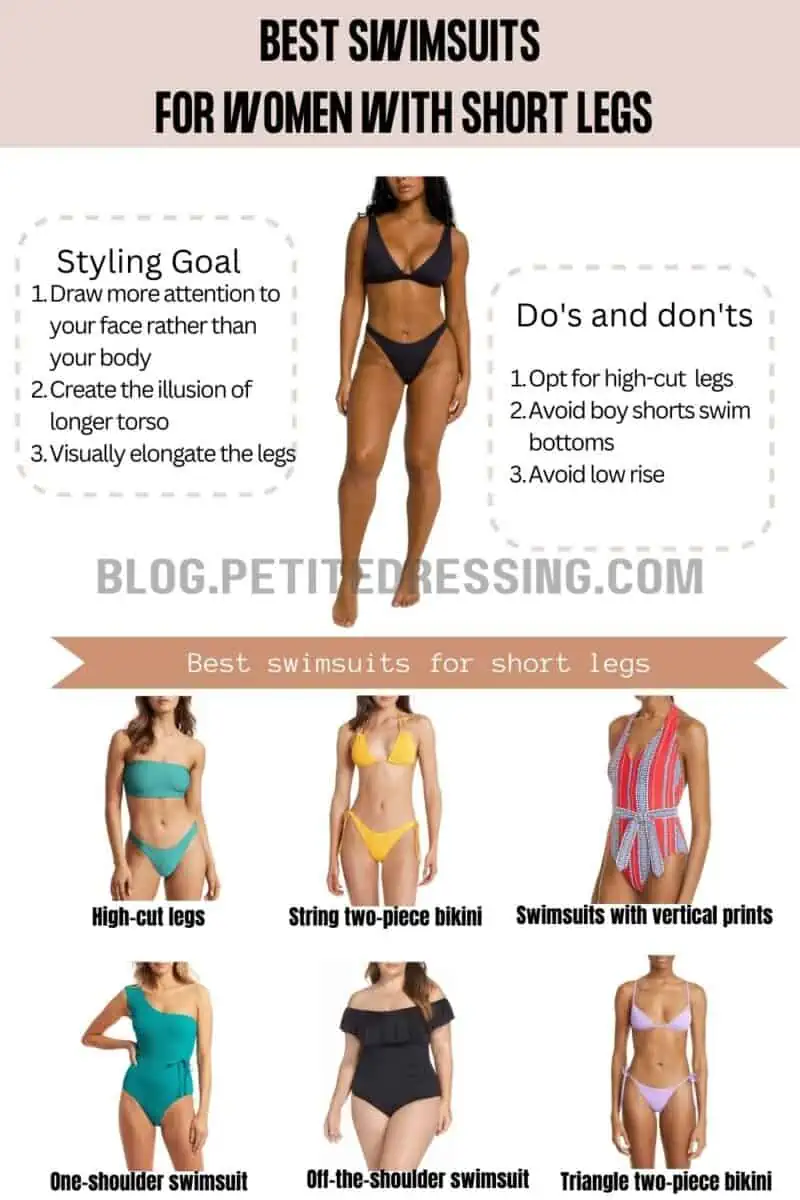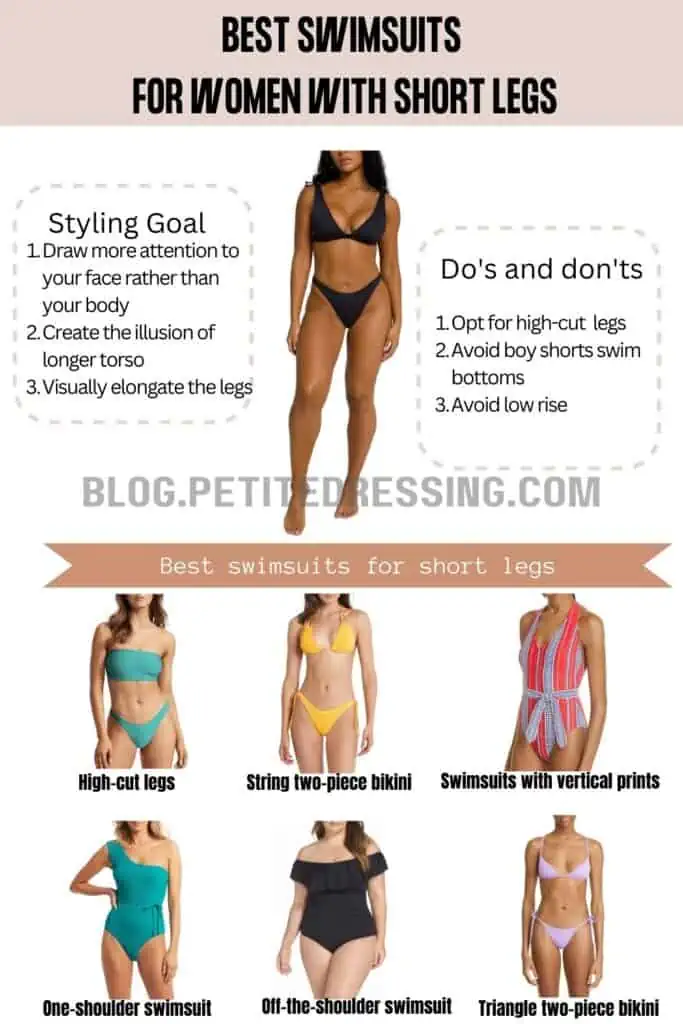 Choosing swimsuits for women with short legs means you have to take a lot of factors into consideration to have perfect results. So, the first step is to identify your styling goals which will ensure that you know what to look out for when shopping. What should you be looking for as a short woman?
The swimsuit should draw more attention to your face rather than your body. With this, people won't focus on your height.
Since you most likely have a short torso, a great swimsuit for your body shape is one that gives the illusion of a longer torso.
Some great swimsuits for petite women also give the illusion of longer legs. Of course, you can't walk around the pool or beach in high heels. Therefore, the only way to look taller is to elongate your legs with the right swimsuit.
You understandably have some parts of your body you want to camouflage, especially if you have a muffin top or bigger thighs. Your swimsuit choice can help tone your body to hide these little imperfections.
High-cut legs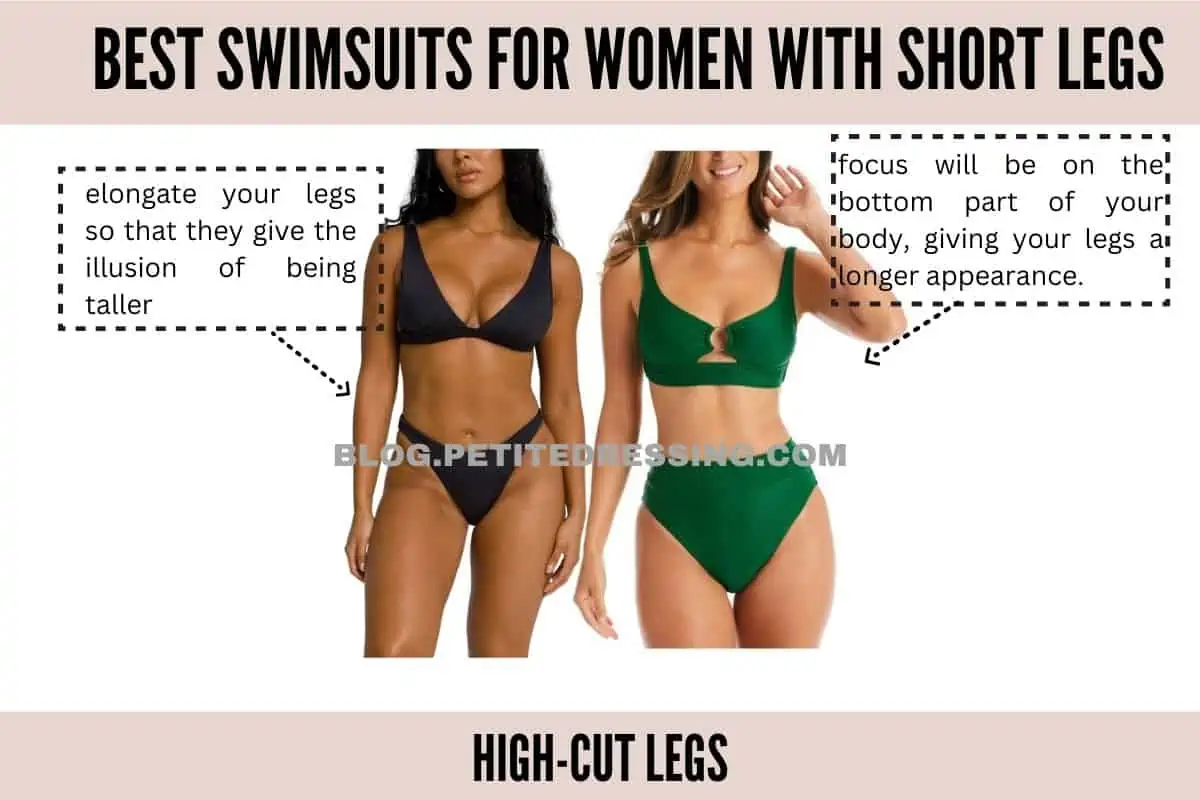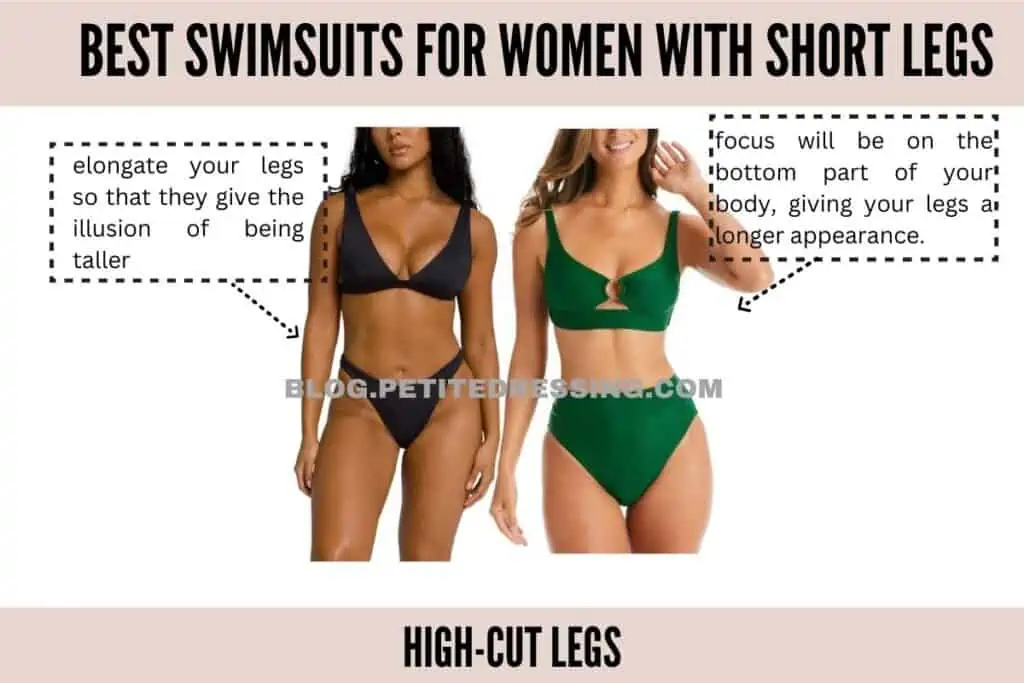 One of the best tricks to take note of when shopping for the right swimsuit for petite women is to elongate your legs so that they give the illusion of being taller. An amazing way to achieve this look is with high-cut legs on your swimsuits. 
The secret here is that the swimsuit starts from a higher part of your waist and extends from the top to the bottom with no distractions. Therefore, the focus will be on the bottom part of your body, giving your legs a longer appearance.
You can combine this with other subtle features that lend more support to your illusion, like one-shoulder straps on your one-piece swimsuit. This swimsuit style creates an unbroken vertical line that's perfect for making women with short legs look taller.
Of course, it doesn't hurt that this is another great way to camouflage your muffin top so no one notices that you have a bigger belly. 
String two-piece bikini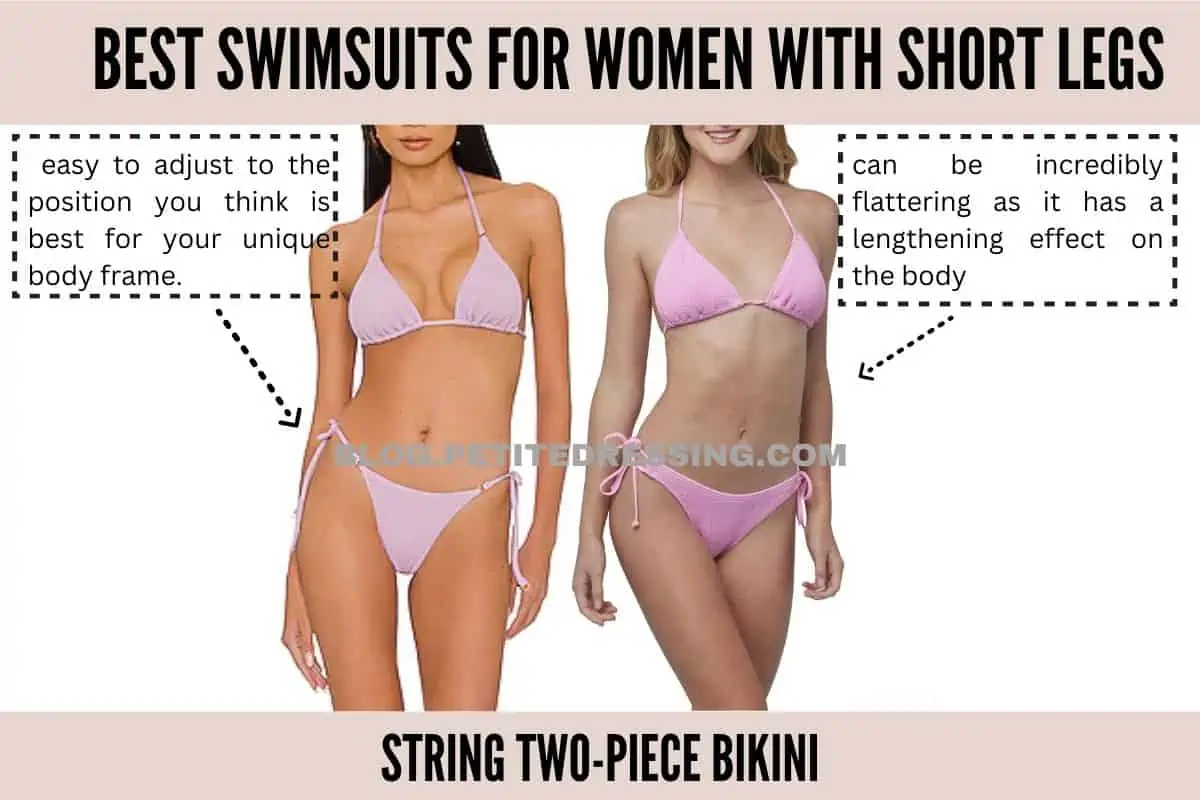 For petite women with a shorter torso, a two-piece string bikini can be incredibly flattering as it has a lengthening effect on the body since there's more skin visible at the hips. So, the string design is not just beautiful to look at but also doubles as a nice way to elongate your legs.
We also love how string bikinis are easy to adjust to the position you think is best for your unique body frame. This can be higher or lower on your hips, but be sure to pick the one that has a lengthening effect.
So, take advantage of the adjustability and flexibility of a string two-piece bikini to look incredibly alluring during your day in the great outdoors. We also recommend that you don't choose a low-rise bikini for this, as they may look uncomfortable while revealing some parts of your body that should stay hidden.
Swimsuits with vertical prints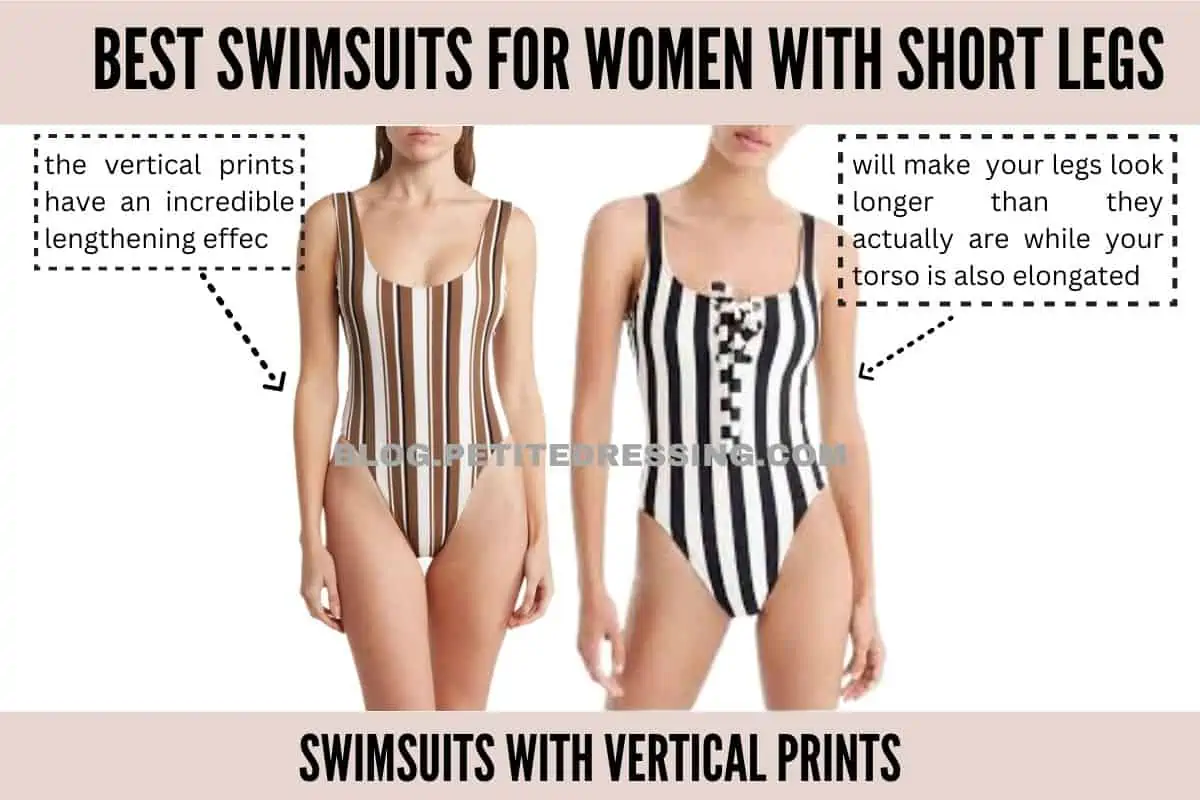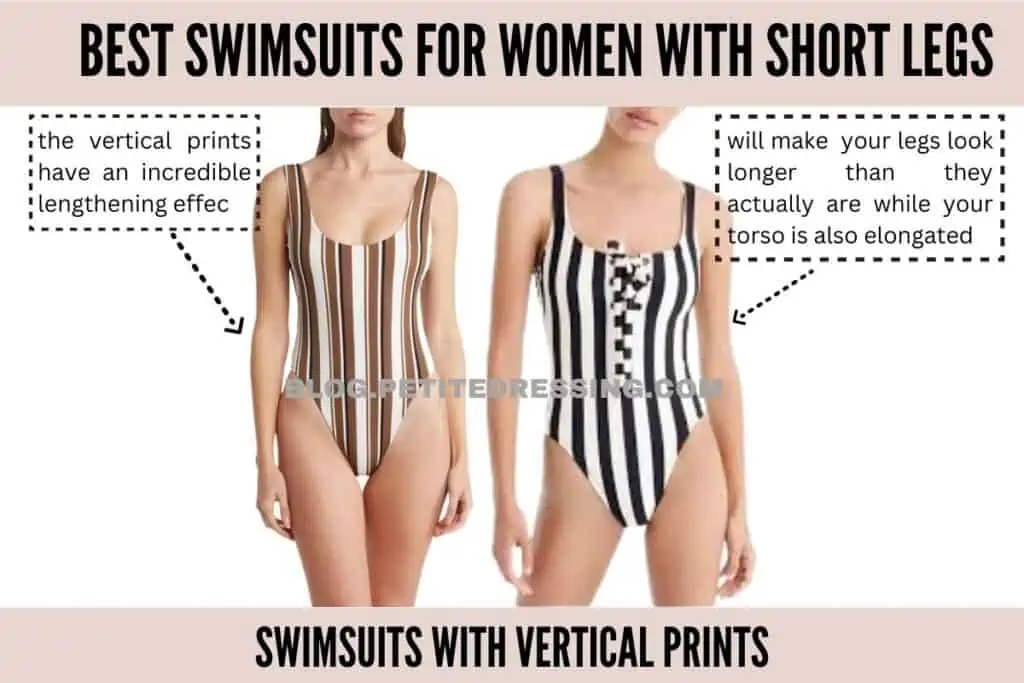 If you've been paying attention, you'll notice a common theme with our recommendations is that all our proposed designs draw the eyes up and down. Swimsuits with vertical prints are an absolute must for petite women.
Why? Well, the vertical prints have an incredible lengthening effect, so your legs look longer than they actually are while your torso is also elongated. This shows that you don't have to put your feet into heels every time you want to add a few more inches to your height.
You can try out swimsuits in black and white vertical stripes, which is great for also giving your body a slimming effect. So, if you want to appear slender just in time for your beach outing without spending all day and night at the gym, this can help you get the best results.
However, if the black and white combination is a little too loud for you, there are tons of other less flashy colors that will pop out on your body.
One-shoulder swimsuit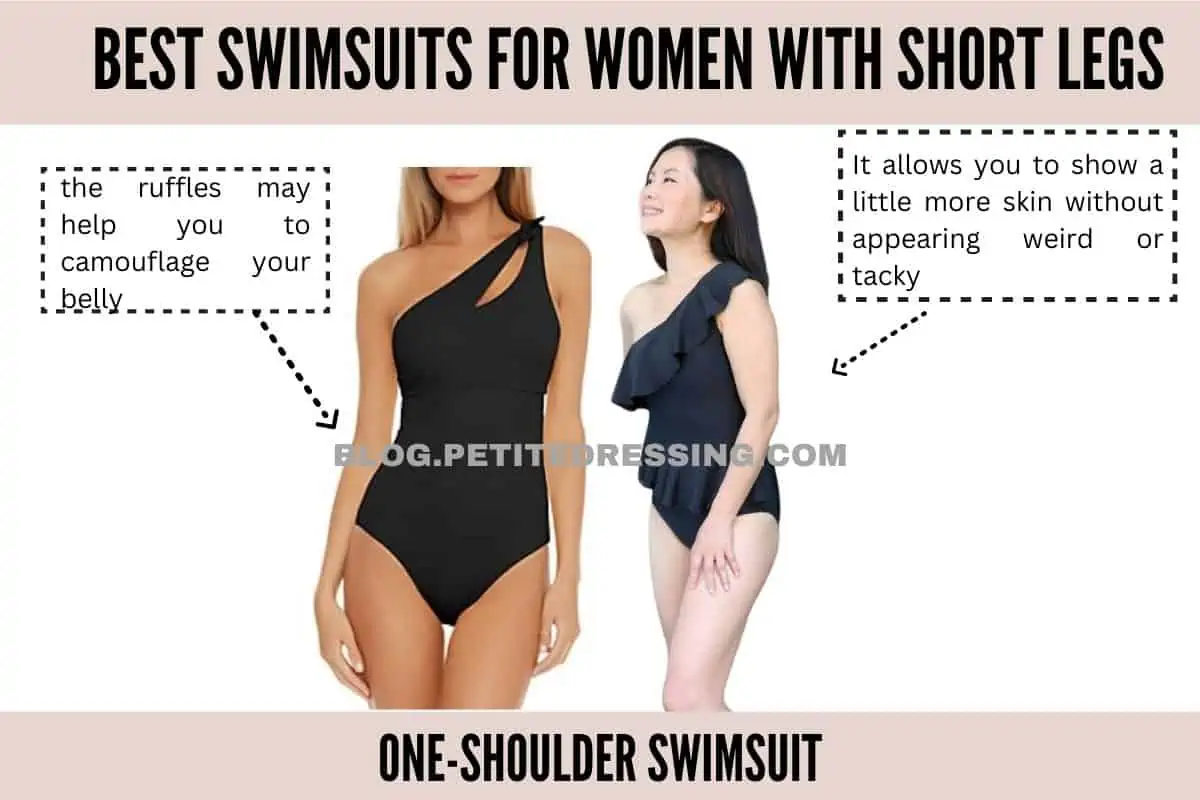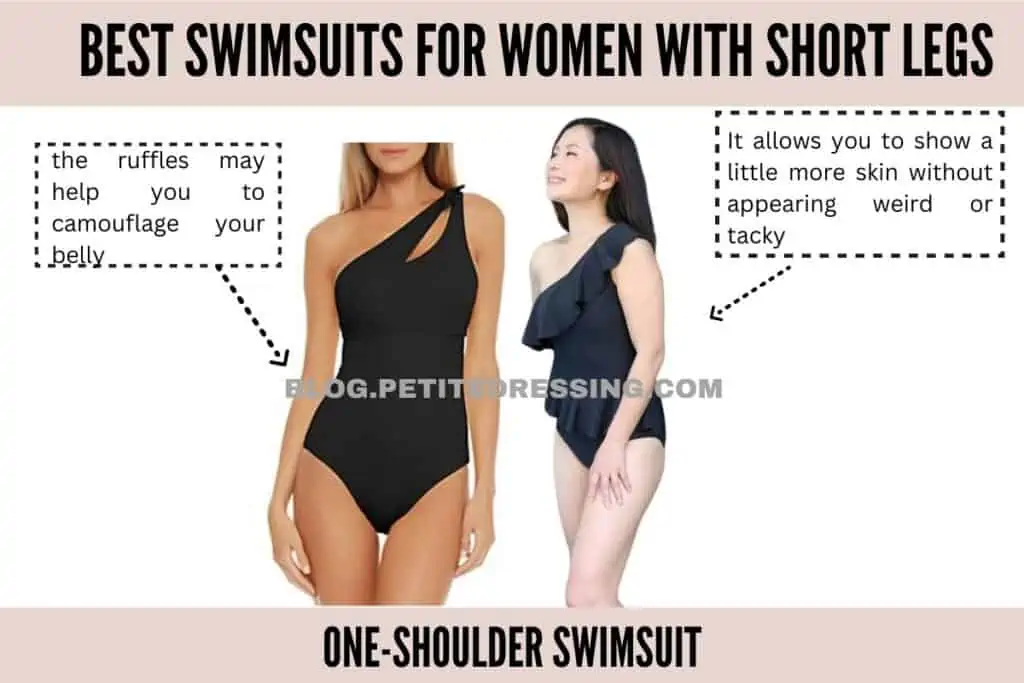 Look both sexy and taller with a one-shoulder swimsuit that's very flattering for women with short legs. Just like swimsuits with vertical prints, one-shoulder swimsuits draw the eyes up and down.
It allows you to show a little more skin without appearing weird or tacky. If you have a larger bust, this is also a great choice, as it doesn't draw focus to your chest. So, you can definitely rock a one-shoulder swimsuit with all the confidence in the world. 
We believe that you should consider styles that include some ruffles around the midsection, especially if you want to camouflage your belly. A combination of this style makes you look slender and chic while your tummy looks flatter.
To get a better overall fit, you should also look out for one-shoulder styles with adjustable straps, so it stays firm without being uncomfortable on your body.
Off-the-shoulder swimsuit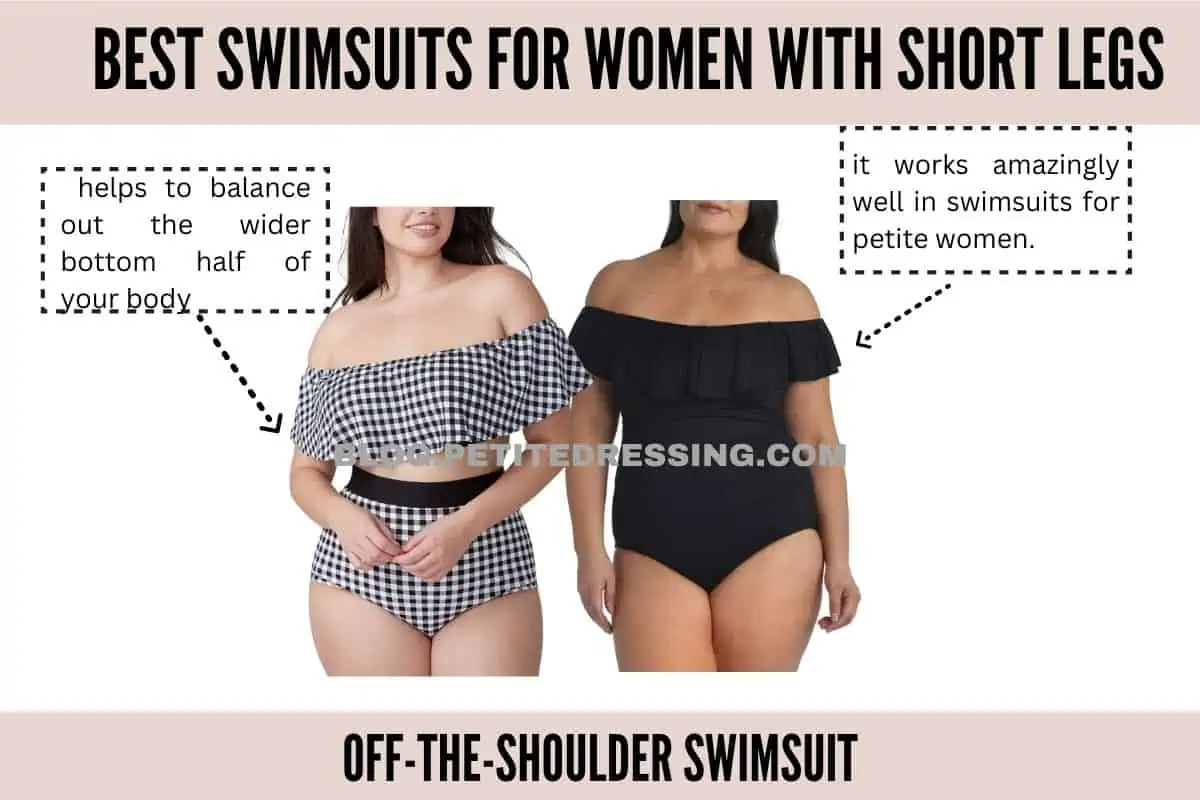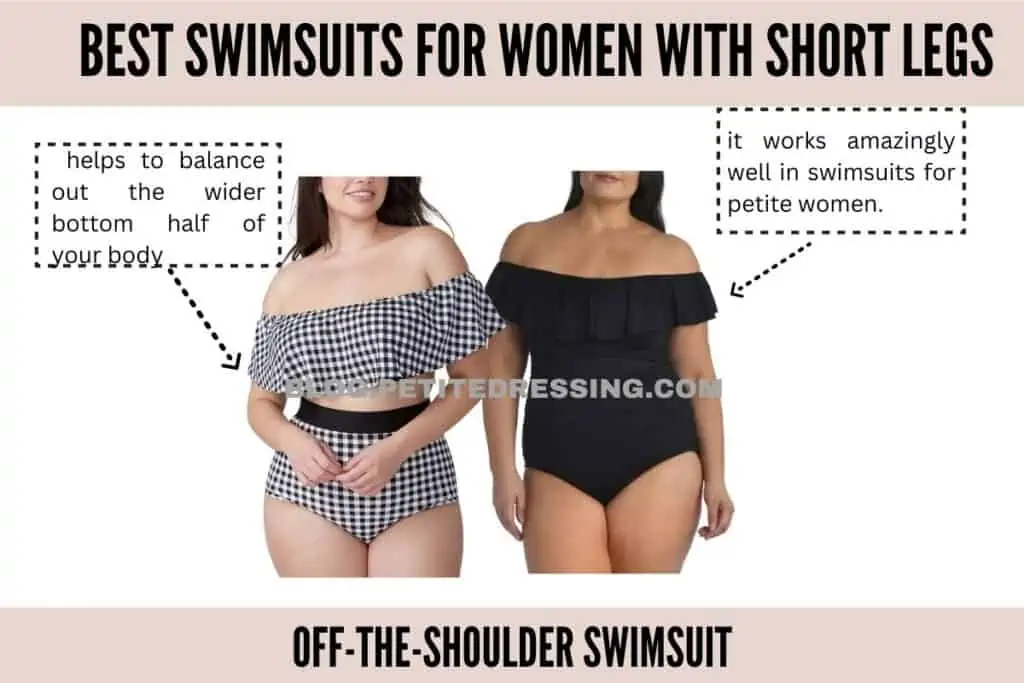 Need something to balance out the wider bottom half of your body? You should definitely consider getting an off-the-shoulder swimsuit. Off-the-shoulder styles are not just great for dresses, but they also work amazingly well in swimsuits for petite women.
So, if you have a pear body shape, you're in luck. Your shoulders and wider hips will love super cool in off-the-shoulder swimsuits that balance out your body, making them look even and definitely sexier. 
One of the advantages of wearing an off-the-shoulder style is that they create a horizontal line on your body which can be very flattering.
Triangle two-piece bikini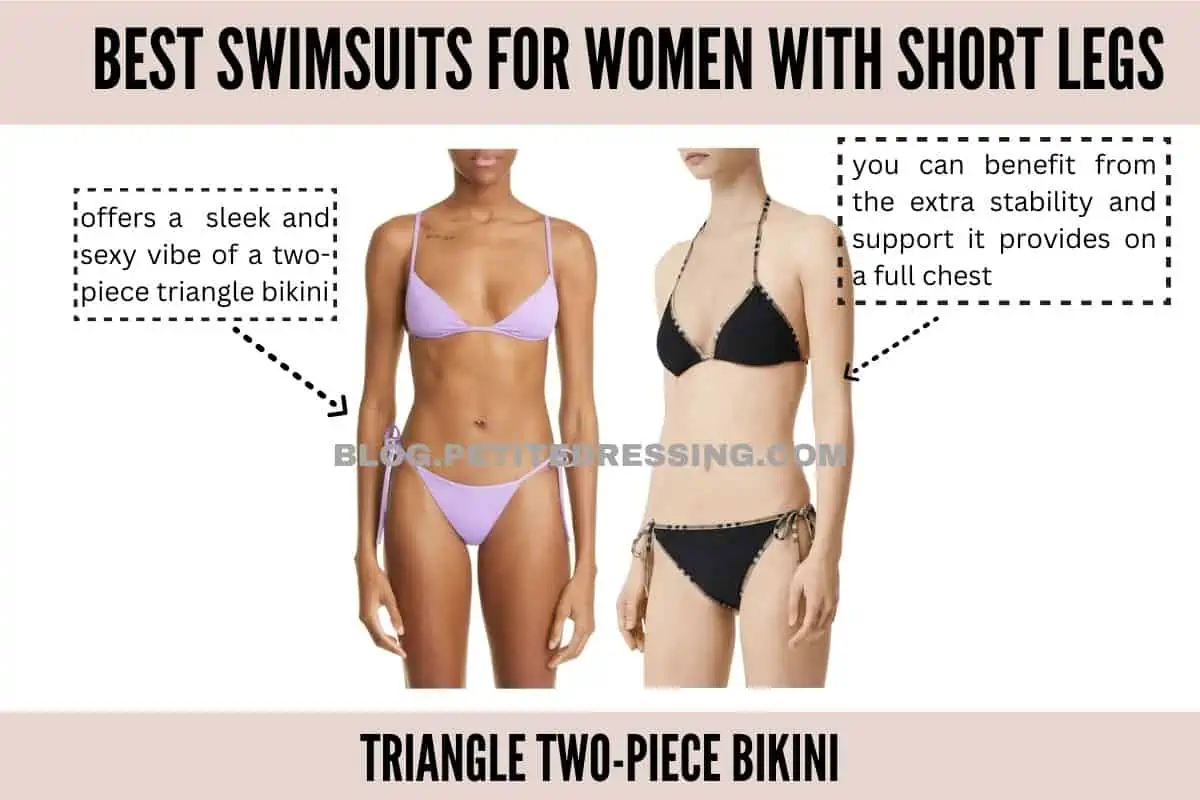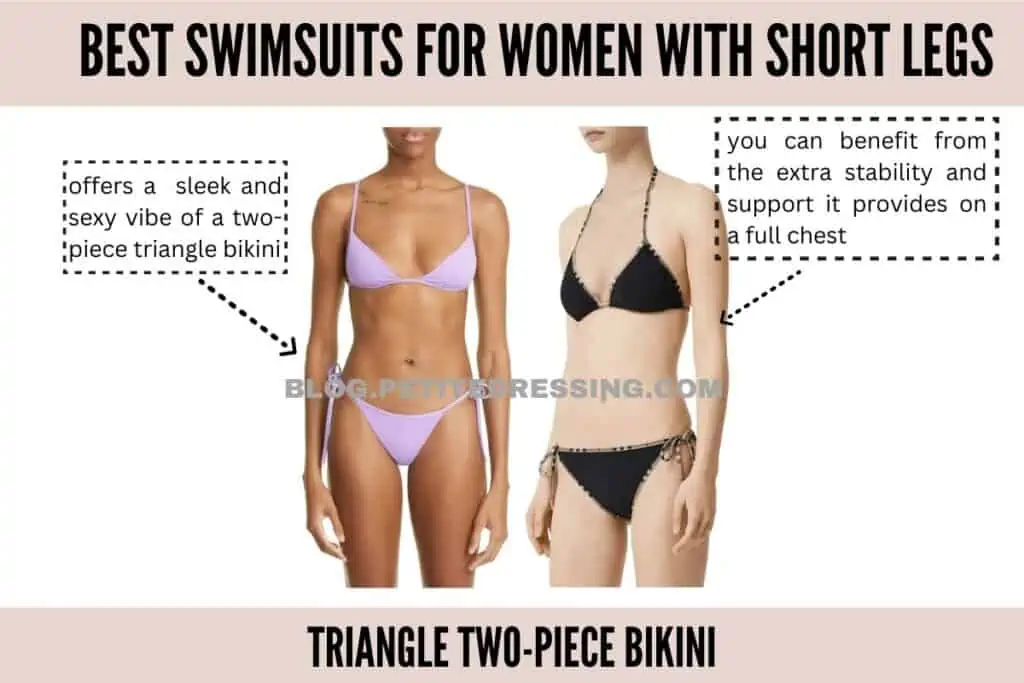 Don't be afraid to show some skin, especially as this looks good on petite women when done in moderation. Several swimwear brands incorporate this, and a two-piece triangle bikini is one swimsuit style you should look out for when shopping for different brands.
Apart from the sleek and sexy vibe of a two-piece triangle bikini, you can benefit from the extra stability and support it provides on a full chest. This triangle shape draws more attention to your upper body, which is great because there's less focus on your legs.
High-waist swimsuits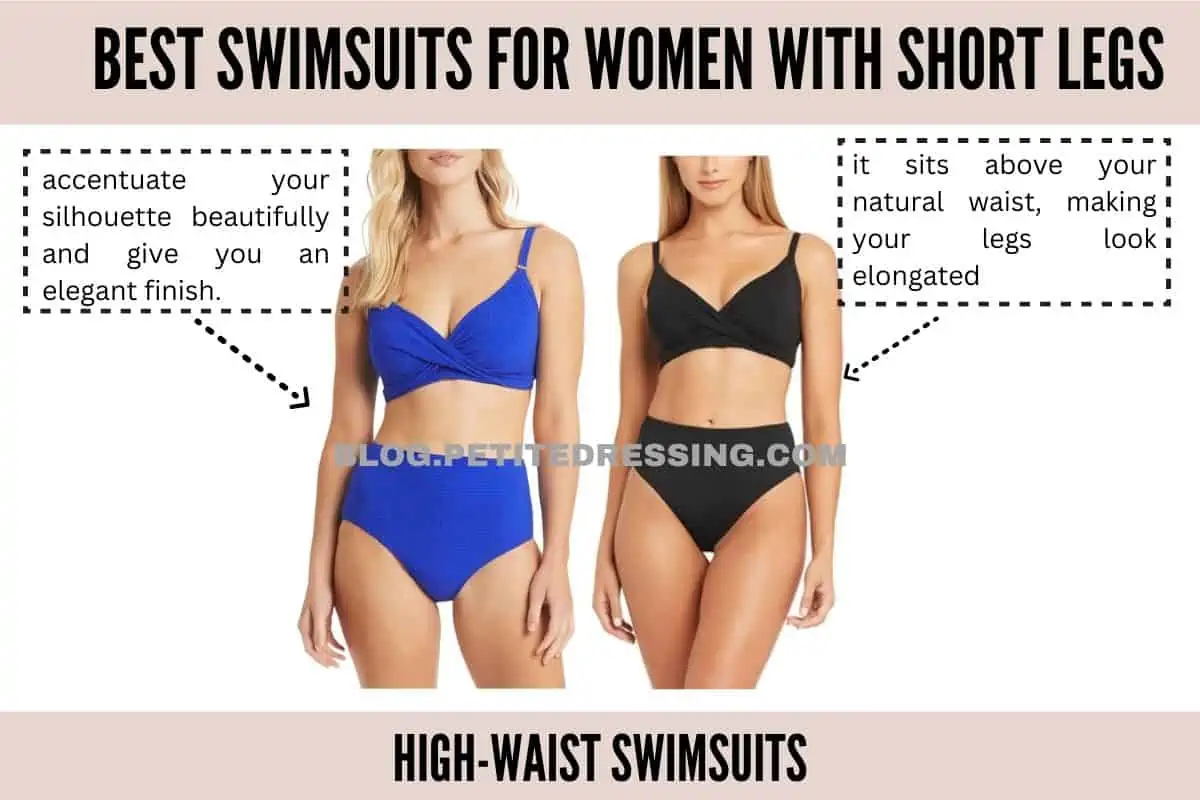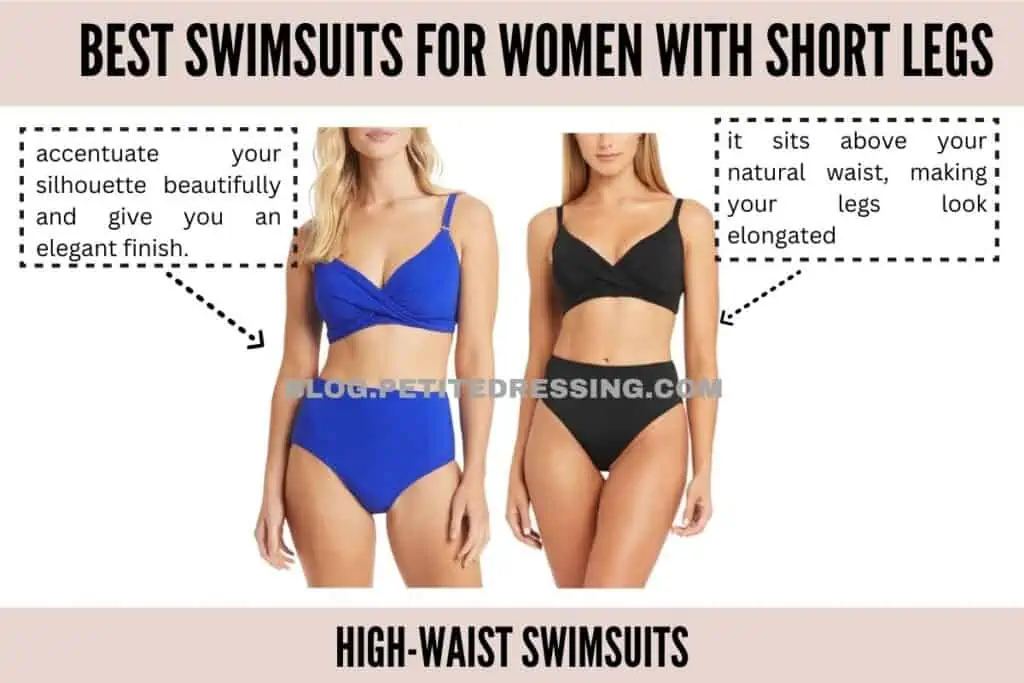 High-waist swimsuits are a must-have in the swimsuit collection for women with short legs. Visually, they are also flattering on curvy women, as they accentuate your silhouette beautifully and give you an elegant finish.
This swimsuit style is great because it sits above your natural waist, making your legs look elongated. This style is as popular now as it was in the early 60s, and it won't be going out of fashion anytime soon.
Choose darker-colored high-waist swimsuits if you have a bigger midsection that you would love to hide or are generally not comfortable with your midriff. Dark colors, especially black, have a shrinking effect that effectively hides muffin tops.
We recommend high-waist swimsuits for women with short legs and a longer torso, as this will even out your body and make you appear your best.
Avoid low rise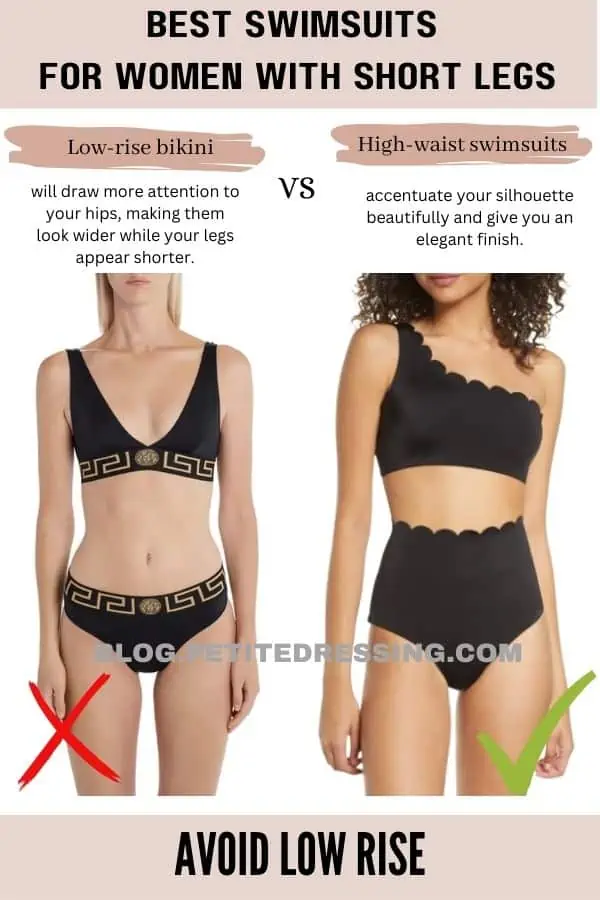 Interestingly, some people recommend low-rise styles for petite women, but we think this is not a good idea. Unlike high waist styles that accentuate the natural curves and hug the body in a way that your shape looks alluring, low-rise styles don't have this great effect.
Instead, low-rise swimsuits will draw more attention to your hips, making them look wider while your legs appear shorter. No woman with short legs would want to wear swimsuits that emphasize this length.
Therefore, you should stay away from low-rise swimsuits and stick with high-rise variations instead. These high-rise styles can be seen in lots of recommended swimsuit styles we've talked about so far, including off-the-shoulder swimsuits and two-piece string bikinis.
Avoid boy shorts swim bottoms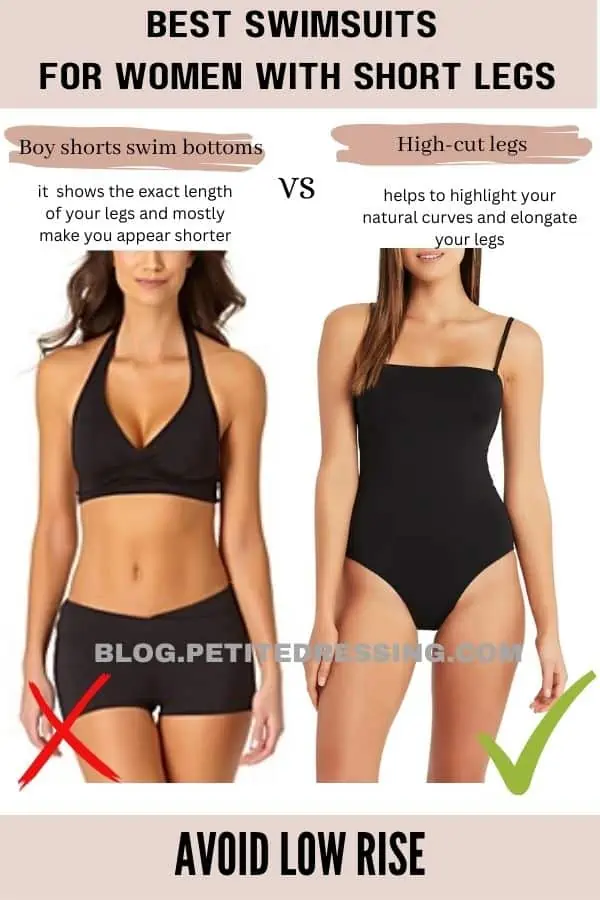 Boy shorts swim bottoms sound like a lot of work, and that's because they shouldn't be worn by women with short legs. The goal is to wear swimsuits that make you appear taller, and boy shorts swim bottoms won't help you achieve this.
Instead, they look more like shorts which show the exact length of your legs and mostly make you appear shorter. Another major disadvantage of boy shorts swim bottoms is that they can get really bunched up after you've been in the water for a while.
So, they will feel uncomfortable on your skin and also uncomfortable to look at. Avoid them if you don't want to look awkward while you're supposed to be enjoying a day in the sun.
Ready to start shopping for some great swimsuits? You don't have to be self-conscious about your body or height anymore, as these swimsuit styles will make you look more amazing than ever. You'll definitely love how they highlight your natural curves and elongate your legs.