If you are petite, finding the right swimsuit is not always easy. I know that as I am 5'2″, so I always struggle with swimsuit season. Since we won't be wearing heels by the pool or on the beach, it is critical for us to find the swimsuit design that flatters your petite figure and optimize our body proportion.
Since I have a petite clothing line for women 5'4″ and under, I receive feedback from my customers every day who are all body shapes and sizes, including the petite pear shape.
I've put together this detailed guide to help you find the most flattering swimsuit based on my first hand experience as well as feedback from thousands of my petite customers.
Styling Goal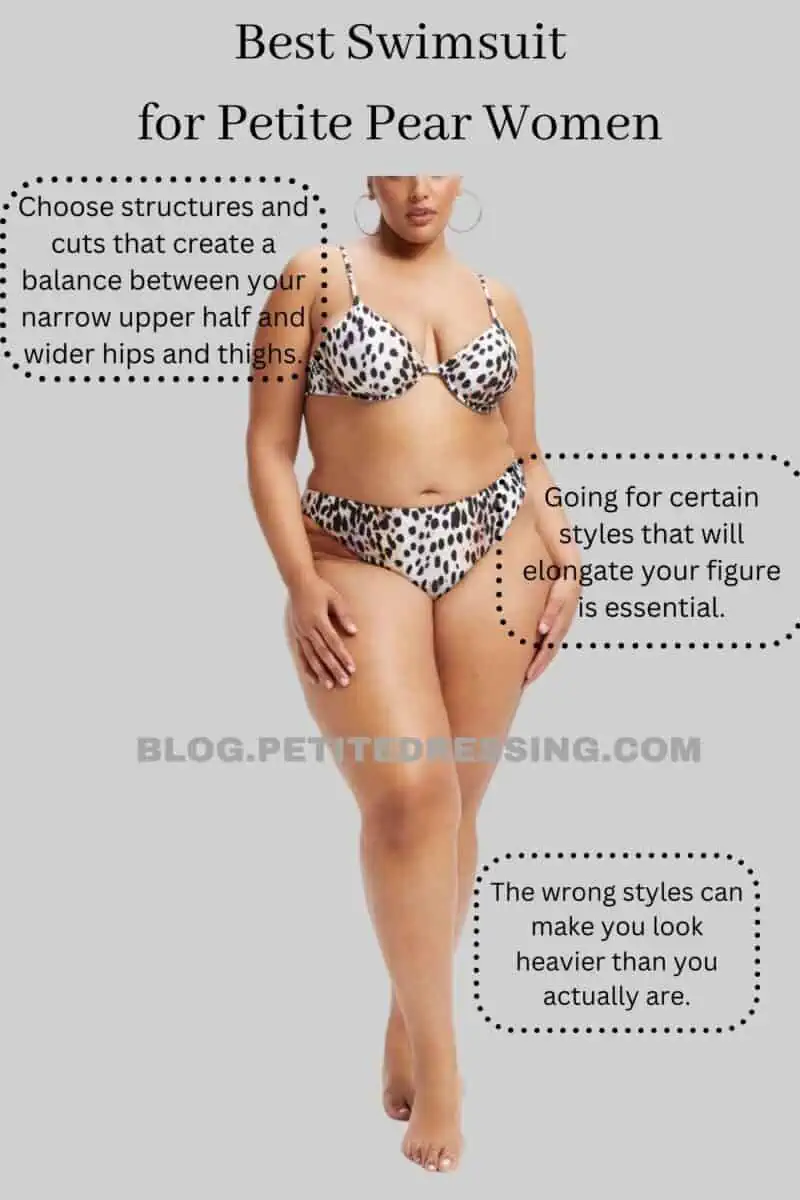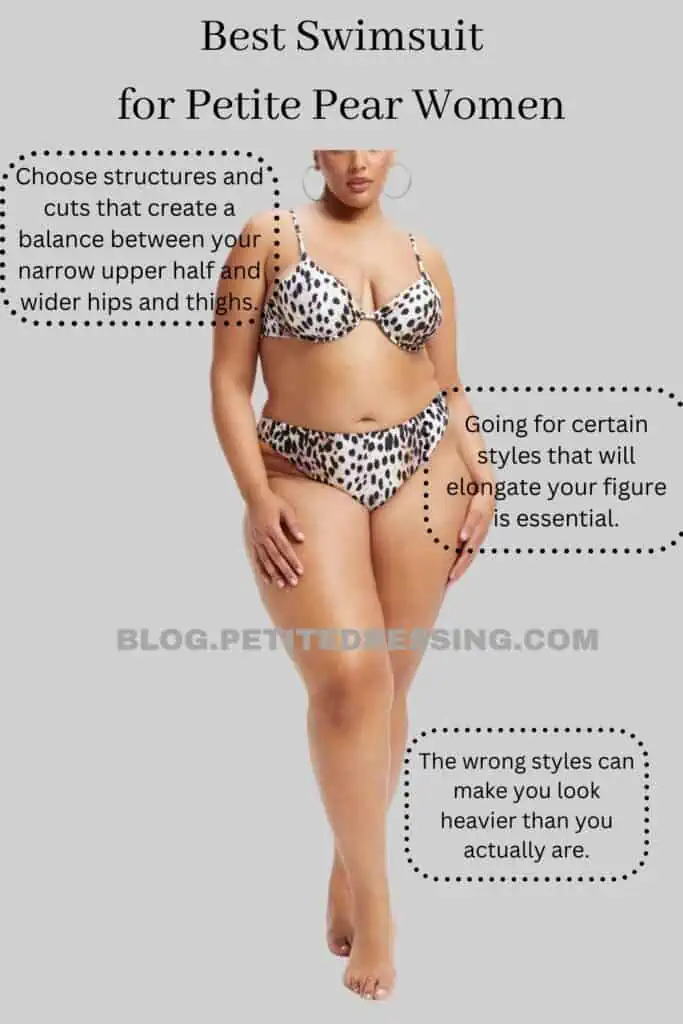 Choose structures and cuts that create a balance between your narrow upper half and wider hips and thighs. This means you need to look for those that will enhance your shoulders and bust and tone down the broadness of your bottom half.
Going for certain styles that will elongate your figure is essential. As a petite girl, you'll need a boost of height to make you appear leaner and taller as this can also help balance your silhouette.
Go for the right fit as this will go a very long way in flattering your figure while also making you feel comfortable. Choose ones that feature a snug fit and avoid going for loose bikini bottoms as the horizontal creases might make your hips look wider.
Now that we have these styling goals all laid out right here, it's time to dive into the specific swimsuit styles that embrace these three! The following swimsuit styles that I have included in this guide are the ones that will surely bring the best out of your beautiful petite pear-shaped body!
Halter Top Bikini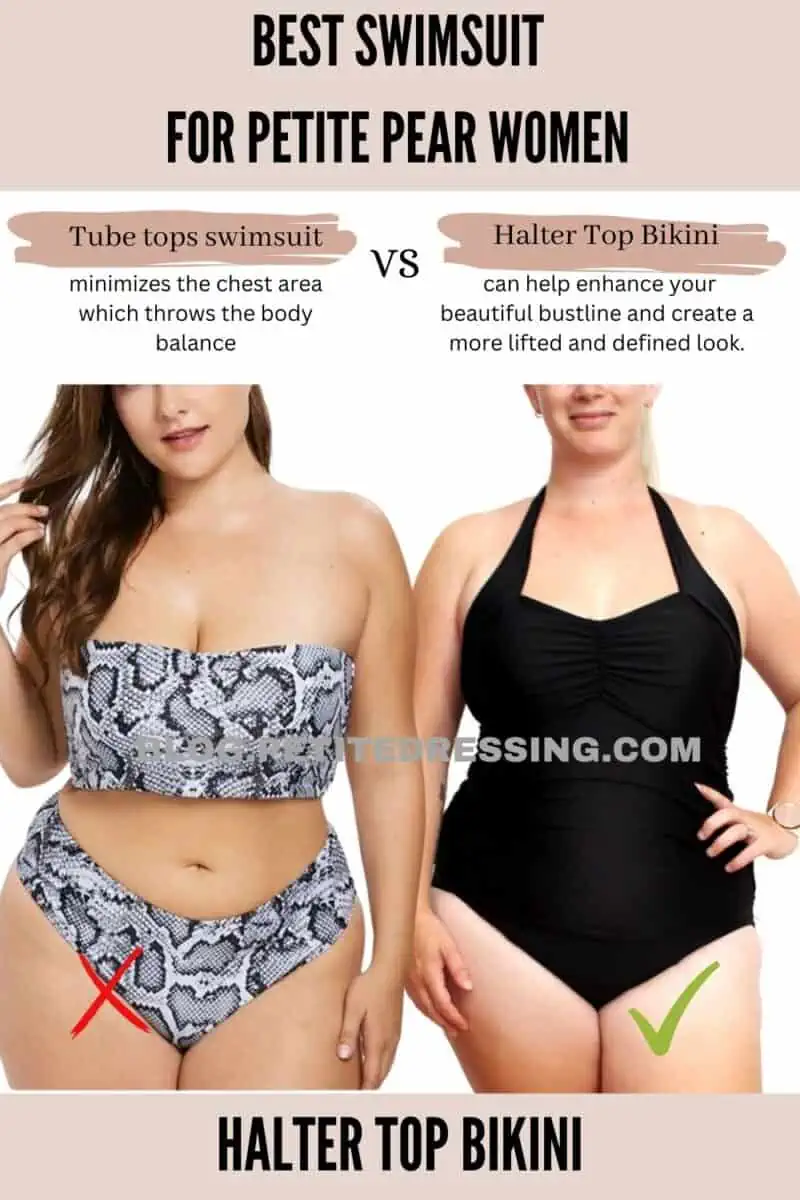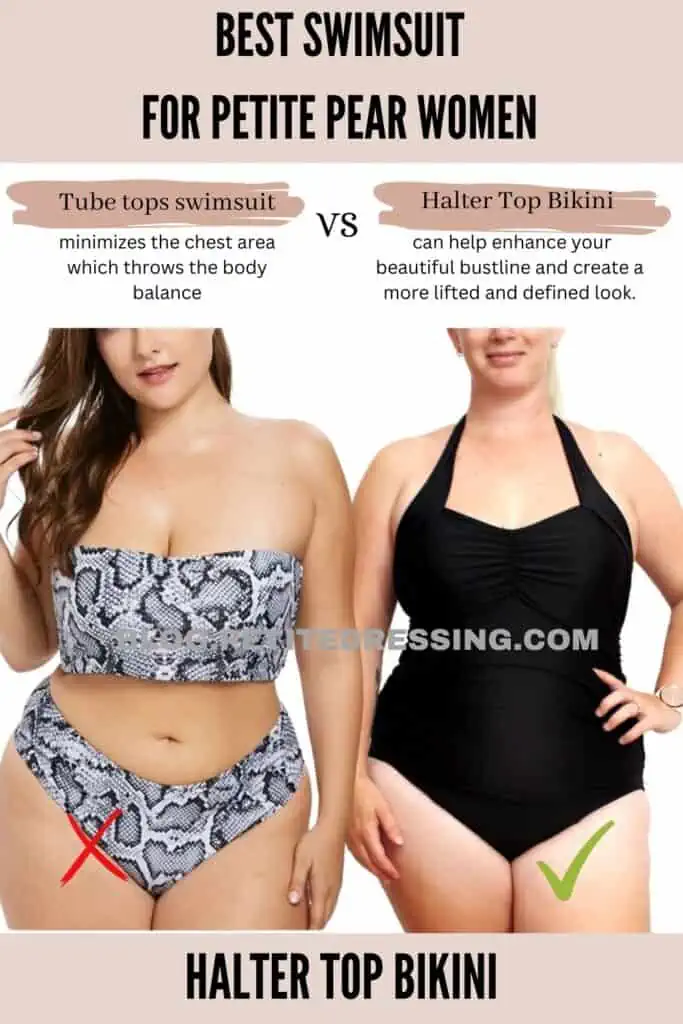 Going for a halter top can draw attention to the upper body, particularly the shoulders and neckline and this is a great way to balance out a wider lower body. This can accentuate your upper body and tone down the broadness of your hips and thighs to have the swimsuit flatter pear-shaped figure.
In addition to how it brings your frame into proportion, a halter top can also provide additional support for the bust, which can be especially important for women with a smaller frame. This can help enhance your beautiful bustline and create a more lifted and defined look.
One more thing to love about halter top bikinis is their adjustability. It allows you to have a more customized fit that can help enhance the curves of your petite pear-shaped body.
Off-the-Shoulder Swimsuit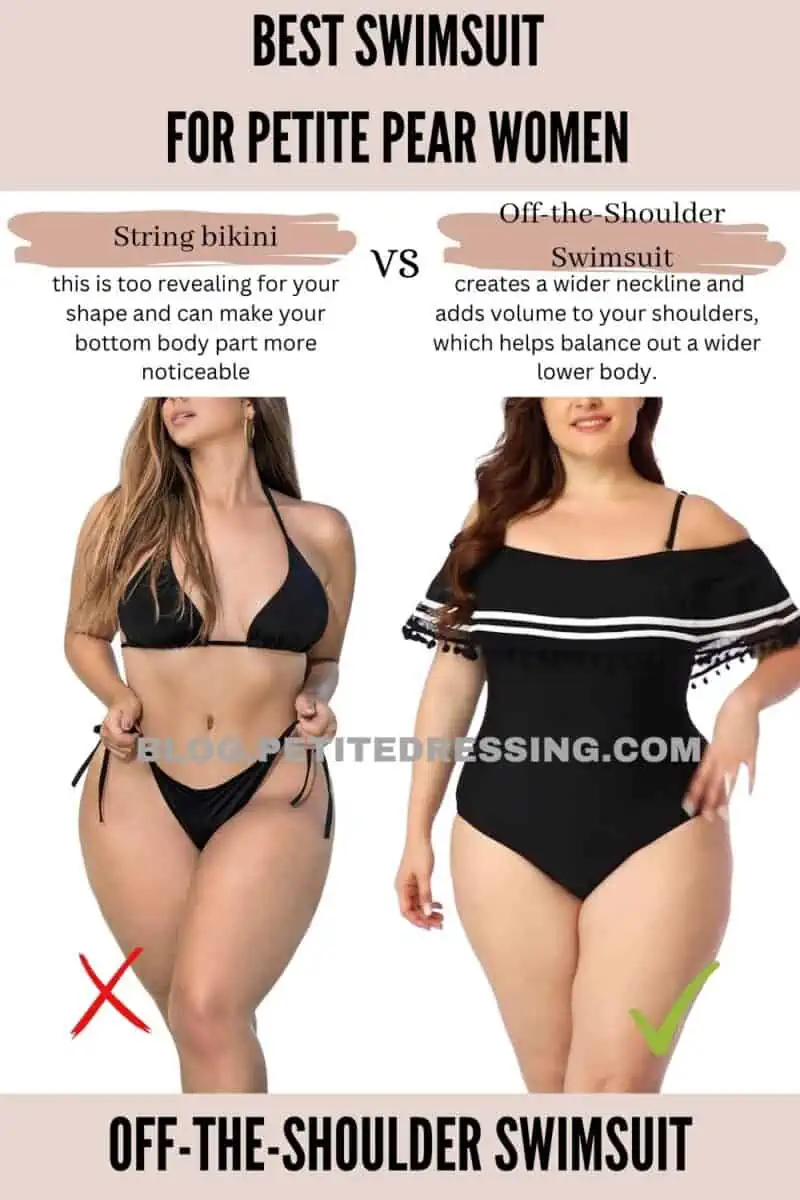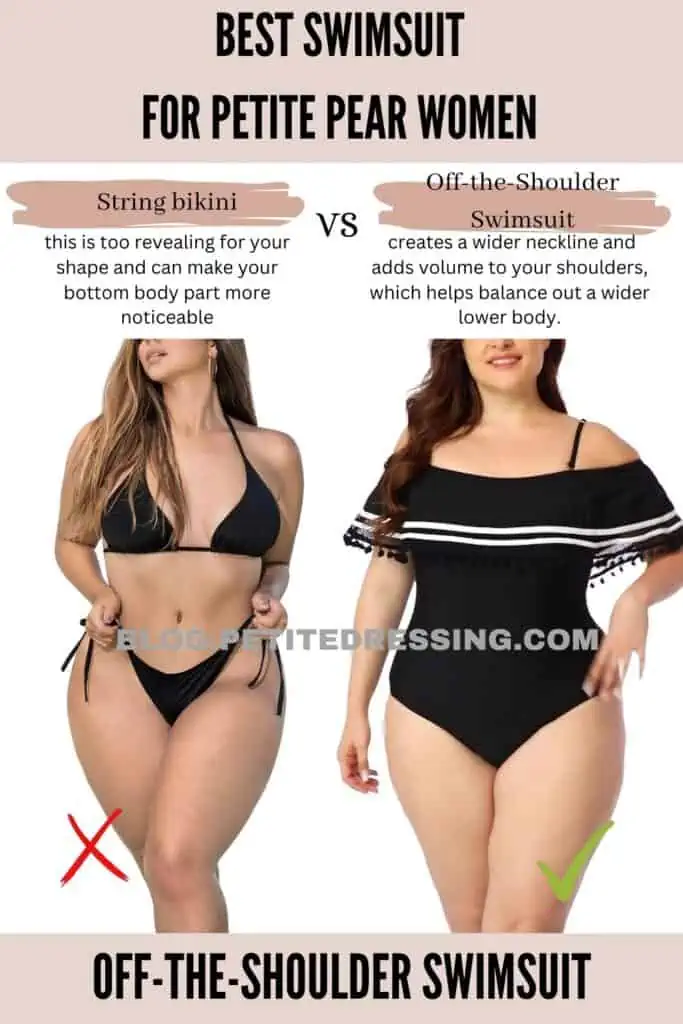 As you may have probably already noticed, open necklines that bare a great portion of your upper half are one efficient way to perfectly flatter your petite pear-shaped body. As someone with narrow shoulders and a smaller bust, you may be wondering "How can this style work for me?".
Well first of all, off-the-shoulder swimsuits draw attention to your upper body, creating a more balanced silhouette by visually minimizing the wideness of your hips and thighs. The off-the-shoulder neckline creates a wider neckline and adds volume to your shoulders, which helps balance out a wider lower body.
They can also provide extra coverage and support for your bust, and by going for some voluminous details such as ruffles along the bust line, you'll give your upper frame more prominence! This can help create a more lifted and defined look, which further enhances the overall balance of your figure.
Dark-colored Bikini Bottom
It's quite common knowledge that dark colors feature a slimming effect due to their ability to absorb light. For petite pear-shaped girls who want to downplay their wider hips and thighs, bikini bottoms in dark colors should help you address this concern.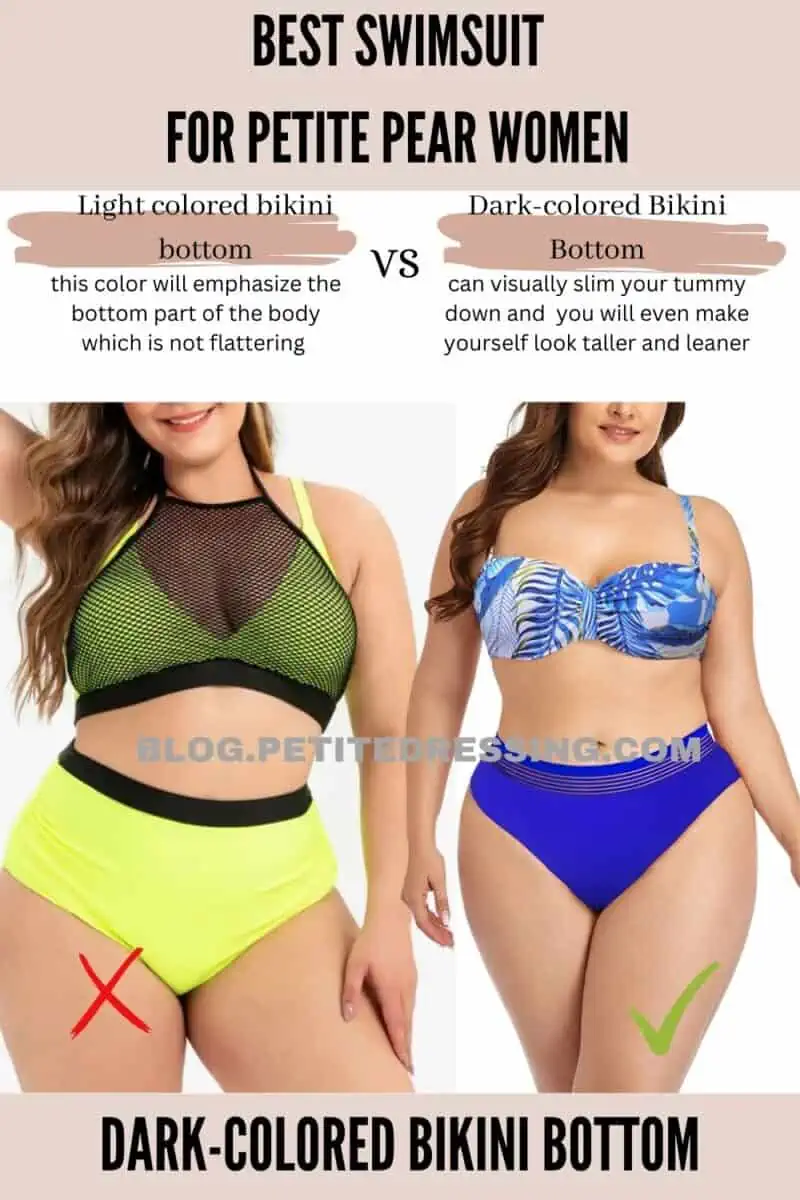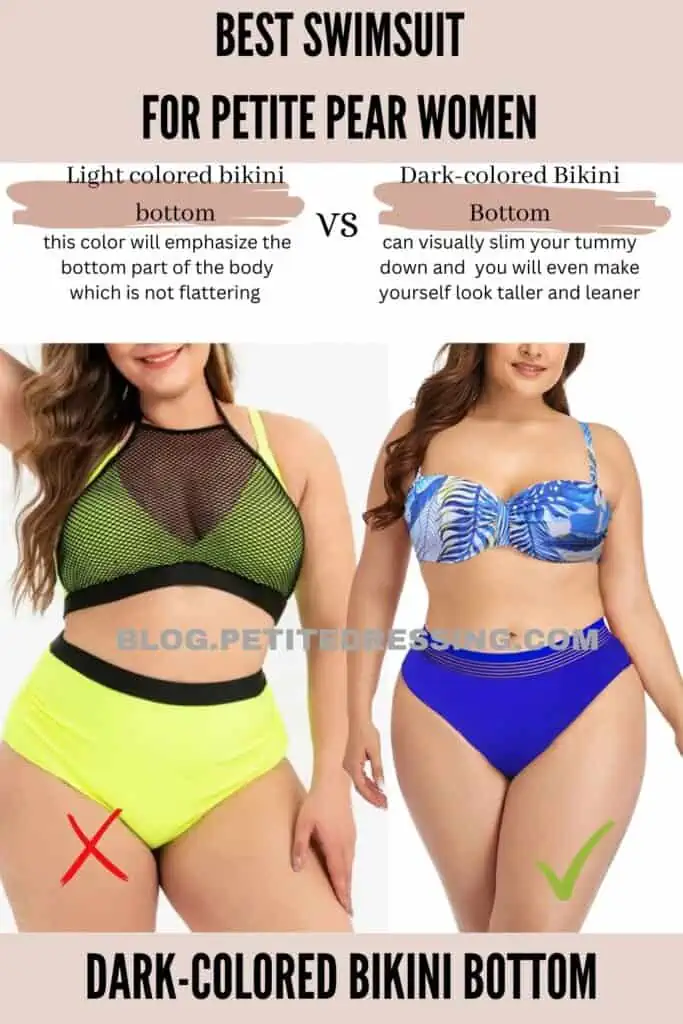 Pear shapes are also usually prone to a stomach bulge because of the fact that petite pear-shaped girls tend to be bottom-heavy. Dark-colored bikini bottoms can visually slim your tummy down and by choosing one that features a high waist, you will even make yourself look taller and leaner!
On top of their visual benefits to your structure, they are very versatile and they suit any skin tone! Dark colors, such as black, navy, or dark green, are classic and versatile, making them easy to pair with a variety of bikini tops which means you can mix and match your swimwear while still maintaining a cohesive and flattering look.
Swimsuit with Plunging V-Neckline
As a petite pear-shaped girl, your upper body is going to need some boost! This is what a swimsuit with a plunging neckline can effectively do to give your frame better balance.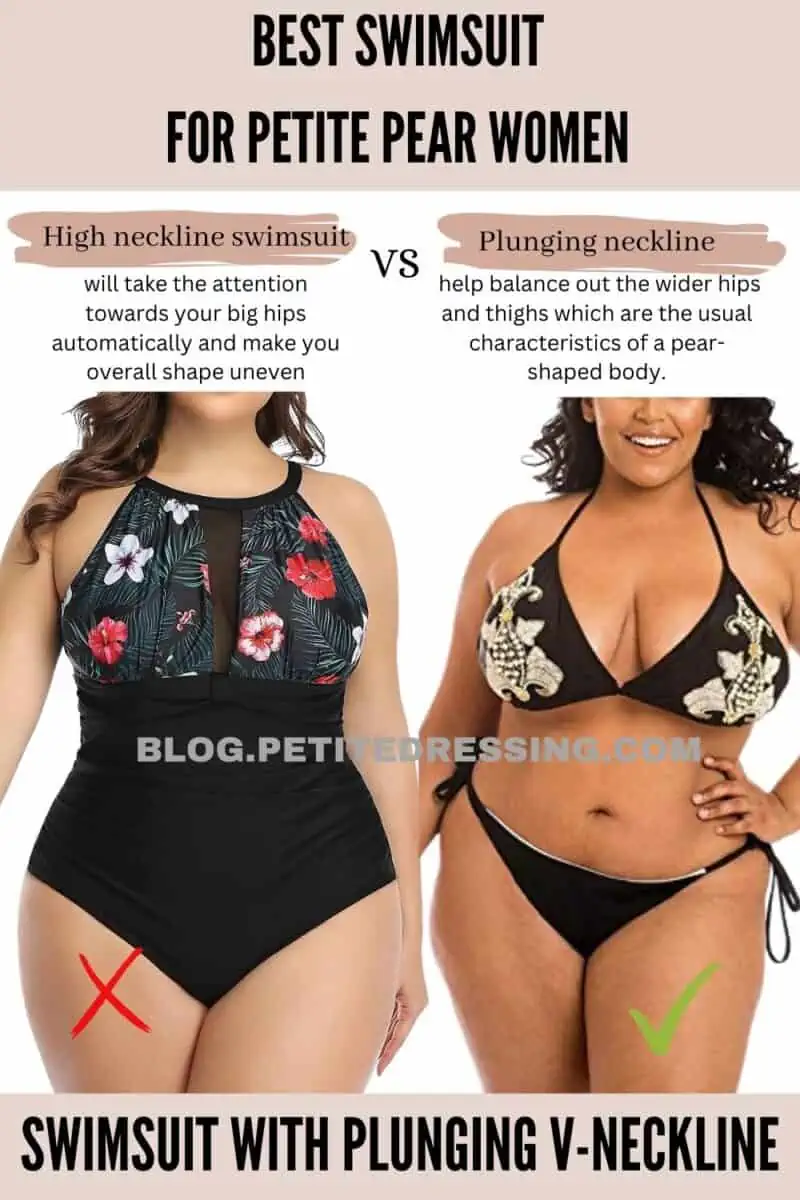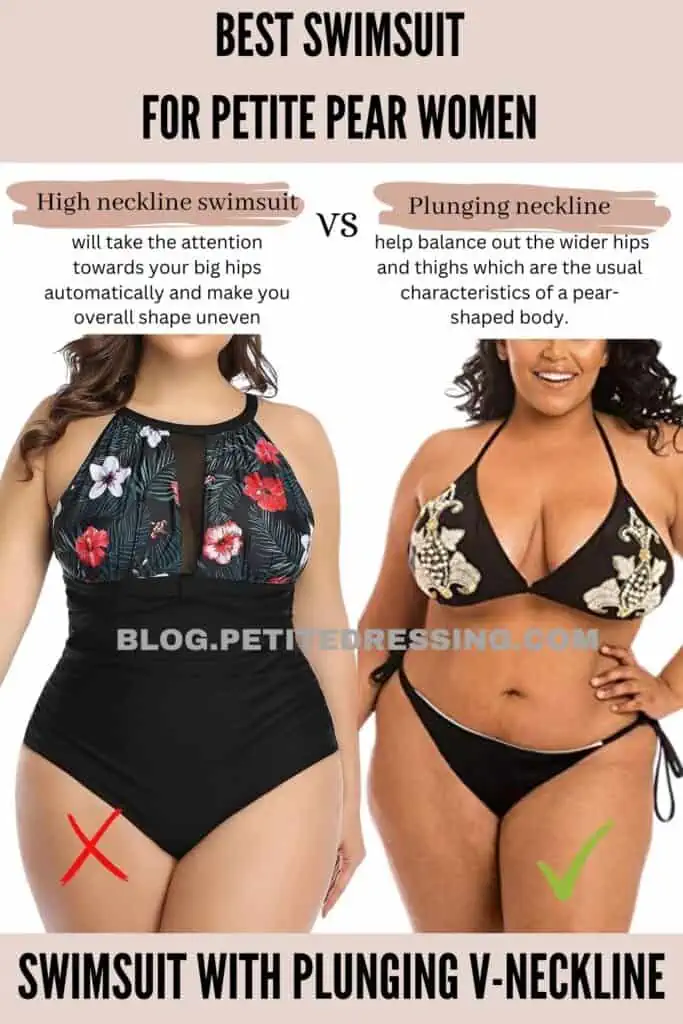 The plunging V-neckline creates a long and vertical line that elongates the torso and makes you appear taller. This can also help balance out the wider hips and thighs which are the usual characteristics of a pear-shaped body.
The V-neckline draws attention to the neck and shoulders, which are typically narrower than the hips and thighs on a pear-shaped body. This can bring a better balance between your upper body and lower body to create a visually appealing look.
Color Blocking One-Piece Swimsuit
Petite pear-shaped bodies have a natural frame imbalance with the lower body being significantly wider than the top, so you might want to downplay your wider hips and thighs to create a more balanced silhouette. One great way to do this is by opting for a darker-colored bikini or swimsuit bottom paired with a brighter-colored top.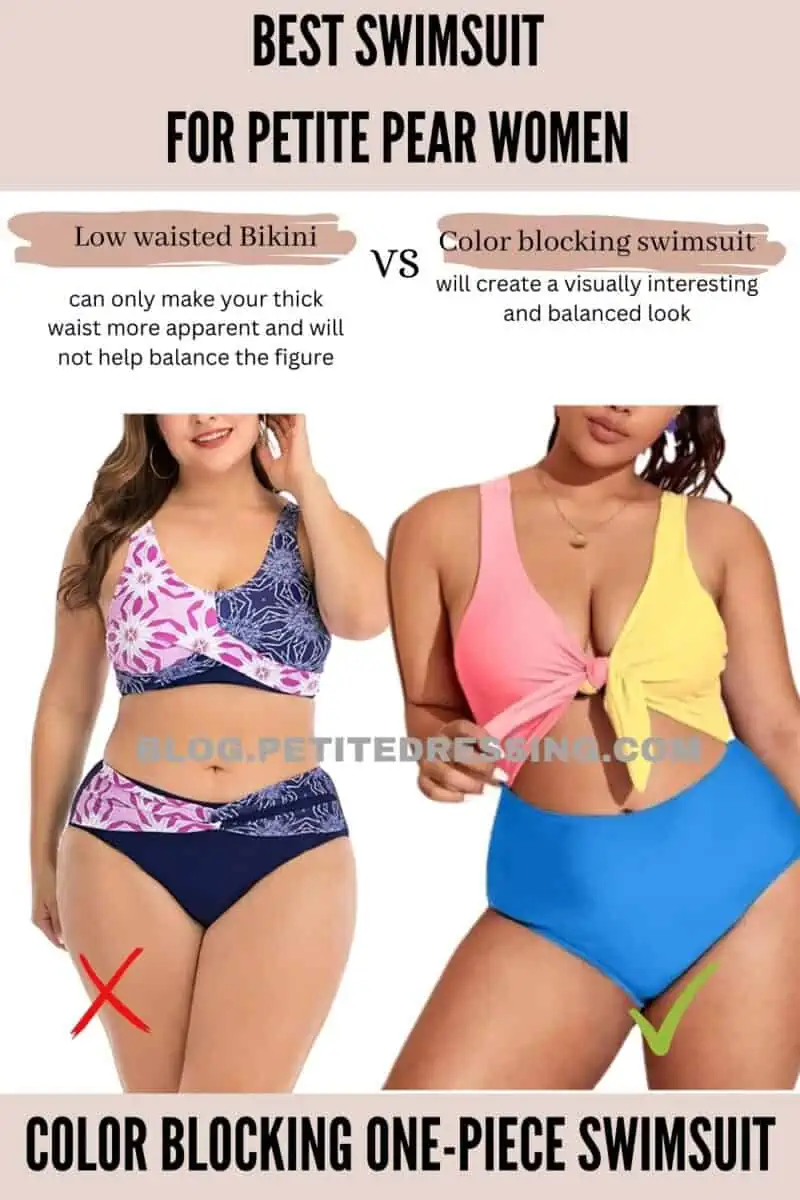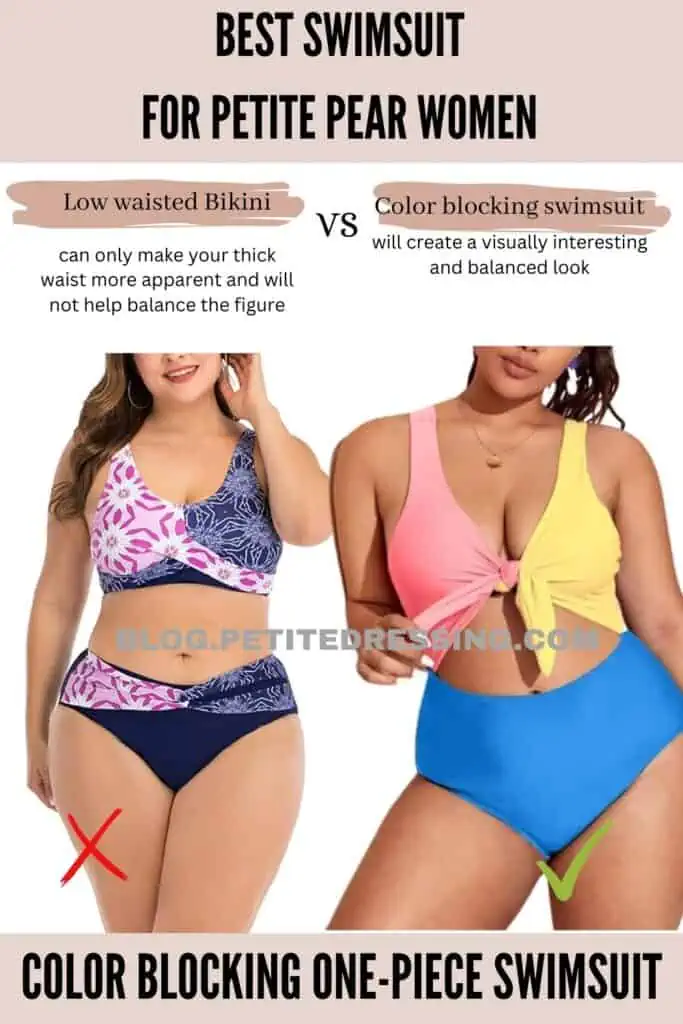 When it comes to color blocking, it's important to choose two contrasting colors that will create a visually interesting and balanced look. By selecting a darker shade for the bottom part of your swimwear, you can help create the illusion of a slimmer lower body, while the brighter top can draw attention to your upper body and enhance your bust.
In addition to choosing contrasting colors, you can also play with different textures and patterns to add visual interest to your swimwear look. For example, you might choose a textured or patterned top to contrast with a plain or solid-colored bottom and you're all ready to flaunt it!
Swimsuits with Vertical Prints or Patterns
For a more elongated and streamlined silhouette, swimsuits with vertical prints and patterns will always be a great choice for petite pear shapes. The vertical lines help create the illusion of a longer and leaner body, making you appear taller and more proportionate.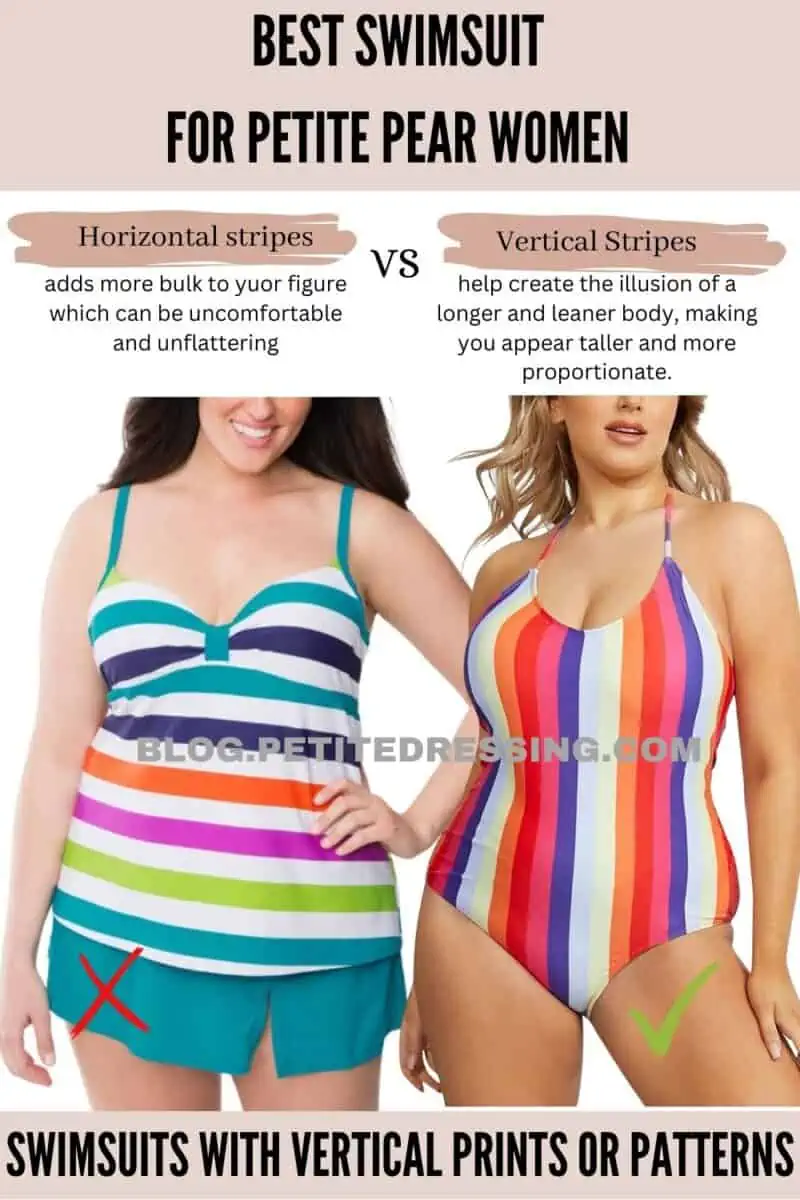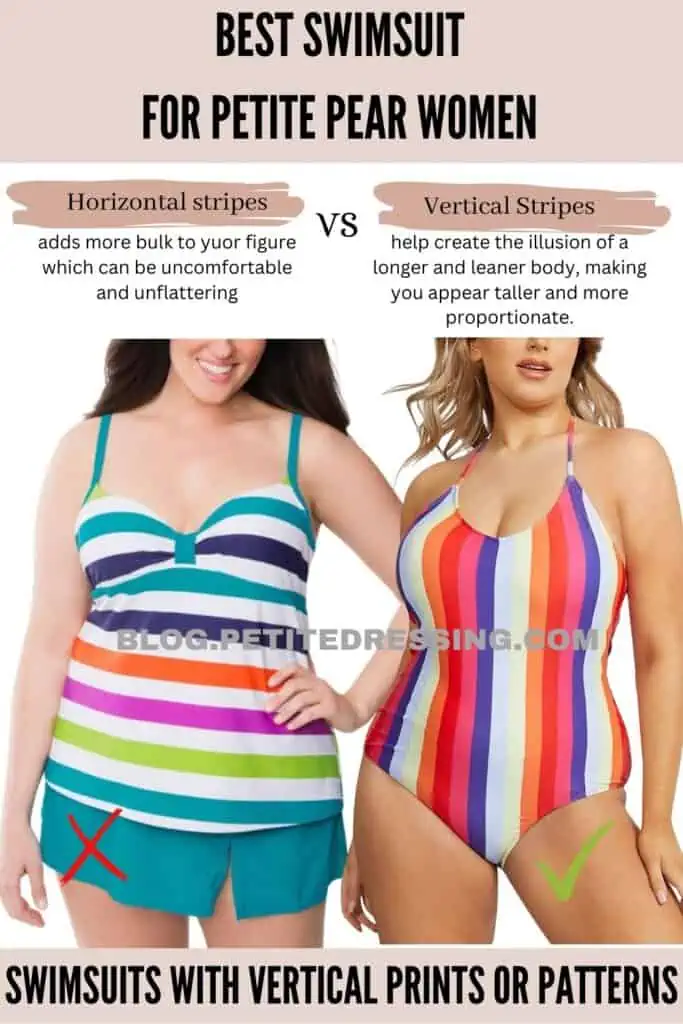 One popular option is swimsuits with vertical stripe designs as this can be especially flattering for pear-shaped bodies. The stripes draw the eye up and down, creating a long and lean appearance that can help balance out wider hips and thighs.
Another effective option is to look for swimsuits with empire lines, which sit at the narrowest point of your waist and help enhance this area. By drawing attention to the narrowest part of your body, you can create a more hourglass-like shape and accentuate your curves in a flattering way.
High-waisted Bikini Bottom
One of the biggest advantages of high-waisted bikini bottoms is that they can help slim and smooth out your midsection. Many high-waisted bikini styles are designed with a tummy-control panel or shaping technology that can help smooth out any bumps or bulges and create a more streamlined appearance.
Such an effect is quite helpful for petite pear-shaped women who usually carry more weight in their lower abdomen and want to create a more hourglass-like shape. In addition to this, high-waisted bikini bottoms can be very elongating too.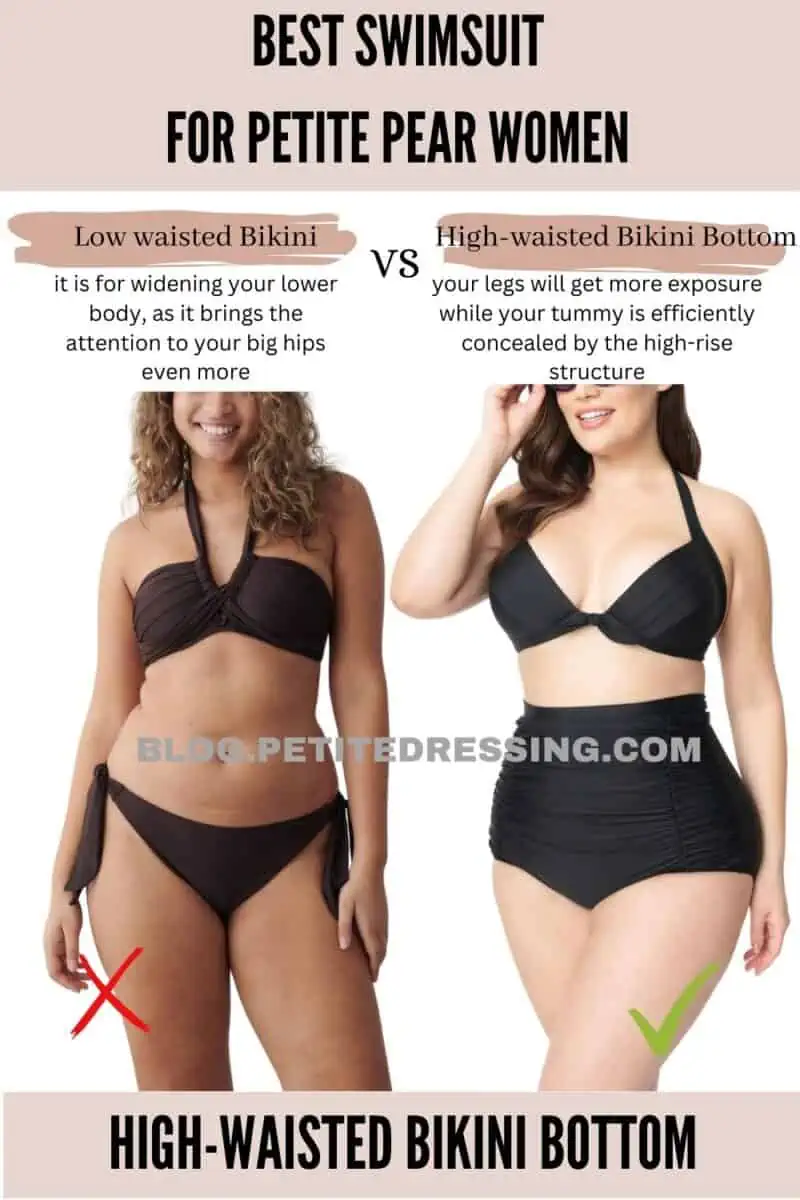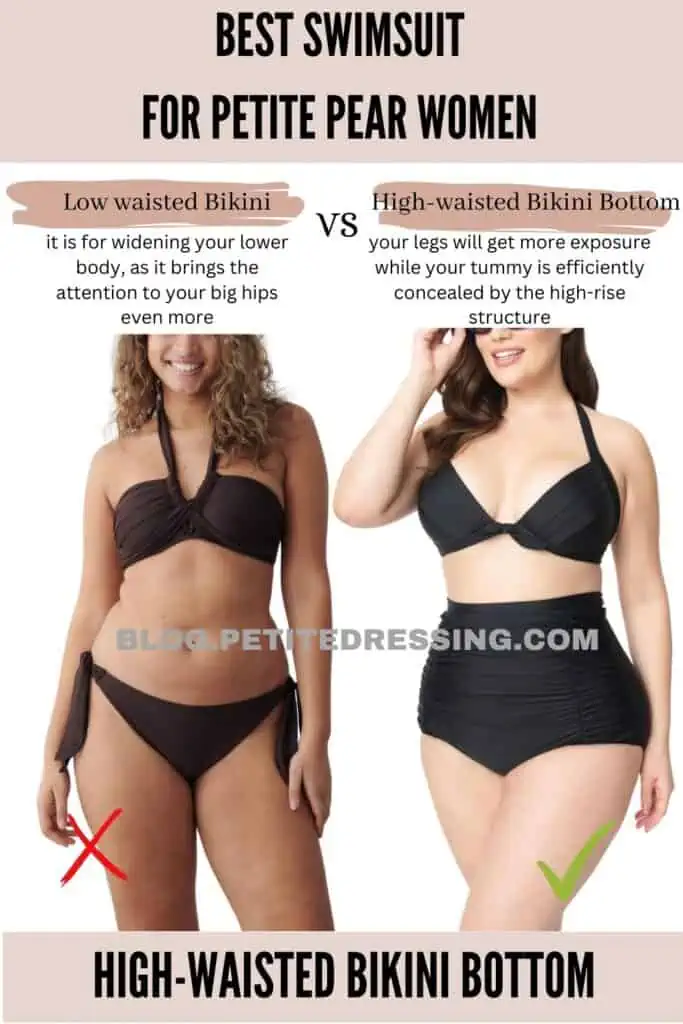 By sitting higher on the waist, they can elongate your lower body and make your legs appear taller and slimmer. This way, your legs will get more exposure while your tummy is efficiently concealed by the high-rise structure, resulting in a flattering figure.
Swimsuits with Skirt Bottoms
The skirted design of a bikini bottom can help provide more coverage for your wide hips and thick thighs, which are the usual features that petite pear shapes are conscious about. The skirt can help hide any areas that you don't want to show off, while still allowing you to feel comfortable and stylish.
Skirted swimsuits can help balance out wider hips and thighs by adding volume and creating a more proportionate look between your upper half and bottom half. The extra fabric can also accentuate your curves to bring the best out of your figure.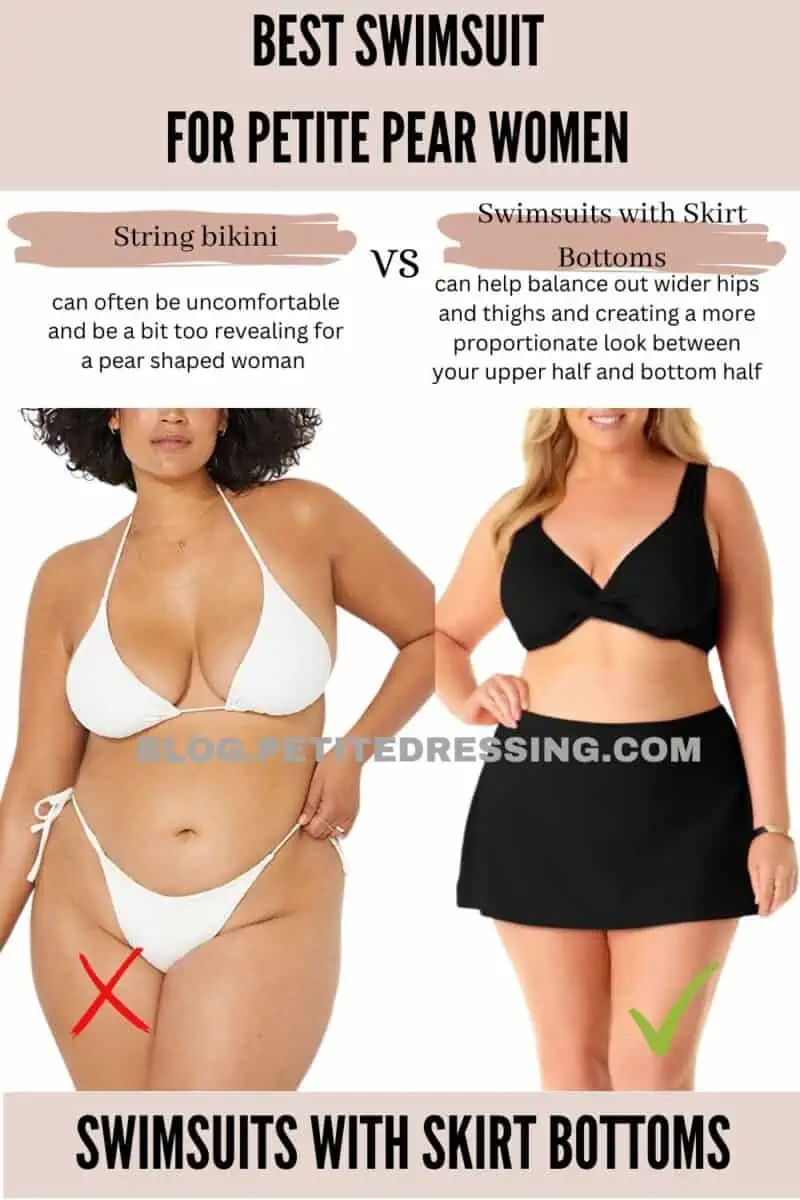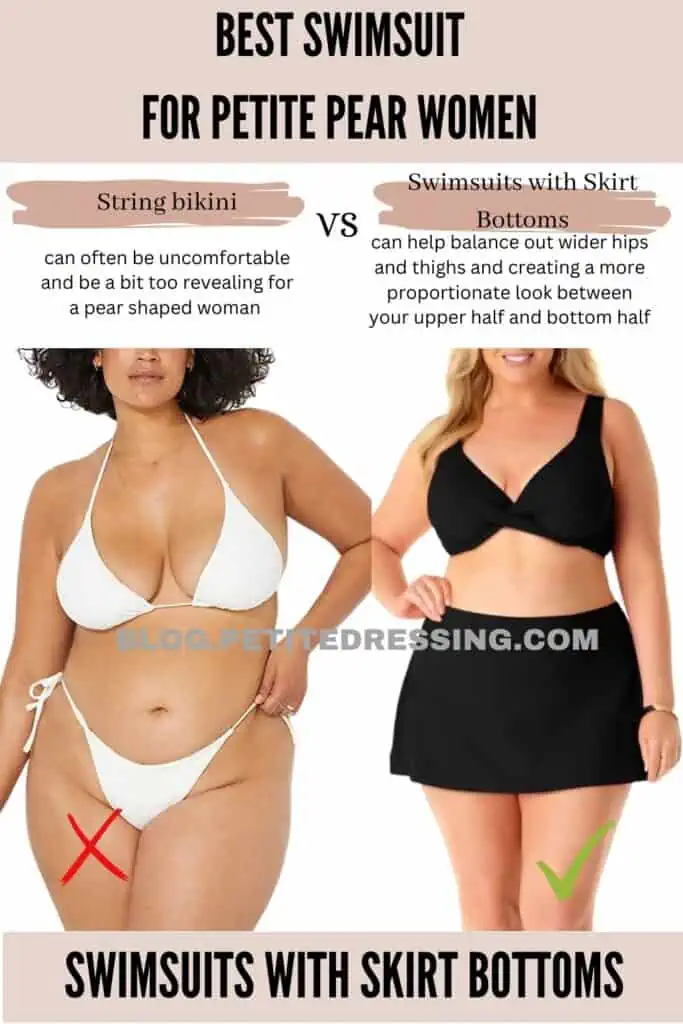 The Key Takeaway
Don't let swimsuit shopping intimidate you! There are a great variety of swimsuit styles out there that are truly meant to flatter your beautiful petite pear-shaped body.
With the right patterns, structures, and cuts of your swimsuit, you can definitely flaunt that beautiful figure of yours without a single worry!