From one petite woman to another, slaying in swimsuits is serious business. In my experience working with petite models (like Wendy, 5'2″ with a typical hourglass figure) and running a clothing line for petite woman, I've realized that some swimsuit styles are more flattering on our short hourglass figure than others.
So, which swimsuit styles am I referring to? Here's the ultimate swimsuit guide for short hourglass figure.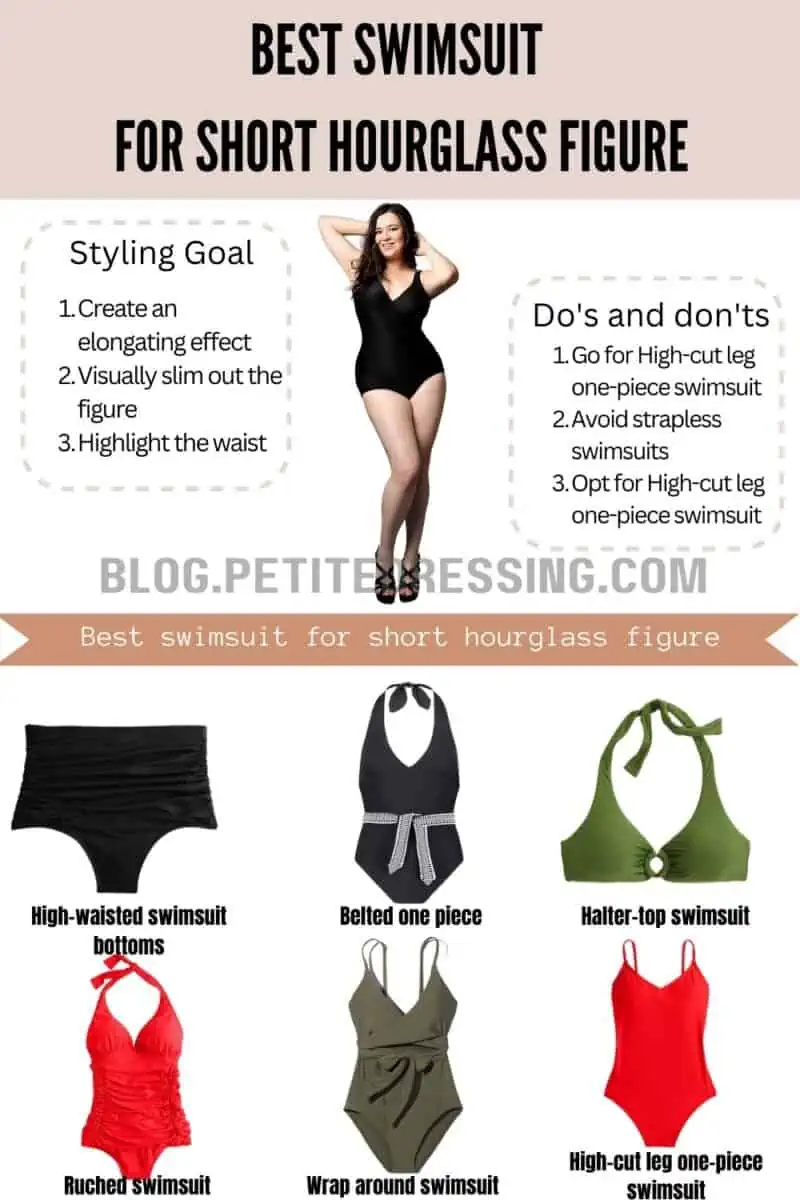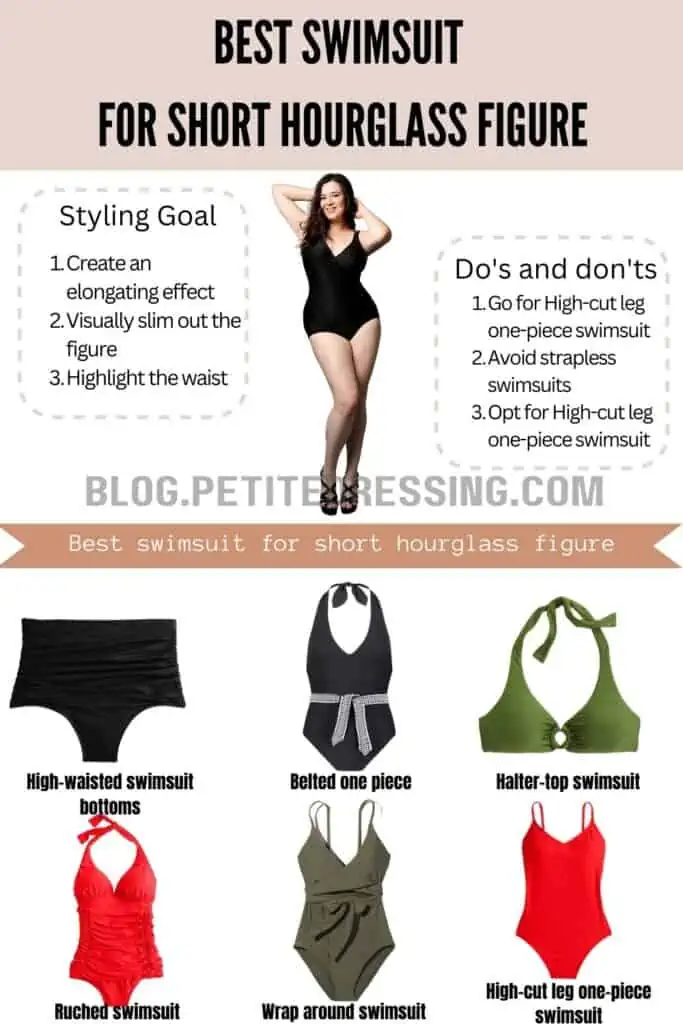 High-waisted swimsuit bottoms
The beautiful thing about the hourglass-shaped body type is that you already have a naturally defined waistline. This is what makes it an hourglass shape. Therefore, I believe that one of the best ways to dress to flatter this shape is to look for clothing styles that will highlight your waistline.
With high-waisted swimsuit bottoms, you can achieve this. It's perfect for your body type because high-waist clothing draws more attention to the slimmest part of your waistline. Therefore, it will make this area appear even slimmer which is a lovely effect on swimwear.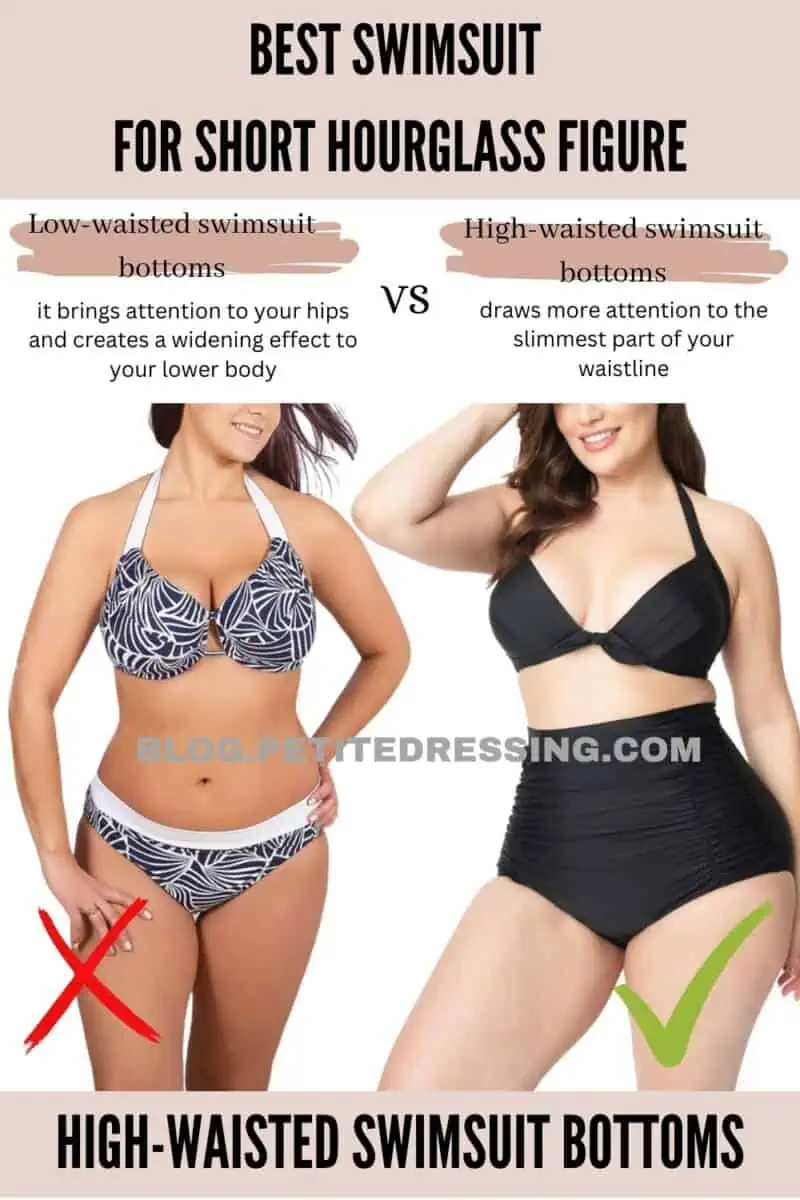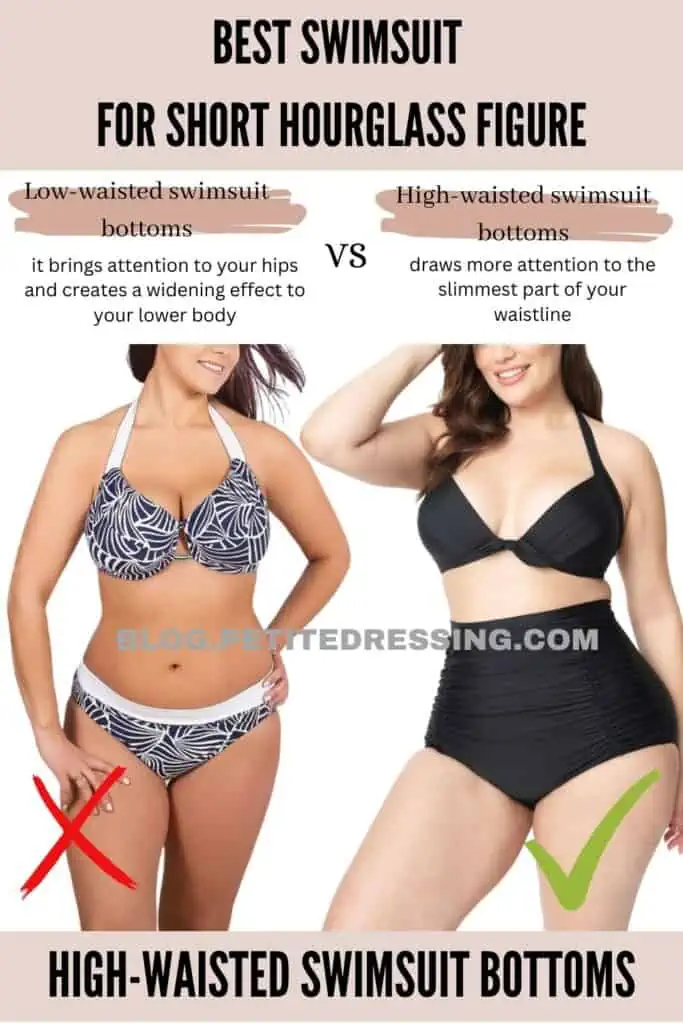 To ensure that high-waisted bottoms work great for your hourglass figure, be sure to go for one that fits you seamlessly. Maximize the advantages of this style on your figure by avoiding swimwear that fits too tightly on your body, especially the bottoms.
You should also avoid looser fit as this will not flatter your figure. When you pay attention to this, there's almost no chance that it won't look amazing on your body and that's something to look forward to.
Belted one piece
A one-piece swimsuit is a beauty to behold on petite women with hourglass shape. Truth is, you want to turn heads when you're in a swimsuit and with your natural curves, you can make this happen when you rock a belted one-piece swimsuit.
How does this work? Well, the biggest advantage of a one-piece swimsuit is that it hits you at the smallest part of your waist. I have never seen a petite hourglass figure look bad in a one-piece with the perfect fit.
It's great at emphasizing your curves just right. If you choose a swimsuit that's not too tight or loose, you'll enjoy the benefits of a swimwear that stays put on your body without squeezing you in all the wrong places. So, that's extra point for comfort.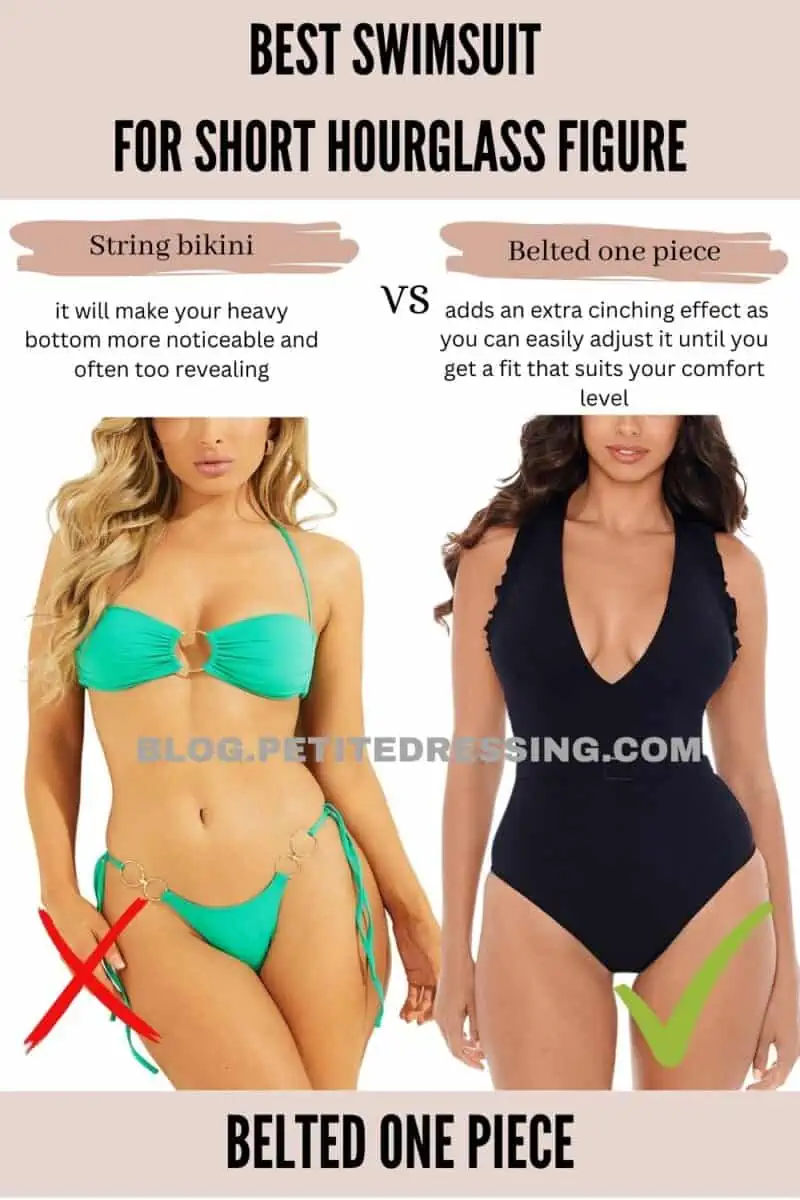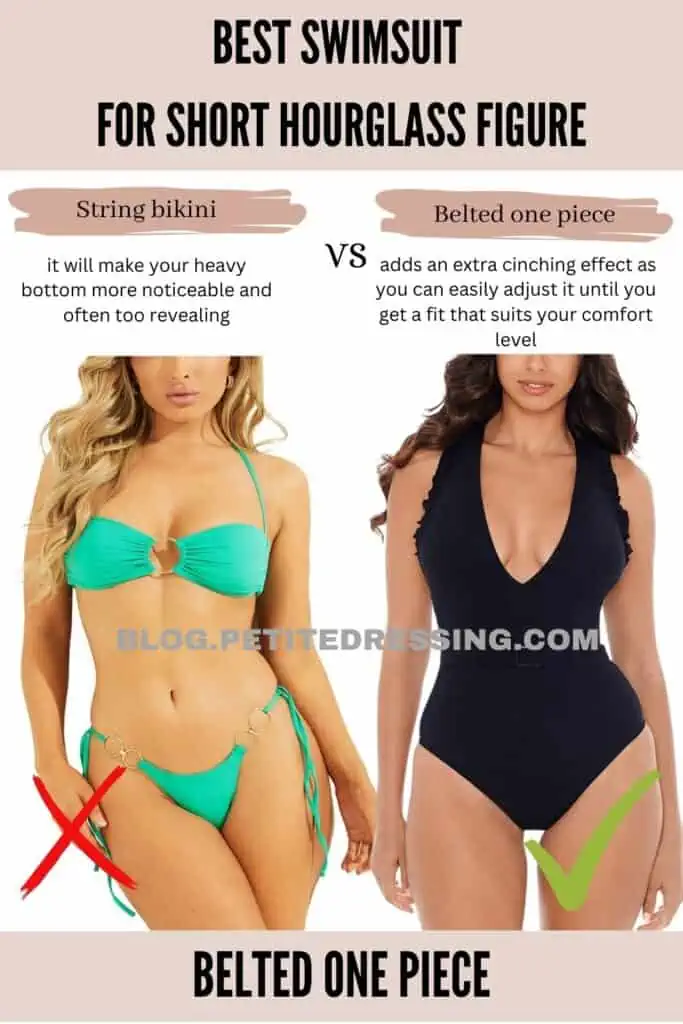 The belted design adds an extra cinching effect as you can easily adjust it until you get a fit that suits your comfort level. With this, you can highlight your curves and achieve a sexy overall silhouette.
Halter-top swimsuit
What's so special about the halter-top swimsuit? Necklines are an important consideration when shopping for swimwear for the short hourglass body shape. I'm a huge fan of necklines that show a little shoulder and that makes the halter-top swimsuit top on the list of swimsuits for the petite hourglass figure.
This swimwear style draws more attention to the upper part of your body and adds more to creating a balanced overall look that flatters your body silhouette. Since there's less attention on your torso, this gives the illusion that you're taller which is great for every petite woman.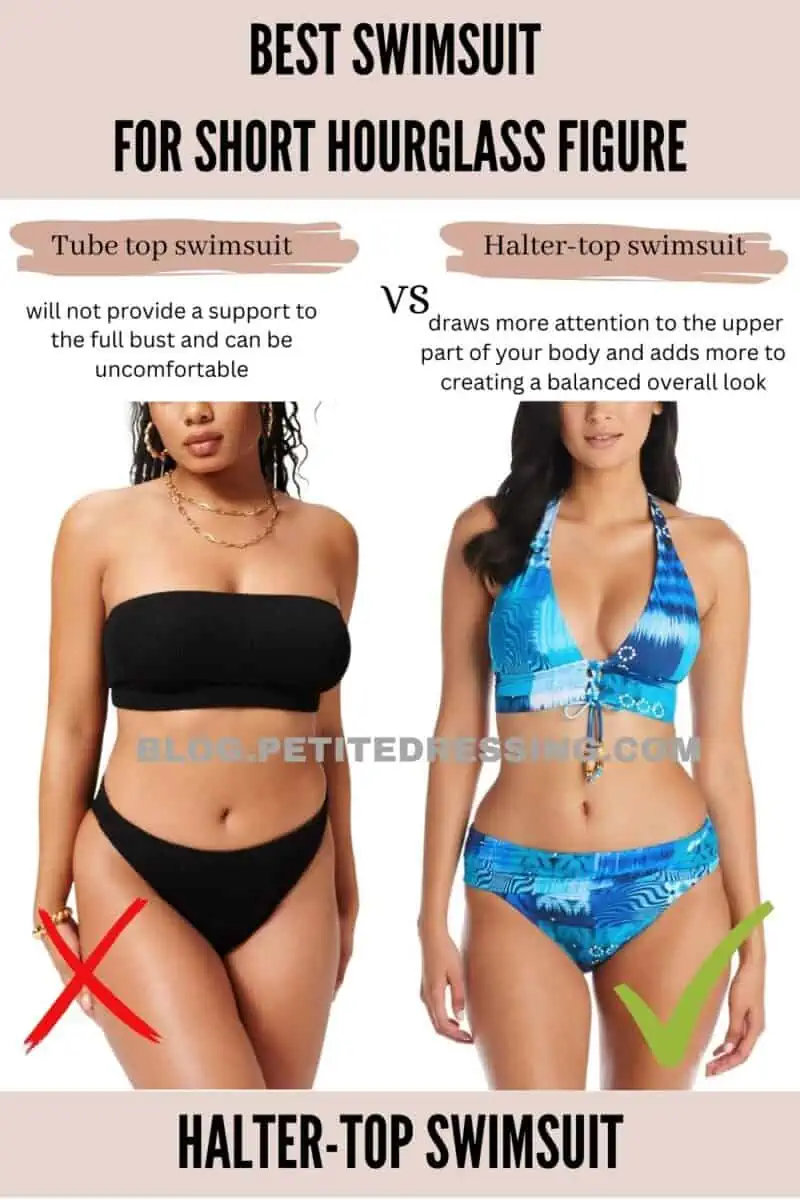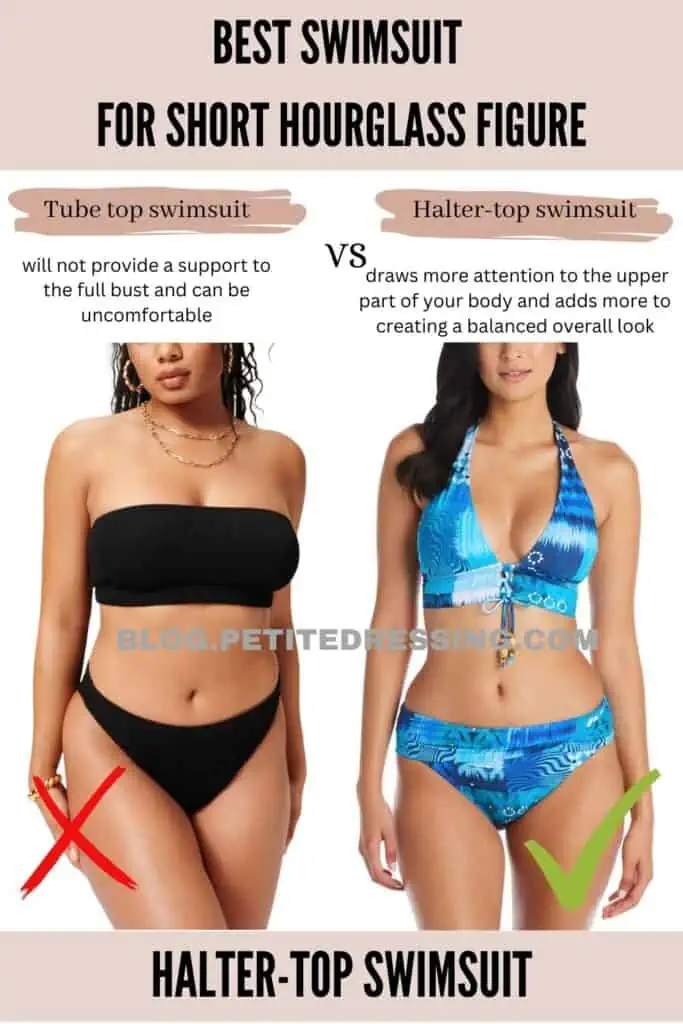 Every time I rock a halter-top swimsuit, I'm always sure to pair with bottoms that don't ride low on my body. So, it's always great to pair this with high-waist bottoms if this is not a one-piece style.
I also love how easily adjustable halter-top swimsuits are. Customize this until you get a fit that sits pretty on your body without hiding your curves.
Ruched swimsuit
A ruched swimsuit has a rippled effect thanks to how the fabric is sewn together to create ruffles. One common feature with women that have an hourglass figure is a muffin top. If you're on this list, you can benefit a lot from a swimsuit naturally designed to minimize the effects of a tummy bulge on your overall body shape.
A ruched swimsuit can be very flattering for your hourglass figure, especially if the ruffles are around your midsection area. This will effectively hide any tummy bulge and give the illusion of having a flatter stomach.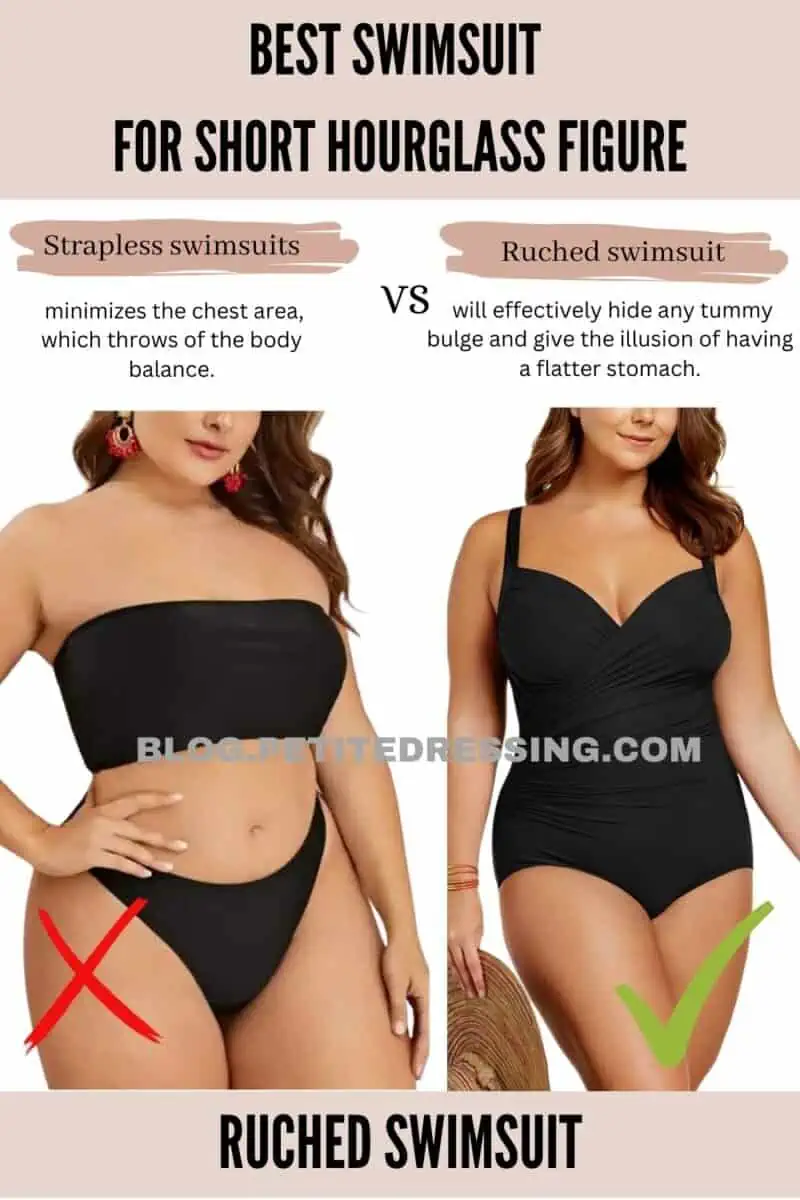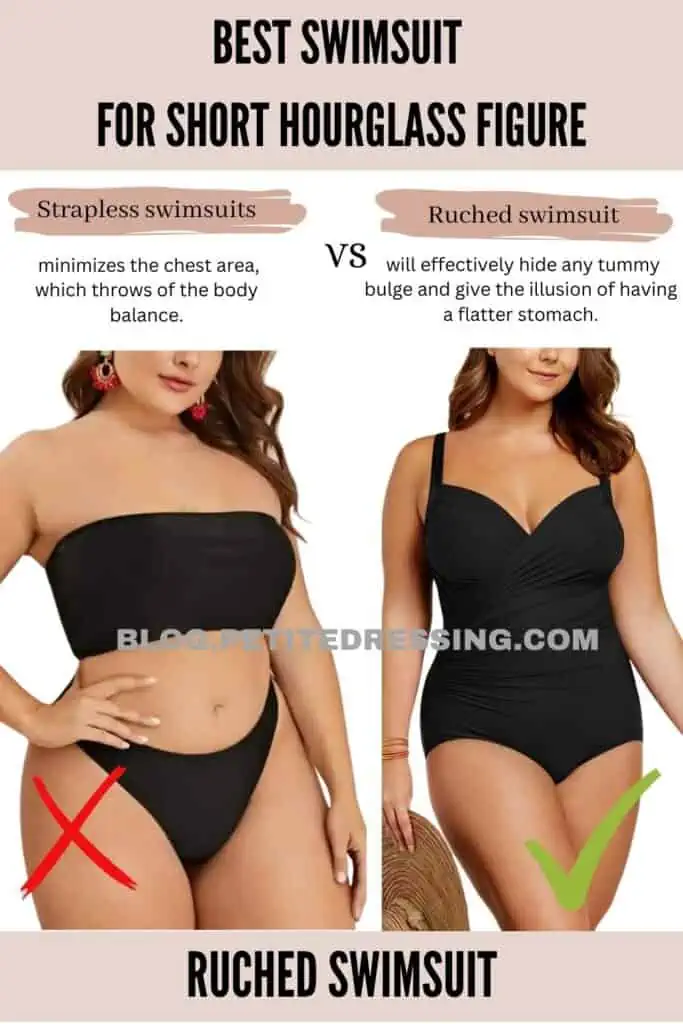 Therefore, if you're a petite woman with an hourglass figure that would love to conceal your bigger tummy area when you put on a swimsuit, this is one of the easiest ways to get it done. Of course, ruched swimsuits will highlight your curves as they draw attention to your waistline.
Wrap around swimsuit
Make your curves stand out beautifully in a wrap-around swimsuit that's designed to fit snugly on your hourglass figure. The amazing thing about this wrap style is that it's a versatile choice that can work with different swimsuit styles.
You can have wrap around swimsuit on halter-tops or a one-piece bikini and it would wrap perfectly around your curves, highlighting your cinched waist. Stay trendy and elegant at the pool or the beach with a swimwear that has a flattering silhouette on your hourglass shape.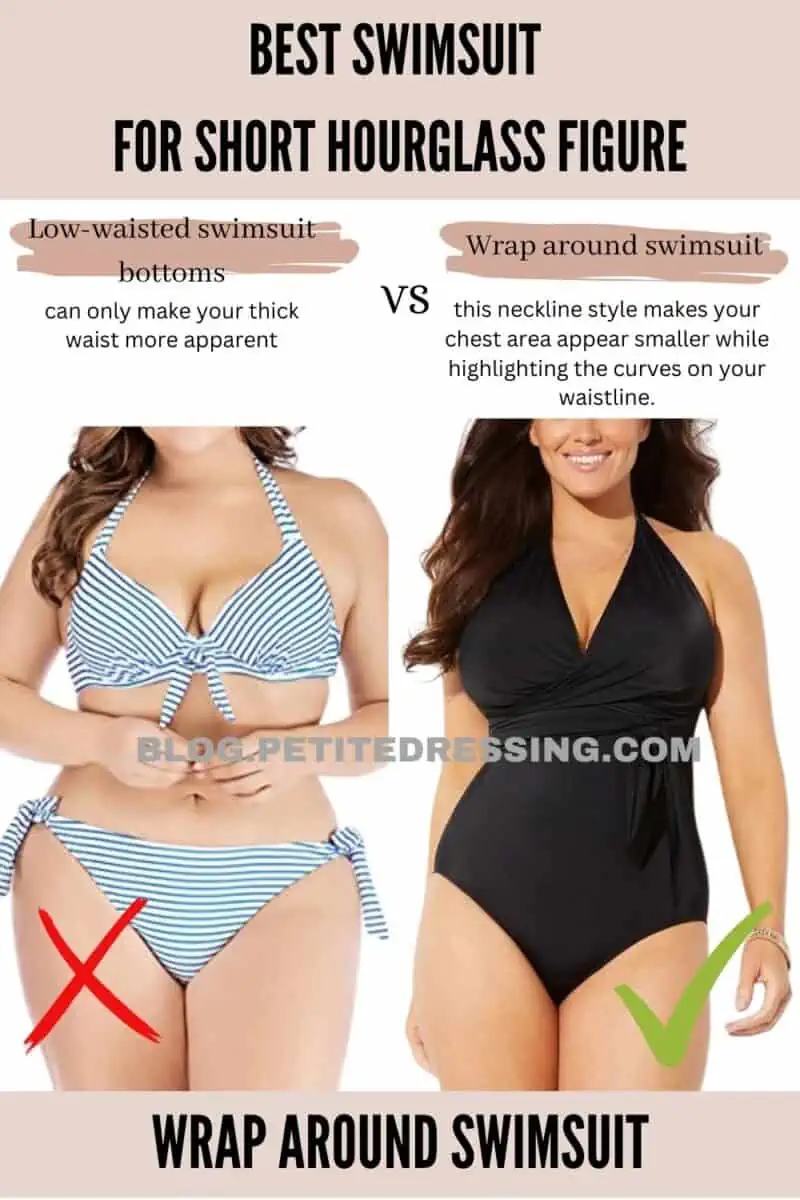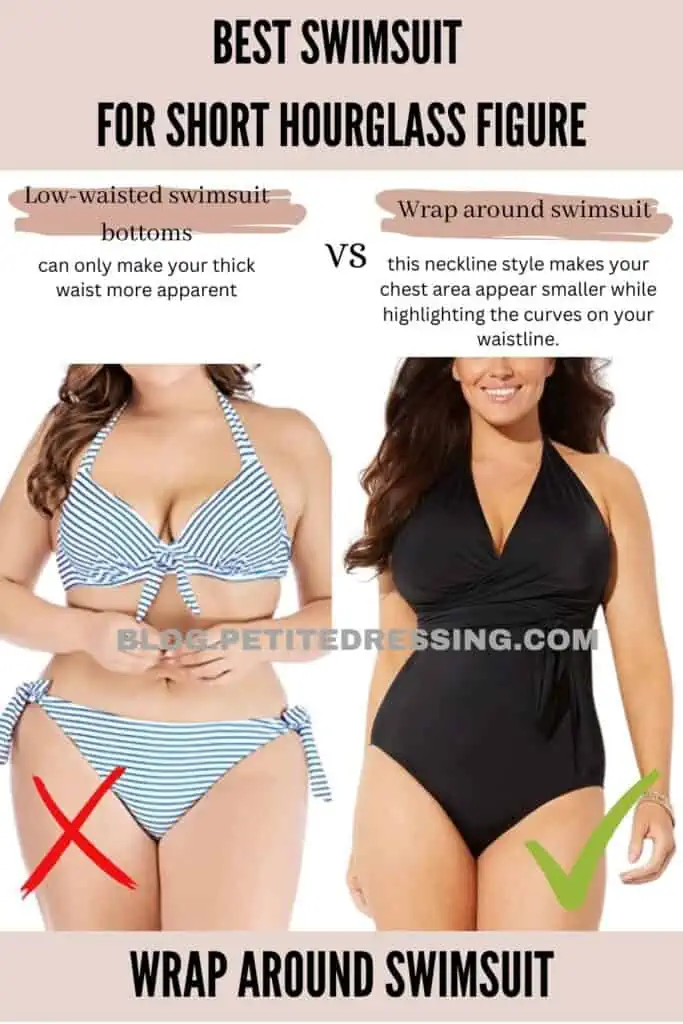 Another huge advantage of the wrap-around swimsuit is that it draws attention away from your chest region, especially if it's big and you don't want a lot of focus there. Therefore, this neckline style makes your chest area appear smaller while highlighting the curves on your waistline.
The wrap-around swimsuit style can be at the back or front, and any choice is okay. However, my personal preference is at the back, especially on one-piece swimsuits.
High-cut leg one-piece swimsuit
High-cut leg one-piece and high-waist bottoms are not the same styles, but have similar effects on an hourglass figure. On petite women with a short torso, high-cut styles form a vertical unbroken line from your waistline down your legs which improves your overall outlook.
Thanks to this, you can successful create the illusion of being taller and slimmer. High-cut leg swimsuits will also make your natural curves and hips appear more streamlined, which adds a lot more sophistication to your appearance.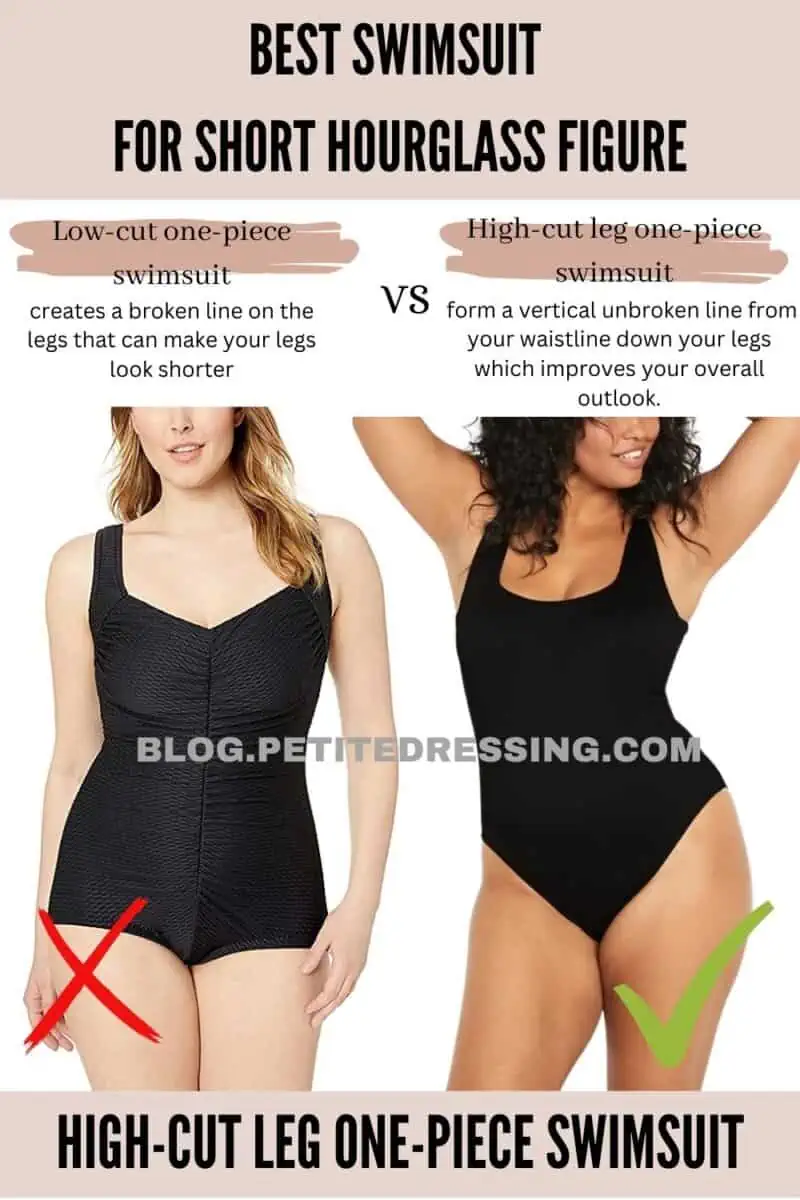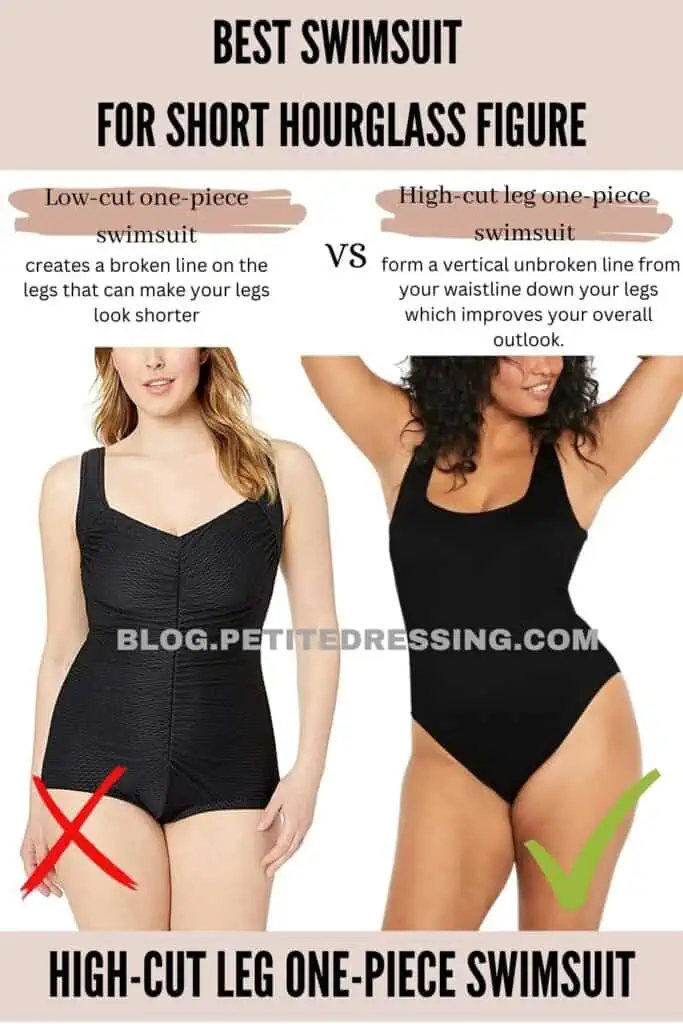 I strongly advice that the high-cut style shouldn't go too high above your hip bone as the results won't be as desirable. Instead, it could compress your torso and make you appear shorter instead of the natural elongation effect.
Combine the advantages of high-cut leg swimsuits with a one-piece style and what you have is a swimwear that will make you the cynosure of all eyes anywhere you go.
Avoid boy shorts styles
I strongly suggest that women with a petite hourglass shape should avoid boy shorts styles as they make your hips look wider and your overall body figure appear much shorter. These effects do not create a flattering silhouette.
Most boy shorts swimsuits have a straight cut along the thigh. This is a major contributor to the illusion of being shorter as it visually cuts off the length of your legs. As you're already petite, the result is that your legs appear several inches shorter.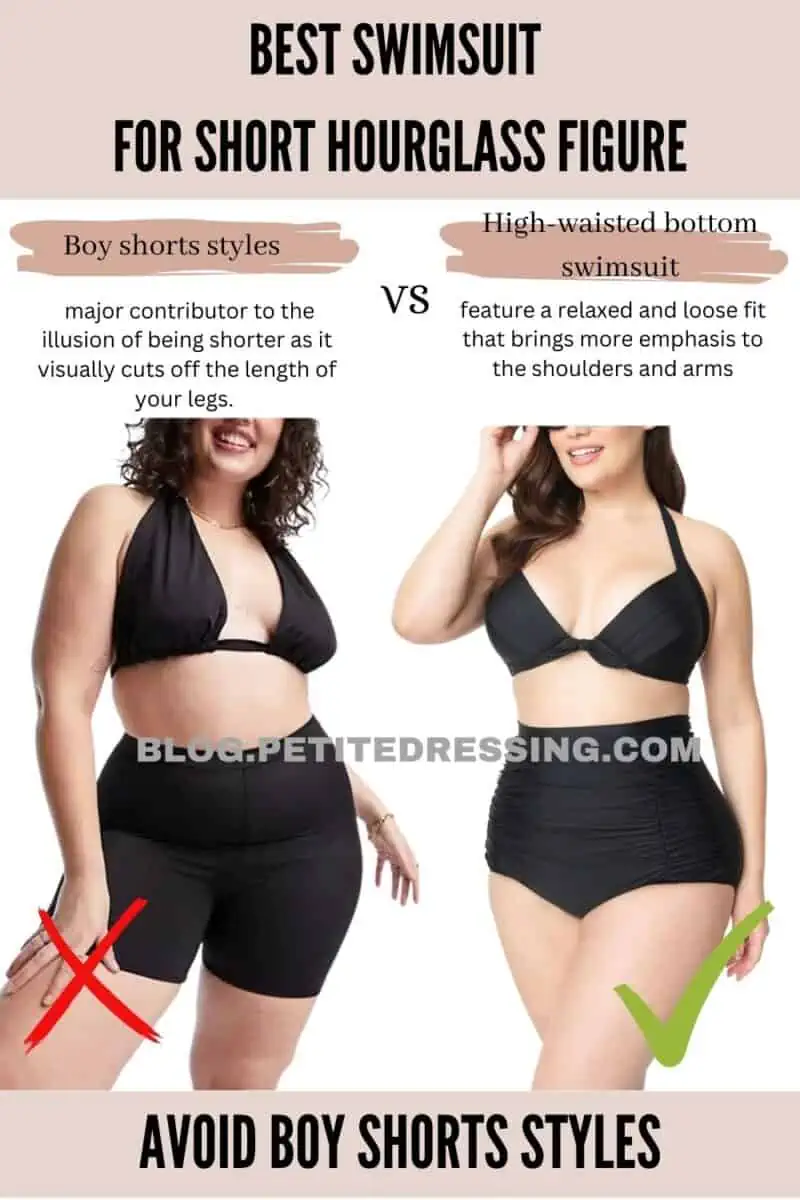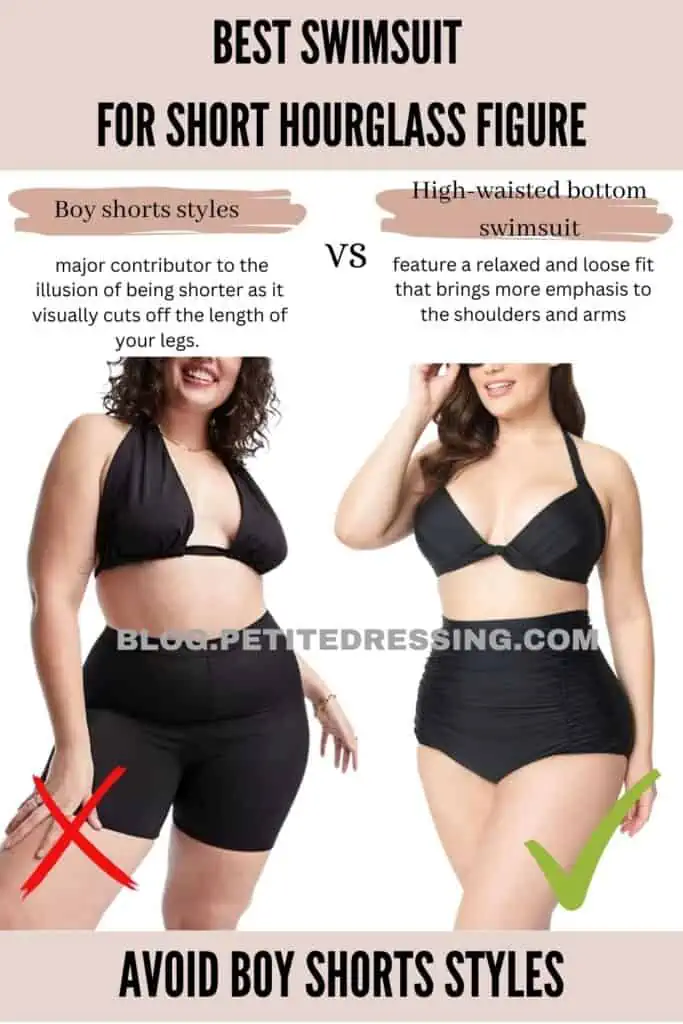 Another not-so-great effect is the illusion of wider hips which is not flattering for your hourglass figure. The best option are swimsuits that elongate your legs like one-piece and high-cut legs.
Avoid strapless swimsuits
Strapless swimsuits create an unflattering effect on the body proportions of women with a petite hourglass shape. Rather than highlight curves, this swimsuit style minimizes the chest area, which throws of the body balance.
With the bust area looking smaller, this will make your waistline appear wider and that completely gets rid of the hourglass silhouette of your body. Personally, I don't find strapless swimsuits comfortable as they can continuously slip down while you're trying to enjoy your day outdoors.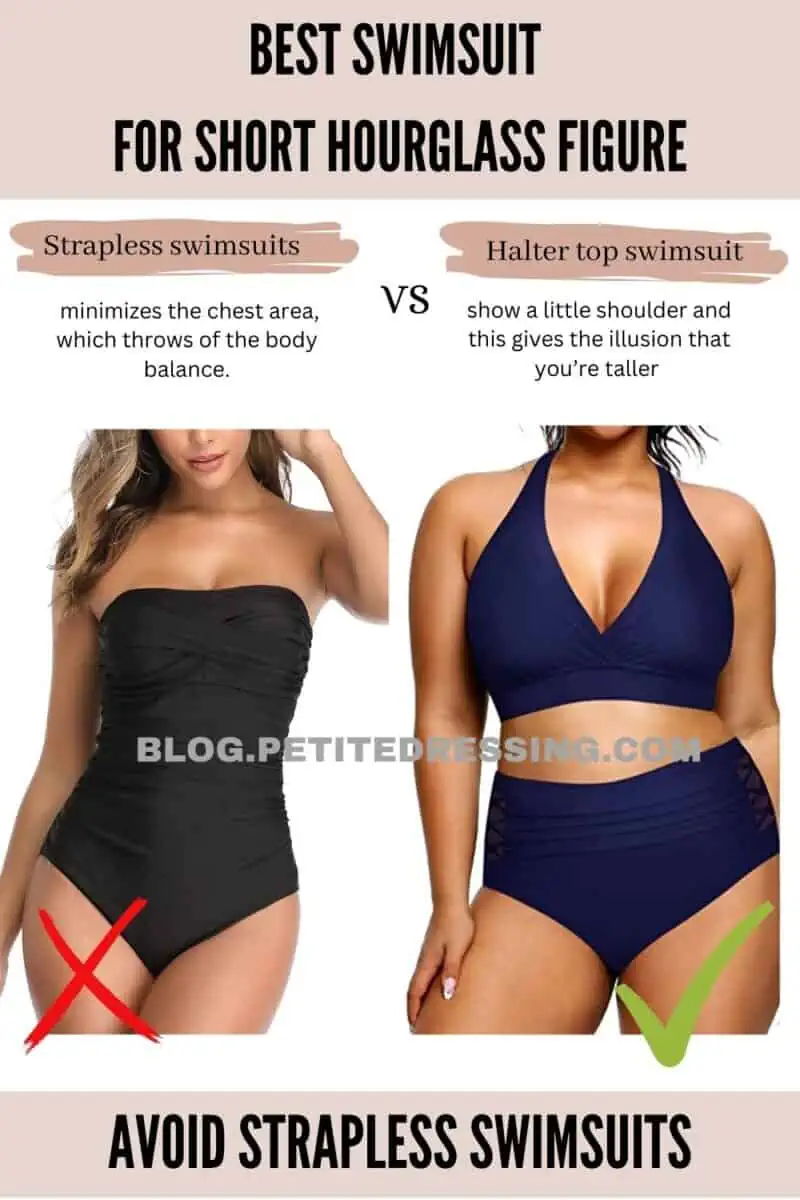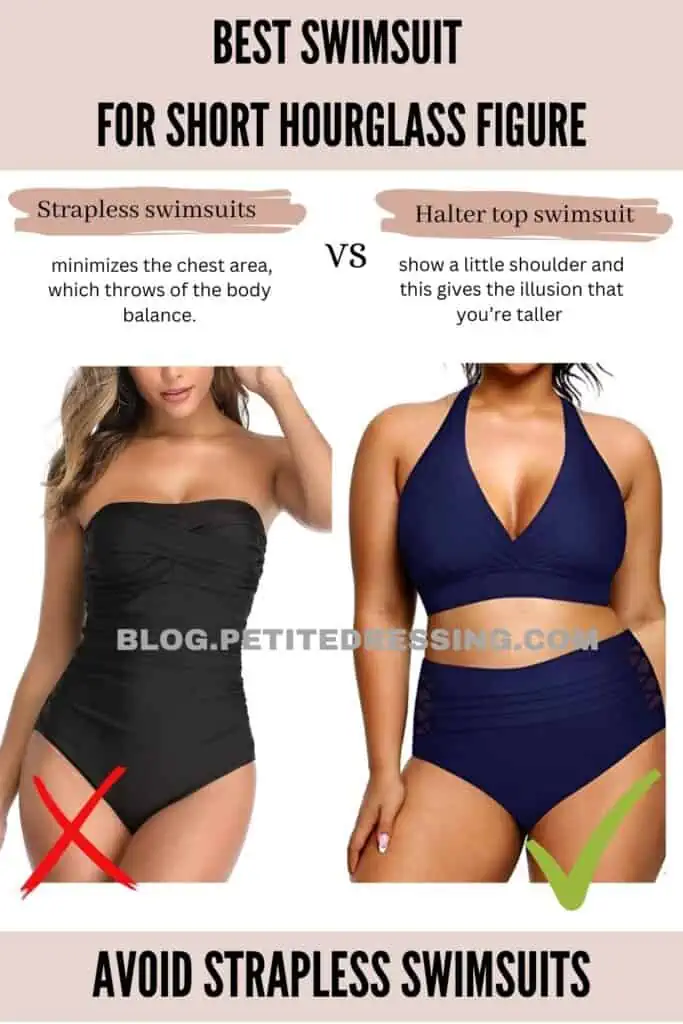 The best swimsuit styles are those that support the chest area and balance out your figure in a way that shows off your hourglass curves seamlessly.
If you've been feeling very self-conscious about dressing in swimsuits because you don't believe they work well with your body type, check out any of these styles and you'll be glad you did.