Looking for the right dress styles for women with thick arms? You have found the perfect place. Styling dresses when you have thick arms and making yourself look fashionable can be hard.
That's why we have a complete dress guide for women with thick arms. You will learn how to style different dresses with sleeves of various styles today. So, let's dive right in!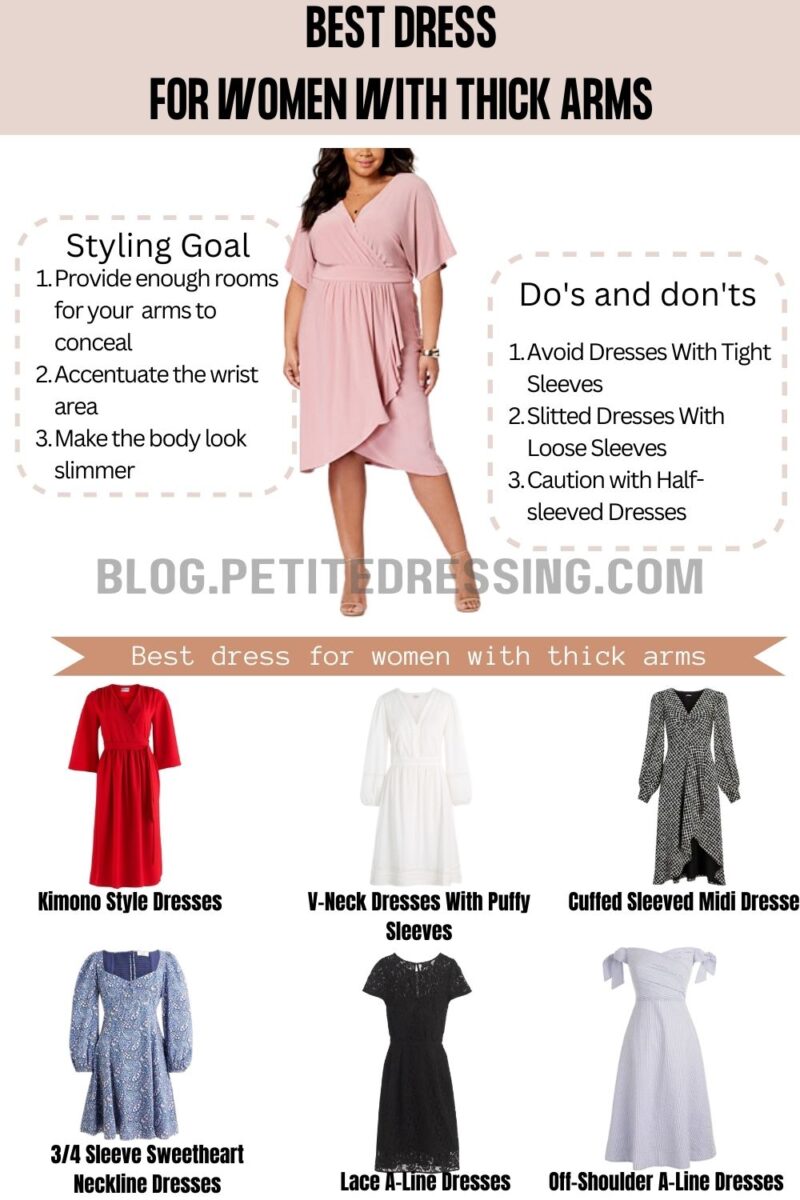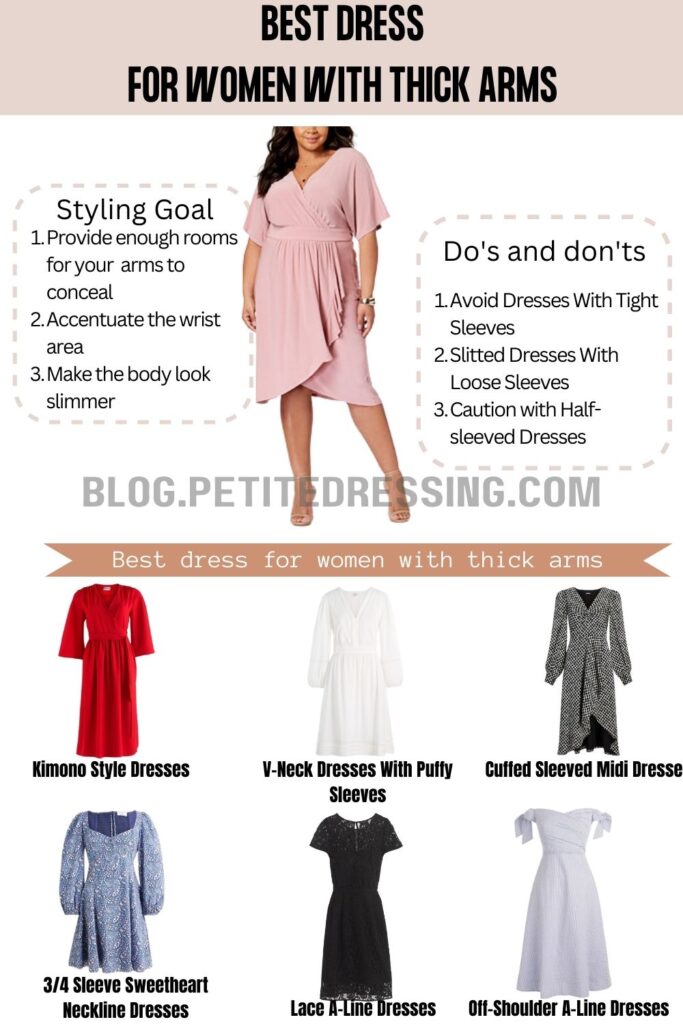 Kimono Style Dresses
Flowy sleeves, thin waist, and V-neckline – What's a better combination in a dress for women with thick arms?
Kimono-style dresses got it all. They make your waist look slimmer as they are tighter in that area. Usually, there's a belt or fabric to wrap around the waist in such dresses.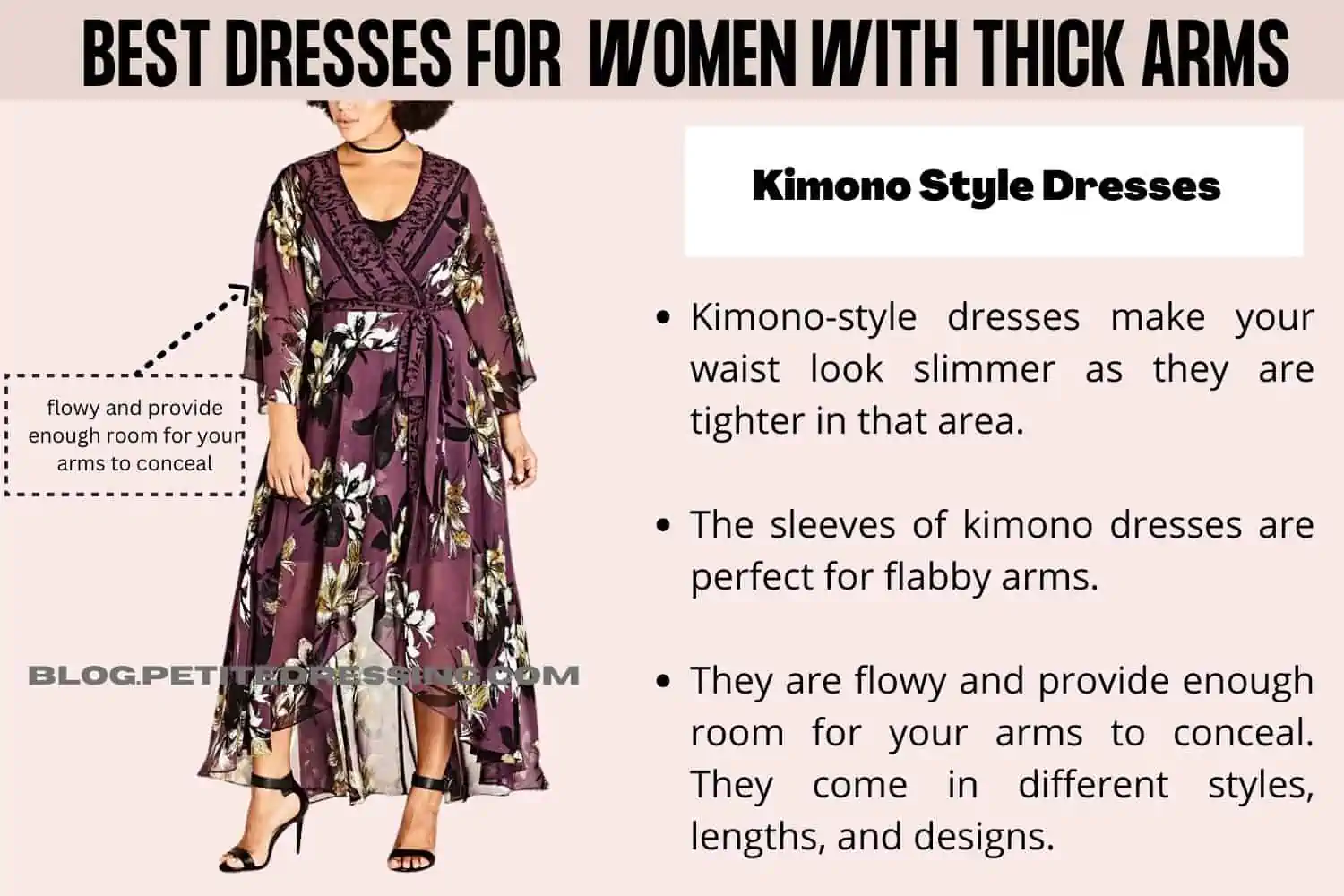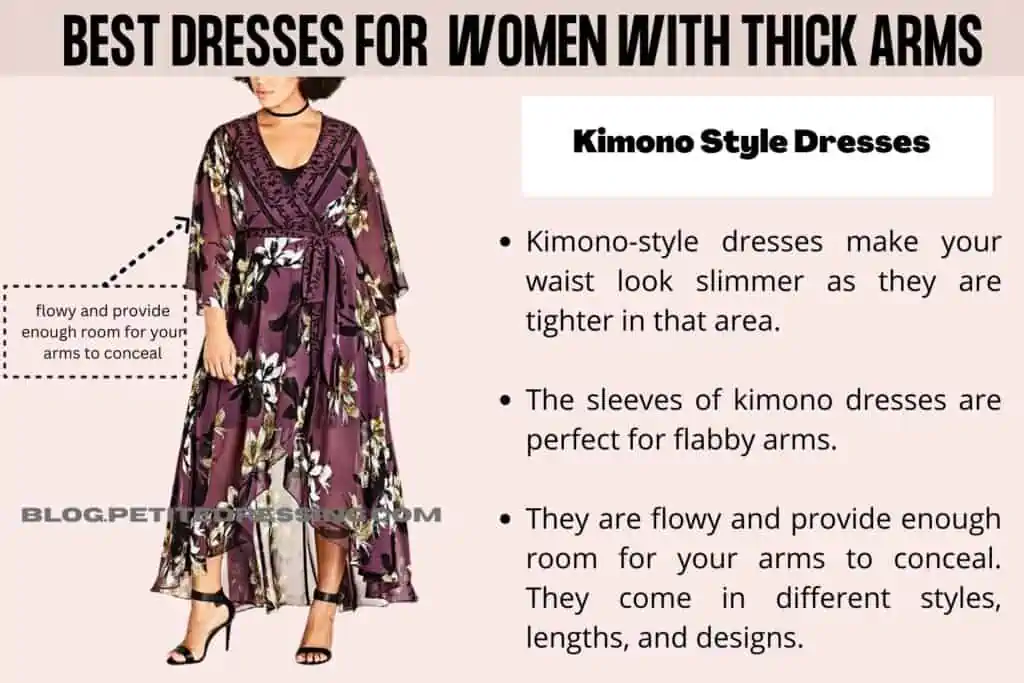 The sleeves of kimono dresses are perfect for flabby arms. They are flowy and provide enough room for your arms to conceal. These dresses are a go-to for women with thick arms as they are extremely fashionable and comfortable at the same time.
You can slay in a kimono dress on different occasions. They are perfect for all seasons. They come in different styles, lengths, and designs. That's why kimono-style dresses are a must-have in your wardrobe if you are looking to conceal your thick arms.
V-Neck Dresses With Puffy Sleeves
You can easily wear a puffy sleeves dress with a V-neck if you have thick arms. V-neck style brings the focus to your neck area and keeps everything in proportion.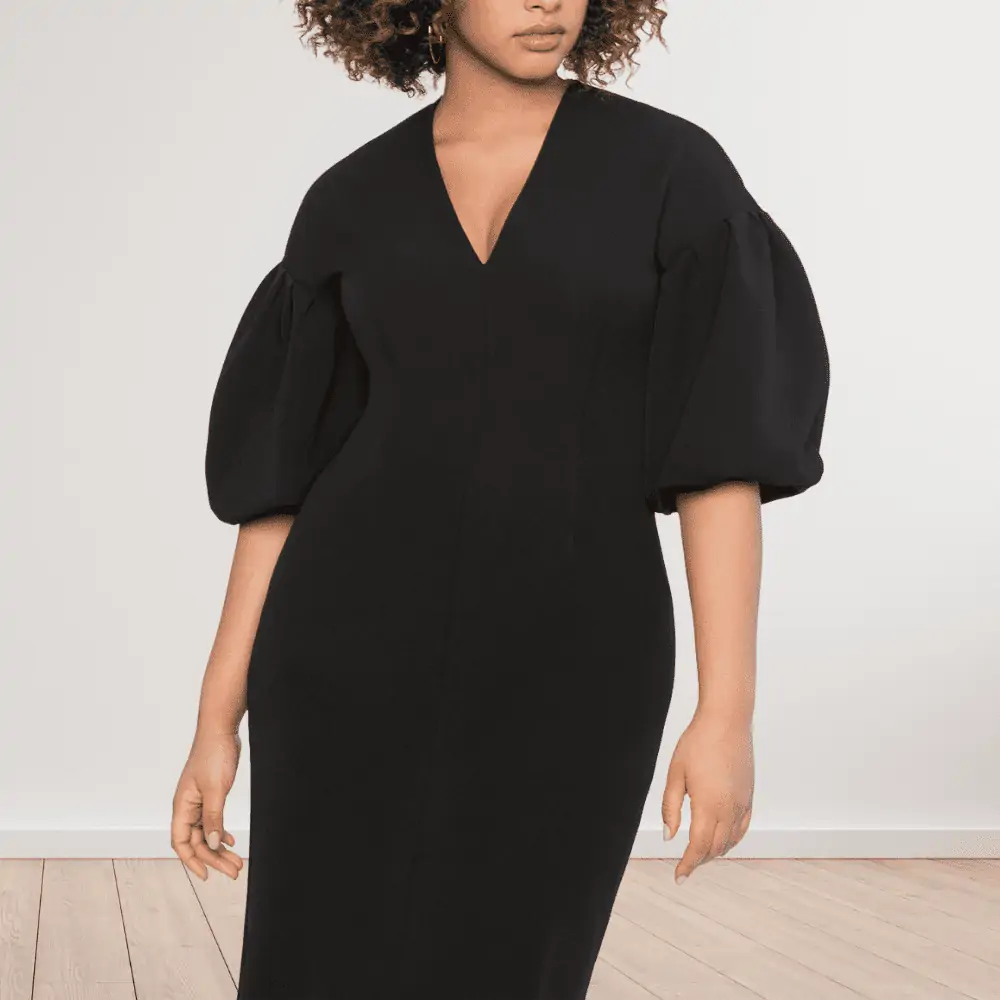 Why opt for v-neck dresses
If you hide your neck by wearing crewnecks and turtlenecks, the focus goes on your arms.
Women with thick arms don't want attention on their arms. So, V-neck dresses are the best option for you.
They also look more feminine and beautiful.
A little hack:
Show off your shoulders, neck, and cleavage to divert attention from your big arms.
The puffy sleeves make your arms don't accentuate thick arms. If you are arm-shy and want some fabric there, it is a perfect choice of dress.
Cuffed Sleeved Midi Dresses
Got some thin wrists to flaunt but don't want the attention on your thick upper arms? Wear midi dresses with cuff sleeves.
The midi length puts focus on your legs so if that's something you like to flaunt, it is a perfect choice.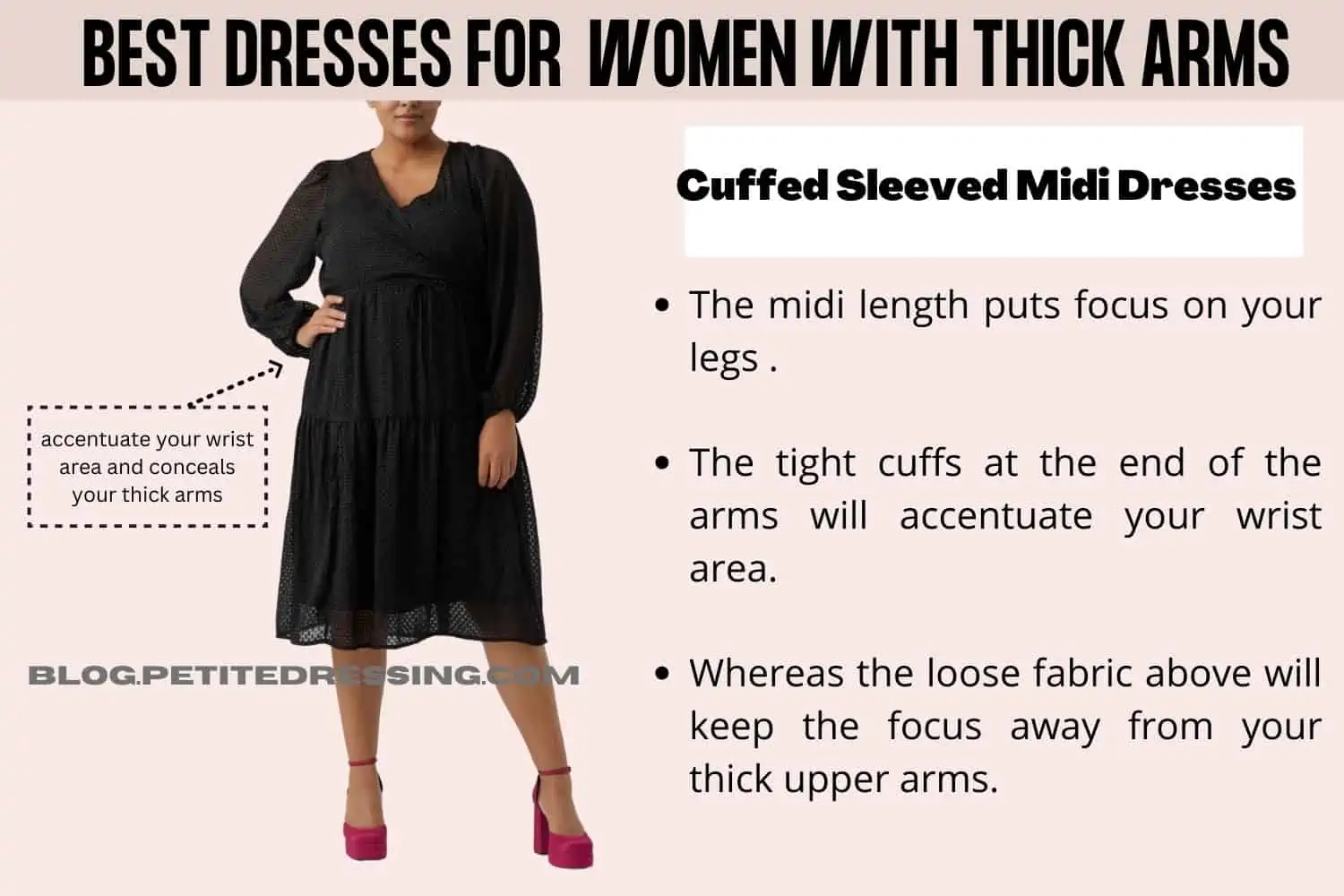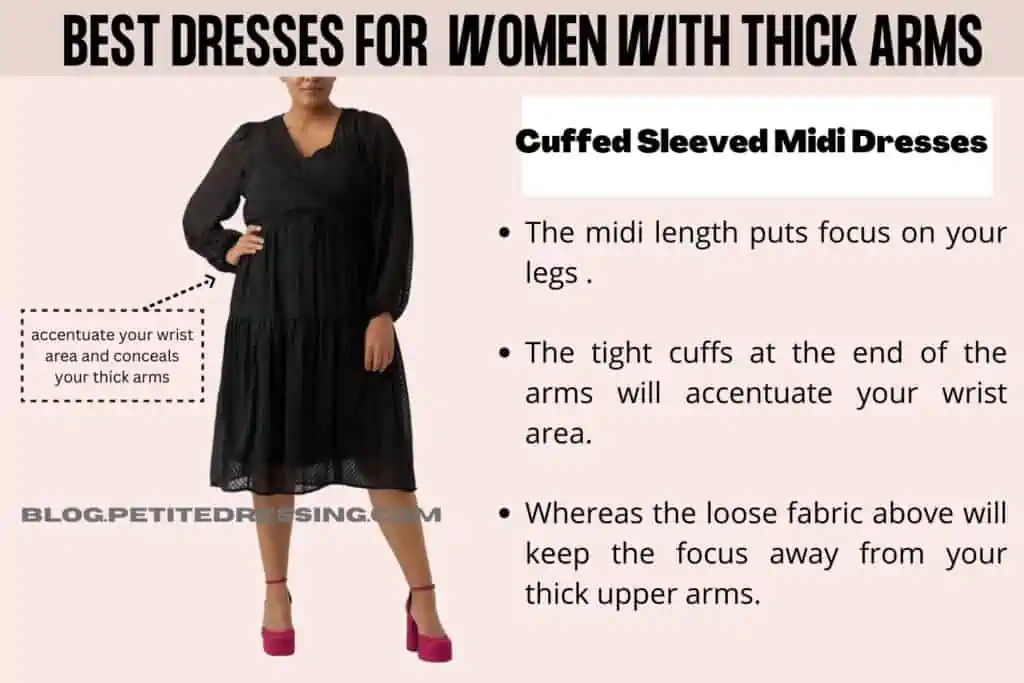 The tight cuffs at the end of the arms will accentuate your wrist area. Whereas the loose fabric above will keep the focus away from your thick upper arms.
Don't go for an overall tight-sleeved dress with cuffs if you have thick arms. It will make your arms look bigger.
Choose a flowy fabric such as chiffon so it doesn't look tight. The arm fat can settle in easily in flowy sleeves.
3/4 Sleeve Sweetheart Neckline Dresses
Want to go for a feminine, elegant, and beautiful look? Choose a sweetheart neckline dress.
Sweetheart's neck is perfect for women with thick arms. This style makes your chest and neck area pop out, diverting attention from your arms. It is an alluring style for women of different ages.
Which sleeve style to go for in sweetheart neckline dresses if you have thick arms?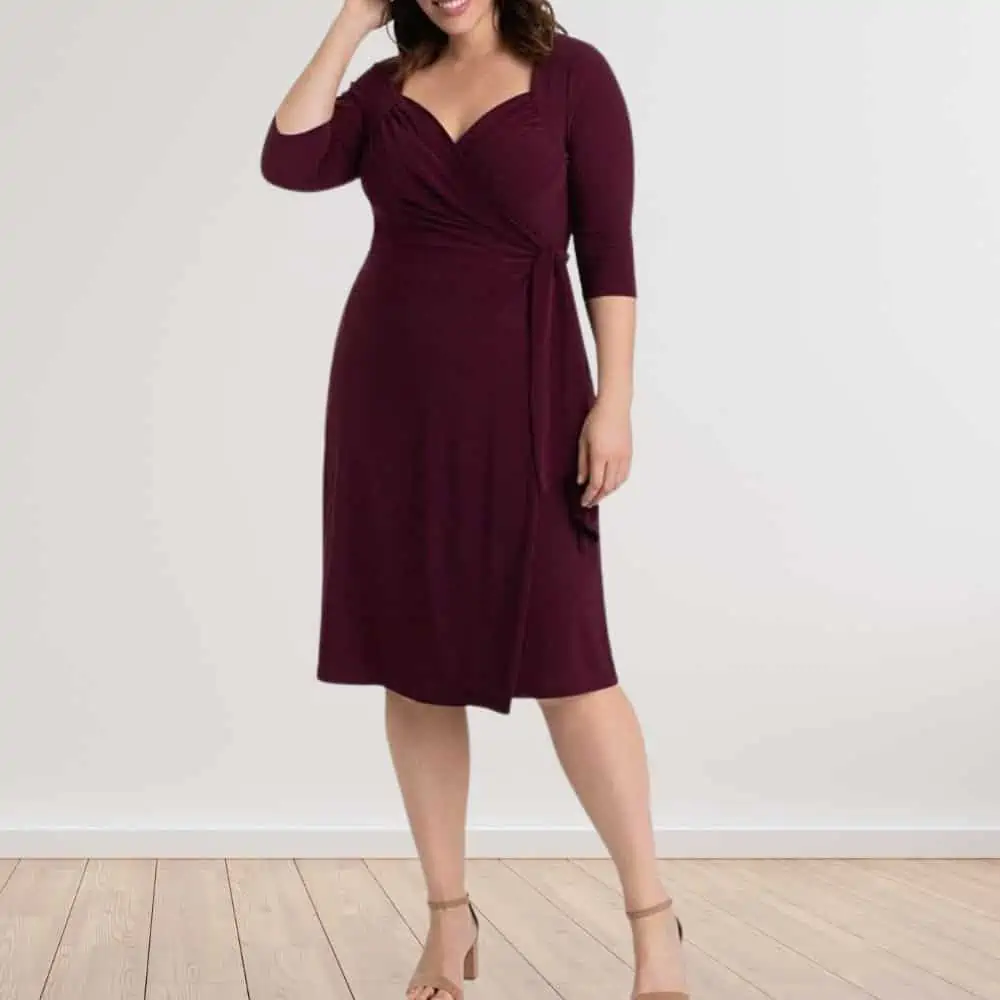 Sweetheart neckline with 3/4 Sleeves is the best, here's why
Sweetheart neck dresses with 3/4 sleeves look romantic and luxurious. So, if you are a woman who loves to look boujee, this style is a must-have for you.
Here's the thing:
Go for 3/4 sleeves, as they will look mesmerizing on women with thick arms.
High heels, a small pendant, and loose curls, and you are ready to put everyone around you in awe.
Lace A-Line Dresses
Lace a-line dresses look captivating. The delicacy of lace brings out your feminine side. Lace is the perfect fabric for women with thick arms looking for a beautiful dress.
Sleeves made of lace puts the focus on the details of the design instead of your big arms. They are easy to style and comfortable to wear. It is a convenient way to dress up for any occasion.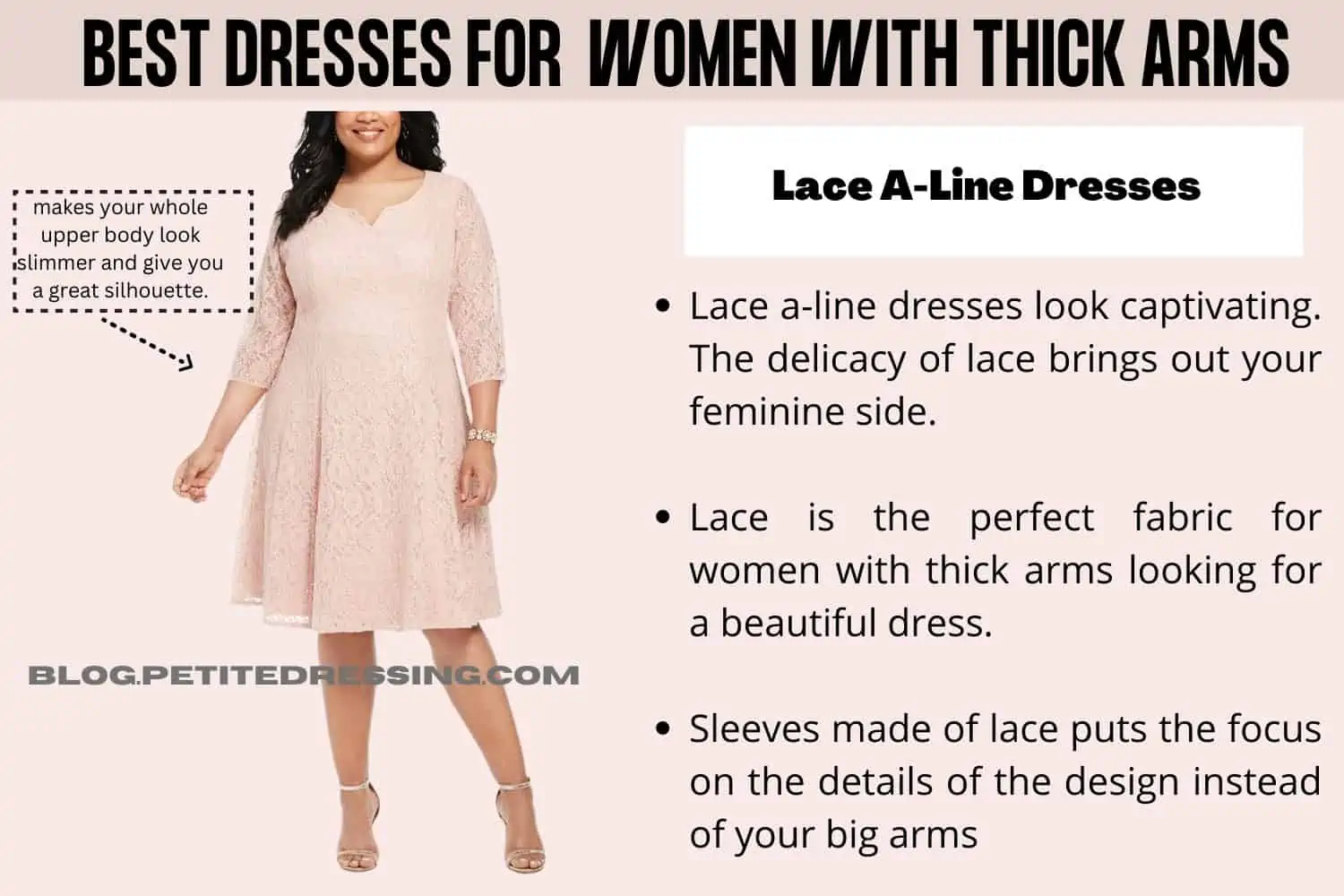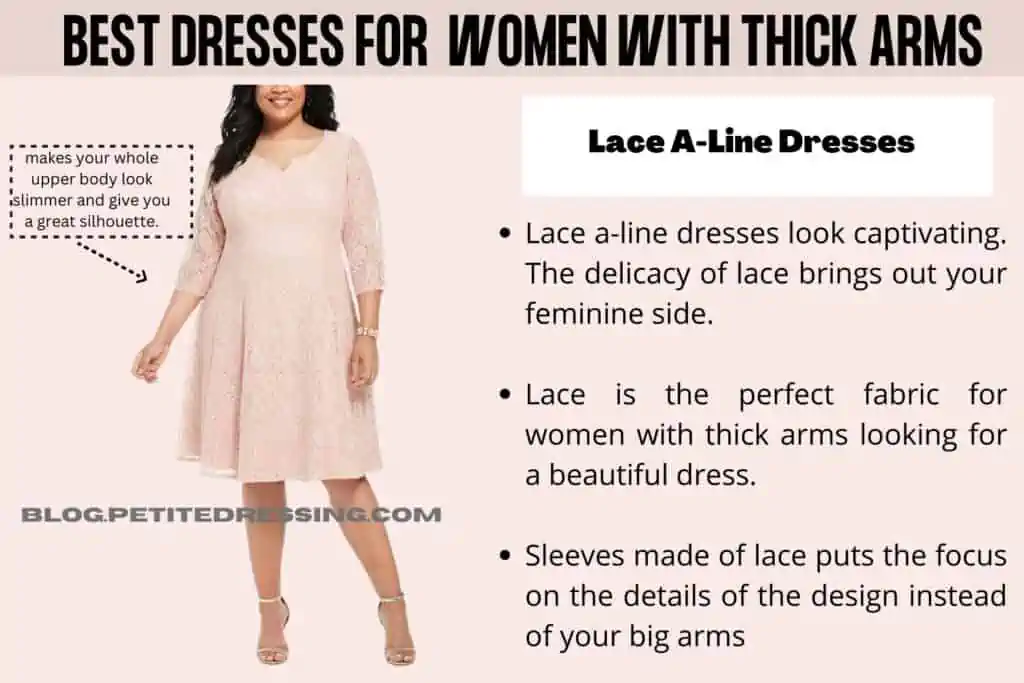 Lace A-line dresses with V-neck, elbow length, or ¾ length sleeves, and the midi length is perfect for women with thick arms.
If the dress is tighter on the waist and upper body and is flowy below the waist, it is even better. Such a dress would make your whole upper body look slimmer and give you a great silhouette.
Off-Shoulder A-Line Dresses
Why opt for off-the-shoulder dresses?
You can slay off-shoulder A-line dresses on different occasions.
The off-shoulder style will divert the attention toward your neck and the sleeves will cover the exact area you want to conceal.
A-line dresses make your upper body and thick arms look slim. They give an illusion of a balanced body and flattering silhouette. They are perfect to flaunt your curves and keep the focus on them instead of your thick arms.
Slitted Dresses With Loose Sleeves
Slits are extremely beautiful and feminine. Slitted dresses make you look empowered and gorgeous. If you don't want to show off your thick arms, you can divert the focus on your legs by wearing dresses with a slit.
Choose straight loose sleeves for slitted dresses. Simple sleeves are good for such dress types because the slit already adds a fancy element. Simple sleeves will also make your arms less noticeable. All the attention will go toward the style of the dress.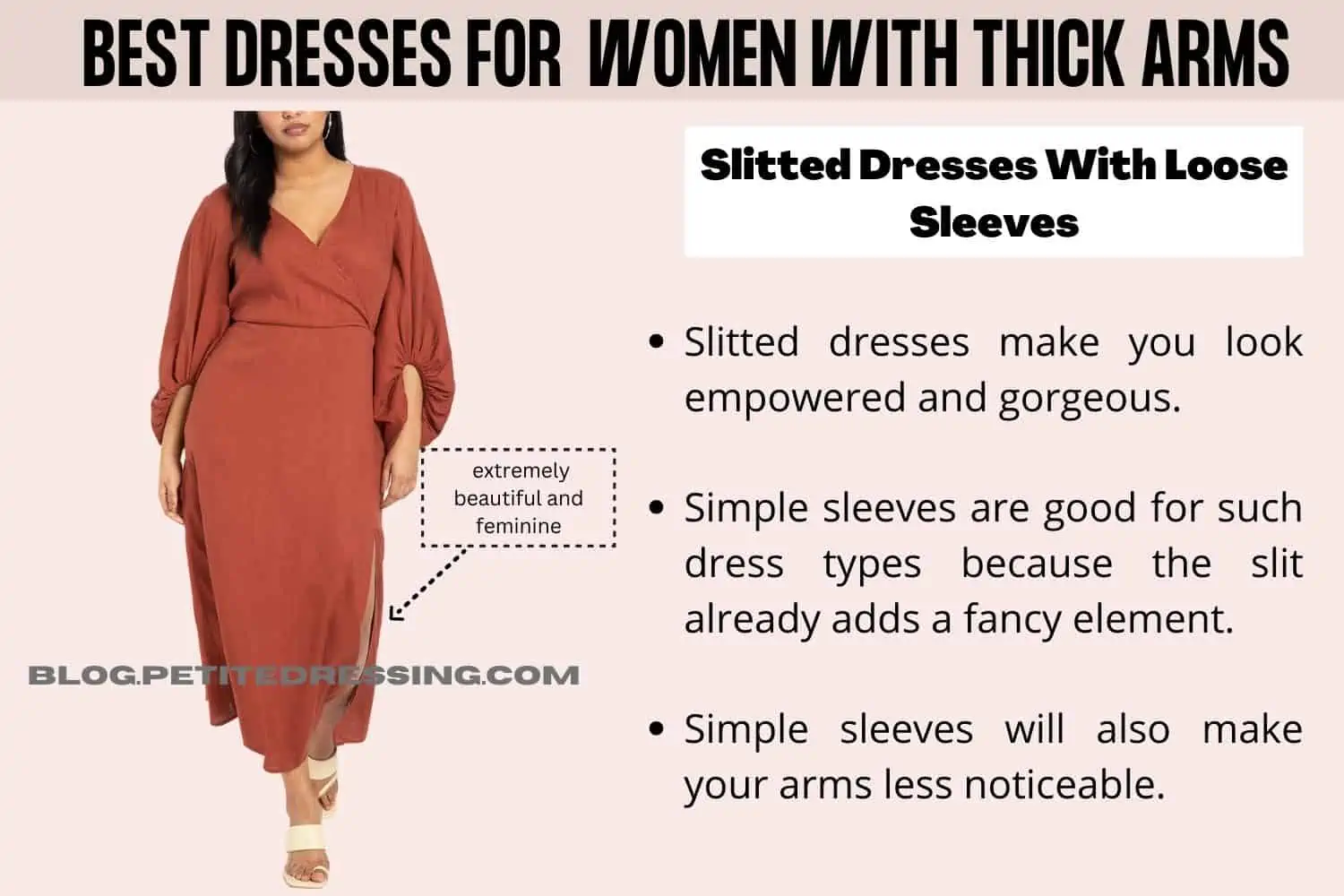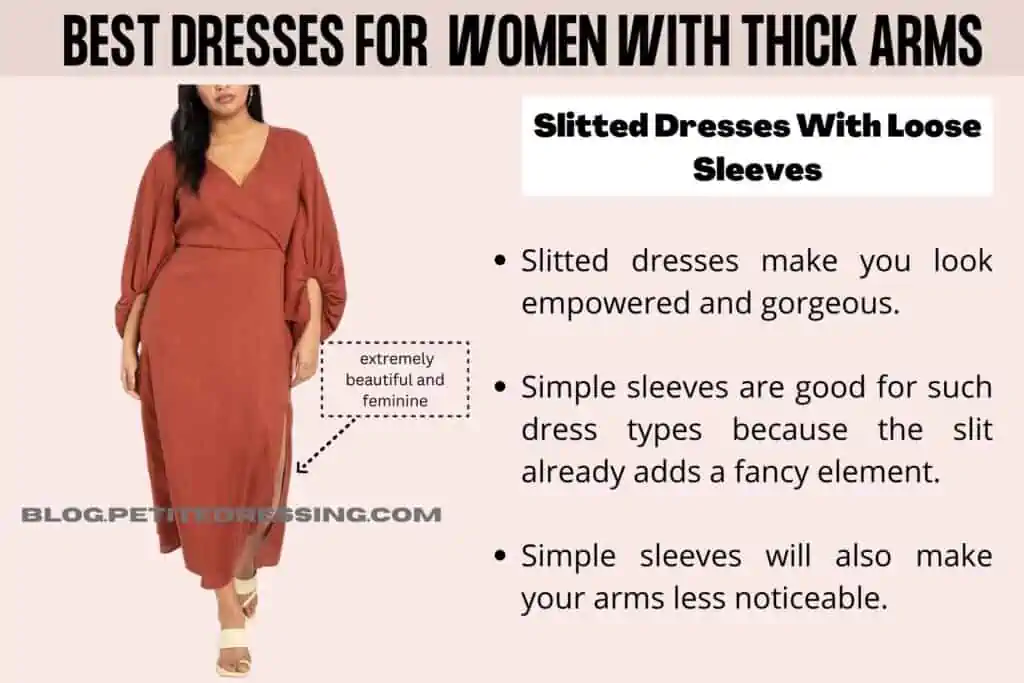 The slit can be on the front or either side. Usually, in the side slit, you get the show off one leg. Wear slitted dresses with heels and straight hair for an alluring night-out look.
Mesh Sleeves Dresses
They are perfect for women who don't prefer sleeveless in summer. Mesh sleeves are great for summer and spring if you want to conceal your thick arms. They also look super chic.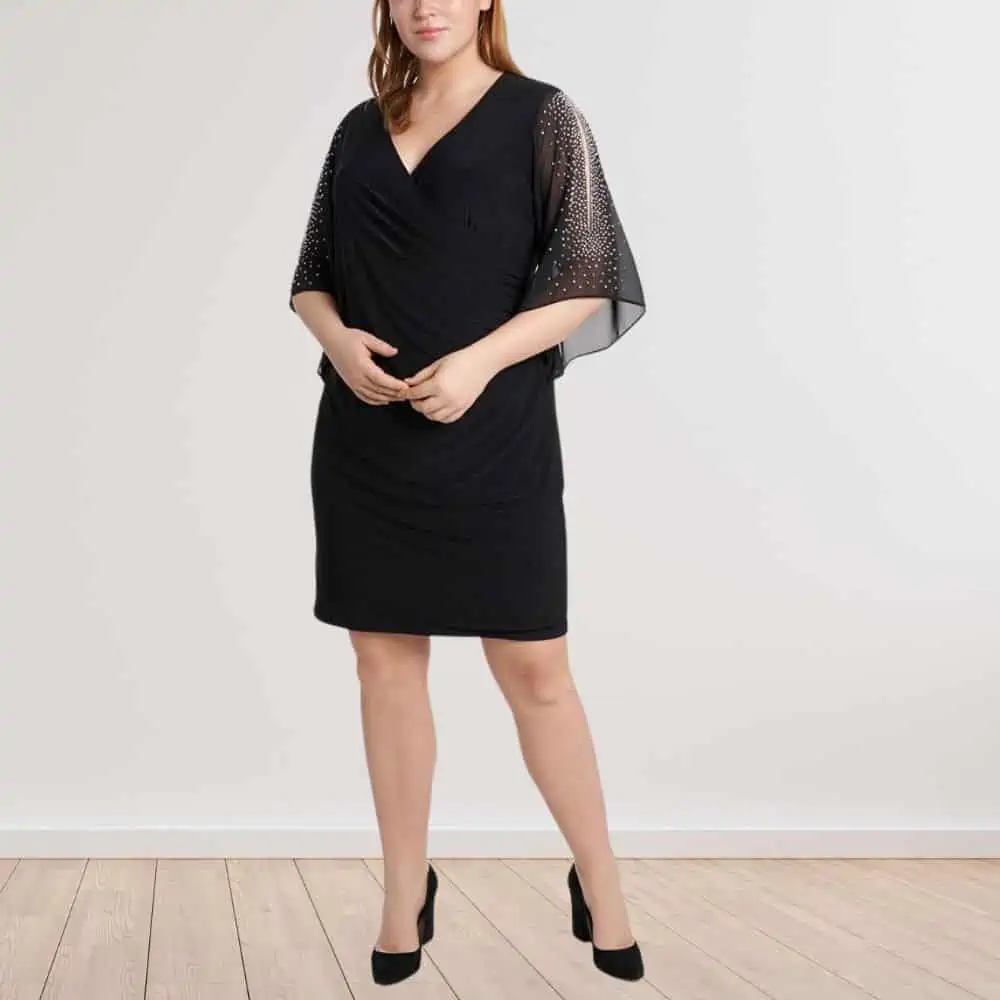 Dresses with mesh are a must-have
Dresses with mesh sleeves are a must-have for women with thick arms.
Transparent fabric on sleeves gives an illusion of slimmer arms.
The part of your dress that isn't transparent will take away most of the attention. So, choosing mesh sleeves is a way to divert attention off your arms. You can go for different styles with sheer sleeves such as a-line, bodycon, wrap-around, midi dresses, etc.
Avoid Dresses With Tight Sleeves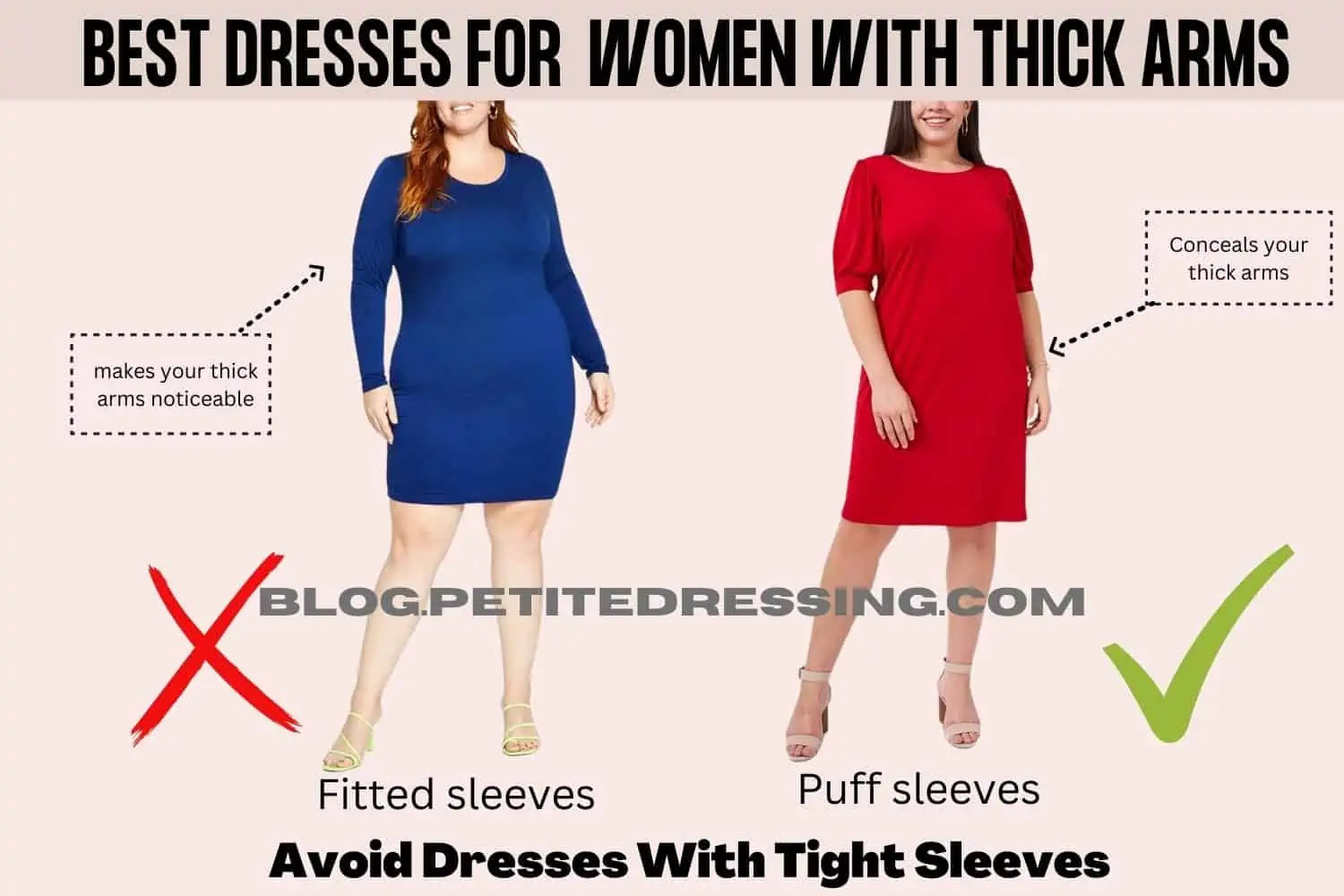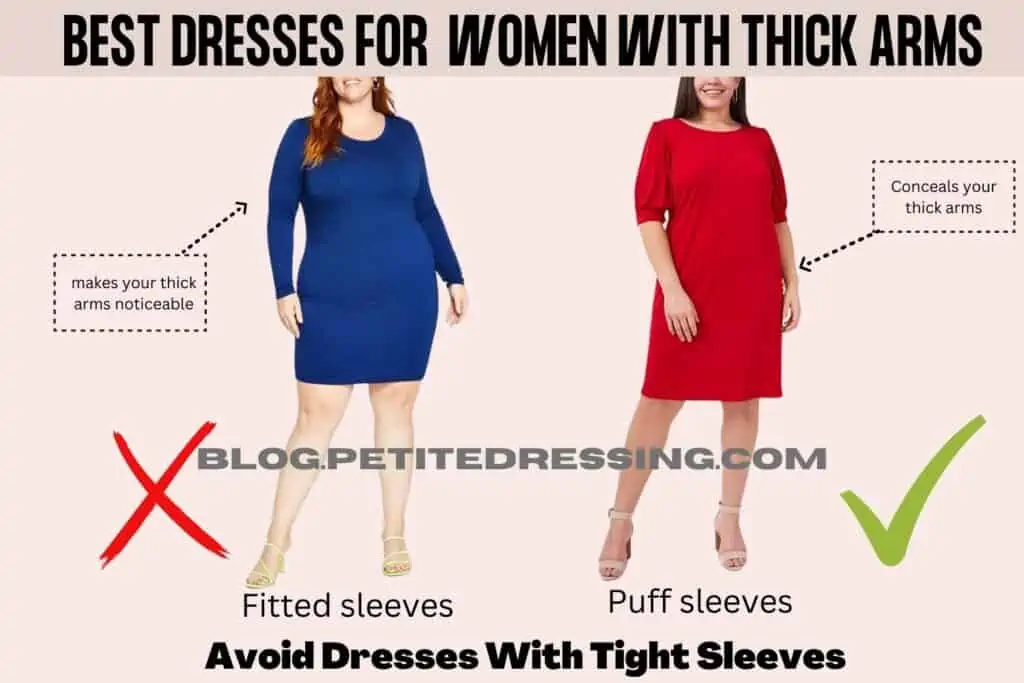 Want to conceal your thick arms? Then you have to avoid dresses with tight sleeves. They will accentuate your thick arms and put all the focus on them. Rather go for a tight dress with flowy sleeves.
Flowy sleeves make a huge difference as they don't make your arm fat look trapped.
Caution with Half-sleeved Dresses
If your sleeves end above the thicker areas of your arms, it is going to divert all the focus to that area. It is better to wear sleeveless dresses than to wear dresses with such sleeves.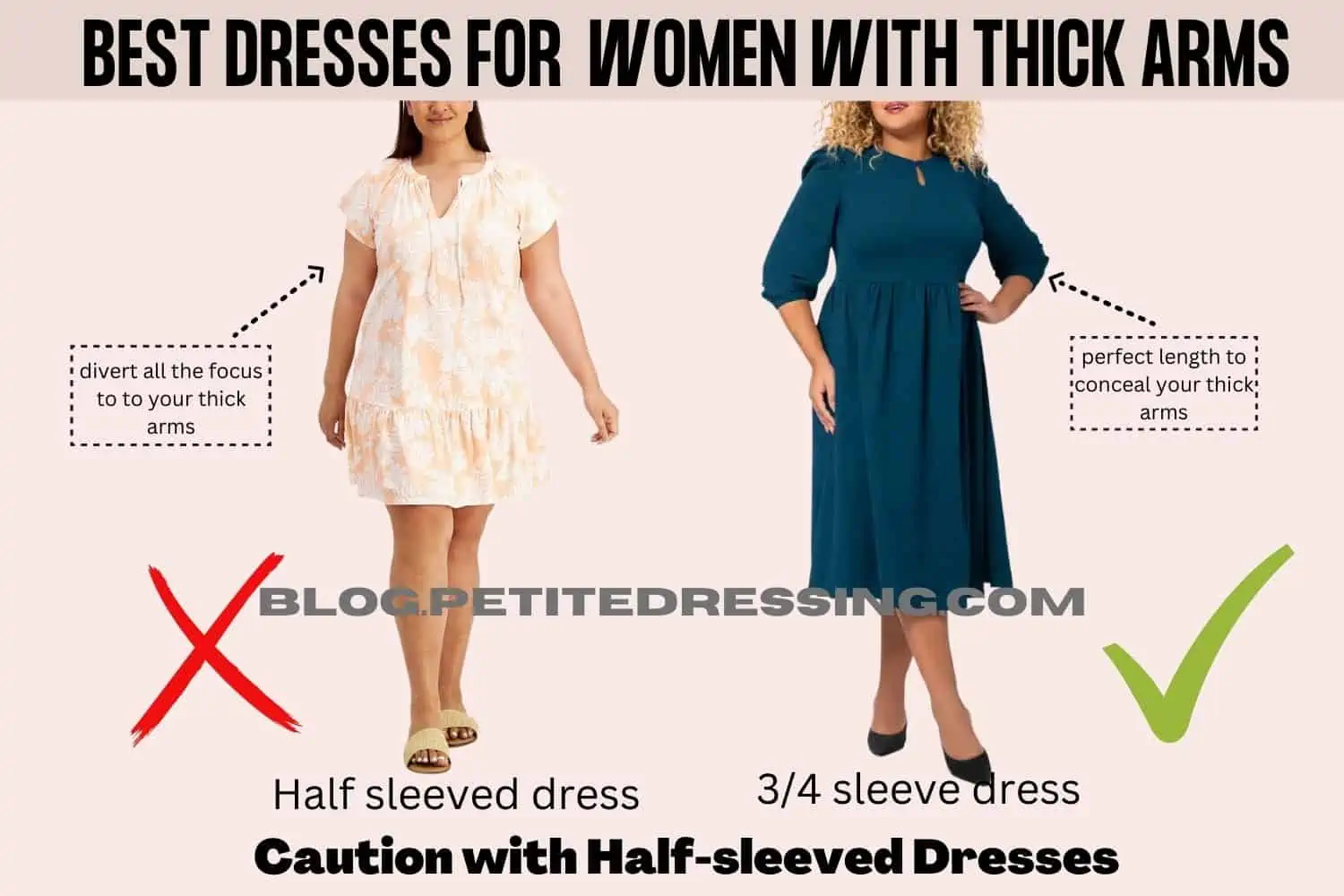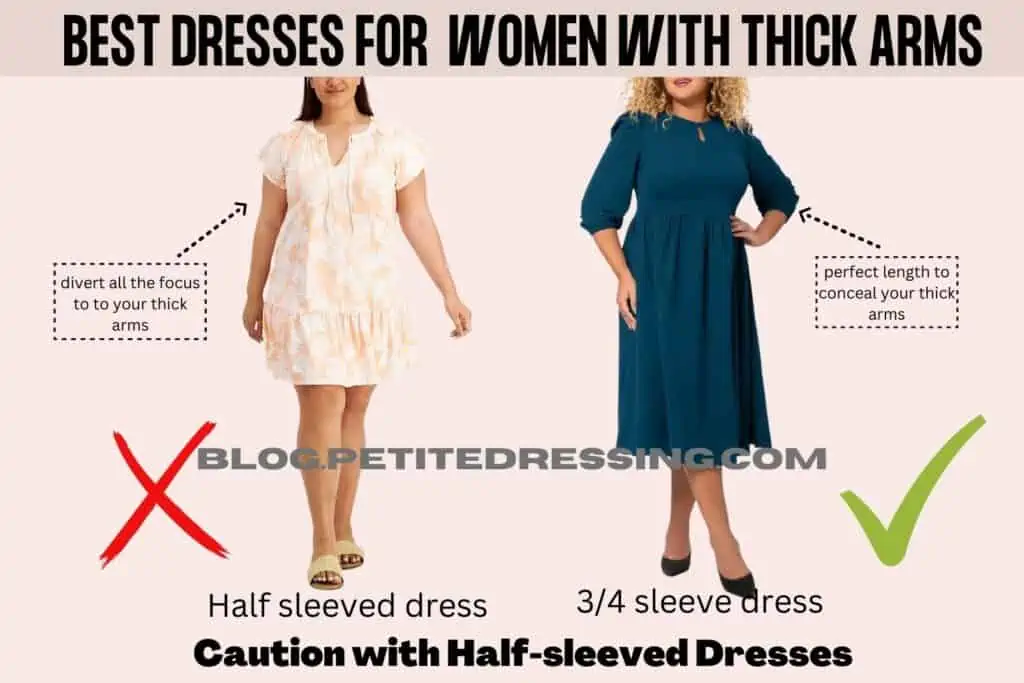 If sleeveless isn't your cup of tea, go for elbow-length. This length is perfect for women with thick upper arms that want to conceal them. Or you can also wear a leather jacket on top of a sleeveless dress.
Whether the half sleeves of a dress are loose or tight, it is better to steer clear of this style.
Caution with Sleeveless Dresses
One frequently asked a question that every woman with thick arms are curious about is:
Should I wear anything sleeveless?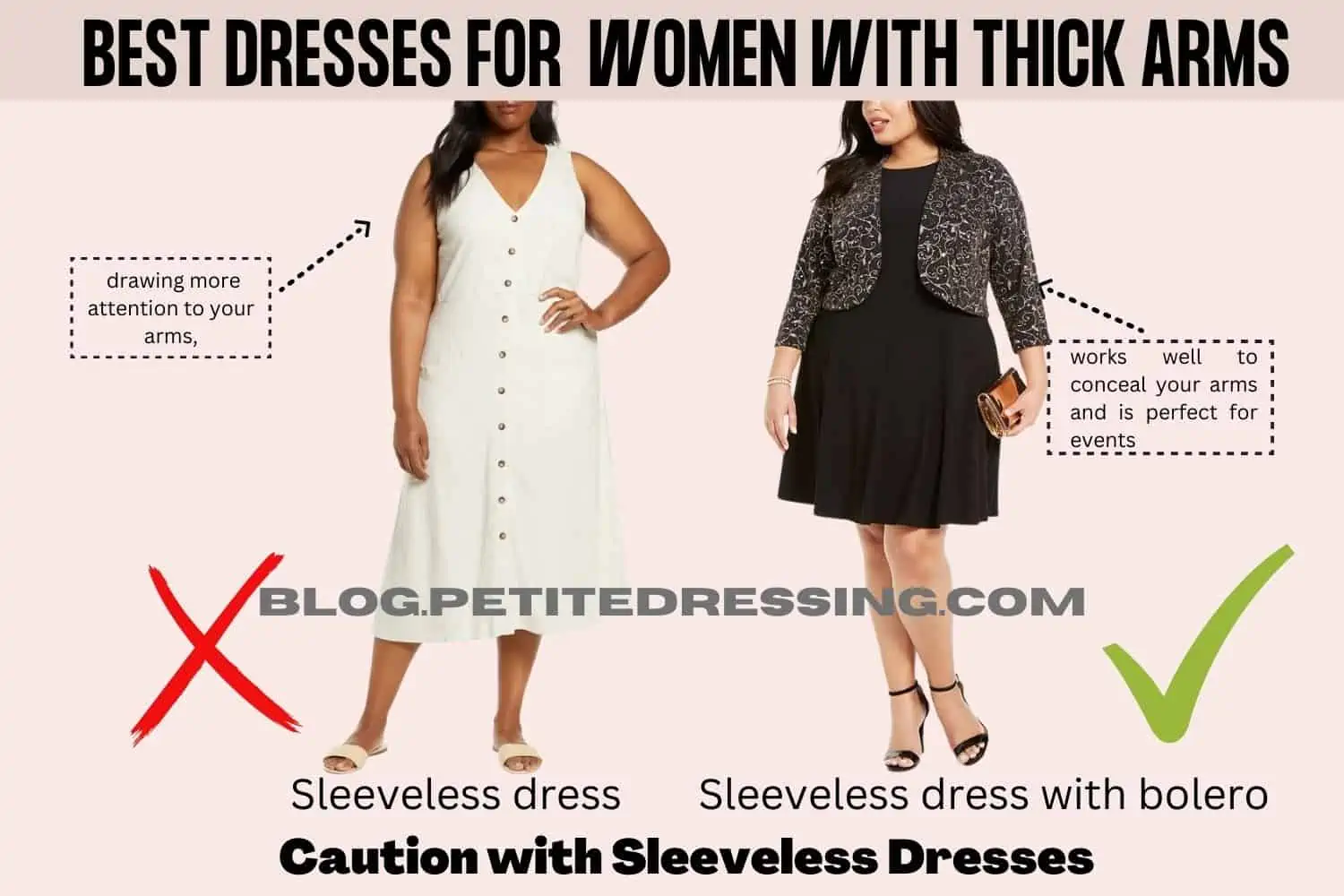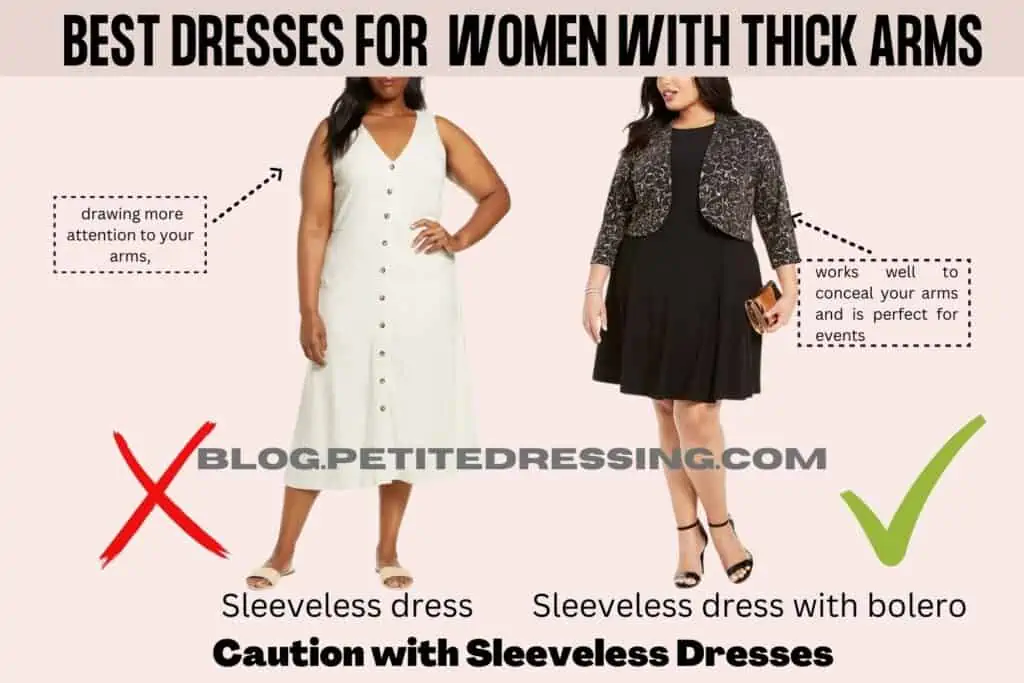 The answer is yes but use caution.
Sleeveless dresses will obviously be drawing more attention to your arms, compared with dresses that do have coverage on your upper arms.
However, there are ways to wear sleeveless dresses so that your arms will not become the focal point.
One way to do it is to top your dress over with a bolero jacket.
This works especially well for evening dresses or special occasion dresses, which typically are sleeveless.
Wear Hair Down with Sleeveless Dresses
Making your thick arms flattering is only possible if you consider every element of your outfit. Your hair, jewelry, dress, and everything contributes to your outfit.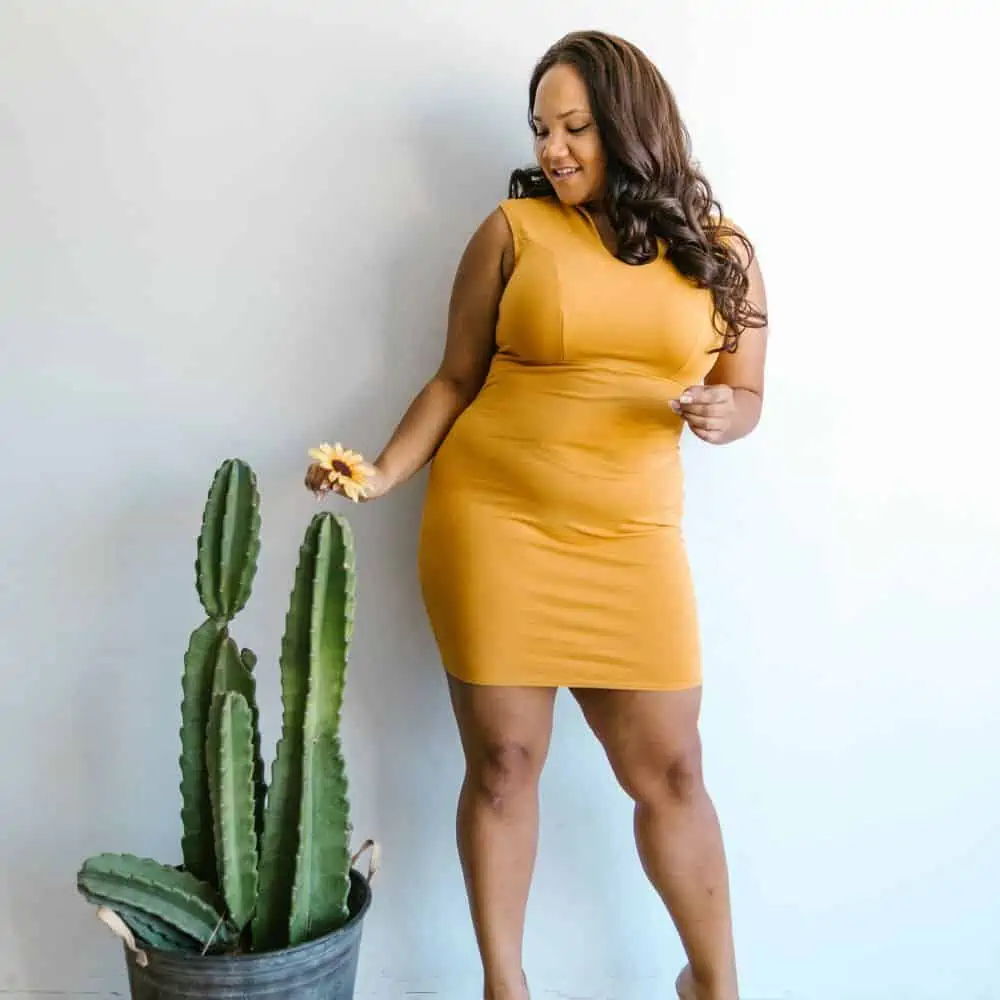 Hair Updos are not recommend
If you want to keep the focus away from your thick arms, it is better to wear your hair down.
Updos with tight sleeveless dresses are going to make you look thicker than you already are.
Whereas, wearing your hair down is going to conceal your flabby arms.
Final Thoughts
Now you know how to flaunt various dresses with thick arms. All you have to do is choose the right style of dress and sleeves and pair it up with a perfect hairstyle. Considering all the elements of your outfit is important while styling. If you want to look fashionable, consider every area of your fit. The key is to go for small-waisted dresses that show off your neck area more. It will conceal your thick arms perfectly while making you look beautiful.