If you have a longer neck, you should consider that an asset in fashion. Many famous models have longer neck, and it is typically viewed as a sign of beauty. Compared with women with short neck, you have much more options with your hair style and necklaces. Because the eyes like balanced things, dressing the long neck properly can make your overall body proportion appear better.
The best clothing for long neck is the tops or dresses with higher necklines such as turtle neck or crew neck. Wearing a blouse with decoration near your neck such as bows or ruffles can also flatter you. Large statement necklaces are great options for women with a long neck, because they fill up the space and make your neck length look more balanced. You have the flexibility to choose any hair style, but longer hair is especially flattering on you. There are not that many restrictions about what you should stay away from, except for very low necklines. It is more about balancing your body feature.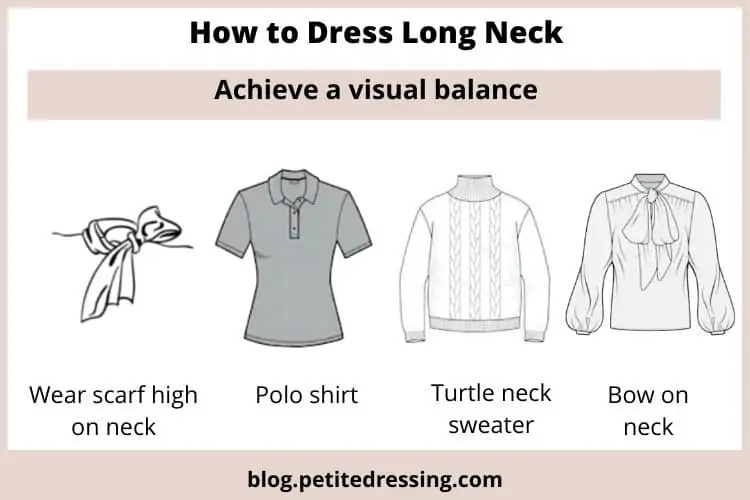 Now let's look at what you should wear if you have long neck to achieve a balanced look.
Wear turtle neck sweater
If your goal is the camouflage your neck, then go with the turtle neck sweater in the fall or winter. Turtle neck is very flattering to women who do not want their long neck noticed, because they cover your neck area entirely.
The higher the neck of the sweater, the better they will "hide" your neck. If the neck of the sweater is rolled down twice, that will also create some volume on your neck to balance out the length of your neck.
Wear crew neck tops
Crew neckline is a good choice for women with long neck. Because they cover your chest, they will make your head and neck look more balanced. You can go with crew neck sweaters when the weather gets colder, and crew neck dresses in the summer. Be sure to have different clothing items with crew neck to wear throughout the year.
Wear a blouse with neck bow
A blouse with a neck bow can greatly flatter a woman with longer neck, because it adds plenty of volume in front of your chest, making your long neck look much less obvious. This is a classic design that you can wear to many different occasions year round. Pair it with jeans for an everyday causal look, or wear them with dress pants or pencil skirts in the office.
Wear silk scarves high on the neck
Wearing silk scarves can be tricky for women with shorter neck, but it is one of the best ways to dress those with a long neck. When you tie the silk scarves high on your neck, it covers up your neck partially and visually reduce the length of your neck.
Another benefit for wearing the scarves high is that they can bring more attention to your face, making your neck less obvious.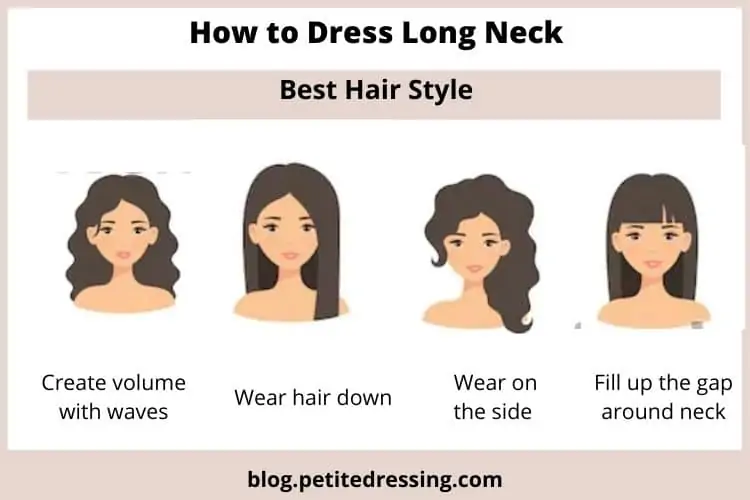 Wear hair longer
If you have a long neck, most hair style will look good on you. However, some hair styles will highlight your neck more than others. Very short hair such as pixie will make your head appear smaller, which will in turn make your neck look even longer. If you have your hair in a ponytail or an updo, that will also make your neck more noticeable.
Therefore, if your goal is to look more balanced, then go with the hair style at least to your shoulder length to fill in the neckline gap.
Wear choker necklaces
Having a longer neck allows you to wear many different styles of necklaces and leaves you with very few restrictions. Chock necklaces are quite on trend, and they are almost a privilege of women with long neck, because they can visually shorten your neck.
Chokers come in various designs and materials. The wider the necklace is, the more they will shorten your neck. The thicker the materials are, the more volume they will add to your neck and make it appear less long.
If you have a long neck, go with a wide choker made of chucky materials such as bigger pearls for a balanced look.
Wear large statement necklaces
Large statement jewelry is another trend that will benefit women with longer neck, because it fills in the gap of your chest and make your neck look much less noticeable.
Statement necklace is a broad category and it can be anything that is big size and eye catching. Bib necklace with multiple layers is a great design if you want to make your neck appear shorter, because it does the best job to add volume to the front of your chest.
You should choose your necklace shape and length according to the neckline you are wearing. They can compliment the shape of your dress or top neckline to create the best solution for your neck.
If you are wearing a formal evening dress, then most likely they have a low neckline design such as a sweetheart neck or U neck. This is when a large statement necklace can come in handy to fill up the gap left by the low neckline and flatter your long neck.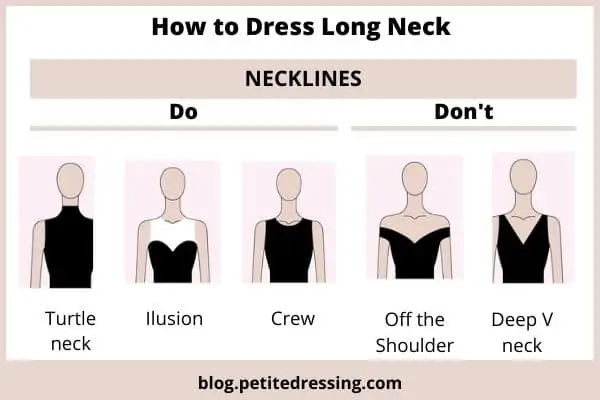 Avoid deep V neck
Even though having a long neck is considered beautiful and should not make you feel restricted from wearing anything, a deep V neck might be the exception. If you are self-conscious about having a longer neck, then you should stay away from a very deep V shape for your tops or dresses.
A lower neckline like the deep V generally will serve the purpose of making one's neck look longer, because how much space they create around the neck area and also because the sharp V shape in front of the chest.
Go with a higher neckline instead like the turtle neck or the crew neck I mentioned earlier, which are more friendly for women with longer neck.
Avoid off the shoulder
Off the shoulder has been taken the fashion spot light in the last several years, but they are not the best choice if your goal is to camouflage the neck. The reason is the bare shoulders create so much space around your neck and chest area, so they can make your neck and shoulders the focus of your outfit.
If you do not want to draw too much attention to your neck, then stay away from off-the-shoulder tops or dresses.
Avoid long and narrow earrings
If you have a long neck, you have a very noticeable vertical line in your neck area already. A long and narrow earring creates another vertical line around your neck, and that will further enhance the fact that your neck is long.
Instead, go with a larger size pear shaped earrings that will balance out your face and neck. You can go with any statement earrings that can draw attention to your face, thus making your neck less of a focus for your body.
Avoid long necklace or pendants
If you wear a very long necklace or pendants, they will draw the eye up and down your neck and chest area, enhancing the impression of a longer neck you have. Th longer the necklace or pendant, the more obvious they will make your neck look.
If you do not intend to make your neck appear even longer, then your better option is to go with a chunky and short necklace to keep the interest up high on your chest. You can go with any necklace made of large pearls or gemstones, or those with multiple layers in front of your chest. The bigger and shorter your necklace is, the more volume they add to your chest and the better they can serve the purpose of directing attention away from your neck.