If you are wondering how to wear booties with jeans, you are not alone! This is one of the most popular searches on the web, and that means everyone else has the same question as you when it comes to looking good in booties with jeans.
To start off, it might seem that that booties are less daunting than tall boots, because they are smaller- so, they should be easier to style, right?
The realty is the opposite. Booties are actually a lot harder to style than tall boots. Here's why:
The number one reason why styling boots with jeans needs more thoughts is the shorter shaft of booties.  Unlike tall boots that are knee high or over the knee, booties could easily make your legs look cut off and make your calves look thick.  If you are tall  and blessed  with mile long legs, you may not care. 
But, if you are petite like myself l, then you would always want to wear booties with jeans the right way to make your legs look longer, not shorter!
Additionally, with booties, you need to consider what pants you wear with them, since different pant leg shapes and length go with different booties.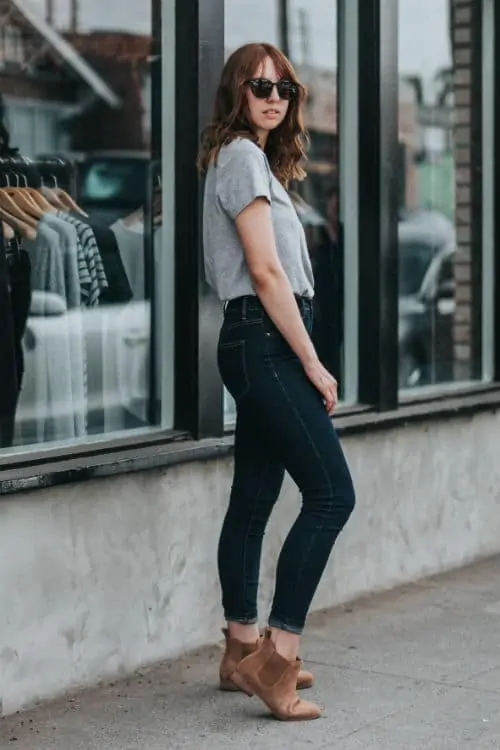 Now you know that booties can be tricky to style, but why do you need to know how to wear booties to wear jeans?
The reason is they can also be such a nice addition to your closet, once you know how to style them.
Booties are very versatile in transitioning weather, so you can wear them from early fall well into the winter. If you live in warmer areas, a pair of booties might be all you need for the winter!
They can also create so many different outfits, because there is so many options of bootie choices you can chose to fit your personal style! For instance, you can wear booties with a jumpsuit to create a very stylish look!
Without further due, let's dive into the styling tips on wearing jeans with booties!
Wear booties of same color as your jeans
If you are petite like myself, this is the most important tip I want you to know. As I said earlier, booties could be tricky for short girls because the shorter shaft. The best way to avoid making your legs look cut off by booties is to pick the booties that have the same color as your jeans!
Usually, the easiest way to do this is to pair black jeans with black booties. This is Sammie, 5'1″. See how she smartly styled the booties and elongated her legs!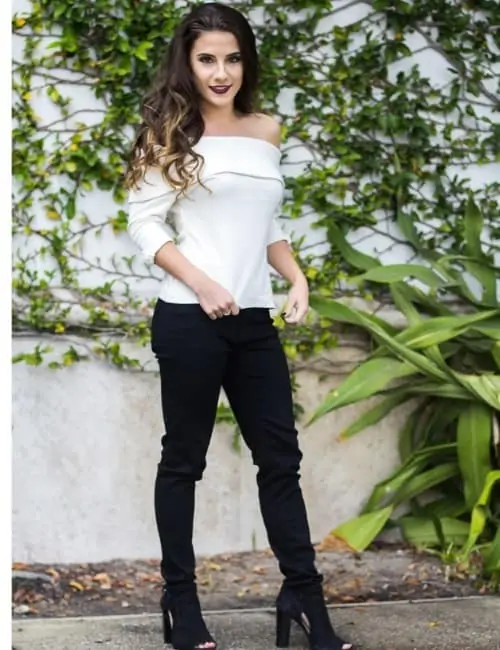 Black is the most slimming color. When you wear the combination of all black jeans and booties, it looks like your legs are extended by your booties! So, instead of making your legs look cut off, this tip can actually make your legs look longer.
If you are short and if there is only one thing you can remember after reading this post, this should be the one!
Wearing ankle jeans smartly
Normally, for women who want to have longer legs, I don't recommend ankle jeans. However, with booties, we have an exception. Here is several reasons why I think ankle jeans can be a great choice for booties.
First, ankle length jeans is already at your ankle, so they are the perfect combination for booties without any cuffing.
Second, you have the choice of ankle length jeans with different leg styles. You can go with skinny leg, straight leg or boyfriend (but not flare leg jeans, which I will talk about later). They could all look good with booties as long as the length is right.
If you are wearing ankle jeans, it's ok if your jeans is a little over the top of the boot shaft, as long as they are not too much over and form a noticeable crease.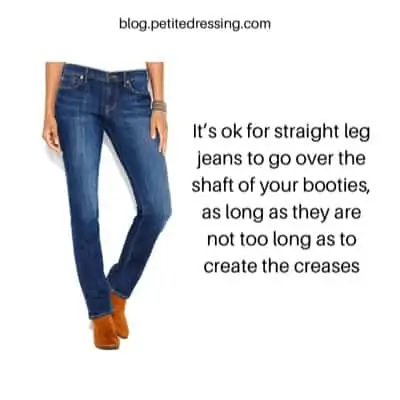 If your jeans are too long, I suggest you cuff it, which I will talk about in my next point.
You don't want your ankle jeans to be too short to leave a gap that is too wide above your booties.. That is especially important for petite women.
The reason is the gap between the jeans and the booties is what makes your legs look cut off! Regardless of your height, you want your proportion to look better. When you are showing too much of a gap between the your booties and jeans, your legs look much shorter. So, if you are petite, it is really important that you avoid anything that makes your legs look cut off.
Cuffing is an art
Cuffing your jeans over booties sounds very easy and seems like we all should be able to do it. What I want to talk about though is how to cuff it so that they won't make your legs look cut off, or at least much less so.
First, the best jeans to cuff are those with same color front and back.. The reason is when you cuff, you show the back of the jeans. If it is a different color, then the cuff becomes a horizontal line to cut off your legs. The more contrast the back of the jeans has with the front, the more obvious that horizontal line.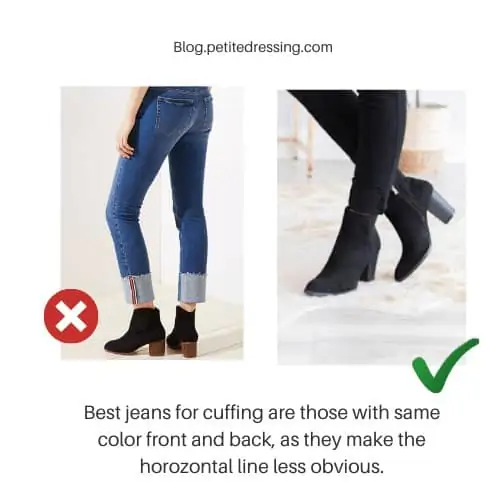 You will see many fashion bloggers wear jeans with very obvious cuffs. That is a cute look, when you want to have some fun or try something different. I'm not against petite women try that look, but bear in mind it does bot serve the purpose of making our legs look longer.
Second, don't cuff the jeans too wide. If you cuff them too wide, then again that horizontal line becomes more obvious. If you jeans is so long that you feel like cuffing once is not enough, I suggest you cuff twice instead of leaving one very wide cuff.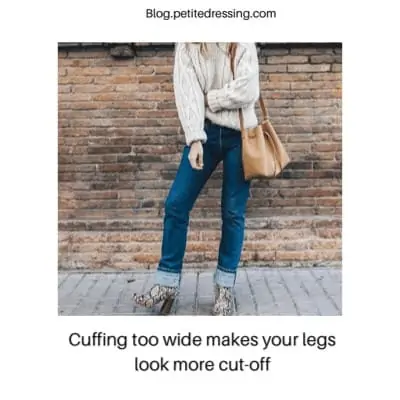 Finally, if you want to wear jeans cuffed, make sure it is made of stretchy fabrics. This sounds too obvious, but it's often overlooked! A lot of us find ourselves struggling to roll up the jeans over the booties, without realizing that's hard to do if they don't have much stretch! Another good thing of stretchy jeans is that they are normally thinner, so they hug your legs really well.
Camel suede boots are flattering and versatile
Whenever you are choosing shoe color, I always recommend going with nude colors such as beige. This also apply to booties. Beige heels are the most flattering shoes to anyone, regardless of one's height. You need beige pumps and nude sandals for the spring and summer (you can actually wear them year round), and you need camel booties for the fall and winter.
Camel boots are very versatile, and they can go with jeans if any colors. The benefit of wearing camel suede booties is they look light weighted, so they can make your legs appear longer, especially if you wear a pair of pointed toe high heel booties.
Normally I wouldn't recommenced your shoe color to be lighter than jeans, but camel booties are an exception.
Pair lighter color jeans with lighter color booties
While black booties go with most jeans, it's not recommended to pair them with light color jeans like white jeans. The contrast of the white jeans and black boots will make you look bottom heavy. For petites, that will draw attention down, which is not flattering to shorter women.
Instead, pair white jeans with camel color booties to make your proportion look better.
Boot cut jeans is a wonderful choice
What is bootcut jeans?
This type of jeans is tailored to hug your legs tightly on the thighs but start to widen under your knees. In other words, bootcut jeans is designed to accommodate a boot under it. So, as the name suggests, bootcut is made for boots!
What that means for you is that you don't have to worry about tucking or cuffing your jeans, and your boot will just naturally fall under your jeans.
Wear longer flare jeans with booties
Flared jeans are the best type of jeans to wear with booties, especially if you are petite.
First, flare jeans is the most flattering jeans for short women, period. Whether you wear them with pumps, sandals or boots, they always make your legs look longer.
Like the bootcut, flare jeans is easy to style with booties. The reason is flared jeans flares out under the knees, so you don't have to worry about tucking or cuffing the jeans.
The important part of wearing flare jeans is to make sure it is long enough to wear it to cover the boot shaft (at least most it), that way it won't create a horizontal line, which I mentioned earlier will melt your legs look cut-off.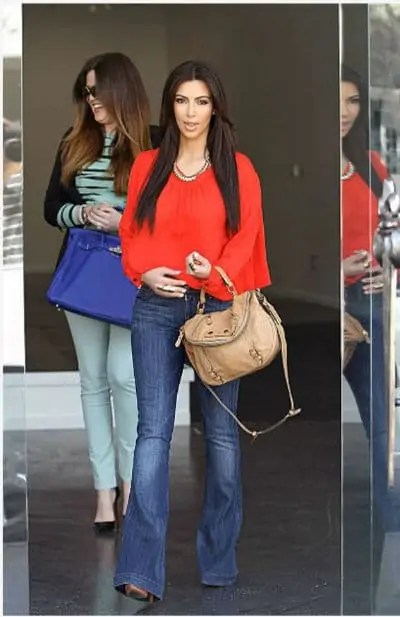 I do not recommend cropped flare jeans that will leave a gap above your booties,, especially if you are petite. Because they will so make your legs look cut off!
If you wear flare jeans , wear with heeled booties will double the effect of leg lengthening. The best length is when the jeans cover part if your heels, so that it looks like your legs are extended by the booties.
Wear bright color booties with clean cut jeans
I think bright color booties are fun and bold, and I think you can totally experiment with them if you already have a closet of only neutral color boots.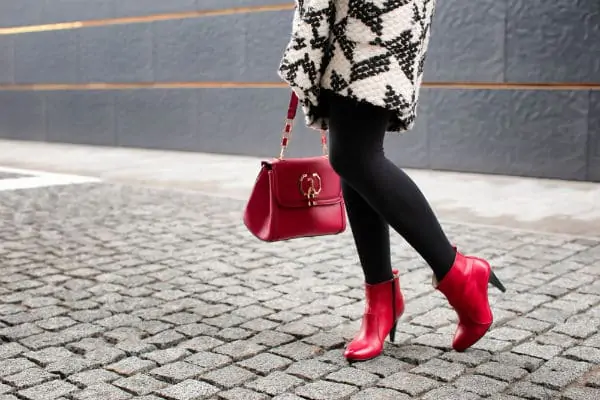 If your booties are already quite bold, I would go with neutral color for the jeans, and avoid any complicated design on the jeans.
Dress boots with pointed toe are most leg lengthening
Pointed toe shoes are the most flattering for women of any height, and they are heaven sent for petites. That includes both booties, boots and pumps as well.
Dress booties with pointed toes are my all time favorite. They go with jeans of pretty much any style and they will always make you look put together!
Booties with side slits make your legs look longer
These kind of booties have lower shaft, and side slits. Side slits are a very flattering design for petite women! Since they create some space on both sides, they visually make you legs look extended!
Wear straight leg with sock booties
Sock booties have a soft and stretchy shaft made of fabrics, so they hug your calves pretty tight. They normally look great with straight leg jeans and can go under the jeans pretty easily so you don't have to worry about tucking it.
I hope you try theses tips out and find out what works best for you! If you have other tips on how to wear jeans with booties, be sure to leave a comment below to share with me and other readers!