It's not rare for women over 60 to feel like they have limited choices for their feet. However, being elderly doesn't mean you have to stick to shoes that don't make your feet glow in style. You'll be shocked to see how well you can rock a pair of loafers or even some heels on a night out with friends.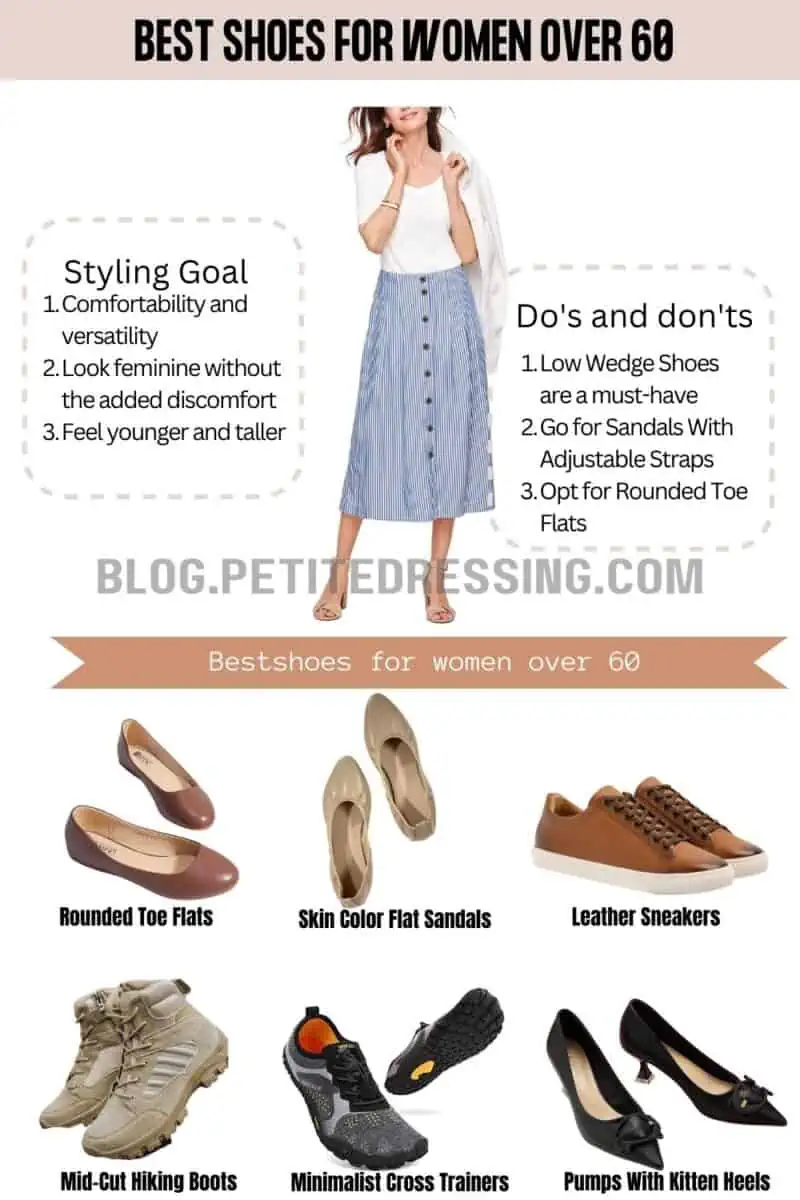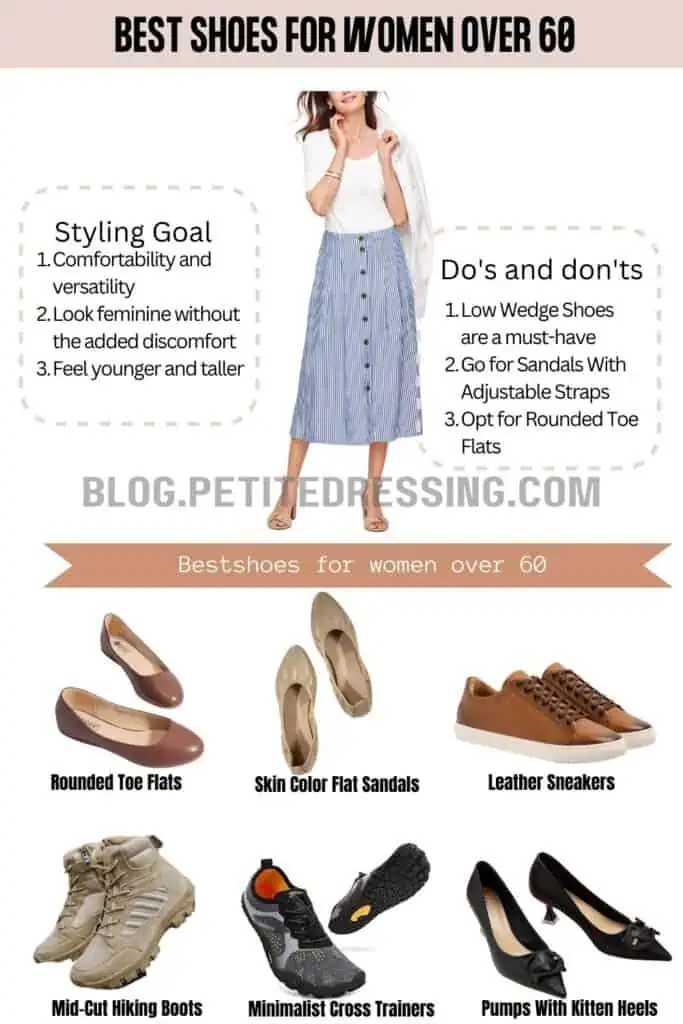 Check out this shoe guide for women over 60 that has everything you need to know about choosing the right shoes for your closet and picking the one that doesn't compromise your comfort.
Rounded Toe Flats
Flats are magical, period! Over the years, rounded-toe flats have revolutionized the fashion world, making it easy for women to slay without wearing traditional heels. If you think you can't step out as a classy woman over 60 unless you have on a pair of heels, you're so wrong.
Rounded-toe flats are known for being extremely comfortable, and they are a great addition to your wardrobe. The moment you have them on, you instantly feel empowered to tackle whatever your day throws at you.
Even better, they go with absolutely anything. Depending on your preference, you can go for Clarks, jambu shoes or Dansko. All these options can be paired with dresses, pants and denim.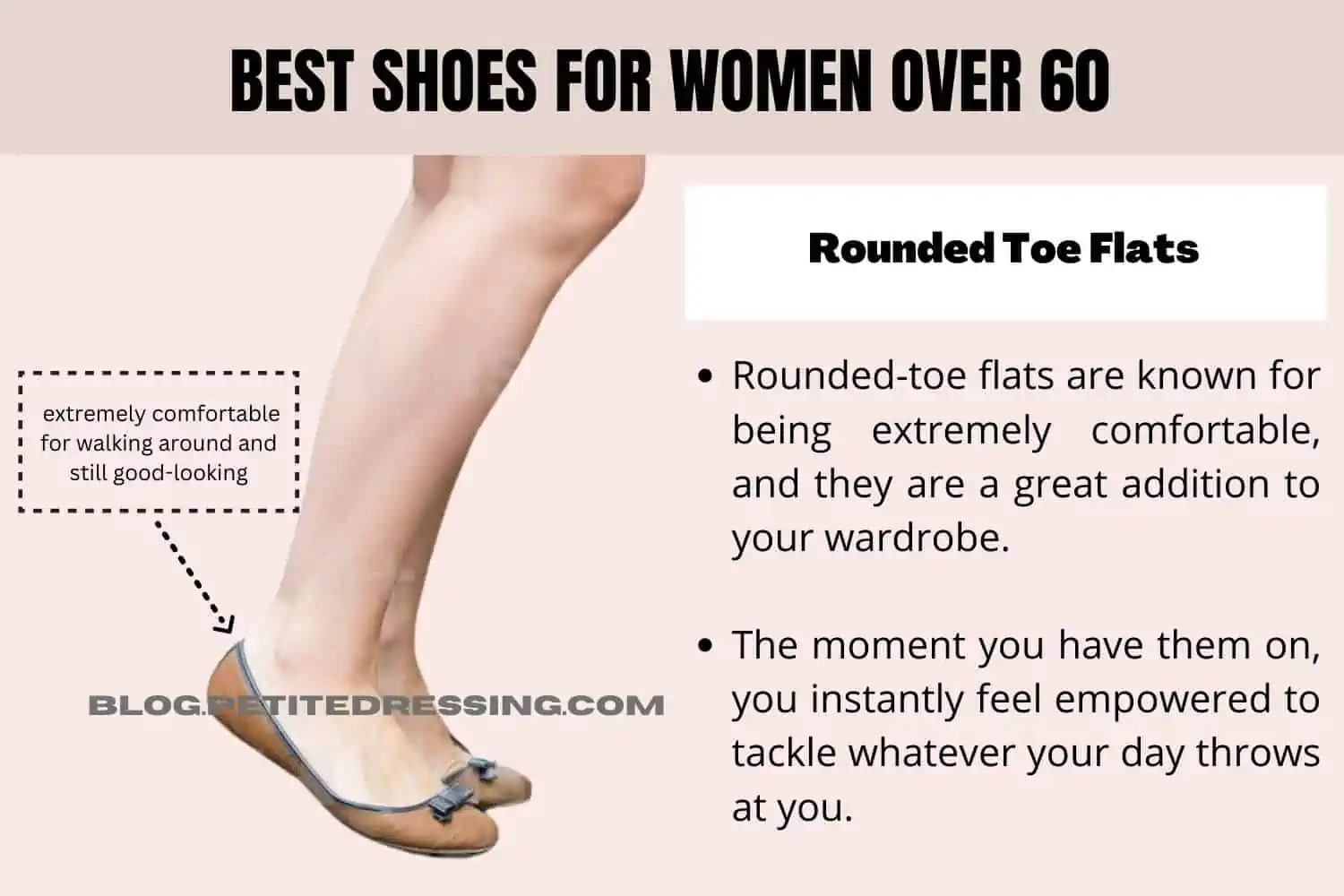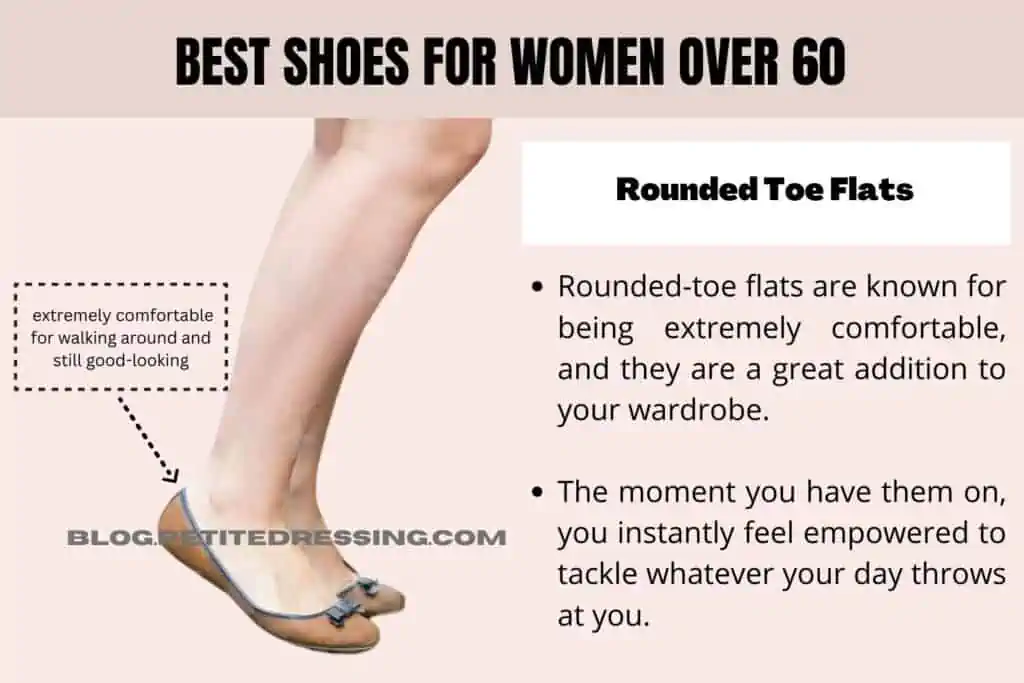 The goal here is to go for a shoe that is extremely comfortable for walking around and still good-looking. You can wear them for hours without your feet feeling like they are on fire. Of course, everyone loves shoes that you can slip on and off easily.
Skin Color Flat Sandals
When talking about amazing sandals for women over 60, flat sandals are on top of our list, especially those in skin colors.
No doubt about it, you'll feel secure while walking in most flat sandals. It's no surprise that women of all ages also love to wear them.
The key to maximizing the usage of your sandals? Get a pair in skin tone.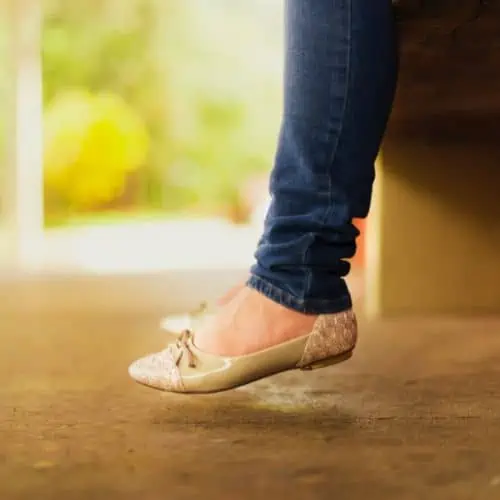 Why skin color sandals are a must-have at any age
These are the most versatile, as they go with anything in your closet.
So, if you're looking for what to pair with your dress on a warm summer day, a skin color sandal is a great choice.
Leather Sneakers
After 60, comfort trumps everything else when it comes to your shoe choices. So, a pair of sneakers is a must have for your closet.
Sneakers made of leather adds a fashionable twist to an otherwise basic item in your shoe closet.
Leather sneakers are a favorite for women worldwide, and it's not difficult to see why. These shoes are great for visiting various locations without experiencing any discomfort. All you have to do is slip them on, and you're ready to go about your day.
Most leather sneakers weigh next to nothing, which means that your feet won't feel like they are lugging a brick around all day. So, what can you pair with your sneakers? The answer is anything! You can wear leather sneakers with your jeans and top, with simple accessories.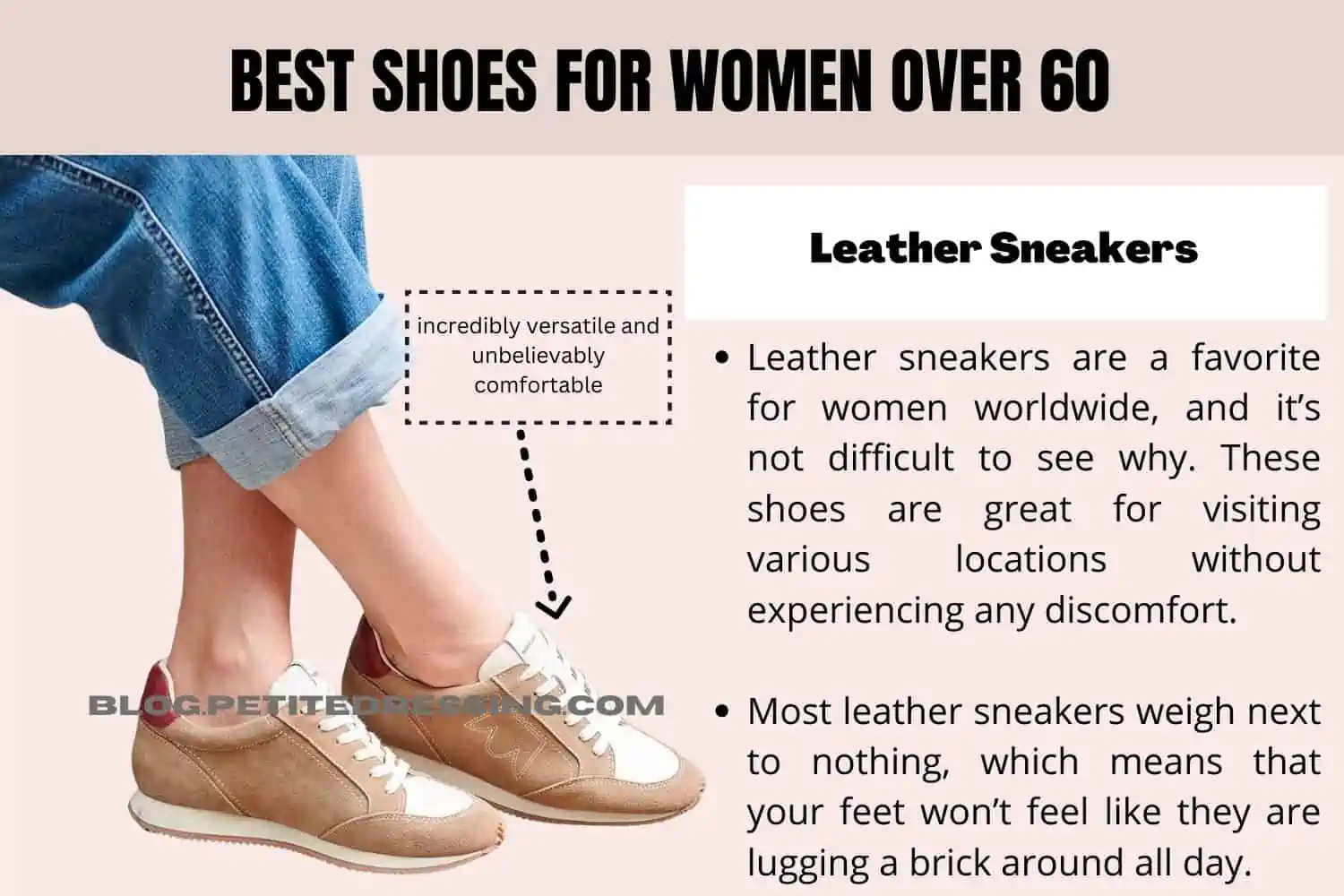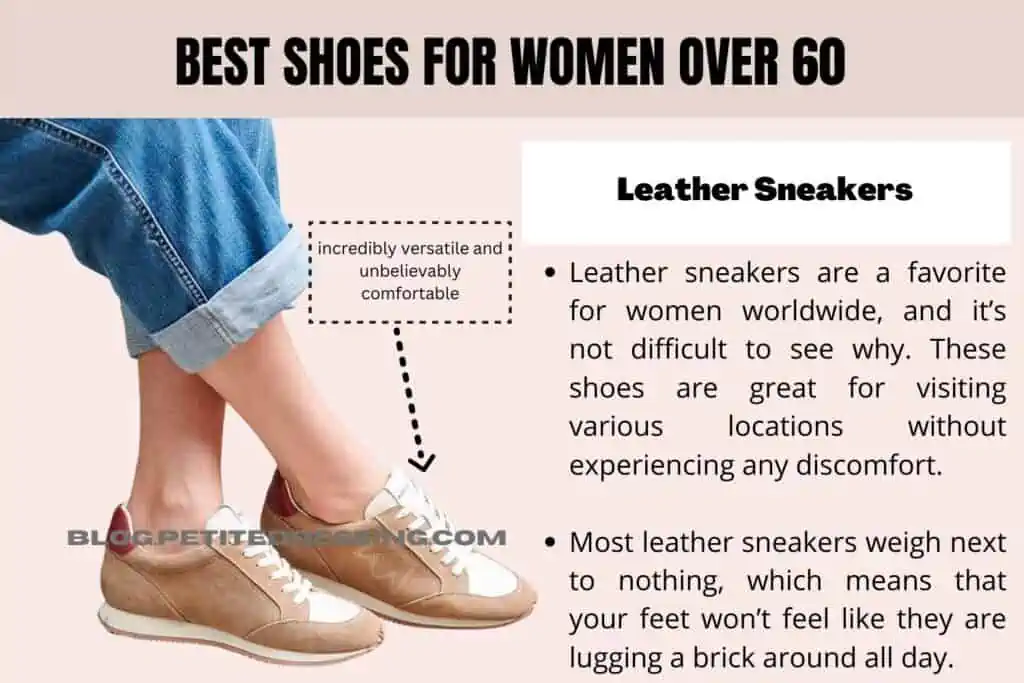 They also work great with dresses; if you're daring, you can rock them with pantsuits. Leather sneakers are incredibly versatile and unbelievably comfortable, especially when you opt for the right size for your feet.
Mid-Cut Hiking Boots
Yes, hiking! Who says you can't go on any adventures just because you're a woman over 60? So, if you don't mind engaging in outdoor adventures, your feet should be in the best shoes to make your experience as pleasurable as possible.
Merrell and Keen are great mid-cut hiking boots to check out, as they provide enough support and traction to help you get through even the toughest of hikes without losing your grip. However, these boots are not just for hiking.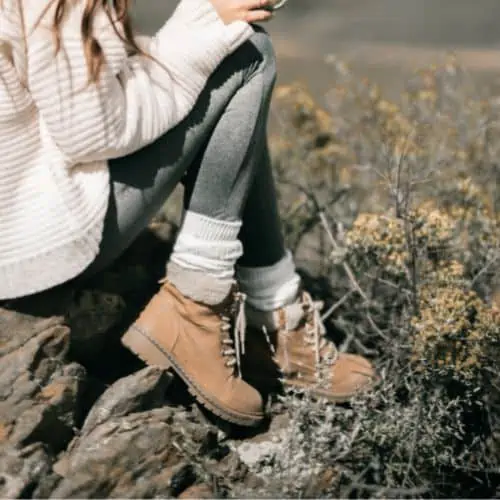 Must-have shoes for hiking and comfortability
They come in handy during the cold winter when you have to trudge through inches of snow.
These mid-cut boots are sturdy enough to help you navigate difficult terrain while looking as fashionable as ever.
Minimalist Cross Trainers
Similar to sneakers, the cross trainers are designed more for stability and moving around seamlessly through your day-to-day activities.
These athletic shoes give your feet a better cushioning effect, so they won't pinch you and practically ruin your day.
Also, you'll love how incredibly versatile minimalist cross trainers are, especially when you look amazing with the colors of your trainer matching that of your blazers. If you also love to stay active so you don't give in to unhealthy lifestyles while aging, minimalist cross trainers can help you participate in several sports comfortably.
While they are mostly applied for sports, a good pair of cross trainers can make you look amazing when paired with other clothing items like palazzos, pants, jeans, and jumpsuits.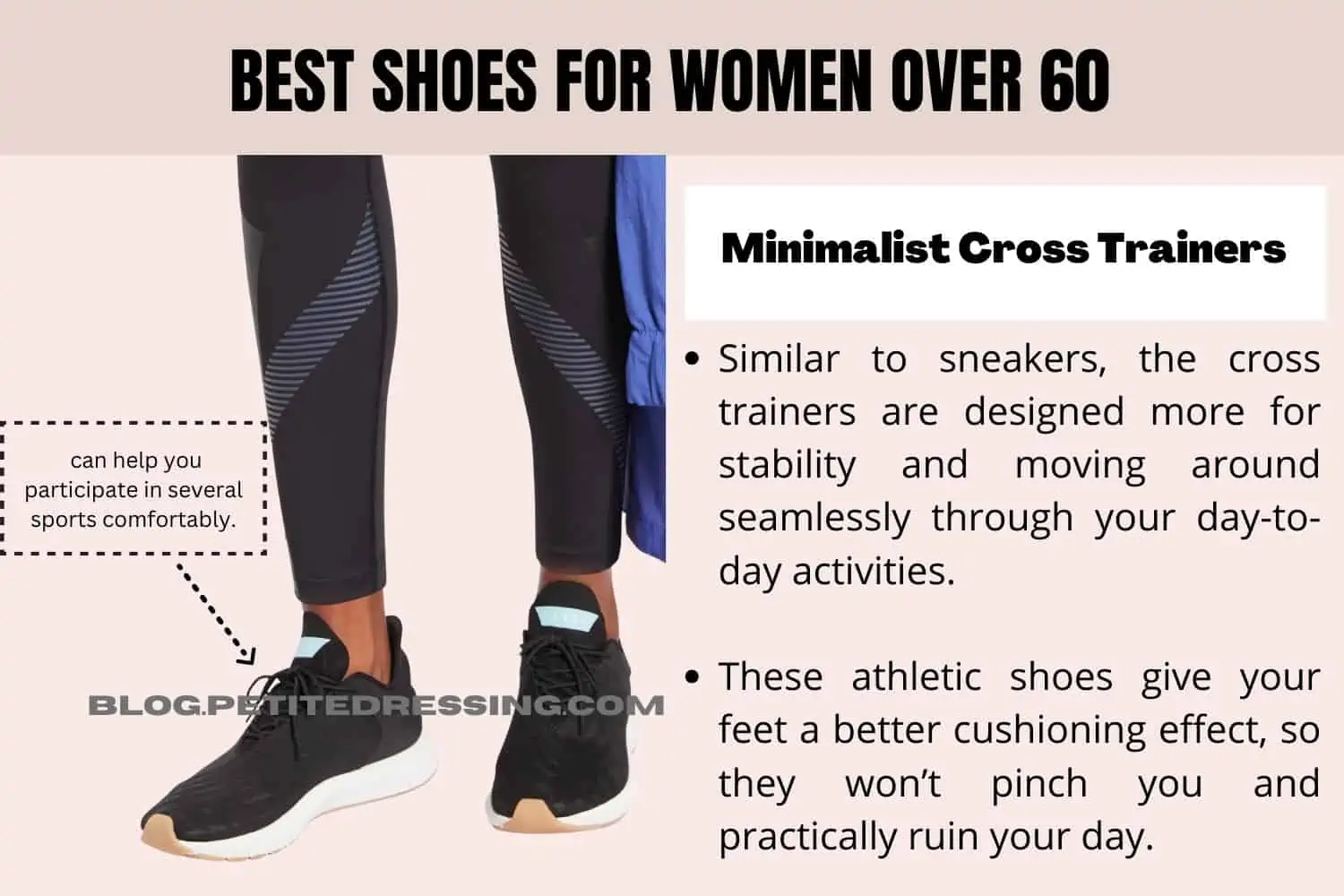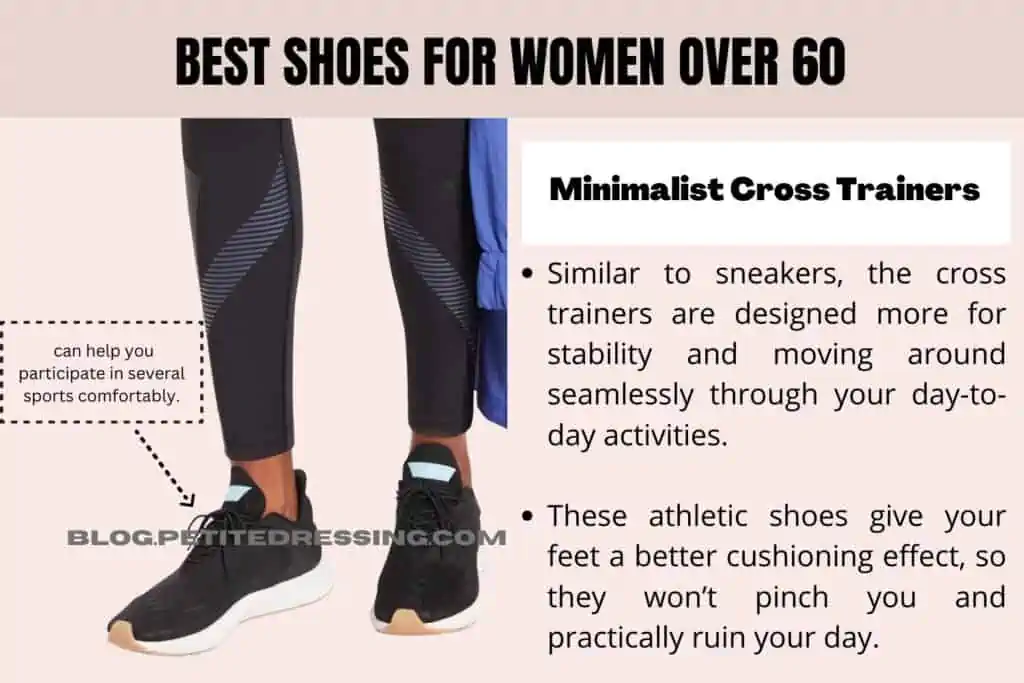 Pumps With Kitten Heels
Heels are still fashionable for women over 60. However, if you find it distressing to wear shoes with high heels, pumps with kitten heels are a more comfortable option.
The history of kitten heels dates back to the early 50s when they were considered trainer heels for girls who were seen as too young to wear higher heels. Women also wore them to events where they were expected to dress formally or semi-formally.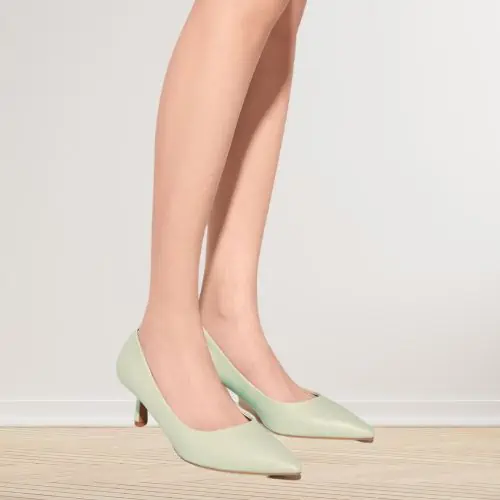 Can't let go of heels, but want comfortable shoes? We got you.
Although they look extremely similar to stilettos, kitten heels are only one inch high, making you look feminine without the added discomfort to your ankles.
In today's world, these are the heels to have if you want a more comfortable shoe but don't want to let go of heeled shoes completely.
Leather Loafers
What we love about leather loafers is that they don't have buckles or lace. So, you can easily slip them on, and you're ready for the road. Not all loafers have no heels; some come in low heels that look a lot more feminine and may tickle your fancy.
It's up to you to decide how you would love to wear your loafers. We recommend wearing the ones with low heels to professional events, especially with jackets, jumpsuits or suits. The ones without heels are perfect for casual outings where you can pair them with long flowing skirts or simple gowns.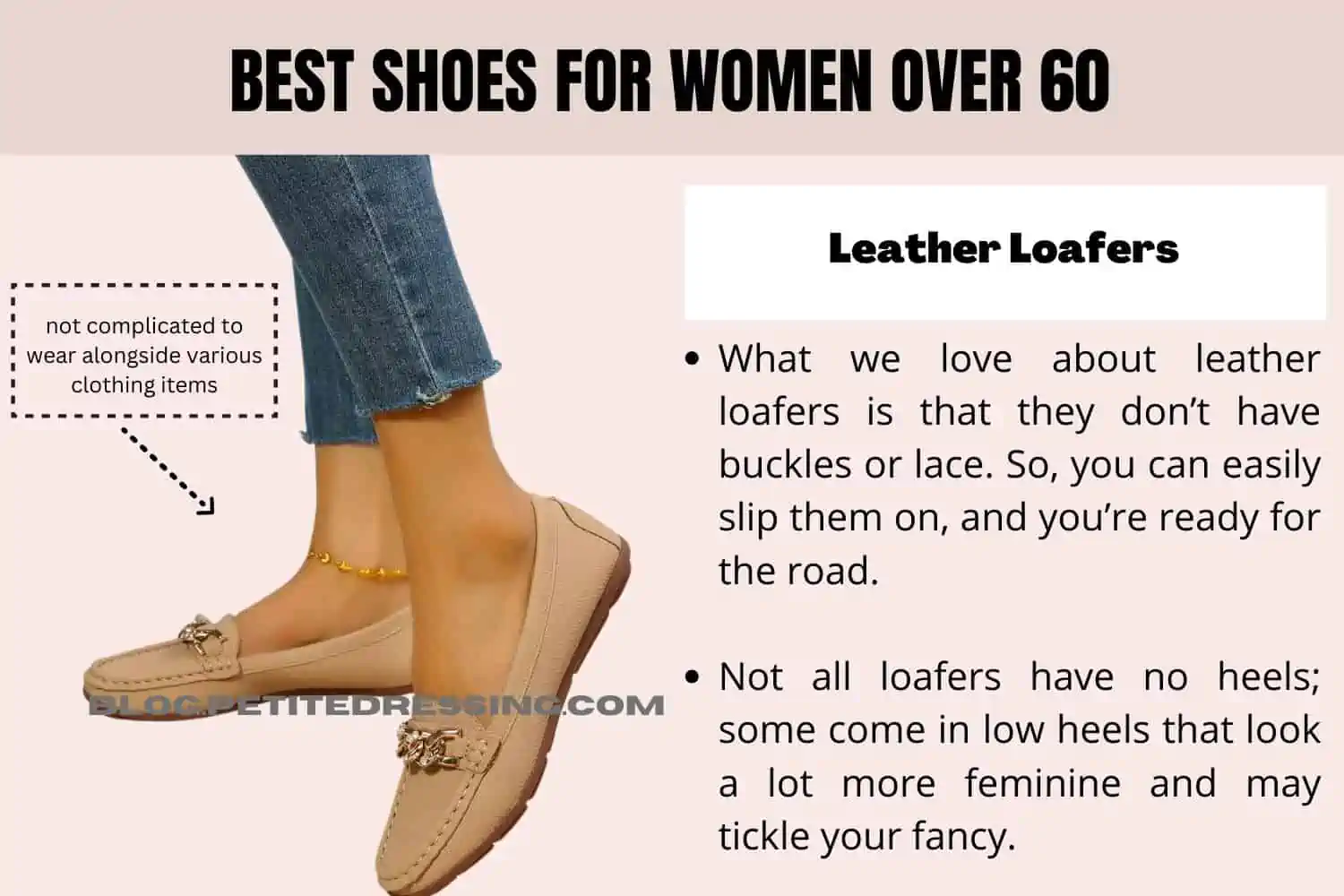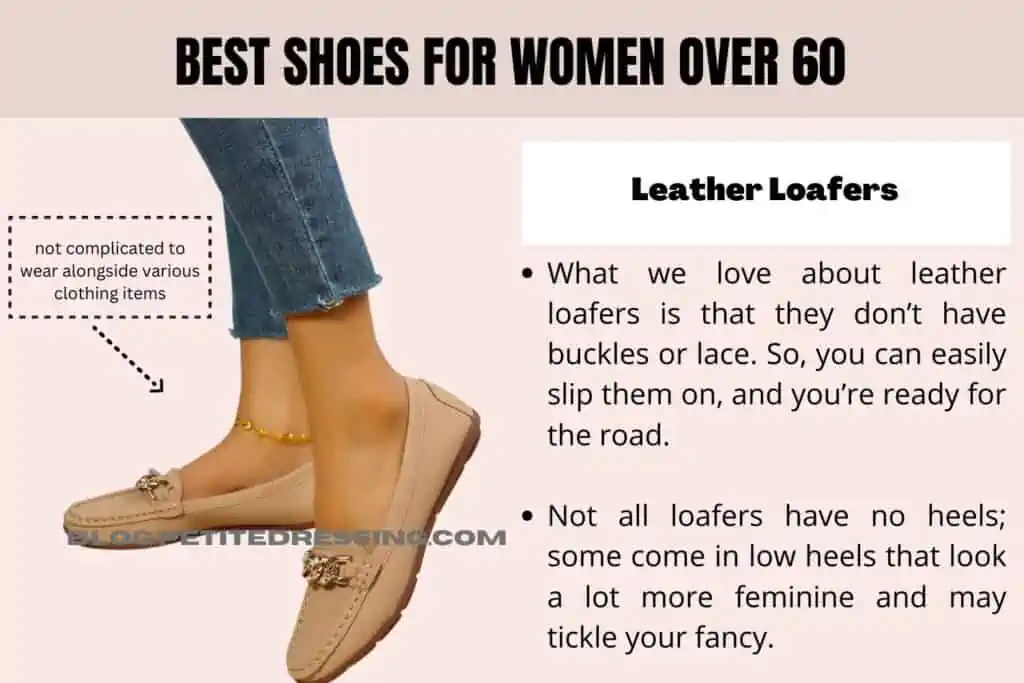 Ultimately, it's easy to discover your style with leather loafers as they are not complicated to wear alongside various clothing items. It's also important not to over-accessorize when putting on loafers, as too much jewelry will make you age faster.
Suede Mules
These flats cover only the toe and towards the middle of your foot while your ankle remains visible. They may look old-fashioned, but suede mules in your closet are never a miss for women over 60.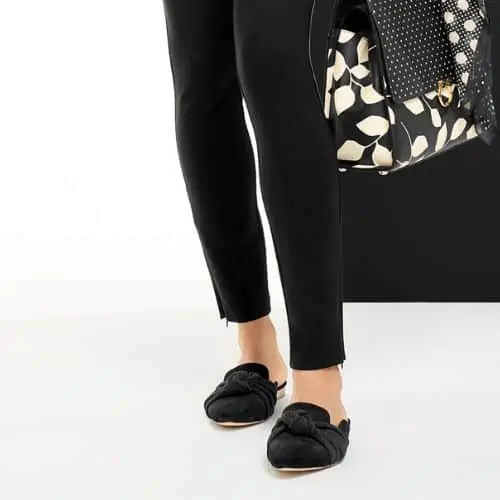 Suede mules are a must-have
The amazing thing about these flats is that they usually come in low-block heels and have diverse styles.
One of the best designs out there is patterned mule shoes made with suede.
These are perfect for dresses, and you'll stand out in them.
Low Wedge Shoes
Every woman over 60 can pull off wedge shoes without feeling like they are doing too much. This shoe can make you feel younger than ever, especially when you go for those with about two inches of thick heels.
The difference between wedge shoes and platform shoes is that there are no breaks between the heel and sole in wedge shoes. The best occasion for putting on your black wedge shoes is a casual outing where you can pair them with fit and flare dresses and statement earrings.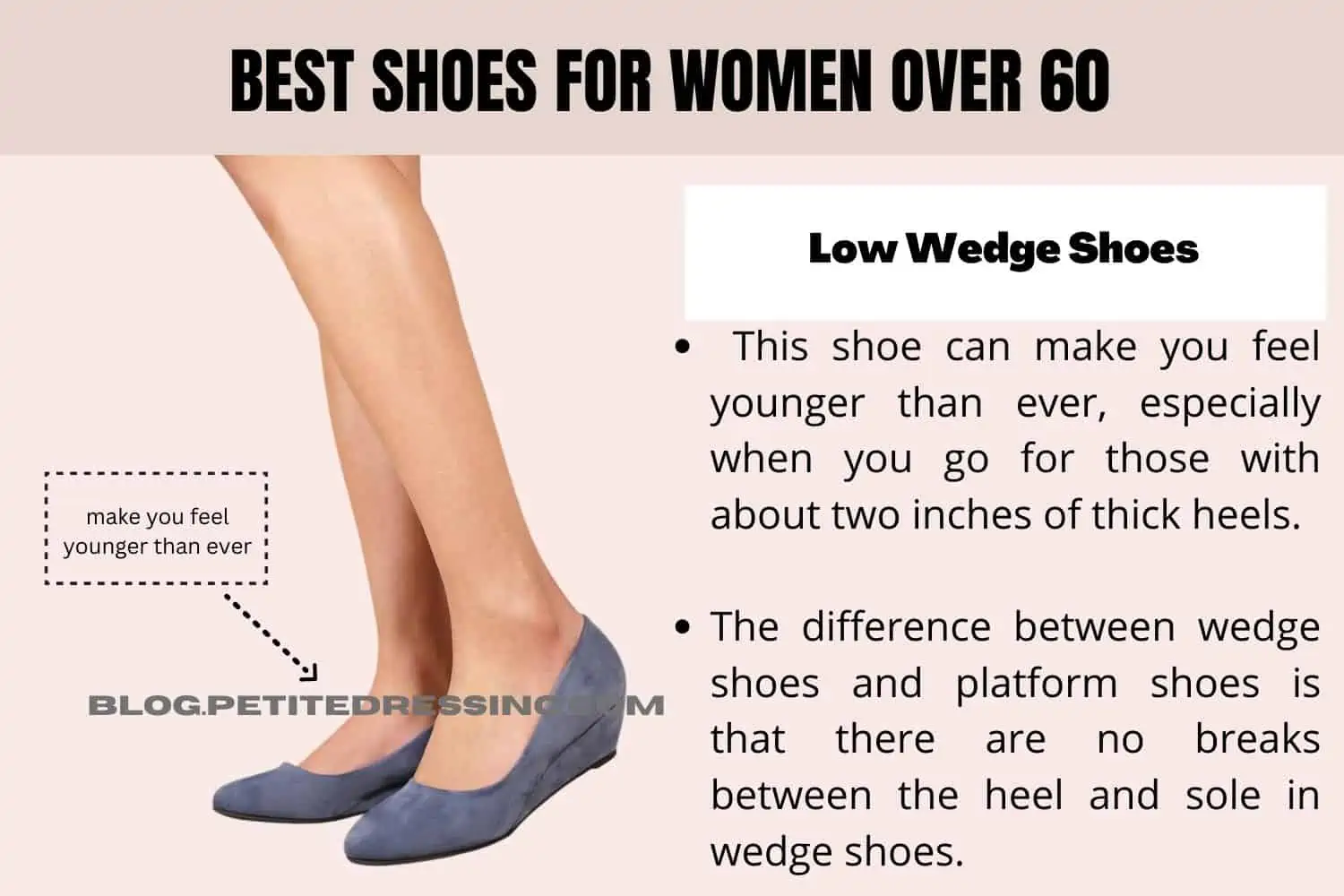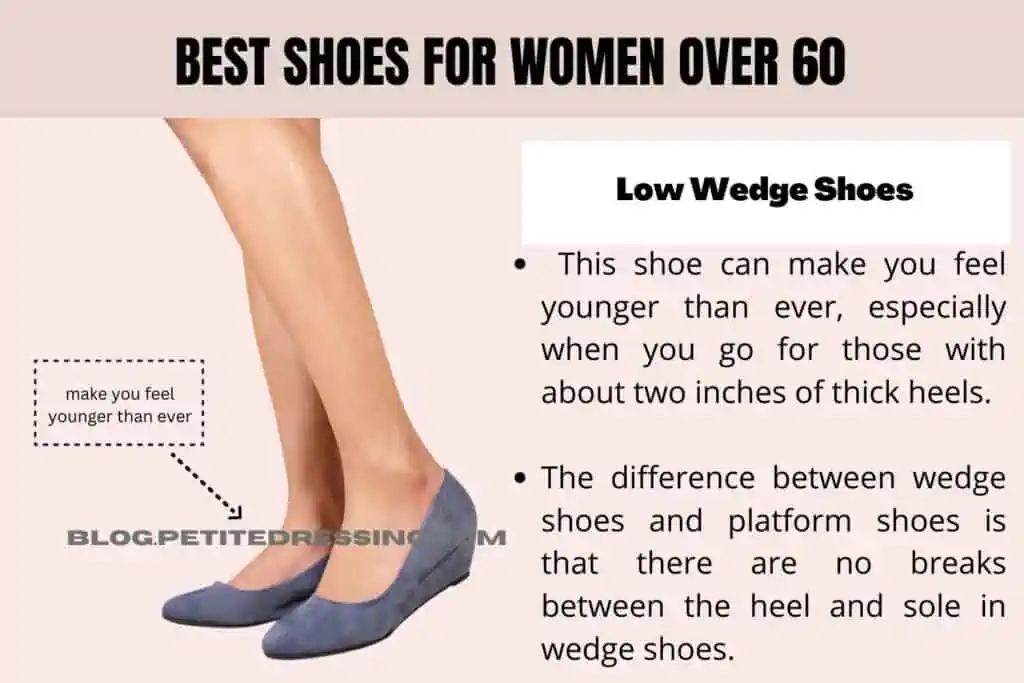 Sandals With Adjustable Straps
The beauty of sandals with adjustable straps is that you completely control how it wraps around your feet. Imagine how horrible it will be to have your sandals slip out outdoors because they are too big on your feet.
With adjustable straps, you can make sure they stay firmly on your feet, and it doesn't hurt that there are many stylish options out there.
Every woman deserves pain-free shoes; this guide is about making that happen. So, it's always best to test these shoes and ensure they match your style before buying them.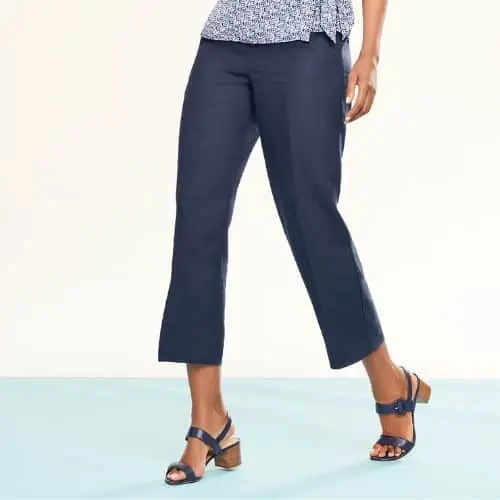 Why opt for adjustable straps sandals
With adjustable straps, you can make sure they stay firmly on your feet, and it doesn't hurt that there are many stylish options out there.
Shop in the Evening
Not many people know this but if you've spent a better part of your day running around, your feet will swell. So, if you bought a few shoes in the morning or any time before noon, don't be shocked to see that later in the day, they don't fit as well as they did earlier.
To beat this, shop for your shoes in the evening so that even if your feet have swollen, you're picking shoes that will still fit comfortably all day. This is the best way to pick the correct size of shoes, especially if you're shopping for pumps and low-wedge shoes.