If you are 5 foot and under, it can be a challenge to find the right office wear. Since I am 5'2″ myself, I understand that it is quite common for Petites to want to look more sophisticated and authoritative in the office setting. That is why choosing the right styles is key, especially if you are under 5 foot.
Because I have petite clothing line, I receive numerous feedback from thousands of my petite customers, many of whom are 5 feet or shorter. Based on years of my own trial and error, as well as feedback from my customers, I've put together this detailed guide to help you dress your very best in the office.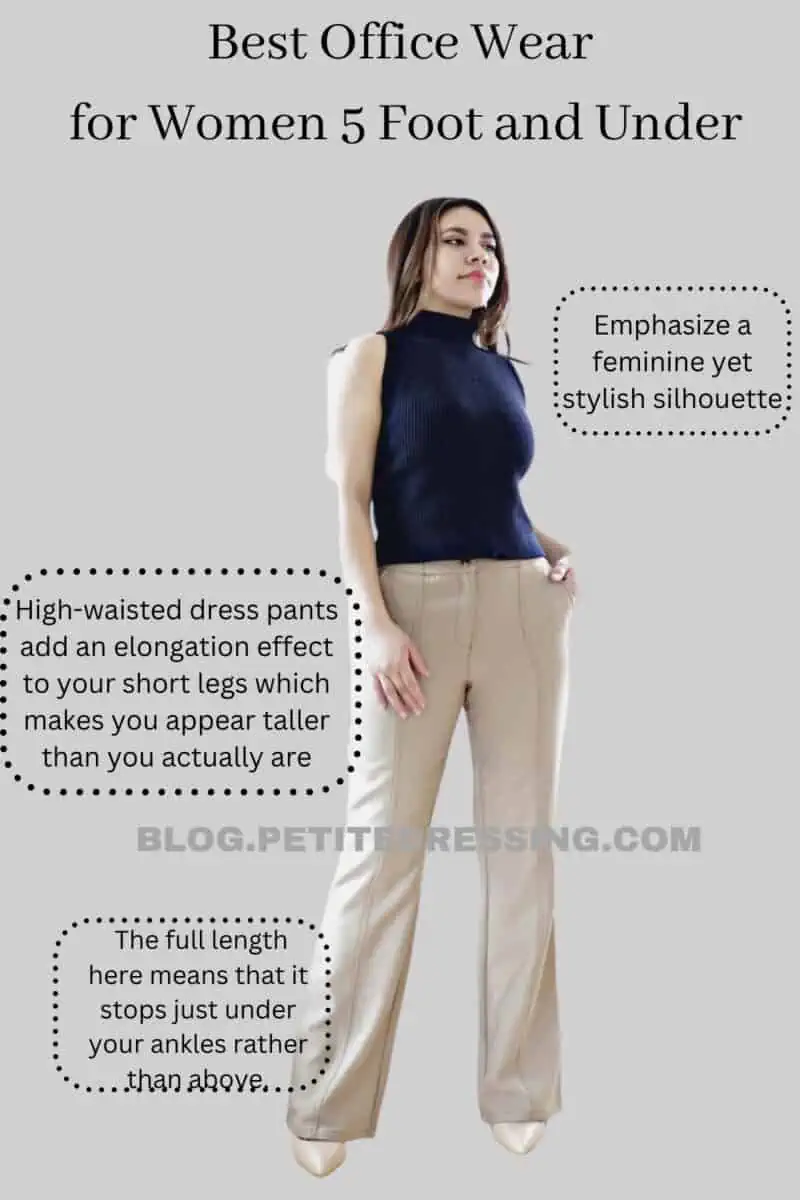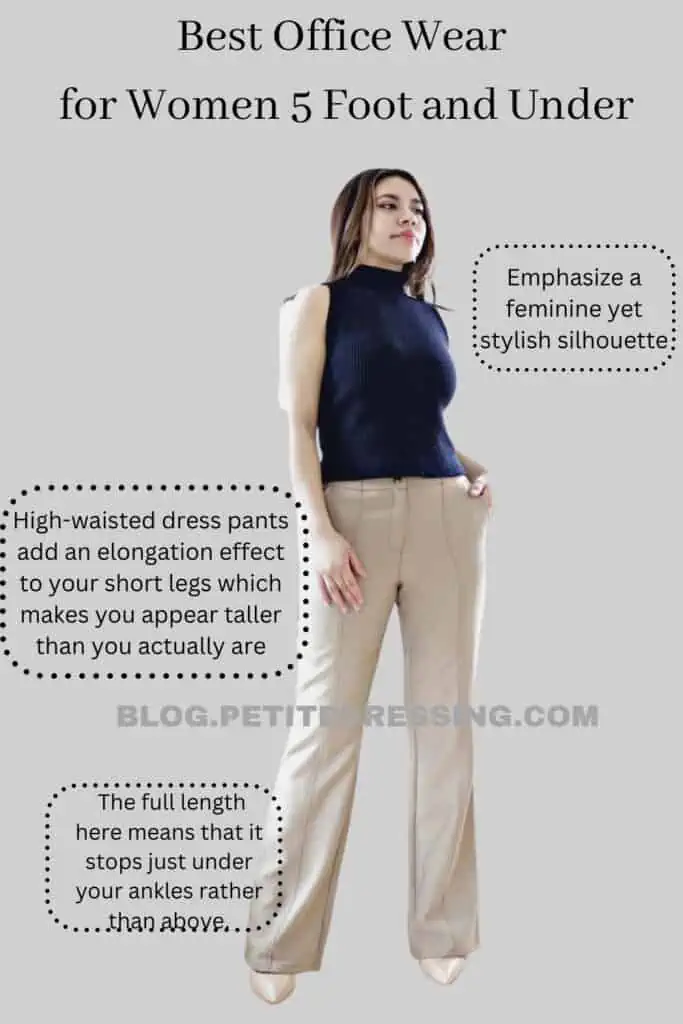 Buttoned-up shirts
You can't go wrong with buttoned-up shirts for the office. For petite women that are 5 feet tall and under, buttoned-up shirts will complement your body figure nicely and make you look fantastic without going over the top.
This is a classic office wear choice, especially if the buttoned-up shirt is long-sleeved. I love this style of top for its versatility and how well it blends seamlessly into office settings. You can make this look even better on you by tucking in your buttoned-up shirt.
This helps in creating the illusion of curves, which emphasizes a feminine yet stylish silhouette. The good news is that this is not a rule set in stone.
If you're not comfortable with the idea of tucking in your form-fitting buttoned-up shirt, feel free to pull some of it out, so there's enough space around your bust area. This way, you can wear a loose-fitting top that's not baggy and overwhelming on your petite frame.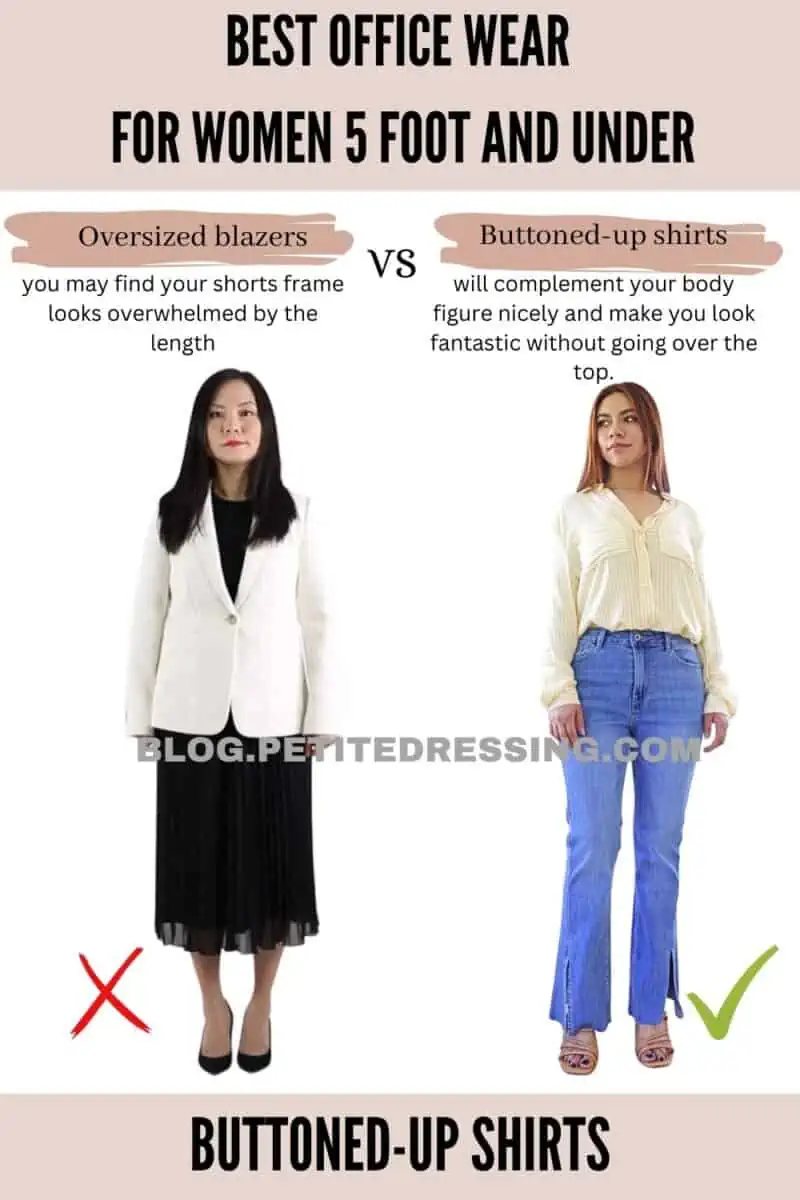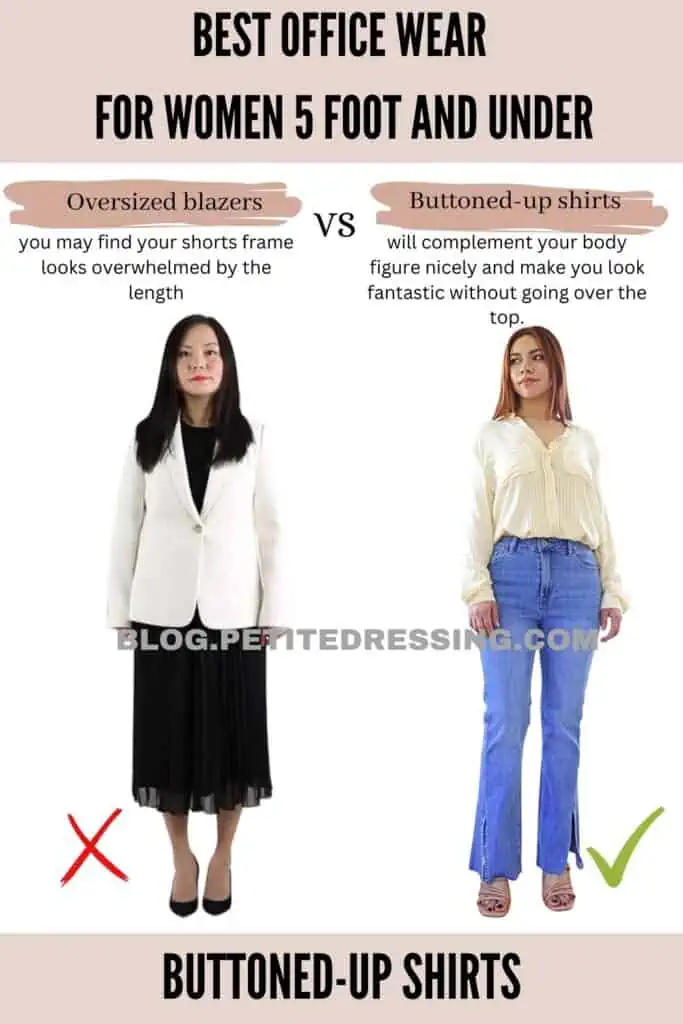 High-waisted dress pants
If you ever feel like you're out of options on what to choose for your next outfit to the office, you should consider shopping for dress pants. This is easily one of the best answers to the question of what should you wear to the office as a petite woman.
Not only are dress pants perfect for formal business settings, but they are also effortless to style. All you need to do is look out for dress pants with minimal prints and those that are full-length, and you're ready to pair this with one of your favorite tops.
Another way to achieve a super flattering look with your dress pants is to choose only high-waisted ones. Apart from the fact that they offer that necessary bit of comfort, high-waisted dress pants add an elongation effect to your short legs which makes you appear taller than you actually are. They also conceal muffin tops while highlighting your beautiful curves.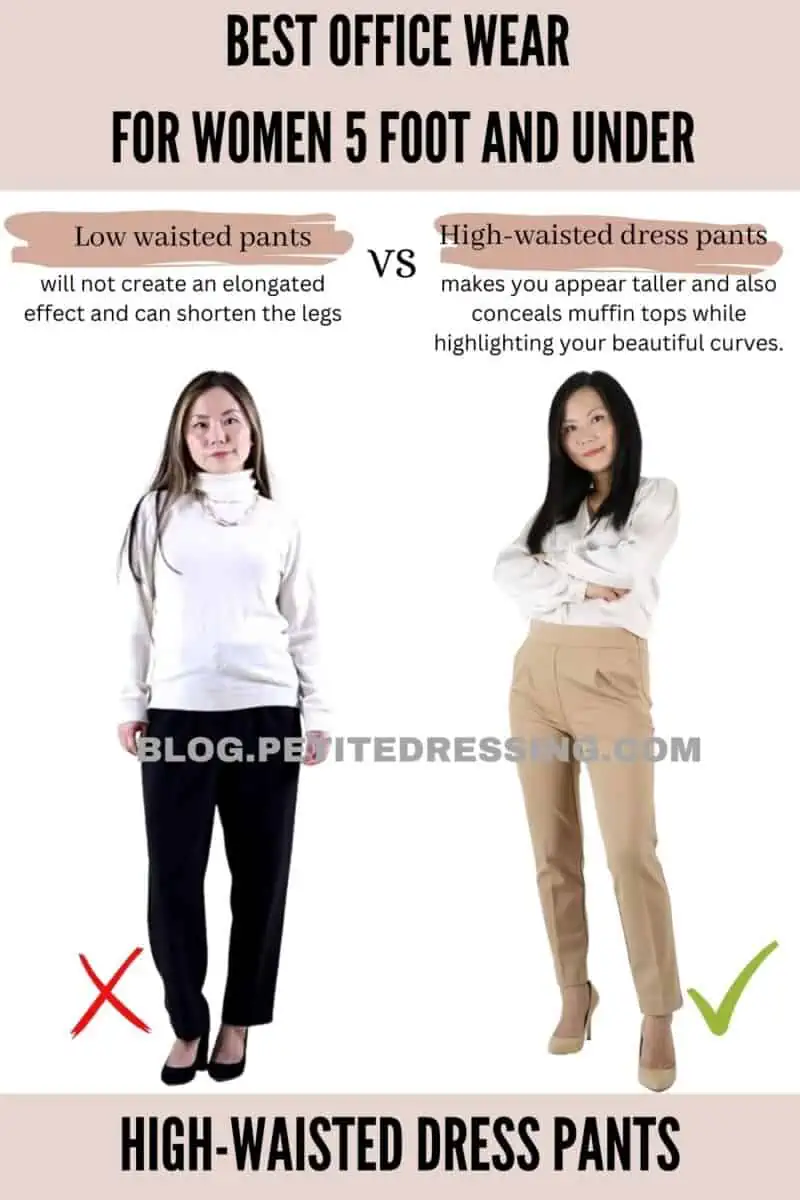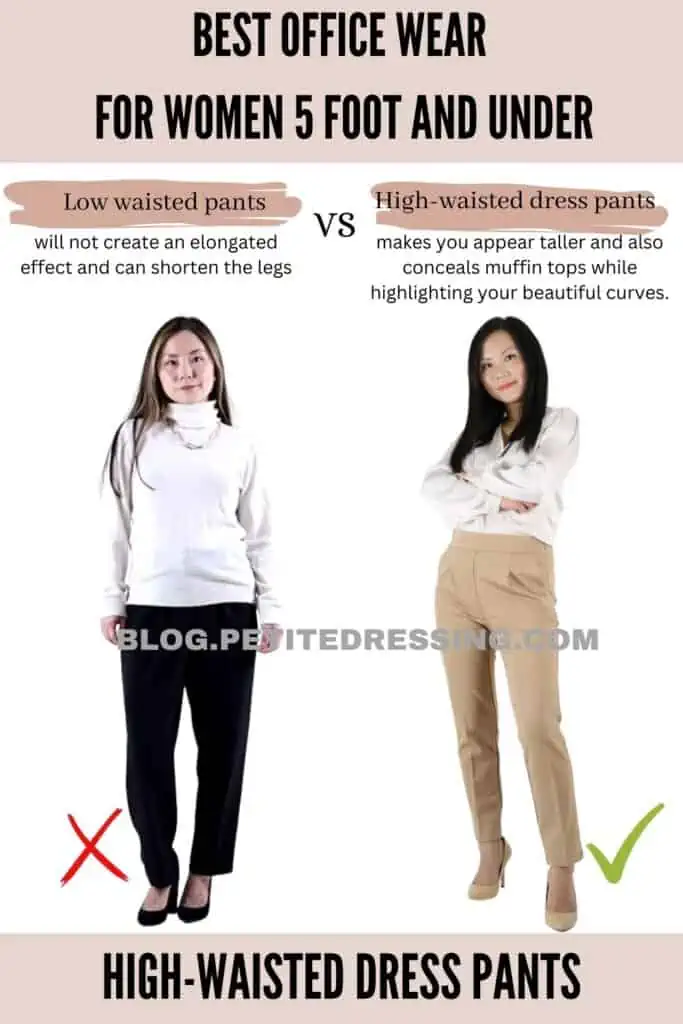 Knee-length pencil skirt
The knee-length pencil skirt is another smash hit for the office. Women who are 5 foot tall and under can enjoy a lot from wearing this to formal settings and my models have had a lot to say about the pencil skirt, especially in terms of comfort.
If you have a muffin top that you don't want to go through a lot of worries to conceal, a knee-length pencil skirt will help you take care of this perfectly. They are a classic choice that will flatter your tummy area, so you don't have to feel insecure about putting this on.
Meanwhile, the knee-length is great because you don't want to go for a sweeping style that overwhelms your petite frame. Remember, the goal is to wear formal styles that will flow naturally without drawing negative attention to your height.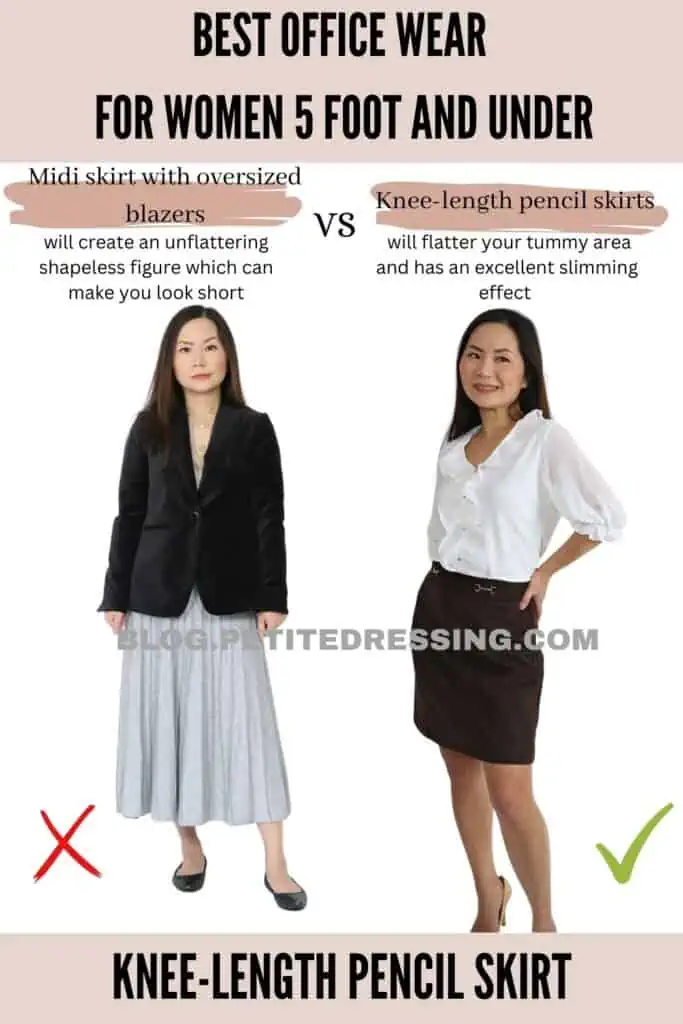 Choosing pencil skirts in black will help to further hide any shadows that can be created by your muffin top. This has an excellent slimming effect as well if you're into this kind of thing.
A-line skirt with prints
A-line skirts are flattering for petite women. If you're looking to create a classy yet chic office wear style that turns heads and makes you stand out beautifully, you should definitely have A-line skirts in your wardrobe.
While you could opt for plain A-line skirts, I find this too ordinary and casual for petite women, especially when you're looking to minimize attention on your petite frame. So, if you're in an extremely formal setting, it's okay to wear A-line skirts with subtle prints instead.
These prints will make your outfit a lot more interesting, not to mention how the details have an elongation effect. However, you should be careful not to overdo this as bold prints can have an overwhelming effect instead. Pair this with a tucked-in blouse and you've got a trendy look.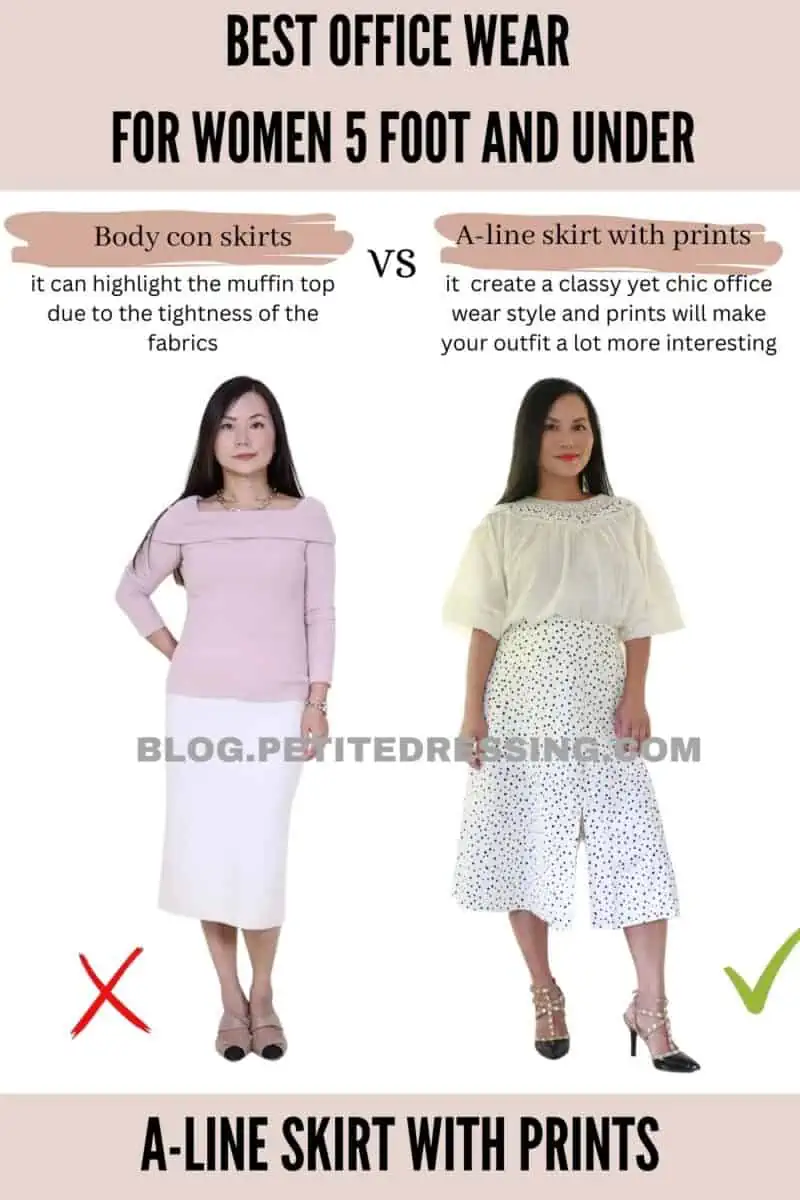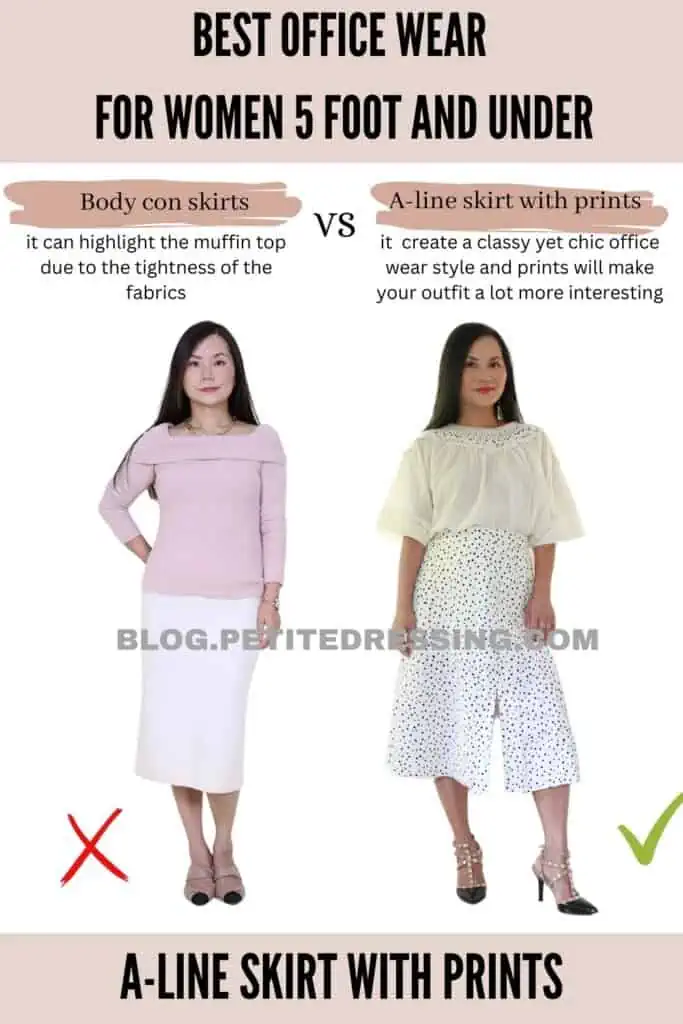 Monochrome pantsuit
Love bold colors on your outfit? Well, even as a petite woman who's 5 foot tall and under, nothing says you should completely avoid bold colors on your clothing. However, you can make this as creative and eye-catching as possible with a monochrome pantsuit.
Not only is this perfect for the office, you don't need a lot of effort to style this to your taste. With a few creative choices, you'll look classy in any formal setting. The best monochrome pantsuits for petite women are not those with the brightest colors.
You can achieve even better results with colors like navy blue and black. Not only do these make you look classy, but these darker colors also have a slimming effect on your body.
Be sure to look out for monochrome pantsuits that are not too big, as achieving the perfect fit is important. Choose a pantsuit with a blazer that fits around your torso and pants that fall under your ankles.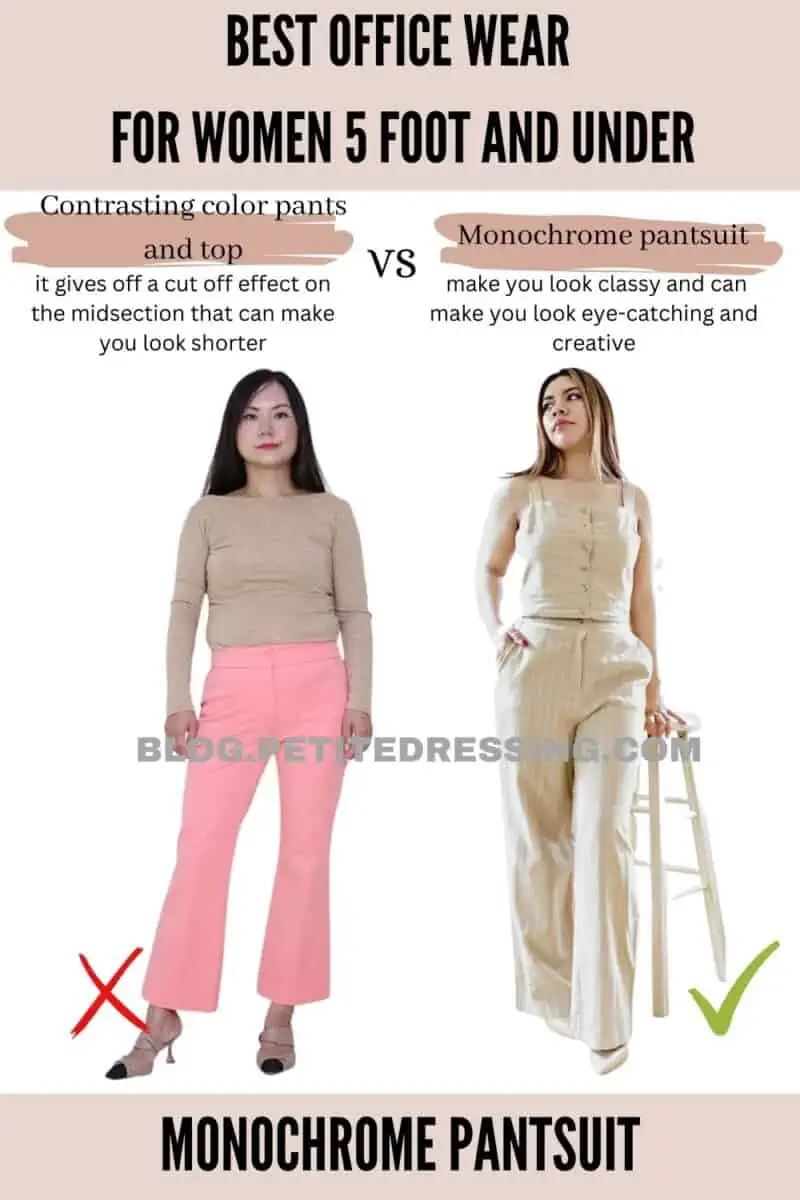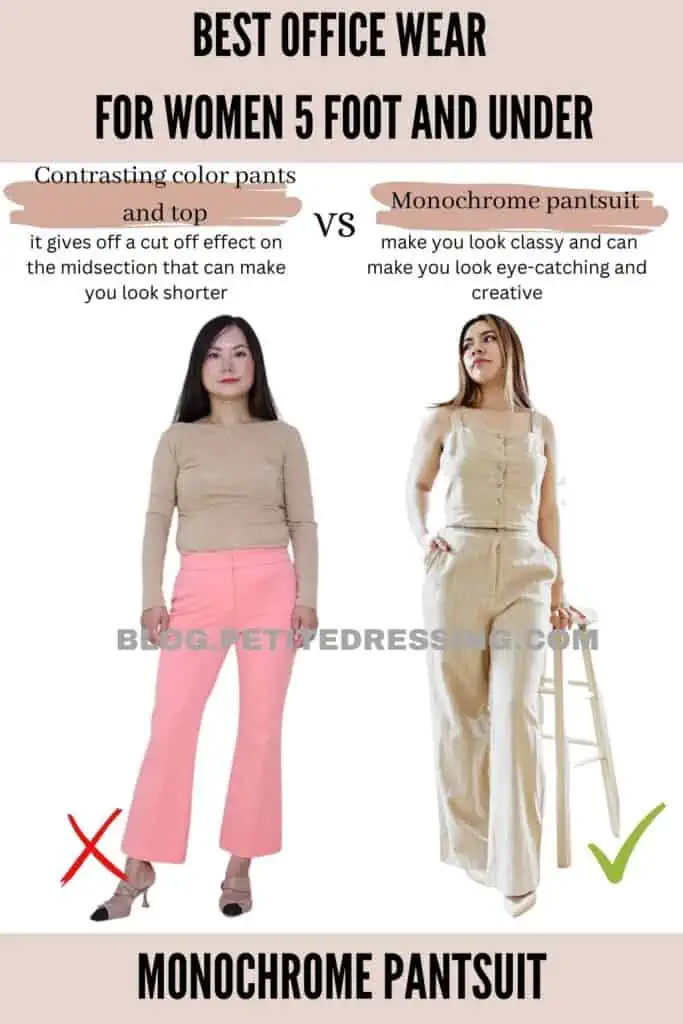 Solid-colored shift dress
If you're not so familiar with shift dresses, here's an overview. This style of dress have a straight up-and-down silhouette. While this may sound encouraging to petite women that want something that defines the waist, shift dresses can still be a huge hit for the office.
Solid-colored shift dresses can be worn to work and even informal settings, and here's a trick to ensure it hugs your curves. Look out for shift dresses with a narrow fit. These are not too tight on your figure and still hug your curves naturally.
Solid colors like black, blue, grey, and brown are great choices for your shift dresses, especially when paired with pointy-toed pumps. If you can find this in a deep v-neck style, that's a huge plus.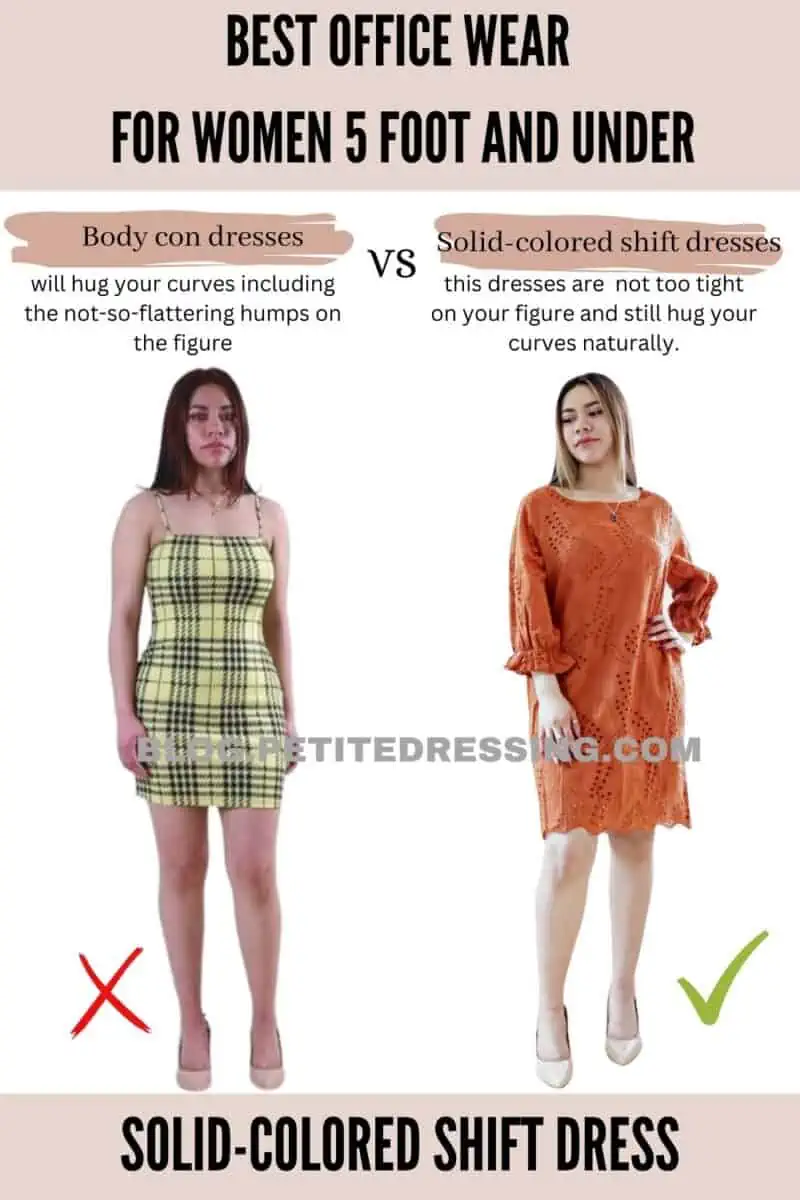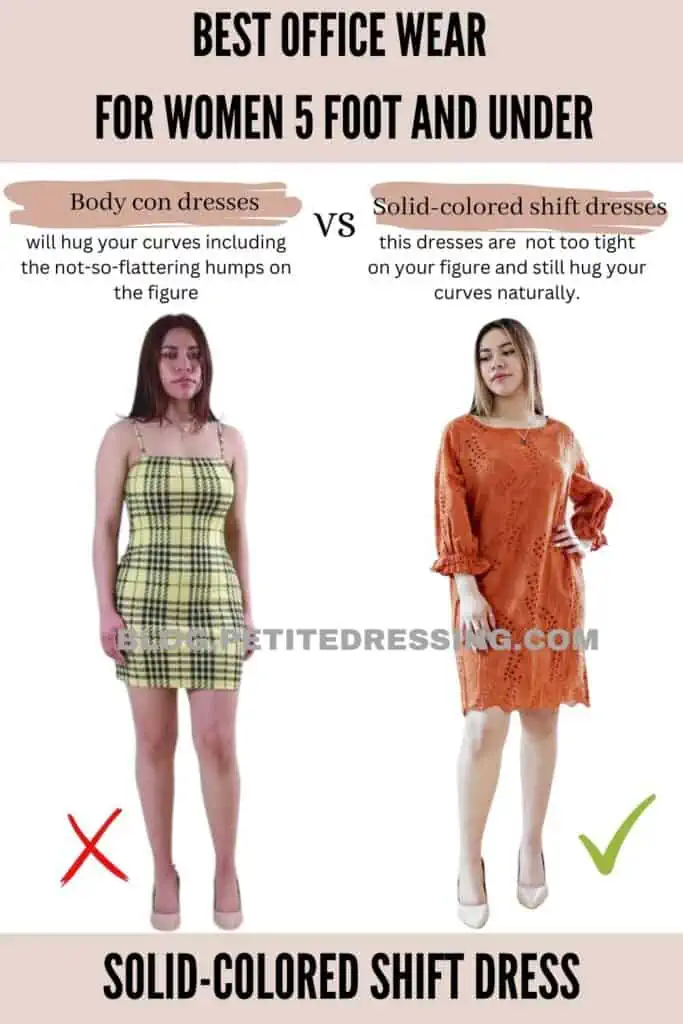 Belted shirt dress
There's so much to love about the belted shirt dress. My experience with this style of clothing highlights how easy it is to adjust to your frame without being too baggy and concealing the most flattering aspects of your body.
This classic choice is appropriate for the office, no matter the industry. The shirt dress is effortlessly beautiful. Most come with a belt and this is the feature that helps in defining your waistline.
Apart from defining your waist, belted shirt dresses that sit higher than your natural waist will add an elongation effect to your legs which adds more to your flattering look.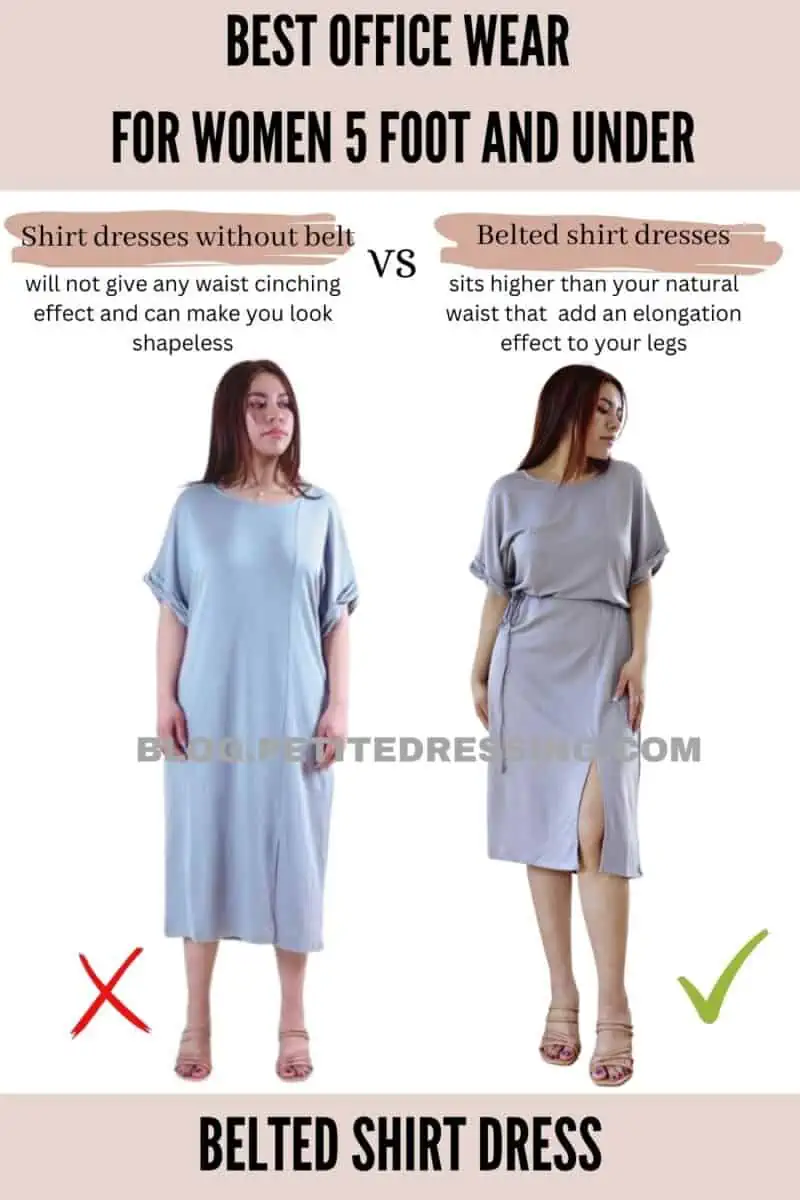 Black sheath midi dress
Rather than a flowy gown that can be uncomfortable to walk around in at work, a black sheath midi dress is a better option. Simple and classy is the best choice for the office, and the midi dress falls within this category.
It has just the right length to hug your curves and give you that feminine outlook without doing too much. This style of dress is designed to slightly cinch your waist at its smallest part. This is subtle yet just enough to create the illusion of curves.
So, if you're not naturally curvy, a sheath midi dress will help you achieve those curves. You will also love how the black color has a slimming effect on your petite frame and completes your look.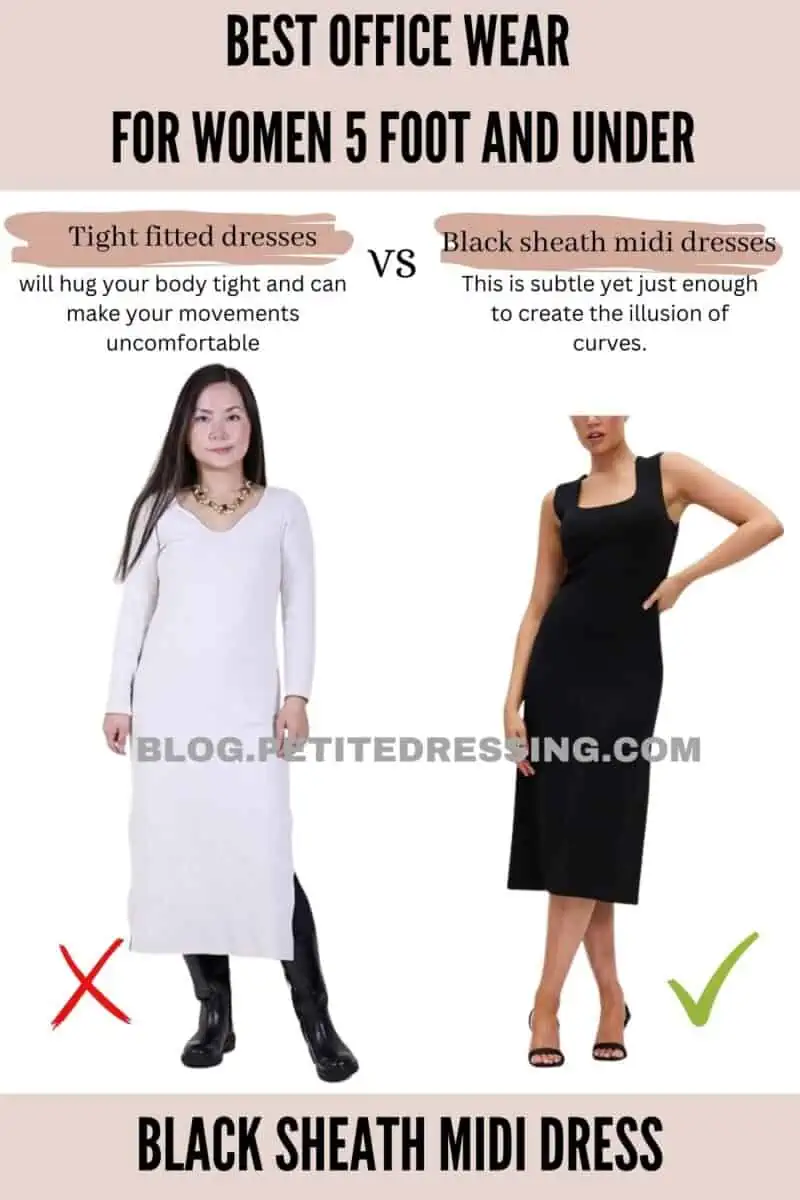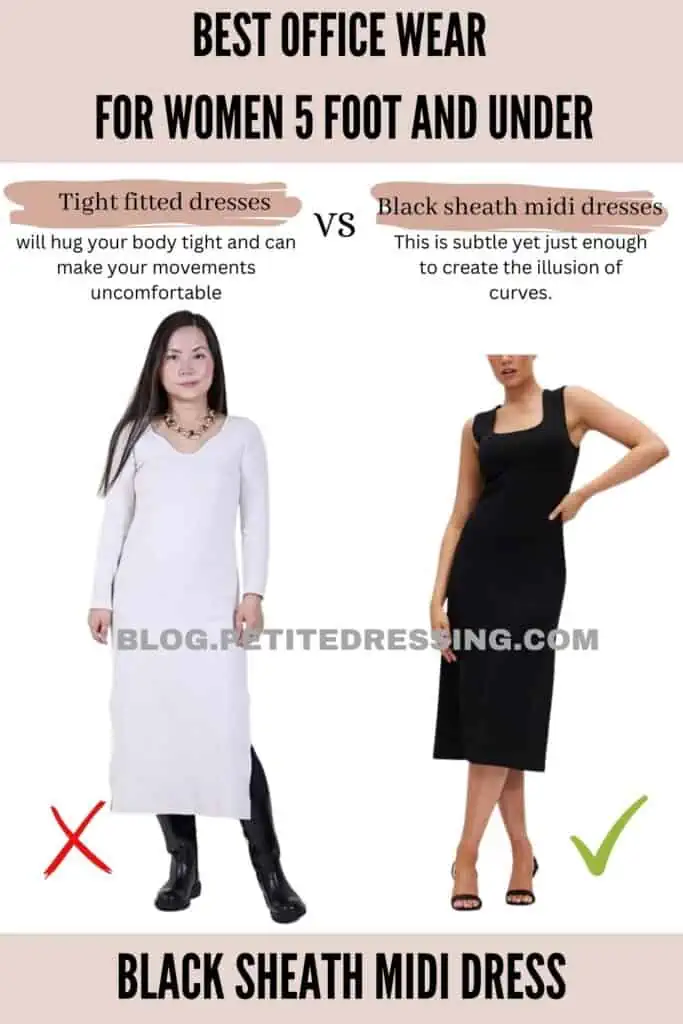 Full-length pants
Full-length pants are another top choice for petite women who are 5 feet tall and under. The full length here means that it stops just under your ankles rather than above. This is important because any length above your ankles visually cuts off your legs.
So, you'll appear shorter than you actually are. Also, it's great to choose wide-leg styles as this gives enough room for your thick thighs if you have them. The flare also gives you that chic look.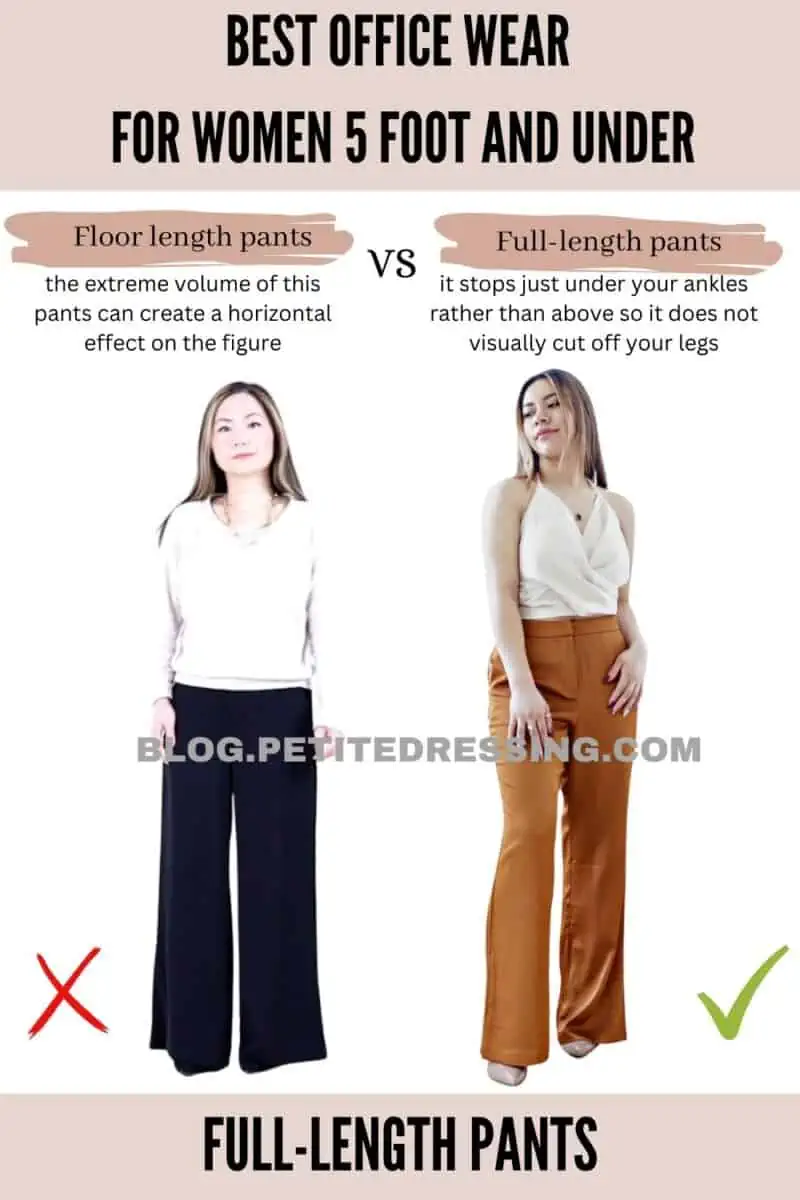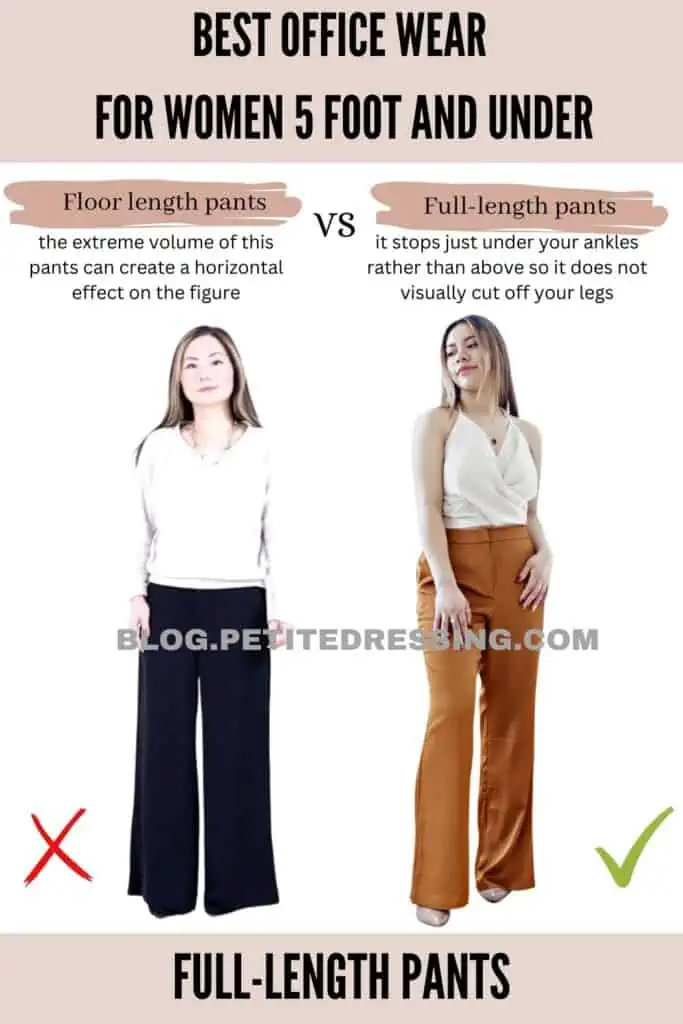 Meanwhile, wide-leg styles on your full-length pants help with comfort and breathability, so you can wear them all day at work without feeling discomfort. These clothing styles for the office are some of the most beautiful ways to stand out and stay trendy at work.