When it comes to fashion, let me tell you something important – your height should never hold you back from expressing your unique style! If you happen to be a bit on the shorter side like me, you might have had those moments of uncertainty about the best coat lengths to rock your style.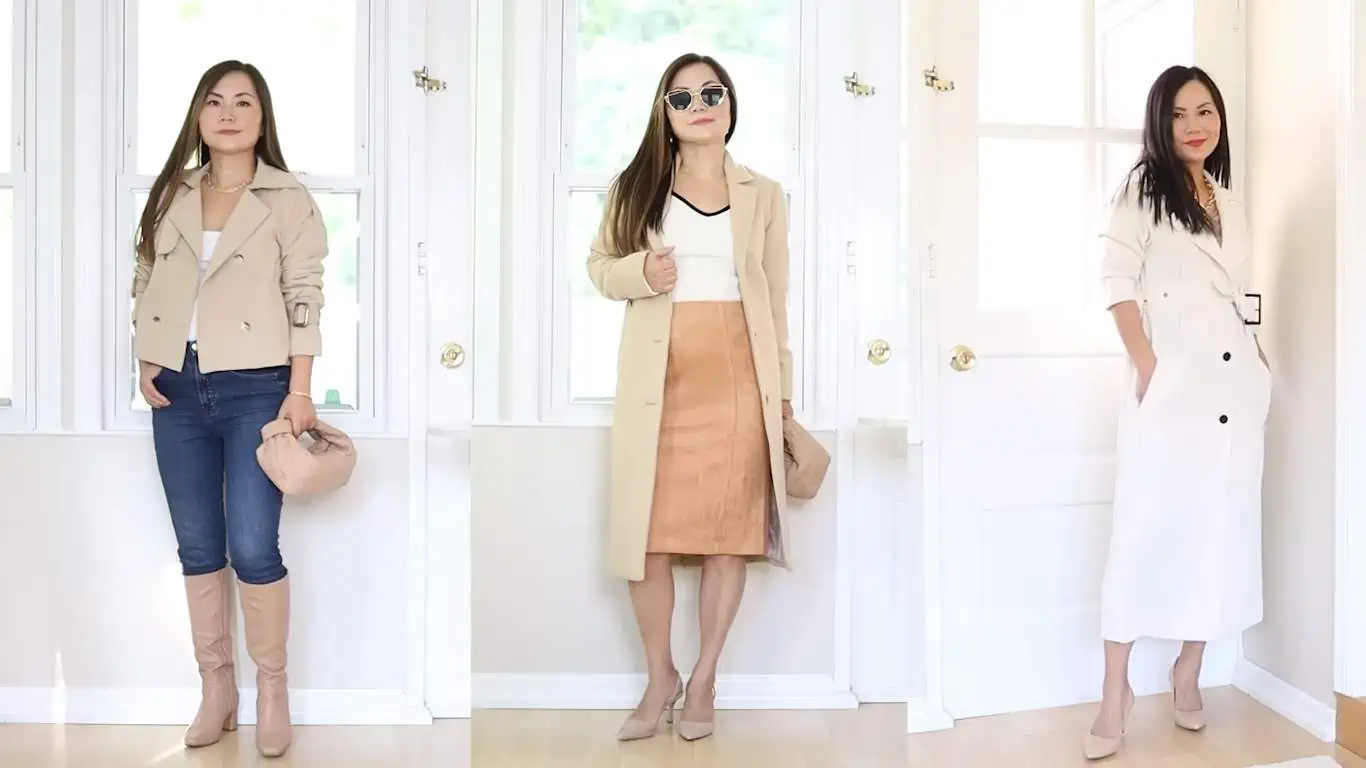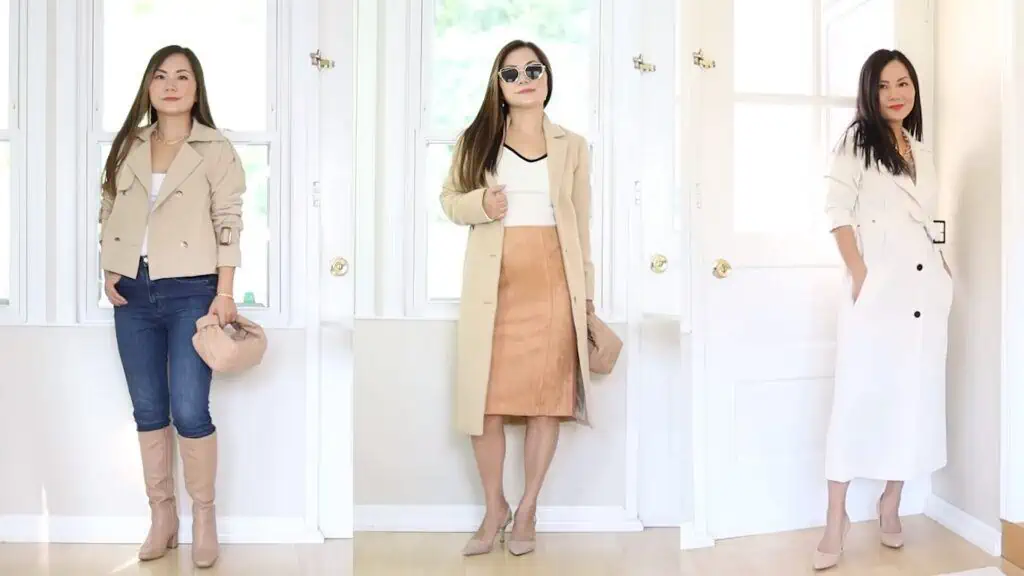 Luckily, in this article, I'm here to be your fashion-savvy tour guide and share with you the best length of coats that can work well with your petite stature. We'll dive into three coat lengths, explore some tricks to help you slay the fashion game, and of course, I'll show you some of the common mistakes to steer clear of looking frumpy and disproportionate.
Without any further ado, let's talk about the best length of coats that every short woman should try!
Cropped Length Coats
You might be wondering why cropped coats have a special place in my heart. Well, besides the fact that I stand at 5'2″, there are deeper reasons why I absolutely adore them, which I am thrilled to share with you below.
Take, for instance, sweater dresses – they're undoubtedly stylish when worn alone, but layering them can be a challenge. I used to think there was nothing that could go with these mid-calf-length dresses because the vast majority of my coats weren't long enough to cover them entirely.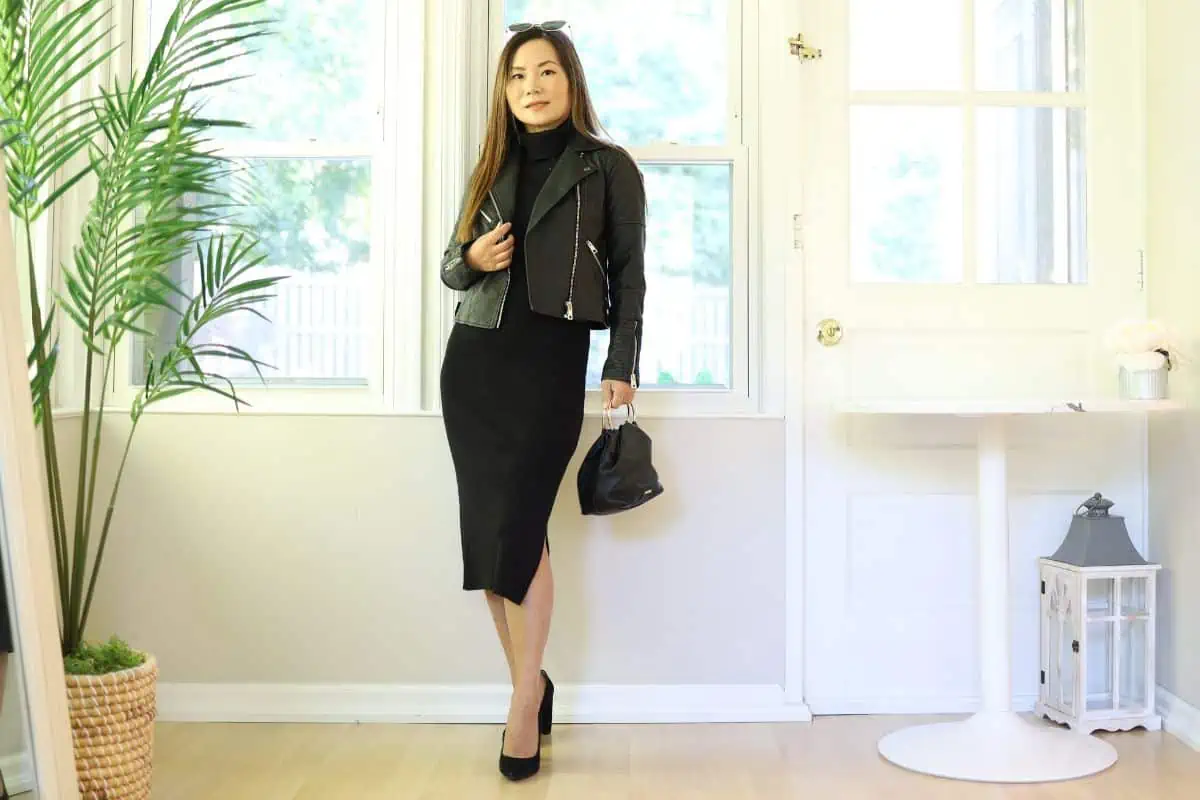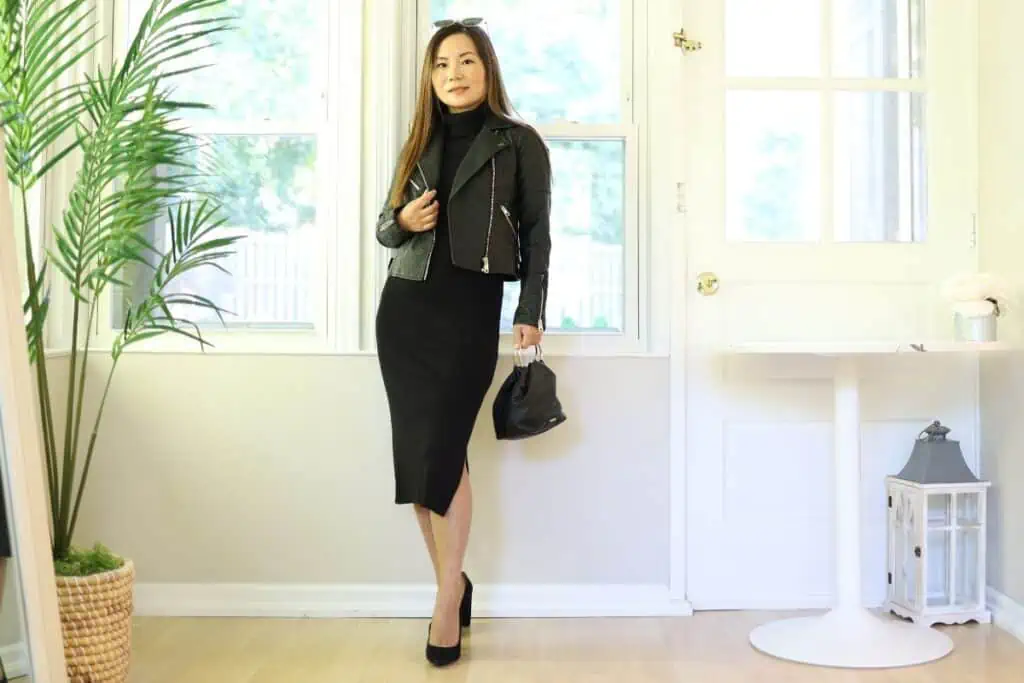 That's when I decided to experiment by pairing them with a crop-length coat, and the outcome was nothing short of stunning! Instead of attempting to cover the entire dress, the coat gracefully covered just the top third of my body.
It was truly a revelation – it created the most ideal body proportion, and that's why this length coat works like a charm. It pairs effortlessly with almost anything in your closet!
Wear with high-waisted jeans
I'm definitely all for cropped-length coats – they really amp up the leg game, especially when I pair them with high-waisted bottoms like skirts or pants. This nifty combo gives me extra leg visibility, and voila, it's like my legs magically grew longer, and my whole silhouette gets that gorgeous elongated effect.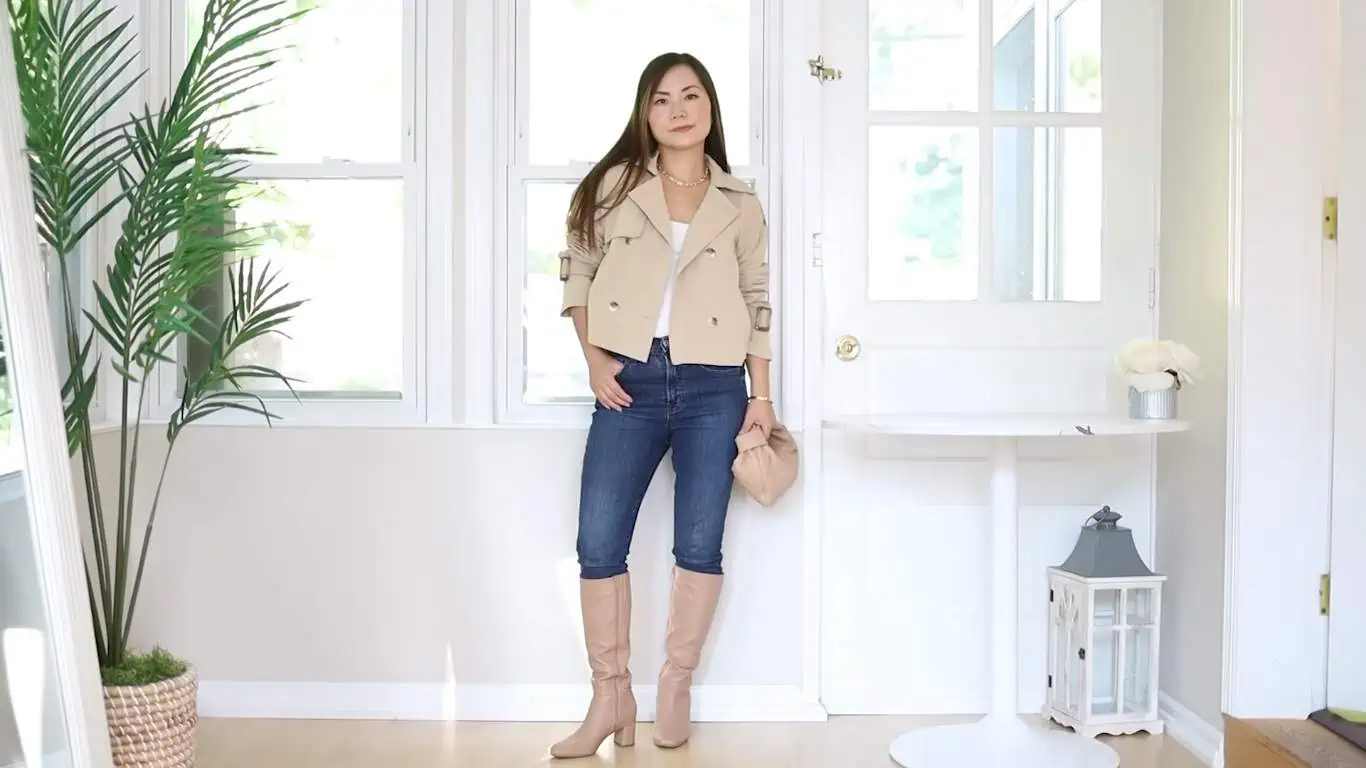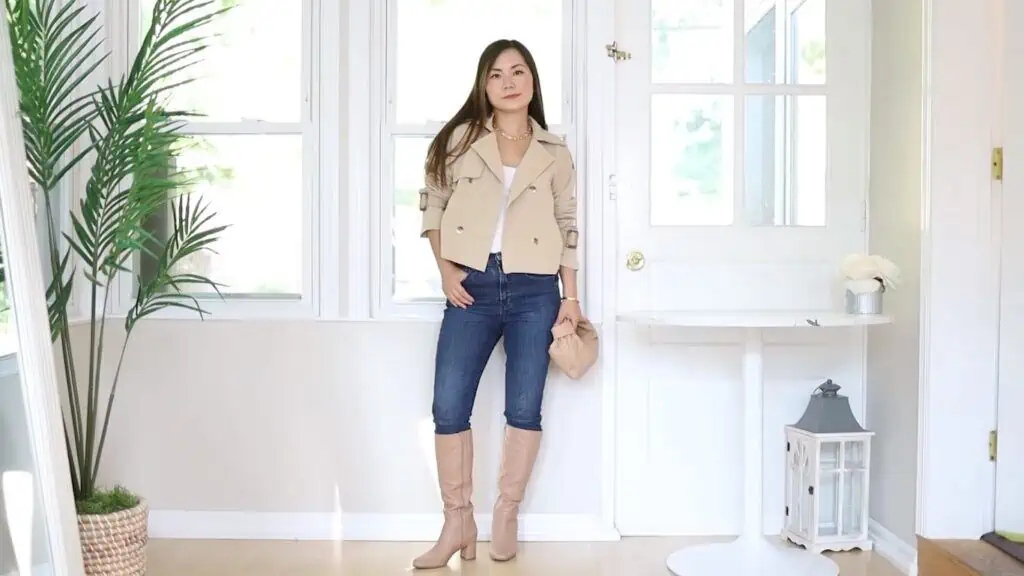 Ultimately, with cropped-length coats, you'll see that layering is a breeze; no extra bulk in sight. Plus, they're a dream come true for styling sleeveless dresses or tops, extending their wear throughout the seasons.
Avoid Tight Bottoms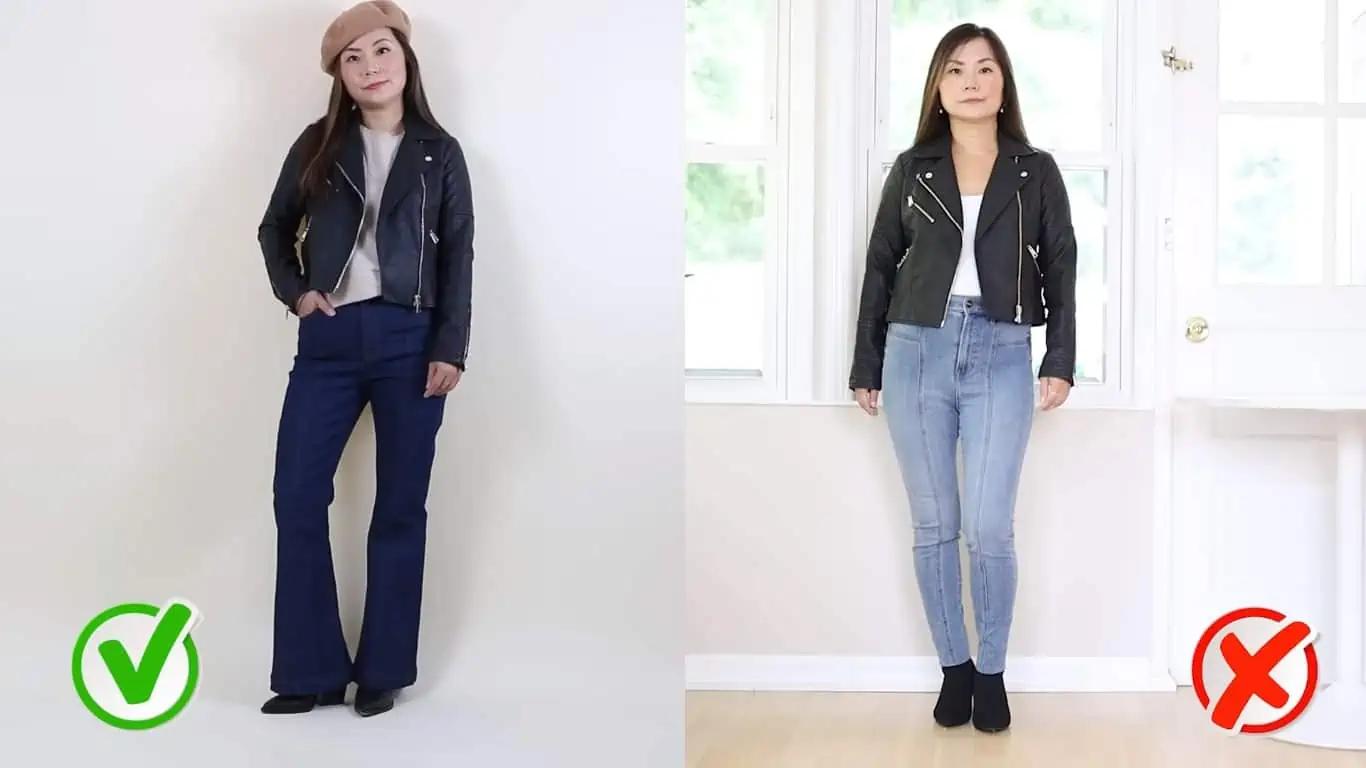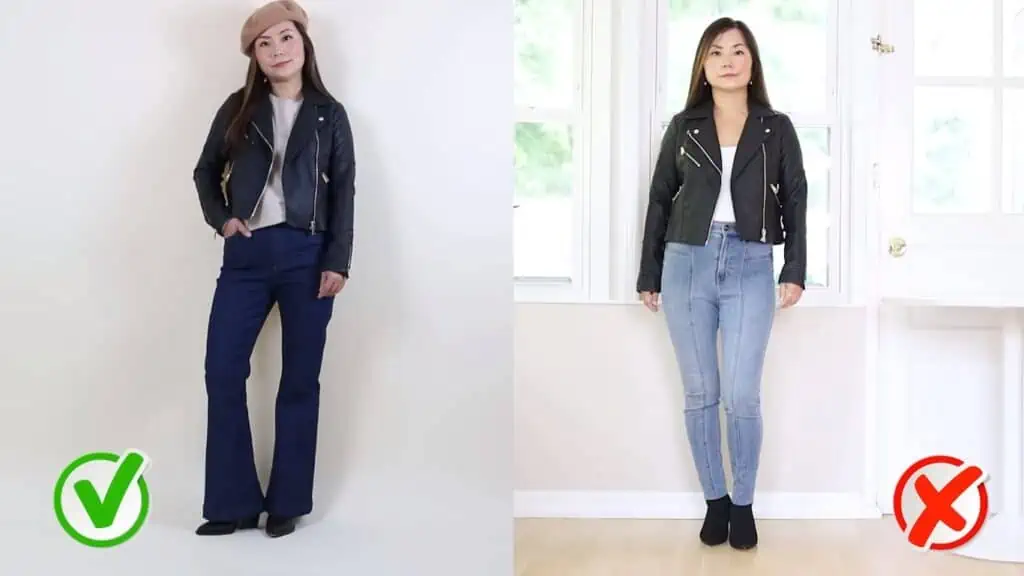 One slip-up I've learned to steer clear of with cropped coats is pairing them with bottoms that are too tight because they can make your figure too wide on top. Believe me, it can easily throw off those ideal body proportions we've talked about earlier.
Mid-Length Coats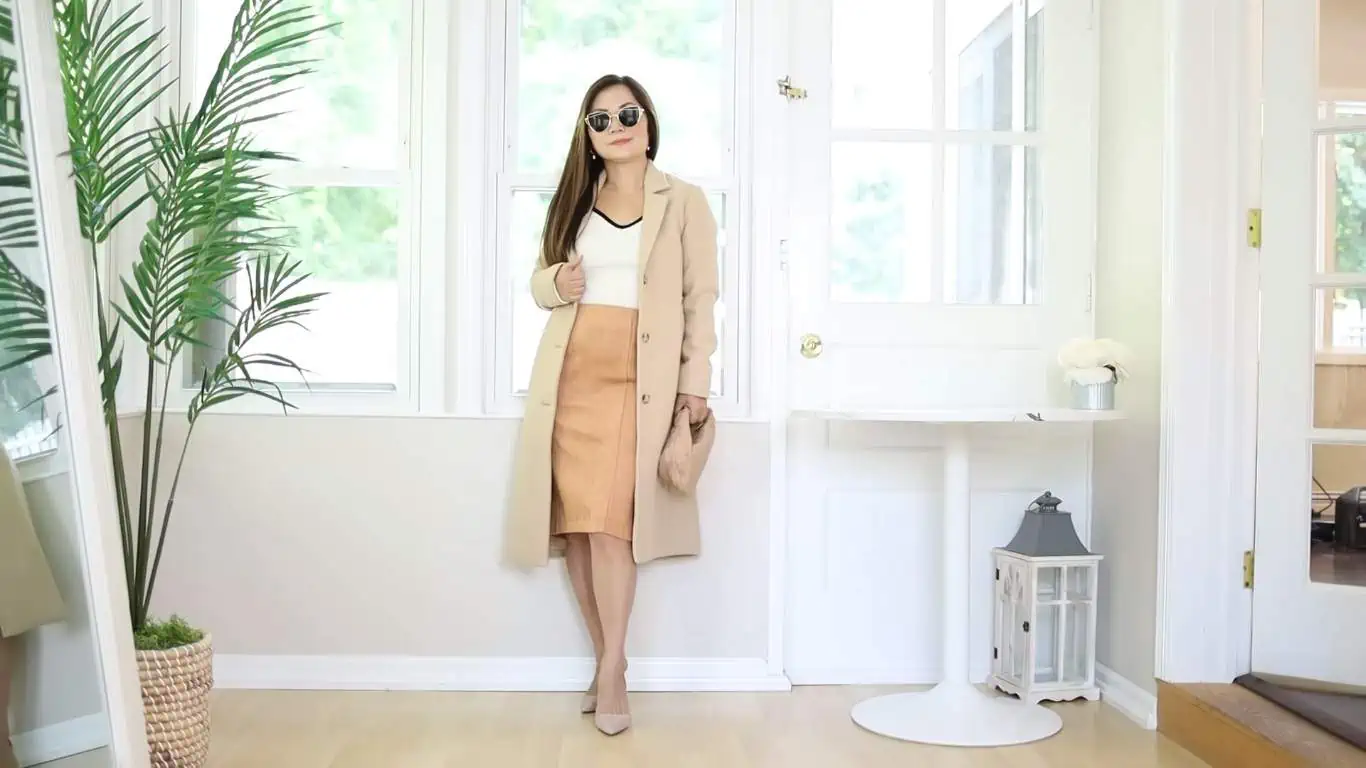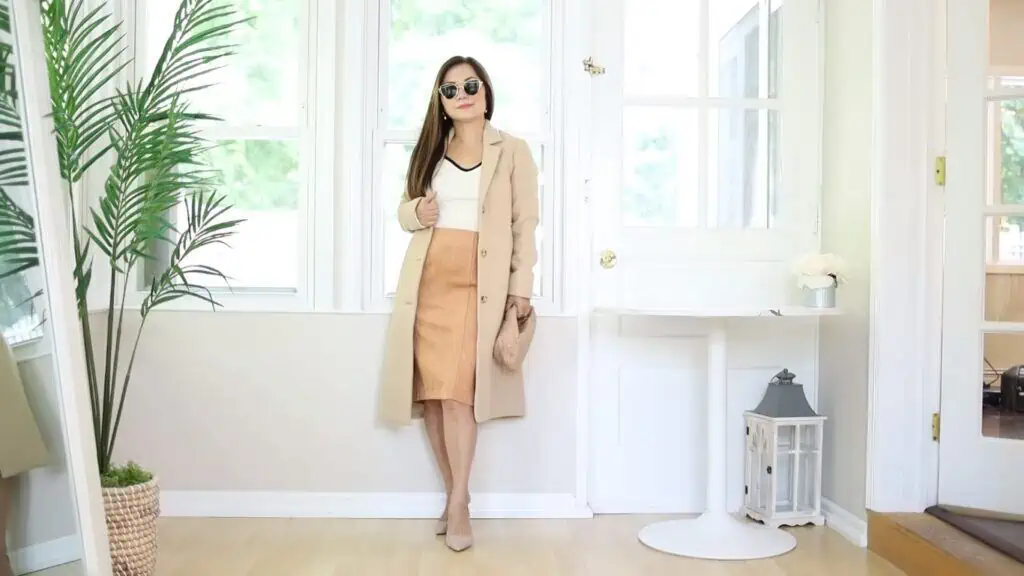 Mid-length coats are designed to grace your mid-thigh or knee, and trust me, this is where the magic happens! This is all about achieving that perfect balance and the deceptive look of longer legs.
The way mid-length coats hit this sweet spot is no coincidence – it's all about enhancing your proportions. They craft a smooth, uninterrupted vertical line that naturally guides the eye up and down, giving the impression of lengthy, well-balanced legs.
Imagine mid-length coats as your versatile fashion sidekicks. They strike the perfect balance, offering ample warmth without the fear of overwhelming your frame – a dilemma petite girls face when it comes to going for lengthier coat options.
Mid-length coats are like the universal solution of the coat world – not too short, not too long, just right. Their tailored fit delivers a sleek and clean silhouette that elevates your style without adding any unnecessary bulk.
Being a bit on the shorter side, I've also found that mid-length coats are a fabulous pick for those in between seasons, like spring and fall, so they look best when paired with shorter dresses or skirts. They've got you covered ideally and literally – you'll stay cozy when things cool down, but they won't overwhelm your frame.
Wear fitted jeans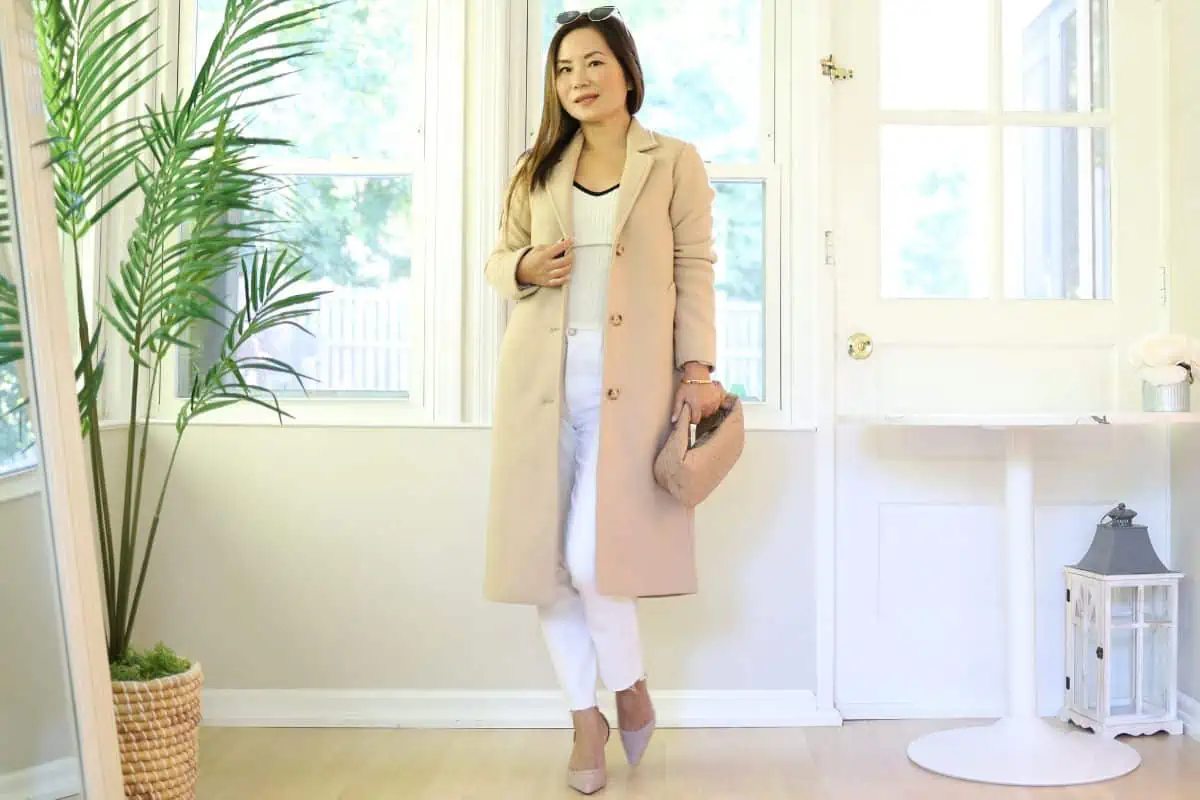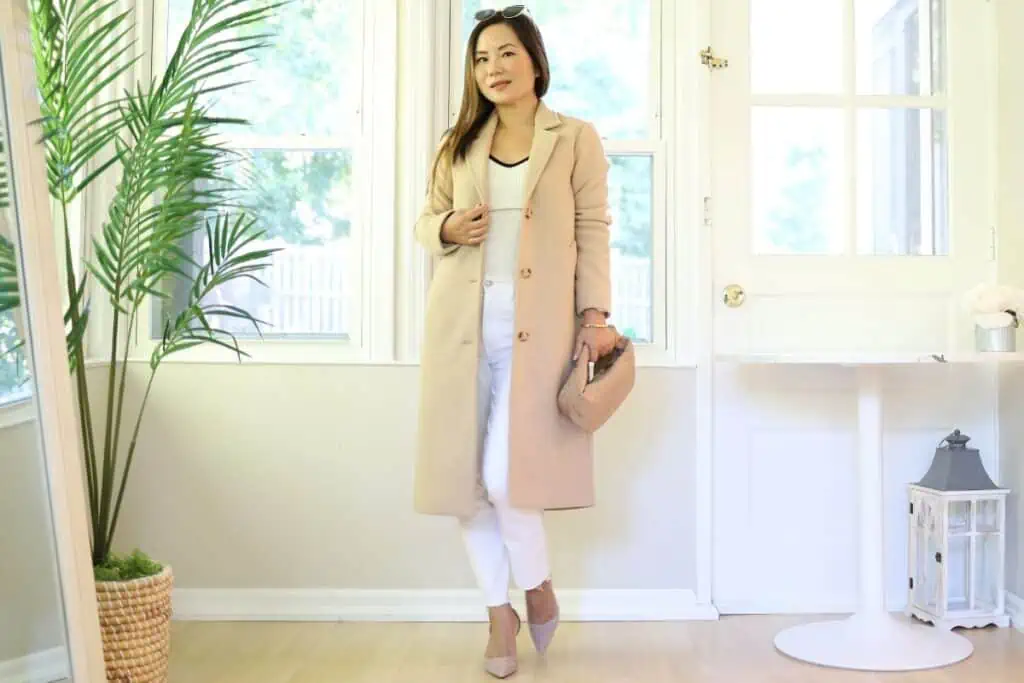 Mid-length coats are often slouchy in nature, so they do carry some weight or volume. With this mentioned, you'd want to stay away from bottoms that look too slouchy as well such as low-rise jeans.
Avoid skirts longer than your coats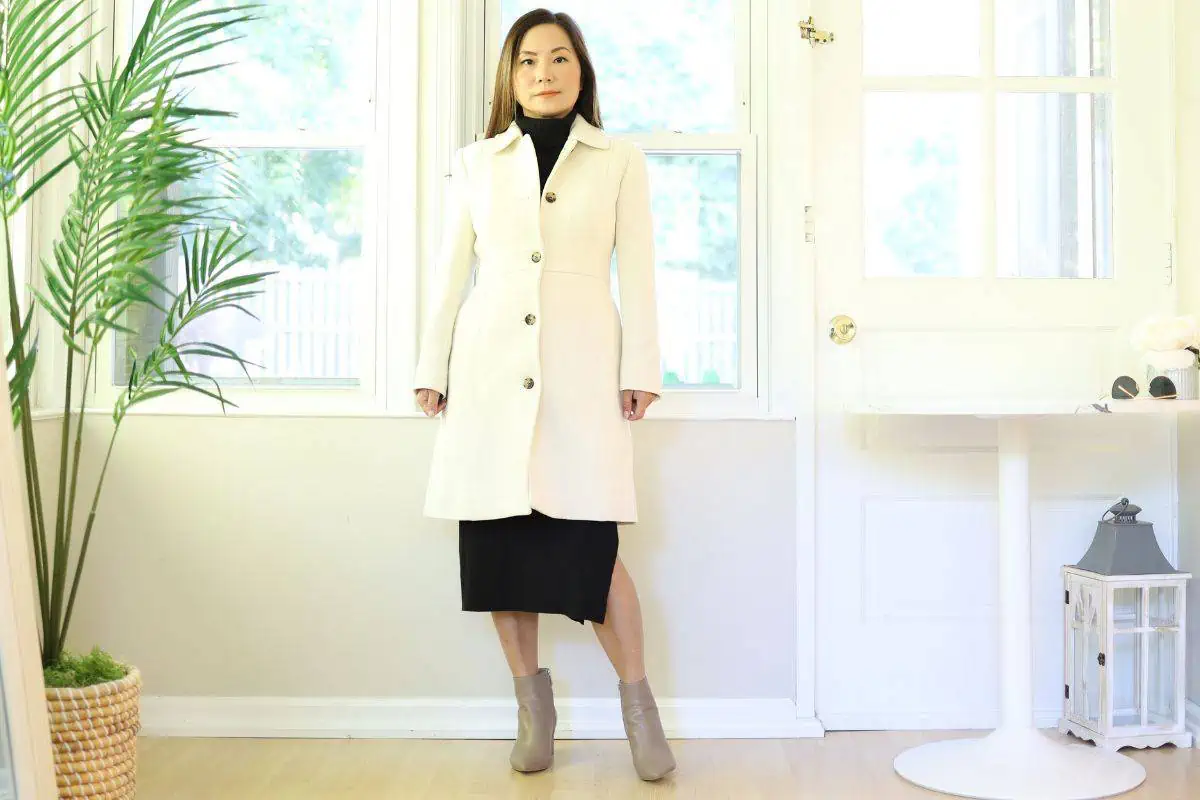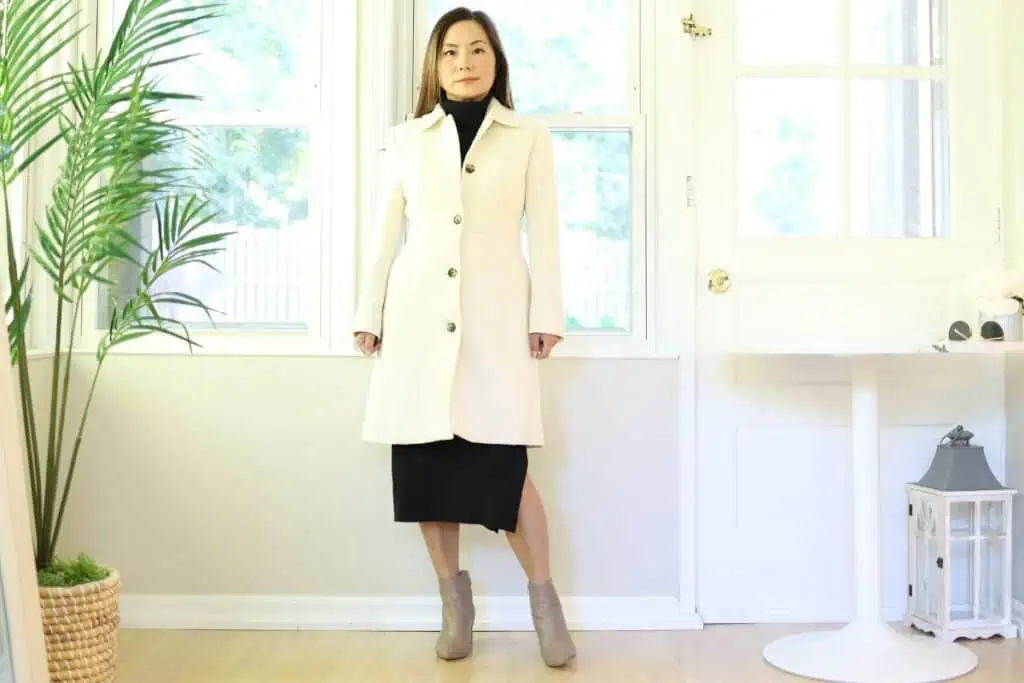 When it comes to mid-length coats, a big no-no is to pair them with skirts or dresses that are too long, to the point that they stick out too much! Without a doubt, this can disrupt your body frame and mess with your proportions.
In addition, it's also ideal to look for mid-length coats that offer some waist definition as this can help elongate your frame even further.
Maxi-Length Coats
Many shorter women often shy away from the idea of donning maxi-length coats, but let me assure you, that's simply a common misconception that needs to be debunked! In reality, if you happen to be on the petite side, maxi coats can still be your secret weapon for style.
The beauty of maxi-length coats lies in their ability to craft an unbroken vertical line, a useful feature that's particularly flattering for those with a shorter stature. This vertical line is indeed a game-changer as it visually elongates the body, which is a primary objective for shorter individuals.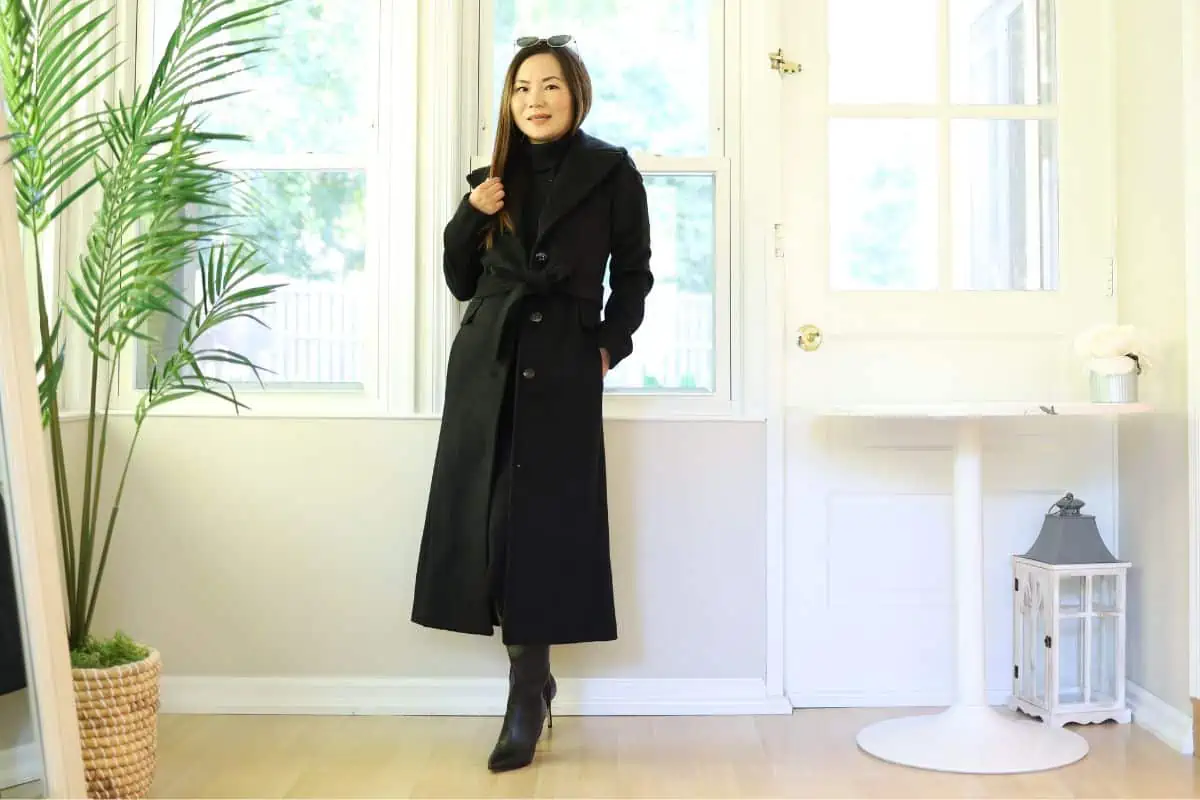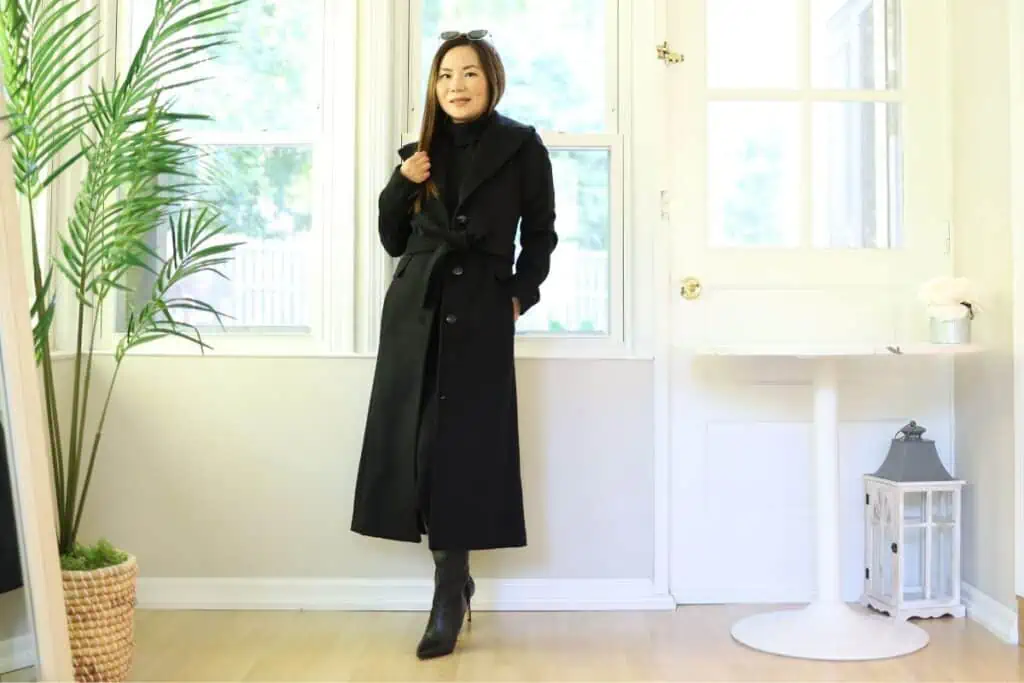 Maxi-length coats drape gracefully and create this luxurious and elegant silhouette that just oozes sophistication and style, making them perfect for shorter ladies to flaunt them and stand out for all the right reasons. Those clean lines and that flowing fabric work together to give an overall chic appearance that's hard to beat!
One last reason why I adore maxi coats is because of the warmth and coverage they bring, especially when the weather turns chilly. Their generous length is like a cozy hug for the entire body, making sure we shorter ladies can stay warm without compromising our style.
Look for waist definition
The number one mistake to dodge with maxi-length coats is going for ones that lack waist definition. When that waist isn't cinched in, the coat's relaxed, unstructured shape can work some optical illusions on your silhouette, adding extra bulk and possibly giving the impression of a shorter and wider figure than you desire.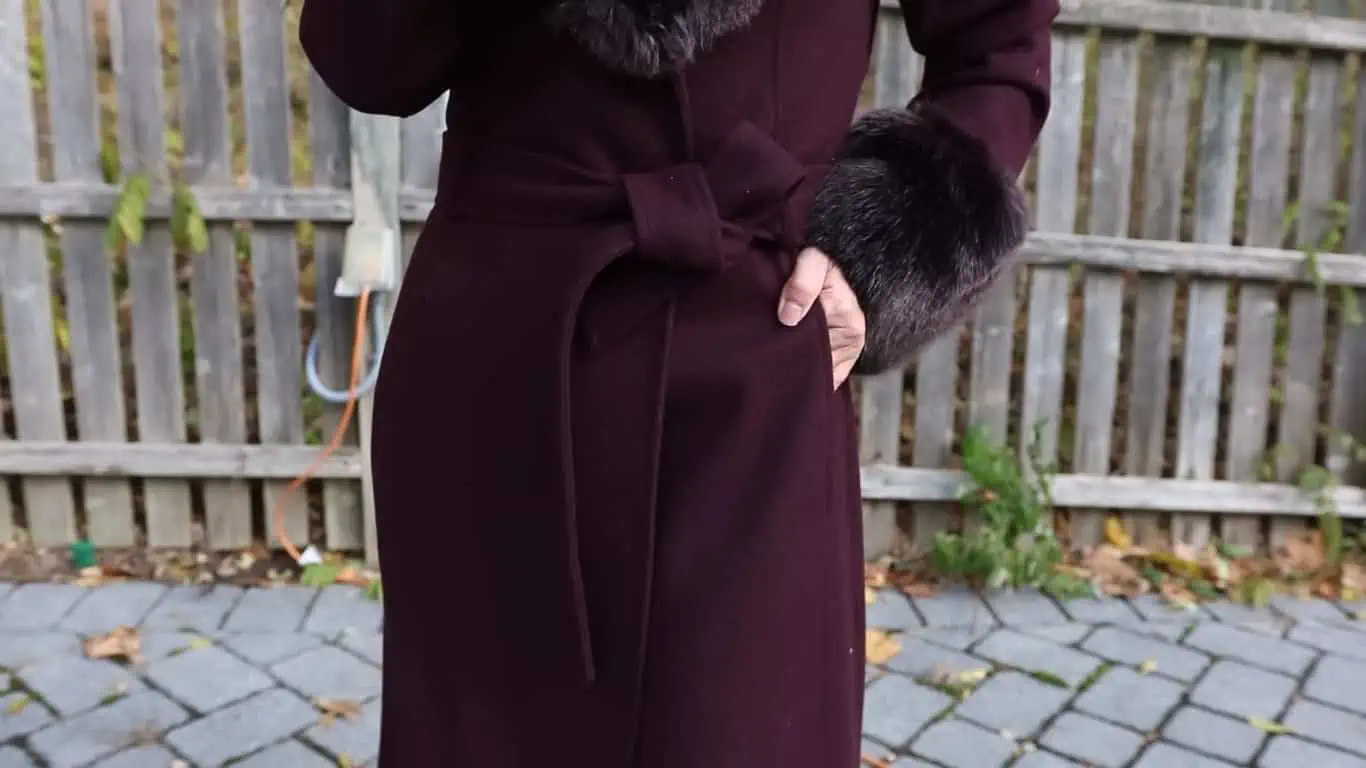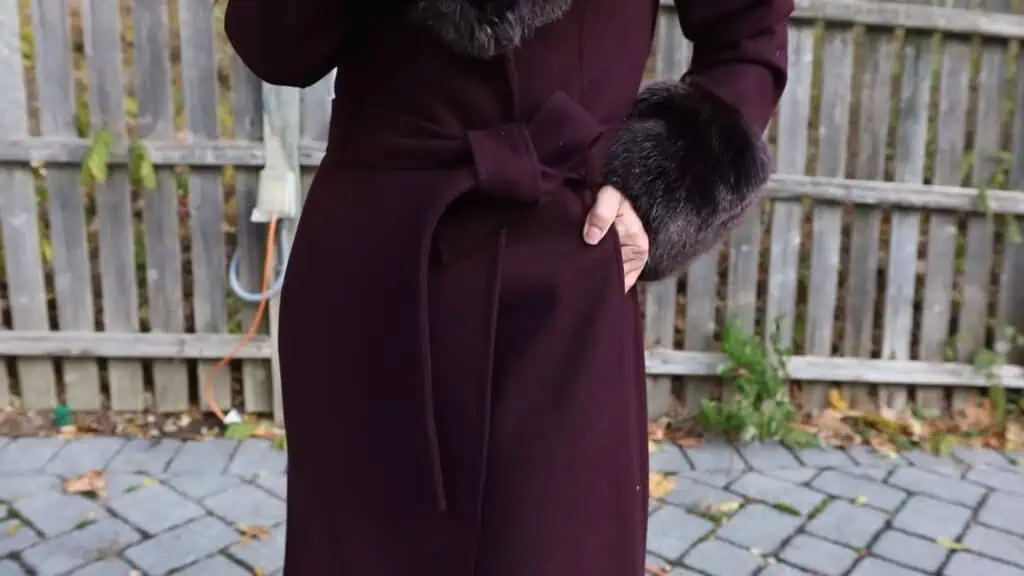 So again ladies, waist definition is important for long coats!
Avoid too much volume
Aside from that, be sure to avoid maxi coats that are excessively oversized for your body. Yes, the length is vital, but too much volume can easily swallow up your figure and throw off your style game.
This is especially true when it comes to puffer coats! Be sure to look for puffers that come with a fitted waist, or look for a belt.
Waist definition can tame the puffy nature of the coats and therefore make it much more managable for shorter women.