It can often be challenging shopping for tops when you have a bust that is on the small side. On the one hand, you just want to be free to wear what you want to wear, as there is no real harm in that.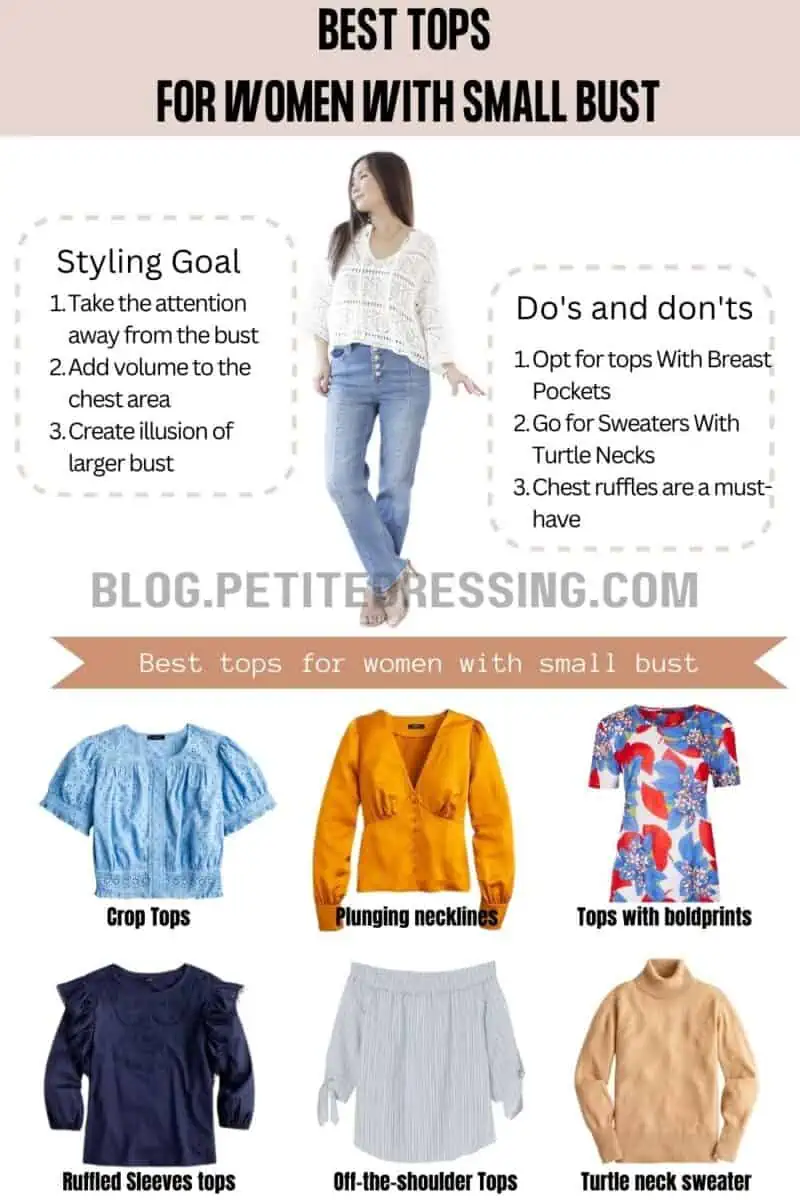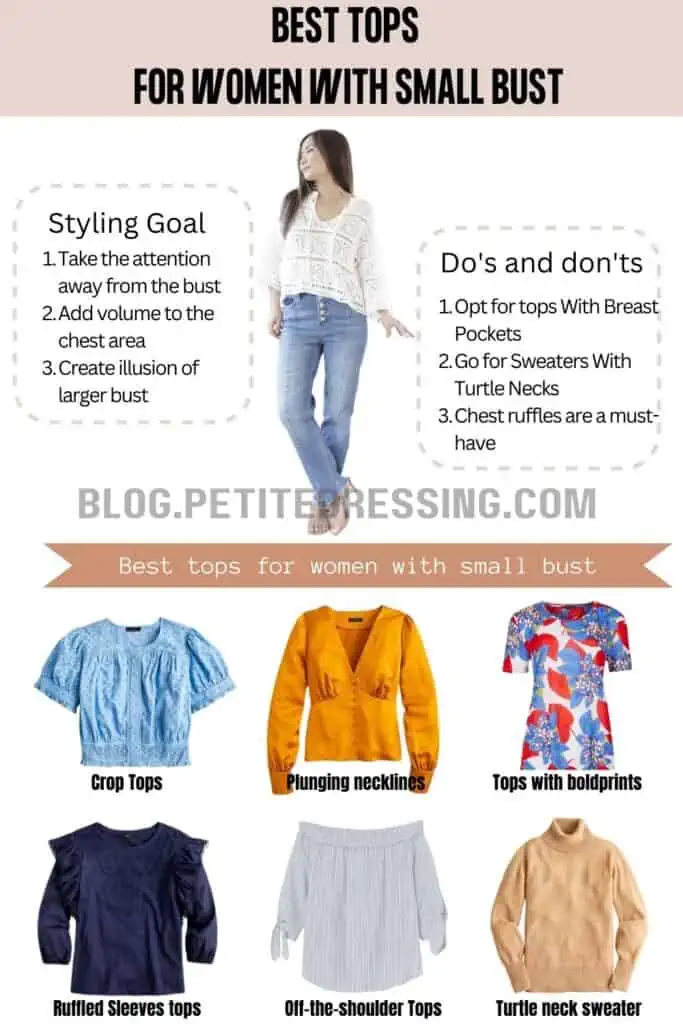 But then again, not all tops are created equal, not to mention that there is the likelihood of them appearing too baggy and making you look flatter than you already are, or in some cases, making you feel like a wardrobe malfunction waiting to happen.
Though all that might seem rather daunting, you don't have to worry, as we are on a mission to guide you on everything you need to know about the best stylish tops that look good on women with small busts. Without any delay, check out these amazing tops below, which will no doubt leave you looking dazzling while also prioritizing your comfort.
Crop Tops
Crop tops are the perfect fit for women with small busts. They are basically like bras, plus not only are they the comfiest things in the world but there really is no limit to how many crops tops you can own.
They serve numerous purposes and are a convenient distraction, especially as they take all the attention away from your bust by revealing your midriff, allowing all eyes to take in the gracious sight of your toned tummy. Now might be the perfect time to hit the gym and get those crunches in.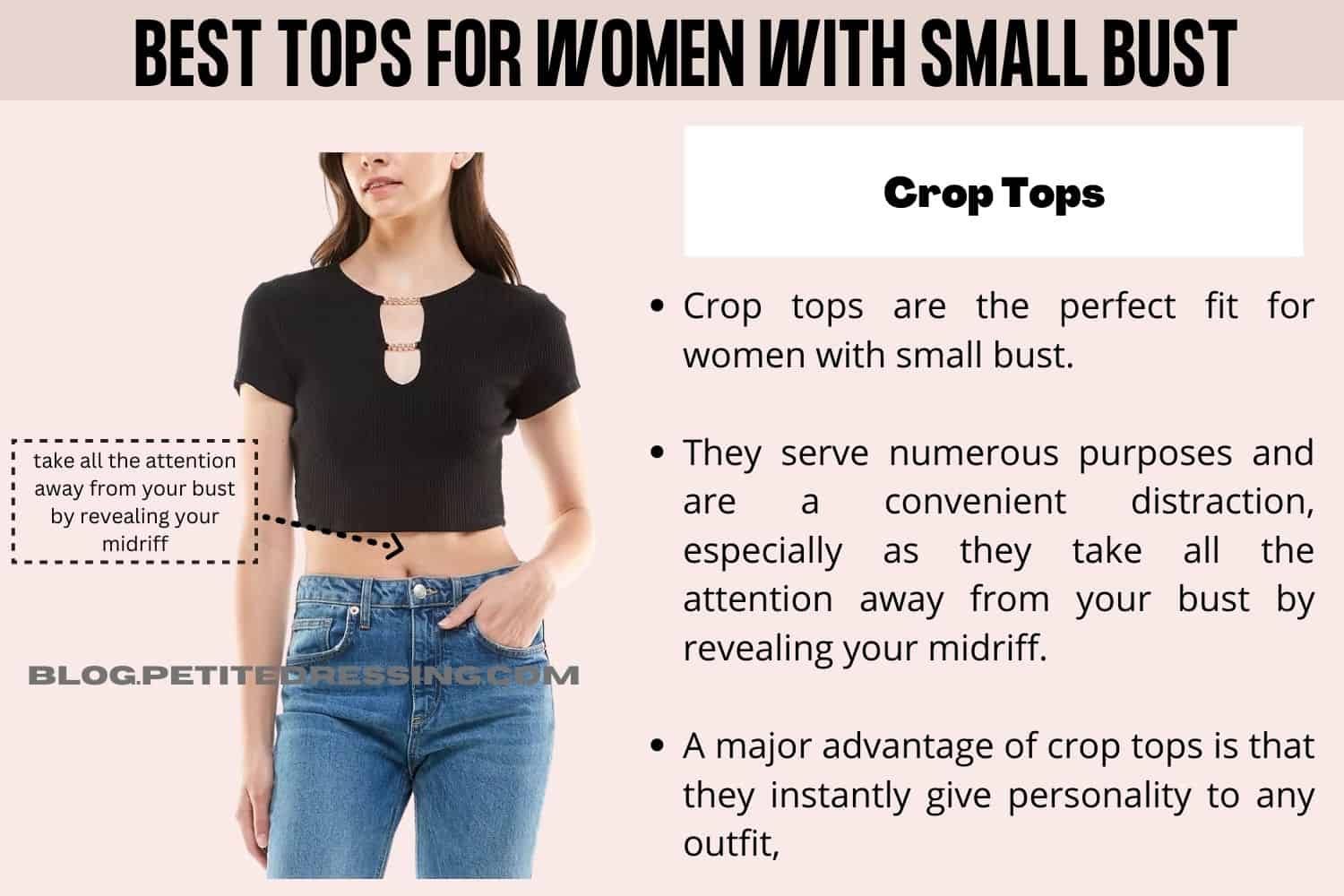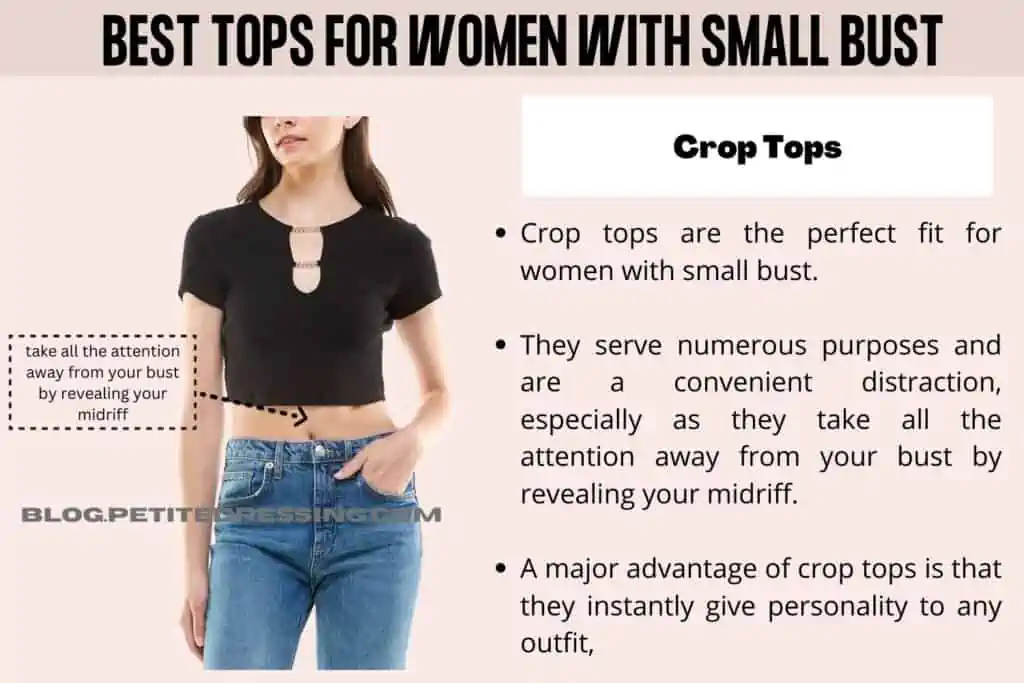 A major advantage of crop tops is that they instantly give personality to any outfit, not to mention that it offers you an edge over busty girls who find it difficult to pull off a crop top, unlike a lady with a smaller bust.
Pairing a high-waisted pant with a crop top and a long jacket is highly recommended for a daytime look, and for a nighttime look, feel free to throw jean shorts or leather skirts into the mix.
Tops With Plunging Necklines
One of the advantages of having a smaller bust is that you can easily pull off a revealing neckline without having to worry about the fear of "nip slip" or "falling out". On the other hand, women with bigger busts run the risk of appearing too racy the more they dare to show more skin.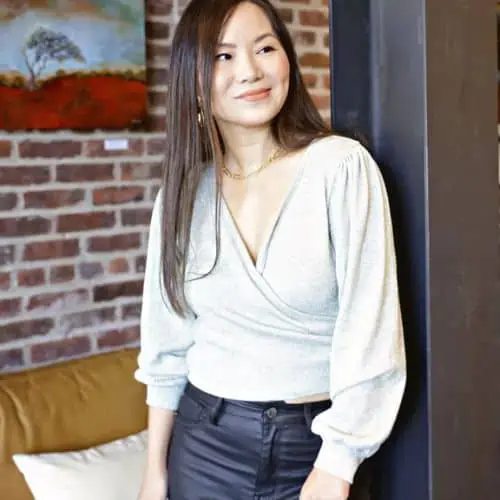 Considerations when choosing tops with plunging necklines
A key to making plunging neckline style look elegant is to make sure the top is not too short at the same time.
Otherwise, the outfit can come across as too revealing and, therefore would look less tasteful.
Tops With Bold Prints
Everyone loves vibrant and bold prints, plus you don't need a soothsayer to tell you that wearing colourful pattern tops helps to divert attention to certain areas and even make them appear larger than they actually are.
Don't shy away from testing patterns in varieties of top sizes, as it provides the perfect opportunity to shift focus to the assets you are willing to show off. So as a small busted lady, look up a couple of tops with bold prints.
You can also try wearing smaller prints like ditsy florals and polka dots, as you also have a high chance of getting away with those.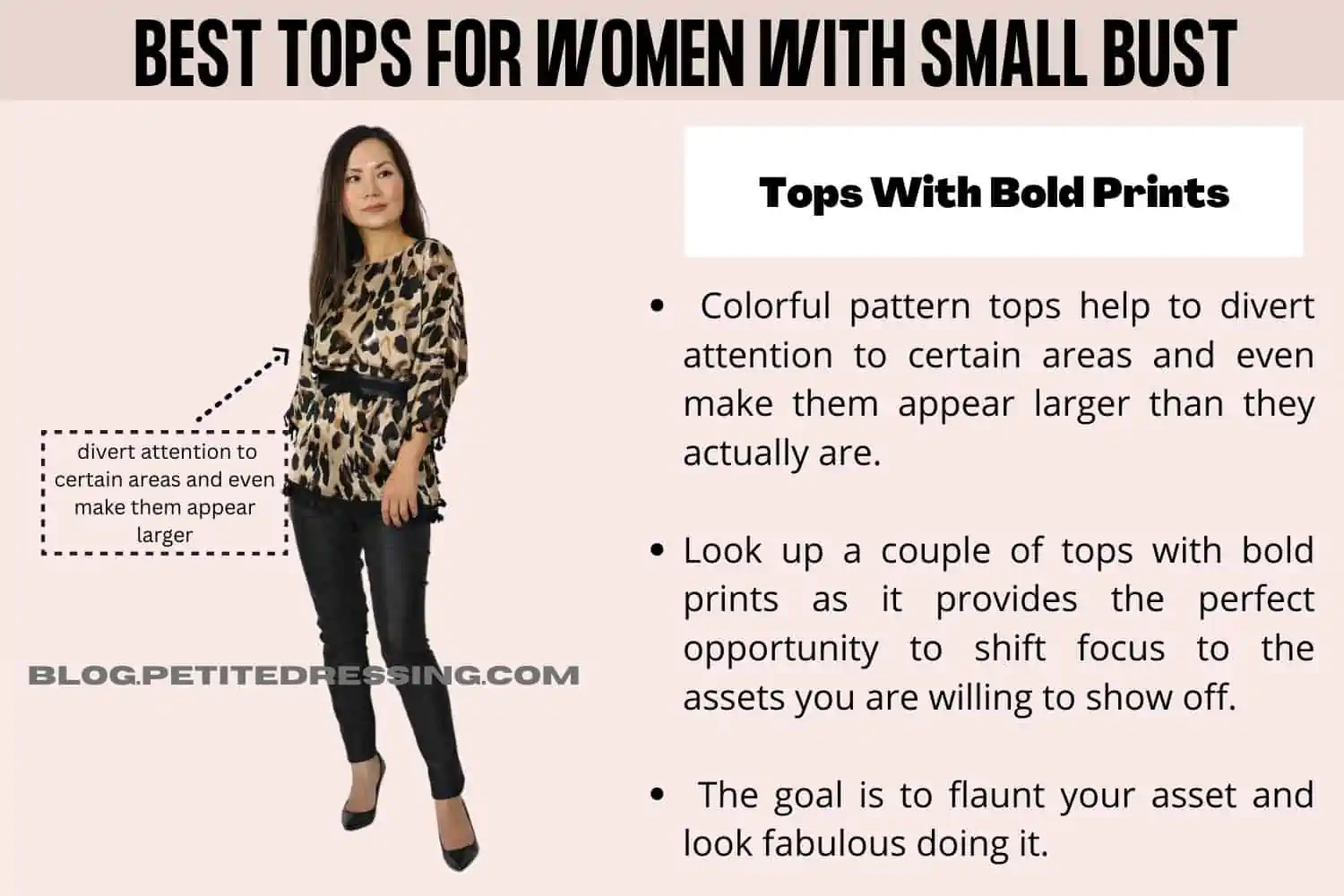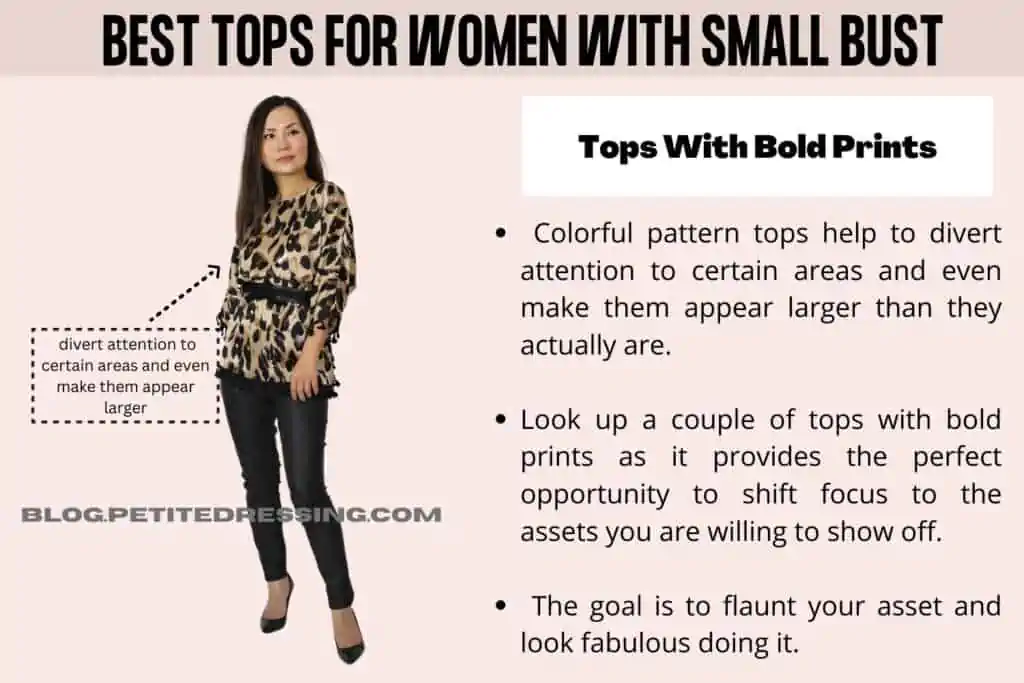 A perfect pairing would be wearing a brightly coloured bold print top with fitted jeans trousers. The goal is to flaunt your asset and look fabulous doing it.
Tops With Ruffled Sleeves
By so doing, they effortlessly use creative means to distract others from noticing your small bust and draw attention to other areas of your body.
You can rock your ruffled sleeve top with a tight-fitted skirt or straight-leg jeans, not to mention that they are also perfect for a casual outing with family or friends.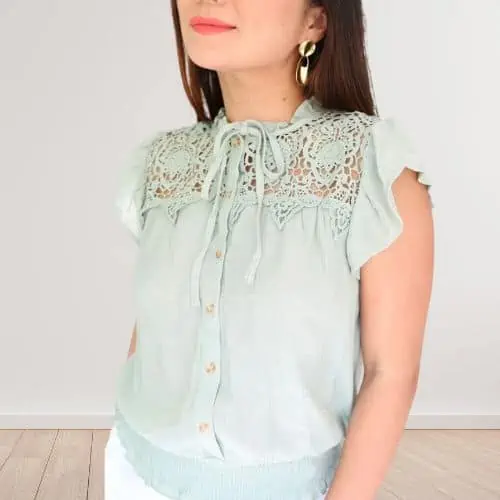 Tops with ruffled sleeves are the best, here's why
Tops with ruffled sleeves are arguably one of the best-styled tops for small-busted women in the sense that they are not only one of the girliest designs but also do a great job of quickly adding dimension to your chest.
Off-the-shoulder Tops
The one fashion trend that has managed to linger for a very long time is the off-shoulder tops; they are statement pieces that are perfect for women with small busts. An off-shoulder top's major advantage is that you don't necessarily need to wear a bra, so say bye-bye to uncomfortable strapless bras.
Another major benefit of off-shoulder tops is that they are versatile and can easily be gotten in almost every material, pattern and colour. So irrespective of whether you have to go out looking super casual or you have a formal event to attend, you can easily rock an off-shoulder top! Going on a first date or family outing? You can wear a skirt with an off-shoulder top. Going out for a movie? How about a pair of denim shorts with an off-shoulder top?
They are uncountable occasions where you can wear an off-shoulder top too, plus the style looks good everywhere.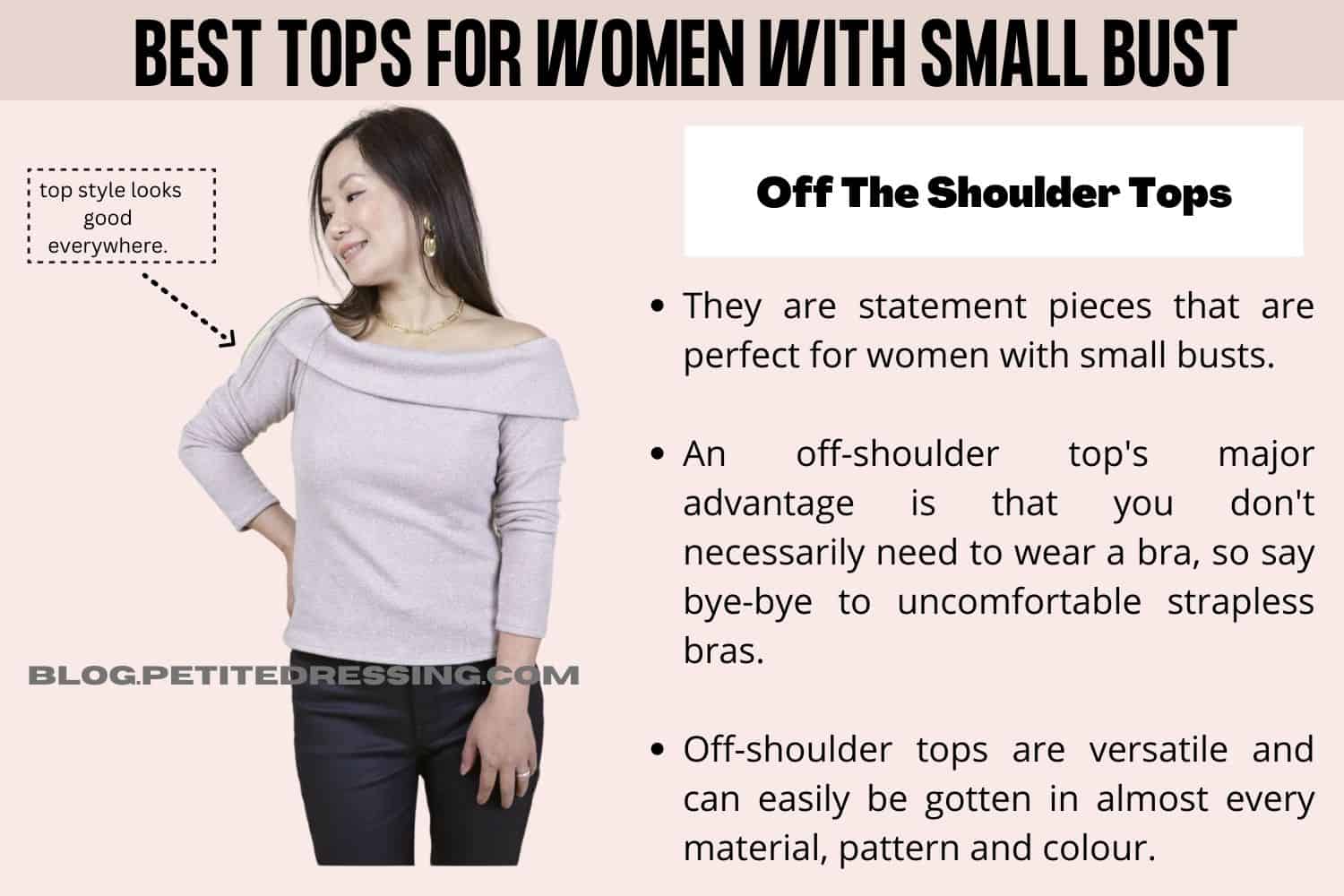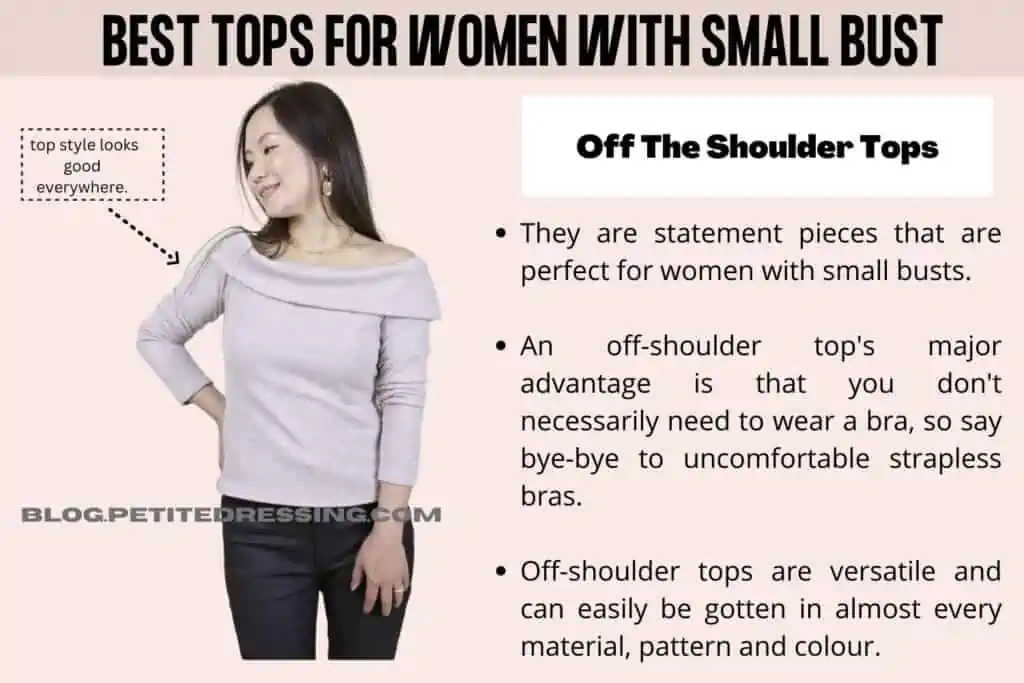 Tops With Layers
Another added benefit of layered tops is that they are also best suited for transitional weather, so you can effortlessly alter out any fabric when it's cold in the morning and scorching hot in the afternoon.
Anything capable of adding dimension also helps accentuate a flat chest, so get yourself a cute top with layers and rock it over a pair of jeans or a skirt. They are perfect for dinner dates and family outings, and their style showcases confidence and self-love.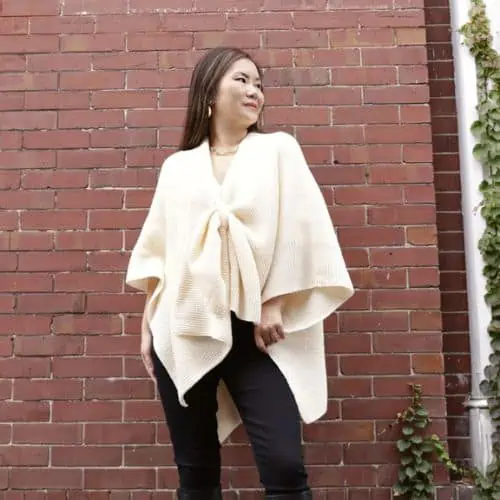 Why opt for layering?
Top with layers is an efficient means of flattering women with a small bust.
The layers help create an illusion of a fuller bust.
Layers are undoubtedly a small-busted woman's best friend, plus they add a finishing touch to any outfit, irrespective of size or shape.
Sweaters With Turtle Necks
It is an understatement to say that sweaters with turtle necks are essential for women with small busts, especially as they perfectly accentuate a woman's look and are rather suitable for the fall and winter.
Also, due to their high neckline, they easily draw attention to the wearer's face, making the small chest region a lot less noticeable. They are certain factors you might also want to take into consideration when choosing the fabric for your turtle necks.
First, it is important to opt for a turtle neck with a cable knit instead of a ribbed sweater. Also, the chunkier the knits on the sweater, the more efficient they become in serving the purpose of adding volume to the chest area.
It is also worth noting that ribbed seaters are not the best fit as they tend to cling too tightly to your body and showcase the fact that you do not possess many curves.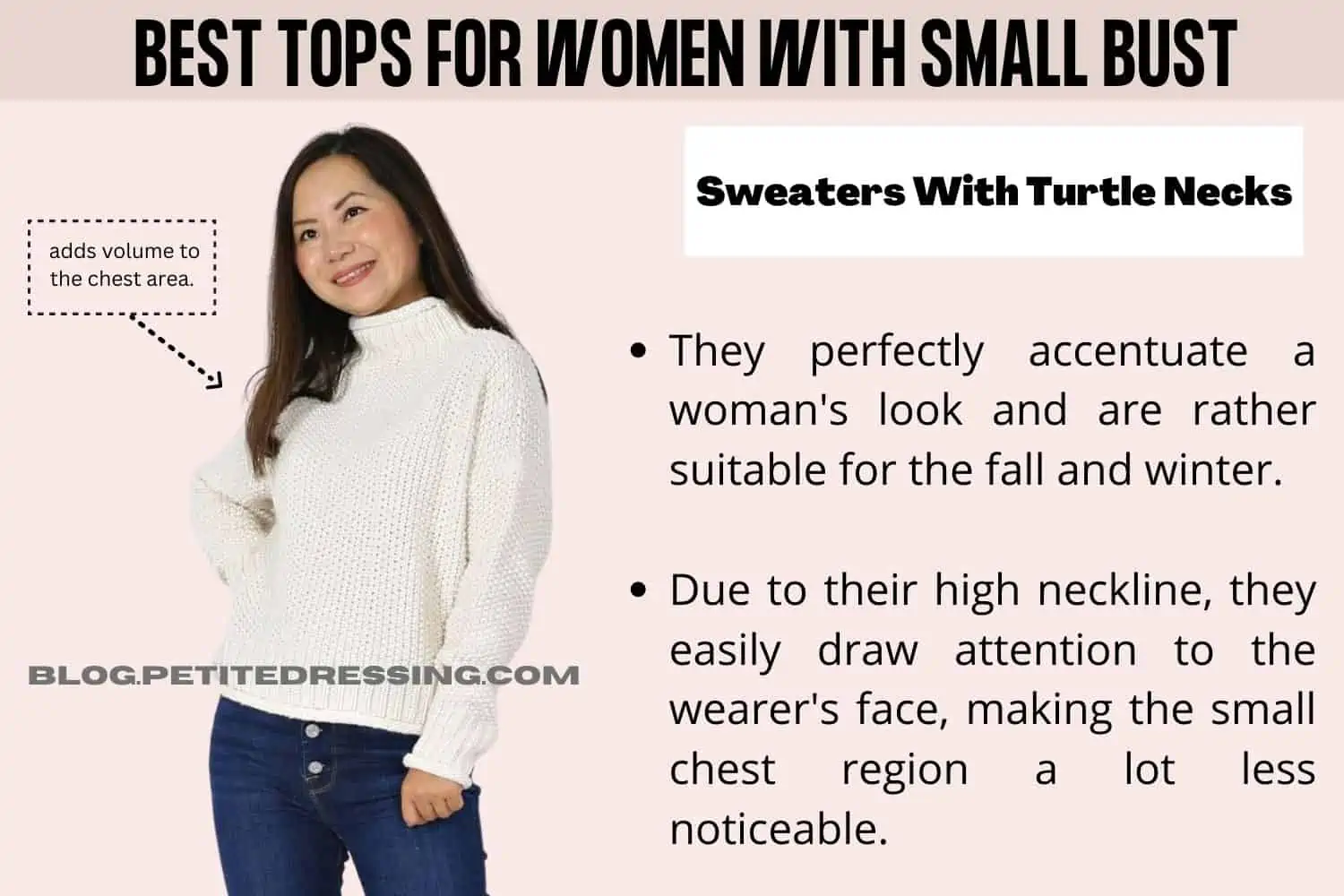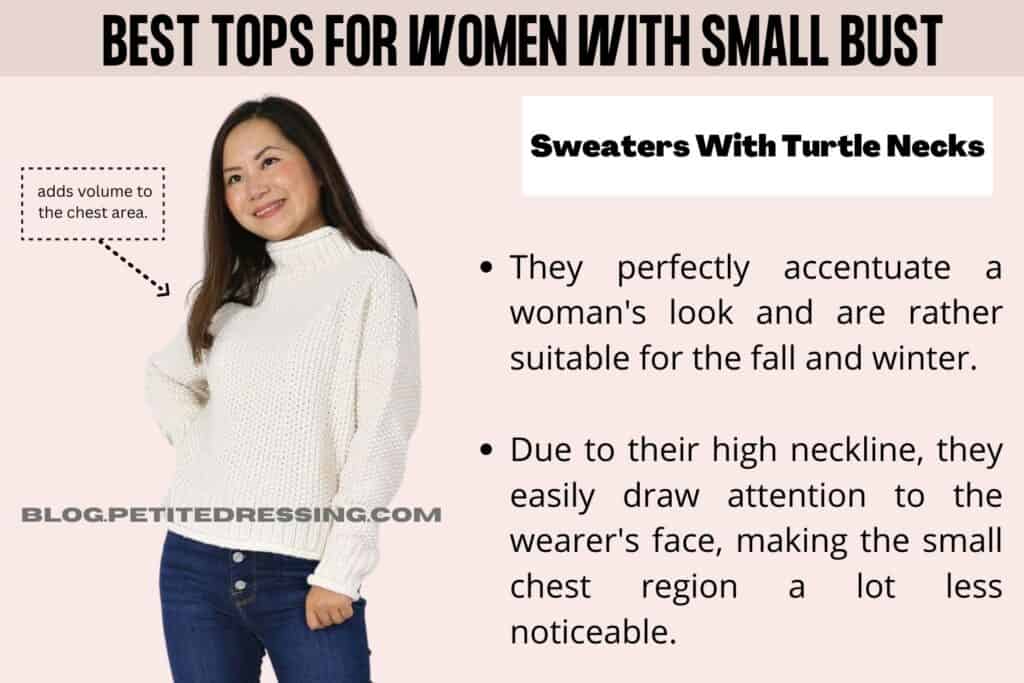 Tops With Chest Ruffles
When you think about ruffles, the first thing that often comes to mind is a sweet girly image. Ruffle clothes are often considered versatile, stylish, and on the edge of popularity. Tops with chest ruffles are hands down one of our favourites kind of tops. Their style is not only cute, but they do a swell job of helping add a little something to a small chest, making them look visually bigger than they actually are.
It goes without saying, but tops with chest ruffles can have you looking either elegant or ridiculously puffy, depending on how you style them. Try to flatter your figure a little bit; if you are looking to go for a dinner date or outing with friends, then a tight-fitted skirt and a chest-ruffled top will do the trick.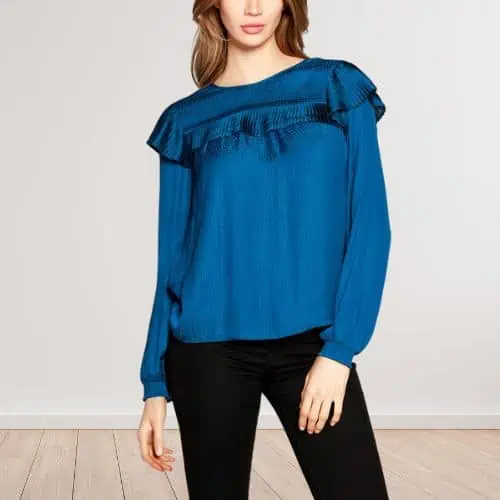 Styling tips with tops with ruffles in the chest.
To complete the look, you might also want to minimize the use of accessories too.
Also, for a casual daytime look, ripped jeans with sneakers and your chest-ruffled top will also result in that stylish, carefree look that many people often want.
Tops With Breast Pockets
Tops with breast pockets are undoubtedly a wardrobe staple and a must-have for women with small busts. Why? You might ask, but the reason is that pockets are an excellent means of adding dimension to your chest, thereby creating the illusion of having a bigger bust.
Any slight detail around the chest region tends to have this effect. The good thing about this style of women's tops is that they are available in various colours, and each has a unique design which ultimately showcases elegance and beauty.
If you want a casual look, then a black breast-pocketed top with a pair of jeans, trousers, and flat shoes might be just perfect. As an added benefit, they also help you look younger than your age and accentuate your curves to a certain degree.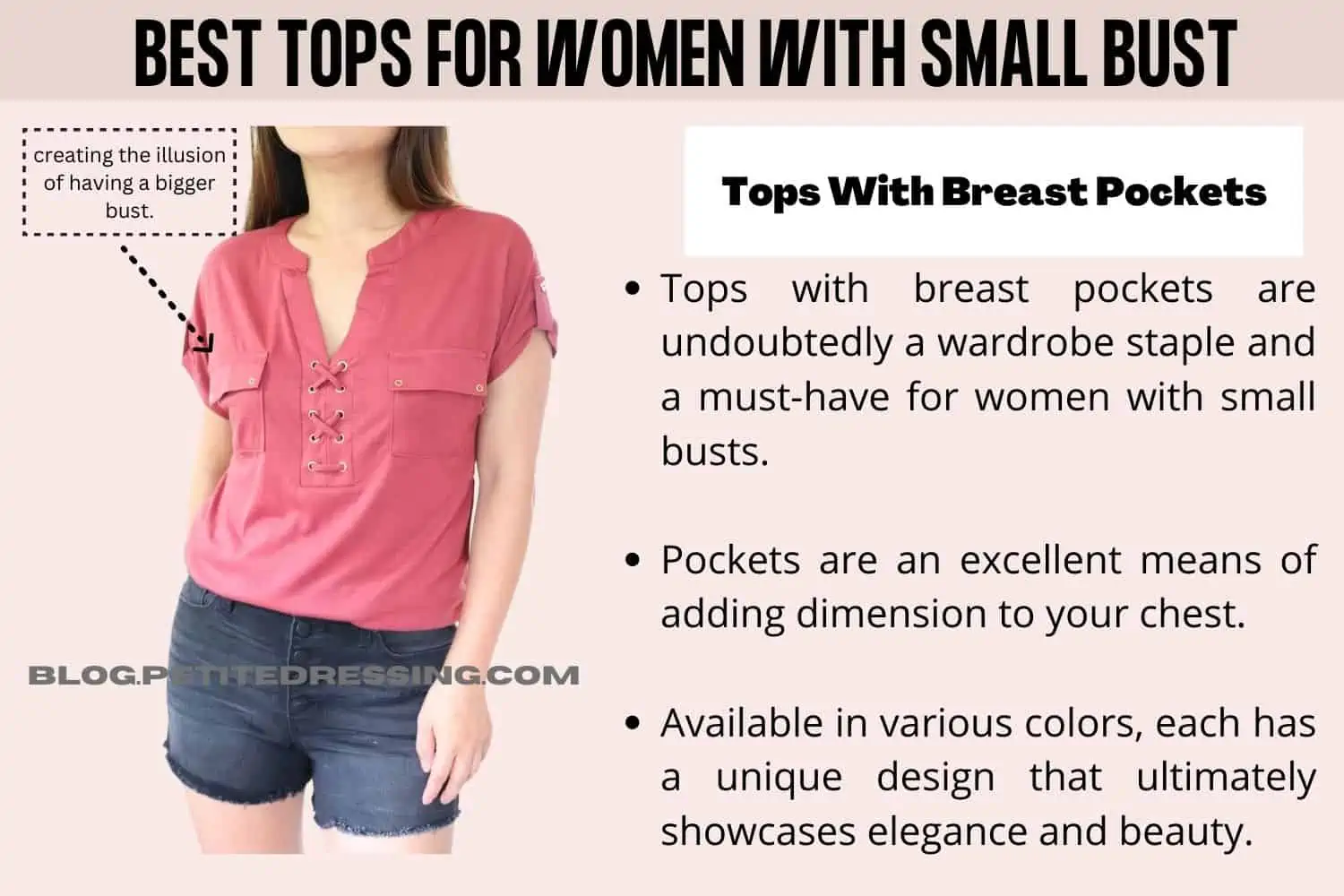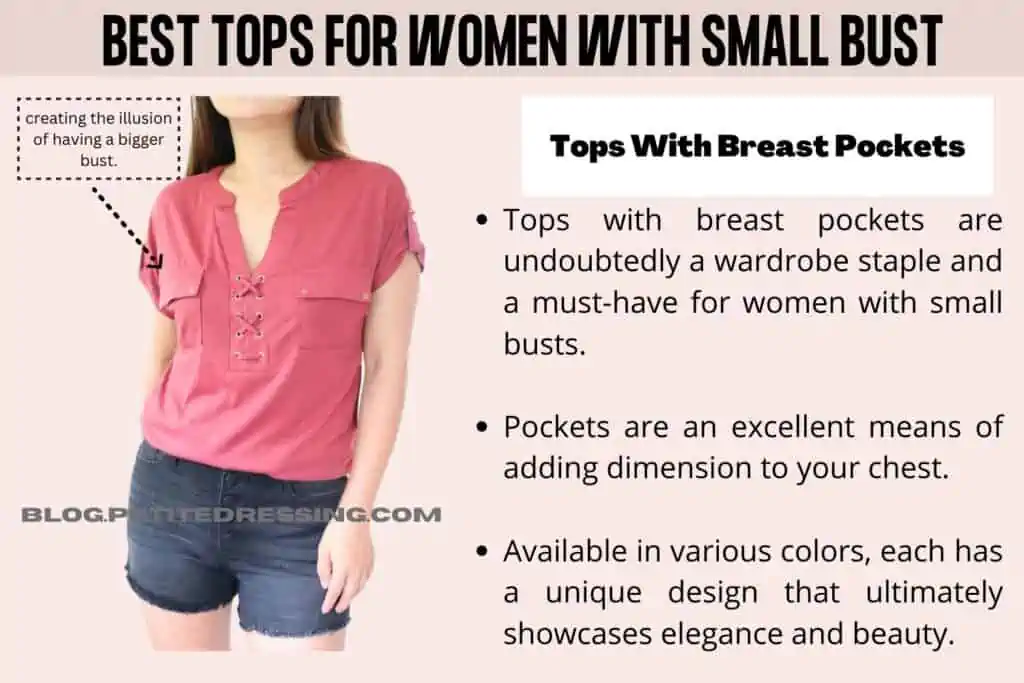 Finally, the last fashion tip we would like to leave you with is; to learn to accept and embrace your small bust because when you think about it, a lot of clothes were originally designed to fit small-busted models. You should show more confidence and feel free to live your ideal glamourous lifestyle.