[vc_row][vc_column][vc_column_text]Have you ever felt like you want to learn how to hem jeans at home?  Here is why you should, if you haven't.  If you are petite, you probably have been struggling to find jeans of the right length.    For most designers, regular size jeans start with 31 inch inseam, which could be dragging on the floor for most petite women.  As a petite girl, you may have gotten used to taking everything to the tailor over the years, however, the tailoring cost adds up over time.  The other day, one of my petite girl friends told me she took a pair of jeans to the tailor in her neighborhood, and the price the tailor told her was nearly 30% of the inexpensive jeans which she got from a fast fashion brand on sale.  And, if she wanted to keep the original hem, the cost would go up even more and it would have cost her almost half of the price she paid for the jeans! Ouch! It is not that we should not be spending money on tailoring, but it makes no sense when it costs a big chunk of the price you paid for the apparel itself.  We have put together this guide on how to hem jeans at home while keeping the original hem, so that you have the backup choice other than taking it to the tailor.[/vc_column_text][/vc_column][/vc_row][vc_row][vc_column][vc_column_text]Before we start, you want to make sure you have the simple supplies required in order for you to hem jeans at home.
A pair of scissors.  Make sure they are the tailoring scissors sharp enough to go through thick denim materials.
Measuring tape.
Pins and a marker
Size 16 Denim needle and thread, or sewing machine.  Some people find it easier to hem jeans with a sewing machine, because it goes through the thick material more easily.  However, that is not absolutely necessary, if you know how to use size denim needle that goes through layers of denim.[/vc_column_text][/vc_column][/vc_row][vc_row][vc_column][vc_column_text]Now let's begin.
Step 1, in order to learn how to hem jeans, you need to figure out what is the right inseam length for you.  There are two ways to do it.
You could grab a pair of jeans that is already the right length, and use that as the benchmark for what your inseam should be.  You could lay the old pair in bed or on the floor or any flat surface in your home, and put the new jeans you want to hem on top of it.  It is important the two pairs of jeans must line up exactly at the crotch, in order to get the most accurate measurement of your ideal inseam.  Then, you should mark the right length on the new jeans and that is the inseam you should go for.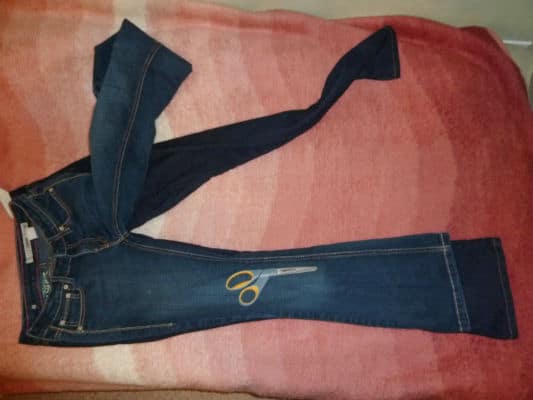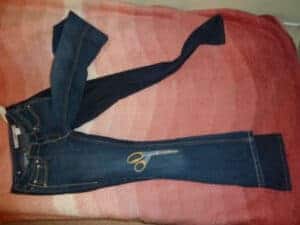 Alternatively, you could do what the tailors would do to find out about your inseam, which is more accurate.  Put the jeans on and find where you want it to end, fold the hem up and mark it with the marker, or put the pins on the hem (make sure you pin them all around the new hem).  Then roll the jeans up so that the original hem is slightly above the mark, and then pin it.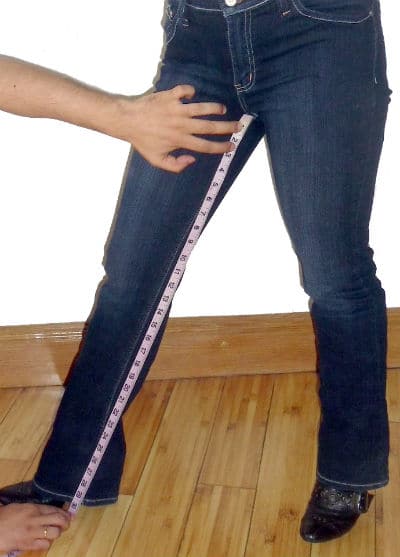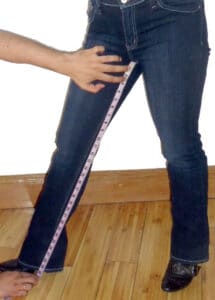 Remember to put on the shoes you normally would wear (or would imagine wearing) with these jeans.  For some styles like tailor pants or flare jeans, you look better wearing them in heels, and you want the hem to brush off the top of your feet.  Therefore, the best is to measure your inseam with those heels on.  If you wear flats most of the time, put those on as well.[/vc_column_text][/vc_column][/vc_row][vc_row][vc_column][vc_column_text]Step 2, sew right next to the original hem.   The tip here is to sew your jeans as close to the underside of the hem as possible, so that it will not be noticeable.  Start from one side, and then roll over to the other side.  Now, this may sound obvious, but we want to caution the newbies to not to sew the legs close! Also, make sure your thread is close to the color of the thread for the original hem, if you do not want people to notice it has been hemmed.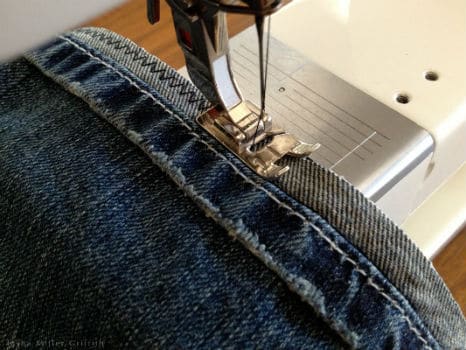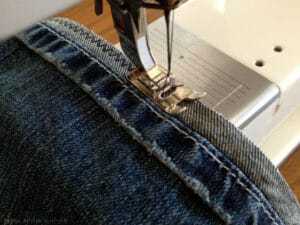 [/vc_column_text][/vc_column][/vc_row][vc_row][vc_column][vc_column_text]Step 3, Now, you have two choices.  You could either leave the extra chunk of fabric rolled up and tacked down on the inside of the jeans, or you could cut it off.  The former will leave you the possibility to re-hem the jeans in the future, should you decide you want a different inseam length.  However, cutting it off will give you a more natural look.  If you do it right, no one will ever notice there is extra fabrics hidden underneath anyways.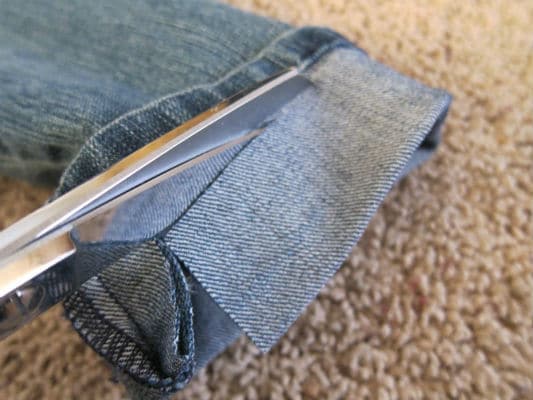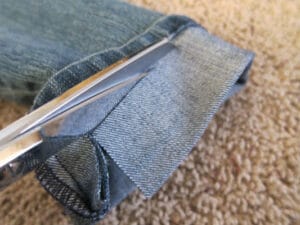 [/vc_column_text][/vc_column][/vc_row][vc_row][vc_column][vc_column_text]Step 4.  Unroll the hem and iron flat.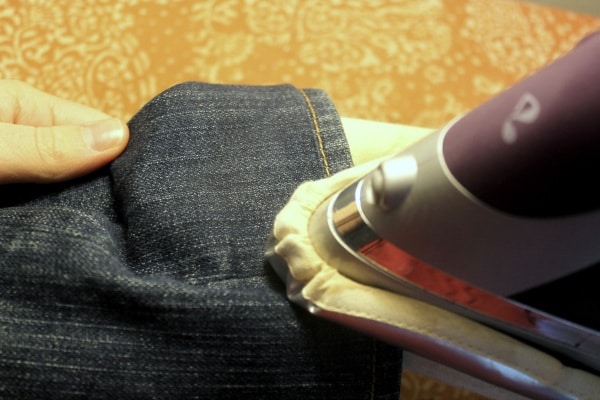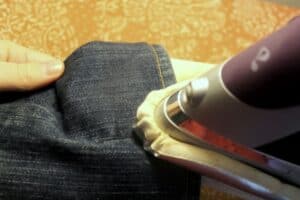 [/vc_column_text][/vc_column][/vc_row][vc_row][vc_column][vc_column_text]So, this is the whole process. If you get used to it, it may only take you 15 minutes to do.  If you do it a few times, you may even start to like doing these kind of basic tailoring at home and that will save you a ton of money over time, which you could spend on shopping for more of your favorite clothing!
Even though we now know it is not hard at all to hem jeans at home, we still recommend you to shop petite jeans from places like Petite Dressing or other designers that carry petite line.  The reason is hemming is not everything that needs to be tailored from a regular sized pants in order to fit petite women properly.  Even though you can hem the jeans and make the inseam shorter, you cannot change the position of the knee caps, which makes a big difference on how the jeans look on you.  Petite women normally have shorter legs, so they need the knee caps to be higher than regular sized jeans.  If you hem the jeans but the knee caps remain where they were, chances are the jeans will make your calves look shorter.  Therefore, the wise chose is to always shop jeans from petite department.