For short women, it is important to understand how petite size chart works. I know this from first hand experience, because I am 5'2″ and I always struggled to find the right clothing that fits me.
If you are under 5'4″, you are likely better to shop in the petite clothing stores. How should you choose the right petite brand for you? Most brands follow standard petite size chart, but each petite brand may have some differences in their tailoring.
Before we get into the petite size chart, you first need to know your measurement to know exactly what size you need.  The best way to be measured is by a tailor, as they are experienced and knows how to measure you properly.  If you do not have a tailor to go to, you can also get measured at home by yourself, but preferably with the help with a friend or a family member.  (Click on "Petite Sizing Guide" to read about how to take your own measurements of torso, sleeves, shoulder and inseam.)
Petite size chart is especially important when you are choosing anything with inseam, such as petite pants, petite jeans and petite jumpsuit.
American Petite Size Chart
We have compiled the petite size chart of 5 most popular American brands for size 4P, so that you can compare how each brand may have variances and decide which fits you better.
| | | | | | |
| --- | --- | --- | --- | --- | --- |
| | Bust | | Waist | Hip | Sleeve Length |
| Banana Republic Petite | 33.5 | | 26.5 | 36.5 | 31 |
| Loft Petite | 33 | | 26 | 35.5 | 29.25 |
| Ann Taylor Petite | 33.5 | | 26.5 | 35.5 | 29.25 |
| Jcrew Petite | 33.5 | | 26 | 36 | 29 |
| Lauren Ralph Lauren Petite | 33.5 | | 26.5 | 36 | |
You can tell brands could be 0.5" difference in sleeve length and waist, up to 1" difference in hip and up to 2" difference in sleeve length. From above, if you have bigger hip, Banana Republic may be a better fit. If you have shorter arms, Jcrew might be the best choice.
Petite Inseam Length
It is worth noting that petite size chart normally does not specify inseam. The reason is possibly because pants, depending on the style, can have many different lengths.
For starters, cropped pants are supposed to be shorter than full length pants, while certain styles (like sailor pants) are designed to be longer than regular pants. As a petite woman, you are likely to want pants with inseam between 25 to 30 inches.
Since this is normally not included in the petite size chart, here we did a deep dive and gathered the pants length for some of the most popular American retailers and designers.
ASOS Petite Size Chart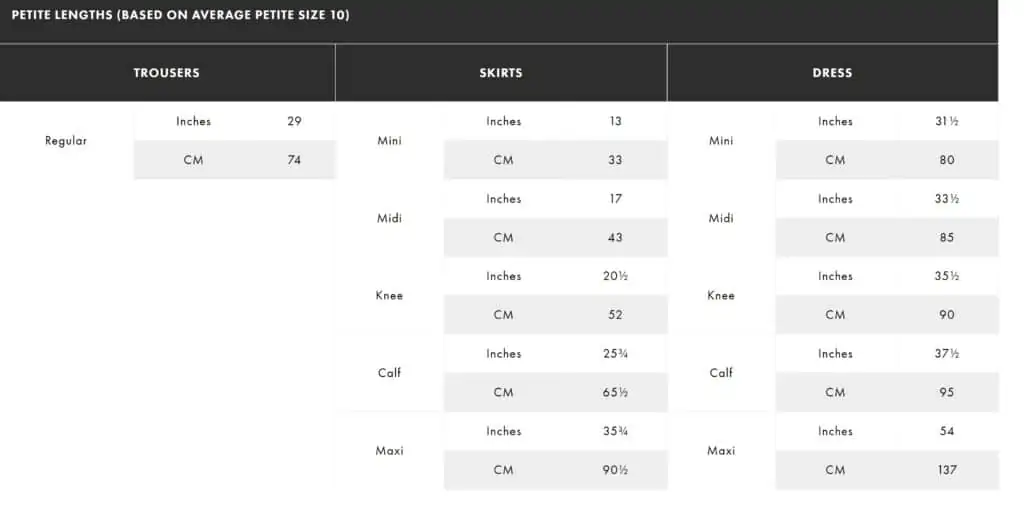 Most petite women are familiar with ASOS. Since they are UK sizing, the numbering are different than American sizing. They start with UK size 2 (29" bust, 22" waist and 31" hips).
Banana Republic Petite Size Chart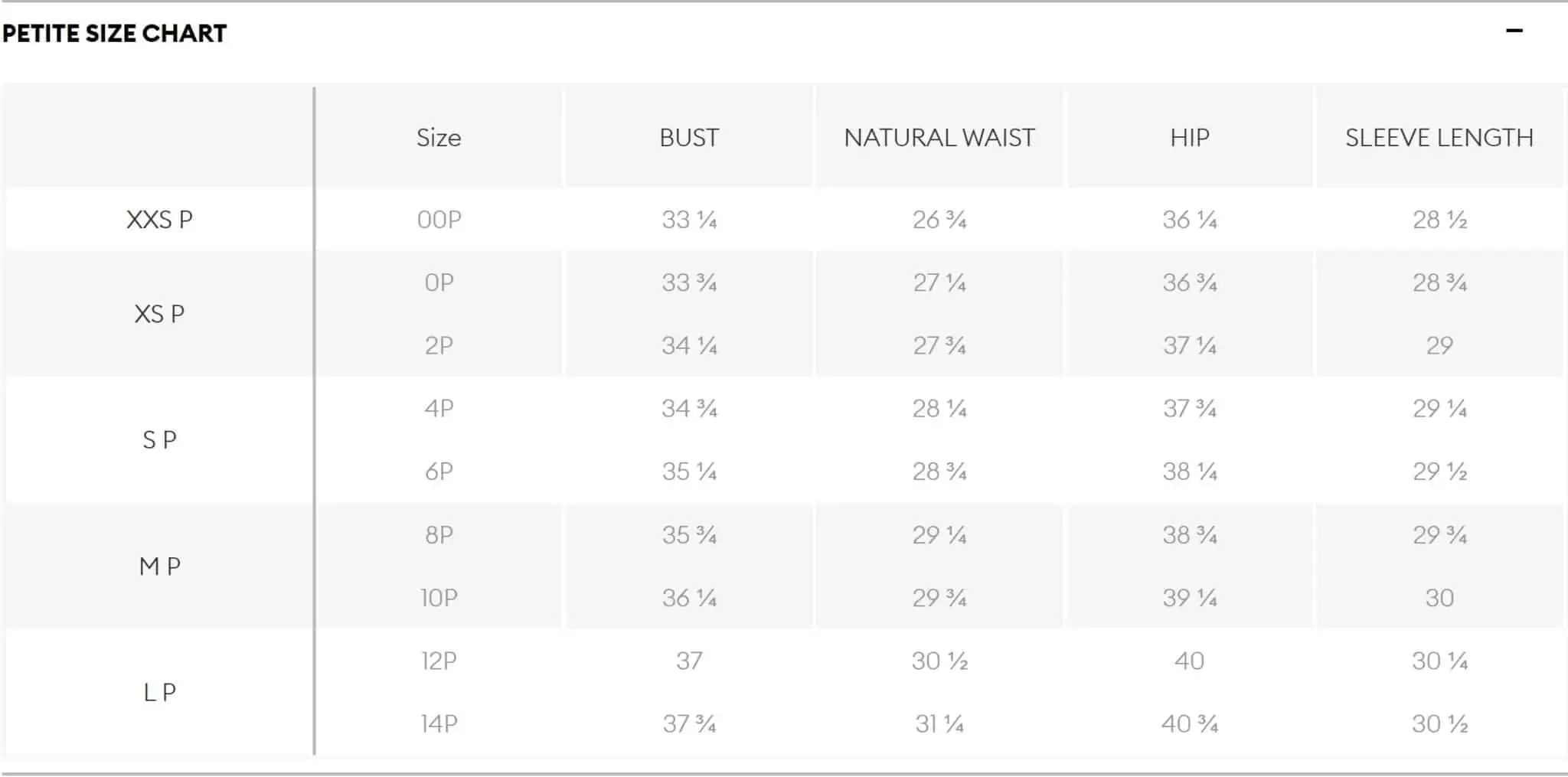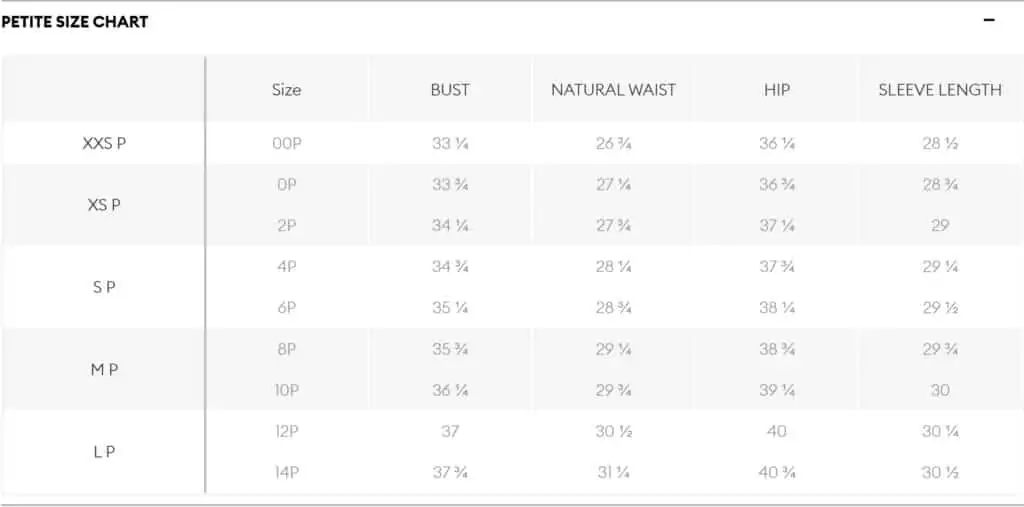 Banana Republic's petite jeans have different fits to choose from including
Skinny fit ( mid rise, skinny through the hip and thigh
Slim straight (mid rise, fitted through hip & thigh), girlfriend jean (straight through the hip and thigh)
Zero gravity denim ( 360 degree stretch that is supposed to contour the shape)
Sculpt denim that is for superior fit recovery that lifts your shape.
Depending on the fit, the inseam could be different. Their sailor pants 28 inches for petite and ankle jeans are 26 inches for petite.
Ann Taylor Petite Size Chart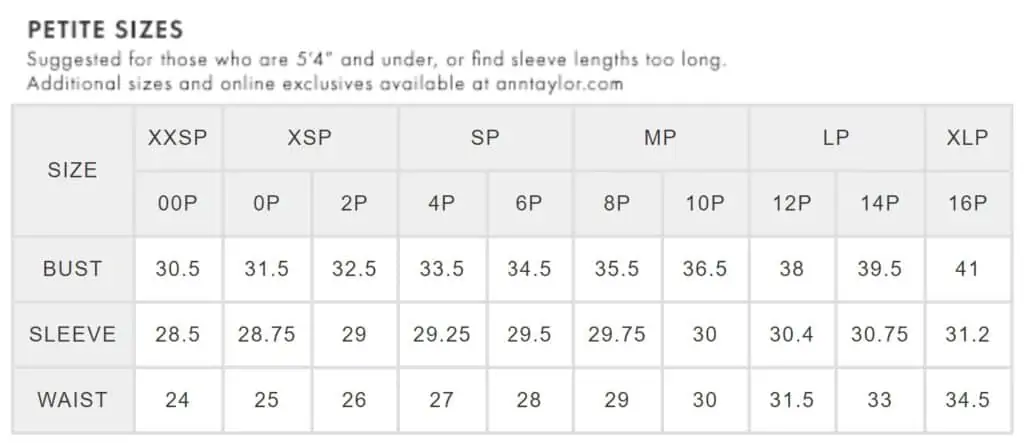 Ann Taylor has a variety of styles from track pants, jogger pants to formal work pants with different inseam length to choose from. Ankle pants inseam starts from 25 inches, and full length could be around 28.5 inches.
Jcrew Petite Size Chart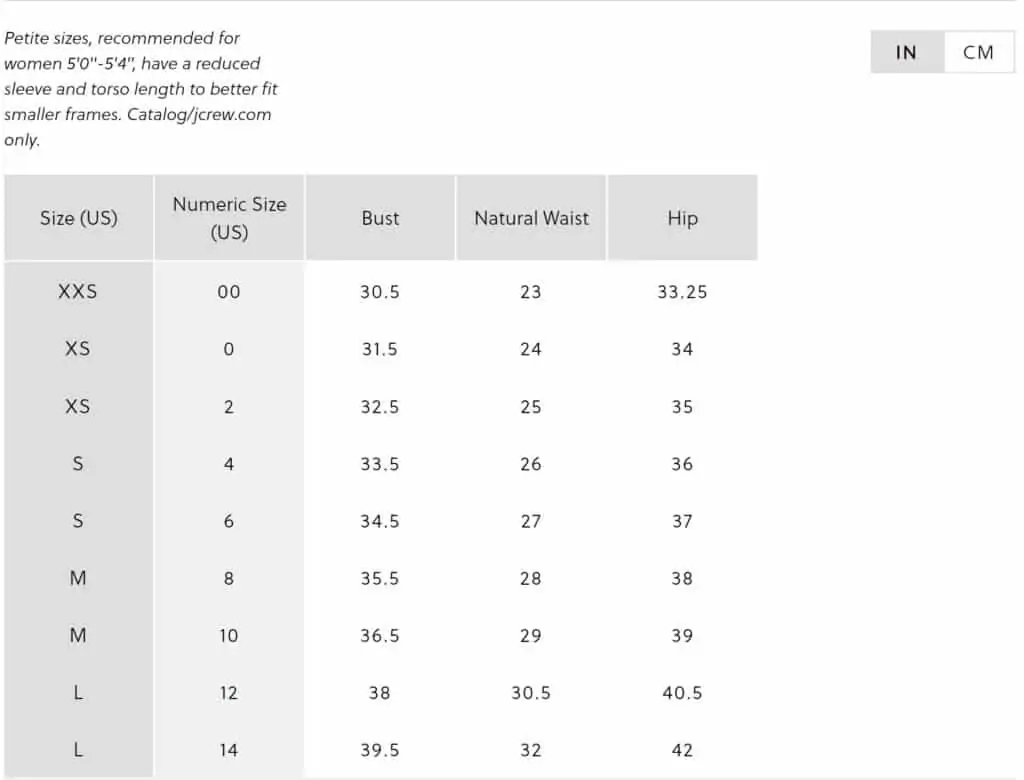 Jcrew have petite jeans that don't sacrifice style. Their classic slim crop pant for petites measures 24.5 inch inseam and hits above your ankles. Their evergreen always sold out Campbell wool trousers for petites is 30 inch inseam, which could be a bit long for some petite women.
Loft Petite Size Chart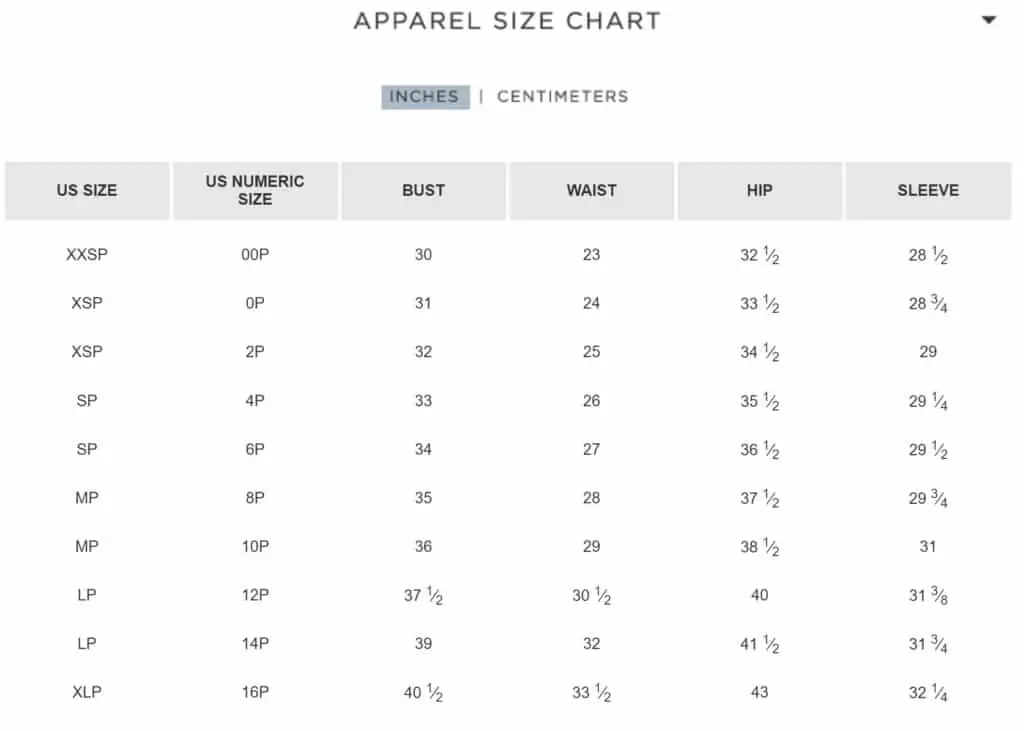 Loft offers a petite version of their regular size pants, including wide leg style. So if you are into wide leg pants, you will find the petite sizes there which has 24.5 inch inseam. Their classic Marisa fit skinny ankle pant petite version is 26 inch inseam.
Gap Petite Size Chart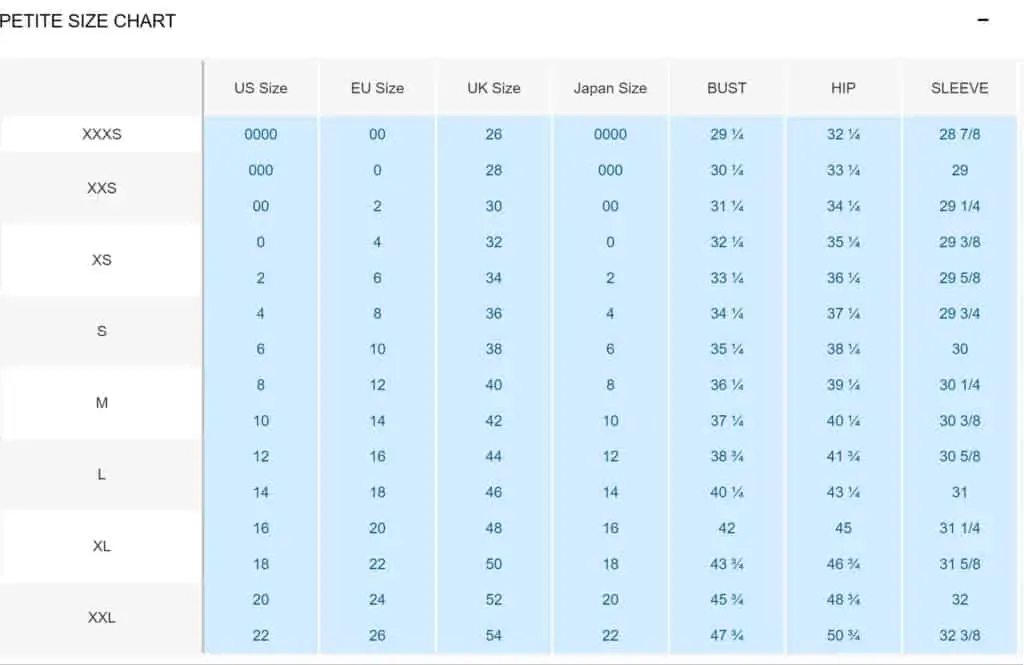 Gap has petite, regular and tall versions for most of their pants. The mid rise sculpt perfect boot jeans are flattering for petite woman, but the 30.5 inch inseam may only fit petite women with longer legs. If you wear shorter inseam, opt for Gap's skinny ankle jeans or mid rise skinny jeans which is 27 inch inseam.
Old Navvy Petite Size Chart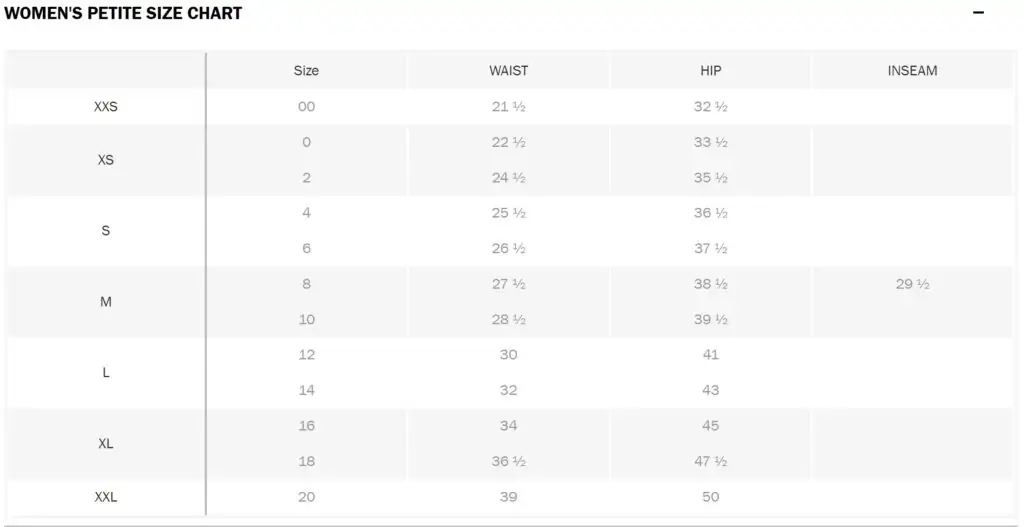 Old Navy has a full petite line from dresses to pants and petite active wear. They offer many choices for causal and well priced petite bottoms including trousers and jeans. Their famous rock star super skinny jeans has its petite version too and is recommended by some petite bloggers.
Anthropologie Petite Size Chart

Other than the above designers who carry a full petite line, here is some more places you might be surprised to find petite length pants.
Petite Dressing offers a wide range of petite friendly jeans with inseam starting from 25.5 inches. Petite Dressing's jeans selection focuses on flattering petite body frame, so you will find many high waisted petite jeans aimed at elongating your legs.
American Eagle
American Eagle does not have a full petite clothing line, but their jeans do have short, regular and long and x-long inseams. You may find many choices here, if you are looking for a pair of inexpensive pair of jean well under $100.
Depending on the style. Their short jeans could have 24.5 inch inseam, or 27 inch inseam. Each of their jeans has a link to its particular size chart, which makes it easy for you to make an informed decision before purchase.
Madewell
Madewell does not have a petite line, but they have some petite friendly styles such as high rise distressed jean with 28.5 inch inseam and Cali Demit-boot jean with 26 inch inseam.
Nordstrom
Nordstrom is probably the most friendly department store with the largest selection of petite designers jeans in one place you can search for easily. Inseam range from 27 to 32 inches for regular length pants. Free people has short, regular and long version for some of their jeans styles. The clean girl friend jean is high rise style with 25 inch inseam, which is quite flattering to petite girls.
Shopbop
Shopbop do not have a dedicated petite section, however, you may find the ankle skinny jeans from some designers can fit you well as full-length. If you are into high end designer names, then Shopbop is the place to go.