If you are petite, it's never easy to find the right coats for you. I know this as I am 5'2″ myself, and for years I had to alter everything in order to fit me right. For that reason, I started my own petite clothing line for women in a similar situation as me.
If you are 5 feet and under, the challenge doubles because it is even harder to find any coat that fits your frame. Not only the fit is important, but also the right styles can make a huge difference for you.
Based on my own experience as well as feedback from thousands of my petite customers (many of whom are 5 foot and under), I've put together this guide to help you.
Styling Goal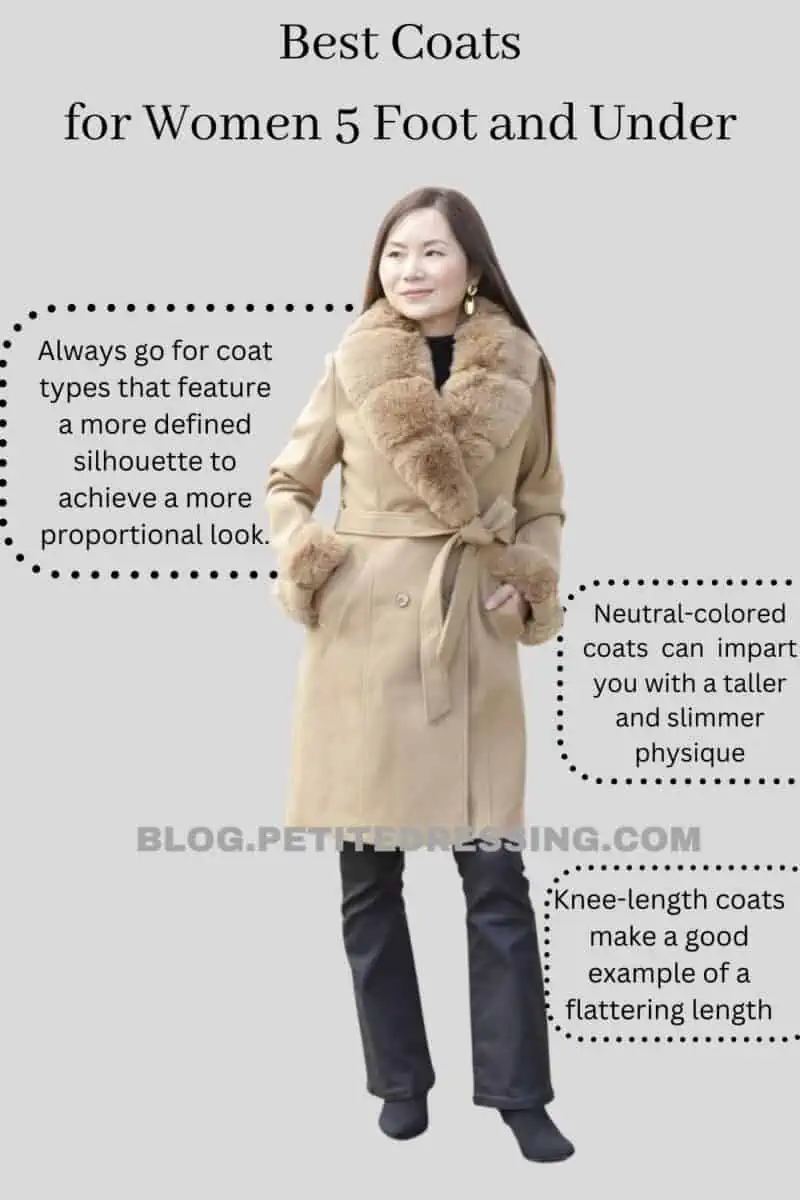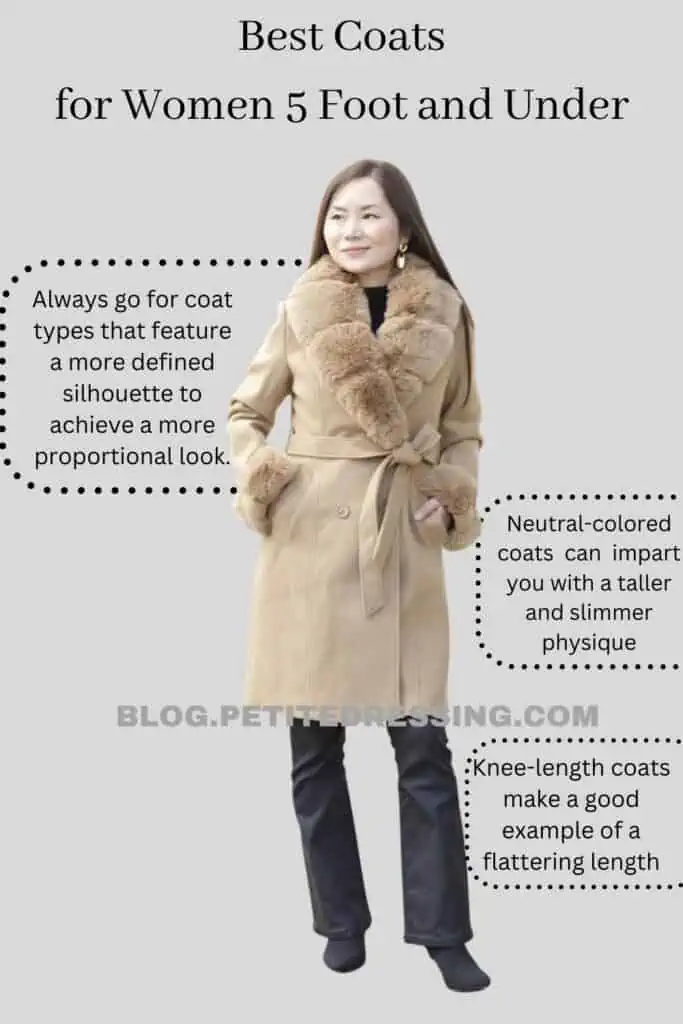 Always go for coat types that feature a more defined silhouette to achieve a more proportional look. Stay away from oversized coats, which can be too much for a petite body.
Be mindful of the coat's length. Knee-length coats make a good example of a flattering length because it strategically elongates your legs by drawing your eyes to a flattering level.
Neutral-colored coats such as beige, navy, or black are classic and versatile, and they can also impart you with a taller and slimmer physique. Avoid using bold designs or vivid colors that can overwhelm your frame.
Make sure the sleeves are precisely fitted to your arms. Sleeves that are overly long or too short can throw off the balance of your ensemble.
Structured Wrap Coats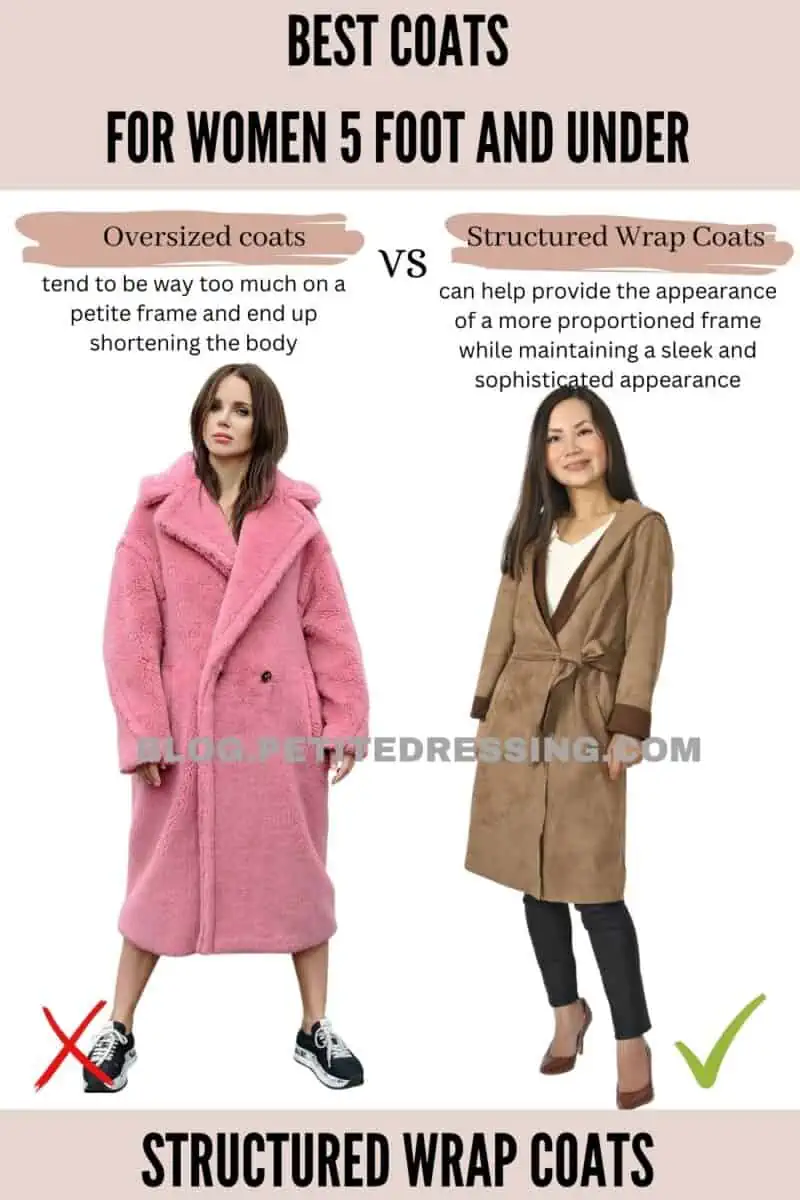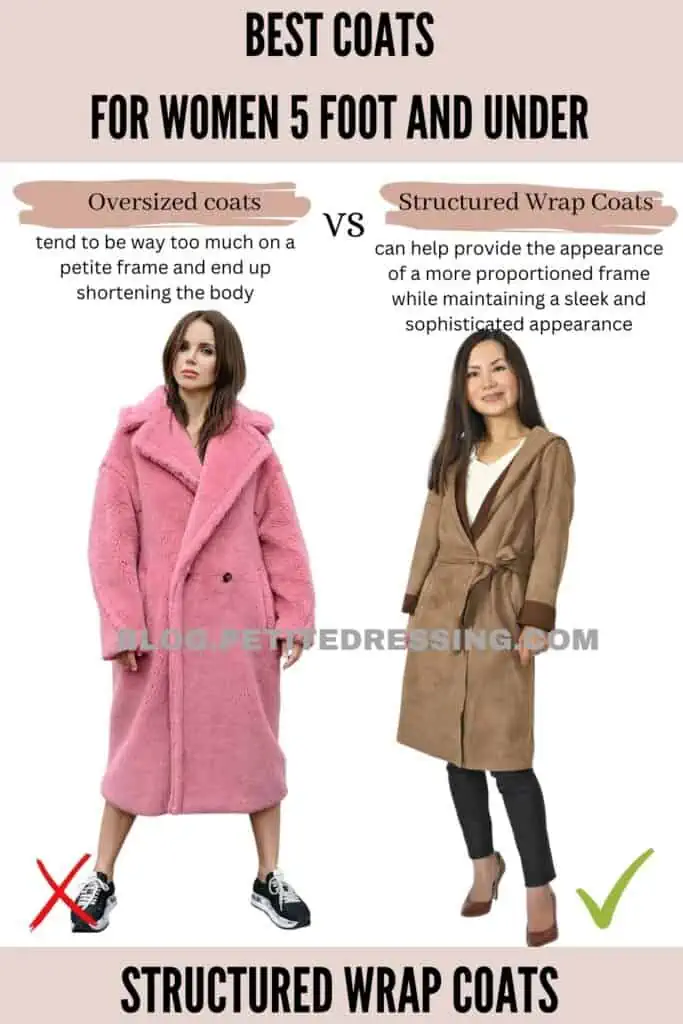 Structured wrap coats are a must-have in the wardrobe of any woman who is 5 feet and under. These coats can help provide the appearance of a more proportioned frame while maintaining a sleek and sophisticated appearance due to the fact that these types of coats hold more shape.
I will never stop mentioning how much I highly recommend wearing wrap coats! Their cinched waist with the use of a tie belt draws attention to your waistline and gives you the illusion of an hourglass shape which highlights your most appealing features.
To keep things interesting, try wearing a wrap coat with a shawl collar or layer it over a flowy midi dress! You may also choose a wrap coat with unique vertical prints to add some individuality to your outfit.
Classic Belted Coats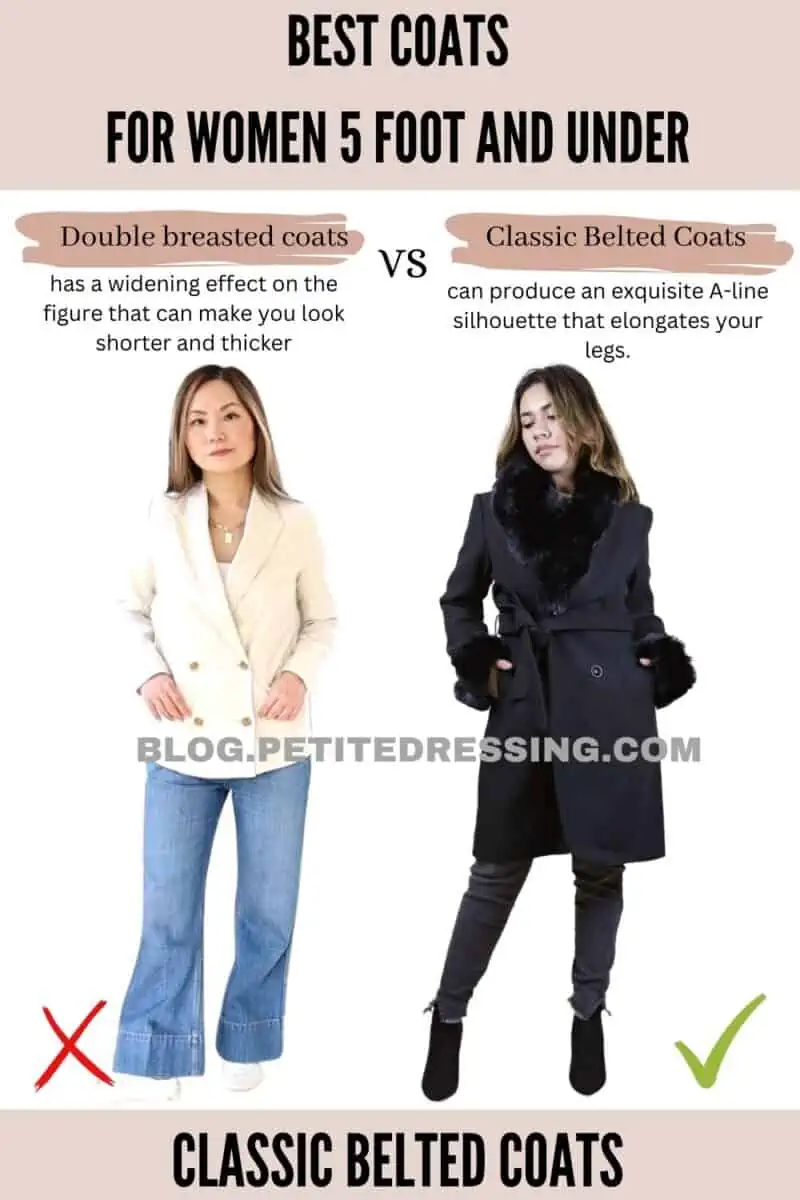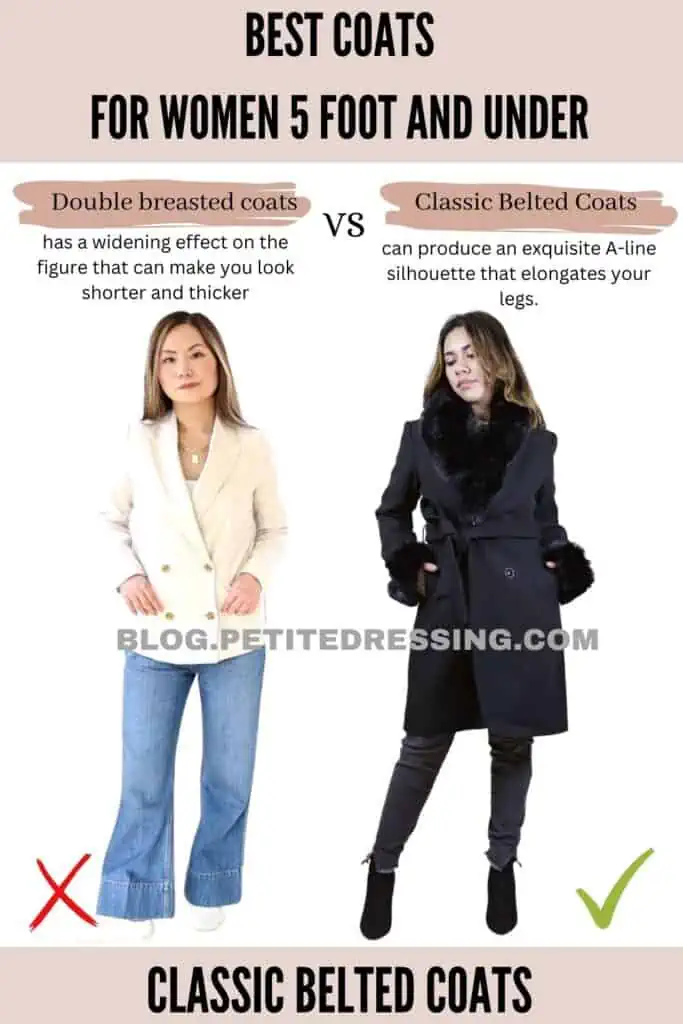 Classic belted coats are an incredibly versatile and elegant wardrobe piece for the colder months. To avoid being overwhelmed by the fabric, petite ladies should opt for coats with a well-defined waist as well as a streamlined structure to highlight their natural figure.
A belted coat with a modest flare at the bottom can produce an exquisite A-line silhouette that elongates your legs. You may also try a belted coat in an eye-catching color like red or with a distinctive texture such as leather or faux fur for added flair!
Princess Cut Coats in Neutral Colors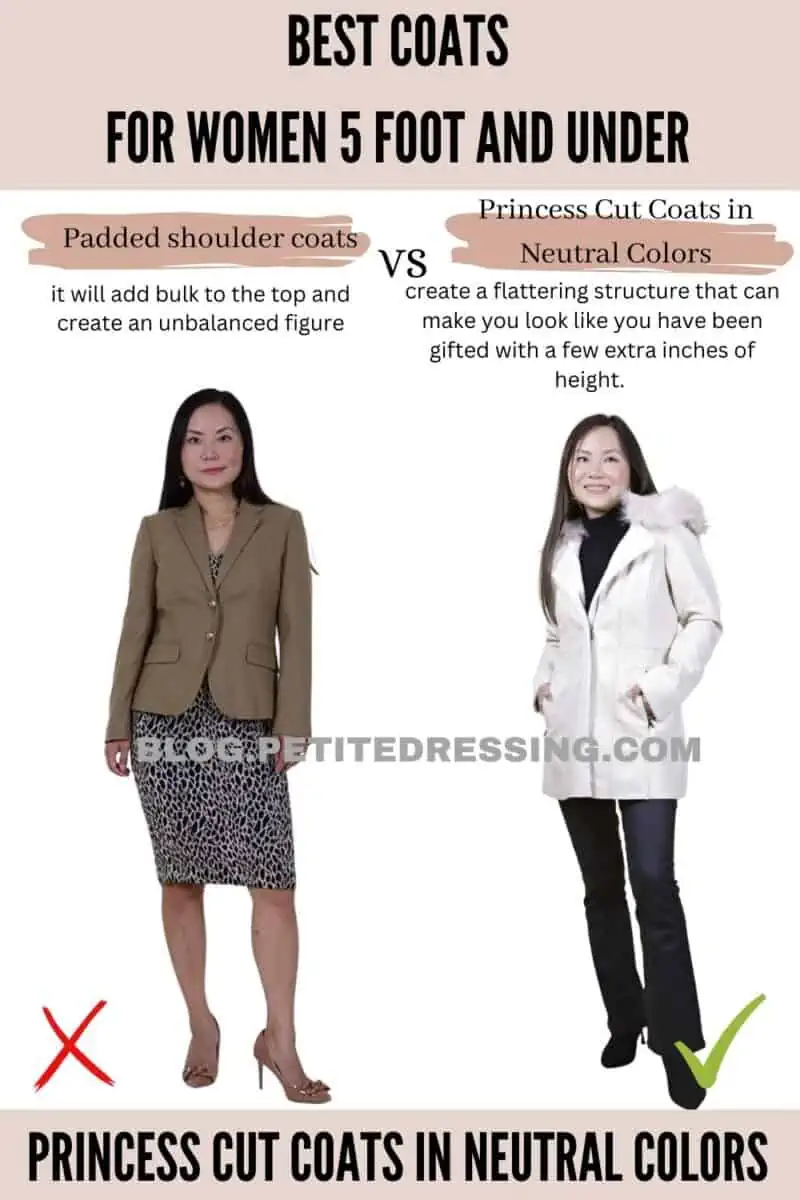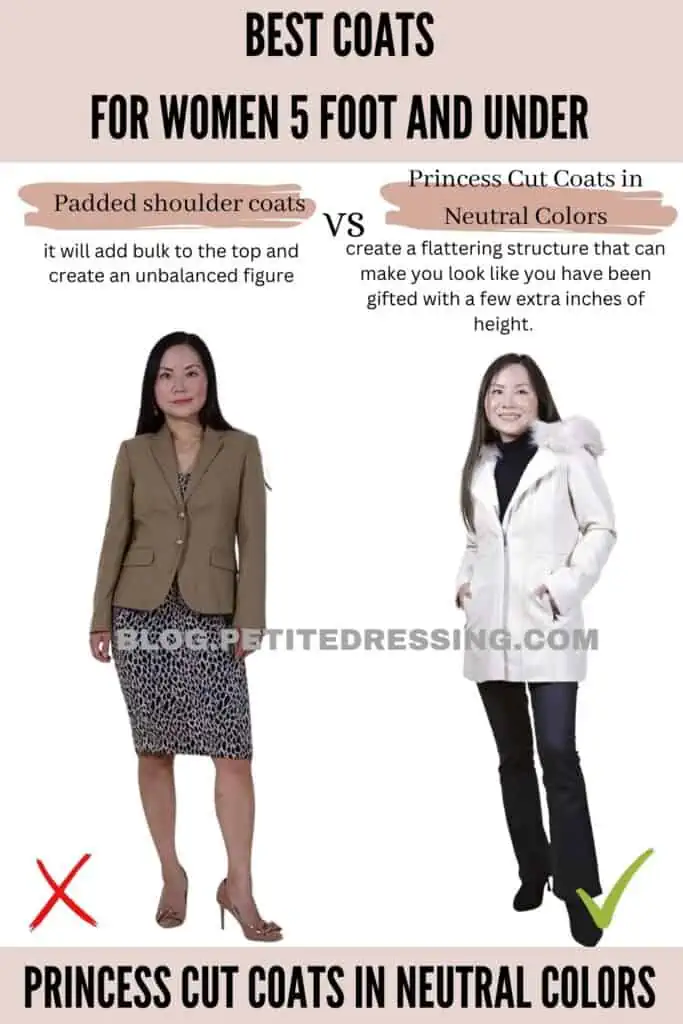 Princess-cut coats are an absolute must for petite fashionistas. The snug top, the slight flare at the bottom, and the neat seams that run down the hem create a flattering structure that subtly draws invisible vertical lines, making you look like you have been gifted with a few extra inches of height.
For a sense of seamless sophistication, use timeless neutral colors like beige, navy, or black, or go for a coat with extraordinary embellishments like large buttons or a faux fur collar. Just remember not to go overboard with bulky embellishments as they can make you look heavier and shorter.
Petite Knee-Length Coats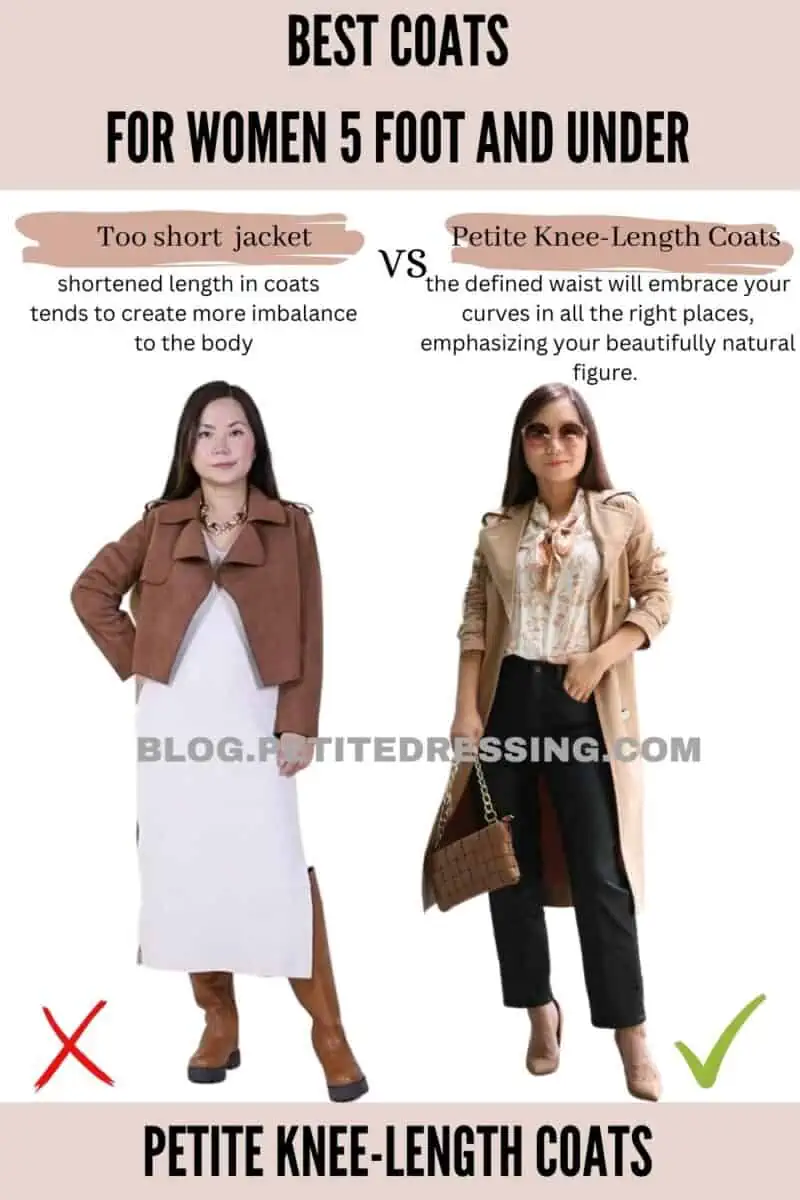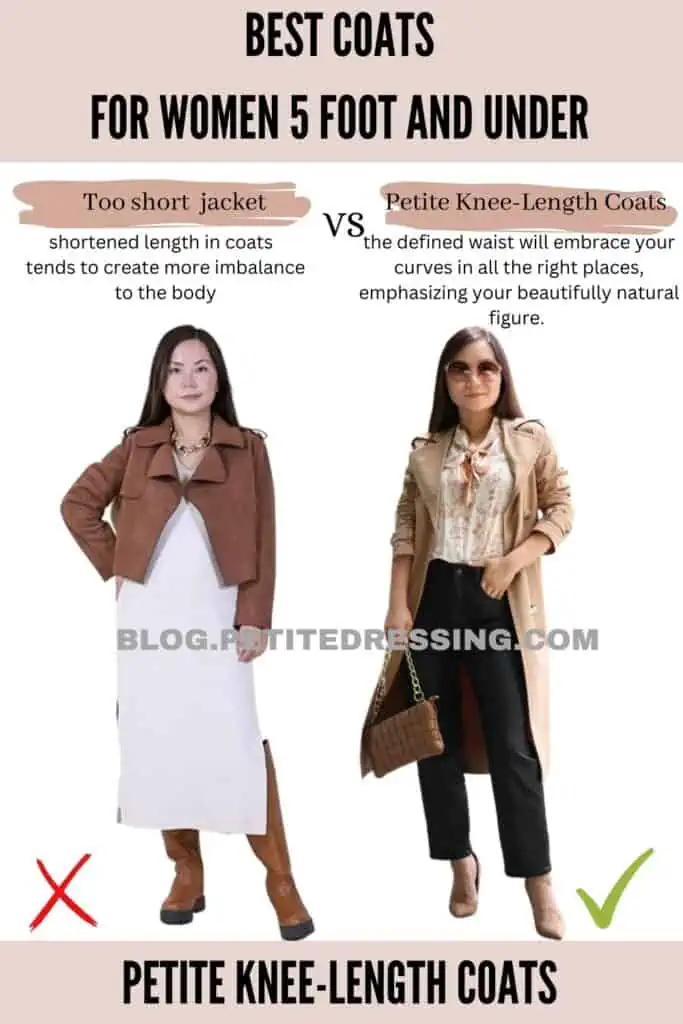 For women 5 feet and under, here's another good news! As I mentioned earlier under our "Styling Goal" section, the length of your coat can make or break your entire ensemble and so one of your safest options is to go for knee-length coats.
To provide a sense of height without overwhelming your frame, select a coat that hits just above or below the knee. A tailored fit and defined waist will embrace your curves in all the right places, emphasizing your beautifully natural figure.
To elevate your appearance, play with textures like tweed or wool, or go for a coat in a bold, attention-grabbing hue. Accessorize with a striking bag or a bright scarf to add pizzazz to the look!
Form-Fitting Coats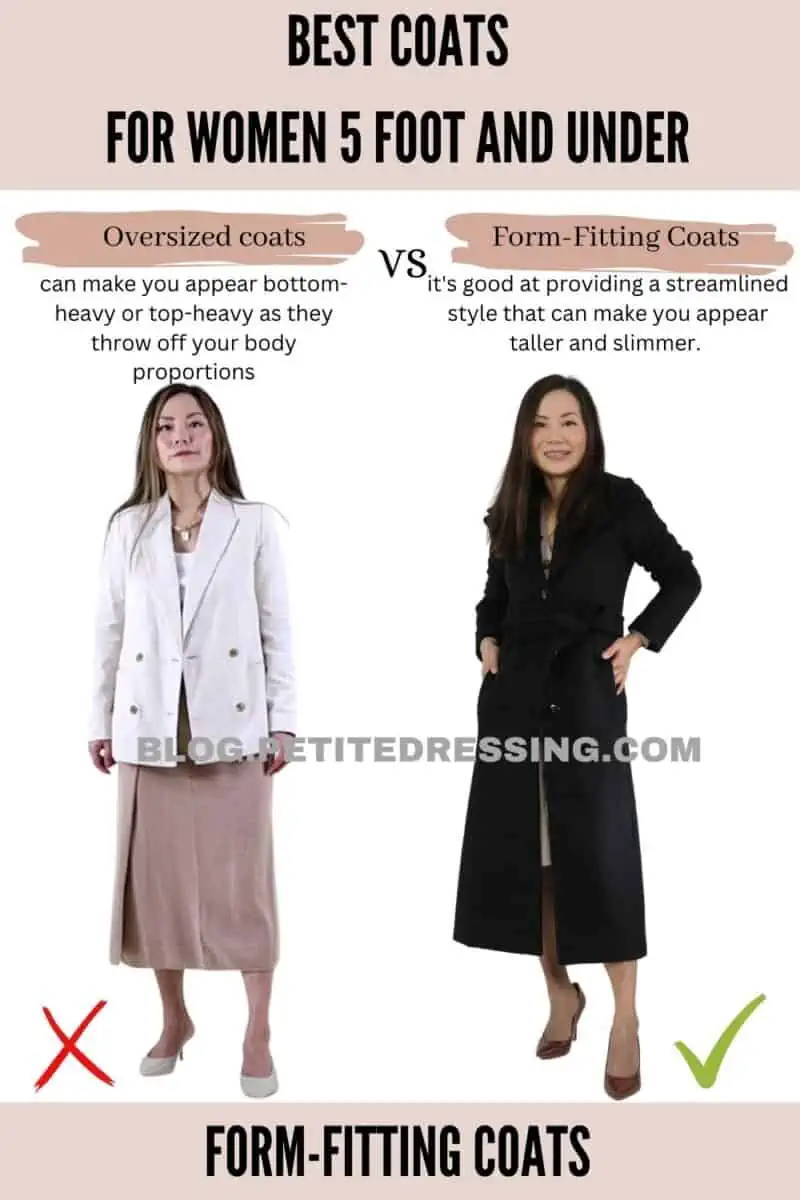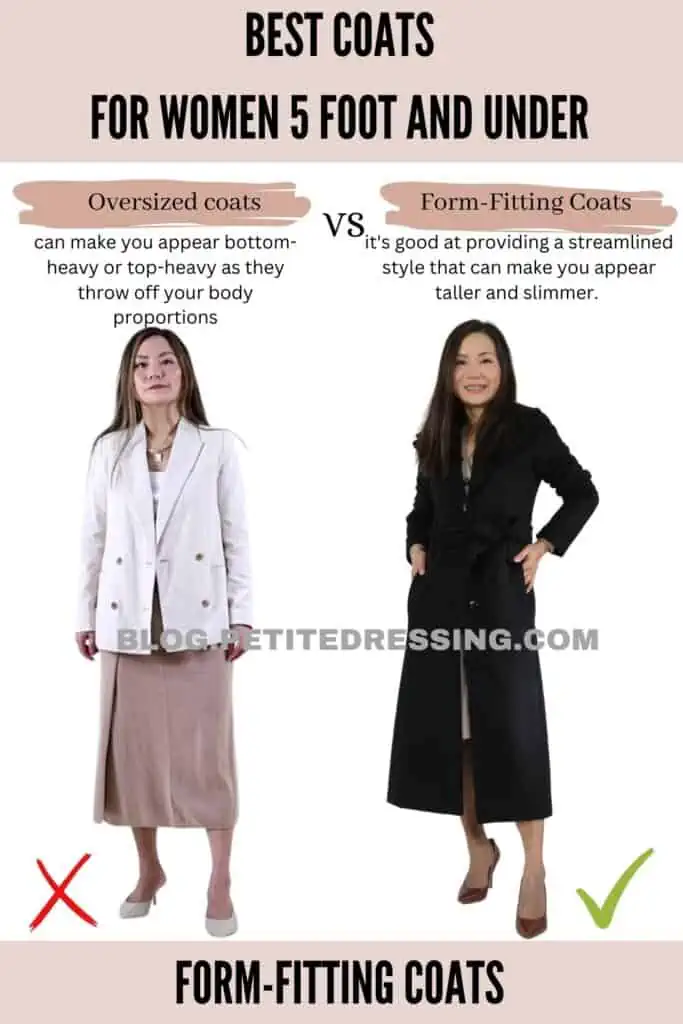 Petite fashionistas who want to show off their curves without feeling restricted may go for form-fitting coats. Such coats are made to hug your body shape as if they are tailored especially for you – providing a streamlined style that can make you appear taller and slimmer.
Look for coats that have vertical seams or darts to give a suited shape, all while leaving enough space for your body to feel comfortable. A neutral-colored form-fitting coat, which customarily includes black, gray, or beige, would be a versatile selection that may be worn with any outfit.
Coats with Three-Fourth Sleeves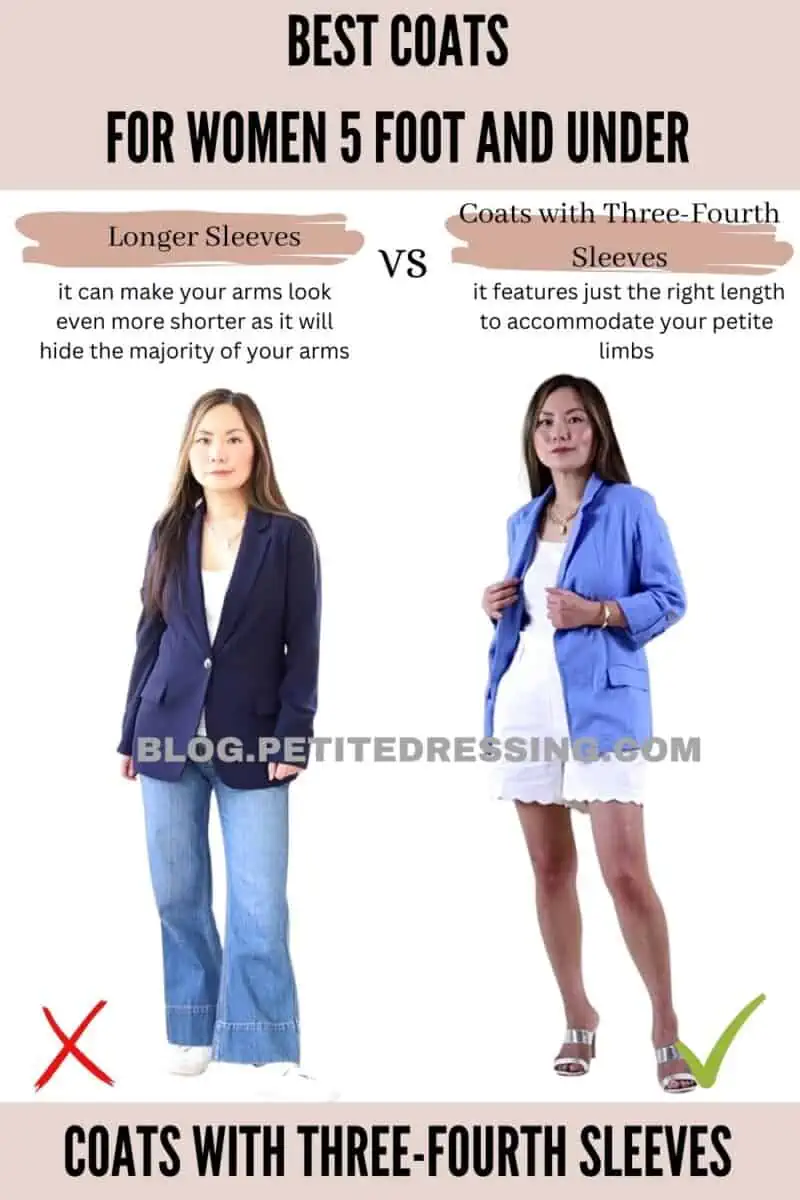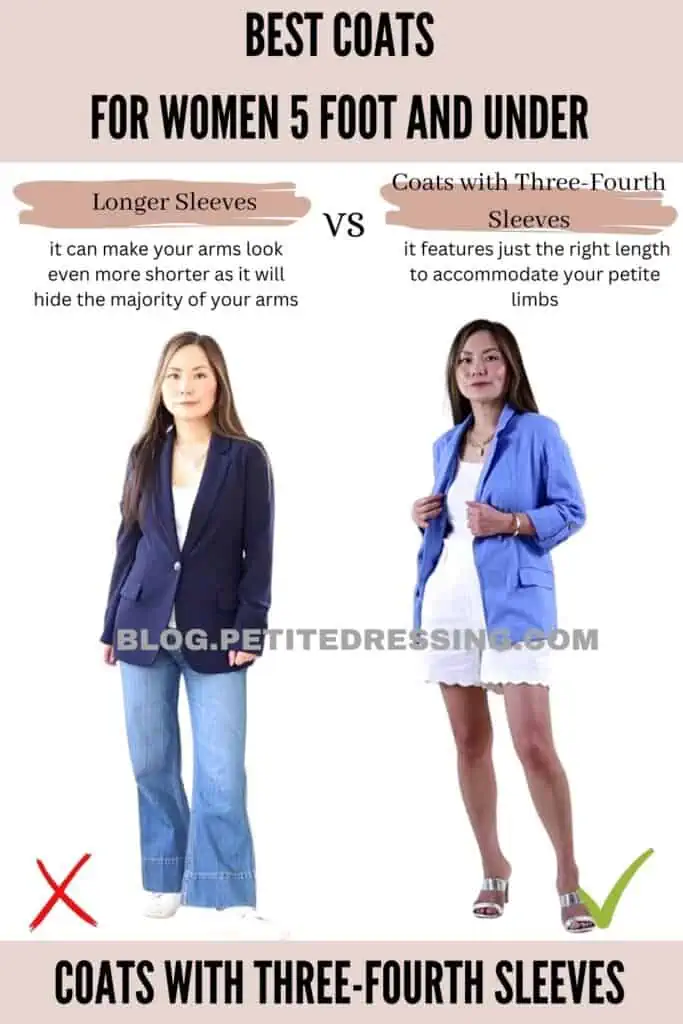 Coats with three-fourth sleeves are a refined and appropriate choice for the fashion-savvy petite woman because it features just the right length to accommodate your petite limbs. These sleeves not only flatter the natural length of your arms but can also be a perfect piece to show off your jewelry such as your timepieces and bracelets!
Perfect as a transitional piece or layered over a sweater, three-fourth sleeve coats are versatile for any kind of event. To add an individual flavor to your attire, seek out embellishments such as elaborate buttons or stitching.
Pair with slim-fit slacks and ankle boots to complete your outfit for a sophisticated and flawless look.
Tailored Peacoat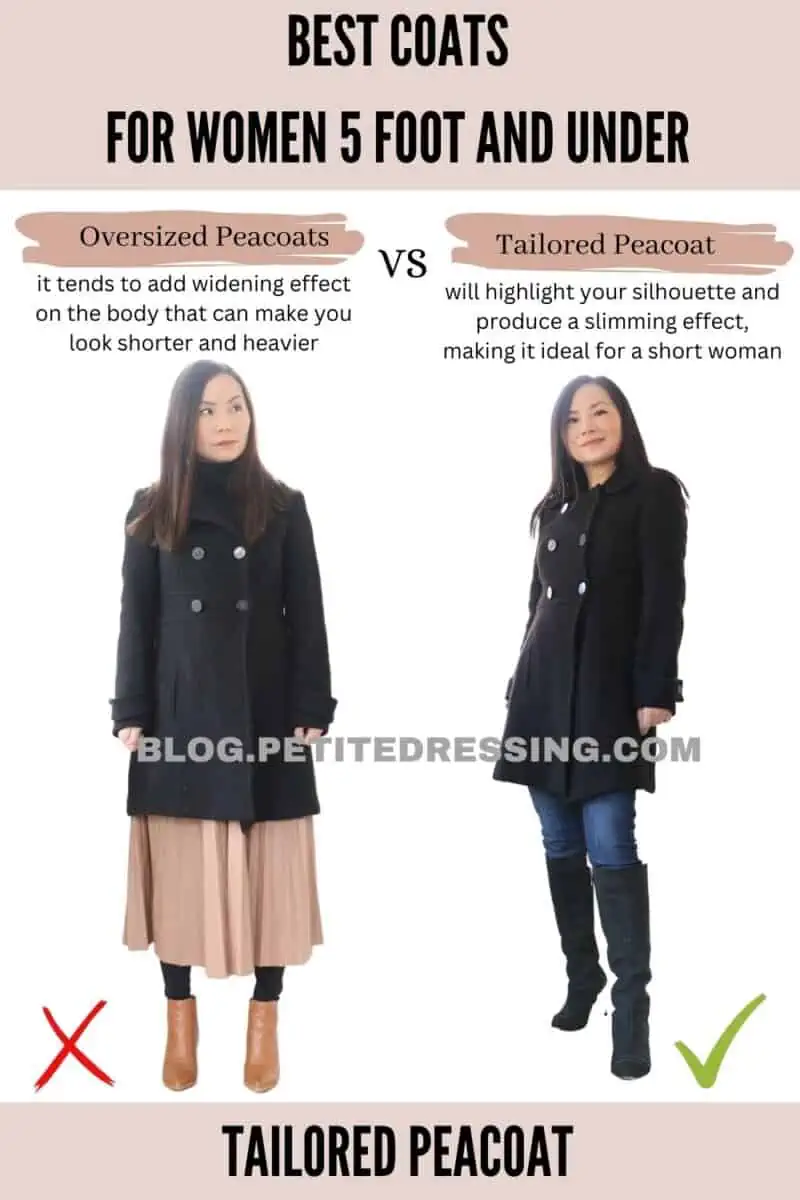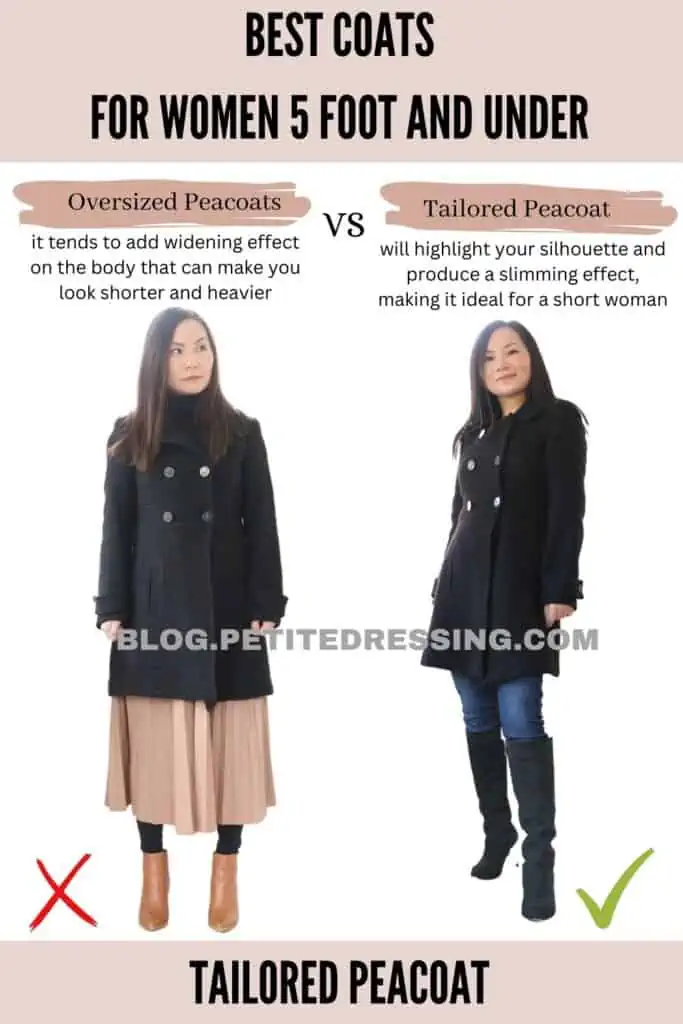 The tailored peacoat is timeless and polished clothing that stands the test of time. The fitted design of a peacoat will highlight your silhouette and produce a slimming effect, making it ideal for petite fashion enthusiasts looking for a coat that combines style and comfort.
Intricate touches like double-breasted buttons or a belt that cinches your waist will draw attention to your contours. This classic coat lends sophistication and effortlessness to any look, whether dressed up with a skirt and heels or dressed down with jeans and sneakers. 
I advise going with a neutral hue like navy or camel for a classic aesthetic. Alternatively, a dramatic splash of color such as red or pink can give an adventurous touch to your clothing.
Crop (Hip-Length) Coats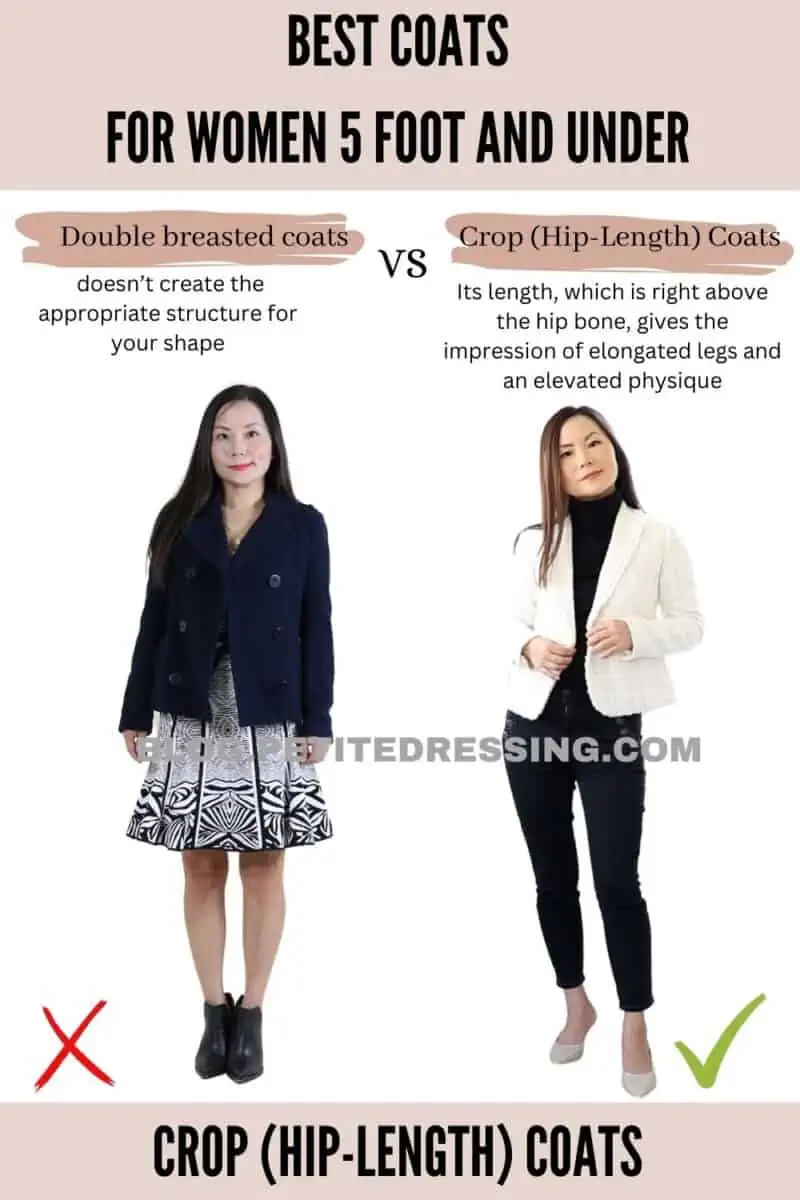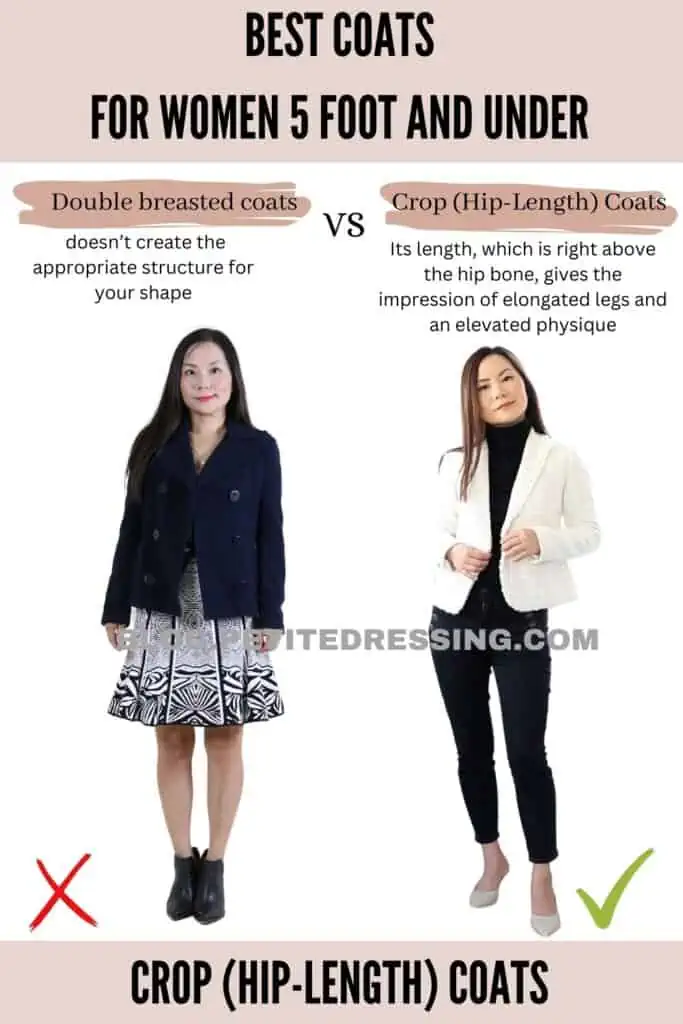 And now, one of the most popular outerwear trends: the crop coat! This trendy coat style is ideal for petite fashionistas looking for a coat that flatters their figure.
Its length, which is right above the hip bone, gives the impression of elongated legs and an elevated physique. Consider wearing it with high-waisted jeans or a skirt for a sleek and streamlined style. The coat's texture is also essential in establishing a chic outfit.
Aside from that, you can choose between warm and comforting fabrics such as wool or tweed as well as lighter fabrics like cotton or linen. If you want to show off your creative side, add a cropped coat in a loud color or an eye-popping print to your outfit.
Coats in Bright Colors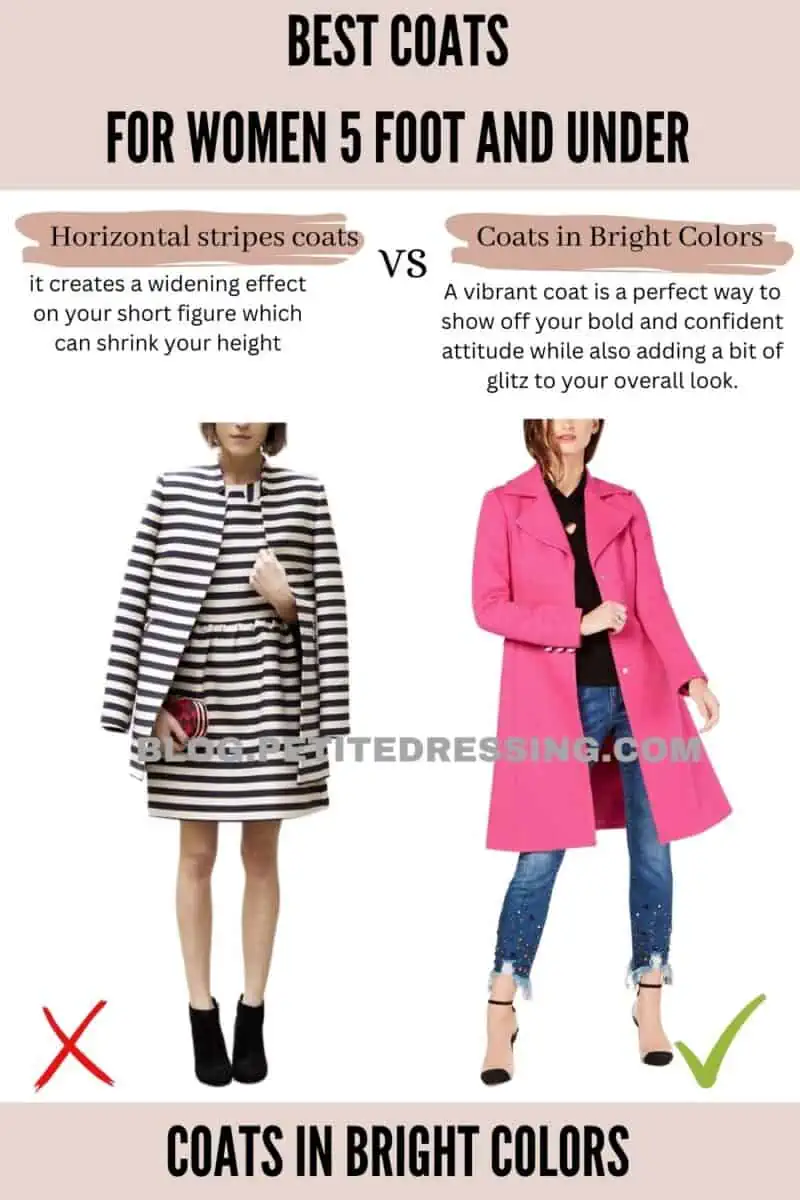 Let's now talk about coats in bright colors! They're indeed a fun and fashionable option for petite fashionistas who wish to stand out.
A vividly colored coat can be worn alone to catch attention, or it can be layered over a neutral ensemble to add an unexpected yet pleasing pop of color. Why not dress up your look by wearing a bold color like fuchsia, mustard, or cobalt blue?
Moreover, I recommend wearing it with skinny jeans and ankle boots for a casual day look or dress it up for an evening out with a skirt and shoes. A vibrant coat is a perfect way to show off your bold and confident attitude while also adding a bit of glitz to your overall look.
Avoid Coats That Are Too Long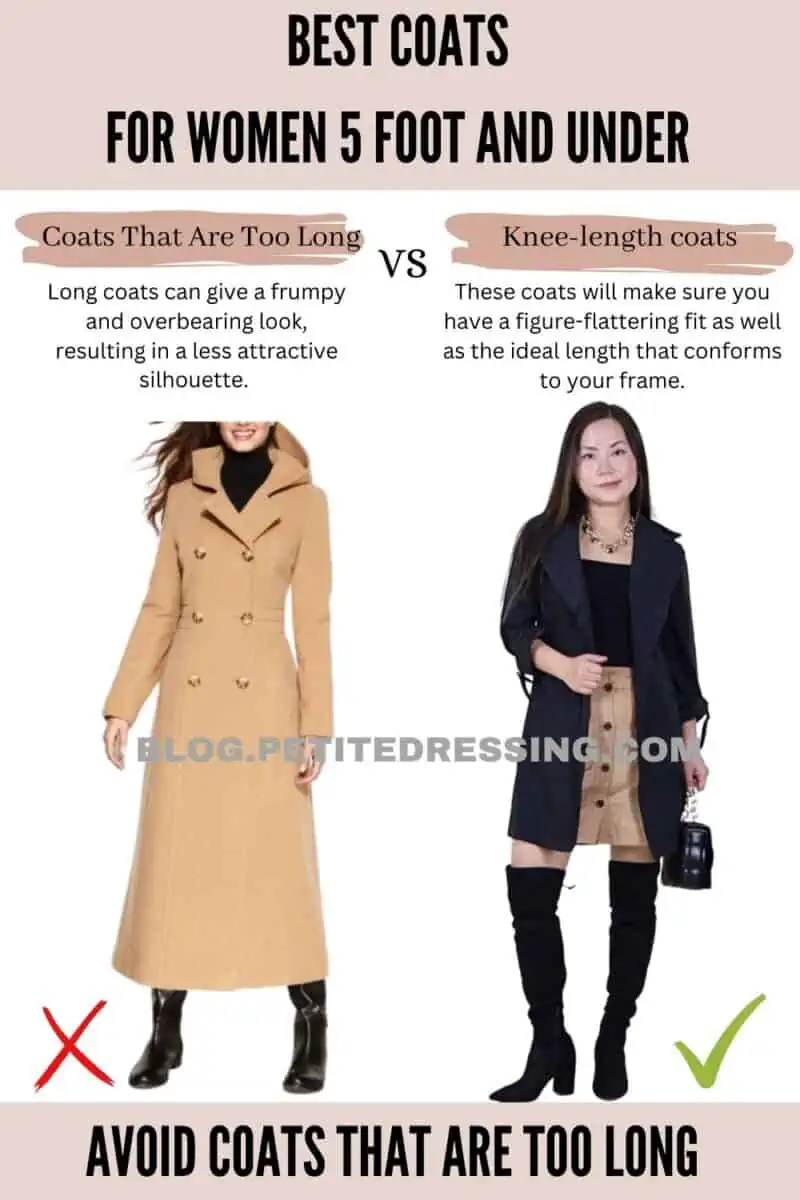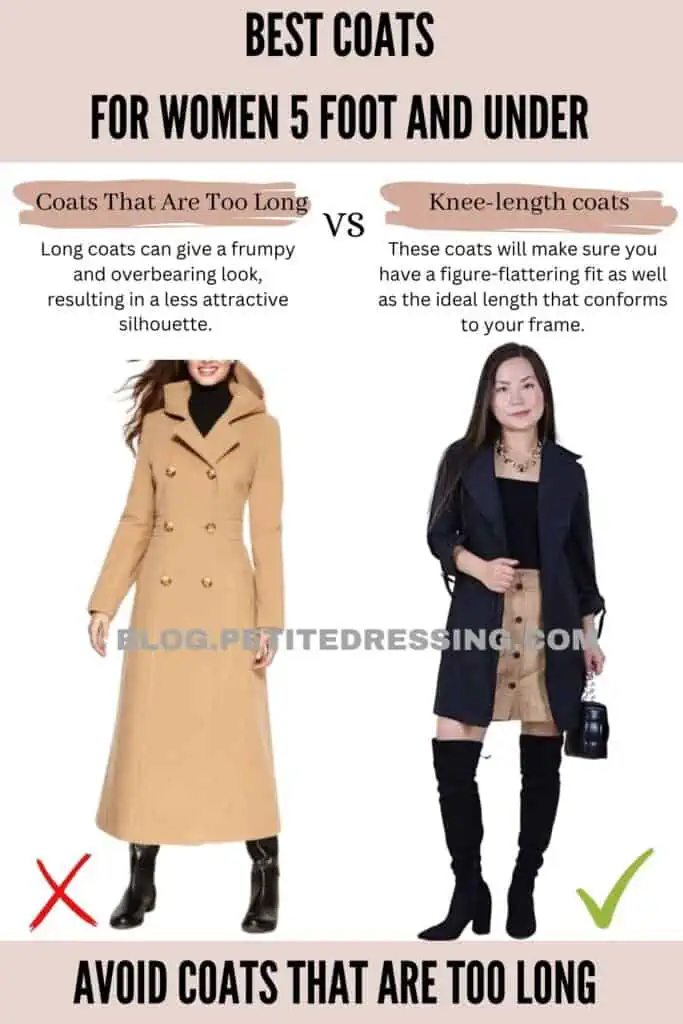 When it comes to finding the ideal coat for women 5 feet and under, length is a vital factor to consider; you want to ensure that your coat fits your body proportionally and does not restrict your movement. Avoiding excessively long coats is crucial for petite fashionistas to make sure that the coat does not overpower their figure.
Long coats can give a frumpy and overbearing look, resulting in a less attractive silhouette. Furthermore, wearing an overly lengthy coat can restrict your range of motion, making walking or sitting uncomfortable.
Petite fashionistas can avoid the downsides of wearing excessively long coats by opting for ones that are fitted or specifically intended for petite sizes. These coats will make sure you have a figure-flattering fit as well as the ideal length that conforms to your frame.
The Key Takeaway
As previously pointed out, there are many stylish coat options available for women 5 feet and under that can flatter their frame and make them look a lot taller and slimmer.
Remember to look for coats with a defined waist and a sleek structure. Additionally, pick neutral colors and avoid oversized or unstructured coats that can be overpowering for a petite body.
Finally, don't be hesitant to experiment with textures, patterns, and bright colors to spice up your look. Hopefully, by following the aforementioned tips, you can look chic, stylish, and sophisticated in your coat!