Looking for wedding dresses for inverted triangle body shape? If you are a bride with an inverted triangle body (sometimes known as the strawberry shape), this is the right place for you!
First, I want to say congratulations! I know how exciting it is to be looking for the wedding dress for your big day, the day you may have been dreaming about since you were a little girl. On the other hand, finding the best wedding gown could also be stressful for any body type.
As a bride with inverted triangle body shape, you have your unique assets and weaknesses. The goal is to highlight your assets and camouflage your weaknesses.
Learning about what to look for that is specifically flattering for your body type when you are going to the bridal shops will save you a ton of time.
Understanding your body shape and know what works and what doesn't for the inverted triangle shape will definitely help you make the right decision for your big day.
Are you an inverted triangle shaped bride
Now, let's first take a closer look at what it means to be an inverted triangle shape.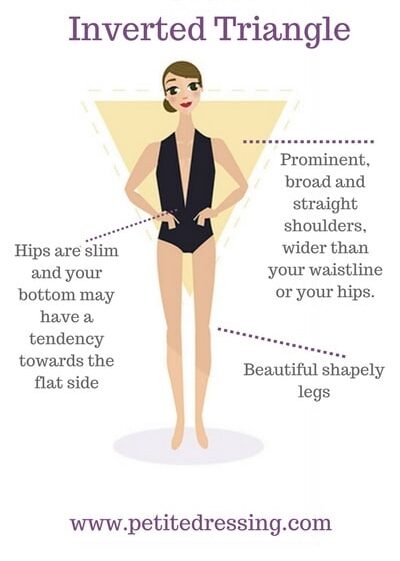 If you are a bride with inverted triangle body type, your body generally have the following characteristics:
You have prominent and broad straight shoulders, which are wider than your waistline or your hips.
You are likely to have athletic build
You have ample bust and a wide back.
You have a proportionally larger upper body
You tend to have rather flat buttocks.
Your hips are slim and your bottom may have a tendency towards the flat side
Your waist is subtle
You have a tendency to gain weight first in your belly and upper body, especially your back, when you gain weight
To summarize, Inverted triangle body type girls have wider tops than bottoms, due to a combination of narrow hips plus either strong, athletic shoulders or a large bust.
It's what we've heard called a swimmer's build, and is the opposite in terms of body shape to the pear or triangle. Lots of models have this body type, and the reason is that it allows a 'clothes hanger' effect, which really shows off a number of looks to their best, so our inverted triangle shape brides are really blessed when it comes to couture and high fashion!
How to dress the inverted triangle shape bride
For brides of any body shape, the secret to looking your best on your big day is to achieve balances and symmetries through your choices of wedding gown.
To our inverted triangle shaped bride, the focus becomes the inverse of that triangle—usually using a fuller skirt to balance the broader upper body.
To balance out the silhouette, you'll want to add volume on the bottom, drawing the eye to your slender hips with detailing and sparkle, and keeping things simple and structured up top.
Now let's look at what are the best wedding dresses for the inverted triangle shape to achieve this.
Mermaid wedding dress
Mermaid or trumpet dresses are best women with inverted triangle shape because the slim bodice and flared skirt provides a flattering counterpoint to the strong and shapely shoulders.
Of course this is also the most feminine shape to add curves to your athletic body!
Aline wedding gown
A line wedding gown works great on you. This style is fitted at the bodice and flows out to the ground with an unbroken line (resembling the outline of an 'A'!)
Due to its classic and simple style, the A-line dress is appropriate for any occasion, from a quiet backyard gathering, to a traditional church ceremony. A great shape for all figures, in particular those with a larger upper body.
The full skirt of the A-line can also hide a larger lower body, or create the illusion of curves on a narrow frame.
Since the A-line dress is so versatile, simple modifications to the neckline, waistline, or fabric can accentuate your best features and hide those your not so fond of!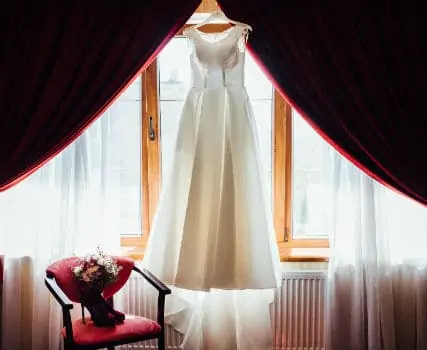 You can keep things softer with sheer fabrics that soften your upper half. A-line dresses as always are a good bet, but so are empire line and ballgown dresses.
Fuller A-line skirts with layered satin or tulle work well to add volume to your bottom and create symmetry to your broad shoulder.
Tea length and shorter dresses also surprisingly work well to balance the upper body of an inverted triangle figure by drawing attention downward to your legs.
Ball gown
Because you have a heavy top, you can look for something with a heavy bottom to balance it out.
Ball gowns with a full skirt creates a symmetry with your wide shoulders, while a structured bodice accents a trim waist.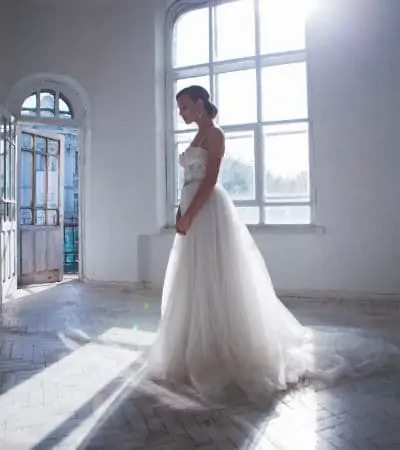 However, if you happen to be petite, then generally a big puffy ball gown is not your best option, no matter what body shape you are. Petite brides should be very careful when choosing a ball gown style because the puffiness could easily swallow your petite body frame.
V Neck
For girls with inverted triangle body type, V-neck neckline is one of the most flattering necklines because it balance out your broad shoulders and make them more in proportion with the rest of the body.
The V neck, especially those with deep v neck, creates a vertical line, which is the opposite of your natural wide shoulders and thus makes you look your upper body looks more balanced.
Wedding Dress with Tulle Skirt
A shorter length (like the tea length) wedding dress with tulle skirt is a wonderful choice for inverted triangle shaped brides for several reasons.
First, it shows off your nice legs! Did I mention your legs are one of your best assets you should be showing off?
Second, if you like the dramatic look of the ball gown style but don't want to look overwhelmed, then this achieve the right balance for you.
Everything else you need to know
Resources for the inverted triangle
Inverted Triangle Ultimate Style Guide
How to Dress Broad Shoulders
Bathing Suits for Inverted Triangle Shape
How to choose wedding Dresses