Wondering how to organize a closet? You are at the right place! It's time for spring cleaning and I'm sure your closet is on the top of the list to be cleaned up.
I have a small closet with LOTS OF clothes! Every year at change of season, I go through the process of organizing my closet and after all these years, I have developed an effective 7 step system to de-clutter the closet and get ready for the new season.
In today's post, I will walk you through step by step on how to organize your closet, so that you will have a well organized closet not just for this season, but for EVERY season. In fact, if you keep in mind the organization rules, your closet will ALWAYS stay neat and that will save you a ton of work for you going forward. Next time when the season changes, it will be much easier for you.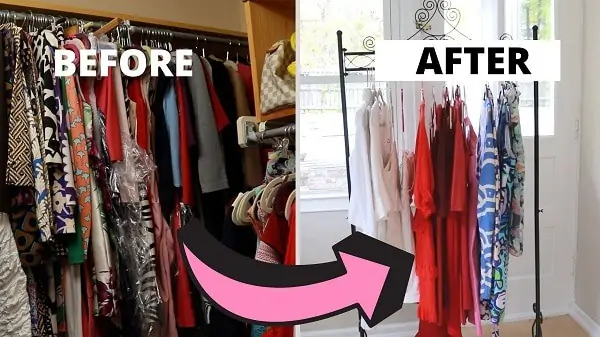 To make sure you have a well-organized closet, you need to make sure you are using space-saving hangers. For all the organizing tools and space saving hangers I use in these 7 step process, I have put the summary at the end of this post so that you can use exactly what I use.
I have summarized this system in this video. I suggest you watch this video and ALSO read the full article to get all the details on where to get everything you need in order to organize a closet and what are the best space saving hangers you should use.
This post may contain affiliate links, which means we earn a small commission (at no cost to you) if you follow the links and make a qualified purchase, which enables us to keep creating amazing free content for you. Thanks! Click here to learn more.
Step 1 Decide what NOT to keep
This is the step 1.
First things first, in order de-clutter, you need to decide what you do not want to keep. A lot of times, we keep clothing we no longer wear in our closet, and that is the number one reason your closet is cluttered. So, to get ride of that, here is what you should ask yourself in order to decide what you should keep and what you should not keep in your cloest.
When is the last time you wear this?
This is a key indicator of how much you like the clothes! Even though you may not remember exactly when the last you had worn something, but at least ask yourself if you had worn it within the last year.
As you go through your closet, if you see something you have not worn for the last 2 years, that's a major sign you should consider taking it out of your closet. There is probably a good reason that you have not worn the clothes for such a long time.
Is the style still on trend? Does it needs to be repaired?
Whatever the reason is, if the clothes stays in your closet the way it is, it's pretty unlikely you will wear it again. So, take it out to make some space in your closet, and you can decide what you want to do with it.
Does this still suit your life style
Sometimes we stop wearing certain styles, after some major life events.
For instance, I used to love body-con dresses, and I no longer wear them after I had my son. Now I preferred clothes not too tight which gives me more comfort when I am playing with my son in the playground. So, this white bodycon dress needs to be taken out of my closet!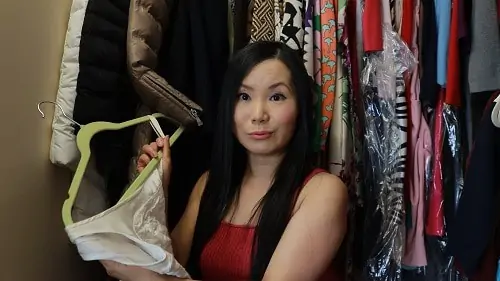 As I was going through my closet this year, I noticed I have some tailored navy suits and I can't think of when is the last time I wore them. Probably over 10 years ago when I was interviewing for a job! So, that's definitely something I should not keep.
Do you have similar situation? Perhaps you recently changed your job, or maybe you have just retired? All these are possible reasons that you need to refresh your closet and get new styles that suite your current lifestyle. As for the old clothes that no longer suit you, don't let them sit your closet and takes the space!
Have you had major weight fluctuations?
This is another main factor that could cause us to stop wearing certain clothes. As we go through life, most of us go through weight fluctuations.
If you have had a baby and are still trying to lose the baby fat, you probably't won't be wearing some of the tighter clothing for a while.
If you have a plan to get back to your previous size, it's fine to keep those clothes, but, SEPARATELY! If you hang them in the closet, it's going to take much longer for you to find the clothes you actually CAN wear right now.
As you go through your closet, put the clothes you do not want to keep in the bin I mentioned earlier. If you don't have a bin, any container can do the trick. You just want to make sure you do not continue to keep the "dead weight" in your closet and accumulate clutter.
Once you have decided which clothes you are not going to keep, put them in a bin, or one pile in your bed. As I mentioned earlier, I use the $13.99 laundry bin from Amazon.
Now onto the Step 2.
Step 2 Gather what needs to be washed
After you have cleaned out what you do not want to keep, now you need to take out the clothes you need to wash.
There is many things we wear more than once before we wash them, especially winter clothing. It's quite possible that your cashmere or wool sweaters have been worn several times last winter and you have not washed them.
Spring cleaning is the best opportunity to take those out and make sure you wash or dry clean everything you need to wash, before you put them away. When you take care of your clothing properly, they'll last so much longer.
When you gather clothing that needs to be washed, you need to decide which you can wash at home and which needs to be dry-cleaned.
Personally, I don't really take everything to dry cleaners. Because of several reasons.
First, I have sensitive skin, so my skin could have a reaction to dry cleaning chemicals. If it's a sweater I wear next to skin, I prefer to wash them by hand with special detergent made for wool or cashmere.
My favorite brand is Laundress. I have been using this brand for the last decade and I trust its safety on my skin and I never had a problem of shrinking or anything after I wash wool or cashmere sweaters with it.
Second, washing those by hand can also save some money in the long run!
Just make sure you do this with caution- not all clothing can be washed with water, and it's possible some can even shrink with the special detergent. When in doubt, take to dry cleaners.
As mentioned earlier, I use this laundry basket from Amazon to gather all the items I need to wash myself.
For dry cleaning, I use clothing rack ($21.87 from Amazon) to gather what needs to go to the dry cleaners. If you don't have a rack, it's ok to gather those and lay them in bed or clean floor.
Now, on to step 3.
Step 3 Current season first
Now that you have taken out what you don't want to keep and what needs to be cleaned, you have the rest of closet with clothing that you do want to keep.
So, what you should do next is to arrange your closet so that the current season clothing should be in the very front, i,e. the closest to you.
In my closet, it is easier for me to reach it on the left side, so that's how I arrange mine. I put all my spring and summer clothing on the left side, and the winter clothing on the right side (the far side).
After you finish this step, all the current season clothes will be within you reach, and that will make it so much easier when you are getting ready every morning.
Now, how should you organize the current season clothing? The next two steps are my secret sauce. If you follow this method, you will not only find everything easily, but also save money, because it will be very easy for you to see immediately what you already have and what you should not buy more.
Now, on to step 4.
Step 4 Arrange by occasion
Now, arrange your current season clothing first by occasion. What I mean by that is
Work: it's self explanatory these are the office ready clothing
Dressy: these are the clothes you wear to dressier occasions like a date night, or a cocktail event
Casual: these are the clothes you wear on weekends, go grocery shopping or playing with your kids
Once you organize your closet this way, next time when you are getting ready in the morning or deciding what to wear to a wedding, you won't be scrambling to look for that specific dress or suit any more. You know to go to the work section, the dressy section and the casual section to find them!
Now, on to step 5.
Step 5 Arrange by color
Now, after you arrange your clothes by occasion, next you need to arrange the same occasion by color.
This is a critical step for you to understand your own preference. After you complete this step, you will see immediately how many pieces of clothing you have in each color.
This is by no means by entire closet, but I want to show you when you are done with arranging by color, this is what your closet should look like.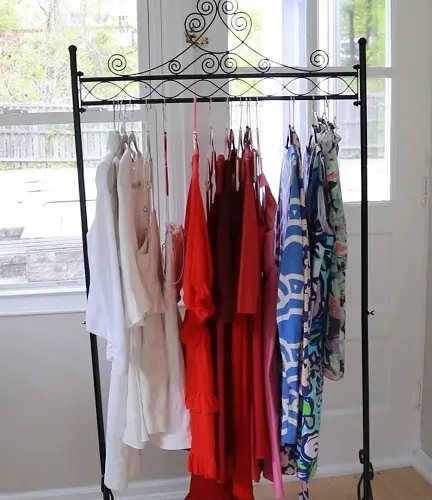 For my closet, I have so many prints, that I realize I should stop buying more prints and add more solids. Within solids, I have so many reds that I realize it's time to add some neutral colors such as grey or beige.
What did you discover about yourself?
Every morning when we open the closet we are staring at a full closet, but we still think there's nothing to wear!
Many times a big reason is we have been buying the same color and similar styles again and again, without realizing we are doing that. When you keep buying the same thing, it's harder to get different outfits.
When you diversify your styles and colors, you closet will be more functional to match different styles and colors and create different outfits.
Above 5 steps I was talking about the clothes that needs to be hanged. After you go through these 5 steps, your hanging clothes should be in pretty good shape!
On to Step 6.
Step 6 Fold small items
If you have a big enough closet to hang everything, then you don't need to worry about this step. If you have a small closet like me, then you will always find there's not enough space to hang everything.
Besides, some of the clothes in your closet might be easier for you to store after you fold them instead of hanging them. For smaller items, folding them can save space, especially if you have a small closet. I normally fold these clothes instead of hanging them
T-shirts
Thin sweater tops
Shorts
Bras
Underwear
I use these foldable fabric containers from Amazon. They are pretty functional to hold the smaller items, and they make your closet look really well organized, when you are done.
Step 7 Organize accessories
Now, when you are done with organizing your clothing, next step is to organize your accessories. This is an important step to have a totally neat closet.
Accessories are a broad category, so everyone may have something different in their closet. In this post, I will focus on how to organize bags, which everyone has in their closet.
I put the bigger tote bags on the shelf that is easy for me to reach. Now, the problem is how do you make the bags hold their shape when you store them?
Here is my secret sauce. I actually put smaller bags in the big bags! By doing that, not only you save space, but also it makes sure your tote bags stay in its shape.
For the rest of my smaller bags like clutches, I arrange them in this container from Amazon.
For belts, and scarves, I use belt hanger from Amazon (link in the next section). These are awesome organizing tools for small closet.
Now we are finished with these 7 steps! Here' are two more bonus tips for you.
Tools to organize your closet
These are all the tools I use in the 7 steps I mentioned in today's post.
Clothing bin
I use these bins from Amazon for what I do not intend to keep
Laundry basket
I use this from Amazon to hold items that need to be washed
Clothing rack
I use a clothing rack to hang what needs to take to dry cleaners.
If you don't have a clothing rack, don't worry, Just use your bed, or on the clean floor!
Fabric Containers
I use this one for the folded items such as T shirts, light knits, bras, etc, as mentioned ealier.
I use this to store my small bags like cross body bags, clutches, etc.
Use Space Saving Hangers
Now that you have the 7 step system to declutter and organize your closet, you also need some space saving hangers! If you don't have a huge closet, you need to make sure you are fully using every inch of your closet space wisely. That's why the space saving hangers are so important.
These are what I use for my closet and I have enjoyed these because they REALLY saves a ton of space for your closet AND they are very budget friendly)!
These are life savers if you have a small closet with lots of clothes! I use blouse trees to hang 4 pieces of shirts or blouses at one time. I use them not just for my clothes, but also for my husband's cashmere sweaters since he has A LOT of them. They are sturdy and easy to use. Absolutely love these.
I love these hangers- they save so much space! I mainly use them for dresses and other thinner clothes.
I use these for winter coats and jackets, so that they stay in the right shape. I had made the mistakes of hanging my coats with skinny hangers before, and guess what happened- they broke apart! Skinny hangers are not made to hold heavier items like the coats.
Did you notice a hanger mark near the shoulder for a favorite dress or a nice sweater? I did, and that's why I searched for the "mark free" hangers and I found these. I have been using these for years and I am happy with the result.
I use these to hang delicate clothes such as my DVF silk wrap dresses, cashmere sweaters, wool sweaters, and anything that I don't want to leave the "hanger mark" on the shoulders, I use these. They do a pretty good job and I notice no more hanger marks since I started using these.
I use these as my space saving solution for pants and I love how functional they are. Because you can hang 5 pants at once on one hanger, it saves a ton of space in your closet. I use these not only for my closet, but also for my husband's closet since he has a lot more pants than me.
I use something like this to hold all my belts. It's easy to find what you are looking for when you need them, and they really help to de-clutter your closet.
This is a nice organizing hanger for your scarves, if you have a lot. If you don't have many scarves, you can just fold them and store them in the the fabric container I mentioned earlier.
Books on Organizing
Organizing is an art.
I could not cover all the things I do to organize my closet in this post. For instance, how to organize your shoes? I deliberately did not cover that in this post, because that itself will be another different post, especially for people who have a lot of shoes.
Personally, I just love organizing in general! I'm talking about not just organizing my closet, but also everything- kitchen, drawers, shelves, you name it.
The reason is once you de-clutter and have a nicely neat space, it gives you such a great sense of relief and it's a very liberating experience! Speaking from my own experience, ever time after I finish organizing my closet, I feel so energized. Organizing your closet will make you feel good about life overall, not just about having more usable space in your room!
If you are into organizing like me, I highly recommend this book.
Organizing can really be a life-changing experience!