What is Kibbe Theatrical Romantic Body Type
Romantic is one of the original 13 Kibbe body types. Take the Kibbe test to find out your body type. Kibbe types have two romantic body types, i.e. the romantic type and the theatrical romantic type.
HEIGHT: Moderate to petite, usually 5 feet 5 inches and under. 
BODY TYPE: Soft and voluptuous, although trim and smallish (as opposed to wide and bulky). Hourglass figure; curvy bustline and hips with a waspish waist. Soft or fleshy arms and legs. 
BONE STRUCTURE: Small and delicate. Slightly sharp edges (shoulders, jawline, cheekbones, or nose). Small hands and feet (in proportion to height). Facial bones are small, delicate, and slightly sharp.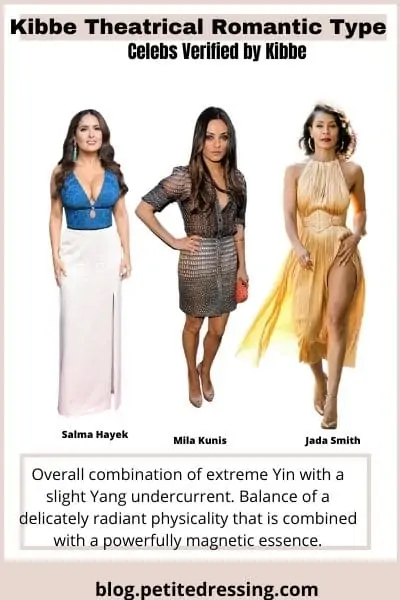 FACIAL FEATURES: Soft and lush. Large, luminous eyes (sometimes slightly upturned; sometimes slightly "bedroom"). Full, luscious lips. Soft cheeks.
HAIR: Soft and luxurious to the touch. May be very silky and wispy, or thick and wavy/curly.
COLORING: Any coloring is possible (warm or cool, high-contrast or blended), but a Theatrical Romantic usually is quite vivid, with a delicate complexion that is luminous or translucent.
IF OVERWEIGHT: The figure will remain hourglass, with a defined waist. Upper arms, thighs, and face will become quite fleshy.
A theatrical romantic will not
Be extremely tall
Have large or wide bones
Have large hands and feet
Have extremely prominent facial bones or features
Have small, narrow eyes, and thin or straight lips
Have a boyishly straight figure devoid of a defined waist
IMPORTANT: this post is primarily based on the original book of "David Kibbe's Metamorphosis" published in 1987. Visit David's website here.
You can also take this body type test and find out if your body shape is hourglass, pear, apple, rectangle, or inverted triangle.
Kibbe Theatrical Romantic Body Type Celebrities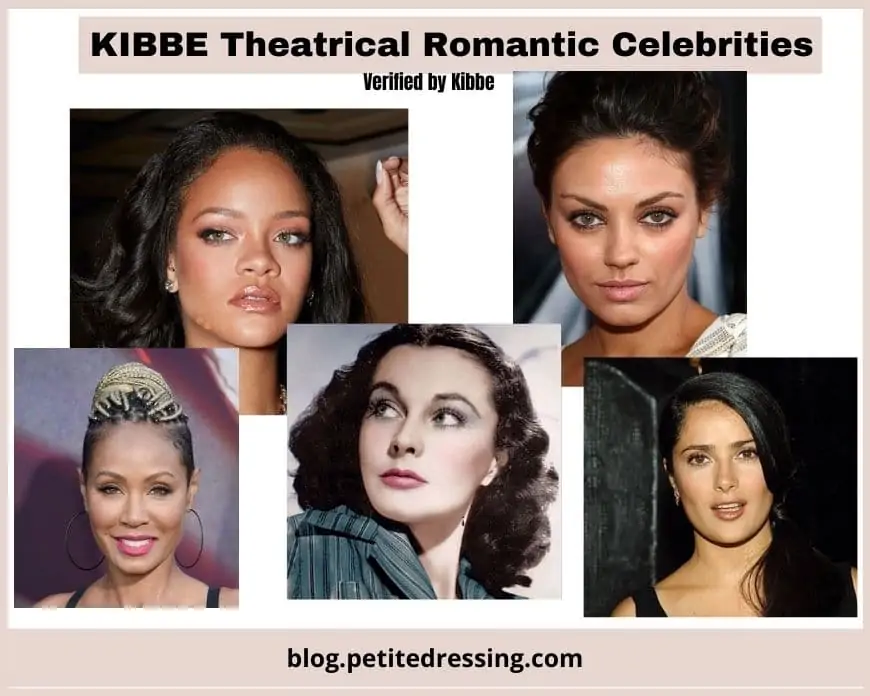 Kibbe's prime theatrical romantic celebrity-Vivien Leigh.
These are the celebrities with theatrical romantic Kibbe body type either mentioned in the Kibbe body type book or verified by Kibbe himself later on.
Vivien Leigh
Jada Pinkett Smith
Salma Hayek
Mila Kunis
Jane Seymour
Morgan Fairchild
ihanna
How to Dress Kibbe Theatrical Romantic Type
Best clothing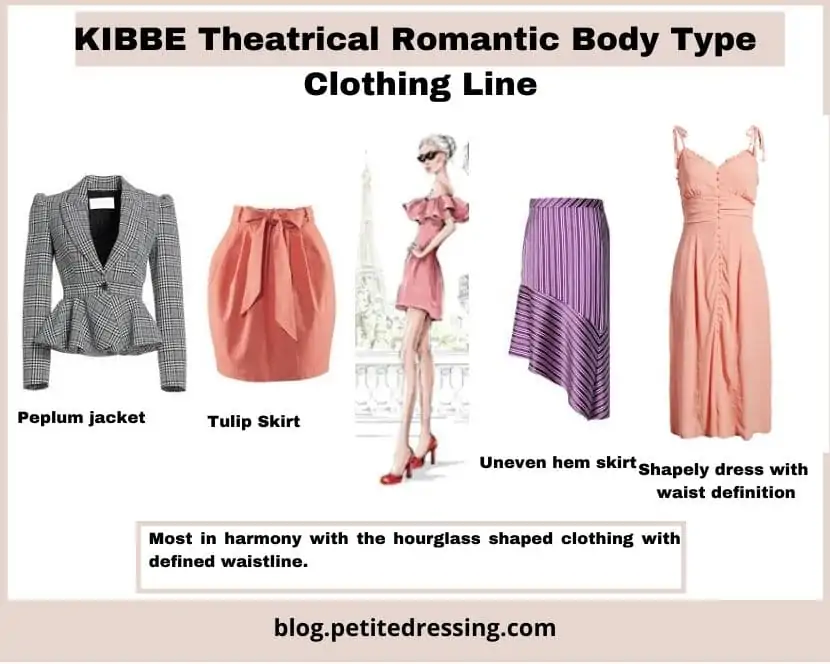 Romantic with a Dramatic undercurrent
Your position on the Yin/Yang scale is: soft Yin with a slight Yang undercurrent.
Physically, you are delicate in bone structure and soft in body type, with delicate and full facial features (eyes, lips, cheeks).
This is your extreme Yin foundation, which is overpoweringly dominant.
Your slight Yang undercurrent comes from a slight sharpness to your bone structure, possibly shoulders, jawline, or nose.
Innately, you are artistic, sensitive, eerily magnetic, and extraordinarily charming (Yin).
As a hidden attraction, you possess steely resolve, unrelenting drive, enormous will, and a bold, creative and innovative outlook on life (Yang).
Again, with your inner nature, the Yin is dominant, the Yang secondary.
While both must be evident in your appearance, it is vital to keep them in their natural order.
This may confuse you at times; the Yang qualities may seem to be such strong characteristics that your might be seduced into believing they are your major qualities as well as the source of your strength.
This is not true!
The old saying, "You'll catch more flies with honey," was created specifically for you!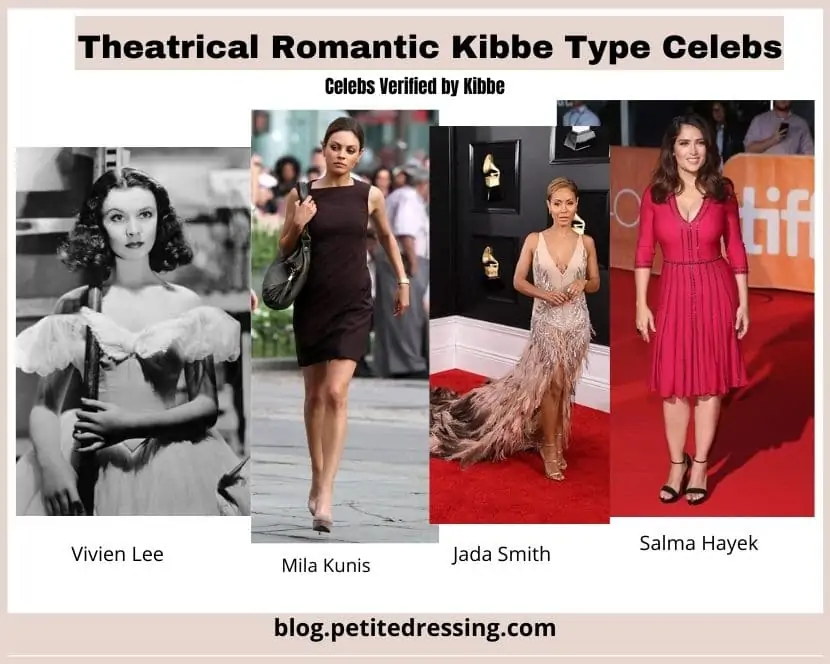 Always bear in mind that you are a Romantic first and foremost.
Your Dramatic undercurrent should always be used in small doses to theatrically add high-fashion flair to your appearance.
It subtly sharpens and focuses your look as an after-thought, while the Yin foundation of delicacy, feminine beauty, charm, and grace provides the cornerstone of your look.
It is not a substitution.
It is only a slight addition to express that extra bit of Yang present in your being.
To express your soft Yin/slight Yang total essence, we want to develop an appearance that could best be described as: Femme Fatale Chic.
Your overall direction is to showcase your curvy body with elegantly soft and fluid clothing, always distinctly defining the waist.
At the same time, frame your beautiful face with an abundance of intricate detail and accessories, including lavish hair and makeup.
This provides your Yin basis.
On tope of this, your Yang undercurrent is expressed through strategic tapering and sharp shoulders, with shoulder pads a must.
Also important to express your strength and assurance is an ensemble-approach that inspires head-to-toe outfits, with very sophisticated and glamorous accessories that suggest drop-dead entrances that suggest drop-dead entrances!
Shape
Shapes should be rounded, intricate, and ornate.
A slight sharpness at the edge or a tendency to the slightly oversized is good.
Avoid:
Geometrics and symmetrical shapes. Chunky or bulky shapes. Sharp, severe shapes.
Line and Silhouette
Silhouettes should be hourglass, emphasizing the curves and showcasing the waist.
The waist should be sharply defined and the shoulders should be crisply padded.
Tapering at the wrists, hemline, and knee areas.
Lines should be soft, draped, flowing, clingy, ornate, and intricate.
Avoid:
All severe silhouettes. All over-sized or unconstructed silhouettes. All tailored silhouettes. All straight lines. All sharp lines. All wide or horizontal lines. All long vertical lines that hide the waist.
Fabrics
Fabric should be lightweight and drapable for soft fluidity (silks, jersey, challis, crepe, handkerchief linen, etc.).
Soft textures, a plush pile (suede, velvet, shantung, etc.), sheer fabrics and shiny fabrics are all excellent.
Fluffy knits (angora, boucle, etc.) are extremely effective.
Avoid:
Stiff fabrics.
Heavyweight fabrics.
Rough textures.
Dull-finished fabrics.
Detail
Detail should be intricate, ornate, delicate, and quite lavish.
An excess of detail and trim is important to help frame and focus the face. Bows, sheer lace, jabots, soft ruffles, and sparkly appliqué are excellent.
Necklines should be soft and draped or shirred and gathered.
Shoulders should be padded but curved.
Shoulder tucks, gathers, and bouffant shapes are perfect. Sleeves should be tapered at the wrist; delicate and ornate buttons and trim are advisable.
Waistline should always be emphasized. Gathers, shirring, and draping at the waist are necessary for softness and intricacy.
Detail to Avoid
Plain or minimal detail.
Sharp or severe detail.
Extremely oversized, bulky detail.
Symmetrical, subdued detail.
Crisp, "perky" detail.
Separates
Your separates should always include an artful blending of plush textures, draped fabrics, and luxurious colors so you never disrupt the soft fluidity of line.
Always avoid any kind of harsh contrast between top and bottom.
Jackets
Jackets should be short and nipped at the waist.
Flouncy peplums that flair out or hang down in the back are best.
Lapels can be very ornate, with scalloped edges, braiding, or bejeweled trim-or slightly pointed and peaked.
Shawl lapels are also effective. Trim should always be ornate.
Avoid:
Severely tailored jackets.
Unconstructed, boxy jackets.
Traditional blazer styles.
Long jackets that hide the waist.
Skirts
Skirts should be soft and shapely.
Your version of a "straight" skirt is actually tulip-shaped, with some gathering at the waist and a narrow taper at the hem.
This type of hemline should be short, no longer than just below the knee.
The other type of skirt that you wear equally well is a softly flowing skirt with an uneven hem.
This will be longer, at least mid calf. Skirts should have intricate detail, such as draping, shirring, gathers, or bias-cut pieces.
Trumpets, sarongs, and circles are all good shapes.
Avoid:
Severe or straight skirts.
Traditional tailored styles (A-lines, pencil-slim styles, etc).
Wide, shapeless styles.
Long hemlines (except on uneven hems that drape or flow).
Sharp pleats.
Pants
Pants should always be soft and draped, showcasing your curvy figure.
Gathers, draping, or shirring at the waist, and a narrow or tapered ankle.
Pants should be short (ending at the ankle).
Avoid:
Straight, tailored styles.
Sharp details (pleats, cuffs, pockets).
Baggy, unconstructed styles.
Blouses
Soft, silky and draped styles with draped or ornate detail and lavish, intricate trim.
Avoid:
Stiffly tailored styles with sharp detail.
Unconstructed, shapeless styles.
Sweaters
Plush, fluffy knits with soft necklines, ornate trim, and lavish patterns.
Short, shaped styles that are fitted at the waist and wrists.
Avoid:
Heavy, bulky knits.
Skinny ribbed knits.
Plain styles, such as cardigans, crew-necked Shetlands, etc.
Shapeless, baggy styles.
Dresses
Dresses should always be feminine and shapely.
Defined shoulders, waist emphasis, and intricate detail (shirring, gathers, sparkles, appliqué, etc.).
Soft and draped necklines; tapered wrists; and a tapered hemline if short, flared hemline if long.
Lightweight fabrics with sheen or plush-ness and luscious colors complete the picture.
Avoid:
Sharply tailored styles.
Unconstructed styles.
Long, "no waist" styles.
Symmetrical, subdued styles.
Color
Your use of color should be bright and lush, emphasizing a watercolor blend or bright/light motif.
Some sharp contrast is exciting; however, you will always want some vivid color in your outfits.
Pastels can also be quite elegant if you mix them with light accessories.
Dark colors can be too stark for you unless you break them up with vivid accents, or use them in the evening in very glamorous fabrics with sheen or plushness (charmeuse, satin, lace or velvet).
Avoid:
Head-to-toe "darks" (too stark).
Head-to-toe "neutrals" (too tiring).
Monochromatic schemes (too dull).
Prints
Prints should be vivid and luscious, with the emphasis on an abstract or watercolor blend.
Swirls of color, intricate and ornate shapes, and wild florals are best.
Rounded or feathered edges are lovely, as are vivid color combinations.
Size should be moderate to large.
Avoid:
Geometrics.
Animated, "perky" styles.
Small symmetrical styles.
Stripes and plaids.
Accessories
Should always be feminine, intricate, and ornate.
Invest in high quality here, for these are crucial details in polishing your look and providing elegance and sophistication.
Shoes
Delicate, feminine styles.
Strappy pumps with open backs and toes.
Ornate trim. Feminine flate.
Avoid:
Basic pumps.
Angular pumps.
Chunky styles.
Plain styles.
Bags
Small, rounded shapes. Ornate, intricate trim (gathers, tucks, beads, etc.).
Lightweight, supple leather. Fabric bags.
Delicate shoulder straps.
Elegantly narrow briefcase or unusual material such as ostrich and suede.

Belts
Belts should be worn whenever possible to showcase the waist.
Soft, supple belts, moderate to wide (crushy).
Ornate and intricate buckles.
Bejeweled and beaded styles.
Avoid:
Stiff styles.
Narrow, self-belts.
Slim, subdued styles.
Hats
Rounded shapes, crisp brims.
Picture frames.
Small, chic cocktail hats with veils or ornate trim.
Avoid:
Sharp, man-tailored hats.
Floppy hats.
Crisp caps or ethnic hats.
Hosiery
Should always be ultra-sheer.
Lacy textures are excellent.
A "light leg" with the stocking and shoe blending together several shades lighter than your hemline is elegant and sophisticated, and very effective when you are wearing your luscious bright colors or soft pastels.
Darker hemlines will require a darker stocking, but keep it as translucent as possible.
Silk stockings and a touch of sparkly trim can be stunning for evening fun.
Best Jewelry
Jewelry is your most important accessory.
You simply can't wear too much of it (when it's the right kind), and you simply can't do without it! It provides elegance, glamour, and sophistication.
Shapes are intricate, ornate, rounded, swirling, baroque, and rococo.
Sparkly materials are essential (crystal, gems, glass, polished metal, etc.) even for daytime, although you can suggest, rather than pour it on here. In the evening, go for broke-and trail your jewels behind you!
Just remember to keep the combination of delicate/lavish working together-delicate in workmanship, lavish in effect!

Jewelry to Avoid:
Geometrics.
Sharp, severe, or avant-garde pieces.
Chunky pieces.
Rough, heavy, or ethnic pieces. S
mall, symmetrical pieces.
A "no jewelry" look.
Evening Wear
Fitted shapes with ornate trim and waist emphasis.
Cleavage emphasis.
Draped fabrics.
Sparkly fabrics.
Plush fabrics.
Theatrical ensembles.
Form-fitting gowns with cleavage emphasis
Shirred and draped cocktail dresses
Fitted dinner suits with peplum jackets and ornate trim
Bustier dresses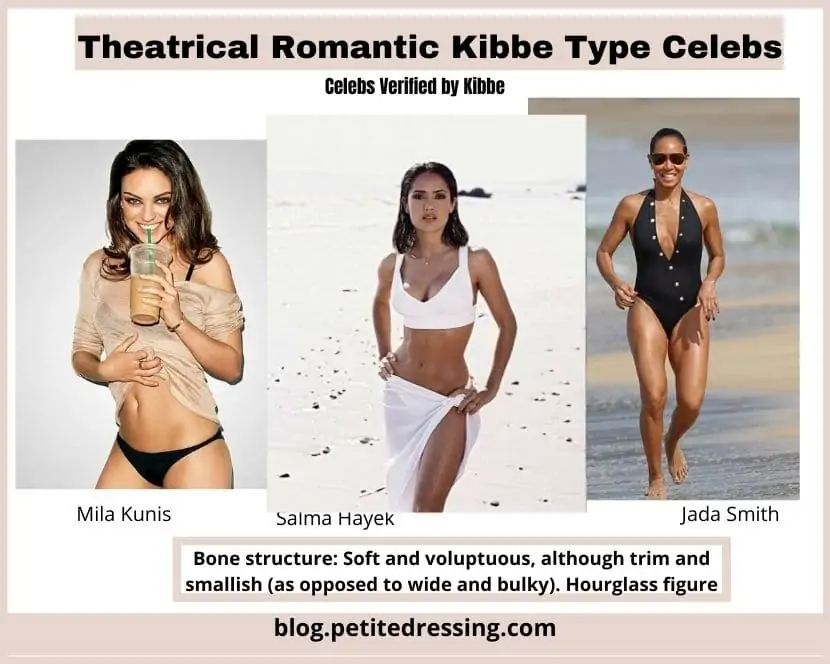 Makeup for Kibbe Theatrical Romantic Type
Makeup provides the icing for your cake, and should be very polished, colorful, and watercolor soft.
A touch of sparkle is always refined and sophisticated, even for daytime, and evening makeup can glitter away!
Soft and bright colors should be artfully blended around the eyes while the cheeks should be rosy and the lips glossy.
Makeup to Avoid
Overly dark shades and heavy contouring (too stark).
Neutrals or smoky makeup (very tiring and aging).
Minimal makeup (not a chance, you ornate jewel!).
Makeup Concept
The Shimmering Face:
Bright and sparkly colors softly swirled together.
Slight depth and accentuation of bone structure.
Very Soft and glamorous effect.
APPLICATION KEYS
Eyes: Lots of sparkle. Deep, smudged outer lid color with bright orbital bone and colorful highlighter. Dark, smudged eyeliner and lots of mascara.
Blush: Soft, sparkly, and slightly rounded.
Lips: Very full, very bright, very luscious, and very glossy.
Avoid: A matte or smoky face with no sparkle or color. Heavy contouring and sharp angles.
Hair for Kibbe Theatrical Romantic Type
Best Hair Style
Hair should be lavish and ornate, adding the extra special touch of stylization to your Image Identity. The shape should be rounded, soft, and as full as possible.
Waves, perms, sets, teasing, and the like are all potential pluses for you.
Just remember to keep the hair soft, never stiff.
If your hair is long, it should be elaborate and voluminous in a very well-cared-for manner.
If you hair is on the short side, it should look superstylized and coiffed.
The cut will require some layering for curve.
Hair style to avoid
Severe styles.
Geometric cuts.
Blunt-edged cuts.
Overly layered hair.
Wash 'n wear styles.
Best Hair Color
If you want to color your hair, choose shades that are rich and vibrant.
You are striving for a glamorous haircolor, which means intense; browns are rich, reds are fiery, blonds are bright, and black is jet!
As you gray, you will probably want to cover it, although dramatic silver streaks can be quite theatrical if you are lucky enough to have inherited them!
Hair Color to Avoid
Overly pale colors (except platinum).
Highlights that are meant to "soften" the color-"soft equals "tired" in this case!
Salt and pepper hair, unless the base color is very dark and the streaks are silvery white.