What is Kibbe Gamine Body Type
Gamine is one of the original 13 Kibbe body types. Take the Kibbe test to find out your body type. The Kibbe types have three gamine body types, the gamine, soft gamine and the flamboyant gamine type.
Height:
5 feet 5 inches and under.
Bone Structure:
Angular. Sharp. Narrow – sometimes described as delicate. Square or tapered shoulders (tend to narrowness, as opposed to broad). Delicately sharp facial contours (nose, jaw, cheekbones). Hands and feet are moderate to small, and tend to narrowness. Arms and legs tend to be long.
Body type:
Straight. Lithe and lean, tends toward sinewy musculature. Tends toward flatness in bust and hips (unless overweight). May be very leggy (coltish). Possibility of being slightly short-waisted.
Facial features:
Large eyes. Moderate to thin lips (narrow or straight, as opposed to full). Taut cheeks and flesh.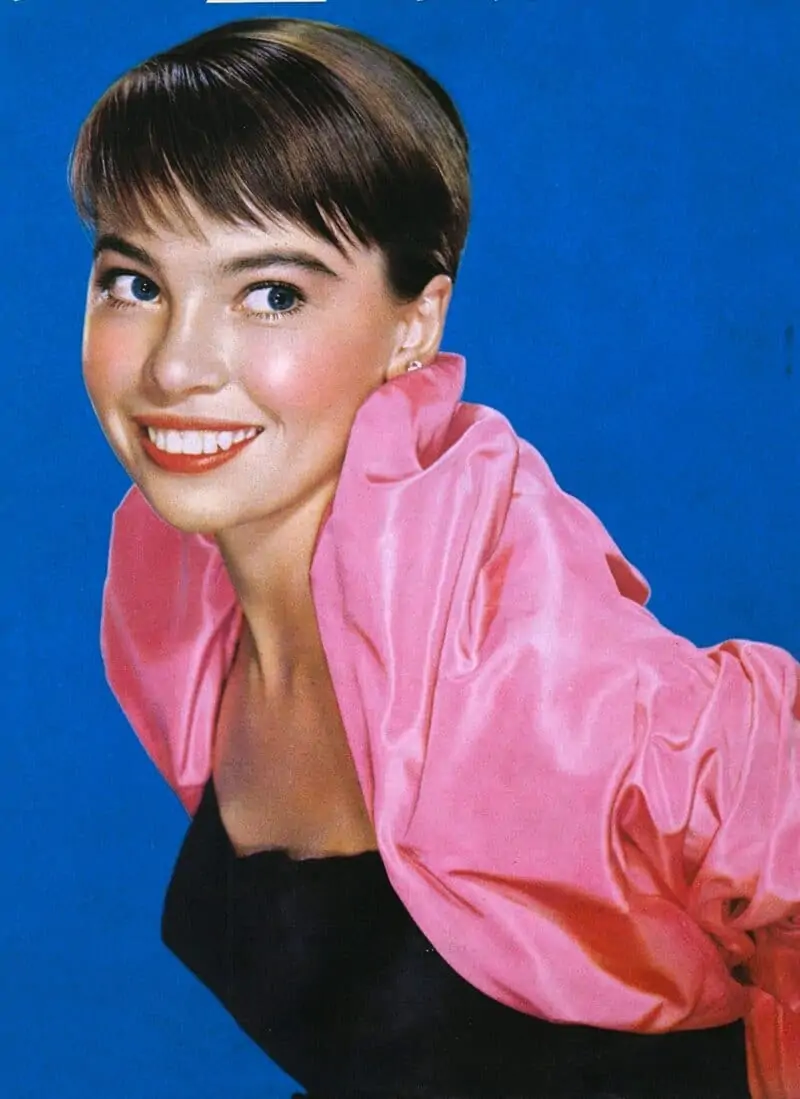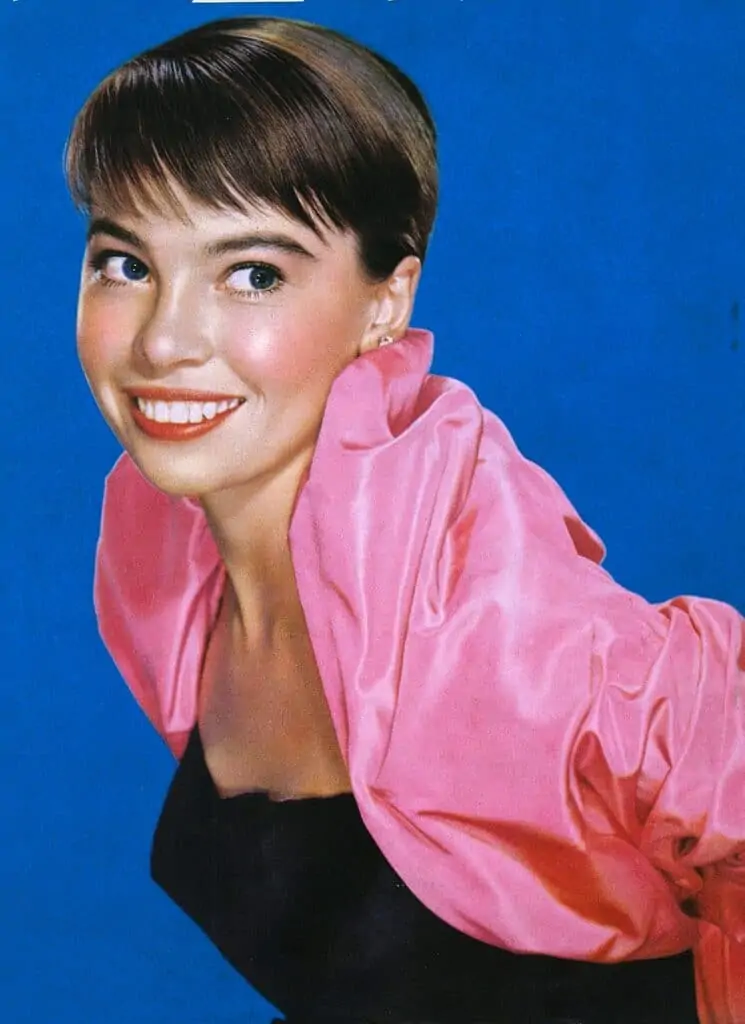 Hair:
Any type is possible but frequently hair is fine and silky.
Coloring:
Any coloring is possible (warm or cool), but Gamines are usually distinct or vivid in coloration. Moderate-to-high-contrast coloring is often the case).
If overweight:
Excess weight tends to show up in the hip and waist areas:rarely does it appear above the waist. If a Gamine is extremely overweight, the body tends to square or stocky appearance, as opposed to curves.
A Gamine will not
Be over 5 feet 5 inches (and is usually even more petite).
Have extremely large bone structure.
Have prominent or exotic features (except for enormous eyes).
Have large hands and feet.
Have an hourglass figure, with a waspish waist and full bust and hips.
Be symmetrical in body type or facial features.
Yin/Yang balance
Combination of opposites: Yin in size, Yang in essence. Both sides are of equal importance and must always be expressed at the same time in all aspects of your appearance.
IMPORTANT: this post is primarily based on the original book of "David Kibbe's Metamorphosis" published in 1987. Visit David's website here.
You can also take this body type test and find out if your body shape is hourglass, pear, apple, rectangle, or inverted triangle.
Kibbe Gamine Body Type Celebrities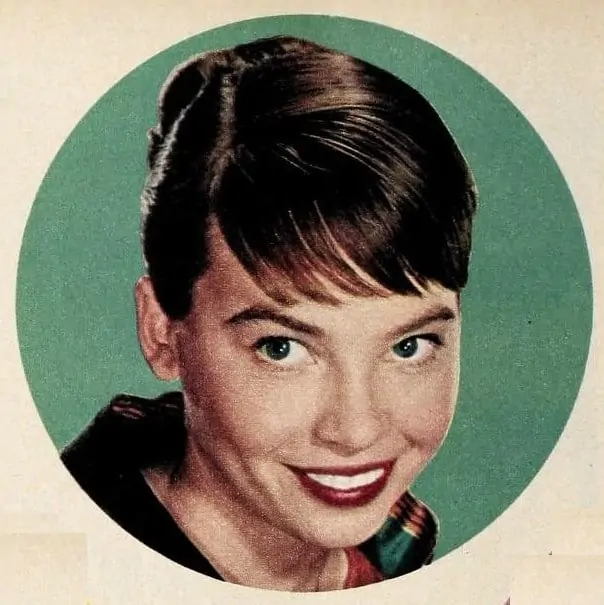 Kibbe's prime gamine celebrity-Leslie Caron
These are the celebrities with gamine Kibbe body type either mentioned in the Kibbe body type book or verified by Kibbe himself later on.
Leslie Caron (Later on categorized as Soft Gamine)
Jean Serberg
How to Dress Kibbe Gamine Type
Best clothing
The final major spot on the Yin/Yang scale is the combination of opposites that represents the Gamine. Yin in size (petite), Yin in facial features (full and rounded), but Yang in body type (straight and narrow) and in bone structure (sharp and narrow). The Gamine is equal parts Yin and Yang, always maintaining a natural contradiction that is the basis for her physical makeup.
A Gamine needs small, sharp geometrics, Precision fitted and crisply tailored.
Lots of straight, sharp, short narrow tapered hemlines. A slightly flared skirt is fine if kept very straight through the hips and thighs. Short cropped, very fitted jackets with sharp edges and extreme tailoring and construction.
Lots of detail. Sharp, angular necklines, small v's. Small crisp ties (ribbon, leather, etc.) Small, tailored lapels or crisp lapelless with piping. Sharp and narrow waist definition.
Prints sharp and animated. Small geometrics and angular asymmetrics are excellent. Most of the prints should be very contemporary in feeling ("Piccaso-ish) although humorous styles that are outlined and caricatured can be quite stunning.
Shape
Small, sharp, geometrics. Precision fitted and crisply tailored. (The small size and precision fit come from the Yin; the sharp edges and crisp tailoring come from the Yang.)
Avoid: Oversized, large, or long geometrics. Unconstructed shapes. Soft-edged, flowing, or rounded shapes. Ornate, intricate, or delicate shapes.
Line and Silhouette
Your outline should be sharp, straight, and staccato. The use of severe lines with sharp edges comes from the Yang; the broken, staccato, animated outline comes from the Yin. Utilizing many short vertical lines and many short horizontal lines is also effective. An overabundance of detail adds to the precisely fitted silhouette that is crucial to your look.
Avoid: Elongated lines. Wide lines. Curved lines. Flowing lines. Smooth lines. Oversized or unconstructed silhouettes. Symmetrical silhouettes. Ornate silhouettes.
Fabrics
Fabric must always be crisp, able to hold a defined shapes and be tailored easily. A flat surface or light texture is best. Finely woven knits, especially when ribbed and skinny, are good choices. A matte finish is best, although hard-finished sheens can be very exciting (especially metallics). Usually your fabric will be of moderate weight, though lighter weights that hug the body are excellent.
Avoid: Oversized, rough textures. Drapable fabrics. Sheer, flowing fabrics. Delicate fabrics.
Detail
You can never wear too much detail! An abundance of it used everywhere in your look is one of the most effective tools you have for capturing your animated effervescence! Detail should always be small, sharp, and call attention to itself (not blend into the lines of your garments).
It should be very crisp, staccato, broken-up, and multicolored. Lots of crisp trim. Lots of outlining (collars, cuffs, waist-bands, lapels) with piping of contrasting colors or fabric, braiding, beads, etc. Small, crisp pleats.
Sharp, angular necklines-also small (Mandarin, Nehru, band, small man-tailored styles, small V's, wing-tipped). Small, tailored lapels or crisp lapel-less with piping. Sharp shoulder pads. Small crisp cuffs. Sharp and narrow waist definition.

Avoid: Minimal, clean detail. Simplicity. Oversized or unconstructed detail. Elongated detail. Ornate or frill detail.
Separates
A use of well-coordinated separates with lots of animated and colorful detail can be very exciting to your look.
Jackets
Short, cropped, very fitted with sharp edges and extreme tailoring and construction. Short blouson jackets are excellent. Collar, cuff, lapel, and waistband detail (outlining, trim, piping, ribbing) are essential.
Avoid: Long jackets. Unconstructed jackets. Flouncy jackets.
Skirts
Straight, sharp, and short with a narrow and tapered hemline.. A slightly flare skirt is fine if it is kept very straight through the hips and thighs. This could either be bias-cut or stitched-down pleats. Skirts must be very fitted at the waistband. Crisp gathers will work, but not deep ones. Straight skirts should have a short hemline (mid kneecap to minis). A slightly flared hemline may be slightly longer (top of the calf). Anything extremely long is very tricky, and must have a slit and be pencil slim.
Avoid: Full skirts. Flouncy skirts. Over-sized or unconstructed skirts. A-lines and symmetrical skirts. Long hemlines (dowdy on you).
Pants
Should always be very sharply tailored with outlined or animated detail at the edges (waistbands, pleats, crisp cuffs). Short lengths, anywhere from cropped at the calf to the top of the ankle. Skin tight stretchy pants are excellent.
Avoid: Plain-front, symmetrical shapes. Unconstructed or baggy styles. Draped styles with tapered legs.
Blouses
Very tailored with sharp edges and crisp detail (collars, cuffs, pleats, etc.). Smooth, stiff fabrics (crisp cottons, oriental silks, etc.).
Avoid: Frilly blouses. Flimsy blouses. Unconstructed blouses.
Sweaters
Skinny knits, ribbed knits. "Poor-boy" styles. Thick knits that are extremely fitted at the waist. Collar, cuff and waistband ribbing and cropping. Short, cropped cardigans. You may wish to add sharp shoulder pads to your sweaters.
Avoid: Oversized sweaters, heavy textures. Fluffy knits.
Dresses
Very tailored, slim dresses with sharp edges and lots of small crisp detail. Drop[ed waists and chemise-style are good if they are kept very skinny. Short cropped jackets, vests, and boleros work well with dresses for you. Asymmetrical hemlines are fun, especially for the evening, and anything reminiscent of the 1920s is an absolute knockout on you! Narrow, clingy knit dresses are excellent.
Avoid: Flouncy styles. Ornate styles (with shirring or draping.) Plain styles with no detail. Unconstructed or wide silhouette.
Color
our use of color should be bold and sassy; break all the rules here! Multicolored splashes are perfect. Bright and shockingly colored accessories played against a dark or light background. High, sharp contrast and wild color combinations are all very chic on you. Break your line with color!
Avoid: Monochromatic color schemes (death to your personality–nothing is worse for you). Neutrals, unless they are merely accessories or they are extremely dark or light.
PRINTS Prints should be sharp, colorful, and animated. Small geometrics and angular asymmetrics are excellent. Most of your prints should be very contemporary in feeling (Picasso-ish") although humorous styles that are outlined and caricatured can be quite stunning on you as well.
Avoid: Watercolor prints. Ornate prints. Intricate prints. Symmetrical prints. Oversized prints. Realistic prints.
Accessories
All accessories should be small, crisp, geometric, and colorful. They should serve to further break the silhouette into a staccato outline and call attention to themselves as detail. Contrast is being strived for with your use of accessories, as well as bringing out your wit and a sense of fun.
Shoes
Should be tailored and angular, in lightweight leather. Unusual shapes in toes and heels are excellent (asymmetrics, toes and heels are excellent (asymmetrics, wedges, sharp points, etc) as are bold colors and printed fabric. Flats of all kinds should always be funky and fun (patent leather, trimmed, etc.).
Avoid: Plain pumps. Overly delicate or strappy shoes.
Bags: Small, crisp geometrics (box, clutch, etc.). Slim briefcase.
Avoid: Oversized, unconstructed pouches. Ornate bags. Thick, heavy briefcases.
Belts: Stiff leather with geometric buckles. Elasticized fabric styles. May be narrow to moderately wide. Brightly colored belts are excellent aids in breaking your line.
Avoid: Heavy belts. Unconstructed styles. Overly ornate styles. Monochromatic styles. Extremely oversized belts.
Hats: Small, crisply tailored hats. Caps (Spanish, beret, Indian, cloche).
Avoid: Oversized, unconstructed, and floppy styles. Ornate styles.
Hosiery: Break your line by contrasting your stocking/hemline/shoe shades. You can use a two-color combination where the shoe and hemline match but the stocking is lighter; or a three-color contrast. Brightly colored stockings; light, opaque stockings; and geometric textures (ribbed and herringbones) are equally good. Flesh toned stockings are fine for daytime wear. Dark stockings should be extremely sheer.
Avoid: One long line of solid color, especially if dark.
Jewelry:
Should be small and sharp and in geometric, asymmetrical, or irregular shapes. Brightly colored enamel, stone, or glass are best. Very contemporary avant-garde pieces are excellent on you, as are trendy pieces that accentuate your wit.
Avoid: Antique, ornate, intricate pieces (rococo and baroque). Heavy, chunky pieces. Oversized pieces. Symmetrical classic pieces.
Evening Wear
Sleek slinky shapes with geometric outlines and crisp trim. Smooth fabric. Tailored edges. Beading. Hard metallics. Angular necklines with lots of crisp and colorful trimmings (collars, cuffs, jackets, etc.) Asymmetrical hemlines.
Slinky sheaths (very bare) Short-jacketed gowns with beading and crisp shoulders Close-fitting, dropped-waisted dresses Tailored dinner suits (with cropped jackets and crisp trim) Tailored evening pants outfits
Makeup for Kibbe Gamine Type
Your makeup should be fresh-faced and glowing with emphasis on "doe eyes" and slightly contoured angles. Smoky eye colors paired with deep shades on the lips and cheeks achieve this to perfection! "Fantasy glitz" can be added for evening with a no-holds-barred use of sheer sparkle wherever you dare.
Avoid: Soft watercolor makeup. Overly soft makeup. Overly frosted colors. "No makeup" looks. Classic, neutral makeup without the smoky eyes and deep lips you need.
Hair for Kibbe Gamine Type
Hair Style
Hair should be short and tousled, cropped upward, with layering on top of around the face (temples, side, and bangs) to soften a severely geometric cut. Your hairstyle is best described as "boyishly chic."
Avoid: Long hair (it will never work on you because it hides your Gamine face-the cruelest of all sins). Severe cuts without surface feathering. Heavy hair hanging in or around the face. Heavy bangs. Smooth, well-groomed, blunt-edged cuts. Overly blown-dry hair. Ornate hair. Teased, stiff, or coiffed hair.
Hair Color
Your haircolor should be rich, vivid, and distinct. Extreme color changes are possible as long as you work in conjunction with your natural coloring and don't upset the vivid contrast between hair/skin/eye. You can go dramatic with haircolor intensities (blue-black, deep brunette, platinum blond, fiery red, etc.), and highlights should be obvious streaks if you use them.
Avoid: Lightening your hair (except for a dramatic change) or using subtle highlights to "soften" features. This will only be very tiring and matronly on you.