What is Kibbe Romantic Body Type
Romantic is one of the original 13 Kibbe body types. Take the Kibbe test to find out your body type. The Kibbe types have two romantic body types, the romantic type and the theatrical romantic type.
Height:
Moderate to petite, usually 5'5″ and under.
Body Type
Soft and voluptuous.
Hourglass figure; curvy (bustline and hips, with a small waist (in proportion to the curves).
Fleshy arms and legs.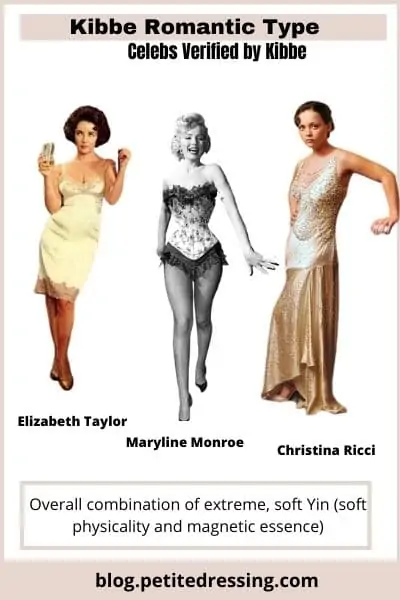 Bone structure:
Delicate and smallish. 
Usually to the wide side. 
Rounded or sloped shoulders. 
Small hand and feet (may be slightly wide). 
Facial bones are small, delicate and may be slightly wide or lush (nose, cheekbones, jawline). 
If your bone structure is slightly wide or lush, you may think of yourself as having a large bone structure. This is actually deceiving to you, for the shortness of your limbs and extremeties (hand and feet) offsets the width.
In context of your overall voluptuous figure, your bone structure is definitely delicate. 

Facial features:
Lush; full, and sensual (rounded). Large, luminous eyes. Full lips. Fleshy cheeks.
Hair:
Soft and luxurious. May be silky and wispy, or thick and wavy/curly.
Coloring:
Any coloring (warm or cool, high-contrast or blended) is possible but a Romantic usually has a delicate skin tone that is luminous or translucent.
If overweight:
The body only gets more rounded; the face gets very full.
A Romantic will not
Be extremely tall
Have a large bone structure or large hands and feet
Have a stragiht or boyish figure
Have angular or sharp facial features
Have a prominent nose or angular chin
Be symmetrical
IMPORTANT: this post is primarily based on the original book of "David Kibbe's Metamorphosis" published in 1987. Visit David's website here.
You can also take this body type test and find out if your body shape is hourglass, pear, apple, rectangle, or inverted triangle.
Kibbe Romantic Body Type Celebrities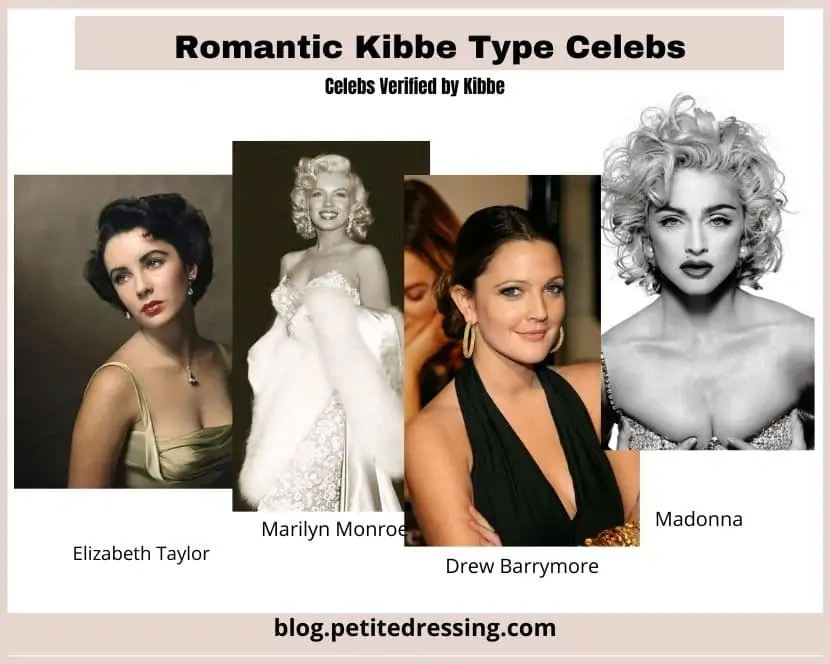 Kibbe's prime romantic celebrity-Merilyn Monroe.
These are the celebrities with romantic Kibbe body type either mentioned in the Kibbe body type book or verified by Kibbe himself later on.
Marilyn Monroe
Madonna
Drew Barrymore
Christina Ricci
Beyonce
Elizabeth Taylor
Helena Bonham
How to Dress Kibbe Romantic Type
Best Clothing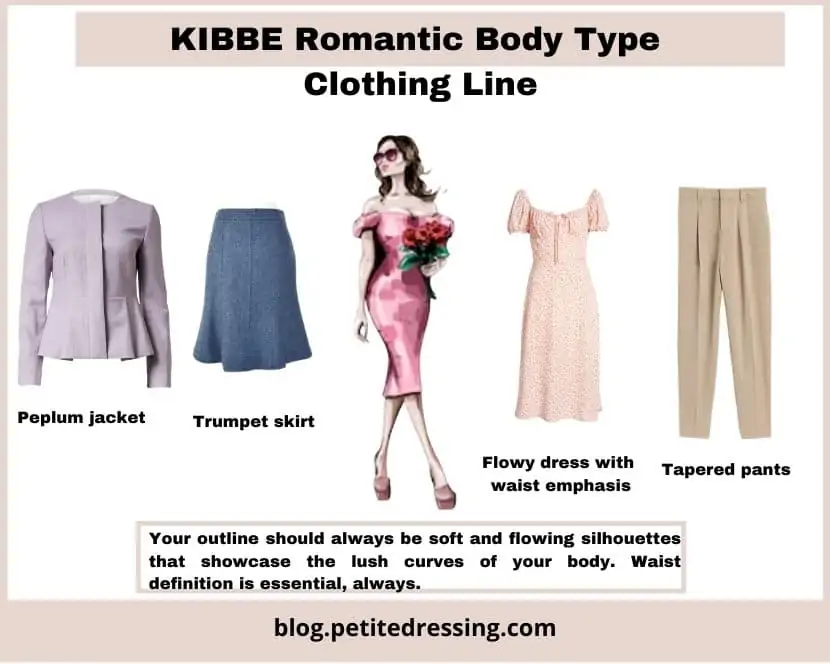 Your position on the Yin/Yang scale is: extreme soft Yin.
You are a woman descended from another era, a time that was gracious, beautiful, and filled with sweet radiance.
These are qualities that are the keys to your persona.
Artistic, charming, and diplomatic, outer form is of enormous meaning to you.
Never content with a life that merely "functions"(that would be cruel, cold, and heartless existence for you), you seek instead to bring grace and loveliness to everything you touch.
To you, the phrase, "Truth is Beauty; Beauty is Truth", is no idle cliché.
It defines your essence quite succinctly, for you are the epitome of a loving soul creatively expressed in a tangible form!
Because outer beauty is such a deep expression of love for you, you are forever striving to add those extra special touches that turn the ordinary into the sublime.
Hours spent searching for the perfect watercolor to hang in the reception area of your office are just as important to you as making sure the desk you sit behind doesn't appear stark and impressionable.
If you're hosting a dinner party, chances are you'll expend enormous energy on things like place settings, flowers, and soft lighting.
You'll gladly search the entire city for those rare and exotic orchids that evoke images of a mysterious, faraway land, or dedicate yourself wholeheartedly to locating special gardenias with a heady fragrance.
When you're planning the menu for this party you'll be coordinating color and texture in addition to taste.
The added dimensions of your attention to the sensual elements of touch, taste, smell, and above all the look of things brings us much pleasure, and an invitation to one of your soirees is very much coveted!

You are a deep believer in setting the perfect mood for all situations.
You recognize the effectiveness that providing the right atmosphere has on the rest of the world.
Stepping into your office or home is like wandering into an oasis somehow set apart from the rest of the world.
We are instantly and simultaneously seduced, calmed, and intoxicated the moment we set foot inside your door!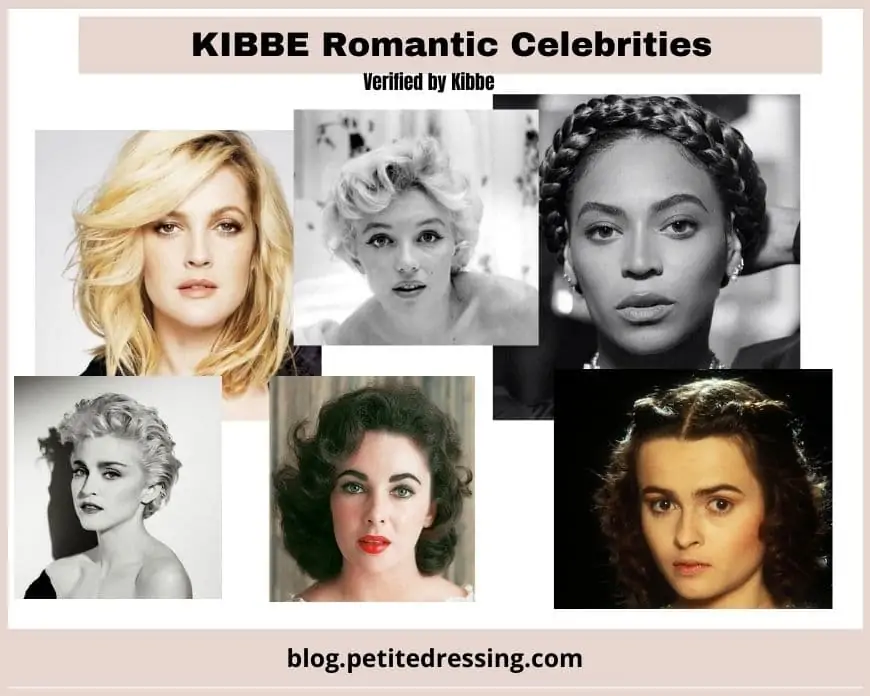 You instinctively understand the power that atmospheres, settings, and surroundings have because of your extreme Yin, emotional nature.
In fact, it is this very nature that causes you to react instinctively and immediately to everything.
You are that rare person who can walk into a room and instantly asses a situation simply by getting a "feel" for the place!
Words, explanations, and intellectual logic are always secondary to your innate experience of a situation, and you'll choose experience as your guidepost of truth every time.
(Please understand, it's not that logic is unimportant to you; far from it! It's simply that you will always check someone else's 'logical' explanation against your instinctual barometer to see if it rings true!)
This innate sense of truth is a very important asset of yours and, once again, a key to your very identity.
Because of your extreme Yin sensitivity, you posses extraordinary human empathy; so much so that you are able to get right "under another's skin, "and are immediately in touch with the other person's deepest motivations.
You are therefore able to be enormously accommodating and sympathetic while still retaining your marvelously aware judgment.
It often seems as if you are psychic, or have a kind of "inner crystal ball" that allows you a deep vision straight into another's soul!

It's really your sweet sensitivity that gives you such exquisite insight into human actions.
Lest we categorize your Yin qualities as frivolous or superficial, let's remember the extreme magnetic power that exist within you.
We don't describe your extreme Yin nature as "the irresistible force" without reason!
You are capable of effecting enormous change in the world – when you remember that the power of the Yin is always indirect.
Steamrolling through outworn attitudes or attempting to knock down mountains won't work for you.
Direct attacks are never effective, since they are so contrary to your projected softness.
However, while your Yang cousin might find herself beating her head against a brick wall time and time again when trying to accomplish some seemingly impossible task, a bit of your Romantic coaxing, coercing, and diplomatic charm can effortlessly surmount the insurmountable!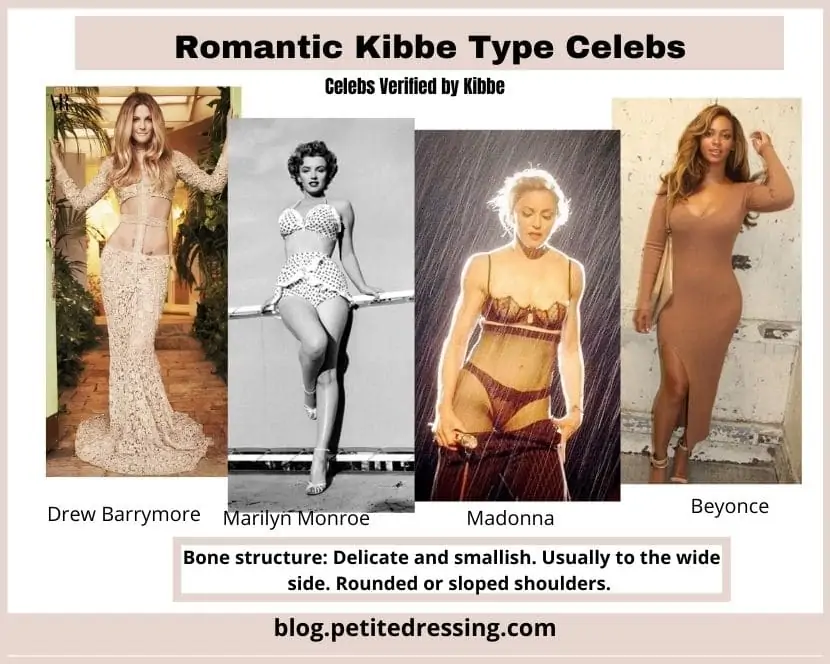 In no time at all, you'll have adversaries who haven't spoken to each other in decades reminiscing over old times.
You'll easily loosen the purse strings of the stingiest miser in town for your worthiest charity.
Your artful interpretation of your client's story will have the jury eating out of your hand.
Whatever you need, if you will simply trust the magnetic power of your appeal, you'll find the world at your feet with very little effort.
Let us come to you first, then you can accomplish whatever you desire.
Obviously, your Yin qualities are perfectly expressed in creative fields.
Frequently you're an artist, a poet, a designer, or highly visible in "people positions" in such areas as public relations and advertising.
It's just as easy to find Romantics in the corporate world, although you definitely need room to approach your work creatively.
You won't succeed in a large corporation if it deals with its employees coldly or impersonally.
In this respect you are something of a "hothouse flower", needing the warmth of a human environment to blossom into your full business potential.
And the corporation that is farsighted enough to realize the importance of providing such an environment soon finds out how lucky it is to have you.
Your wonderful way of dealing with people, both inside the company and outside (particularly in securing new clients) is quite easily apparent as soon as you have been given some creative space to work your wondrous charms!
Your inner essence is magnetic, charming, and totally enchanting, and your outer Yin physical attributes further your appeal to perfection!
The lush curves of your body, combined with the delicate features and bone structure with which Nature blessed you create a very specific beauty that is ever so slightly old-fashioned yet utterly and completely lovely!

To express your extreme, soft Yin total essence, we want to develop an appearance that could best be described as: Dream spinner.
By seeking to express your extreme Yin in your appearance, we must remember your motto: Appeal is power!
By never underestimating the strength of the magnetic Yin, we find the key to expressing it most clearly is through the use of softly flowing rounded shapes in all elements of your appearance, from head to toe.
Everything that goes into creating your look should take its cue from your enchanting inner essence and your voluptuous, outer physical form – from the softness of your beautifully coiffed hairstyle that wispily frames your face, to the Monet-like watercolor effect of your makeup, to the softly flowing, draped silhouette (with waist emphasis) of your clothing, to the delicate and lavish touch of your utterly feminine accessories.

The result?
Your magnetism and appeal are clearly expressed in the most natural, seamless manner possible.
Not only have you become the most stunning and striking woman you can be, you have also expressed your heart and soul in your appearance.
And indeed, my dear, enchanting, magnetic, inspiring Romantic friend, that is the very point of your metamorphosis!
You are a spinner of wondrous dreams, entrancing everyone who ventures into your orbit.
You are the shining star atop a Christmas tree, a sparkling and refreshing garden party in June, or a softly glowing moonlit evening.
When you are on display, with all your natural Romantic radiance clearly visible, the world is reminded of just how wonderful it is to be alive and how beautiful life can be.
We deeply appreciate your artistry, for you inspire us to look inside to find the poetry that exists within each of our very souls!
Shape
Shape is the key to your look!
Whatever mood you want to express, in whatever situation your find yourself–work, play, or glamour–keep your shapes rounded with soft edges!
Circles, ornate swirls, and intricate flowing shapes are the direct expression of your extreme Yin.
Soft bouffants are also acceptable. Always maintain the hourglass figure!
Avoid:
All straight lines.
All sharp edges.
All geometrics.
Line and Silhouette
Second only to shape in importance, your outline should always be soft and flowing silhouettes that showcase the lush curves of your body.
Waste definition is essential, always, as is lots of gentle draping everywhere.
Avoid:
All severe silhouettes.
All tailored silhouettes.
All straight lines with angular edges.
All vertical lines that hid the waist.
All unconstructed, boxy, or horizontal lines.
Fabrics
Lightweight fabrics that drape easily.
Softly woven fabrics: challis, crepe, tropical-weight woolens, jersey
Ultrashiny fabrics (charmeuse, shantung, crepe de chine, metallics).
Ultra soft of plush textures (suedes, velvets, boucle knits, angora).
heer fabrics (chiffon, voile, batiste, handkerchief linen).
Avoid:
Stiff fabrics.
Heavyweight fabrics.
Rough textures.
Extreme matte-finished fabrics.
Detail
Detail should be soft, intricate, ornate and feminine, with emphasis on framing your face.
Oversized bows, flouncy ruffles, and delicate lace are always good choices as long as they are luscious and womanly, instead of "little-girlish."
Necklines should be soft and draped with curved edges (ornate necklines are especially sophisticated).
Shoulders should be curved, with round pads; shoulder tucks or gathers, leg o' mutton, and draped dolman styles are all appropriate.
Sleeves should be tapered at the wrist with intricate buttons, or very soft and flowing.
Any kind of sparkle is excellent (pearls, sequins, beading, etc.)
The waistline should always be emphasized, with soft gathers, folds, draped sashes, and lightweight and supple belts to give a cinched effect.
Belt buckles should always be intricate and feminine.
Details to avoid
All tailored, angular, or severe detail.
All chunky, rough, or oversized detail.
All geometric necklines.
All sharp edges–pleats, square shoulder pads.
All crisp detail–perky bows, tiny ruffles
All minimal or "no detail" looks.
Separates
Your use of separates should always include an artful blending of plush textures, draped fabrics, and luxurious colors so you never disrupt the soft fluidity of line.
Always avoid any kind of harsh contrast between the top and bottom.
Dresses
Should always be feminine and flowing.
Waist emphasis, ornate detail, and swirling or flouncey skirts.
Avoid:
Stiff, structured, or tailored styles
coatdress
chemise
Straight styles with no waist
Shapeless
wide
baggy dresses
Jackets
Jackets: Should always be fitted at the waist. Soft, supple styles with peplums, nipped-in waists, and belts are excellent.
Lapels should be curved, rounded, or shall-collard. A lapel-less model would also be good. Shoulders should have rounded pads; gathers, tucks, or bouffant shapes work equally well.
Sleeves should be tapered.
The more intricate or antique-looking your buttons are the better. Any draped, gathered, or shirred touches are wonderful accents.
Avoid:
Tailored jackets (blazers, double-breasted, boxy. Long, straight jackets that hide the waist. Unconstructed, shapeless jackets. All sharp edges (sharp lapels, pleats, or angular detail).
Blouses
Soft, draped styles.
Sophisticated flounces and fills.
Any antique styles.
Avoid: All tailored styles.
Sweaters
Soft, fluffy knits. Clingy, draped knits. Plush knits. Short lengths with waist detail. Cowl necks.
Avoid: Skinny, ribbed knits. Thick, nubby knits. Oversized sweaters. Turtlenecks and long pullovers. Cardigans. Crew-necked shetlands.
Skirts
Should be kept full and flowing with soft gathers at the waist and uneven hemlines.
Your version of the basic "straight skirt" is actually tulip shaped: full and gathered at the waist and tapered at the hemline, which is short.
All flared styles are excellent, from trumpets and swings to any bias-cut or gored style.
Lengths should be kept gracefully long on uneven hemlines (mid calf), and short on the tapered styles with an even hemline (mid kneecap).
Avoid:
All straight and tailored skirts,
A-line
pleats.
Pants
Should always be soft, draped, and showcase your luscious curves!
Gathers at the waist and a tapered or pegged bottom are the best shape for you.
Avoid:
Straight or tailored pants.
sharp details (pleats, cuffs, pockets).
Baggy, unconstructed styles.
Color
our use of color should emphasize a watercolor palette of soft pastels and luscious brights.
Any shade that is named for a food or flower (grape, melon, raspberry, rose, salmon, etc.) is a prime candidate.
Rich, luxuriously blended colors are your most effective tools to express your lush femininity.
Pale neutrals (bone, dove gray, white, taupe) are your best accents.
Avoid
Dark, monochromatic color schemes.
Neutral, monochromatic color schemes.
Sharp color contrast.

Prints
Should be rich and luscious with the emphasis on an abstract, watercolor blend (think Monet).
Swirls of color, flowing together, with soft and rounded edges may be used in abundance.
Keep prints luxuriously large; oversized florals or feather shapes are especially lovely.
Avoid:
Geometrics.
Contemporary styles.
Animated prints.
Small prints.
Symmetrical prints.
Stripes.
Plaids.
Accessories
Accessories should always be kept feminine, ornate, and softly sophisticated. The effect may be lavish, but the workmanship should be intricate and delicate.
Avoid: Anything heavy, chunky, sharp, or tailored.
Shoes
Delicate, feminine styles. Strappy, slender-heeled with tapered or open toe.
Lightweight and supple leather. Feminine flats, with ornamentation.
Avoid:
Tailored
Chunky
Angular
Heavy styles.
Plain styles.
Bags
Small, rounded shapes.
Soft, supple leather or fabric.
Ornamentation or luxurious detail (beads, gathers, trim).
Delicate shoulder straps. Elegantly slim briefcases.
Avoid:
Tailored, angular, or boxy shapes.
Stiff leather, or heavy shoulder straps.
Elegantly slim briefcases
Belts
Should be a soft and supple leather or fabric.
Buckles should be intricate. All beaded, bejeweled, or sparkly styles are excellent.
Your belts are a focal point, and should be selected as carefully as a fine piece of jewelry.
They should give a "cinched-waist" effect.
Avoid:
Stiff belts, whether wide or narrow.
Geometric buckles.
Plain belts.
Hats
Soft, curvy shapes. Picture-frame styles. Large, fluffy fur hats. (Monty note: In case you go skiing or to Russia in winter.)
Avoid: Crisp or man-tailored hats.
Hosiery: Keep your hosiery sheer. A "light leg" with the stocking and shoe in one color, several shades lighter than your hemline, is very elegant.
Jewelry:
Should always be delicate and lavish, with intricate and ornate touches.
Rounded shapes, curves, swirls, and lots of dangles add the perfect touch to pull your look together. Sparkly materials are essential (crystal, gems, glass, polished metal, etc.), and antique, baroque, or rococo effect is desirable.
Avoid:
Heavy, chunky pieces.
sharp edges.
Geometric shapes.
Avant-garde, contemporary styles.
Small, symmetrical pieces.
Minimal styles.
Evening Wear
Fitted shapes with ornate necklines and waist emphasis. Sheer fabrics. Draped fabrics. Sparkly fabrics. Elaborate trim.
Hourglass ball gowns Swirling chiffon gowns Ornate cocktail dresses Bustier dresses
Makeup for Kibbe Romantic Type
Should be elaborate and blended into a soft, watercolor face. Soft pretty colors (rose, peach, rust, pink) on cheeks and lips (glossy).
Eye makeup should be colorful and soft, with a bit of sparkle even for daytime. Evening makeup can be extremely glitzy!
Avoid:
A neutral, "no color" makeup (will be extremely tired-looking on you).
High-contrast colors, and angular contouring of cheeks (will be stark and harsh).
all matte-finished products, with no frosts or sparkles (will be aging on you).
Hair for Kibbe Romantic Type
HAIR Should be soft and stylized with a wispy silhouette framing the face. It should have a set, somewhat ornate look, but should never be stiff. The cut must be layered to accentuate curl or wave, as well as to hold a set effectively. Perms are possible for you, but your hair will still need setting to avoid a messy look.
Avoid:
Geometric shapes with angular edge.
sleek, smooth styles, blunt-edged, or blow-dry.
Overly layered hair (too messy).
Wash 'n wear styles. Stiff, bouffant styles.