What is Kibbe Dramatic Classic Body Type
Dramatic classic is one of the original 13 Kibbe body types. Take the Kibbe test to find out your body type. The Kibbe types have three classic body types, the classic, soft classic and the dramatic classic type.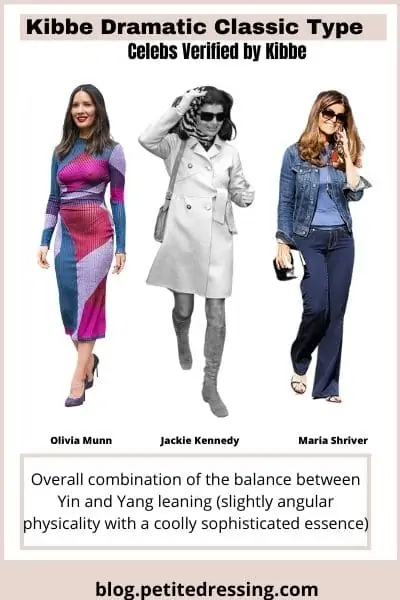 Height:
Moderate, up to 5 feet 7 inches.
Bone Structure:
Symmetrical, with slightly angular edges. Straight and slightly wide. Shoulders are tapered or slightly square, usually narrow. Slightly squarish hands and feet. Slightly sharp, angular or squarish facial contours (jawline, nose, cheekbones).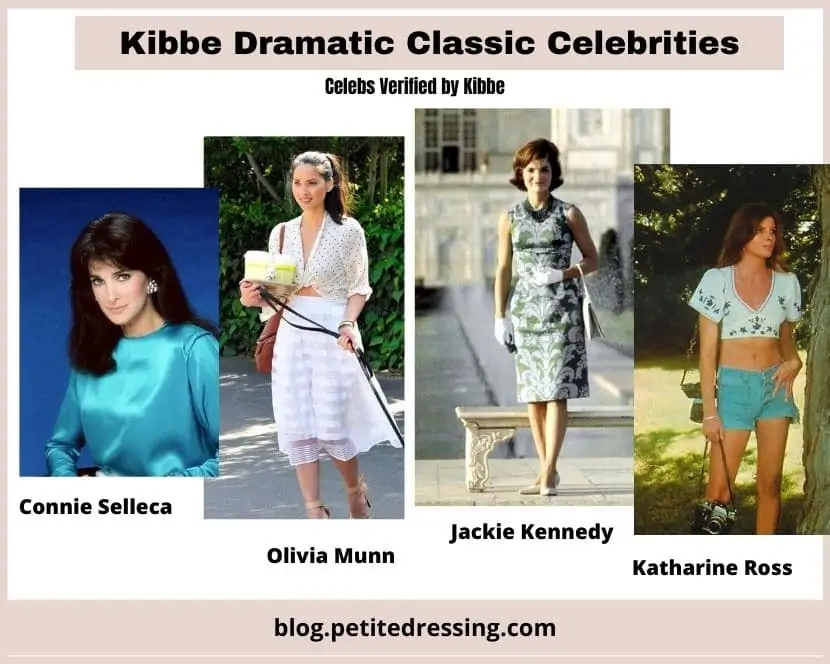 Body Type:
Fairly trim and compact when at an ideal weight. Slightly muscular when at ideal weight. Bustline, waist and hips are somewhat straight and in even proportion when at ideal weight. On occasion slightly short-waisted. Legs and arms tend to be average or slightly long. Your body type will seem to radically change when you gain even a little weight. This is actually an illusion because your bone structure remains the same.
Facial Features:
Usually moderate to large eyes, moderate lips.
Hair:
May be thick and straight or fine and silky but rarely coarse. Possibly wavy/curly.
Coloring:
Any coloring is possible(warm or cool, high-contrast or blended).
If overweight:
Excess weight shows up right away and collects from the waist down. You seem to gain weight in the hips and thighs. You rarely gain weight around the bustline. The heavier you get, the more pear-shaped you become.
A Dramatic Classic will not
Have extremely long limbs. Have extremely exotic or overly lush facial features. Have extremely large bones or extremely large hands and feet. Have delicate bones or extremely small hands and feet. Have an hourglass figure. Have a boyishly straight figure.
Character of the Kibbe Natural
IMPORTANT: this post is primarily based on the original book of "David Kibbe's Metamorphosis" published in 1987. Visit David's website here.
You can also take this body type test and find out if your body shape is hourglass, pear, apple, rectangle, or inverted triangle.
Kibbe Dramatic Classic Body Type Celebrities
Kibbe's prime Natural celebrity-Jackie Onassis
These are the celebrities with Natural Kibbe body type either mentioned in the Kibbe body type book or verified by Kibbe himself later on.
Jackie Kennedy
Olivia Munn
Diana Rigg
Polly Bergen
Jane Wyman
Suzanne Pleshette
Connie Sellecca
Katharine Ross
Gena Rowlands
Linda Gray
Phylicia Rashad
Maria Shriver
Tracy Scoggins
How to Dress Kibbe Dramatic Classic Type
Best clothing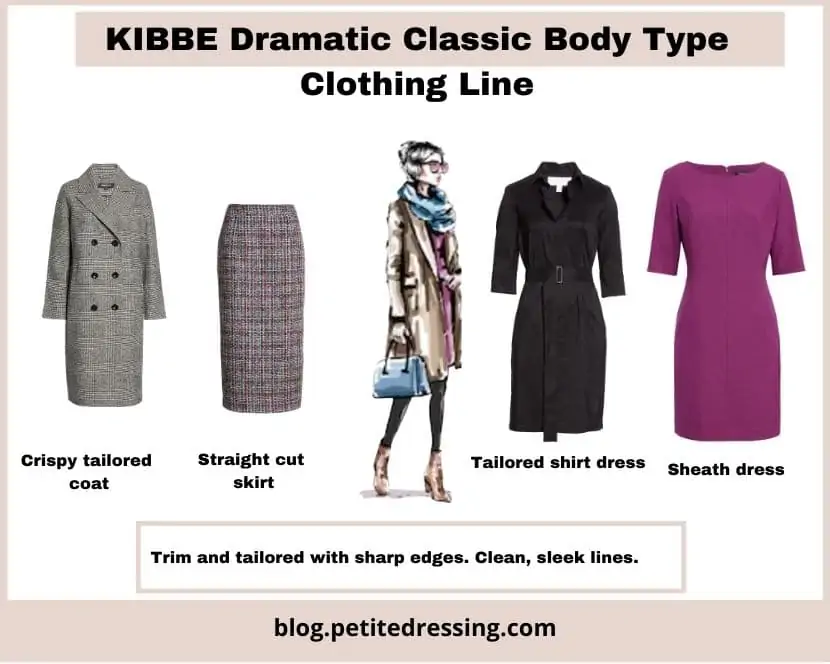 Yin/Yang Balance Balanced, with a Yang influence Physically, you are basically symmetrical with slightly angular edges (bone structure and features). Innately, you are controlled, refined, elegant, and calm with an added dash of the powerful, the majestic, the charismatic. You will definitely want to read both the Classic and the Dramatic sections of this book, and you will find yourself identifying at times with elements of each. However, please remember, you are not an equal combination of the two categories.
Always remember that you are a Classic first and foremost! Your Dramatic undercurrent should always be used in small doses to add a bit of spice to your appearance. It is not a substitution. It is an addition to express that extra bit of Yang present in your being.
To express your balanced/Yang influenced total essence, we want to develop an appearance that could best be described as: Tailored Chic.
Your silhouette is sculpted and geometric, composed of sleekly straight lines (clean, not severe) that are narrowly tailored in a trim and taut fashion. Sharp edges and angular shapes, particularly through the shoulders, are most important.
Likewise, accessories such as your jewelry, handbags, and shoes should all have the same cleanly geometric shapes that are crisp, tailored, and slightly angular.

This is the best way for the world to see your rare combination of understated sophistication and dynamic power! We'd like to see just a bit of the avant-garde, the adventurer, the contemporary and daring (expressed visually through your use of sharp edges and sculpted shapes) without upsetting your basic foundation of the traditional, the elegant, and the everlasting (which is visually expressed through your use of clean lines and sumptuously tailored clothing).
Be careful not to go overboard with your Dramatic touches. When you opt for the "trendy" instead of the elegantly "fashion-forward", you become too stark. All angles and sharp edges, when devoid of the buffer that comes with your Classic underlying approach to your overall appearance, becomes far too cold and hard on you.
You lose your humanity this way, appearing overly rigid and unappealing.
On the other hand, don't go to the opposite extreme by trying to "soften" your look or your features. The result here is very matronly and somewhat fussy. You'll negate your power and charisma entirely by falling into this trap. (This, by the way, is by far the most common mistake made by your fellow Dramatic Classics, fostered primarily by the misguided theory that "softer" is better. Not for you!)
By far the most effective way to allow your star quality to blaze forth is to appreciate your angular symmetry and bold elegance. When this stunning combination is clearly evident in your appearance, we will follow without hesitation wherever you lead! You are a lady to be both reckoned with and deferred to. When you show both your practical wisdom and your unlimited thinking, you are home free.
Let us all share in the supremely confident, elegantly innovative creature you most definitely are!
Shape
Triangular, with the widest line at the shoulders, narrow at the hemline. Symmetrical geometrics, which can be sharp or sculpted. Trim, tailored, taut and crisp and slightly chunky.
AVOID: Ornate, intricate, or delicate shapes. Irregular shapes. Unconstructed or extremely boxy shapes. Simple symmetrical shapes without sharp edges or an elongated line.
Line and Silhouette
Your silhouette is always trim and tailored with sharp edges. Clean, sleek lines. Straight lines. Elongated draping. Strong, defined shoulder line with crisp edges. Strong vertical and diagonal lines.
AVOID: Clingy, ornate, intricate, or flouncy lines. Unconstructed, wide, boxy, or horizontal lines. Extremely severe lines without tapering. Plain, symmetrical lines without sharp or sculpted edges.
Fabrics
High-quality fabrics in moderate weights. Matte-finished fabrics form the basis of your wardrobe, although you may certainly use shiny silks and the like as blouses or accents and may go ultra-shiny (to the point of lames and metallics) for evening. Moderate piles. Pliable knits and wovens (heavy jersey, cashmere, gabardine, etc.).
AVOID: Lightweight fabrics that cling or are ultra-sheer. Heavyweight fabrics that are stiff and bulky. Rough textures that are thick.
Detail
Detial should be crisp, tailored and geometric with sharp edges. Sharp or sculpted shoulder pads are a must in everything you own!
Cleanly tailored necklines: notched collars, crisp Mandarins, simple jabots or ascots, cleanly slashed necklines, geometric V's, asymmetric angulars, turtlenecks, and narrow cowls.
Sharp details: pleats, crisp cuffs, peaked and notched or cleanly streamlined lapels, double-breasted jackets, contrasting trim, epaulets, piping, or clean braiding.
The waist may be crisply defined with a moderate to wide belt with a geometric buckle or may be dropped or eliminated altogether in a narrow chemise-effect.
Detail that includes sharp color contrast is excellent (for example: spectator pumps, contrasting buttons, lapel outlining).
Sophisticated nautical-type detail is also striking when it is crisp and tailored.
AVOID: Ornate, intricate, or fussy detail, including frills. Animated, "perky" detail. Plain and symmetrical detail without sharp edges. Wide, unconstructed, or bulky detail. Minimal detail.
Separates
Use carefully. Separates can be extremely effective for you when well-planned in matched sets. An "ensemble approach" to your head-to-toe appearance is always necessary.
Jackets
Jackets are a mainstay of your wardrobe, and you should have them for every occasion, from daytime to glamour to casual. They should be crisp and tailored, with sharp shoulders and elongated line. If unconstructed, they should be very narrow and fall below the break of the hip. The shortest jacket that is sophisticated enough for you is cropped to rest at the top of the hipbone and has a very sleek, streamlined effect. Double-breasted jackets are also quite effective on you.
AVOID: Flouncy jackets that are nipped and tucked with gathers and trim. Peplums. Wide, boxy jackets. Ultra-cropped jackets (boleros, waistcoats, etc.)
Skirts
skirts should be straight and narrow. A few crisp gathers at the waist are usually needed to accommodate your hips. It is very important that your skirts are always flat from the hip to the upper thigh area. Pleats should thus be stitched down at the top, so as not to upset your sleekly vertical line. Small slits are excellent, as is any tailored detail such as pocket flaps, contrasting stitching, waistbands, etc. Hemlines can range from one inch below the knee to the top of the calf. The latter will need a slit. Longer is, of course, perfect for evening.
A bias-cut skirt is possible, as is a straight skirt that has a bias-cut piece added to the bottom, gently flaring out. These hemlines are uneven and must be longer, in the mid-calf range.
AVOID: Full, flouncy skirts. Skirts with fussy detail (draping, shirring, and gathers). A-lines. Wide, unconstructed skirts.
Pants
Simple tailored styles with pleats and man-tailored detail are best. The pants should be clean, sleek, and elegant.
AVOID: Fussy or ornate styles. Tapered or pegged style. Wide, baggy, or unconstructed styles.
Blouses
Blouses should be elegant and tailored, with sharp edges and crisp detail. Stock-tie blouses are acceptable with a very tailored suit, but a more dramatic style is best when the jacket is not covering it. Fabric can be crisp and smooth (luscious cottons), elegantly shiny (charmeuse), or softly woven (challis).
AVOID: Frilly, ornate, flouncy styles with excess detail. Unconstructed styles with no detail.
Sweaters
Sweaters should be lightweight and elegant; silky and skinny-ribbed styles are excellent choices. Sweaters should be slightly elongated, with shoulder pads. Long cardigans with pads and jacket styles are very good for the dressy-casual look. Sleek and elegant beading is also stunning.
AVOID: Fluffy knits with ornate trim. Thick, rough, or heavy knits that are bulky. Shapeless sweaters. Cropped sweaters and vests. Symmetrical styles with plain detail such as crew-necked shetlands.
Dresses
Dresses should be tailored, sleek, and narrow, with sharp edges and crisp detail. Coatdresses, chemises, and slinky sheaths are all excellent. Waists may be defined with a wide, geometric belt (usually in a contrasting color to match accessories), or may be dropped low, or even eliminated. Elongated draping or sleek bias-cuts are also soft and elegant. Sharp or sculpted shoulders (with pads) are a must!
AVOID: Flouncy dresses with ornate and intricate trim. Fussy detail such as shirring, gathers, silk flowers, bows, ribbons, etc. Wide unconstructed shapes.
Color
Your use of color should be bold and sophisticated. Neutrals and deep colors are quite effective for you as they provide a background of simplicity to showcase your elegant use of line. Pastels can be equally effective if the fabric is very special, and you utilize them in head-to-toe sweeps. Generally, thick of blending intensities of your outfits to retain your strong vertical lines. Contrasting trim is very striking on you, particularly in two-color combinations. They key is to pick up the accent color in several places, not just one. In this way you don't break up your sleek silhouette, you merely accent it.
AVOID: Multicolor splashes. A mix 'n match approach to color. All neutrals or monochromatics with on bold accents.
PRINTS Prints should be geometric, slightly oversized, and bold in color contrast. Stripes, zigzags, slashes, and sleep asymmetrics also work.
AVOID: Flowery prints. Soft, flowing prints. Ornate prints. Irregular prints. Animated, "cute" prints. Small, symmetrical prints.
Accessories
Should be clean, elegant, and crisply tailored, with sharp angles.
Shoes
Angular, Italian-style pumps. Tailored and narrow styles. Tailored flats. Sleek, sling-backs. "Two-toned" styles (Chanel, spectators).
AVOID: Overly delicate or strappy styles. Heavy, chunky styles. Plain pumps or simple symmetrical styles.
BAGS: Crisply tailored bags. Envelopes, clutches, box-shaped bags. Metallic evening clutches. Narrow to medium briefcases, constructed, with a frame.
AVOID: Overly delicate or ornate styles. Large, unconstructed styles.
BELTS: Moderate to wide styles with large geometric buckles. Wide self-belts. Contrasting-color belts (to match shoes and jewelry or hat).
AVOID: Waist-cinchers. Overly ornate styles. Delicate or narrow styles.
HATS: Crisply tailored styles. Sharp edges and contrasting trim. Moderate to small size. Geometric and clean shapes.
AVOID: Fussy hats with ornate trim. Oversized styles. Severe styles. Unconstructed or floppy styles.
HOSIERY: Sheer, silky stockings are best. In terms of color, blend in one tone between hemline, stocking, and shoe to keep your dominant vertical line sleep. The exception to this is when you are working with sharp color contrast, head-to-toe, and your shoe or stocking color is in contrast to each other or to your hemline. Just be sure this color is picked up in several other places to avoid chopping your look.
Textured stockings are elegant in geometrics (herringbone, etc.) when kept translucent.
AVOID: Opaque stockings. Lacy stockings. Ornate stockings.
Jewelry:
Should be sleek, elegant, and slightly chunky. Geometric shapes with sharp edges. Smooth circles that are crisp and oversized are possible. Earrings should be on the ear or spray up (not down or dangly). Necklaces should be crisply tailored and slightly chunky, and rest around the collarbone area. Moderate wrist cuffs are also possible. Remember: One elegant piece is quite effective on you!
Evening Wear
Symmetrical shapes with clean, geometric detail Shoulder emphasis. Angular necklines. Smooth fabric. Beaded fabric. Understated trim.
Slinky sheaths Jacketed gowns Tailored dinner suits Long gowns with sharp shoulder emphasis Tailored cocktail dresses Evening pants with jacket.
Makeup for Kibbe Dramatic Classic Type
A smoky face with sultry eyes, strong cheekbones, and a vivid mouth completes your tailored chic look to perfection! Matte colors are best; for evening add just a hint of sheer frost. Emphasize your beautifully chiseled angels with contrast and contouring!
AVOID: Overly ornate makeup with heavy glitz (unsophisticated on you). Watercolor-soft edges (very aging on you). Pale lips (not strong enough to balance your eyes). All neutrals, with no smoky colors (too matronly). "No-makeup" look (too washed-out).
Hair for Kibbe Dramatic Classic Type
Hair Style
A sleek hairstyle of moderate to short length, bluntly cut with an asymmetric sweep or dip or slightly angular outline, combined with a "sculpted face"(slightly high-contrast, with smoky eyes, contoured cheeks, and deep lips) completes your head-to-toe appearance beautifully.
Hair should be sculpted and sleek, a geometric shape with angular edges. Blunt cuts are best, although some layering is possible depending on the texture of your hair. Hair should be of moderate length to short, with very fine or thin hair being best served by a short, very sleek style. Long hair will need back teasing and setting to retain a sculpted shape. Likewise, if you perm or wave your hair, you'll have to be willing to set it for a very sculpted, marcelled effect. Asymmetric detail such as a sweep or dip is excellent.
Avoid: Ornate or lavish hair. Wild or "fantasy coiffures". Cropped, boyish hair. Overly layered styles. Wash 'n Wear styles. Symmetrical styles with no angles. In general, avoid perms, waves, and processing.
Hair Color
High Contrast Coloring
Deep Chestnut Brown
Mahogany/Deep Auburn
Warm White
Cover Gray completely.
Black (only if skin tone is olive
Dark Ash Brown (no highlights)
Sliver/White
Cover Gray unless it's dramatically streaked or you're totally Gray.
Low Contrast Coloring
Light Golden Brown
Light Auburn/Copper
Deep Honey Blond
Bright Golden Blond
Warm White
Cover Gray unless you're totally Gray.
Medium to Soft Ash Brown
Any shade of Ash Blond
Bold streaks of Light Ash Blond
Soft, Snowy White
Cover Gray unless you're totally Gray.
In general, you need the rich base from an overall haircolor process. This will provide the distinct haircolor that must be maintained. If you are seeking to cover gray, never choose a shade lighter than your original haircolor; it will be too soft and muted for you and will give you a tired, matronly appearance that is not in keeping with your bold and sophisticated elegance.
Avoid: All processes designed to "soften" the haircolor. Be careful not to overlighten the hair.