What is Kibbe Soft Gamine Body Type
Soft gamine is one of the original 13 Kibbe body types. Take the Kibbe test to find out your body type. The Kibbe types have three gamine body types, the gamine, soft gamine and the flamboyant gamine type.
Height:
Under 5 feet 5 inches (usually very petite).
Bone Structure:
Delicate and small, yet slightly broad and angular. Angular edges, particularly through the shoulders (square or tapered) Small hands and feet (may be slightly wide or fleshy). Delicately broad facial contours (nose, cheekbones, and jawline–which may have extra bits of angularity) Arms and legs tend to be shortish (in proportion to height).
Body type:
Soft, curvy body tends toward fleshiness. Curved bustline and hips with some natural waist definition. Arms and legs tend to be soft and fleshy, particularly through the hip and thigh areas.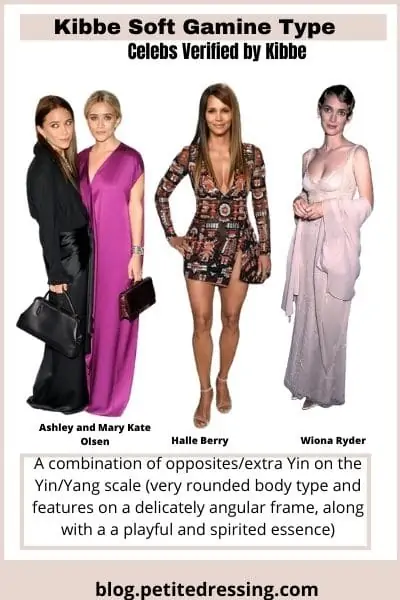 Facial features:
Doll-like facial features (saucer-eyes, round and fleshy cheeks, full lips) Facial shape may be very rounded, and it can have a slightly sharp or slightly strong jawline.
Hair:
Any type is possible, but texture is usually soft–silky if fine, wispy if thick and curly/wavy.
If overweight:
Body tends to get very rounded, as the weight collects mainly in the bust and hip areas. Arms and thighs may get very soft, and face tends to become quite fleshy.
It is common for Soft Gamines to feel overweight, even when they aren't because of the extreme round shape of the body paired with the short limbs.
A Soft Gamine will not
Be tall
Have a rail-thin or extremely straight body type
Have a large or broad bone structure
Have large hands and feet or exotic facial characteristics
Be symmetrical in body type, bone structure, or facial features
Have sharp bone structure
IMPORTANT: this post is primarily based on the original book of "David Kibbe's Metamorphosis" published in 1987. Visit David's website here.
You can also take this body type test and find out if your body shape is hourglass, pear, apple, rectangle, or inverted triangle.
Kibbe Soft Gamine Body Type Celebrities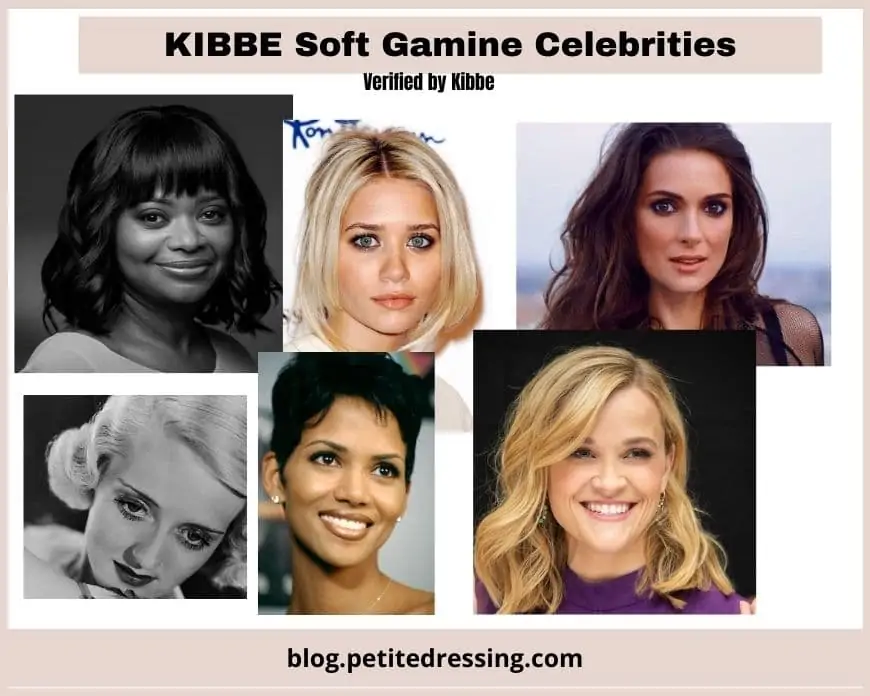 Kibbe's prime soft gamine celebrity-Bette Davis.
These are the celebrities with soft gamine Kibbe body type either mentioned in the Kibbe body type book or verified by Kibbe himself later on.
Bette Davis
Halle Berry
Winona Ryder
Reese Witherspoon
Mary-Kate and Ashley Olsen
Octavia Spencer
Linda Ronstadt
Judy Garland
Cyndi Lauper
Eartha Kitt
Sally Field
Clara Bow
Debbie Reynolds
Brigitte Bardot, 5'7″
How to Dress Kibbe Soft Gamine Type
Best clothing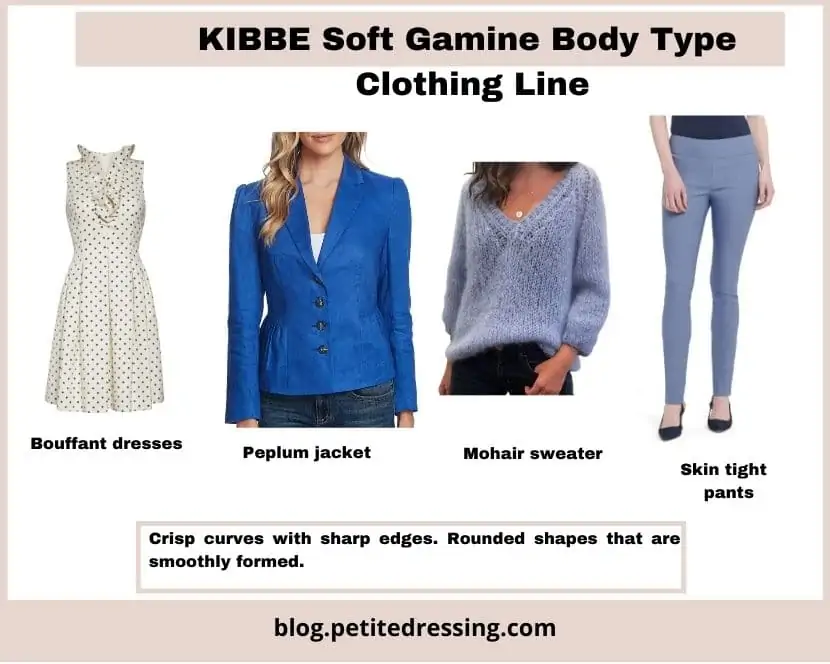 Your position on the Yin/Yang scale is: combination of opposites, extra Yin. Physically, you are Yin in size (petite) and shape (curvy flesh, rounded features), and slightly Yang in your bone structure (angular). Innately, you are strongly Yang in inner energy (your drive, charisma, and strength), with a secondary Yin evident in your youthful freshness and bubbly charm.
Since Yin dominates your physicality and Yang dominates your essence, you must always remember to combine both elements in your appearance. The Yin is given slight precedence, with the Yang following at a very close second.
Always remember that you are a Gamine first and foremost! Your Romantic undercurrent should always be used in small doses to crisply soften the overall effect of your appearance. It is not a substitution. It is an addition in order to express that extra bit of Yin present in your being without losing your foundation of the combination of opposing energies that makes you a Gamine in the first place!
The cardinal rule here is for your to maintain the underlying balance that comes from working with both the Yin and Yang clearly in your appearance, and then by adding extra Yin touches through hair, makeup, and accessories. It's almost as if you were a banana split; the ice cream, fruit, and syrup that are the basis of the convection are your equal combination of Yin and Yang. The whipped cream, cherries, and nuts come from your extra dollop of Yin on top!
Shape
Crisp curves with sharp edges. Rounded shapes that are smoothly formed, including bouffants. Ovals, circles, elliptical shapes, chunky swirls, teardrops, crisp clusters.
Avoid: Sharp geometrics. Small, symmetrical shapes. Overly intricate, delicate shapes. Oversized bulky or chunky geometrics.
Line and Silhouette
Your silhouette is animated and staccato, composed of clean curves with sharply tailored nips and tucks at strategic edges. Your shapes are rounded (because of your extra dose of Yin), but they are crisp and formed, kept close to the body, as opposed to softly flowing. The sharp edges are always present through the shoulders, as well as tapering at the cuff, the collar, the waist, and the knee, and in detail such as pleats, plackets, and lapels. (This comes from your Yang side). Likewise, it's always best to keep a well-defined waist.
Animated, staccato silhouette. Broken curved lines. Sharply tapered outline (especially at waist, collar, cuff). Small, bouffant lines with crisp edges. Small, draped lines with tapered edges.
Avoid: Geometric silhouettes. Wide, unconstructed silhouettes. Soft and flowing silhouettes. Symmetrical silhouettes. All elongated lines. All strong horizontal lines. All smooth lines. Severe straight lines.
Fabrics
Fabric should be lightweight and crisp so it can hold a defined shape that is tailored into the garment as well as be supple enough to have a slight drape and movement. Matte-finished fabric is best because it looks fresher on you, although slight sheens are fine too. Textures should be light, not heavy or bulky, and fairly crisp. Drapeable woven fabrics (jersey, cashmere, challis, etc.) can be used very effectively when there is extra construction in the garment to provide a very defined outline. Knits should be soft and fluffy (angora, mohair, boucle, etc.), although flat, clingy knits are effective when tailored into curvy shapes with rounded outlines. Metallics are excellent for evening, but should be avoided during the day.
Avoid: Heavyweight, thick, or bulky fabrics. Overly flimsy, sheer, and clingy fabrics. Rough, thick textures. Bulky knits.
Detail
Detail should always be animated, lively, and energetic. An excess of detail, particularly in the area of trim, is one of the important ways you express vivacity in your appearance. Shoulders should be crisp and slightly padded. The pads should always add streamlined curves. Shoulder gathers, tucks, and shirring are excellent, as is any intricate trim or applique in this area. Necklines should be clean and crisp, preferably curved. They are best when they are either high or closed, although lower scoops and plunges are acceptable. Crisp collars are excellent and should be used profusely. They should be small and very tailored. Or shaped, with contrasting fabric, trim, color, etc., the perfect choice. Curved or rounded shapes are best. Small sharp pleats, ornate trim, applique, top-stitching, epaulets, pocket plackets, etc., are all good touches for the bodice area. Crisp cuffs with contrasting buttons, bands, trim, etc., are always chic. Waist should always be sharply defined with wasitbands, contrasting trim, applique, etc. A tapered and cinched waist is a mainstay of your look. Gathers at the waist are excellent if they are small and crisp (as opposed to deep and soft). The hemline should be tapered at the knee area. If it is long, it will then flare out gently. If it is short, it will be tuliped-shaped. Contrasting trim at the hemline is excellent. Contrasting and colorful trim is everywhere!
Avoid: Minimal detail. Elongated detail. Sharply geometric detail. Wide, unconstructed detail. Overly antique detail.
Separates
Separates are effective when used with a very head-to-toe "ensemble approach." Mix them together artfully, always picking up their specific theme, (whether it be color, print, or fabric) elsewhere in your outfit.
Jackets
Jackets should be short and shapely with lots of detail and trim. They should always show the waist; they may be cropped above it or flare out into a crisp peplum. Keep them very fitted. Contrasting trim, tapered cuffs, and shoulder detail are all excellent.
Avoid: Long jackets that hide the waist. Severely straight and tailored jackets. Unconstructed jackets. Boxy jackets. Symmetrically tailored jackets. Standard blazers.
Skirts
Skirts should be short, trim, and shapely. They should have a defined waistband, usually with small, crisp gathers. Your version of a "straight skirt" should be tulip-shaped and tapered at the knee. This hemline is even and ends mid knee or very slightly below (never longer). Long skirts are tapered at the knee (or just below), and then flare out gently into a modified trumpet shape. If this is a very slight flare, a slit is possible. This hemline is uneven and will end mid calf. Asymmetrical hemlines are also excellent. An evening-gown length will be short, showing the ankle. Bouffant skirts are also very exciting on your. Low or dropped flounce are elegant touches on skits.
Avoid: Long, straight skirts. Traditional symmetrical styles (A-lines). Wide, unconstructed styles. Voluminously full, circle skirts. Sharp pleated skirts.
Pants
Pants should be very shapely, showcasing the ankle. Cropped styles are excellent, as are skin-tight styles, such as toreadors for fun.
Avoid: Man-tailored styles. Wide, unconstructed styles. Traditional, symmetrically tailored slacks.
Blouses
Blouses should be soft and draped, but ultrafitted at the neck and cuff, with bodice detail. You may go for very crisp touches of ruffles or lace, which will be very chic, or you may opt for a streamlined look, with animated outlining. Silky blouses are best, although sheer cottons, voiles, batiste, and handkerchief linen may also be used.
Avoid: Severely tailored blouses. Unconstructed blouses.
Sweaters
These should be very fitted at the waist and cuff areas with small and crisp collar additions excellent. Ribbed trim and intricate detail (such as applique, beading, sparkles, jewels, etc.) are very sophisticated, as are extremely animated patterns when kept small and swirling or crisp and curvy. Sweaters are best when they are fluffy or have a deep pile (angora, boucle, etc.). Skinny knits must be very shaped into blouson styles that are ultra-fitted at the neck, waist, cuff, and shoulder areas.
Avoid: Long oversized sweaters. Rough, bulky knits. Standard symmetrical styles (i.e., cardigans). Clingy knits.
Dresses
Dresses should be very shaped at the waist with crisp necklines, cuffs, and intricate or animated detail. Flounces added to skirts are very sophisticated if used sparingly. Sharp shoulder definition is important, and gathers, shirring, etc., are excellent. Skirts may be tapered or flared but should not be voluminous. Bouffant dresses are extremely chic and sexy on you. Asymmetrical hemlines and tea-length gowns are also extremely striing on you, as are all blouson styles with extra tapering.
Avoid: Severe, tailored dresses. Wide, unconstructed dresses. Symmetrical styles (shirtwaists). "No waist" styles. Overly clingy styles.
Color
Your use of color should be bright and sparkling, with a multicolor palette of vivid, rich and intense shades played against each other or on top of either a pale or deep background. Sharp color contrast is excellent on you. Color schemes can be as wild and unusual as you dare; the more shades you use, the more sophisticated the effect!
Avoid: Monochromatic color schemes (too dull and matronly on you!) Neutrals, except as accents. Dark colors that aren't broken by vivid accents.
PRINTS You should use lots and lots of prints that are lively and animated! Bright colors, high color contrast, and outlined colors are all good choices. Shapes should be curved and intricate, but keep them crisp and animated instead of watercolor-blended. Size should be small to moderate.
Avoid: Sharp geometrics. Symmetrical prints. Oversized and abstract prints. Watercolor-soft blends without a crisp outline.
Accessories
Accessories should be small and crisp with a bit of intricate trim for animation. Colorful accessories are always a good choice.
Shoes
Lightweight and delicate with tapered toe and heel. Touches of intricate trim. Bare and strappy are good, as are open toes and sling-backs. Flats should be very feminine. Light and bright shades are excellent choices.
Avoid: Extremely angular styles. Chunky styles. Plain, symmetrical shapes.
Bags: Small, rounded shapes. Delicate shoulder straps. Touches of intricate trim. Metallic, antique, or beaded bags for evening. Ultraslim briefcase in very soft leather.
Avoid: Oversized, unconstructed bags. Sharp, geometric shapes. Symmetrical shapes with frames. Bulky briefcases.
Belts: Belts should be narrow to moderate and crisp. Contrasting colors are excellent. Buckles should be curved, swirled, or slightly intricate. Material should be very elegant leather, reptile, or exquisite fabric.
Avoid: Wide, stiff belts.
Hats: Should be small and crisp in rounded shapes with minimal trim (veils, feathers, etc.) Crisp caps are also good, but keep the shapes small and rounded.
Avoid: Oversized hats. Unconstructed, floppy hats. Man-tailored hats.
Hosiery: Hosiery should contrast with the hemline at all times, except for a very dressy evening look (when they will be very sheer and silky). General, a "light leg" is the most chic look for you, and you can either blend it with the shoe, which is very elegant, or contrast it with both the hemline and the shoe, which is most charming. An opaque stocking is best for the funky, contrast look, while a sheer stocking is better with a light leg bland. Flesh-toned stockings are best when the hemline and shoe are of matching, vibrant colors, or with bare, summertime outfits. Lacy textures and sparkly trim are fun for evening.
Avoid: One long line of dark color.
Jewelry
Jewelry is one of your most important accessories, for it adds the sophistication and touch of wit to your look. Shapes should be rounded and crisp, whether circles, swirls, ovals, clusters, teardrops, etc. Irregular and animated pieces are excellent as long as you keep the curves highlighted. Brightly colored pieces capture both your vivacity and your animation to perfection. Big, bright beads are always excellent. Keep earrings crisp and on the ear (or spraying up) as opposed to dangles. Wristbands and bracelets should be bangles. Unusual pins and brooches are also wonderful touches to spice up your appearance. Don't be afraid to be a little outrageous with your jewelry; let your sense of humor show. It can be the area in which your saucy elegance comes across most clearly.
Evening Wear
Fitted shapes with crisply ornate trim. Smooth fabric with glitzy trim. Beading, sparkles, bows, netting and playfully sexy accessories.
Bouffant ball gowns Pouffy cocktail dresses with crisp flounces (taffeta skirts, crinoline, etc.) Evening knit dresses (flat knits with glitzy trim) Bustier dresses Fitted dinner suits with flounces (peplums, ornate jackets, etc.) Draped evening pants with glitzy tops or fitted jackets.
Makeup for Kibbe Natural Type
A bright and colorful makeup will be the icing on your cake. It provides polish and elegance and just a hint of glamour. Without it, your head-to-toe look will not work well, for it adds that extra pizzazz that completes your picture. Choose a crisp and vivid face: bright colors accenting the eyes, ultra-rosy cheeks, and very glossy lips. Include a bit of sparkle-just a hint for daytime, but for evening, go all the way with bright color and frosty glitter! Use rounded strokes to blend your makeup so that your entire face is made up of circles and swirls!
Avoid: Heavy contouring to "slim" your full cheeks (you'll only look like you have a dirty face!) Smoky colors (too severe on you). Neutral (too stark and cold on you). "No makeup" or minimal look (very aging on you). Pastel colors, especially too-pale lips (very matronly on you!)
Hair for Kibbe Natural Type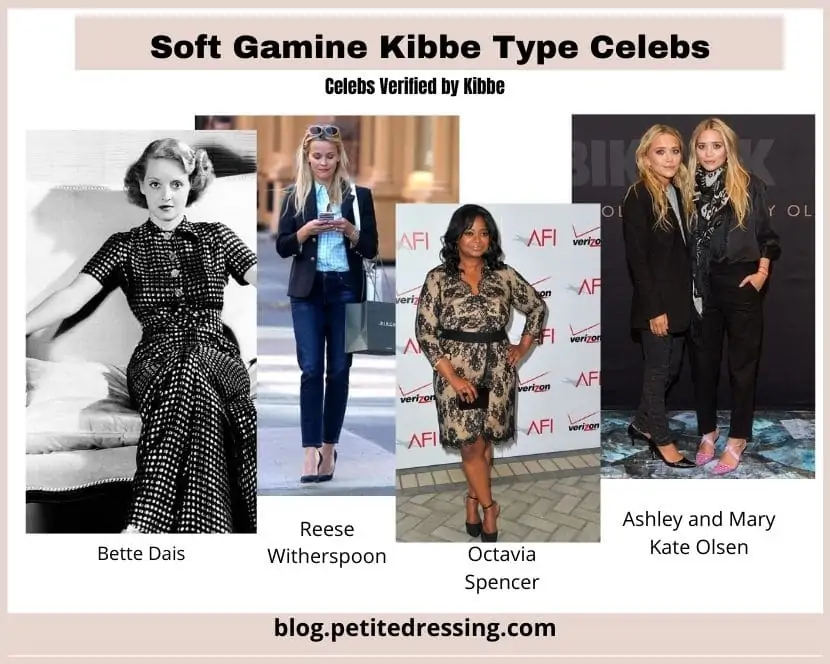 Hair Style
Hair should always be soft and tousled, with soft layering. Asymmetrical cuts are possible is the hair is curled or waved, although this style should be finger-teased for fullness. Feather fringe around the face is always good for you. Length must be kept short. Long hair simply won't work for you because it drags you down and hides your animation, your electricity and your sensuality! From another part of the book: Your hairstyle is best when the cut is asymmetrical in shape, with added layering or soft curls/waves. It should be short, sassy, and soft at the same time. Again, the shapes should be curved, rounded, or softened in outline by lots of feathering. Sleek or geometric styles are not for you (unless you want to look tired and matronly!)
Hair Color
Haircolor should be rich and vibrant. If you decide to color your hair, go for a fairly bright shade. Softening your haircolor tends to be too tiring on you, but subtle highlights around the face or on top may accent the softly tousled look that is your trademark.
Avoid: Over-lightening the hair. Over-streaking the hair.