Do you have an inverted triangle body? If you are wondering what is the best bathing suits for the inverted triangle shape (sometimes also known as the strawberry shape), this is the right place for you!
First, I want to start with shopping for swimming suits is not easy for anyone, regardless of the height and body type. After all, every body type got its own asset and weaknesses, and we all get a little self conscious when we have to wear the bare minimum (i.e. the bathing suits).
So, if you are not sure what is the best swimwear for inverted triangle shape, you are not alone.
Now, understanding your body shape and know what works and what doesn't will definitely help you make the right decision when shopping for swimwear.
Learning about what bathing suits to look for that is specifically flattering for the inverted triangle body type will help you choosing the right swimwear to accentuate our assets and make you more confident when walking on the beach or the pool.
I have also written other comprehensive styling guides on how to style the inverted triangle body type. I have put the links to those blog posts at end of this article, and I highly recommend you read them to fully understand how to accentuate the assets of the inverted triangle body and distract away from your weaknesses.
Now, let's first take a look at:
What is an inverted triangle body type
Before we talk about what works and what doesn't, let's first take a look at your shape.
Here is the main features of the inverted triangle.
If you are an inverted triangle type, you have prominent and broad straight shoulders, which are wider than your waistline or your hips.
You are likely to have athletic build
You tend to have rather flat buttocks.
Your chest may be larger and your back may be fuller than rectangles.
Your back tend to gain weight first, when you gain weight.
Here is an example of celebrity with inverted triangle shape, Priyanka Chopra (Getty Images)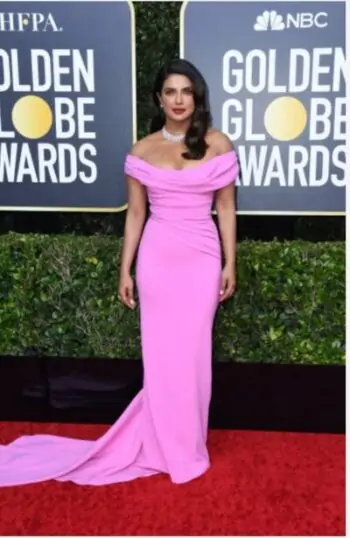 Inverted triangle type women are generally more top heavy than bottom heavy, as suggested by the name "inverted triangle".
Since many women with inverted triangle shape tend to have an athletic body, it is easy for the inverted triangle body type to come across as very fit but not as feminine as some of the other body types (such as the hourglass figure or the apple shape).
Your broad shoulders are the most noticeable of the inverted triangle type. So, in order to achieve a more balanced look, let's find the bathing suits that can soften them a bit.
So, the goal here is to give the illusion of more curves!
Before we get into what is the best swimsuits for the inverted triangle shape, I suggest you first watch my video on how to dress the inverted triangle shape overall.
One thing you may have noticed is that your shoulders might be one size bigger than rest of your body. So, it is possible that separates are more flattering for you, because you may need to wear a bigger size up top than on the bottom.
Normally, with swimsuits that might be less of an issue, since most of them do not cover your shoulders anyway. However, what you should keep in mind is your top and bottom needs different styling strategy, so, if you feel like you need to purchase bikinis to flatter the inverted triangle shape, you should not hesitate to purchase them not in a suit but separately to achieve the best results.
Now, let's dive in what swimwear are the best for the inverted tirangle.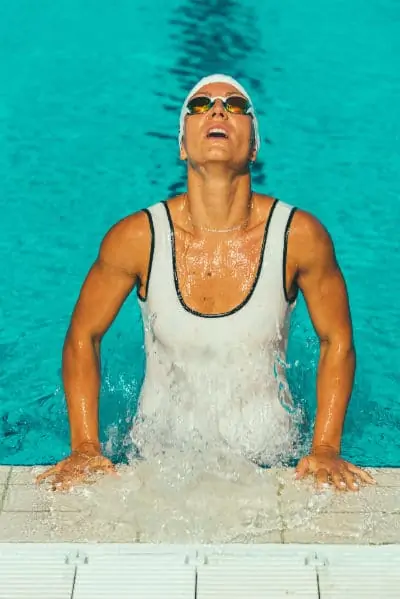 Asymmetrical neckline swimsuits
Asymmetrical neckline is one of the best choices for you, whether you are choosing bathingsuits or anything else such as a dress or a top. The reason is uneven neckline will draw the eye up and away, instead of straight across. One shoulder is a wonderful example of asymmetrical neckline, which is the easiest way to break up the wide shoulders you have.
Padded cup
The easiest way to add curves to your athletic body is to go with a top with padded cups! A suit with padding can help to give you a little bit of cleavage. It goes without saying padding will lift your boobs from underneath and push them upwards, giving you a fuller cup. Also, suits that have a bit of padding or boning can add contours.
Busy prints
Busy patterns can also add a little enhancement without any added material.
Swim bottoms with details
Working on adding volume to your bottom is a great way to balance out your wide shoulders. You can enhance your bottom half with bikini bottoms featuring side details such as ties and bows to help add curves.
Any bikini bottom with frills on the hips will also act to enhance your waist.
Color blocked bathing Suits
Since your top appears to be wider than you bottom, in order to achieve balance and symmetry, your goal is to draw attention toward your bottom half- try paring a brighter colored bikini bottom with a darker color top.
You can also opt for a solid colored suit with printed panels along the side. This will help create the look of an hourglass figure, thus evening out a boxy upper body.
What to avoid
Bathing Suits with details in tops
Your goal should be to avoid adding any more volume to your top, because you already have broad shoulders. So, you should be very careful with swimming tops with embellishments or ruffles, which can draw even more attention to your shoulders
Off the shoulder
Even though this is one of the most trendy neckline, they don't flatter your body type.
The reason is it forms the horizontal line at your shoulders, which make your wide shoulders even more obvious!
Bandeau
Don't go for straight-across bandeaus. Like I mentioned, anything that forms the horizontal line at your top will only enhance your broad shoulders.
Boy cut briefs
If your goal is to look more feminine, then boy cut briefs are not flattering, as this will only enhance your athletic figure.
Everything else you need to know
I highly recommend you also read my other posts to fully grasp how to dress your body type.
Inverted Triangle Body Type: Ultimate Style Guide
How to Dress Broad Shoulders