As someone who is 5'2″, I know how important it is to find the right styles and wear them the right way for short ladies like myself. Besides, I also have a petite clothing line for women 5'4″ and under, so I hear feedbacks from my customers on a daily basis in terms of what flatters a shorter woman and vice versa.
Based on my own trial and error for over a decade as well as feedback from numerous customers, I've put together this comprehensive guide to help all the short-height women to choose the best styles and look your very best every day.
Styling Goal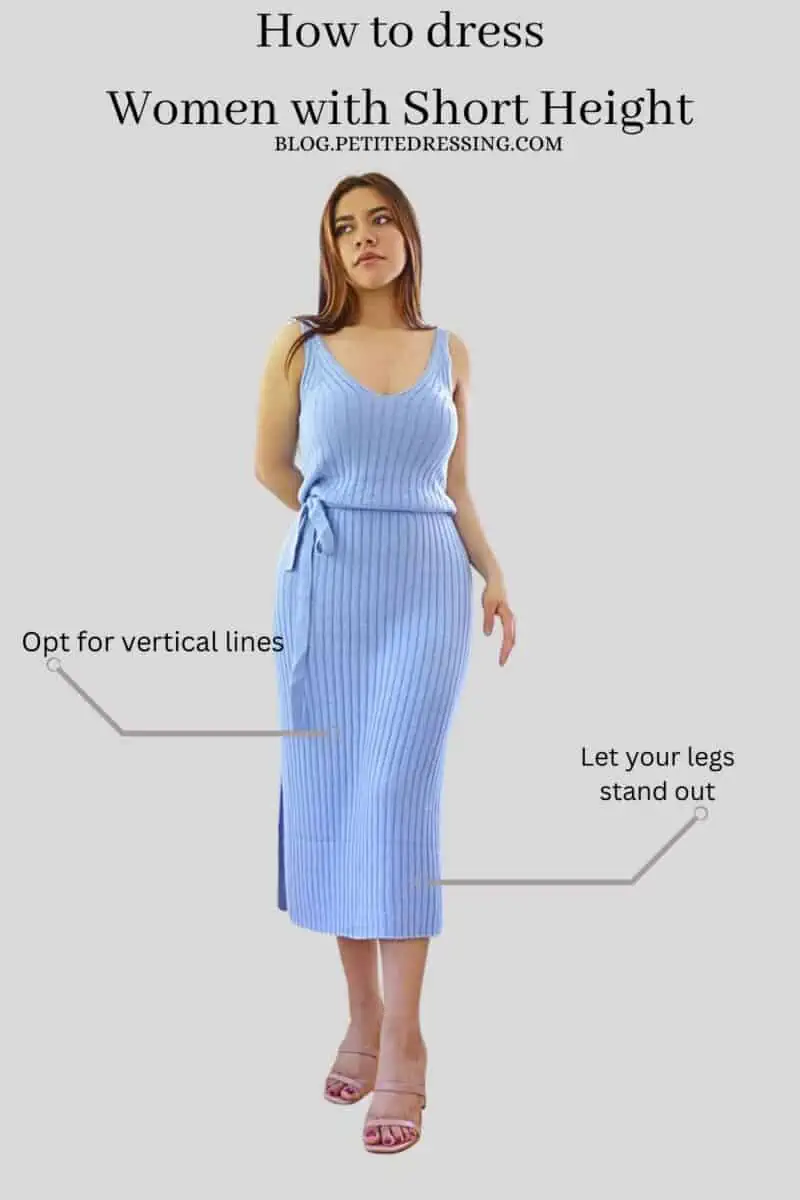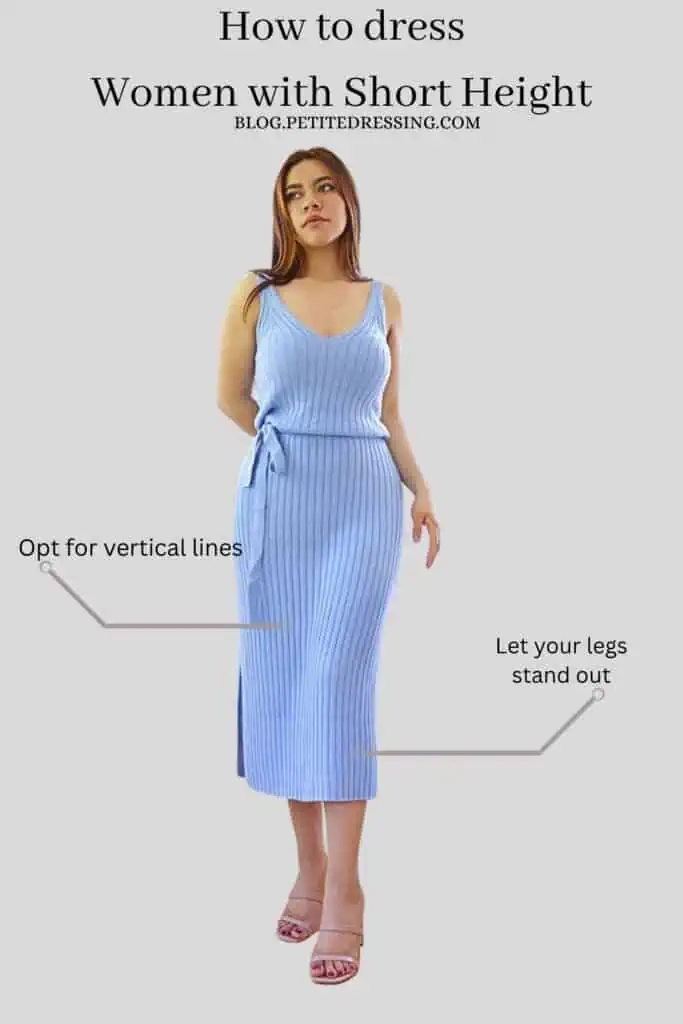 Let your legs stand out! You can do this by choosing structures that elongate the legs.
Keep your vertical visual line uninterrupted. Avoid heavy horizontal lines that will break the continuity of your figure!
Stay away from ill-fitting clothes. Don't go for clothes that are too big or too tight because these may overwhelm your shape and even make you look shorter than you actually are.
Are you ready to dive into the details of how you can flaunt your clothes as a short woman? Keep on reading and you'll realize how your short height is never a hindrance to making you look fashionable!
TOPS
Form-fitting Tops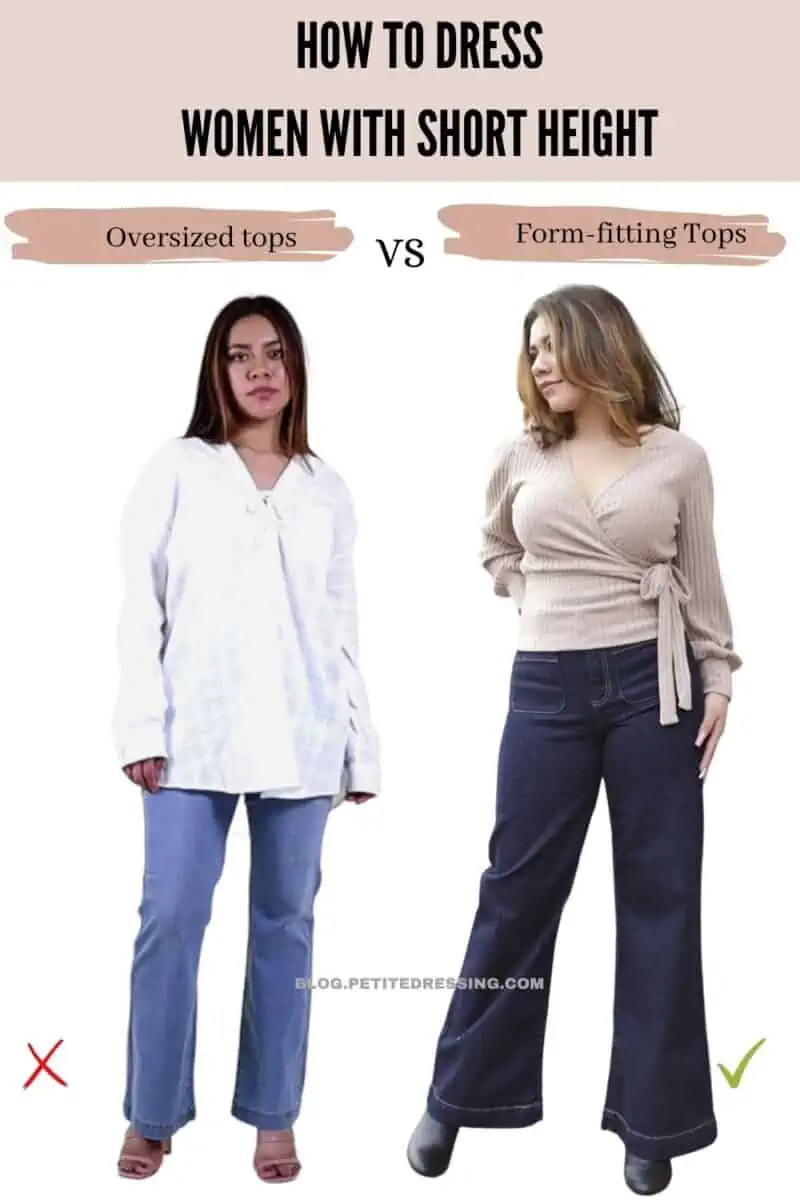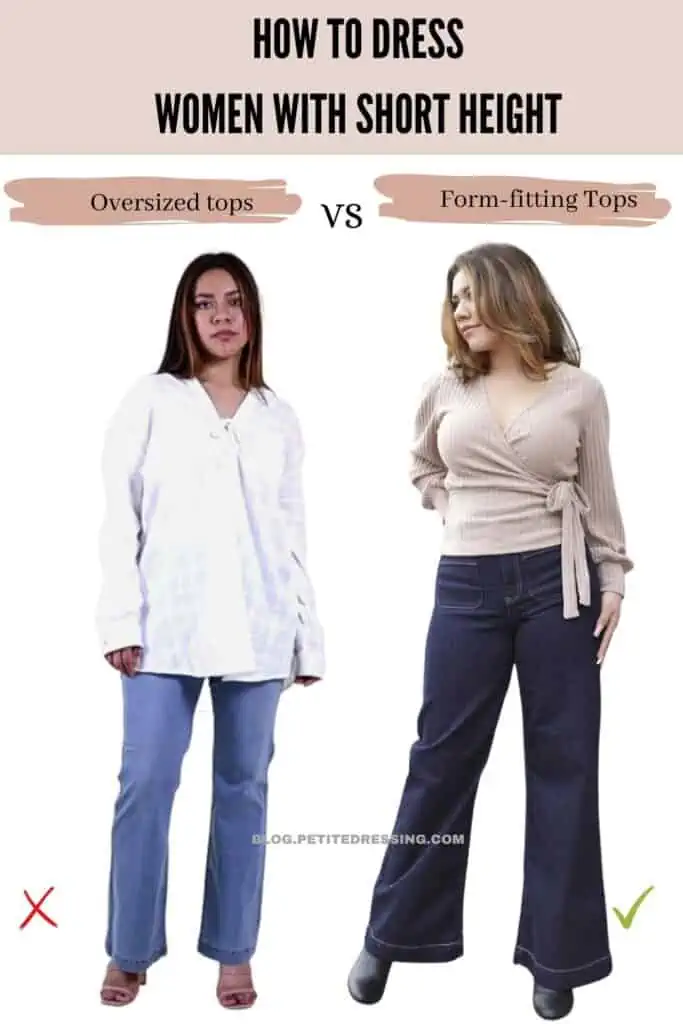 This means entirely different compared to clingy or tight-fitting tops, so don't mistake this for those bodycon tops. Form-fitting tops, from the word itself, are those that hug your natural body shape in a way that enhances your figure.
This is particularly helpful for us short girls out there because of the fact that it subtly traces your side curves and cinches your waist. This cinch helps create a more significant definition of your waist and therefore helps create the illusion of height and balance.
Form-fitting tops can include belted tops, tailored blouses, or shirts made from snug fabrics (knit, cotton, neoprene, etc..).
Blouses with Wide or Open Necklines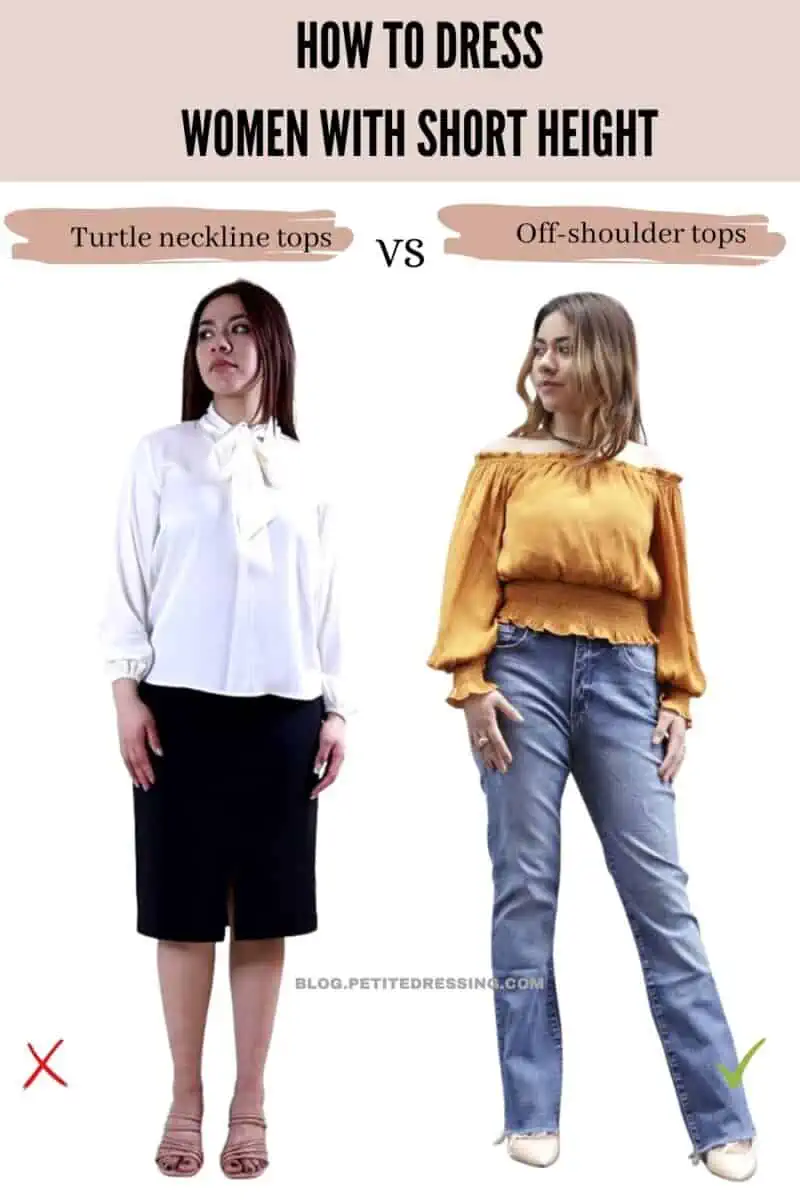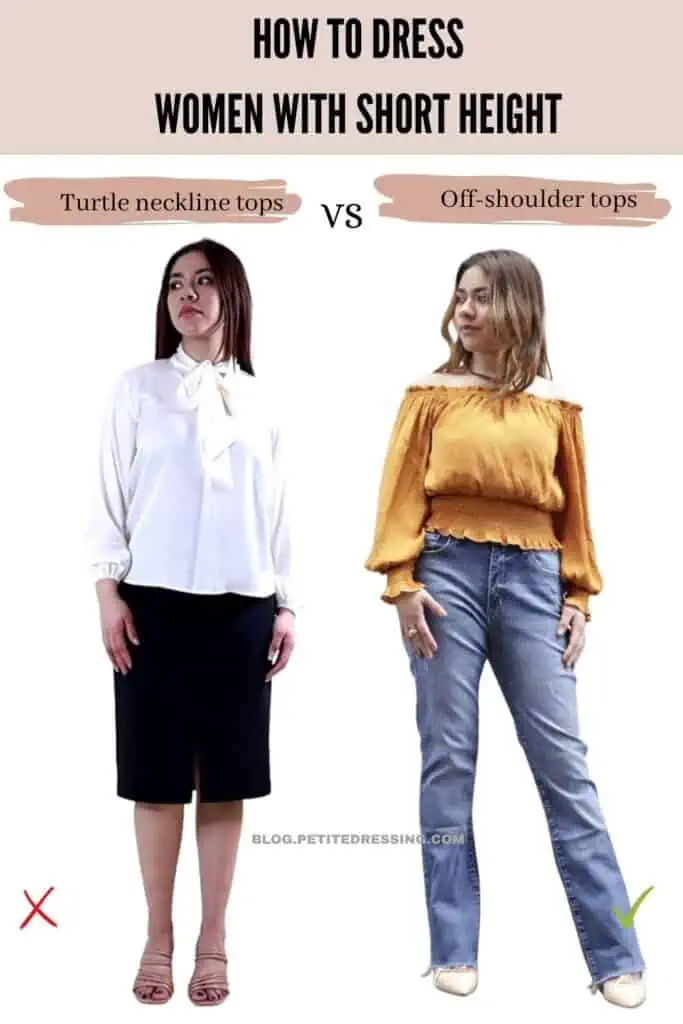 Think of square, sweetheart, scoop, off-the-shoulder necklines, and the classic V-neck! These are all samples of tops with wide or open necklines which all effectively bring a sense of verticality and height to your short stature.
Exposing some skin on your upper half with the help of the right neckline cut is a great way to draw the eyes up and down. This strategically stretches out your silhouette, making you look leaner and taller in an instant.
Crop Tops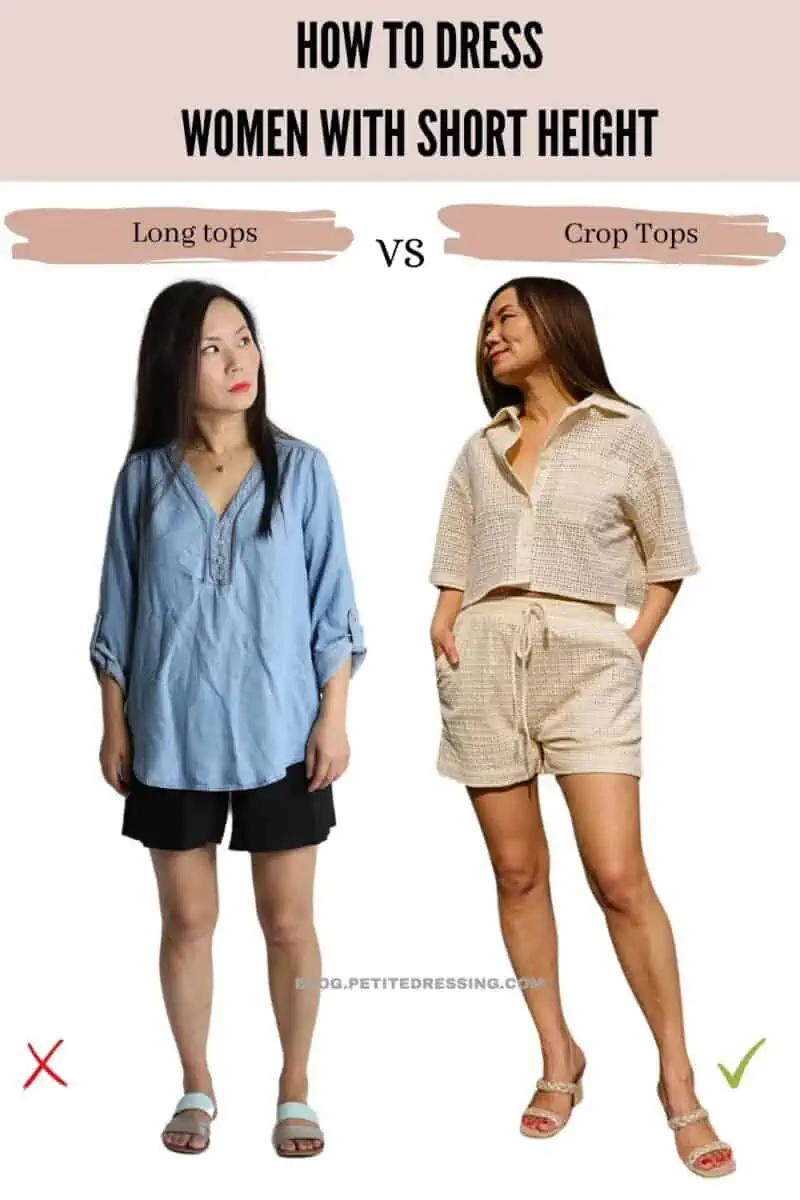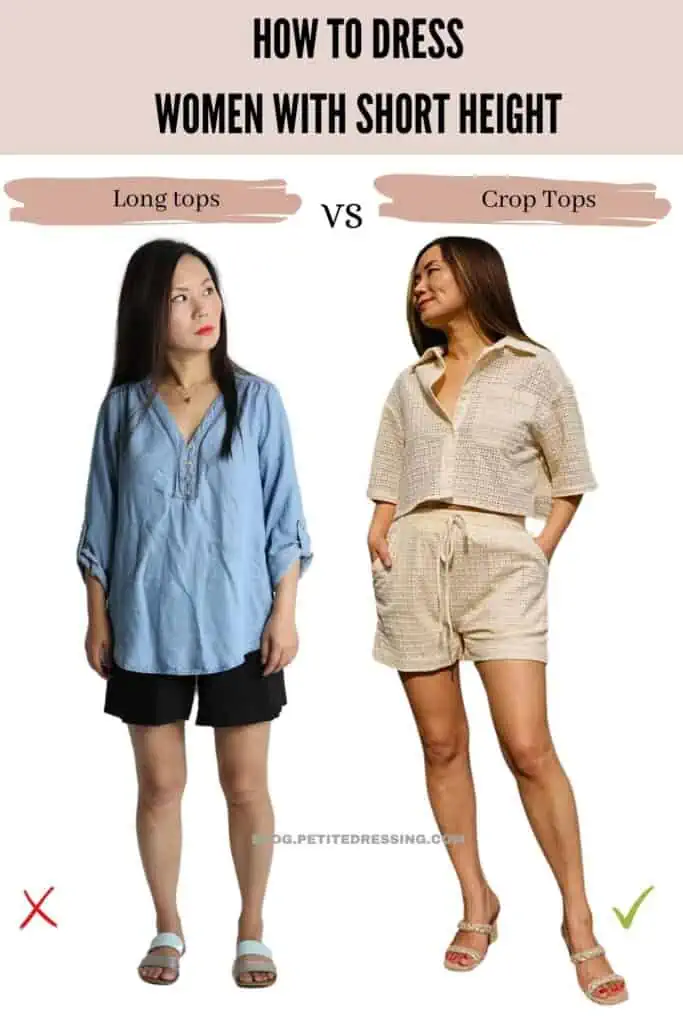 Crop tops in general are quite figure-elongating as they have the ability to alter your body proportions to make it seem as if you have got longer legs. They expose a portion of the midriff which shifts the focus upward to draw attention away from your actual height and towards the upper body.
On the other hand, smocked designs embrace the style principle of form-fitting tops which we mentioned earlier. Its structure that features stretchy gathered fabric adds texture and a sense of dimension to the top, giving the appearance of a fuller bust and emphasizing the upper body.
So having these two styles merge together, it's pretty obvious how smocked crop tops can be greatly beneficial for women who are short in height.
Tops with ¾ sleeve length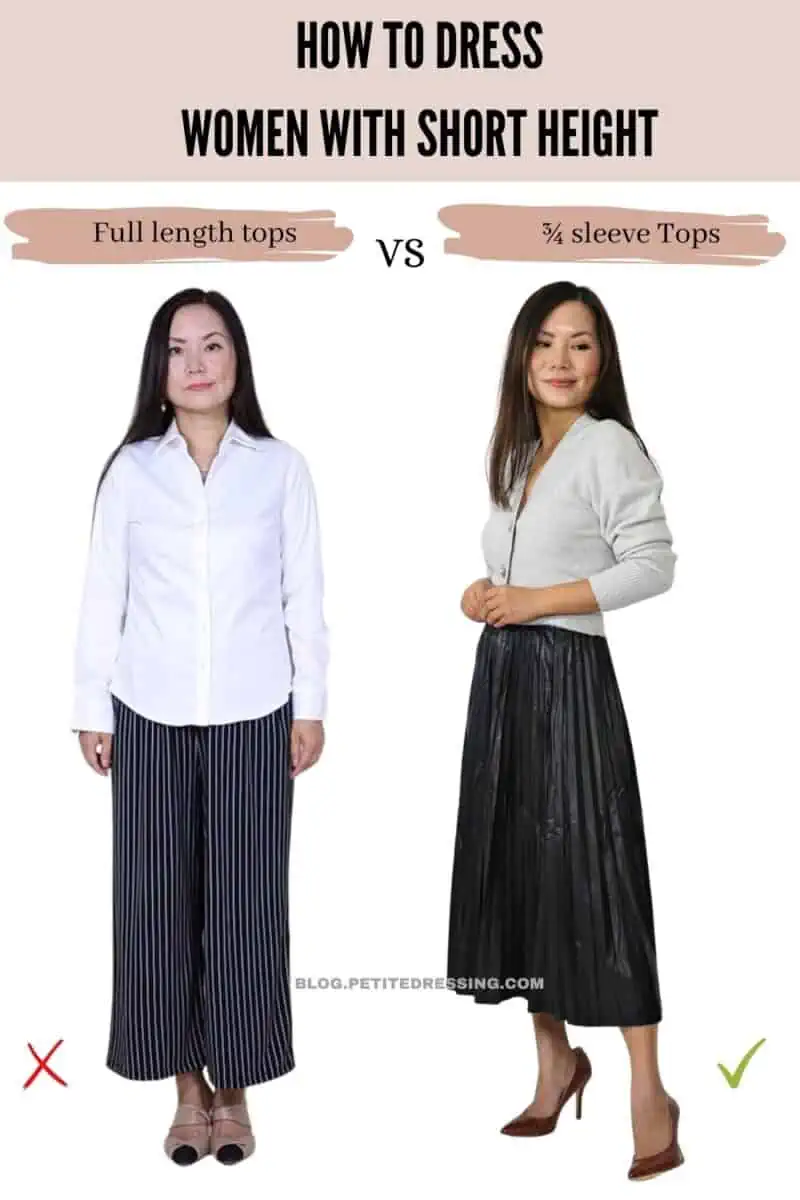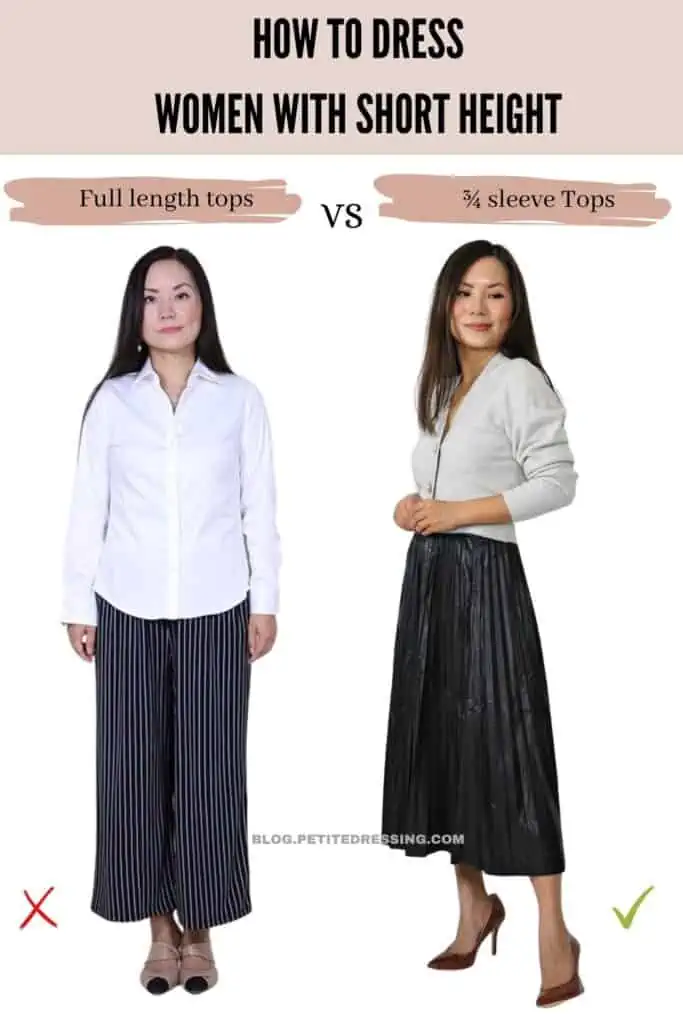 Tops with ¾ length sleeves are quite an ideal choice for short women due to the fact that they perfectly accommodate typically shorter arms. Short women naturally have shorter limbs which can present challenges in finding properly fitting sleeves.
Sleeves in ¾ length expose enough skin to visually extend your arms and this is done by having the wrists show. Meanwhile, if you go for the regular long sleeves, your short figure may look too overwhelmed with fabric.
This choice creates the illusion of elongated body proportions which provides an extra advantage for those with a smaller frame. It's crucial to maintain a balanced and proportional figure, and wearing tops with incorrect sleeve lengths can detract from the overall contemporary aesthetic of the ensemble.
JEANS
Straight-Leg Jeans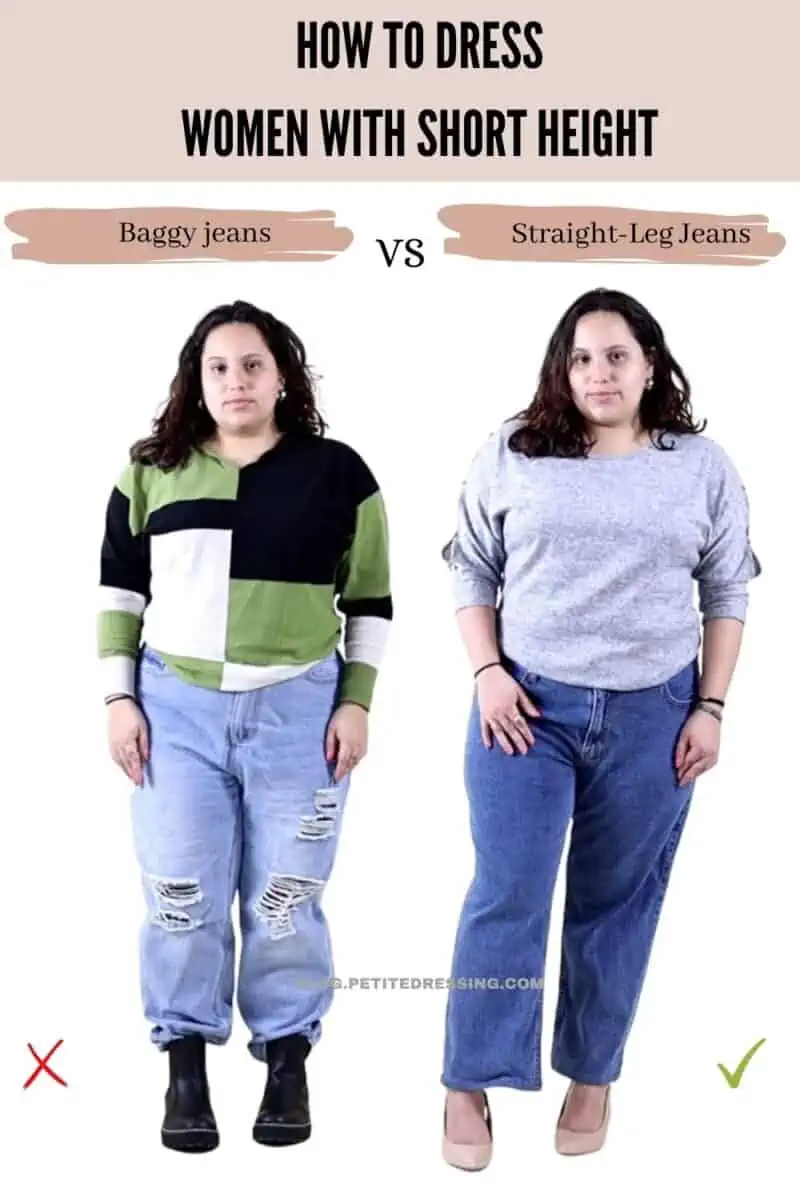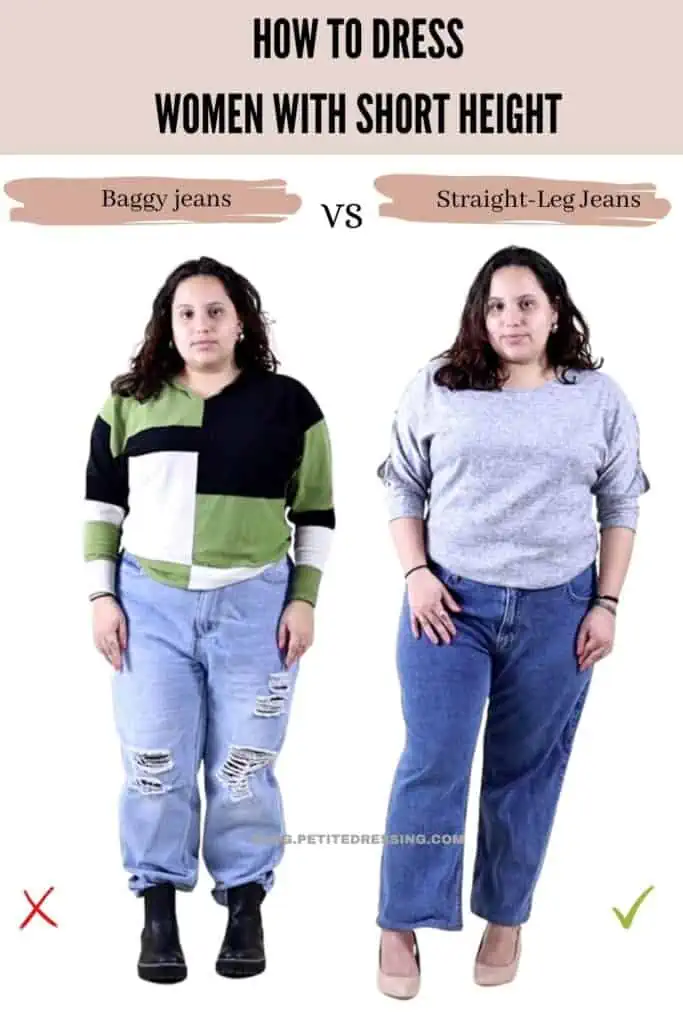 Despite its very simple and minimalist structure, straight-leg pants definitely have their own sartorial charm. Because of how minimal and roomy these pants are, they look sleek enough to create an uninterrupted visual line to make you appear taller.
The beauty of streamlined straight-leg pants lies in their ability to create balance and symmetry between your upper and lower body. As the name suggests, the straight leg elongates the lower body, offsetting potential broadness that may add weight to your frame.
The streamlined silhouette skims the curves without clinging too tightly which allows graceful movement while maintaining a polished look. Moreover, the tailored fit of these pants emphasizes the slender waistline which can help in keeping your figure elongated.
Vintage Flare Leg Jeans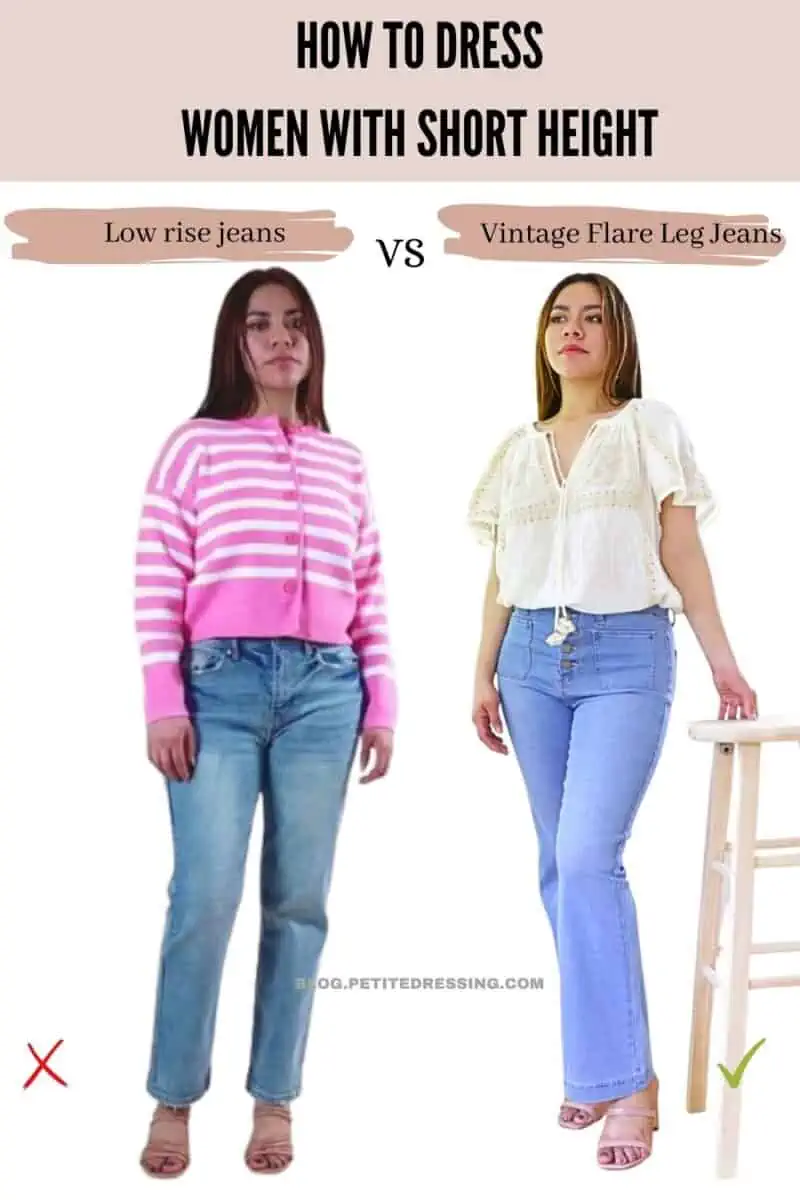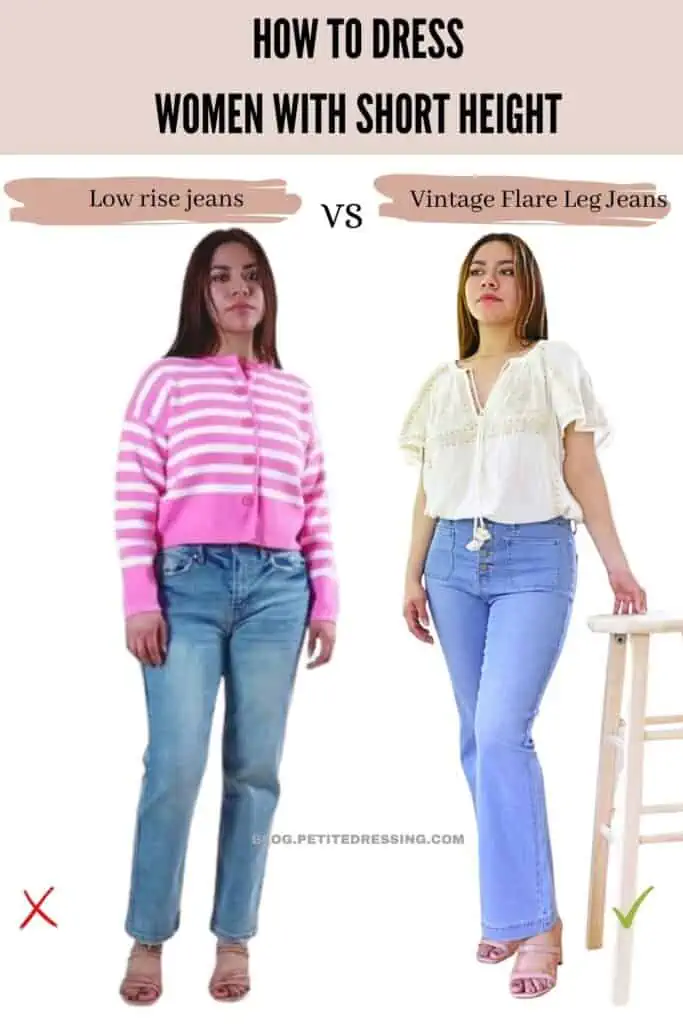 Vintage flare jeans are an excellent choice for short women as they have several features that effectively contribute to elongating the legs and creating a taller appearance. The flared silhouette of these jeans balances your body proportions and the wider opening at the bottom creates a visual contrast to the narrower upper leg, resulting in the impression of length.
In addition to these style factors, the flare starting below the knee draws attention downward which diverts the eye towards the bottom of the jeans. This vertical line created by the flare directs the gaze along the length of the leg which extends your frame's visual line.
Structured High-Waisted Jeans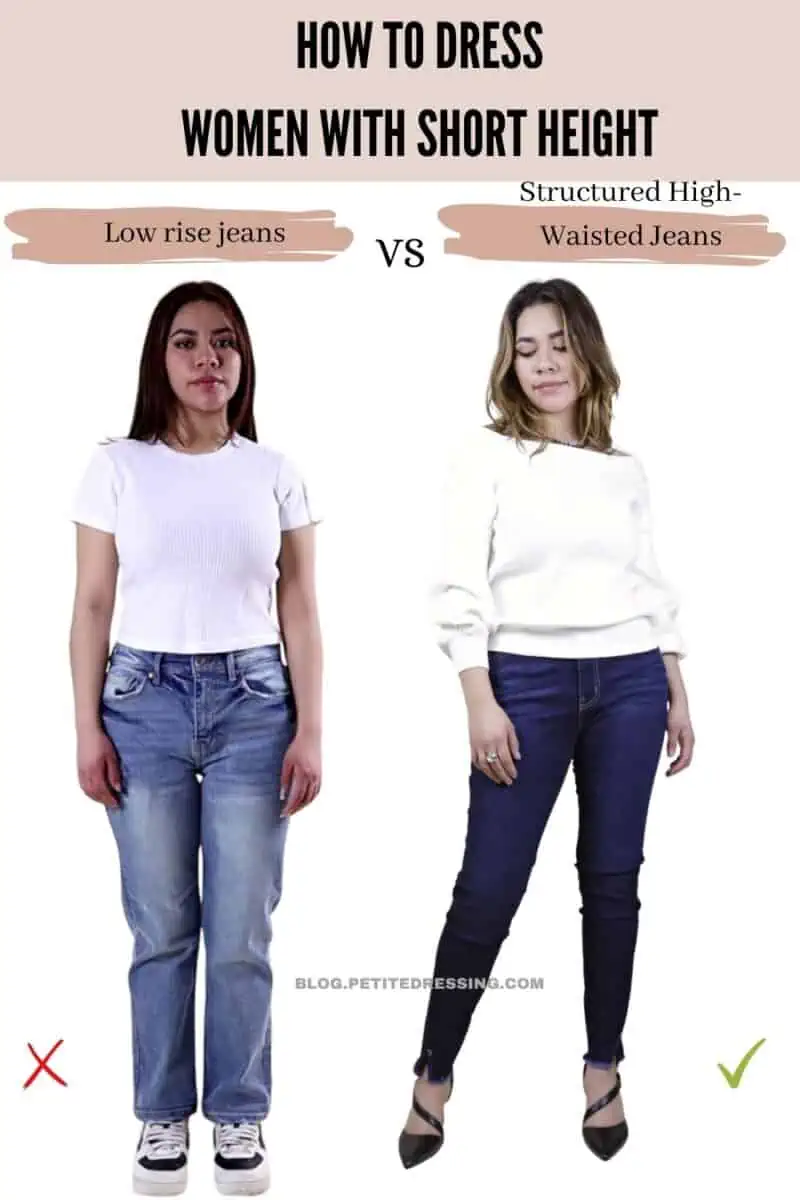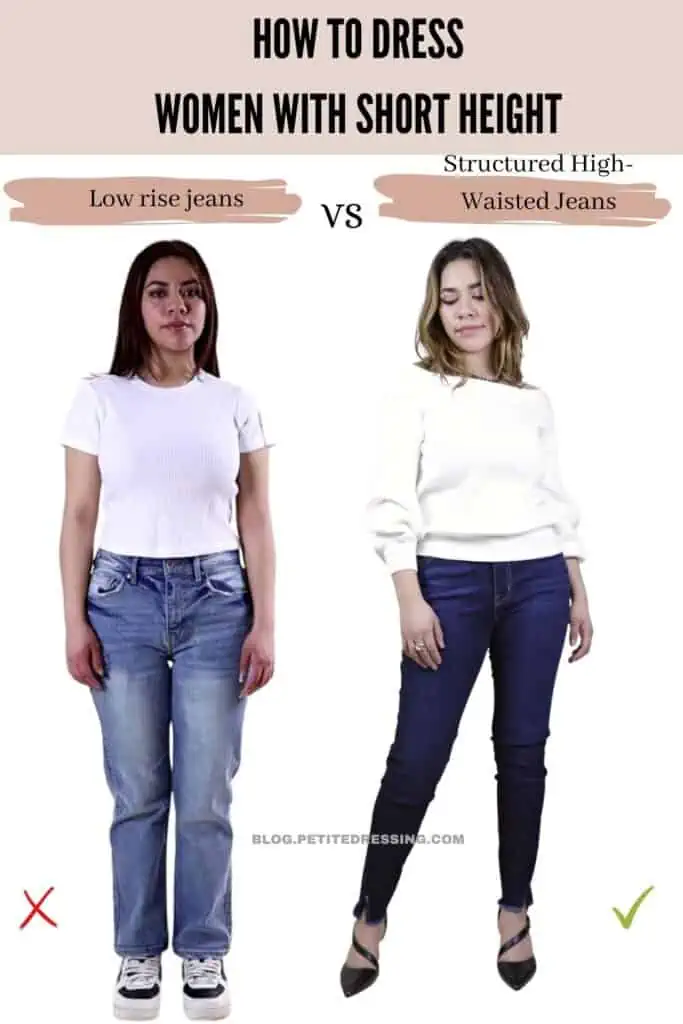 The key to giving your height some enhancement through high-waisted jeans lies in their structure's ability to create an illusion of length and height through strategic design elements. High-waisted jeans visually raise the waistline to effectively elongate the lower body, resulting in the perception of longer legs and a more balanced silhouette.
The structured nature of these jeans further enhances their transformative effect as the firm denim fabric and tailored construction provide a sleek and streamlined appearance to sculpt the body and create clean lines. This clean and defined look helps to create a vertical emphasis, visually extending the leg line.
Dark-washed Jeans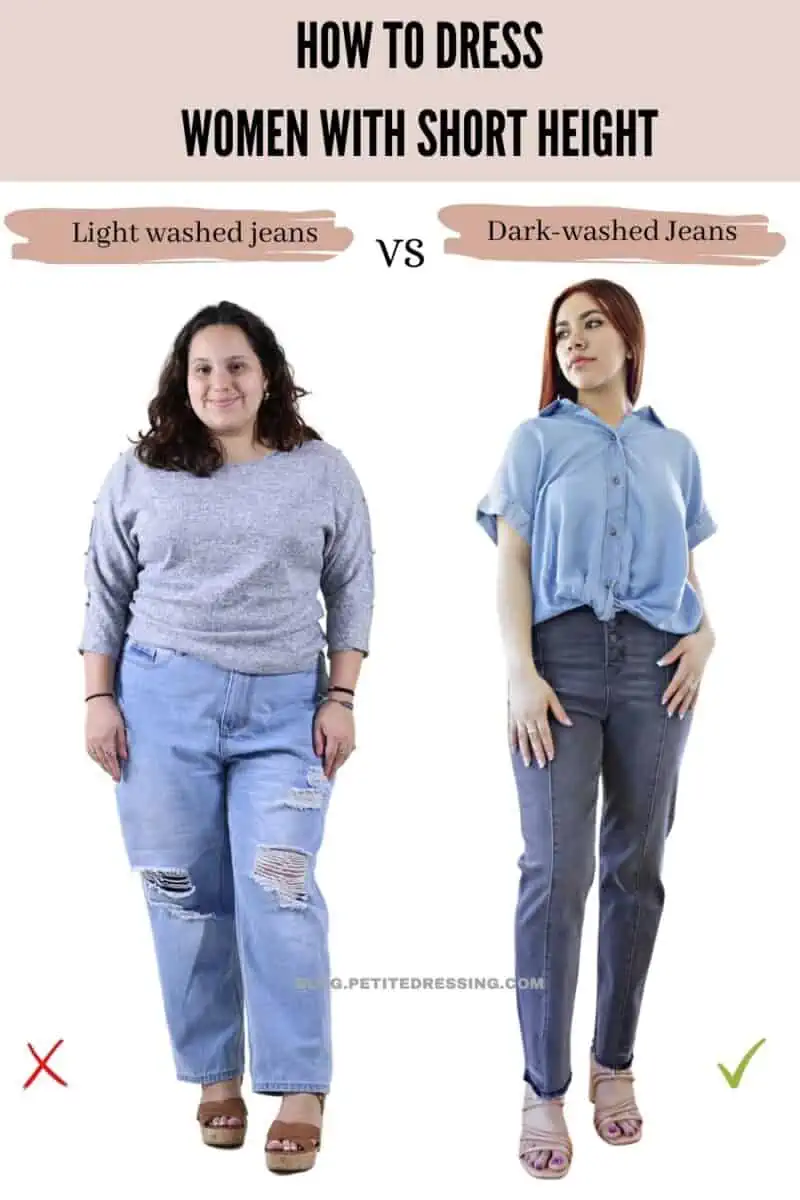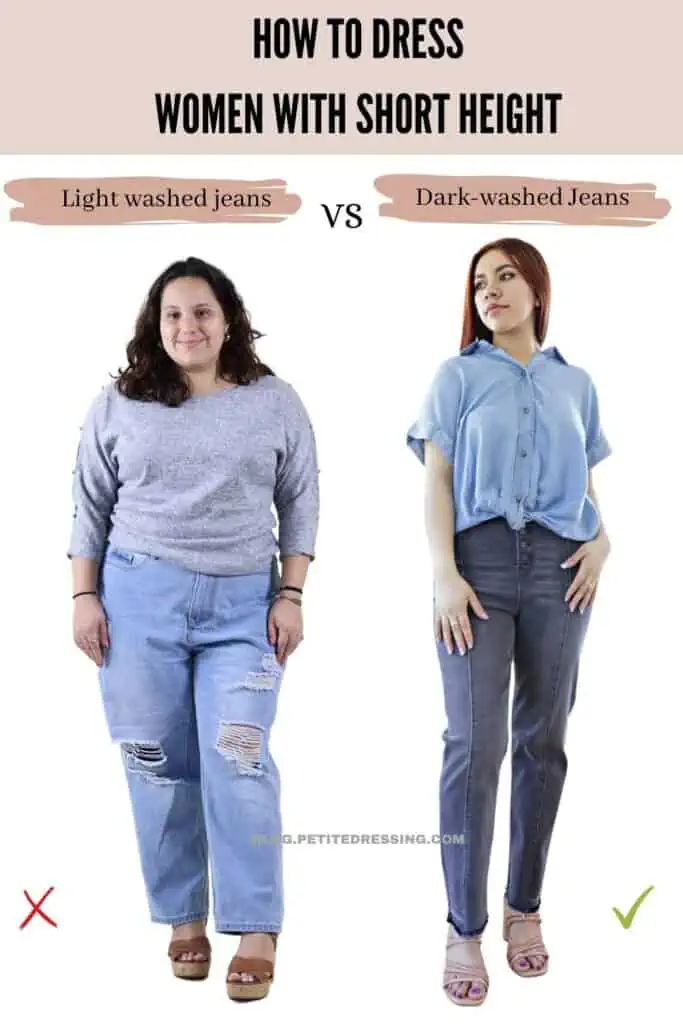 I highly recommend incorporating dark-washed jeans into your wardrobe because they possess several attributes that contribute to their power to make you appear leaner and taller. The deep, rich color of the denim creates a visual effect of slimness and elongation and the jeans' darker hue absorbs and reflects less light to minimize attention to the lower body and draw the focus upwards.
Moreover, dark-washed jeans have the ability to create a streamlined and cohesive look that's easy to pair with a lot of different clothing pieces. The uniform color from the waist to the ankle creates a continuous vertical line, which adds the impression of length to the legs.
PANTS
Flowy Wide-Leg Pants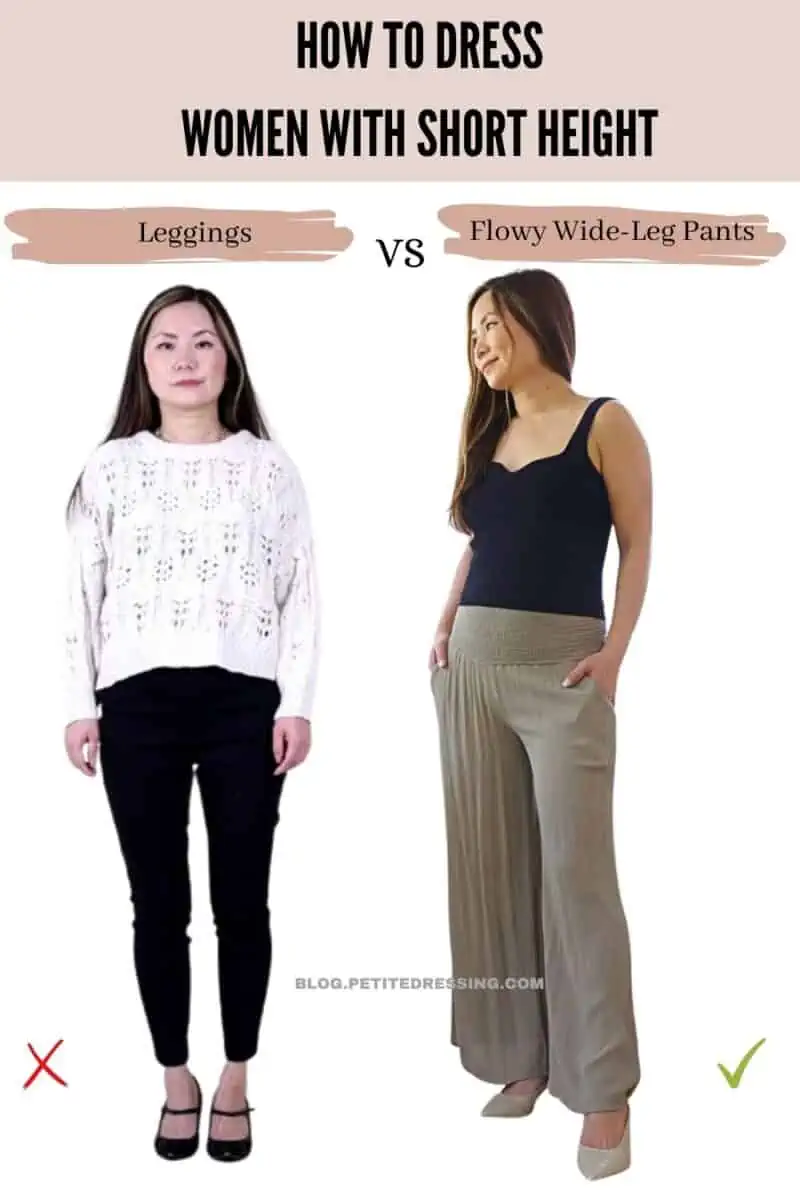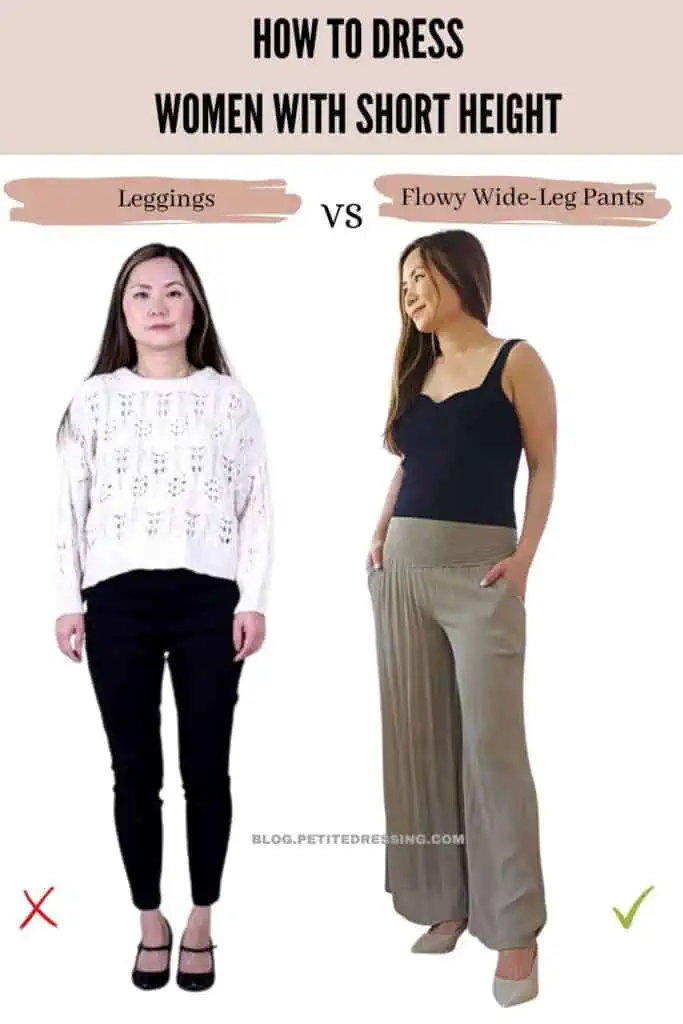 The wide-leg cut of these pants plays an essential role in enhancing the appearance of a short girl's height. The wider silhouette balances the proportions of the body, which creates a more elongated and streamlined look.
Flowy wide-leg pants create a sense of verticality, drawing the eye up and down the length of the pants and creating the perception of elongated legs. By opting for pants that start from the natural waist and flowy fabric, short women can further amplify the leg-lengthening effect.
Structured Bootcut Pants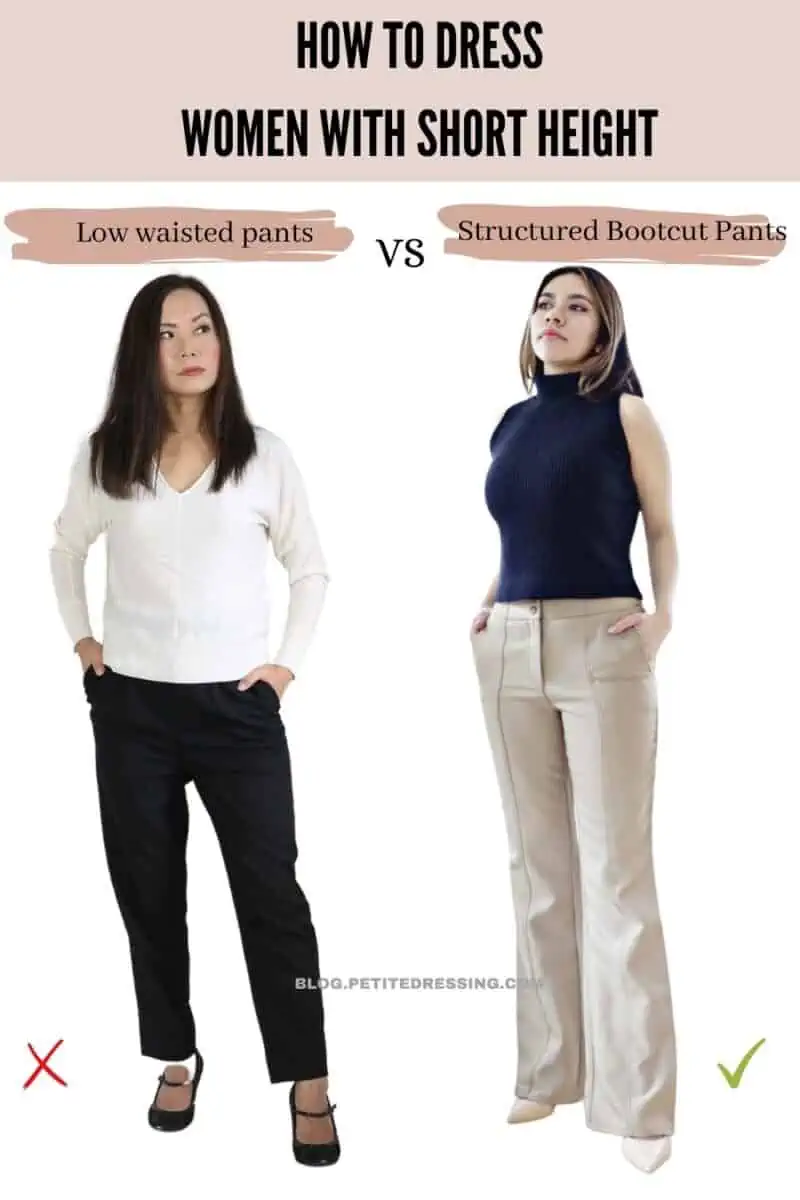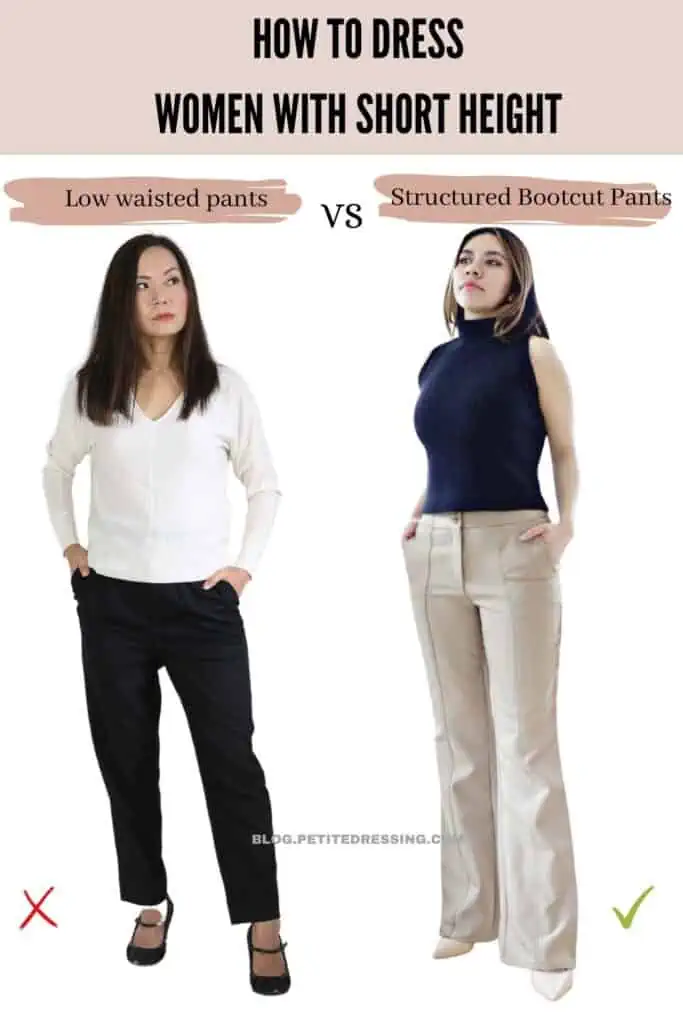 The precise fit and clean lines of structured bootcut pants create a sense of refinement that makes your overall ensemble more polished and cohesive. For short women, this structured design helps to create a well-proportioned and balanced appearance and as the pants hug the hips and thighs before gently flaring out from the knee, they create a gradual and flattering line that elongates the legs.
Another key advantage of bootcut pants that's worth noting is their ability to accommodate different shoe styles. The slight flare at the hemline allows for versatility in footwear choices which makes it possible to pair these pants with heels, wedges, or even flats!
Pleated Dress Pants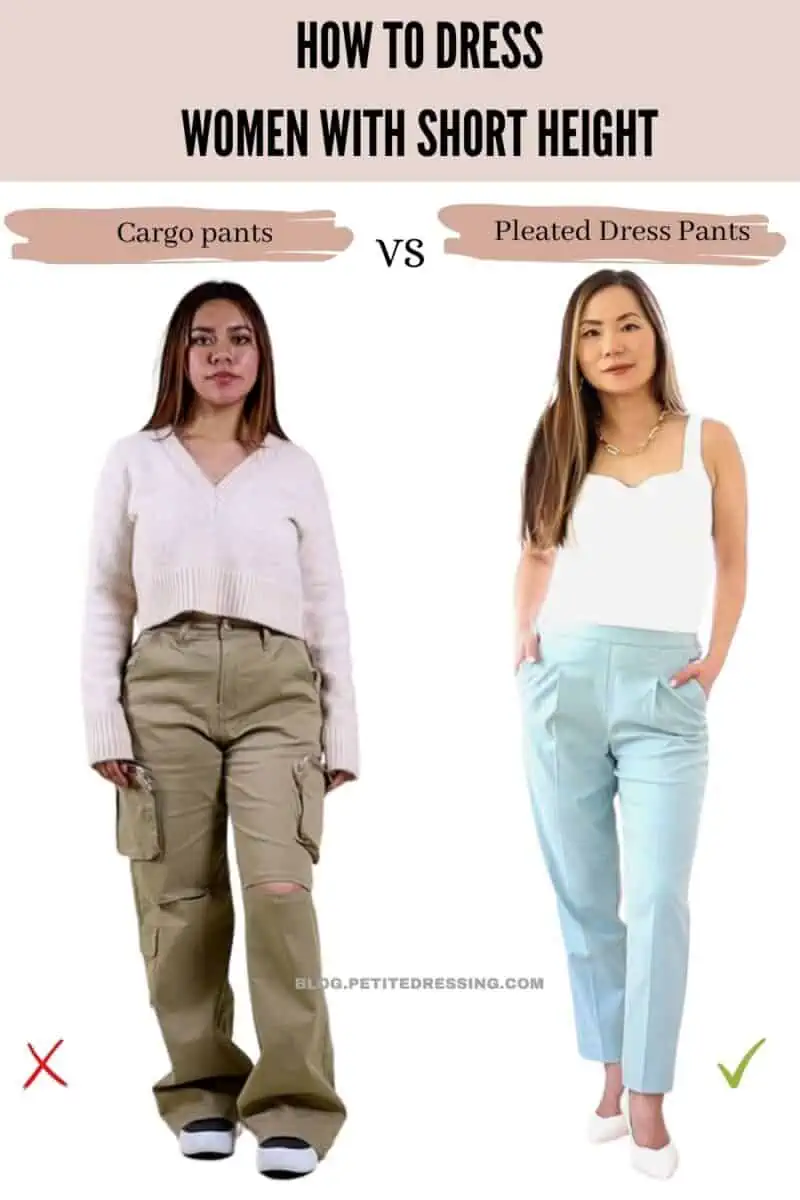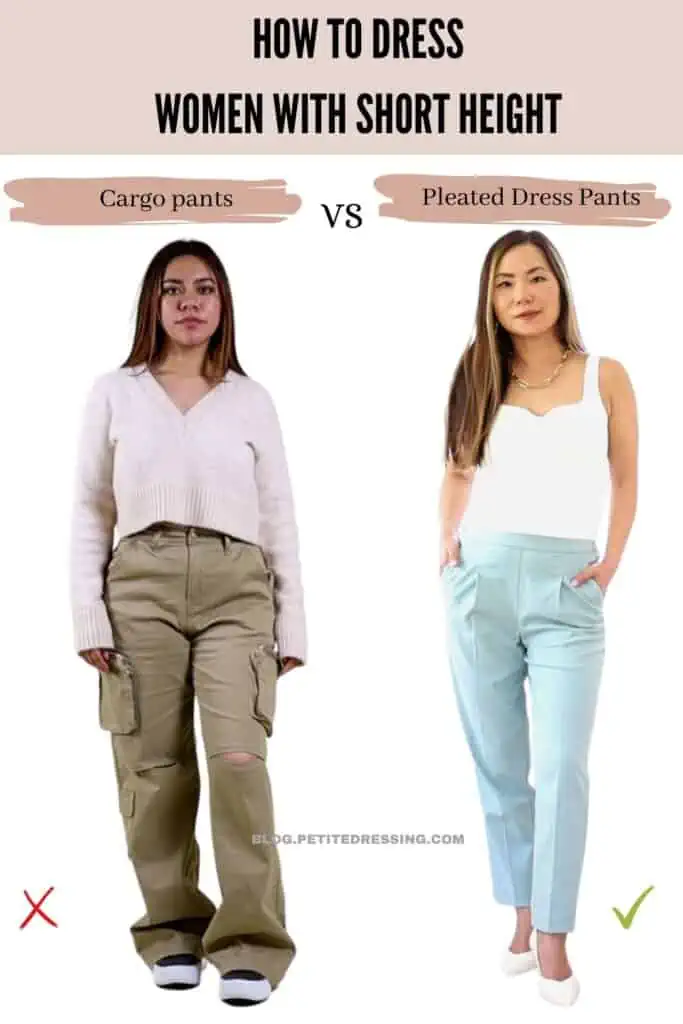 Pleats may not look like much, but when a pair of streamlined dress pants feature them, they can significantly add depth and dimension to your frame – most particularly your legs. The vertical lines formed by the pleats create an elongating effect and this added length helps balance the proportions of your figure, giving the impression of a more elongated and well-proportioned body shape.
The drape and flow of pleated dress pants also contribute to enhancing the illusion of length. As the fabric falls gracefully from the waist, it creates a smooth and continuous line down the legs which results in an uninterrupted flow that adds to the overall visual elongation.
Paperbag Pants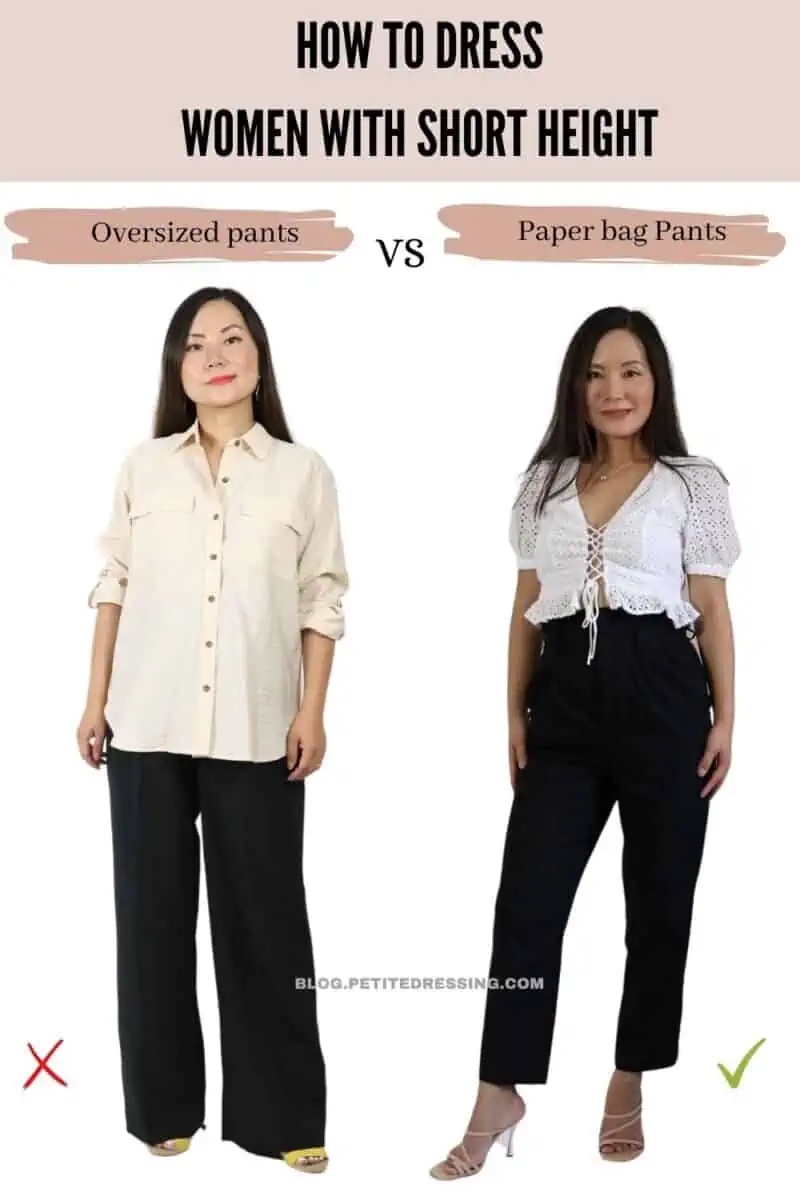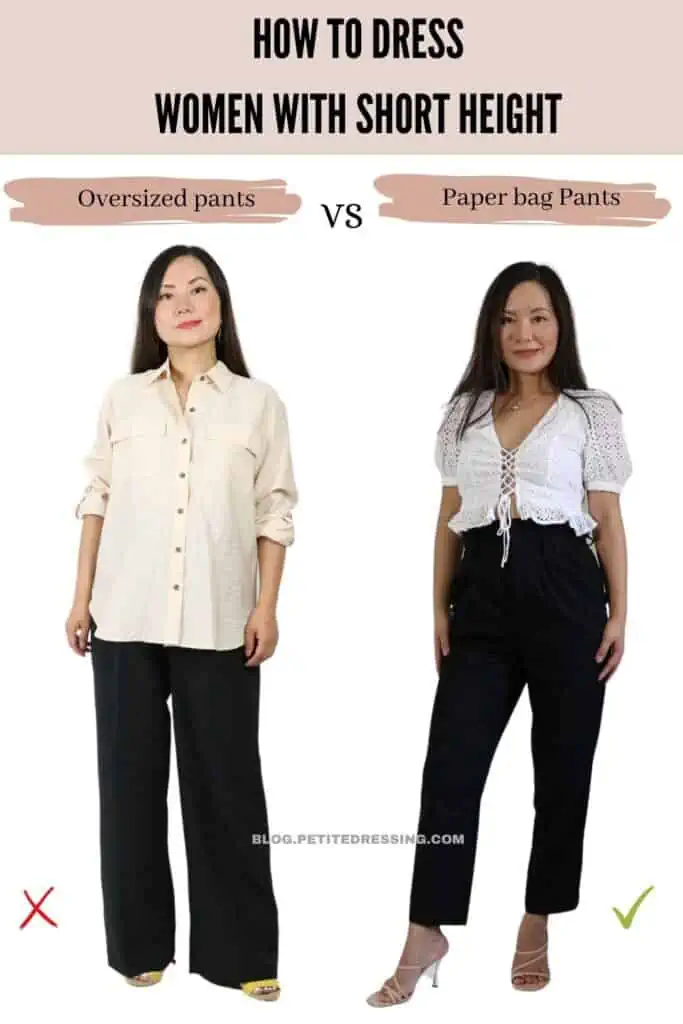 Paperbag pants are characterized by their high-waisted structure with a gathered or cinched waistline. This design helps visually create a defined and elevated waist that also results in visually elongating the legs by shifting the focus upward.
The cinched waistline of paper bag pants also allows for customization and the ability to highlight the waist. Pairing these pants with a fitted or tucked-in top can further accentuate the waistline for added shape and height emphasis.
SKIRTS
Fit and Flare Skirts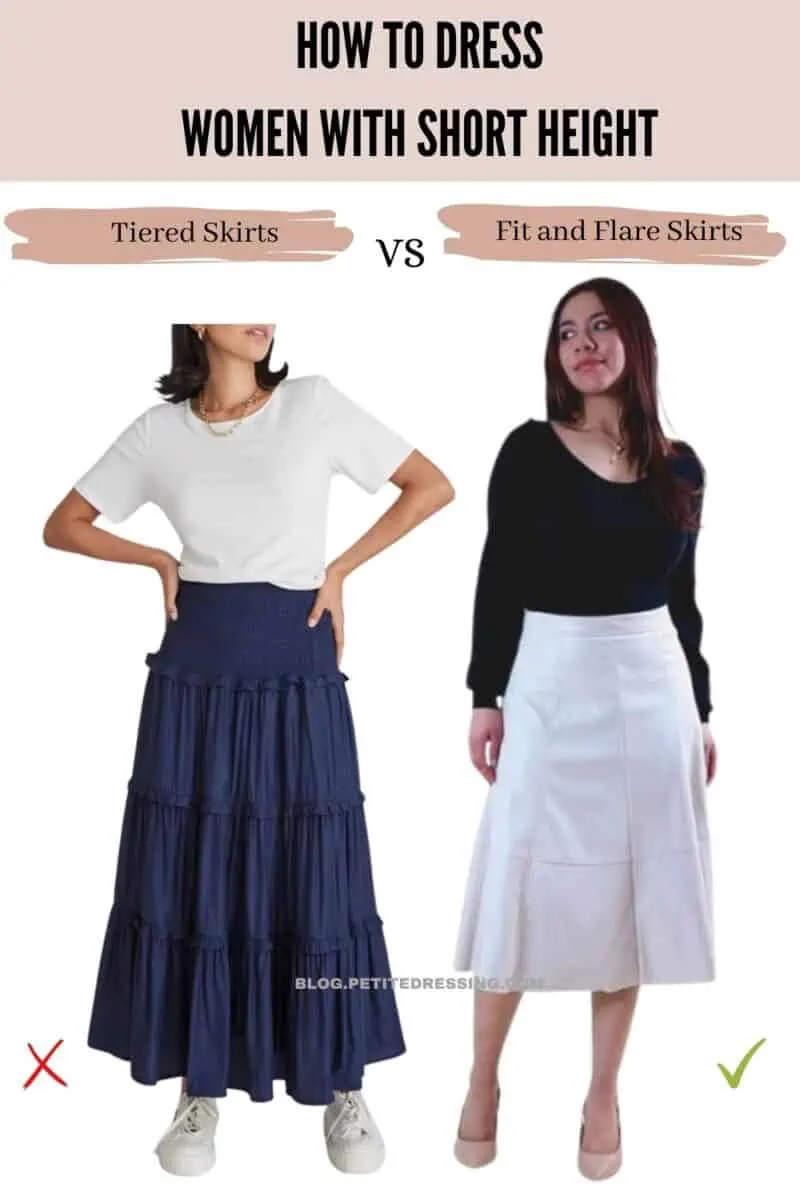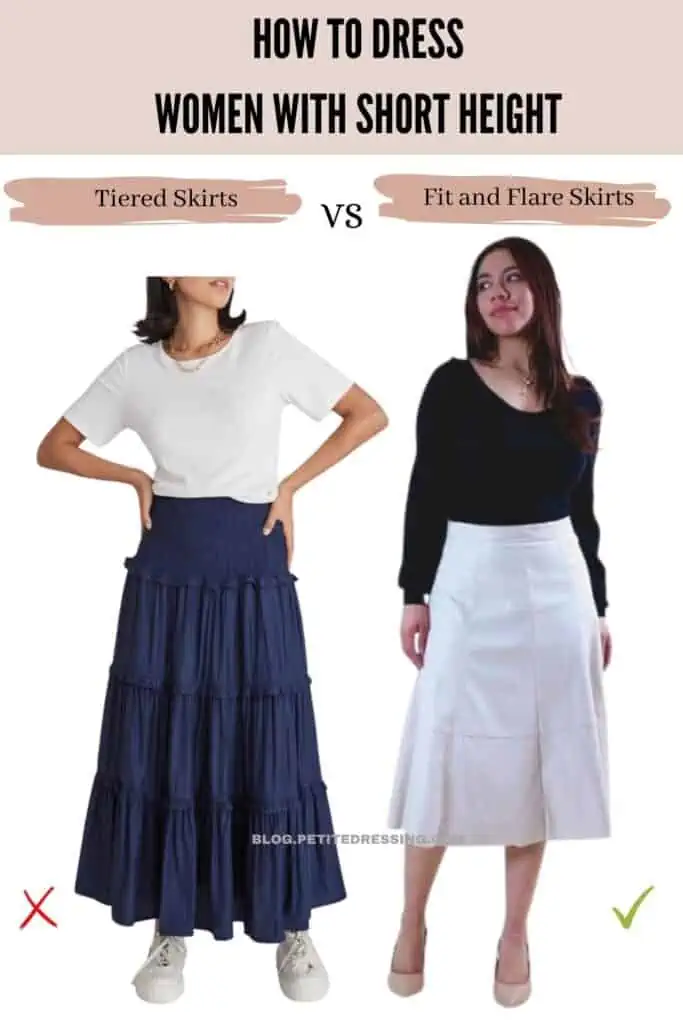 Fit and flare silhouettes are quite universally flattering for many types of body shapes and skirts in this structure are an incredible match for short girls. The fitted waist accentuates the smallest part of your body, while the flared skirt gracefully falls away from the hips – factors that enhance your frame's vertical visual line.
Apart from the elongating advantages of fit and flare skirts, going for those that have electric pleats can amplify your frame to another level! These dynamic pleats display movement and add dimension to the skirt which catches the eye and creates an interesting visual effect.
The pleats further contribute to the illusion of length by drawing attention downward, making your legs appear longer and slimmer.
Button-Down Skirts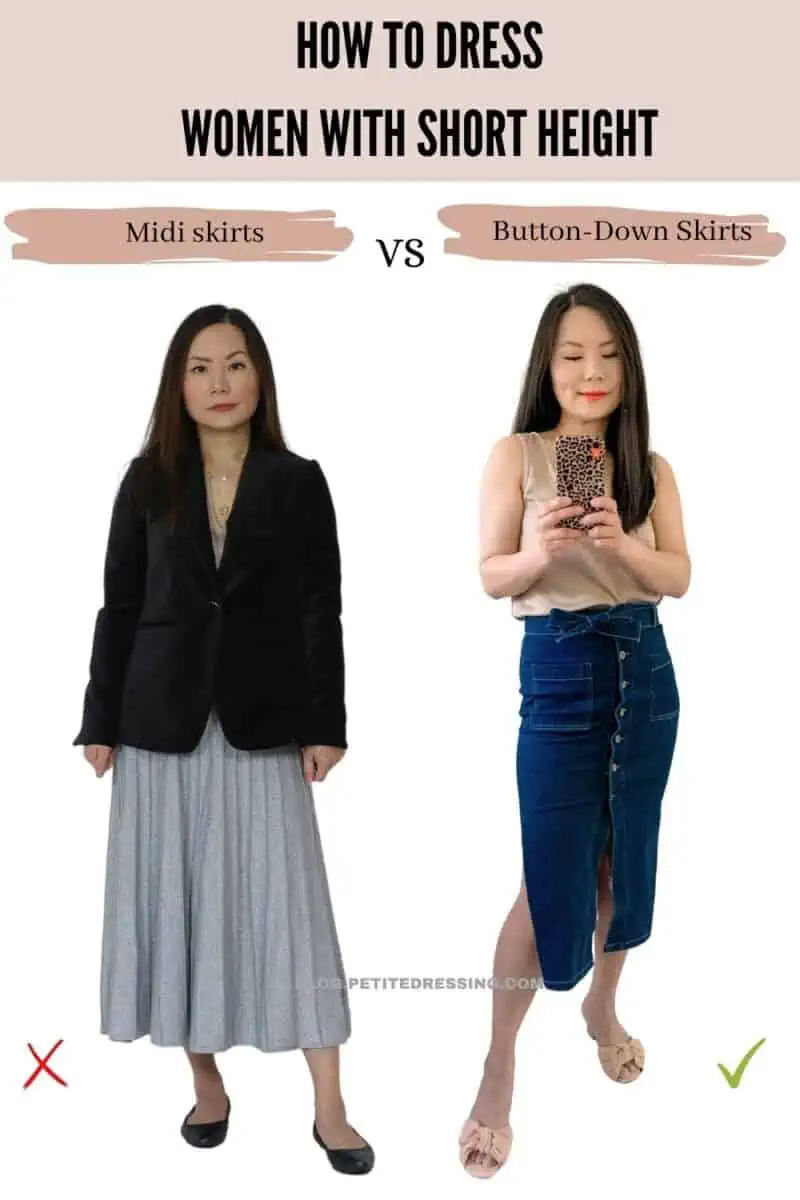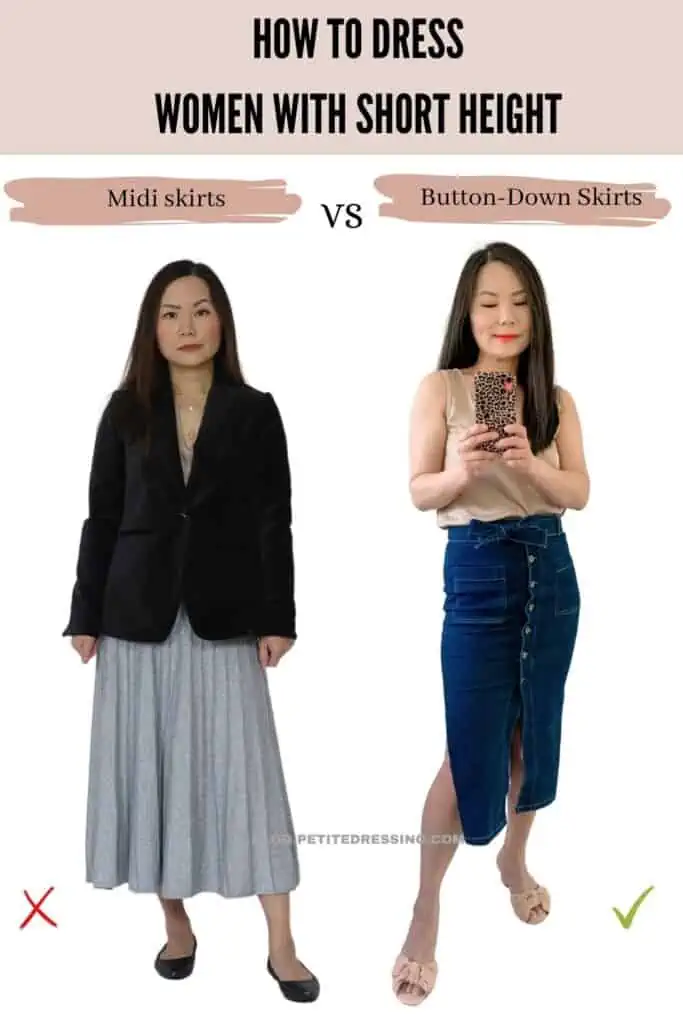 Straight-cut skirts, while simple and straightforward to look at, have an immense effect on your overall frame more than you think! Its minimal design efficiently balances the proportions of your figure while also creating the illusion of height.
Apart from the straight cut, the button placements that follow a straight line on the center of the skirt help draw the eyes up and down for a sense of verticality. This can instantly elevate your height by elongating the appearance of your lower body.
Mermaid Skirt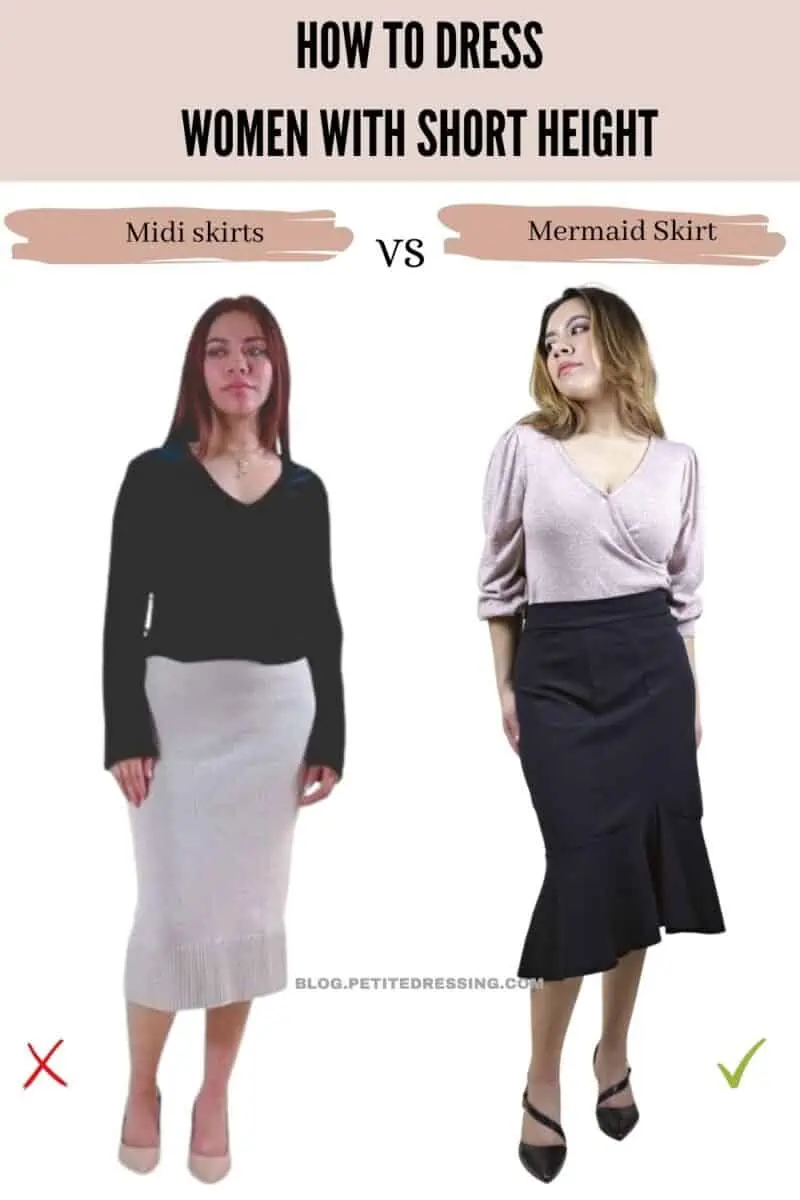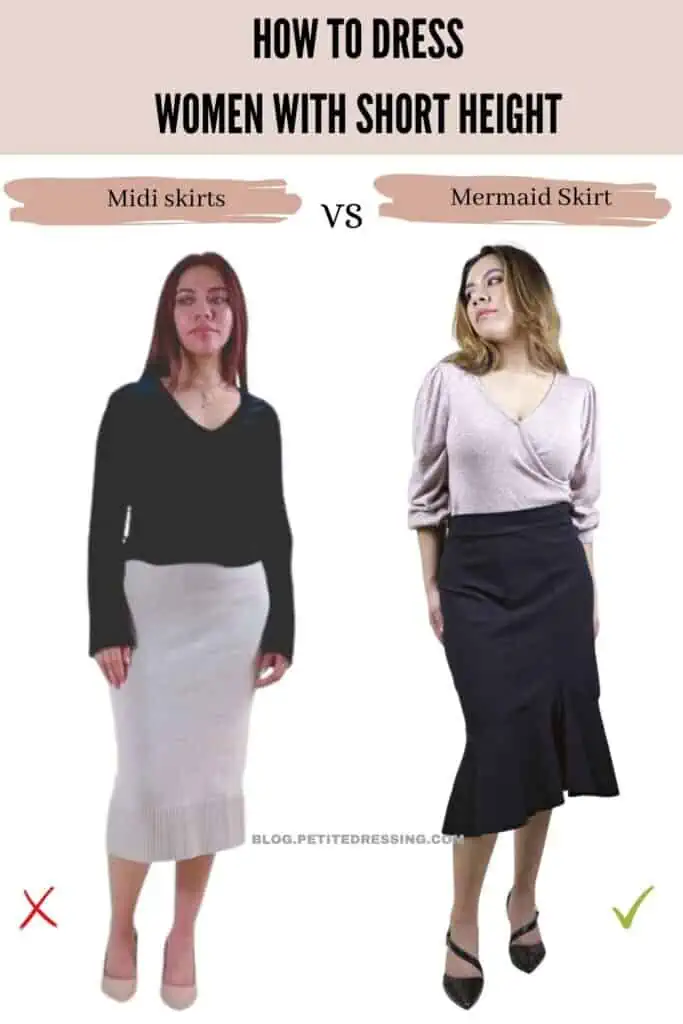 Another style that works in favor of short women is the mermaid skirt. The fitted design gently hugs the waist and hips before gracefully flaring out towards the hemline, which is an element that draws attention to the curves and creates a dramatic, elongating effect.
Mermaid skirts can come in a vast variety of fabrics but there's something quite special about velvet that's why I personally recommend velvet mermaid skirts. Not only does this luxurious fabric bring elegance, but also adds a significant dimension to your overall outfit thanks to its plush and lustrous nature that catches light.
This subtle velvet sheen brings life to your outfit and also gives the optical illusion of a leaner and taller figure.
Asymmetrical Hem Skirts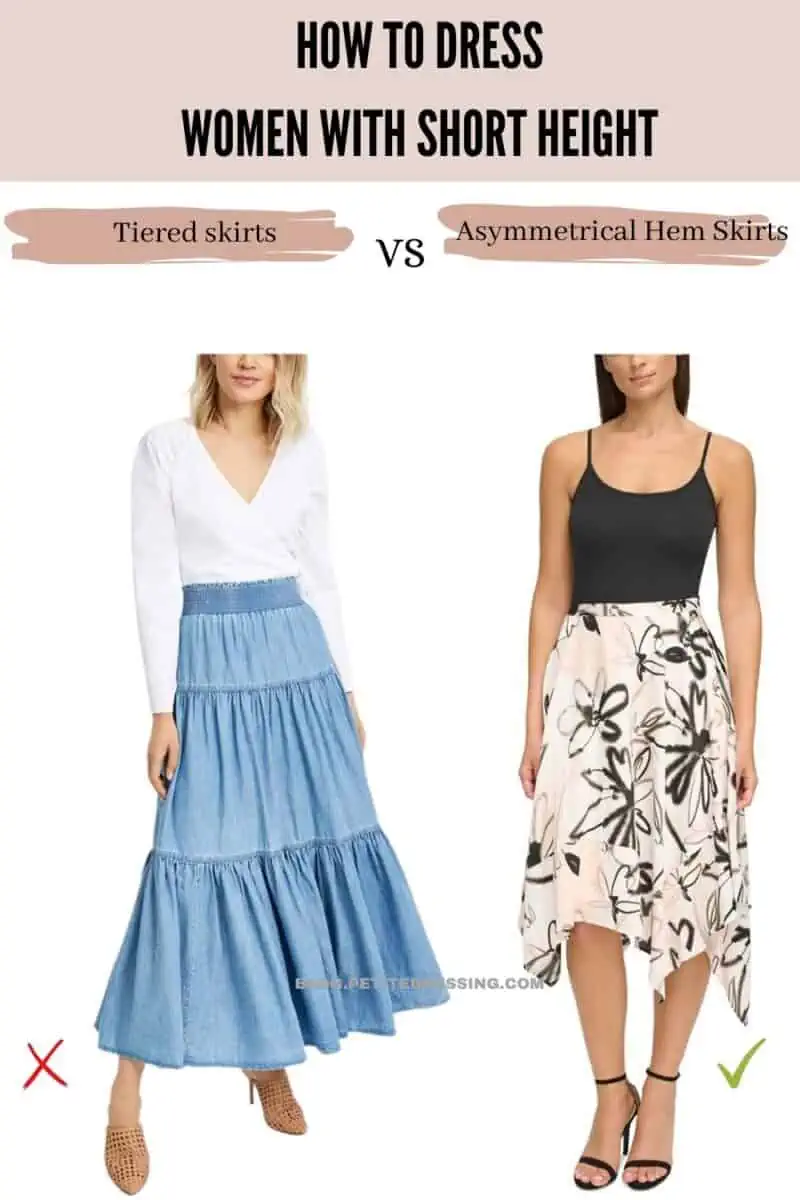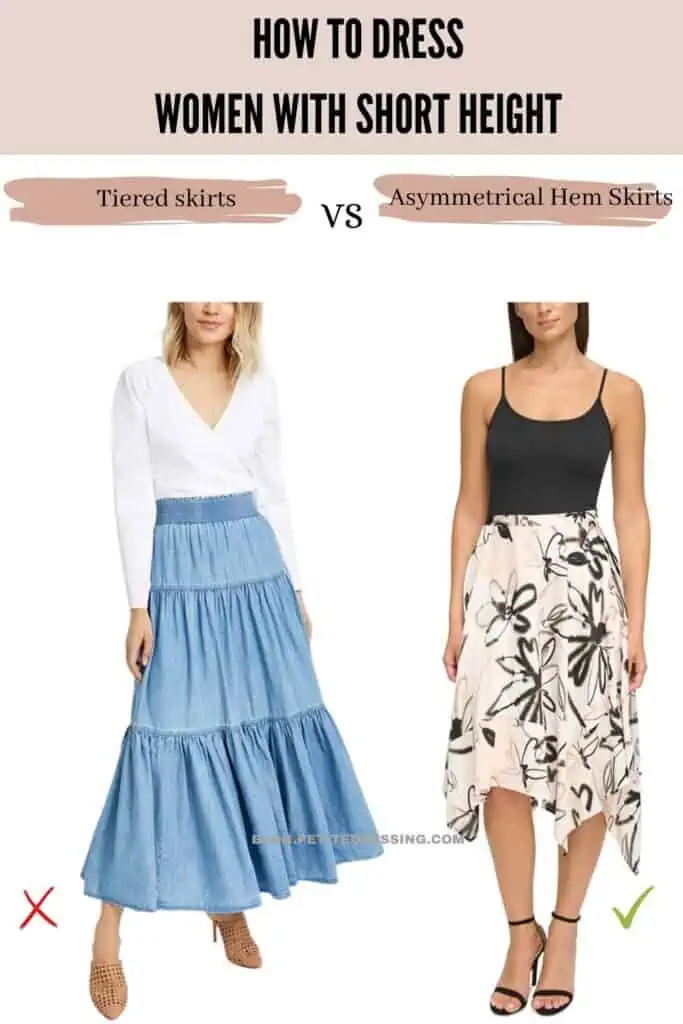 The asymmetrical cut of the skirt instantly brings interest and style to your ensemble. This particular dynamic element of the skirt helps break up the horizontal line of the hem for a more cohesive vertical illusion that elongates the legs.
This unique point also diverts attention from the lower body to direct it upward for added height. Additionally, the ruffled details of the skirt also enhance this effect.
The layered ruffles create volume and texture to add depth to the outfit. The cascading layers of fabric create a vertical flow, visually extending the length of the legs and therefore creating a streamlined and elongated appearance, enhancing your short height.
DRESSES
Off-the-Shoulder Dresses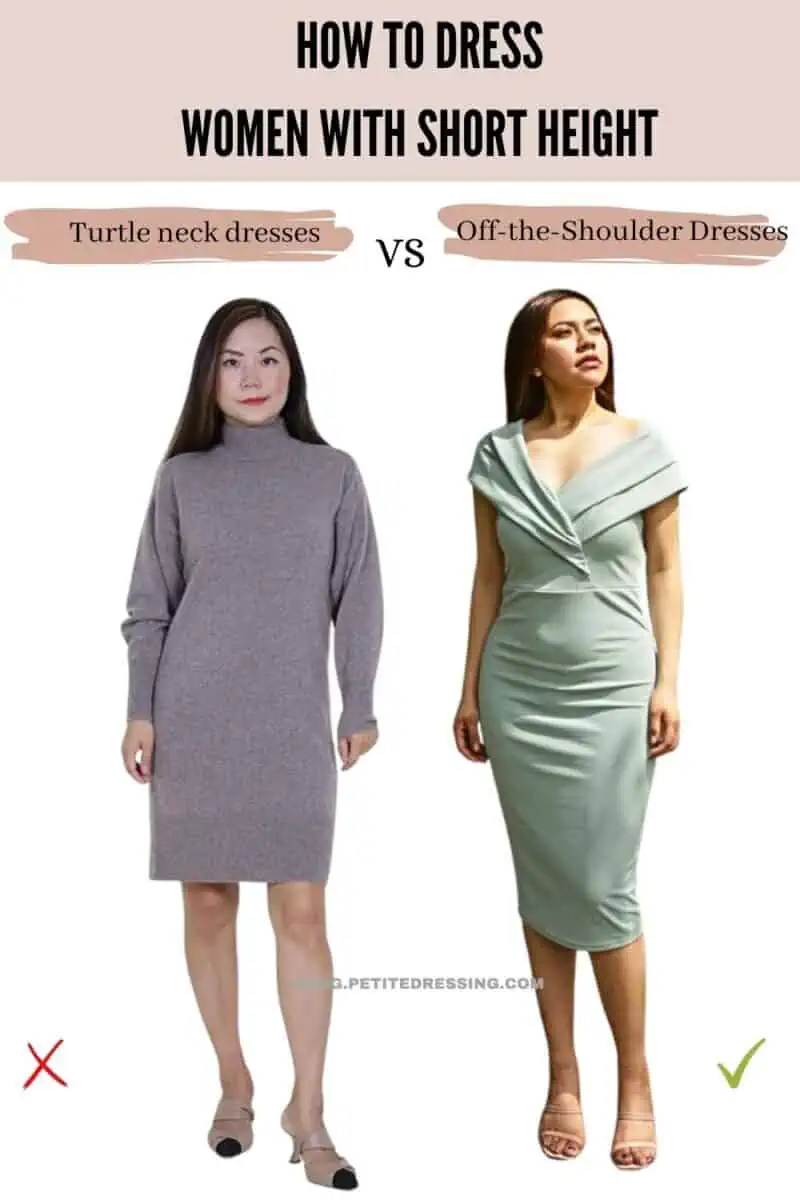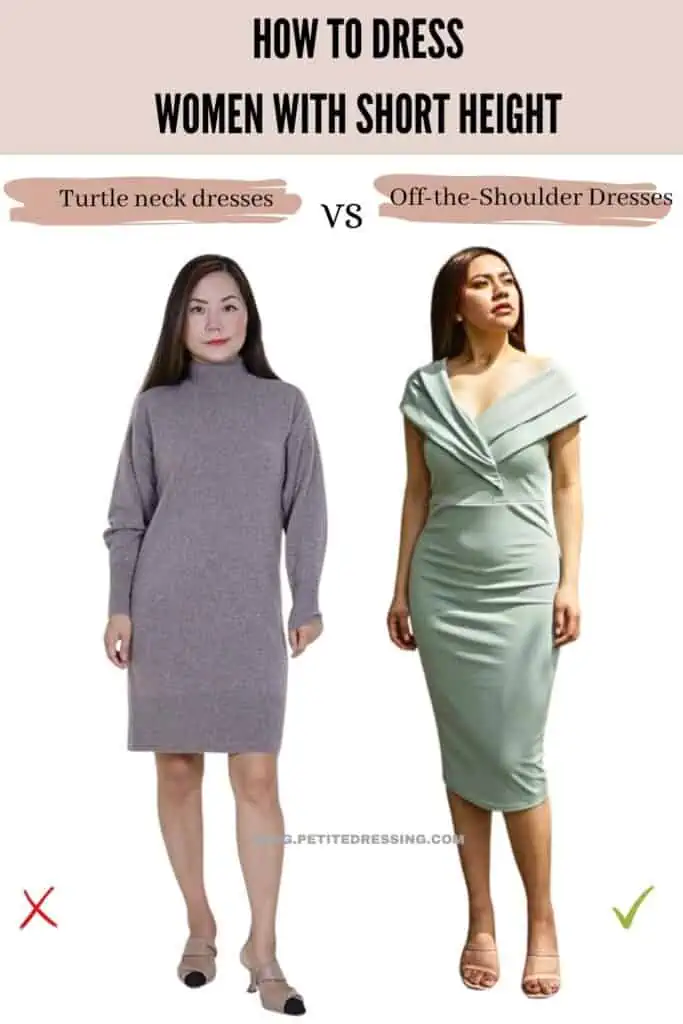 The off-the-shoulder cut is an example of an open neckline which is why dresses with this design can be visually beneficial if you're a short girl.
Off-the-shoulder dresses expose the neck and décolletage which is a trick to draw the eye upwards and elongate the upper body. This visual effect gives the appearance of a longer neck, which creates the perception of added height.
In addition to this, it also brings attention to your shoulders as it extends the width of your shoulders to bring your upper and lower body into a flattering balance. If having short legs is one of your key insecurities as a short woman, off-the-shoulder dresses are an efficient way to minimize attention from that.
Belted Dresses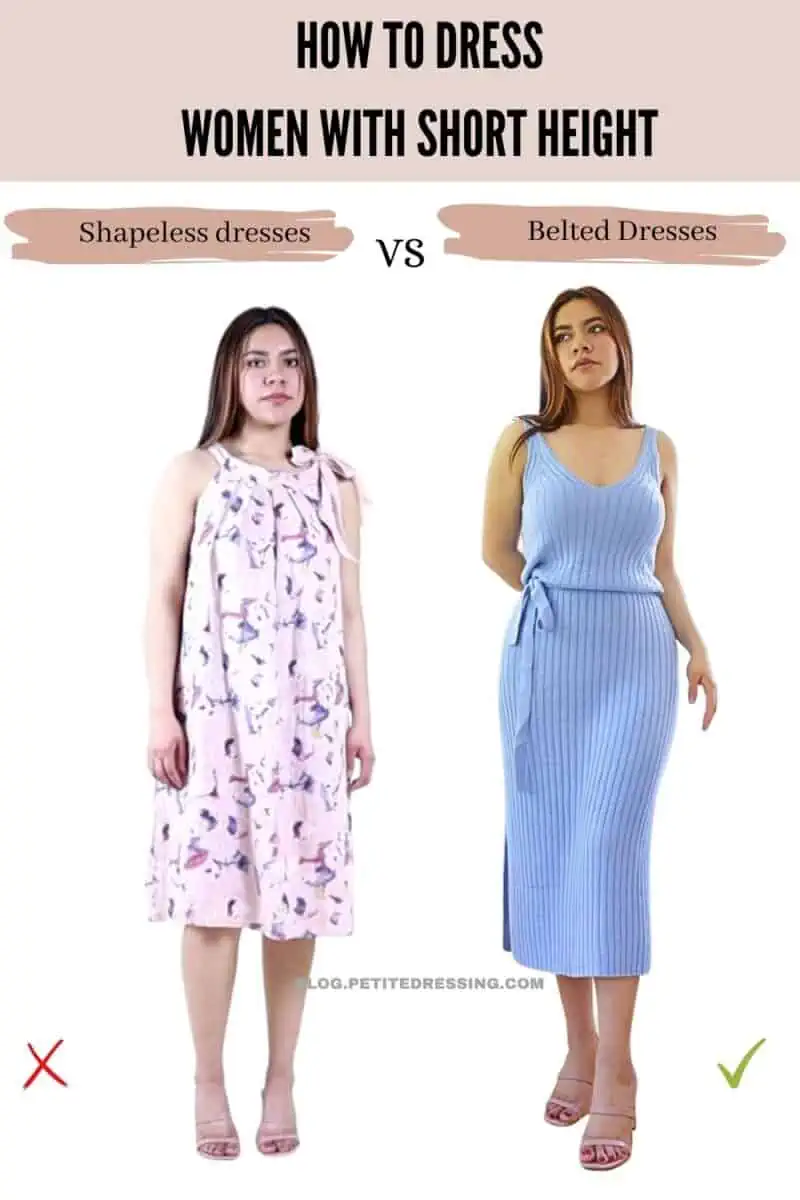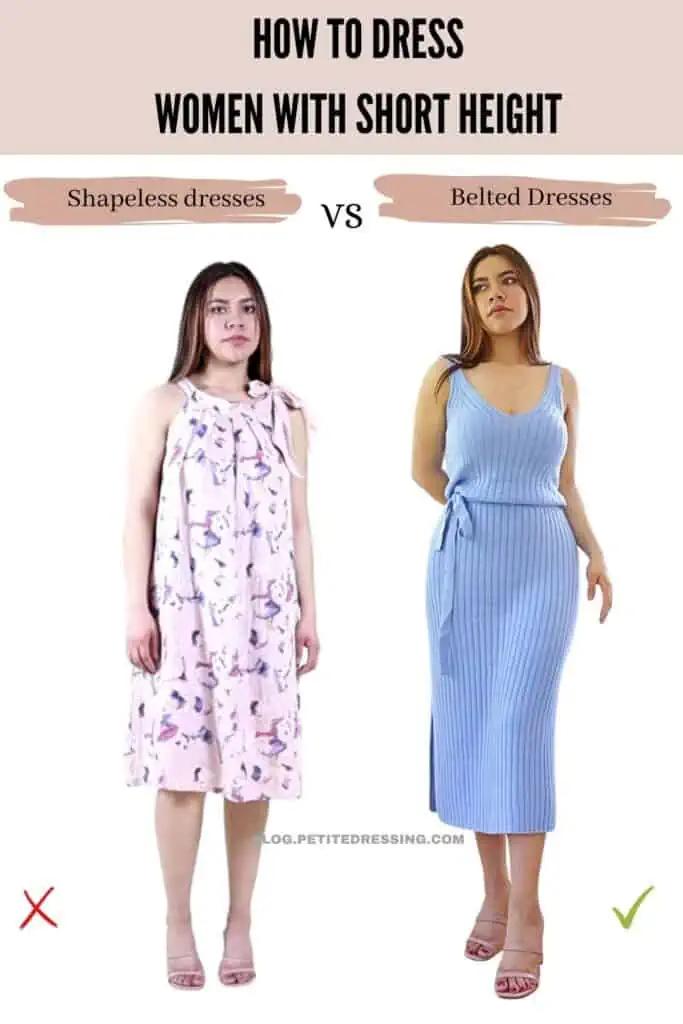 As mentioned earlier, cinching your waist is one of the easiest and most effective ways to elevate your height. This is because it draws emphasis to your upper body's narrowest part – your waist.
This additional definition can make you look slimmer and taller. However, it's important to be mindful of the thickness of the belt that your dress features.
The belt shouldn't be too big or thick because if it occupies too much space on your torso, you might end up breaking your figure's straight vertical line. Belts that are too thick may extend your size horizontally instead of vertically.
Vertical Print Dresses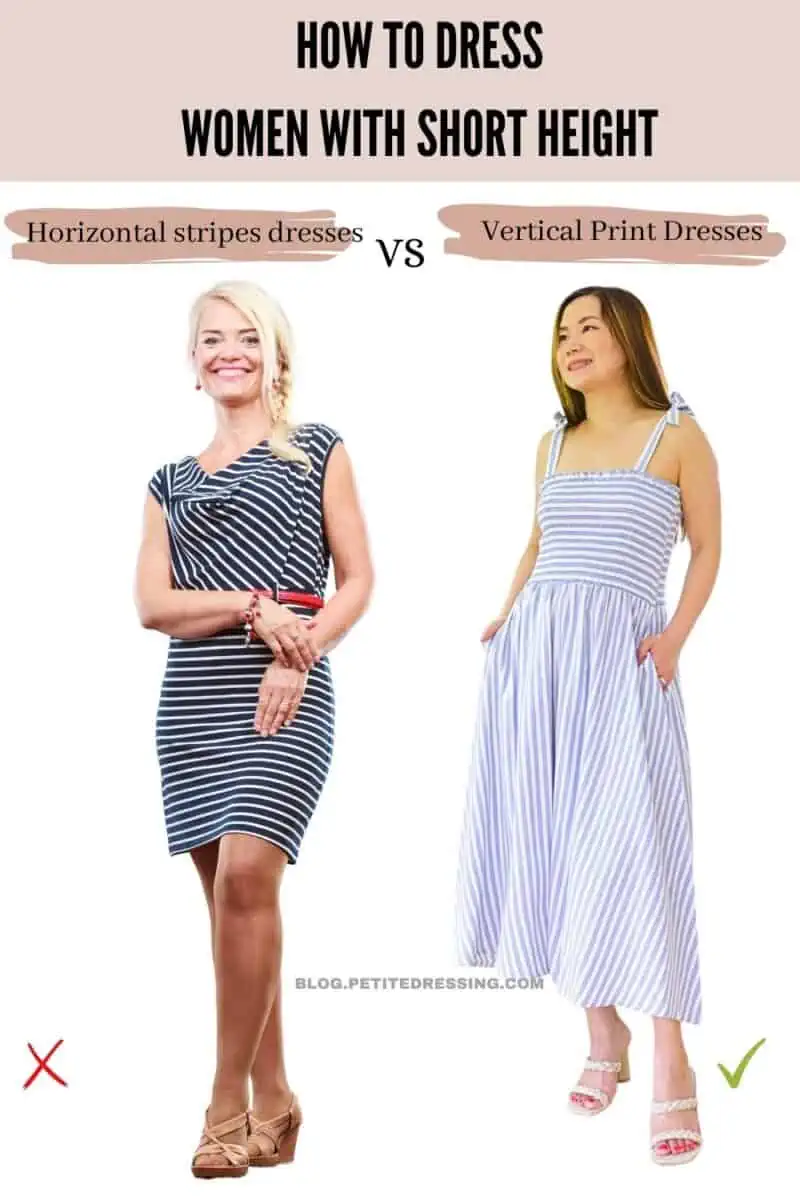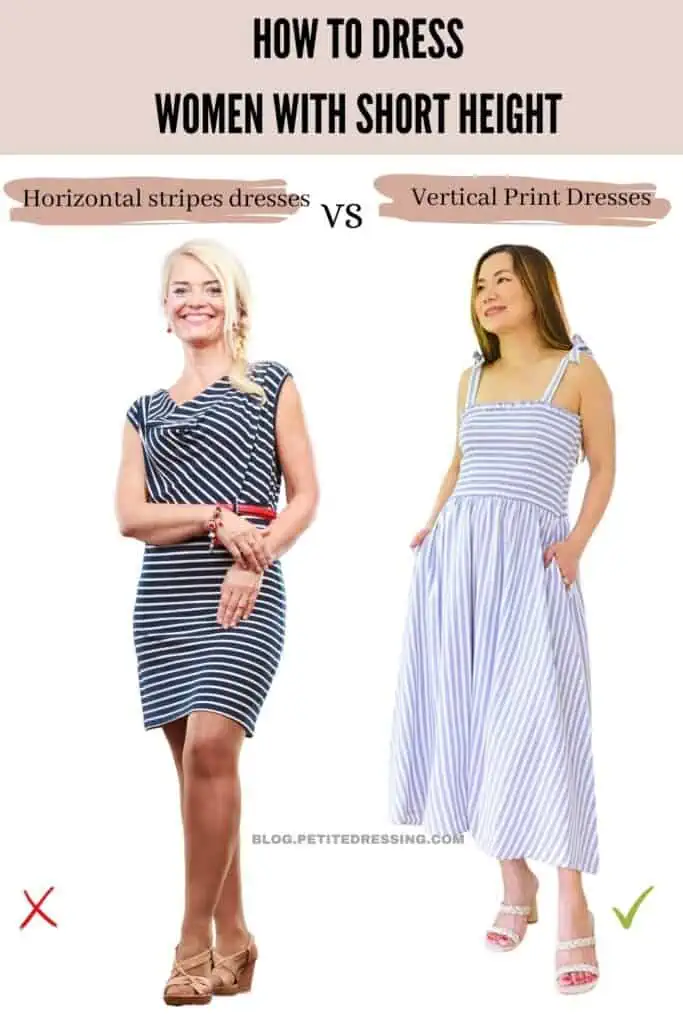 Dresses that feature a length that's above the knee are just the perfect length for short women. Mini dresses that expose more of your legs will trick the eyes into the illusion of height.
To further amplify your mini dress' elongating features, you may also opt for the ones that have vertical prints and patterns. Such types of designs will keep your visual line uninterrupted and therefore make you look much taller than you actually are!
Wrap Dresses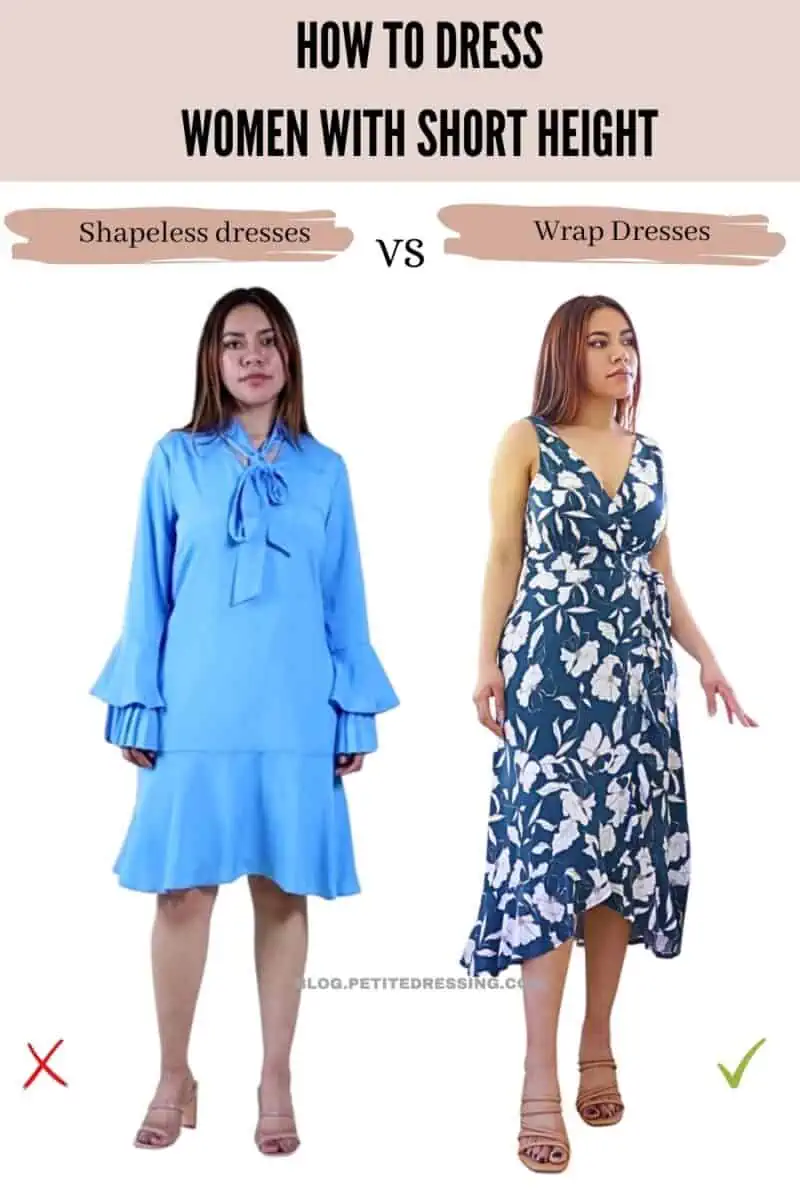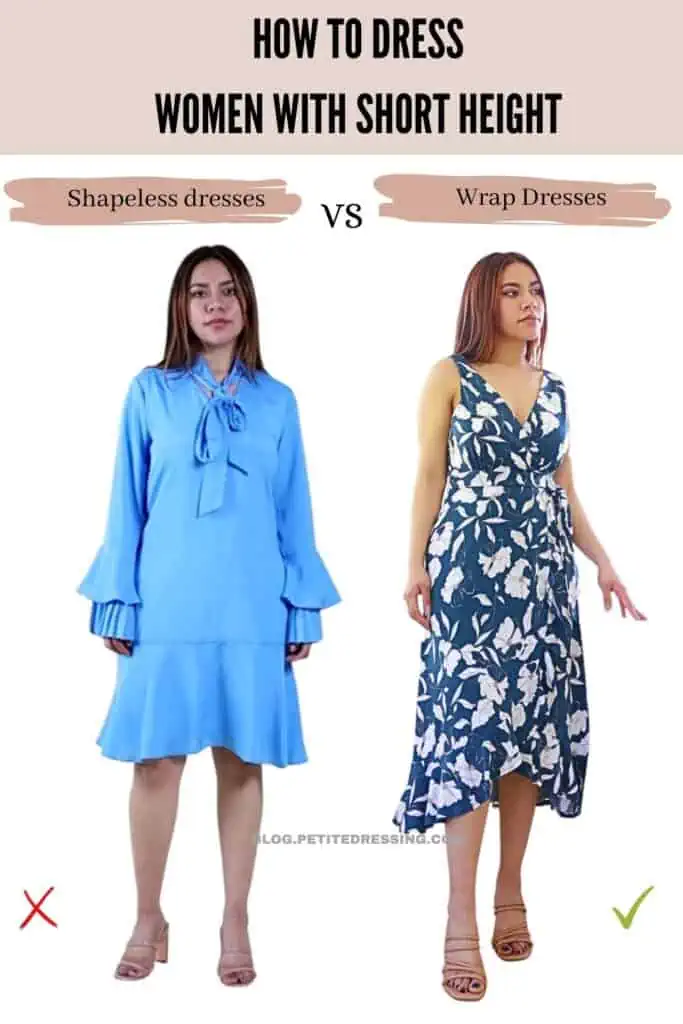 The adjustable fit of a wrap dress is a total game-changer as it allows you to cinch the waist and tailor the dress to your unique body shape and height. This is why it's also universally flattering and very easy to pull off – a total do-to dress!
They usually feature a V-neck too because of the lines that the overlap wrap creates. This neckline works wonders for shorter women because it creates a vertical line that effortlessly elongates the upper body and draws the eye upward.
SHOES
Skin-tone Pumps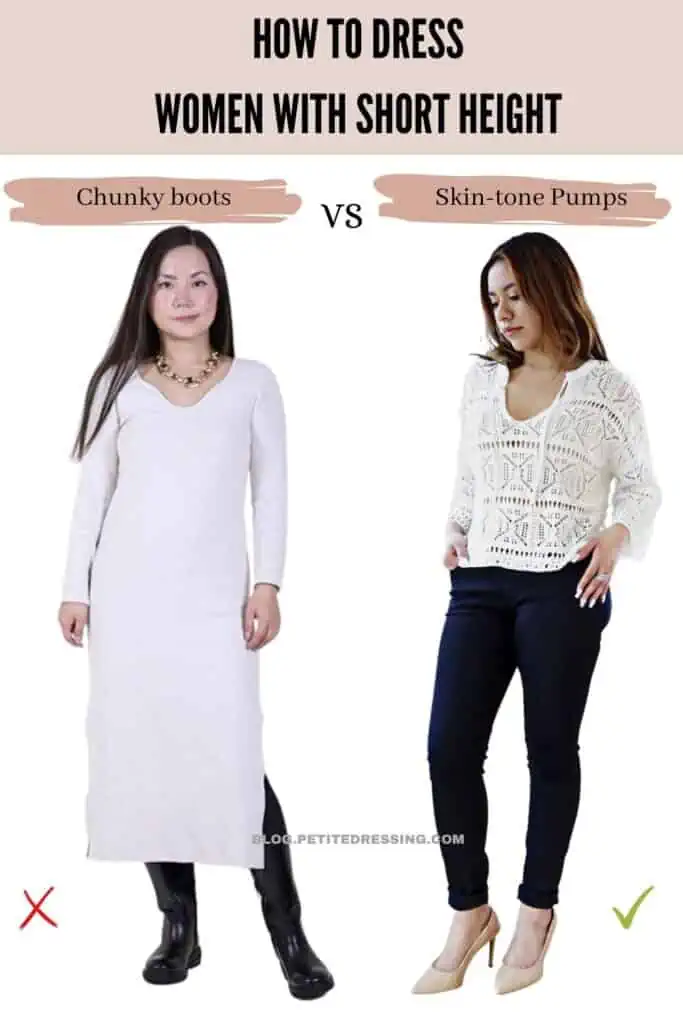 Skin-tone pumps (also called nude pumps) are a fantastic choice for short girls looking to enhance their height and create a longer-legged illusion.
Skin-tone pumps have the remarkable ability to elongate the legs by seamlessly blending with the natural skin tone. The key point here lies in their color, which closely matches the shade of your skin because they create a continuous line of color from your feet to your legs, giving the illusion of an extended leg length.
Neutral-colored Wedges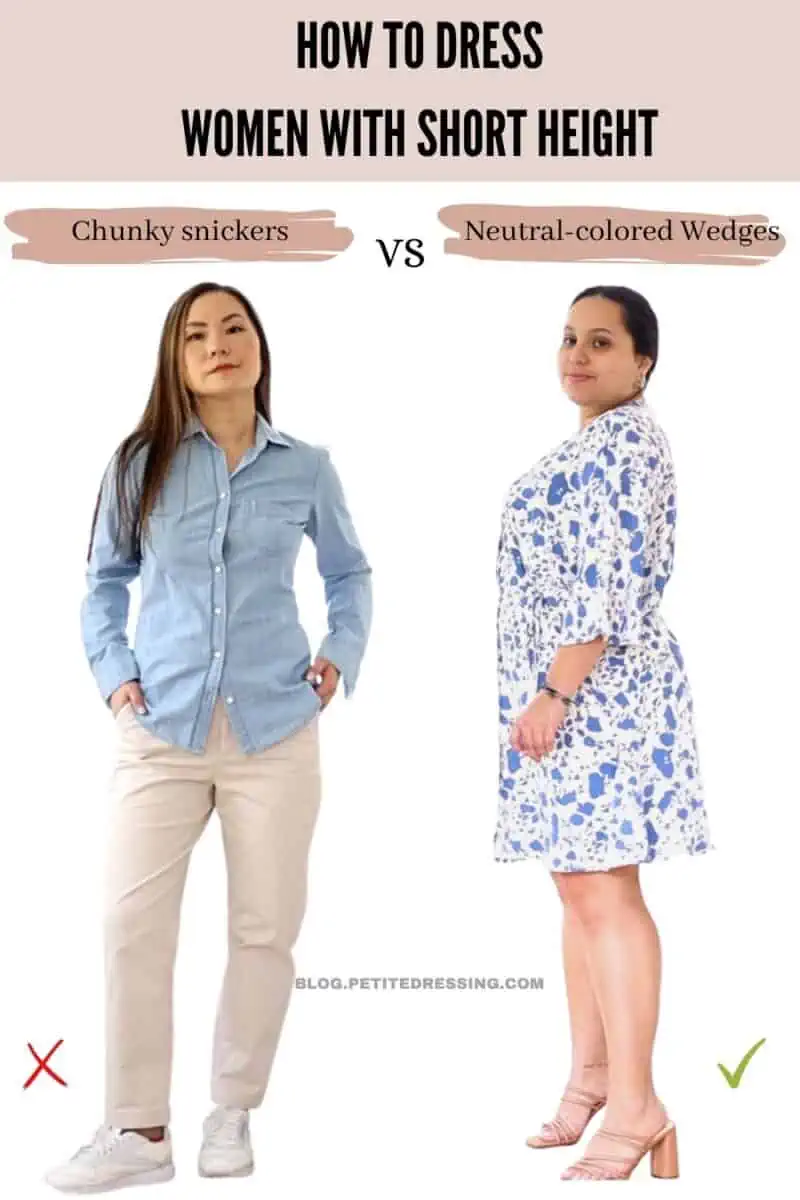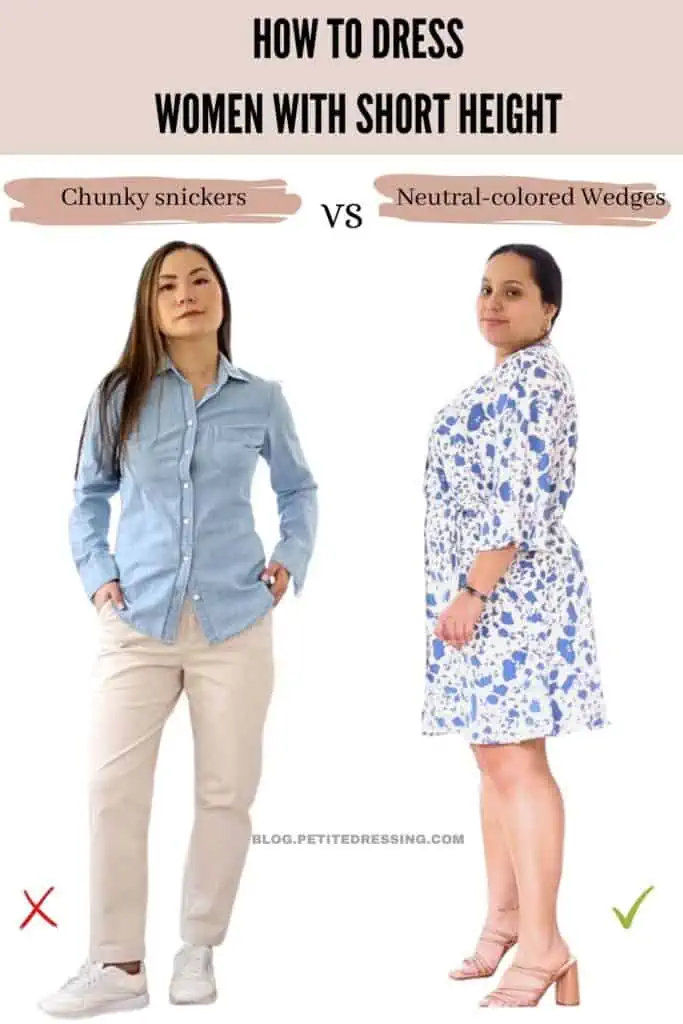 Wedges look amazing in both casual and formal ensembles not only because of their style but also because they are very comfortable. It features a more even distribution of heel elevation that gives you that much-needed height boost without the discomfort of traditional high heels.
Neutral colors will always be your foolproof option because they aren't too striking. This color element will keep your visual line uninterrupted.
Over-the-Knee Boots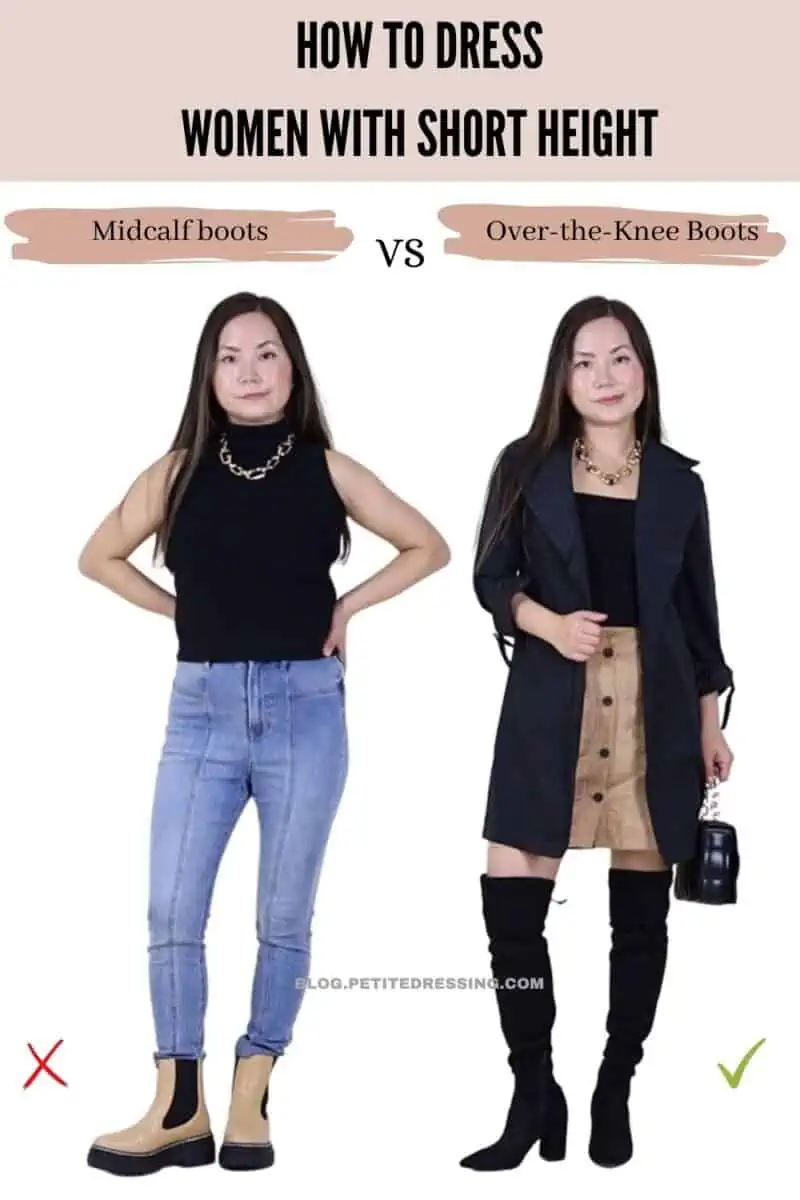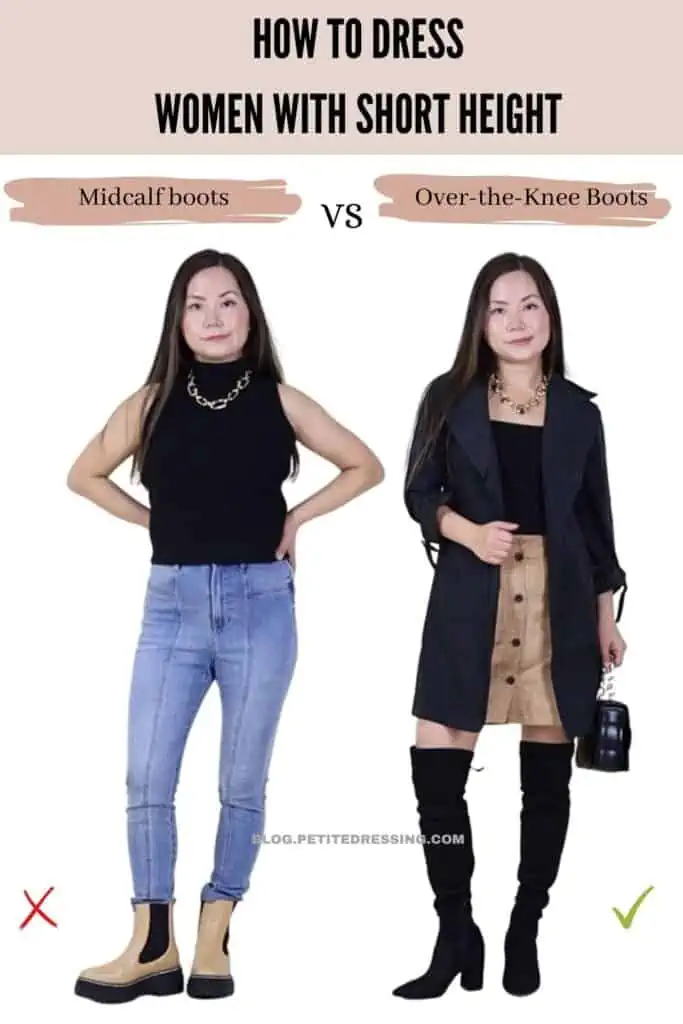 Over-the-knee boots extend well above the knee which covers a significant portion of the leg. This extended coverage creates the illusion of longer legs by visually elongating the lower body. and the continuous line from the thigh down to the foot creates a seamless and uninterrupted look, creating the illusion of length and height.
Additionally, they also offer a vertical element that draws the eyes upward. The tall shaft of the boots creates a long line that extends from the feet to the thighs.
The Key Takeaway
Understanding how to properly style yourself as a short-height woman can bring about a ton of game-changing benefits, enhancing both your appearance and confidence. I know how the media makes it seem like clothes can only be beautiful if you've got a certain modelesque size and height – but that's totally not true!
Selecting the right clothing styles and proportions can create the illusion of height that can make you look taller and more balanced. Ultimately, mastering the art of styling for short-height women can unlock a world of fashion possibilities to enable you to confidently navigate the sartorial realm with grace and elegance.