The woman with an inverted triangle has a broad shoulder, an undefined waist, small hips and slender legs. These features give her an athletic build that the right coats must work to help balance out in the right proportions.
Coats are expensive piece of clothing so when making purchases you must go for those that work to complement your shape.
The following are a comprehensive guide with 7 best coat styles for your shape, and what to stay away from.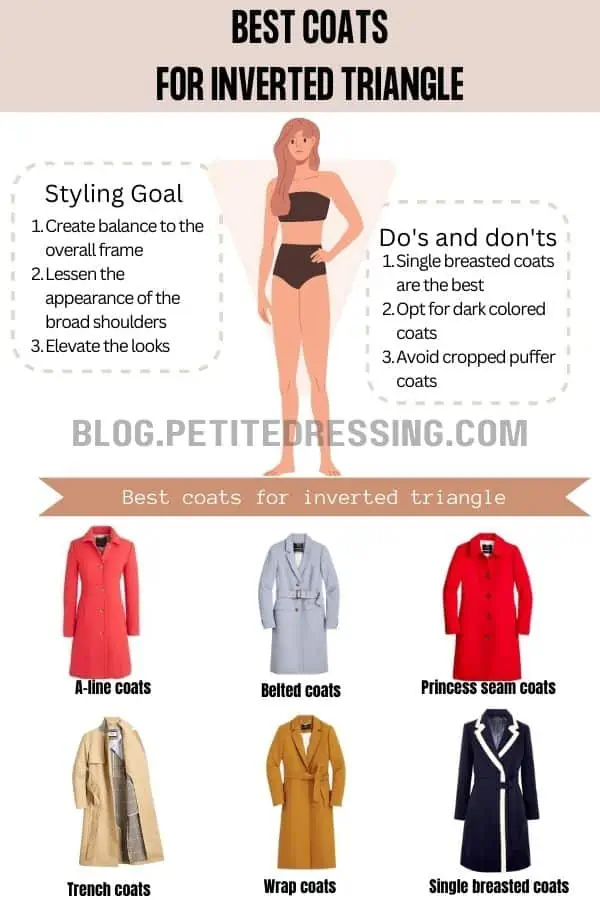 A-line coats
If you have an inverted triangle shape, then you should opt for a few A-line coats as they would flatter your general looks. There is virtually everything fabulous about the A-line coat that makes it a good choice for your shape.
A-line coats have a design that can slim down your broad shoulders because they are fitted at the top before flaring out in an A shape. From the waist down to the hem, the A-line coat does not cling to any part of your body.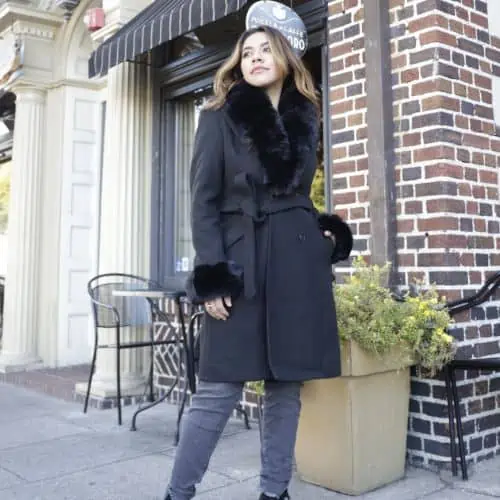 Why opt for A-line coats
This is an easy-to-wear piece of clothing that adds volume to the small hips and slim legs while still working to define the waistline.
It is further structured to visually lengthen your legs so you can look taller than you are naturally.
Belted coats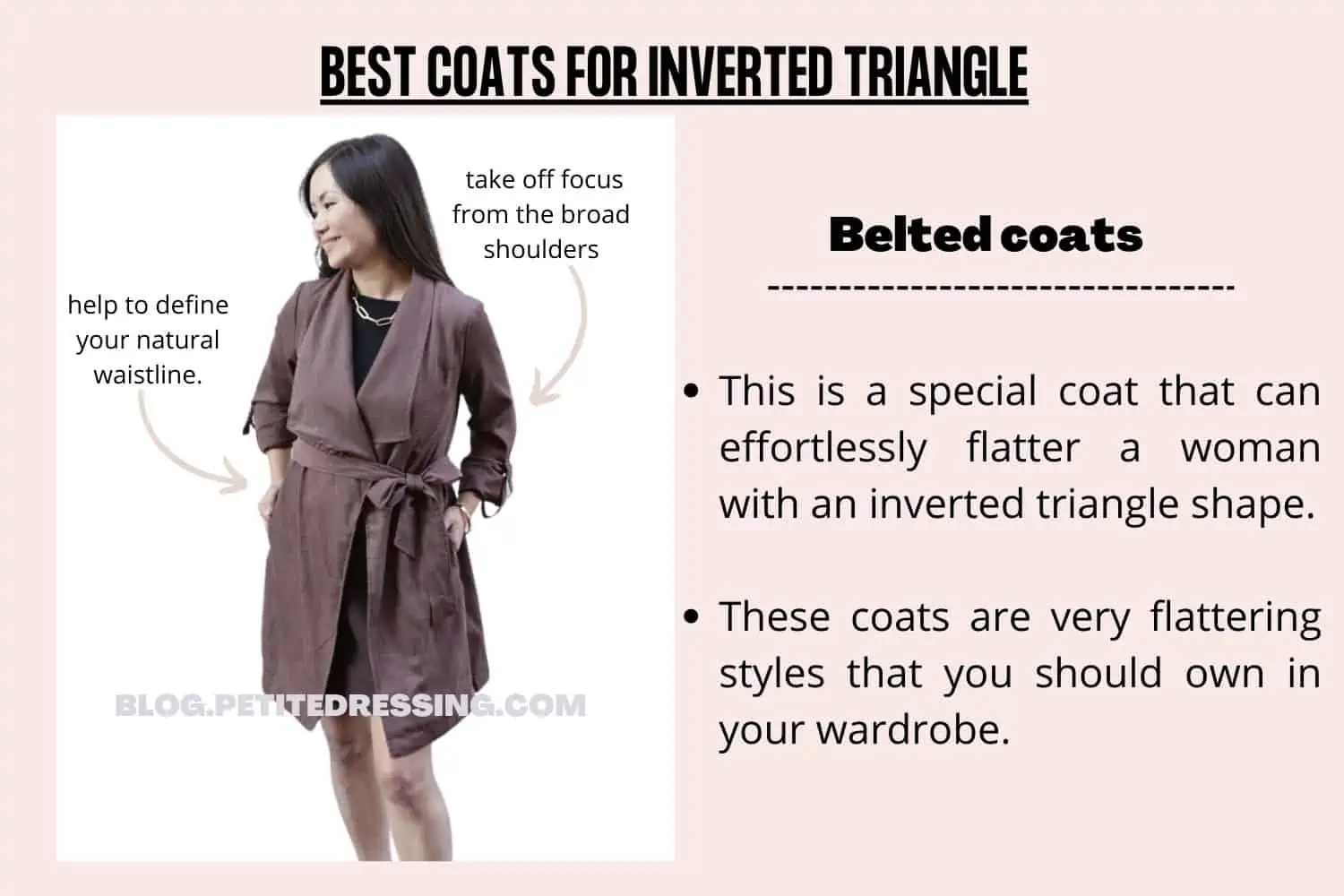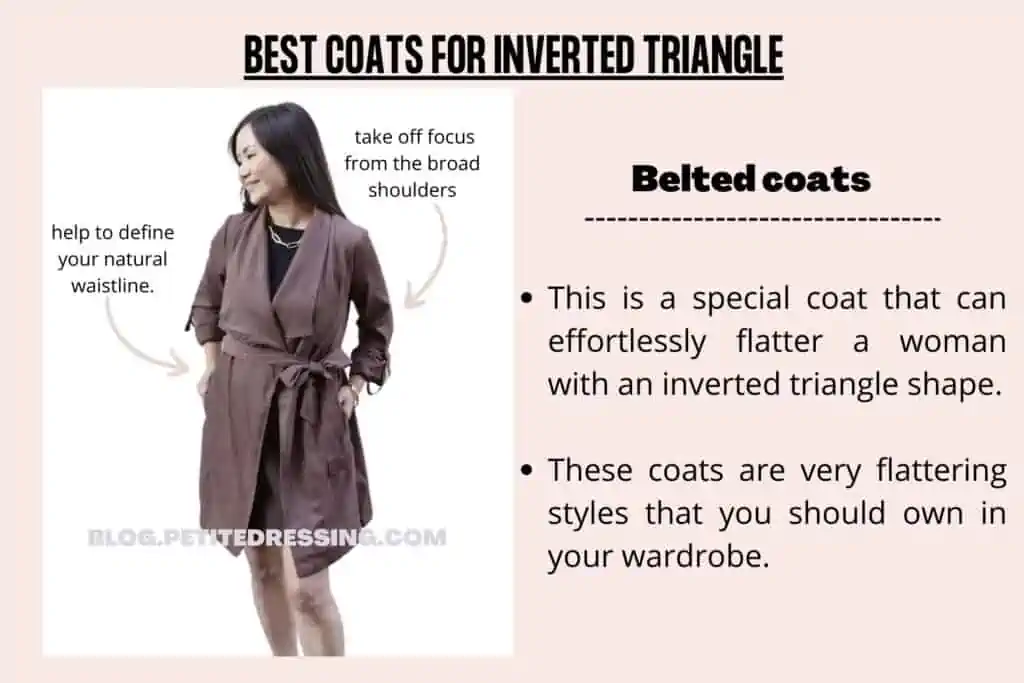 This is a special coat that can effortlessly flatter a woman with an inverted triangle shape. This is simply because the coats can help to define your natural waistline.
When you have your waist nipped in with a belted coat, it would take off focus from the broad shoulders and keep it fixed on your waistline. That way, there would be less emphasis on the upper body and it would become easy to achieve balance.
Wearing a belted coat can also be very comfortable because you can easily adjust the way the belts are tied around your waist. These coats are very flattering styles that you should own in your wardrobe.
Princess seam coats
The princess seam coat is a flattering coat style that creates a beautiful draped and feminine look for your inverted triangle shape. A few of them have pocket detailing around your lower half that could also increase the volume of the small hips and undefined waistline.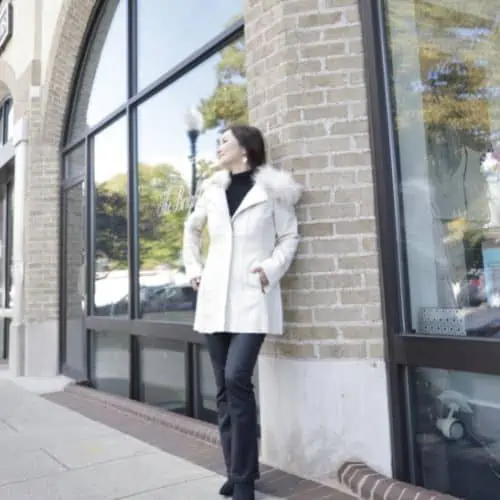 Expectations with Princess seam coats
This coat is a great coat used for proper shaping because they constitute a flared skirt that acts as a form-fitting silhouette.
Princess seam coats are easy to fit because of the comfort they have a volume that balances out the broad shoulders.
When you wear this coat over your figure, it creates a long vertical line that visually lengthens your legs.
Trench coats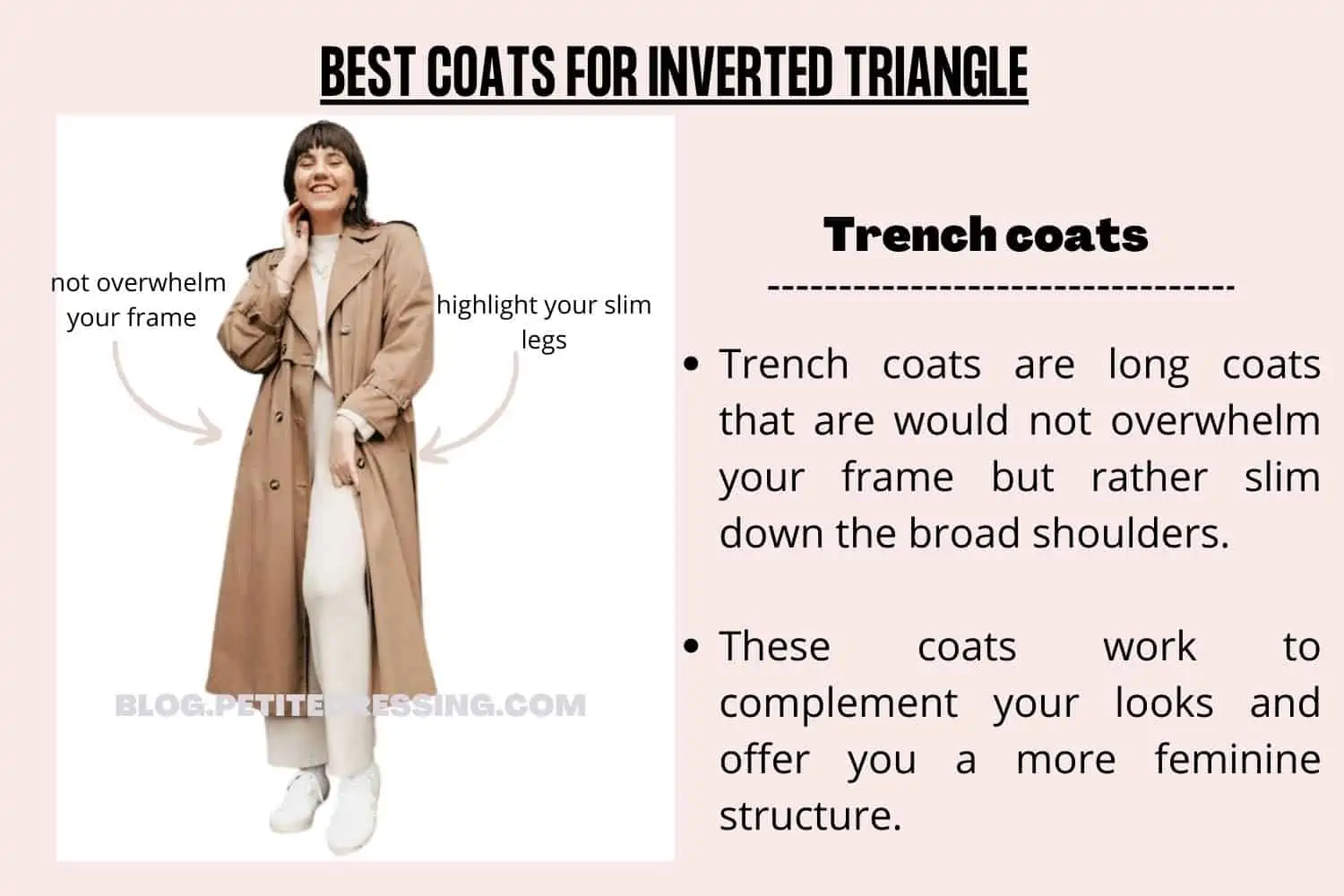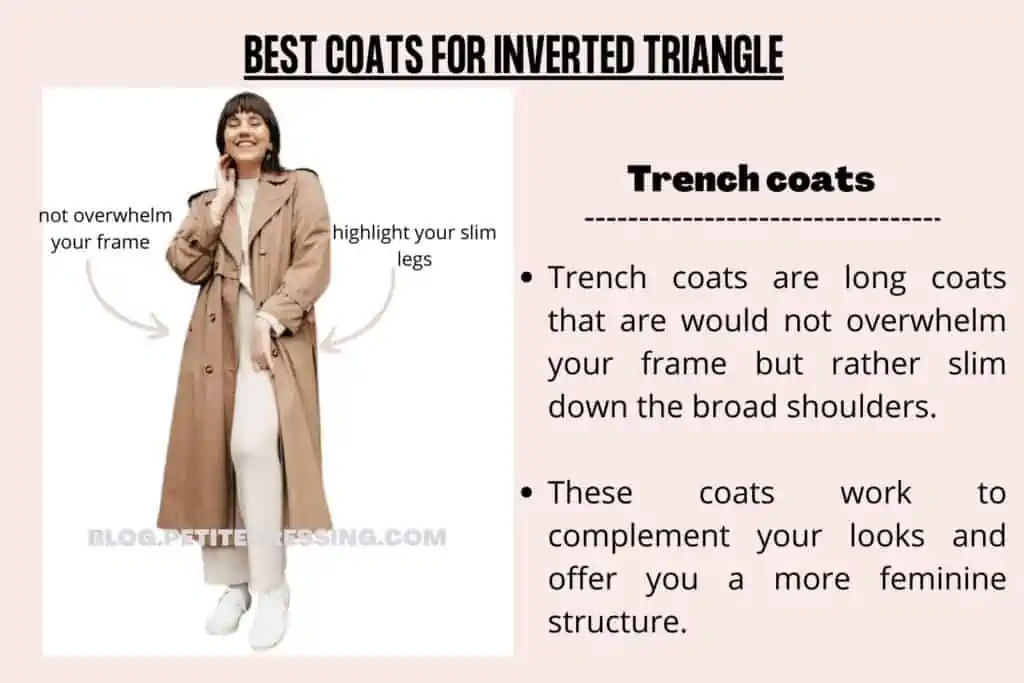 You can draw the eyes upwards and downwards instead of sideways with a trench coat if you have an inverted triangle shape. Trench coats are long coats that are would not overwhelm your frame but rather slim down the broad shoulders.
These coats work to complement your looks and offer you a more feminine structure. You should take advantage of these coats because they not only slim your frame, they also highlight your slim legs, one of your best assets.
Wrap coats
A wrap coat is one coat style that you should invest greatly on because they are best in complimenting the structure of the inverted triangle shape. The wrap in the coat would not only define the waistline but also add volume to the lower body part.
This coat is a classy coat designed to flatter almost all body types including that of the inverted triangle shape. besides, the coat has a neckline that can help reduce focus at the shoulder line and keep them at the center of your body.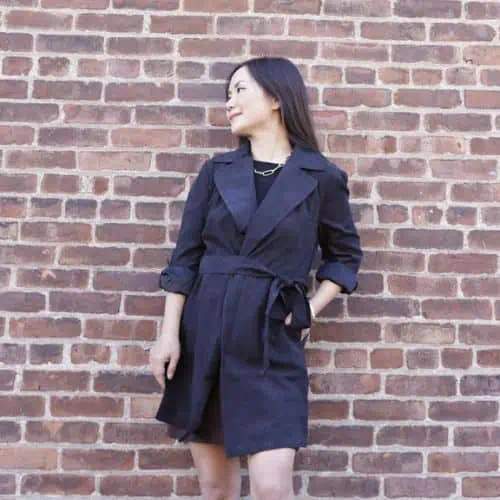 Why choose wrap coats?
Wearing a wrap coat over your figure would help to soften your sharp shoulders and balance out your entire body shape.
The coat is a beautiful style that readily offers you the comfort needed to look pretty and more feminine in winter.
Single breasted coats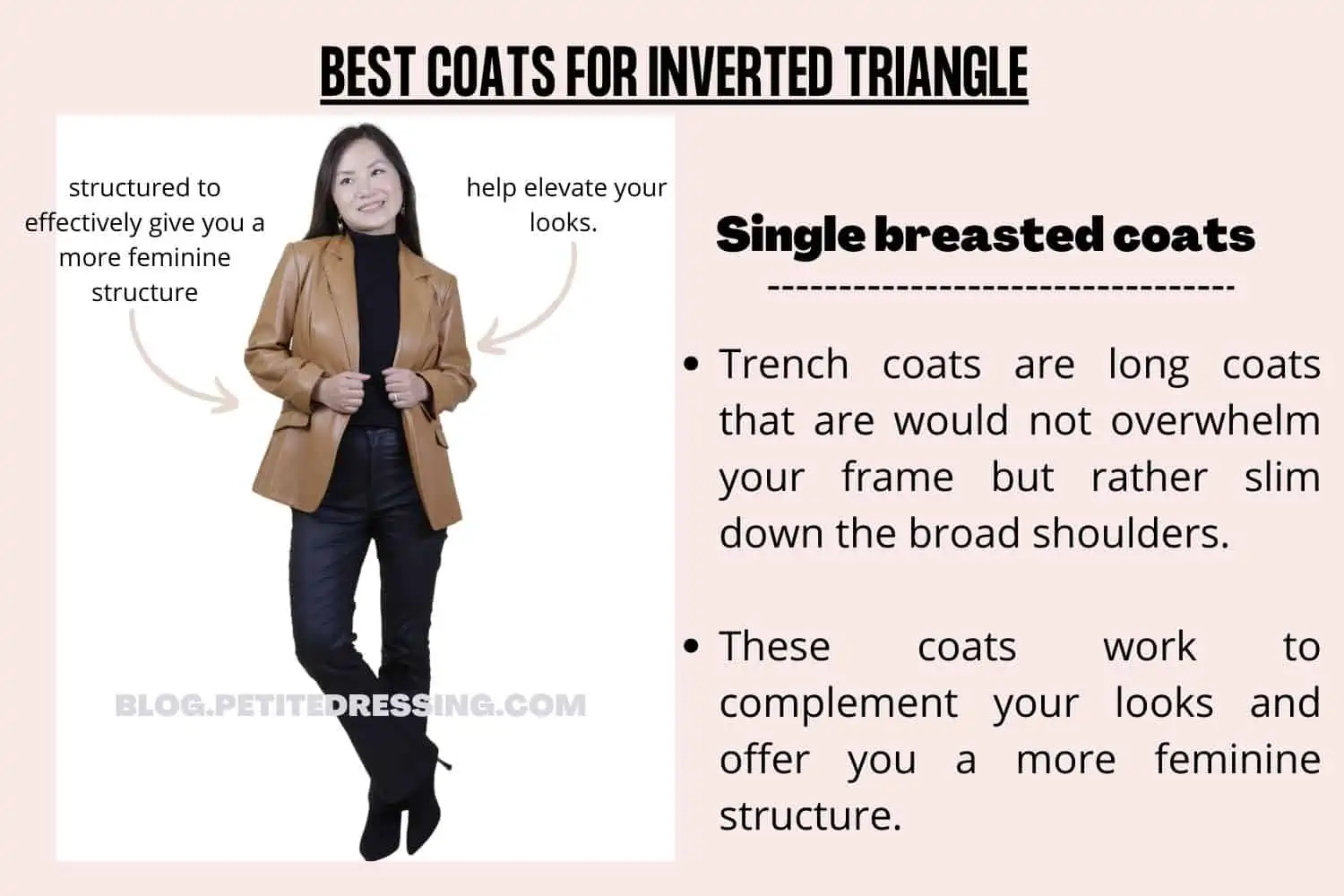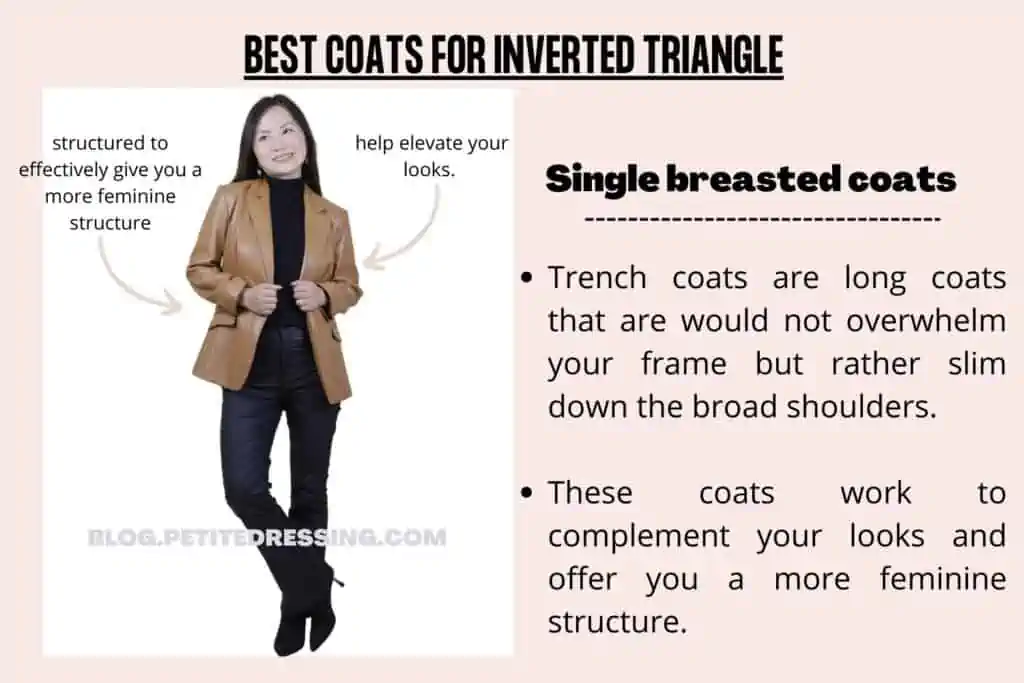 This is a simple and stylish coat that can be used to give the right proportion to the inverted triangle figure.
The single-breasted coat does not have excessive coat embellishments on it that could increase the volume of your broad shoulders. It is designed to have a single column of buttons that can visually help to elongate your shape.
This should be among your favorite coat styles because the coat is structured to effectively give you a more feminine structure. This is a coat you should wear with confidence because it would slim down broad shoulders and help elevate your looks.
Dark color
Colors are special details that have a strong effect on the body and if not rightly chosen, they would break up your overall appearance.
On the contrary, the bright-colored coat does the exact. They would over-emphasize the concerned area and cause it to appear visually wider than they are naturally.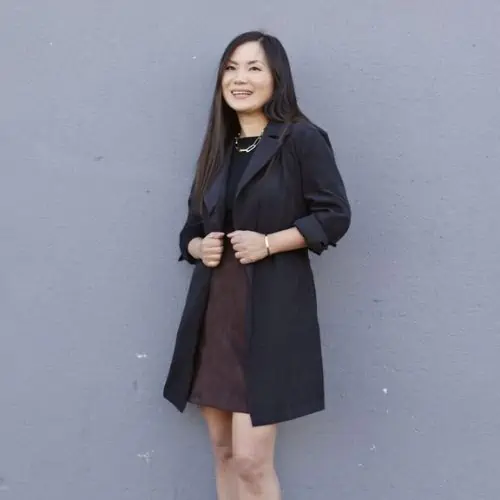 Effective coat color for your shape
You should be particular about dark-colored coats because they are the best colors for your inverted triangle shape.
A dark-colored coat can effectively slim down your broad shoulders when worn over them.
Avoid cropped puffer coats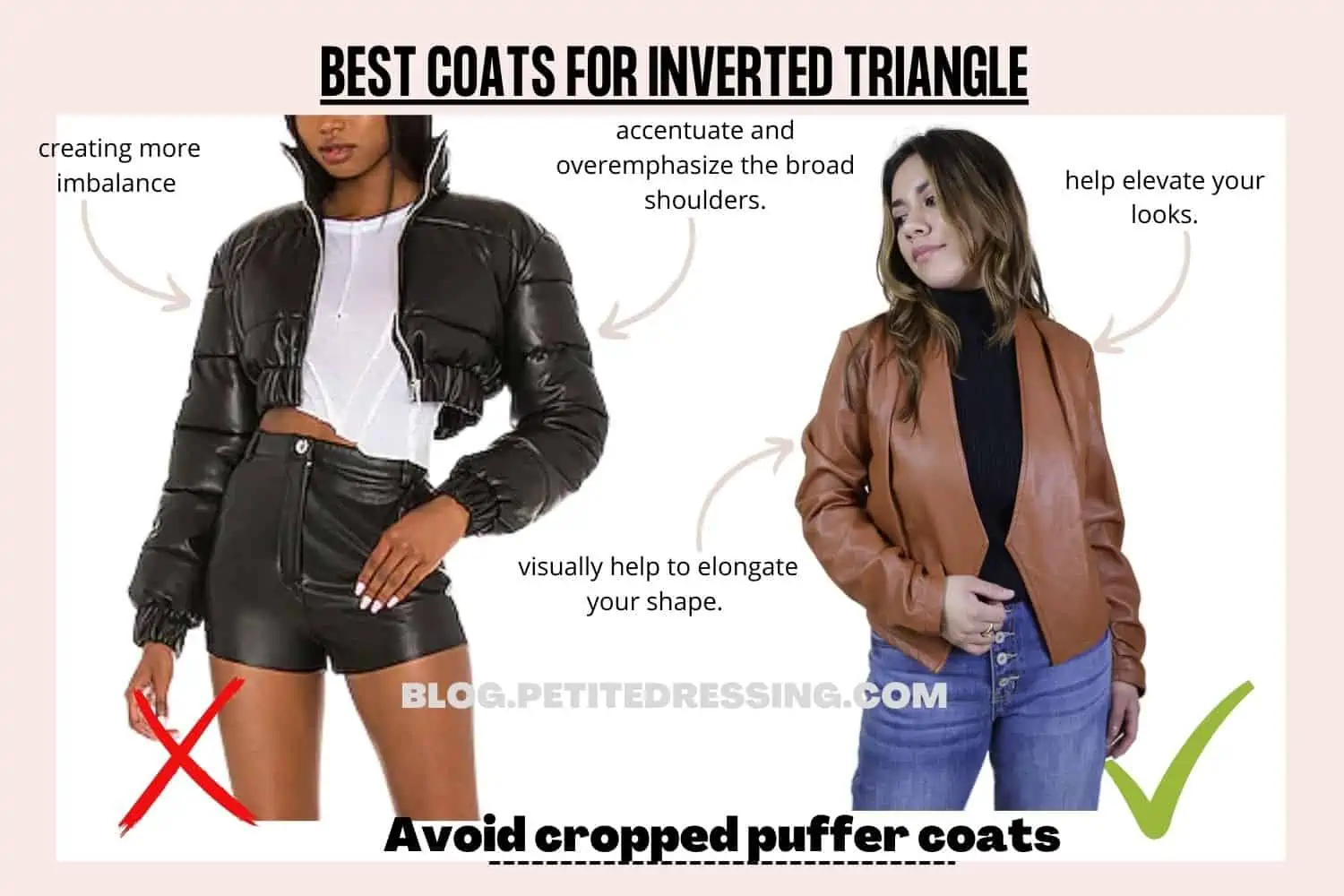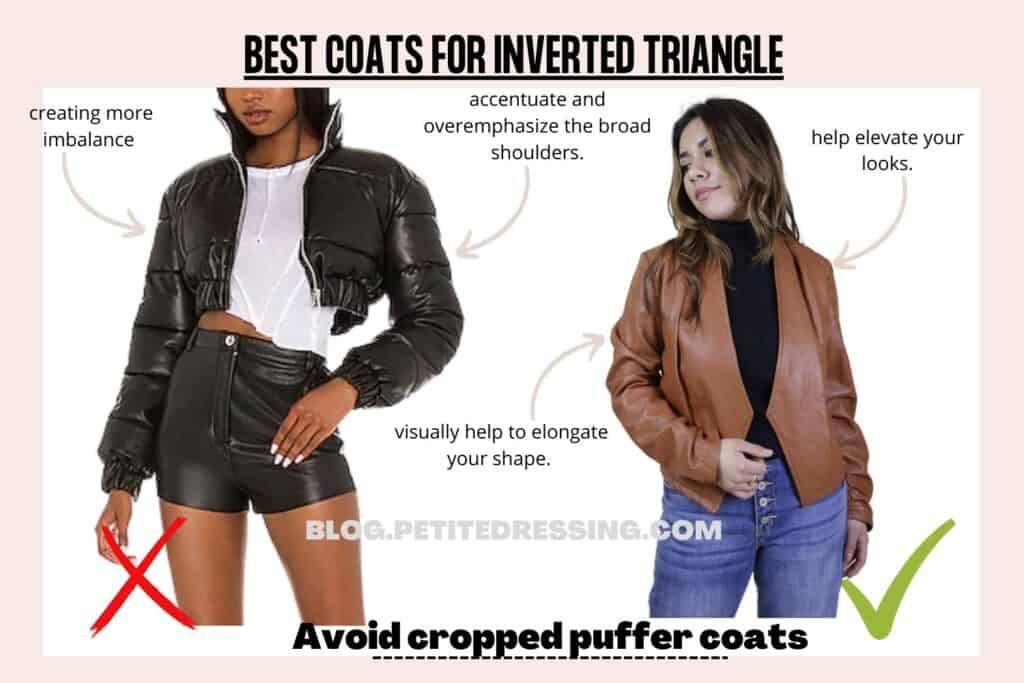 The upper part of the inverted triangle shape has the volume and a puffer coat is also designed to be voluminous. It has series of puffs lined around it and when you wear a cropped design you accentuate and overemphasize the broad shoulders.
Cropped puffer coats can be very stylish coats but when worn over your triangle shape, they end up creating more imbalance to your body. In turn, this could cause you to appear heavy at the top.
Avoid coats with wide lapels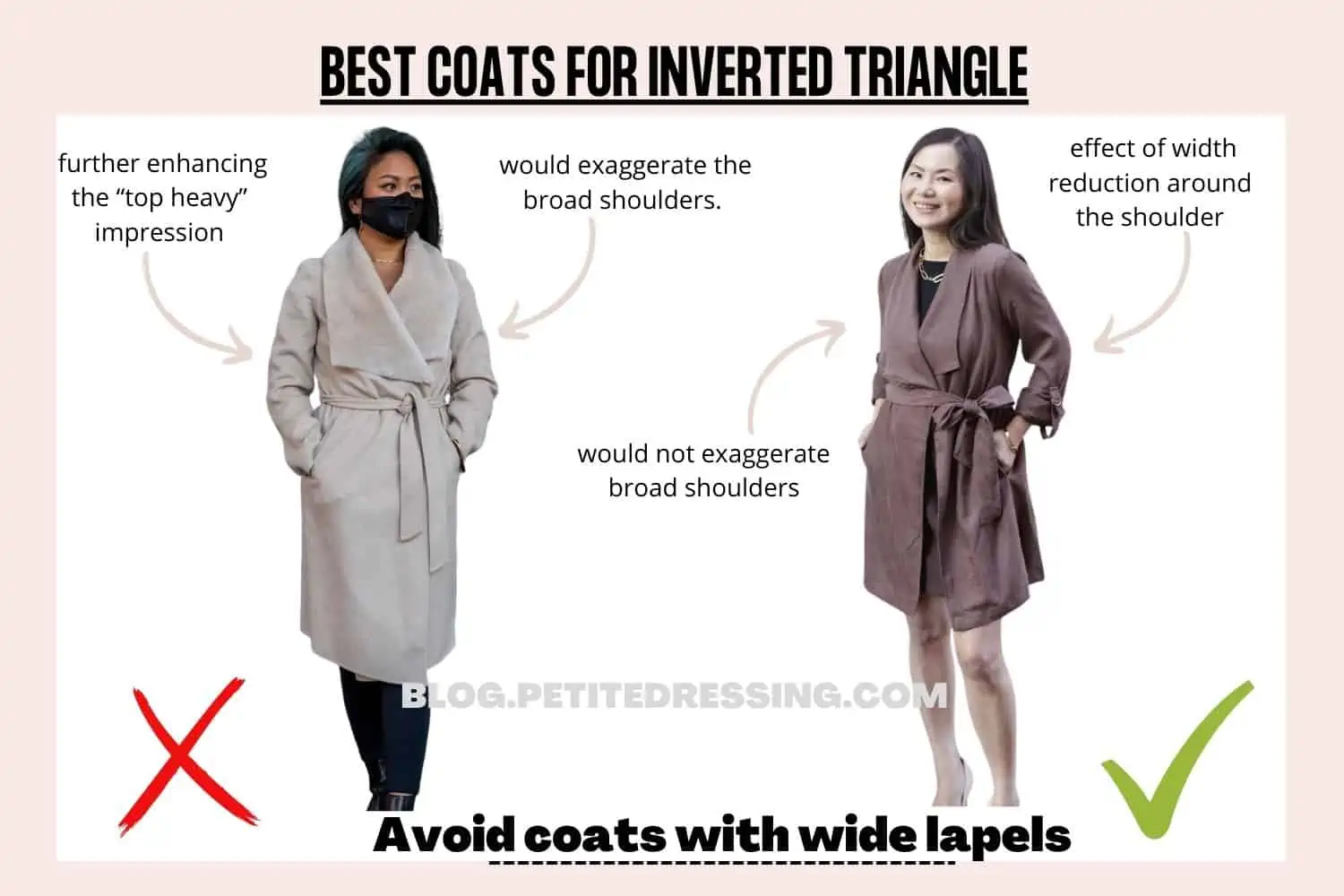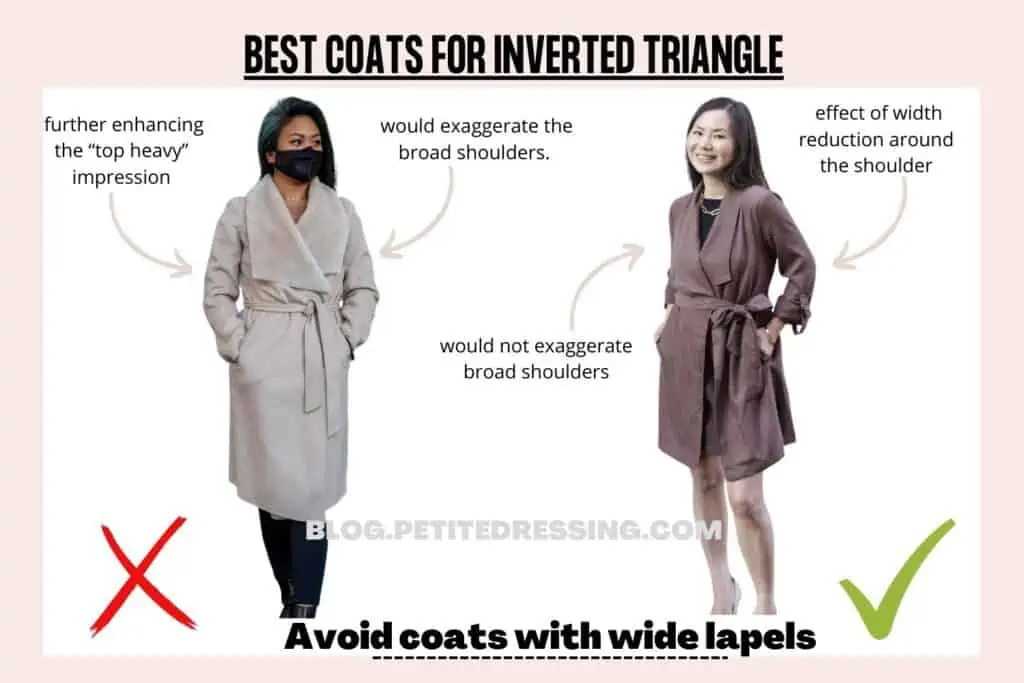 Coats with wide lapels are not flattering on the inverted triangle because they would not put your shape in the right proportion. You have your concerned area fixed around the shoulder line and wearing wide lapels over it would exaggerate the broad shoulders.
The collars would draw so much attention by expanding your upper body and further enhancing the "top-heavy" impression. If the balance in your upper and lower body is what you intend to achieve then stay away from wide lapel coats.
More preferably, you should wear coats that have narrow lapels so they could create a contrasting effect of width reduction around the shoulders. Which is the exact effect the right coats for your shape should offer.
Avoid coats with shoulder pads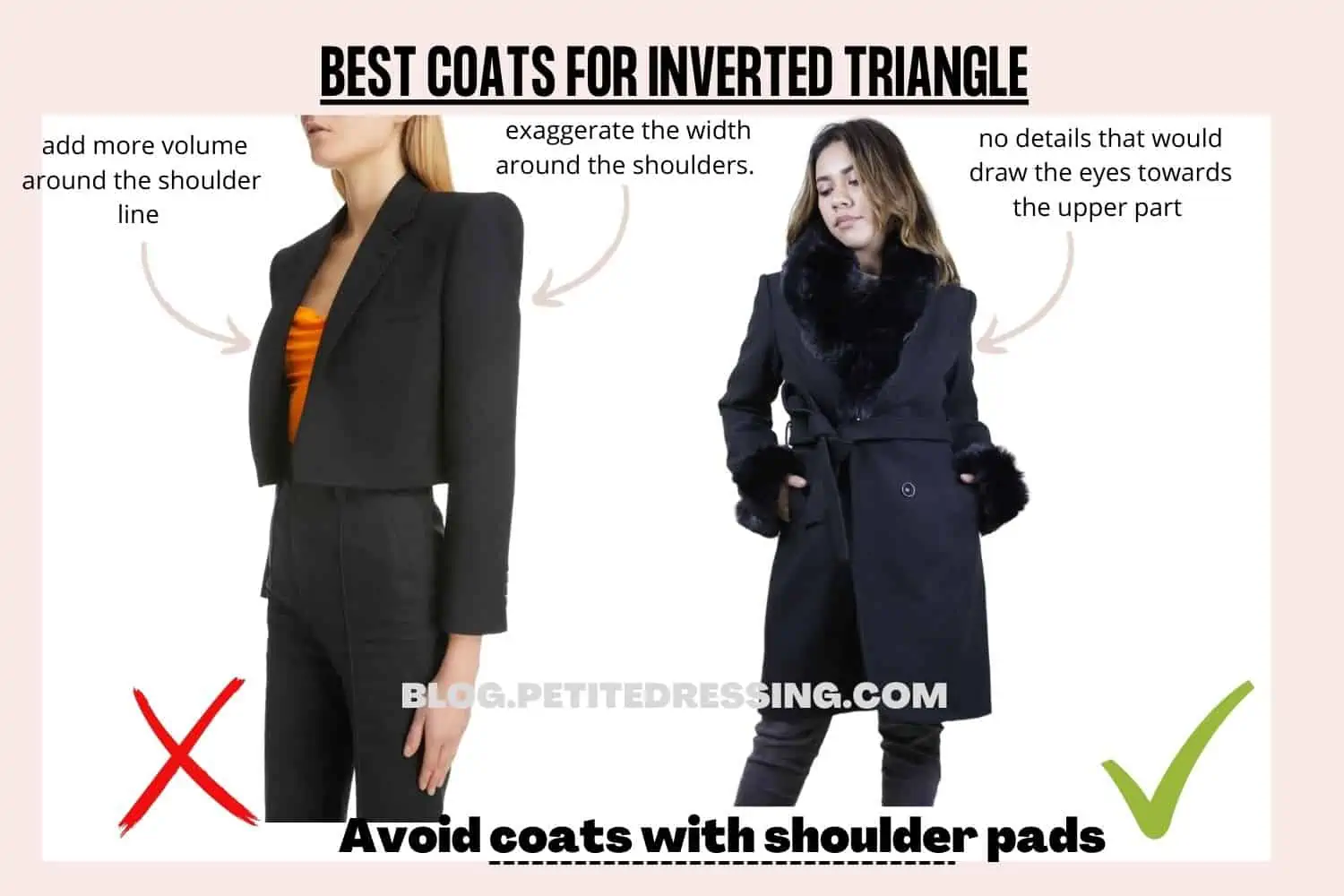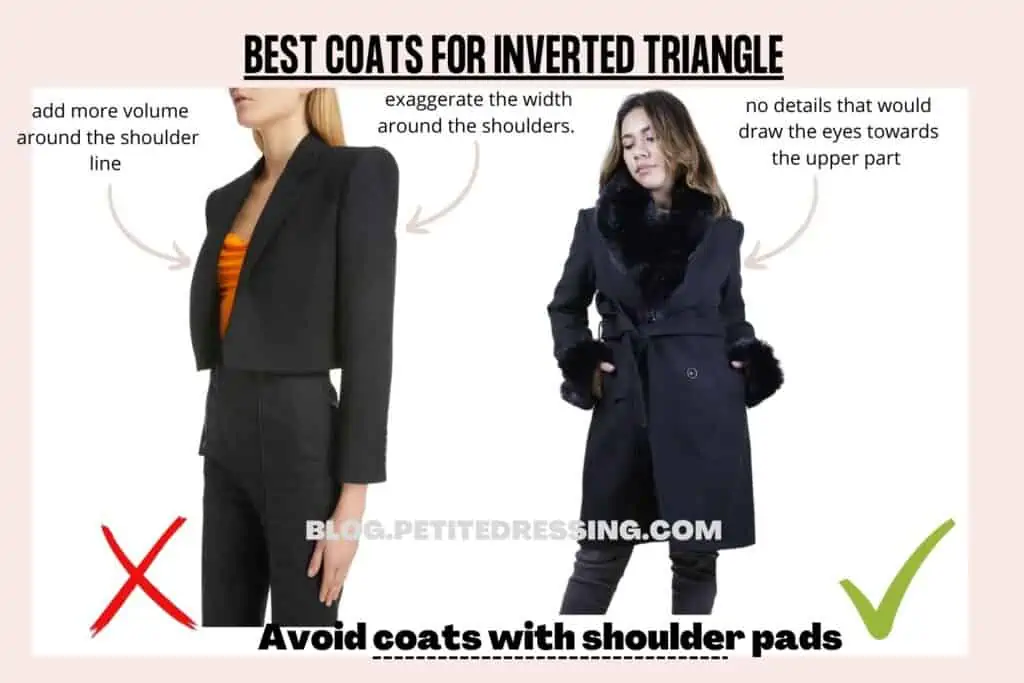 If you have an inverted triangle shape, you should refrain from adding shoulder pads to your coats. The shoulder pads in the coat would only exaggerate the width around the shoulders.
Your coats are best when there are no details that would draw the eyes towards the upper part of your body. Coats with shoulder pads would add more volume around the shoulder line and would not help improve your body proportion.
Avoid oversized coats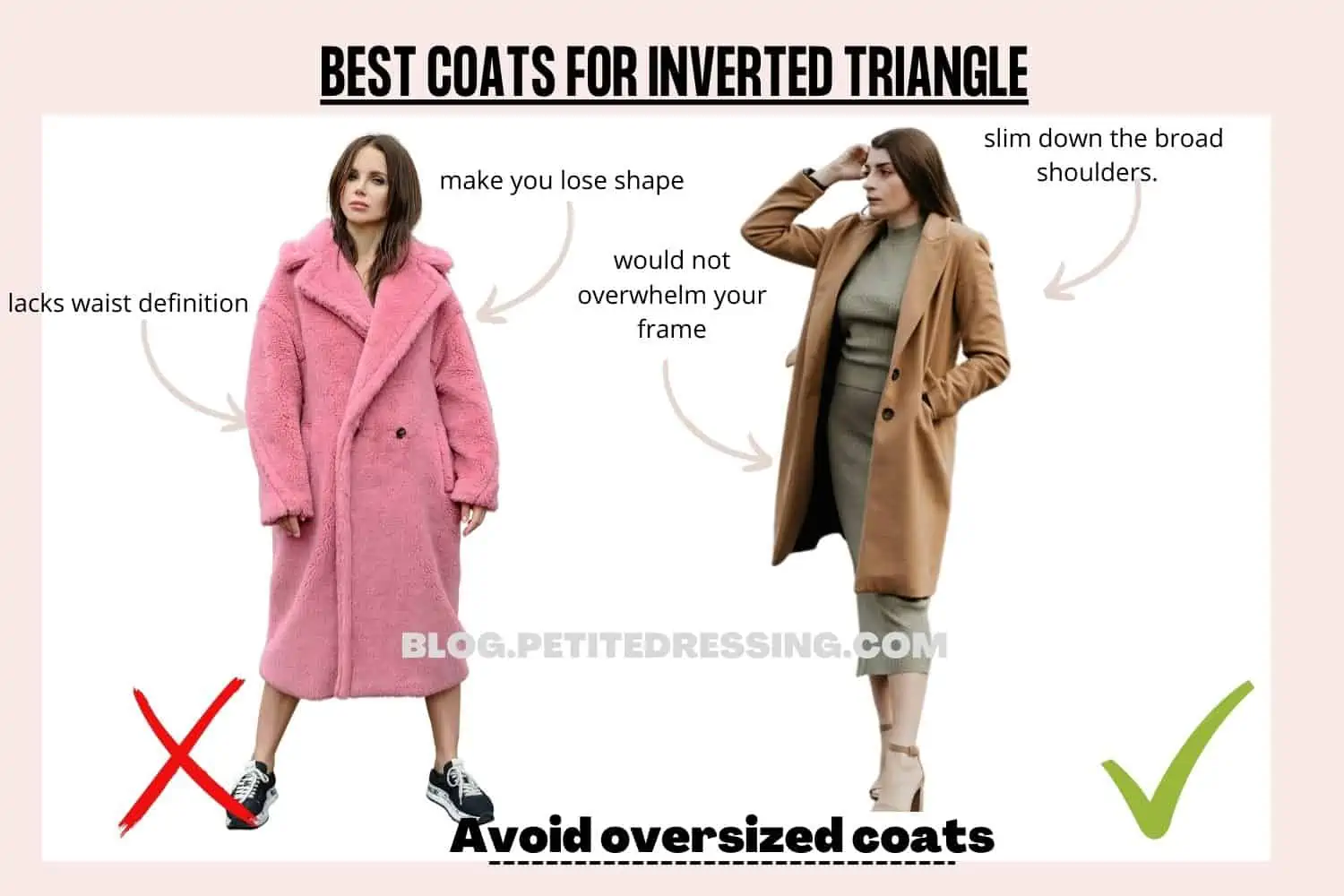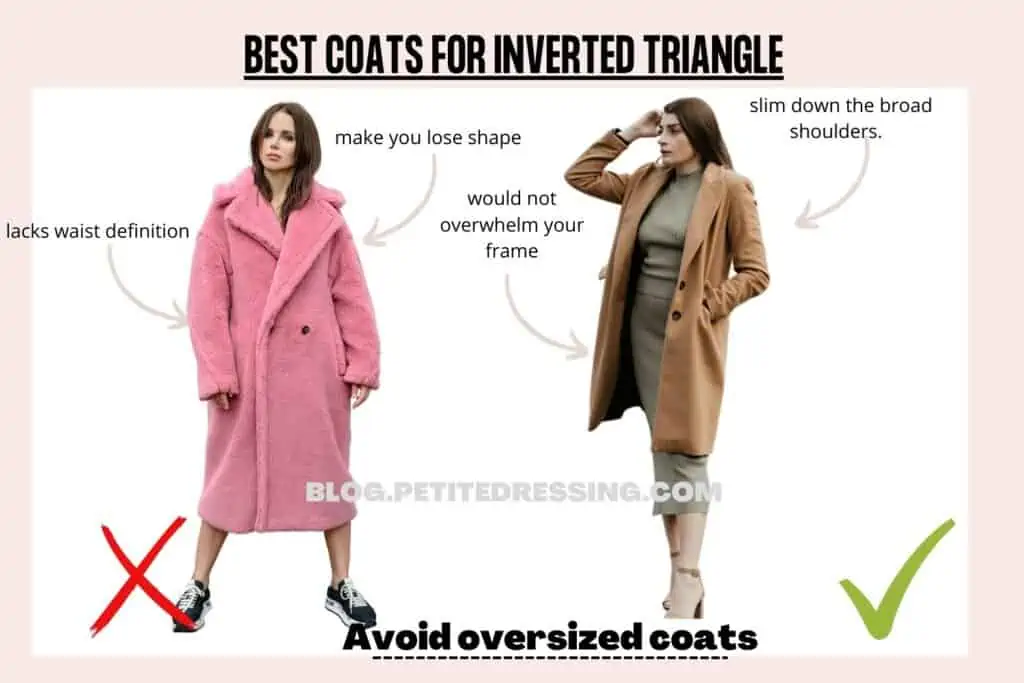 You do not need to hide yourself in oversized coats if you get too concerned about your shape but rather you should attempt to improve and structure it. An oversized coat would only make you lose shape and could even drown you.
This is a coat that lacks waist definition and could exaggerate the width of the broad shoulders. If you have an inverted triangle shape, you must make sure that the coats you choose are fitted and well-positioned on your figure.
Avoid double-breasted coats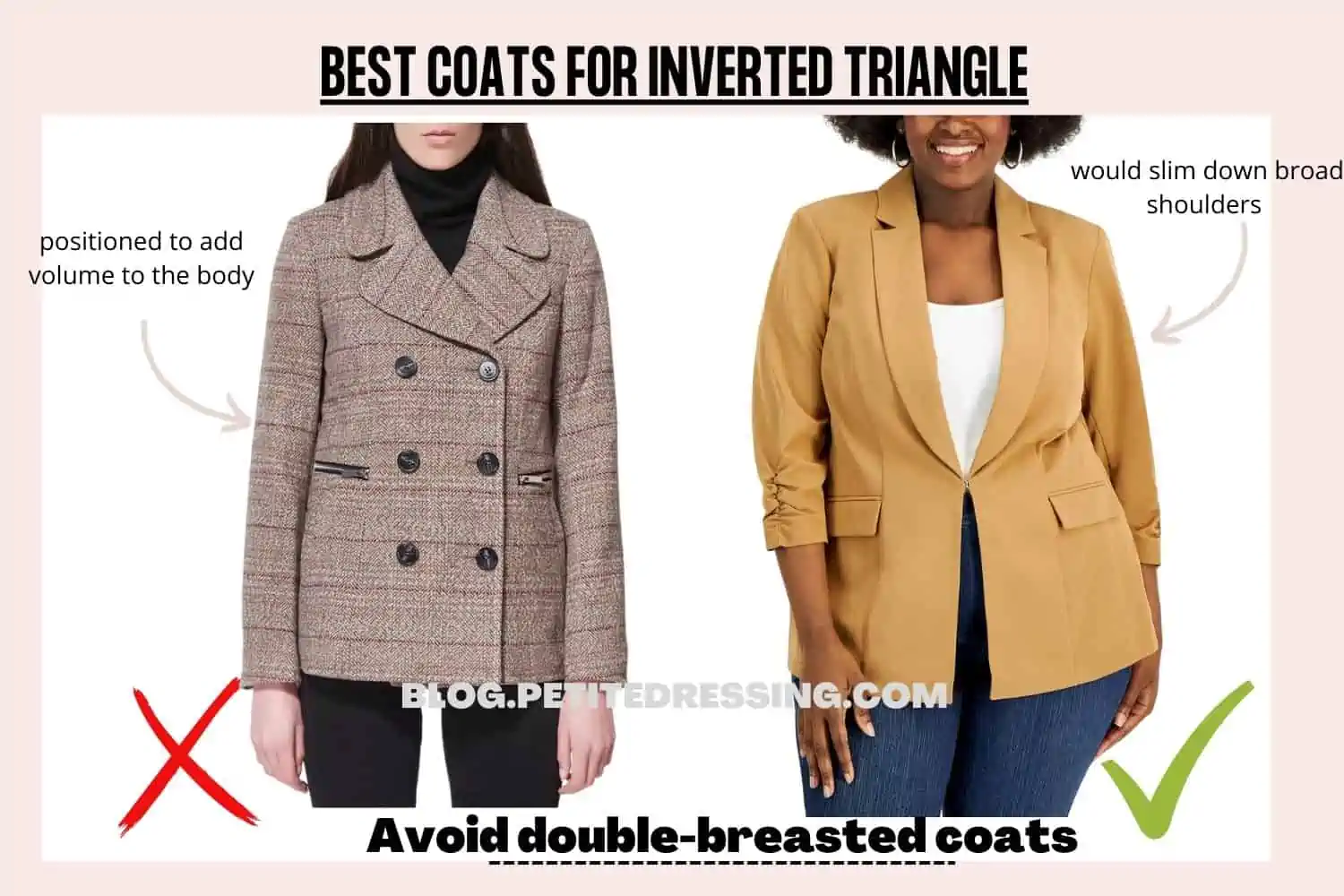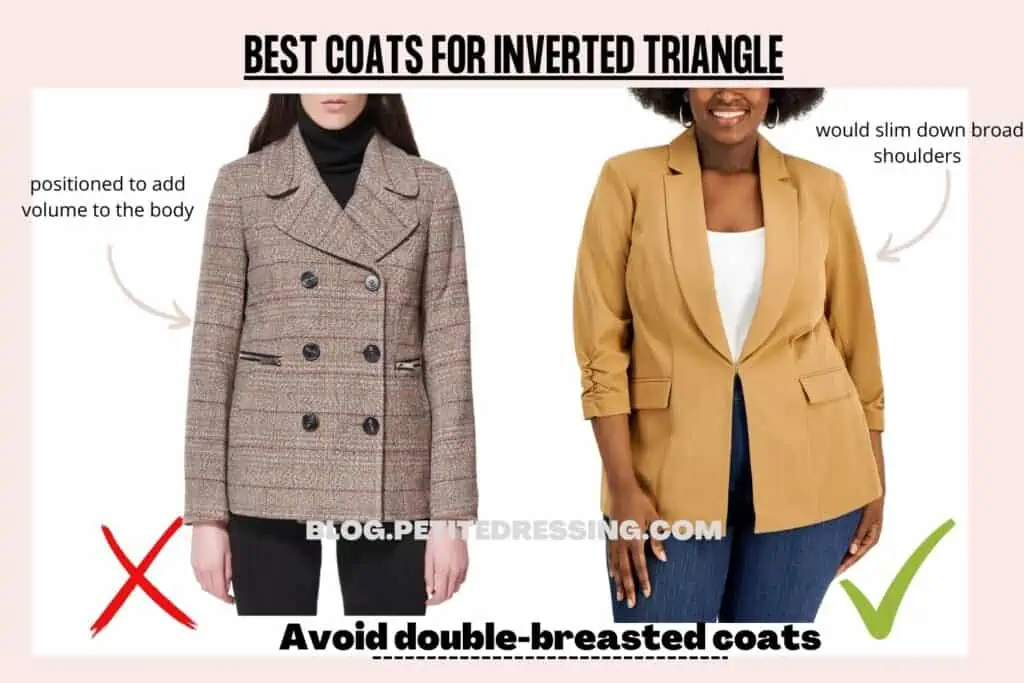 A double-breasted coat is not a flattering coat design that can keep you at your best because it does not have the best structure for the inverted triangle shape. This coat design has a high tendency of pulling the focus of the eyes to the upper body part.
Double-breasted coats are styles with an overlap of buttons that are eye-catching and positioned to add volume to the body. The coats expand you horizontally and most times can also restrict your movement.
I would advise that you should not invest in this particular coat and most especially double-breasted coats that are fitted on your frame.
Avoid shackets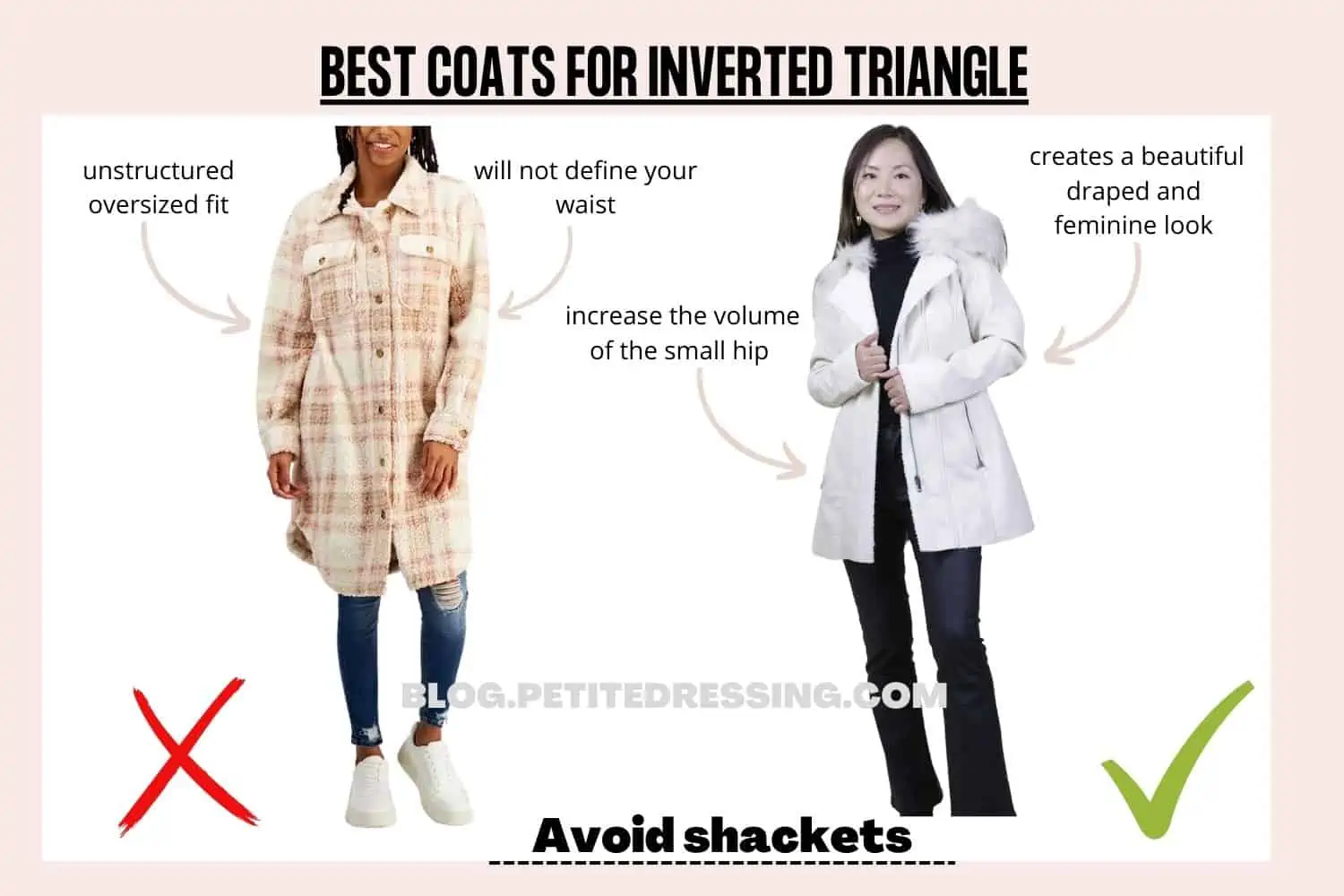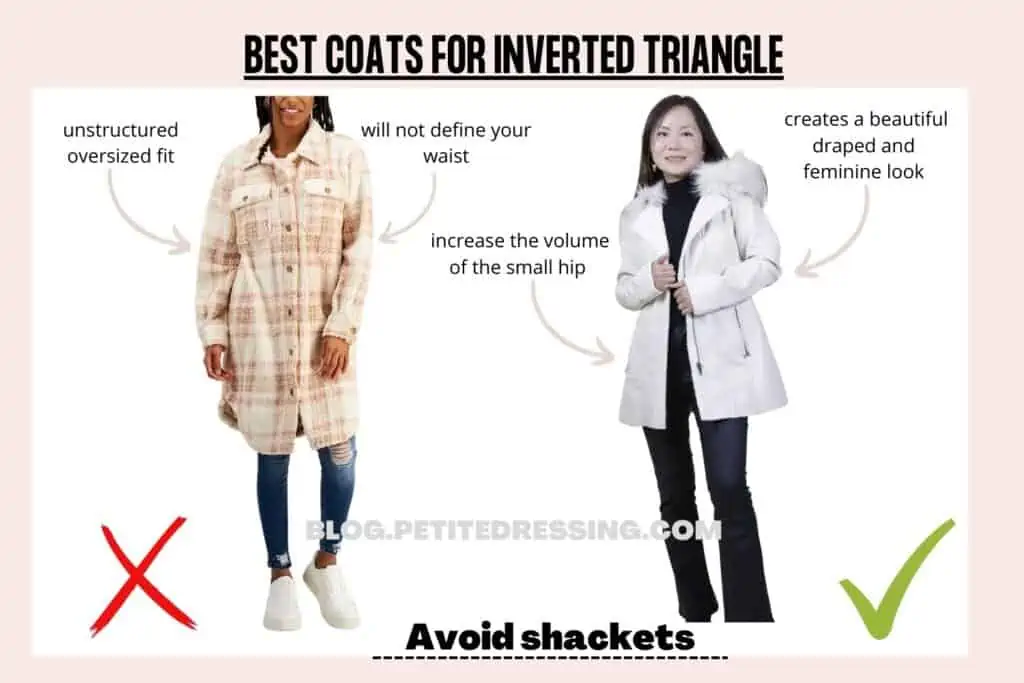 A combination of shirt and jacket, hence the name shacket is one of the least recommended styles for the inverted triangle shape. These coats have an oversized fit that is not structured to complement your feminine structure.
Shackets are designs that have an oversized fit and do not also have a defined waistline. They have a design that could further exaggerate the broad shoulders.
With this, you would not appreciate your figure and the eyes would notice easily the concerned area. Shackets would not offer you a better proportion because they add volume to just the wrong places.