If you are over 40 like myself, you probably start to realize it is important to be selective about what you wear. This is the age when most of us value quality over quantity, and understand that not everything will look equally good on us.
Since I have a petite clothing line for women 5'4″ and under, and many of my customers are 40s and over, I've put together this list based on their feedback as well as my own trial and error.
Styling Goal
Opt for sophisticated wardrobe pieces by sticking to the classics. Timeless and high-quality pieces will preserve the elegance in your every ensemble.
Never settle for the wrong fit. Tailored or bespoke-inspired clothing will definitely give you that classy vibe.
Focus on comfort and don't chase the latest trends too much.
Choose flattering silhouettes to flatter your natural body shape.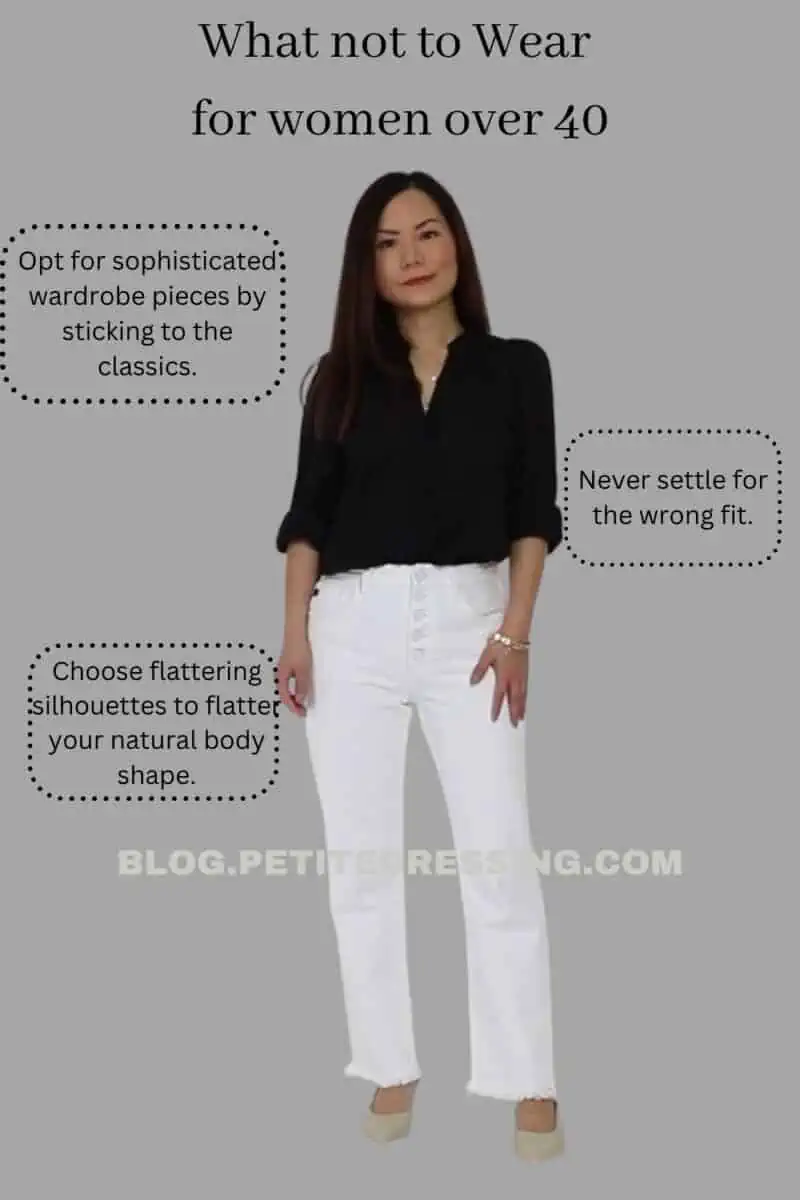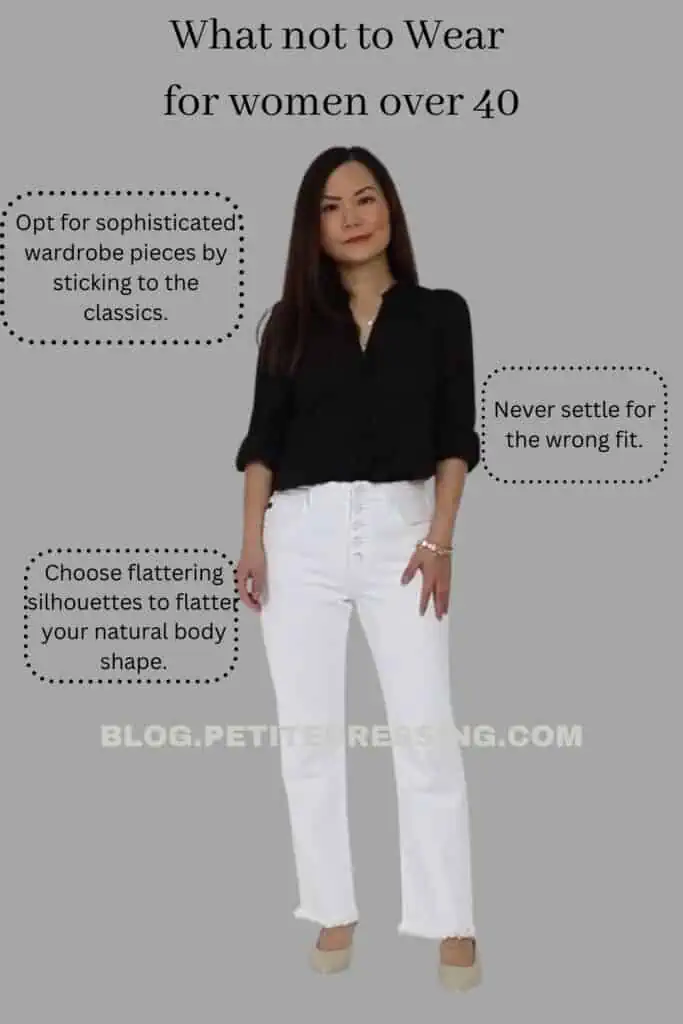 These styling goals will help you narrow down your choices in terms of curating a more sophisticated wardrobe to suit your age. The following styles that I'll list throughout this article will be the ones that you should avoid.
Bodycon Dresses
Sure, bodycon dresses can absolutely look mesmerizingly sexy. However, due to its very tight and body-hugging fit, a bodycon dress may not be the most flattering option for women over their 40s.
As we age, our bodies naturally change due to a number of different lifestyle factors. With that said bodycon dresses may not be as forgiving and comfortable in accommodating our insecurities and flaws.
Comfort is very important once you reach your 40s so instead of clingy bodycon, opt for dresses that give more room for your body.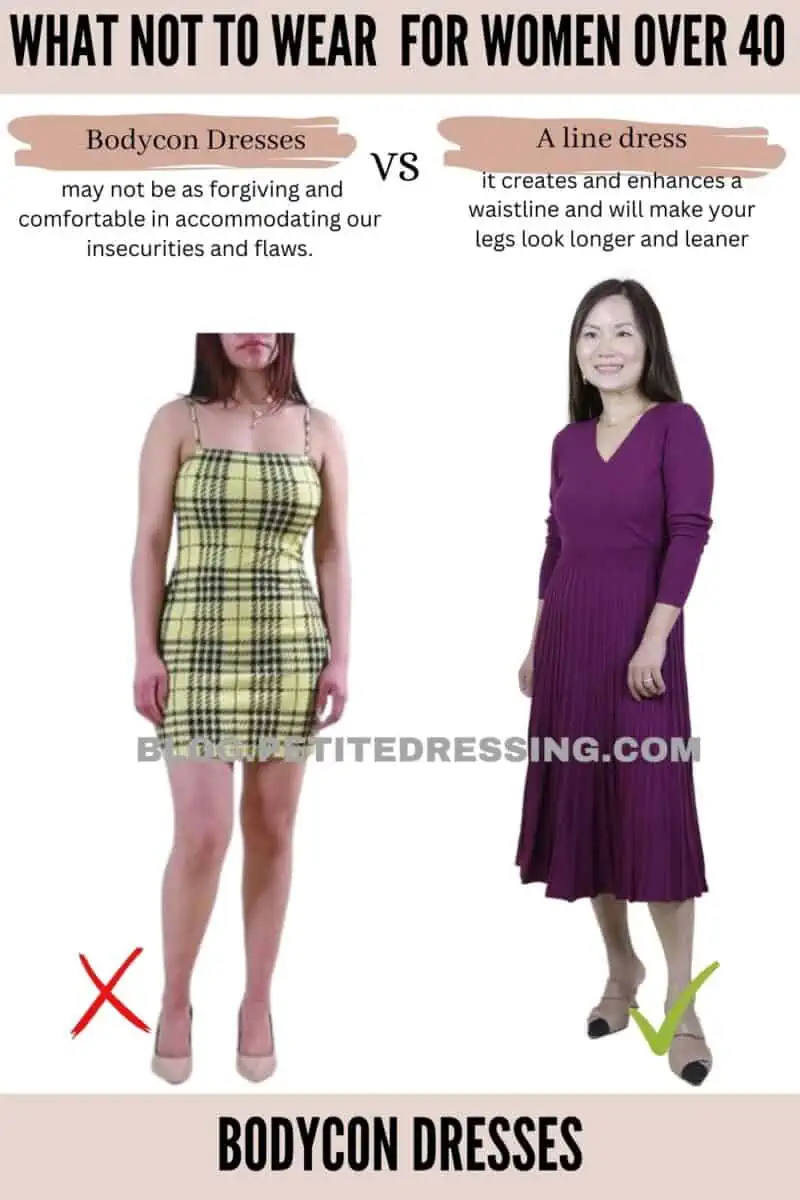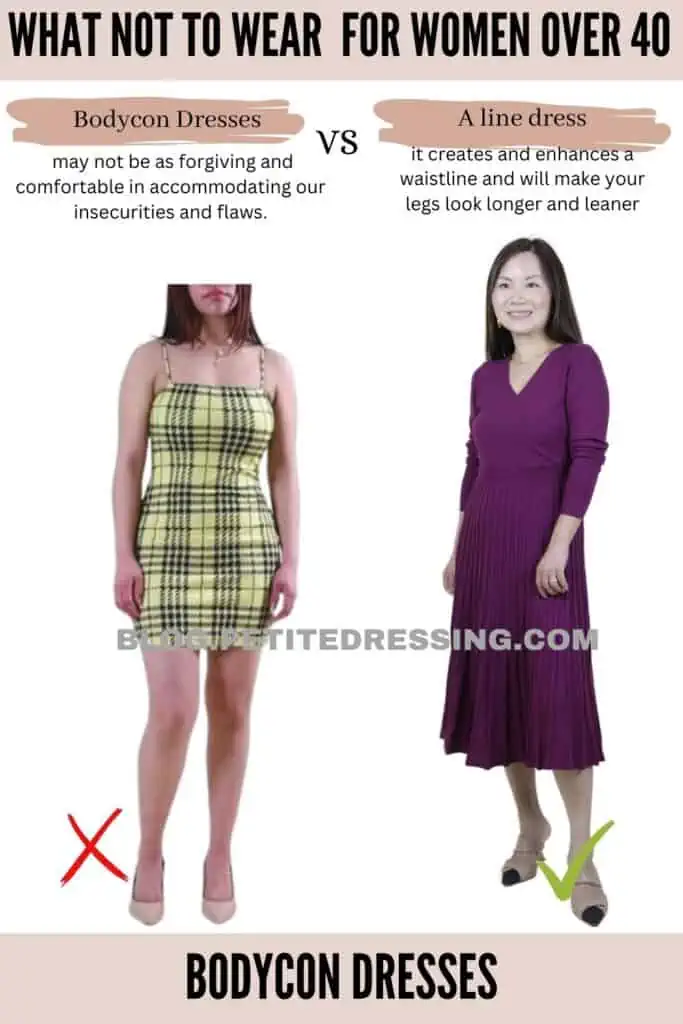 Clothes with designer logos
Women over 40 tend to pay more attention to quality than quantity, so it is quite understandable that you might be investing in expensive designer labels. The thing is, you just want to make sure the labels are not wearing you.
What makes a designer piece look less tasteful is an obvious logo, which is going to catch all the attention. This is especially important when you are over 40, so make sure if your clothes have a designer logo, it is subtle and not too loud.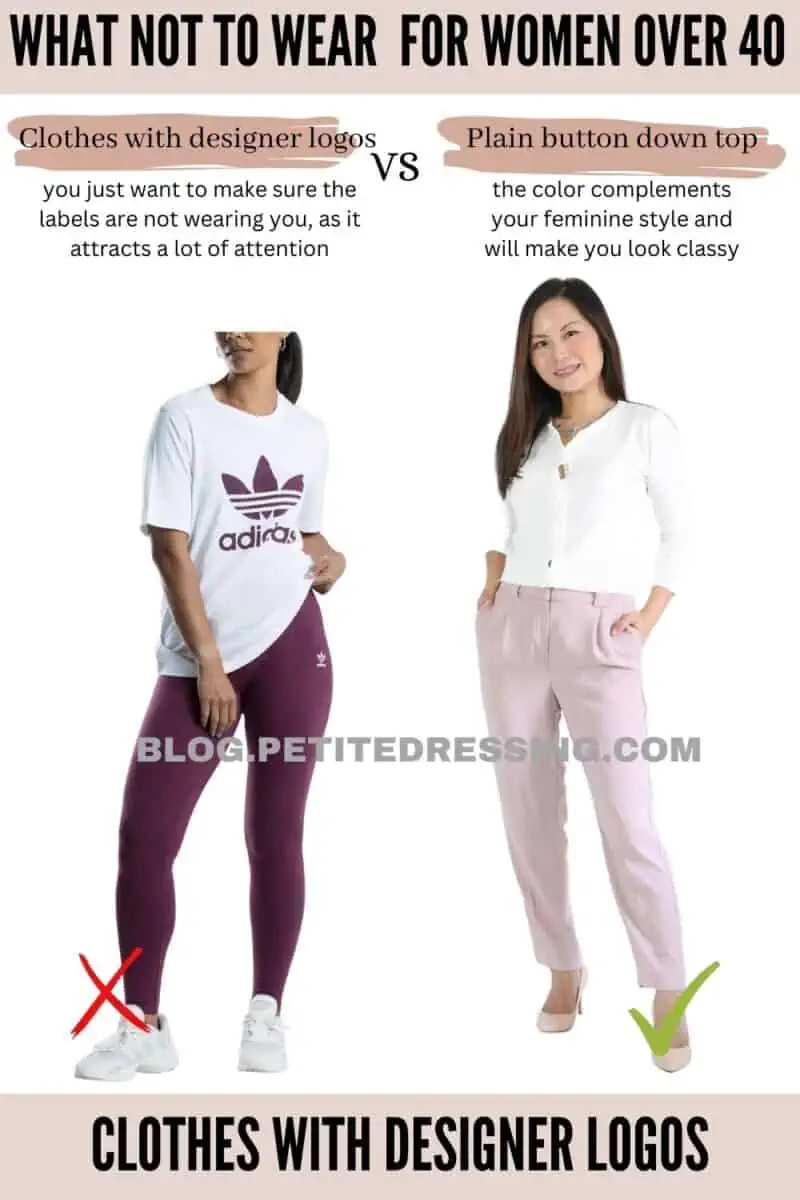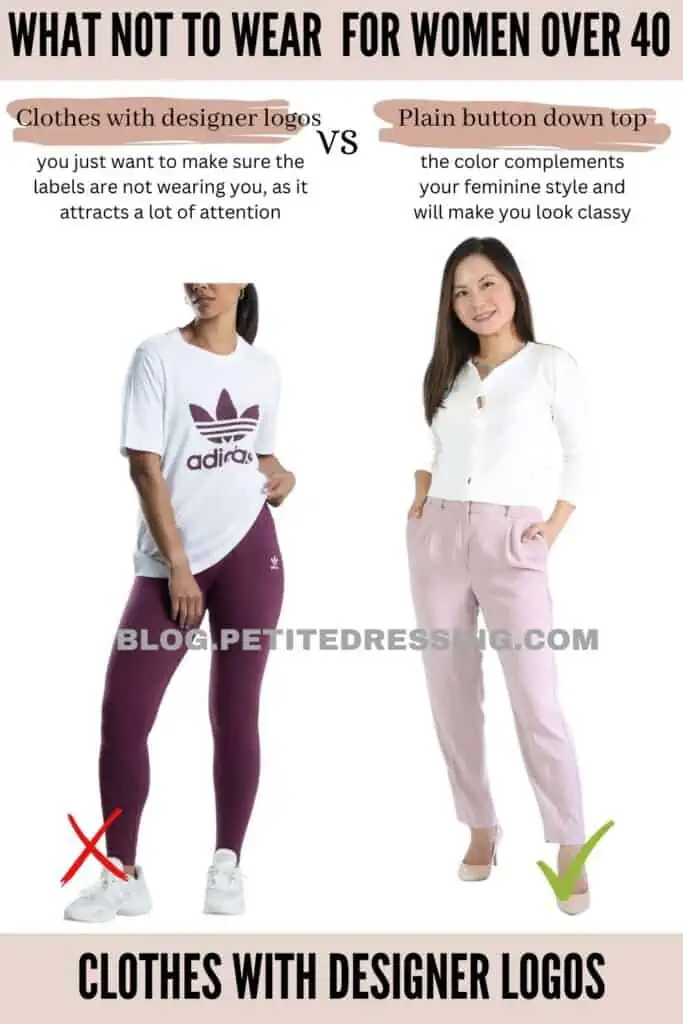 Ill-fitting Bra
As we women change, our breast tissue and shape can change, and wearing the wrong size bra can aggravate these changes. This can lead us to experience discomfort and even pain.
Wearing a bra that doesn't fit properly can be uncomfortable, causing rubbing, pinching, and digging into the skin, leading to red marks and irritation. Additionally, they can also affect the appearance of clothing by making it look lumpy or creating unsightly bulges, which can make you feel more self-conscious.
So it's very important to choose the right underwear that provides enough coverage and support for your body type.
Cargo Pants with Bulky Pockets
Of course, personal style is subjective, and if you feel comfortable and confident in baggy cargo pants, then you should feel free to wear them. However, if you're looking to update your wardrobe and appear more put-together, then avoiding baggy cargo pants may be a good idea.
Cargo pants are often designed with a loose, unstructured fit that can make a woman's figure appear shapeless and bulky. This can be especially unflattering as women's bodies often undergo changes in their 40s due to hormonal fluctuations and aging.
Also, baggy cargo pants often have large pockets and bulky zippers that can create unflattering proportions and add extra volume to a woman's lower body, making her appear shorter and wider.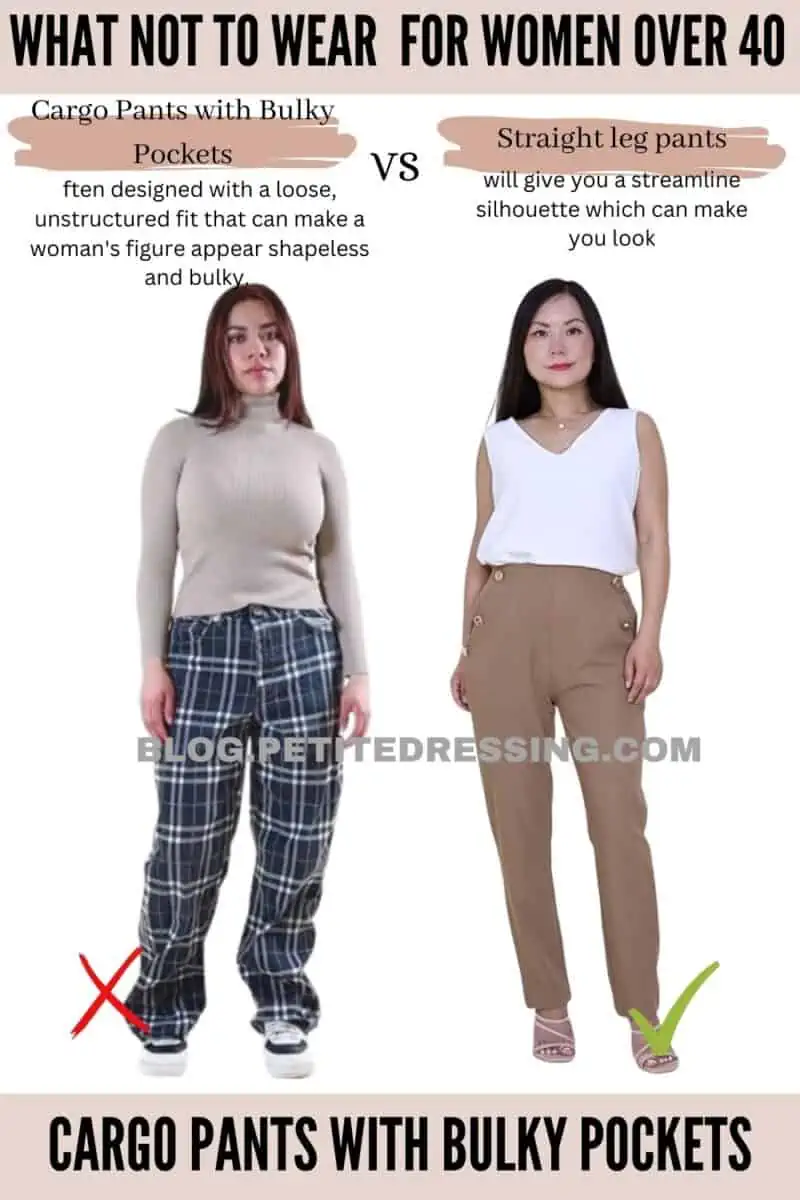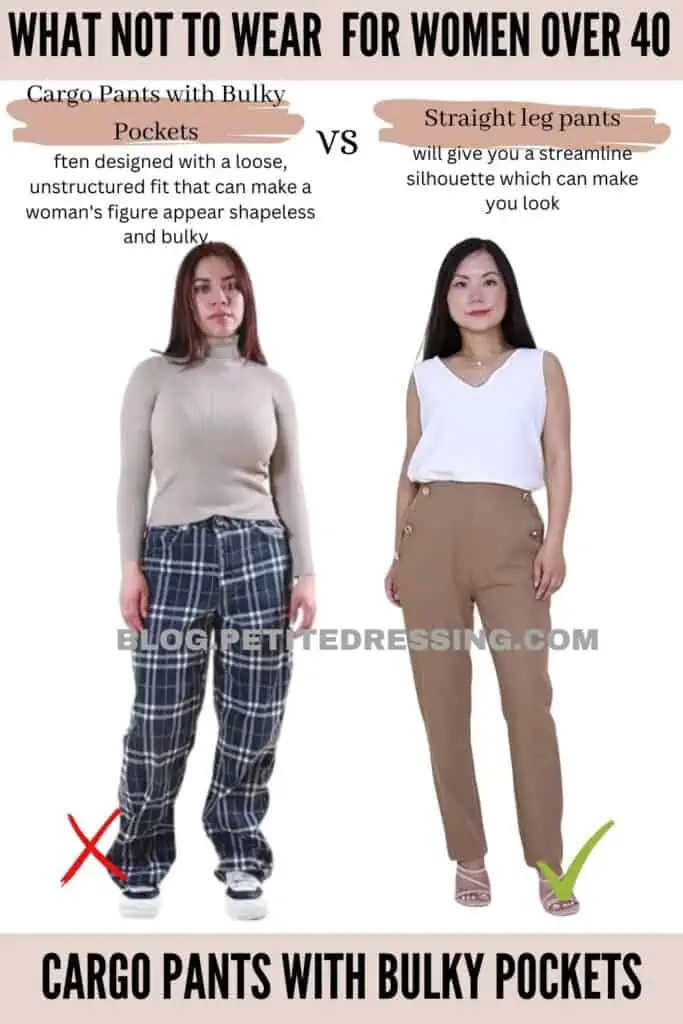 Loud Prints
Don't get me wrong, wearing wardrobe pieces with prints is totally okay regardless of how old you are. What we're emphasizing here are overwhelmingly dramatic prints that may cause disruption to your natural silhouette.
As we age, our skin may become less firm and elastic, resulting in wrinkles and fine lines. Dramatic prints, especially those with busy patterns and bright colors, can draw attention to these imperfections and make you appear older than you actually are.
Bold, dramatic prints can be visually stimulating and overpowering, drawing attention away from a woman's natural features and making her appear busy and cluttered. So when wearing printed pieces, it's important to balance them out with simpler, more neutral pieces.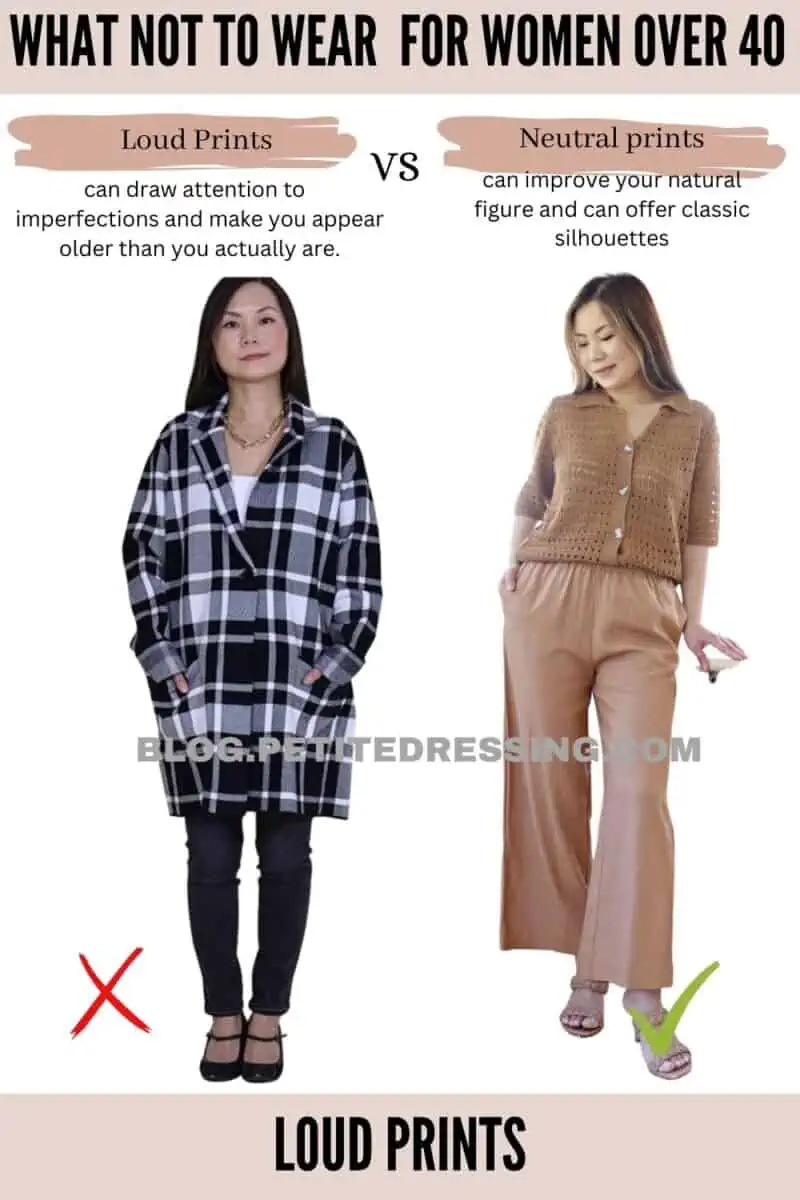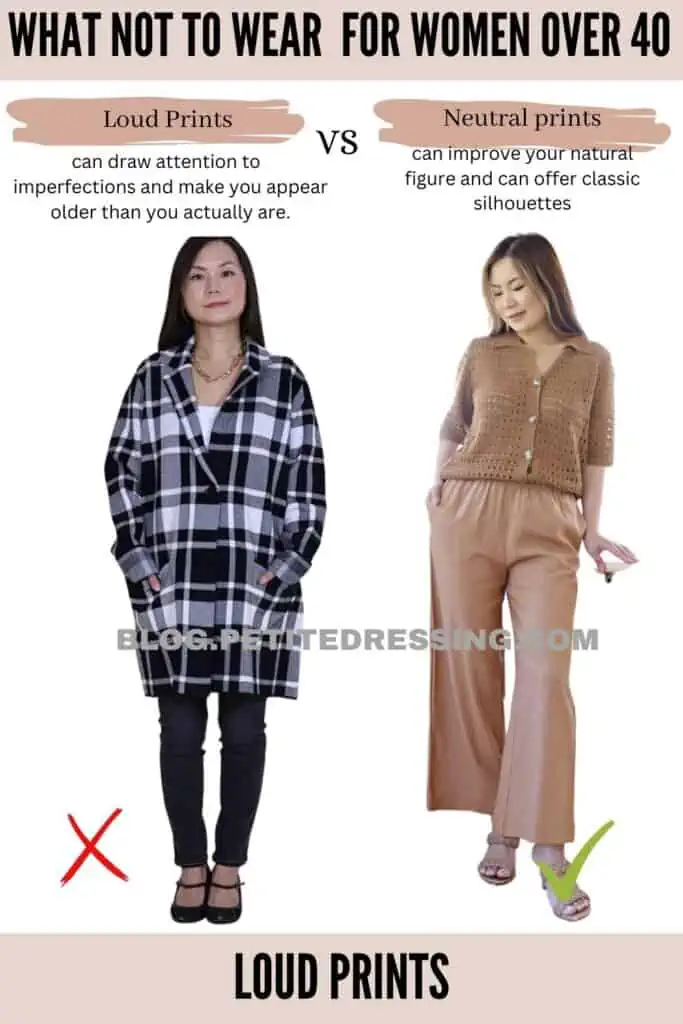 Sheer Tops
Sheer tops can reveal more skin than intended, which may not be desirable for women over 40 who may prefer to dress more modestly or want to avoid drawing attention to areas of their body that they are not comfortable with. In addition to this, they give the impression of being too revealing or inappropriate for certain situations, especially when paired with a bra or undergarments that are visible.
Sheer tops also often have a loose, flowy fit that may not be the most flattering on women over 40, who may prefer more tailored or structured pieces that accentuate the figure. Sheer tops can also add extra volume to areas of the body that women may want to downplay, such as the stomach or hips.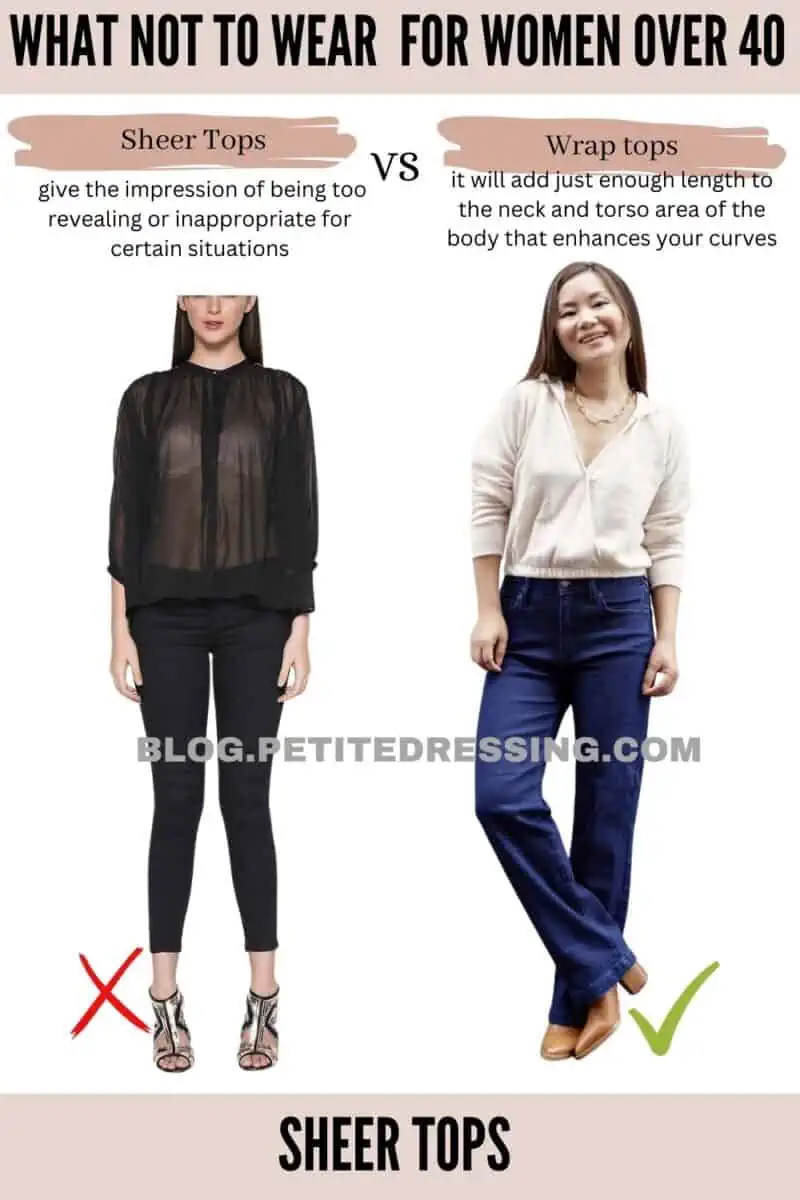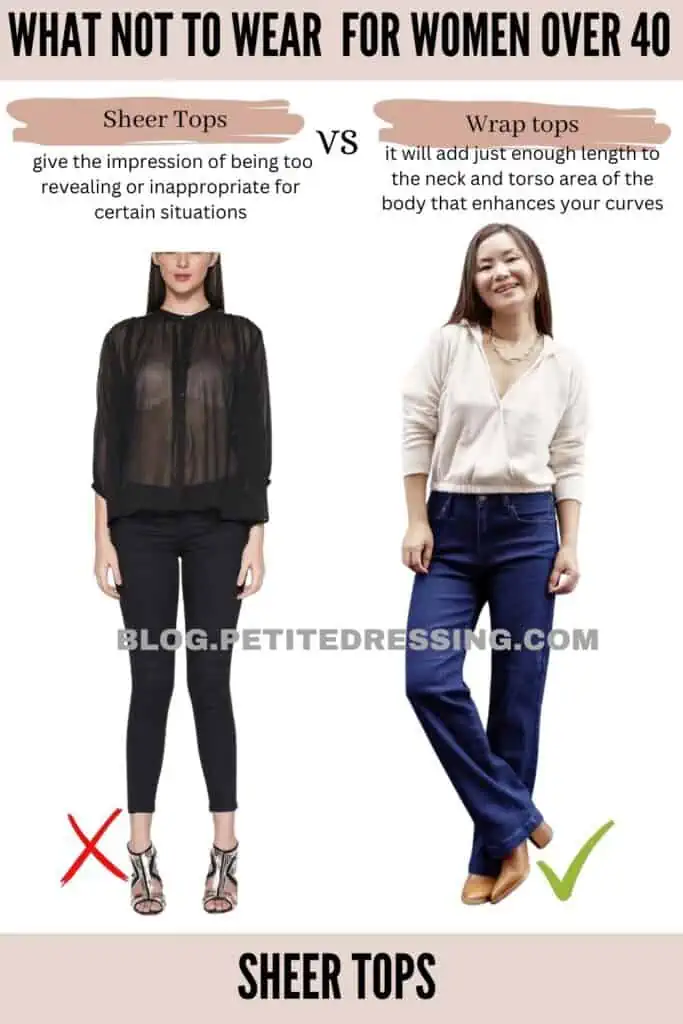 Spaghetti Strap Tops
Spaghetti straps were once a trendy choice for women's clothing, but times have changed, and so should your wardrobe choices. As a woman over 40, it's essential to steer clear of spaghetti straps as they are no longer considered flattering for more mature women.
In today's fashion landscape, spaghetti straps tend to be viewed as an outdated and tacky choice for tops. The thin straps give off the impression of wearing an undershirt as a primary garment, which can detract from your overall sophistication and class.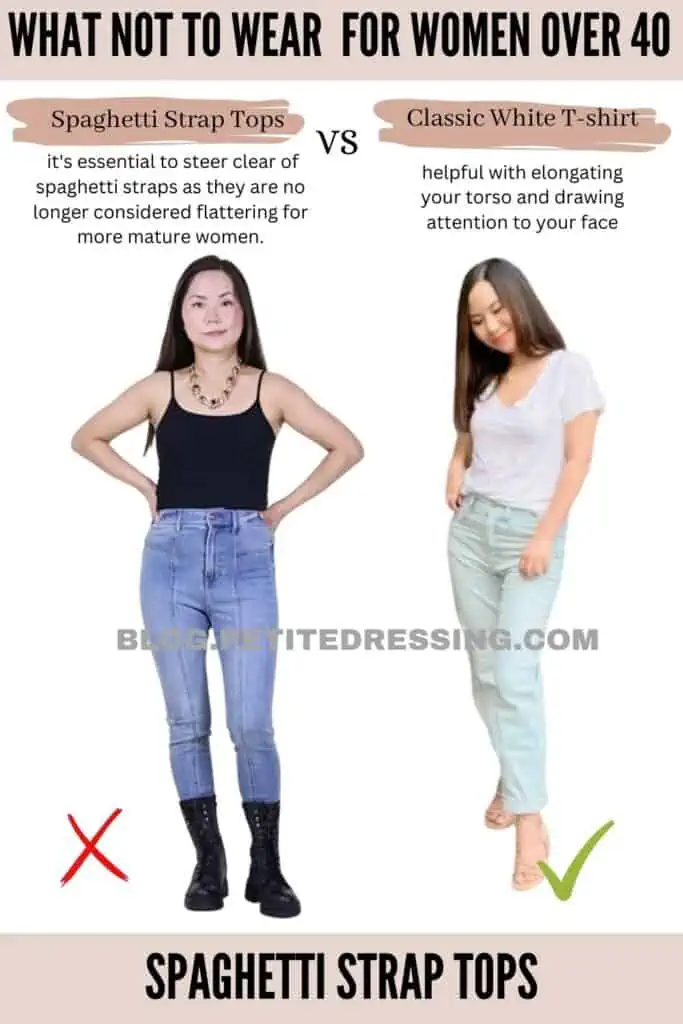 Caution with Elastic Waist Pants and Shorts
Elastic waist pants and shorts may seem like the ultimate comfort clothing, but at the age of 40 and over, they can be a fashion faux pas and therefore you need to be very selective with them. If the elastic waist band is completely showing, they can make your entire outfit look unflattering, unsophisticated, and unrefined, and can make even the most stylish woman look frumpy and outdated.
That said, elastic waist pants and shorts are designed to stretch and conform to your body shape, so they are the most comfortable type of design for women with muffin tops and belly bulges. You do not need to avoid them, but you just need to be selective.
The key is to choose those with partial elastic waist, either on the sides, or in the back. This will make sure the pants still appear to have a structured waist in the front, and look like no different than any regular dress pants.
This is the right type of elastic waist that can give you the best of both worlds.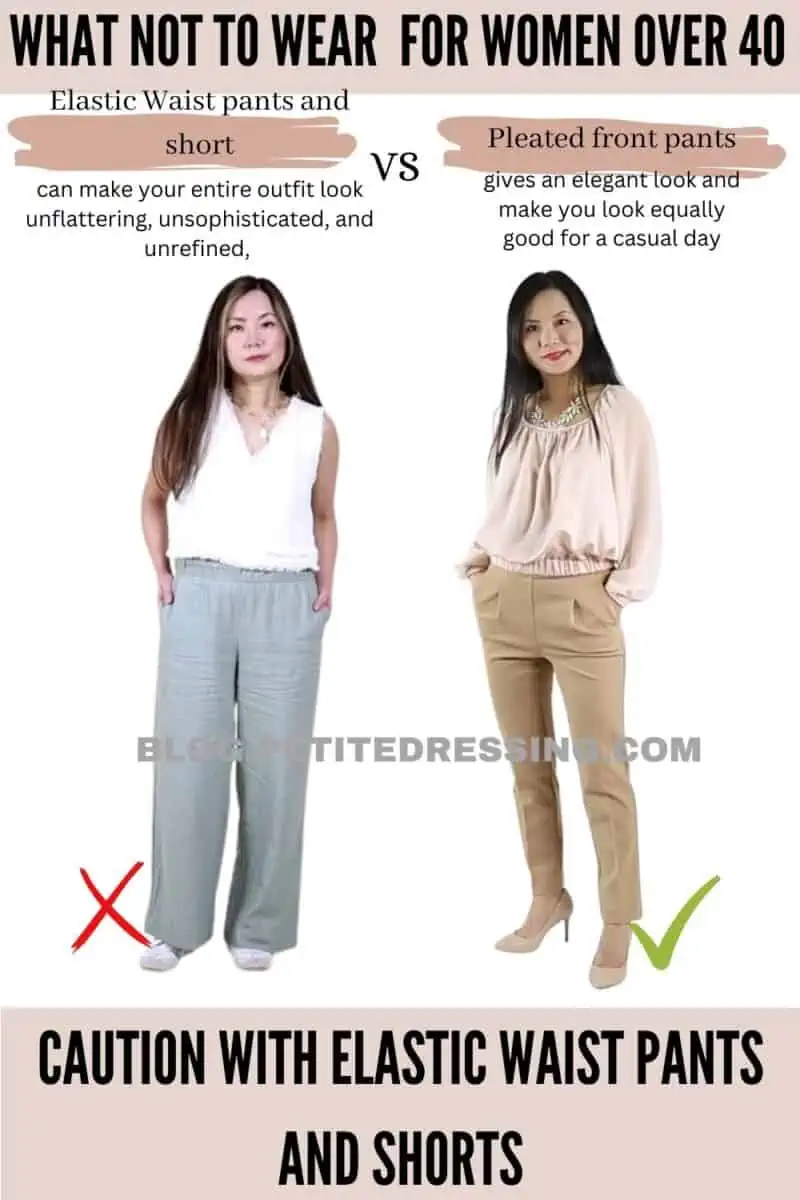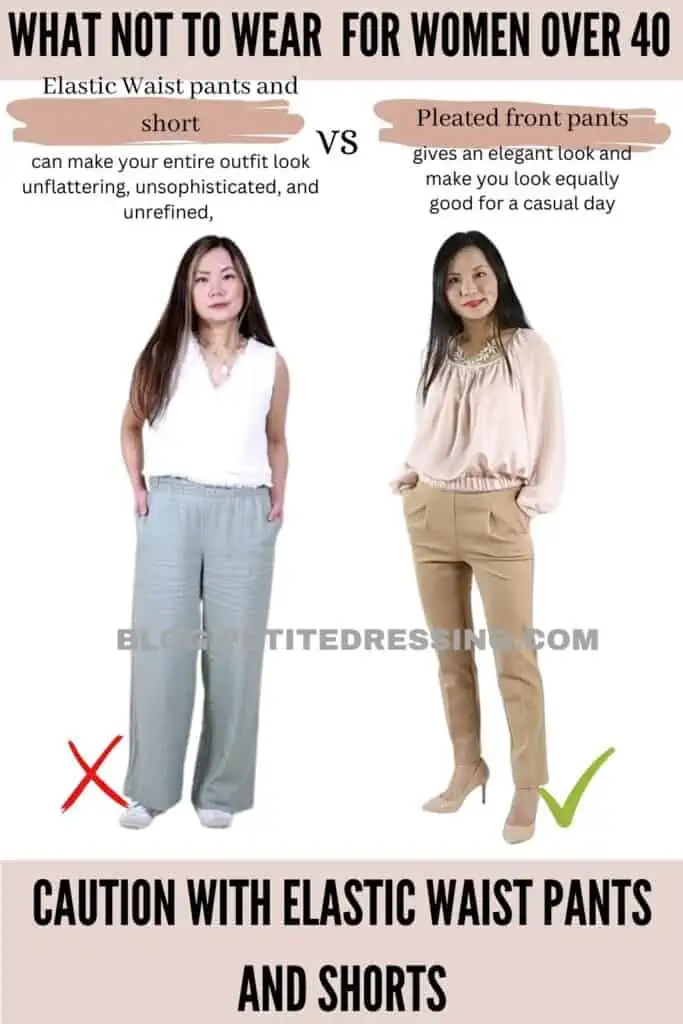 Boxy T-shirt Dresses
It's common for women to opt for shapeless T-shirt dresses in the hopes of concealing their weight gain. However, while these dresses may appear to be an easy solution, they often end up being unflattering and counterproductive to our desired look.
The problem with Boxy T-shirt dresses is that they lack structure and definition. These dresses can make anyone, regardless of age, look bigger than they are.
Instead of opting for shapeless dresses, women over 40 should choose dresses that complement their body type and enhance their best features. A well-tailored dress with a defined waistline can create an hourglass silhouette, which is universally flattering.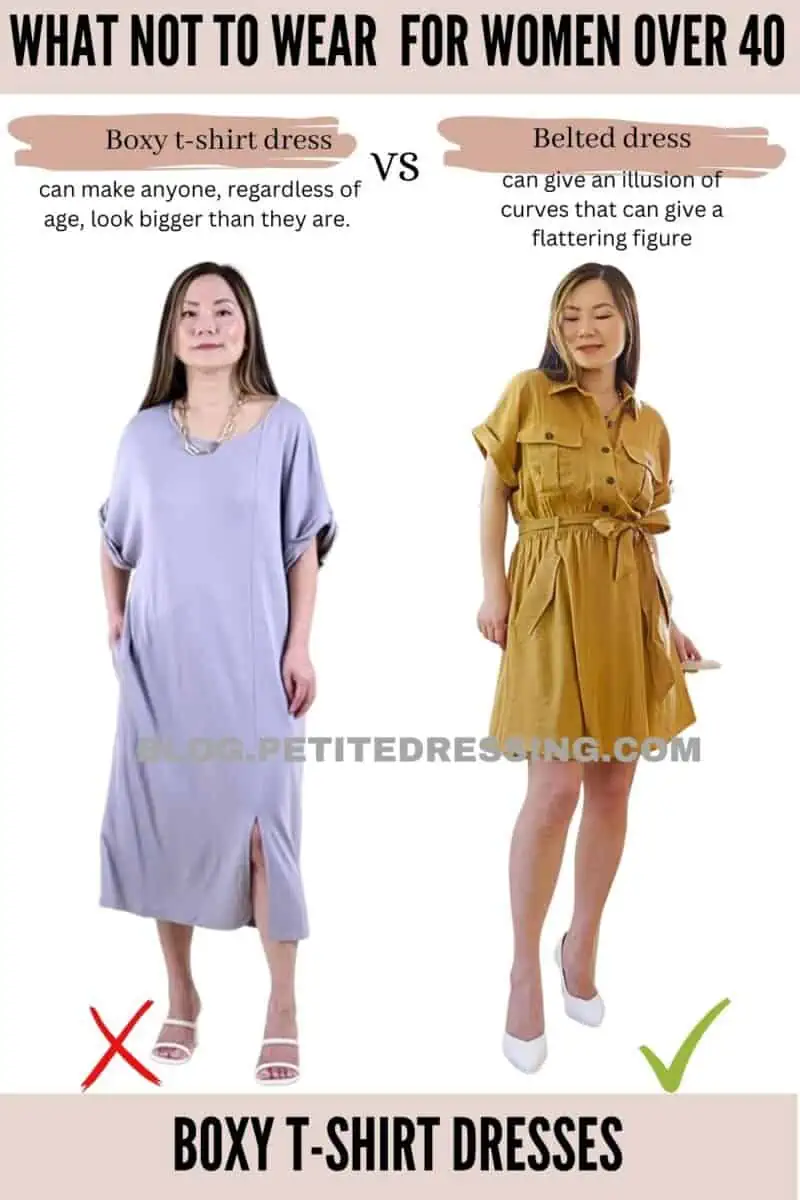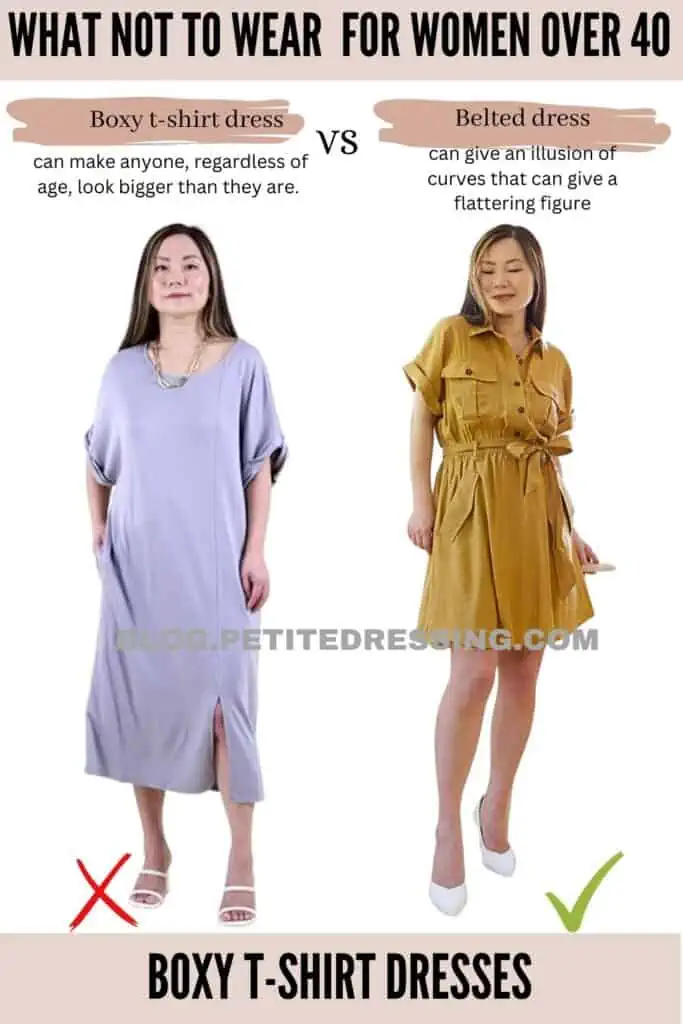 Micro Mini Dresses
Micro mini dresses are typically very short dresses that end above the knee or even higher, and they are often considered to be more appropriate for younger women. When it comes to fashion for women over 40, micro mini dresses may not be the best choice for several reasons.
Micro mini dresses can draw attention to the legs and thighs, which may not be a desired feature for some women who are already in their 40s. Additionally, micro mini dresses can be uncomfortable to wear for extended periods, especially for women who may be more concerned about modesty or comfort.
They can also give the impression that you're trying too hard to appear youthful, which can detract from their natural beauty and sophistication. While it is certainly possible for women over 40 to look stylish and trendy, there are many ways to do so without resorting to clothing that is too revealing.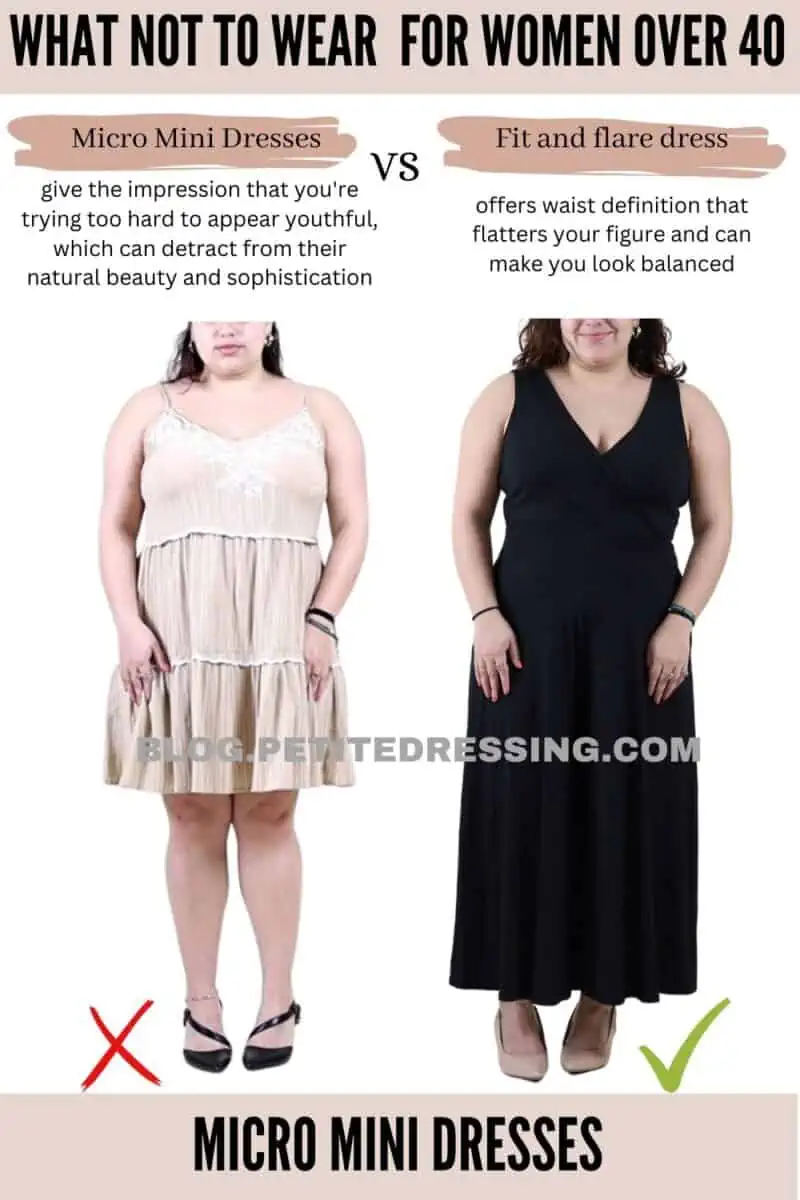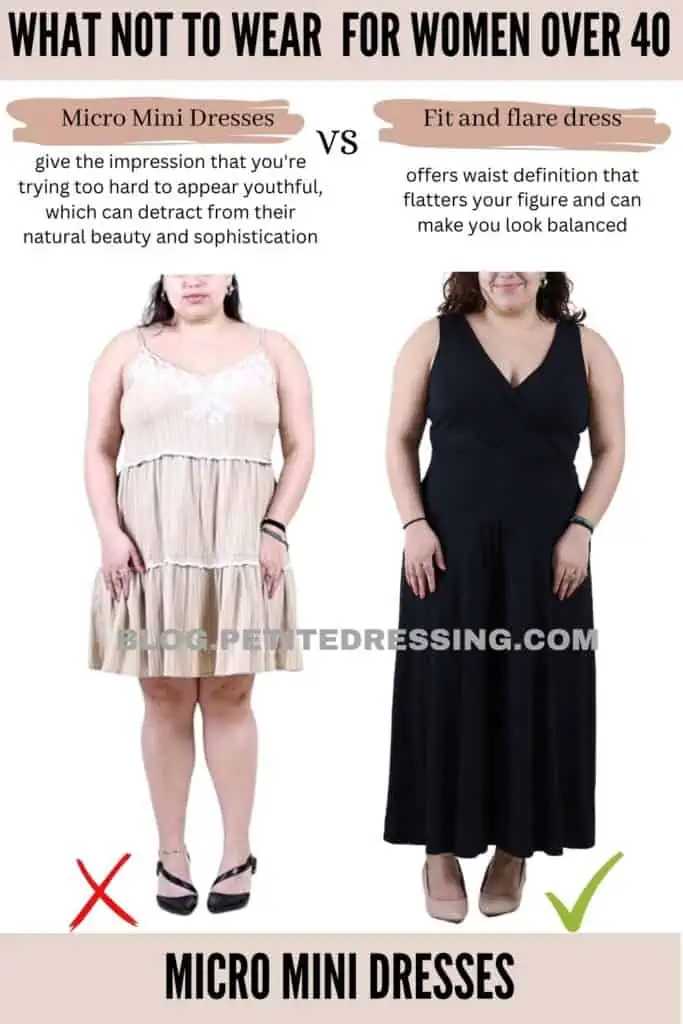 Oversized Coats
While oversized coats may seem like a cozy and stylish option, they are not the best choice for women over 40. Oversized coats can make you look older than your actual age by covering up your natural shape and adding extra bulk, resulting in a boxy silhouette that is unflattering and aging.
They can overwhelm a mature woman's figure, hiding your natural shape and making you appear larger visually. This is especially true for more mature women who may be more concerned about looking polished and put-together than trendy.
Instead, go for a well-tailored coat that fits properly as it can enhance your natural shape and create a sleek, sophisticated look.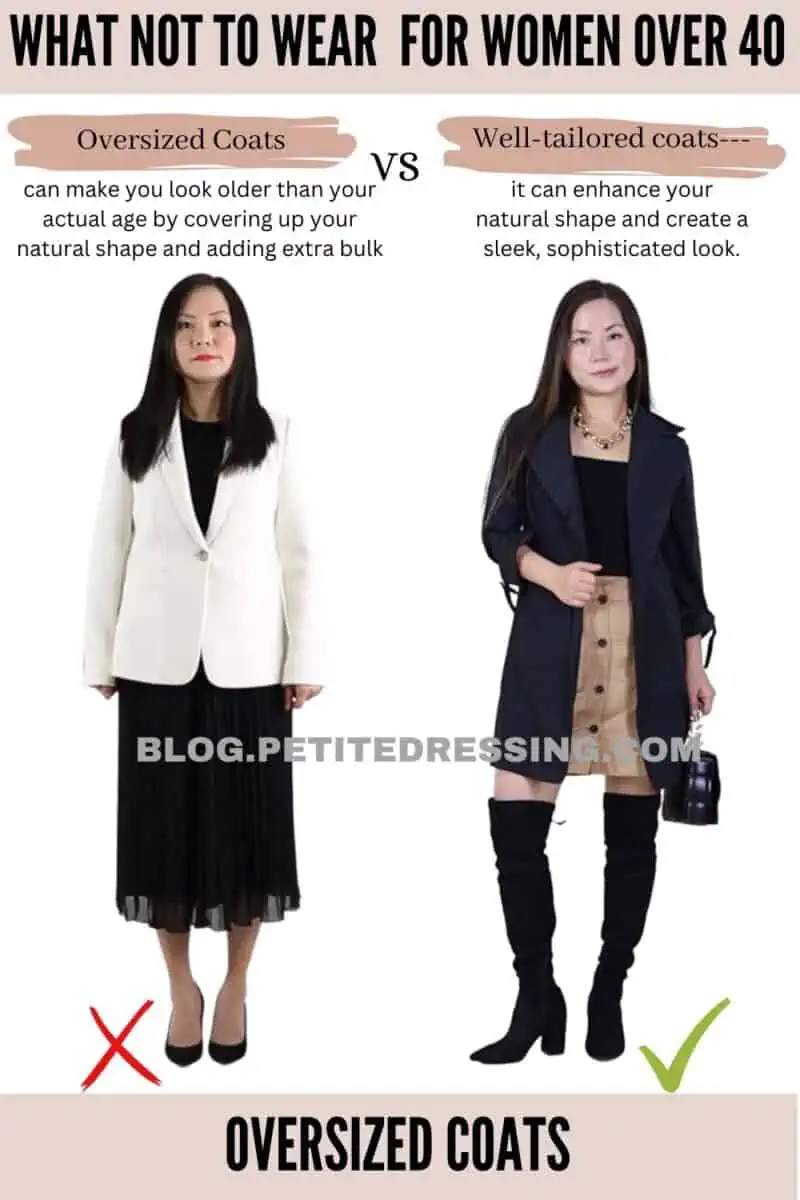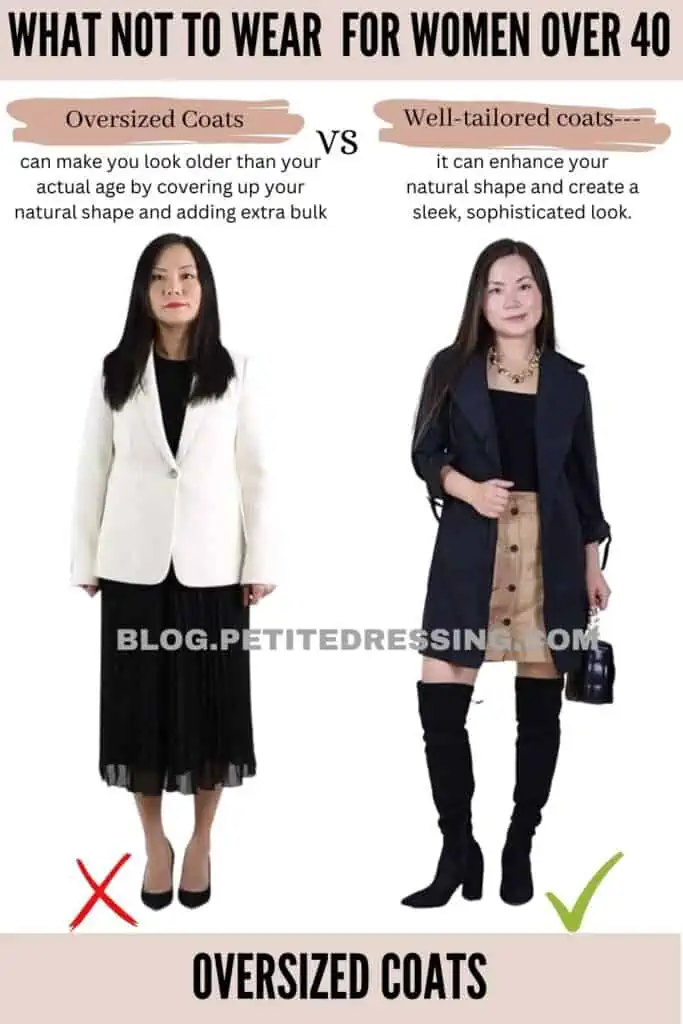 Thick Platform Heels
High heels have long been a symbol of glamour, femininity, and confidence. However, for women over 40, wearing extremely high heels with thick platforms may not be the best choice due to reasons of comfort and safety.
As we grow older, our feet may become more sensitive to pressure and pain. Wearing high heels for extended periods can cause foot pain, blisters, and even long-term damage such as bunions or nerve damage.
Additionally, extremely high heels can be less comfortable and less practical for everyday wear. Women over 40 may be more likely to prioritize comfort and functionality in their footwear choices, especially if they are busy juggling work and family responsibilities.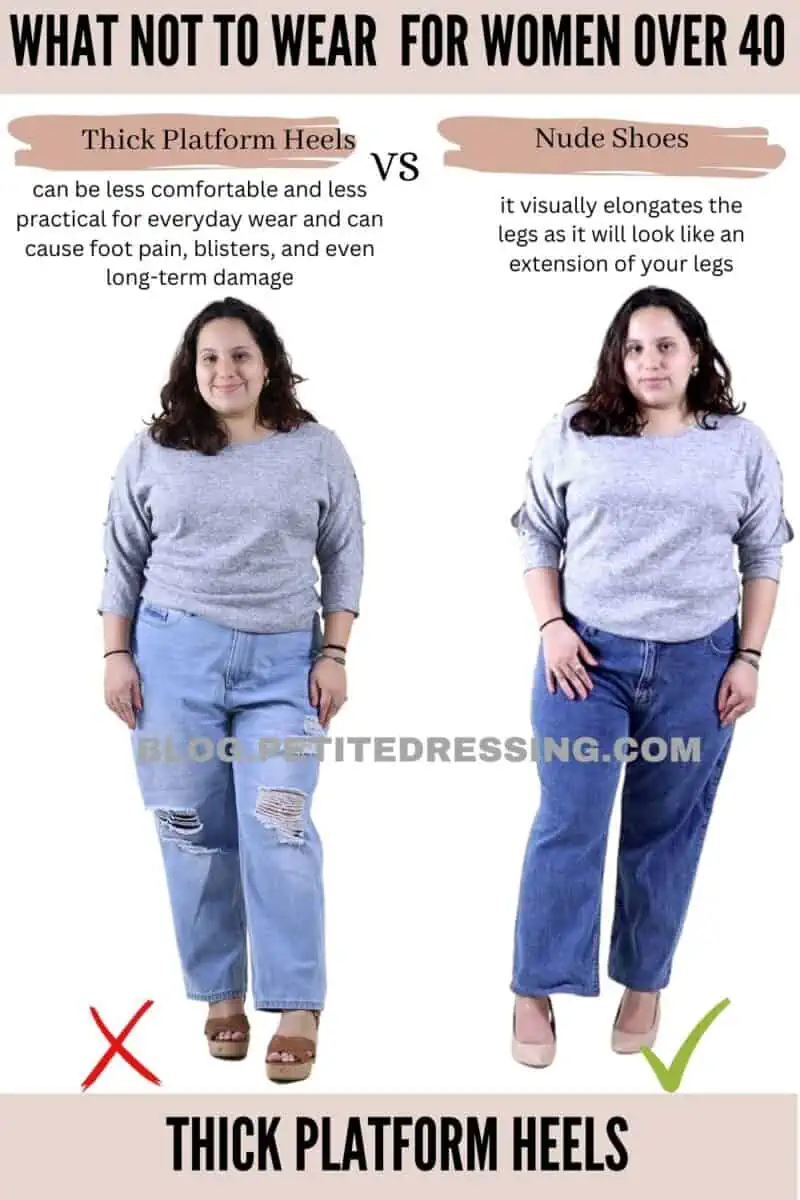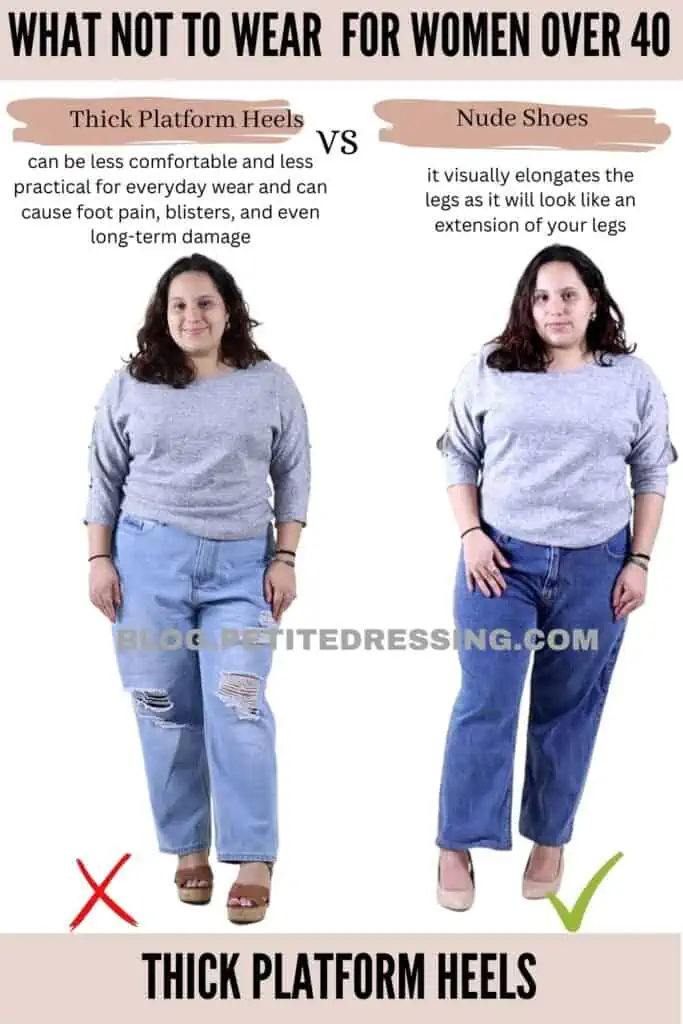 The Key Takeaway
While fashion choices are ultimately a matter of personal preference, avoiding these particular fashion pieces can definitely make an impact on your overall ensemble. Ultimately, confidence and comfort are key when it comes to fashion, and women of any age can look and feel their best by choosing clothing that makes them feel good both inside and out!