I'm 5'2, so I know the challenges of finding the right dress style for short girls by heart. So if you're short like me, the length of your dress plays a crucial role in making sure that your frame is visually elongated.
In this article, I'll go over the 4 different long lengths, i.e, calf length, ankle length and floor length (maxi dresses and gowns). I'll share with you style hacks that I have personally learned over the years as a fashion enthusiast and petite clothing line entrepreneur.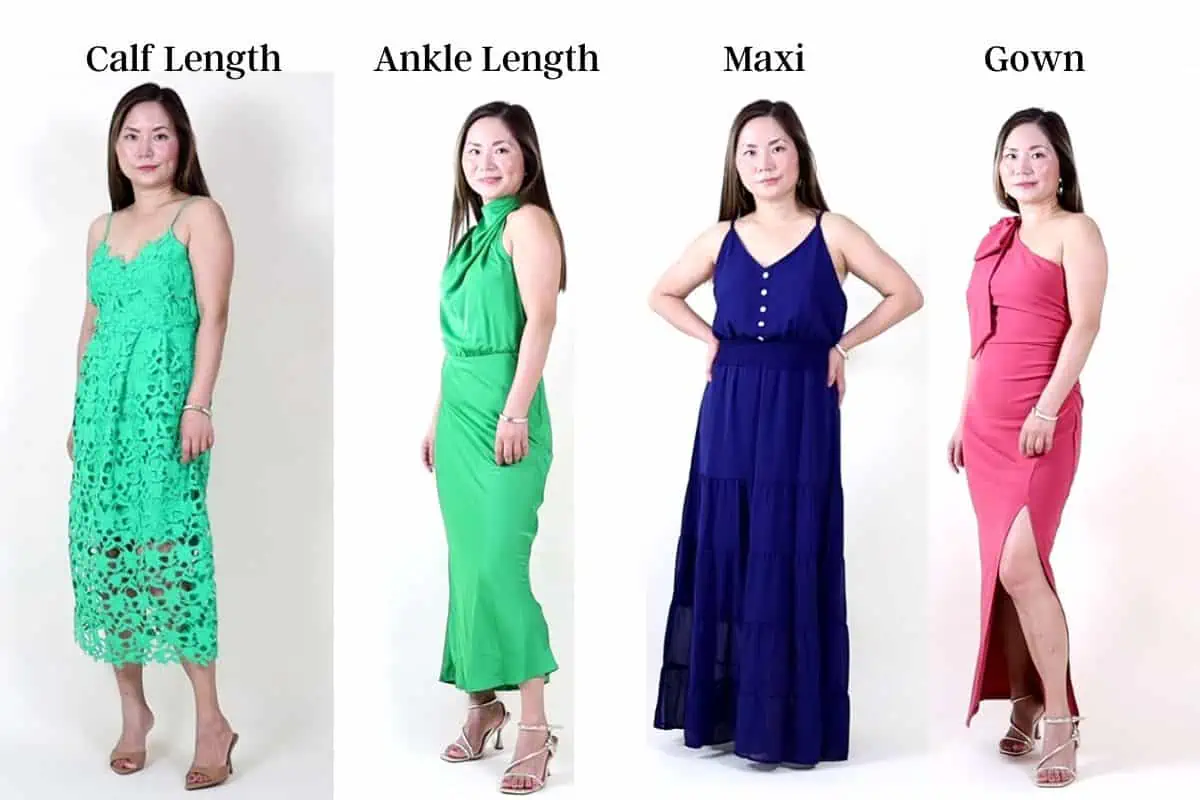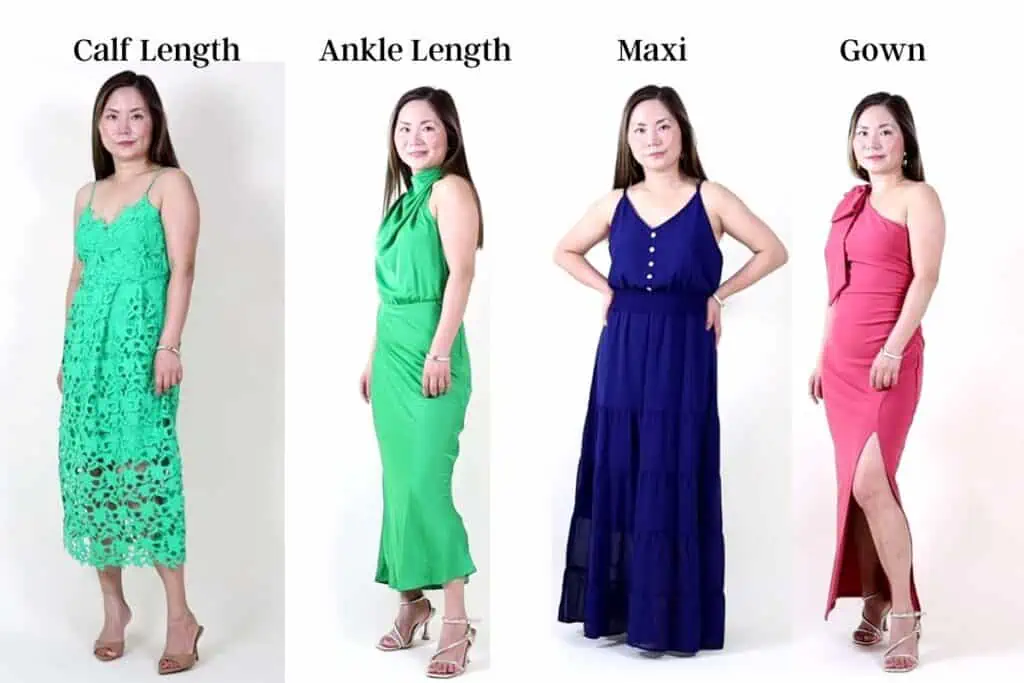 Floor-length or Maxi Dresses
Floor-length dresses can be extremely nerve-wracking, so many of us short girls immediately ditch this idea of wearing maxi dresses from the get-go. But like I said, I'm 5'2 and it also surprised me immensely in the beginning when I discovered how amazing floor-length dresses can look on me!
The reason this length dress can be very flattering for petites is because it forms an unbroken vertical line.
The longer the dress, the longer the vertical line, which means the more they will elongate your short frame.
That said, if you are petite, you do have to be very selective if you want to look good in floor-length dresses. Below are the most important tips every short girl must learn!
Waist definition is a must
When your dress is reaching your ankle, you need to make sure it is fitted at the waist.
This is critical to make sure you will not get completely swamped in the long dress.
Now let me help you visualize this by looking at the photo below.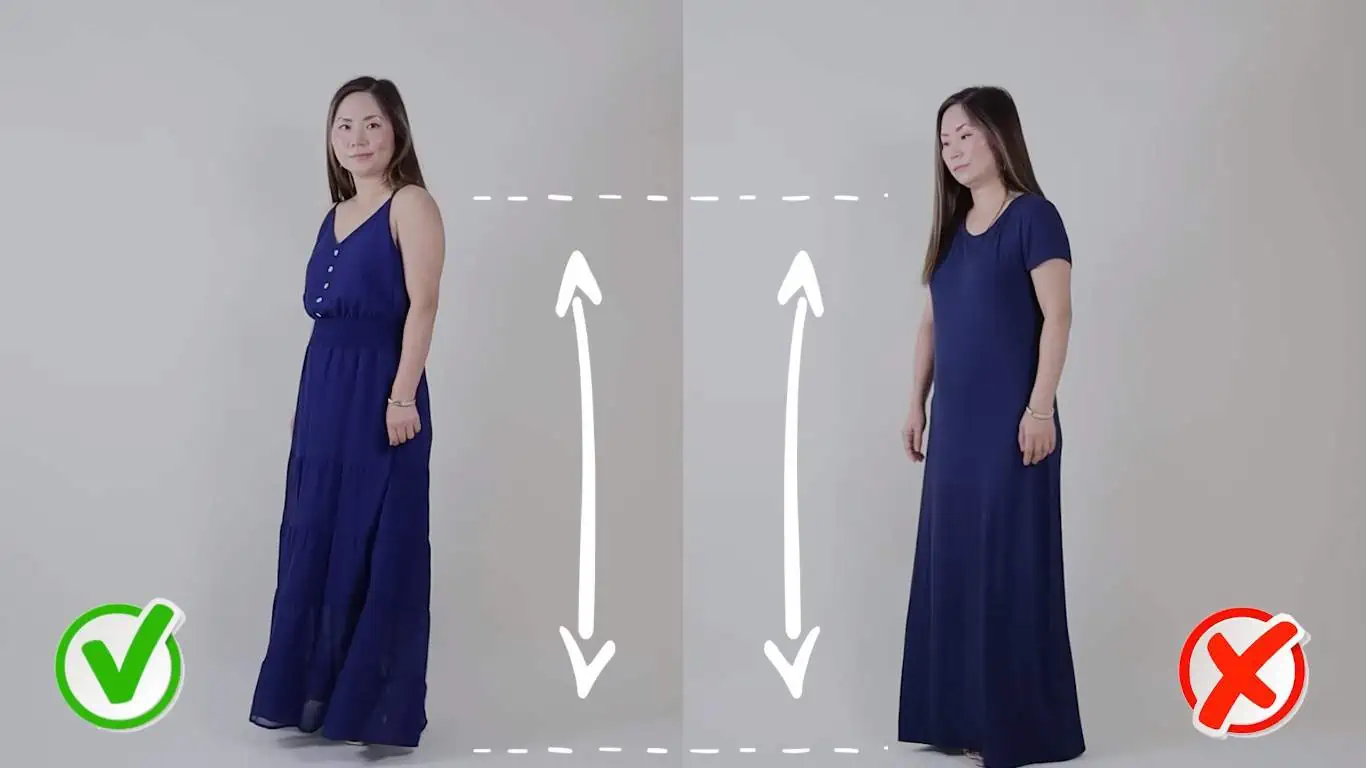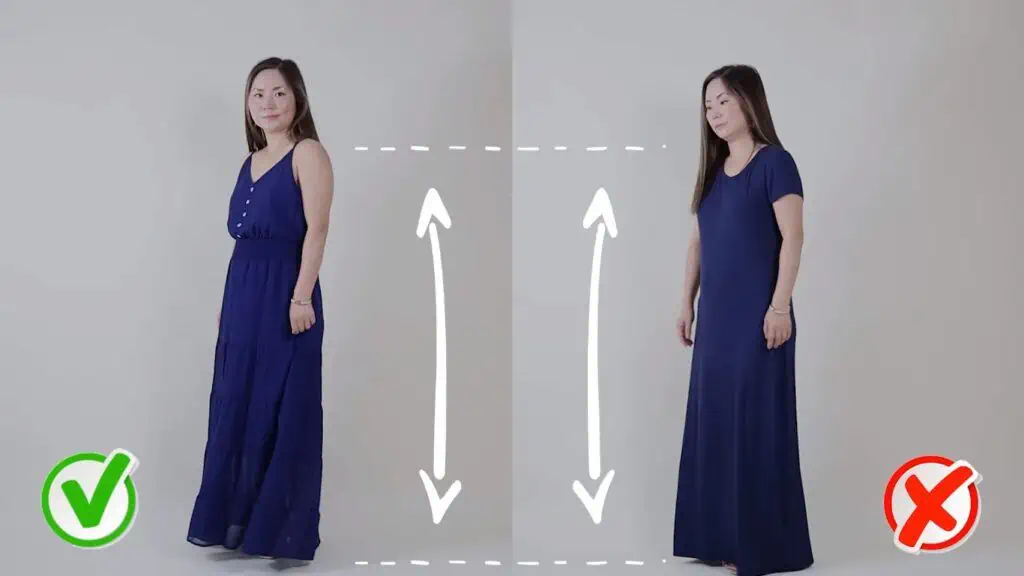 Both dresses are 50 inches long but you can clearly see how the one on the left looks way more flattering on my short stature and that's because of one vital factor – waist definition.
By cinching the waist, your upper and lower body proportions become more balanced. The elevated waistline also gives you the illusion of longer legs.
Wear with Stilettos
One of the most common struggles of short women when it comes to wearing floor-length dresses is the fact that this immense length tends to drown your short stature. A very efficient way to counteract this is to wear stilettos.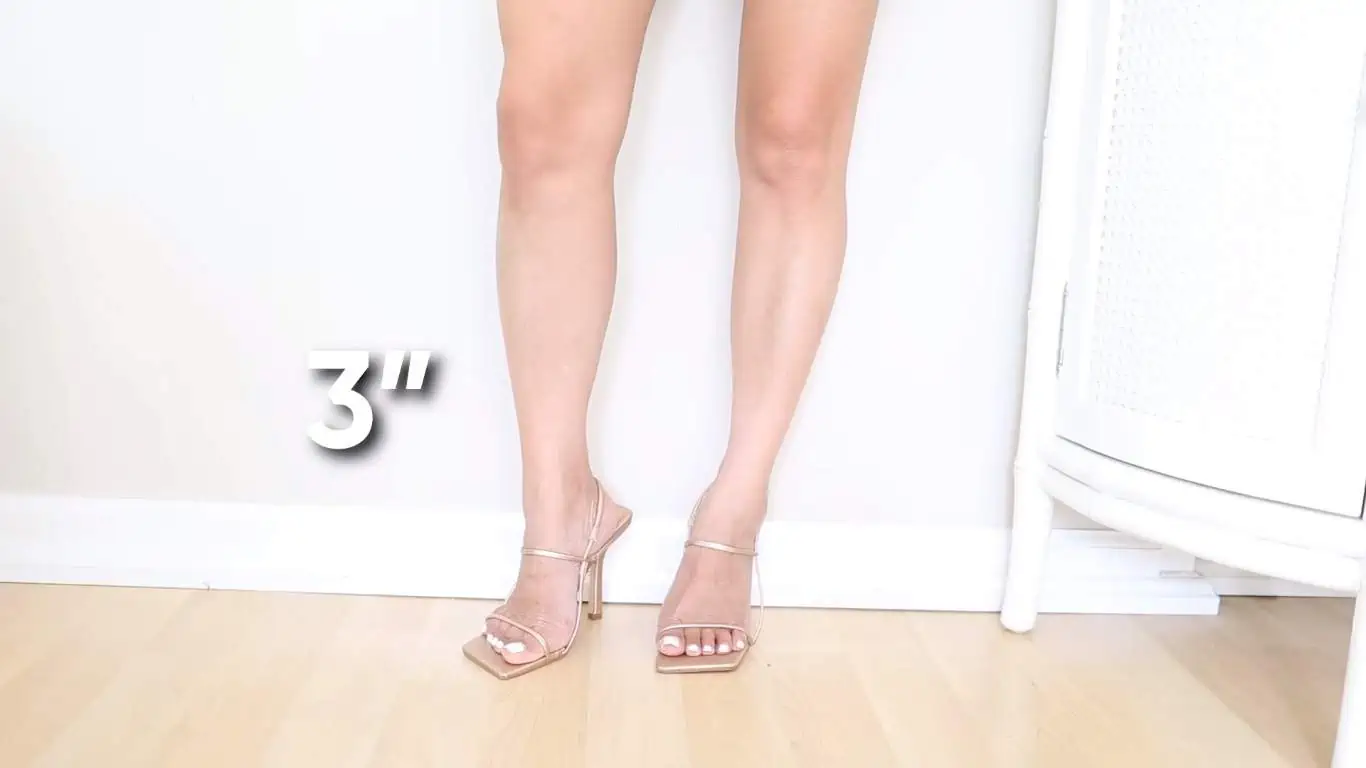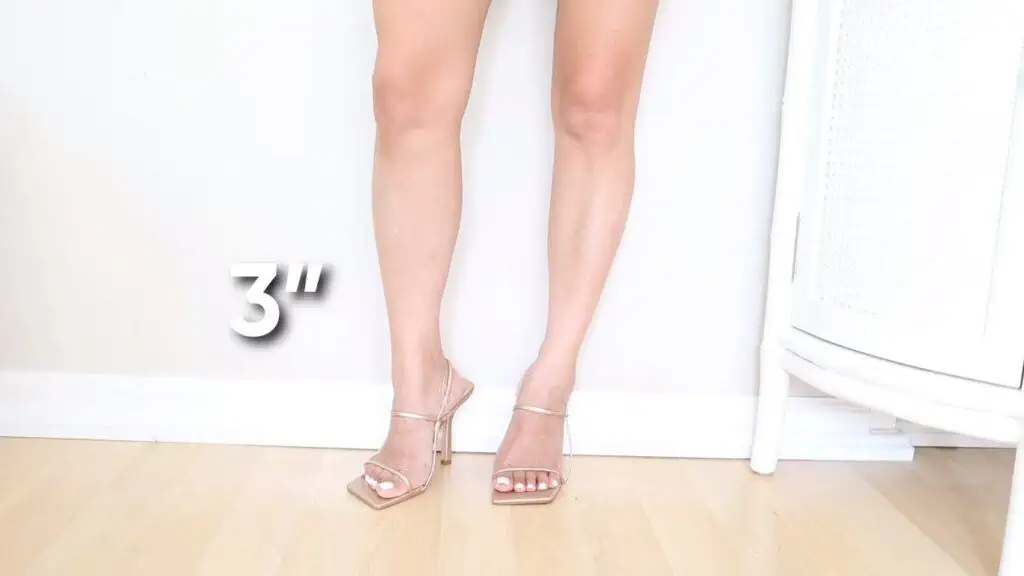 Ideally, stiletto heels that are at least 3 inches in height should give you the much-needed elevation to prevent the hem from touching the ground. This will also give you a more natural-looking height boost because the heels are going to be partly hidden under the dress.
Look for a Slit
A slit can be a total game-changer for your maxi dress because this subtle detail can bring more verticality to your figure. The slit exposes a part of your leg, which will effectively elongate your frame.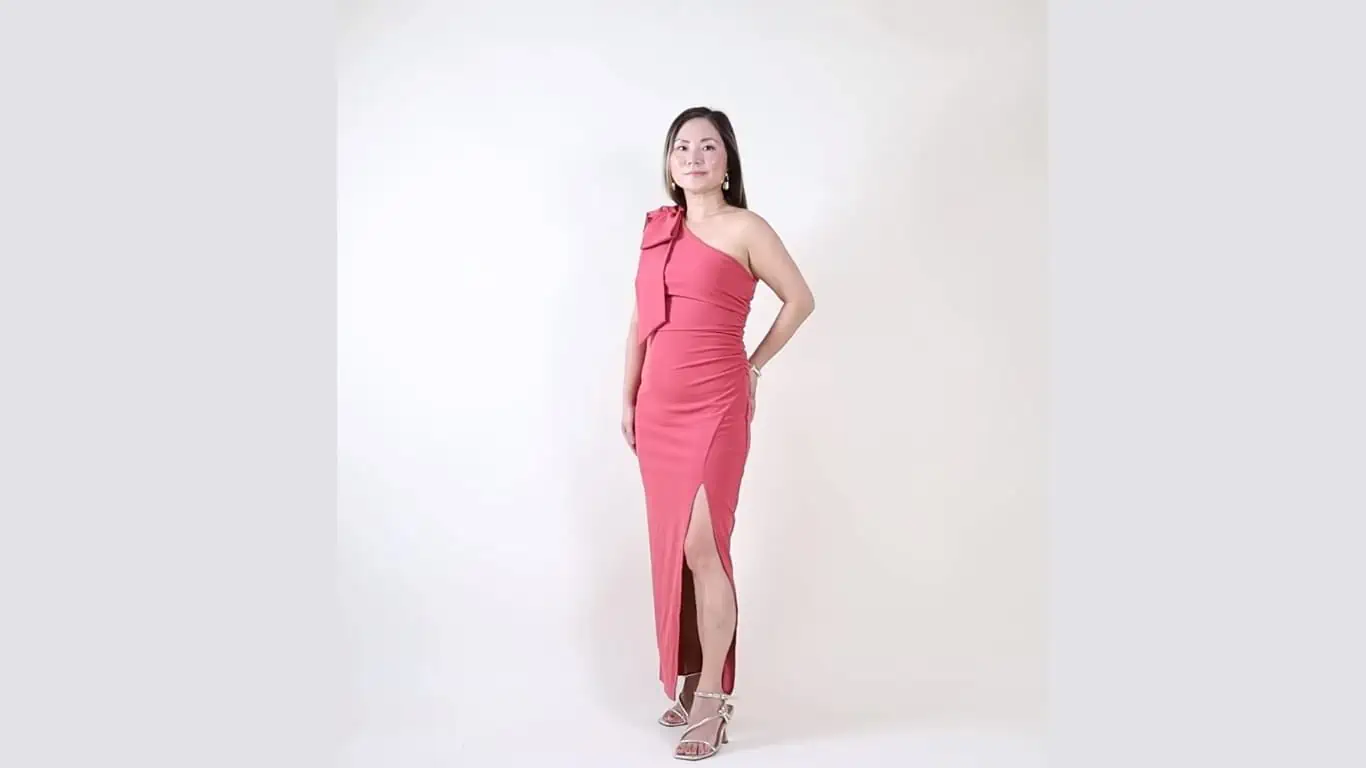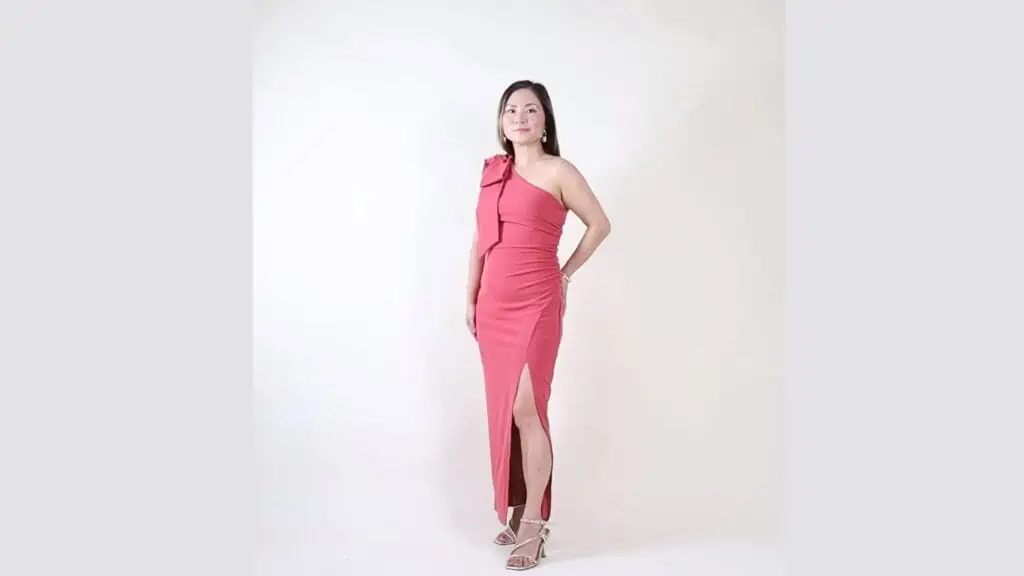 In addition to this, the vertical cut of the slit will guide the eyes up and down to visually create a longer and leaner frame.
Ankle-Length Dresses
Even if there are many ways to make floor-length dresses work for petite women, I still have to tell you that this may not always be the best choice especially if you're shorter than me. This is where ankle-length dresses become a much better option.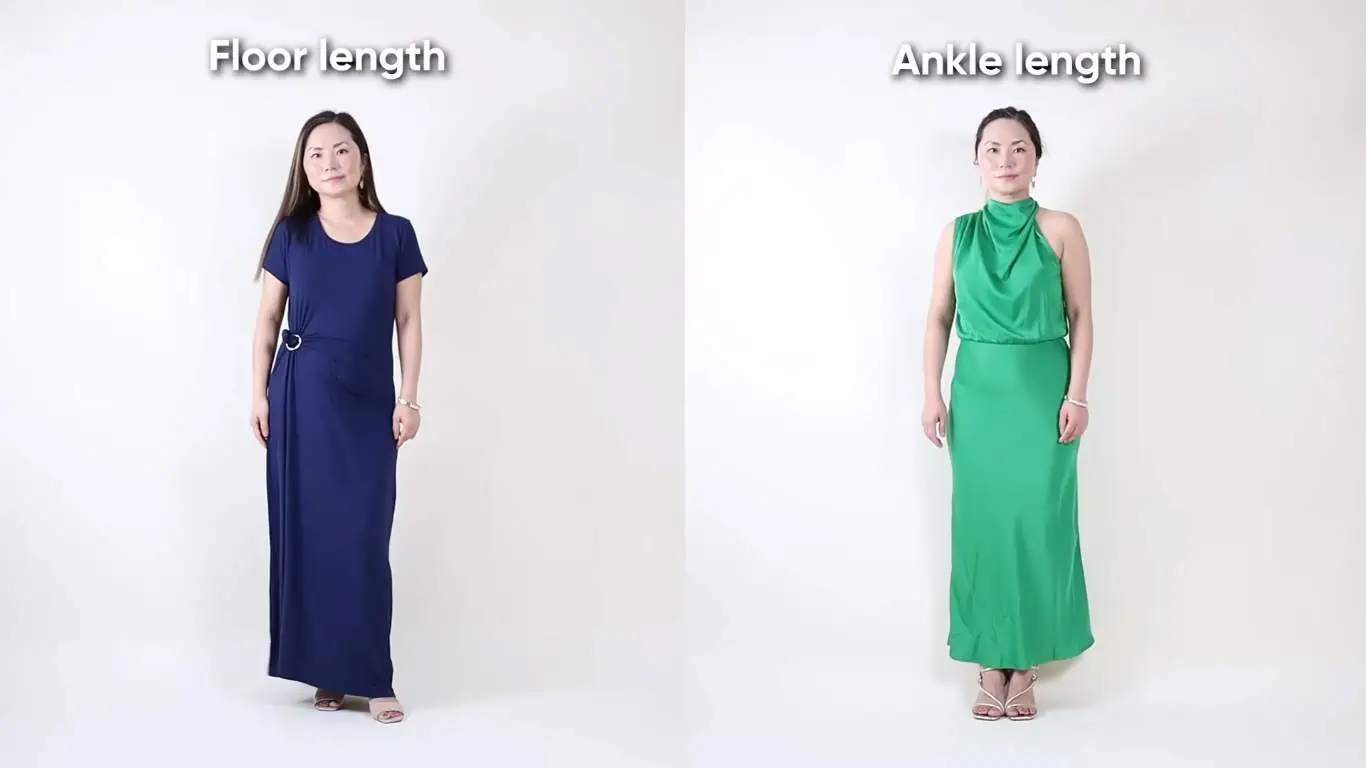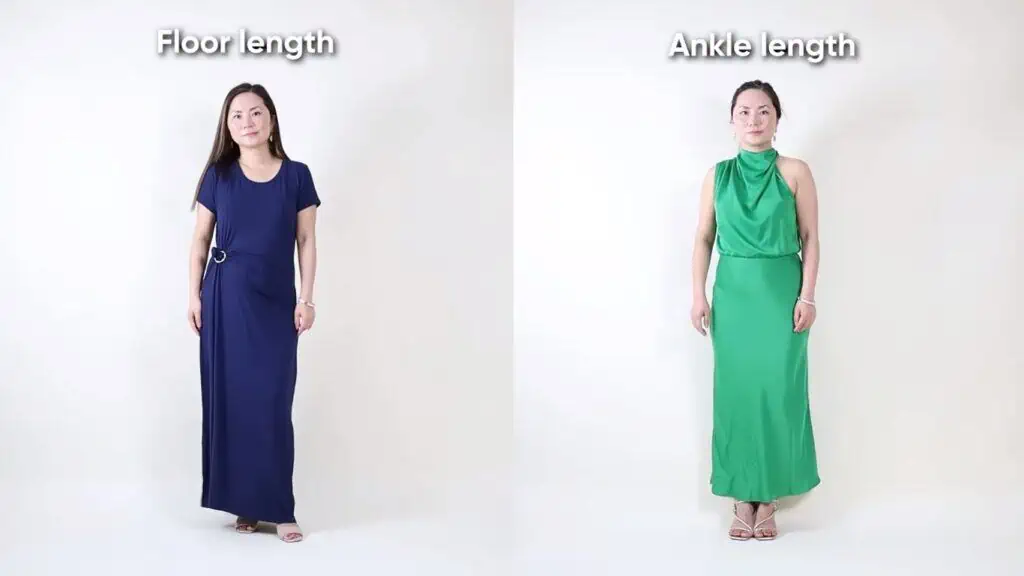 Ankle-length dresses are usually just several inches shorter, but even with this subtle difference, it can make a huge difference to your overall silhouette. Personally, I'd say that this length is the best one to make short girls look taller because of how it graces your frame from the shoulders, all the way to the ankles, so it creates a very elongating line that visually stretches out your frame.
Look for a Lower Neckline
I know that ankle-length dresses may still seem like a lot of fabric for short girls like us. But here's one style tip I have for you to prevent the dress' length from overwhelming your frame: Look for those with a lower neckline.
This is extremely important if you happen to be a short girl with a big bust, like my model Wendy. Wendy is 5'2″ with 36D cup, and she has been modeling for my petite clothing line.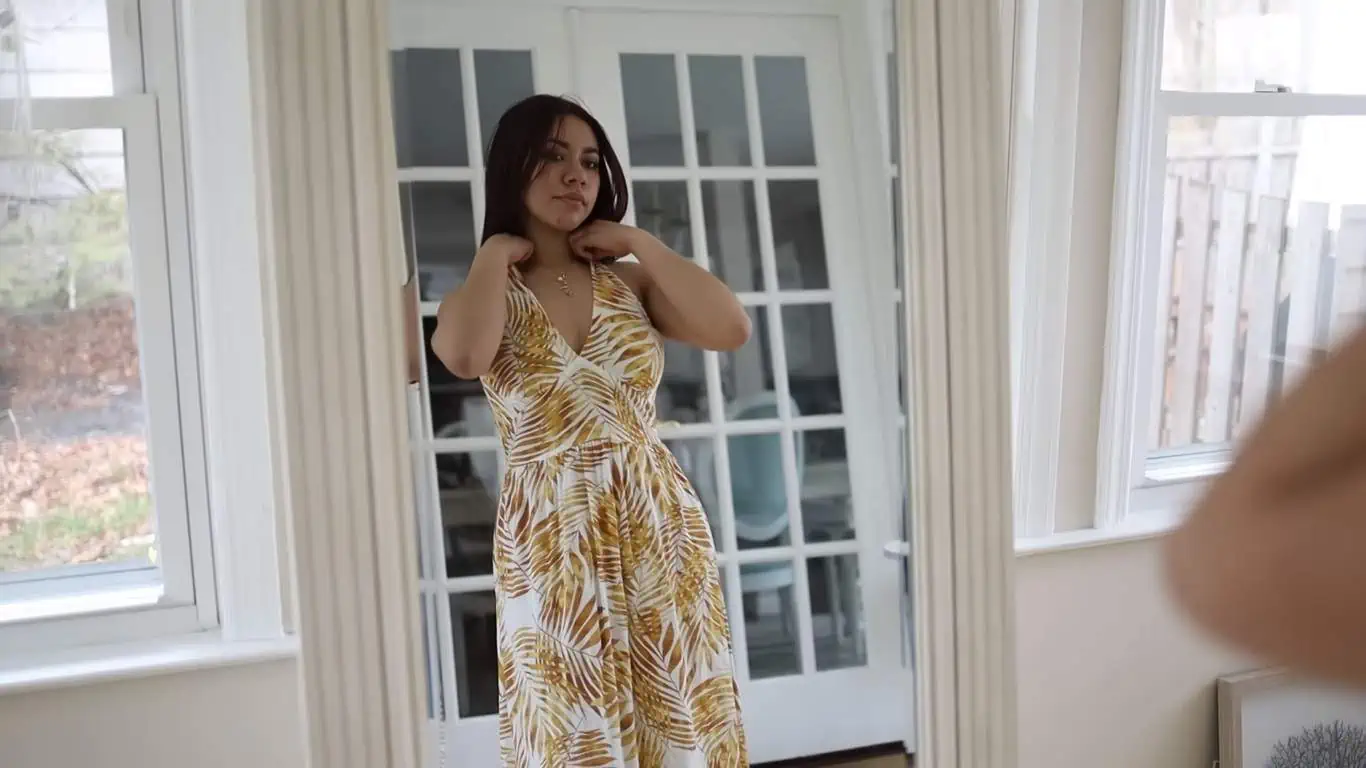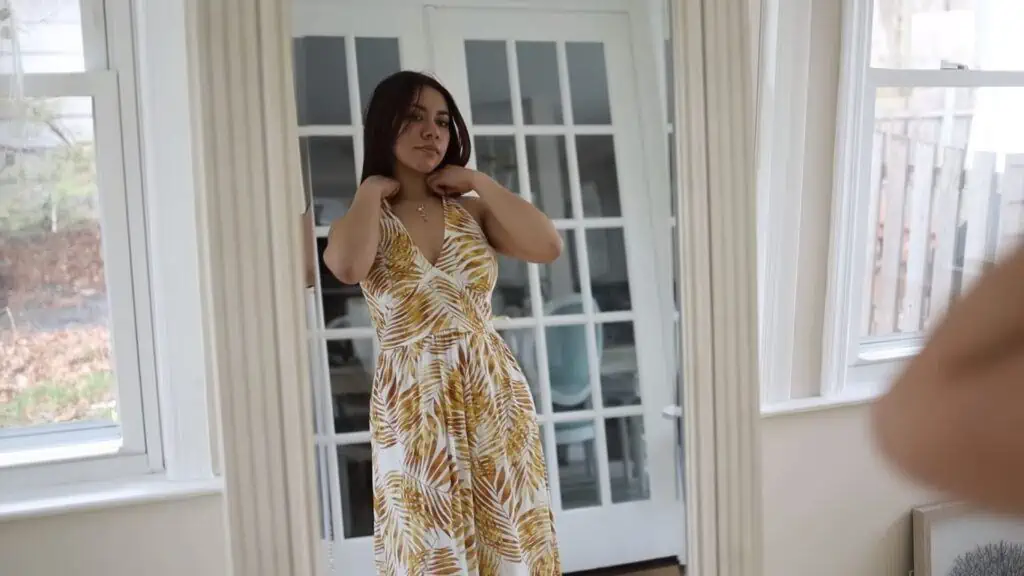 Whenever we do product fitting for long dresses, we always make sure the neckline is deep-V or square neck, or any other lower neckline, in order to look flattering on her. Otherwise, long dresses with a high neckline can make a busty petite look much bigger than she actually is.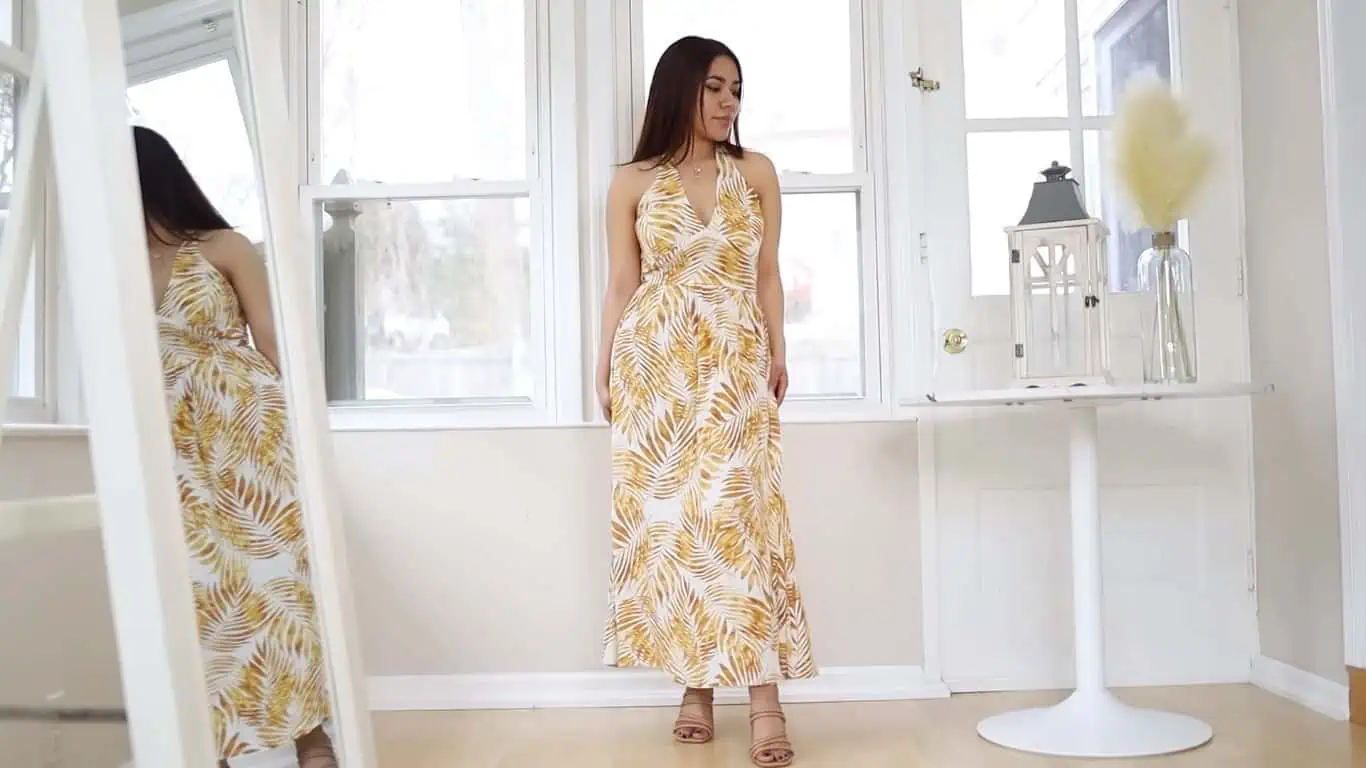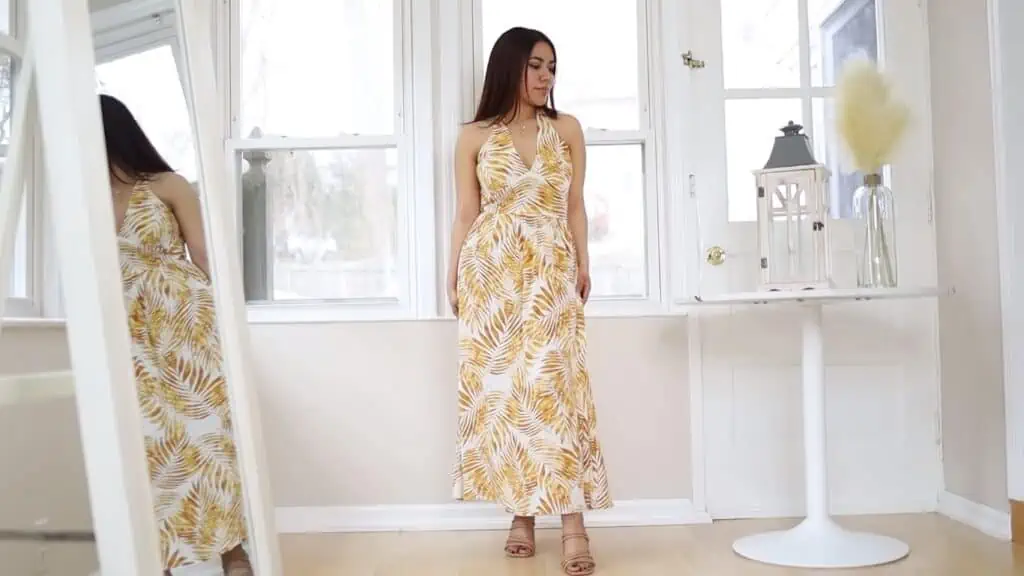 The lower neckline opens up space in your upper body so your overall frame doesn't end up looking too cramped. This balances out the long length of the dress and directs the gaze towards your decolletage and face.
Wear skin color heels
Even though this length is shorter than the floor length, it is still very long for a petite woman. Therefore, it is critical you wear heels in skin tone colors.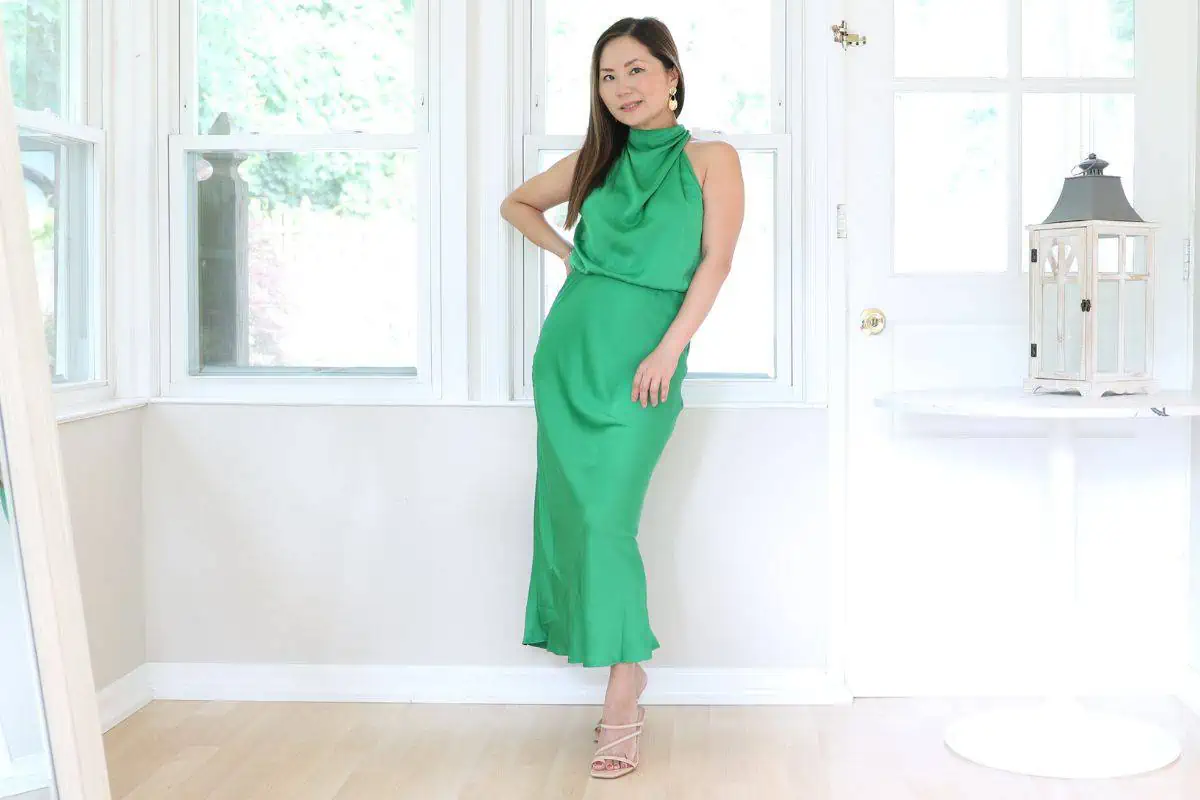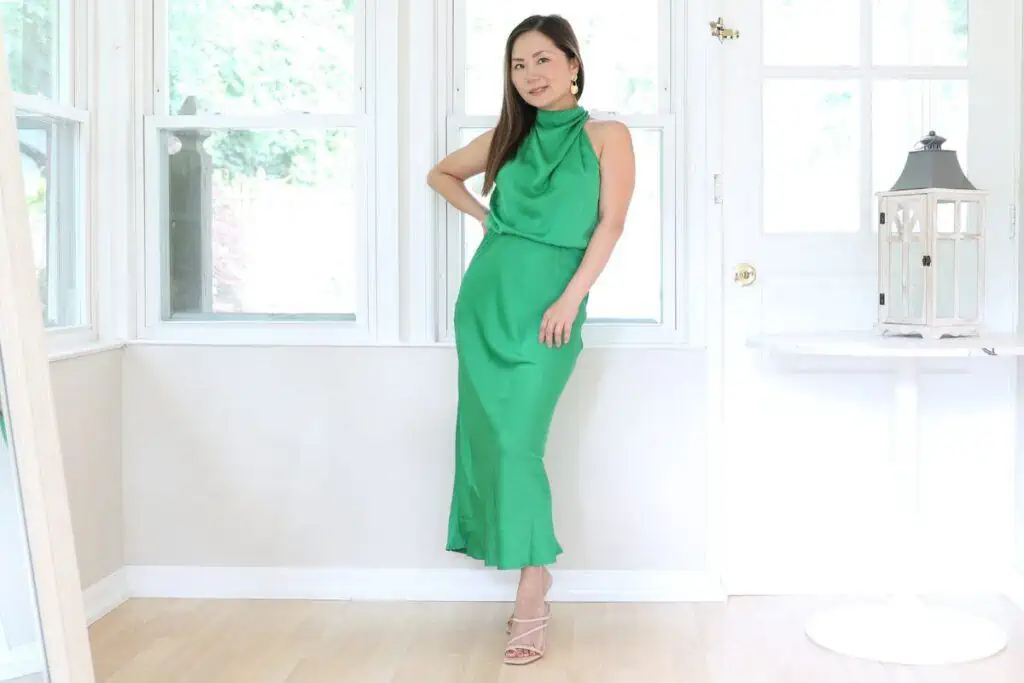 Because skin tone colors such as beige can blend with the color of your skin, it is very hard for the eye to notice the shoes vs your feet.
That is why this skin color sandals or pumps can trick the eye into believing that your feet and your heels are an extension of your legs.
This is an important hack to make sure your legs look elongated when you wear a longer dress!
Calf-Length or Midi Dresses
Cal-length dresses, which are also more commonly referred to as midi dresses, have been an immensely popular fashion choice for many because of how big of a trend they have become in recent years. Unfortunately, they are not the most flattering option for short ladies like us because of how their hem typically hits an awkward spot in the calves of our short legs.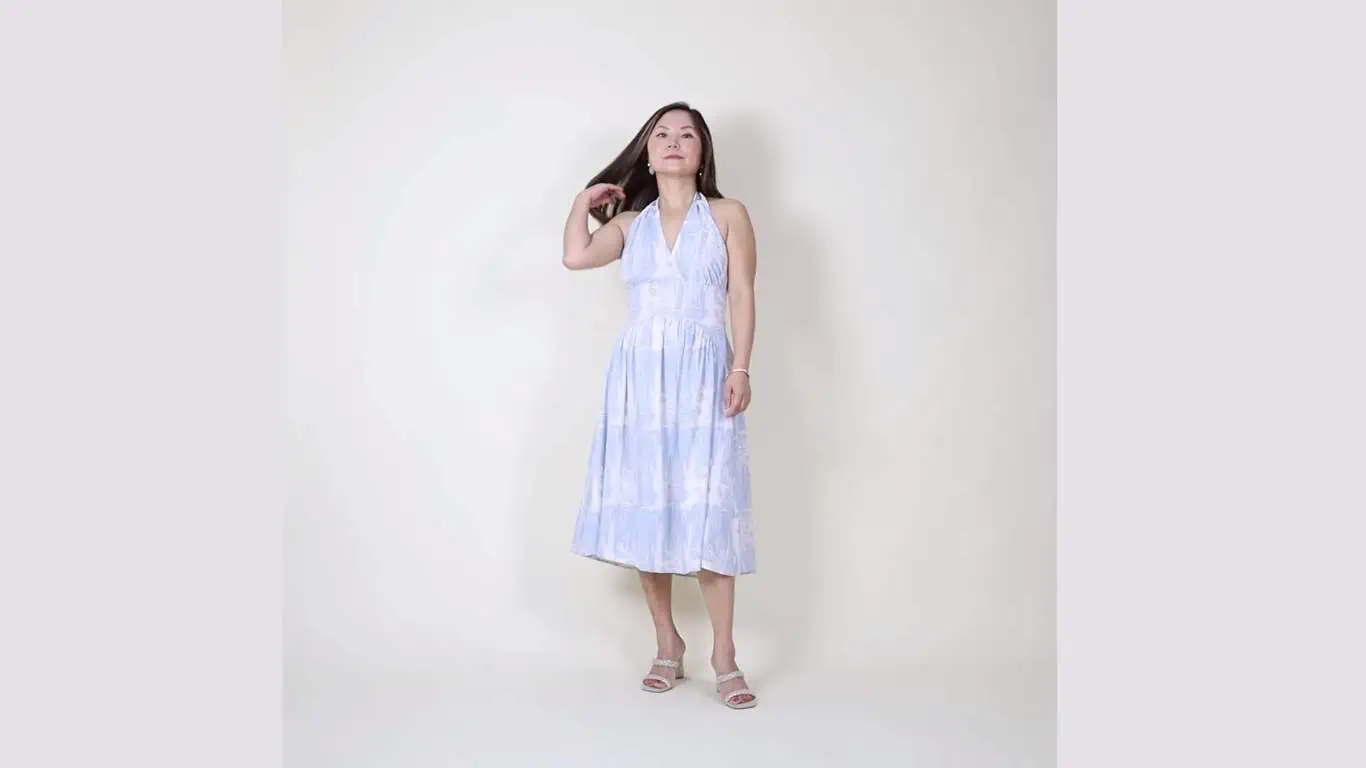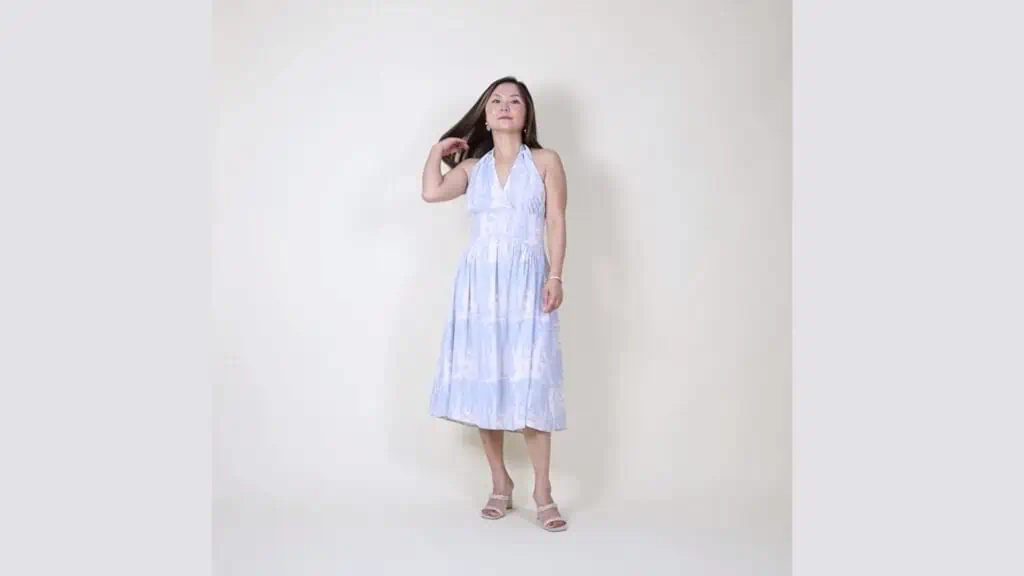 But well, the calf-length dress isn't here in this article for nothing! I promise you, there are very effective ways to make it work on your short frame.
Elevate your waistline with a belt
I would like to emphasize that this is simply not just to cinch your waist, but also to elevate it. Belts will always remain the best fashion accessory to give you waist definition and to bring your proportions together, placing it a little higher above your natural waistline would make such a flattering change.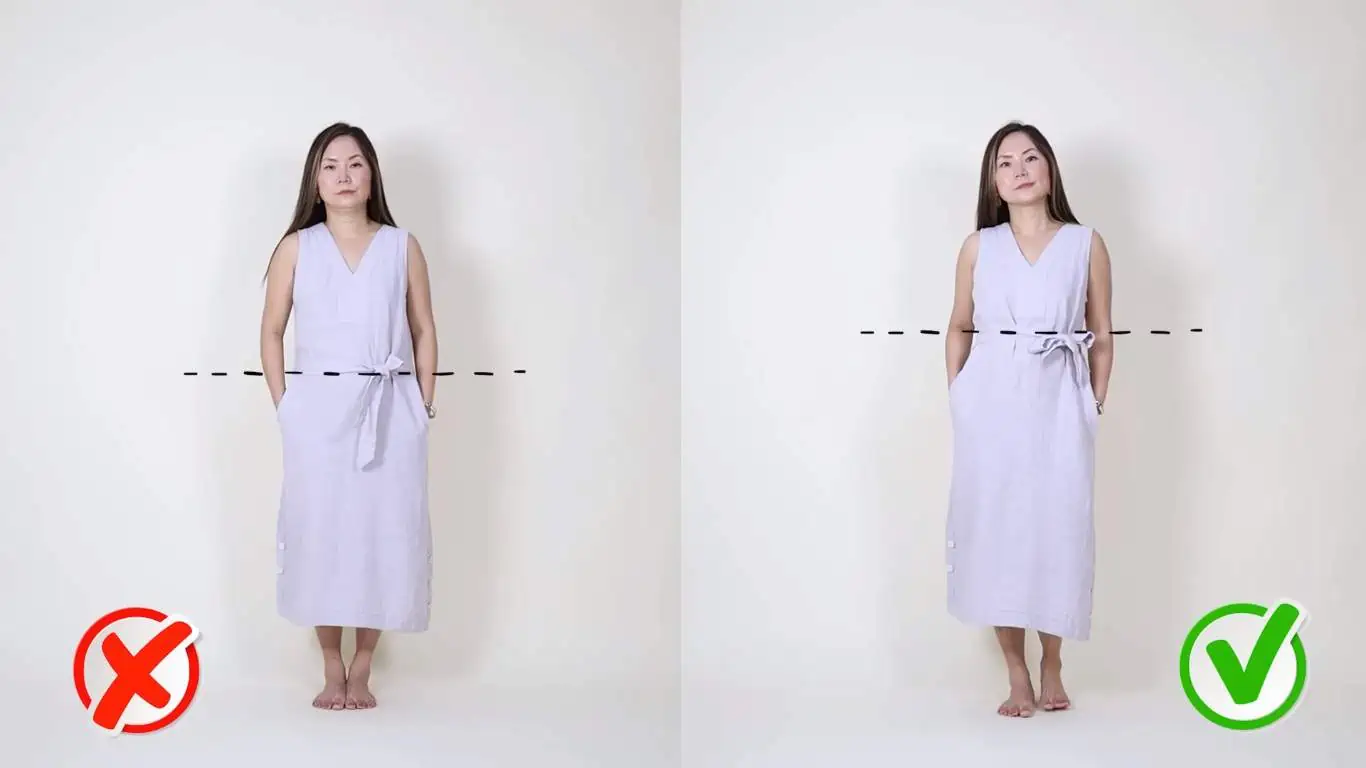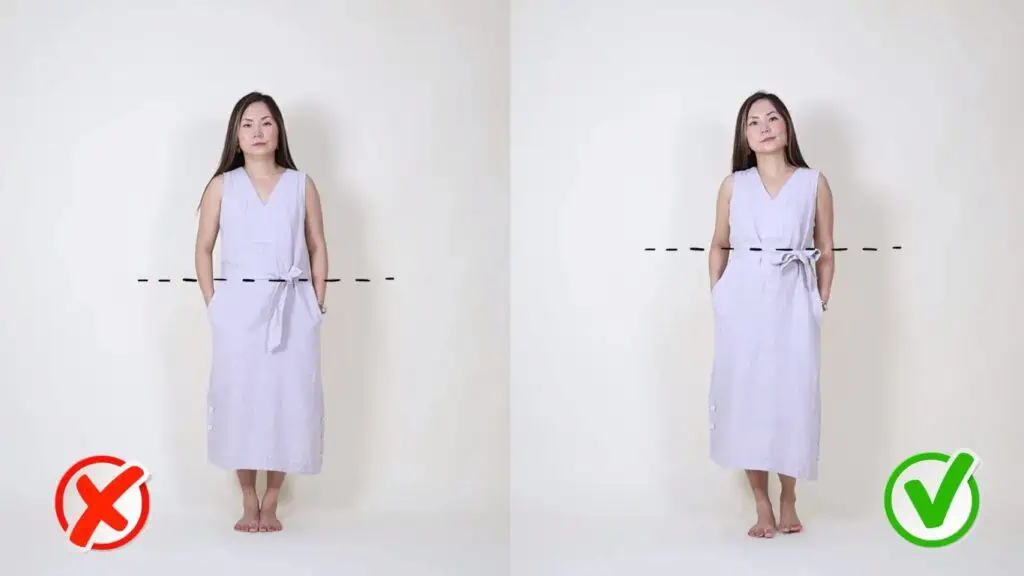 Wearing your belt a little higher makes your top half look shorter than a third of your entire body, hence resulting in longer-looking legs. This is where I would also suggest looking for belts that don't have hole notches as this will limit your customization for fit, instead, look for those that you can tie or those that have adjusting sliders.
Consider your fabric choice
One major fashion hack I can share to make your calf-length dresses work is to look for different fabrics, such as lace. Lace is a good choice because of its see-through nature.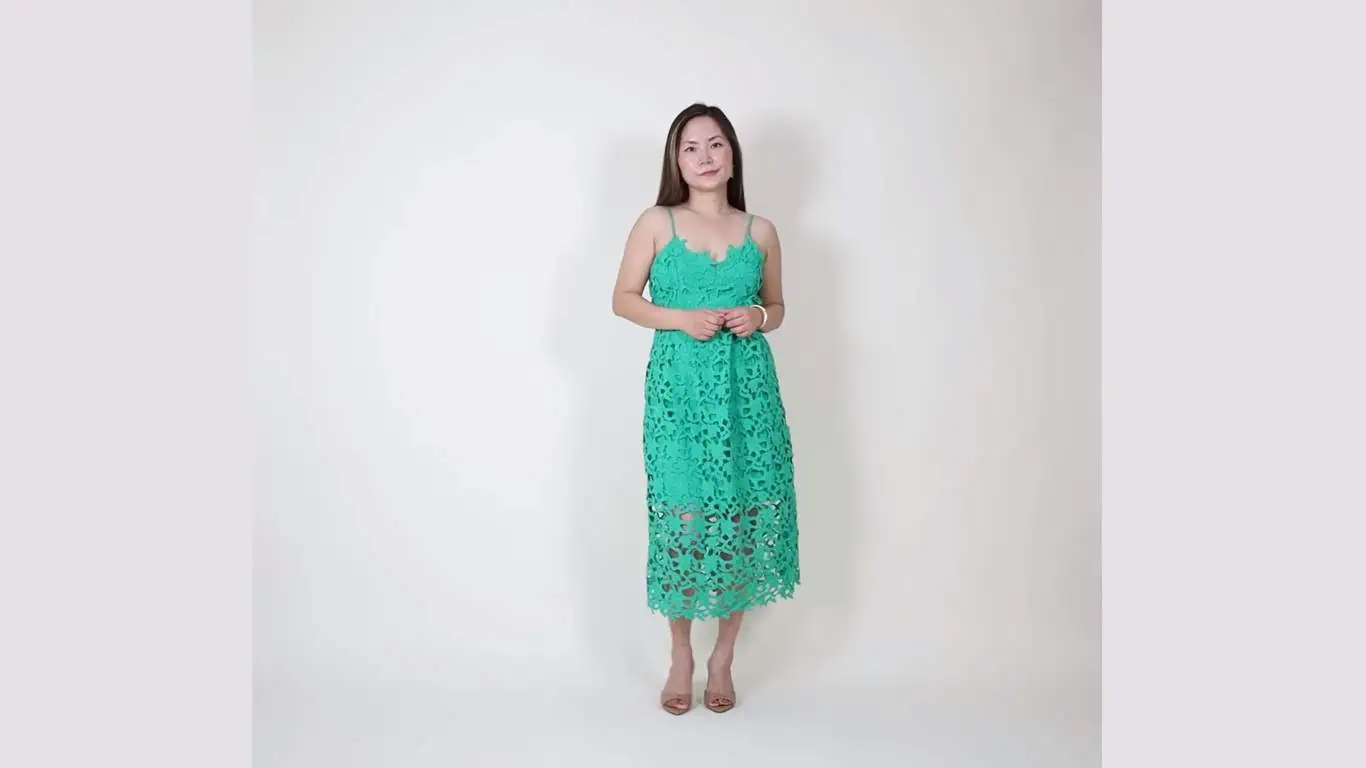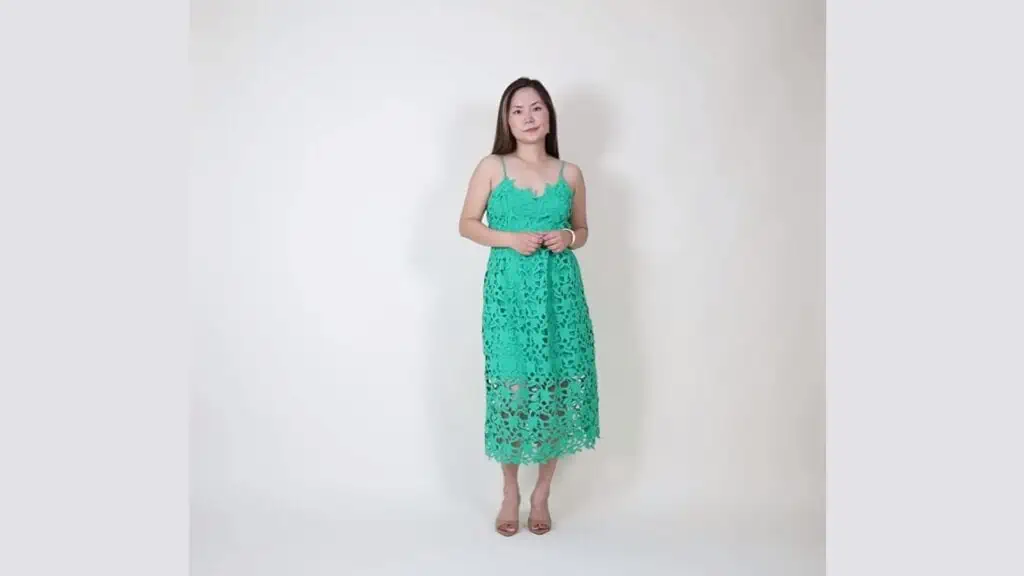 The fact that it's see-through makes the dress more visually open in a sense, preventing your legs from looking cut off. Lightweight fabrics like this create a flowy silhouette that exposes a portion of your legs, and therefore making it look more elongated.
Look for uneven hemlines
This is actually one of my favorite style tricks when it comes to perfectly flaunting my calf-length dresses! When you choose a hemline that is shorter in the front and longer at the back, you are showing off your knees and therefore creating the elongating effect as if it's a mini dress.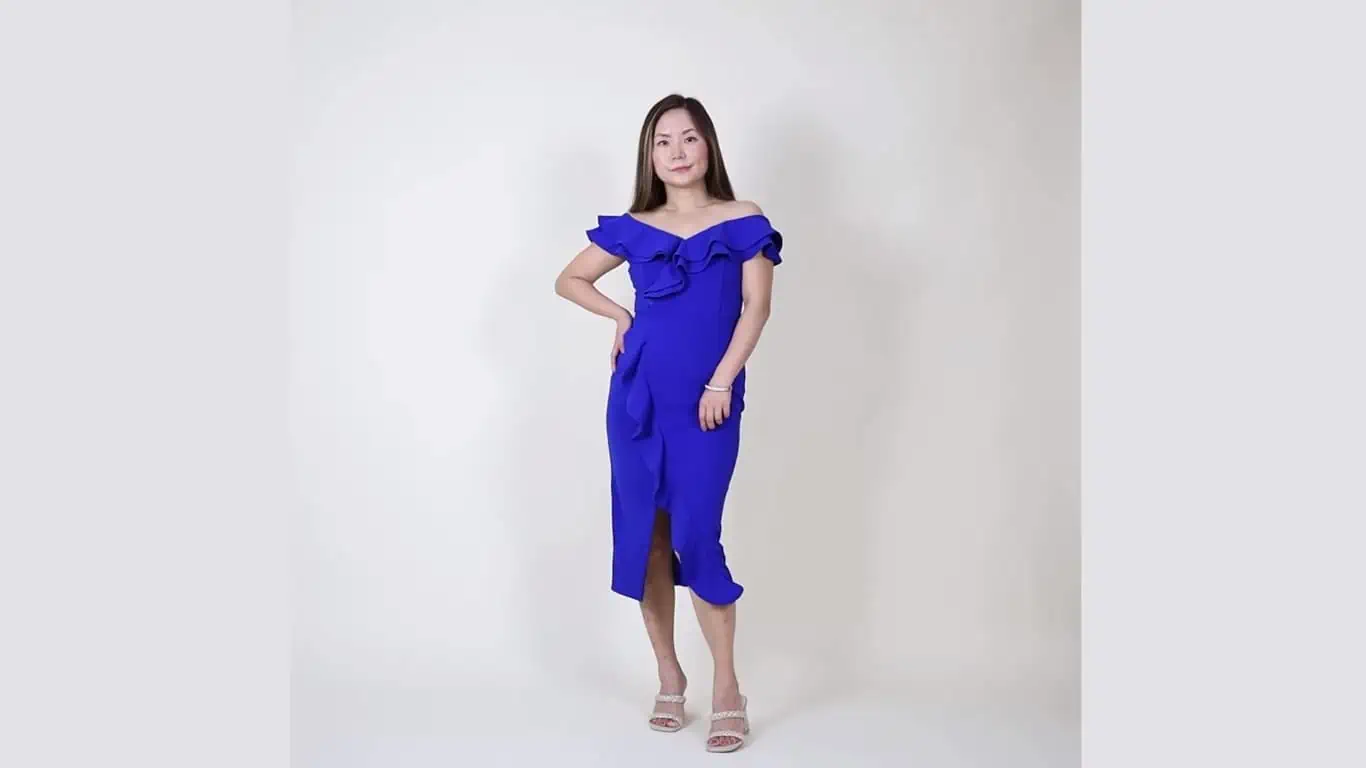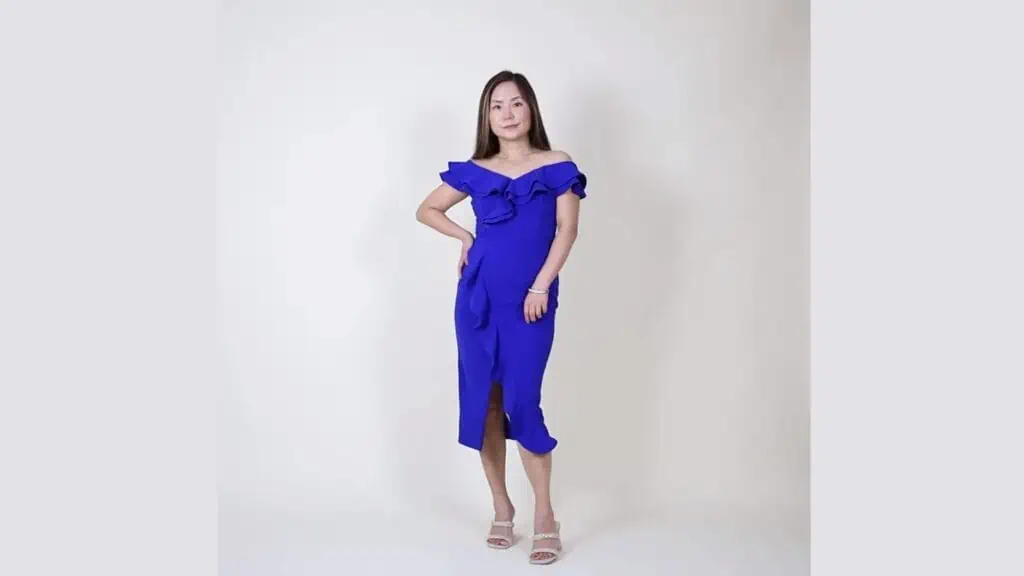 The asymmetrical nature of this hemline will distract the eyes from the fact that you have short legs because of how it seamlessly leads the eyes into an elongated, uninterrupted leg line.
The Key Takeaway
Finding the right dress length is going to make a very big difference, no matter what your height is. But this gets especially crucial if you're short, that's why it's important to take all these styling tips into consideration to make sure you're giving the best for your beautiful petite frame.