If you are short like me (I'm 5'2″), blazers can be overwhelming at times because of our petite frame. However, if you style it right, it can also be one of the most chic pieces to elevate your style.
After many years of trial and error, I've finally figured out the easiest and most stylish ways for shorter women to wear a blazer. Let's dive right in!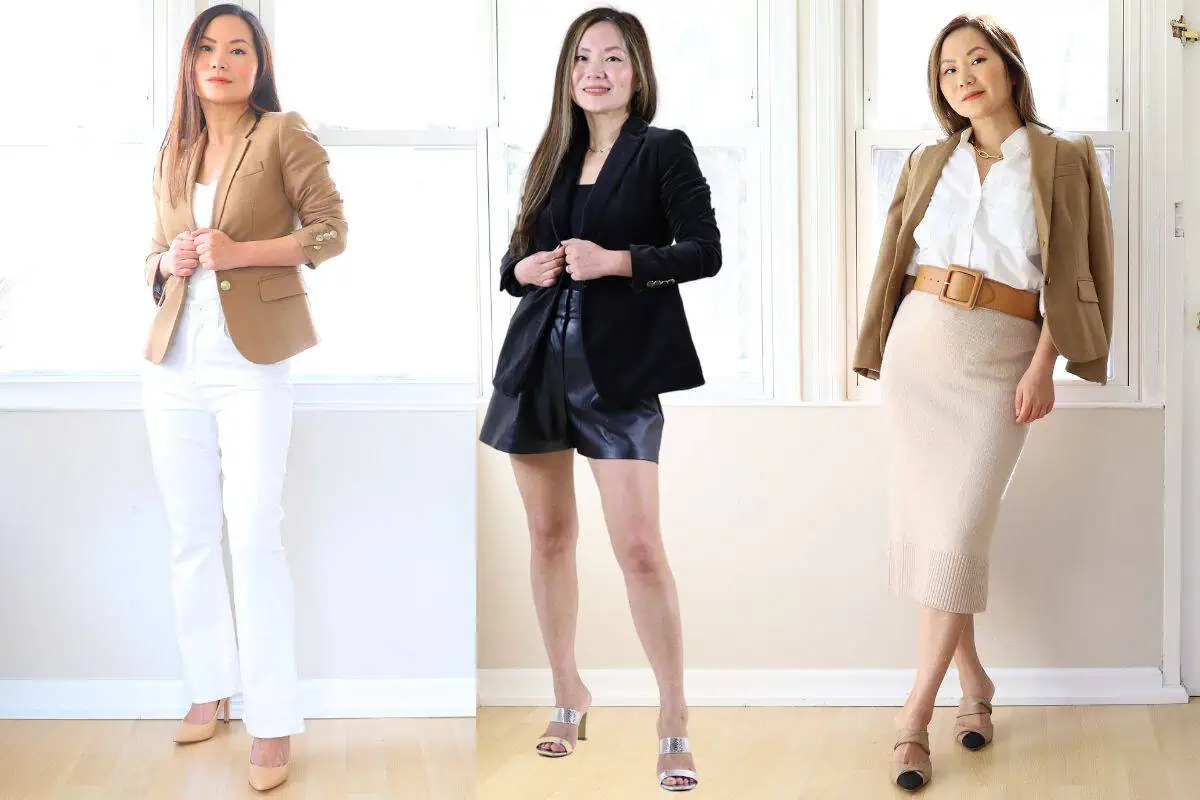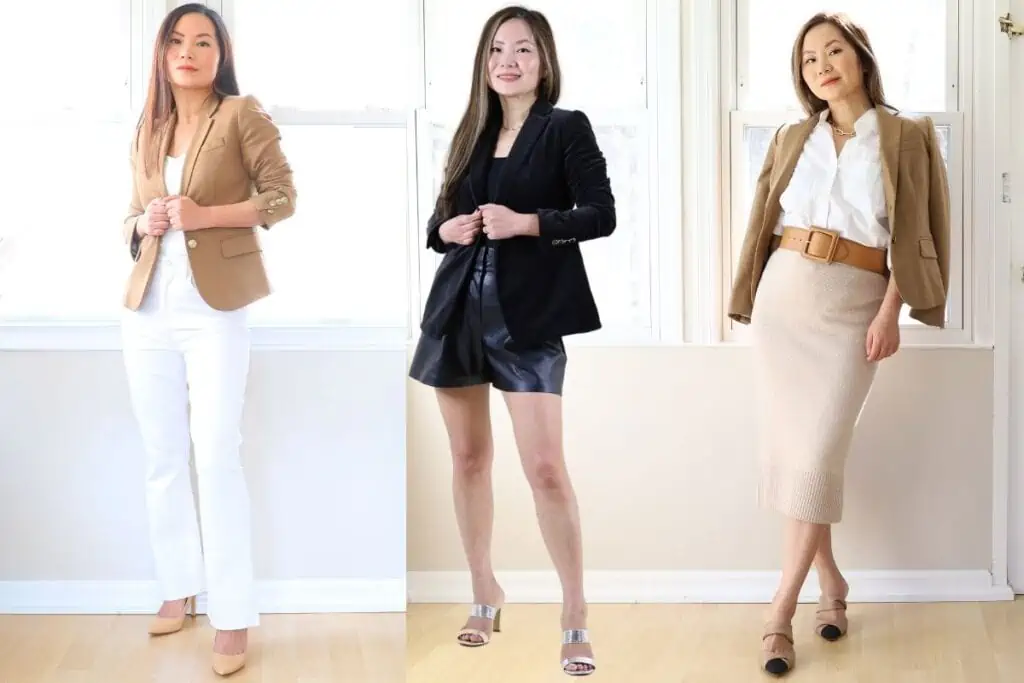 Proportion is everything
Before we get into the outfits that are most flattering for shorter women, I want to first bring your attention to proportion.
This is key and you should follow this rule in any blazer outfit, no matter how you decide to style it.
This black blazer I wore below is the regular length, not too long, not too short. This is the most common length for blazers.
If I style it with a bottom that is about my ankle or calf length, my body is divided into half and half, which looks plain.
You may not notice anything "wrong" about this outfit, but you will, once you compare it with the outfit on the right.
Instead of wearing a longer bottom, I switched to a bottom much shorter.
Now, all of of sudden, my body is divided into 2 thirds on top and one third at the bottom, instead of half and half.
Do you see a major difference now?
That's the power of the "Golden Mean Ratio", one that human eyes will find much more pleasant visually!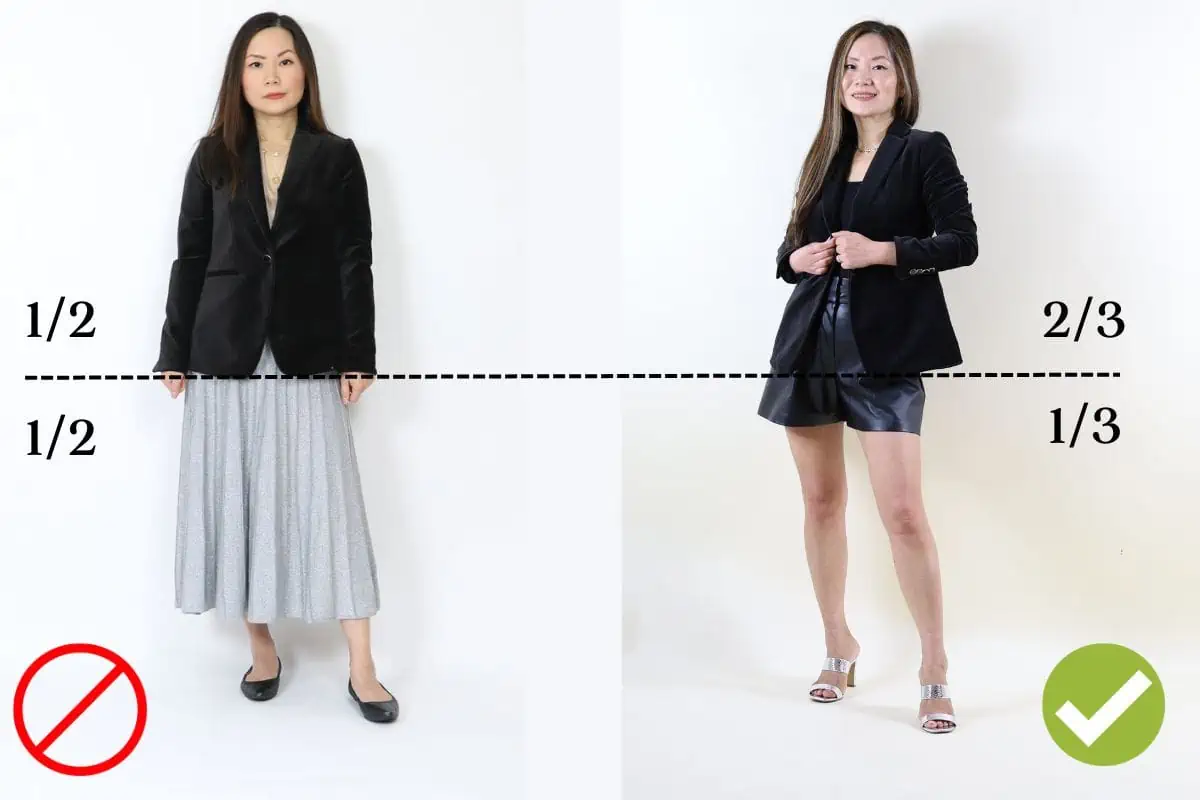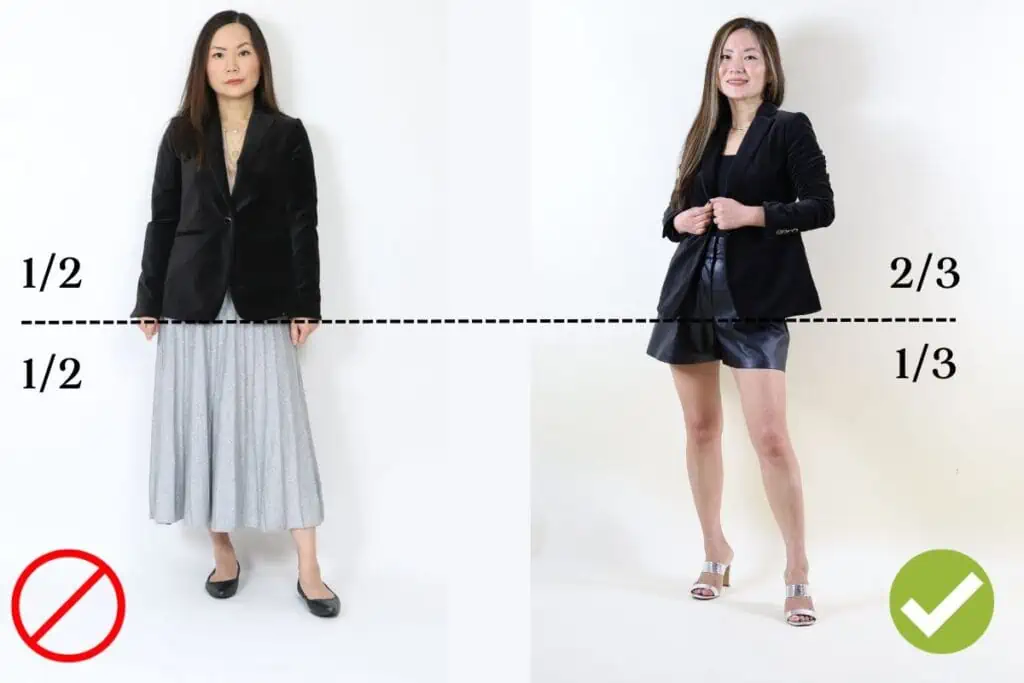 Wear Cropped Blazers
If you want a foolproof style choice that will surely work on your short frame, then that would be cropped-length blazers. Of course, since you are short, it's only natural that blazers that come in shorter lengths will flatter your proportions better than long blazers.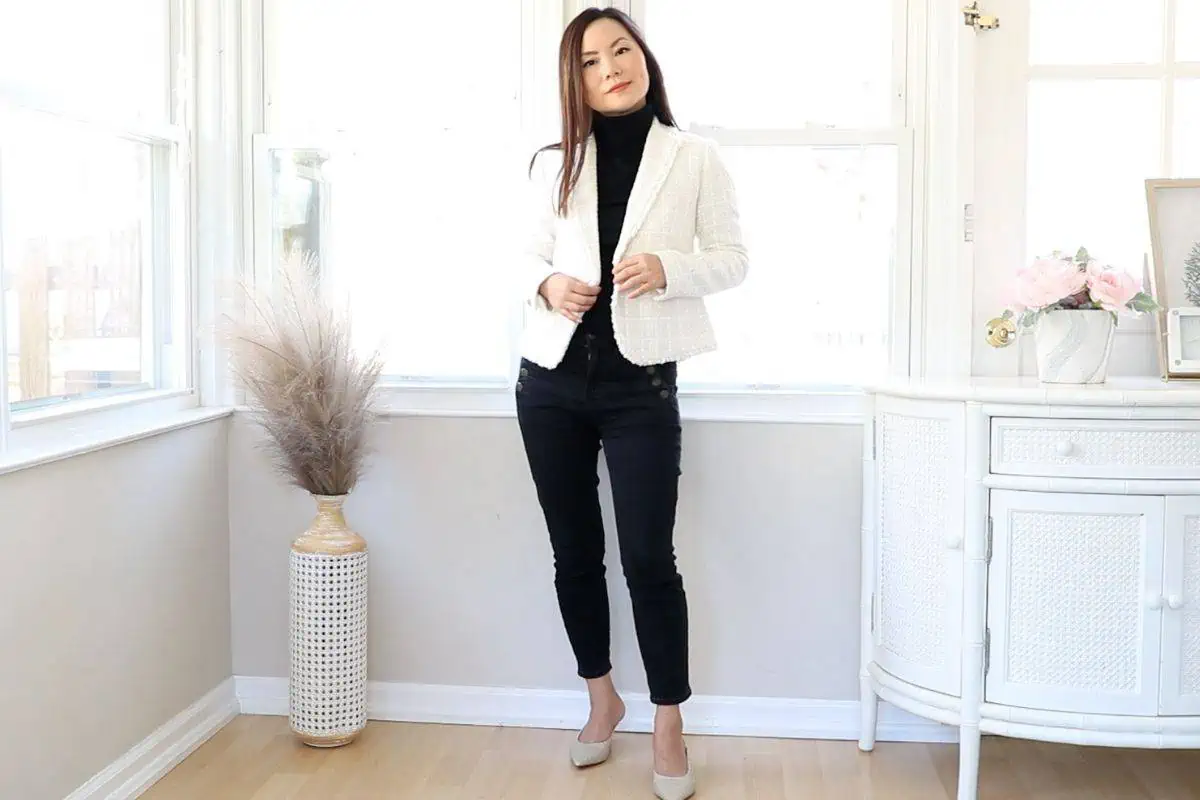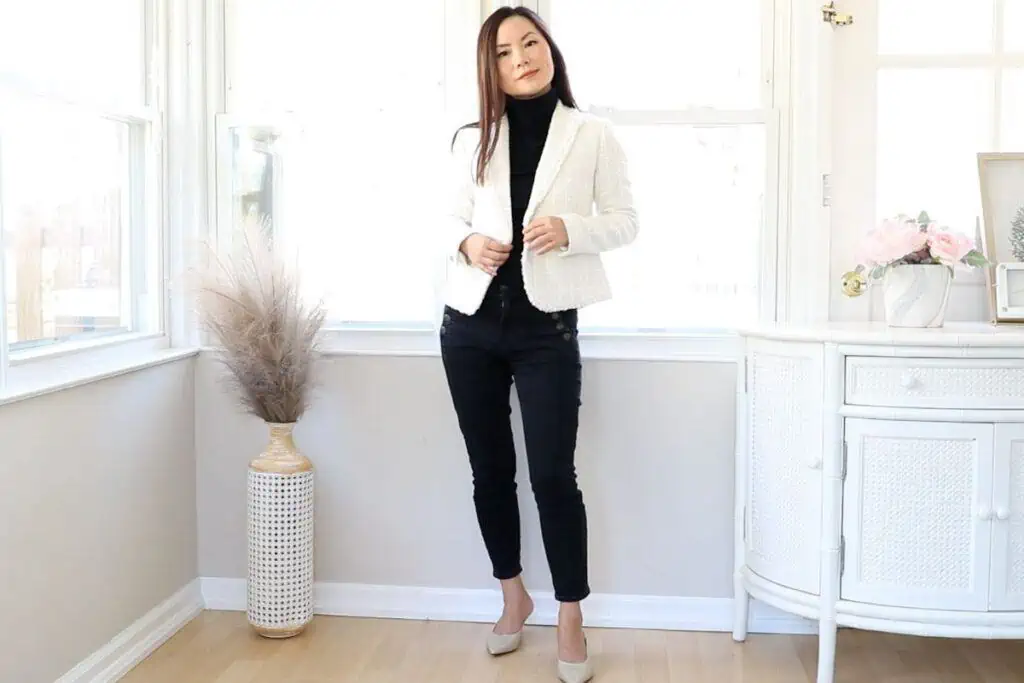 The beauty of this length is that it looks amazing with a dress because it divides the dress into three on top and two at the bottom, which embraces the golden mean ratio. This will give your short figure a more pleasing upper and lower body balance.
Well, does this mean you can no longer wear long blazers? Well, you can definitely still rock those runway-worthy long blazers and that's the next thing I will talk to you about!
Long Blazers with Mini Skirts
Long blazers are those that go way past the hips, sometimes even up to mid-thigh. With this length, you can immediately tell how unflattering it is to wear a long blazer with long dresses or skirts because this ensemble instantly overwhelms your short frame.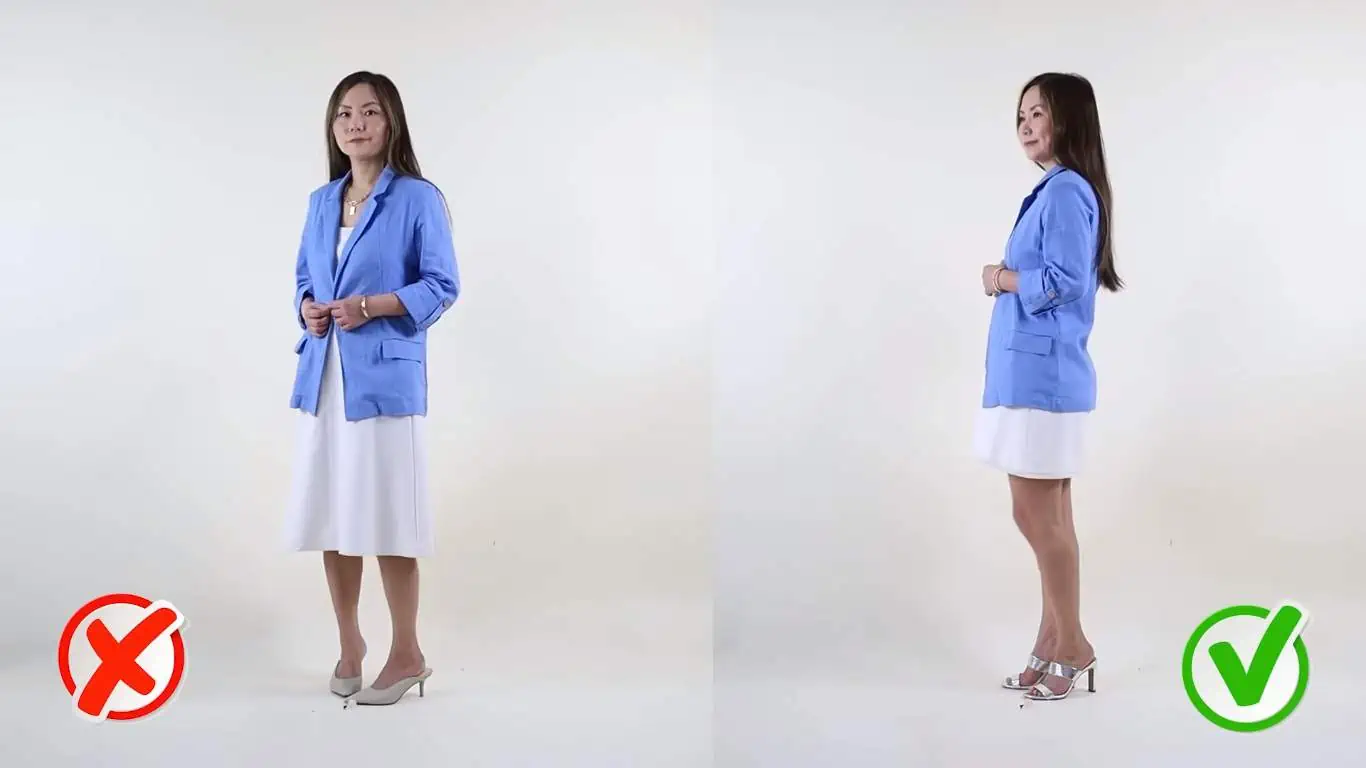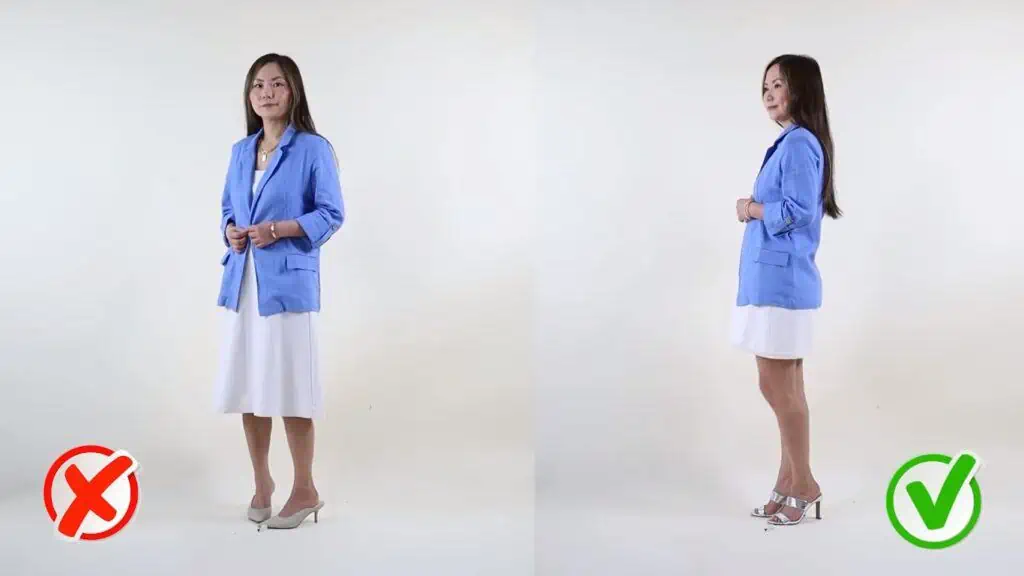 The quick solution to this is to switch to mini skirts, particularly those that hit a few more inches above the knee. The mini length of the skirt will balance out the longer length of your blazer and will also direct the attention towards your legs to make them appear longer and leaner.
Long Blazers with Shorts
This shares the same style principle as wearing a mini skirt, which I previously talked about. Basically, the long length of the blazer instantly makes your torso look longer than your legs so to prevent this from happening, you need to wear something short for your bottoms.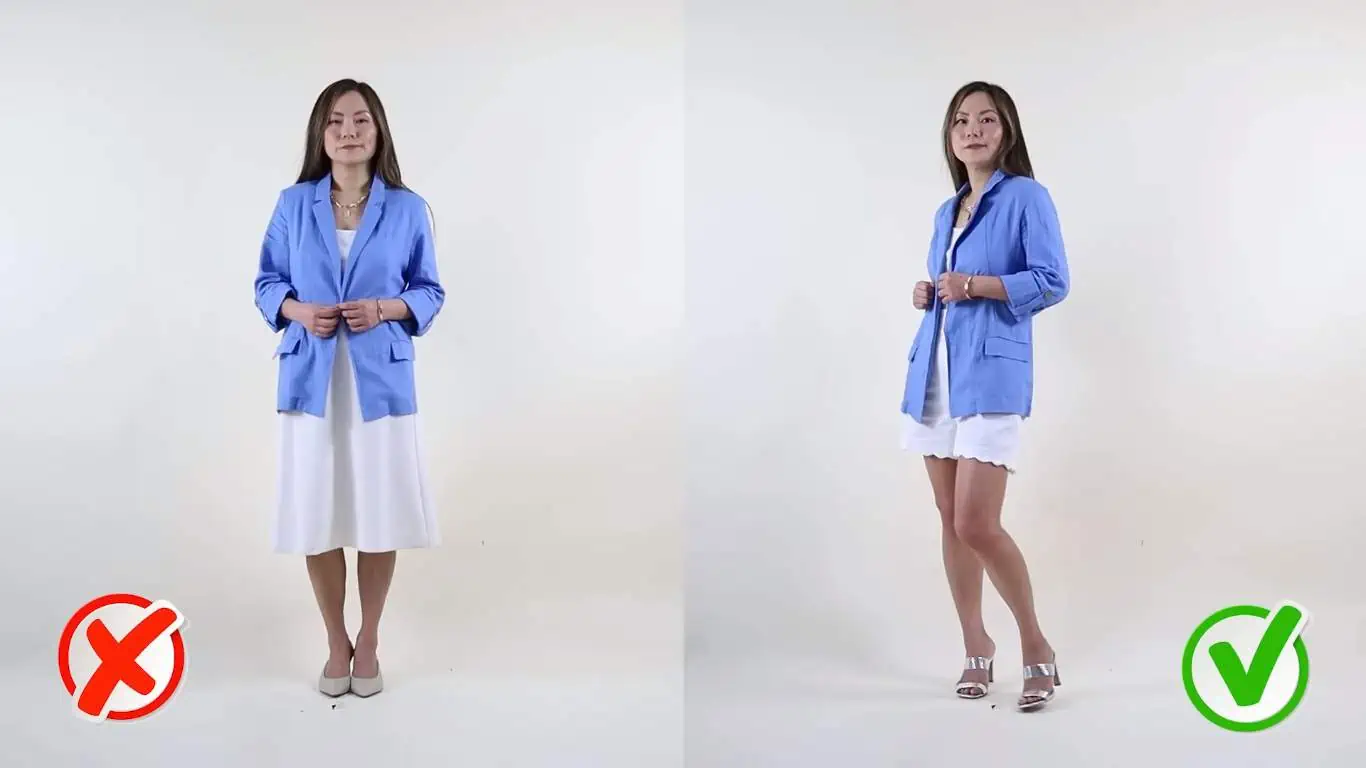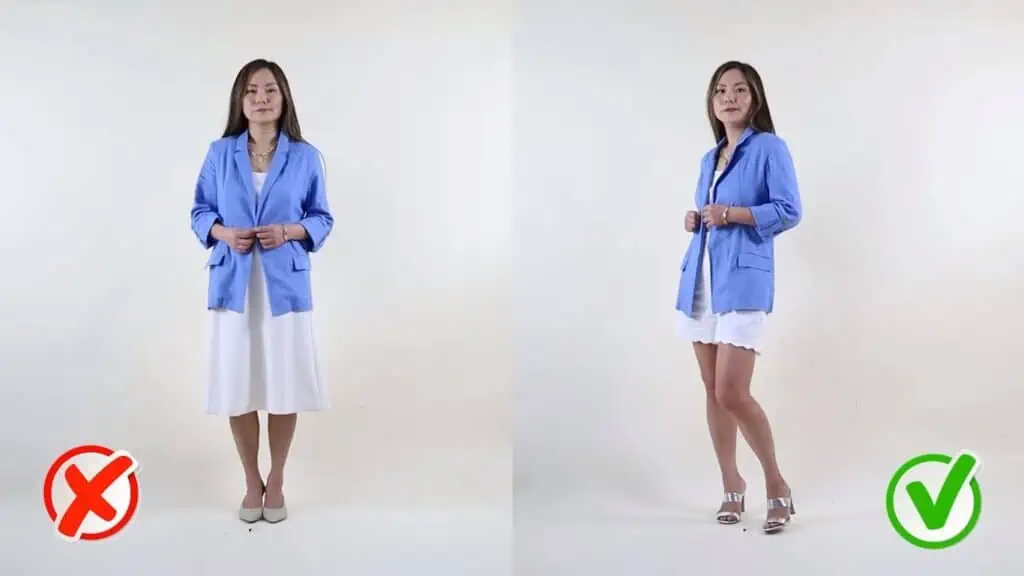 Shorts are not just very stylish, but they are also quite comfy to wear too. In the past, pairing blazers with shorts may seem odd, but this outfit pair is definitely a modern take on fashion that your short figure will surely love.
Long Blazers with Knee-Length Skirts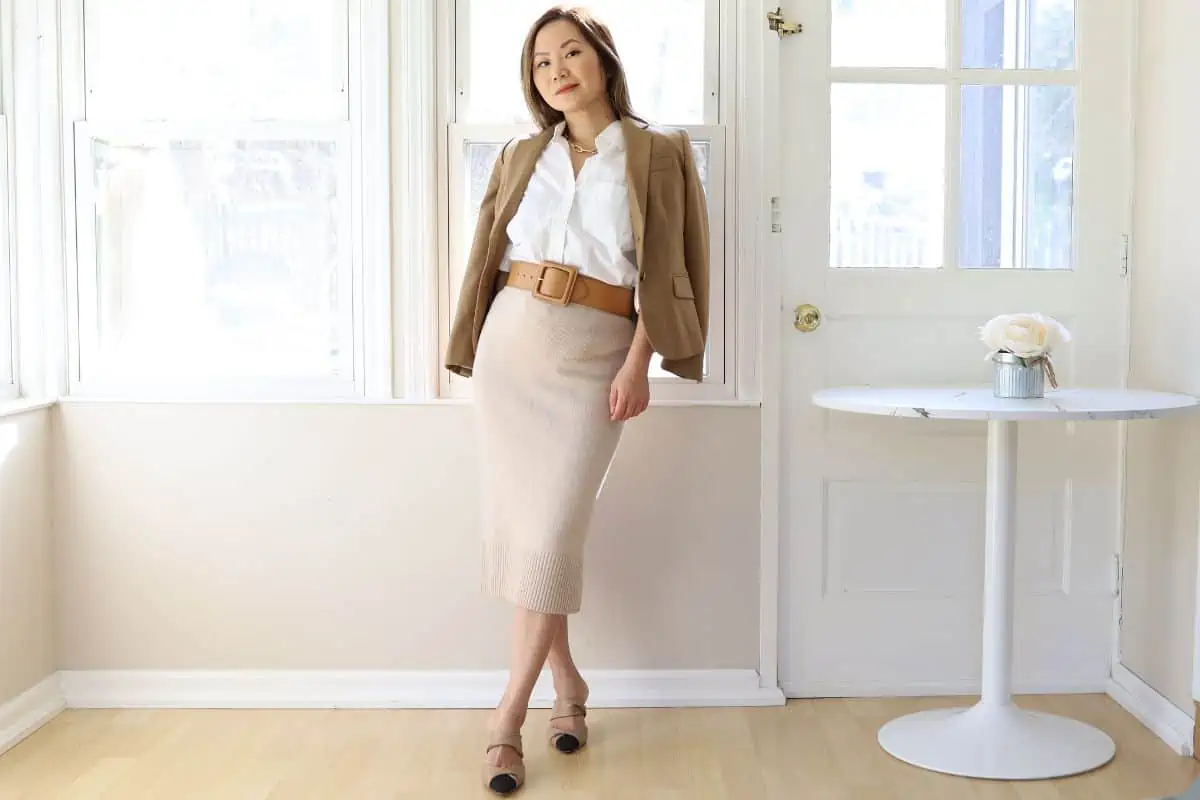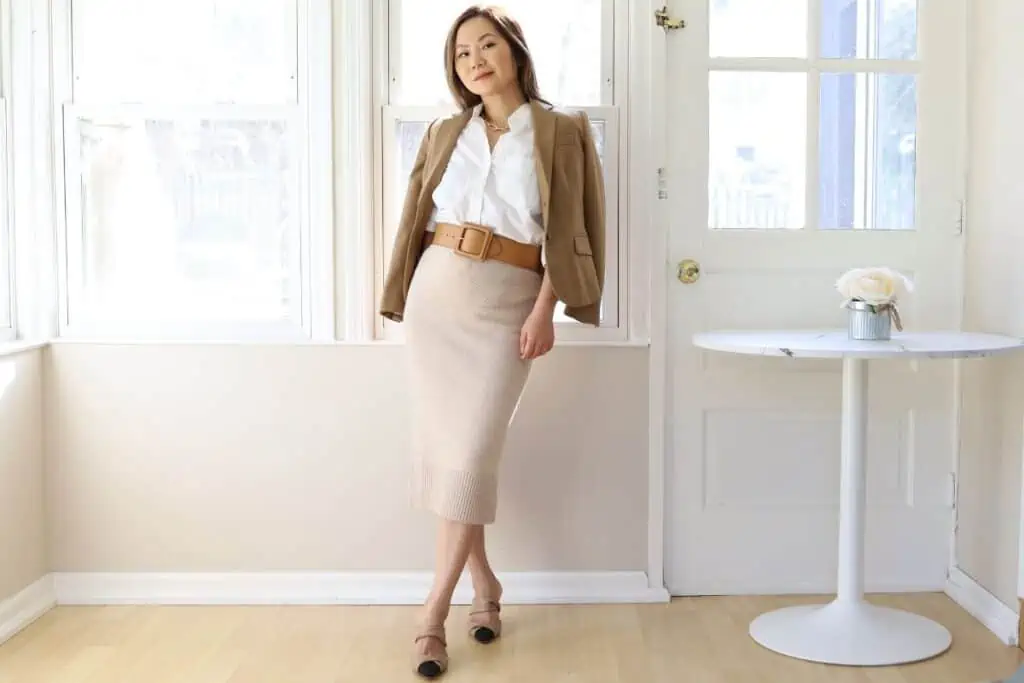 What if you're going to wear your long blazer in the office or in other semi-formal events where you'd want more coverage? Fear not, my darling – your long blazer can also be paired with a longer skirt.
However, since you're working around your short legs, you can't really go too long with your skirts or dresses because this will make you look as if you're drowning in fabric. This is why I would highly suggest you go for knee-length skirts because it gives just the right coverage without looking too overwhelming for your short frame.
Wear Shorter Dresses
Shorter dresses go very well with blazers when you're a short girl and this is especially beneficial if you're wearing a longer blazer. The thing is, when you wear a long blazer with a long dress (let's say a maxi or midi dress), this divides your body into half and that's just unflattering.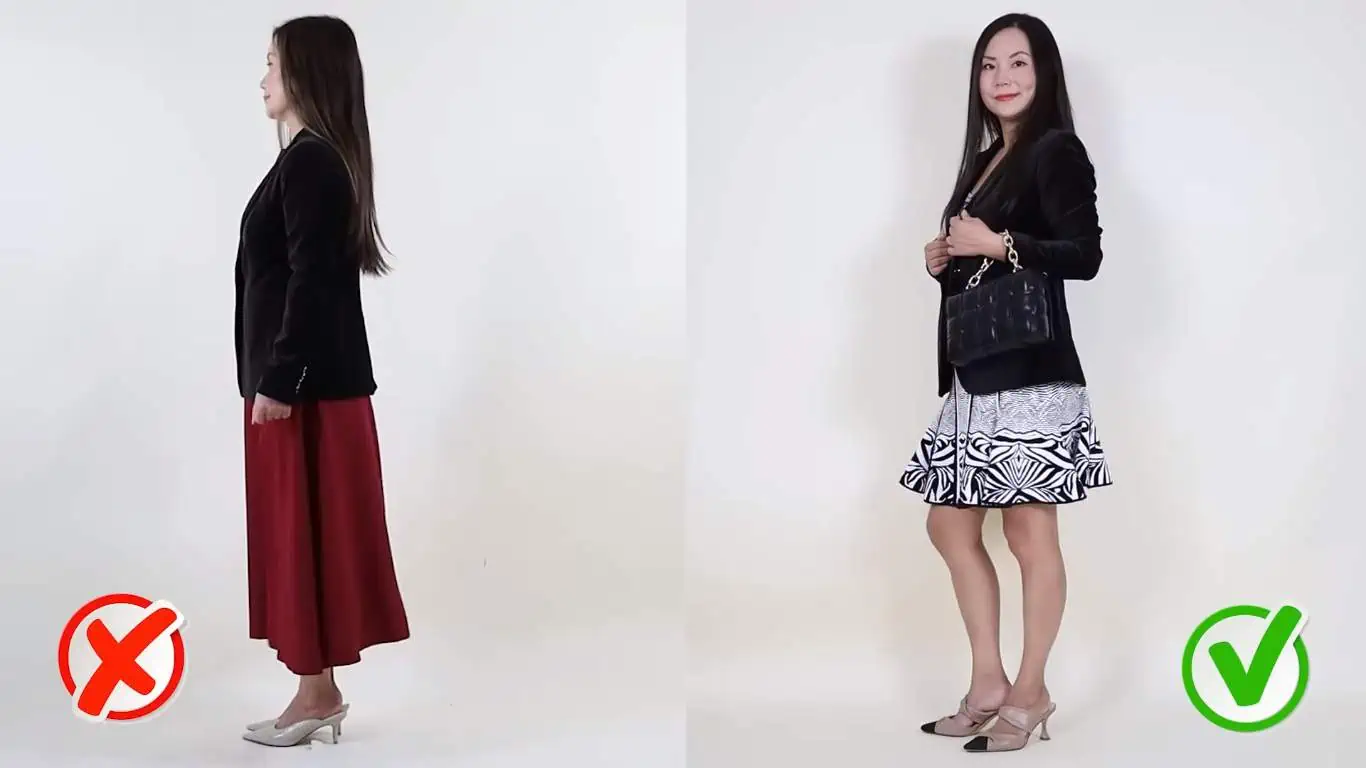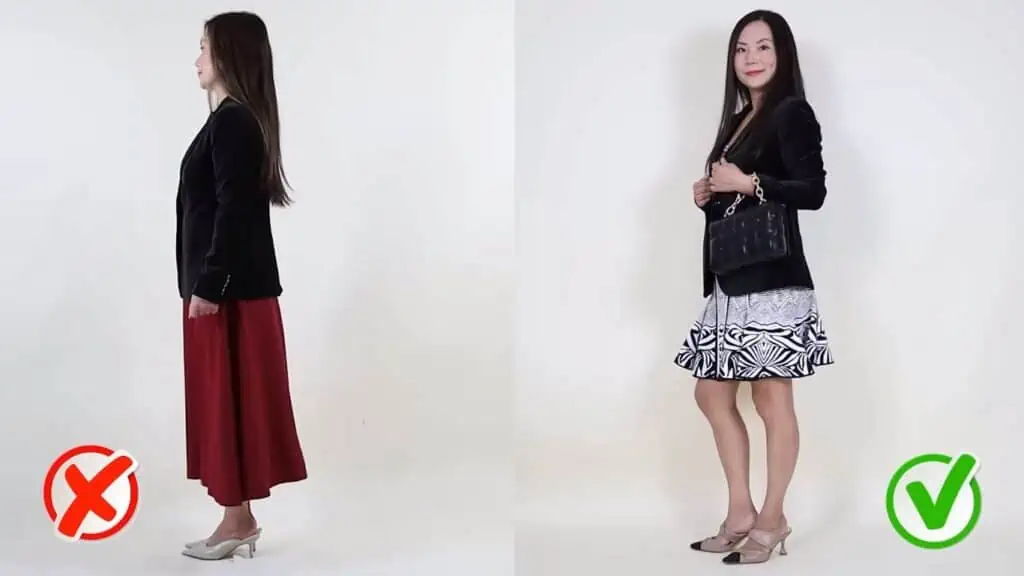 Wearing a shorter dress with your long blazer is a nod to the rule of thirds, which we talked about earlier. It elevates your waistline a bit which makes your legs look longer, contributing to giving you a taller appearance.
Wear Monochromatic Ensembles Underneath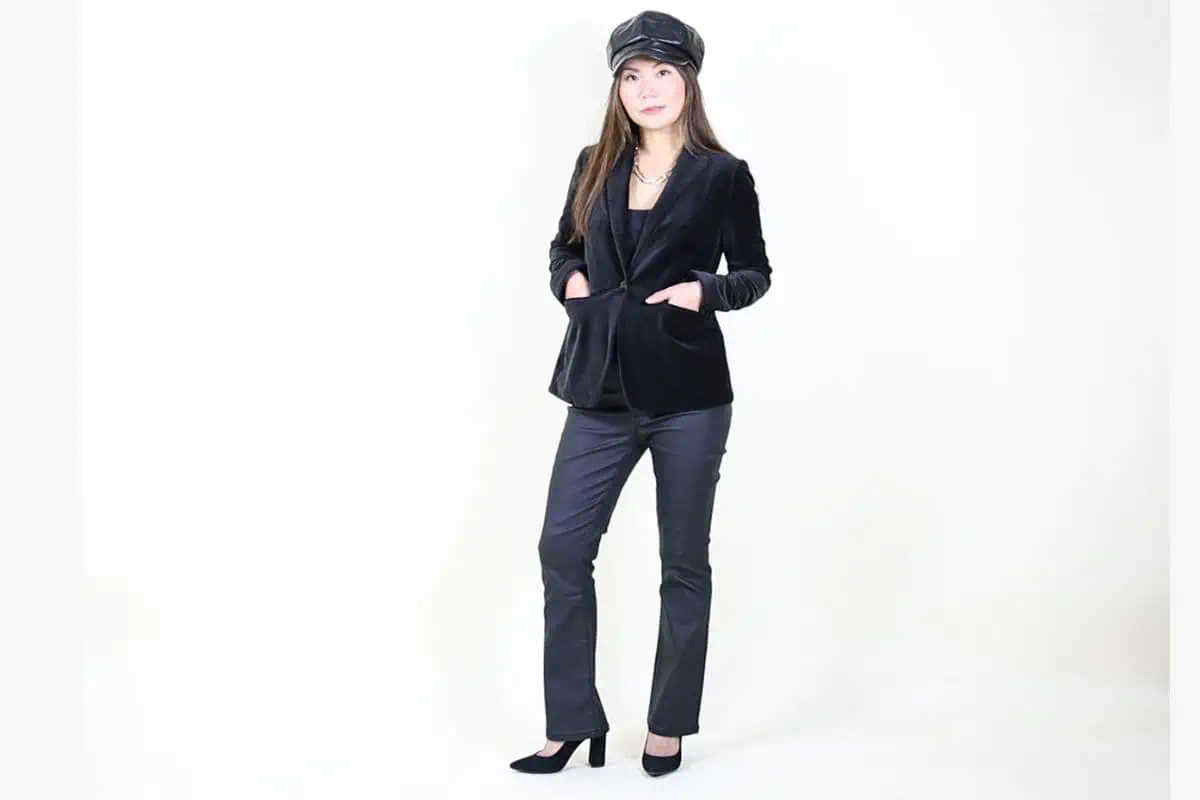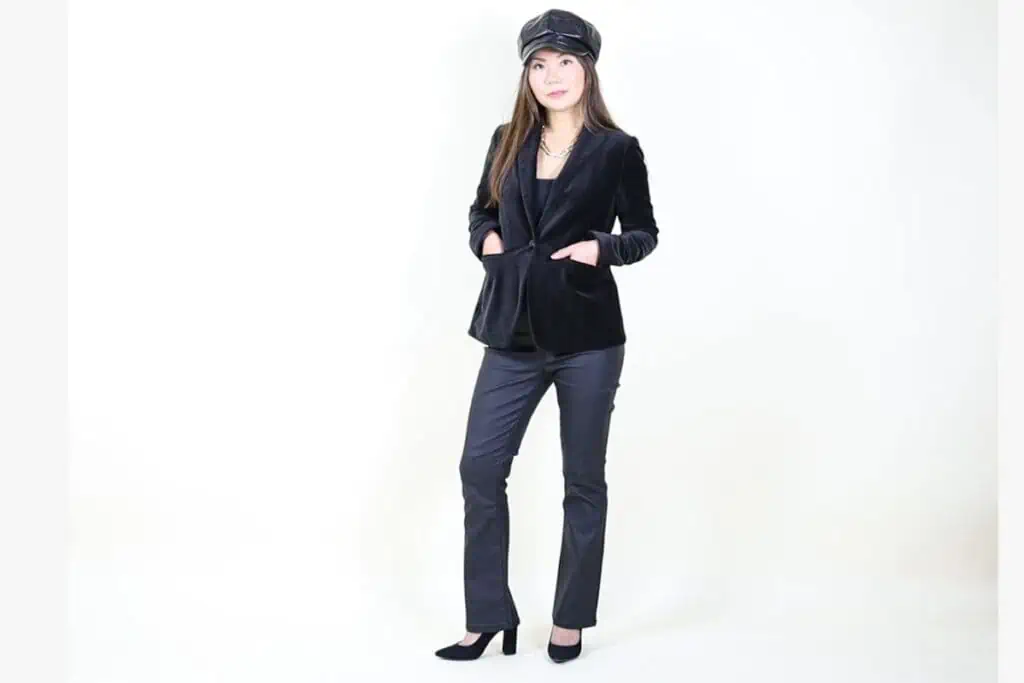 I also noticed that to really maximize my height, paying more attention to what I wear underneath my blazer really matters. My best style discovery is to wear monochromatic outfits, which means I match the color of my top with my bottom.
Because of the matching colors, it draws a continuous vertical line from top to bottom, resulting in a more elongated figure. Not only that, if you opt for darker colors, you can also give your body a slimmer and taller look.
Going for monochromatic ensembles doesn't always mean that you have to wear the exact same colors for your top and bottom. They can be two different shades under the same color palette and you can definitely still achieve the same result.
Go for High-waisted Bottoms
High-waisted bottoms can do wonders for our "short girl problems" because they do an amazing job of giving our height its much-needed lift! Its flattering visual effect can even be further emphasized if you go for a top that comes in a contrasting color.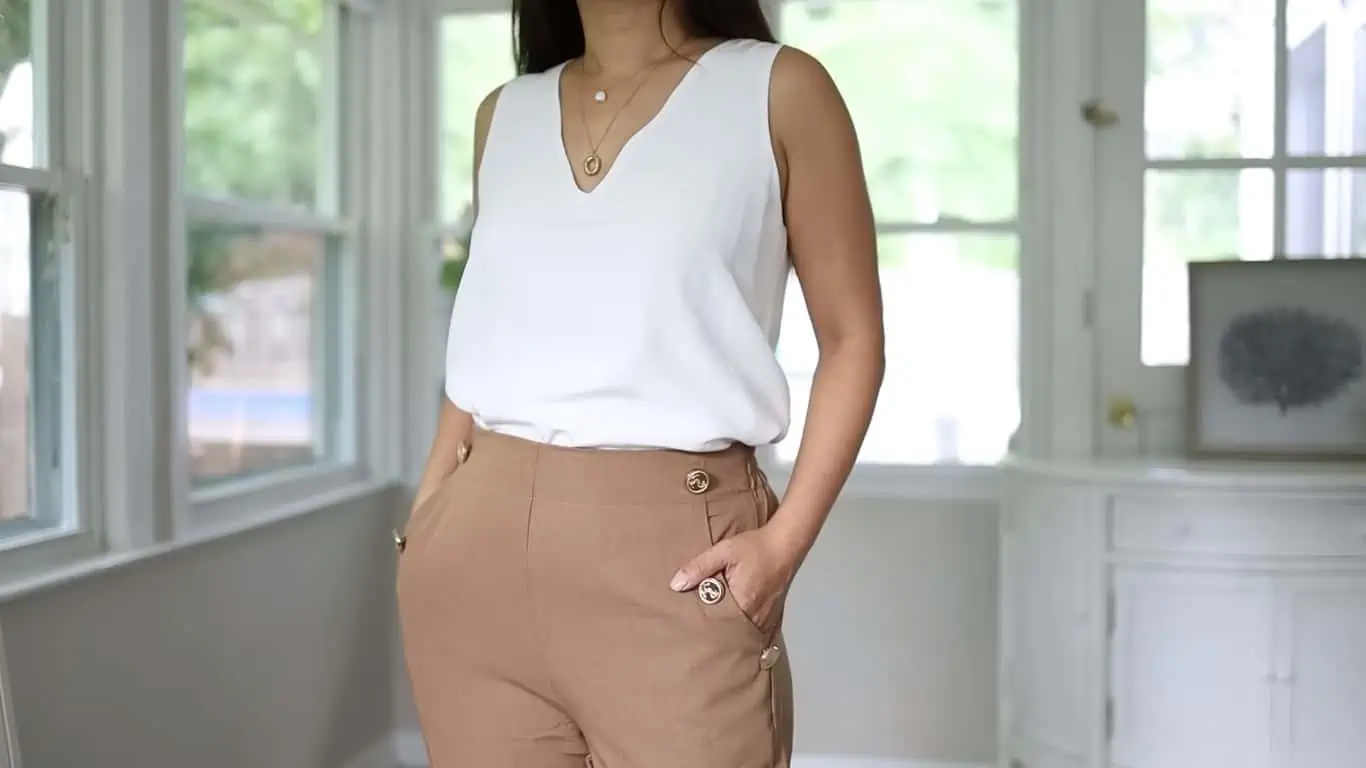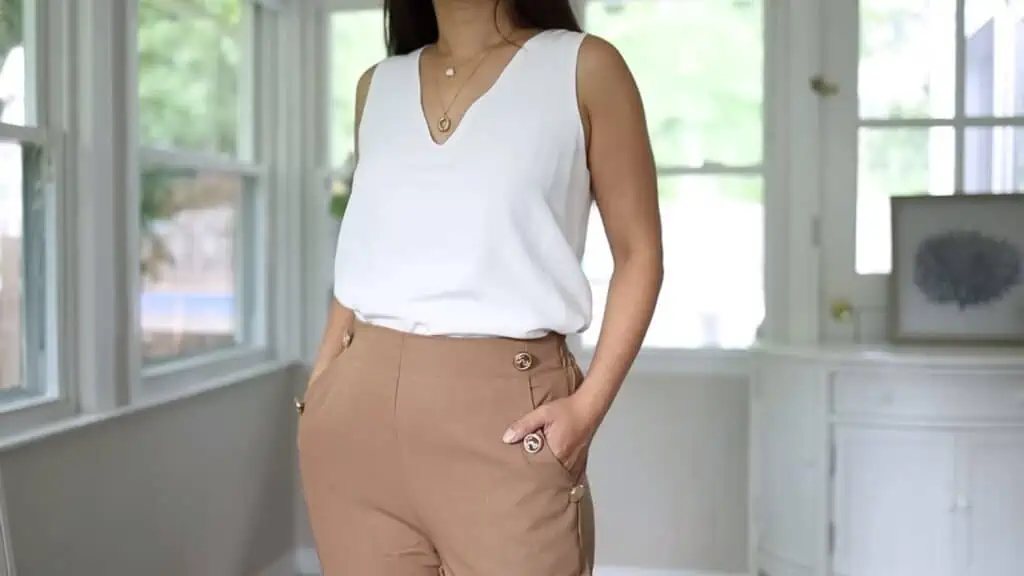 Basically, your waistline gets elevated when you wear high-waisted bottoms and this gives the eye the signal that everything under it is your legs. In a nutshell, you instantly get longer-looking legs and the focal point is no longer too fixated on your long blazer.
Tuck your top in
To make sure that you're maximizing the elongating effect of your high-waisted bottoms, you have to tuck your top in. Otherwise, not tucking in your top will have its hem compete with the length of your blazer while also covering the waistband of your pants.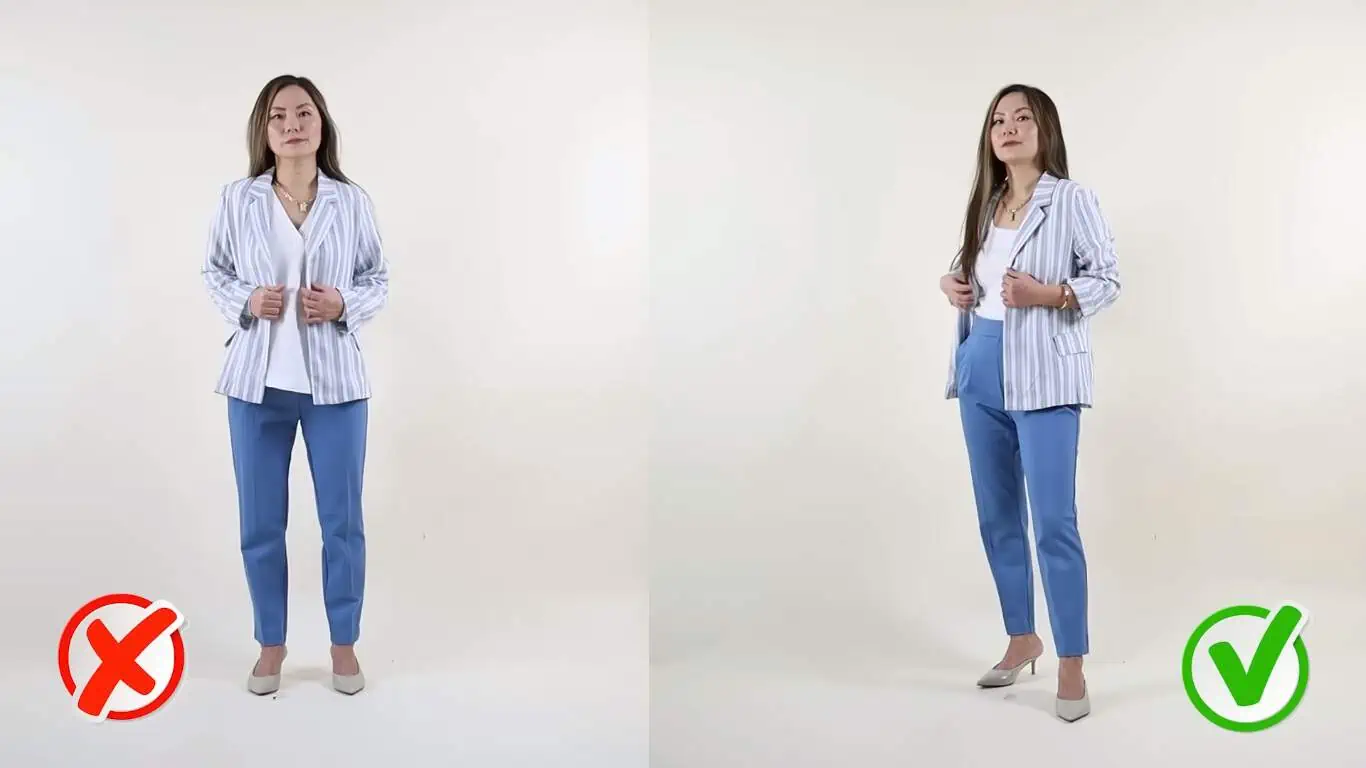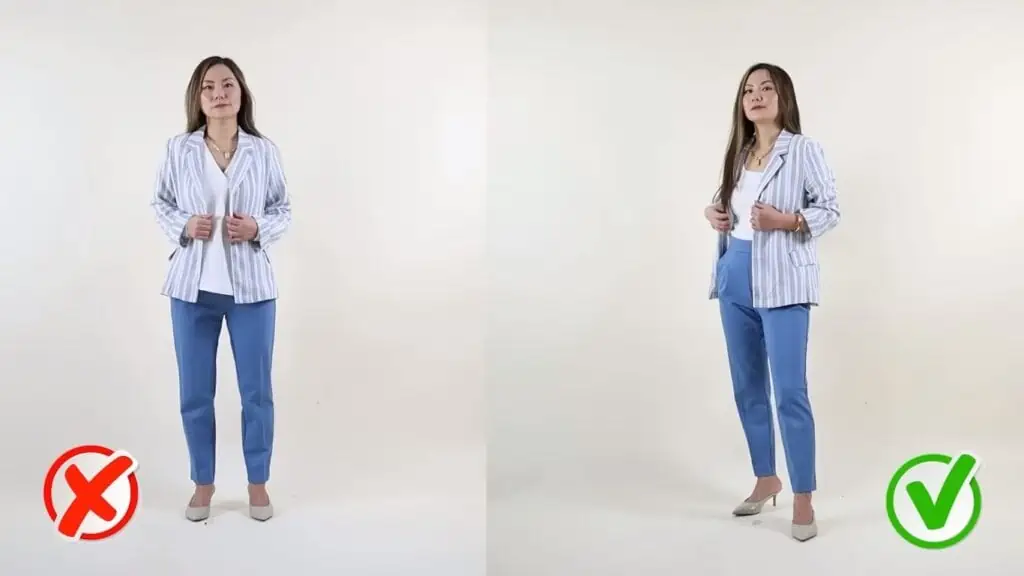 Tucking your top into your high-waisted bottoms will bring out the lengthened appearance of your legs and therefore give you a much better-looking overall proportion.
Wear Blazers with three-fourths sleeves
The thing with us short girls is that we do have short limbs as well. Unfortunately, many regular blazers are just larger by default so the sleeves are just too long for our arms most of the time.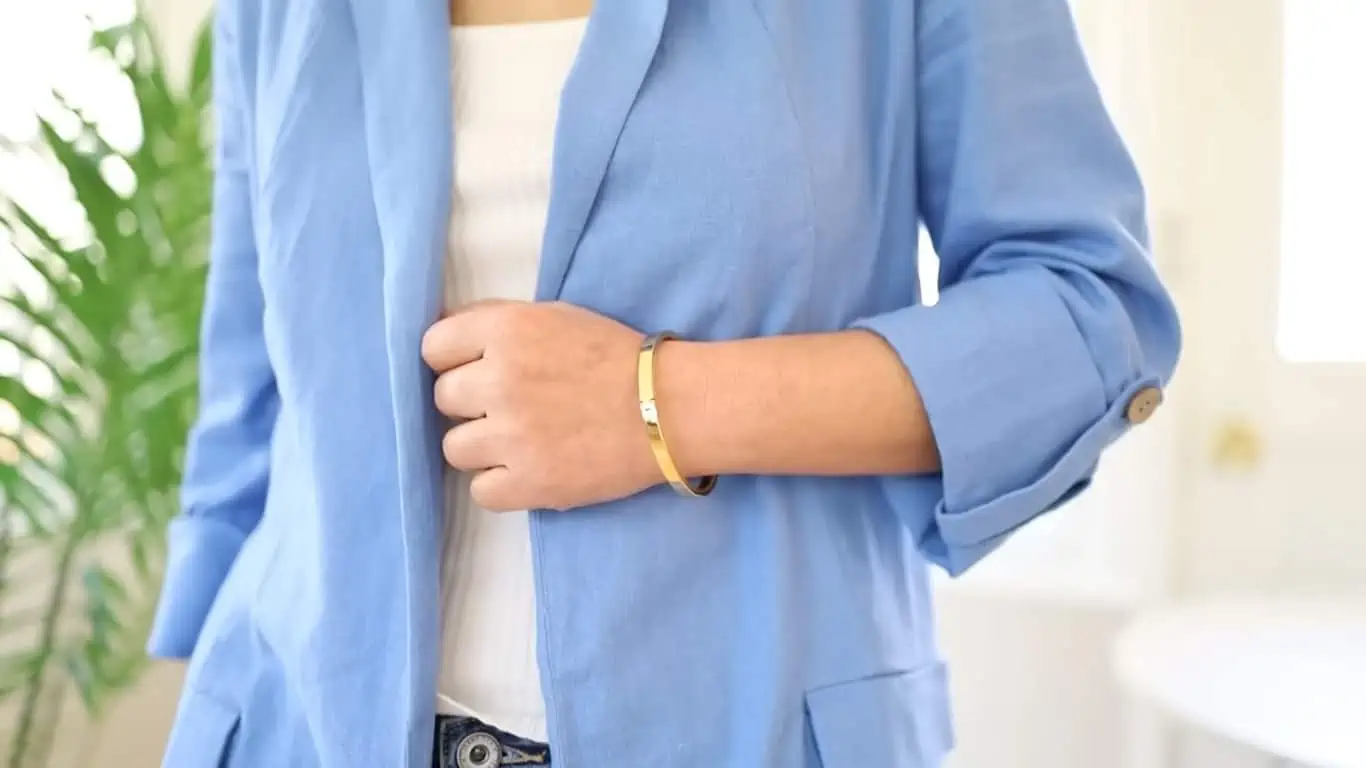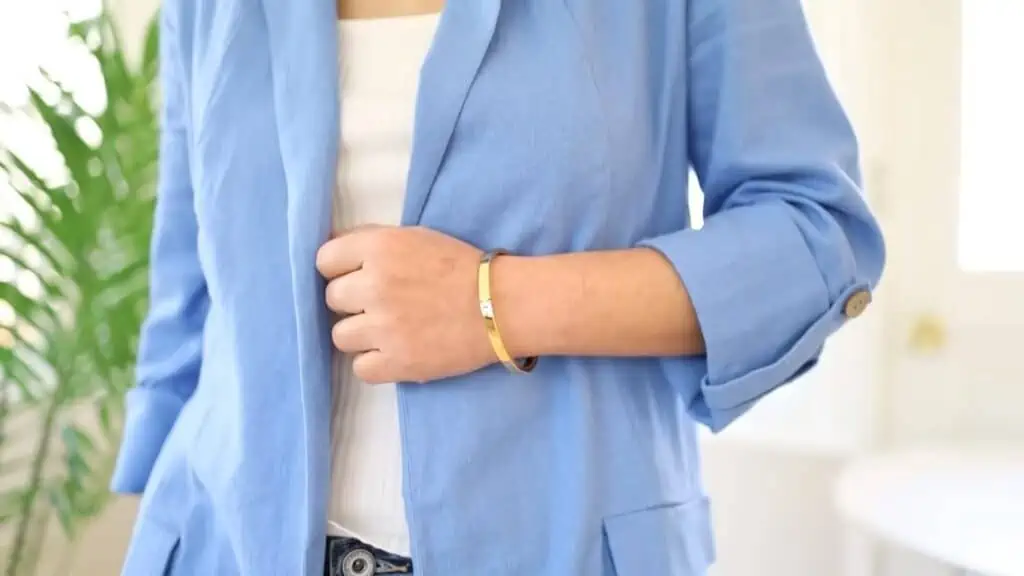 When the sleeves are too long (particularly those that are past your wrist), can absolutely make you look like you're drowning in fabric. To resolve this, opt for blazers that have three-fourth sleeves because, for us short women, it's just the perfect length to accommodate our short arms.
This may seem like a minor detail, but the right sleeve length can absolutely change your style game. It will make the blazer look more tailored-fit for you.
Avoid Pairing Double-breasted Blazers with Wide Bottoms
Double-breasted blazers are chic and edgy, but their design can also make you look wider because of the buttons placed horizontally. When you combine it with wide-looking bottoms, you'll end up looking too boxy and stubby.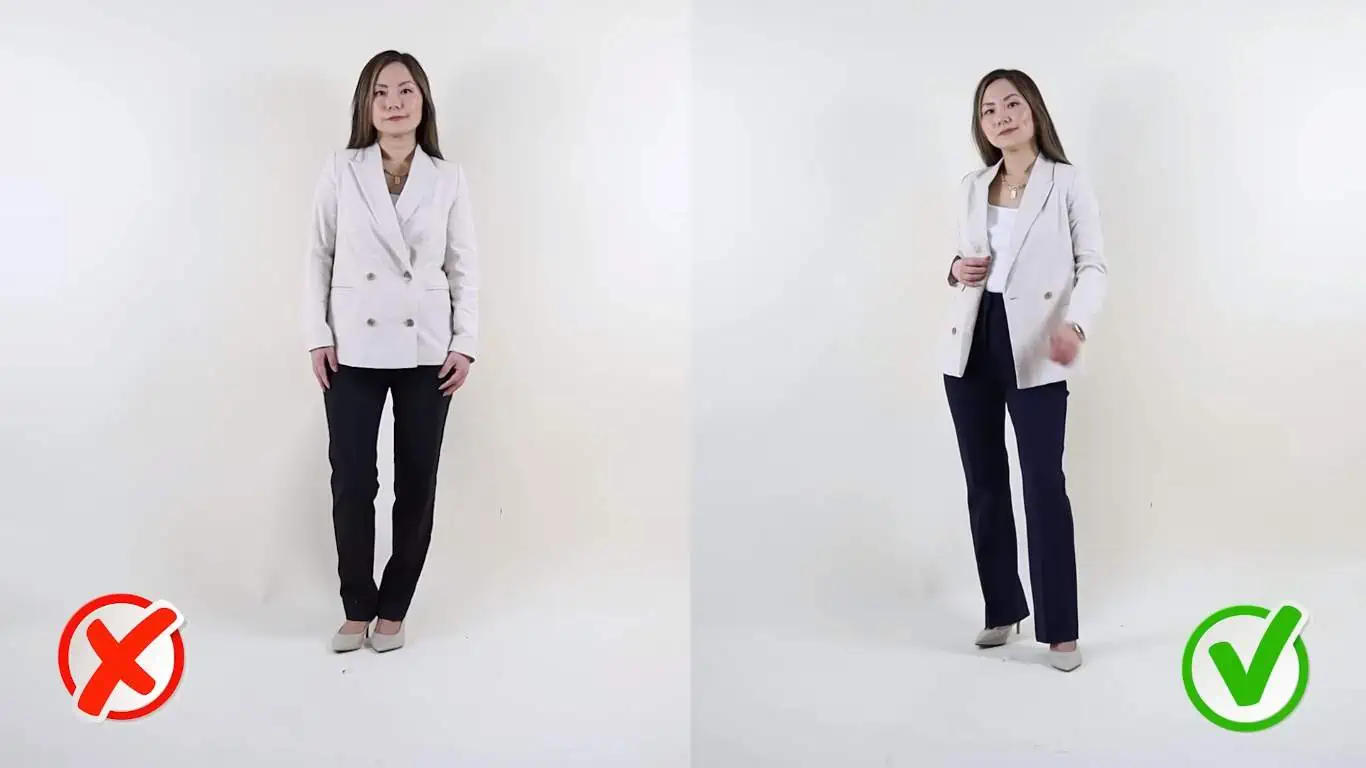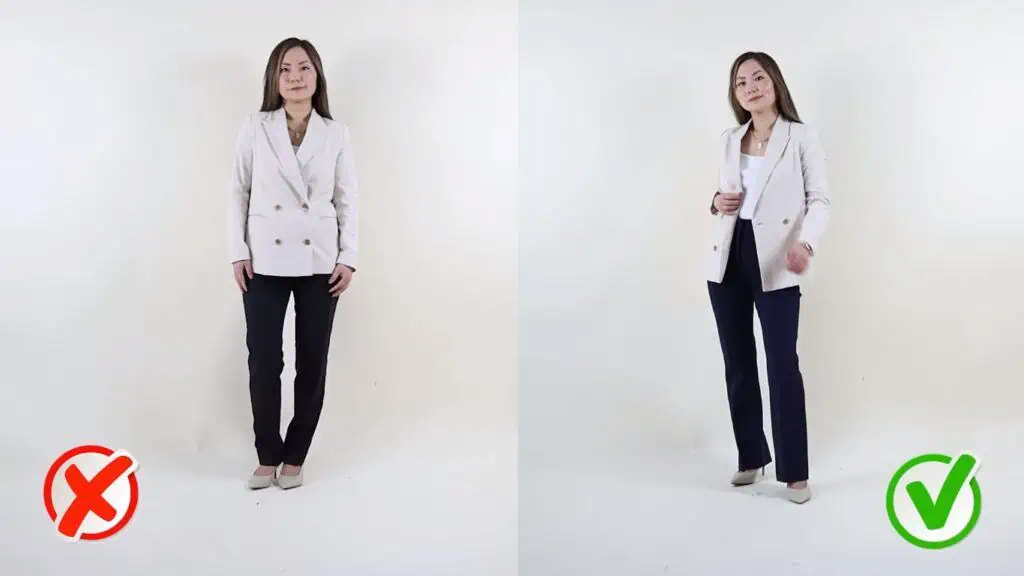 This will only emphasize your short height and will badly affect your body proportion. Instead, go for shorter skirts to counteract the wideness of your double-breasted blazer. If you're wearing it with pants, wear it unbuttoned so that the rectangular shape of the blazer won't be too obvious.
Wear the Right Pants
The best pants to pair your blazers with would be bootcut pants and full-length wide-leg pants. These two work best for your short figure and I'll tell you why.
First, let's talk about bootcut pants. They have a leg shape that's fitted around the thighs and then gently flares out toward your knees, giving a slimming and elongating effect to your legs.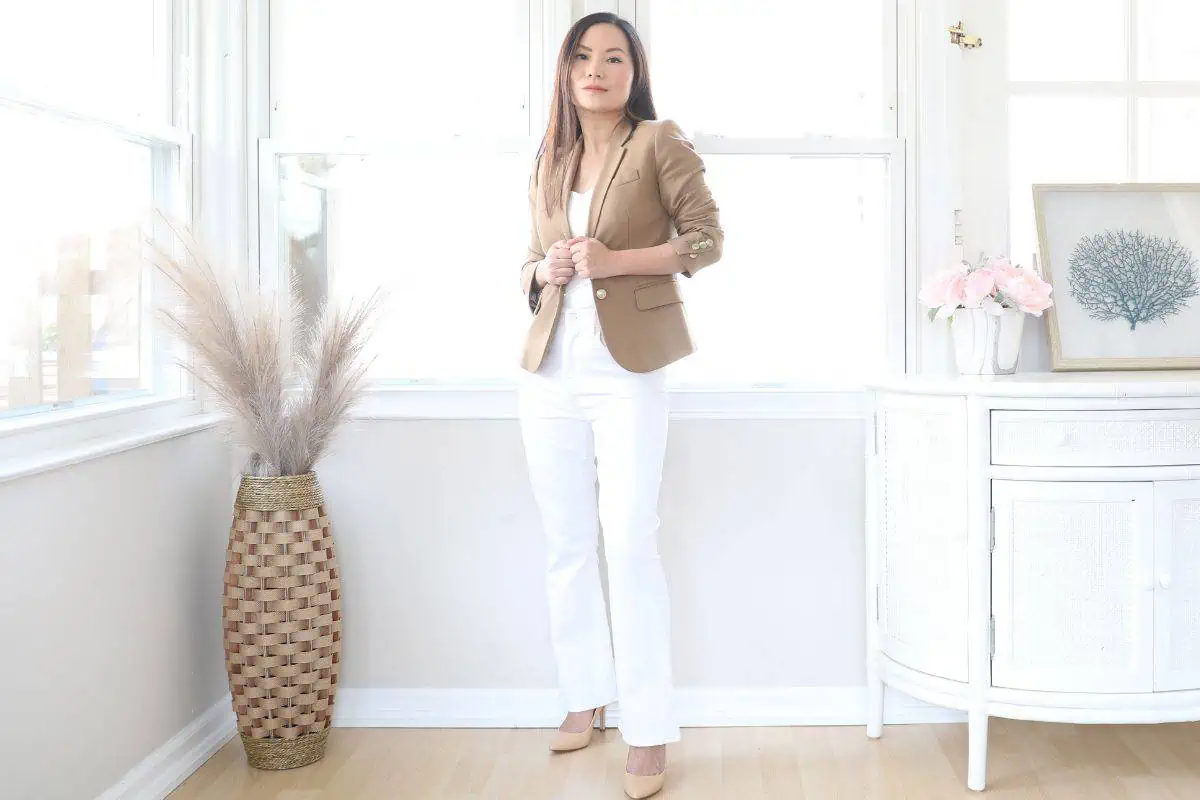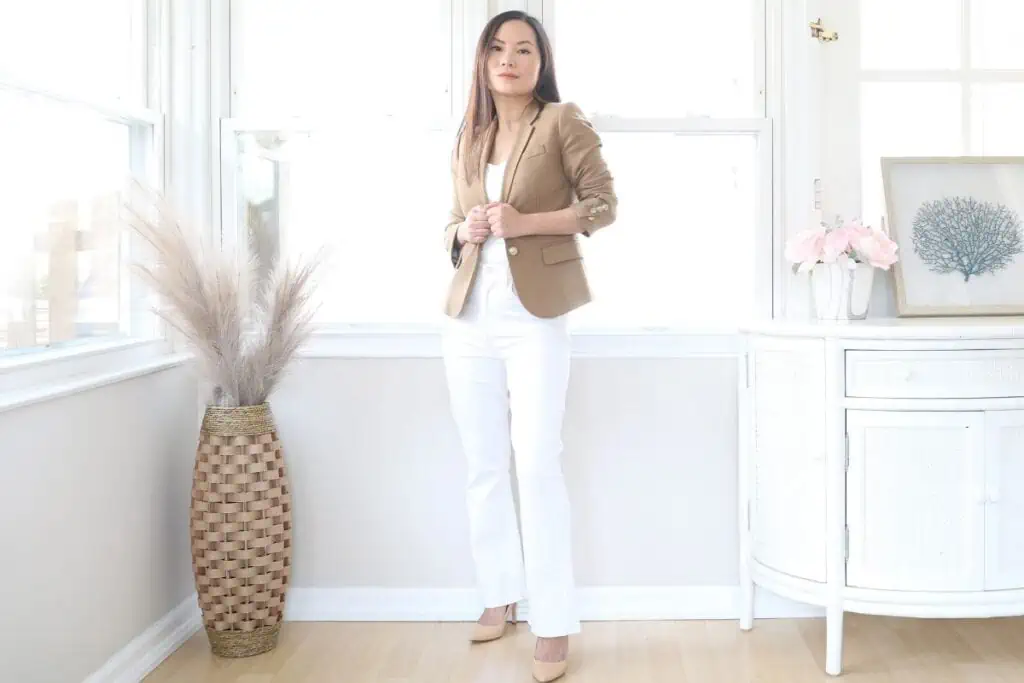 The next one would be the gorgeous wide-leg pants, but note that if you're going for this style, you have to opt for a pair that comes in full length! Because your blazer is already long, you'd like to make your lower body look longer to apply the golden mean ratio.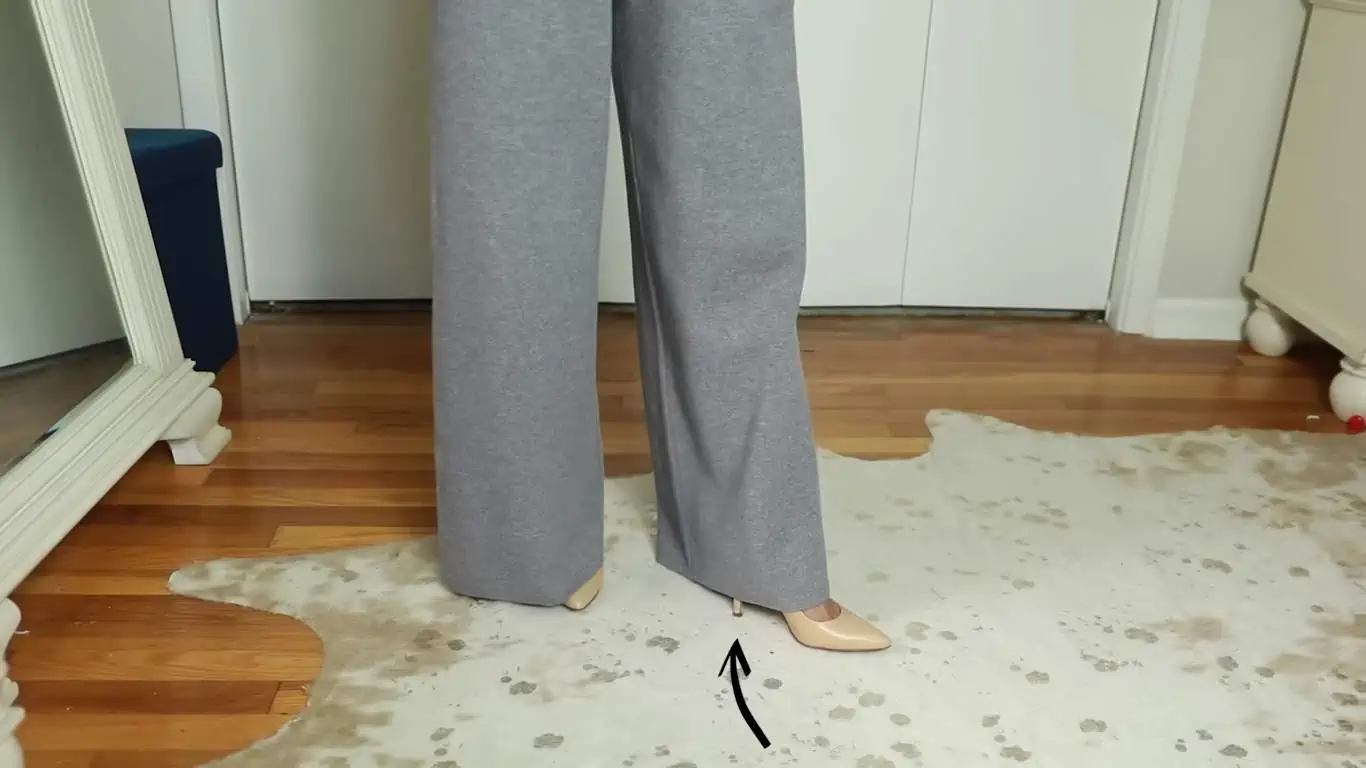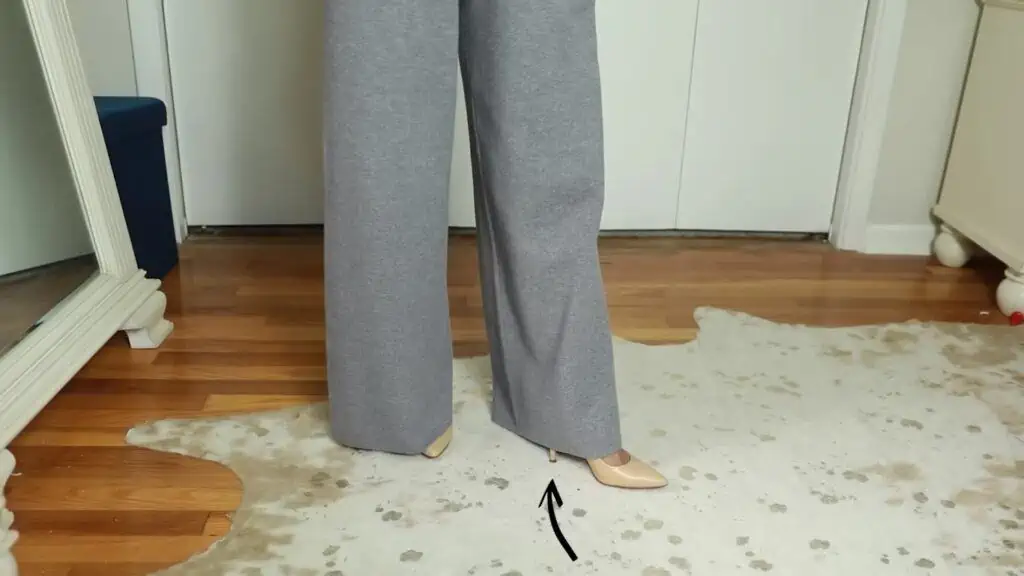 But you might be wondering how you are supposed to wear full-length wide-leg pants without literally sweeping the ground. The answer is simple: wear them with heels to fully maximize the elongating effect of your entire outfit.