If you are petite, finding the right coats is never easy. I understand this can be quite a challenge as I am 5'2″ myself. Besides, if you are a short girl with a pear shaped body, it can be even harder, as the pear carries weight in the hips and thighs.
I have a full petite clothing line for women 5'4″ and under, so I receive feedbacks on a daily basis from thousands of my petite customers. I've put together this guide based on the feedback to help you find the best coats for your shape.
Styling Goal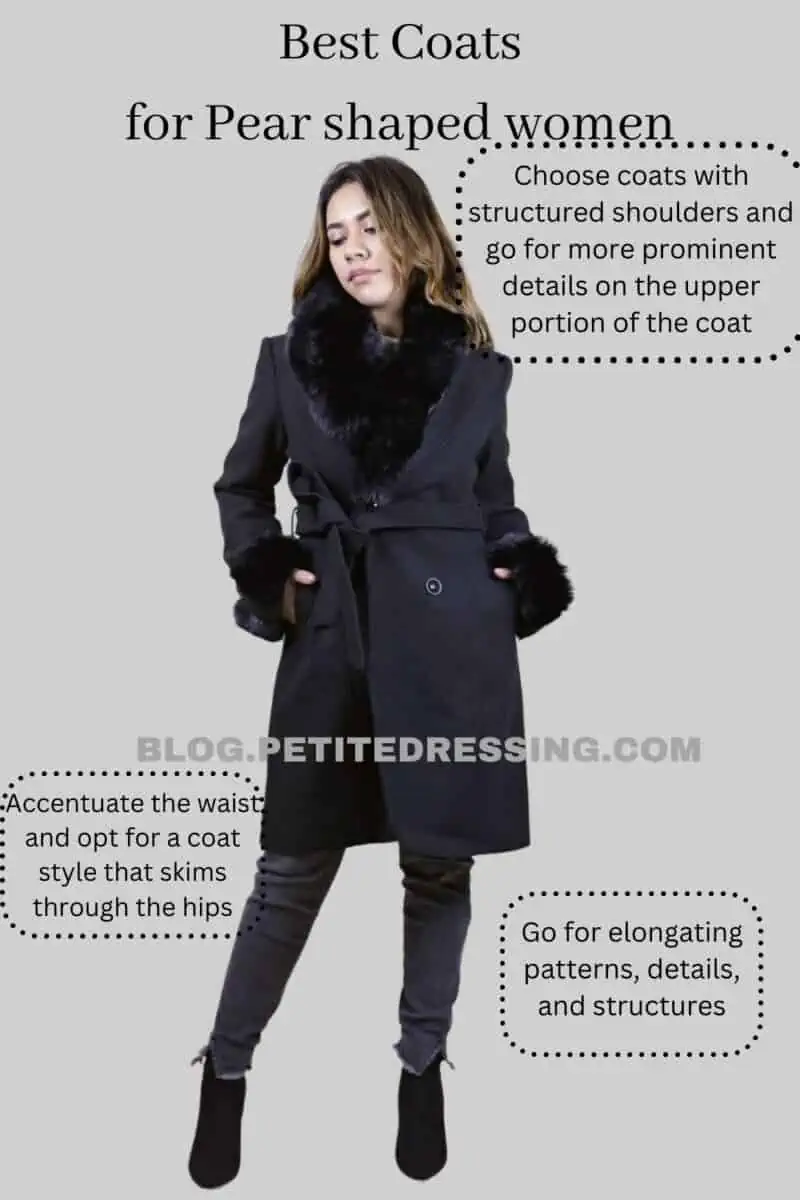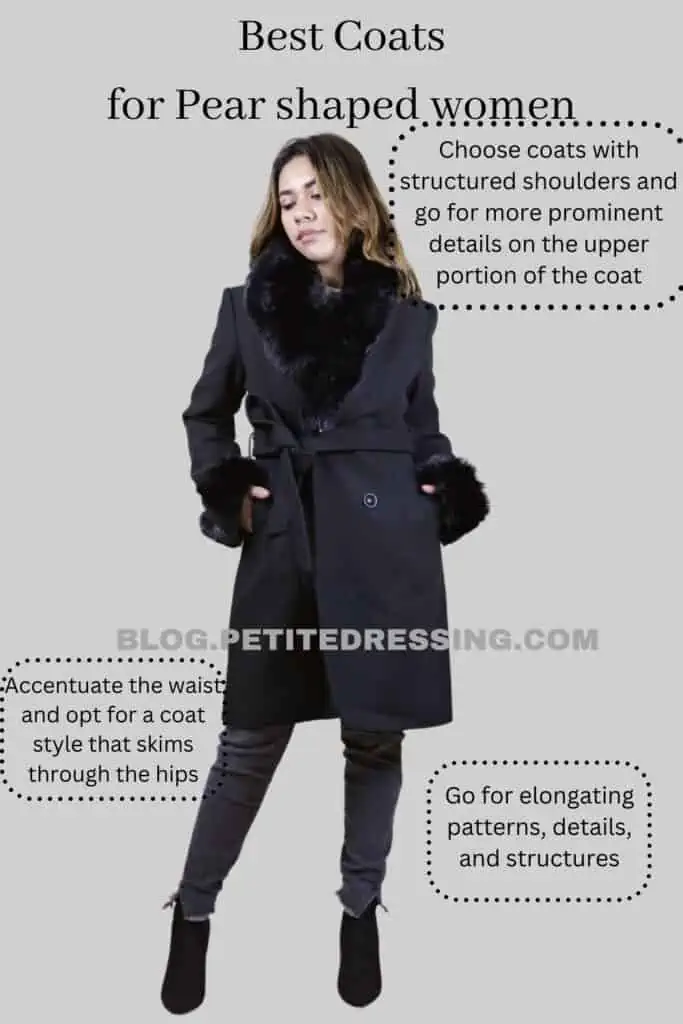 Choose coats with structured shoulders and go for more prominent details on the upper portion of the coat. Since petite pear shapes have wider hips compared to their shoulders and bust, your upper half would need a bit more boost for better visual balance.
Accentuate the waist and opt for a coat style that skims through the hips to bring your upper and lower body to more flattering proportions. These two style factors will help tone down the wideness of your hips to make them less intimidating.
Go for elongating patterns, details, and structures to give your petite frame the illusion of height. Well-seamed coats, as well as the proper length, will significantly contribute to visually making your figure appear taller and slimmer.
Now that we have covered these three key styling goals that we need to consider to style a petite pear shape, then let's go over all the specific types of coats that tick these boxes.
Classic Trench Coat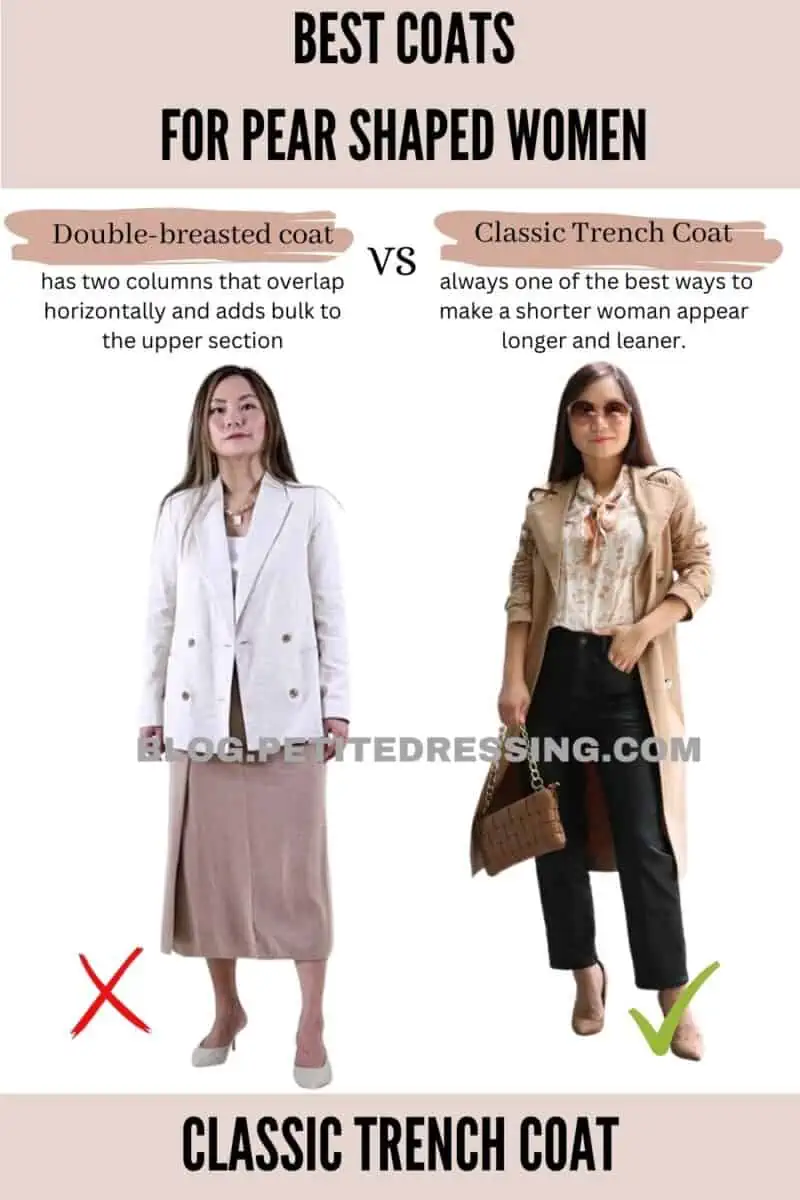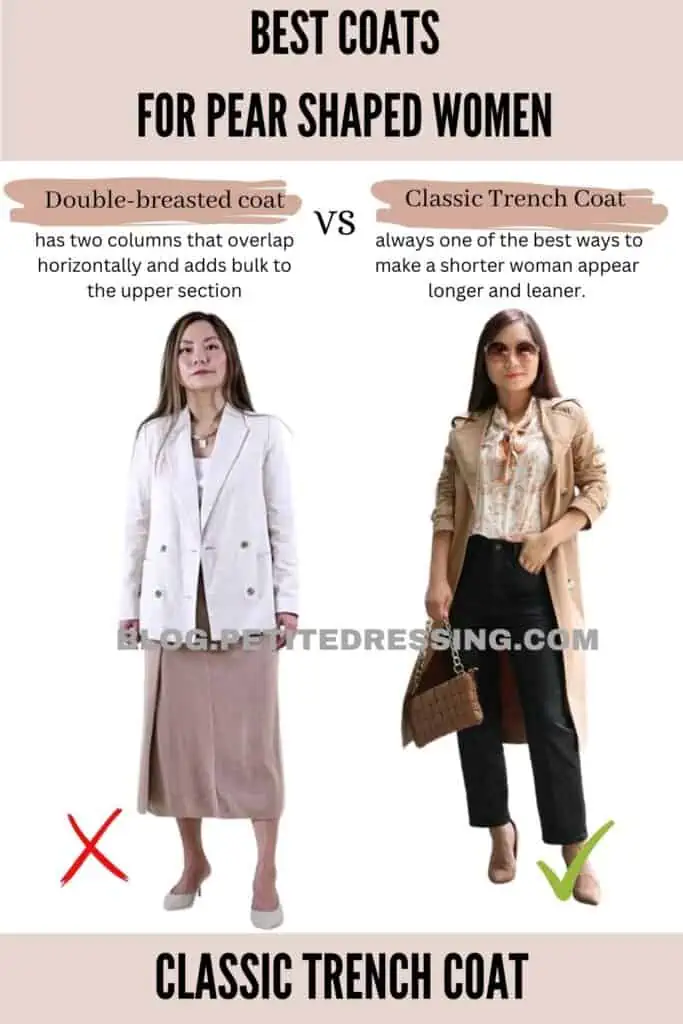 Trench coats just have this iconic edge and a certain je ne sais quoi that made them a fall/winter fashion staple. And for women with a petite pear body shape, I can definitely say that it's a must-have item in their wardrobe due to how this coat features very flattering details for your figure.
A trench coat's silhouette is structured and tailored, making it perfect for creating a definition around the waist through the help of its waist belt. This is great news for petite pear-shaped women, who often have a smaller waist in proportion to their hips and thighs.
The coat's wide lapels and classic shoulder epaulets draw the eye upwards, creating a visual balance that makes the hips appear narrower and the upper body more prominent. Additionally, the double-breasted design of many trench coats adds another layer of definition to the bust area, creating an even more flattering silhouette.
Cropped Puffer Coats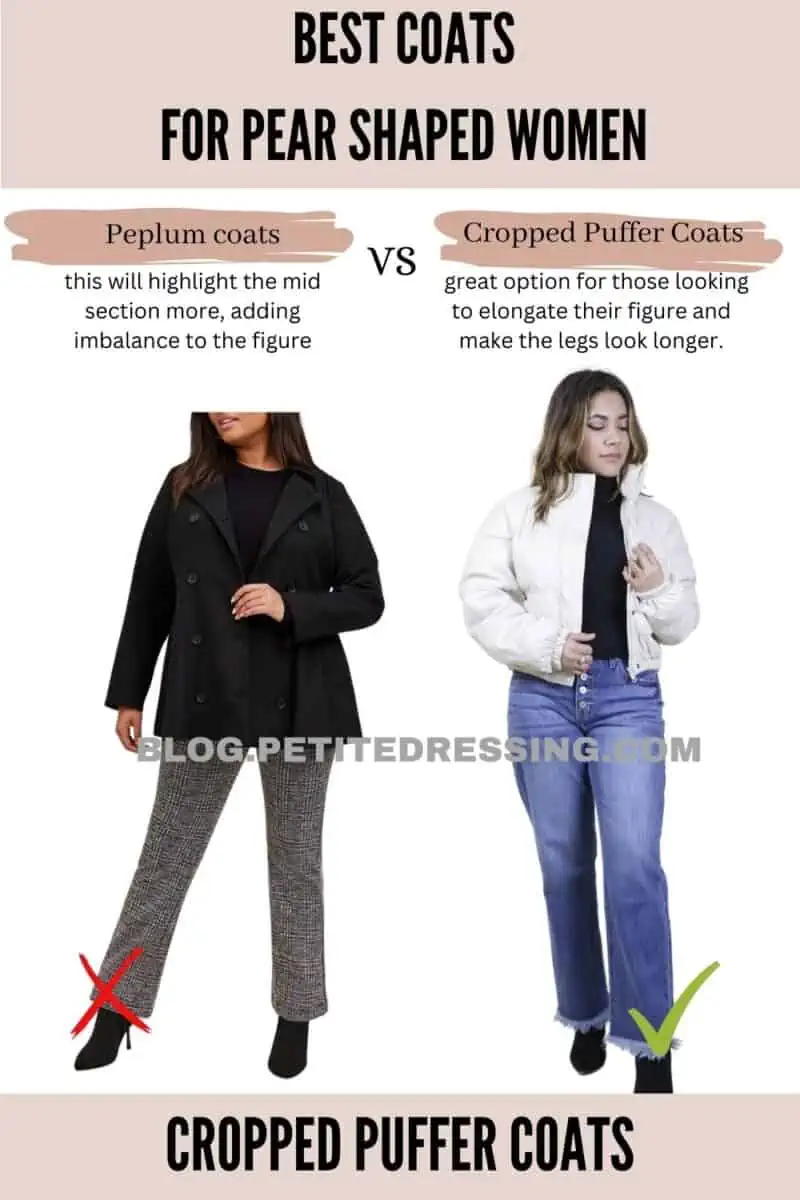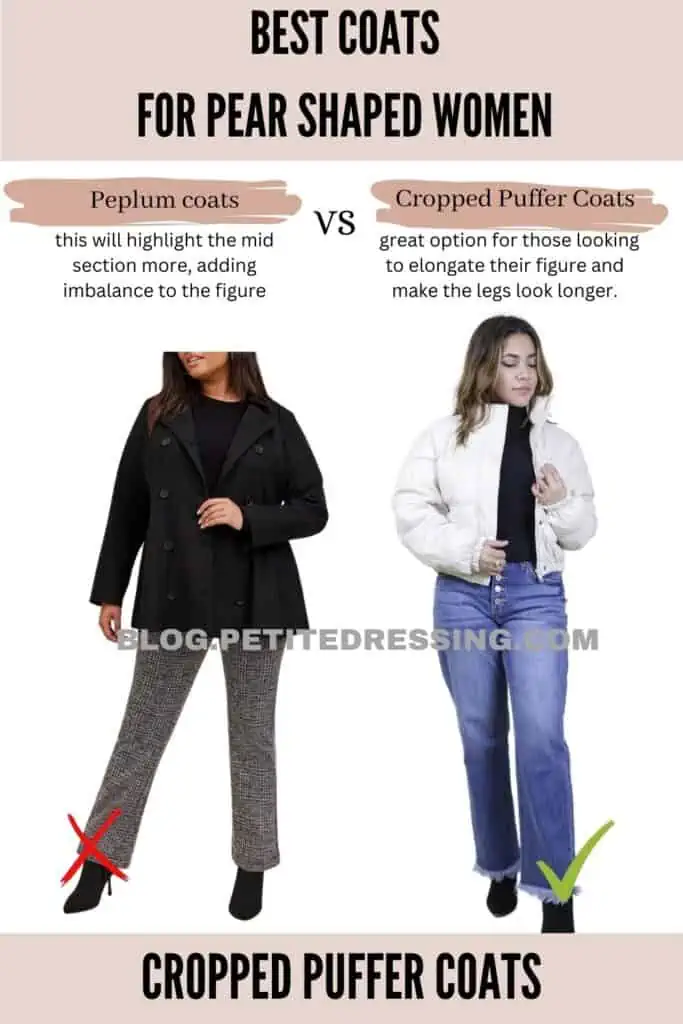 The cropped puffer coat is an ideal choice for pear-shaped individuals. Its shorter length helps efficiently balance out the upper body with wider hips and thighs, creating a harmonious and flattering silhouette.
In addition to this, it is also a great option for those looking to elongate their figure since it stops just right at the hips (or slightly above it) to make the legs look longer. Unlike other bulky and long puffer coat styles, this design won't overwhelm your frame, making it an excellent choice for petite individuals.
The puffer style of the coat adds a layer of volume that can create the illusion of a more balanced figure. The key is to choose a coat with a smaller, more tailored puffer design that won't overwhelm a petite frame.
Tailored A-Line Coats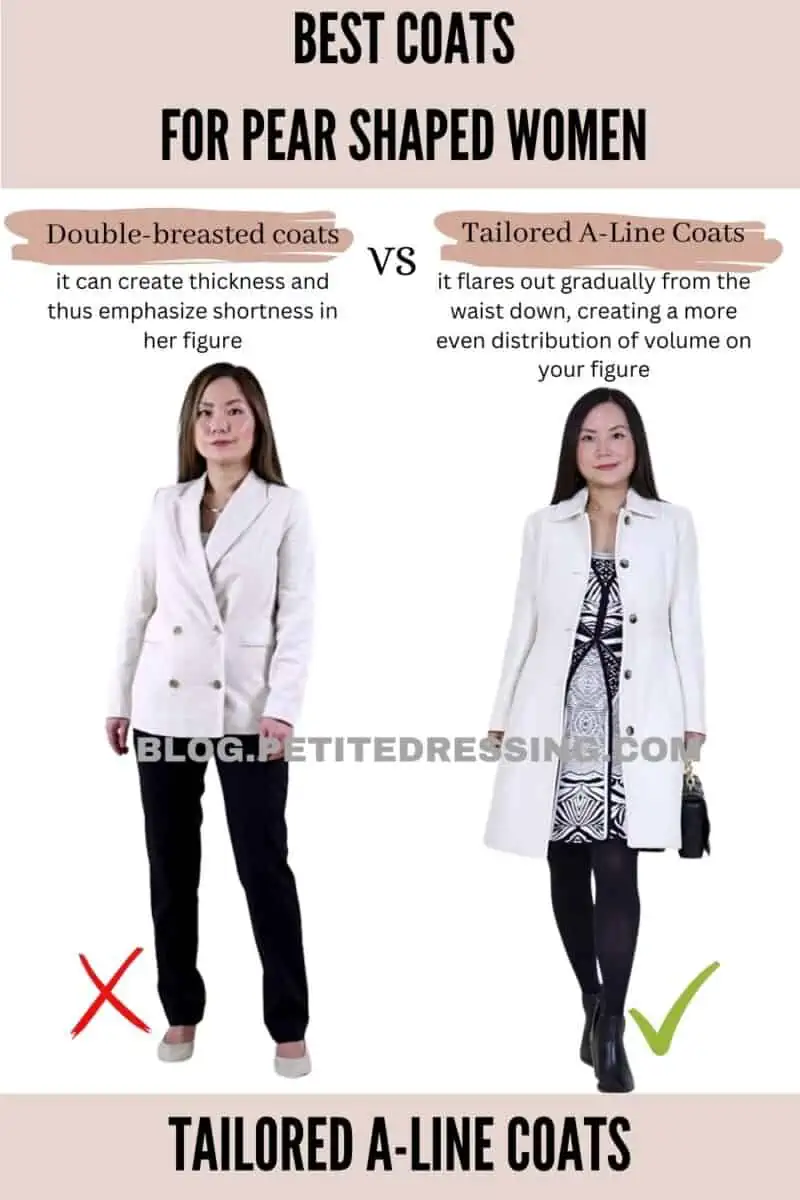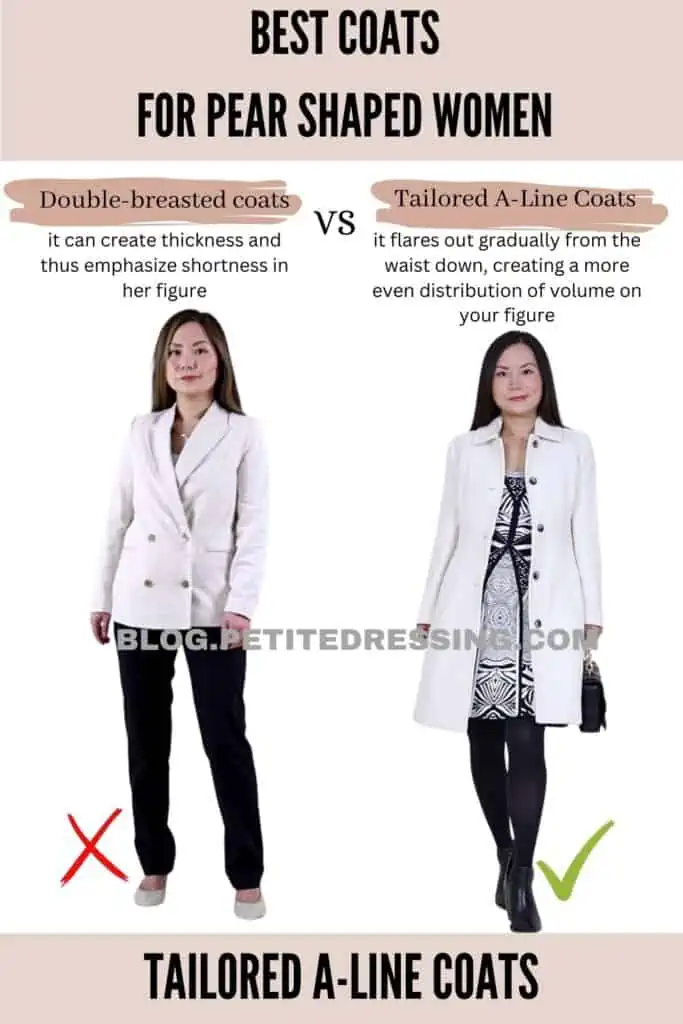 The A-line silhouette of the coat is perfect for balancing out a pear-shaped figure as it flares out gradually from the waist down, creating a more even distribution of volume on your figure. This is especially important for women who may have wider hips and thighs in proportion to their smaller upper bodies because the flare is also a subtle way to conceal this broadness.
Additionally, the typical length of an A-line coat is versatile and can be tailored to suit any height. For petite women, choosing a coat that hits just above the knee or mid-thigh can help to elongate the legs and create the illusion of height.
They are quite easy to pull off and I would actually say that it's a coat silhouette that's almost foolproof! Due to its design, you can either layer it or wear it fully closed and it will still look very flattering on your petite pear-shaped body.
Neutral-colored Wrap Coats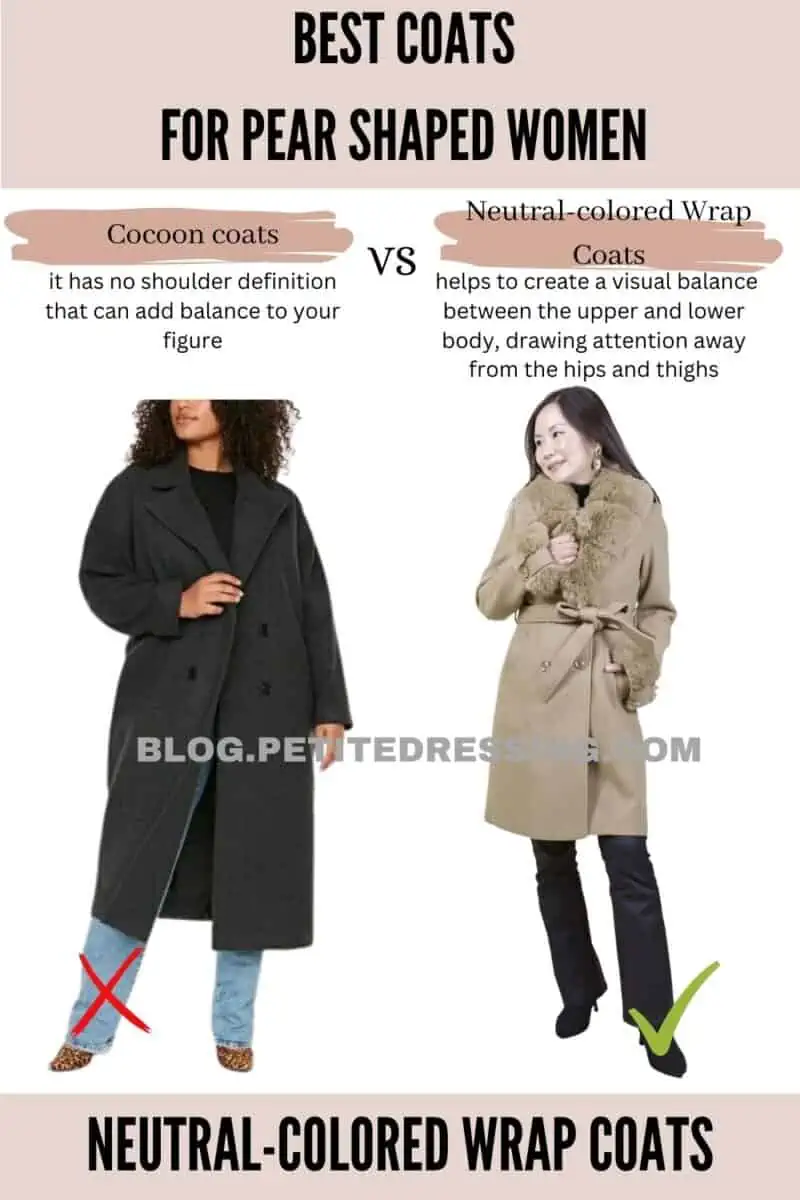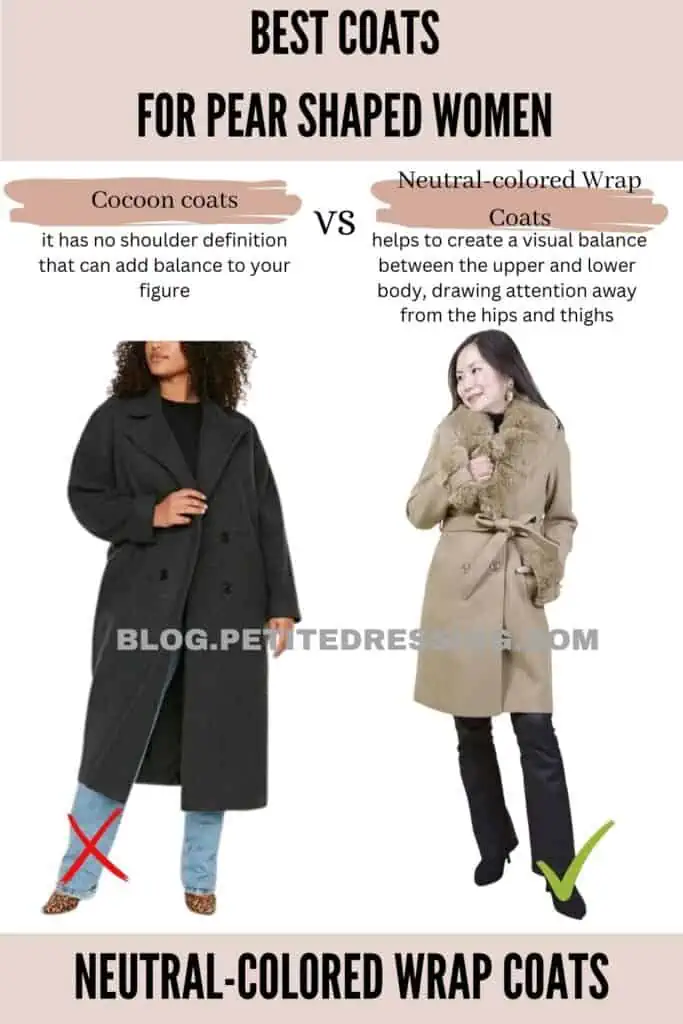 Not only is the wrap coat a stylish and feminine choice, but it also helps to balance out the figure. One of the key benefits of a wrap coat for a pear-shaped body is the nipped-in waist.
This design detail helps to create a visual balance between the upper and lower body, drawing attention away from the hips and thighs. The V-shaped neckline it forms when wrapped draws the eye up and down, elongating the neck and torso, while the A-line skirt flares out from the waist, skimming over the hips and thighs.
This style of the coat also allows for some adjustability, as the tie at the waist can be adjusted to fit the individual's body shape. This means that a wrap coat can be tailored to fit a woman's curves perfectly, creating a more streamlined and polished appearance.
Wide Lapel Coats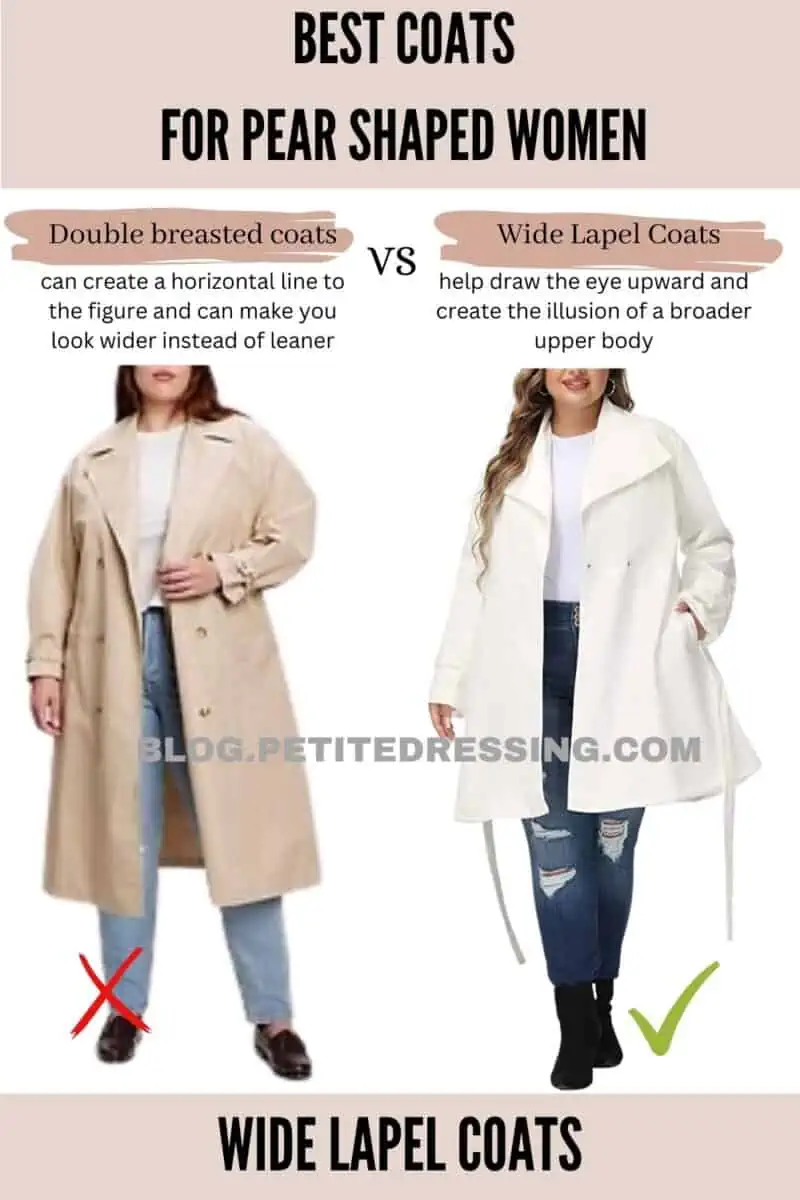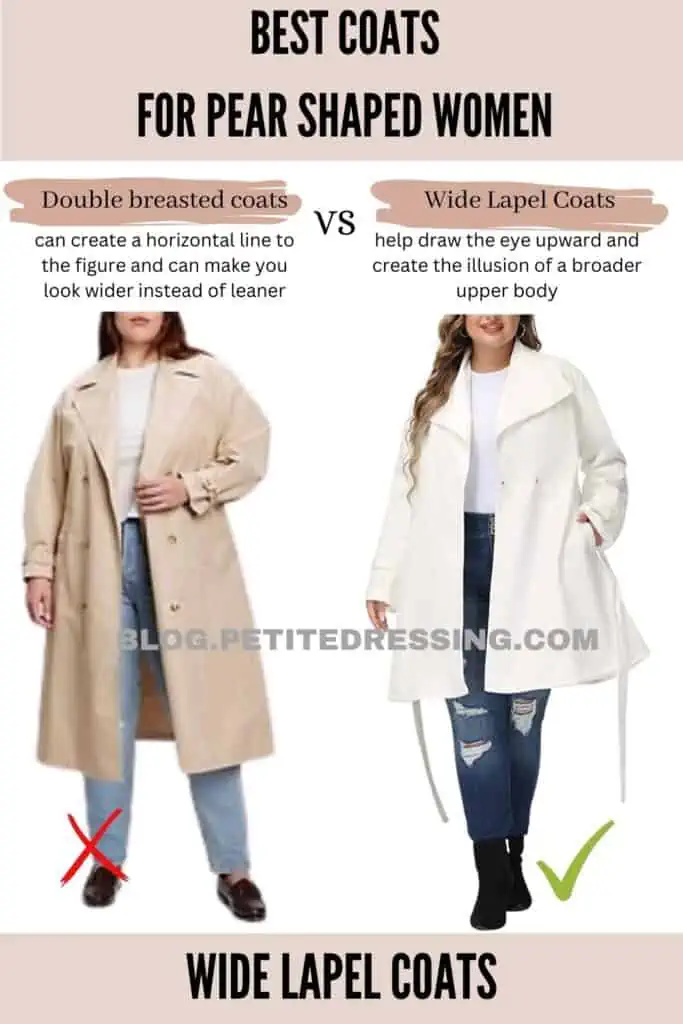 Since a petite pear shape typically lacks upper body prominence, wide lapels help draw the eye upward and create the illusion of a broader upper body, which efficiently balances out the proportions of a petite pear-shaped figure. This helps create a more balanced overall silhouette.
In addition to the fact that it adds upper body definition, wide lapels can create a sense of verticality, elongating the torso and making a woman appear taller. This is particularly beneficial for petite women, who may be looking to create the illusion of height.
A wide lapel coat can also add visual interest and detail to a coat, drawing attention away from areas that you may not want to emphasize, such as the hips and thighs.
Coats with Shoulder Pads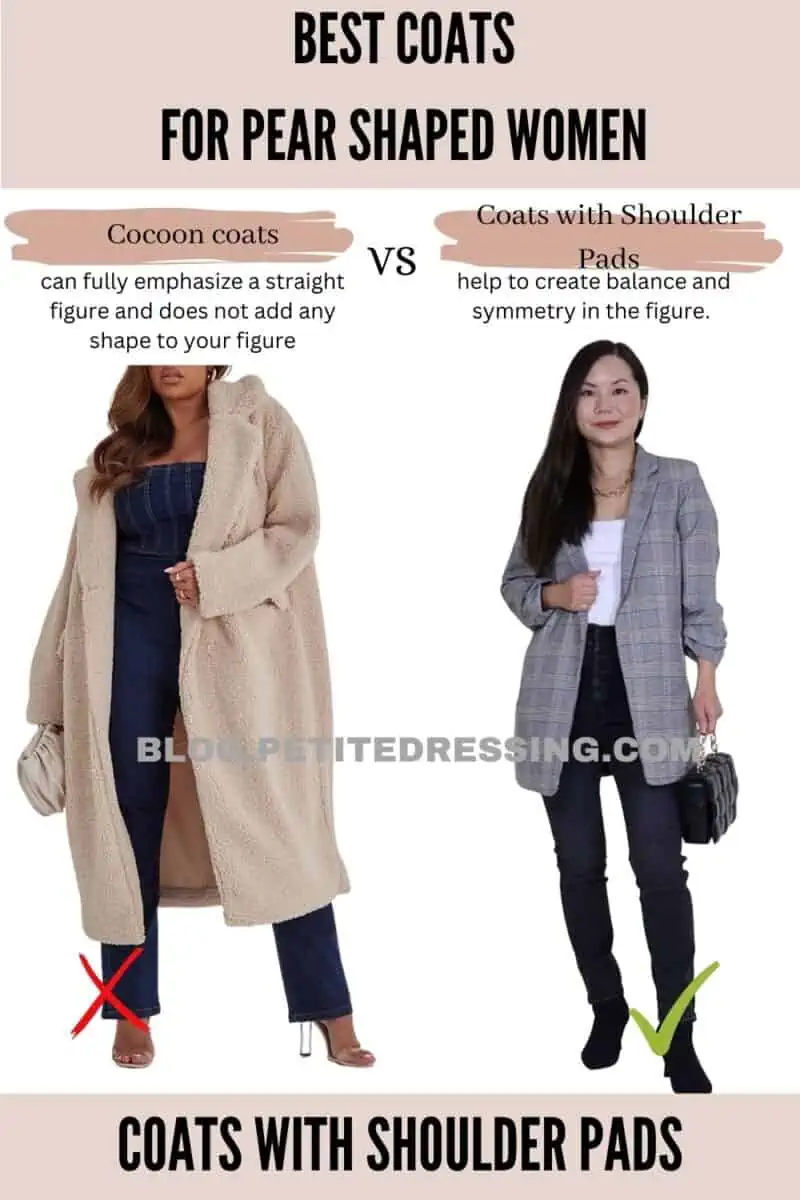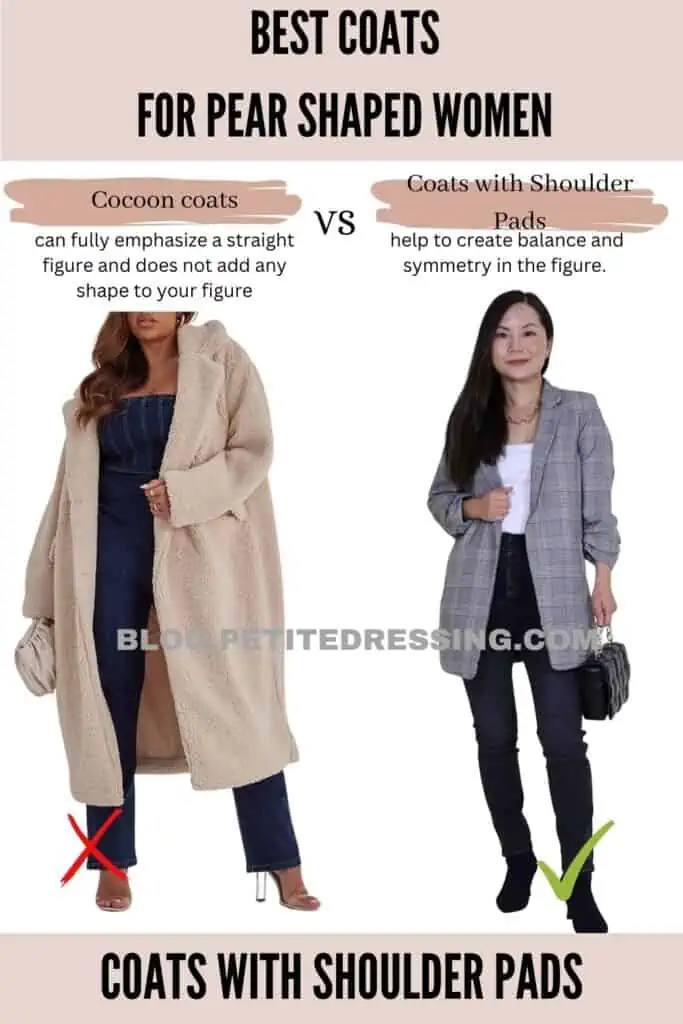 Coats with shoulder pads are perfect for petite pear-shaped women because they help to create balance and symmetry in the figure.
As a petite pear-shaped woman, you have probably struggled to find clothing that fits both your upper and lower body. Coats with shoulder pads provide a solution to this problem by adding volume and structure to the shoulders, creating the illusion of a broader upper body.
This added volume can also help to offset the wider hips and thighs that are common in pear-shaped figures, creating a more balanced overall silhouette. Not only do coats with shoulder pads create balance in the figure, but they also give your fall and winter ensemble an edgier vibe!
Fit and Flare Coats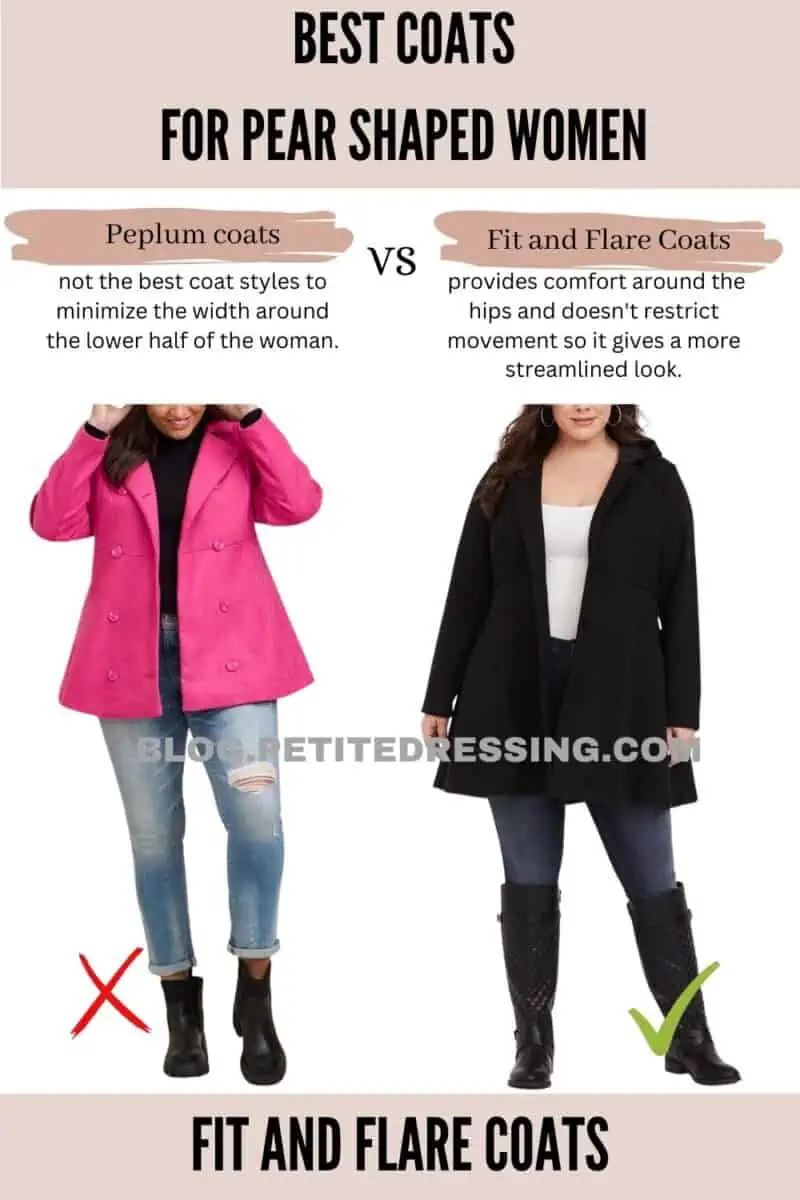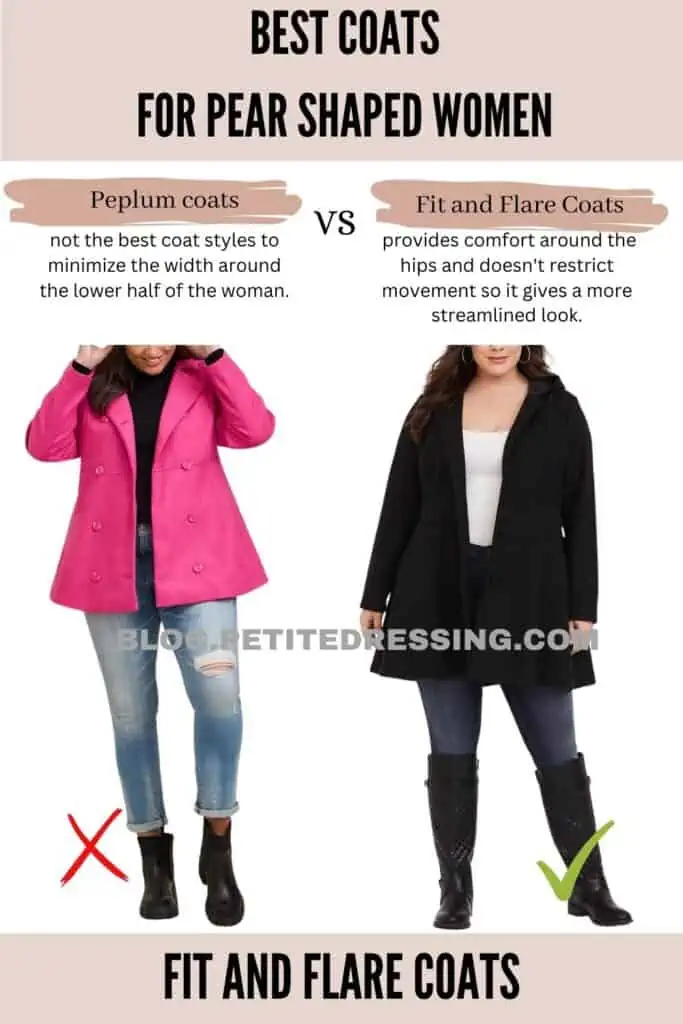 Fit and flare coats are incredibly comfortable, with a simple yet gentle style that doesn't cling too tightly around the hips. They offer a relaxed fit that accommodates the hips to subtly tone down its prominence and therefore make it look more proportionate to the upper body.
Women with pear-shaped figures need not worry about their figure's natural upper and lower body imbalance because the fit and flare coat is an excellent style choice for them. This type of coat provides comfort around the hips and doesn't restrict movement so it gives a more streamlined look.
Just note that when wearing a fit and flare coat, it's essential to ensure that it flares from the hips rather than the waist. This design prevents adding bulk to the already wider hips and thighs.
Pea Coats
Pea coats have distinct features such as a double-breasted structure, typically large buttons, and a wide lapel collar which are all deemed flattering for petite women with pear shapes. Pea coats can be flattering for women with petite pear shapes because they tend to be fitted at the waist and flare out slightly at the hips.
Its design helps to balance out the proportions of the body and create a more hourglass-like silhouette. Additionally, the double-breasted style of the pea coat can help to create the illusion of a broader upper body, which can be beneficial for pear-shaped women who tend to carry more weight in their lower bodies.
The wide lapel collar can also draw attention to the upper body and create an unbroken vertical visual line, which can help elongate the torso and make you appear taller.
Princess Seam Coats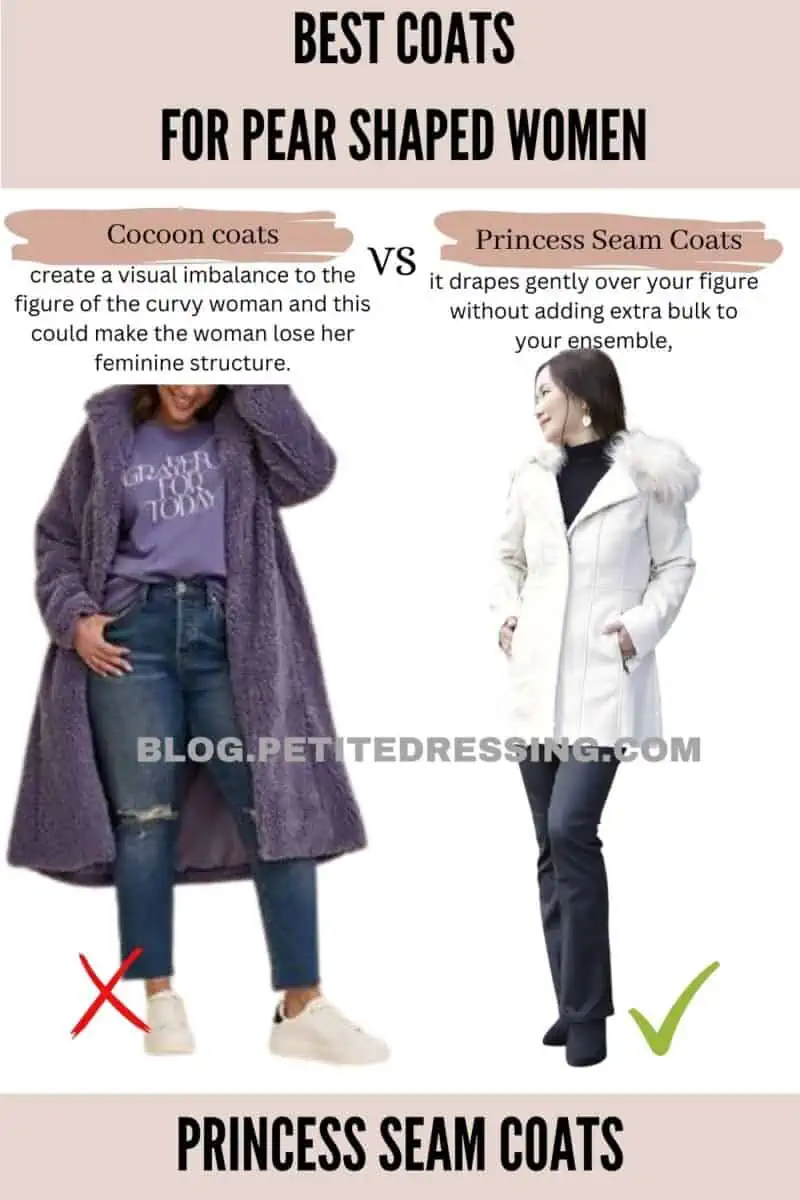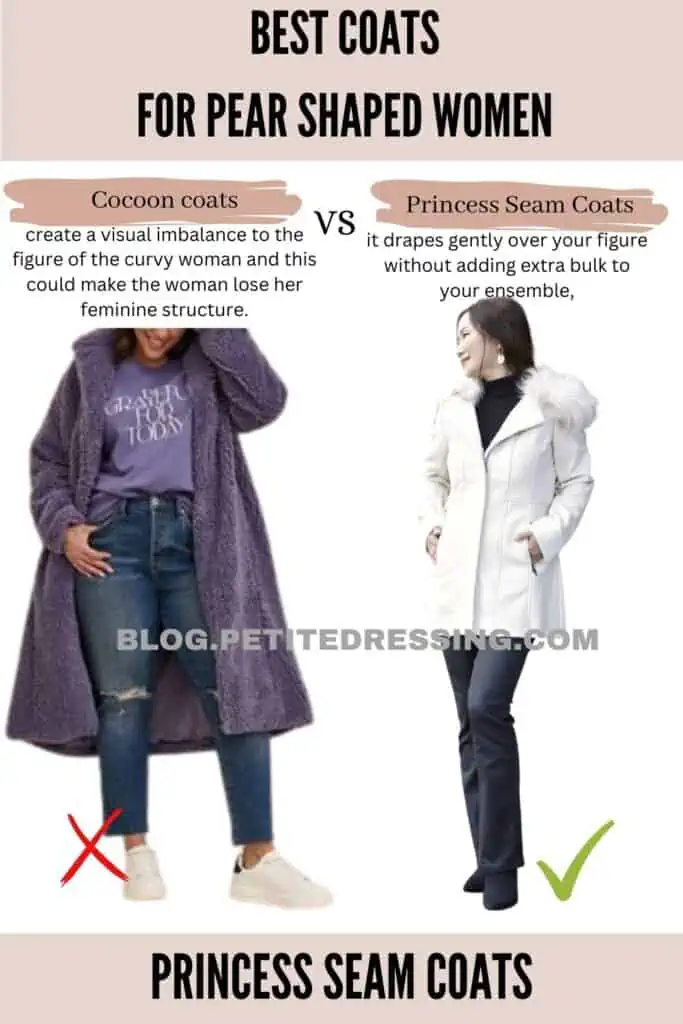 Princess seam coats are also a very good option for petite pear-shaped ladies out there! Its feminine and very streamlined structure is definitely something that your figure would love!
This design is structured to add definition to your upper body while seamlessly falling over your wider hips. Unlike other coat styles, it drapes gently over your figure without adding extra bulk to your ensemble, most particularly around the hip area.
The Princess seam coat is a game-changer because it has its waistline positioned above the natural waistline, which helps create the illusion of a taller height. This unique feature creates a neat, uninterrupted visual line from the shoulders to the hem to make your figure look well-balanced, slimmer, and taller.
The Key Takeaway
Petite pear-shaped women may not always be the easiest to style in terms of coats due to the significant size difference between the upper and lower body. But with the right choice of details and structures, you can absolutely work your way around it!