What is Kibbe Dramatic Body Type
Dramatic is one of the original 13 Kibbe body types. Take the Kibbe test to find out your body type. The Kibbe types have two dramatic body types, i.e. dramatic and soft dramatic type.
Height:
Moderate to tall, usually 5 feet 5 inches and over.
Body type:
Straight and angular, may tend to long or sleek musculature (sinewy or lithe.) Usually have long legs and arms. Narrow in width.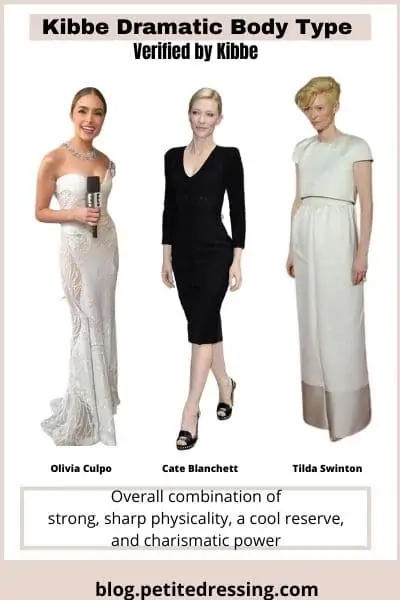 Bone structure
Anglular, with sharp edges.
Usually have square shoulders (may be narrow).
Hands and feet are usually long and narrow.
Facial bones are sharp or prominent (nose, jawline, cheekbones).
Sometimes, the bone structure is called "delicate" because of its narrowness. This is actually not true, for example length keeps it from being truly delicate. A more helpful description would be "sleek."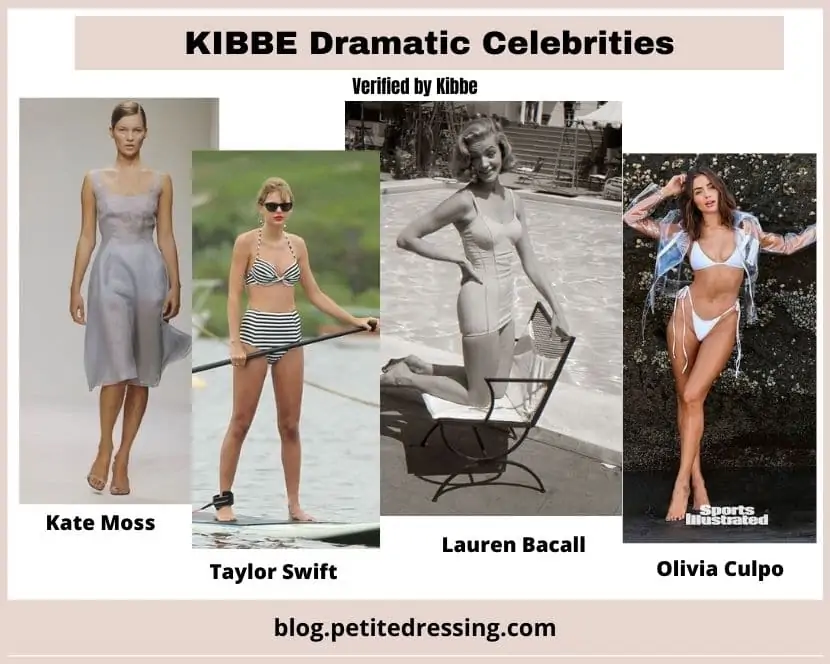 Facial features
Straight, sleek lines. Sloe or almond eyes; narrow, thin or straight lips; taut skin, especially around the cheek and jaw areas.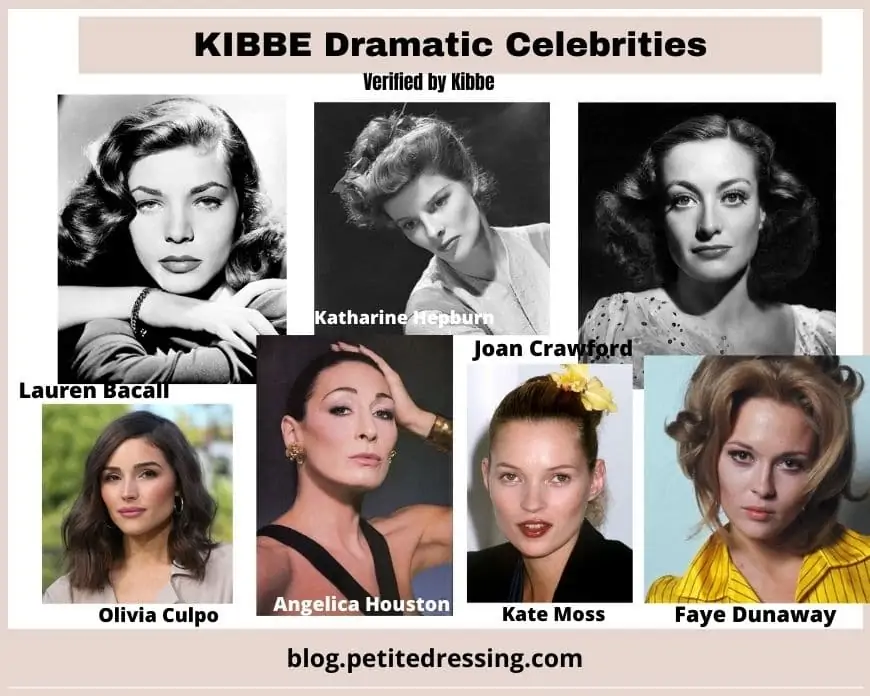 Hair
Extreme texture. Fine and silky, either poker-straight or with a bend. Very coarse and curly or wavy (wild).
Coloring
Any coloring is possible (warm or cool, high-contrast or blended), but a Dramatic is usually distinct, either very fair, very fiery, or very vivid.
If Overweight
Heaviness usually congregates around the hip and upper thigh area as opposed to the upper torso.
A Dramatic will not
Have an hourglass figure
Have lush, full facial features (round eyes, fleshy cheeks, full lips)
Have a broad or blunt bone structure or facial bones
Be petite or extremely small in stature
Be perfectly symmetrical
Have short or fleshy arms and legs
IMPORTANT: this post is primarily based on the original book of "David Kibbe's Metamorphosis" published in 1987. Visit David's website here.
You can also take this body type test and find out if your body shape is hourglass, pear, apple, rectangle, or inverted triangle.
Kibbe Dramatic Body Type Celebrities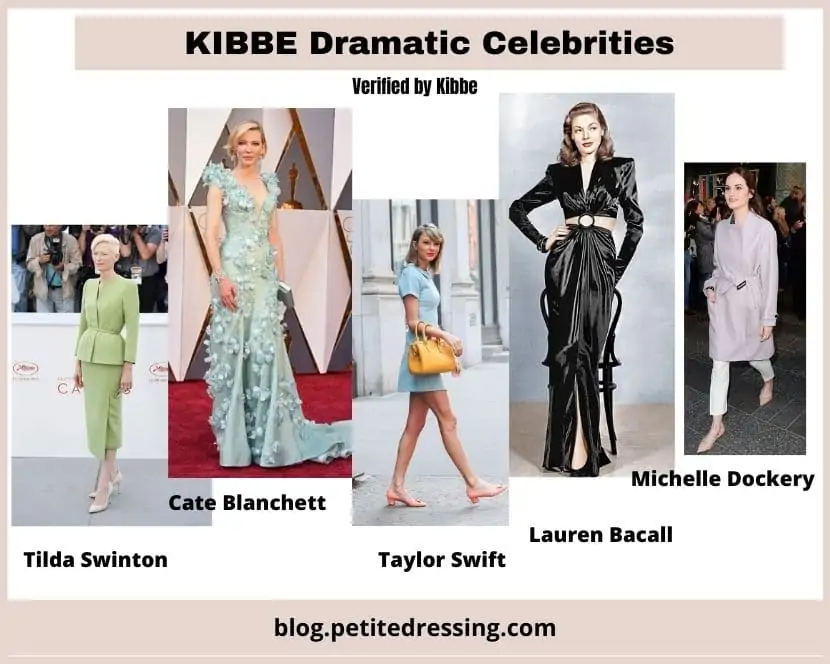 These are the celebrities with dramatic Kibbe body type either mentioned in the Kibbe body type book or later on verified by himself.
Joan Crawford
Greta Garbo
Lana Turner
Lauren Bacall
Rosalind Russell
Lena Horne
Alexis Smith
Katharine Hepburn
Maggie Smith
Faye Dunaway
Kathleen Turner
Jamie Lee Curtis
Barbara Carrera
Connie Sellecca
Sheryl Lee Ralph.Tilda Swinton
Cate Blanchett
Taylor Swift
Michelle Dockery
Kate Moss
Olivia Culpo
How to Dress Kibbe Dramatic Type
Extreme Yang (sharp edges)
SHAPE Shape is the key to your look. Whatever mood you want to express, in whatever situation your find yourself–work, play or glamour–keep your shapes sharp and geometric. Triangles, rectangles, and anything sculpted, sleek, and elongated with crisp edges.
Avoid:
Anything rounded, swirled, or overly draped. Also, anything delicate intricate or overly fragile. Ornateness translates into "fussy" on you.
Line and Silhouette
This goes hand-in-hand with your shape. Long, vertical lines are essential. Always straight, with elongated draping that is sleek, is your version of a "soft line".
Avoid: Soft, flowing lines (too matronly on you). Unconstructed silhouettes (sloppy on you). Broken or horizontal lines (not elegant enough for you).
Fabrics
Fabrics that hold a defined shape are necessary. Moderate to heavyweights are best, with a matte finish and smooth surface.
Textures should be tightly woven and shiny fabrics should be very stiff and ultraglitzy. Italian tweeds, thick gabardines, twills, faille, stiff brocades, and heavy satins are a few examples that will tailor best for you.
Keep in mind, however, that occasionally lightweight fabrics can work, if they are extrastructured in the design of the garment.
Avoid:
Overly sheer, lightweight fabrics that float. Also, in most cases clingy fabrics are extremely unsophisticated on you. In addition, extremely rough textures that are thick and heavy will overpower your sleek body.
Details
Detail should always be clean and minimal to complement your sculpted, chiseled look. Bold, sweeping geometrics, angular shapes, and sharp edges are called for.
Include: Square, sharp shoulders (shoulder pads are esstential in every garment you own, without exception)
Clean, angular necklines (plunging V's, skinny turtlenecks, high Mandarins, slashed collars, halters, man-tailored, etc.)
Anything tailored (crisp cuffs, sharp pleats, sharp lapels, etc.)
Avoid: Small, fussy detail. Overly ornate or intricate detail (ruffles, lacy frills, feathers, frou-fou, bows, tucks, gathers). Overly unconstructed detail (sloppy necklines, shapeless or oversized sleeves, etc.).
Separates
Your look does not include an obvious use of separates; keep individual pieces blending together in an artful way for elegance. You are striving for a head-to-toe ensemble effect, not the "mix 'n match" approach!
Jackets
Jackets should always be tailored and sculpted, with very defined shoulders. Generally they should be long (ending at the mid-thigh area), although a very sleek, Italian-style might be cropped (be sure this has an extremely sculpted, streamlined shape). Double-breasted could be another choice.
Avoid: Overly flouncy jackets with peplums, nipped-in waists, and fussy touches such as shoulder tucks, ornate buttons, and tapered sleeves. Overly shapeless and boxy jackets.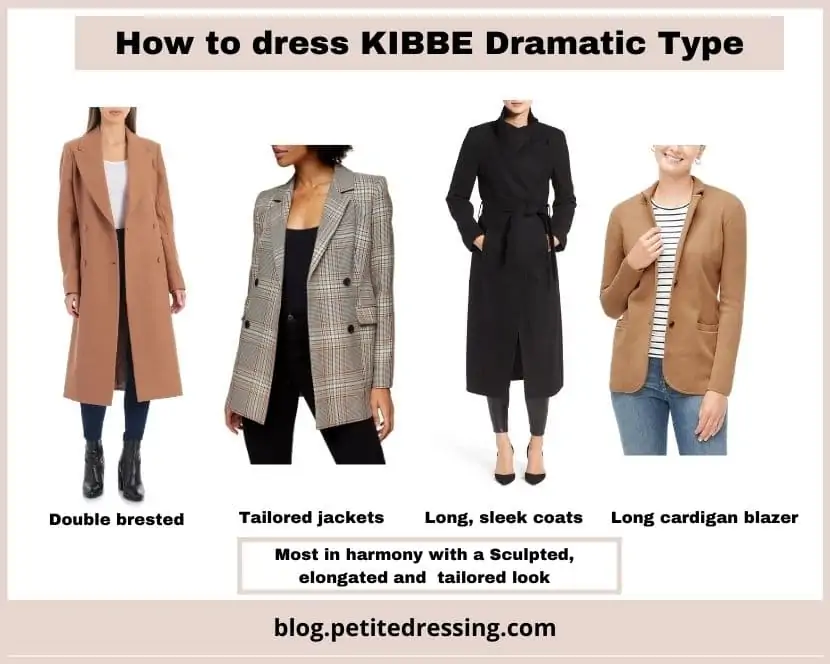 Skirts
Should be straight and long. Minimum length: two inches below the knee; maximum length: as long as you dare!
The only flared skirt you successfully wear is one with the middle section (from waist to knee) sleek and straight, with the bottom piece flaring our gently. Likewise, all pleats should be stitched down through the hip area.
Avoid: Full skits, gathered waists, draped and shirred shapes.
Pants
Should always be straight and man-tailored. Deep pleats are a good touch, as is a long hem, gently breaking the shoe.
Avoid: Drapey and clingy pants that taper at the ankle. Oversized, baggy shapes.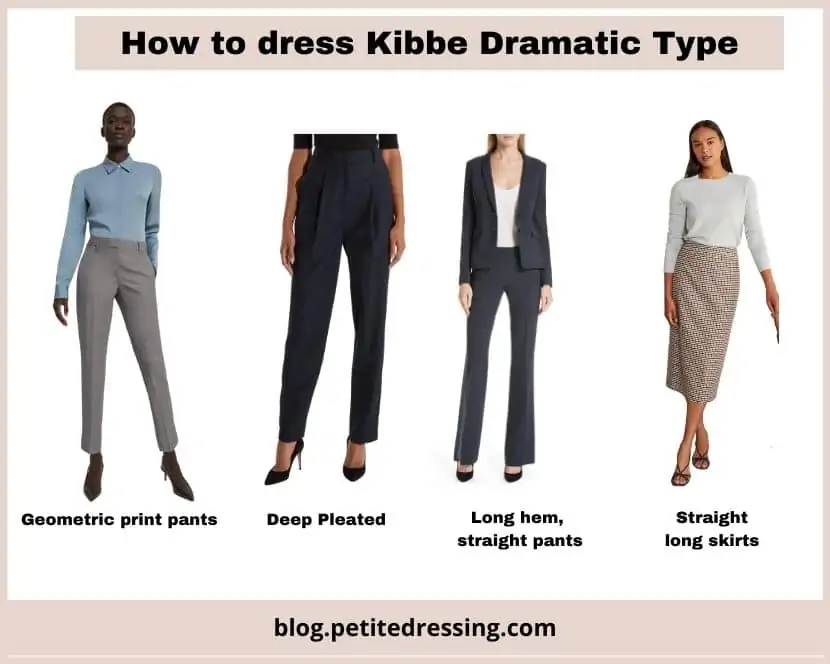 Blouses
Tailored and sleek.
Avoid: Never flouncy or frilly or oversized and shapeless.
Sweaters
Lightweight, elegant knits. Skinny, ribbed knits. Long cardigans or pullovers with sharp shoulders.
Dresses
Dresses should be elongated and sleek, the more tailored the better. Again, sharp shoulders are essential.
Coatdresses, chemises, and very narrow bias-cuts work well.
Waist emphasis is reserved for use with very wide, geometric belts. Dropped waists and no-waist styles are elegant when the shape is kept narrow.
Avoid: All flouncy styles with flowing silhouettes, fitted waists, and fussy necklines. Shapeless, unconstructed styles.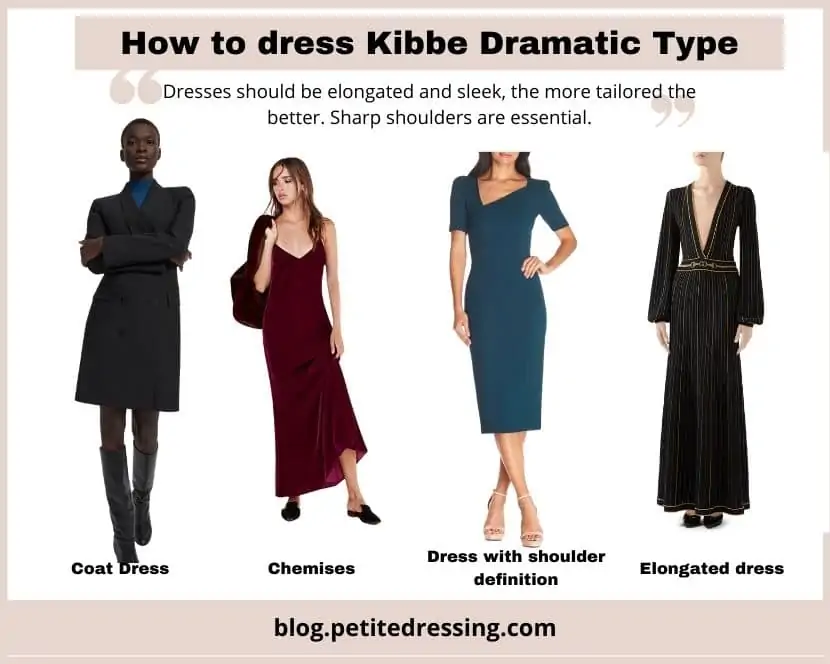 Color
Always think "head-to-toe" with your color schemes.
The deepest colors that complement your coloring are best. Dark neutrals are especially effective, and color combinations should be bold, but elegant. Combining bright shades with dark shades achieves this with ease. Pastels can be stunning if you create an entire ensemble.
All monochromatic schemes are excellent.
Avoid: Multicolor splashes and a mix 'n match approach to color.
Prints
Prints should be bold and geometric; stripes, zigzags, asymmetrics, and irregular shapes. Bold color combinations and high-contrast blends work best. Think "Picasso," and strive for a contemporary feeling.
Avoid:
Watercolor print, florals, soft swirls, and overly "cute" animated styles. Small, symmetrical prints are also to be avoided.
Accessories
All accessories should be crisp, sharply tailored and angular with geometric shapes. Keep everything sleek and contemporary in feeling.

Shoes
Should be tailored and angular. High, straight heels, crisp soles, and elegantly tapered toes.
Bags
Should be crisp and geometric. Angular envelopes, clutches, or structured briefcases.

Belts:
Should be bold and wide. Leather will be stiff and shaped. Metal belts will be sculpted and quite large. Buckles are always geometric/asymmetric. Hip belts for dropped waists are best.
Hats:
Should be crisp and geometric and man-tailored with wide brims and sharp edges.
Jewelry:
Should always be sleek and elegant, with an emphasis on bold, modern shapes. Thin, sharp pieces are good choices, as are avant-garde works of art. Asymmetrical shapes work well and pieces should be large, but on overly bulky.
Avoid:
Delicate, antique jewelry. Extra-glitzy costume jewelry. Heavy chunky ethnic pieces. Small, symmetrical pieces.
Evening wear
Geometric shapes. Elongated vertical lines. Hard metallic fabrics. Smooth fabric. Sculpted trim. Angular necklines. Shoulder emphasis.
Slinky sheaths. Tailored dinner suits Long gowns with sharp shoulders, halter necklines, and jackets Evening pants with tailored jackets.
Hair
Hair should always be sleek and sculpted, usually swept off the face to emphasize your chiseled bone structure. The shape is always geometric.
Avoid
Overly soft, coiffed, or wispy hair (there is nothing more aging for you than this look!) Soft hair hanging in or covering your face (fluffy bangs, feathery sides, etc.)
Makeup for Dramatic Body Type

Makeup should emphasize your angles and chiseled features. A high-contrast look is best with smoky eyes, contoured cheeks, and deep lips played against a background of neutral skin.
Avoid:
An overly soft, "watercolor" effect (it will be unsophisticated as well as very aging and matronly.
Hair Color for Dramatic Body Type
Should be vivid and distinct whatever the hue (blond, brown, red, or black) or intensity (light, medium, dark).
You do not highlight well because this process mutes the intensity and results in a washed-out look.
Never try to "soften" your haircolor. This is the single most damaging thing you can do to your look, and it will be extremely aging on you. Overall color processes are best for the rich type of color you need.