What is Kibbe Flamboyant Gamine Body Type
Flamboyant gamine is one of the original 13 Kibbe body types. Take the Kibbe test to find out your body type. The Kibbe types have three gamine body types, the gamine, soft gamine and the flamboyant gamine type.
Height:
5 feet 6 inches and under.
Bone structure:
Broadly angular. Square shoulders. Slightly wide bones. Large hands and feet, in proportion to height (if very petite, hands and feet tend to be short, but wide and square). Slightly sharp or broad facial contours (nose, jawline, cheekbones). Arms and legs may be long, in proportion to height (if very petite, they appear to be slightly squarish). Facial contours tend to be broad (nose, cheekbones, jawline).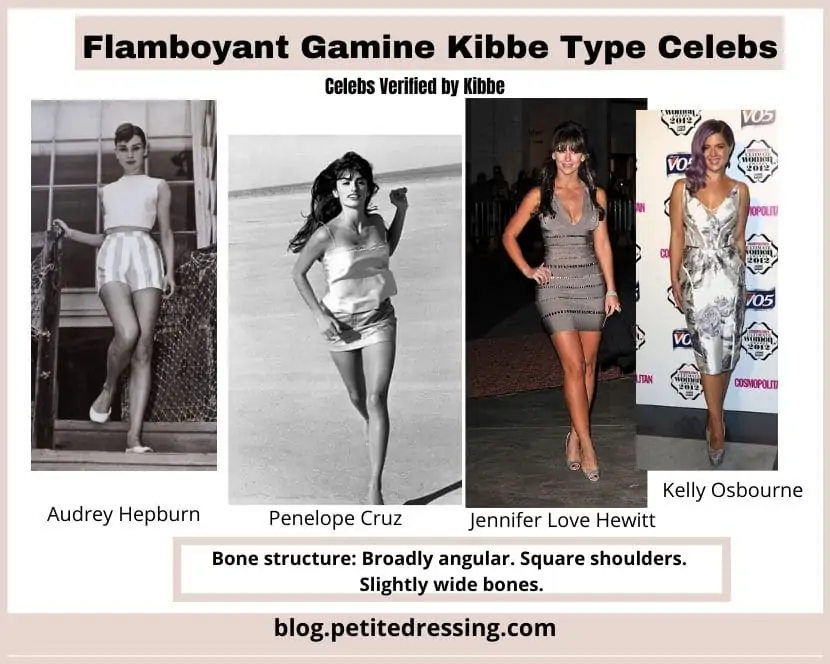 Body type:
Very defined musculature (unless overweight). Lean and strong. Straight lines (flat bustline and hips) unless overweight. Tendency toward a leggy look (coltish).
Facial features:
Usually have extremely large eyes. Usually have a broad or long facial shape (may be very round or slightly oblong). Facial flesh tends to be taut, unless overweight. Lips are frequently moderate to full.
Hair:
Any type of hair is possible, but texture tend to be extreme: either very fine and straight or very thick and wavy/curly.
Coloring:
Any type of coloring is possible (warm or cool), but Flamboyant Gamines tend to be distinctive – very fair, very fiery or very vivid.
If overweight:
Body tends to become stocky and square. Excess weight usually collects from the waist down, rarely above. Arms and legs tend to become thick, as does the waist and hip area. Face may become very puffy and fleshy.
A Flamboyant Gamine will not
Be tall.
Have extremely exotic facial characteristics (except for extremely large eyes).
Have a delicate bone structure with small hands and feet (in proportion to height).
Have an hourglass figure with a waspish waist and curvy hips and bustline (even when overweight, the bone structure gives a more squarish shape).
Be symmetrical, in body type or facial features.
IMPORTANT: this post is primarily based on the original book of "David Kibbe's Metamorphosis" published in 1987. Visit David's website here.
You can also take this body type test and find out if your body shape is hourglass, pear, apple, rectangle, or inverted triangle.
Kibbe Flamboyant Gamine Body Type Celebrities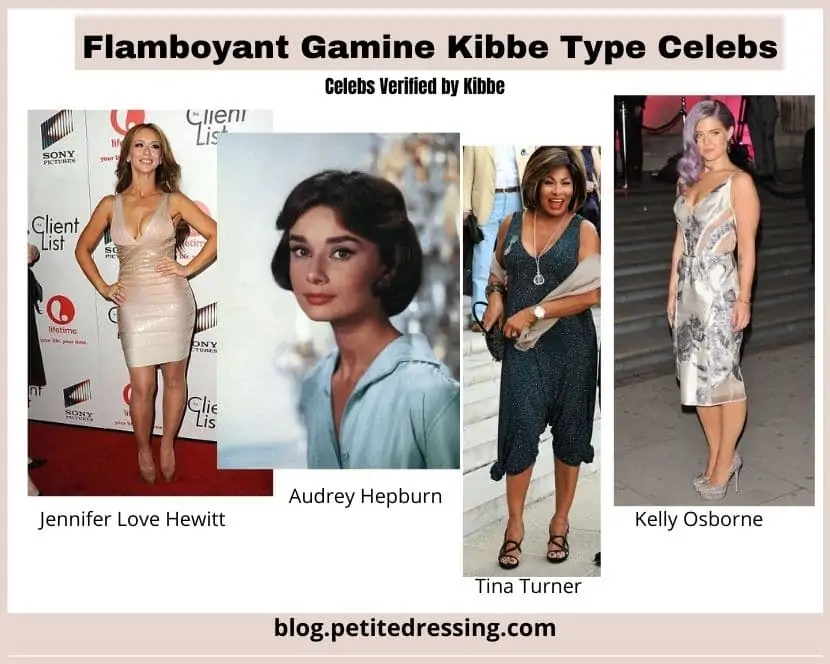 Kibbe's prime flamboyant gamine celebrity-Liza Minnelli.
These are the celebrities with flamboyant gamine Kibbe body type either mentioned in the Kibbe body type book or verified by Kibbe himself later on.
Audrey Hepburn
Coco Chanel
Tina Turner
Penelope Cruz
Jennifer Love Hewitt
Liza Minelli
Twiggy Lawson
Kelly Osbourne
Debby Allen
How to Dress Kibbe Flamboyant Gamine Type
Best clothing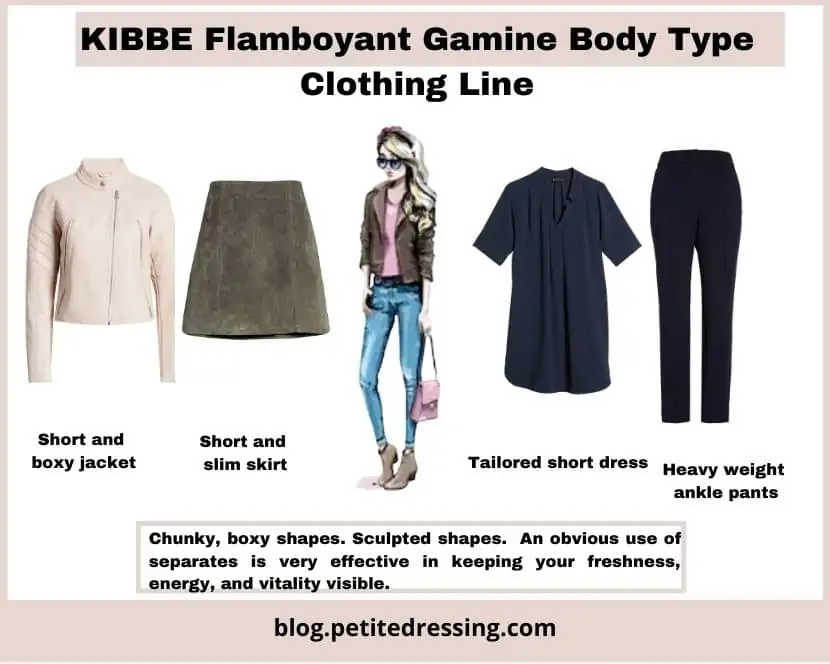 Your position on the Yin/Yang scale is: combination of opposites, extra Yang. Physically, you are Yang in shape (angular), Yin in size (your height). Both sides are important, but Yang is dominant.
Innately, you are Yang in energy (aggressive and dynamic), Yin in youthfulness (fresh). Here again, both sides are important, but Yang is dominant.
Always remember you are a Gamine first and foremost! Your Dramatic undercurrent should always be used in small doses to add a dash of extra zip to your appearance. It is not a substitution. It is an addition in order to express that extra bit of Yang that dominates your being.
To express your combination/extra Yang total essence, we want to develop an appearance that could best be described as: Sassy Chic.
The underlying theme for you appearance is: "Rules were made to be broken!" The cardinal guideline for you is completely and totally discard everything you've read or been taught that restricts you because you are "too short." You are not short, you are merely "not tall"-there is an enormous difference, my friend. Also, your spirit is most definitely larger than life, and it will trip you up royally if you ignore it by wearing "one long line of verticals," or any other such nonsense designed to perpetuate Gamine fashion slavery! It's easier for manufacturers to pretend that women under 5 feet 5 inches simply don't exist. Otherwise, they might have to change their outdated size-formulas and admit that real people aren't built like runway models.
Your overall silhouette is composed of Yang shapes: very angular and geometric, straight lines with sharp edges. Your important Yin secondary characteristics are expressed by working with broken and staccato lines and detail. Furthermore, you express your innate combination of opposites (your Yin/Yang balance) by wearing separate pieces of clothing (top and bottom) that are opposite in either shape of line. For example, a long, boxy jacket would be worn with a short, straight skirt (as opposed to a long, flowing skirt). On the other hand, a cropped bolero (again cut to the boxy side) might be worn with a long, pencil-slip skirt, with a slit up the back, that flares out ever so slightly at the hemline.
Just remember always to keep a foundation of clothing sculpted in an extremely close-fitting, body-skimming fashion. On top of this base, you will add irregular or asymmetrically shaped separates and accessories.
In addition to breaking up your line which creates a very animated and electric visual statement, you want to use an absolute profusion of angular detail. Piping on jackets, contrasting trim on very sharp lapels, contrasting collars and barrel cuffs, and unusual neck pieces (either ties or avant-garde jewelry) are some good examples. Such detail can definitely be oversized, as long as the shapes are crisp and tailored (and even somewhat chunky).
Asymmetry is the key for your hairstyle. It can take nearly any form, depending on your type of hair-cropped short of the sides and back, but left long in the front; below the ear on one side, cropped up above the ear on the other; sweeping back in a tiered bevel-cut with the fullness all right above the nape of the neck. Whatever the exact style, your hair should always look quite au courant! Trendy cuts are actually quite elegant on you, but the key is getting your hair cut regularly. You don't do well when the shape is lost.
Your accessories are all irregular, angular, and to the chunky side-jewelry, shoes, and boxy handbags. Lots of color here, and the more attention-getting your accessories are, the better! Again, we are definitely accenting the detail to complete your head-to-toe appearance most electrically by emphasizing animation in your look.
This is the best way for the world to see your totally unique combination of wit, fire, zest, and spunk. We'd always like to see a hint of the bold adventurer, the free spirit, and the relisher of life in your appearance. Add to that a touch of spice and your always humorous outlook on life and we will all simply be putty in your hands.
Just remember never to hide your wild sense of humor. It is your singular, most powerful tool in all areas of your life. That priceless quality you possess of always being able to find the lighter side of any situation is the part of you that will always initially attract us. It is the key to your authority, your power, your sensuality, and your glamour-for it is the essence of joie de vivre at the center of your being we find absolutely irresistible. Please share it with us.
Shape
Asymmetrics and irregular shapes. Short and wide geometrics with sharp or soft edges. Chunky, boxy shapes. Sculpted shapes.
Note: A mixture of opposite types of shapes works well for you. It provides electricity in your appearance. Always work with a narrow base and add an opposite shape for contrast.
Avoid: Delicate, intricate shapes. Symmetrical, even shapes. Ornate shapes (unless they are very irregular and witty).
Line and Silhouette
Broken, staccato silhouettes. Broken boxy outlines. Sharply outlined edges. Severely straight lines or softly straight lines. Draped or flowing lines may be used when they are very elongated on the body and worn with a separate (either on top or bottom) that is opposite (sharp)-this breaks the vertical.
Note: An opposite use of line works best for you. Make your foundation from skinny, narrow, and clingy silhouette. On top of this, add irregular or asymmetric lines in a staccato, broken fashion.
Avoid: All unbroken silhouettes. Shapeless silhouettes. Intricate, delicate, and ornate lines. Overly draped, flowing lines. Symmetrical outlines.
Fabrics
Fabric should be lightweight to moderate, with a slight crispness. The lighter the fabric weight, the more tailored or clingy it should be. Very rough or heavy fabric may definitely be worn in jackets, or other separates, as long as it is combined with an opposite texture (for example, a skinny ribbed knit) to break up the bulk.
Matte- and dull-finished fabric is generally best for the dominant part of your silhouette; however, combining an ultra shiny surface in a separate to work with this is excellent. In the evening, your best sheens are found in hard-edged fabrics, metallics, and stiff fabrics (brocades, heavy satins, sequins, beading, etc.).
All textures are excellent on you, as are rough-surfaced fabrics, and all woven fabrics.
Knits and stretch fabrics are especially good, although the skinner and more ribbed knits need to be sculpted into shape by the construction of the garment (skinny stirrup pants, body stockings, etc.).
Thick, heavy, or bulky knits are excellent when used in cropped separates, such as vests, sweaters, jackets, etc. Keep these short, unless you combine them with something very clingy on the bottom (such as an oversized sweater worn over brightly patterned tights.
Avoid: Overly delicate, flimsy, and ultra sheer fabrics. Heavy, stiff, and bulky fabrics that are not broken up by an opposite separate.
Detail
Use a profusion of angular, sculpted detail that is ultracolorful and irregular or asymmetrical! This is the area that showcases your intelligence, your sophistication, and your wit! Shoulders should always be defined; pads are a must. You may go for an extended, sharp shoulder, or a very streamlined, rounded shoulder (sculpted, not gathered).Necklines should be geometric, asymmetric, or irregular. They may be very high and sculpted (Mandarin, Nehru, turtleneck) or low and plunging. Keep them cleanly shaped, without ornateness. Bodice detail should be sharp-edged (pleats, plackets, epaulets, etc.), and is best kept slightly oversized, as opposed to small. (Avoid intricate tucks and gathers.) Asymmetric detail is best. Contrasting trim is excellent (collars, cuffs, piping, buttons, etc.) as long as it is bold, not delicate. Lapels should be sharp and defined, wide and notched, or clean and sculpted-but not delicate and fussy. The waist should be slightly dropped or slightly bloused over. It may be eliminated in very clingy, skinny styles that reveal the shape of the body underneath. Dropped-waist trim (sashes, ropes, bold detail, etc.) is always stunning as long as it is asymmetric and not overly fussy or flouncy. Pleats are rarely effective and should be kept low and stitched down. Hemlines can be any length depending on the top (the skirt is always opposite the top in style), although shorter is most effective.
Avoid: Symmetrical, plain detail. Overly intricate, ornate, or fussy detail. Wide, unconstructed detail. Wide, unconstructed detail. Elongated detail that is not broken up. Minimal detail.
Separates
An obvious use of separates is very effective in keeping your freshness, energy, and vitality visible. Be sure to work with opposing shapes, vibrant colors, and electric patterns. Mixing textures, prints, colors, and detail is a most exciting and elegant way to showcase your vibrancy.
Avoid: Monochromatic and blended looks.
Jackets
Jackets should be short and boxy, emphasizing a cropped and horizontal line. The shoulders should be extended, either very sharp and crisp or a streamlined, sculpted curve. The length should be from the bottom of the rib cage to the top of the hips. A longer jacket is occasionally possible, but only when worn as a separate over a very skinny bottom or extra short skirt (or cropped pants). A jacket that is fitted through the waist is also a good choice, as long as the shoulders are extra padded and it ends at the top of the hips. Again, the shape for the jacket is sculpted, asymmetrical, and irregular. Contrasting trim is excellent, as is all angular detail (sharp lapels, piping, plackets, etc.).
Avoid: Long jackets that hide the body. Standard tailored styles (blazers). Symmetrical jackets. Oversized, unconstructed jackets.
Skirts
Your basic straight skirt should be short and slim, either severely tailored or sculpted into a clean taper at the hemline. This hemline should end no lower than mid knee (higher for fun, funky styles). A long, straight skirt may be worn if it tapers at the knee slightly and then flares out very subtly (not into a trumpet, that's too much flounce). Then, there will be a slit, probably in the back. Pleated skirts are okay as long as the pleats are stitched down through the hip area. This has an uneven hemline, and will be longer (mid calf). Bias-cut skirts may also be worn as long as they are very narrow and close to the body. This also has an uneven hemline, and is worn to the mid-calf area. Asymmetrical hems are always excellent, even in evening wear, and long gowns should be fairly sort (showing the ankle). Dropped-waist detail is stunning as long as it is asymmetric and never flouncy or fussy!
Avoid: Traditional symmetrical styles (A-lines). Wide, unconstructed styles. Full, flowing styles. Deep gathers and soft folds. Sharp pleats that are not stitched down through the hips. Bouffant skirts.
Pants
Pants should be boldly man-tailored, in heavy fabric with deep pleats, plackets, and cuffs. They should be short, showing the ankle. Pants may also be cropped as short as you want. Skin-tight pants (stirrups, spandex, ribbed, etc.) are also excellent on you.
Avoid: Wide, unconstructed styles that are shapeless. Symmetrically tailored styles. Draped, clingy slacks that are gathered at the waist and tapered gently at the ankle.
Blouses
Blouses should be narrow, sculpted, and clean with simple necklines and geometric trim. Fabric should be of moderate weight and slightly crisp or flat, and should either be matte finished or ultrashiny (charmeuse). Any asymmetrical detail is excellent.
Avoid: Frilly blouses. Ultraclingy blouses. Symmetrically traditional styles.
Sweaters
Sweaters should have a sculpted shape, in skinny ribbed knits, or be heavy and bulky, worn in shorter cropped styles that are body hugging. Patterns should be bold and geometric with irregular shapes. Animated patterns are excellent as are highly original styling and details that show your wit and humor to advantage. Shoulder pads should always be worn in sweaters-the sculpted curved shapes in the skinny knits, the over-sized sharp shapes in the bulkier cropped styles.
Avoid: Traditional symmetrical styles (crew-necked shetlands, cardigans).
Dresses
Dresses should be sculpted, tailored, and short. Narrow styles that are cut close to the body. Sharply extended or streamlined curves at the shoulders. Asymmetric detail and contrasting trim are both excellent touches. Waists should usually be lowered, but a wide stiff belt in a contrasting color could also be used. Hemlines are short if the skirt is straight, longer if the skirt is uneven. Blouson styles with a dropped waist are also good. Fabric should be of moderate to light weight to always reveal your shape. Ribbed-knit dresses that sculpt to the contours of the body are excellent. Asymmetrical hemlines and dropped waist detail are very chic.
Avoid: Frilly, flouncy dresses. Full, flowing dresses. Traditional symmetrical dresses (shirtwaists, etc.). Wide, unconstructed dresses.
Color
Your use of color should be electric, bold, and vibrant. Wild color combinations that no one else would dream of using are ultra fresh and sophisticated on you. Multicolored splashes played against a very light or very dark background are equally exciting. Always animate your look by breaking up your silhouette with lots of colorful accents. If you use one primary shade for the base of an outfit, then accent with a variety of bold and bright touches or else you'll lose the dynamic energy that is your most appealing asset. Sharp color contrast is excellent. Be highly original with your color choices and combinations.
Avoid: One long line of any color. Monochromatic color schemes. Overly blended pastels (unless they are well-accented or crisply defined in patterns). Neutrals, unless they are heavily accented.
PRINTS Prints should be bold and animated. Asymmetric and irregular patterns and shapes are best, as is sharp color contrast for crisp definition of shape. Highly original and unique prints are good, as are avant-garde prints. Mix opposing prints together using color as the key to continuity. Use your vibrant sense of humor in choosing prints. Opt for a bit of the zany here. It will clearly express your unique approach to life in the most attractive manner imaginable! Size should be moderate to large.
Avoid: Overly blended watercolor prints. Small, symmetrical prints. Florals (unless they are absolutely wild and contemporary.
Accessories
Your accessories should be cleanly sculpted and in angular shapes that veer to the asymmetric or irregular. When you use trim, it should be highly original, either avant-garde or slightly off-beat.
Shoes
Should be angular and irregular in shape. Slightly chunky in style. Low, triangular heels or very straight, high heels. Asymmetrical flats. Brightly colored or pattered styles for fun!
Avoid: Plain pumps. Delicate, strappy shoes. Ornate trim.
Bags: Should be angular and asymmetric in shape (triangles, squares, skinny rectangles, boxes, etc.) Should be crisp leather, stiff and flat. Wild patterns, bright colors, and unusual fabrics are very chic. Constructed briefcases (with frame).
Avoid: Small, rounded bags with delicate straps or ornate trim. Oversized, unconstructed bags. Moderate, symmetrical pocketbooks with a frame and handle. Collapsible briefcases.
Belts: Belts should be wide and stiff or streamlined and sculpted. Bright colors, patterns, and unique fabrics. Crisp, stiff leather. Unusual buckles (asymmetric).
Avoid: Delicate, fussy belts. Waist-cinchers. Subdued narrow belts.
Hats: Hats should be small and crisp in irregularly sculpted geometric or asymmetrical shapes. Crisp ethnic caps are excellent (berets, Nehru, Spanish, etc.)
Avoid: Oversized, unconstructed, and floppy styles. Delicate, ornate styles.
Hosiery: You can wear any type of hosiery as long as it breaks your vertical line, instead of blending with the shoe and hemline. This can be accomplished by contrasting colors with your hem and shoes, by adding texture to the stocking (geometrics, herringbones, asymmetrics, etc.), or by wearing wildly patterned stockings for fun! Ultrasheer stockings are best kept for evening, when they get very sparkly and silky. Daytime, it's opaques for you-they're fresh and sophisticated while at the same time within the context of your highly creative look! Flesh-toned stockings are effective with very bare outfits, particular in the summertime.
Avoid: Blending your stockings/hemline/shoe color together.
Jewelry:
Jewelry is one of your most essential accessories. It adds both the sophistication as well as the wit to your look. The effect may be either elegantly avant-garde or funky and zany, whichever you choose. Shapes are chunky, asymmetrical, and irregular. Lots of sculpted metal is excellent, as are brightly enameled surfaces and colored glass. Wild costume jewelry is electric on you, but keep it very contemporary in feeling. If you have a love of antique, go for the art deco era of sleek streamlined pieces instead of the intricate Victorian or art nouveau pieces. Lots of vibrant color, sparkle, or the gleam of polished metal pull your look together.
Avoid: Overly delicate or intricate pieces. Heavy ethnic pieces (unless they are contemporary works of art, very sculpted in effect). Small, symmetrical pieces. Dangly, glittery pieces.
Evening Wear
Narrow shapes with geometric edges. Smooth fabric. Hard-edged metallics. Beading. Crisp, tailored, and colorful trim. Asymmetrical hemlines. Playful accessories. Slinky gowns with broad shoulders Sleek sheaths that are very bare Dropped-waist dresses with shoulder emphasis Flapper-style cocktail dresses Short-jacketed pants outfits (cropped, beaded jackets, wide legged satin pajamas pants, etc.) Evening separates (blouses, pants, slinky skirts, etc.) with glitzy trim.
Makeup for Kibbe Flamboyant Gamine Type
Makeup is your finishing touch. It provides the elegance and sophistication your Image Identity requires to be completely coordinated, head-to-toe. A "smoky face," which combines deep, sultry colors with a touch of vibrancy around your eyes, strong cheeks, and a deep lipcolor, is your best look. Don't choose shades that are overly bright; just a hint of color is necessary to bring out your flamboyant spirit. Stick to matte colors for the day, with a simple addition of sheer sparkle most effective at night.
Avoid: Pastel colors (too matronly on you). Watercolor blended edges (too aging on you). Only neutrals (too stark on you). Overly ornate or glittery face (too unsophisticated on you).
Further text on haircolor suggestions for Flamboyant Gamines:
In general, you will require the distinct color an overall process gives. However, if you are a low-contrast person, you may wish to add highlights in a more dramatically streaked manner to "lift" your (natural) haircolor.
Avoid: Haircolor processes designed to give a "soft" haircolor. You need a distinct color; otherwise your look will be considerably washed out.
Hair for Kibbe Flamboyant Gamine Type
Hair Style
Hair should be asymmetrically sculpted or boyishly tousled. The outline is geometric, but the edges require some layering or beveling to add freshness and avoid severity. Because your total look is so eclectic and original, you can opt for a very wild style if you so wish. Trendy styles are wonderful on you, but they do date quickly. Also, maintaining the shape with constant trips to your hairdresser is a most important factor for you. Short hair works best because you need to show your face, particularly your eyes. "Boyishly Chic" is your ticket to sophistication. Long hair is very difficult to maintain. It requires a very flamboyant style, a la Tina Turner's wigs. If your life-style allows such an extreme look, along with the teasing, setting, and spray this requires, it can be quite stunning. If not, it will be a disaster! Asymmetrical dips, sweep, or side pieces are all extremely elegant on you.
Avoid: Blunt-edged, symmetrical cuts. Severe geometric shapes without an asymmetric edge of layered fringe to tousle. Overly ornate, teased, curly styles. Wash n'wear styles with no sculpture. Long hair (except as described above). Overly "soft" styles. Anything that hides your face.
Hair Color
Haircolor should be distinct and rich, "not softened." If you decide to color your hair, choose a shade that is clear and vivid. If you are very daring, a theatrical color will work on you-blue-black, fiery red, platinum, etc. Otherwise, stick very close to your original shade. If you need to cover gray, or want to make the color a little richer, opt for overall color processes instead of subtle highlights.
Avoid: Trying to "soften" the hair with subtle lights or lightening the overall effect.