What is Kibbe Soft Classic Body Type
Soft classic is one of the original 13 Kibbe body types. Take the Kibbe test to find out your body type. The Kibbe types have three classic body types, the classic, soft classic and the dramatic classic type.
Height:
Moderate, up to 5 feet 6 inches.
Bone structure:
Symmetrical, with soft or slightly rounded edges. Straight and slightly delicate. May be small and slightly wide (but with soft edges, not square). Shoulder are tapered or slightly sloped. Facial contours are slightly small and wide (nose, cheekbones, and jawline). Hand and feet tend to be moderate to small and slightly wide.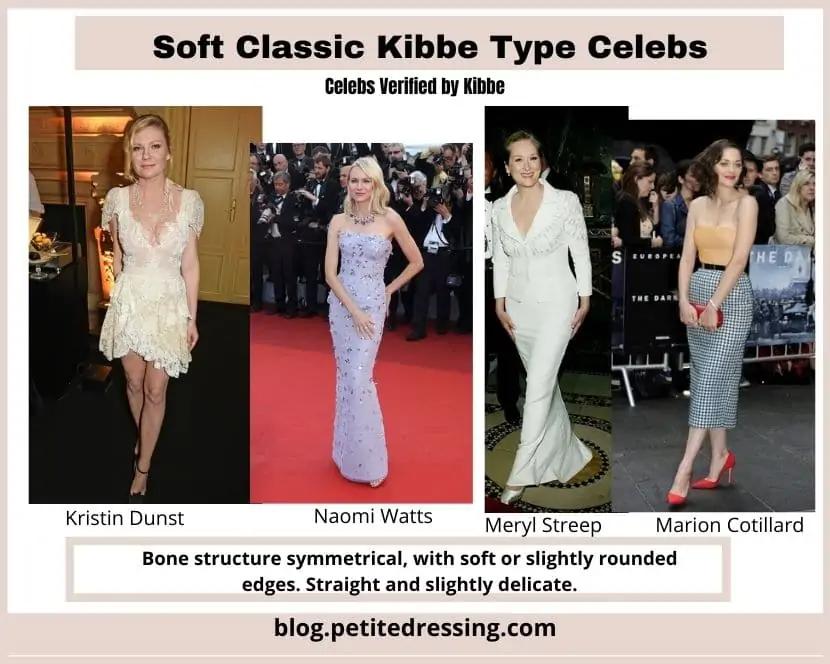 Body type:
Slightly rounded, tends to slight fleshiness. Soft arms, thighs, and waistline. Evenly proportioned bust, waist, and hips. Possibility of being slightly short-waisted. Arms and legs tend to be moderately short (in proportion to height).
Facial features:
Soft and full, slightly fleshy. Large eyes, soft cheeks, full lips. Symmetrical and evenly spaced.
Hair:
Any texture is possible, but it usually tends to be slightly wispy if straight.
Coloring:
Any coloring is possible(warm or cool), but Soft Classics usually tend toward blended or low-contrast coloring with a delicate skin tone. (Occasionally, a Soft Classic will have high-contrast coloring, but it still tends towards an overall subtlety as opposed to sharpness).
If overweight:
Body becomes very soft; facial features become very fleshy. A "thickish" look is usually the result of excess weight; the waist is the first to lose any definition.
A soft classic will not
Have a large or angular bone structure
Have exotic or prominent facial characteristics
Have a boyish or muscular body type
Have a true hourglass figure, with a waspish waist
Be tall Be extremely petite or small boned with extra delicate hands and feet.
IMPORTANT: this post is primarily based on the original book of "David Kibbe's Metamorphosis" published in 1987. Visit David's website here.
You can also take this body type test and find out if your body shape is hourglass, pear, apple, rectangle, or inverted triangle.
Kibbe Soft Classsic Body Type Celebrities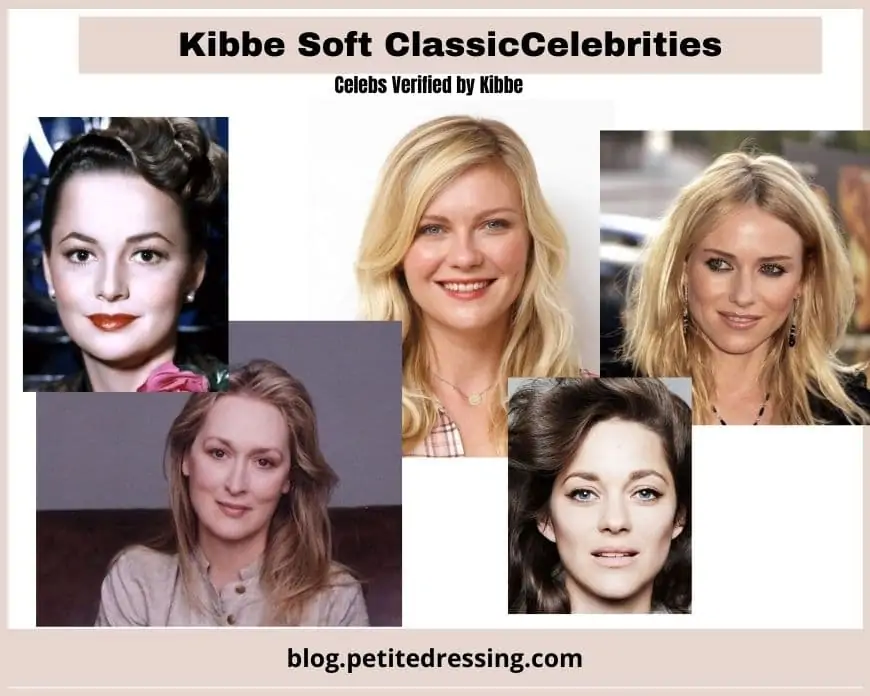 Kibbe's prime soft classic celebrity Olivia de Havilland.
These are the celebrities with soft classic Kibbe body type either mentioned in the Kibbe body type book or verified by Kibbe himself later on.
Marion Cotillard
Naomi Watts
Olivia de Havilland
Emma Thompson
Meryl Streep
Laura Linney
Meredith Bexter
Joan Bennett
Joan Fontaine
Kristin Dunst
How to Dress Kibbe Soft Classic Type
Best clothing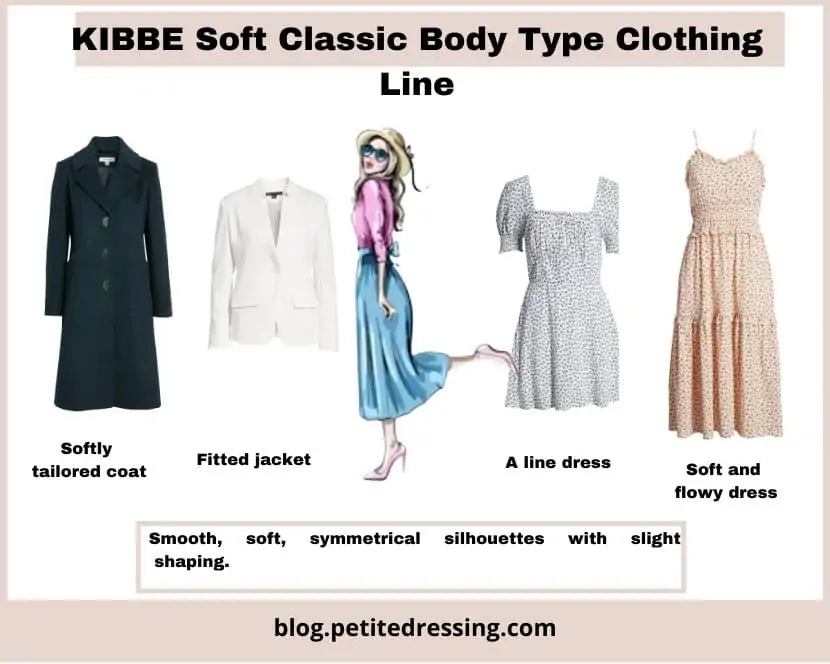 Your position on the Yin/Yang scale is: balanced, with a Yin influence. Physically, you are basically symmetrical with slightly rounded edges (soft body type and features). Innately, you are controlled, elegant, and calm with an added refined touch of understated femininity and gracious sophistication.
Always remember that you are a Classic first and foremost! Your Romantic undercurrent should always be used in small doses to gracefully soften the overall effect of your appearance. It is not a substitution. It is an addition to express that extra bit of Yin present in your being.
Your silhouette is smooth, draped, and flared, composed of softly flowing lines (clean, not clingy) that are very controlled and symmetrical. Soft edges and smoothly rounded shapes are most important, particularly in details (necklines, sleeves, etc.). Accessories are also clean, controlled, and slightly feminine without being fussy or ornate. Jewelry shapes are kept in controlled clusters and circles or ovals.
A soft and smooth hairstyles bluntly cut with slight feathering around the face is perfect to complement your refined femininity. Moderate length is best, unless you are willing to spend extra time styling your hair, in which case slightly longer hair that is beautifully waved in smooth and symmetrical dips can be quite elegant.
Your makeup will be the watercolor effect, which is artfully blended in circular motions. Soft color on the eyes (within your palette), rosy cheeks, and slightly glossy lips are used to suggest your Yin undercurrent in the most subtle fashion and complete your head-to-toe appearance most graciously.
This is the best way for the world to see your stunning combination of understated sophistication and refined femininity. We always like to see just a bit of the charmer, the enchantress, the alluring angle (visually expressed through the soft touches and rounded or flowing shapes), without upsetting the basic foundation of the traditional, the elegant, the everlasting (which is visually expressed through your use of controlled lines and softly understated tailoring).
Be careful not to go overboard with your Romantic touches. When you opt for the overtly glamorous, instead of refined sophistication you become a little gaudy. Too much jewelry, too clingy dresses, over-glitzy makeup and too many curls look silly on you. Your underlying Classic approach to your overall appearance is essential.
On the other hand, please don't go to the opposite extreme by trying to "strengthen" your features. The result here is not at all authoritative, it's simply frumpy and inelegant! You negate your most powerful tool this way, which is your soft-spoken sophistication. When you overly tailor and sculpt yourself with excess angles and geometry, the very best part of your being is totally obscured. (Also, the softer lines of your body are not well served by straight lines; they tend to make you look a little dumpy!)
By far the most effective way to allow your star quality to gleam its brightest is to appreciate your soft symmetry and refined elegance. When this priceless combination is clearly evident in your appearance, we are drawn to your immediately. You are a lady we will strive and toil in excess for, so much do we believe in your. One well-thought word of sincere approval from your elegant lips is music to our ears! It's almost as though you remind us of a gentler age, where manners and form were considered gateways to achievement. When your gracious manners and refined form are clearly visible, we are uplifted to new plateaus of graceful living. An invaluable quality to project in a modern society!
Shape
Soft, curved shapes with rounded edges. Smooth, symmetrical shapes that flow gently. Circles, ovals, subdued swirls.
Line and Silhouette
Smooth, soft, symmetrical silhouettes with slight shaping. Gently flowing lines that flare or swirl. Clean lines that are unbroken. Smooth, horizontal, or diagonal draping.
AVOID: Hard-edged geometric silhouettes. Overly ornate or intricate lines. Wide, unconstructed silhouettes. Sharp, severely straight lines. Straight lines without flow or shaping. Overly crisp and fitted silhouettes with staccato lines.
Fabrics
Fabrics should be those of light to moderate weight that will drape softly and flow easily without being clingy. Finish should be slight matte or slight sheen, with a soft or plush surface (silks, cashmere, challis, crepe, suede, velvet, handkerchief linen, raw silk, shantung, etc.). Textures should be very light and soft. Fabrics that have a high-quality, imported look are excellent. Knits and wovens should be supple, light and drapable without being clingy.
AVOID: Heavy, stiff fabrics. Rough, thick textures. Bulky knits. Overly sheer fabrics. Extremely shiny fabrics (except for evening). Extremely dull-finished fabrics.
Detail
Detail should be smooth and symmetrical, composed of rounded shapes with slightly intricate edges. Detail provides that extra touch of Yin (femininity), so it is meant to further soften and feminize your look. It is used as an afterthought, and should only suggest a Romantic streak. Be careful not to overdo it!
Slight definition through the shoulders: small, crisp pads; shoulder tucks; gathers; beading; slightly ornate trim; etc.
Clean, soft necklines. Draped necklines, soft cowls, jewel or scooped necks, subdued intricacy (gathers, shirring, soft pleats or folds, etc.).
Tapered sleeves and a defined waist. Subdued trim is possible (beautiful and unusual buttons, or small gathers).
AVOID: Sharply tailored detail. Wide, unconstructed detail. Overly ornate or fussy detail Animated, "perky" detail Minimal "no detail" looks.
Separates
Use carefully and sparingly. Separates are effective only if they are part of a well-matched, "ensemble approach" to your head-to-toe appearance. Keep the colors, textures, and fabrics elegantly blended and avoid a staccato look.
Jackets
Jackets should be softly tailored with curvy shaping (subdued, not fussy) that gently shows the waist. Short to moderate lengths are best, although a longer length is possible in a belted jacket or one that has a very understated peplum. They can have slight shoulder definition with crisp pads, and are best with such added detail as shoulder tucks or gathers and tapered sleeves. Again, such detail should be subdued and understated, not fussy or overdone.
AVOID: Overly tailored, sharp-edged, stiff jackets. Wide, boxy jackets that are unconstructed. Long, straight jackets that hide the waist. Extremely cropped jackets that are crisp and "perky." Overly fussy or flouncy jackets with excess trim.
Skirts
Skirts should be soft, smooth, and gently flowing. A straight skirt should be lightweight and slightly tapered at the hemline to avoid stiffness. Flared skirts are best, with an uneven hemline that softly flows. Waist detail should be soft and subdued with slight gathers or soft pleats that are stitched down through the hip. Bias-cut pieces that are added to the bottom of the skirt are also possible. Hemlines on a straight skirt should be short-never longer than one inch below the knee. Uneven hemlines will always be longer, gracefully grazing the mid-calf area. Slits should be small and elegant, suggested rather than overstated.
AVOID: Long, straight skirts. Sharply tailored skirts. Wide, unconstructed styles. Voluminous circles. Extra flouncy skirts-except for smoothly flared styles. Extremely tight or clingy skirts. excess detail that is overdone (draping, shirring, full gathers, ultradeep folds, etc.
Pants
Pants should be of a softly tailored styles in lightweight fabric. Soft pleats, slight gathers and a slightly tapered leg are nice details. Hemline should be just below the top of the ankle so as to show a touch of foot or shoe. (For extra feminine touch.)
AVOID: Man-tailored styles with sharp edges. Wide, unconstructed or baggy styles. Overly fussy pants with excess trim or detail.
Blouses
Blouses should be soft and elegant with soft edges or a suggestion of intricate detail. Soft bows, slight lacy edges, jabots, and draped necklines are excellent. Subdued trim – applique, shirring, gathers, beading, etc.- is also good as long as it's not overdone. Fabric should be lightweight-with the slight sheen of silk best. Very soft and sheer linens, batiste, voile, etc., are also elegant.
AVOID: Sharply tailored styles. Wide, unconstructed styles. Animated, "perky" styles.
Sweaters
Sweaters should be soft and smooth. Lightweight knits are best, particularly when the finish is luxuriously soft to the touch. Cashmere, boucle, angora and silky weaves are all excellent. Lengths should be short to moderate. Subdued, intricate detail (applique, beading, shirring) is good.
AVOID: Oversized, bulky sweaters. Rough or thick knits. Skinny-ribbed knits. "Perky" patterns.
Dresses
Should be graceful, flowing, and elegant. Flared shapes are best, and waist definition is essential (although it may be slightly dropped in a very clingy fabric). Soft detail with a suggestion of intricacy is excellent. Draping is always perfect!AVOID: Severely tailored styles. Wide, unconstructed styles. Overly fussy or flouncy styles.
Color
Your use of color should be soft and luscious within your complimentary palette. Pastels and moderately bright tones are best while light neutrals are quite elegant in luxurious fabrics. Color combinations should be softly monochromatic, with intensities blending together rather than sharply contrasting.
NOTE: This does not mean "all one color," but rather that tones should softly harmonize. Light/bright color combinations are especially effective on you. Dark colors will need softening and brightening; either use them in accents or add a touch of soft texture or sheen to the fabric to dampen their starkness.
AVOID: Multicolored splashes. Head-to-toe dark color schemes. Sharply contrasting color schemes.
PRINTS: Prints should be soft, flowing, and watercolor. Abstract rounded shapes that swirl into each other are excellent.
AVOID: Sharp geometrics. Small symmetrical prints. Animated, "cute" prints.
Accessories
Should be clean, elegant, tapered in shape with a slightly ornate or intricate trim. (Be careful not to overdo!)
Shoes
Delicate, tapered shapes. Narrow heels and toes. Slightly bare (sling-back, open toe, etc.). Delicate, feminine flats.
AVOID: Angular styles. Chunky styles. Plain pumps.
Belts: Narrow to moderate width. Elegant, slightly ornate buckles. Exquisite leather, skin, or fabric.
AVOID: Wide, stiff styles. Overly ornate styles. Waist-cinchers.
Bags: Small to moderate size, Rounded shapes perhaps with slight trim (gathers, shirring, etc.). Clutches or moderate straps. Supple leather.
AVOID: Overly large styles. Angular shapes.
Hats: Small and elegant with rounded shapes and clean, crisp brims. Picture frame or garden party styles with soft detail (silk flowers, etc.).
AVOID: Severe, man-tailored hats. Large, unconstructed hats. Small, "perky" caps.
Hosiery: Moderately sheer styles are best. (Slightly opaque styles in light shades are also good.) A "light leg" that blends the stockings and shoe one or two shades lighter than the hemline is your most elegant and sophisticated look. You can also match the shoe and hemline while wearing a lighter stocking for a more casual or fun look. As for going for the "one long line" effect or matching the hemline, stocking and shoe, use it with caution or it can be very dowdy on you! You can use it when your colors are light or medium tones. It is terrible on you when the colors are dark. The only exception is in the evening, when the dark stocking is ultrasheer; then it is a good choice, if you wish.
AVOID: Extremely opaque stockings. One long line of dark color. Three-color looks (stocking/shoe/hemline contrasts). Heavily textured stockings.
Jewelry:
Jewelry should be clean, elegant and softly feminine. It adds a touch of sophistication and delicacy to your look. It doesn't need to be overdone; simply suggesting your glamour with a hint of dangle, a hint of sparkle, and a hint of intricacy is quite effective.
Shapes are round, ornate, and flowing while always remaining symmetrical. Circles, slight dangles, swirls, ovals, and clusters are all excellent.
A slightly antique approach to your jewelry is best.
AVOID: Sharp geometrics. Heavy, chunky pieces. Rough, ethnic styles. Overly flashy jewelry. Too much jewelry. No jewelry.
Evening Wear
Symmetrical, flowing shapes. Slightly ornate detail. Lightweight, draped, and sheer fabric. Slightly sparkly fabric. Smooth fabric. Slight ornate trim (but not fussy).
Options:
Chiffon ball gowns
Long gowns with flowing skirts
Beaded bodices and jackets
Ornate and fitted jackets, over gowns (shoulder tucks, shirring, etc.)
Silk dresses
Elegant dinner suits with fitted jackets
Makeup for Kibbe Natural Type
A well-polished makeup is a vital touch. Soft to bright shades, beautifully blended in a watercolor effect, creates your most elegant, slightly feminine face. A hint of sparkle around the eyes, rosy cheeks within your palette colors and slightly glossy lips complement your Image Identity to perfection!
AVOID: Heavy contouring with sharp edges (too stark). All Smoky colors (too cold). All Neutrals (too aging). Overly sparkly makeup (unsophisticated). Minimal, "no makeup" Looks (too harsh).
One of his suggested looks for a Soft Classic with Spring coloring is: Honey Browns, Soft Copper and Sparkly Gold. (Also Olive, Jade, Palest Shimmering Gold and Chestnut/Copper/Shimmering Yellow). However there are many other options, he only lists these as he can't cover the whole spectrum.
Your effect of your eye makeup is matte with a slight sparkle or frost added as if an afterthought. The highest concentration of iridescence should remain in your highlighter.
Your lipsticks should generally be slightly frosted. Always add moderate gloss over your lipstick.
Hair for Kibbe Natural Type
Hair Style
Hair should be controlled, smooth, and soft; an elegantly clean outline with curved edges. Curls and waves are lovely as long as they aren't overly teased or cascading. A well- kept and meticulously groomed style is essential. Blunt-cuts may be best and a very subtle layering to frame the face is important! Lengths should be moderate to long, but the longer your hair the more likely it will require setting to retain the stylization necessary for your feminine sophisticated look.
Likewise, if you opt for perms or processing, you will have to do some extra styling-with hot rollers or a curling iron, for example-to maintain a controlled style. An unkempt or uncared-for hairstyle will spoil your total look more quickly than any other element of your appearance.

AVOID: Severe, geometric styles. Overly layered, "wild," or "manelike" styles. Overly ornate, teased styles. Wash 'n wear styles. Boyishly cropped styles.
Hair Color
Haircolor should be soft and luxurious. Realistic and natural colors are best. Don't stray far from your natural haircolor. Lightening your hair a shade or brightening it a shade is possible if your original color is blond, red, or medium brown. You might also choose subtle low-lights if your hair is in these color ranges. Brunettes should always avoid lightening or highlights because the result is very aging and tiring, particularly after you've begun to gray.
AVOID: Unrealistic or theatrical haircolors. (blue-black, fiery red, platinum blond, etc.). Overstreaked hair.
More notes about haircolor: In general, if you're a high-contrast person, you'll need the richness and depth from an overall color process. If you're a low-contrast person, you may find a subtle highlight quite effective to add a little shimmer, but when covering gray, you must switch to an overall process. Otherwise, the highlights will either mute down your haircolor (which will fade you) or overly "brighten" your coloring and give a brassy effect.